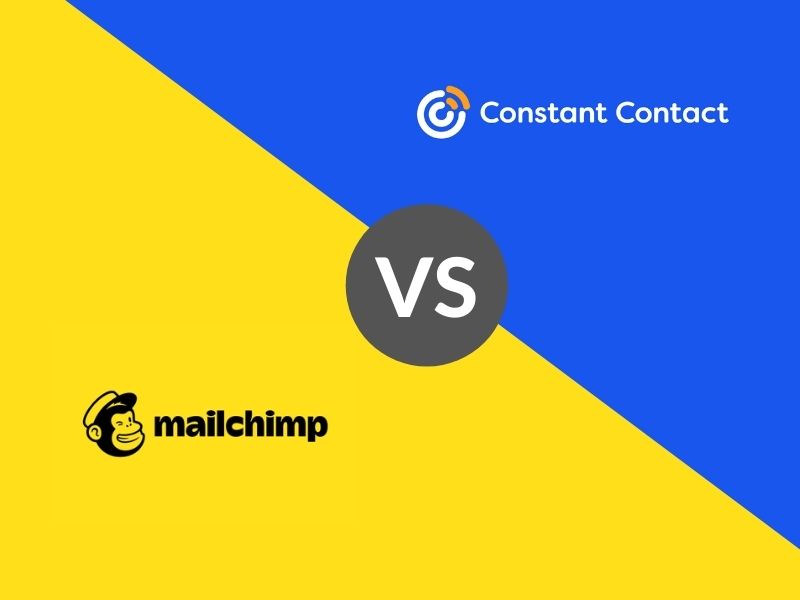 Constant Contact vs Mailchimp will be on the battlefield today let's find out which is the winner.
2022 is the year and an era of rapidly updating technologies. Meanwhile, living with the speed of technology can give you ease and cost you much.
As businesses have gone live, tools have been introduced in the digital world to improve productivity. Email marketing is a part of businesses since the '90s and has upgraded itself a lot in the past years.
Among the tools, MailChimp has become the world's leading email marketing tool that is affordable and modern. But the world has a lot more to offer than MailChimp. There are a lot of Mailchimp alternatives out there.
Mailchimp's most significant online competitor is Constant Contact, which you might not have heard about.
However, Constant Contact has been providing email marketing services since 1995. There are many more upgrades among both of them, which we need to clarify to our readers.
Trying to choose between Mailchimp vs Constant Contact for Email Marketing Services? Let's have a comparison sequence of which to choose for your business in 2022.
Constant Contact vs Mailchimp: Overview
Features are the primary sources of defining anything in an illustratable manner. Let's measure the paranoid differences between the two via comparison.
Constant Contact Overview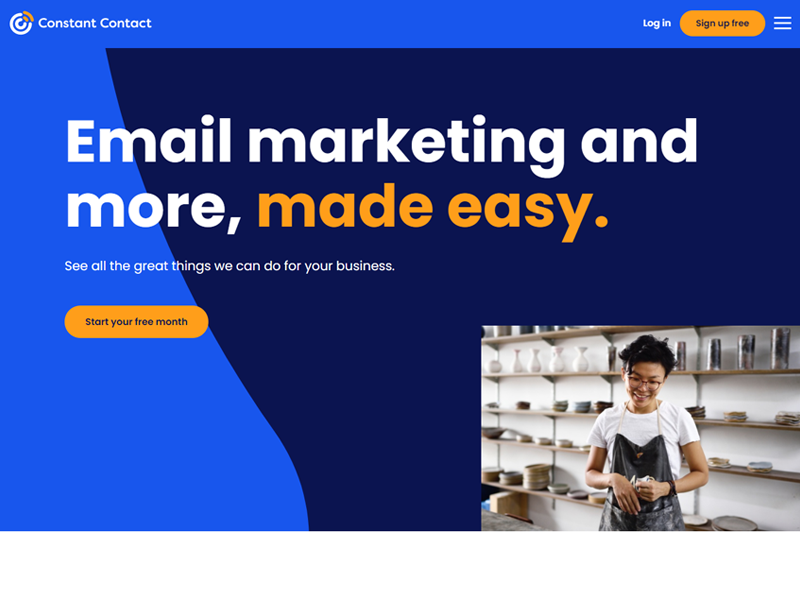 Constant Contact has been in service since 1995 and holds a remarkable presence in the digital world.
There are several improvements that it does for the past few decades that made people somehow love it. Let's discuss its pros and cons.
Pros of Constant Contact
It has a 60-days free trial available.
Delivery results are marvelous with the touch of new accessibility tools.
It consists of an event management tool, which made a mark in the history of digital marketing. Eventually, the sales began to rise for constant Contact after the addition of this tool.
It has built-in templates for a better understanding of the software and eases the stuff.
Along, you can use its drag and drop email editor to customize the templates to your needs. You can add images, videos, URLs, RSVP, donation polls, choosing your favorite font, style, and color, and much more.
Constant Contact gives you numerous options for doing segments according to age, location, or purchase history.
Constant Contact, you can connect to other apps, e.g., Facebook.
When you are extending your email list, don't worry; constant Contact got you covered. It gives you robust contact management functionality to accumulate new users.
Not just these, it also fibrates you with the facility of adding new users to your email list via messages.
For better organization of your data, Constant Contact offers you to create segments according to primary conditions, E.g., opens and clicks. It doesn't use your transactional data like your last purchase.
Cons of Constant Contact
Customers say that it is a bit expensive after the removal of the event management feature. What they offer now doesn't cost this much.
Constant Contact needs to focus on their necessary automation actions and upgrade them.
It has no free plan.
It owns 8.69% of the market, too low as compared to MailChimp.
Mailchimp Overview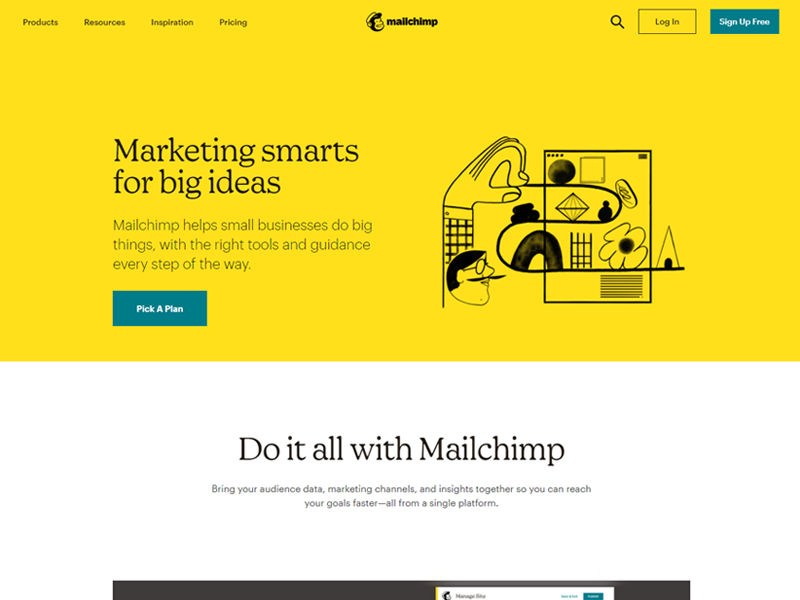 Well, your email marketing campaign goes wonderfully with the flexibility of sending email to 2k subscribers for free with MailChimp. It comes to mind because of its outstanding unpaid plan and because it is handy and modern. Let's dig deeper into the software to know what it is actually.
Pros of Mailchimp
Free plan – MailChimp's freemium program offers approximately 10,000 emails to 2000 subscribers with a variety of other options too.
Disciplined Reports – Whether you want to know about the client, geo-tracking, social media, google analytics, or anything, it does it tremendously.
It has a very modern-looking interface with a robust, simple, and clean template editor.
Cons of Mailchimp
They are relatively steady in increasing their cost plans once you extend your contact list or subscribers.
Although MailChimp serves very authentically in many aspects, it drops down when we need advanced automation options.
Ease of Use
Well, both Constant Contact and Mailchimp offer easy navigation to the users, even if they are beginners. But at the same time, some features differentiate both of them.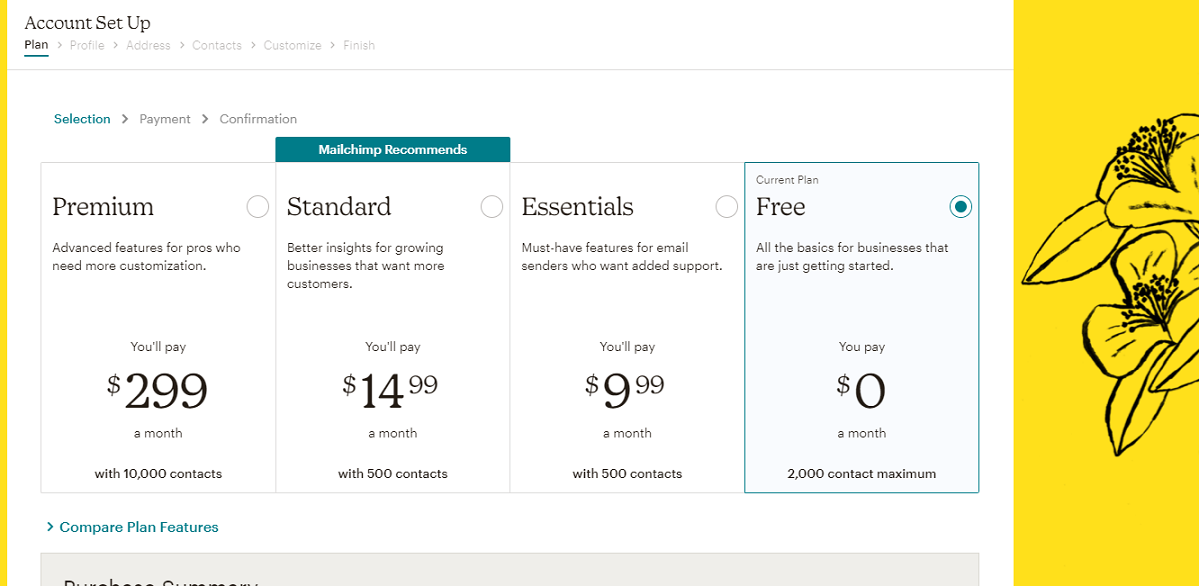 If we talk about MailChimp, it offers a very convenient yet modern-looking user interface. It provides a very smooth way to measure all the changes you've made to your email marketing campaign via a navigation menu.
But the platform's advancement also confuses the users; e.g., it wasn't easy to find how to add subscribers.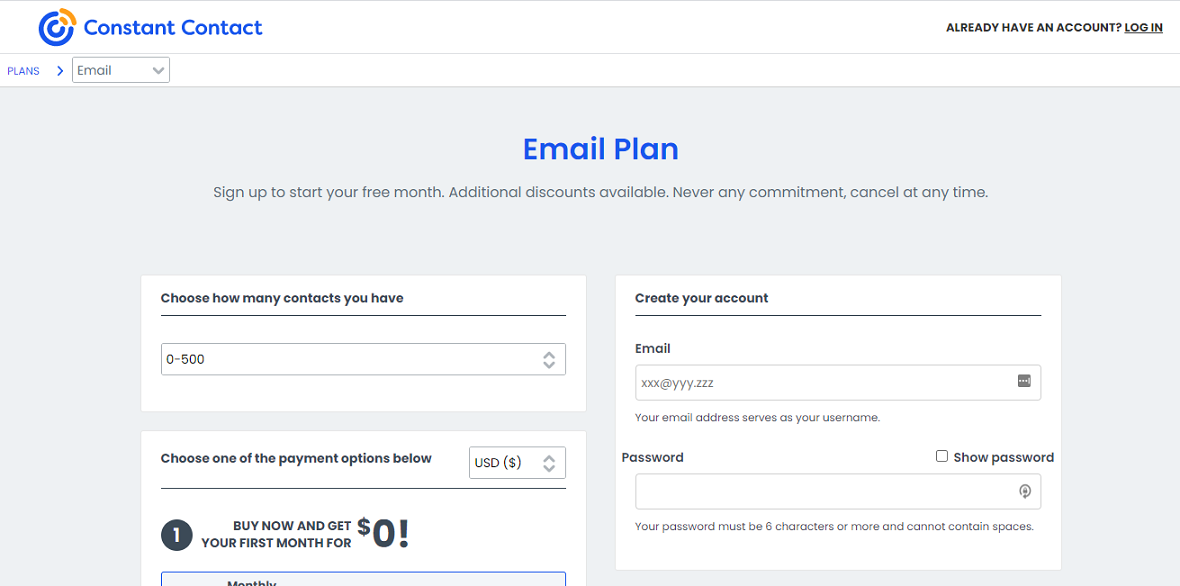 Constant Contact seems simple because of its limited features. However, the interface doesn't look much modern and understandable because of some hidden features in the menu.
Winner: Constant Contact
Design and Templates
Designs are the second most crucial part of your email marketing campaign. Let's see how Constant Contact or Mailchimp are performing on it.
Mailchimp serves you with a few templates to give a head start to your campaign. Both MailChimp and Constant Contacts have easy and smooth navigation.
But MailChimp has a few organized categories of their templates like e-commerce, events, holidays, newsletters, and notifications.
While using MailChimp, you get an empty template in which you can easily customize and organize your data according to your choice. You can add images, videos, URLs, and much more to that template with flexibility.
Creating your newsletter from scratch is a handy task with MailChimp as it lets you use Html. Along, you can also import code in a .zip file or from a URL.
Also, MailChimp offers a lot more flexibility and options while editing your template. The array of options start with showing likes and shares on your page, product recommendations.
You can choose how to display an image alongside the bulk of content blocks available.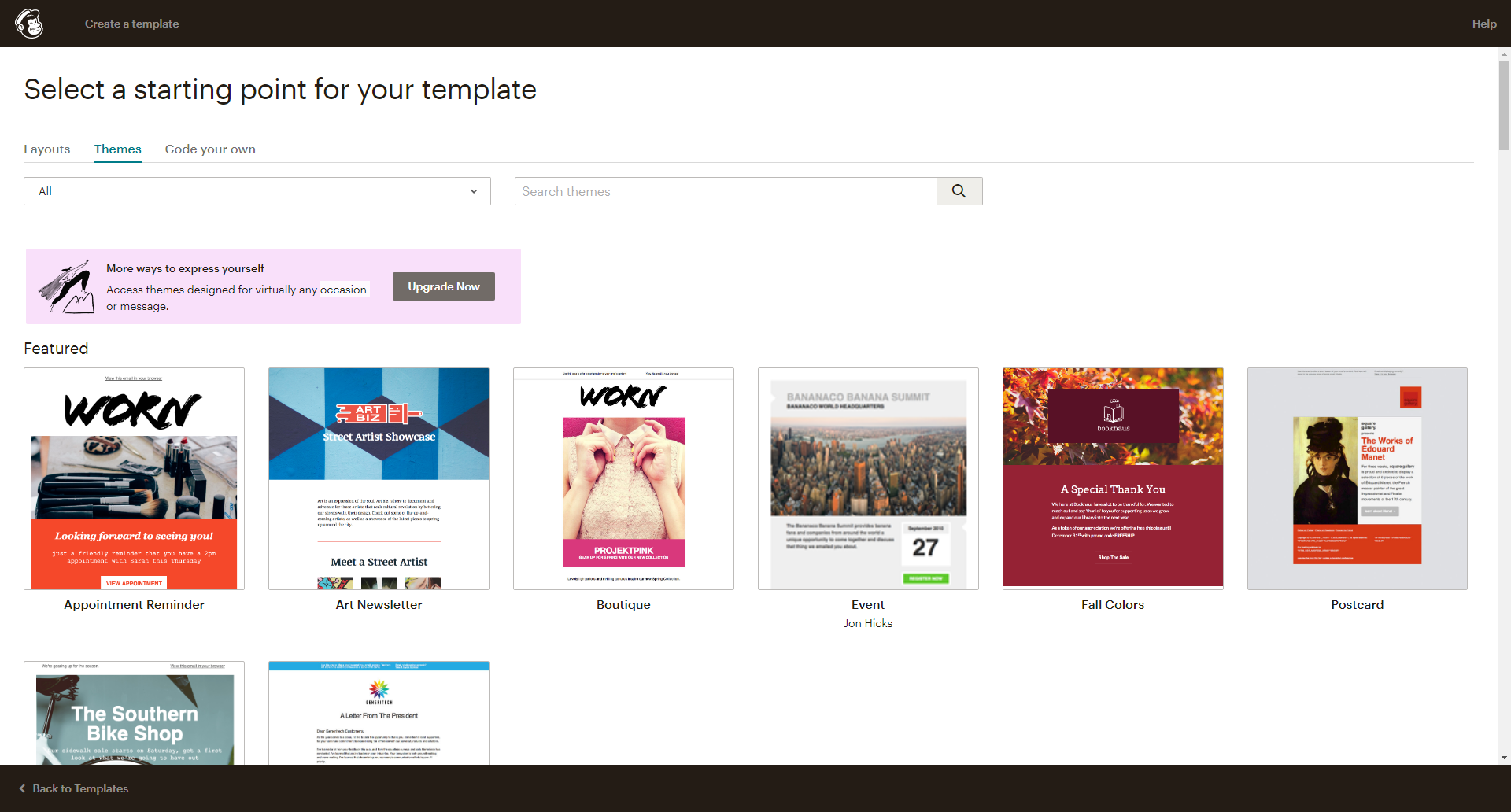 Constant Contact is similar to MailChimp except for a few things in terms of designs.
Although both the platforms give you built-in templates to start on, it goes like 80/100 for constant Contacts.
I'll tell you why.
Constant Contact looks simple and easy but lacks a lot of features in terms of design and flexibility.
Winner: And this is how MailChimp wins the victory.
Integrations
Everyone depends on other's support, and so does the software. Both the platforms have integration to multiple software to increase the productivity of their businesses.
Mailchimp surprisingly offers integration to the software given below:
Zapier.
WordPress.
Xero.
Canva.
Chargify.
Google analytics.
Clickfunnels.
Paypal.
Surveymonkey.
Note:
It is essential to check the integrated software list before buying any paid plan not to be fooled. Because of fewer IT resources, it might be possible if the software that runs in your business exists here or not.
Here, Constant Contact takes the lead as they have integrated almost every popular software, not to be worried.
Shopify.
Facebook.
WordPress.
Eventbrite.
Salesforce.
Outlook.
Quickbooks.
Bigcommerce.
Gmail.
It helps to connect you with the world's latest platforms and get benefitted.
Winner: So here, the victory goes to Constant Contact.
Automation
Now, let the bot make an effort for you when you are not around. Get smarter and take maximum support from automation.
Let's see how both these platforms have come to use automation to increase their business's accessibility.
As we said, let the bot handle the mess and reach people's inboxes on time. Mailchimp is on top in automation and ranked # 1 also. With MailChimp's automation services, you can do:
Welcome series.
Abandoned cart emails.
Product retargeting emails.
Product recommendations.
Product follow-up.
Customer re-engagement.
Order notification.
Let's quickly take a look at how Constant Contact uses automation to exaggerate their business.
Welcome to new contacts.
Nurture leads.
Engage your audience.
Expand your reach.
Although both the software struggle hard to integrate automation into their businesses, the smarter the player, the more fun it is to play.
The victory goes to MailChimp for being recognized as the # 1 email marketing tool.
Winner: MailChimp
Support
Customer support is an essential part of any online business. Both MailChimp and constant contact offers live chat and email support but has a little difference, which impacts hugely.
They have a separate for customer queries where they can write to the management about their issues.
Mailchimp supports its customers in many ways, but sometimes it's very restrictive, and you can't even access your information.
It has put a wrong impression on the users.
Constant Contact supports its customers via phone calls, messages, live chats, and emails, winning Constant Contact vs MailChimp battle.
Winner: Constant Contact
Deliverability
Deliverability is considered when your sent email doesn't go in the spam folder and get received by the user's inbox. Both the platforms have different metrics of delivery.
Let's have a quick look at this data taken from EmailToolTester.
| | MAILCHIMP | CONSTANT CONTACT |
| --- | --- | --- |
| Overall Deliverability Rate | 87.7% | 88.8% |
| Primary Inbox | 79.5% | 76.2% |
| Spam | 11.1% | 5.5% |
| Undelivered | 1% | 5.7% |
| Sender Score | 97.7% | 94.7% |
Constant Contact wins with straightforward tactics because their deliverability is overall better than MailChimp.
One of the primary reasons for this victory is, lesser emails have gone to the spam folder than MailChimp.
Winner: Constant Contact
Rating from customers
Customers are your business's roots; if they don't exist, your business will not get into shape. We have a few reviews from the customers about both the software.
Mailchimp is the star in the online market these days, let's see what customers have to say about it. Reviews were taken from Trustradius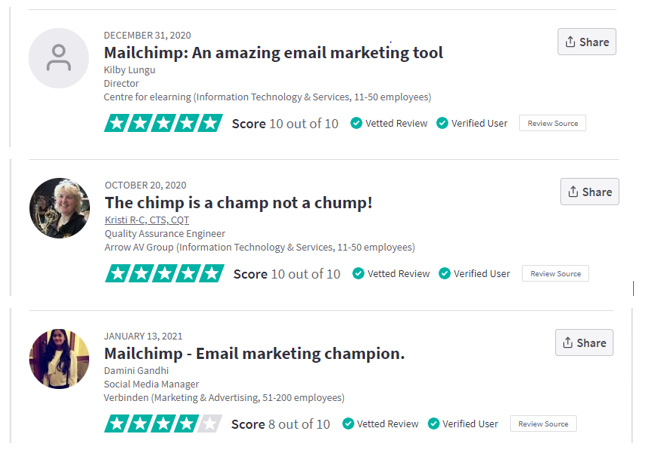 Let's have a look at the reviews from Trustradius for Constant Contact via customers,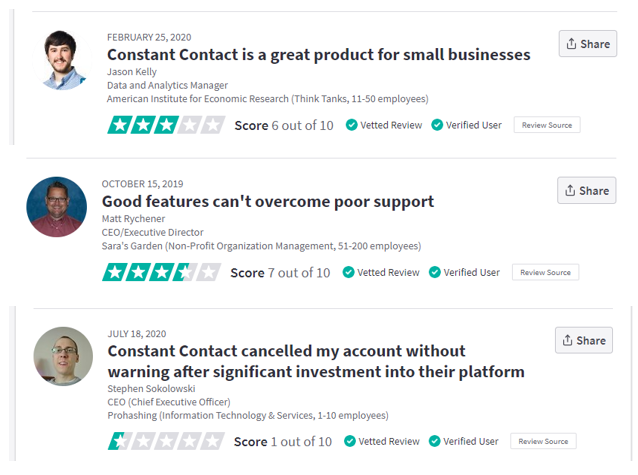 In short, MailChimp leads with the victory in hands according to the right and bad experiences users had to face.
Winner: MailChimp
MailChimp and Constant Contact New Updates
Mailchimp New Updates
Mailchimp has come up with power-packed updates that use machine learning algorithms to do handy stuff. With a diverse team of experienced professionals, we create a future that recognizes you.
Mailchimp smart.
Creative assistant.
Customer journey builder.
Subject line helper.
Next best action.
Buy button.
Surveys.
Marketing preferencing center.
Constant Contact New Updates
Constant Contact continually keeps on updating its products so that you get maximum benefits being a marketer. A few updations are mentioned below:
Segmentation and list management updates.
Reporting updates.
Social media marketing tools updates.
Automation updates.
Integration updates.
Survey updates.
Previous updates.
Constant Contact vs Mailchimp Comparison Table
Mailchimp vs Constant Contact differentiates a lot in their plans. Let's have a quick review of both platforms.
MAILCHIMP

CONSTANT CONTACT

What We Like

Advanced reporting and analytics

Automated email responder templates

Helpful in-app tips and support tools

Intuitive user interface

Advanced contact management

Community support

Could Be Better

Limited support for lower tiers

Occasional navigational issue

More expensive than other similar solutions

No 24/7 support

Lack of segmentation options

Landing page building is basic

Key Features

Email campaigns

Automation

A/B testing

Intuitive user interface

Advanced contact management

Community support

Pricing

Free: $0

Essentials: $9.99

Standard: $14.99

Premium: $299

Email: $20

Email plus: $45

Support

Guides and tutorials

Live chat for paid plans

Email support for paid plans

Phone support

Email customer support

Social media support

Ease of Use

Drag-and-drop editor

Checklist-style user interface

Personalized tips and assistance

Intuitive dashboard

Displays useful content

Key actions to create campaigns
Mailchimp goes expensive with upgrades simultaneously, and Constant Contact doesn't have any free plans.
However, you can do 60 days of free trial for Constant Contact. Still, MailChimp is the winner for its flexible plans.
FAQ
Which is better Constant Contact or Mailchimp?
MailChimp
How do i switch from Constant Contact to MailChimp?
Import your Contacts into MailChimp
1. Log in to your MailChimp account
2. Navigate to the Audience tab
3. Click on Manage Audience from drop-down and then, Import Contacts
4. Choose Integrated Service – Constant Contact – Next
Is Constant Contact any good?
Constant Contact can help businesses to grow well with their email marketing. It is easy to use and very good for a small business
What is Constant Contact used for?
It helps you to run email marketing and not only. You can send newsletters and even create websites.
Which is cheaper?
Constant Contact is cheaper as compared to Mailchimp
Which is the best solution for a begginer?
Constant Contact
Conclusion: Who Wins?
Mailchimp is a sure-shot winner here because of its advanced functionality and upgrades. On the other hand, Constant Contact seems useless to the users after removing their event management tool and is also very costly.