The best property management software is the one that provides the simplest solution for managing your real estate portfolios. It controls all the processes between tenant screening and maintenance.
Luckily, the online market has several comprehensive solutions in the market that help organizations to manage property units. Most of these software offers cloud-based services that mean you get easy access to anything that you want from anywhere. Such as using your smartphone.
In this post, we present the best software for manage rental properties that are currently available in the online market. All these software are highly useful for anyone dealing with real estate of any portfolio or type.
Whether you are a landlord with minimal investment or a property management firm with millions of land locations, you get multiple options with your software.
Locating the best property management software that suits best your situation will be a time-consuming and difficult task. Therefore, we have narrowed down a list of the best software to manage your real estate business.
What Is Property Management software?
Management software for property is a modern way to run your real estate business. A property software is not the one that handles office software like documents. It also takes care of the financial management and accounting needs of your real estate business.
In addition to maintenance and management of tenants, management software for properties also help in screening of rental application, marketing and advertising, inventory tracking and ticketing faults report.
The best software also enables direct communication with the tenants to provide status and update notifications.
A business software automates the critical tasks about accounting, facility management, tenant management and leasing functions. Most of the software can also streamline communications between tenants and landlords.
Without a software, property management would need more effort manually and will increase the personnel's responsibility.
Above all, the property management software is best for managing several properties.
Let's have a look at the best software so you can choose one of them for your property management business.
The 9 Best Property Management Software
1. Buildium
Best for property management firms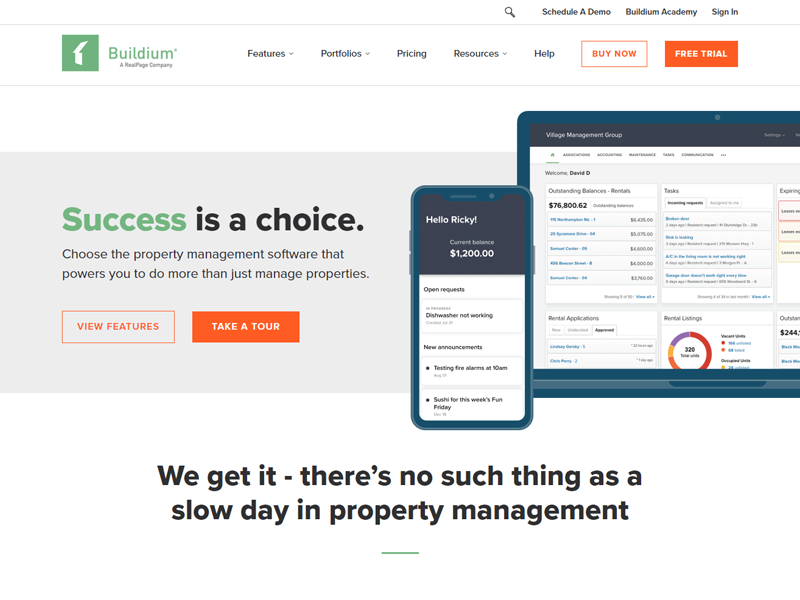 Buildium is a web-based management software for a property that helps managers in real estate to have full control over their business. This software is suitable for all types of residence managers.
Buildium also offers tools that help the owners to manage and monitor rents, maintenance, and vacancies' issues. It supports all types of property managers irrespective of their place of work. You can access the software either you are in the office or on the go.
Generally, the software's convenience and flexibility make it the best management software for residential property in the market.
Moreover, Buildium is easy to use. The user interface is friendly and makes it ideal for beginners. Also, it is an intuitive and simple platform that you can use without any trouble.
The software includes several tools for leasing, business operations, accounting and property management. Besides, it supports the owner portal as well as the full-service tenant portal. These portals help in the easy streamlining of communications between the two parties.
Buildium includes a built-in recurring schedule that is easily used to set daily tasks. This software also lets you track vendor efficiency. It means you can easily analyze the performance of the vendors and assign them work.
Pros
Offers complete documentation for training
Online ticket support provided
Tenant portal automates online ticket support
Cons
Not suitable for single property managers
Some complaints were reported for customer support
Expensive pricing plans
Price

All the plans in Buildium offer a free trial. It is great if you are a beginner in this field. You will get to know what the software is offering. However, Buildium offers a steep pricing curve.
Single property managers may not find this investment-worthy. This management software is not best for small or middle managers. It seems to be more enterprise-oriented.
Moreover, pricing depends on the number of managed units. Some of the tools may come with an extra price. Electronic documents and online payments also required extra charges. The tenant screening feature also does not come free with the packages.
User ratings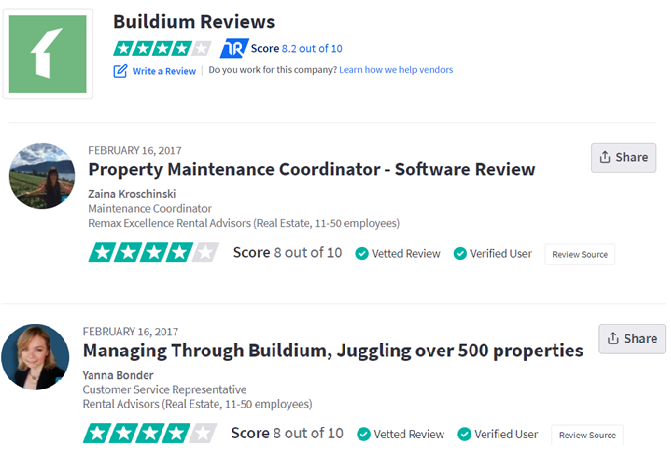 Features:
15-day free trial
10% off annual billing
Great features
Supports multiple property types
Great design
Automated payments and communication
24/7 support
Powerful and intuitive platform
2. Yardi Breeze
Best for customization through several modules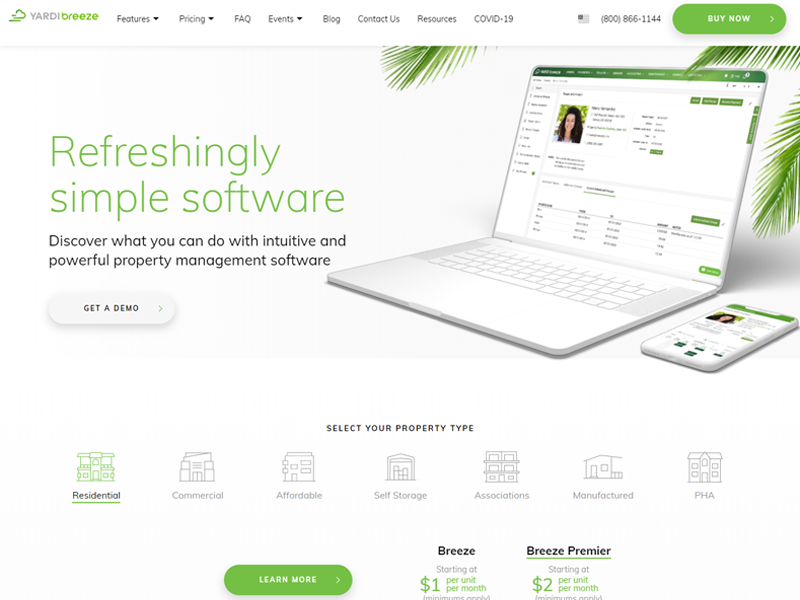 Yardi Breeze takes control of your property operations, accounting, leasing and marketing. You can manage your entire portfolio using one refreshingly simple platform. It supports residential, self-storage markets, associations, manufactures housing, affordable, commercial and PHA markets.
Yardi Breeze saves your money and time while it streamlined your tasks through financial reporting, sales management,maintenance, rent collection, leasing and marketing.
It includes very easy to use web portals for owners, rentals and applicants. It is much easier to track and collect payments online using Yardi Breeze. The reports generated with Yardi Breeze are accurate. This is because of the built-in real estate accounting system.
There is a single dashboard with which you assign vendors and receive maintenance requests while tracking progress.
The support offered by Yardi is unlimited where you can get connected to live, online help centre and chat. Their support team is working to ensure industry-leading and superfast support when needed.
In order to get enhanced capabilities, Yardi Breeze Premier is available. It offers enhanced features of menu-level security controls, custom reporting, job costing, and automated invoice processing.
Pros
No maximum or minimum units for management
Free customer support and training documentation
Unique features
Cons
Complaints of customer service
Suitable for all small and medium-size landlords
No mobile app availability
Price

Unfortunately, the prices of Yardi Breeze are only available upon request. You need to specify the organization's details before receiving the offer. If you are looking for management software and believe in researching before purchasing, it's better to wait than to spend.
User ratings
The user rating of Yardi Breeze on TrustRadius is as follows: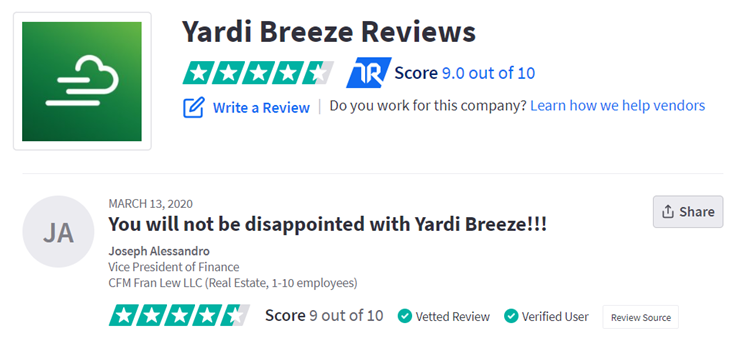 Features:
Easy to navigate and plenty of educational content
Manages large portfolios
flexible and expandable
dropdown vendor list
tracks tenants improvement jobs
the automated lease signing process
important documentation in one place
3. MRI Software
Best for Enterprises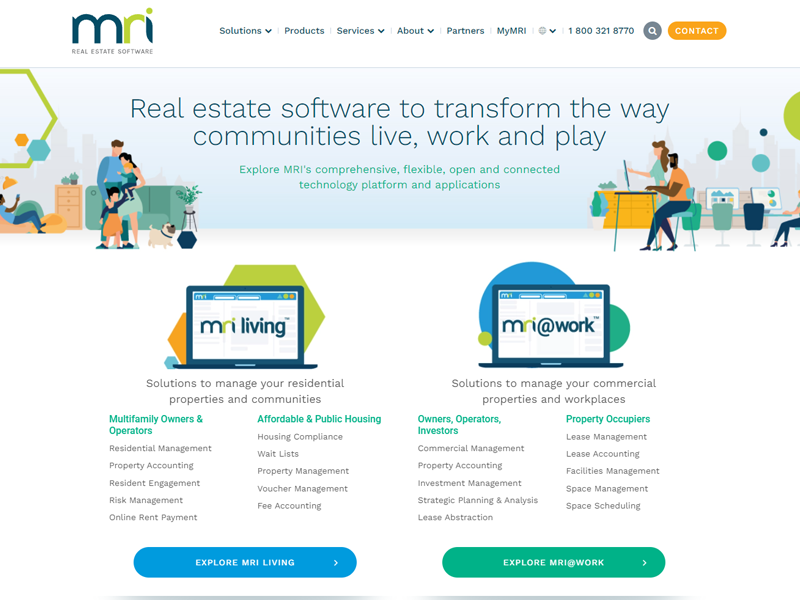 MRI software is one of the most popular tools to manage the property. It targets large enterprises and is one of the longest-running property management platforms.
It took over 50 years to make it an excellent software since 1969 when it was first known as Qube Global Software.
It provides a delicate solution for property management. It is in use by over 10,000 people throughout the world. Moreover, this software is focused on managers and investments of large companies. Above all, it is easy to use.
The software is suitable for a wide range of real estate enterprises ranging from student properties, mixed-use, residential and commercial properties. This has made its features all-encompassing and versatile.
In addition, the MRI software also includes financial instruments, insurance management, invoicing and billing tools and content management. Besides, the software adds a tenant and landlord database therefore, it is easy to track late fees or rent as required.
The drag and drop reporting tool makes it easier to select data points. It is a convenient and fast way to get data insights.
Pros
Offers a lot of documentation for training
Easy to use
Reliable company with a productive history
Multiple advanced features
Cons
It may be expensive if multiple users are added and contact the company to get quotes
Slow customer support
Not a perfect fit for residential properties.
Price
MRI property management software aims at enterprises therefore, the pricing plans are only available on the "Getting a quote" option.
You need to touch with MRI if you are interested and provide your company's information to get the offer.
Meanwhile, you can also request a demo to find if the software is suitable for your purpose.
User ratings
The user reviews on Getapp.com show the following rating status of MRI Software: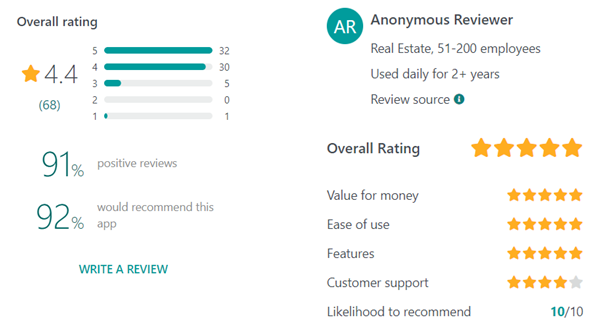 Features:
Self-support resources available
Vendor documentation is well managed
User-friendly interface
Easy to run
Drag and drop reporting tool
Navigation is intuitive
Very customizable
All-in-one solution
In case you are searching for WordPress themes to build your real estate business websites: 27+ Best Real Estate WordPress Themes
4. Condo Control Central
Best for Condos and HOAs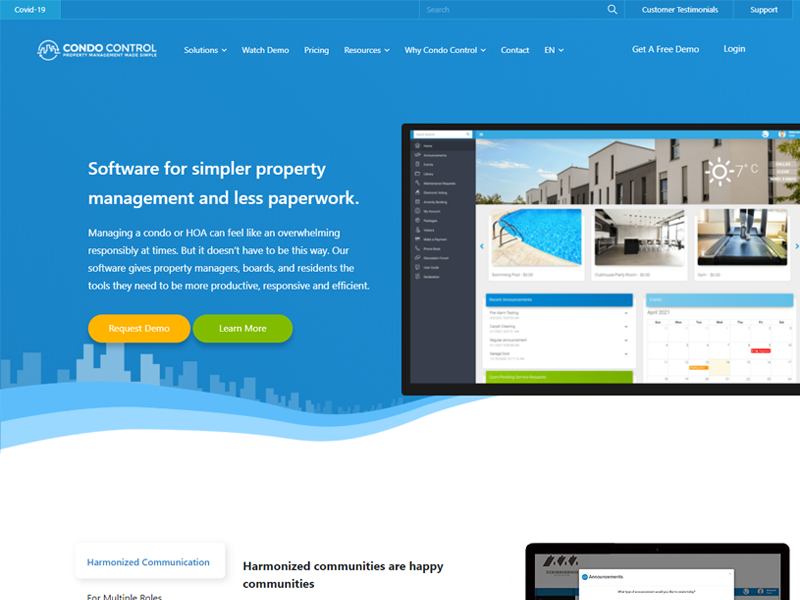 Condo Control is an all in one property management software. It completely streamlines the communication with a fully digitalized platform between managers, residents, and condo board members.
It offers tools that help property managers to deal with the maintenance and tenants' payment issues. It is also easy to store documents, manage bookings, amenities and services requests.
Condo Control Central provides a well-rounded set of features where a full-service portal is the one. The managers can use this portal to communicate with residents and owners, make online payments, keep records and receive online payments.
Any package that comes over in the property inventory integrates the barcode scanning system. It will, as a result, populates data into the software. The portal includes a self-service module to help to report maintenance issues, tracking real-time payment issues and making payments.
This software also integrates an electronic signature option that helps to secure payments as well. The Condo Control Central is fully customizable that makes it a good option for property managers. Besides, it is easy to use and has a simple interface.
Pros
Offers a wide range of features
Easy to use and simple
Highly customizable
Supports security features
Integrates electronic signatures
Cons
Customer support is only available from 9 am to 5 pm
Pricing plans are not mentioned that will require you to wait to find the pricing options
Price
Condo Control Central has divides its bundles into two tiers. The premium and the core plans for property management. These packages include all the features Condo offers.
You can choose one on the basis of your requirements. However, to get the pricing options you will have to email them your request because it is not already disclosed on the site.
User ratings
The user ratings on TrustRadius for Condo Control Central are shown below: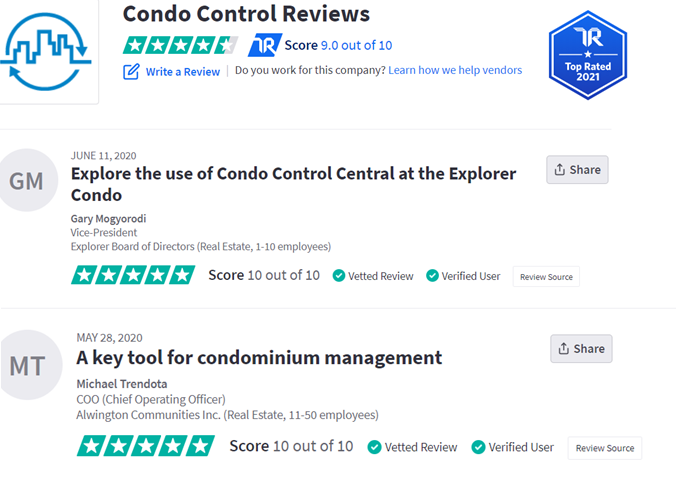 Features:
Numerous features
Highly customizable
Good email management features
Fast response time
Advertises and markets your properties
Simple and easy to use
5. Propertyware
Best for Single Family Homes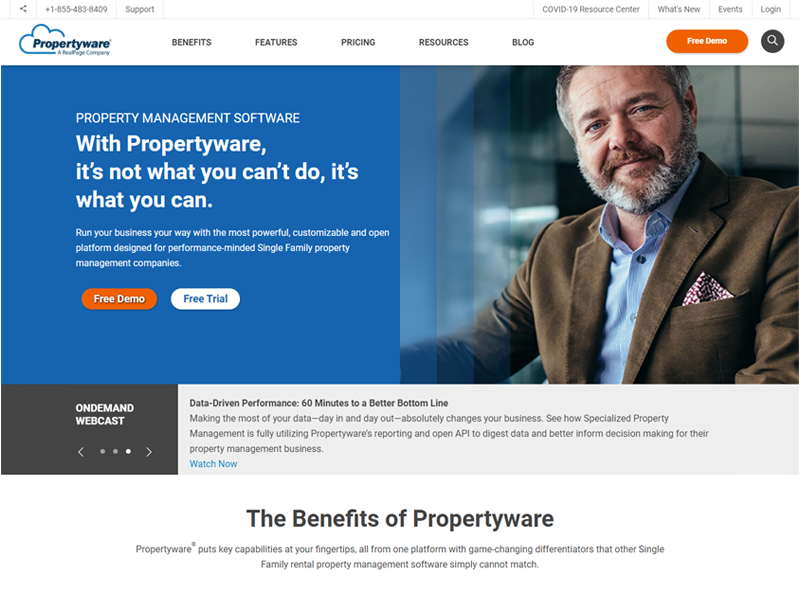 Propertyware is software for property management hosted on the cloud. It is best suited for low-density and single property owners and rental units.
It provides a wide range of tools for on-demand properties like online payment processing and hosted websites. Further, it integrates trust accounting, inspections, and customer portals.
Propertyware also integrates all the basic functions in a single platform. Besides, it excludes the need of using multiple applications and software. You will find it an all-in-one solution either for communication or dealing with the maintenance issue. It further streamlines your tasks and saves time for management.
With Propertyware, you will find automated and customized processes. The resources it offers are best suited for single-family property management webpage. It gives you access to case studies, videos, webcasts and e-books.
You can always enjoy training support and implementation support with Propertyware. It also offers telephone support. The support team is available from 7 am to 7 pm on Monday to Friday.
Pros
Highly customizable
Vast capabilities
Multiple pricing plans
Also has mobile apps
Cons
Only suitable for large portfolios
Complaints on customer support
A bit costly
Technical support is not ideally knowledgeable
Price
Propertyware offers three pricing tiers. The Basic plan starts from $1 per unit per month. The minimum unit you should have with this plan is 250 units. The other two plans; Plus and Premium cost $1.50 and $2, respectively. The two plans need you to have a minimum charge per month.

The Plus Plan costs $350 and the Premium plan costs $450. You charge an implementation fee with all the plans.
The free trial gives you an overview of the overall plan and features. You can then decide if Propertyware is suitable for you or not.
User ratings
The user reviews on g2.com have shown the following rating of Propertyware.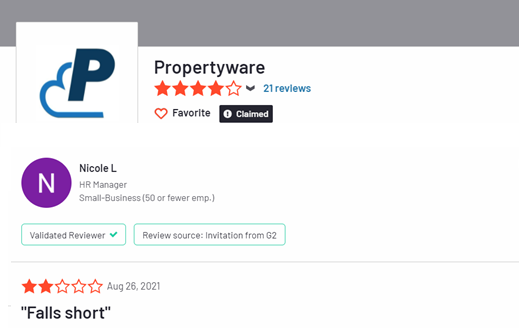 Features:
Easy to scale
Owner and tenants portals
Hosted on cloud
Customize and automate every process
Training and implementation support
6. AppFolio
Best for all managers with multiple property types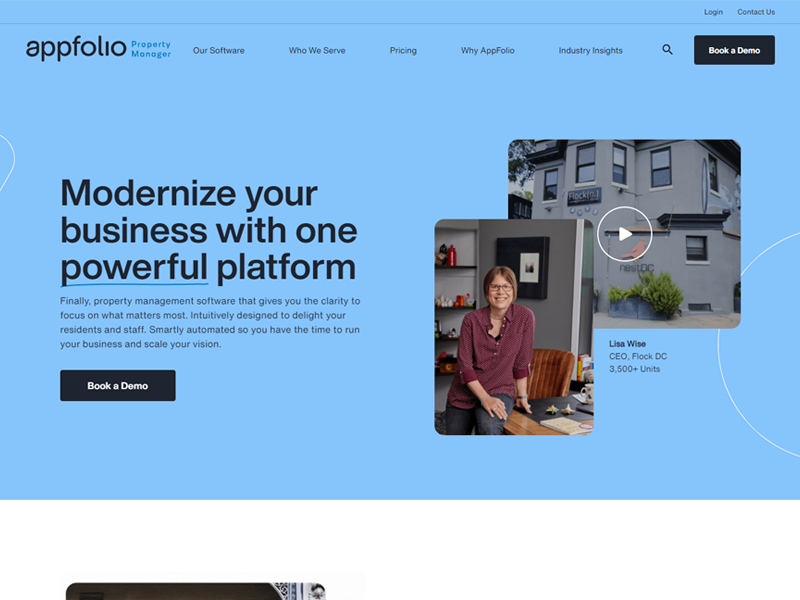 AppFolio is a SaaS-based software that offers compact property management platform. You can easily manage the leasing, marketing, and accounting using AppFolio.
It further includes a strong base of features that makes it the most recommended option in many cases. These features include single-family and multi-family residences, mixed portfolios, community associations, student housing, and commercial portfolios.
It has also managed to develop software that is easily tackled intuitively and quickly. Appfolio is a tool based on the cloud that integrates with your business in a more flexible way. It can be easily installed in any kind of operating system such as desktops, tablets or smartphone devices.
Like other options, it is also an all-in-one solution that effectively grows, manages and markets business. Moreover, you get several tools to administer portfolios. The features it provides help you stay on top of everything regarding your properties.
Appfolio also automates and streamlines the payment processes. You can further check the performance insights using analytics.
A Basic Search Engine aids your marketing campaigns. This tool works with all geographic locations and industry terms to enhance your online presence and attract customers.
Pros
Has mobile app
Supports all unit types
Pay only the features you use or need
Cons
Not good for small units of properties
Requires to deposit monthly fee
Price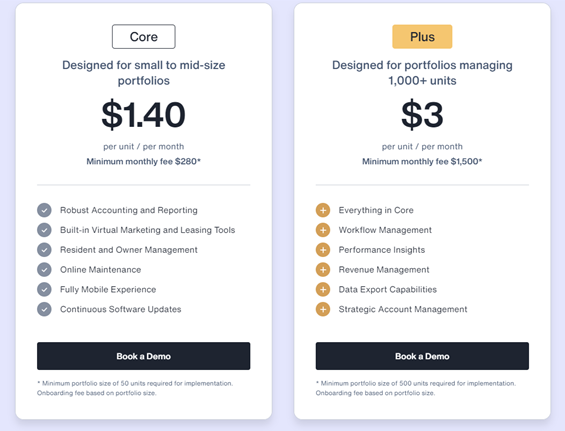 Many professionals can start with the property management software after fulfilling a specific test question.
Appfolio is particularly transparent in terms of its pricing. It does not include any unexpected costs or hidden charges. Furthermore, it provides free upgrades. Sounds amazing, isn't it?
The starting price of the basic plan is $1.40 per unit per month. It does not reach above $3.00 per unit per month based on the package you select. However, the minimum number of property units is 50 per subscription.
Above all, it offers a free trial as well.
User ratings
The users' ratings on TrustRadius show the following reviews: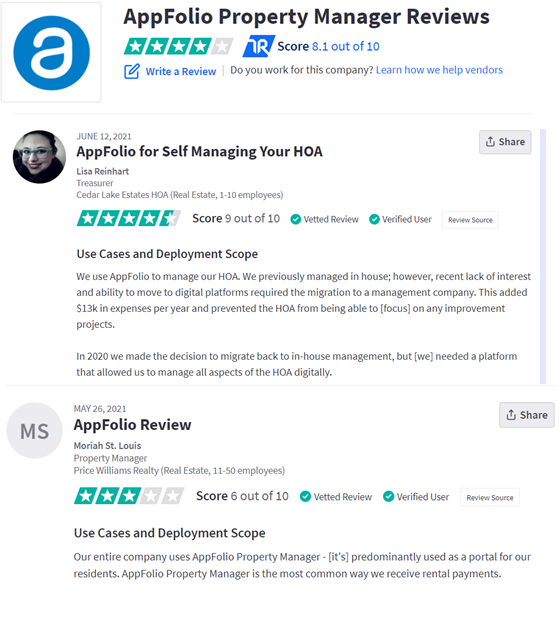 Features:
Affordable plans
Easy to set up
Automation
Stellar customer support
Easy to use
Fully mobile experience
Data export capabilities
Strategic account management
7. TurboTenant
Best for Free Property Management Software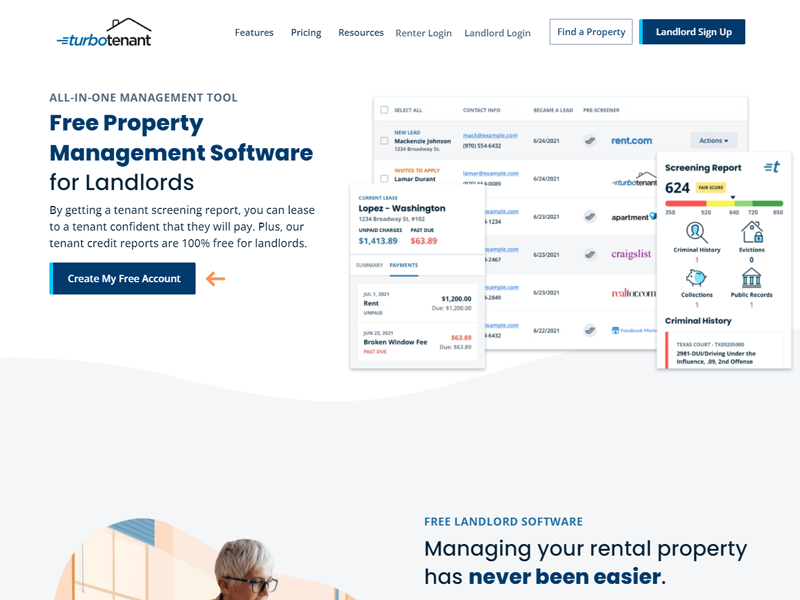 TurboTenant is a great option for landlords who believe to modernise their way of listing manage units.
The best thing about it? It's FREE for all landlords.
With TurboTenant, you can create dedicated property listing pages that helps you to quickly rent out your units. Moreover, it simplifies the communication by letting the individual messages and bulk messages to tenants using as a single inbox. With this software, it is easy to manage screens and applications on your tenants' portals as well.
Wondering why it is free? It is because the costs are paid by the tenants. Besides, it also provides add-ons for landlords for specific actions such as rent estimate reports. State-specific lease agreements and online signatures.
It is also limited. It means that it does not have extensive features that you might see with the basic management software. Unlike other software in our list, you cannot use TurboTenant for collecting online payments.
Pros
Customer support is consistent and available on phone and online
Great for DIY landlords
Free irrespective of the number of units to be managed
Cons
Advanced features are limited
All the expense is on tenants' part
Price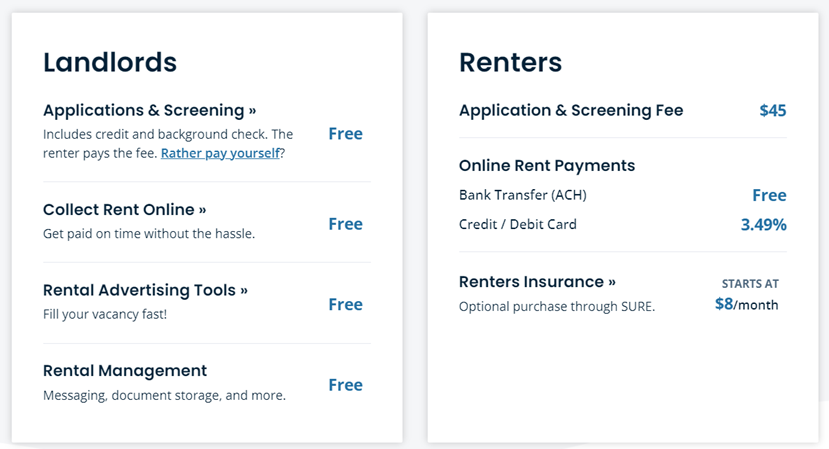 TurboTenant is free for landlords. However, tenants have to pay $35 to $45 for screening and application, a credit card rent fee equals 3.49%.
It also includes a renters' insurance monthly fee which is as low as $8.
Landlords can purchase some optional services with a one-time fee equals $29 for state-specific lease agreements. It also offers an unlimited unit of electronic signatures at the cost of $9 and for $100 you can get 45 common landlord forms. You can also compare local properties for rent estimation at the cost of $15.
User ratings
The rating on g2.com for TurboTenant is: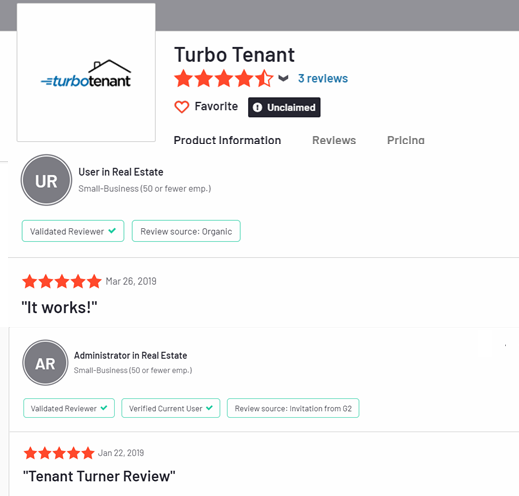 Features:
Bulk tenant communication
Tenant screening
Free property listing
Free for landlords
8. Re-Leased
Best for a mixed and commercial property portfolio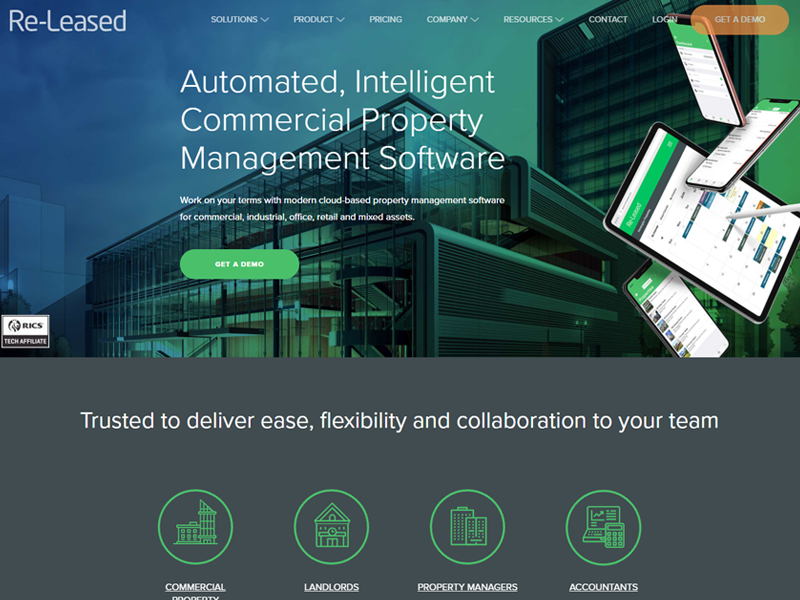 Re-Leased is a cloud-based commercial management software for properties. It is highly suitable for property managers and properties belonging to a wide range. This software can also help you manage the lease for commercial and residential properties, mixed family housing, office units, student accommodation, co-working spaces and commercial properties.
Re-Leased also includes certain key features. For example, compliance management, document storage, inspections, tenant communication, portfolio management and accounting. It also integrates extensive features to make it one of the top tools in the market.
Re-Leased is accurate and elegant. It saves a huge amount of time by using several features in one feature. It is highly responsive and quick. Moreover, the customer support is helpful and friendly.
Further, it is visually appealing and contains everything you may need to establish your property business.
Re-Leased is a flexible platform that you can use with any type of devices such as smartphones, tablets or computers.
It has an intuitive interface and dashboard that provide you guidance of delegate tasks, collaborate and managing properties. It keeps the communication manages as well through text messages or emails.
Pros
Suitable for a wide range of properties
Integrates Microsoft 365
Xero support
Lease tracking
Rent tracking
Insurance management
Cons
No free trial
Poor customer support
Price
Re-Leased offers demos that help you check if the software suits your tasks or not. Yet, they do not provide their pricing tiers to guess what they will cost. They have not divided the features into price bundles.
You can request a pricing quote if you are interested to subscribe to them. You need to add the company's data to get the quoted prices. If you are scrolling different reviews to find pricing of Re-Leased, sorry to disappoint you.
User ratings
Users' reviews on g2.com have shown the following rating: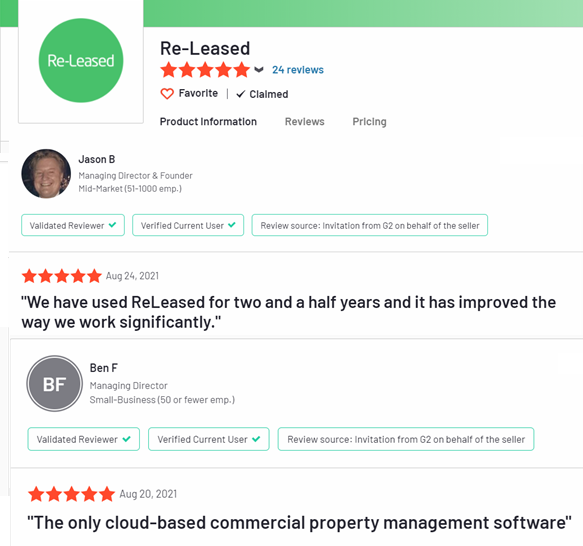 Features:
User friendly
Lots of integrations
Easy to learn
Real-time analytics
Cloud-based commercial property management solution
Responsive, quick and visually pleasing
9. Avail
Best for Small Property Owners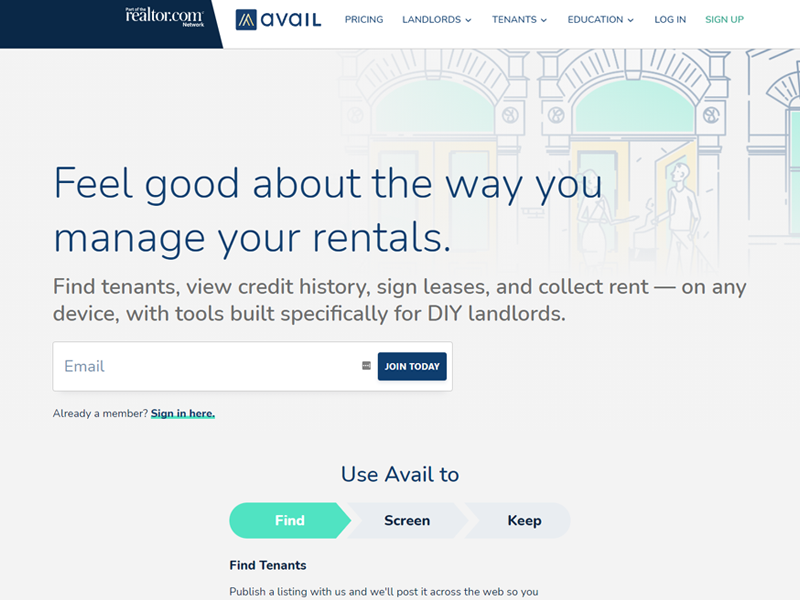 Avail is one of the best overall property software.
This option of software helps landlords to find their tenants, sign leases and screen tenants. This software is also used for collecting rent from any kind of device. It shows that Avail is highly flexible.
Avail is a cloud-based management software with which you can manage all aspects of property processes. It offers educational material, support and tools for landlords. We would suggest that this software is better for small business owners.
Property managers may also enjoy rent collection, credit history, signing leases and finding tenants options with Avail. It uses a single interface to manage all these options.
Avail is extremely easy to use and has an intuitive interface. The software has templates that are highly customizable yet you can upload your documents. With Avail, you can automate all your tasks.
The portals allow you to keep maintenance issues, make and track payments and sign leases. Also, landlords can easily customize their advertisements and search applicants or tenants for their property.
Pros
Effective and friendly customer service
Electronic signature options
Easy to create a list
Automated and streamlines process
Extremely cheap prices
Cons
Price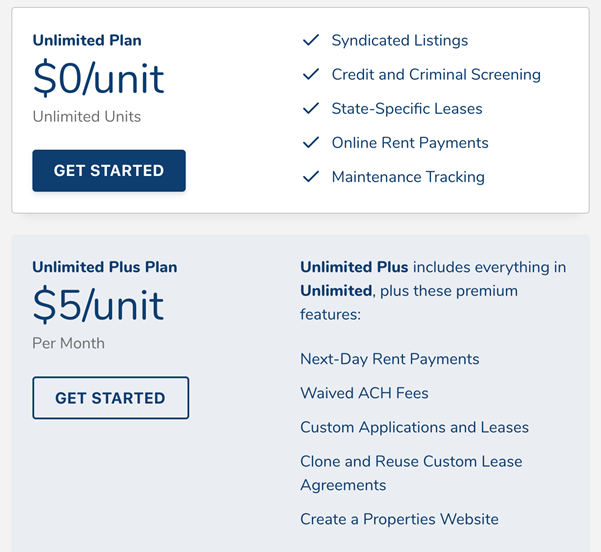 The pricing structure makes it more attractive to "avail" by both landlords and tenants. It comes in two bundles. The unlimited and unlimited plus plan. Both these plans provide all the features in the software.
The unlimited plan is free for landlords. However, Unlimited Plus Plan costs only $5 per unit per month.
User ratings
The user rating on g2.com show the following reviews: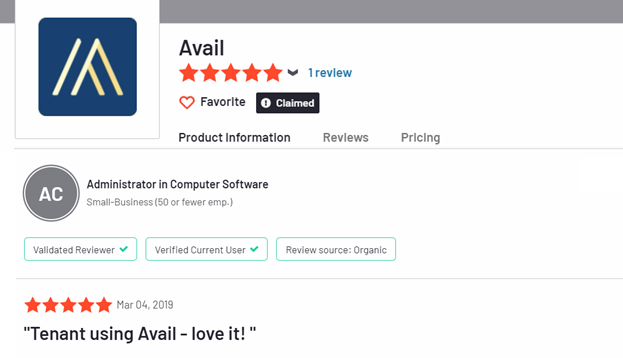 Features:
Digital leases
Rent-price analysis
Free plan
Easy to use
Rental listings
Tenant screening-eviction, criminal, credit reports
Maintenance tracking
Table of Comparison
| | | |
| --- | --- | --- |
| Software company | Why we picked it | Minimum cost |
| Buildium | Best for property management firms | $50-$460 per month |
| Yardi Breeze | Best for customization through several modules | Get a quote on request ($1-$2 per unit per month) |
| MRI Software | Best for enterprises | Get a quote on request |
| Condo Control Central | Best for Condos and HOAs | Get a quote on request |
| Propertyware | Best for Single Family Homes | $350-$450 per month |
| AppFolio | Best for all managers with multiple property types | $280-$1,500 per month |
| TurboTenant | Best for Free Property Management Software | Free for landlords. $35-$45 for tenants |
| Re-Leased | Best for a mixed and commercial property portfolio | Get a quote on request |
| Avail | Best for Small Property Owners | $5 per unit per month |
What to look for in property management software?
There can be a handy procedural guide to answer this question. We can look into the pricing options and essential features to get a kick start in choosing management software for properties. Here is a brief checklist to help you narrow down your options.
You should look for the following aspects while looking for property software:
Influence your network: a good place always needs to leverage your industry contacts by asking about the property management software they may be using. Ask them about the most user-friendly platform.
Identify your business needs: choosing a management software that fulfils your business requirements is the foremost need. You need to learn what upgrades are required for your business and what your business aims to set up shortly.
Compare features and systems: you should find the essential features and narrow down the search further. You can use this list for your selection process:

Compatible mobile app
API/Download
Digital marketing
Owner contact info
Predictive analytics
LLC database
Direct email services

Pricing: now is the time to list the software based on pricing plans. Prioritize the software choices based on features you prefer instead of the price point. This measure will help you meet all your needs to select one and the most suitable property software. Consider the following questions while selecting software based on price.

Do the add-on features cost more?
Is there a contractual agreement or an exit fee?
Is there a setup fee?
Does the setup require a monthly or annual subscription?
What's the actual cost?

Try demo versions: take advantage of any free version offered by your listed software such as user guides, how-to blogs or tutorials. Check for its social media presence or software branding to get a hint of its business value.
What software does small property management use?
Buildium is the management software for most small businesses. It offers beginning investors with small rental portfolios.
Conclusion
What is the best property management software? Well, it depends more on what you are looking for.
Avail is ranked top in our recommendation. This is because of its affordability and ease of use for landlords. However, there are several other options as well that may fulfil your need.
Property managers having multiple property types may also find Buildium or AppFolio better performing. Propertyware is also best for managing single-family homes.
TurboTenant would serve you if you are a DIY landlord and do not want to hire a property manager for your property rentals.
No matter if you are a landlord or a property management company that has thousands of units to manage, you can still find suitable software to accommodate your business needs with it.