The best Gantt chart software is a promising aspect for easier and simpler task management. It makes the tracking and management of complex tasks even easier.
Project managers use the Gantt chart as a powerful tool to manage big projects. A Gantt chart further provides a macro view of the schedule and timeline of a project. It further shows the tasks' interdependency. Such as, both task A or B is important and must be completed before task C.
A Gantt chart helps in getting a high-level view of the potential bottlenecks in a project. Moreover, the project's complexity and the ways to adjust the budget and timeline can also be determined in a Gantt chart.
However, Gantt charts are a single factor of the entire project planning process. The best tools for the organization of tasks and teams you can opt from one of the best software we have included in our list. Some of this software also provide Gantt chart plugins although they do not specifically focus on the Gantt charts.
In this post, we are going to discuss the best Gantt chart software options to edit and create Gantt charts for almost all types of projects; either big or small.
The Top 9 Best Gantt Chart Software
1. Microsoft Project
Best Online Gantt Chart Software for Corporate World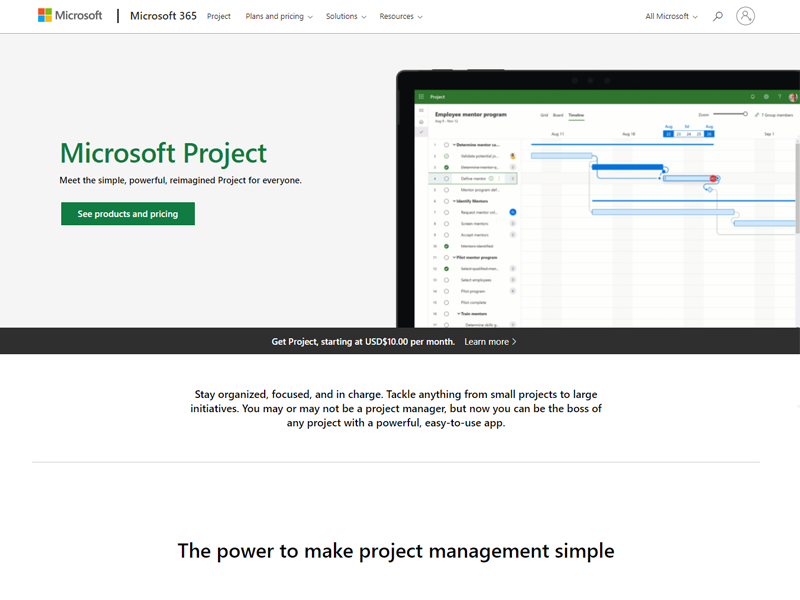 Everybody knows what Microsoft Project is. It is perhaps the most reliable option in our list that manages everything related to project management. It is indeed the go-to option for many as it is sold and developed by Microsoft.
It is a robust system when we measure timelines, budget and resource management. Especially, the large projects are highly managed but it needs a bit hard for the teams to keep track of their project. Yet, it does not provide flexible online Gantt chart software. It is also difficult to follow through with the project execution.
If you wish to get a whole lot of power and features then Microsoft Project is the best option. It provides you with all the detailed options with the most customizable reports. This feature makes it the most suitable and efficient tool.
The only downside is that is it a little bit more difficult to use and purchase. If you do not want to have any extra features, you may opt for a simplistic plan. However, you will also know that it does not integrate fine with other apps in the system but it can manage a lot of other things for you. Moreover, it is expensive too.
Features
Advanced reporting
Templates
Budget analysis
Progress tracking
Resource assignment
Schedule development
Attachment
Lists
Pros
Easily shifted according to the change in date
No fluff or streamlined interface
Integrated with 27 languages
Cons
Not client portal
Cloud is paid and the desktop version is free
Beta cloud version
Pricing

Microsoft Project offers three pricing tiers:
Project Plan 1:
It costs $10.00 per user per month.
Read-only access of Roadmap
Project planning and scheduling is allowed
Project plan 3
Cost $30.00 user per month
Allows resource management
Provides desktop client to up to 5 PCs
Project plan 5
Costs $55.00 user per month
Desktop client license to up to 5 PCs
Helps in portfolio selection and optimization
Includes apps for online project management
2. SmartSheet
Best for Gantt Chart Templates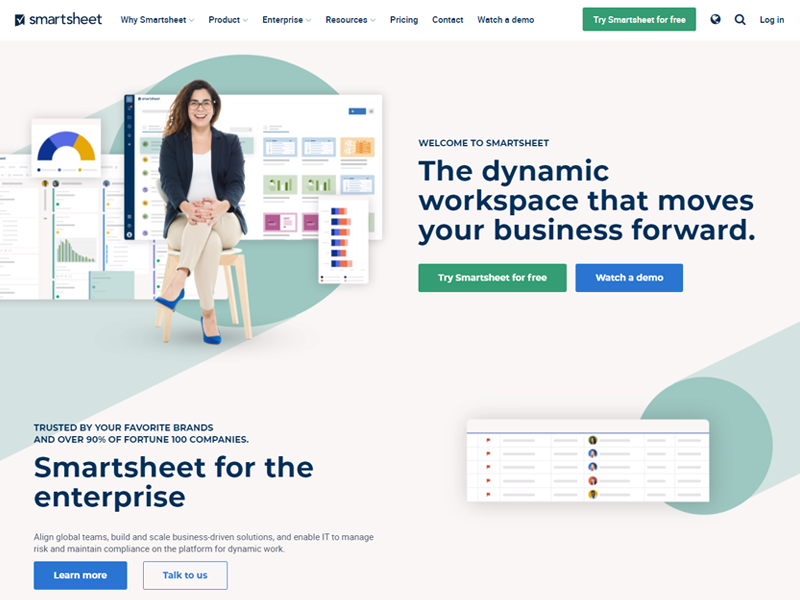 Smartsheet offers project managers a platform where they can put all their project information. It provides you with online spreadsheets therefore, you should not expect any techy or beautiful design.
Smartsheets offer useful and great templates that make it much easy to input all your information into the sheets. You need to choose from the pre-built project management templates that fit best with your needs. It lets you take an overview of all your project tasks and then click on different parts to connect with your overall project information, dependencies, expenses and tasks.
It also provides all the customization options and it is the greatest benefit of using this program. It also gives thousands of automation options that work well with any of the project processes.
The drawback of Smartsheet is that it does not have an autosave option which is a great option if you are working in large groups. It also does not update in real-time. It means that if one person is editing the sheet the other person will not know it.
Features
Automated workflows
Predecessor tasks
More intuitive Spreadsheet templates
Pros
Cloud-based
Diverse functionality
The familiar interface is more like a spreadsheet
Cons
Does not update in real-time
Loads slower if dealing with more data
Pricing
It offers a 30-day free trial.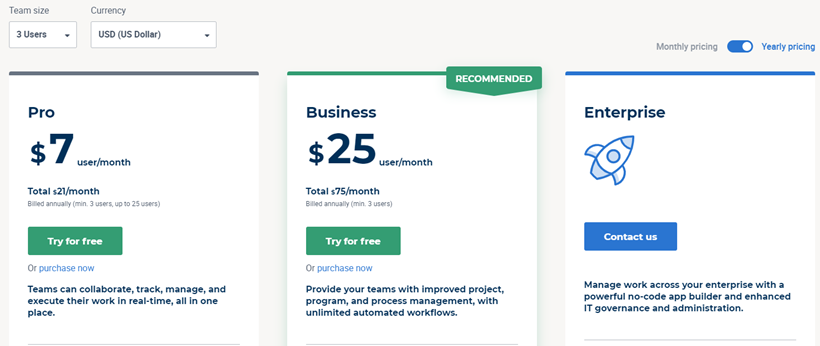 Smartsheet offers three very simple pricing plans:
Individual plan costs $14 per month with annual billing.
The Business plan costs $25 per month with annual billing and needs to purchase at least three licenses.
Enterprise plan is offered with a custom price.
3. InstaGantt
Best Feature Rich Software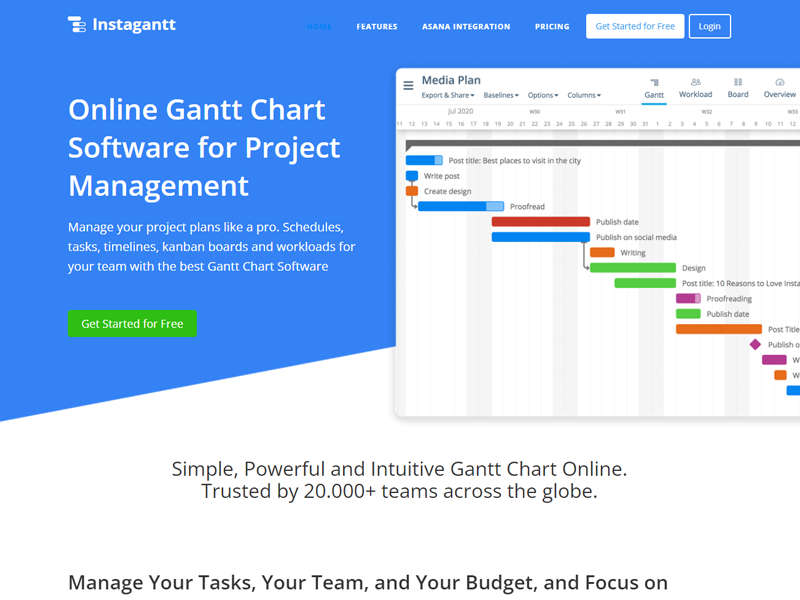 Instagantt is a powerful and feature-rich Gantt chart software. It uses a simple drag and drop interface. It helps to split the tasks into subtasks and has a workload management tool that further helps you balance the project through your team.
Instagantt offers a standalone Gantt chart-making tool. It is also available as a plugin for one of the most popular project management tools, Asana. Above all, it offers a seven-day free trial.
Further project views such as Kanban and Board help the teams brainstorming the reporting tools and creative projects to show the delays in a project.
If you are not using Asana as your key software for project management, Instagantt offers advanced tools that are extremely useful. Its integration makes the entire tool an incredible choice for complex projects management.
Features
Dependencies and milestones
Baselines
Drag and drop
Subtasks and tasks
Diverse exporting options such as pdf, images and excel
Priority and risks analysis
Public snapshot sharing options
Pros
Drag and drop Gantt chart
Easy to track a project with a schedule
Can analyse data and predict productivity delays
Charts are exportable for embedding and printing
Cons
Limited task management so integration with other apps is required
Difficult to keep track of project-related documents and team communication
Lacks an in-task chat tool
Pricing
It offers a 7-day free trial and does not require any credit card information for this.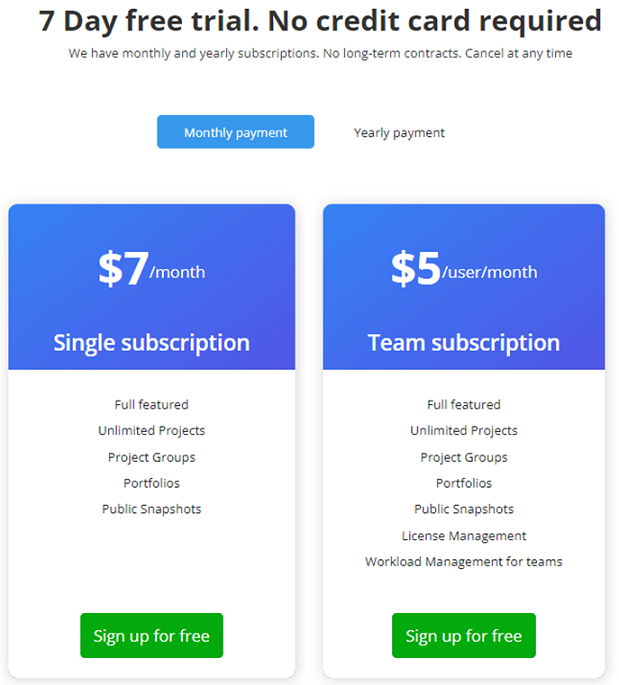 It offers the following two plans in premium:
Single subscription costs $7 per month-it offers public snapshots, unlimited projects and is full-featured
Team subscription costs $5 per user per month. It allows license management, public snapshot, portfolios, unlimited projects and is full-featured
4. Agantty
Best for Small or medium-sized teams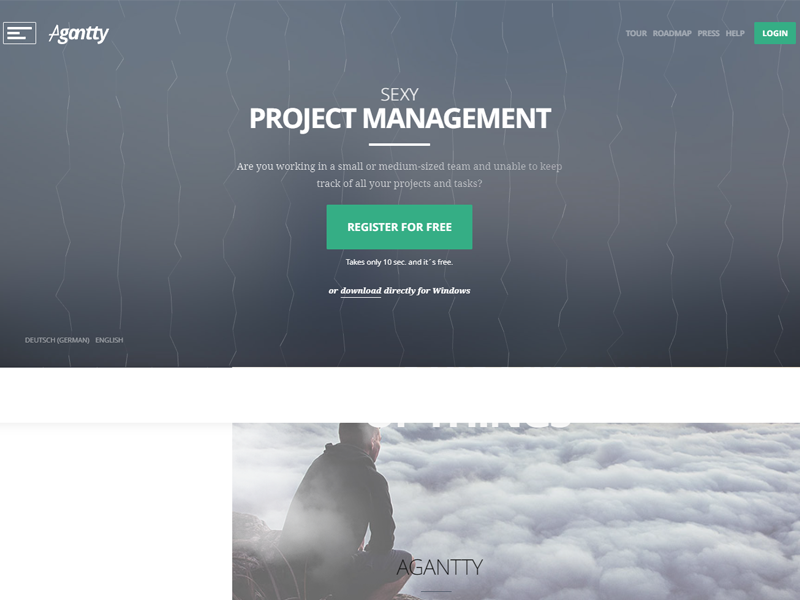 Agantty has Gantt charts at its core. Agantty is a simple and free project management software that provides a clear overview of a team member, group, task or project.
Agantty provides you with everything that you need to manage your project and teams in a better way. You can create an unlimited number of projects and tasks and carry out administrative functions from a single dashboard. Besides, you can use a clean interface to track all your to-dos such that finding tasks is not a task anymore.
It provides guided walkthroughs during onboarding. It is highly preferable for those who are beginners in project management as this tool offers step-by-step instructions to use different features of the platform. These walkthrough guides can help even the non-tech savvy user to speed their solution in no time.
Agantty also ensures the security of your data. It makes protects your data with 250-bit and GDPR encryption.
Features
Work in teams
Drag and drop tool
Rights management
Lists and reminders through pdf or emails
Pros
Easy to distribute and share charts
Easy viewing of the charts by date, colander and team member etc.
Delineated responsibilities are mentioned clearly with milestone dates.
Cons
No auto-save for the feature of Notes
Only suitable for long-term goals and does not fit with weekly or daily tasks
Can't integrate .pdf at the moment
Pricing
Agantty is "really" free. Although, seems like the developer had developed some of the extensions to be sold at a fairly good price. But currently, it is FREE.
5. GanttPRO
Best for robust export options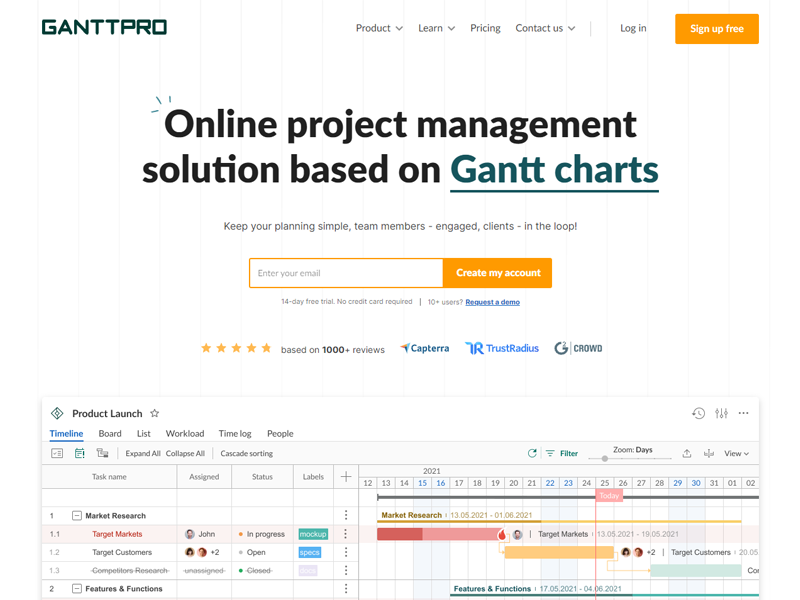 GanttPRO is another neatly designed tool for Gantt charts. It is also one of the most popular ones in the online world. It focuses on quick and intuitive work and is very simple to work.
With GanttPRO, the users can create multiple projects and workspaces. The drag and drop tool makes it even easier to start adding settings and adding them from start till the due date. It further provides the project management options to distinguish permissions to all the team members participating in different projects.
Another big benefit you will get from GanttPRP is that it is very reasonably priced. Therefore, you can start without spending overhead. Also, it has a great and focused design that is truly Gantt chart related instead of considering any other irrelevant aspects.
Other chart options are also included here if the user wants to try anything new. On the contrary, if you want mobile options or integrations then this might not be your last stop.
GanttPRO may not provide you with all the customization options or reporting tools for dashboards. They also do not integrate everything in their system. Thus, you need to set all other systems separately.
Features
Merging dependencies
Splitting subtasks and tasks
Drag and drop tool
Management module and Workload tracking
Pros
Conflict checks for resource management
Exports PNG, HTML, PDF and CSV
Writes and reads MS project files
Cons
Scrolling and zooming through large projects may be difficult
Reporting is less editable and customizable
Can work on one project at a time
Pricing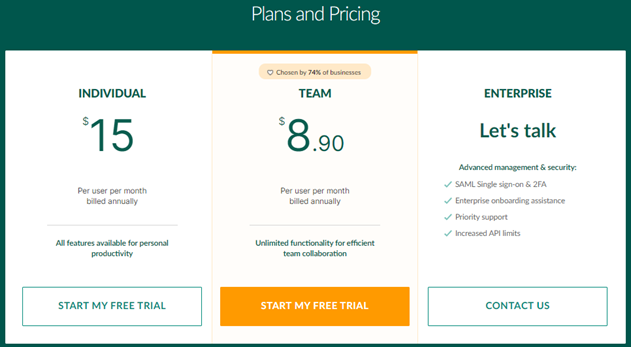 It offers three pricing tiers. All plans offer a 14-day fully-featured trial for free.
Individual plan costs $15 per user per month. It is billed annually. In this plan, all features are available for personal productivity.
The team plan costs $8.90 per user per month. It is also billed annually. It provides all the functionalities unlimited for efficient team collaboration.
Enterprise plan wants you to talk to them so they can create a customized plan according to your need. It offers advanced features as well such as increased API limits, priority support, and enterprise assistance.
6. TeamGantt
Best for Read-only Functionality for External Sharing
TeamGantt is a popular and strong option for project schedules as it allows the managers to establish their projects visibly and easily. TeamGantt offers you basics i.e. team assignments, timelines and tasks.
TeamGantt holds its importance in their understanding of the philosophy and mentality of project management. They also make sure to apply all these aspects to your project. This software provides a firm look at all the projects, their resources, deadlines and tasks.
TeamGantt system offers certain interactive and intuitive Gantt charts. All the team members are allowed to check it out and start using it easily and quickly. In case of any trouble in using TeamGantt, the tutorial content helps them along.
The major drawback of using TeamGantt is the invoicing and budgeting issues that are not displayed. Reporting features are also limited. The file notifications and upload discussions are not enough stellar.
Features
Guest permission
Multiple projects viewing in one Gantt chart
Drag and drop tool
Baselines
Pros
Auto-correction of dependencies
Exceptional tutorials
Gantt charts are interactive and excellent-looking
Intuitive and easy to use
Cons
Quite a bit of room for improvement with file uploading features, notifications and discussions
Reporting functionality is just an average
No invoicing or budgeting tools are available
Pricing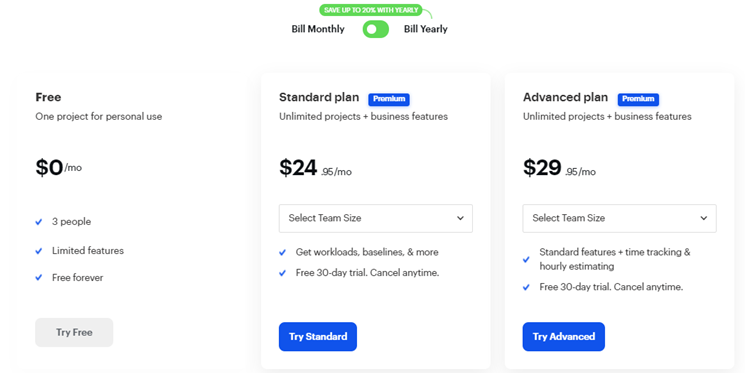 TeamGantt offers three pricing tiers. You can enjoy a 30-day trial for free for each plan. These plans include:
A limited free plan for 3 users and one project
The Standard plan costs $24/95 per month depending upon the size of the team.
The Advanced plan costs $29.96 per month depending upon the team size.
7. Wrike
Best Gantt Chart Maker for Team Collaboration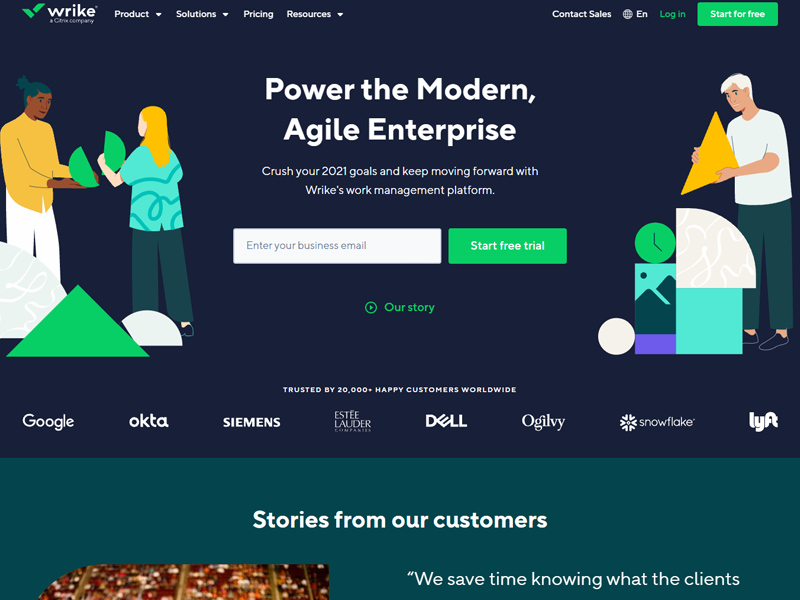 Wrike is an extraordinary software for organizational design. It provides start and end dates, task names, assignees and table view easily and understandably.
This popular software of Gantt chart allows the users to see the performance as well as responsibilities assigned to each team member. The Workload View feature is one of its best features.
It lets the users communicate among the team members as it allows the users to personalize the essential elements in the project. Thus, it minimizes the need for meetings.
It also provides intelligent and new features, the ability to manage and special account types about everything and anything you may require. It is designed to ensure that all types of businesses can be monitored and managed in terms of both ongoing tasks and large projects.
The major drawback of using Wrike is that it offers several different plans that are difficult to figure out. Selecting a single plan is overwhelming. You may need to connect to the customer service to ensure that you have chosen the right one.
Features
Collaborative team editing
Folder hierarchy
Critical path
Better communication
Pros
Abundant integrations from third-party
Newsfeed is updated in real-time
Scalable
Cons
The learning curve is steep
Pricing
Wrike offers a free plan for 5 users. Besides, it offers three premium plans. It also offers a free trial for each premium plan.

A professional plan is recommended for fast-growing teams and costs $9.80 per user per month.
The most popular is the business plan that costs $24.80 per user per month.
The Enterprise plan is suited for large teams. The cost is set after you contact the support team to get the features of your choice.
8. Click Up
Best Free Plan for Gantt Chart Maker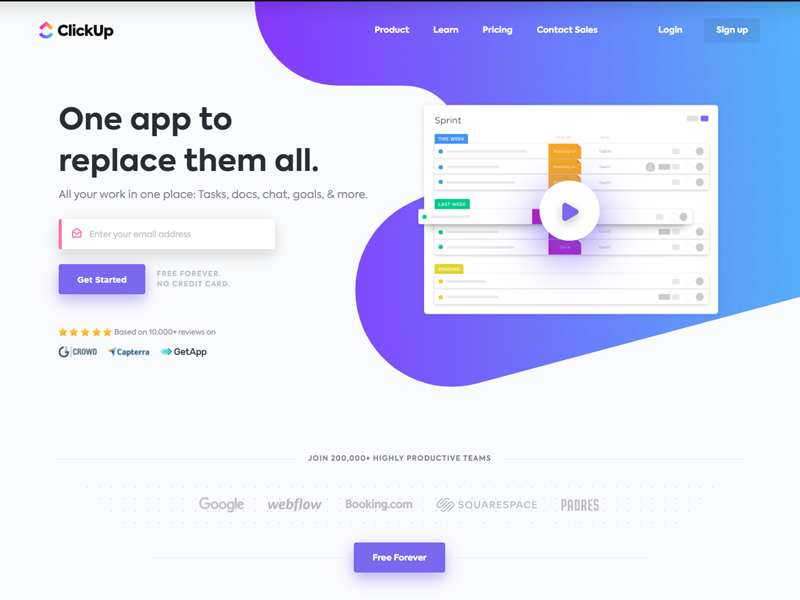 Click Up is an elegant Gantt chart software option. It lets the users prioritise tasks, manage dependencies and schedule everything in the project timeline. It has a swift and beautiful interface that is easy to manage. It is also easy to manage projects by following the project progress, creating tasks and lists.
Yet, viewing the Gantt option will require you to access the paid plan of Click Up. However, once you get into it you will see many good options and features. These options make it possible for you to work more efficiently.
It is an inexpensive system and provides plenty of compatible options. In addition to this, it promises to provide 24/7 support with trained staff and live representatives. In this way, the entire team can access the system in a few clicks and in no time.
Besides, it offers additional features such as cost-to-completion, resource management and portfolio management tracking. Meanwhile, you will also find that it is a bit more difficult to apply some of the provided options. It is because there are hundreds of features.
It is also difficult to start and situate things directly. A small mistake may cause a severe problem for the entire system. In such a case, you need to take quick help from customer support. It may also want you to get through the training options.
Features
Dark mode
Integrations
Notifications
Notepad
Task tray
Assigned comments
Multiple views
Pros
The design layout is amazing
Easy to use
Intuitive interface
Simple pricing
Robust free plan
Cons
Customization options are highly overwhelming
Not suitable for users looking for a simple product
Pricing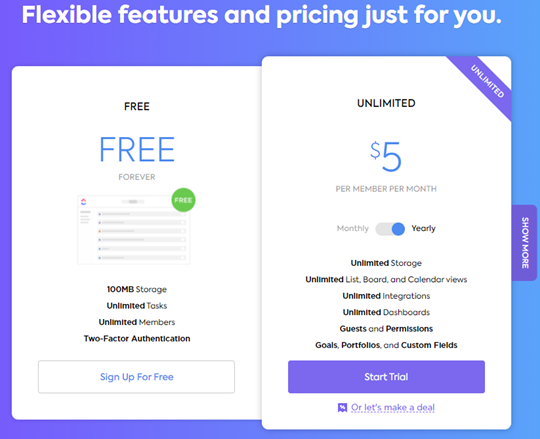 Pricing plans of Click Up are remarkably straightforward. Either you use a free plan or pay $5 per user per month if you pay annually or $9 per member per month.
The free plan is quite limited. It provides 100MB storage with unlimited members and tasks.
The premium plan provides unlimited everything. Unlimited integrations, lists, colanders, storage and dashboards.
9. Monday.com
Best for Customization Capabilities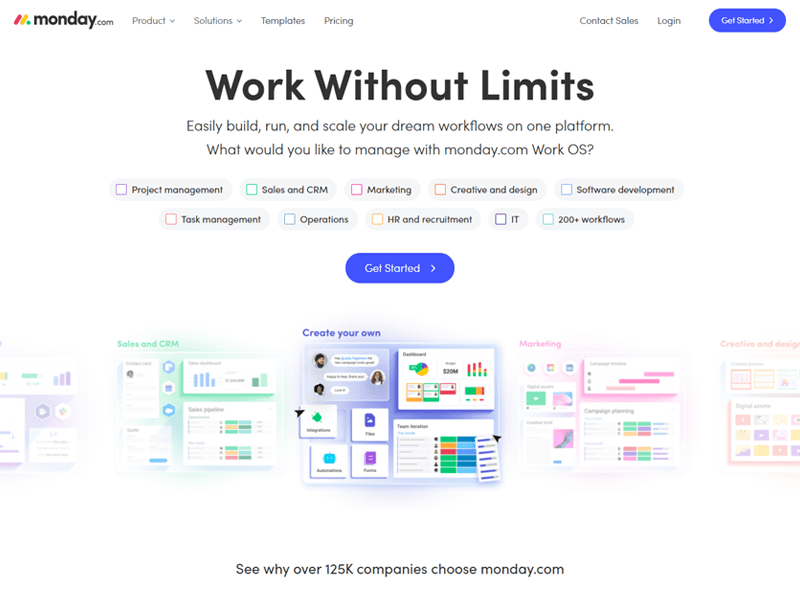 Monday.com is a project management tool that is cloud-based and aims at simplifying workload. It controls all the processes with which a team managed their workload as well as interact among themselves.
It offers a very beautiful layout. The color-coded boards let you see the ongoing projects quickly. It is also easy to track the issues your team members may be facing in the project.
The boards are also organized such that they show the due dates of the project deadlines. Besides, you can easily view the relationships among assignments and specific tasks.
The boards can be filtered according to date, person, timeline, text and status. It lets you identify the underworked or overloaded workers and maintain the work balance more efficiently.
Monday.com is specifically created to eliminate the confusion and keeping the team collaboration on board. The software provides 200 pre-built templates.
The drag and drop tool lets you customize your entire workflow by using 30 different columns.
It also lets you invite your client to view the board to see the work progress. The advanced search functionality further lets you look through the assignments, updates, projects and images with no limited date.
The Gantt charts version of Monday.com is called Timeline. It is best for the task and project management. It particularly includes the short projects spanned such as comprise only several days. Besides, it involves teams that have multiple workloads. Monday is also a great platform wich help you to integrate task management with sales management, marketing and hr.
Updating timelines is extremely easy with dragging bars of the timeline to bring back or extend the due dates. In such a way, you can view multiple timelines on a single board.
Features
200+ Templates included
In-app automation
Customizable
Modern system
Collaboration tools
CRM tools
Pros
The shallow and simple learning curve
Unique organizational approach
Cons
The basic plan lacks important features of project management
Pricing

Monday.com is free forever if you need to work with 2 users only. As the number of users increases, you can choose from one of these plans. All plans offer a free trial.
The basic plan costs $8 per seat per month. It offers unlimited items and free viewers with 5 GB file storage.
Standard is the most popular plan that costs $10 per seat per month. It includes all the features in the Basic plan with Gantt and Timeline views, guest views, 250 actions per month of automation and integrations.
Pro plan costs $16 per seat per month. It includes all the features of the Standard plan with time tracking, dependency column, private docs and boards etc.
Enterprise plan is a customised plan that includes everything in the Pro plan. Besides, it also includes advanced reporting and analysis, enterprise-scale integrations and automation.
How to decide the best Gantt Chart Software for your project?
All the Gantt chart software we discussed are different from each other. Here are a few key features that you can consider to get the best out of our list:
Tracked progress
A good Gantt Chart platform should provide you with a way to compare and measure the planned progress against the real-time progress. It is represented in different ways. The bar is shown in shaded to indicate the progress of the planned project. Your bar is completely shaded when the task is finished. It sets a baseline for the best tracking experience.
File sharing
It is a consequence of collaboration features. As you interact and collaborate, you will share files so you will attach notes, videos, images or files to document progress and keep all the data and files together. In such a way, there will be just a single way to find a file about the ongoing task.
Interaction features
Collaboration is a no-brainer for the Gantt chart without which your planning is dead. Collaboration features also assist you in team interaction through notification receiving, comments on tasks or chat with other members,
In such a way, it employs a single source of truth for all your tasks and keeps everything updated in terms of the project.
Summary tasks
They are a great way of categorizing activities particularly such that project phase or stage. They act like an umbrella task where all other tasks lie.
You can also hide your tasks from viewing under these to make the summary visible. It clarifies the progress of the task mentioned in the bar.
Dependencies
Dependencies happen when you link the tasks together. Gantt charts often show these with arrows or lines that signal towards the succeeding tasks. They are also set as finish-to-finish, finish-to-start, start-to-finish, and start-to-start dependencies.
Milestones
Milestones define the phase, sequence or end of the project or task. They do not have any duration instead they are depicted as a diamond symbol.
They mark all the important dates on the project schedule that you should know.
So, whatever, Gantt chart software you select, it should let you set milestones and keep them prominent in your mind.
Conclusion
What type of Gantt Chart Software you should choose? Well, it depends on the type of project you want to manage and plan. Gantt charts are flexible tools to help you have a comprehensive view of the project status.
Gantt charts let the users understand the team workload, resource use, and task duration. If you are implementing or planning a Gantt Chart online software for you or your teamwork, Stop!
We recommend having a look at our recommendations. For example, if you are looking for collaboration features, Wrike is the best software. For small to medium-sized teams and low budgets, Agantty is invaluable.