Choosing a host for WordPress is quite tricky for various reasons, most notably the number of companies promoting their hosting services right now.
These days, hosting companies will do anything to convert you into a customer, including using sales gimmicks like unlimited Websites and Unlimited Bandwidth to entice inexperienced users.
In this article, we'll be providing some Expert tips for choosing WordPress hosting in 2022.
Whether you're a veteran WordPress Site owner or brand new to the WordPress ecosystem, following these tips for choosing a WordPress host should save you a ton of problems and guarantee you're choosing the best hosting solution for your WordPress Website.
There are many things to consider in choosing a WordPress host; selecting a hosting provider that can meet up your WordPress website needs is essential.
Most Hosting providers will try to entice people into purchasing their hosting plans by promoting highly discounted offers.
Most times, it's just too good to be true, as you'd often discover after a few months of using their services.
It is imperative to see beyond juicy offers and concentrate on selecting a hosting provider based on your needs.
1. Different Hosting Types & Tiers
The type of hosting you go for should be determined by what you're trying to build and deploy with WordPress.
For most simple WordPress websites like company landing pages, something like Bluehost shared hosting should be enough to entirely handle the use case. Still, for more complex WordPress use cases, things get a bit complicated.
In 2021, many WordPress Site owners have begun shifting from good old shared hosting to Managed and Cloud WordPress hosting.
Bluehost shared hosting remains our recommended provider though, it's perfect for beginners and veterans with simple WordPress websites to host.
Managed WordPress Hosting
Most shared hosting and VPS servers are optimized for various software, shifting the focus away from WordPress.
Managed WordPress hosting provides WordPress-only optimized servers that meet up all WordPress requirements.
You can think of Managed WordPress hosting as shared hosting on WordPress steroids.
We recommend starting with managed WordPress hosting if you plan to host only WordPress instances on your server to get the best performance out of any regular cloud tier server.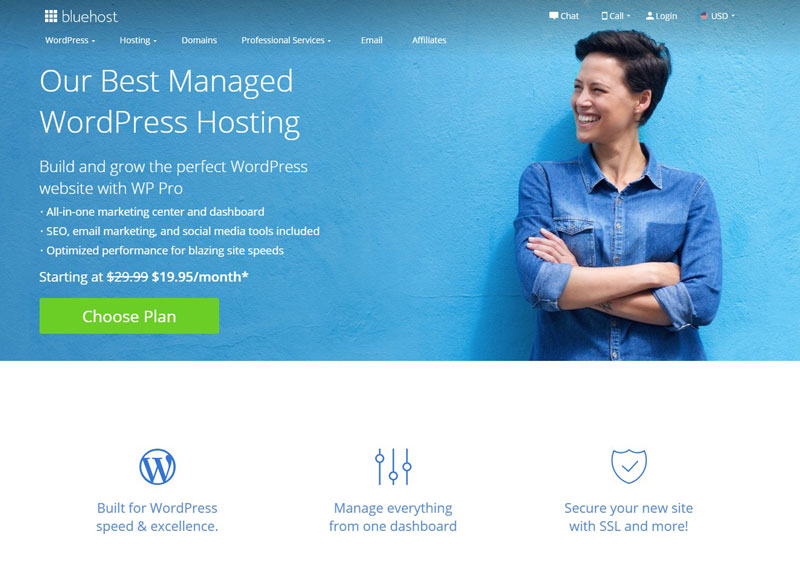 Bluehost also has one of the best-Managed WordPress services in the industry today, and it's what we recommend for veterans and inexperienced users; you can read this article to help you pick the most suitable hosting plan for you to get you started.
Cloud Hosting
Apart from managed WordPress hosting, hosting WordPress on the cloud seems to be the new norm for veteran WordPress users.
It's a bit more advanced because you have to deal with technical details like selecting the amount of RAM or Processor spec for your server.
Cloud hosting should only be considered for WordPress if you need scaling capabilities that might not be possible on managed and shared hosting plans.
With the right configuration, you could have a blazing fast WordPress website with zero performance issues.
Some notable cloud hosting providers include; Vultr, DigitalOcean, and AWS

To make things a bit easier and streamlined, you can also opt-in for a managed cloud hosting plan, which helps take care of most of the complexity in configuring servers to match your WordPress instance needs.
We recommend CloudWays, a leading Managed cloud hosting provider in partnership with central cloud hosting providers like Linode, Vultr, and Google Cloud.
In summary, if you need to host a simple WordPress website, opting for shared hosting isn't a bad idea (as long as you're using a trusted hosting provider like Bluehost, of course).
For more complex and demanding WordPress websites, Managed WordPress hosting would be your best bet.
If you're concerned about scaling and your managed WordPress hosting provider just can't seem to keep up with your website's growth no matter which of their higher-tier plans you upgrade to, migrating to cloud hosting (managed or unmanaged) should solve performance issues due to the ease of scaling with cloud hosting provides.
2. Server Performance
When it comes to server performance, we're mostly concerned about page loading speed, uptime, and how many requests a server can handle at any given point in usage.
Page Loading Speed
Page loading speed is the most crucial factor here as a slow loading website will increase bounce rate and significantly affect user experience.
Before purchasing any hosting plan, it is advised to determine the server specifications you'll be provided with.
Most hosting companies will hide the technical details like assigned Ram and processor speed and only reveal them when contacted.
This is very common with shared and managed hosting plans. Cloud hosting allows you to configure your server exactly how you want it, which might seem advanced but provides transparency.
You should lookout for a few essential specifications before choosing a WordPress host, including Processor, Hard Disk (SSD), Memory (RAM), and Server Location.
The Processor / CPU – The Higher the number of cores, the better
The processor is the server's powerhouse; it determines the number of processes that can be processed and at what speed.
These days, most companies use modern and, therefore, powerful processors but what you should pay attention to is the number of cores.
The number of cores a processor has determined its multitasking capabilities. A server with two cores can process twice as many processes in a minute as a processor with just one core.
WordPress handles many concurrent users, so it's essential to know many cores the processor of a hosting plan possesses.
Any hosting provider that refuses to give details on their server specifications does not deserve your money, PERIOD.
Hard Disk (SSD)
First things first, there's no such thing as unlimited storage. It's a sales gimmick used by hosting companies to entice inexperienced users and convert them to paying customers.
Secondly, avoid any hosting plan with HDD (Hard disk drives) storage. Always go for SDD (Solid State Drives) as they are way faster than HDDs.
The reason SSDs are faster is as a result of their design; HDDs use mechanical parts that need to move to function. On the other hand, SDDs contain no moving parts and functions like USB sticks, making them more durable.
Some hosting companies who claim to use Solid-state drives will only host your database on them and host everything else on HDDs.
It is essential to read their terms and conditions or make sure via their customer support.
WordPress will always perform way better when paired with SDDs, so make sure you don't go for less.
Memory (RAM)
The more RAM, the better. RAM (Random access memory) can be seen as a bridge between the processor and the hard disk. It prepares data from the server memory for processing in the processor.
Even if you have the best processor paired with SSDs, WordPress performance will suffer without enough RAM.
Simple WordPress websites like business landing pages can work fine with 1GB worth of RAM; for complex WordPress websites with many extra functionalities and many concurrent users, you'd want to scale your allocated RAM to match with usage.
Just have this at the back of your mind; the more RAM you have at your disposal, the better the server will perform.
Bandwidth Allocation
You can think of bandwidth as a data exchange currency; it is used when a user requests or sends a request to your server.
Most hosting companies have set limits for the total bandwidth that can be used within minutes, hours, or days.
It's called Bandwidth throttling, and it can cause performance issues when you get surges of visitors to your websites unexpectedly.
You should read the hosting companies' terms and conditions considering bandwidth usage; it will save you many headaches and help you avoid bandwidth problems.
The amount of bandwidth needed for a WordPress site depends on what you're serving.
If you tend to serve a large number of images or files, then you'd need the required equivalent bandwidth to cover it.
Server Location
Unless you plan on using a CDN service, choosing a server close to your target demographics should be a priority.
The closer a server is to its users, the faster your WordPress website will perform (page loading speed due to less latency).
This is not the essential criterion for choosing a WordPress host, but it benefits.
Server Uptime
No matter how high-spec a hosting server is, everything else becomes a waste if it's not reliable.
Server uptime refers to the total time a server is available for the intended use; downtime is the opposite of uptime and describes the total time a server is unavailable.
A good hosting provider must be able to guarantee 99% hosting uptime.
Even a single minute of downtime can interfere with your WordPress website's user experience and cost you money in some cases (imagine an eCommerce website going offline for 10 minutes).
Most hosting providers will claim never to have downtimes, but that's not true; it's quite hard to maintain millions of websites on a server without downtime.
So just go for a provider with a proven track record of minimal downtime.
New hosting companies only have words to backup up their uptime game so be careful not to fall prey.
3. Quality of Support (Customer Service)
WordPress requires a good standby support team due to it being an open-source web application.
When setting up different plugins and adding custom functionality to your WordPress instance, you'll often find yourself needing customer service to help out.
All plugins have varying server requirements; for some, you might need to enable a PHP extension, increase the Max execution time or run an SSH command.
Before choosing a hosting provider, make sure their customer service is always available and knowledgeable about WordPress. You can contact the hosting company support team beforehand to know how reliable they'll be when you opt into using their services
4. Pricing
Last on our list is the cost of hosting. Inexperienced users need to know just how much it costs to host a WordPress website on different server types.
Some hosting companies are ready to charge you hundreds of dollars every month for normal-tier servers. They make basic hosting features like Backup & Restore, SSL certification, and Email paid addons to get you to pay more.
You should be careful to avoid such hosting companies that attempt to prey on inexperience. Well-known hosting companies with thousands of customers should always be on the top of your list as they tend to care more about their customers.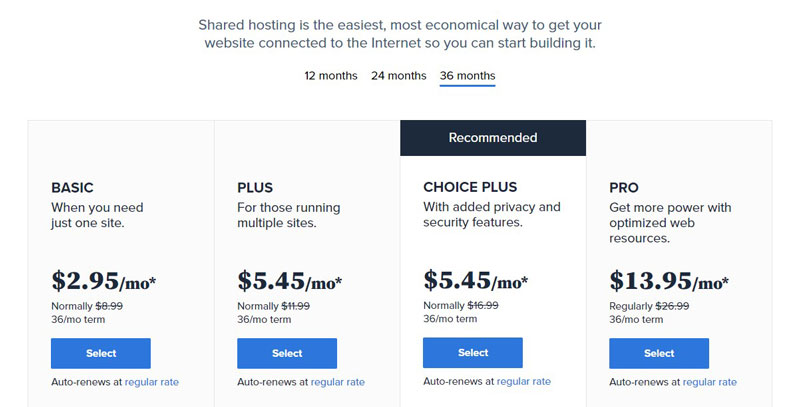 The cheapest form of hosting is shared hosting, which can range anywhere from $3 – $10 per month depending on the server specifications and addons you opt-in for.
You should never pay excessive amounts of money for shared servers (Upgrades) as there are way better options out there like VPS and Dedicated servers.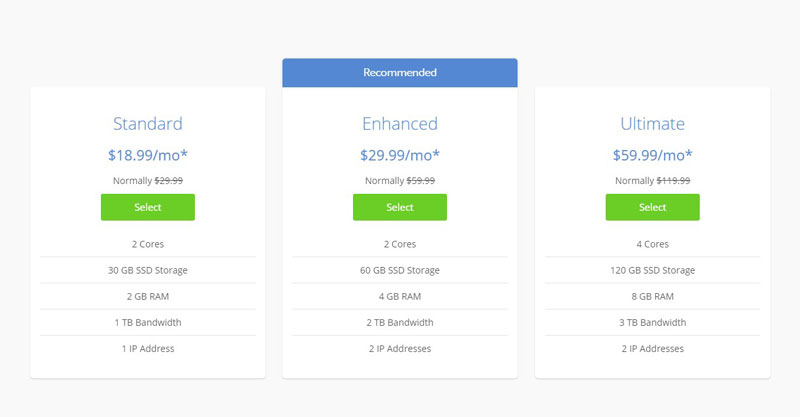 For $18 – $30 a month, you can get a moderate performance managed VPS server, which beats any higher-tiered shared hosting plan any day.
Cloud and Managed WordPress Hosting will have variable pricing depending on the hosting provider you choose but should never cost an arm or a leg.
If possible, compare the pricing of two to three different hosting providers to know what the cost of hosting for your WordPress website should be.
Just have this at the back of your mind, higher cost doesn't always equate to better performance when it comes to hosting.
It depends on the server type and resources available to your WordPress instances to work with.
Lastly, always be on the lookout for better host solutions with more affordable pricing; new server technologies are still being adopted every year. You should always go for the best and nothing less.
Conclusion
If you read most hosting companies' terms and conditions, you'll find they attach fair usage policies to everything. Limitations are placed on server resource usage under certain conditions, which is why you must go through a hosting provider's legal and terms information before choosing to use their services.
This article has provided some useful tips and expert advice to help anyone decide the best hosting solution to choose for WordPress. We hope you've found it informative and helpful; if you have any questions about selecting a host for WordPress, leave a comment below, and we'll respond as soon as possible