SPINX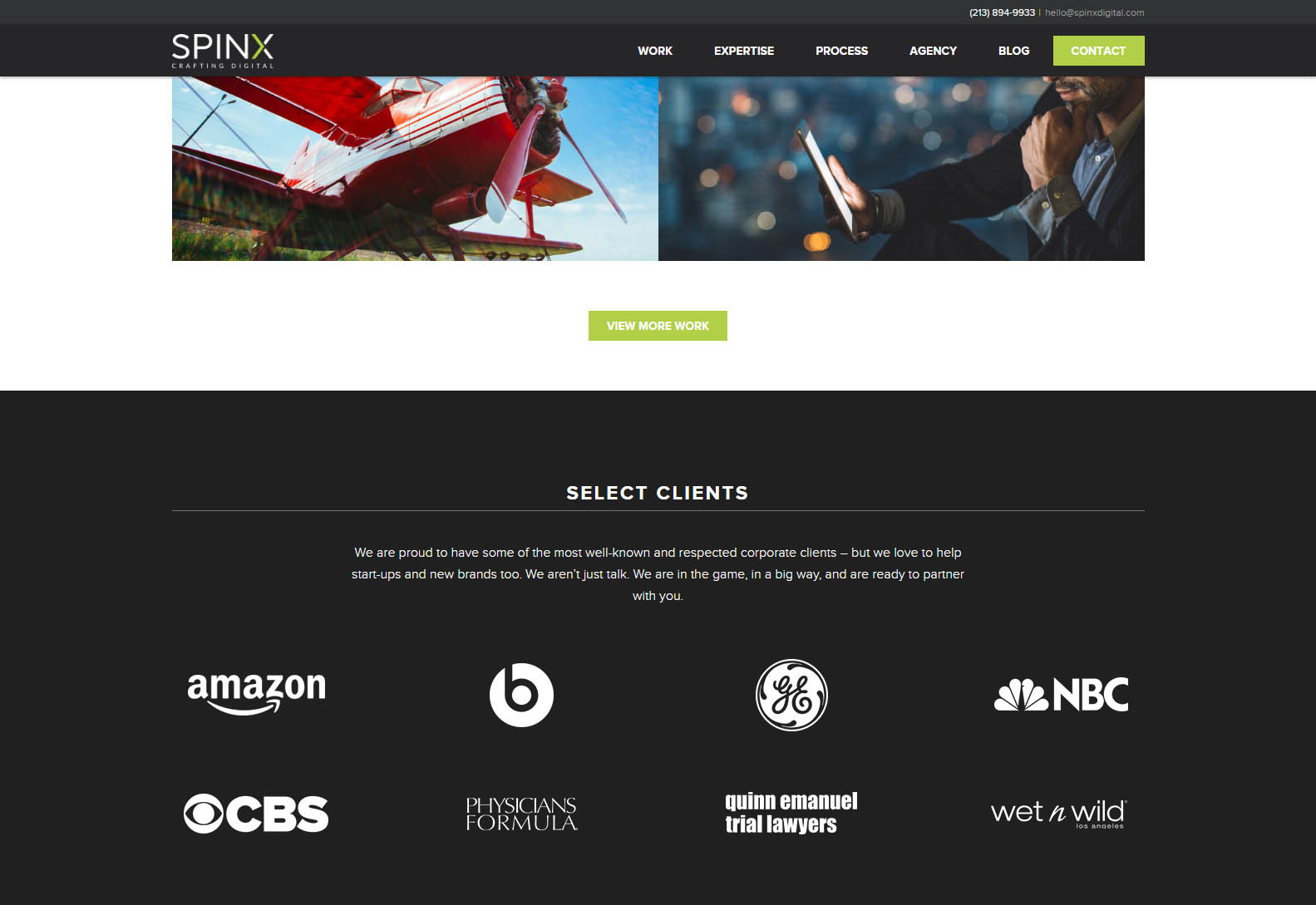 Web Design Company in Los Angeles
Team of innovators and digital marketers in tech and design bring skills above and beyond the ordinary to every project. Their Los Angeles web design and development team is involved in professional B2B and B2C web design and development, mobile applications, digital strategy, user experience, advertising, social media, content management systems, and email marketing initiatives.
Los Angeles Web design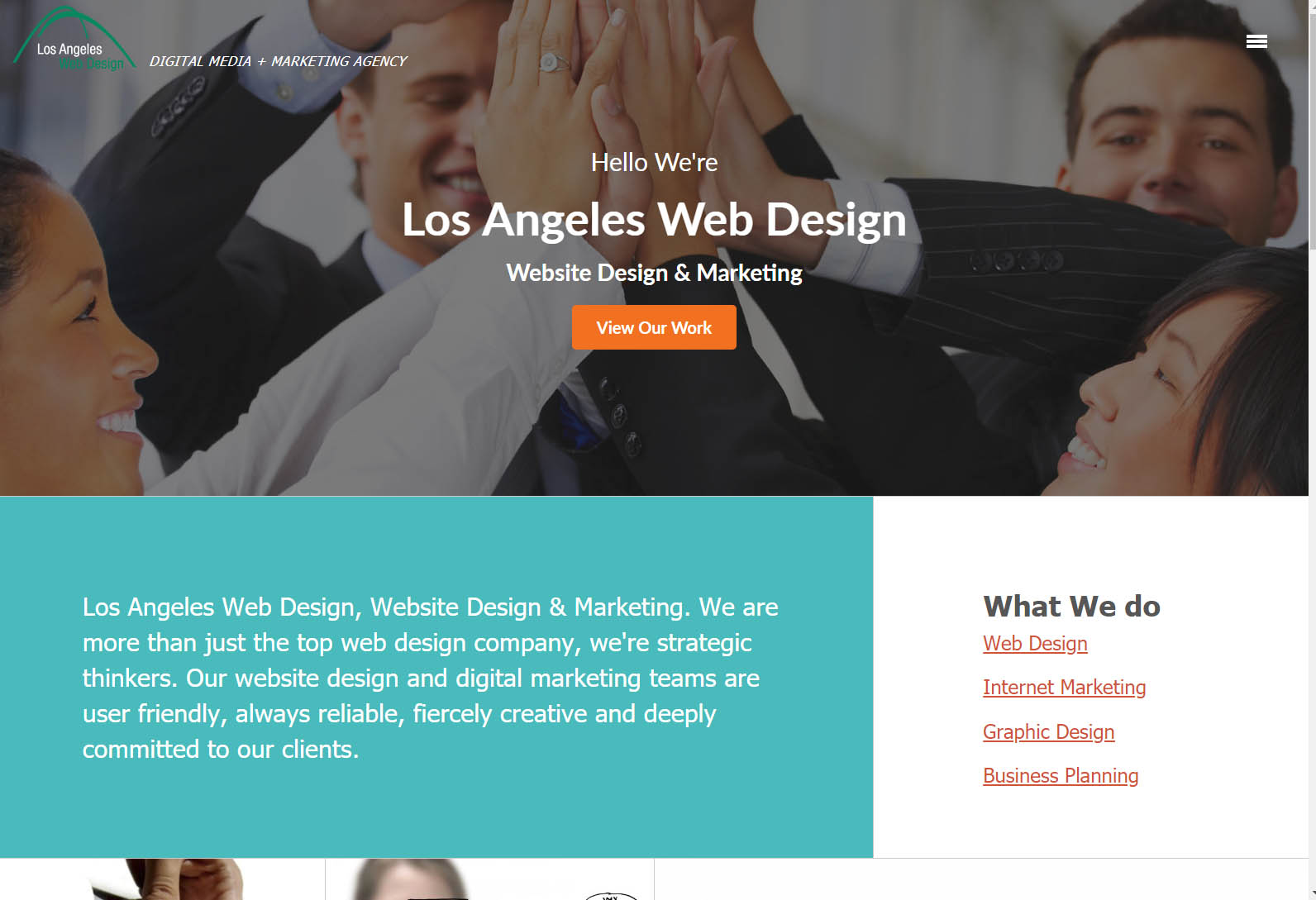 They are more than just the top web design company, they're strategic thinkers. Their website design and digital marketing teams are user friendly, always reliable, fiercely creative and deeply committed to their clients.
Websites Depot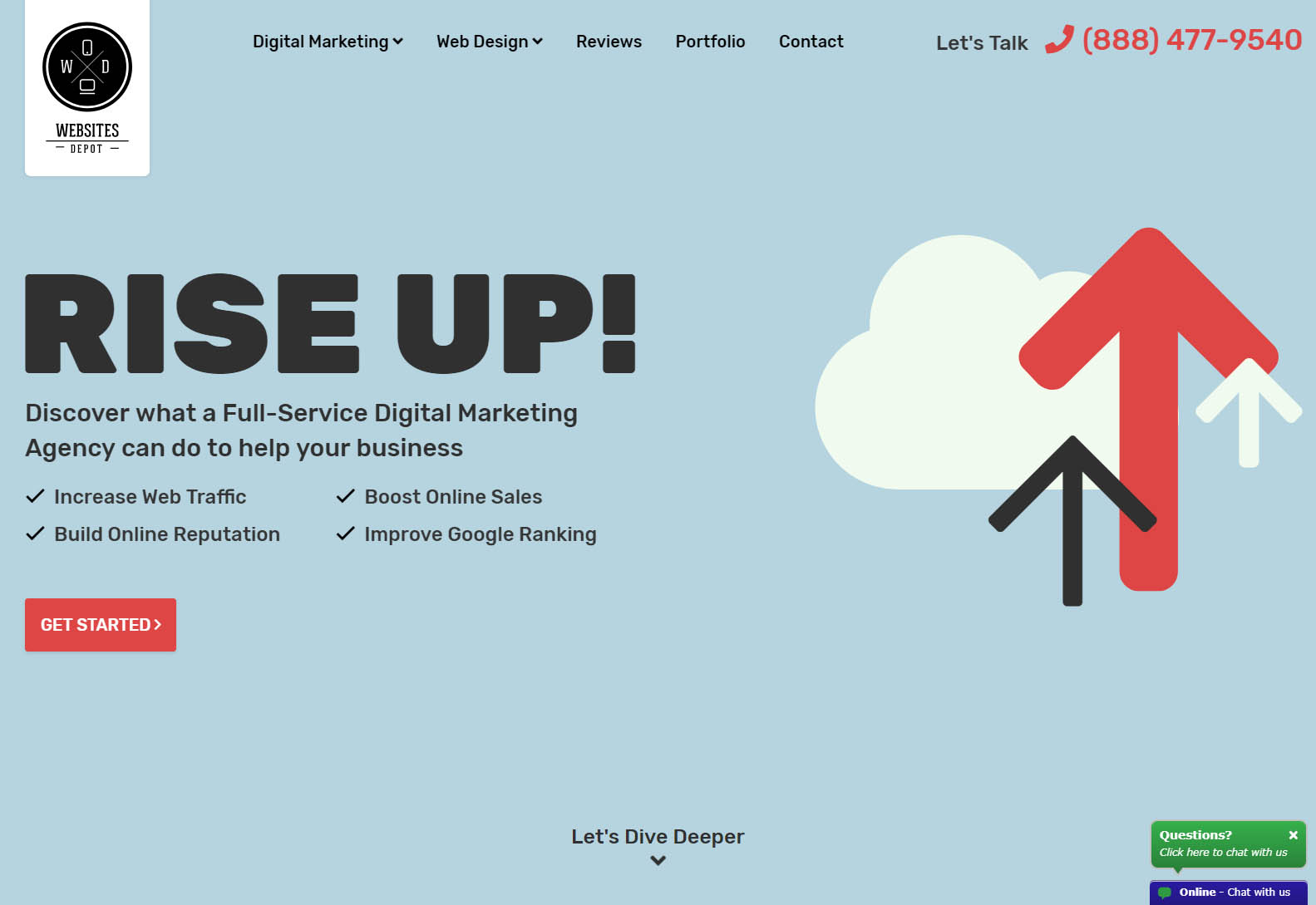 Founded and incorporated in May 2012 in the state of California, with a primary office in Van Nuys. After fast and rapid growth, we have settled in Silver Lake, Los Angeles.
Their primary solutions include Full Service Digital Marketing, SEO, Adwords, web design, e-commerce shopping carts, merchant gateway integration for credit card processing, XML web service feeds, third-party API integration, custom applications, inventory websites web sites, SEO and corporate branding. They strive to provide innovative websites and other web services at a great value. Their mission is to provide that unique combination – the highest quality websites that deliver a high return on investment.
La Design Studio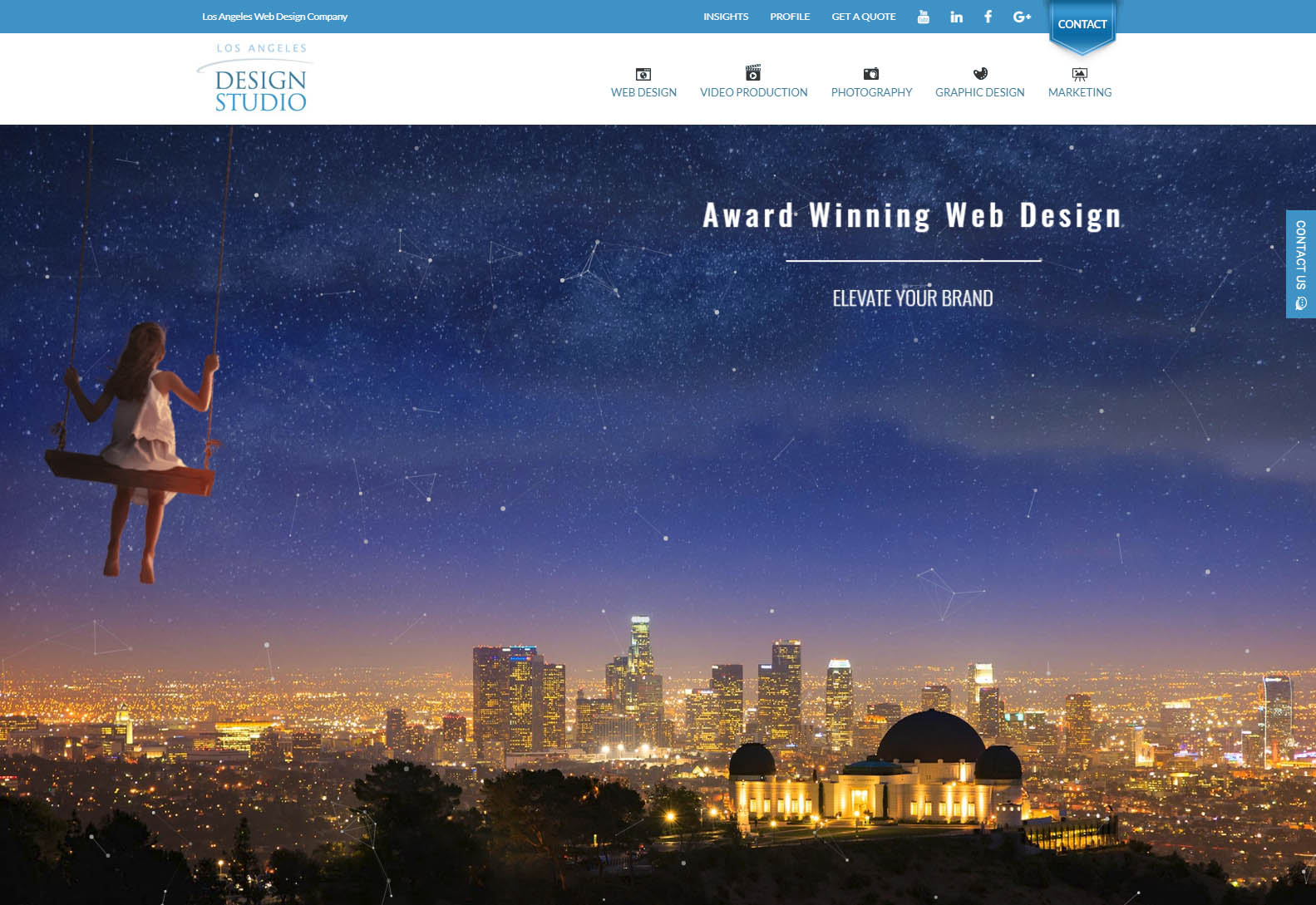 L.A. Web Design Company is our 1-stop shop for all your web needs- creative concepts, website development, photography, video, ecommerce, analytics, SEO, interactive advertising and marketing support – whatever you need they can do it. More importantly is how they do it, they treat your business as their own.
Jingged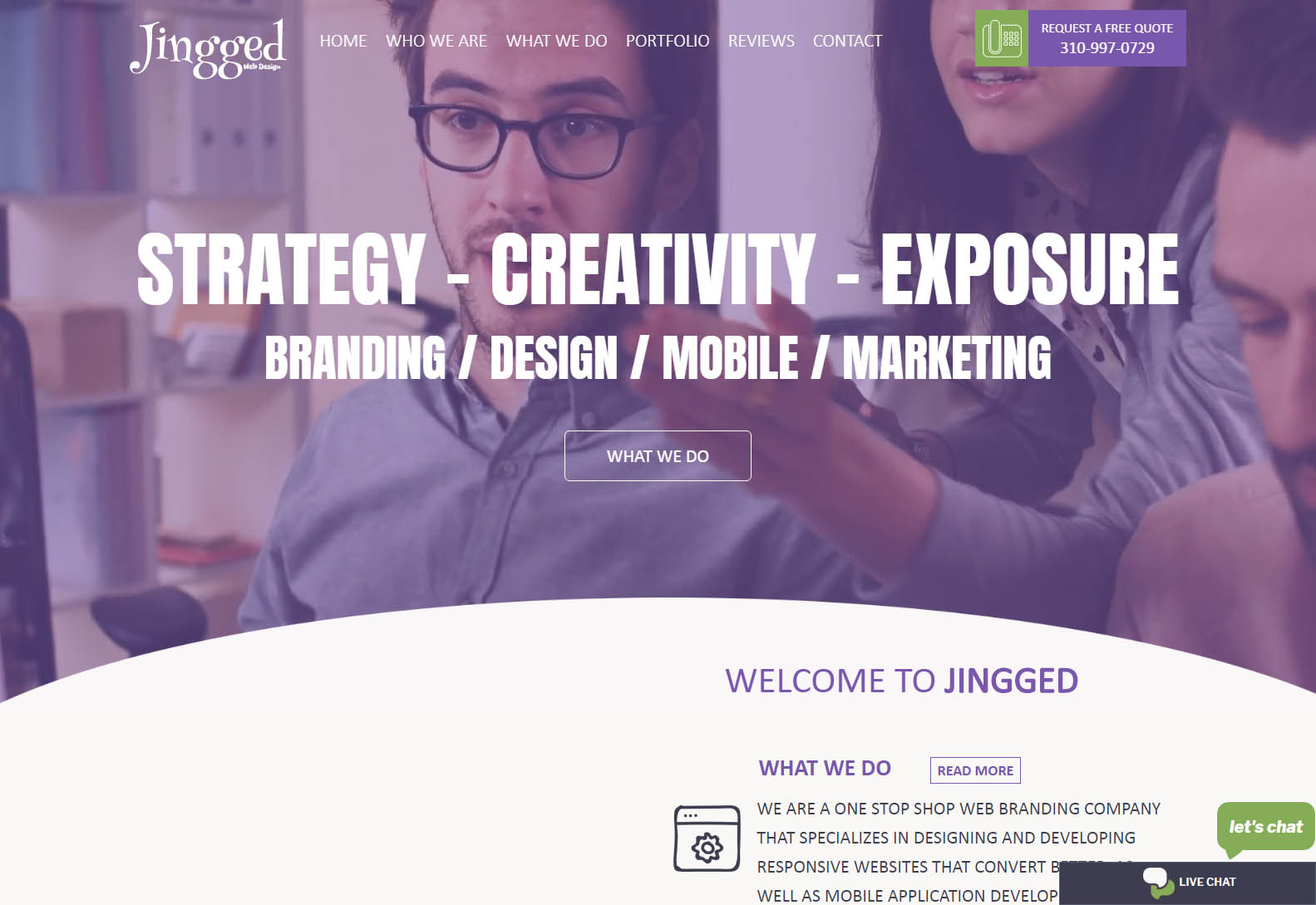 They are a small boutique operation of specialized combined talents from designers to developers, and marketers. They are customer service oriented as they truly have a passion for helping out people and maintaining long term relationships. They get to know our clients to find the best direction & solutions. They are located in the Los Angeles area, but serve clients nationwide.
New Media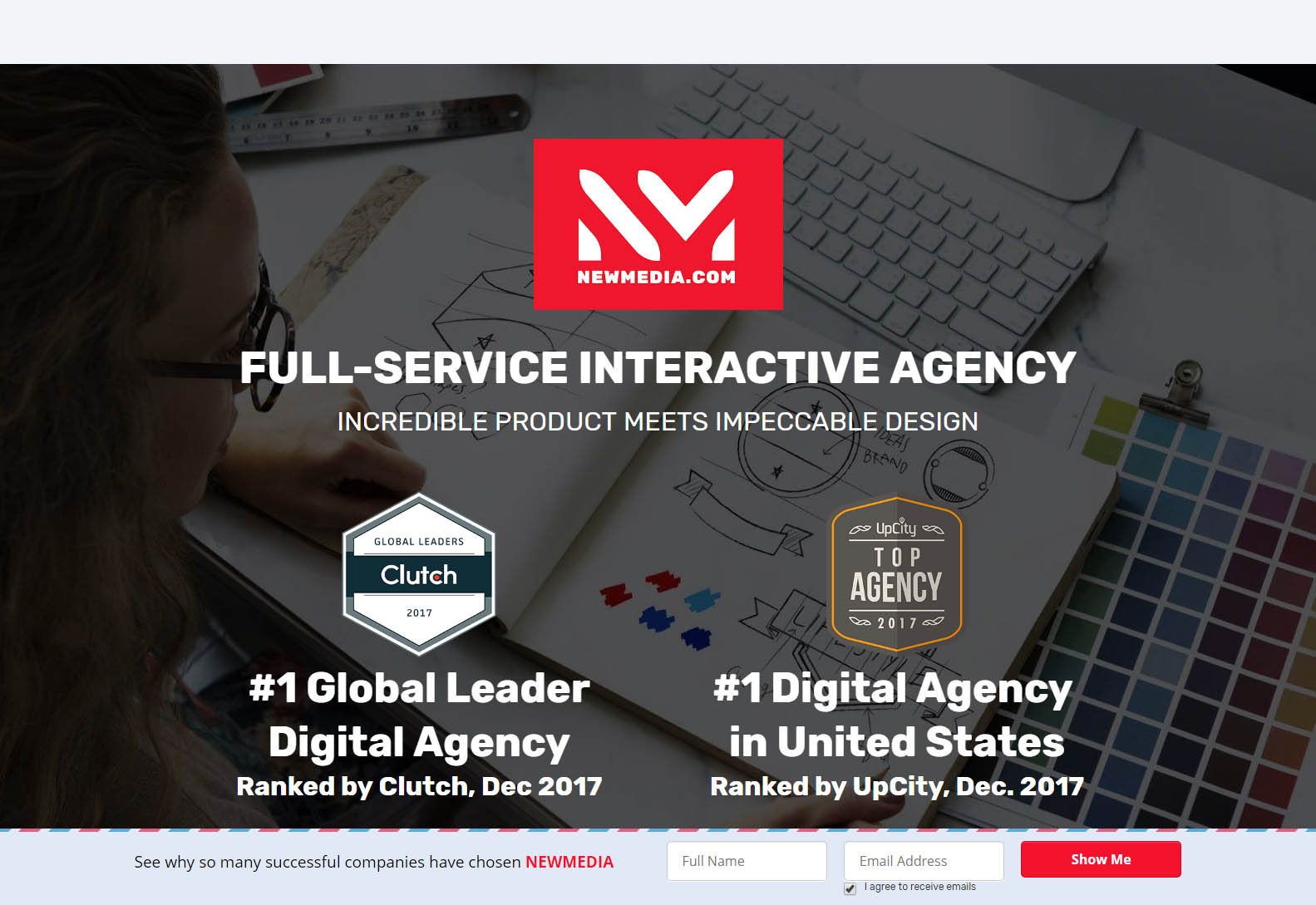 Full-service Los Angeles website design, digital development and marketing agency. Their beautiful offices are located at the landmark Figueroa at Wilshire, Downtown, prominently situated at the high-profile intersection of Figueroa Street and Wilshire Boulevard.
They don't just make pretty websites. They are marketing gurus and digital experts, and Their work drives our clients' businesses forward. They have helped hundreds of companies do all kinds of great things, like start-ups getting acquired within a year, small businesses growing by 10,000% in 5 years, large businesses growing their online presence to $1,000,000 per day in revenue.
CONSPIRE
They're design obsessed eCommerce specialists. Their team is comprised of first-class designers, developers and brand architects with proven success. From innovative startups to Fortune 500 Companies, they equip brands with the most modern tools to cultivate meaningful, lasting relationships with their audiences.
Gilt Design Group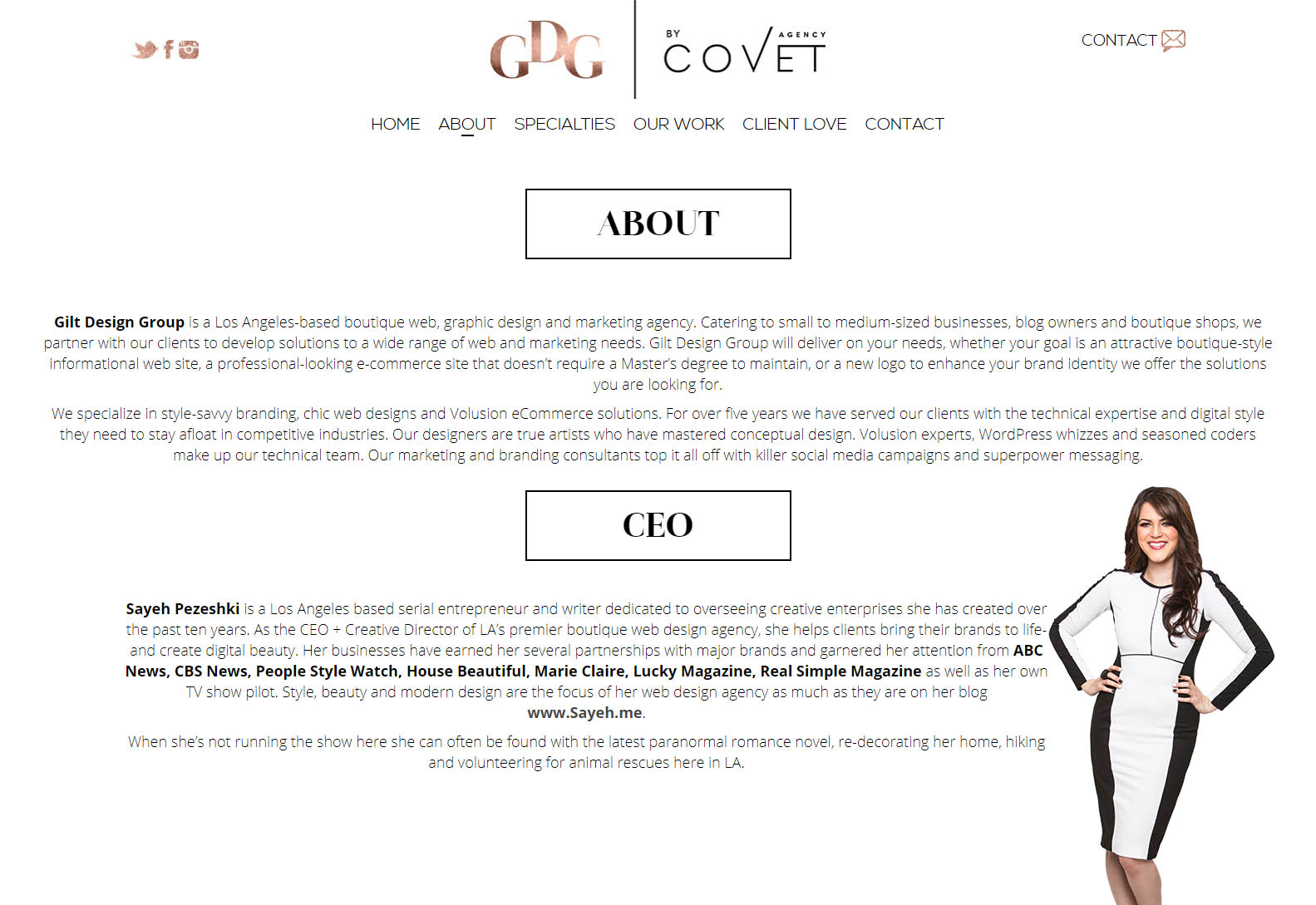 A Los Angeles-based boutique web, graphic design and marketing agency. Catering to small to medium-sized businesses, blog owners and boutique shops, they partner with their clients to develop solutions to a wide range of web and marketing needs. Gilt Design Group will deliver on your needs, whether your goal is an attractive boutique-style informational web site, a professional-looking e-commerce site that doesn't require a Master's degree to maintain, or a new logo to enhance your brand identity they offer the solutions you are looking for.
They specialize in style-savvy branding, chic web designs and Volusion eCommerce solutions. For over five years they have served their clients with the technical expertise and digital style they need to stay afloat in competitive industries. Their designers are true artists who have mastered conceptual design. Volusion experts, WordPress whizzes and seasoned coders make up their technical team. Their marketing and branding consultants top it all off with killer social media campaigns and superpower messaging.
Small Biz Web Design Studio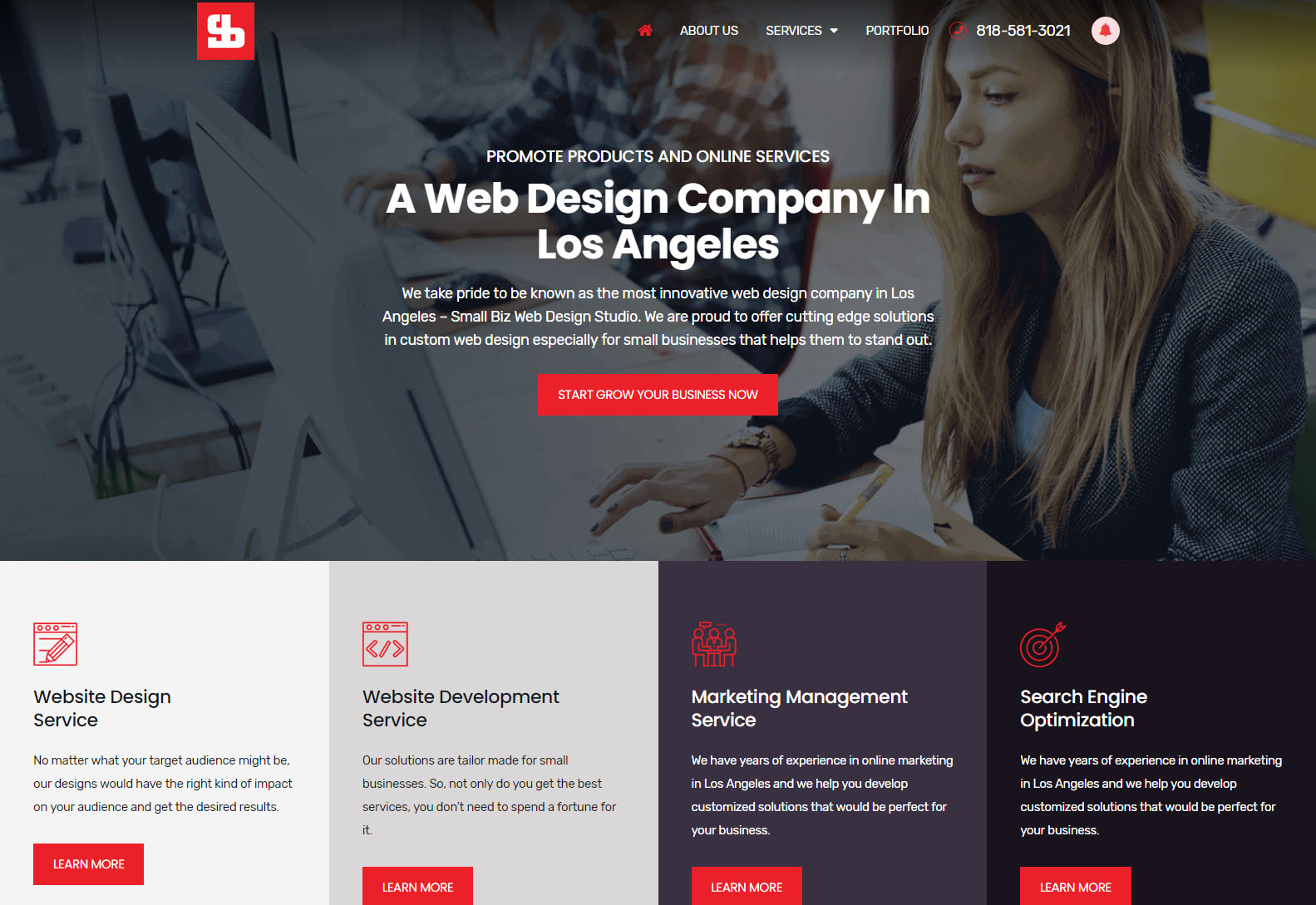 Website design and development company in Los Angeles, CA. They offer top quality solutions for website design and website development as well as results driven search engine optimization and more.
DK Interactive Design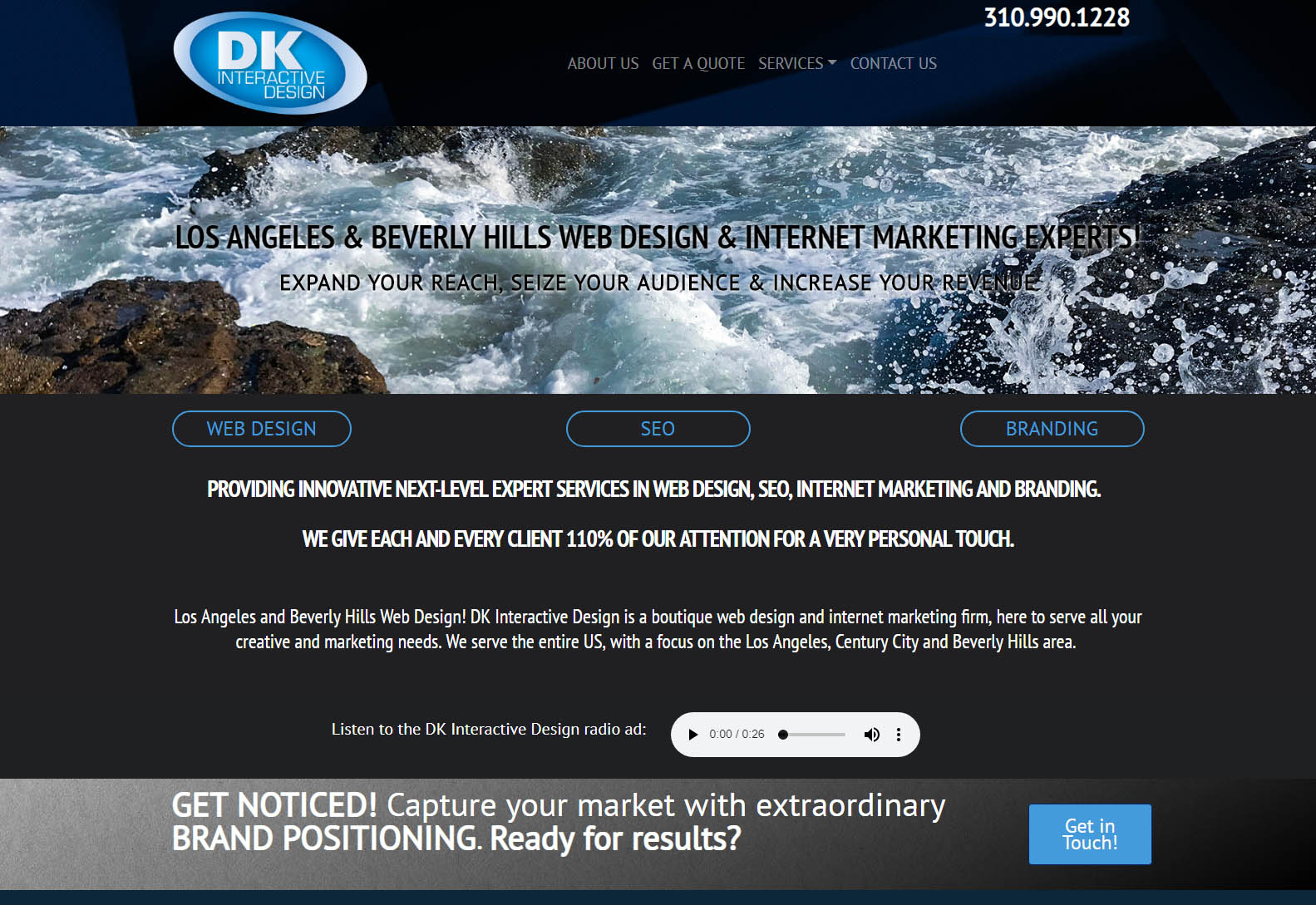 They are passionate about creating stunning results driven websites with a focus on design and usability that will increase your return on investment. DK Interactive Design has been part of the Los Angeles web design landscape since 1997. They are the creative force that can take YOUR BRAND to the next level.
Bradient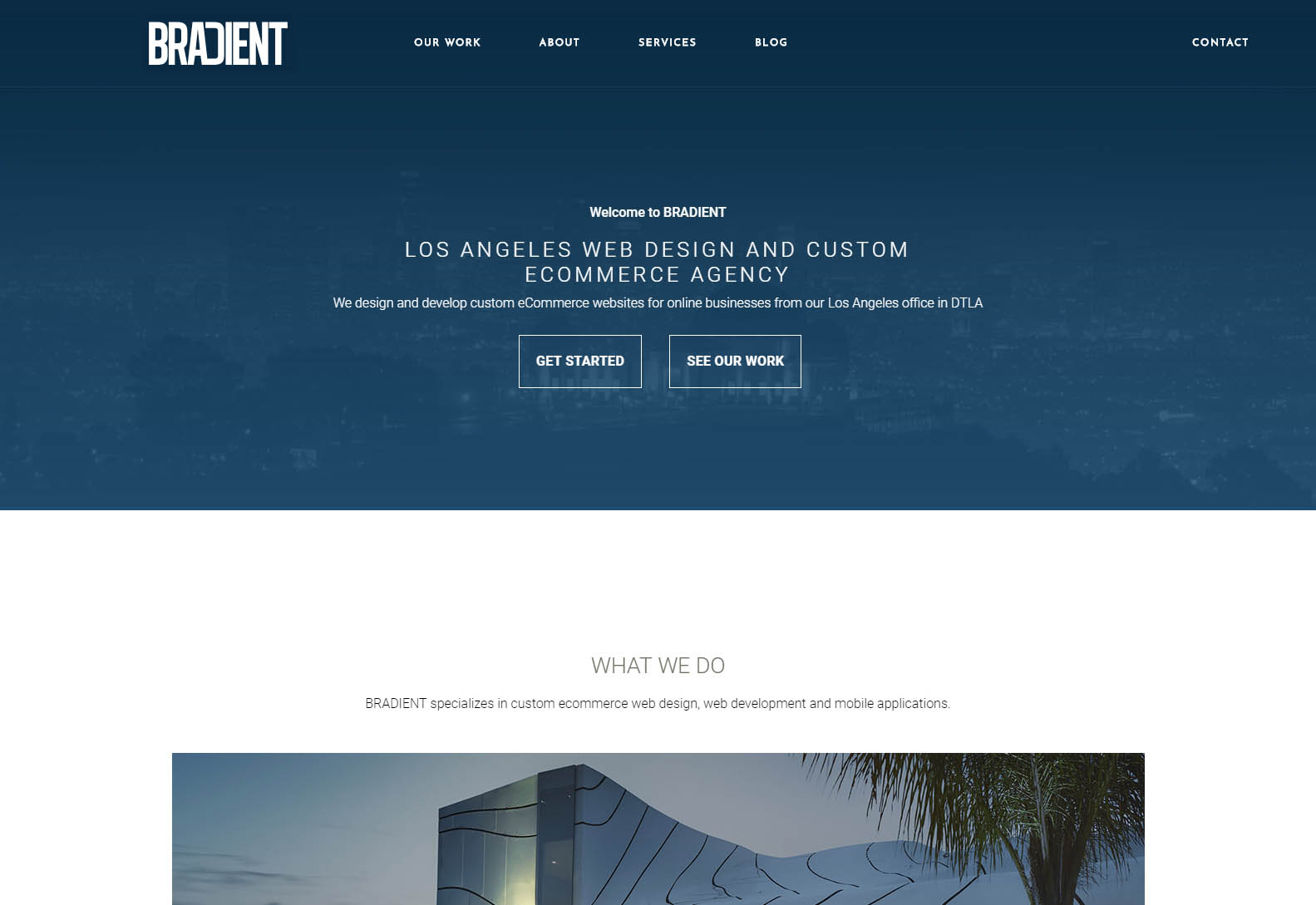 They are a Full-Service Digital Creative Design Agency located in Downtown Los Angeles. Their team is part creative and part programmer, they work closely with their clients by discovering more about their needs and ideas. Through research and analysis they design and prototype a finer detailed and attractive web app, they consider every stage of it's planning from start to completion.
They work with visionary thinking clients and formulate strategies for future success to create beautiful and amazing things that bring positive results. Their projects are always professional and beautifully designed, they believe design is the key to a successful business, so they focus on execution and the important little details. With their extensive experience designing successful web applications in Los Angeles for their large and small clients, they are always ready to take on any projects.
Digital Vertex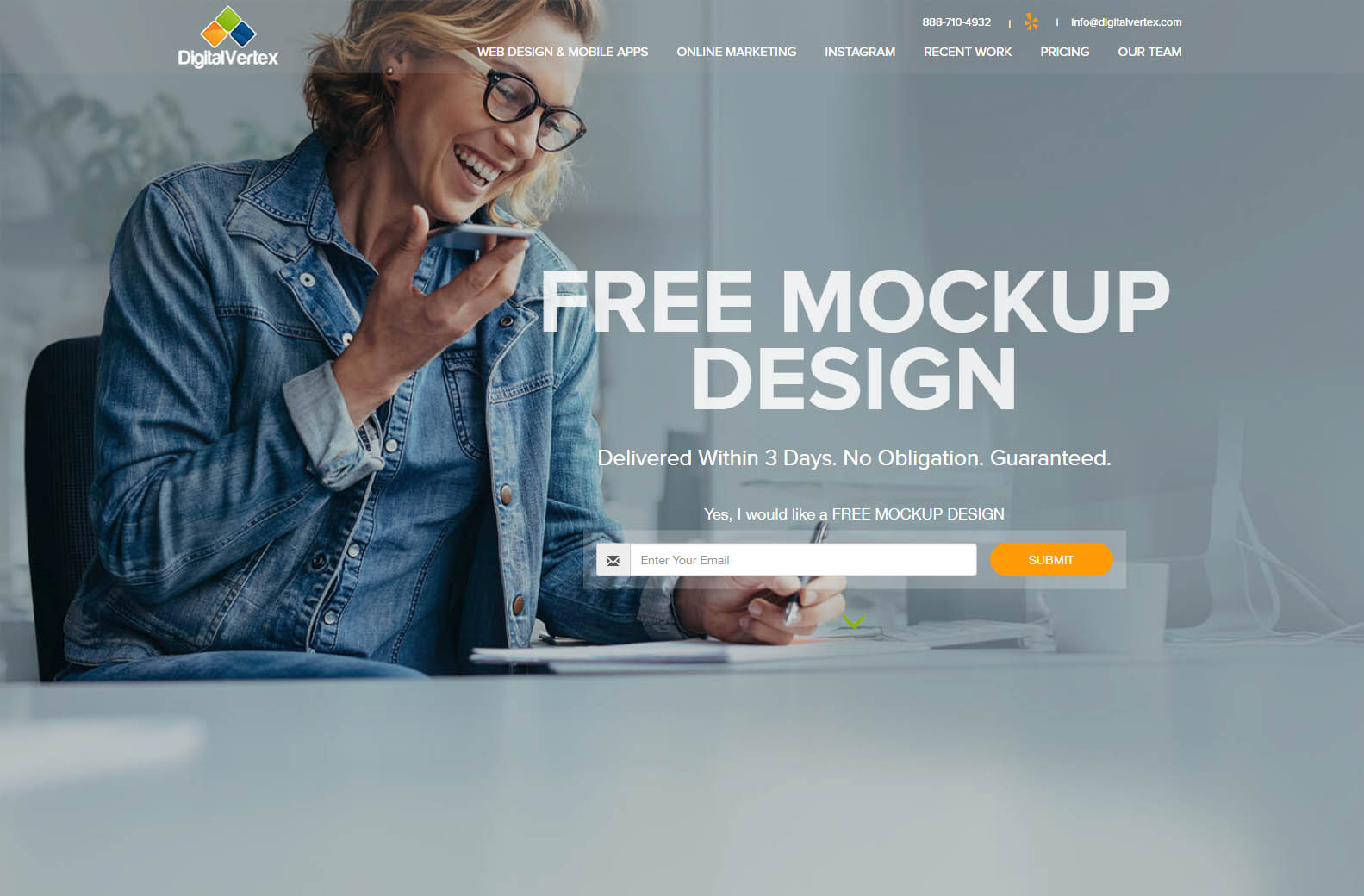 A web development and marketing firm that has successfully helped thousands of companies grow and promote their business. A family-run business since its inception in 2004, they apply sound, proven strategies when creating and marketing a website for your company. They understand from their substantial experience the importance of developing sites that draw in casual site visitors, capture those leads and convert them into valuable customers. They do this by emphasizing aesthetics, usability, and proper calls to action as fundamentals. They then support these fundamentals with robust and relevant content in order to augment your client base and promote user engagement and retention. Or in simpler terms, they help your business look good and make money!