Looking for a WordPress event calendar plugin? You are ready to arrange an event or manage a booking, to come to this post. You are in the right place!
So firstly you may be looking for a good WordPress theme to match your requirements for an Event Website. We have a post for that too. Check out these amazing Best Themes for a perfect event management
But on this post we are reviewing some of the best events tools/plugins. These plugins (free and premium) will help you organize your Events and Bookings easily and faster. Enjoy!
1. EventOn
EventOn is the best seller plugin of this list. An amazing and well coded event calendar and organizer, with beautiful design. Some if its amazing features include: shortcode generator, repeating event options, event images, expandable details, location maps, event categories, meta fields, etc. You can actually filter and sort events, add social share icons, add event colors, manage the existing events and choose between many pre designed layouts.
Price : $25
2. Calendarize it! for WordPress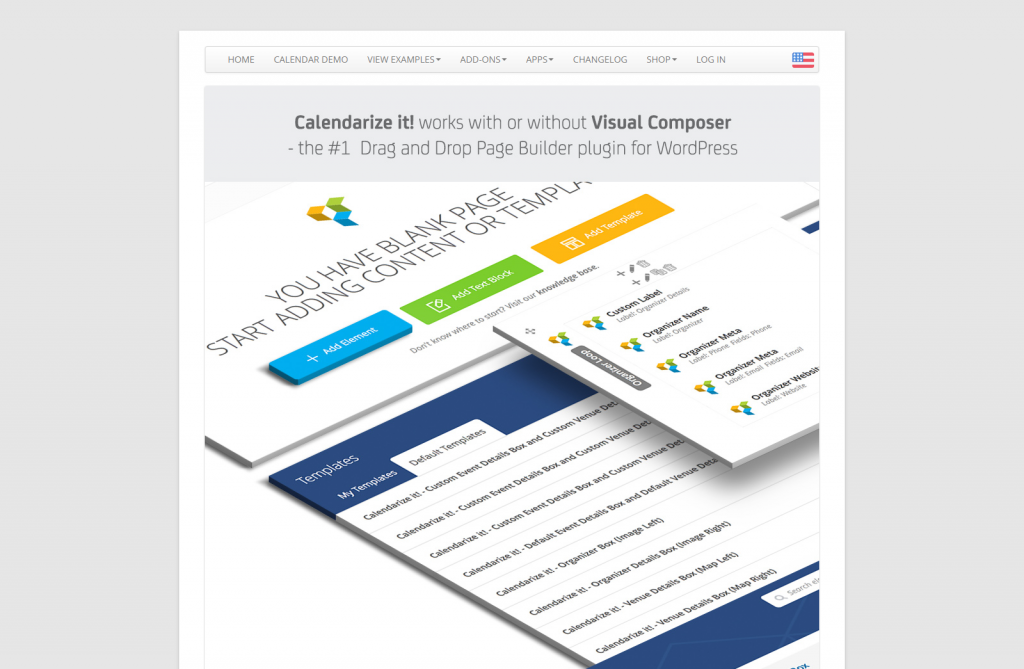 Calendaraze It plugin can work without the help of visual composer, so it is an independent plugin. While having this plugin you can download free addons in 3 easy steps. Some of its features include: importer, accordion events, payment options, event map view, ads, tickets, grid view, CSS editor, RSVP events, taxonomies, custom buttons, events in blogroll and much more. It is translation ready and easy to use.
Price : $30
3. Timetable Responsive Schedule For WordPress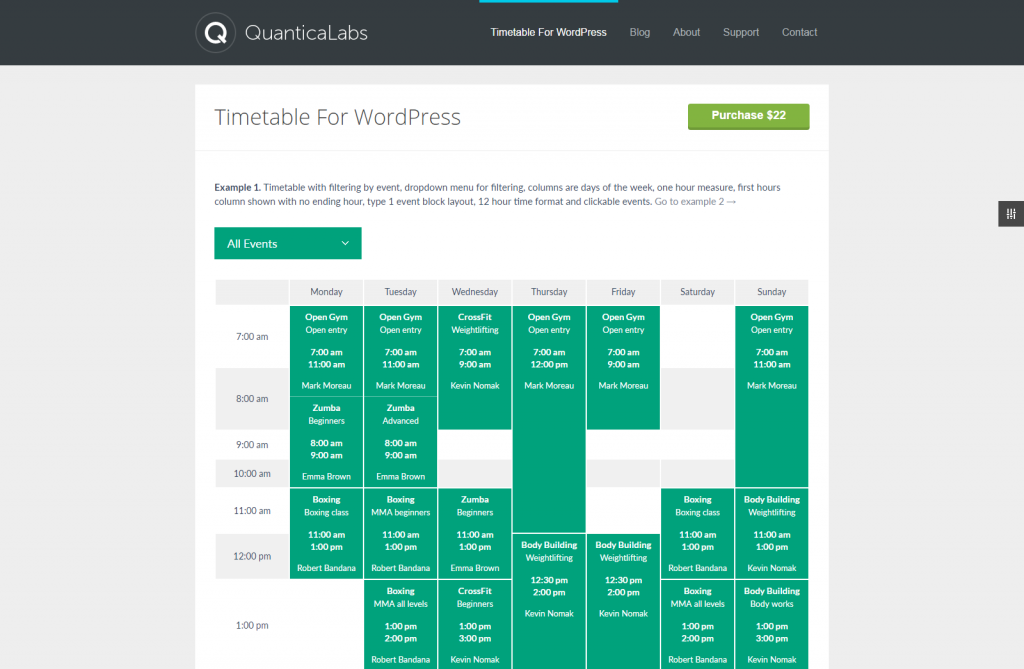 Timetable plugin will create a timetable view of your events on your website. It is suitable for a wide range of purposes like: school or kindergarten classes, medical departments, nightclubs, lesson plans, meal plans etc. It comes with Events Manager, Event Occurrences Shortcode, Timetable Shortcode Generator and Upcoming Events Widget. It has a responsive layout, shortcode generator and even font configurator.
Price : $22
4. Event Booking Pro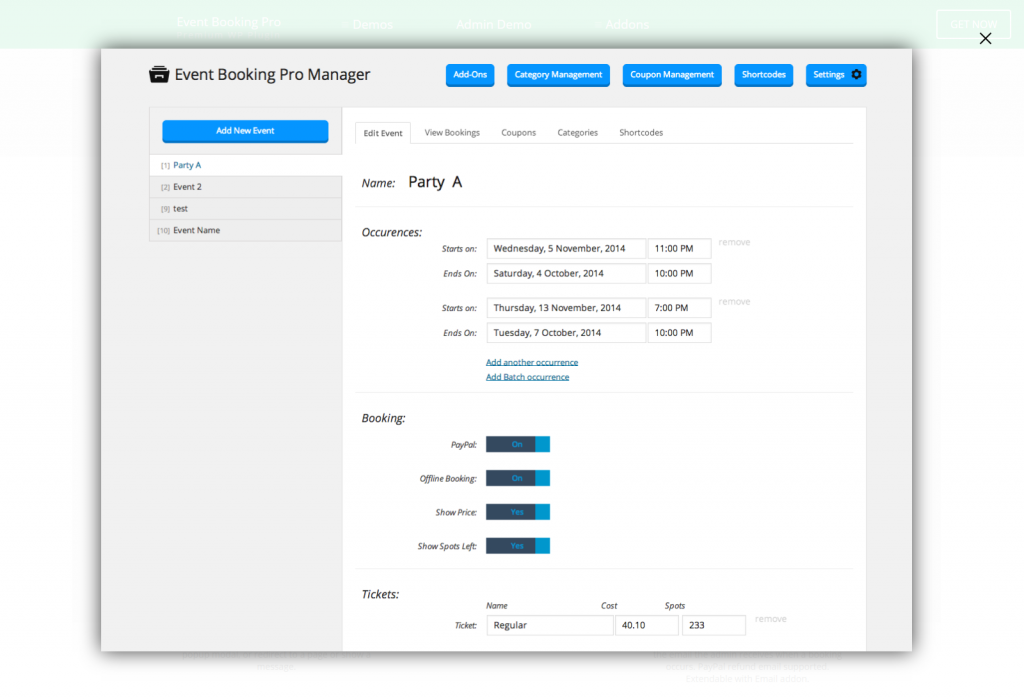 This plugin it is fully loaded with an event and booking system. It offers: google maps, paypal payment, mulitple occurences, full control over apperance, event boxes, event cards, buttons, offline booking, tax, list events based on filters, CVS and a well configuration with ajax integration.
Price : $32
5. Events Calendar Registration & Booking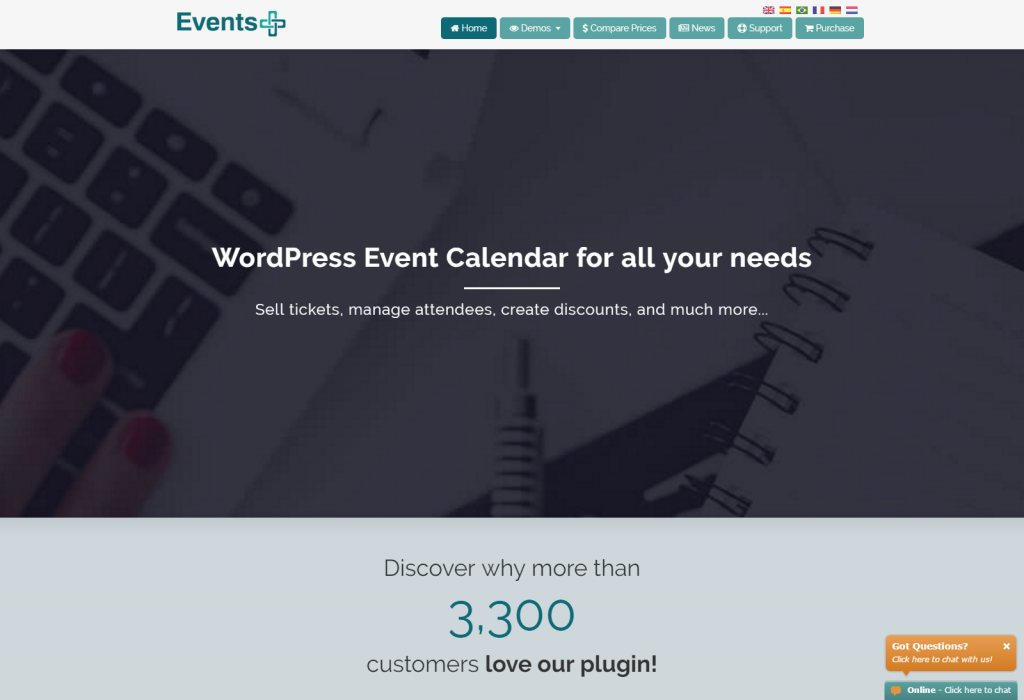 This advanced events manager allows you to create all your events online easier. With WordPress event list, Events Registration and Management, WordPress Events Grid to display your events, Events Sidebar Widget, WordPress events dashboard for all event statistics, Events Map integration, this plugin for sure is a game changer!
Price : $29
6. Team Booking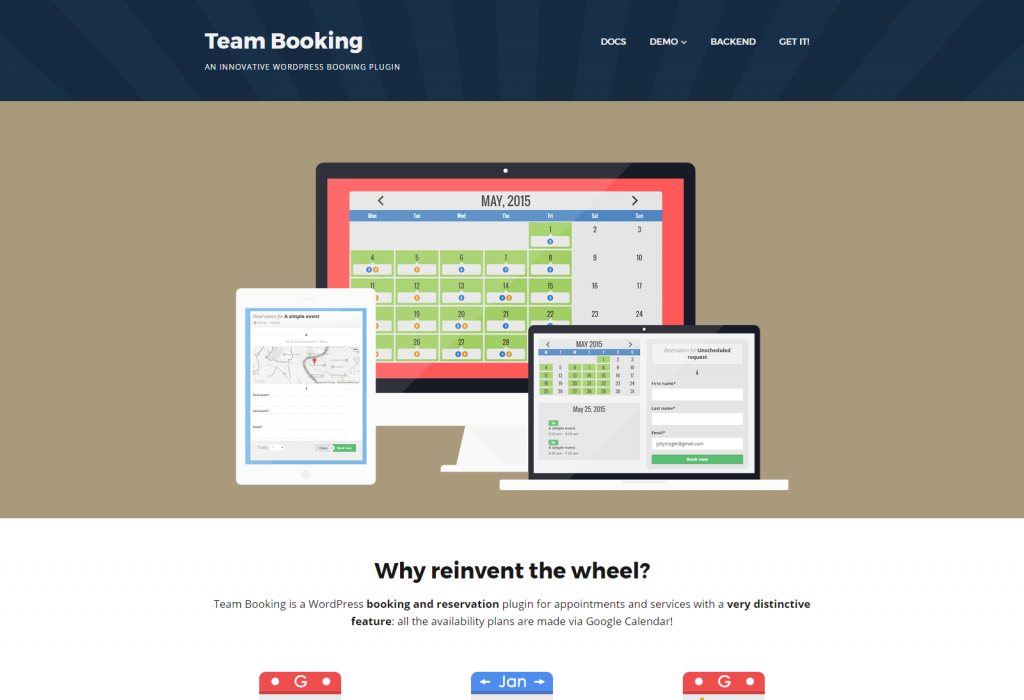 This is the ultimate booking system to plan your availability via google calendar, within 3 easy steps. It has unlimited services, payments, email notifications, maps integration, timezone conversion, promotions, language support and it comes with a well documentation.
Price : $24
7. WP Booking System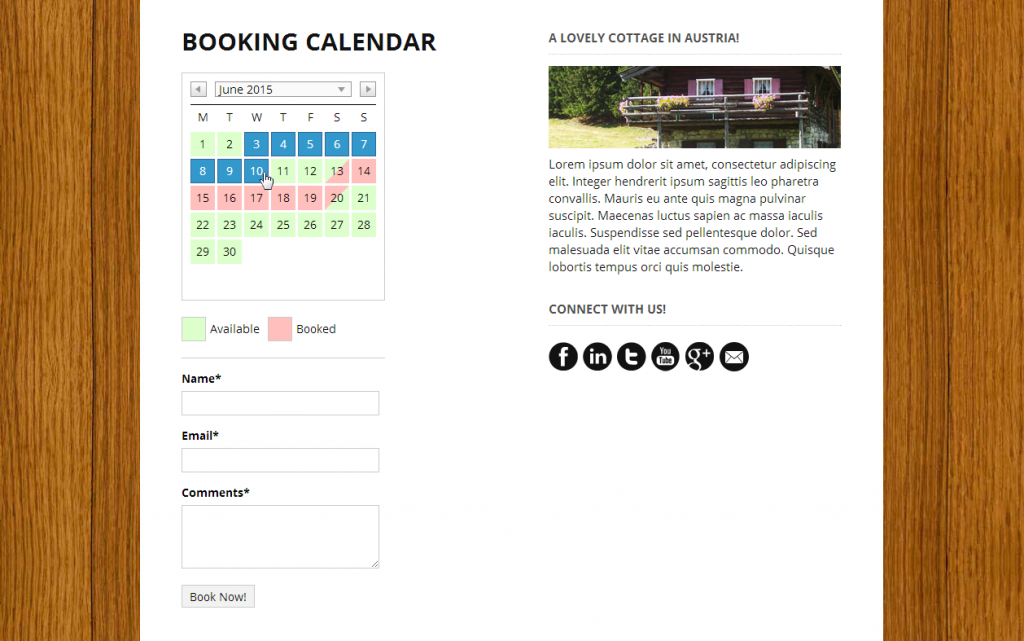 This is a free booking system for wordpress. It can create booking calendars and forms and manage them perfectly. This plugin comes with the free and premium version.
Free version features : the creation of the booking system, its management, generate shortcodes, widgets, multiple languages. The premium version features some more advanced options like : create an unlimited number of booking forms, display multiple months, create your own legend, display the form beside the calendar, display tooltips with extra info, automatically block booked days directly, sync to other websites (iCalendar), etc.
Price : Free
8. Booking Calendar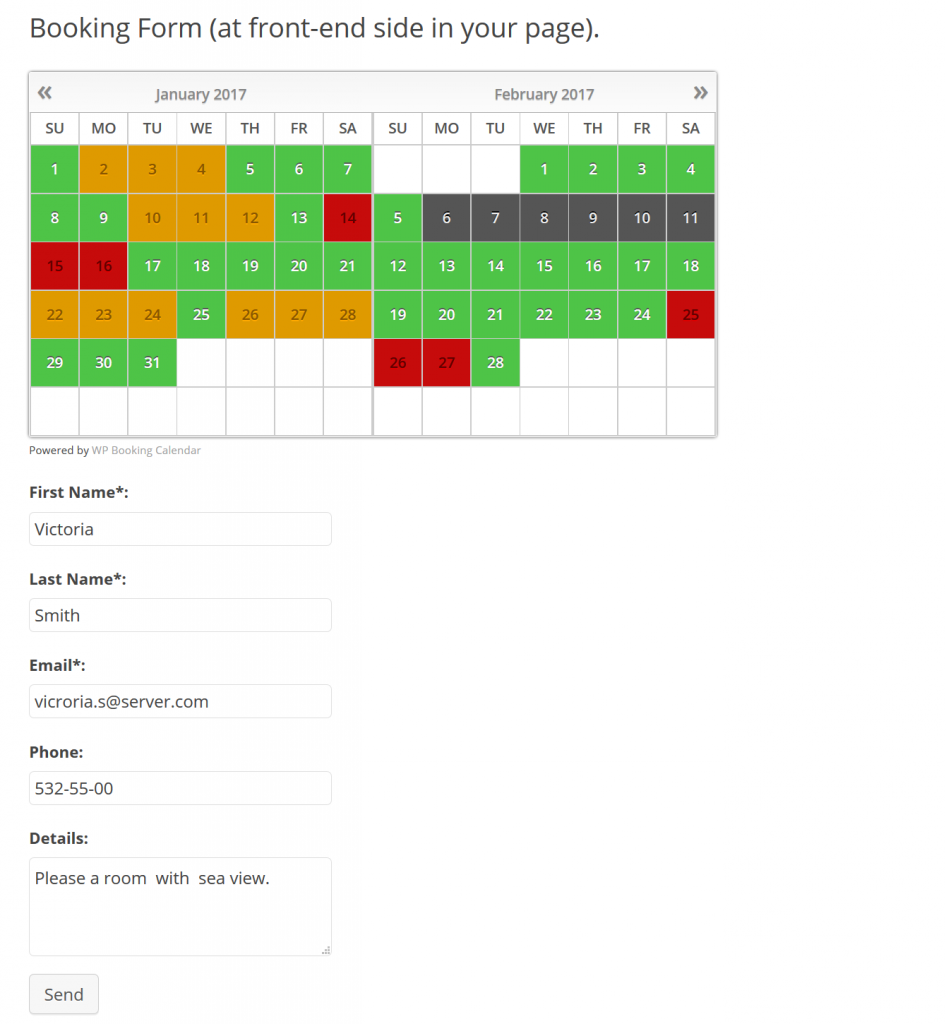 Another booking management plugin with intuitive interface and flexible functionality. Just select the days in calendar, fill booking form fields and submit the booking. Email notifications, bookings search, pagination, google calendar, booking form configuration, responsivity , are just a few options that this plugin features.
Price : Free
9. Events Manager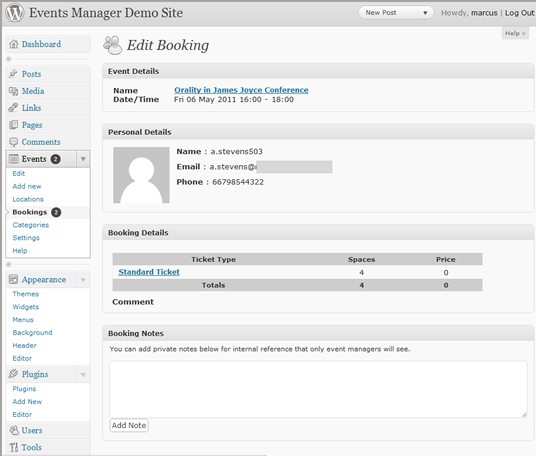 Event Manager is a fully registration management system including recurring events, location managements, calendar, google map integration, booking etc. This amazing free plugin is packed with a lot of options and features. We can point some of them : buddyPress support, activity stream, event categories, guest/ member event submissions, multiple tickets, rss feeds, assignment of event locations etc. It also comes with video tutorials.
Price : Free
10. The Events Calendar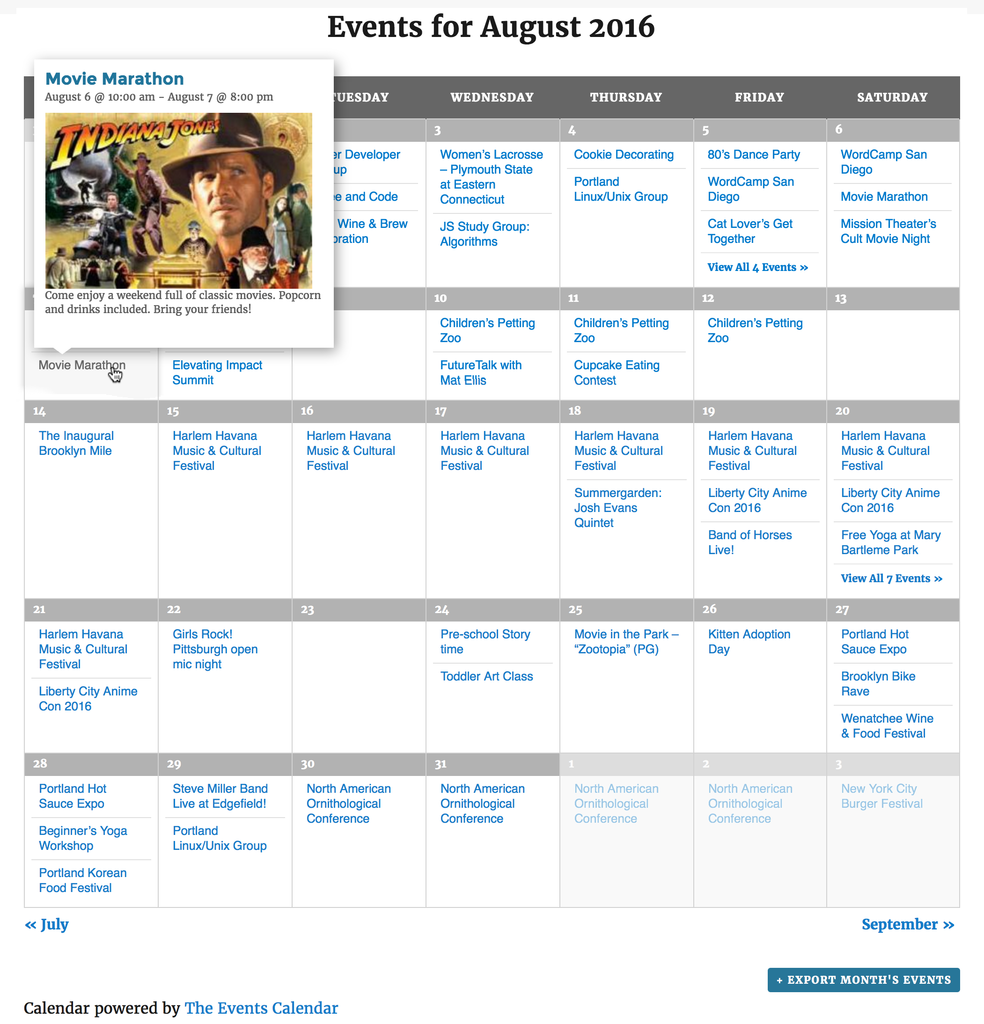 The Events Calendar will help take your site to the next level. It is built and supported by Modern Tribe's WordPress. Solid and supported, this plugins comes with enormous features and it's all free! Rapidly create events, calendar month view with tooltips, list view, event search, events taxonomies, ajax integrated, tested on many frameworks, SEO, translated, caching support and more are included on a single one plugin.
Price : Free