Find out the best WordPress Media Library plugins organized with folders and download for free. Organize the WordPress media library with folders is the best way to control your media files and not only.
In today's visually-oriented world, you would hardly encounter sites that are composed solely of text. The design of your site is usually composed of various media elements, such as images, illustrations, GIFs, videos, and animated logos.
When designing site layouts, pages, and posts, the main goal is to grab your visitors' attention. You do that by leveraging media assets, which pop out of the site and convey a visual message. In WordPress, you can easily add media to your site, but this is where the easy part ends, and where media management begins.
To ensure that your site is not clogged down by media, and that you are able to quickly find the files you need, you need to extend the built-in functionalities of WordPress. In this article, you will learn how to do that by using media management plugins.
An Introduction to the WordPress Media Library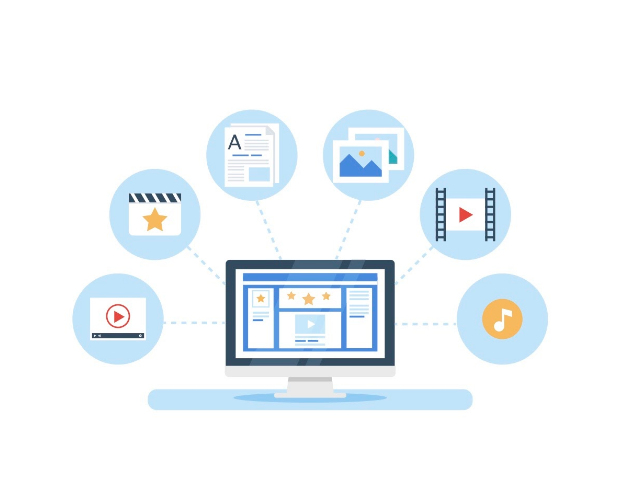 The WordPress Media Library is the built-in service that you can use to store your WP site media. This includes images, audio, video, and files. The library is used regardless of whether you are using uploaded media on your site or not.
In the library interface, you can upload, view, perform basic edits, and delete media. Your various files are displayed in a grid of thumbnails or a list view. From the dashboard, you can access media in batches. You also have the option to search for images by description and filter by type.
Start by Organizing Your WordPress Media Library With Folders
While the WP media library is great for simply storing content, it is poorly designed for effective media asset management. For small sites with limited media, this isn't a problem but as your site grows and the amount of media content it contains expands, the standard library features aren't enough.
Thankfully, the library is extensible with plugins that can help you add advanced features for better management. If you're just getting started with WP, one of the first plugins you should look for is one that enables you to create media library folders.
In the standard library structure, all media is simply sorted by date. You cannot create collections of media or organize it in any fashion other than by reuploading it. With plugins, you can add functionality that enables you to organize media into a file directory structure. This makes it significantly easier to find and use media.
Many plugins also include features for advanced sorting and filtering and even enable you to create dynamic galleries to be displayed on your site based on predefined folders.
Top WordPress Media Library Management Plugins
Depending on your budget and needs there is a variety of plugins you can choose from. Below are a few popular examples but you can find many others through the plugin link in your management console or by searching online. When choosing a plugin just make sure you are downloading from a trusted source as many criminal actors hide malware in plugins.
1. FileBird – WordPress Media Library Folders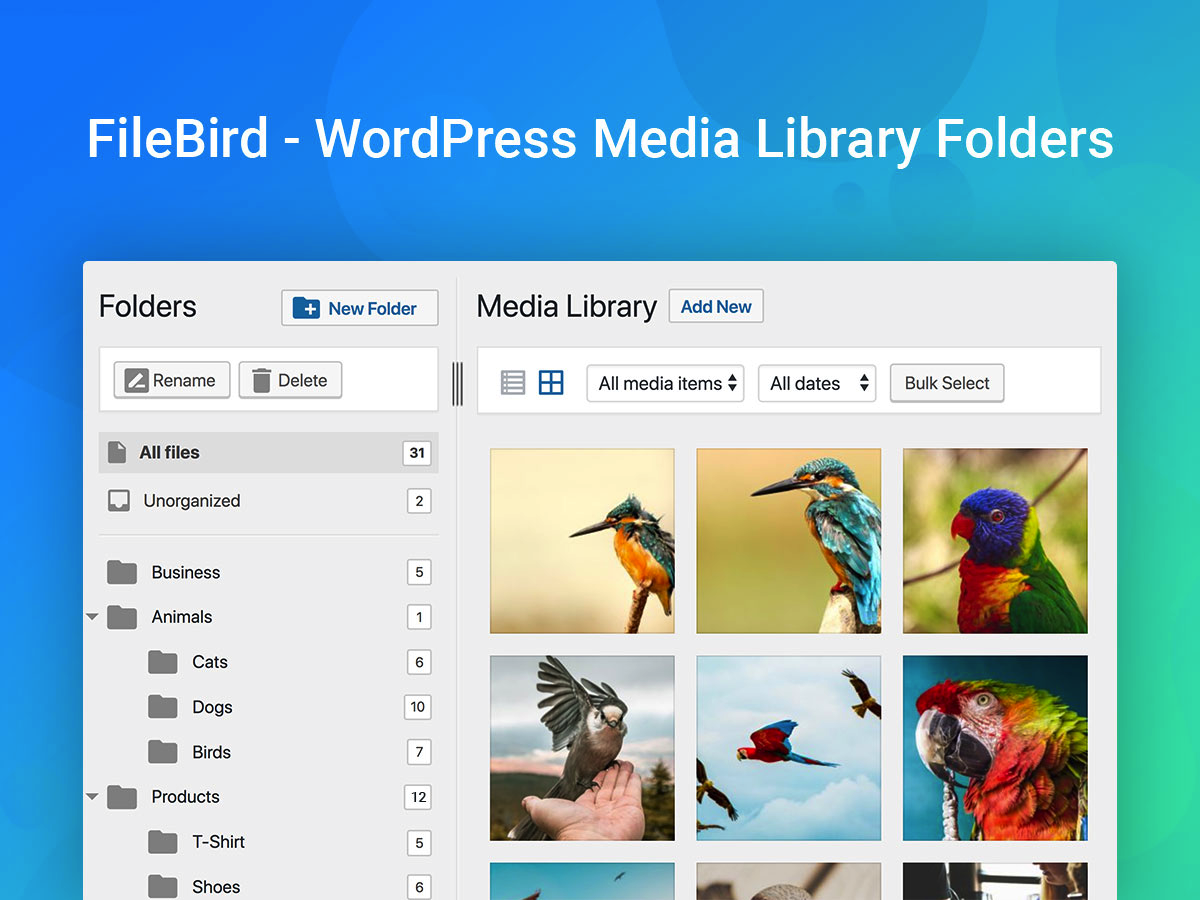 FileBird is a free plugin with a paid version that you can use to create WordPress media library folders via admin dashboard. It's a perfect file manager for all webmasters and online store owners. You can download it for free or buy it on Codecanyon.
FileBird WP media folders plugin is compatible with a wide variety of themes, builders and image optimization plugins, including Elementor, Divi, WooCommerce, ShortPixel, etc. This Ninja Team plugin also supports WPML, Polylang, and most third-party plugins.
Key features:
Organize folders with drag and drop interface
Modify assets via a right-click context menu
10 ways to sort files and folders
Image gallery block in Gutenberg
Super smooth performance

The Media Library Assistant is a free plugin that provides shortcodes you can use to display, sort, and order media. This plugin provides a wide range of features that enable you to:
Add images and other media files to your pages and posts

Add, remove, and edit taxonomies in bulk

Add slugs, ALT text, and image captions as search filters

Control the styles, markup, and content of each gallery via templates.

Collect information about the sizes, dimensions, and locations of your media files within your site
You can also integrate Media Library Assistant with Jetpack and several other plugins for additional features as needed. It supports WPML and Polylang plugins.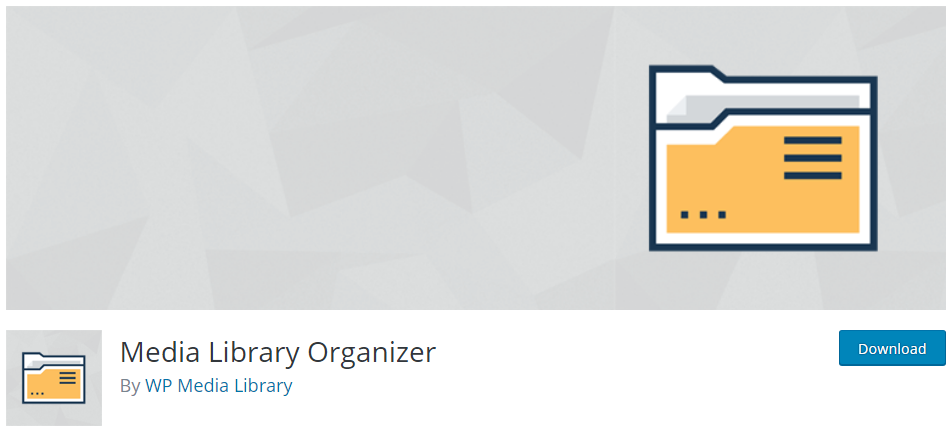 Media Library Organizer is a free plugin that you can use to categorize and search for media. It includes features that enable you to:
Sort media by category, date, or name

Import category data via JSON or WP standards export files

Import data from the Enhanced Media Library and Media Library Assistant plugins

Export category data to JSON or WP standards export files
If you wish you can also purchase a license to gain access to additional features, including auto-categorization, bulk and quick edits, default metadata, dynamic galleries, and zip compression.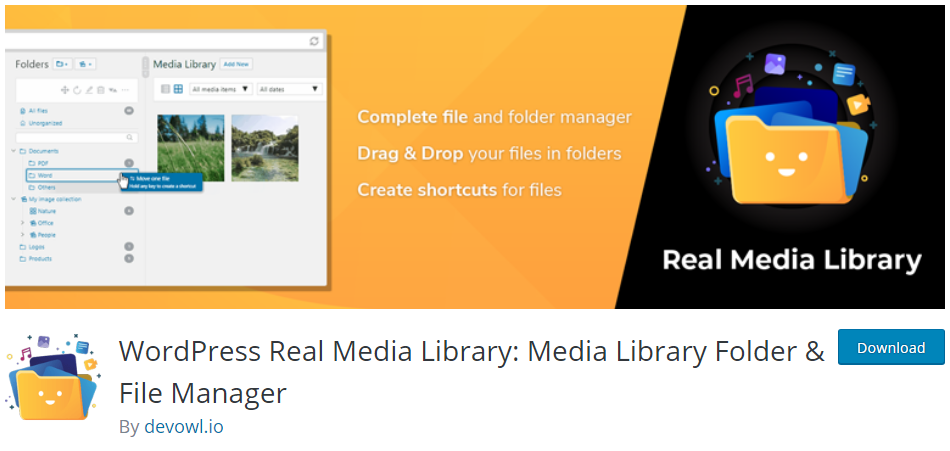 WordPress Real Media Library is a paid plugin that you can use to create and manage folders in your media library. It includes features that enable you to:
Drag and drop folders for reorganization

Create folder shortcuts

Customize your image ordering in the gallery and list modes

Monitor upload progress, including time remaining and speed

Create galleries from folders
WordPress Real Media Library supports a range of languages and is WordPress 5.x ready. It is compatible with most popular themes, page builders, and plugins and supports Multisite setups. With this plugin, you can also import categories and folders from a range of other plugins, including FileBird and WP Media folder.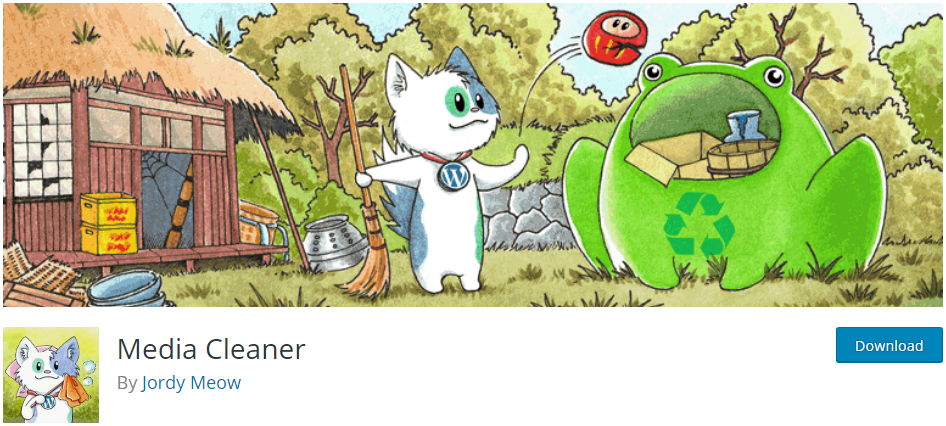 Media Cleaner is a free plugin with a paid version that you can use to clean unnecessary files from your media library. It works by analyzing your WordPress site to determine which files are in use and automatically moving those that aren't to a trash folder. You can then review these files to confirm media isn't needed before deletion.
The free version enables you to search for unused entries in your media library. It includes features for searching in posts, metadata, and widgets. It also supports WooCommerce sites natively.
The paid version enables you to scan your files explicitly for use. It offers extra features, including:
Support for page builders, including Elementor, Oxygen, and WPBakery

Custom plugin support

Live-site analysis of media

Support for scripting through WP CLI
Conclusion
When dealing with small amounts of media, you can use the built-in media library. However, if your site is continually updated with media assets, you will need to extend the basic functionalities. Otherwise, it will take you a long time to find assets. Additionally, you will not be able to manage media licensing.
You can solve these issues by installing plugins, but remember not to install too many. Download the plugins that seem like a good fit for your site, and experiment. Then delete those you will not use. Too many plugins can slow down your site, and slow page load can lead to negative user experience.
———-
Author Bio: Boaz Sasson
———–
Boaz Sasson is a creative and aggressive problem solver that has built and managed profitable online marketing teams across a range of verticals since 2003. He has an in-depth understanding of SEO, PPC, Social Media, Media Buying, tracking, funnel optimization, ad testing, landing page creation, and copywriting. Boaz currently works as a consultant, and specializes in highly technical SEO for complex or dynamic sites while traveling around the world.
LinkedIn: https://www.linkedin.com/in/sasson/