You may have heard or read about this new innovative and easy method of themes complete installation, or not. If you have not already, you probably should!
What will this tutorial include?
This is a comparative guide on finding the best install and import system of a theme and its demo data. We will compare the most common way of theme install on the majority of themes, between the new Setup Wizard method, that consist in an automated and fast import.
Themes come in all shapes, designs, purposes and coding structures; there are over 31.108 different themes on Themeforest and who knows how much on other markets. After you manage to find the 'perfect one' (wp dictionary: perfect – a word that suits the best of your requirements for a theme),  the part of the most Conflicting Issue ever with Theme Authors comes : the Theme Installation.
It includes :
plugins installation,
demo data importer,
sliders importer,
menu and widgets configuration,
theme options and images importer,
the theme full documentation importer on our knowledge, because it is IMPORTANT to read the theme documentation,
probably you should watch the video tutorials for an easy learning
and if you are an wordpress beginner, firstly Welcome 🙂
secondly we recommend you to read some WordPress tips and tutorials to easy the process of building your website.
We have already explained these points on our Specular and Tower themes documentations and also did some video tutorials on theme installation, you can refer to Specular install video or Tower install video.
Quick review on The manual theme installation
So according to the manual install and data import there are 2 ways to do it :
Install theme from WordPress admin panel:
Go to Apperance > Theme
Click Install and Upload
Navigate to the theme.zip folder on your computer and click install
You should activate the theme. Go to Apperance > Theme and Activate
Now you can activate the required and recommended plugins.
Install theme with FTP Installation : 
Log in to your hosting space via FTP software
Unzip the theme.zip file and use only the extracted theme folder
Upload the theme folder into wp-content > themes folder
Activate the theme on Apperance > Themes
You can activate the required and recommended plugins.
So you need to follow all these steps to manually install theme and plugins. After done this, next step is importing dummy data. This is the most important step : you can not achieve the look of a certain theme without importing demo data.
It contains almost everything a theme is about: even if you already have the theme files, you need this data to activate them. Usually the themes nowadays have multiple demos to represent what can be done with the theme, so you only need to choose the one you like and import its data.
This options usually can be found on Dashboard > The Theme > Import/Export .
Sometimes the data import may stop before 100%, but we did a tutorial on this issue too, you can see it here.
What is the Setup Wizard Installation anyway?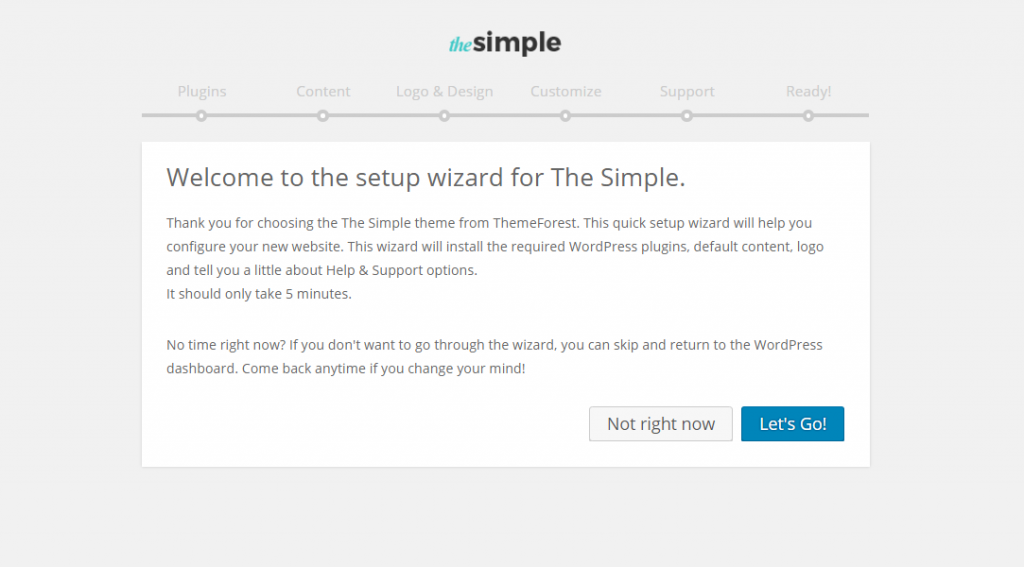 We will take in consideration the Setup Wizard system of The Simple theme, as we also did a review on this amazing and branding theme. You can see it here. 
This system it is activated after the theme installation on your WordPress platform. Usually it will redirect you to a brief presentation of the process and ask you if you want to continue with the setup or not. If you go back you will import the content manually.
Once going forward the necessary plugins for the theme will be listed and you will be asked if you want to install them all right now or skip this step. All the plugins will be installed and activated, so it will save you a lot of time 

, comparing to the old method where you should install and then activate each of them manually, considering the page redirecting after each install 

.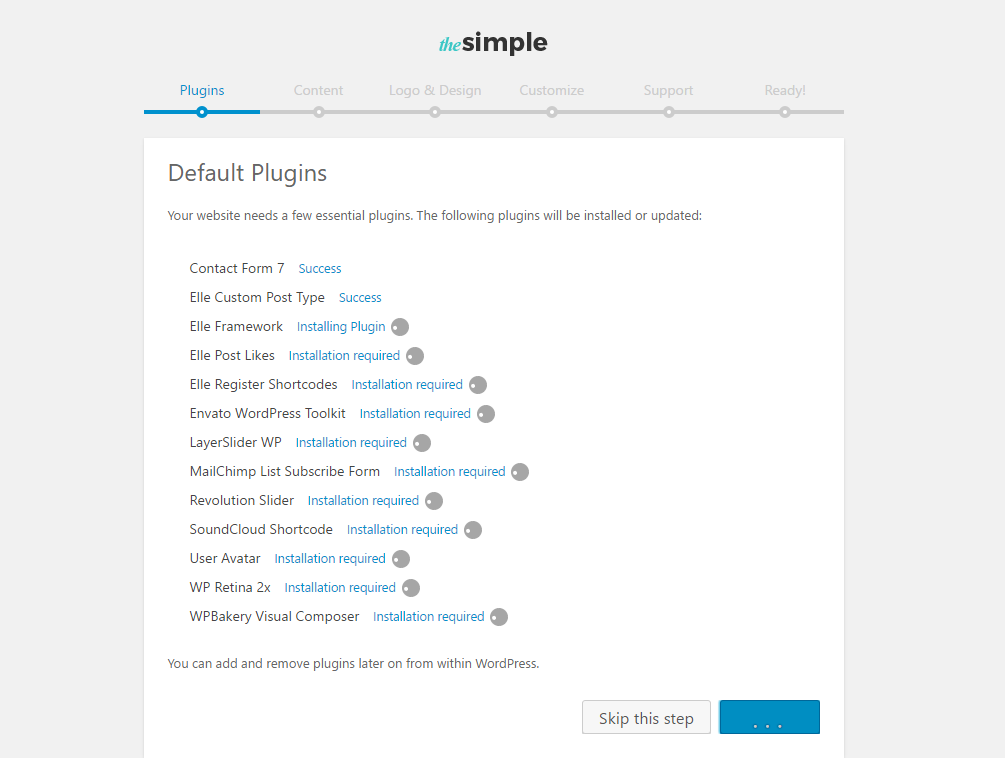 Of course you can add or remove the plugins later from wordpress, it is up to you even if this is an automated procedure

.
After plugins you will be taken to the content importer :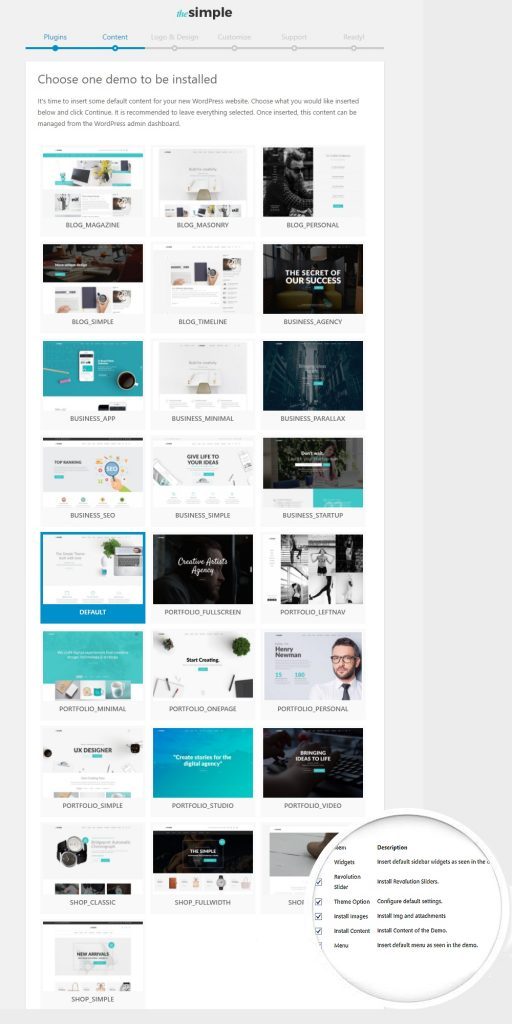 You can select one of the available demos. Choose what you want to import from the check list below
The widgets
Revolution Slider 
Theme Options
Install Images
Install Content
Menu 
and click Continue. All of the above will be installed in few minutes 

.
Meanwhile when installing manually you will usually have to import:
All demo data 
Content
Theme Options
Widgets
and you have to choose only one option at a time 

.
After the content import is over you will be directed to the optional panel of logo import :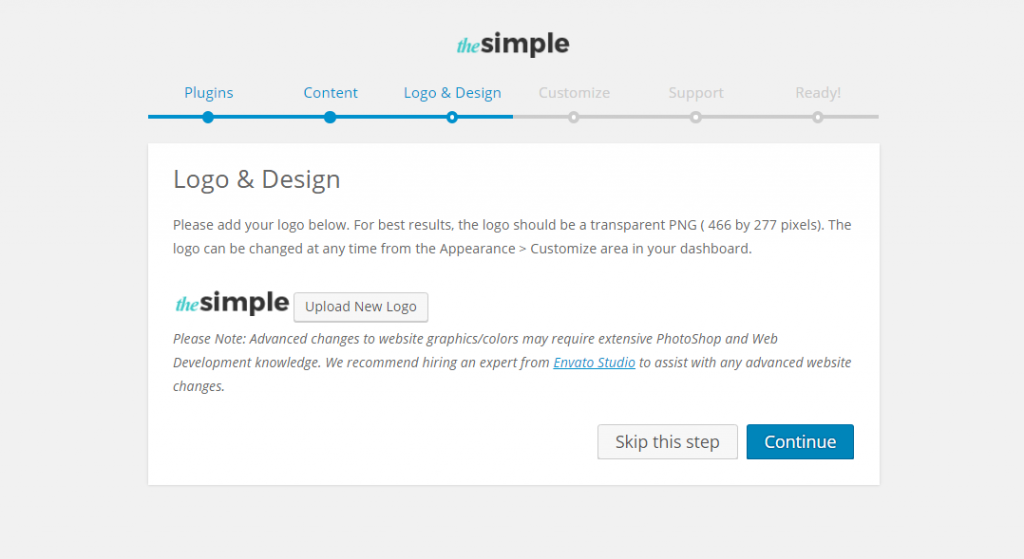 where you can instanly upload the logo of your website from media library

.
While clicking continue some customization and support tips will usually be given.
A short description on what is included in theme customization

: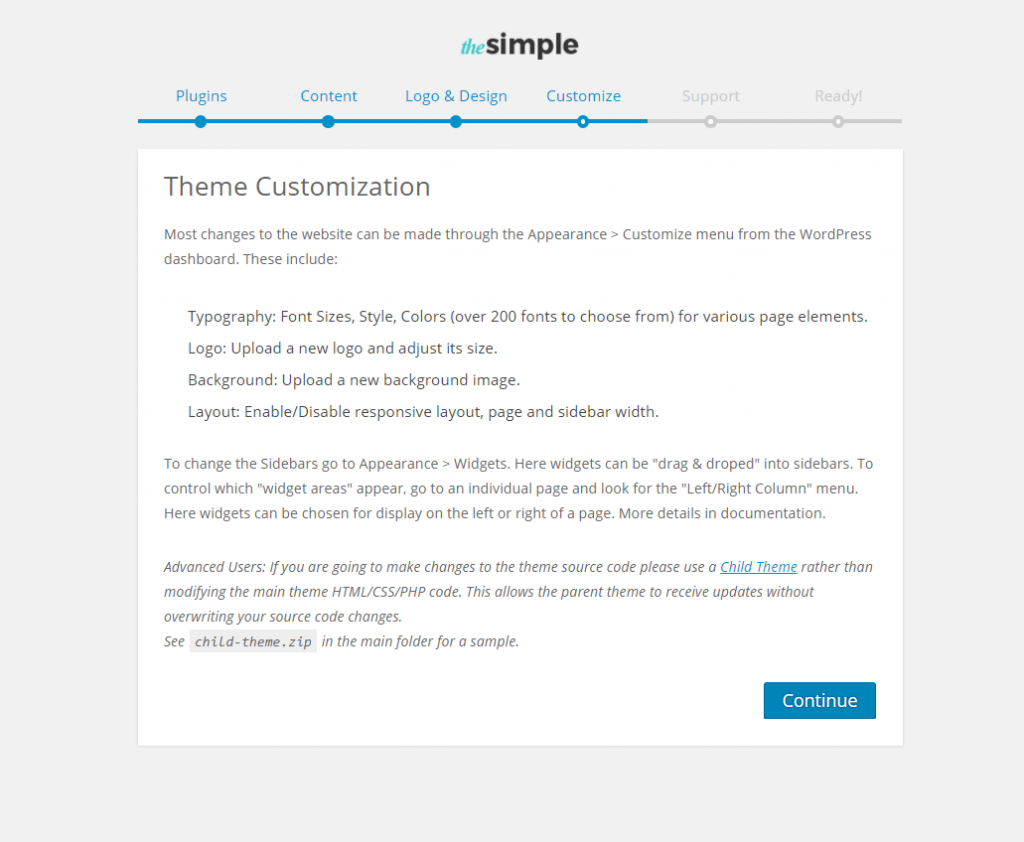 To be continued with the a short insight on support policy, terms and conditions

 :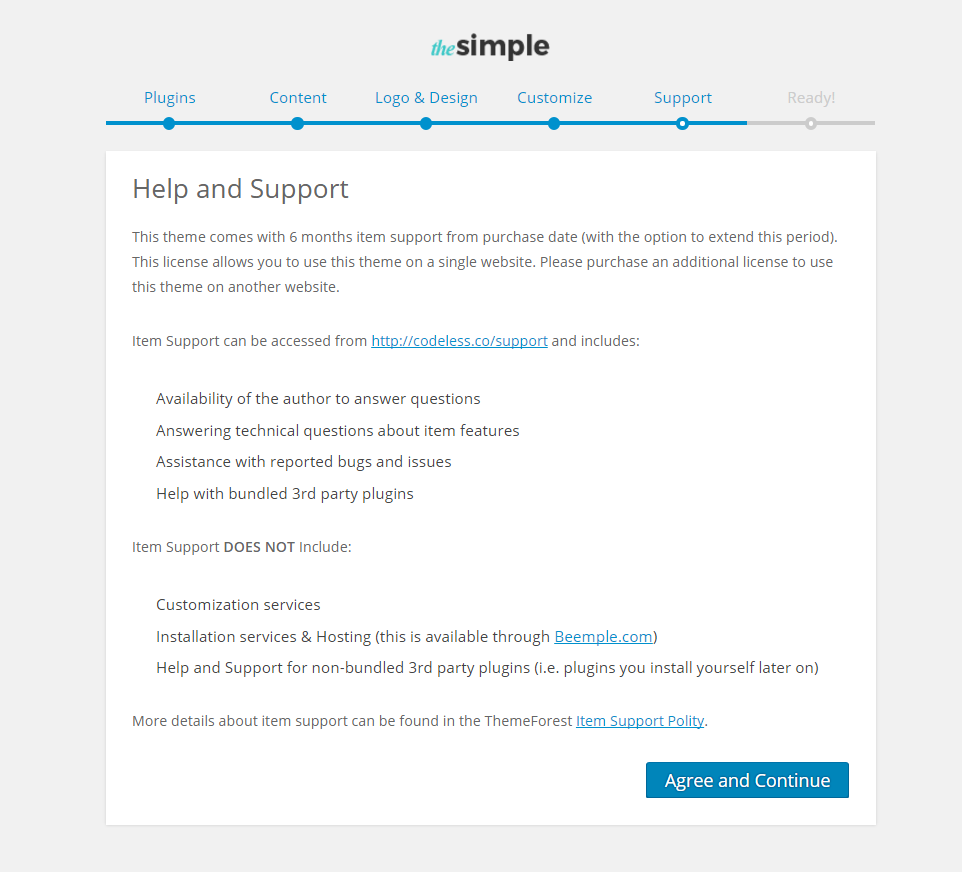 Ps. You can always try this for 1 day at our Beemple Installation Services and Hosting, here.
Now you are ready to enjoy your website, which will surely look exactly like the online demo you have chosen to import. No menu or widget configuration worries 

, neither wasting time on importing the revolution sliders 

. This is the best advantage this Setup compliments, is it a Time Saver.
Meanwhile when installing everything manually, you will import the log from Dashboard > Theme > general Options, maybe read again the documentation about the general theme customization and support policy 

.  And if you want to include the revolution created sliders, usually you have to import them one by one

. Probably not a great Time Saver.
So finally we can say that Setup Wizard method is the best by now!
What do you think? 🙂 Let us know.
If you ever had trouble with getting to 100% of theme demo data import successfully, may refer to this handful article 🙂