The standard way to gain new customers usually is through a phone call, accompanied by a scheduled meeting. Many are turning to the online system to schedule appointments and book business meetings with the exponential growth of eCommerce and cloud technology.
As a result, website plugins and themes that provide appointment capabilities are increasingly in demand. Let's have a look at the top 15 appointment WordPress themes that you should look into.
1. Medican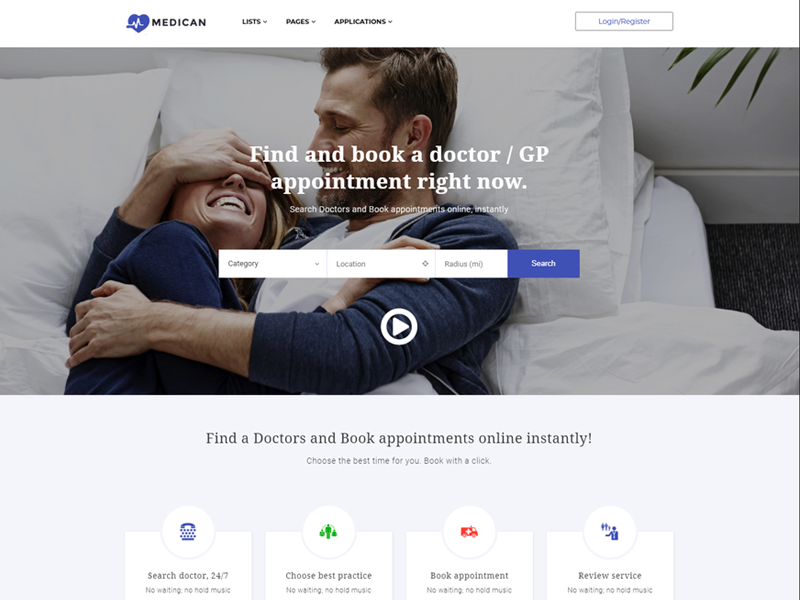 Medican is a WordPress theme with multipurpose directory and is best suited for appointment, doctors, health clinics, hospitals and medical organizations. Medicinal – is also suitable for any business related to health or beauty, such as medical laboratory, veterinary clinic, spa, gym, pharmacy or healthcare professionals such as heart surgeons, cardiologists, general practitioners, gynaecologists, psychiatrists, and many other medical field experts.
Medican has:
Easily configurable headers, footers and sidebars with the help of visual composers
Forms are configurable with the help of CMB2 API
Offers configurable search forms and item templates
Woocommerce facility is paid in this theme; it is not by default available.
2. Jacqueline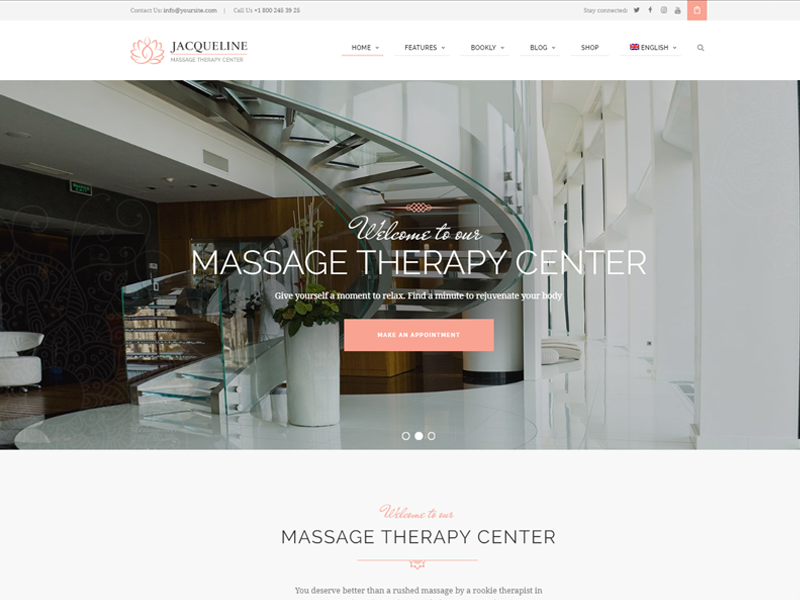 Jacqueline-attractive WordPress Health & Beauty Theme for trendy Spa & Massage Salon theme with advanced features and beautiful responsive design. Jacqueline is the best solution for modern spa salon, beauty business, hair or makeup salon, health and fitness center & massage services agency.
Jacqueline also features full WooCommerce support that enables you to sell products and services via your beauty store.
This theme is enabled with WPBakery Page Builder also called Visual Composer, which is better than Elementor.
Jacqueline makes it very easy to promote business online. You get access to lots of pre-constructed pages, if you want to be really creative. You can also make reservations online, as the theme is compatible with the Booked plugin.
3. Dentall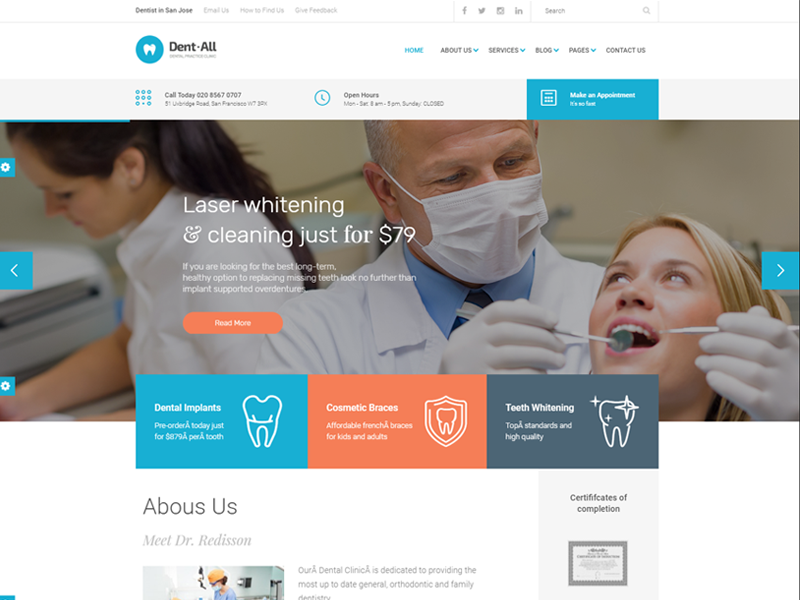 Dentall is the only WordPress Doctor theme you need for your dental practice & medical company. Dentall has everything you need from making a successful medical office, hospital or personal dentist's website.
Dentall comes with excellent designed-in plug-ins and custom modules, such as: Revolution Scale, Appointment Scheduling, Visual Composer, Custom Services module, and Pricing module. You can easily add your doctors staff, their description, clinic photos, certifications, contacts in this theme.
Dentall is highly responsive and Retina ready. Now your patients may use mobile devices to make appointments too. It's also a good choice for Doctor WordPress theme, Surgeon WordPress theme or Medical WordPress theme-where you can tailor the material and parts to suit your business needs.

4. Cloe Brooks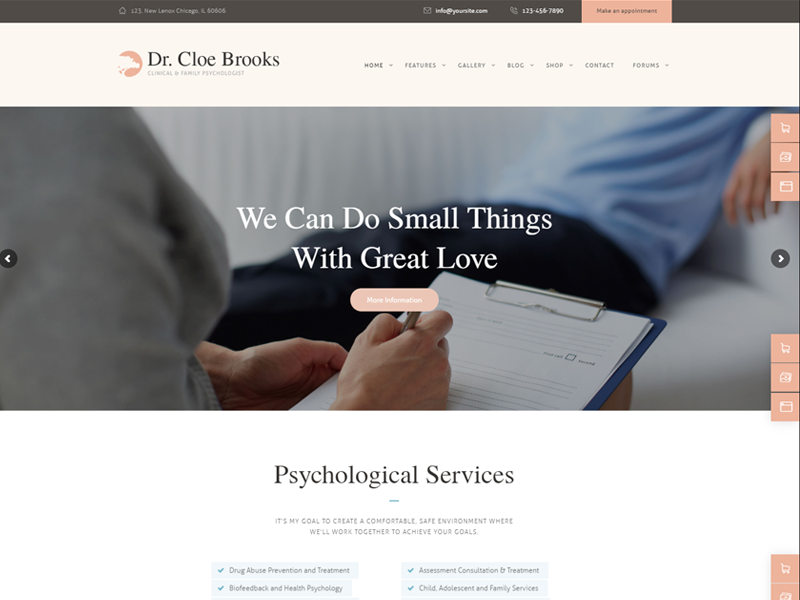 Cloe Brooks is a sleek WordPress theme about contemporary psychology. It is perfect for physicians of counseling, counseling clinics, psychiatrist, and adult psychology.
The business design theme is also ideal for any corporate headquarters website, consulting relationships of any sort, family, personal, recovery, mental health, marriage, and hypnotherapy.
Cloe Brooks Theme Features:
Book Appointments
Management of appointments
Online forms
Psychologist personal page
Pricing table
Woocommerce store
news layouts
Beautiful galleries
Free forum
Moreover, it is enable with WooCommerce and Visual Composer which makes this wodpress theme outstanding among all its competitors.

5. Massage Therapist and Spa Salon Theme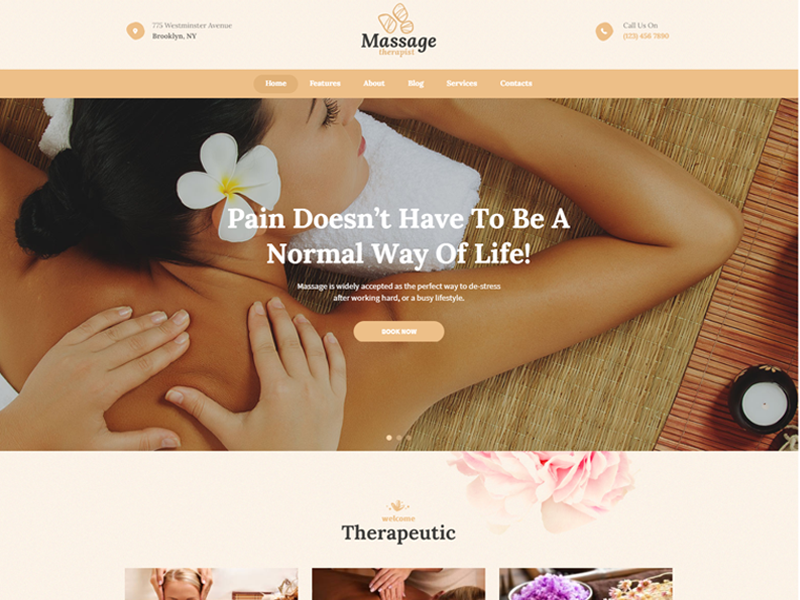 This premium WordPress theme massage therapist and spa salon comes with tons of features and stunning designs. This theme is appropriate for an individual massage therapist's website, spa, beauty salon, hair or makeup salon, healthcare center or massage service.
The theme makes it very easy to promote your business online. You get access to lots of pre-built pages. The premium WPBakery Page Builder plugin is included with this theme if you want to get truly creative regardibng designs and innovative ideas. You can also take reservations online with ease and high speed , as the theme is compatible with the Booked plugin.
6. KindlyCare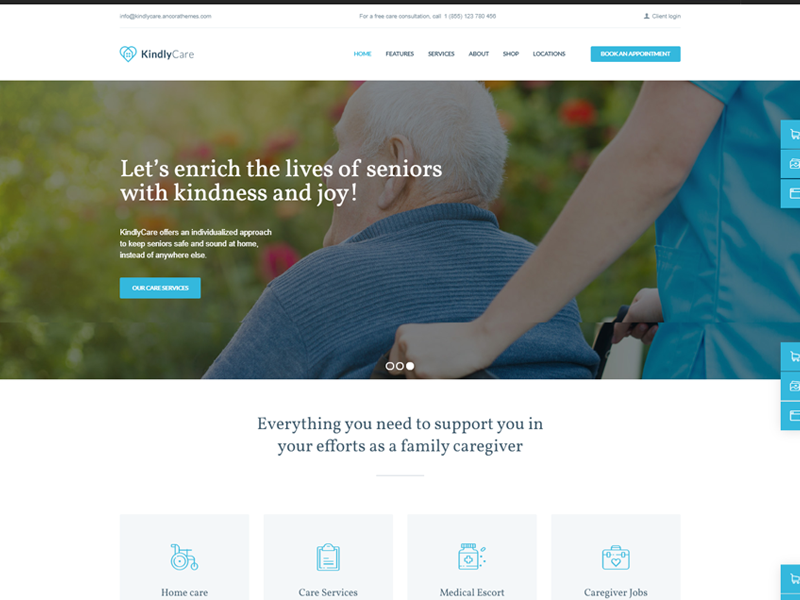 KindlyCare is compatible with premium plug-ins such as: Revolution Slider, Essential Grid, WPBakery Page Builder and Calendar Booked Appointments to best showcase all your services. The theme has plugin compatibility of WooCommerce shops to sell your medical and senior care products. KindlyCare is completely responsive, SEO optimized and retina ready.
Some main features include:
Visual composer
Media content manager
WooCOmmerce
PO Composer
WPML Plugin compatibility
Shortcode builder
Well documented and support available
Browser Compatibility with FireFox, Safari, Chrome and IE11+
One-click demo installation
This theme is easy to install, update and customize
7. Plumbing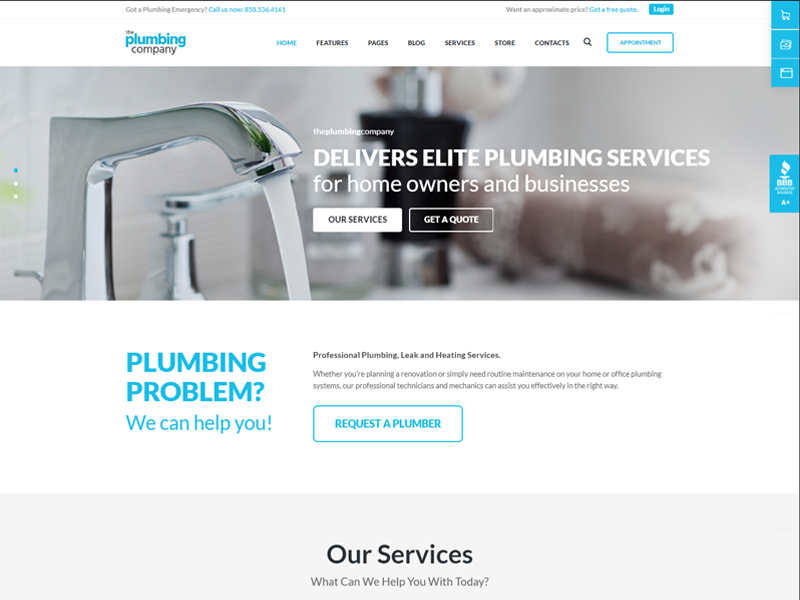 Plumbing is a modern and responsive WordPress theme on Repair & Construction. It is built for plumbing companies and businesses and suits well with every home repair and maintenance company website including plumbing facilities, carpentry, remodeling & renovation agency and construction businesses.
The main features of this wordpress theme are:
Booking Appointments-fully online
Appointments Management
Pricing Tables
Team member single page
Premade Services
Testimonials modules
Contact Forms
Quote Forms
The theme may become a nice online tool and equipment store or plumbing supplies shop as well as a toilet, water pipes, toilets, showers, kitchen and hardware because of WooCommerce facility.

8. Pearson Specter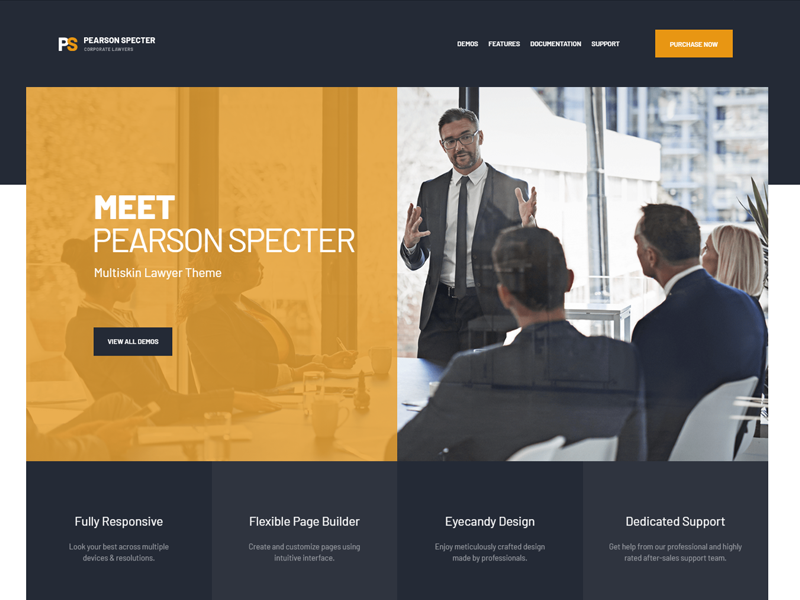 We introduce you to the modern three skin Pearson Specter to ensure your legal services are differentiated among others in the field. Pearson Specter Lawyer & Legal Consultant WordPress theme has a strong contemporary business template well tailored for law and financial business , small law firm, legal advisors agency, and person lawyer's office.
The main features include:
Appointments booking facility
Appointment management system
Ready-made lawyer practice areas
law Departments
Premade Team
Lawyer single page and services
Tons of useful shortcodes
It has easy-to-use media content manager and Elementor. With these two, you get the power of developing website with less code.

9. GoodLaw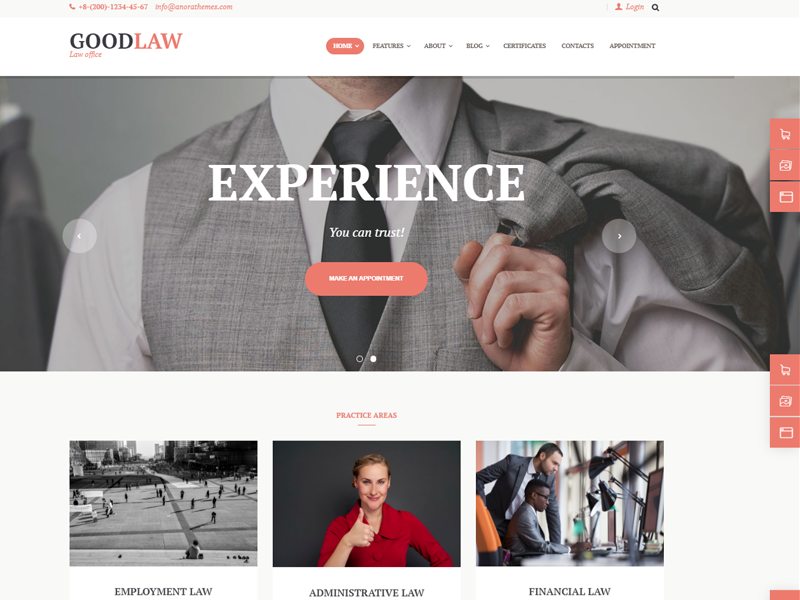 We introduce you to modern GoodLaw which is amazing wordpress theme ensures that your legal services are differentiated amongst other competitors. Goodlaw Lawyer & Legal Consultant WordPress theme has a strong contemporary market template ideally suited to law and financial firm, small law company, legal advisors agency, and individual lawer office.
The theme features simple navigation, a helpful list of lawyers, great blog templates, as well as WP scheduling calendar to make appointments instantly, and compatibility with Web Timeline plugin to arrange your web by date.
The main features include:
Appointments booking online
Appointments management online
Automated Lawyer practice areas
Automated departments Premade Certificates
10. Felizia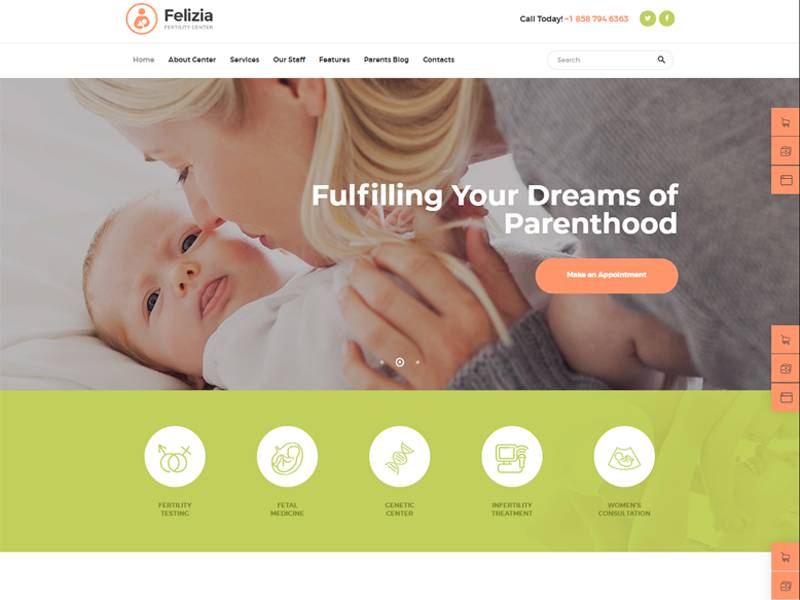 Felizia is a stylish Medical WordPress theme. It was specially built for a fertility center, maternity center, gynecology or family planning clinic. It is also a good solution for any company related to medical and healthcare, such as hospitals, research centers, dental clinics, and pharmacies.
The main features include:
Online Appointment booking
Online Appointment management
4 homepages (premade)
Contact Forms
Beautiful designed pages of about us, services, appointments, products, team members, doctors
Compatible with Woocommerce store
This premium WordPress theme comes with a pack of advanced theme options for easy setting and maintaining your website.

11. Hypnotherapy and Psychologist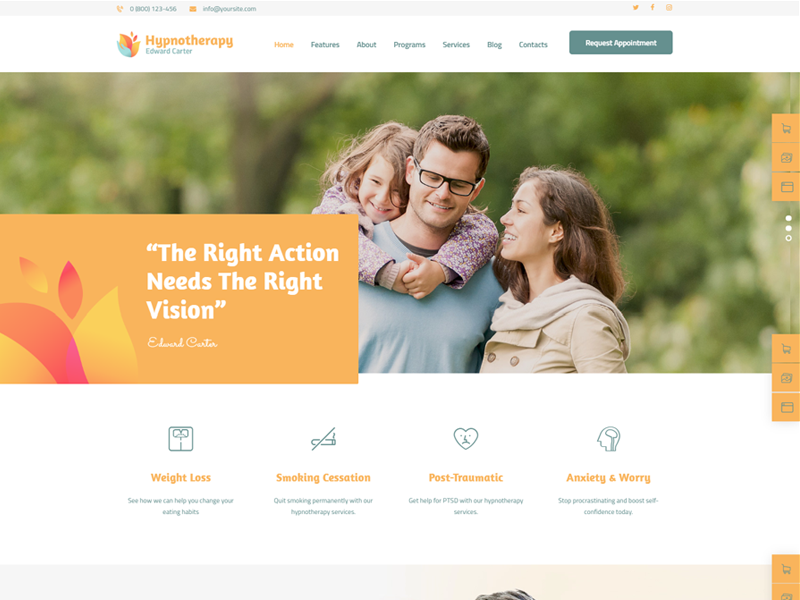 Premium WordPress theme hypnotherapy and Psychology has some very advanced potent features and beautiful design. This is the perfect solution for a professional hypnotherapy service, counselor website, psychotherapist clinic, psychiatrist, personal coach / trainer company, as well as website related to psychology medicine.
The main features include:
Online Appointments
Online appointments management
beautiful designs and galleries
Premium Contact Forms
Enabled with Woocommerce store
Already designed Services, Products, team and programs pages
This theme includes several customizable features to highlight your practice and to identify your services. It is completely responsive and retina ready.

12. Optometry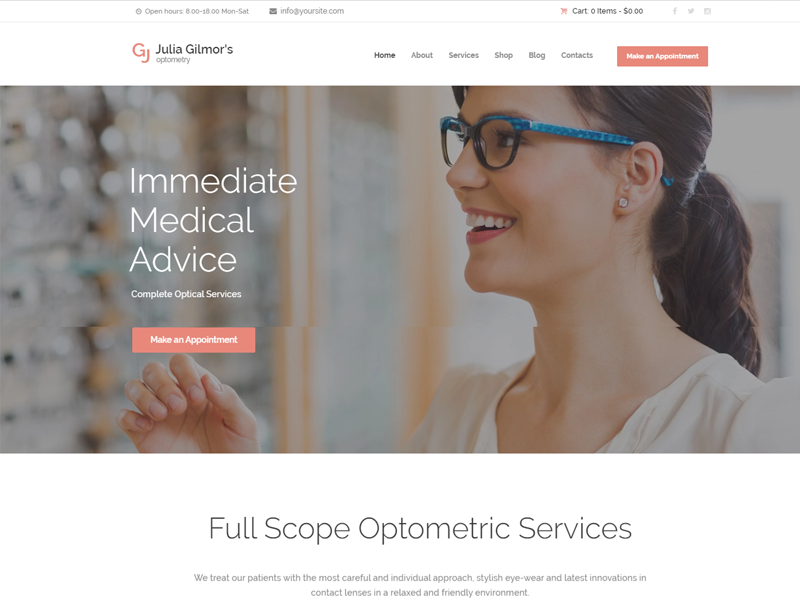 Optometry is a sensitive, stylish WordPress theme for the opticians or any other company affiliated with health care. This beautiful WordPress theme is built in a contemporary and practical way to showcase your high quality medical services, optics stores and optics company. It is also perfect for Optometrist, who specializes in the fitting and manufacture of ophthalmic lenses, spectacles and low vision aids.
The main features of this amazing theme are:
Online appointment booking system
Appointment management system
Optometry services and products (premade)
Compatible with Woocommerce store
Beautiful gallery
Shortcodes for ease of development and use
13. Meni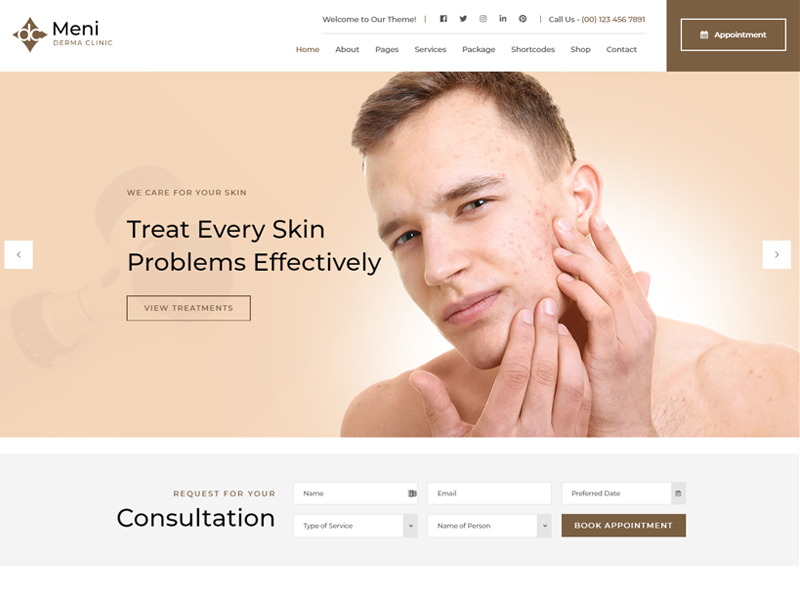 Meni is qualified wordpress theme for Medical Care App, Hospital Website, Clinical Research Laboratory, Health Care Center, Plastic Surgery. It is a best multipurpose digital theme for Medical Services Website such as Dental Surgery , Cancer Treatment, Dermatologist and many more.
Attributes such as physician appointment calendar, gallery (before and after), woocommerce shop makes Meni the best for Skincare Product Store, Health Doctor Appointment reservation sites.
Meni is completely compatible with Visual Composer and built with an easy to use wide set of drag & drop design elements, enabling you to take full control of your website.
14. Trueman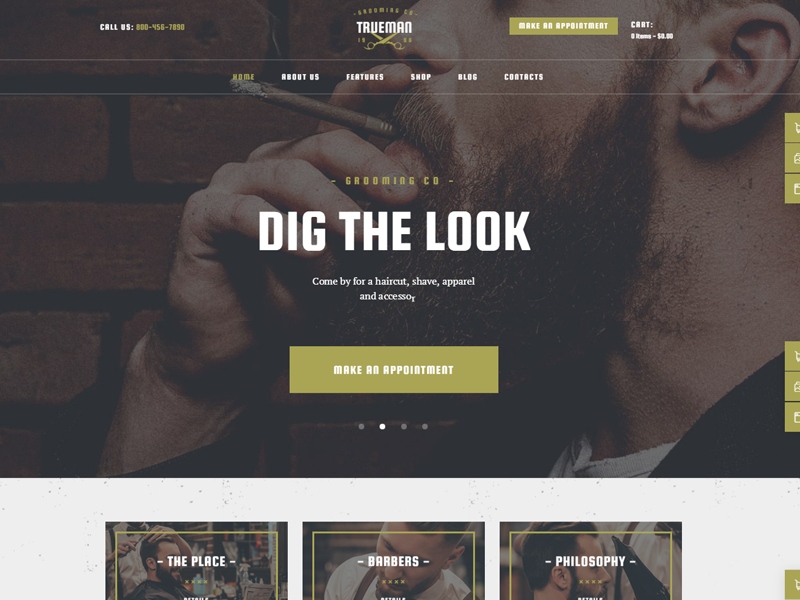 Trueman WordPress style is stylish & trendy. It has a sleek and practical design particularly built for barbershop, hairdresser or hair salon. You can build a powerful web site with lots of powerful features to reflect your talents, advantages and services. Trueman is well suited to Barbers, Hairdressers, Tattoo Salon, Barbershops, Beauty Industry Stores, Shops or any website.
Trueman has an elegant user interface and insightful layout that looks fantastic on any platform, since it is completely responsive and Retina ready.
The main features include:
Online Appointments booking
Appointments management
Premade modules: services, about, team, products
Contact Forms
Full Woocommerce store compatibility
Awesome ready-made shortcodes & galleries
15. OnLeash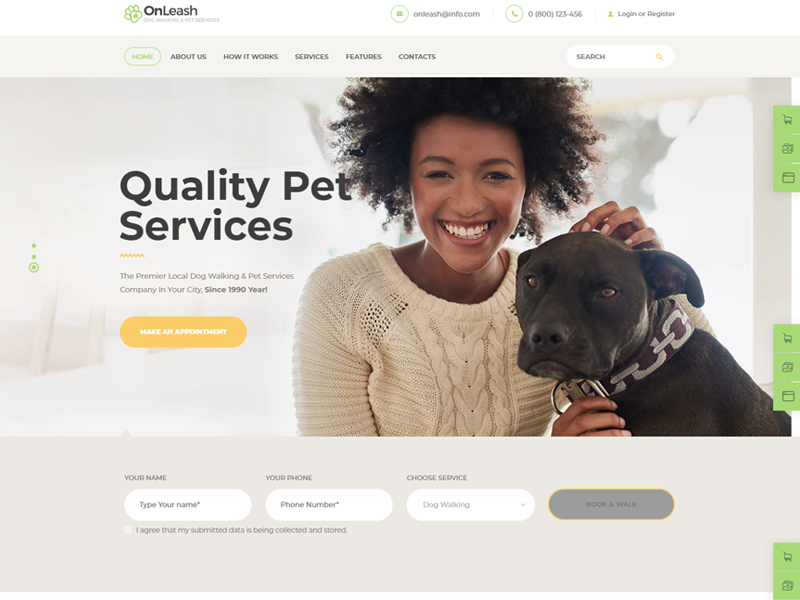 OnLeash is a great new, safe dog walking and pet services WordPress theme.
It is packed with dozens of shortcodes and pre-defined layouts of pages, headers and footers. It is super versatile and flexible to make the process of a new website as easy as possible. The theme is compatible with a range of cool plugins that you will need to use if you want to create strong online business presence.
The main features include:
Online Appointments booking system
Online Appointment management system
Already designed pages of services, products, teams, appointments, and "How it works"
Contact forms (Advanced)
Compatible with WooCommerce shop
Exceptional gallery and post layouts

Ludjon, who co-founded Codeless, possesses a deep passion for technology and the web. With over a decade of experience in constructing websites and developing widely-used WordPress themes, Ludjon has established himself as an accomplished expert in the field.