Not all hosting solutions are the same, however. If you are interested in the business field, you need something more robust and secure than normal hosting plans can offer you. In this way, you can offer a high level of experience to your customers. In this collection, our experts listed the best web hosting for small business websites.
An SSL certificate is a very important thing these days for any professional or business website, but these are not included in every plan. Fortunately, they aren't too expensive. These days many hosts offer free SSL certificates from the Internet Security Research Group Let's Encrypt project.
You will probably want a plan that also includes automatic backups, but this is another area where you will need to check the small print: backups are often an extra option.
Also think about an upgrade path, in particular, if you're starting with a basic shared hosting plan. If your business grows, then the needs of your website may also expand, and it will make your business experience much easier if the chosen host has the add-ons and extras to deal with.
We have to remember that it's your business we're talking about here and having the site down for a relatively short time can be brutal in your wallet.
In this article, we'll let you know which web hosts offer each of these features, which should help you make a well-informed decision.
We'll let you know when a key feature is only available on some plans. We will discuss the features they offer for online stores, the status of their support and security system, and their performance. We have a lot of ground to go, so let's jump in!
The Top 20 Best Web Hosting for Small Business Reviews
In a hurry? Let's check this comparison table between the best small business web hosting:
| Provider | Uptime | Storage | Bandwidth | RAM | Pricing(Monthly) |
| --- | --- | --- | --- | --- | --- |
| | 99.98% | 50GB – Unlimited | 1TB – 15TB | 2GB – 16GB | $2.95 – 209.99 |
| Hostinger | 99.98% | 30GB-Unlimited | 1TB – Unlimited | 2GB – 16GB | $3.99 – 84.99 |
| Dreamhost | 99.98% | 50GB – Unlimited | Unmetered | 2GB -16GB | $1.99 – 27.5 |
| | 99.97% | Unlimited | 4TB – 15TB | 4GB – 64GB | $7.99 – 589.99 |
| | 99.99% | Unlimited | 1TB – unmetered | 2GB – 30GB | $6.95 – 289 |
| | 99.94% | Unlimited | 1TB – 15TB | 1GB – 16GB | $7.99 – 239.99 |
| | 99.95% | Unlimited | 2TB – 20TB | 4GB – 16GB | $7.99 – 349.99 |
| | 99.97% | 100GB – Unlimited | Unmetered | 2GB – 32GB | $7.99 – 349.99 |
| GreenGeeks | 99.90% | 50GB – Unlimited | Unmetered | 2GB – 16GB | $10.95 -67.99 |
| | 99.98% | 10GB – 960GB | 10TB | 16GB – 64GB | $11.95 – 729 |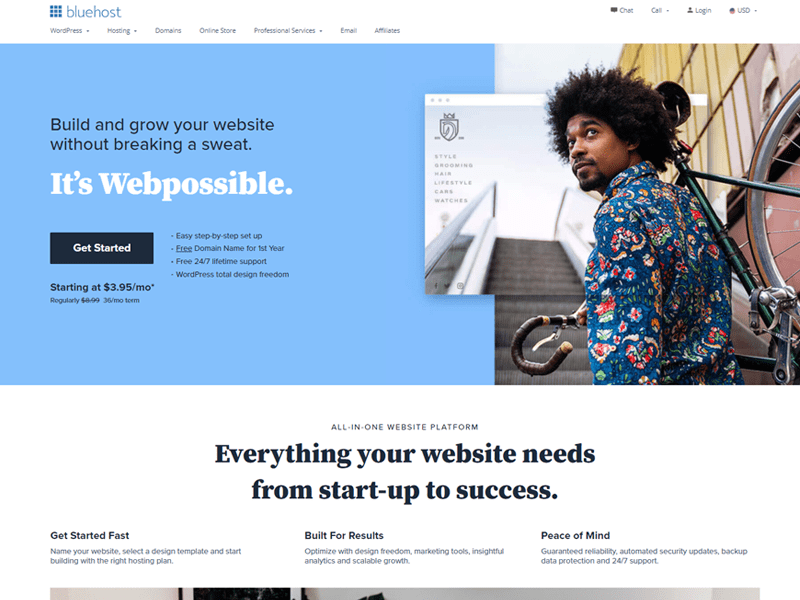 Bluehost for business is a smart decision, particularly if you have a limited budget or plan to use WordPress and WooCommerce for your store. They are the recommended hosting provider for WordPress but also for WooCommerce. Bluehost allows you to start selling in your online store in just a few minutes because the WooCommerce application is easy and simple to install.
In addition to its a facility of use, you also get additional benefits such as a free domain for one year and free SSL security with each account that has a dedicated IP address. You'll get a shared SSL certificate that you can activate in the cPanel if you have a WordPress site hosted through Bluehost. At $2.95 a month (for our readers), it is hard to beat and to find a better package than Bluehost hosting package for your WordPress or store powered by WooCommerce.
In general, Bluehost is a powerful choice for your website or e-commerce store. Bluehost is an old hand hosting company that has to find out how to keep prices low and competitive while offering a fast and reliable product. BlueHost works for over two million users worldwide, and there are good chances it will work well for you.
The specific plan you have to choose is, of course, up to you, but you have to keep in mind that going with the cheapest solution on the list can lose out in the future.
In my opinion, and in particular, with a company like an e-commerce store, the best thing to do is starting with a quality VPS plan or WordPress optimized plan with which your site can grow. These plans offer good scalability and reliability, something that will become very important to your business website once it starts to grow.
Here you can read our full review: BlueHost Review – Honest Check of Pros & Cons
Pros
The hosting plans offer loads of storage.
Bluehost does not limit the traffic for your website.
Cons
Poor backup options with a limited backup solution.
The sites cannot be migrated to other sites. This service is only available at $150.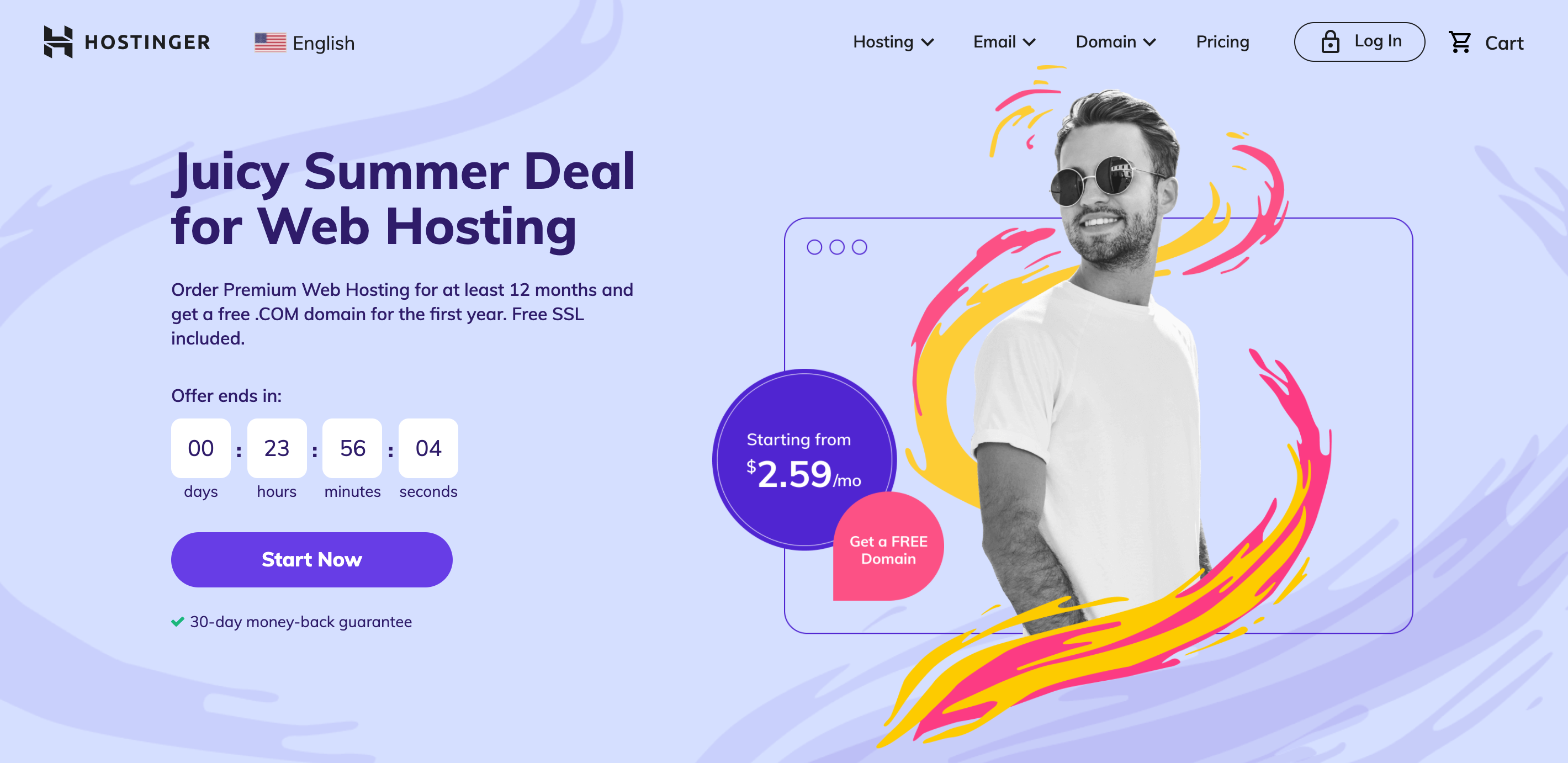 Hostinger stands at the top of the list of best host that provides discounted prices. Their affordable prices also provide a wide range of options that makes it the best. The prices on discount start from only $0.99 each month. It offers both Linux and Windows hosting.
Not only this, it offers a lot more features. However, the most important drawback of using Hostinger is that it offers quite low uptime, i.e. 99.90%.
With Hostinger, you can have varied hosting types that all are ranked high with 5 stars. It supports WordPress, cloud, VPS and shared hosting. Despite the low prices it offers, there are thousands of features at the cheapest rate. The shared plan at the lowest cost includes 100GB bandwidth, 10GB storage and SSL certificate.
The ultimate plans that are the richest in terms of features include extraordinary options such as over 100 email accounts, free backup packages, unlimited bandwidth and over 100GB storage.
For a starter business, Hostinger offers special features but it does not provide dedicated hosting.
Hostinger covers any hosting needs from simple hosting to servers for Minecraft.
The pricing range of Hostinger are different for different plans offered.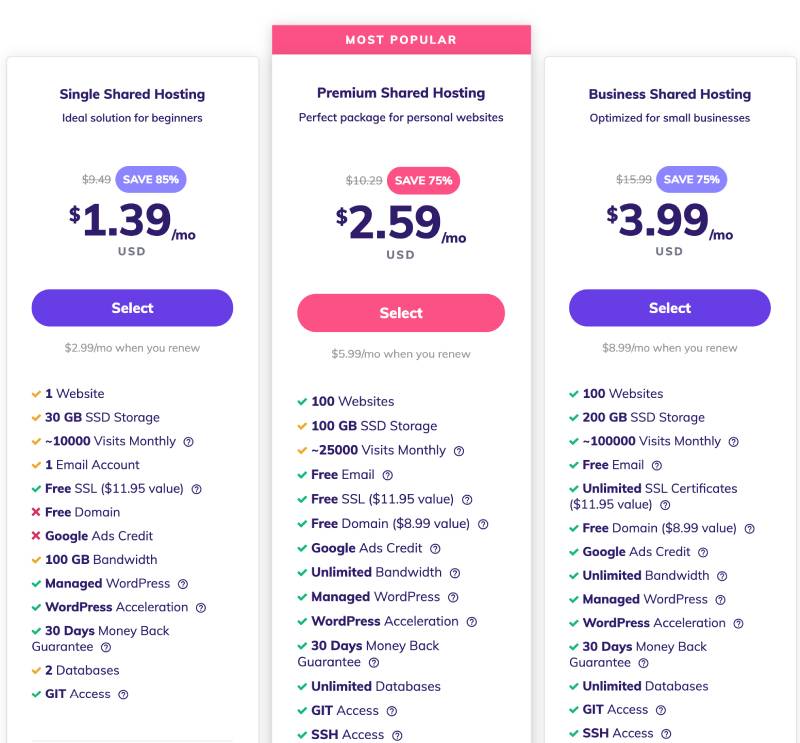 It offers absolutely awesome deals with discounted rates for the renewal time. Above all, Hostinger also offers a guarantee of full refund after 30-days.
Pros
Multiple languages support is available 24/7/365 through live chat
Affordable prices & free SSL
99.9% uptime guarantee
1-click installer
Great usage with ease for WordPress plans for strong onboarding.
Cons
Low percentage of uptime, i.e. 99.90%
It does not provide any plan dedicated for secure future use.
No customer support on phone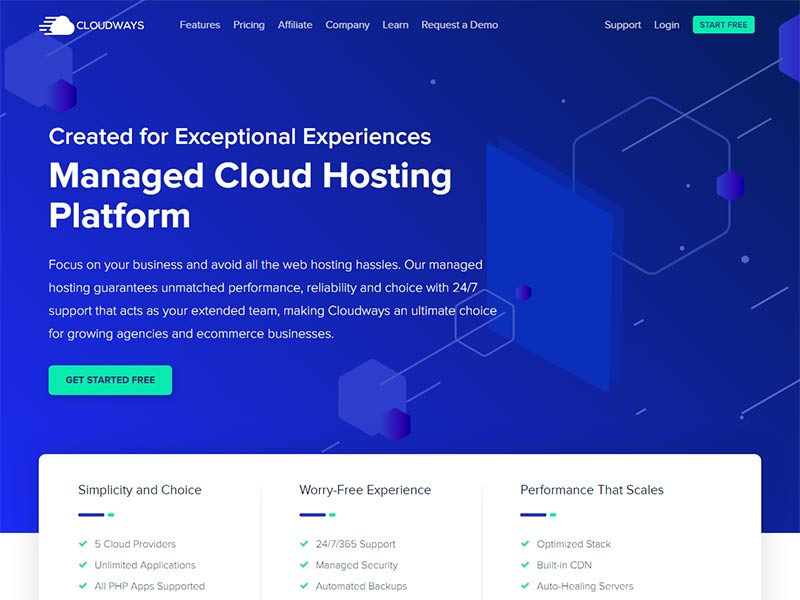 Cloudways is a managed cloud hosting platform that has sprung in popularity over the last 8 years. It caters mostly to agencies and ecommerce sites while also offering affordable cloud hosting to SME and bloggers. One of the contrasting features of Cloudways is that it offers you the choice to choose from 5 best in class cloud providers namely; DigitalOcean, Vultr, Linode, AWS and Google Cloud. This way, they are able to cater to a range of customers with varying budgets.
Cloudways also offers managed cloud hosting across multiple applications which means you can host WordPress, WooCommerce, Magento, and all other PHP based applications such as Laravel, CraftCMS and more. This is to ensure that there are no restrictions when it comes to hosting your website on Cloudways.
Cloudways starts from $10/month which makes it one the most affordable options for managed WordPress hosting. The $10 plan comes with a super fast 25GB SSD hard drive, 1GB Ram and 1TB of bandwidth. With Cloudways you can also choose from more than 60 data centers locations which are spread out all across the world to make sure that you experience optimum performance no matter where you are located.
Cloudways Features:
Free unlimited migrations
More than 60 datacenter locations
Vertical scaling
Automated backups
SSD based hosting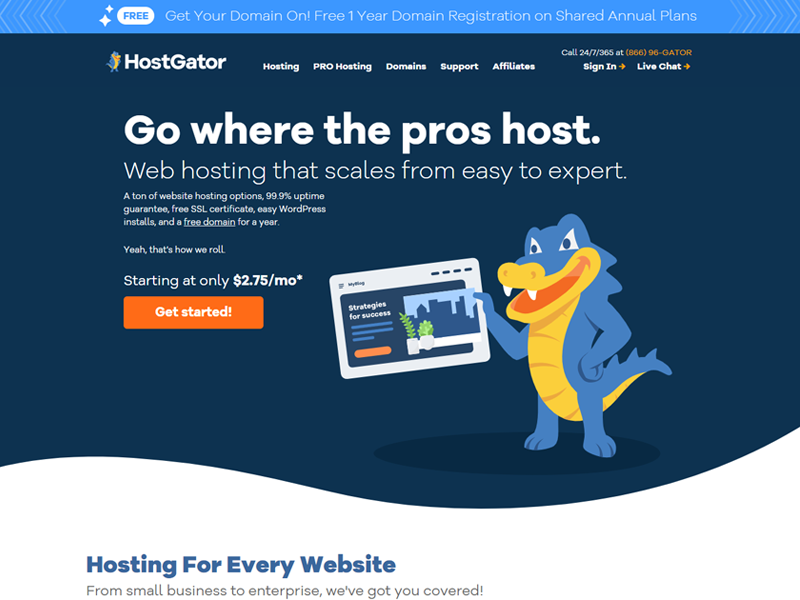 Hostgator is another popular domain registrar which offers a one-stop-shop for shared website hosting and domain names. There is a combination of domain privacy, DNS management and extension selection tools. The domain is an easy-to-use tool that quickly searches for an appropriate domain name for your business.
The management area is well documented and beginner-friendly as well which helps in transferring. In addition to the hosting and domain name, the recently added feature of drag and drop to the website builder, called Gator, is also helpful. With this feature, they offer free hosting and domain with all their plans of the website builder.
The first time registration costs $2.75 per month which offers you all the essential features you need for your website. All the plans for all the users include free migration service who want to transfer to any HostGator server on WordPress.
The Whois Privacy cost is high. The backups for up to 1GB are provided free with automatic updates and free domain name are all included in this package.
It also offers a 45-days money-back guarantee. In addition, it offers unlimited bandwidth and unmetered disk space. There is no plan that specifically addresses e-commerce, yet they include dedicated server, VPS and share options.
Extended review: Hostgator Review – A thorough & Honest Assessment
Pros
SiteLock monitoring available
One month guarantee of uptime with the range below 99.90%
Cons
Contract for 3 year is needed at the cost of 2.75 per month
Slow speed of page loading occasionally
Additional fee needed for extra services such as backups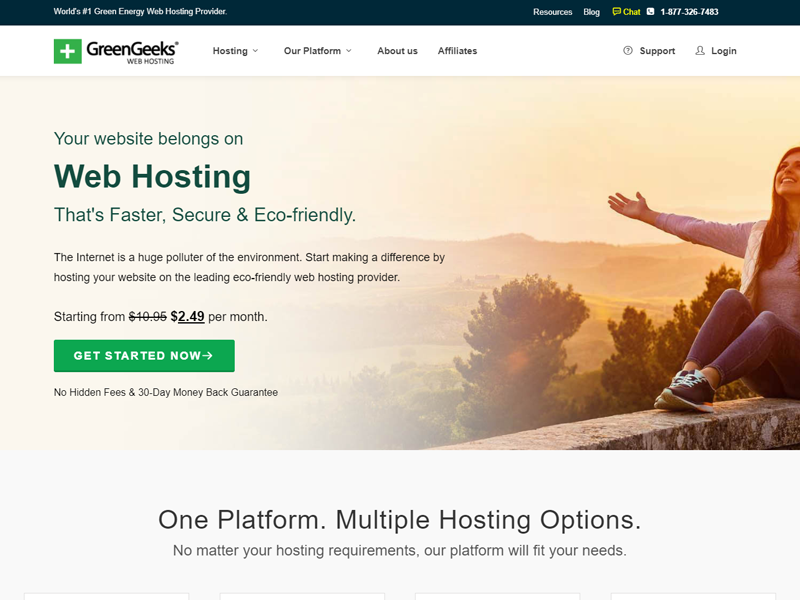 GreenGeeks has presented itself to be the most responsible and environmentally stable hosting company in the online market. Their services only use wind power and this characteristic feature distinguishes it from the other companies in our list.
However, this is not the only feature that helps it lead the ranking. It offers the starting cost of WordPress ranking to be $2.95 per month with different features being offered in premium and pro plans. The premium comes with unlimited data transfer, web space and websites. All these plans offer free domains and SSL certifications for the first year after subscription.
The support they offer is available 24/7 through phone, chat and tickets as well. Moreover, the WordPress options are vigorous with the inclusion of the most required features such as VPS hosting SSD and reseller hosting with over 150 GB of cPanel and disk space include.
So, if environment is your priority and you want your website to run on green energy, then the only best choice is GreenGeeks. GreenGeeks partner with the U.S. Environmental Protection Agency. They assert to return the power with three folds that they utilise in their working grid. The pricing plans offered in GreenGeeks may be higher than the standards followed in the industry.
Pros
Uptime of over 99.90%
Extensive articles, videos, tutorials offered for the education centre
Carbon footprint is positive
Cons
Minimum period of subscription is 3 years to get the discounted price to be $2.95 per month
Only Linux users can use it
It costs $39.5 to 109.95 per month for VPS hosting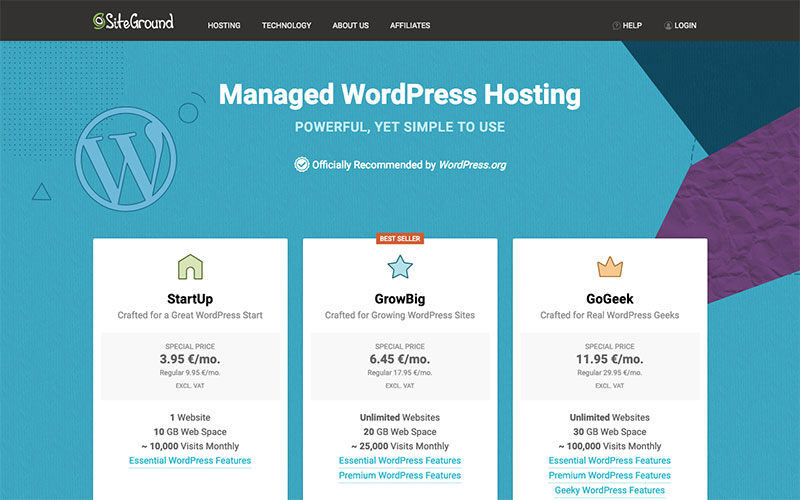 If you are looking for a web hosting solution for small businesses that is particularly optimized for e-commerce applications, you can count on SiteGround exclusive handmade hosting solution. SiteGround install Magento, PrestaShop, OpenCart, and a series of other free eCommerce, also provide different server locations, free CDNs, and advanced caching options to make your eCommerce experience and your customers really fast and fun.
SiteGround also makes sure that your business site is safer and better supported than anywhere else.SiteGround offers customized hosting for several important e-commerce platforms. During our tests, we discovered that the SiteGround support team was highly competent and ready to answer any questions we had via live chat. Moreover, they offer a nice set of security features that go far beyond what you would expect based on their low prices.
SiteGround Business
Site Transfer Assistance
Free WP eCommerce Install
WP eCommerce Optimized Servers
Free Daily Backup
24/7 Support Phone/Chat
Multiple Server Locations
Pros
One-click installer and automatic updates are available
Friendly and knowledgeable customer service to assist with quick migration to a new hosting site.
Cons
The shortest billing cycle is of 12 months.
Limited storage capacity at the high cost of premium purchase.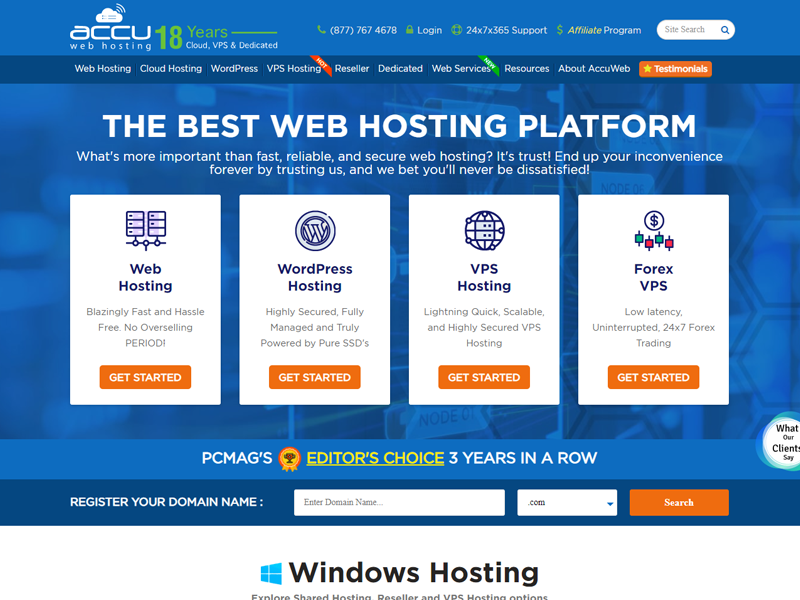 AccuWeb Hosting is providing its services for the last 14 years and is now known to be a leading name in the industry. Currently, over 15,000 virtual servers and 55000 websites are using AccuWeb hosting. It provides the finest experience to all the users who opted for its VPS, dedicated or shared.
Moreover, AccuWeb Hosting offers backups with all of its plans. Besides, if you want more of the backups, you can always upgrade your paid plan.
You also get free email hosting, free website migration, 24/7 monitoring and DDoS protection in the package.
AccuWeb is unique and extraordinary because of its special features such as reliability, security, scalability, speed and ease of use. In addition, you get a complete hold of its optimization and responsiveness.
Most of the websites and mobile apps do not provide these features that affect their rankings as SEO. Also, it affects the poor user experience in the long run.
If you own a small business then they offer a small business web hosting plan as well. It provides all the features that an individual shared hosting plan would provide. However, it provides 500 email accounts, 750 GB monthly bandwidth, 30 GB pure SSD storage and unlimited domains.
Features:
Highly configurable
Linux and Windows options
Fully responsive
Highly customizable
Free SSL certificate
Several pricing tiers
Pros
Long list of customization options and web hosting plans
Easily configures both dedicated and VPS hosting plans to ensure safe backup and data storage.
Stellar uptime i.e. 99.9%
Excellent customer support
Affordable pricing plans
Cons
Several pricing plans are overwhelming for the beginners.
Limited email accounts with windows hosting Plans
Shared hosting does not support monthly payment. Also, the minimum payment is required for six months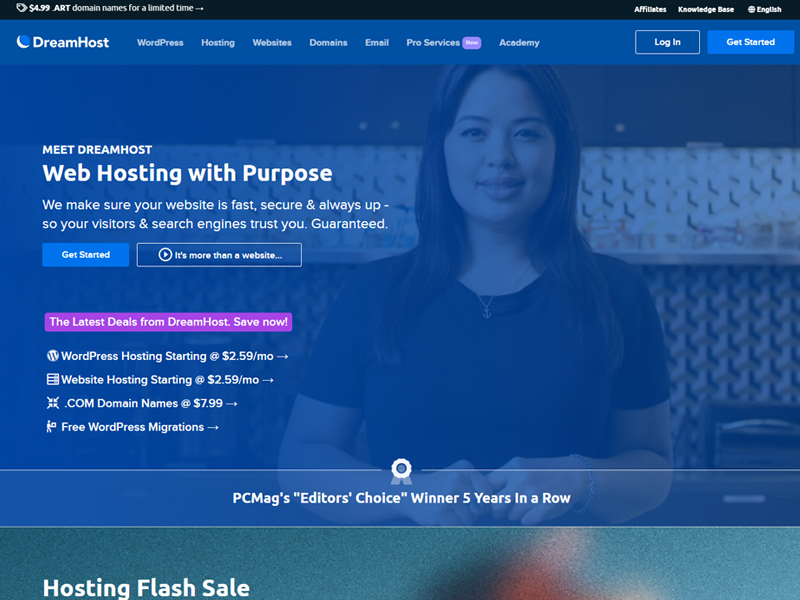 Dreamhost works best for large websites however, even the cheapest plan holds 50GB of storage. This is enough to start a simple website for a small business. Even if you have a great amount of content, this is a good storage limit for start-ups.
When you install WordPress, it already has pre-installed Dreamhost so you can have free updates and domain privacy as well as Shell access in the form of advanced features. All these features are provided at the cost of $2.59 each month.
Like many other web hosts, Dreamhost also provides several types of hosting such as dedicated, cloud, WordPress, VPS and shared hosting. It offers several very impressive features for WordPress including one-click installation and automated migrations for WordPress. It dost not charge you any additional costs.
The regular plans for shared hosting include Free SSL, daily backups, unlimited bandwidth and unlimited storage. The flexible hosting provided by Dreamhost offers 99.95% uptime that goes for 4.5 hours downtime annually.
This host offers 5 hosting plans which offer wonderful features on the cost of your money for as low as $10 each month. The cloud plans charge on an hourly basis with a monthly limit for maximum spending.
The major drawback of Dreamhost is its poor support on direct phone calls. Also, the time of contact is also time-bound.
Read more the full review: Dreamhost Review- Features, Price & Speed
Pros
It offers money back guarantee for 97 days
All plans offer good quality features with affordability
Cons
The cloud and dedicated features are less strong as compared to other hosting types offered by Dreamhost.
No direct support on phone calls.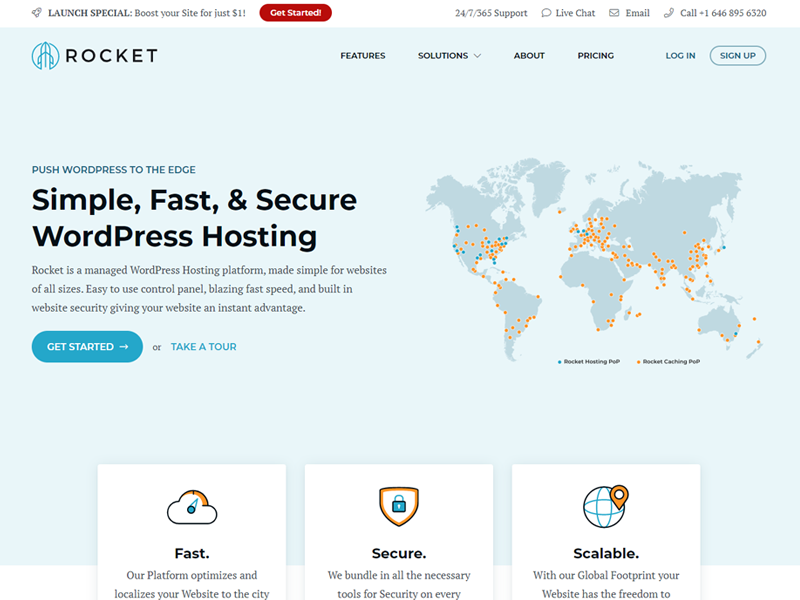 Rocket is a secure, fast, simple managed WordPress hosting built for WordPress websites of all sizes. It offers different hosting options for the users. For example, cloud hosting, and WordPress hosting. We monitored onrocket's start-up plans at cheap rates.
A shared hosting account is also set up as a live test site where we tracked their performance closely with a tool that provides unbiased review.
Overall, onrocket has recently started getting reviews from its users and has proved to be an outstanding and one of the fastest WordPress hosting companies. All of the reviews are positive with 5-star rating. Moreover, all the plans are associated with email accounts, SSL certificated and CDN.
Speed of the site is the second most crucial aspect when you choose a host.
Research Google, if you are a beginner. It shows that more than 50% of the people leave hosts if the loading time is more than 3 seconds. Moreover, a slow host can't be fixed. You can compress your images to reduce the overall weight and load them with CDN so that most of the pressure is reduced from the server. However, a slow host can never be fixed anyway.
With onrocket, you don't have to worry about this. They good loading time may not be the fastest among all the hosts but it places onrocket above to compete the best ones.
Average load time is observed to be 99.99% in the August 2020
Overall, the speed of Rocket is quite fast.
Pros
99.99% uptime in last 2 months
Good Load time
24/7 Customer support
Free migration for website
FCDN and SSL certificate
Beginner to advanced features
30-day money –back guarantee
Cons
Higher renewal charges
Cheap plans are limited
Paid domain
24/7 service is not available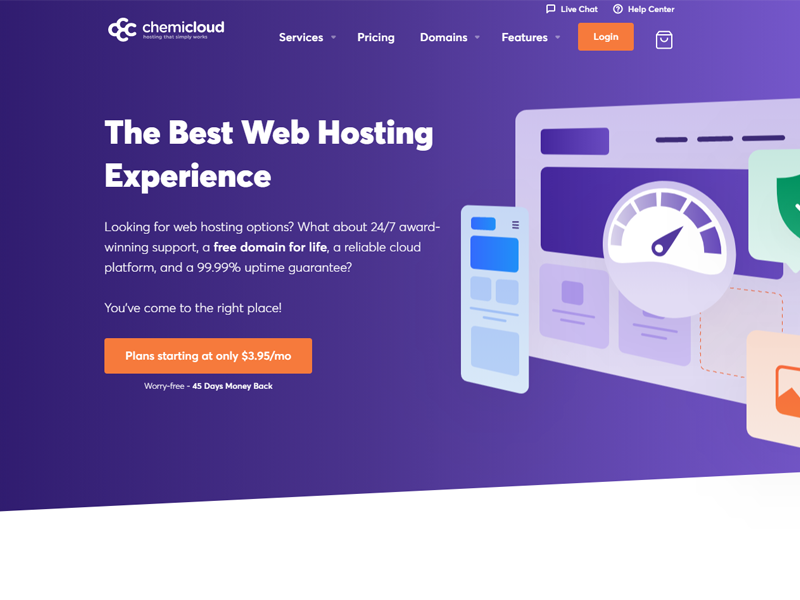 ChemiCloud is one of the hosting providers that offer versatile hosting features for small businesses. It is highly suitable for users that have new businesses.
It provides a free domain name for a lifetime. Also, the domain name is renewed free of cost until you are active on the internet. Above all, it guarantees the uptime to 99.99% that ensures your website presence all the time.
ChemiCloud makes it easy for web hosting. It has a user-friendly cPanel which is available with one click.
The hosting plans are also very suitable for a small business to go with. The very basic plan starts from $3.95 per month and it offers amazing features out of the box. This hosting plan offers unlimited bandwidth, free domain, free SSL, and free migration. All the plans it offers are with a 45-days money-back guarantee.
Pros
99.99% uptime
Four different hosting tiers
Daily backup
Free domain for lifetime
Excellent customer support
User-friendly hosting
Cons
Lots of extra expenses and fees
Backups are stored for 30 days only
Tricks in hidden pricing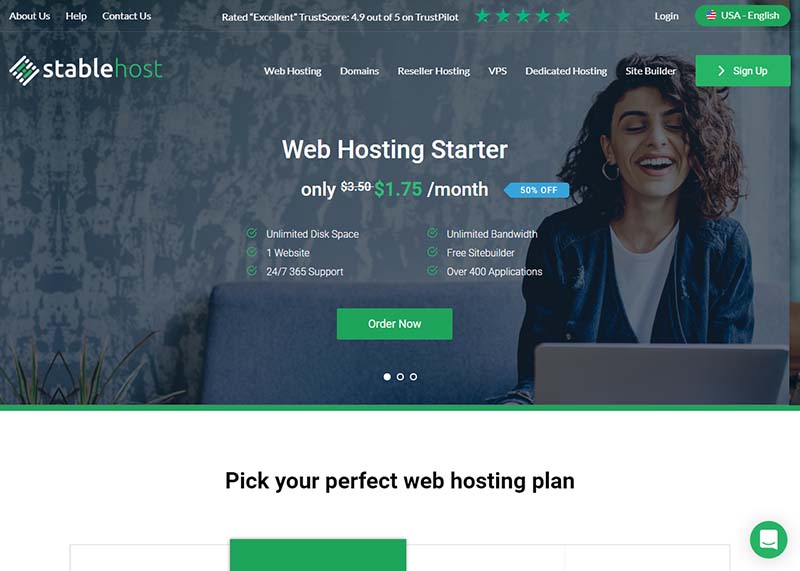 Stablehost is one of the most affordable hostings you can find with great prices and a lot of premium extra services.
They offer different packages suited for simple websites with $1.75/month, including unlimited resources in disk space, unlimited bandwidth, unlimited databases plus free domain.
In case you want the Pro account you have to pay only $4.56/month which lets you host unlimited websites in one shared account. On the Pro account, you can also use the website builder plus their integrated 400 + Applications.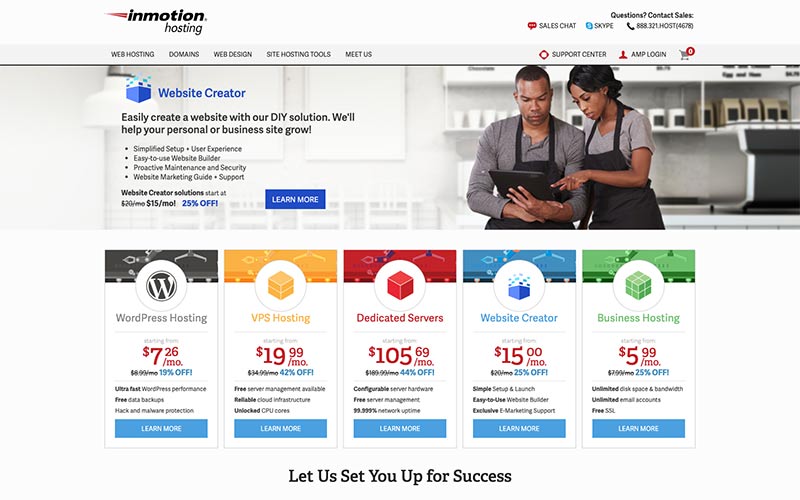 When it comes to e-commerce and business servers InMotion offers some different interesting plans. Depending on the software you want to use to manage your e-commerce store, you can find some of them more suitable than others. In addition to using WooCommerce as your favorite software, you can install OpenCart or Magento on any e-commerce plan. InMotion makes available some tutorials on how to do it and also promises good performance for these settings.
Although InMotion offers e-commerce hosting plans of all kinds, its low-cost shared hosting options are not that impressive. For example, even if you have been promised to have a compatible PCI server, dedicated IPs and SSL are paid in addition. And in this case, doesn't seem to be an easy way to enable everything.
Their VPS offer for medium to large e-commerce looks really good. Get more dedicated IPs, the ability to work with multiple domains, automatic backups, and actually powerful machines. I mean that 8 GB of RAM is more than is necessary to run a powerful videogame-like GTA, not to mention the e-commerce operations.
Lastly, their main strength is when it comes to hardware: SSDs. This technology is even more than 15 times faster than standard spinning units. And as faster your store works, happier your customers are.
Finally, we recommend InMotion web hosting for small business owners who need a reliable, fast, and truly optimized VPS server, a server that grows along with their business and that can handle everything that could happen during the daily operations of the shop.
That said, InMotion maybe is more optimized to run WooCommerce, even though they provide installers for other popular systems, like: Magento, PrestaShop,, osCommerce, OpenCart, and more.
InMotion features
Highly trained support staff/24/7 Live Support
Unlimited disk space and free SSL on the basic plan
InMotion's uptime rating is at 99.97%
One-Click Install
Web Application Firewall
PHP 7
NGINX Server Technology
90-Day Money-Back Guarantee
Pros
Unlimited disk space and data transfer.
Free restores and backup.
Cons
No CDN is included.
Delayed manual verification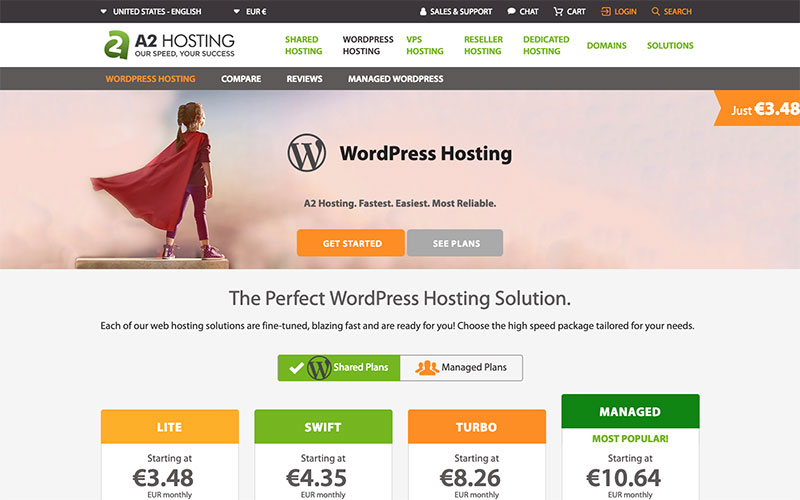 With A2 Hosting, it's not necessary to know how to write code or design web pages to open a webshop. A2 Hosting offers popular e-commerce applications, like PrestaShop and Magento, which you can install with a single click. This is free and included in an A2 hosting account.A2 Hosting does not offer any specialized plan for small business hosting. Customers depend on their usual packages which are combined with the freedom to install any third party e-commerce application.
The most low-cost plan is Lite that starts at a price of $ 3.92 a month and then $ 7.99 a month. It will allow you to host only one website with five databases. However, transfer and storage are unlimited. You will receive a free SSL certificate through Let's Encrypt. So your site and your customers will both remain safe. Check the technical course of your website through the intuitive cPanel. Easily install any app like Magento, PrestaShop, OpenCart, etc.
When talking about supporting response times, A2 Hosting surpasses some other choices. We tried many times and we were able to contact a service specialist in less than a minute.
As for security, they offer a convenient set of features for their price space.A2 Hosting firewalls are the norm for the course, but their server rewind function is useful as it works as an advanced backup. Best of all is that this feature is directly accessible from your cPanel, which gives you the opportunity to use it to regain control of your site in case you can't access it directly.
A2 Hosting offers excellent performance particularly in the United States and serious support at low prices. It's an exceptional all-around choice, with a very good set of security features. They haven't a lot of variety in terms of plans, but their offers are robust enough for small and medium-sized online stores.
99.9% Uptime Commitment
Support team available 24/7/365
Free Account Migration
Up To 20X Faster Servers
Anytime Money Back Guarantee
Pros
A very powerful backup system with 7 copies of the website.
Advanced options are available with higher plans with an effective caching system of the server-side.
Cons
There are undesired multiple add-ons at checkout
The on-demand backups require you to purchase their add-ons.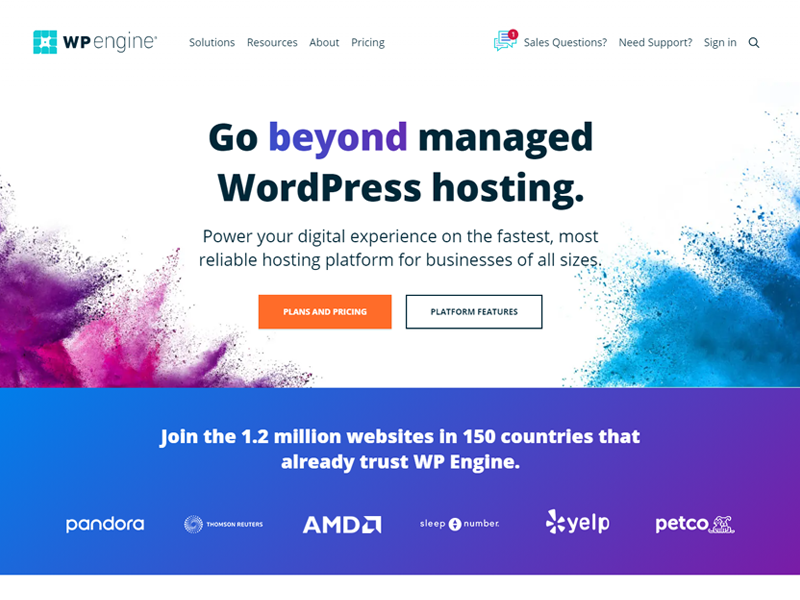 WPEngine is a host with high quality that enhances the uptime with specific WordPress security, real time threat detection, daily backups, excellent features and flexible cloud platform. As a whole, the WordPress plans are managed with the enterprise class which can enhance your website with fast pace. However, it does not offer domain name or emails.
The basic plan for WordPress is start-up which costs $35 as the plans are upgraded the specifications and features also increase with the increase in prices. All the plans offer excellent and outstanding features along with a CDN for loading time.
Another remarkable feature that WPEngine offers is Google Cloud platform and Amazon Web Services. There features serve as the backbone of your website that further enable them for their tight security and scalability.
You may not need to go for an enterprise-class hosting in case of a small business website. Instead, the Linux based A2 provides enough WordPress tiers for hosting merely at the cost of $7.99 each month.
In addition, it also automates several functions such as plugin updates and daily backups. It also provides email marketing service and ecommerce resources with the Shopify plugins. Also, there is a secure socket layer (SSL) certificate to ensure your data security.
Pros
Dialy backups
Good customer services
Excellent uptime
Detecting threats in real time
Stagging area is useful
Cons
Doesn't offer email account
Limited support on phone especially for beginners
Does not offer domain names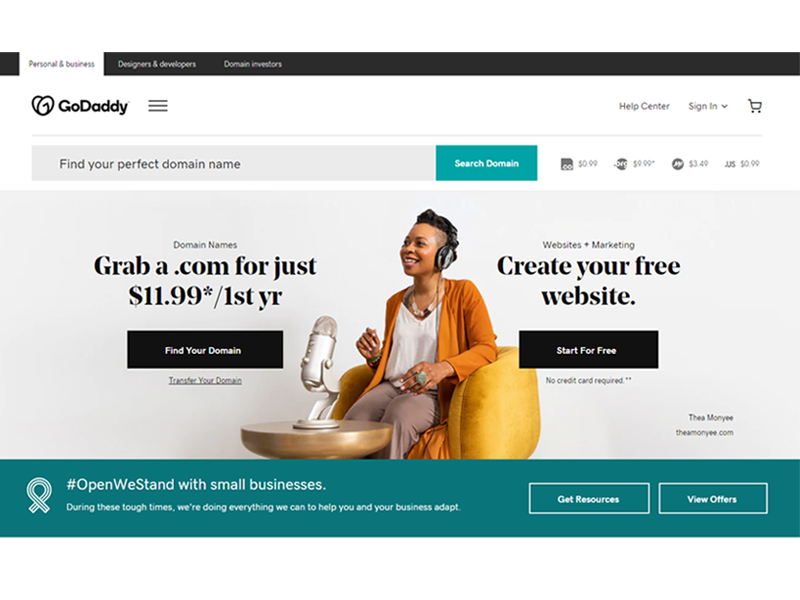 GoDaddy offers a combination of related hosting services. The initial plan packages free emails and free domains for over 1000 addresses and unlimited storage. It's a fantastic plan for special features, domain options and hosting plans. The first time registration with GoDaddy is $5.17 per month and the renewal costs $18.17 per month. The transfer costs $18.17 outside GoDaddy's server. DNS is an add-on service which is not free and you can simply check or uncheck according to your requirement.
It is one of the most popular hosting company that offers large scale services for businesses. It features the proprietorial control panel and VPS which makes it easy to use.
It offers four different plans for a starter to big plans. The launch plan lets you have 2 GB RAM and 50GB storage with unlimited databases and websites. Also, it holds n SSL certificate with each plan that goes to the highest Expand plant with 8GB RAM and 150GB storage for resource and photo heavy sites.
Moreover, GoDaddy offers regular malware scans and backups. All your files are stored in a cloud on the cost of a little fee. Even the beginners feel it easy to work with GoDaddy because of the inclusion of the drag and drop tool for page building. Thus, it facilitates you with all the necessary requirements including hosting to build a professional-looking website.
Above all, a comprehensive help centre is available for both chat and phone support.
Pros
All plans have unlimited bandwidth
Extensive tools for digital marketing
WordPress hosting is well managed
Cons
30 days full money back guarantee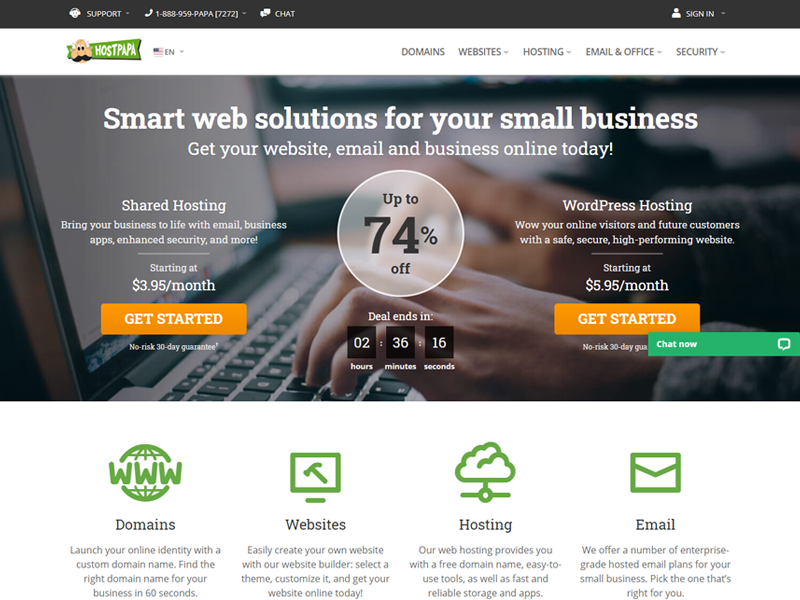 HostPapa solely provides website hosting. It is best for small businesses. HostPapa offers a control panel with a user-friendly interface and therefore, it is easy to use. In addition, it provides over 400 apps that extend the functionality of your website.
The free Cloudflare CDN and data storage are powered by SSD which enhances the loading time and speed. All the plans include free Let's Encrypt SSL certificates. In addition to these, other free-of-cost options include website migration and domain transfer along with the best tech support.
The support is available on either phone, live chat or ticket. It also includes a starter session of 30 minutes duration after signing up.
The primary service of HostPapa is the shared plans for hosting which prove to be best suited for medium-sized and small businesses. In case, you still need something else, they offer reseller, VPS and WordPress plan as well with over 8TB and 1 TB transfer and disk space.
HostPapa is indeed a great choice for start-up businesses for either beginners or professional web designers. Most of the plans are only directed for small website where it also offers quality features and outstanding tech support. The low-end plans, however offer limited services but if you pay more, you will get more features.
Pros
Energy use is carbon neutral
Customer support in multiple languages (German, Spanish, French and English)
Uptime percentage is 99.09%
Cons
Not suitable for more complex and larger websites
Only higher plans can benefit with the advanced security features.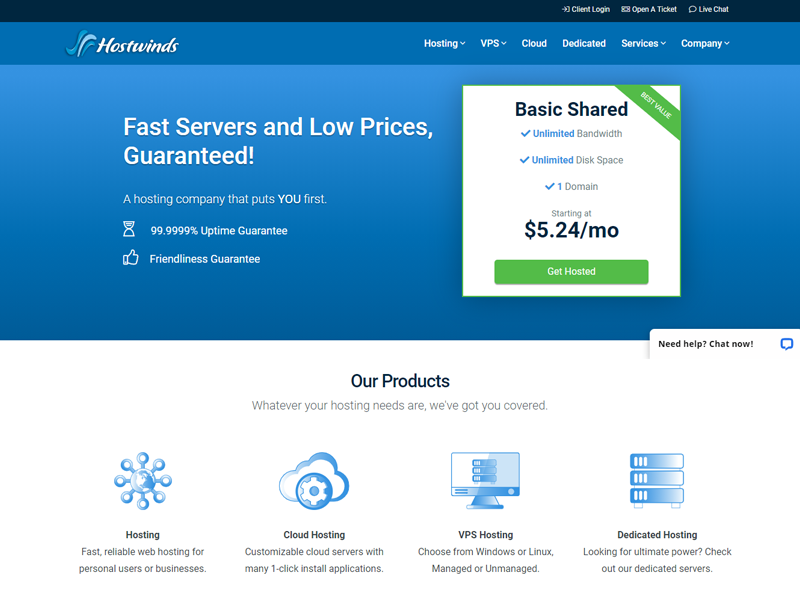 Hostwinds is the most customer-centric hosting provider with dedicated, cloud, VPS, reseller and shared plans. It provides specific options in all these plans. So you have multiple options to select the best plan of your choice according to your needs.
The basic plan features unlimited disk space and bandwidth with one domain. It costs $3.29 per month. However, all these plans offer SSL certificate for free, multiple email accounts, free transfer of website, and SSDs. Hostwinds offers plans for small businesses that are 500% faster but it limits the number of sites at $5.64 per month.
The customer support is highly vigilant and is available on ticket, phone and live chat. Also, your website is monitored 24/7/365. In addition to this, the web host offers you to use nightly cloud backup. The free transfers of website also offer easy softculous and quick running auto installer which enables you to quickly upload all your apps in a matter of seconds.
Hostwind is highly recommended by the experts and it ranks at the top of the list. The company provides best extras and great uptime. Therefore, it is best suited for business plans. However, free backups are not something to be expected with Hostwind.
Pros
All hosting plans provide SSDs
Uptime is 99.99%
Cons
You need to pay extra for cloud backups
Migration is free for first 60 days only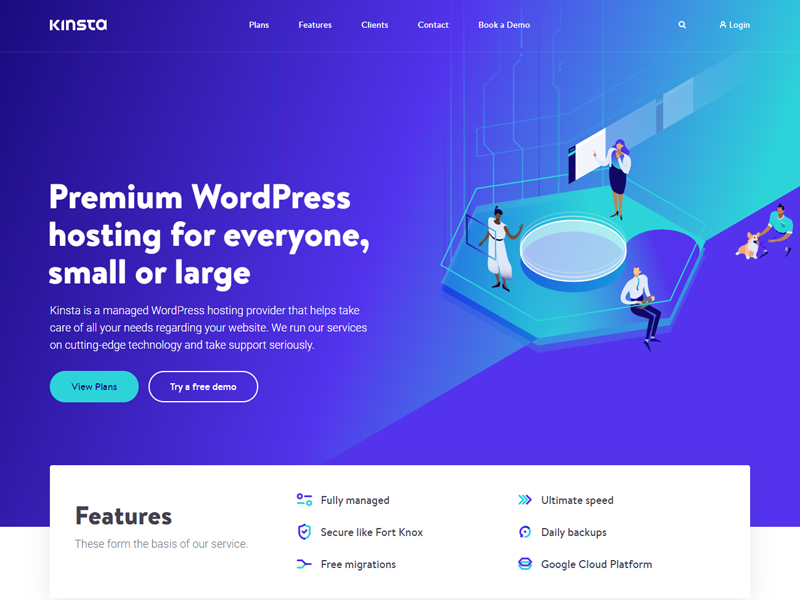 Kinsta is a bit different form the rest of the host providers for small businesses. Kinsta focuses mostly on a completely managed site of WordPress with security features of high quality. Moreover, they provide daily backups.
All of its plans use Google Cloud Platform which cost the maximum cost of $1500 starting from $30 per month. They induce over a million of visits per month for a website. The starter plan offers 50 GB free CDN, 10 GB SSD storage and 20K visits per month. Moreover, it offers a 30-days guarantee of full money return with basic unlimited migration for free.
The starter plan on Kinsta offers automatic backups on daily basis at 24 different global locations. All these options are available for as low as $60 per month. Also, there will be twice a number of monthly visits and multisite support. Kinsta is the best option if you take your website services seriously.
Kinsta is a bit costly as compared to other hosts in this list. But this price brings you immediate support with security measures and an attractive dashboard. The plans pose specific limits of about 3 million monthly visits and 250 GB SSD storage. None of the plan offers unlimited options of features. Moreover, there is no option of buying email accounts with Kinsta.
Pros
User friendly and unified dashboard management
Hack fixing immediate and for free of cost
Passive security and robust active measures.
Cons
All plans have high limits
No free domains or email options
Cost prohibitive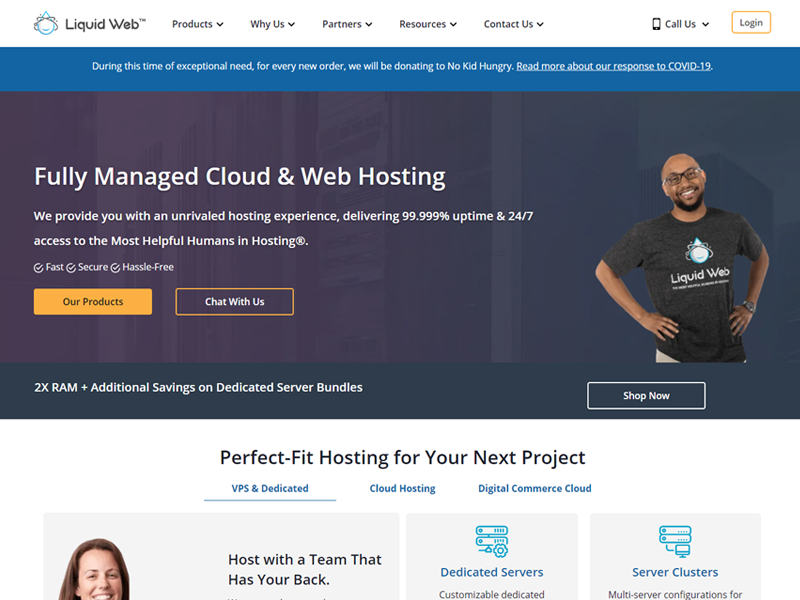 LiquidWeb also supports managed hosting with cloud site, private VPS, VPS cloud dedication, and dedicated servers. In addition it also offers premium business email hosting WooCommerce and manager WordPress. The company supports you manage and migrate your site, and select the most suitable hosting plan to keep the website secure and updated.
Like other choices in the list, LiquidWeb also provides tech support 24/7. They have trained staff about whom the company claims to be "the most helpful humans." They give a supportive response to any of your query in seconds either on live chat or phone calls. In addition, they take only an hour to answer your ticket.
The site hosting for WordPress does not include traffic limit or page view. However, they do offer automatic SSL, a staging site and automatic backups on daily basis. The professional developers can get benefited by the accessing SSH, WP-CLI and Git.
LiquidWeb specifically targets the small business owners to help them increase their business with their websites. There is no option of shared hosting. However, if you want to expand your start-up website, the company offers three control panels. Great uptime and high bandwidth.
Pros
Uptime percentage is 99.99%
Sync and Pro with iTheme security
Bandwidth 2 up and TB
Cons
No free domain and trials
Cost prohibitive plans
No options of shared hosting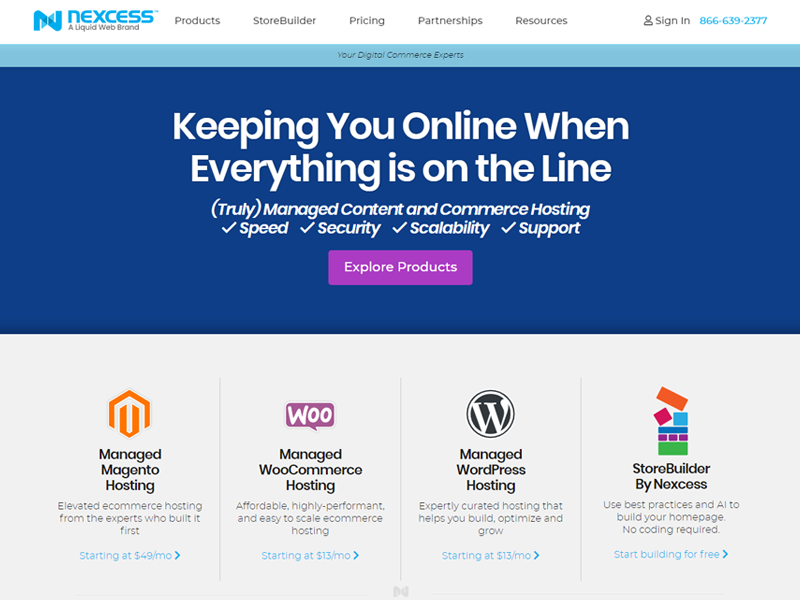 Nexcess is ranked best for growth and scaling. It is a hosting solution for liquid web. This host proves itself best when you find their wide menu of hosting managed ecommerce. They are offer their managed ecommerce hosting services particularly of high quality for Orocrm, ExpressionEngine, Drupal, WooCommerce and BigCommerce etc.
Several other features of Nexcess also makes it distinguishable from the other companies in the list. Such as, the Cloud Accelerator. It is a feature that affects the cloud to enhance the speed of the loading time for your website. It may be a great benefit as everything depends on speed as it comes to the customers' requirements about the browsing and website working.
Nexcess offers numerous suites of using plans for all types of web hosting. The image below shows a glimpse of what they offer for their valued customers.
These plans have made Nexcess one of the best hosting company for small businesses. The plans are different for different stages of your growing business.
Above all, the supporting team is highly dedicated to address your concerns regarding technical issues with the hosting.
If you are just starting your business, or already own an ecommerce business online, Nexcess should be in the list of your consideration. Last but not the least, prices depend on the CMS platform of your choice. However, the plans for WordPress websites cost $15.84 per month.
Pros
High uptime
Fast and stable hosting
Magento being an official partner
Well optimised
30-days money back guarantee
Cons
Very high prices
No support on live chat
Limited hosting resources such as bandwidth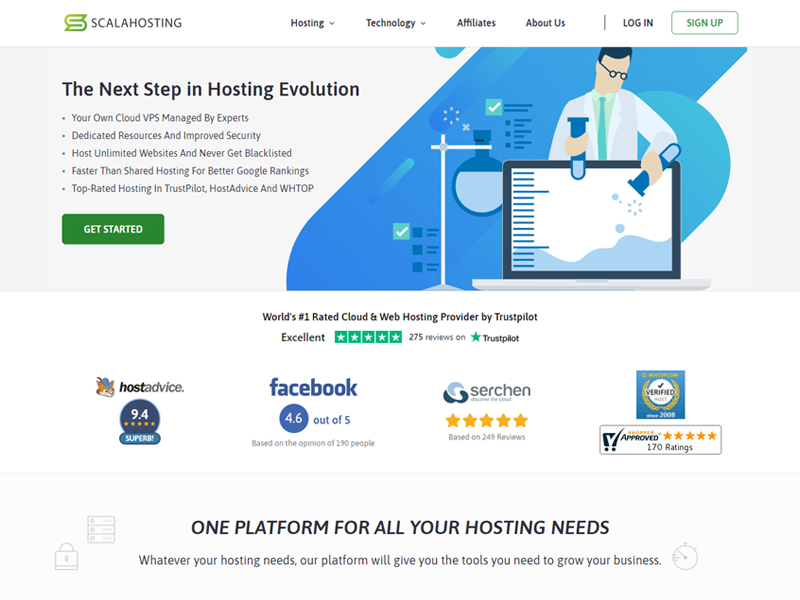 Scala hosting is known for its VPS (virtual private server) services as compared to shared hosting plans. Therefore, we rank Scala hosting as one of the perfect web host for all kinds of businesses especially for small businesses. These small businesses have specific hosting requirements that are too demanding for all the hosting types. However, the dedicated server costs may impart a serious stress for the budget.
The only way to get power over dedicated resources is with VPS hosting which cost you lower as compared to dedicated physical server. The best about Scala hosting's VPS technology is that it offers reliable, secure and high speed services which are the most critical requirements of all the online businesses.
In addition to this, Scala hosting provides you both the self-managed and fully-managed VPS plans. The fully managed service costs minimum of $9.95 per month. It offers you certain features such as SPanel, live support, dedicated IP, free premium Softaculous installer, unlimited bandwidth, advanced cybersecurity, effortless migration, daily backup remotes, and remote DC etc.
The shared hosting plans offered by Scala Hosting are valued for their outstanding options as provided in VPS hosting. The most important drawback is that they do not provide support on phone.
Pros
VPS hosting plans
Good customer ratings over the numerous platforms
Free SPanel with cPanel /WHM replacement
High uptime 99.9%
Cons
No support on phone
No website builder
High cost of renewal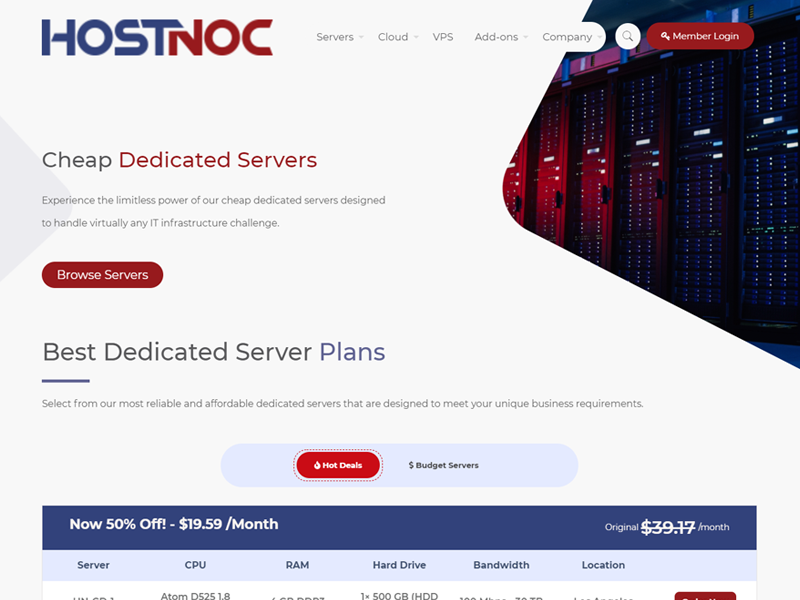 Hostnoc is a reliable IT infrastructure firm. It helps businesses boost and stand out among the competitors. Established in 2018, it is a project by cloud computing experts, network engineers, and cybersecurity professionals.
Currently, it is offering these products and services at an affordable cost:
Dedicated servers
Managed servers
VPS
Cloud hosting
VPN
Cybersecurity
Database hosting
Application hosting servers
Ecommerce hosting
Domain registration
The company offers various price plans for web hosting to suit all types of businesses. In essential hosting, they offer 100 MB storage and 10 websites. The price is $3.36. The professional hosting is for $5.71 with 500 MB storage and 40 websites. The premium hosting can be acquired for $8.64 with 2 GB storage and 100 websites.
Pros
Easy migration
IPv4 and IPv6 addresses
Backup storage
No setup fee
DDoS protection
99% uptime
2/7 live chat
30-day money-back guarantee
Cons
No pre-sales support response
No free domain name
How to choose the best small business hosting services?
Before evaluating the aspects of how to choose a web host for your small business. We have brought you these simplest rules to help you pick the host of your choice.
If you aim to attract traffic to your website, extra cost on such host will be fruitful. The people who are willing to pay an extra amount for audience grabbing may also look for this option. Thus, they do not have to be worried about their hosting.
If it's not a blog, your web host should be one that is fast loading, offer amazing support and great uptime.
If you do not want to pay more, and keep the cost low, find the one that offers decently low prices. Such as, Hostgator and Hostinger. Both of these offer low prices and perhaps, there is none in our list that is cheaper than these two.
We call these three the "happy rules" that you can follow to choose the best host for your small business. Also, if you do not plan to switch your web host soon, then too these rules will help you as a guiding light.
So, there are other options of evaluating a web host to categorise it as the best. Here are some key options:
Uptime
Why would you work on a website that is not accessible for online users?
The foremost quality of a web host is its great uptime. It makes your site always available for your visitors. Do not believe in the "near-perfect uptime" offered by most host companies who guarantee their 99.9% uptime. Yet, this guarantee may not be true. Also, do not accept any third—party or self-reported uptime data.
Speed
The speed affects your website. It highly effects on the rankings of your website. You need to get a fast website if you want conversions on your website or make your users happy. The key is to speed up your website.
All the aspects of your business rely on the speed of your website. So while looking for a web host be aware of the nuance of the speed. Your host does not have to be lightning fast but it has to be enough fast.
As you grow your business, you have to be faster. So more people will use your website and the speed should be instantaneous. Especially, if you are selling something that would generate high traffic, you must choose a host that give you super fact speeds.
Customer support
If you are a beginner, customer support is the most important thing to consider. If you find reviews on customer support, do not stand by them forever, there can be conflicts between the actual quality and reviews. The true idea of customer support can only be achieved by using the free trial test for customer support.
Almost all web hosts offer money-back guarantee for their hosting plans. Thus, you can set your website with low stakes and test their customer support within the trial period. During this period, use phone, open tickets and live chats as much as you like to take their support.
Price
You positively do not want to overpay for hosting. Oh, you also do not want to underpay. So, do not choose a host exclusively on the basis of the price.
There are cheap options of web hosting. Some also offer promotional offers which do not persist on renewals. Some other offer terrible uptime and support but charge you a leg and an arm.
If the price sounds true, may be its true.
Do not chase for promotional offers just to save a few cents. It will help you from switching among different hosts. As promotional offers are for limited time period and go away pretty soon.
What is small business web hosting?
Web hosting gives your website a place to live. it marks the physical location of your website with all the files it holds. This place is actually owned by the server with your hosting company.
A reliable hosting company is needed for a small business which marks a clear difference between the business success and failure.
Talking about the best service of web hosting for small business, it should be the one that gives an instantaneous speed to your website. All these web hosts in our list provide 24/7 support.
Webhosts are of two types. One those provide space in the online world and the other who manage your solutions along with. The former one lets you manage all your details on your own.
WordPress is by all means the best popular platform. But most other web hosts offer certain options that let you manage your website with the content management systems (CMS) such as Drupal or Joomla. They offer you options with share server and give you full hols over customization of your website. Moreover, they help you carry out your needs easily and smoothly.