If you are planning to start your online business, you need to take the biggest decision of choosing the best eCommerce platform that ensures long-term and scalable growth.
According to our research, Shopify is the best easy eCommerce platform for beginners and BigCommerce is the best choice for enterprise large businesses with fast-moving inventories.
What to check before choosing an eCommerce platform:
Easy to Use
SEO Friendly
Mobile Friendly
Integrations
Scalability
Payment Gateway
Support
Costs
Here we present to you a detailed overview of why you should look for the best eCommerce platform for your business. We shall discuss everything to consider while selecting the popular options of eCommerce platforms.
Below you can see the market share of leading e-commerce software platforms.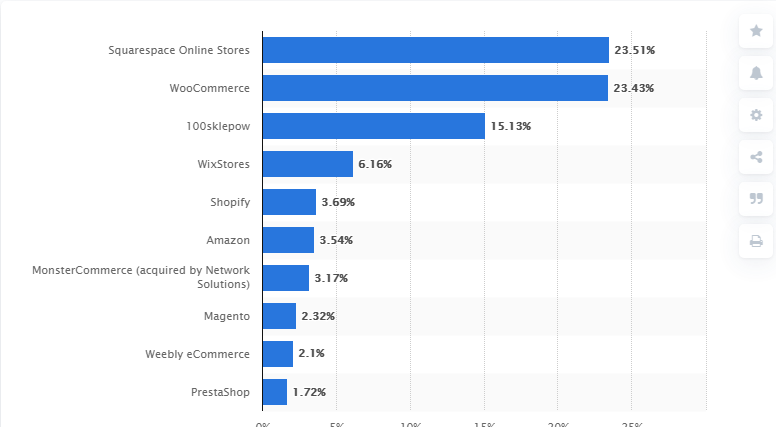 It is indeed a big decision to have a long-term effect on a venture to go ahead with. Although, it is a tough decision that requires you to take variable decisions. The best eCommerce platform lets you build an online store without the knowledge of a developer, bottomless budget, and any coding skill. It is a tough decision to choose the best from a long list of available eCommerce platforms.
Table Comparison: eCommerce Platforms
| Platform | Rating | Features | Support | Ease of Use | Pricing |
| --- | --- | --- | --- | --- | --- |
| Shopify | 5/5 | One-click setup | Twitter, live chat, email | Extensive Doc | From $29 |
| BigCommerce | 2.3/5 | 5,000+ extensions | Online support | Easy to use | $29.95 |
| Branchbob | 4.1/5 | Free Plan | Email | Easy | Free |
| WooCommerce | 4.6/5 | WP plugin | FAQs, documentation | Needs WP skills | $0 to 100 |
| Ecwid | 4.2/5 | Customizable | Call & email support | Easy to use | Start for Free |
| Wix | 4.1/5 | Intuitive Builder | Tickets or a direct call | Super easy to use | From $4 |
| Square | 4.5/5 | Professional | Direct call | Easy to use | Free plans |
| Magento | 3.4/5 | Analytics | Tutorials and tickets | Not easy to use | No free |
| Nexcess | 3.5/5 | High-performance | 24/7/365 | Easy to use | From $49 |
To make this decision easier for you we made this comparison to help you choose the right solution for your business.
No matter if you are planning to expand your business or start your new online store, the impact of your eCommerce software always matters. It directly affects the stability and profitability of your e-business.
Top 15 Best eCommerce Platforms Beginners-Friendly
Shopify is the best eCommerce platform for selling purposes. Shopify is the best pick if you want to rely on Instagram marketing or Facebook ads. But, if you rely on SEO, it may not be a good choice. Also, for a large store with many products.
Over a million stores are already built using Shopify. There is no better platform for small businesses to get their online stores running quickly and boost them up.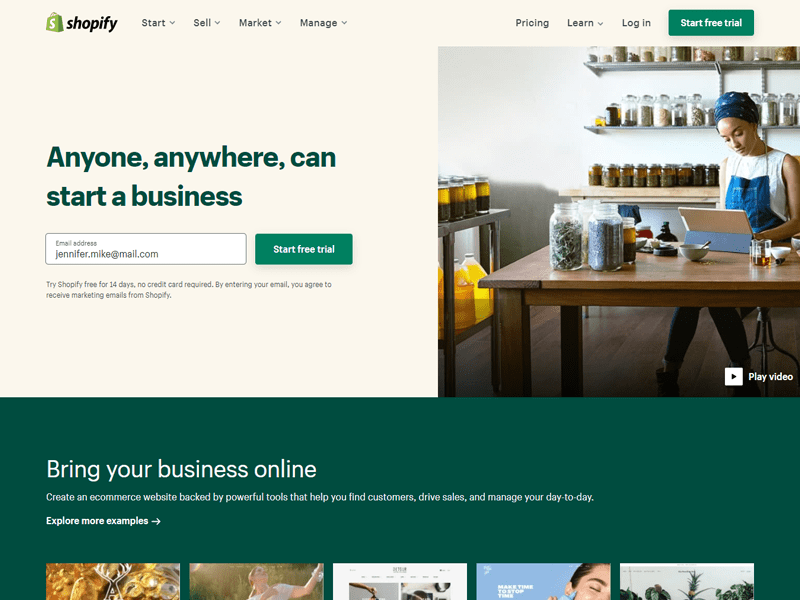 The installation wizard keeps walking with recommended features. Such as connections with domains, customization options for your store and adding more products as features.
Unlike other complicated and overwhelmed eCommerce platforms, Shopify provides an intuitive web app. You will never get lost in its options even if you are a beginner.
Next, you need to fill in the required information such as quantity, price and name and other relevant information. It also requires other relevant details such as changing status from inactive to active. After this, it goes straight to your online store. You are now ready to sell.
What makes it powerful is the auto-ticking of the boxes to enhance its app store and extensibility. Well, it is very easy to set up an online store with Shopify with the help of a drag and drop interface. Even beginners can launch their professional-looking website in a few minutes.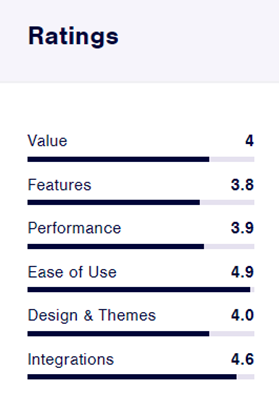 Above all, they charge you a heavy transaction fee if you use payment methods other than Shopify's. However, Shopify's payments are a reasonable and solid option.
Shopify offers 10 free themes and over 50 premium themes. The cost of premium themes starts from $140. Browsing these themes is also easy. Simply, go to the Theme Library and select Visit Theme Store.
ThemeForest provides over 1200 themes for Shopify because of its popularity. Or you can also get a customized theme for your eCommerce website. You can customize all the features of your choice.
You can even get service, plug-in and extension if a feature is not built-in to Shopify. You can find the app of your choice at app.shopify.com, click on Add App. A sidebar will appear in your Shopify dashboard with the App options. Here, you can manage all the apps you have installed.
Shopify integrates Zapier which automatically adds new customers to the list of your email marketing or tracking orders list. The project management tool helps it move even easier.
Pros
Varied designs and themes
Allows social selling on multiple channels
Single click selling
Several certified partners to assist you
Easy setting up
Load time is lighting fast.
Cons
Advance features need a developer
Apps can be costly
The checkout out process cannot be customized
Poor rating for SEO based websites
Pricing
Shopify offers a 14-day trial period. The starting plan starts from $29 per month and per transaction it increases to 2.9% + $0.30 for the Basic Shopify plan. But it offers only limited products.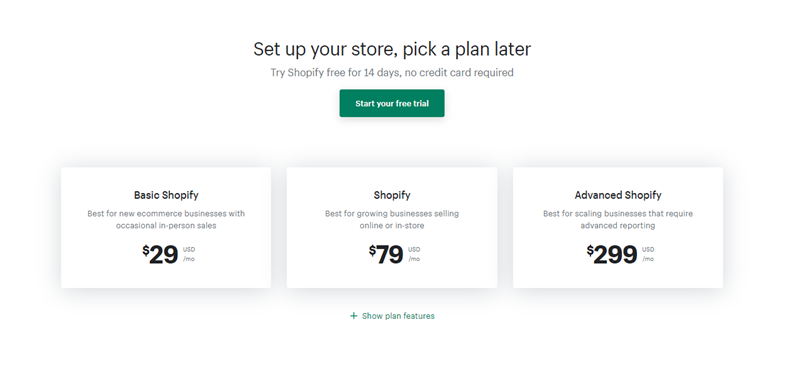 ---
Overall BigCommerce is the best eCommerce platform. It offers a robust search engine which makes it ideal for retail brands. It also proves to be a good choice for beginners. It is also equally helpful for those who want to extend their operations to online businesses.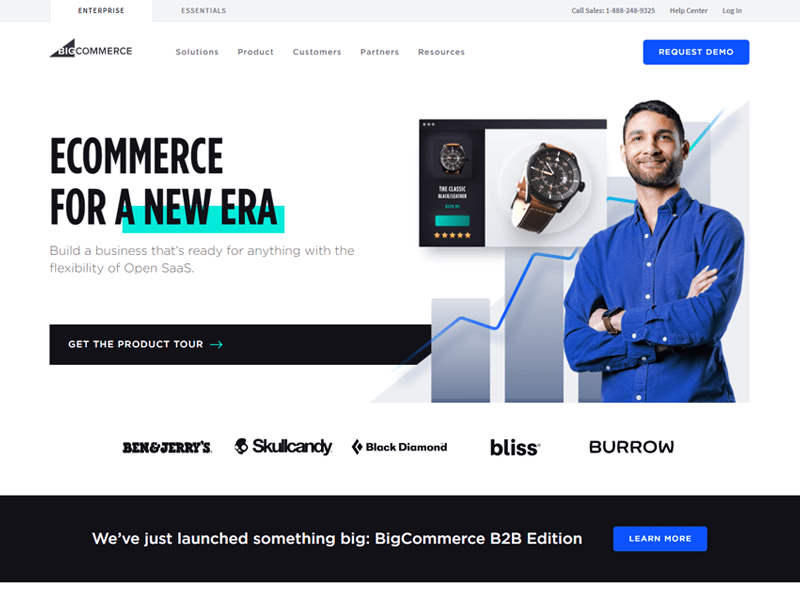 The tools and features provided by BigCommerce make it possible for any business of any industry or niche to get quick success. This is because the user interface offers you to customize the online shopping facility without coding.
Also, it offers several customizable templates to market, sell and design your store and products. BigCommerce targets those entrepreneurs who do not have enough web development skills. Yet, tech-savvy people can also enjoy the CSS and HTML integration to improve their online business.
There are also some buyer-centric and advanced templates but only a few are free. The developers and designers looking for a better eCommerce platform also find it helpful.
Pros
Comprehensive feature of abandoned cart
Fantastic theme designs
Strong SEO performance
Multi-channel selling
Scalable and flexible
Cons
No single click upsells or selling
Entry plan does not provide cart abandoned
Expensive for high volume stores
Inconsistent speeds
Pricing
The lowest plan costs $29.95 per month. This package includes professional reporting, unlimited bandwidth, gift cards and checkout codes. There is no abandoned cart saver or custom SSL. But it is enough to create simple stores that do not sell above $50k annually. The sales limit increases with the higher plan.
---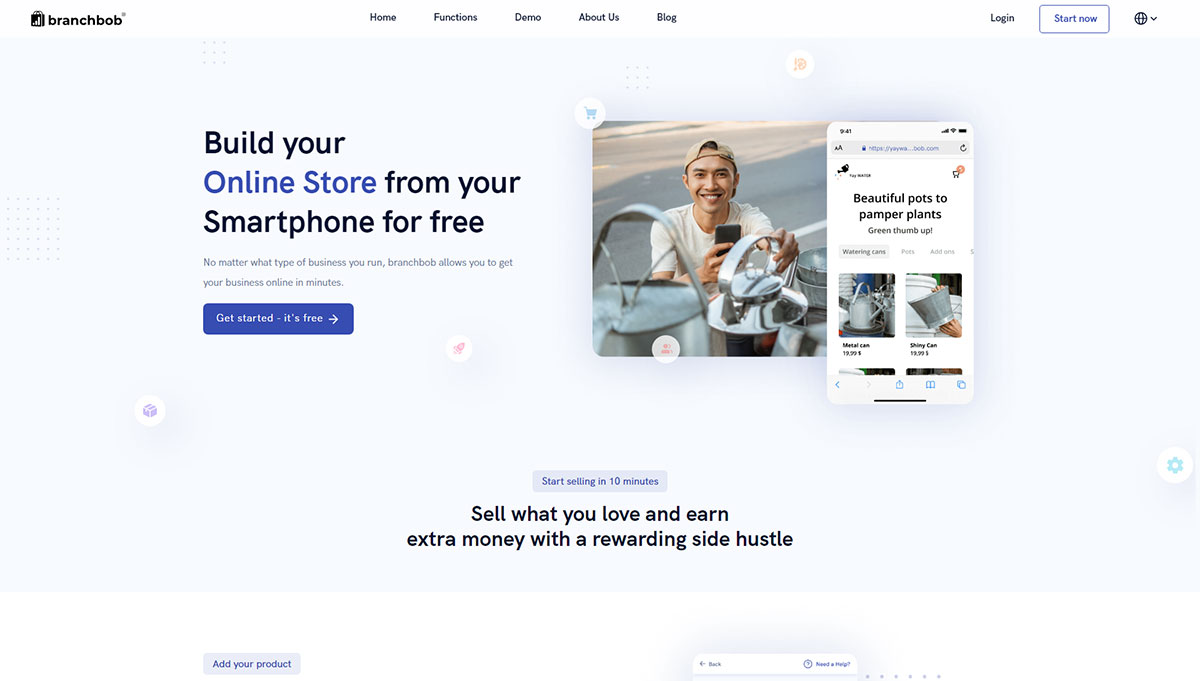 Brachbob is an online store builder which is pretty easy to use and let you create your online store in a few step even with your smartphone. The platform offers multiple shipping methods and different payments gateways.
Branchbob has a great dashboard for Product, Inventory, Order, and Customer Management so everything can be controlled in one platform.
This platform helps you add your store data in simple clicks and also manage variations, categories, and images. Another extra is the fact that you can also do the promotion of your shop directly from the platform.
Last but not least your website store will be also SEO so you will have a higher probability to be ranked on search results.
This platform is new and is completely free so we encourage you to try and give us feedback.
---
WooCommerce is the best platform alone that runs affiliate and eCommerce sites in a single place. WooCommerce works best with WordPress it also provides extensions for integrated shipping, one-click selling, email marketing, social media and payments.
The only problem with using WooCommerce is scalability. It is easy to set up, but user reviews reported that it slows down as more customers and products are added to the website.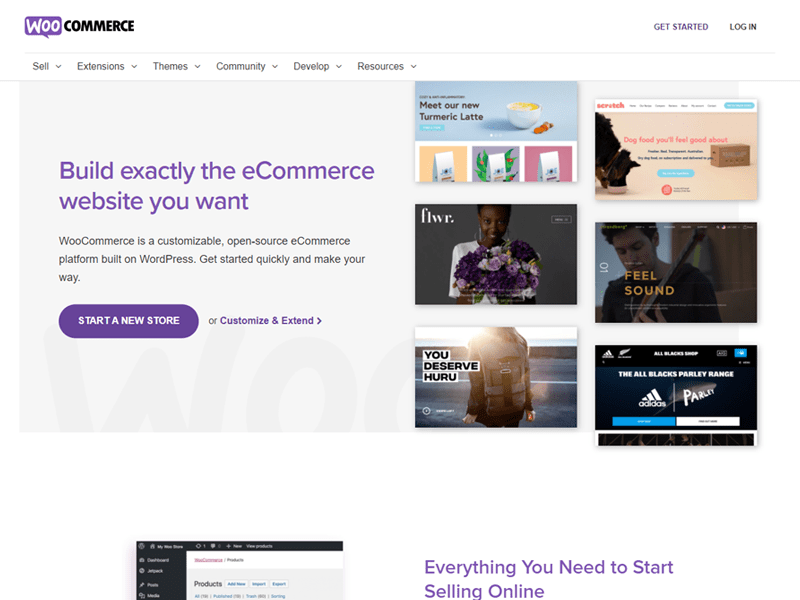 If you know how to work with WordPress, then WooCommerce is easy for you to run. All you need is to install, add products and services and adjust the settings accordingly. Woocommerce can be considered the best eCommerce platform for developers.
The users who do not know WordPress might struggle more with the technical details in using WooCommerce. These issues include setting up the plugin or theme, installing WordPress, and buying hosting. Most eCommerce solutions are best for full support only instead of adding a few features to your existing website.
It looks simple if everything runs on a single dashboard and uses only a single tool for all processes. So in this case, what would you do?
For huge swaths, you use WordPress and then integrate WooCommerce with it. So, rather than using a new platform, WooCommerce seamlessly integrates easy selling into your WordPress website.
Also, it is very easy to install WooCommerce on your site. WooCommerce website lets you sign up before you reach the on-board process. Here, select Auto-install wooCommerce on your existing WordPress website. Log in and set up the plugin.
If you do not find the required features in WooCommerce then the extension marketplace can help you. WooCommerce offers several paid and free options which add to your store. Here you can get WooCommerce subscriptions, integrate payment methods, and get real-time USPS extensions and shipping rates.
These extensions can also be integrated with any plugin to help you customize your online shop. Moreover, WooCommerce is easily integrated with thousands of apps to add more customers or orders into your email marketing tool.
Pros
Multiple integrations and marketing options
Highly customizable
Single click selling app
Best SEO is possible with a WordPress website
Cons
Extensions for simple stuff
Zero support
Troubleshooting leads to blame game
High cost of good hosting.
Pricing
Woocommerce is free. Only a few rarely used extensions are pricey. Moreover, a few WordPress themes that integrate these extensions of WooCommerce are expensive. Nevertheless, these extensions are not much needed and the free themes are good enough to overcome their deficiency.
---
So, you have just planned to launch your online store but trying to minimize your outlay, Ecwid is a great start-up.
You get an option to integrate your shop with a website you already have. Ecwid supports all the platforms such as Drupal, Weebly, or WordPress. In addition, you can even start your new store with a domain name and then integrate Ecwid.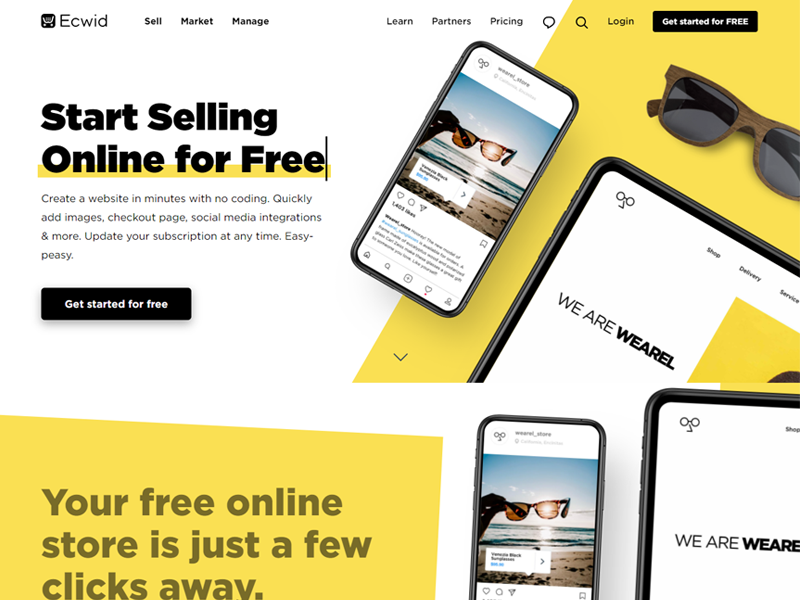 A big to-do list leads you to set up your website, choose the method of delivering goods, store localization, and add the first products. All these lead you to earn. Implementing the entire list would take only 15 minutes.
Customizability is another important option that is free with Ecwid. There is an option for site editing in the sidebar. Theme can also be customized when you click the theme and get a ton of options to play with. You can set a base theme with whatever you plan to sell. You will find an intuitive builder to customize photos, text blocks and other sections.
It integrates well with social media channels such as Instagram or Facebook. This feature allows you to sell directly to your followers while listing your product on eBay or Amazon and take payment directly. Above all, it calculates all the inventory tracks, discount offers and taxes automatically.
For more, you can read our review Ecwid vs Shopify
Pros
Supports platforms like WordPress, Drupal and Weebly
Integrates social media apps for direct marketing
Affordable plans
Single click selling app
Cons
Pricing
Ecwid offers a great startup with a free plan with which you can sell your first 10 products/services physically. Later there are upgradable yet affordable tiers that start from $12.50 per month when you require extra features as your business grows.
You don't have to pay any extra transaction fee above the payment charges so it does not skim behind hidden charges and making profits.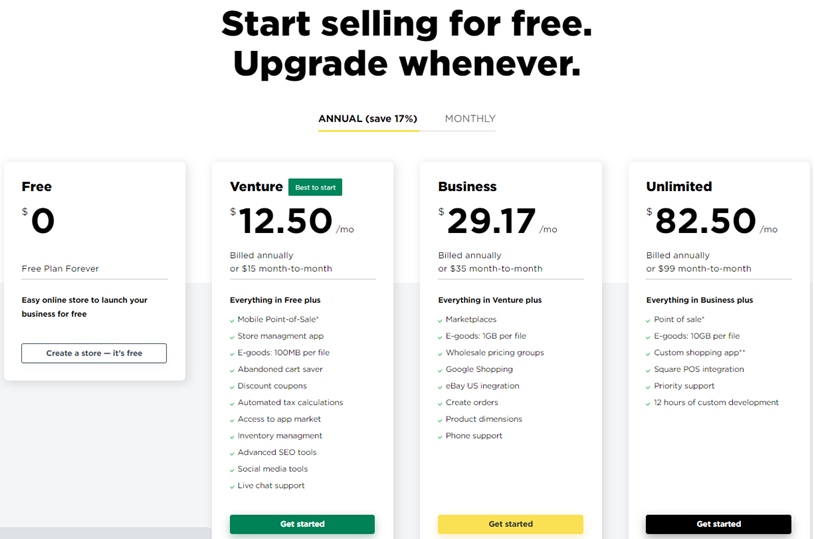 ---
Wix has grown very fast in the past few years. They have marked a huge space in the eCommerce world. They deliver amazing value for small eCommerce solopreneurs and businesses. Wix offers print-on-demand, dropship, abandoned cart recovery, and multi-channel integration capabilities.
Previously, their SEO reliance was very poor. Now it is better, but you cannot rely on their SEO for product pages and URLs of blog pages. This makes Wix unsuitable for large businesses. So, if you grow your business, you might need to transfer to avoid limited features. It offers a limited storage space i.e. 20GB with multiple digital products.
Wix welcomes beginners. Wix offers on-page customer support while you create your shopping website.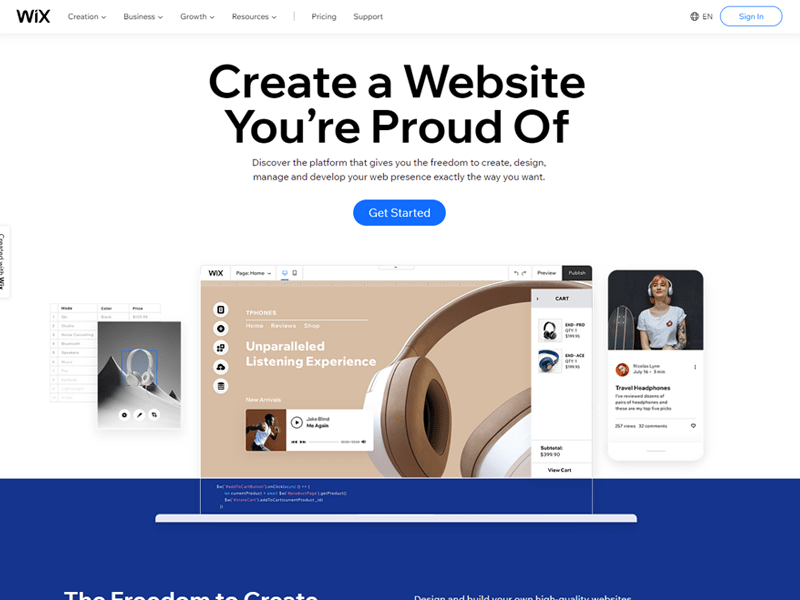 The most important feature of Wix is its drag and drop tool that lets you customize your shop as you want. You can not only create your website but also enhance the functionality and add cool videos using the drag and drop tool. They provide 72 free themes out of 500 themes.
You get all your problems solved with Wix ADI. It is extraordinarily effective and quick. It lets you create and complete your site after completing a few steps. You can also import your content from your Google listing or an existing website. After the robot designers are implemented well, you can further customize your website accordingly.
Pros
70+ free themes
On page support
Really simple setup and interface
Cons
Full customization is not possible
Lacks advanced automation and upselling features
The site may be unsecured
Bad SEO
Pricing
Wix offers a 14-day trial period. The business basic plan offers $28 per month. The transaction fee varies with the payment gateway that charges 2.9% + $0.30.
---
Square is an eCommerce platform that is best suited if you want to sell in-person, such as at craft fairs or farmer's markets and on your online market. All the online and offline orders are organized under a single dashboard so you don't have to jump around different apps or try to track customer details with spreadsheets.
Square integrated Weebly in 2018. Therefore, as you start your online shop, it runs over Weebly.
On-boarding with square is best among the rest. You need to fill a short questionnaire as soon as you sign in. It is about the needs and introduction of your business. You can set up simple checkout links, a full online store, and single a booking page. The default theme is also managed to match the business category of your website.
The storefront customization is also easy. However, Square is more limited as compared to other eCommerce platforms. So, rather than choosing a theme that does most of the work, you can personalize your design with the site builder yourself.
Square online dashboard leads you to Edit Website, so you can start. The left sidebar has an option for different page elements. The three little dots lead you to more options. You can also change the layouts, fonts, or colours of everything while uploading the images. It is quite constrained yet it works well.
Making an in-person sale is another kind of experience with Square. You need to open up the menu, select Virtual Terminal that acts as a digital register.
Pros
Plenty of themes
Square integrates with other eCommerce solutions
Great for online stores and POS
All-in-one payment system
No monthly fee for the free plan
Cons
Restricted features for high-cost accounts
The customer support is not responsive
Issues in account stability
The terrible strategy of shipping with no rate adjustments
Pricing
The platform offers free plans but the transaction cost for unlimited products is 2.9% + $0.30. The square branded site offers $12 per month with the same transaction fee to remove ads and using custom domains.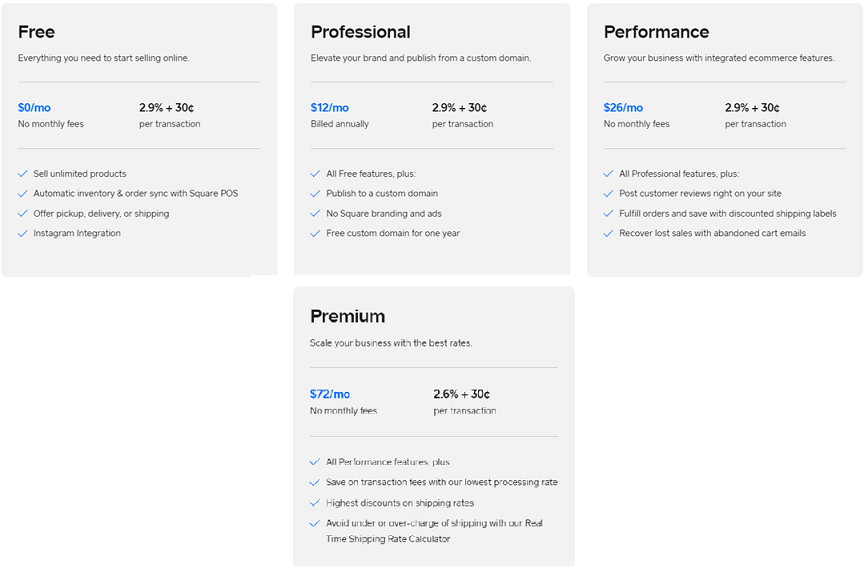 ---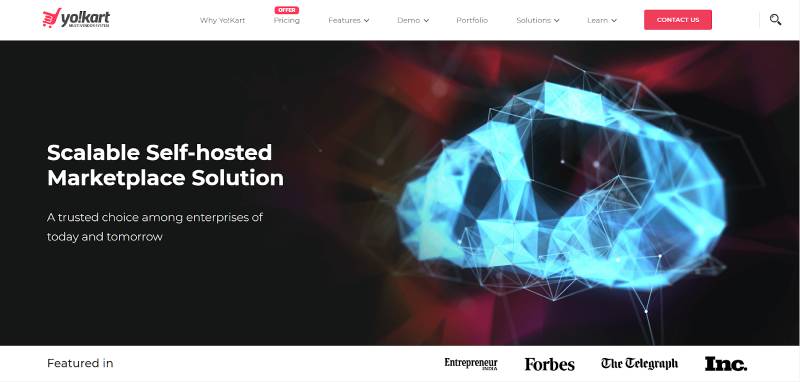 Yo!Kart is a market-leading platform for eCommerce inherently designed with all essential features to deliver tailor-fit online marketplaces. It is a self-hosted multi-vendor platform built for businesses looking to start/scale their online eCommerce business.
Since its origin in 2015, Yo!Kart has grown into an industry leader in eCommerce with over 2000 clients in 70+ countries. The platform is suitable for entrepreneurs, small-medium businesses, as well as large-scale enterprises.
Yo!Kart is developed using agile methodologies and is fully customizable – tailored to meet your business requirements. It uses an in-house framework and is delivered in an encrypted format – ensuring high security. The multi-vendor solution is SSL/PCI-DSS and GDPR compliant.
It has 20+ payment methods and comes pre-integrated with a number of third-party APIs. The marketplace software has separate dashboards for the admin and sellers to streamline marketplace operations. There are individual vendor storefronts that enable a seller to personalize the store as per their brand.
Yo!Kart has mobile apps for iOS and android Platforms to maximize your business potential. These apps have features like voice search, buyer-seller messaging module, multilingual support, and much more to create a superior online shopping experience.
Also, Yo!Kart has essential features such as real-time split payments with Stripe Connect, automated shipping management with ShipStation, and streamlined tax management with TaxJar/Avalara. Moreover, Yo!Kart has in-built SEO tools, reporting/analytic tools, in-house CMS, the ability to create sub-users, and more.
The online marketplace software is ideal for fashion, electronics, hardware, liquor, and many other niche marketplace ideas. Yo!Kart has been used among enterprises of all sizes and powered many popular marketplaces such as UNI Diamonds, Voyij, MyCart, Bozinga, etc.
As written on Yo!Kart website, the multi-vendor software is tested to handle over 1 million products and 250+ concurrent users with a 100% pass rate. It has a robust infrastructure to swiftly implement extensions for future growth and ensure scalability. Yo!Kart provides numerous revenue channels to the marketplace owner such as affiliate marketing, banner advertising, sellers subscription fees, listing fees, and more.
Pros
Intuitive UI with a compelling user experience
Abandoned cart recovery management system
Multilingual and Multi-currency features to cater the global audience
Pre-integrated Elastic Search Module
Easily migrate with Import/Export Feature
Lifetime license and source code ownership
Up to 12 months of free technical support
Free digital marketing consultation for all plans except GoQuick
Cons
No Free Themes
First-time users need to invest time to learn the system
Customizations will be charged extra
Pricing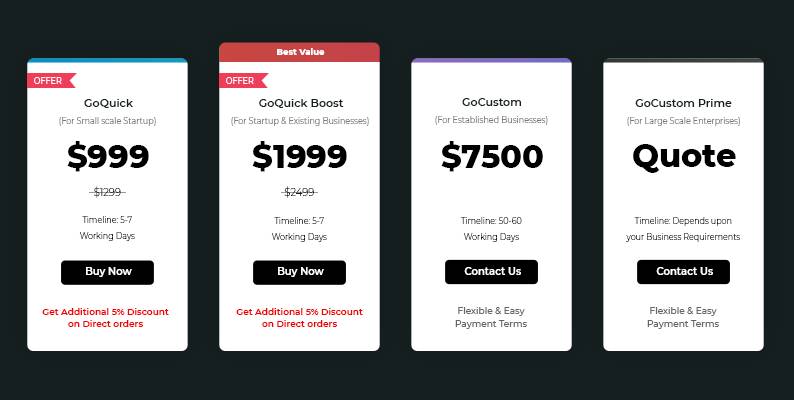 Yo!Kart comes in four unique pricing plans – GoQuick at $999/one-time fee, GoQuick Boost at $1999/one-time fee, GoCustom at $7500/one-time fee, and GoCustom Prime at RFQ.
Each Yo!Kart plan comes with a lifetime license, source code ownership, and zero transaction charges or recurring fees.
Recently, the team has launched the B2B version of its Software (YoKart B2B) & its pricing starts at $1,999 (one-time fee).
---
Magento is a subscription-based service that offers multiple product and order management features. Most renowned brands such as Cisco, Procter and Gamble, and Nike use Magento. The package includes coding as an integral part.
If you have a single developer budget yet looking for a powerful and customizable option, Magento is the best shot. You can play with all the features until you get the most out of it as you desire. Indeed, you can create the most feature-rich store with Magento.
Magento is highly based on community. It involves developers that work on your store at a certain cost and resolve your queries. A marketplace offers you themes and extensions to enhance the platform's functionality.
Mostly, Magento is used for free but the enterprise solution is also available for free in large eCommerce businesses. It is, however, expensive. The annual fee for licensing runs in thousands of dollars. It's a lot. Yet, it is on cloud and or you can hosting by yourself through Magento 2 Hosting providers. But you get more features with the paid version which include automatic upsell/cross, automatic trigger-based email campaigns.
The long list of features is extendable. It includes unlimited products, membership subscriptions builder, and content adjustment per user, grind SEO, recurring payments and discounts.
Pros
Flexible in terms of the software hosting
High customizability and scalability
Large community and lots of users
Single click selling
Strong SEO
Feature-rich and robust
Cons
Requires large memory for better performance
No virtual support
Needs development skills
Slows down easily
Pricey themes
---
Nexcess is the best platform for managed WooCommerce and Magento hosting. It is a versatile service provider that offers to host options to fulfill all requirements of your website. Moreover, you get fully managed WooCommerce, Magento and WordPress hosting. They also offer eCommerce platforms for BigCommerce and Drupal-type platforms.
The package includes container add-ons, asset coaching, alert and 24/7 monitoring response. PHP7 support and PHP optimization. It also includes auto-scaling on a single click to get an abrupt traffic inflow towards your website.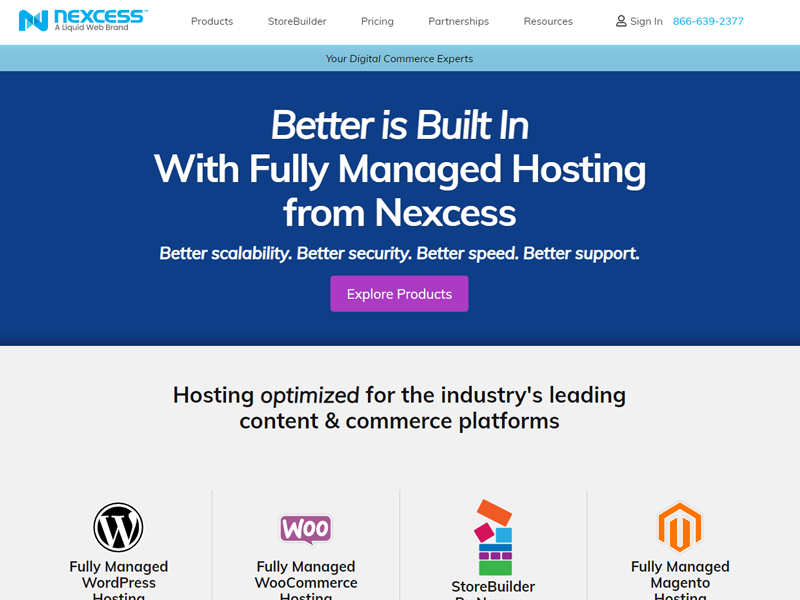 In addition to hosting, they assist you in building a storefront for the online store to further help you StoreBuilder tool. All you need to do is answering a few questions about your business and it will develop a whole storefront according to your answers.
They don't cut corners when it is about customer support. You can expect free white-glove site migrations, proactive monitoring and 24/7 expert support.
Nexcess provides web hosting solutions from dedicated servers to private servers and shared hosting, environment co-location and server clusters. It is incredibly easy with Nexcess to use for eCommerce. It offers the fastest hosting service for WooCommerce in the market.
Moreover, you get free migration and multiple websites with enough web space in free features as well.
Pros
10 PHP workers, 15GBstorage, and 2TB bandwidth is quite high as compared to its competitors.
The basic plan provides all the necessary features for your eCommerce business
Superfast, scalable and perfect for all types of digital and WordPress commerce platforms.
100% uptime
Cons
No free domain
Late response from the support team
No money-back guarantee on prepaid orders
No dedicated IP add-on
Pricing
The starter plan costs $9.5 per month and offers the features that are enough to build a website for your starter business. Moreover, you have more options to upgrade your plan according to the growing need of your business.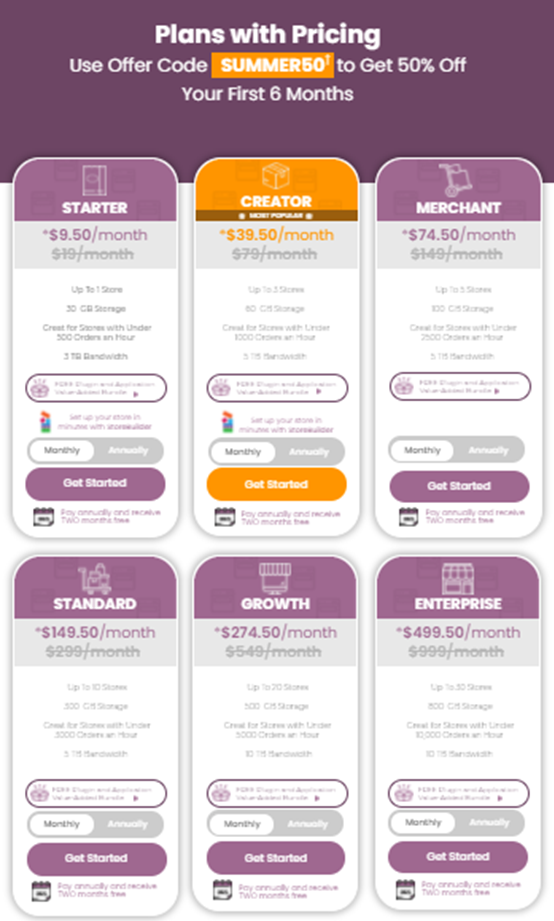 ---
3dCart is serving over 22,000 online businesses. PCMag is one of the renowned clientele. They offer several practical features such as no transaction fees and unlimited storage. 3dCart supports selling on multi-channels and allows you to use their POS.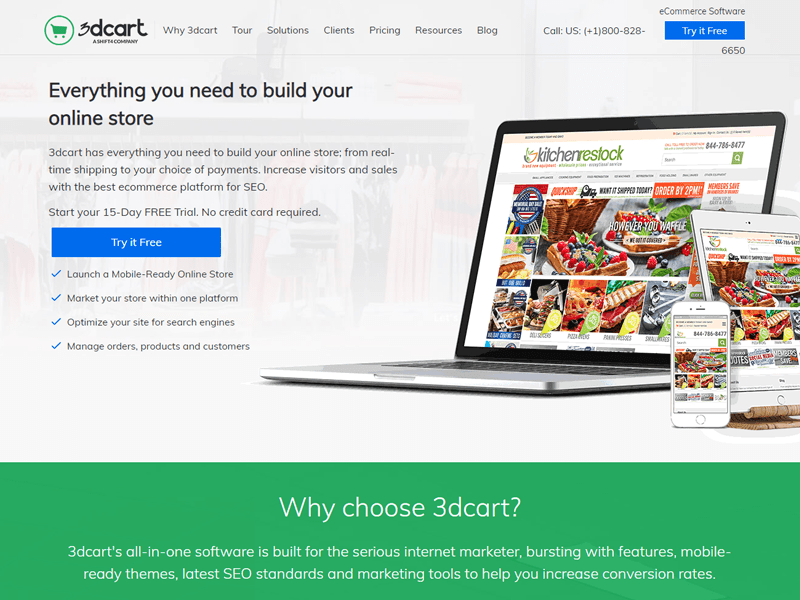 Recently, they have rebranded as Shift4Shop. But it does not do as good as Shopify or BigCommerce do even though it is older than these two platforms. The main reason for this is that it does not welcome beginners.
As you log in to the dashboard, you come across a guide video for the whole operation. Yet, it is difficult to figure out. Moreover, their interface is not visually appealing.
They offer more industrial-type templates but they are outdated. In addition, it takes a lot of time to customize a store and understanding the features. It is also difficult to get used to its dashboard except for experienced users. This is because there is no drag and drop tool for easy functioning.
Shipping is one of their strongest points. 3dCart offers advanced shipping solutions with no API. 3dCart or Shift4Shop restricts the number of sales in each plan like BigCommerce. Thus, the overall value is great.
The major drawback is that it does not offer abandoned carts as a basic feature. However, it still offers more and better features than Shopify does.
Pros
Great user sales management tools such as inventory, QuickBooks and email etc.
Supports all essential integrations
Better feature than other SaaS eCommerce
Cons
Not for beginners
Upgrading of potential issues
Customer support has negative feedback
Templates are aligned with the growing requirements of the industry but do not give a cutting edge.
Pricing
The lowest plan costs $19 per month and allows selling up to 50k. Monthly pricing ranges from $29 to $229. If you make a one-year advance payment then you get a 10% discount.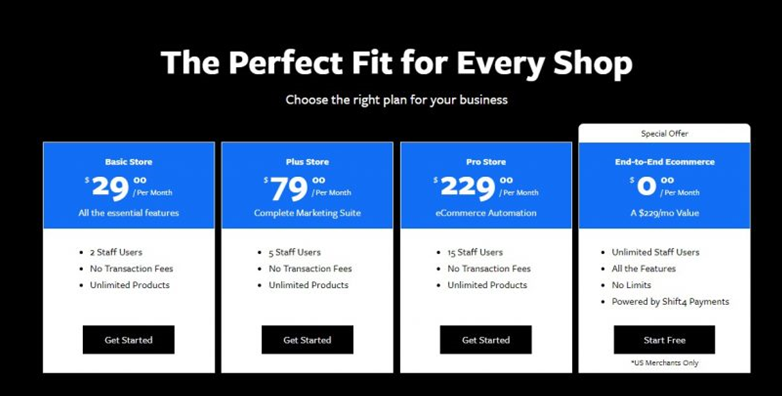 ---
Squarespace is another platform that works on drag and drop functionality. They provide design capabilities and sleek capabilities. If you do not want to use a lot of features, you can still use them. Above all, it proves to be great for the eCommerce business of print on demand.
The top plan provides you with abandoned cart auto-recovery, gift cards and subscription selling and flexible discounts.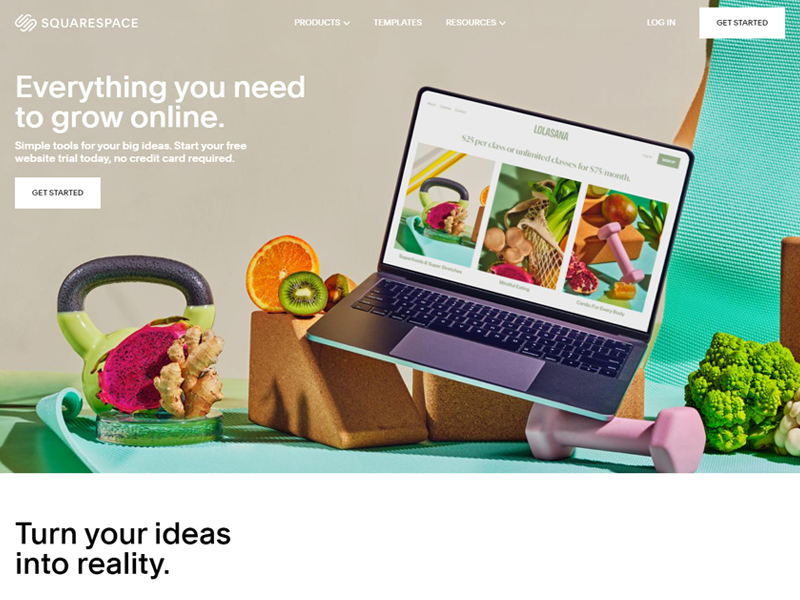 The package provides you with all the essential features that you might need from an eCommerce platform. All these features are arranged in the side menu.
Designing a website with Squarespace is not an easy process. Although, it works on drag and drop functionality this editor is not as useful as in Weebly. You need to have a little practice before you start working on it.
After completing website designing, you will get access to analytics, SEO, social selling, inventory, and marketing features.
Moreover, Squarespace integrates ShipStation and lets you install ShipBob and Printul from the app section. Shipping rates are also easily calculated in real-time from major providers such as USPS, FedEx and UPS.
Third-party integrations and applications give a tough time to the users. However, Squarespace only supports Paypal and Stripe. However, third party tools are hardly integrated with Squarespace.
Pros
Integrated ShipBob and ShipStation
Great SEO
Suitable for Simple stores
Easily set up
Cons
No app store to upgrade functionalities and features
Slow speed in terms of the price
No integrated Amazon
No marketing integration with automation
No dropshipping
Pricing
The prices are very low. For example, if you are a beginner and just starting to sell, you need to have a business website plan which costs only $18 per month if you pay annually. But the transaction fee cost you 3%.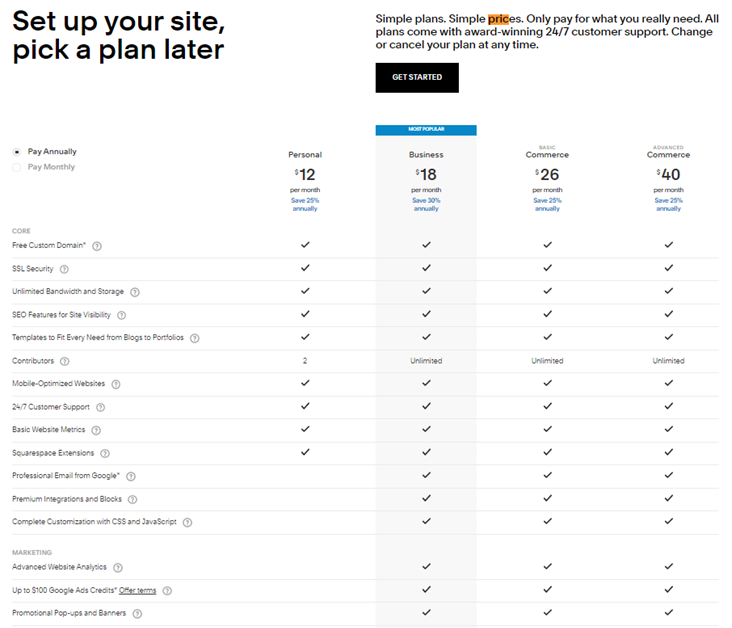 ---
Prestashop is a cloud-based and open-source eCommerce platform that gives you the overall best value. If you don't have any technical skills in website development or eCommerce marketing then Prestashop gives you a better option for free.
The free downloadable version asks you to pay for the SSL certificate, web hosting and other modules so you can complete your web store.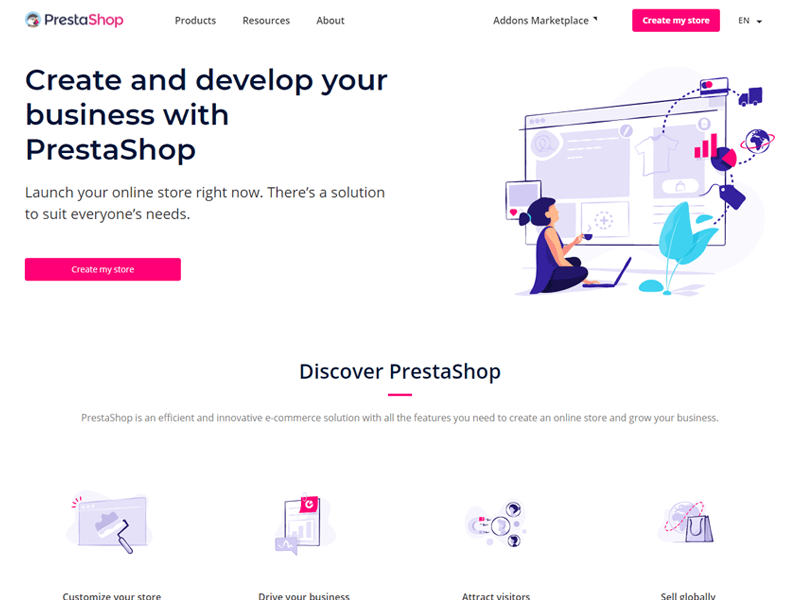 Moreover, if you do not know about techs such as PHP, CSS, or HTML, you will have to hire a developer. However, the open code it offers allows you to have extensive integrations with ERP, warehouses, accounting, payment gateways and couriers.
It provides you SSL certificate. Also, there are over 10 free themes in the admin panel. However, it requires you to have a little knowledge of CSS and HTML because you would not find a drag and drop tool in the theme customizer.
The dashboard is straightforward. Documentation provides an on-board video but it is not sufficient. Nevertheless, you can get the most out of these modules with a single click only. You get access to social analytics, cross-selling, Ads and SEO Working.
Pros
Ready to help and large community
Very flexible
Strong SEO
Multiple integrations and apps available
Cons
The hosted version does not allow multichannel functionalities
Tweaking needs developer skills
Marketing integrations limited for a third party
Add-ons make the plan expensive
Slower as compared to other platforms
Pricing
It offers a 16-day trial period. But that is up to you if you don't want to get the trial and pay right away. Well, it is 100% free. Yes, that means no commissions and no monthly fees on your sales.
---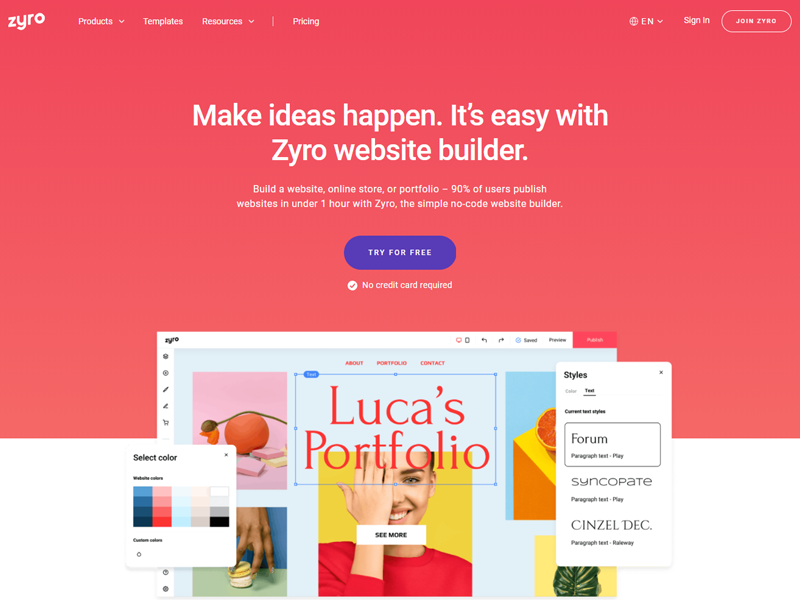 Zyro is an online service for people who look for quick website creation. It offers the features to easily and quickly create a website. Above all, it does not need any design or coding skills to start with.
It has a WYSIWYG interface that helps users carry out their edits on the web pages with the help of available elements and tools.
Zyro offers several extraordinary features that make it unique from the other service providers in this list. One of these features is the intuitive drag and drop editor. This feature is very common in other platforms as well, however, Zyro provides a flexible one that is simple to use.
Another pronounced feature of Zyro is its artificial intelligence tool that helps clients undertake their marketing and branding business. It integrates AI slogan Generator that generates ideas to create a tagline for your brand with a suggested keyword. Users can pick one desirable slogan and kick-start the brainstorming process.
Pros
Clear knowledge and 24/7 success team support
Fosters growth with powerful integrations such as Google Analytics, Google Tag Manager, Hotjar, and Facebook Pixel
Marketing features and content are powered by AI
Intuitive eCommerce functions
Easy to use and intuitive interface
Designer templates suitable for all types of websites
Superfast webpage building tools
Cons
Domains are connected with difficulty
Limited free sites
Limited support
Customization freedom is not provided
Limited functions in starting plans
Pricing
Zyro offers four pricing tiers. All these plans offer features enough to create your website and develop it for monetization.
Zyro provides a 30-day money-back guarantee with free hosting with all plans.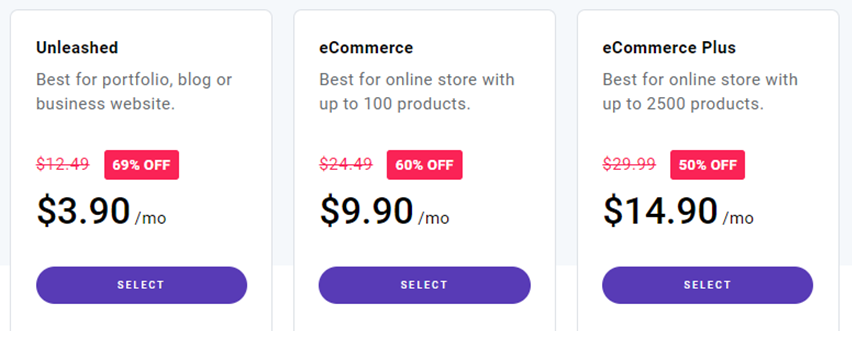 The eCommerce plan provides surprisingly great features but you have to be mindful as it strategically uses the core features to grab its customers. Later, upgrading the basic plans will cost you more.
Ecommerce plans have two notable exceptional features. The expensive plan supports a higher number of products in addition to allowing the site to sell your products and services on social media platforms.
---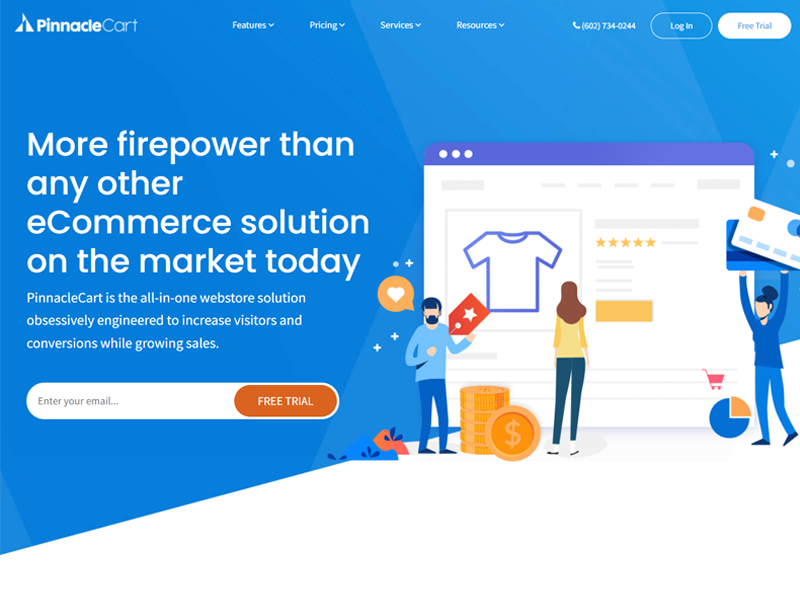 In search of a platform that will increase your online sales and provide you with extra benefits? Then PinnacleCart is what you need. You can consider it an all-in-one solution for all your website-related queries. It is perfectly designed to increase sales and convert visitors into customers.
It does not matter which device you're using for your online business. This site works the same for all to encourage engagement. The best part is that you won't require coding skills to set up your online store.
PinnacleCart offers beautifully created themes you can choose from or even from your own through a point and click web store builder. You can also include photos and videos with no limits. This platform has inbuilt features to increase your profit at higher levels. Their 15 years of experience in this field is seen in this feature.
Their charges are also very reasonable, and they also charge no transactional or extra hidden charges. Manage your e-commerce business with utmost flexibility, and control now with PinnacleCart. Unique themes, fast operation, and special features to attract mass audiences will make your online shop a successful venture.
Pros
Mobile-friendly templates
Great customer service.
Live chat with IT professionals
Fully customizable
Groundbreaking marketing tools
Cons
No POS integration
Costly
Not an advanced learning curve
Pricing
The pricing plans by PinnacleCart are known as standard and advanced. The former will cost you around $79.95 per month and has five admin accounts for your web page. The advanced plan is the recommended one as it has unlimited admin accounts. It will cost you around $199.95 per month.

---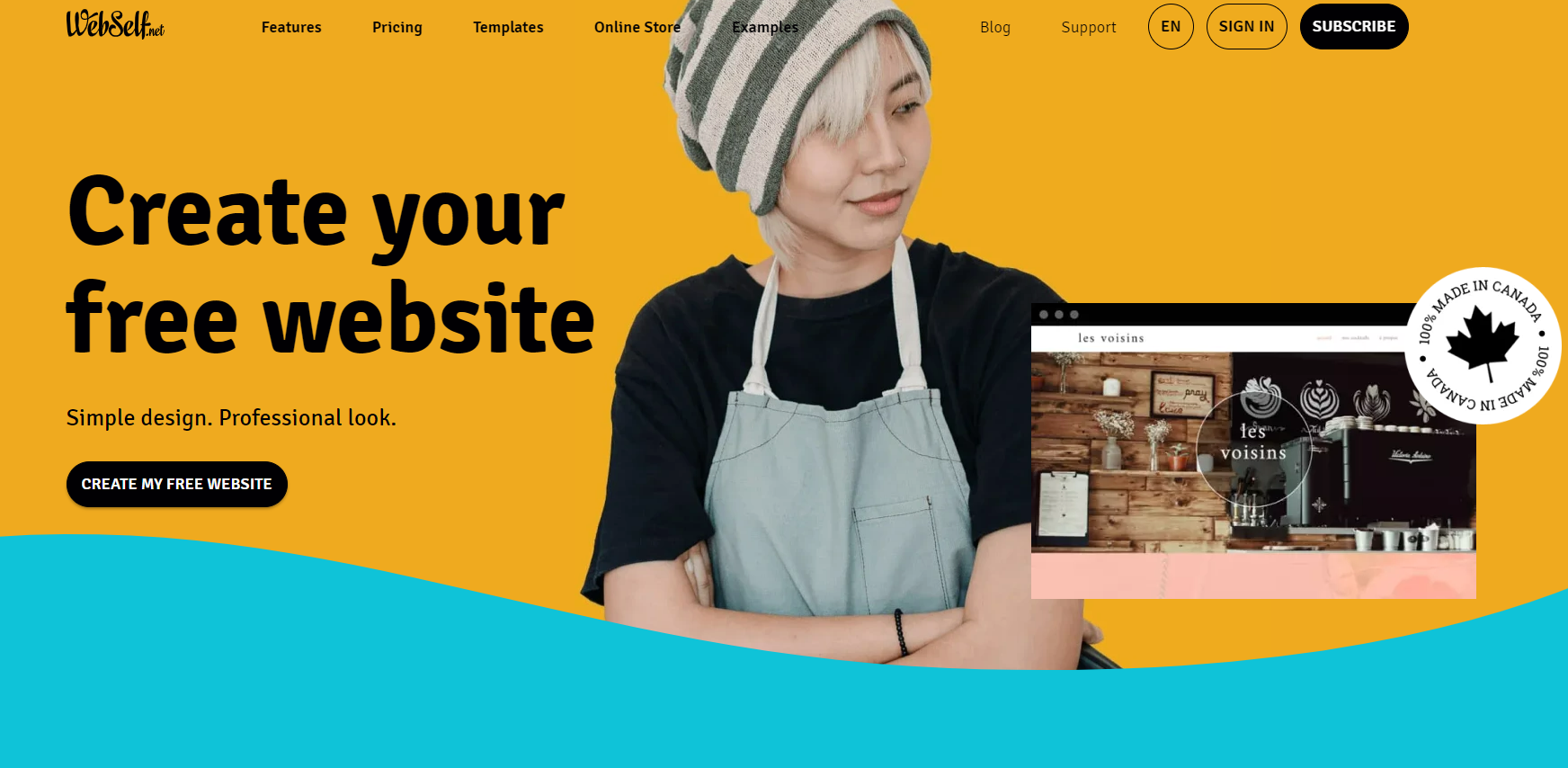 Webself is a simple website builder that comes with different template designs to create your eCommerce website in 3 simple steps. What makes them different is easy to use UI that will require minimal knowledge for creating a simple website and even an online shop.
Another interesting point is their free support, which is very personalized and offers fast assistance. The customer rating is 4.3/5 based on eKomi reviews. Also, the platform offers a free interactive training course on on-site creation.
Online Store Main Features:
Autonomous inventory management
Secure payment methods
Customizable tax and delivery settings
An international exposure
Tools to increase your sales
An online store optimized for Google
---
What is an eCommerce Platform?
An eCommerce platform is an application or software application that lets any online business manage its operations, sales, marketing and website. They are the full-featured, robust tools that sell online products. Choosing the best option requires certain considerations and all the eCommerce website builder gives varied features.
Your required number of features depends on the number of products you sell. And if your services include drop-shipping instead of fulfillment or own shipping, then your requirements will be different.
In short, your eCommerce software allows you quickly add your products while offering automatic tracking inventory, discounts and coupons. You should also be able to fulfillment and manage shipping so that you can focus more on the growth of your business.
Or we can define an eCommerce platform as online shopping that directly goes to the consumers via chatbots, chats, voice assistants, websites and mobile apps. You can build chatbots easily through dedicated platforms.
---
What Are The Benefits of Using an Ecommerce Platform?
Using an eCommerce platform to build your online store comes with numerous advantages. One of the main benefits is the ease of use, as these platforms are designed to be user-friendly and intuitive, even for those with limited technical expertise. This means you can quickly set up and launch your online store without needing to learn complex coding or web development.
Another advantage is the wide range of features and tools available to help you succeed in your online business. eCommerce platforms often come with built-in marketing, SEO, and analytics tools to help you optimize your store and drive traffic.
Additionally, they provide multiple payment gateways to accommodate a variety of customers and currencies, making transactions seamless and hassle-free for both you and your clients.
Moreover, eCommerce platforms offer scalable solutions that can grow with your business. As your sales and customer base expand, you can upgrade to more advanced packages, allowing you to maintain excellent site performance and user experience.
Depending on the platform you choose, you may also have access to a vast library of themes and templates, making it easy to customize your store's appearance and stay on-trend.
Lastly, eCommerce platforms often have strong security measures in place to protect your store from cyber threats. This is crucial for building customer trust and ensuring sensitive information, such as credit card details, remains secure.
---
How to Choose the Best Ecommerce Platform for your Business?
Selecting the best eCommerce platform for your business can be a daunting task, given the many options available. Here are some factors to consider when making your decision:
Budget: Determine how much you're willing to invest in your eCommerce platform. Some platforms offer free plans with basic features, while others charge a monthly fee for access to more advanced tools.
Features: Compile a list of must-have features that are essential for your online store. Consider aspects like product management, inventory tracking, payment gateways, and shipping options. Ensure the platform you choose can accommodate your specific needs and requirements.
Scalability: Your business will likely evolve over time, so it's essential to choose a platform that can grow with you. Look for options that offer different pricing plans and feature upgrades to meet the changing demands of your store.
Customization: The ability to customize your store's appearance and layout is critical for creating a unique and engaging user experience. Choose a platform that offers a variety of themes and templates, as well as the option to modify the design further through coding, if desired.
Support: Technical issues and questions are inevitable when running an online store. Opt for a platform that provides reliable and responsive customer support to ensure you have the assistance you need when problems arise.
---
Enterprise eCommerce: Features and Comparison
Enterprise eCommerce platforms cater to large-scale businesses that require advanced features and capabilities to manage their online stores.
These solutions typically offer more sophisticated tools and functionalities than standard eCommerce platforms, enabling businesses to handle high-volume transactions and complex operations.
Key features of enterprise eCommerce platforms include:
Advanced inventory management: Enterprise solutions often provide more comprehensive inventory tracking and management tools to accommodate large product catalogs and intricate supply chains. This may include features like bulk product uploads, barcode scanning, and warehouse integrations.
Multi-channel selling: Many enterprise platforms enable businesses to sell across multiple channels, such as marketplaces, social media, and brick-and-mortar stores. This helps businesses to reach a wider audience and streamline their operations.
Customer segmentation: Enterprise platforms often include advanced customer segmentation tools, allowing businesses to group customers based on demographics, behavior, or purchase history. This facilitates targeted marketing campaigns and personalized shopping experiences.
Customization and flexibility: Enterprise solutions typically offer more extensive customization options, including access to APIs and custom development, to cater to unique business needs.
Security and compliance: Large-scale businesses must adhere to strict security standards and regulations, such as PCI DSS and GDPR. Enterprise eCommerce platforms often include robust security measures and tools to help businesses maintain compliance.
When comparing enterprise eCommerce platforms, it's crucial to consider factors like pricing, features, integration capabilities, and customer support. Some popular enterprise eCommerce solutions include Shopify Plus, Magento Commerce, and BigCommerce Enterprise. Each platform has its strengths and weaknesses, so be sure to research extensively and choose the one that aligns best with your business goals and requirements.
---
FAQs
What is the Best Free Ecommerce Platform?
Square online is the best way to sell for free. Prestashop is also 100% free. Bu the features offered by Prestashop as free are less than what Square online offers in its free version.
What is the Best Ecommerce Platform for Small Businesses?
Wix, Square online and Squarespace offer easy-to-use and cost-effective solutions for startups without spending a lot of money.
What is the Best Ecommerce Platform for Dropshipping?
Shopify and BigCommerce are three platforms that provide analytics, invoice management and shipping and multi-channel shipping.
Summary
There can never be a perfect and all-in-one type of eCommerce platform. But we have narrowed down the top one's for you in this post. Choosing the right one is based on your needs. However, some of the platforms are considered front runners. Such as BigCommerce is so far the best one that we discussed.
Moreover, WooCommerce is also leading the market and Shopify in terms of its apps and features is becoming more popular than others. These two platforms are suitable for white-label eCommerce sites. Moreover, they are also appropriate for affiliate marketing. Above all, these two prove to be the strongest options for combo sites if you run an affiliate marketing and private label.
Wix is a simple store suitable for local small businesses. Most eCommerce platforms that we discussed do a good job with a handful of features. There are several options at a similar price to others.
Want to Learn More?
Still not sure which one to choose? Check out the listed guides below to learn more about e-commerce:

As one of the co-founders of Codeless, I bring to the table expertise in developing WordPress and web applications, as well as a track record of effectively managing hosting and servers. My passion for acquiring knowledge and my enthusiasm for constructing and testing novel technologies drive me to constantly innovate and improve.
Expertise:
Web Development,
Web Design,
Linux System Administration,
SEO
Experience:
15 years of experience in Web Development by developing and designing some of the most popular WordPress Themes like Specular, Tower, and Folie.
Education:
I have a degree in Engineering Physics and MSC in Material Science and Opto Electronics.