Do you want to create a website? We have created a list of the best no-code website builders with pros, cons, and price comparisons. Website builders can help you create a website without the help of a web designer or web developer.
Some website builders, such as e-commerce, photography, or blogs, are for specific use. The best ones are easy to use, affordable, and can scale your website with your business.
These builders provide an all-in-one solution that includes hosting, domain, templates and website editor.
We have tested various website builders and can tell that Hostinger is the best website builder for the overall quality of this platform.
To compile our list of the best website builders, our review team considered and measured many factors, including:
Ease of Use
Pricing and Free Trial
Templates and Design Quality
Customization
Scalability
Speed and Performance
Built-in Tools
Support
To the final verdict is added our "Website" experts team rating too – with an experience of more than 10 years of building websites, WordPress themes and powering more than 20,000 websites worldwide.
Before jumping to a one-by-one website builder review, you can compare their principal characteristics in this table comparison.
The Top 13 Best No-Code Website Builders: A Closer Look
Hostinger offers the best no-code website builder with the most affordable price on the market by offering integration with AI Tool.
It simplifies the process of building websites, allowing users to launch their site in mere minutes. With a jaw-dropping discount of up to 75%, it's a steal for budding entrepreneurs and established businesses alike.
Building a Website with Hostinger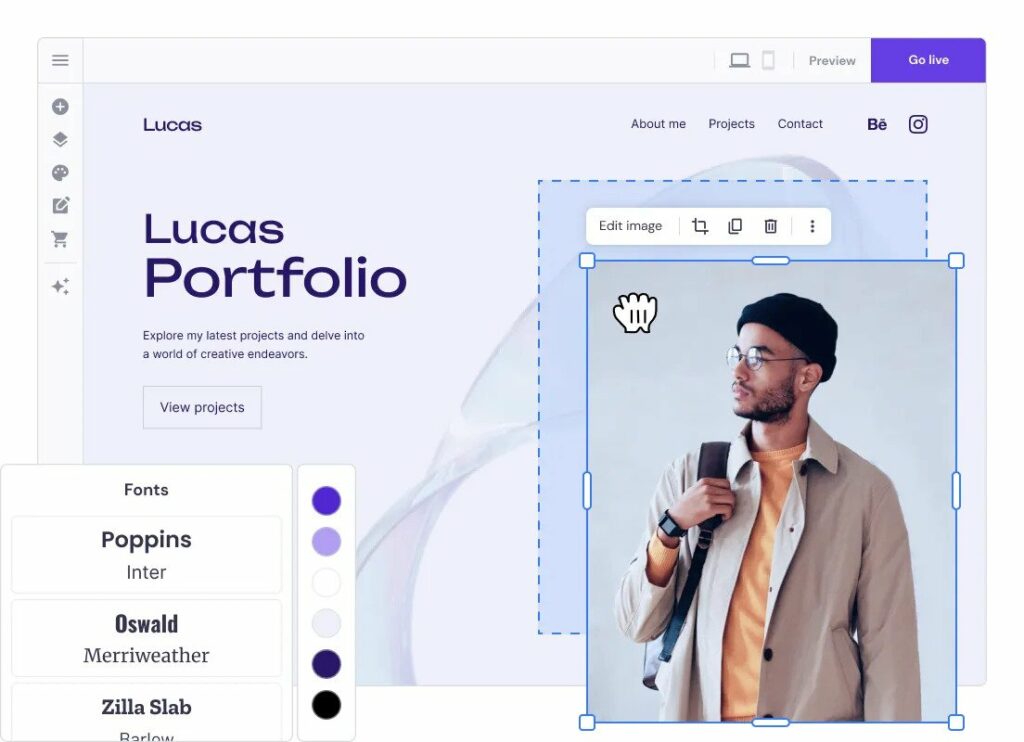 Hostinger prioritizes user experience, evident in its four-click process to get your site live. Start by describing your brand. The AI takes over, generating SEO-friendly content, including tailor-made copy and relevant images.
Then, fine-tune your site's aesthetics using the drag-and-drop editor. Once satisfied, take your site live and make your mark online.
Read More: AI Website Builders
What Users Are Saying
Trustpilot Review: "Hostinger's drag-and-drop website builder makes it a breeze to create a website, even if you're a first-timer."
User Testimonial: "I'm designing my website and have all I need. It's simple and intuitive with the dashboard and builder. I'm grateful to achieve what I've longed for."
Professional Review: "Hostinger is an exceptional web builder tool. It boasts rapid speeds, consistent uptime, adept customer support, and many potent tools. Their website builder is a gem for beginners and small business websites."
---
Wix is the best overall website builder according to our research on the internet market. It is because it offers an awesome drag and drop website builder at the cheapest price option, making it the most affordable no-code solution.
Over 200 million websites (2.3% of all websites) are built using Wix. It is a popular builder for small business owners, bloggers and people who have no experience in designing. You can also build an online store using Wix. There are some rumors that it doesn't rank well on Google, but you can ignore them.
Building a website with Wix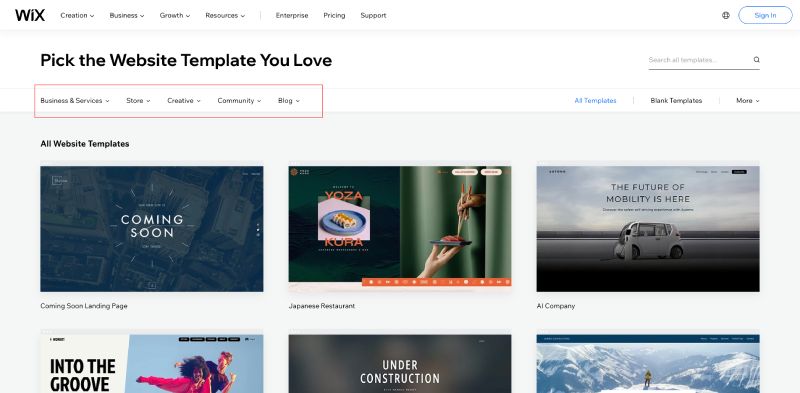 It comes with an easy-to-use interface ideal for creating a professional-looking website. It gives users total creative control over their websites.
It has one of the largest template libraries, with more than 900 ready-to-use templates. The library includes filters to help you find what is perfect for your business. You can find templates for photography, pets, fashion and more.
The issue here is that you can't change the template once selected.
In 2016, they launched the Wix ADI (Artificial Design Intelligence) that learns about you and applies it to automatically create a beautiful website with text, images, and videos.
Wix also comes with a huge app store to add extra functionalities to your website. Some of them are created by Wix, and some by third-party developers. These tools include SEO, email marketing, social media, e-commerce and more.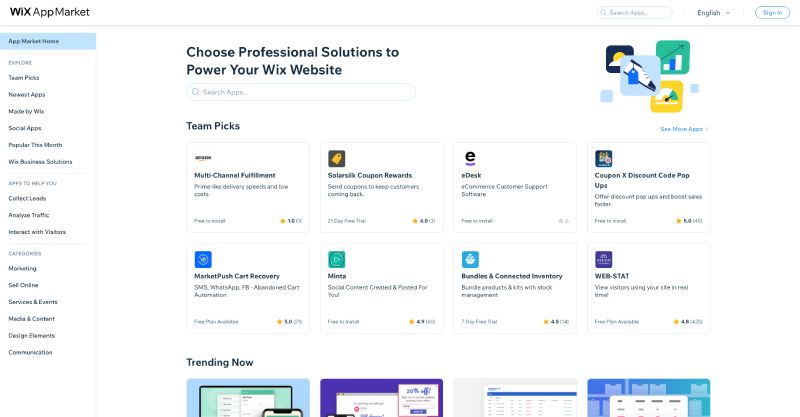 Also, I see some limitations with big websites that want more storage, especially with media-heavy websites. These types of websites tend to run slower under Wix.
Product Updates
The team behind Wix is constantly improving builder features to make it even easier for customers. They had created custom solutions and features for restaurants, blogs, music, bookings, etc.
In 2023, Wix added a lot of new updates:
You can now create custom advanced gradients in the editor.
SMS automation for bookings
A deep update of Wix Events
Deepcrawl app – run an SEO audit for your website
Wix Pricing
Wix offers an unlimited free version, but the free version includes ads that you can only exclude on premium. Here is the price plan for premium:
More Information
Read more in-depth Wix Review with a full look at features, pros and cons.
Want to start blogging with Wix? Check out the best Wix blog templates.
---
Webflow is widely regarded as the best no-code website builder, offering a responsive and visually appealing platform. Striking a balance between modern and traditional, it provides a high level of customization and power, making it a popular choice among web designers.
It is absolutely the best website builder for designers that want to create a website based only on their fantasy and creativity without writing a single line of code. Webflow gives total creative control and freedom. It is often entitled "the Photoshop of web design".
"The bridge between design and front end development" – James (Webflow user).
Building a website with Webflow
You can start building a website with Webflow for free and only pay when you are ready. Websites created with Webflow have a high performance in terms of speed and with 99.9% uptime hosting.
When it comes to ease of use, I can tell you that Webflow is not the easiest for beginners. It needs a learning curve before starting building using its editor.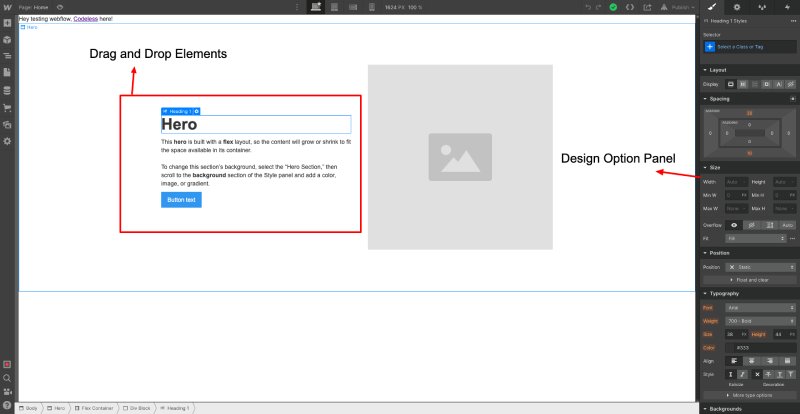 It can look very familiar UX/UI for a web designer but not for a total beginner that wants to start from scratch. That's because Webflow gives advanced options to create almost everything without coding. This is great from a designer's point of view for advanced customizations but can create issues for total beginners.
To get started, you can check out their tutorials and guides at Webflow University. Also, you can choose to start from a premium Webflow template. They provide an excellent marketplace for templates with high-quality designs selected and reviewed by a specialized team.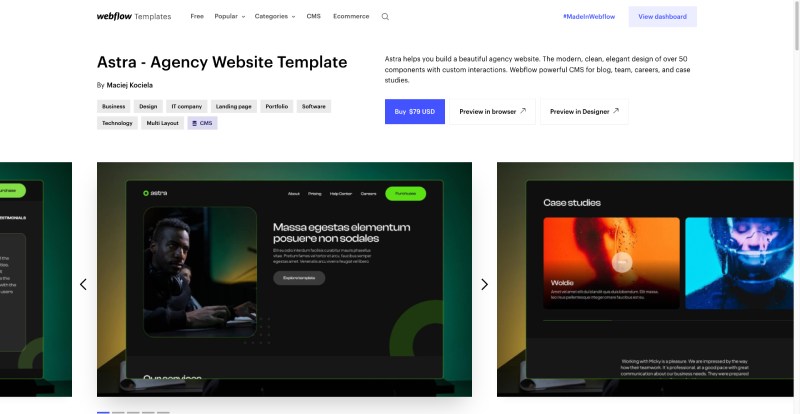 You can find templates for almost every niche, but you have to pay extra for them. For example, a full CMS template can cost you up to $79. I highly recommend you to choose one of them, one of the best quality designs I have found in this research for website builders.
The latest updates of Webflow have made it a simple website builder and a full CMS and eCommerce platform. The team behind it has added the ability to create blog posts, dynamic content or even eCommerce websites.
But, if you want to start a blog, I will not recommend you to use Webflow. They lack some features in content writing, integrations, tables, and do not have the best SEO performance.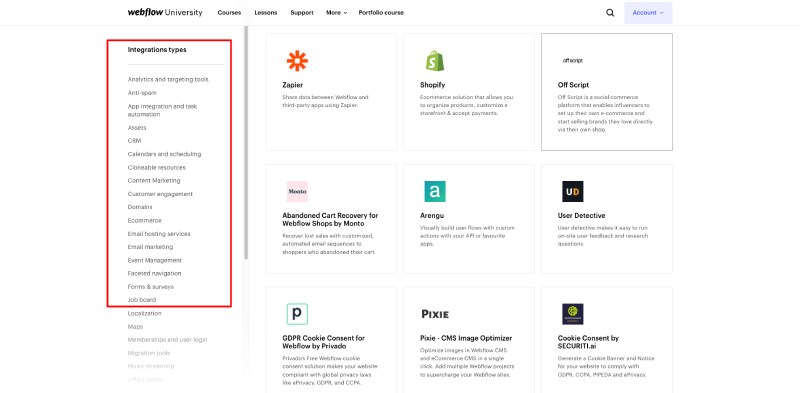 Webflow has a large list of integration compatibility to extend the functionality of your website. For example, if you want to create a multilingual website, you can use a custom integration service like Weglot.
Product Updates
CSS search – a game-changer to make class cleaning much easier
More accessibility options added – Improve keyboard navigation and site accessibility
Workspaces – scale your team, along with new roles and permissions so you can control who does what in Webflow
Check the latest Webflow product updates here.
Webflow Pricing
It offers six plans, three for each of the website and eCommerce plans.
More Information
---
Squarespace is one of the best website builders for creatives. It's a comprehensive platform that allows users to build websites according to their will and customize them with the best analytics and marketing tools.
This website builder offers websites such as online portfolios, business websites, eCommerce stores, photography and a simple blog. The Squarespace user experience has been frequently compared with Webflow.
The quality of template design and the layout of these templates, with big images and minimal design, makes it the best choice for creatives and photographers.
Building a website with Squarespace
Squarespace is easy to use with a simple click and point function to customize all the features. It is mobile-friendly, integrated with social media and SEO friendly website builder.
Just select a template, sign-up with an email, and you can start building your website. The interface will show you a wizard to select the website name and some tips and tricks on how to proceed with design and editing.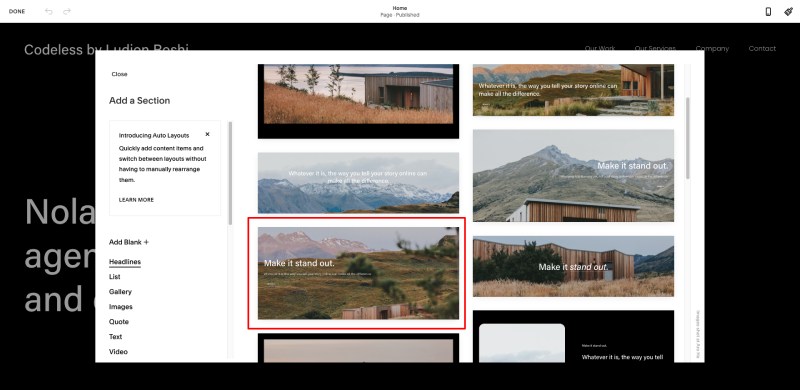 The Squarespace builder is more like a block-based builder that gives you the ability to decide what works for your business website but does not gives advanced customization options by default.
This approach makes it easy to use for beginners but lacks customization freedom in some cases, and It's a bit pricey for eCommerce websites.
"Good for beginners, limited for advanced users" – Diego P, Squarespace user.
The quality of templates is extremely high. Especially for photography, blogging or small business websites.
The provided built-in tools are really great. You can find simple or advanced options for blogging, SEO, email marketing and more.
Product Updates
The Squarespace team is working hard on eCommerce features. Recently they added some advanced commerce products and features like product reviews, automated videos and discount emails.
Also, they released big updates to the Unfold, Squarespace app that helps anyone stand out, capture audiences, and monetize content on social media.
Squarespace Pricing
Squarespace offers a 14-day free trial period, and you can own it at the following rates. It offers 4 plans for monthly and annual payments:
More Information
---
Pixpa is the best choice for photographers, artists, and designers. I personally like their way of making a niche builder dedicated to photographers which let these creatives sell without any extra transaction fee for their creations. There are a lot of tools built in to make it easier to showcase portfolios like the Mobile Gallery App.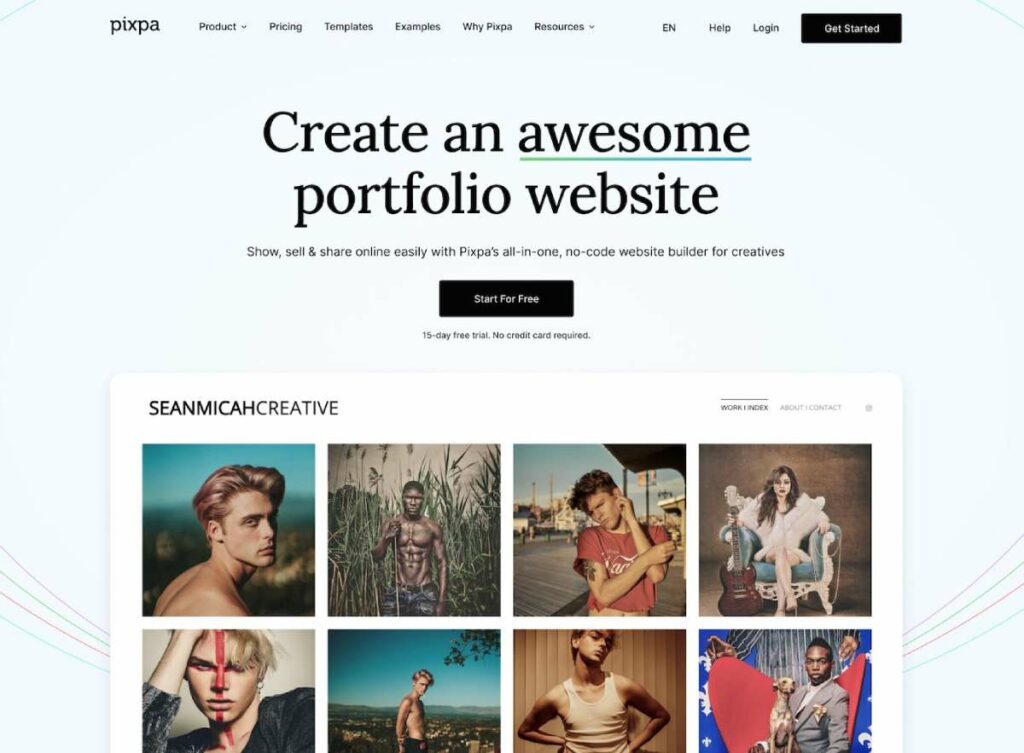 Also, a lot of photography templates help a lot when you have to make a choice for your website design as an artist. Templates can be customized with an easy-to-use drag n drop builder. It is also easy to add stunning galleries, videos, forms, and pages to structure your website as you wish.
In case you want to sell your photos as I mention above Pixpa's store builder offers extensive eCommerce tools like products and inventory management, discounts, taxes, shipping, abandoned carts, and easy order processing.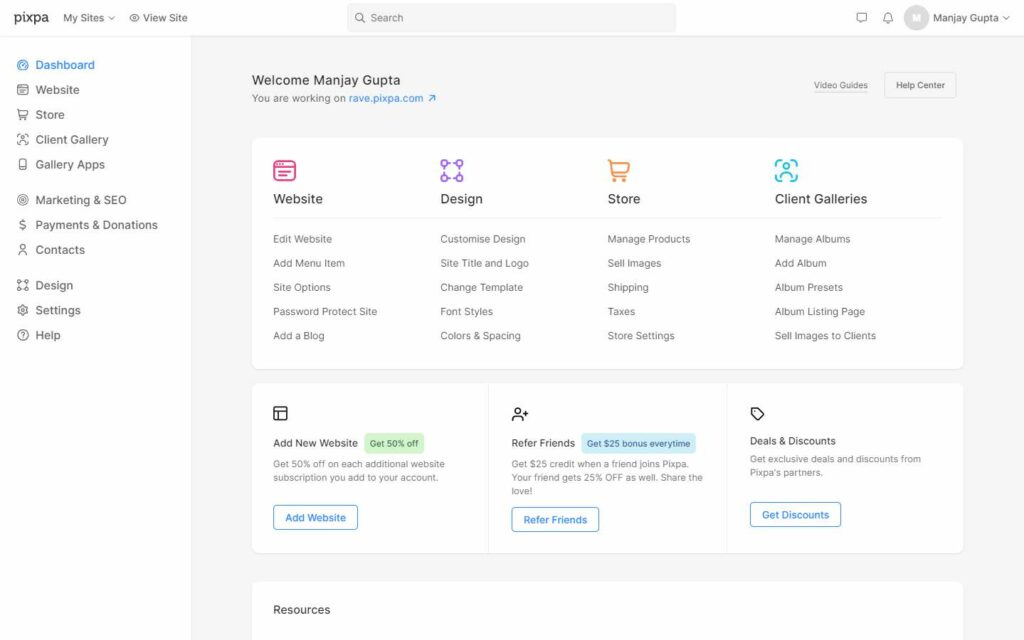 Blogging also is important if you want to get some traffic from google or to entertain your existing visitors. Pixpa has blogging features that let you post articles and add images, videos, and snippets to them.
Like other listing Pixpa comes with a lot of integration with third-party tools and platforms like Google Analytics, Stripe, Paypal, Instagram, Pinterest, MailChimp, Google Map etc…
Whenever you need any help Pixpa's website experts are there to help you 24/7 via email or live chat support. Sometimes it can be slow but in the end, they will resolve your issue.
Product updates
App Store: Power up your website with 100+ apps and integrations
Payment Forms: Accept payments online easily with forms.
Users and Roles: Invite colleagues and clients to collaborate on the website with permission-based access.
Studio Search: Speed up your work. Find any feature, content item or help article quickly.
Marketing Popups: Convert site visitors to customers with marketing popups.
Pixpa Pricing
Pixpa's all-inclusive pricing plans range from $5 to $25 monthly. Discounted annual and 2-yearly options are also available. All plans offer generous resources, unlimited bandwidth, SSL certificates and 24/7 support.
You can also try the 15-day free trial.
---
Nexcess StoreBuilder is your ultimate eCommerce site builder. In just a few clicks, StoreBuilder creates a one-of-a-kind, industry-tailored store for your customers. Simply drag, drop, and customize until it's ready to launch. No hidden fees, no expensive add-ons, and free for the first 30 days.
It's a perfect choice for everyone that wants to create an eCommerce website with ease but wants the freedom, flexibility and scalability of WordPress.
Building a website with StoreBuilder
Backed by world-class hosting by Nexcess, StoreBuilder is the easiest way to create a high-performance online store quickly. It has a no-code approach and WordPress (WooCommerce) flexibility.
As soon as you log in to your new account, they ask you some questions. This is their main feature: AI Site builder.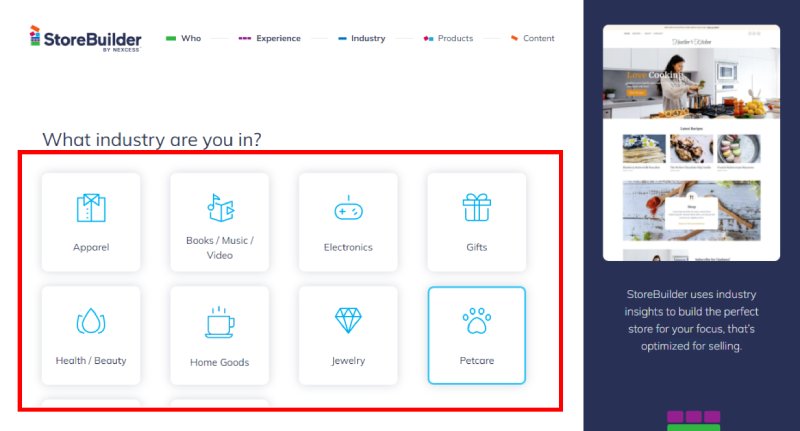 It's a good idea to answer these questions so you can get a robust design to get started.
Since Storebuilder uses WooCommerce, you can use various WordPress themes (compatible with woocommerce) to find out what is the perfect fit for your website. Usually, these templates need some customizations.
StoreBuilder delivers more value per month than any other WordPress or WooCommerce website builder. It bundles premium plugins, advanced speed, automatic updates, and eCommerce tools like Glew.ie, Sales Performance Monitor, Plugin Performance Monitor, and WooCommerce Automated Testing.
Read full documentation on how to launch an eCommerce website with Nexcess StoreBuilder.
Product Updates
It is a relatively new product launched in Oct 2021, so no new big updates.
StoreBuilder Pricing
Check how it compares with other potential alternatives in eCommerce website builder industry, according to Nexcess.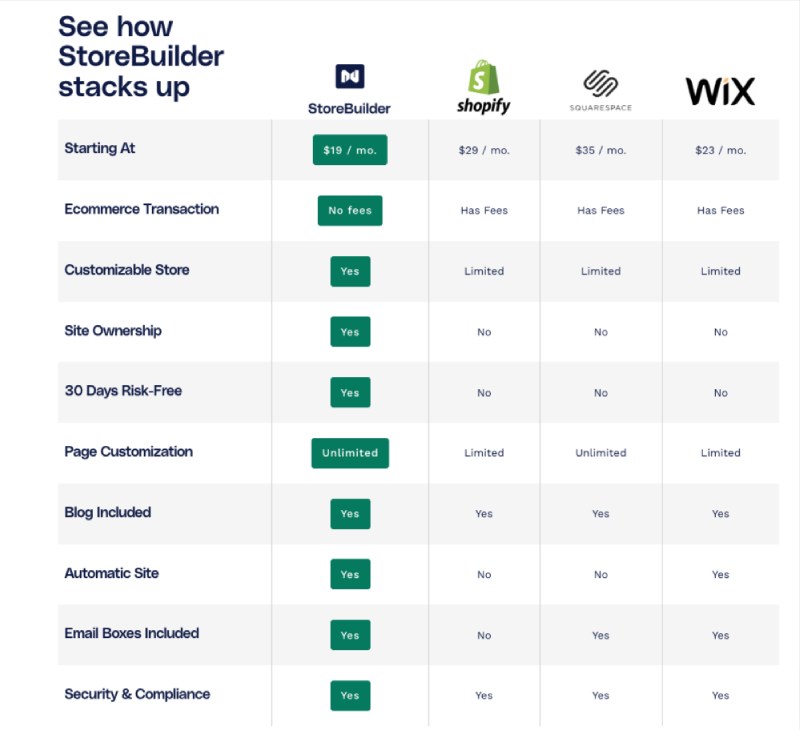 More Information
---
Shopify is the best website builder for small business eCommerce websites. It offers a cheap and professional platform to start selling online. It is a perfect solution for everyone that is looking to sell physical or digital products.
Shopify is one of the most popular platforms, with more than 4 million active websites. It offers a flexible and scalable eCommerce solution for your small business or to start a new drop shipping website.
Building a website with Shopify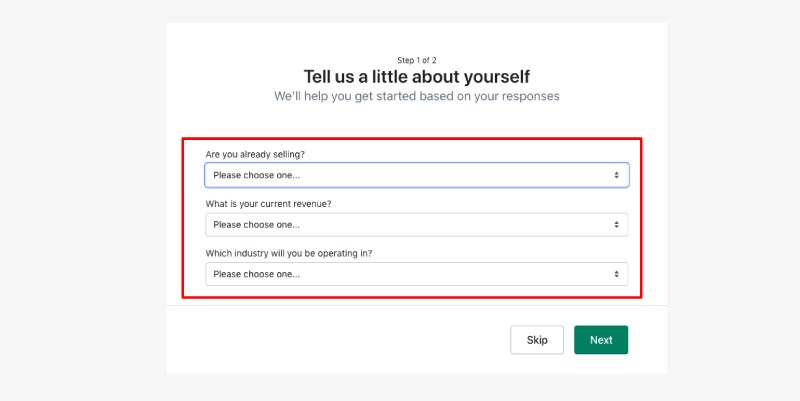 It starts with a simple wizard that asks some questions about your new online store. After choosing the appropriate answer, it moves to the second step and asks you to add more details about your online store and your personal information. Once finished, you navigate to the Shopify dashboard.
The first step that Shopify recommends is adding your products. Let's see how easy it is.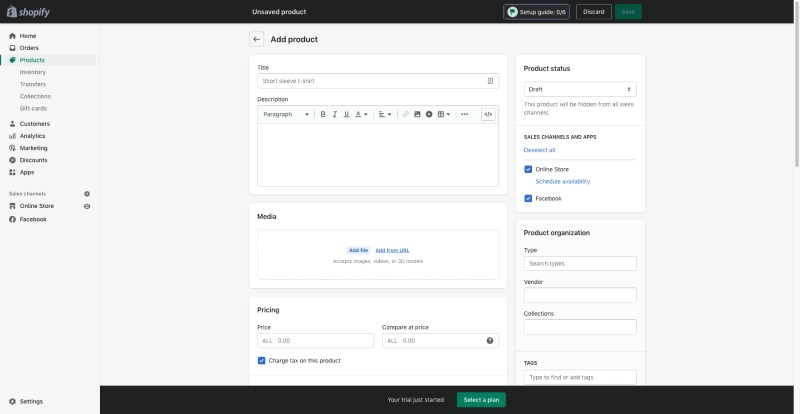 You can choose to add products manually from your inventory or you can use Shopify apps like Oberlo to load products from various suppliers and start dropshipping. Everything looks simple and works perfectly.
Let's move now to the important feature of website designing.
Here you can choose between the only 7 free Shopify templates or choosing a premium template, but you need to pay extra.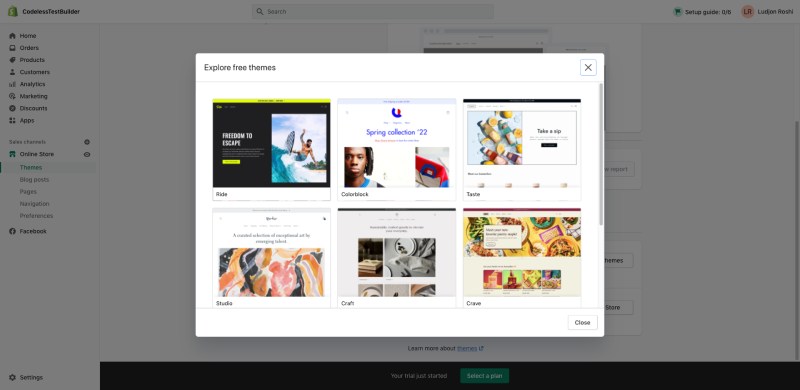 The design of free templates is great and I recommend you choose a free template in the beginning.
Shopify doesn't have a sophisticated drag and drop editor and offers limited customizations, but it is extremely easy to understand and use.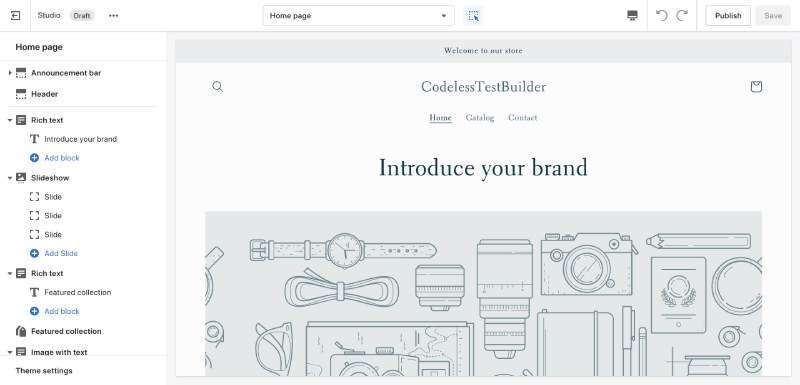 You can also add a blog to your online store, but it does not offer all the needed features to run a successful blog online.
Product Updates
Shopify team updates their products regularly. Recently they added:
A lot of mobile and dashboard improvements
Shopify inbox integration with Instagram
Shopify Flow now available for Advanced package
Customer segmentation
and more…check the latest updates.
Shopify Price plan
Shopify offers a 14-day free trial and in premium, it offers five varied plans.
---
WordPress (with Bluehost) is one of the most popular and traditional ways to build a website. It is absolutely the best for building scalable or large websites. That's because you get all the benefits of WordPress CMS and you can scale the website as you go.
I recommend WordPress for bloggers and business websites that can scale over time. WordPress is used by more than 43% of all Internet websites.
Building a website with Bluehost
Bluehost allows you to create a WordPress website with a one-click installer, but it is necessary to have some basic WordPress knowledge. On the other side, they have created a new WordPress drag & drop builder to help you create the website with zero coding knowledge.
The first step is choosing the domain name. Bluehost provides it for free when you register a new account. It is an affordable website building platform.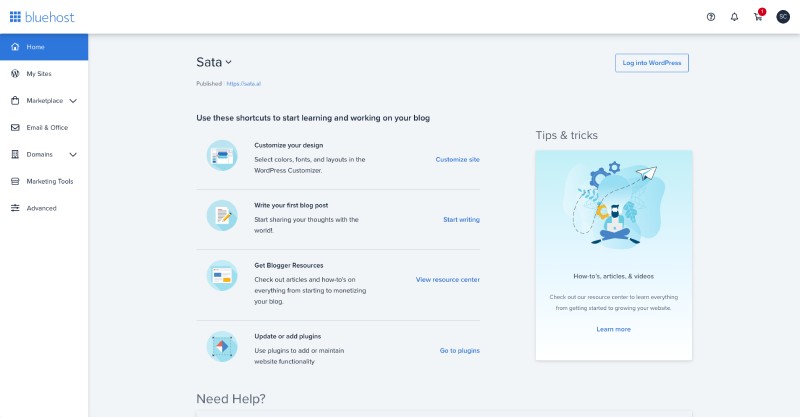 Bluehost dashboard is very easy to understand. They provide tips and tricks to help you get started as a total beginner.
WordPress is a world-famous control management system. There are thousands of bloggers who are waiting to write. The platform provides over a hundred templates for free with thousands of plugins along with an interface to indicate creativity.
It is SEO friendly and is easy to upgrade, edit and install. The themes can be previewed without being purchased or activated.
When you select to create the website from scratch, we suggest selecting a popular WordPress theme. Some work on design and coding is always required. You can choose to hire someone to help you with on-site customization or use the Bluehost builder.
Bluehost builder is a custom WordPress solution created from Bluehost to facilitate website creation for beginners. Check the video below:
WordPress Updates
WordPress is always an evolving CMS. Recently, they published the new Full site editing experience. Now you can edit every part of website, including menus, widgets, etc., using a drag & drop editor.
WordPress Price plan
You can choose to create a self-hosted WordPress website or go with a free subdomain host at WordPress.org. We highly recommend you choose a premium package from Bluehost.
More Information
---
Weebly is one of the most popular creators in the world. It owns more than 1 million active websites on the internet. It provides a great website builder solution whether they are new or advanced users.
It is the best choice for someone looking for a free website builder because its free plan is generous and includes low-cost premium packages.
Weebly provides everything necessary to start a website, including blogging and e-commerce features.
Building a website with Weebly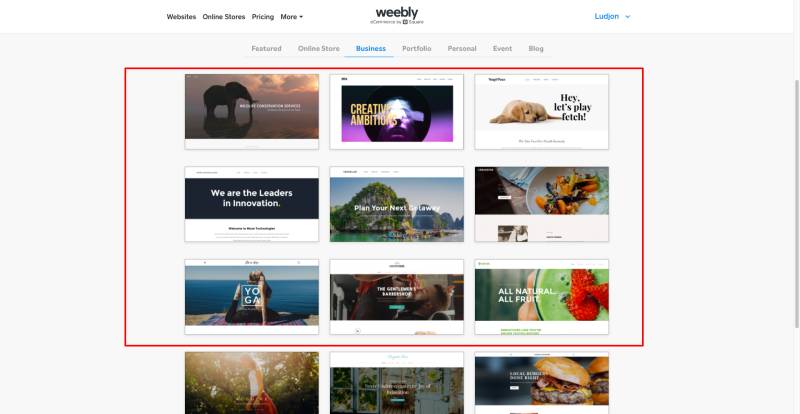 The platform has certain unique features which make it suitable for developers. Weebly offers dozens of free themes in categories such as Blogs, Events, Personal, Portfolio, and Business. It is the easiest tool as the elements are categorized as groups of commerce, media, structure, basic and more.
The quality of these templates isn't the best. They provide a simple and clean design but are old and don't have all the necessary elements.
One of Weebly's top features is performance. They give users generous unlimited storage and bandwidth.
You can build even an online store and the shop management panel is intuitive and simple.
Product Updates
Now Weebly is part of Square, you can take advantages of Square Online Checkout, add a simple Buy button into your website and accept payments easily. Also, Weebly integrated the Square photo studio, announcements banners and more.
Weebly Price plan
Weebly offers a free version for an unlimited period, yet the ads may or may not be there. The paid packages are different for businesses, pro and starter as small businesses, organizations and personal use, respectively.
More Information
---
Godaddy website builder is an all-in-one no-code solution for website creation. Godaddy is the largest domain registrar in the world. They also offer hosting+website builder.
It is one of the best platforms to publish a simple website online in record time. Their drag & drop builder can be accessed from mobile too.
Building a website with Godaddy
Zero-technical skills are required to build a website with Godaddy. After the sign up process, a wizard is shown. You have to choose the website category and a site name and automatically a website will be created.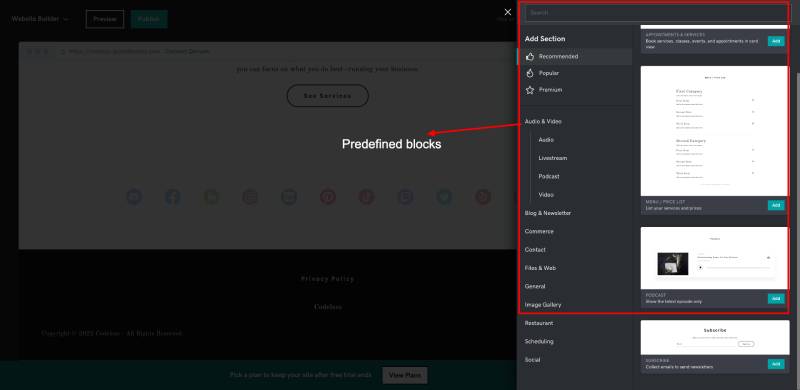 The editor is easy to use with section-based design. You can't drag & drop elements, but you can move them up and down with buttons.
You can switch templates completely or customize one of them with custom colors and typography. Overall the builder doesn't provide a lot of customization options. It's a good editor for simple websites but not the best when it comes to large websites.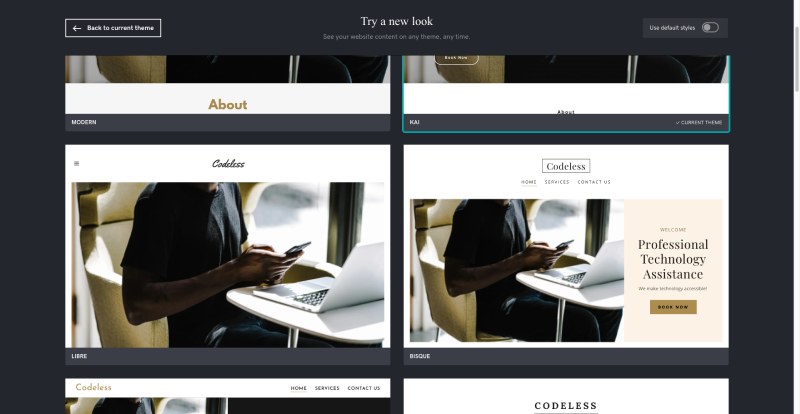 They provide a few simple templates with a clean design but limited in elements and very basic.
As an all-in-one solution they have included marketing and SEO tools too. Godaddy helps you increasing social media accounts, send email campaigns or just publish a blog article.
Product Updates
In the latest Godaddy website builder 6.0, in addition to building your website, you can manage social media accounts, business listings, and online appointments all from one central location (mobile too).
They are currently pushing on marketing updates to provide users a great full experience including host, domain, builder and marketing tools.
Godaddy Price plan
GoDaddy offers 30 days trial period with 4 pricing plans in premium:
---
Gator by Hostgator is a simple to use no-code website builder for personal and small business websites. Hostgator is a big name in the hosting and websites industry. They hosting services provides a big piece of internet websites.
The simplicity of Gator and the affordable price makes it a good choice when searching for a website builder. Hostgator does not provide a free trial plan so you need to buy it from the beginning although they offer a 45-day money-back guarantee if you decide they are not for you.
Building a website with Gator
The platform is fully-hosted and gives a free domain when you start. Once you sign up you have to choose between the traditional builder and the Express setup. Express is a new tool that takes you to the new AI site builder.
The wizard will ask you some questions about your site, site name and a cover image that you can choose from their stock image library or upload your own image. After that you can select colors, fonts and your site will be ready to go. Make sure to choose the answers carefully because you can end up with a mismatching website.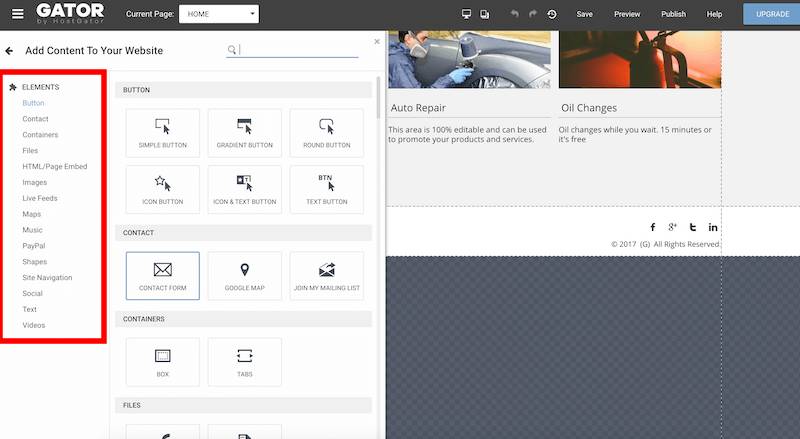 Traditional setup means you have to select a prebuilt template from their team and moving to a site editor making the additional modifications. They provide a lot of templates categorized by industry. The design is a bit old but simple and clean.
The editor is drag and drop so you can add, edit and move elements as you want.
Product Updates
No big updates and changes in the last months. They are working on fixing small glitches and issues.
Hostgator Price plan
---
Elementor Cloud Website is a one-stop website designing shop well suited for many users, including web designers, web developers, marketers, small business owners, and even huge enterprises.
The cloud website provides editing, designing, CMS, support, and hosting tools on a single platform at a very affordable rate.
Building a website with Elementor
First, the elementary drag and drop editor constitutes around 90 widgets and 300+ ready-to-import templates that facilitate flexible designing, personalized placement, and a modern combination of colors and fonts to create a perfect eye-pleasing theme blueprint. It's like Webflow but for WordPress.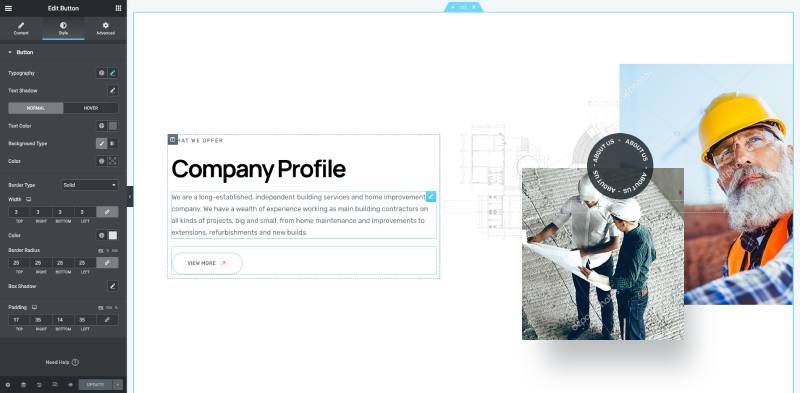 One can also incorporate custom typography options, layouts, CSS, motions and interactions, GIFs, animated clips, etc., to achieve the premium design of the site.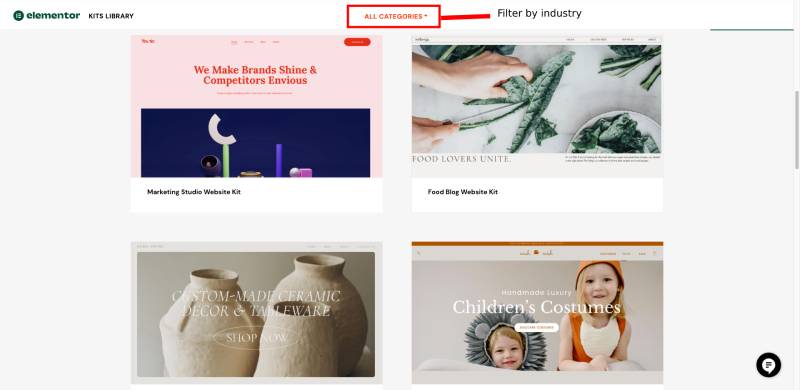 Besides, CMS tools comprise lightweight Hello theme, personalized theme builder, third-party integrations through shortcodes, and dynamic elements, making the interface of Elementor intuitive, SEO friendly, and extensively functional. If you want to change Elementor builder plugin with any other competitor builder, you can't do that.
The robust hosting features like personalized domain connectivity, backup restoration guarantee, powerful configuration, SSL certificates, and cloud flare CDN are combined to guarantee high safety parameters but it has limitation on traffic volumes.
Last but not least, the 24/7 live chat support is available to solve your technical queries in a few minutes. The prior action is further facilitated by direct consultation with agents and the help center.
Overall, the Elementor Cloud Website has everything one would need to build a looking good and functional website
Product Updates
Elementor team frequently launch new product updates with amazing features.
In the last update:
CSS Flexbox – Now you can use the power of CSS Flexbox into Elementor and create complex layouts.
Collaboration Tools – they are working on collaboration and notes tools to make it easy for large groups to work in Elementor.
Page loading transitions – add your brand logo while page is loading
Check a full site of Elementor updates.
Elementor Cloud Pricing
The Elementor Cloud Website pricing is straightforward with no hidden charges; it costs around $99 per year for the overall management of a single website. Amongst the wide variety of supported attributes at the platform, effective hosting services, intuitive editing tools, CMS tools, etc., are a few. Additionally, the plan has a 30-day money-back guarantee on it.
More Information
Interested to learn more about Elementor Cloud? Check out our more in-depth Elementor Cloud review.
---
Duda is a design focused builder of personal website which is highly suitable for individuals who want an attractive and polished website. However, the templates are highly professional.
You can quickly build your website with personalization and creating widgets. It is one of the best website builders for design agencies.
Building a website with Duda
Duda is the perfect choice if you are a freelancer or agency and you are building a large number of websites continuously. The website building process starts with a wizard and some simple questions about your profession and websites you want to create.
Then the wizard asks you for the type of website you want to create: Portfolio, Landing Page, Business, Online Store etc. In base of your selection, a list of templates will show.
The whole process is very easy and intuitive. Once you are at the website builder screen, you can check how easy it is to use Duda.
You can drag and drop elements, edit content/style, add new block-based sections with a few clicks.
Plans are a bit expensive but I think it is a good choice if you want to create various websites.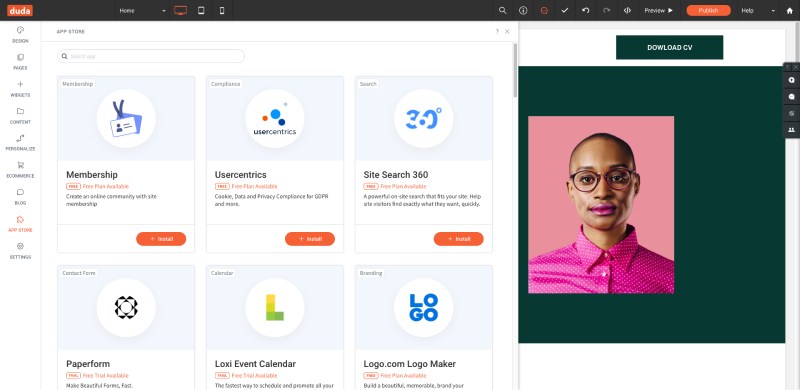 Duda has an App store where you can find extensions to add extra functionality to your website. This is a bit limited when I compare to other website builders.
Product Updates
Amy Chatbot – new app in the App Store
Dynamic Dropdown and Data tables
New Template for School
and more…
Duda Pricing
Duda does not offer any free plan but there is a 14 day trial. However, there are three plans:
---
6 Other Good Website Builders
Are you not ready yet to make your choice? We have added and reviewed more no-code website builder solutions that are also popular this year.
#1. Unstack
Unstack is a marketing platform for everyone's digital presence. It is one of the best and the world's fastest website builders that enables entrepreneurs and marketers to build landing pages without even writing a single line of code.
It is a platform that offers website hosting for building different websites, comprehensive SEO tools, and dynamic landing pages. The platform also provides integrations to help you grow your business.
#2. Brizy Cloud
Brizy Cloud is a new website builder that is great for creating landing pages and simple blogs.
What makes it special are the great collections of template blocks that make so easy the create of the websites within a few clicks even for inexperienced users.
Also with Brizy, you can integrate with easy all the popular marketing apps like MailChimp, SendinBlue, Zapier etc..
The last but not least, Brizy is a great Popup builder with 50+ ready templates.
#3. Umso
Umso is a new website builder for startups where you can generate templates based on simple questions. I will call it a smart page builder where the layout was organized based on the content and you can adjust it through a drag and drop slider.
The platform offers a huge selection of illustrations, images and videos that help customers to build their websites faster than before. Umso gives you the possibility to publish your website for free with their subdomain so you can try it before purchasing the services.
The best features that I see are Email Capture built-in with the platform, Zapier Integration, Stripe Integration. Also, they are hosted with AWS and the static asset are served through CDN. This makes your website extremely fast.
#4. Designmodo
Designmodo is a great resource for startups to create websites and emails newsletters within a few clicks. I love their intuitive builder that let you finish your websites in a blink of an eye.
There are 3 main apps: Email template builder, website builder and drag and drop bootstrap templates builder.
#5. TeleportHQ
TeleportHQ is a completely free drag & drop website builder that supports real-time collaboration. The platform is aimed at both experienced developers and is also easy to use for just content creators.
Their drag & drop editor can export code in React, Vue, NextJS, Angular and many others. Users can generate responsive CSS layouts automatically and export clean HTML. Compared to other solutions, there is no vendor lock-in, so users have full freedom in their deployment options.
#6. Tribe
Tribe is a standalone free e-commerce website software. It is another alternative open-source e-commerce platform to build online stores at ZERO cost.
The platform enables you to create an e-commerce website with the right set of features. The software comes with a drag & drop front-end CMS builder that allows you to design your e-commerce shop effortlessly.
Tribe is developed by an agile and highly experienced software developers team who built Yo!Kart marketplace software.
---
What is a Website Builder?
A website builder is an online software that helps to construct a website without any manual coding and editing. You can say it is a tool or a program to help you make your own website when you don't have to learn to code.
Today either a business owner or a blogger can build their websites without hiring a web developer to design them professionally for you.
It is no doubt easy to create a website with a website builder, but that does not mean you will magically know it. It is important to learn the ways to run a professional website.
There are many different types of website builders, but before choosing the best one, we emphasis you should know how these website builders work. First, you need to choose your desired business website builder and the best one should offer you ease of use, lots of free themes, mobile compatibility, customer support, email marketing services and affordability.
Then, you need to choose your template. The template should suit you in terms of it easy customization according to your business needs. Check for the template's responsiveness, basic structure, industry, and appearance. Next, choose the color scheme and update the template color that matches your website scheme.
After that, choose what pages you want to add and then start uploading images with texts into the pages. Here, you need to prioritize your target audience. Finally, add other features such as social links, buttons, header, footer, and contact forms on the website.
Best Website Builders by Category
Are you looking for more specific website builders? Check the list below:
Builder Category
Price
Features
Location
Reviews
Comparisons
FAQs