Do you want to create a website? We have created a list of the best website builder for small business with pros, cons, and price comparison. There are more than 11 online small business website builders that can help you to create a website without the help of a web designer.
We have selected no code website builders that can help you to build a website without needing coding skills.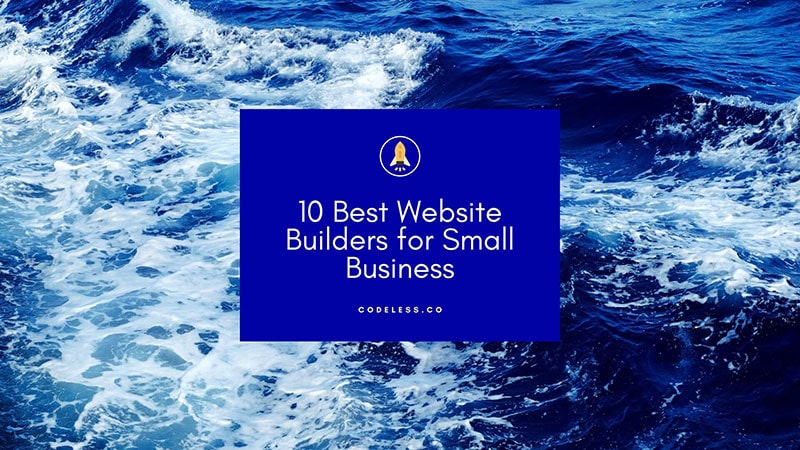 What is a small business website builder?
A small business website builder is mean to construct a website without any manual coding and editing. You can say it is a tool or a program to help you make your own website when you don't have to learn to code.
Today either a small business owner or a blogger can build their websites without hiring a web developer t design it professionally for you.
It is no doubt easy to create a website with a website builder, but that does not mean you will magically know it. It is important to learn the ways to run a professional website.
There are many different types of website builders, but before choosing the best one, we emphasis you should know how these website builders work. First, you need to choose your desired business website builder and the best one should offer you the ease of use, lots of free themes, mobile compatibility, customer support, and affordability.
Then, you need to choose your template. The template should suit you in terms of it easy customization according to your business needs. Check for the template's responsiveness, basic structure, industry, and appearance. Next, choose the color scheme and update the template color that matches your website scheme.
After that, choose what pages you want to add and then start uploading images with texts into the pages. Here, you need to prioritize your target audience. Finally, add other features such as social links, buttons, header, footer, and contact forms on the website.
Best Website Builder for Small Business
For your ease to select your desired website builder, have compared 11 Best small business website builders.
| | | | |
| --- | --- | --- | --- |
| Main Features | Platform | Free trial | Price $/mo. |
| Best Website Builder | Wix | Unlimited | $13 |
| Easy to Use | Weebly | Unlimited | $6 |
| Artificial Intelligence Tool | Zyro | 500 MB | $1.99 |
| Best For Designers No-Code | Webflow | Unlimited | $19 |
| Best eCommerce | Shopify | 14 days | $29 |
| Best Pre-packaged Design | Squarespace | 14 days | $12 |
| Most Customizable | Duda | 30 days | $14 |
| Best No-frills Option | Godaddy | 30 days | $6 |
| Best for Bloggers | WordPress.com | Unlimited | $3 |
| Best Web Hosting Company | Hostgator | No | $9.22 |
| eCommerce Builder | Tribe | Unlimited | $0 |
| Best for startups | Designmodo | Unlimited | $0 |
| Best for teamwork | Siter.io | No | $15 |
| Best for Photographers | Pixpa | No | $7 |
| Best for Landing Pages | Brizy Cloud | Unlimited | $4 |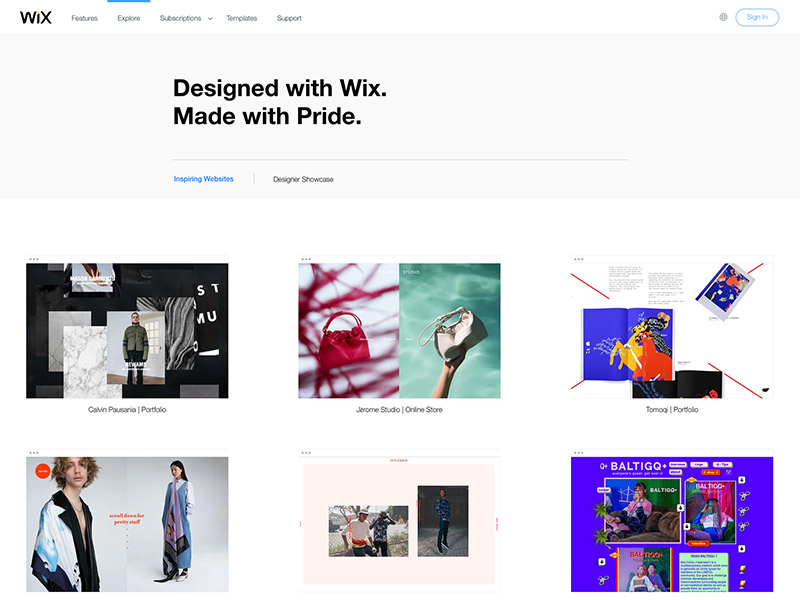 Wix is the best small business website builder according to our research on the internet market. It is because it offers cheap options, makes it the cheapest website builder. Wix gives the option of using both the drag and drop tool as well as design assistance.
There is a parallax scrolling feature with a front plane and site background. A slider allows displaying images in different galleries. The Wix Pro Gallery further improves the images' appearance. There is a mobile version as well. It is an ideal website builder for small business owners, bloggers and people who have no experience in designing.
Pros of Wix
Includes webhosting
The app market has various apps
More than 500 beautiful templates
It's easy and intuitive for all the beginner designers.
Cons of Wix
Few options of ecommerce as compared to the competitors
Change of template would need to redesign the entire website.
Wix Price plan
Wix offers unlimited free version but the free version included ads which you can only exclude on premium. Here is the price plan for premium:
| | | | | |
| --- | --- | --- | --- | --- |
| VIP Package | Business VIP | Unlimited Business | Basic Business | Unlimited |
| $24.5/mo | $35/mo | $25/mo | $17/mo | $12.50/mo |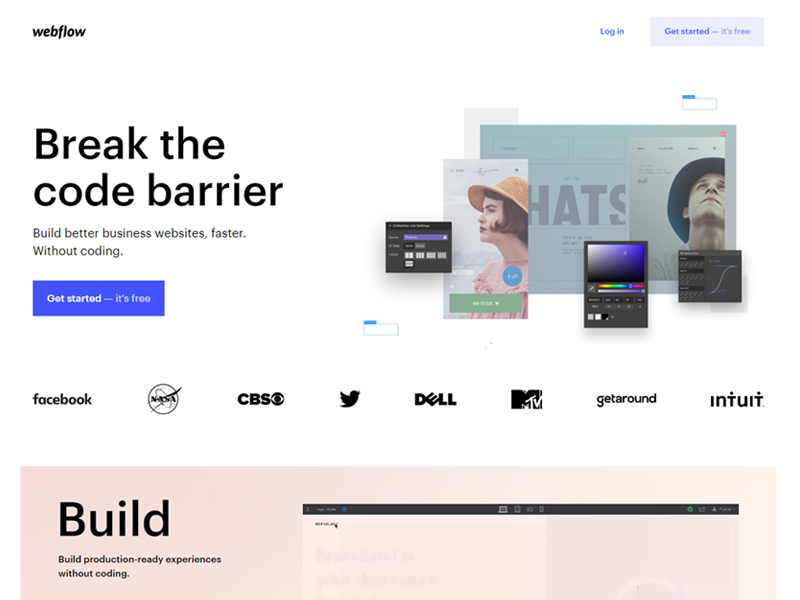 Webflow is a responsive website builder which is very attractive. It is somewhat between the modern and traditional with a power and level of customization being with the host. This is the reason why mostly web designers use it.
Pros of Webflow
thousands of beautiful templates that are suitable for dynamic content and e-commerce that makes it one of the top and codeless website builders
Much room for design customisation without codes.
Cons of Webflow
No customer support through phone or chat
Price plans are expensive with the price range between $12 to $122/month
Webflow Price plan
It offers six plans, three for each of website and ecommerce plans.
| | | | |
| --- | --- | --- | --- |
| | Basic | CMS | Business |
| Website plans | $12 | $16 | $36 |
| | Standard | Plus | Advanced |
| Ecommerce plans | $29 | $74 | $212 |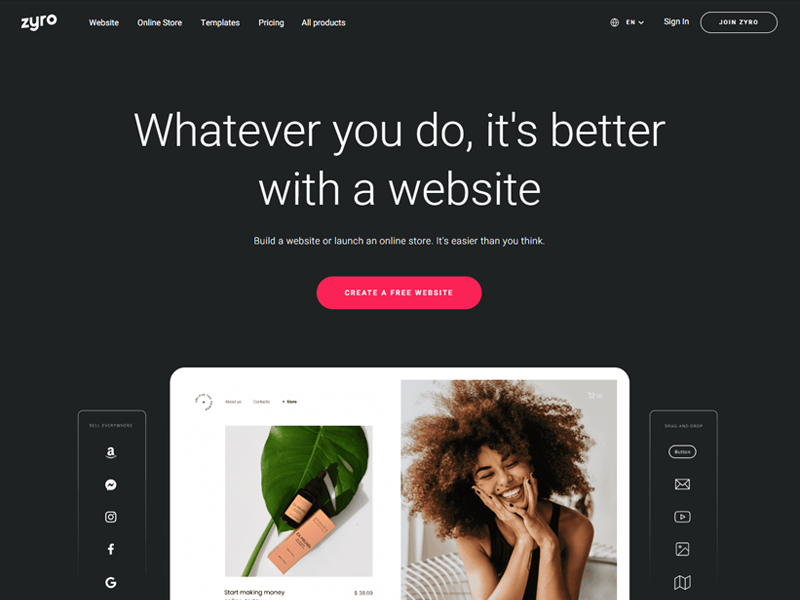 Zyro is a new website builder hosted by Hostinger. It aims at beginners with minimalist builder that teachers you the ways it can be used. Builder provides artificial intelligence tools. It offers a generous, solid featured and cheap pricing free plan.
This simple website builder is available is several language. It offers dozens of templates including fashion, hospitality, design and art. Colours are changeable and there are ways to modify fonts as well.
Pros of Zyro
Automatic cloud-flare origin
Responsive
Extremely simple with tons of free images
Handy integration
Cons of Zyro
Limited customizability
Less support thus limited knowledge and slow or no customer support
Zyro Price plan
| | | |
| --- | --- | --- |
| Free (500 MB) | Basic (10GB) | Unleashed (unlimited) |
| $0/month | $ 1.99/month | $3.49/month |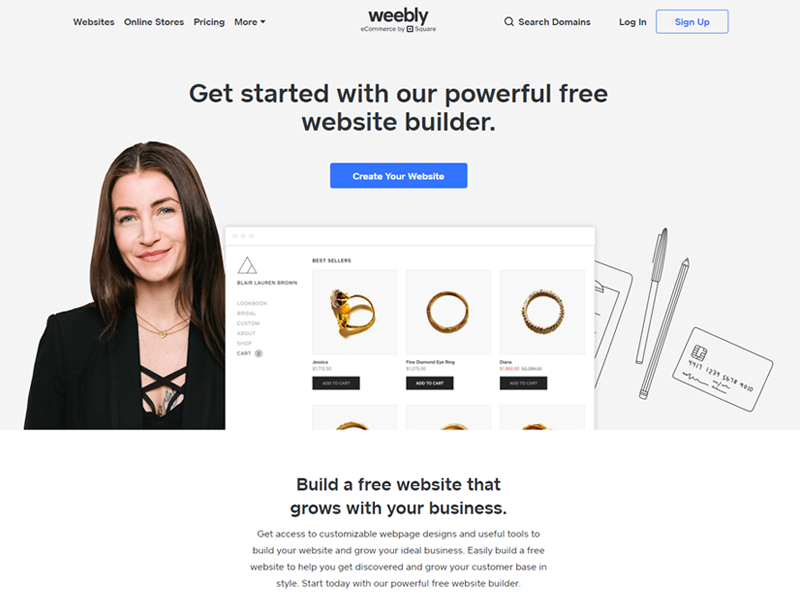 Weebly is one of the most popular creator in the world. It owns more than 25 million websites throughout the internet. It provides a great tool for small businesses and individuals either they are new or advanced users.
The platform has certain unique features which makes it suitable for developers. Weebly offers dozens of free themes in different categories such as Blogs, Event, Personal, Portfolio, and Business. It is the easiest tool of its kind as the elements are categorized as groups of commerce, media, structure, basic and more.
Pros of Weebly
Impressive functions for ecommerce
Solid set of functions, free options and easy to use style
Editing on mobile device is also easy
Integration of third-part services is easy for beginners.
Cons of Weebly
The editing of images is pale as compared to other site builders
No undoing is possible for changes done on the website.
No-built in option of undo changes would need to rebuild of a website.
Weebly Price plan
Weebly offers free version for unlimited period yet the ads may or may not be there. The paid packages are different for businesses, pro and starter as small businesses, organisations and personal use, respectively.
| | | | |
| --- | --- | --- | --- |
| Package | Description | Semester plan | Annual plan |
| Business | Small business | $28.17 | $24.92 |
| Pro | Organisations | $9.83 | $8.25 |
| Starter | Personal use | $4.83 | $4.08 |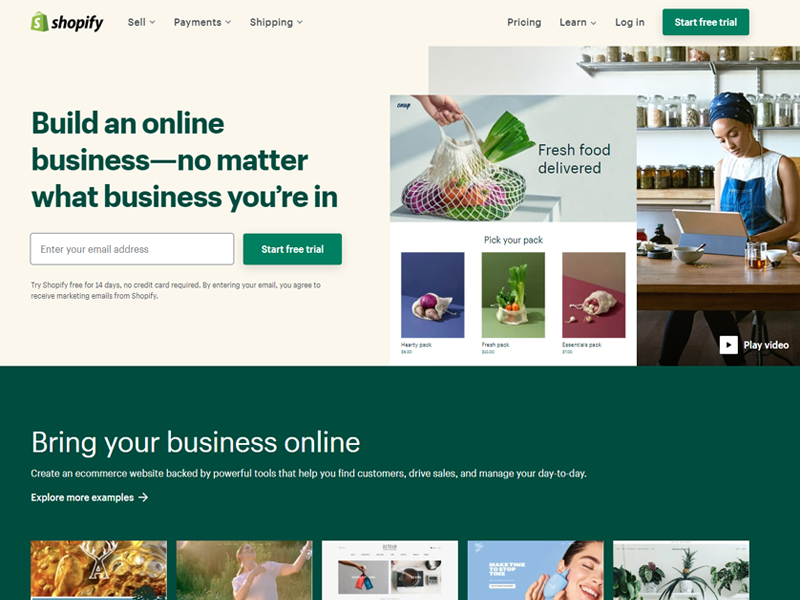 Shopify provides you hundreds of themes to customise the new branding for your small business of either digital or physical products. The main purpose of this platform is to provide you a copy of the product on cost of some fee to use it. The individual requirements can also be fulfilled for a website by adding different apps with custom code. Shopify offers a cheap way of ecommerce with its low cost to construct a fully working online store. For sure, it's one of the best website builder for e-commerce websites.
Pros of Shopify
It is compatible to both Android and iOs
Option of built-in blog available
Different languages for single version are available
Fully responsive and attractive templates
Cons of Shopify
Installation of app is required for key functionality
Custom fields are unnecessarily difficult and needs a purchase,
Transaction fee is a must
Shopify Price plan
Shopify offers a 14 days free trial and in premium it offers five varied plans.
| | |
| --- | --- |
| Shopify plus | Negotiable fee |
| Advanced Shopify | $ 299 |
| Shopify | $79 |
| Basic Shopify | $19 |
| Shopify Lite | $9 |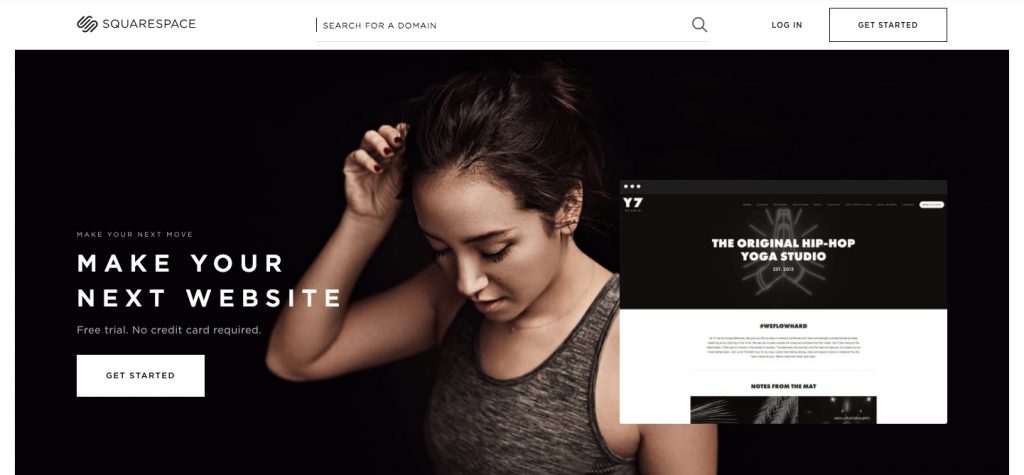 It's a comprehensive platform that allows users to build websites according to their will and customize it with the best analytics and marketing tools. This website builder offers websites such as online portfolios, business websites, eCommerce shop, and a simple blog.
Squarespace is easy to use with a simple click and point function to customize all the features. It is a mobile integrated website builder, impeccably integrated with social media and SEO friendly.
Pros of Squarespace
Social media integration
Mobile optimisation
Ecommerce compatible
Custom fonts and templates
Cons of Squarespace
High pricing with ecommerce
Customer service available in weekdays only.
Squarespace Price plan
Squarespace offers a 14 days free trial period and you can own it in the following rates. It offers 4 plans for monthly and annual payment:
| | | | | |
| --- | --- | --- | --- | --- |
| | Personal | Business | Basic commerce | Advanced commerce |
| Annual pay | $ 12 | $ 18 | $ 26 | $ 40 |
| Monthly pay | $ 16 | $26 | $30 | $ 46 |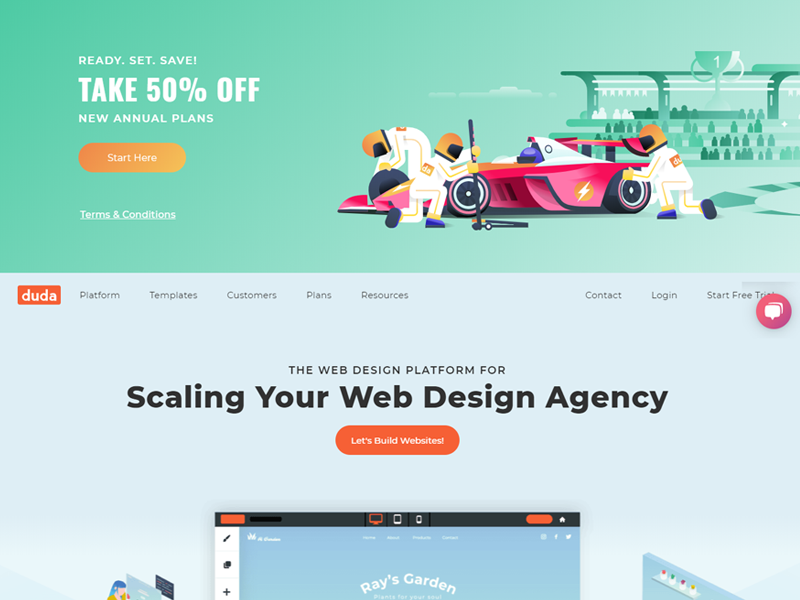 Duda is a design focused builder of personal website which is highly suitable for the individuals who want an attractive and polished website. However, the templates are highly professional. You can quickly build your website with personalisation and creating widgets. It is one of the best website builders for designing agencies.
The templates can be edited by adding images, changing texts and creating new pages. Dudu hosts the site and you only customise and then publish it online. It is a great choice for you if you are a freelancer as it can quickly design stylish websites.
Pros of Duda
It is highly simple and gives design guidelines.
Gives a creative control to the user while being within the template limits.
A wide range of widgets and apps are available to make the customisation easy.
Cons of Duda
no free trial and expensive payment plans
no powerful features despite there are hundreds of features.
Duda Price plan
Duda does not offer any free plan but there is a 14 day trial. However, there are three plans:
| | | |
| --- | --- | --- |
| Basic | Team | Agency |
| $14 | $14 | $ 74 |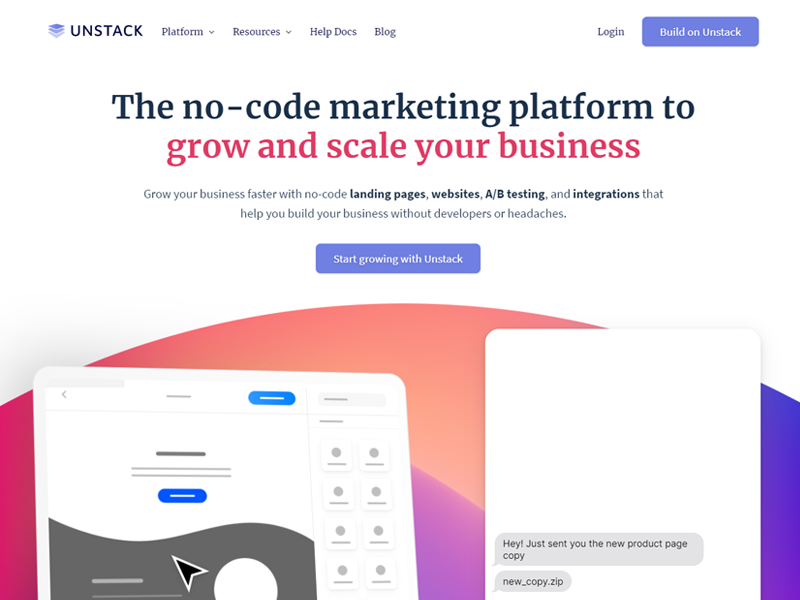 Unstack is the no-code marketing platform for everyone's digital presence. It is one of the best and the world's fastest website builders that enables entrepreneurs and marketers to build landing pages without even writing a single line of code.
It is a platform that offers no-code website hosting for building different websites, comprehensive SEO tools, and dynamic landing pages. The platform also provides integrations to help you grow your business.
It is perfect for startup founders, sales, content creators, digital marketers, marketing agencies, and businesses who want to boost their SEO performance through tools that are easy to use. Unstack provides a platform for people to create their ideas without hesitating about codes.
Pros
Offers no-code website
Advanced analytics
Cons
Quite expensive for some projects
Limited modification
Unstack Pricing plan
| | | | |
| --- | --- | --- | --- |
| Free | Lite | Full | Full+ |
| $0/mo | $29/mo | $49/mo | $99/mo |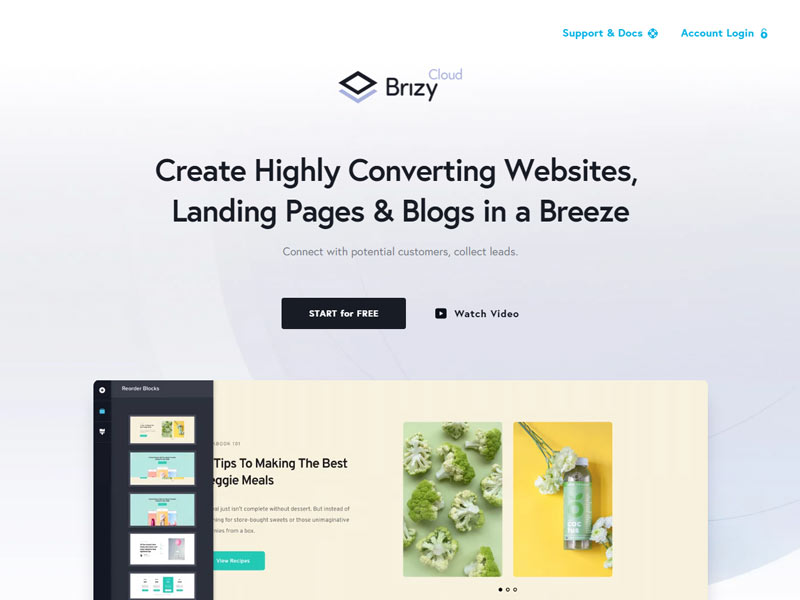 Brizy Cloud is a new website builder that is great for creating landing pages and simple blogs.
What makes it special are the great collections of template blocks that make so easy the creating of the websites within a few clicks even for inexperienced users.
Also with Brizy, you can integrate with easy all the popular marketing apps like MailChimp, SendinBlue, Zapier etc..
The last but not least, Brizy is a great Popup builder with 50+ ready templates.
Pros
No Code Required
Possibility to export your website in HTML Format
Unlimited Websites can be created
Cloud Popup builder
Cons
Beta Version
Limited Customizability
| | | |
| --- | --- | --- |
| Free Package | Personal | Studio |
| $0 | $49/year | $99/year |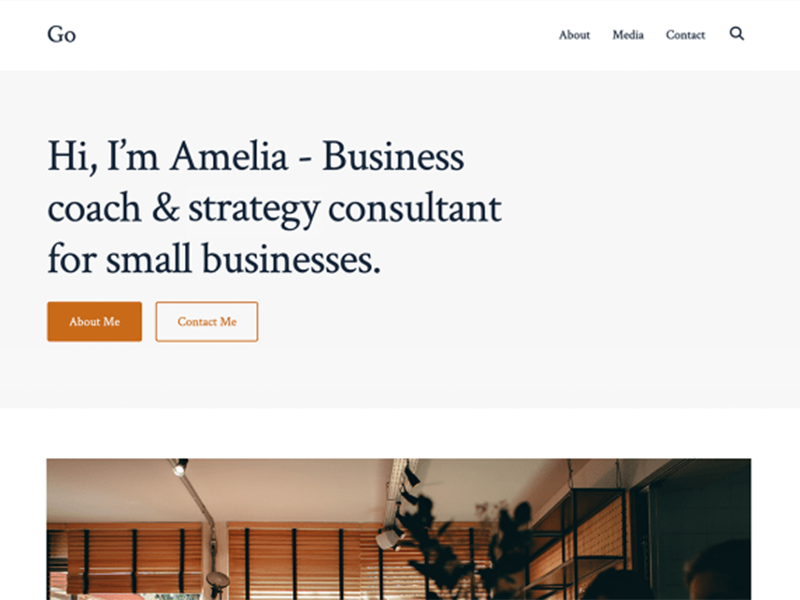 Godaddy offers several products such as online marketing, web security, hosting, WordPress, websites, partner programs, phone number and partner's number. It is actually the largest registered domain.
Also offers shared hosting plans and is suitable for medium and small projects. Out of other website builders, Godaddy provides an optimized WordPress hosting service.
Pros of Godaddy
Windows-based hosting
Solid performance for speed as well as for uptime.
Easy to use as the interface is intuitive.
Cons of Godaddy
There is no cheap deal rather addition of add-ons has increased its price.
Unless the add-ons are purchased, the backup system is not secured.
No option of advanced feature such as repositories that are handy for developers.
Godaddy Price plan
GoDaddy offers 30 days trial period with 4 pricing plans in premium:
| | | | | |
| --- | --- | --- | --- | --- |
| | Maximum | Ultimate | Deluxe | Economy |
| First time | $22.99 | $14.99 | $9.99 | $6.99 |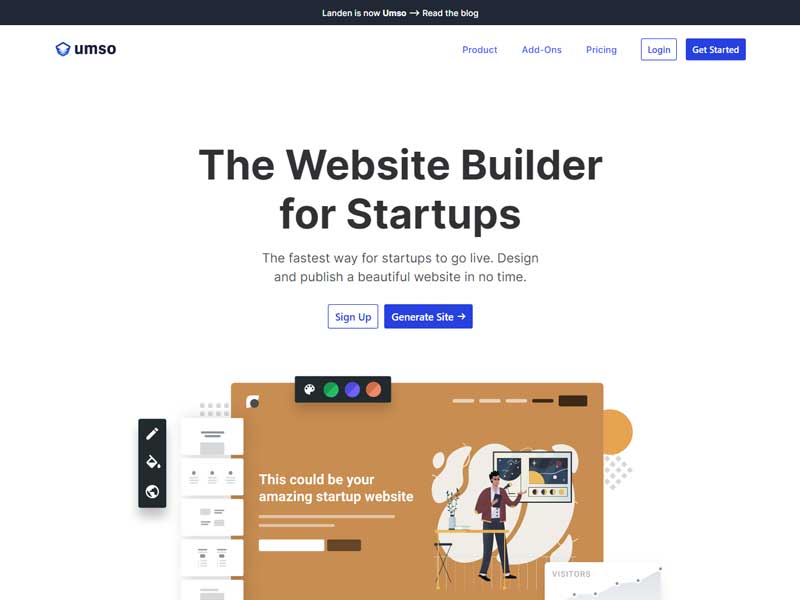 This is a new website builder for startups where you can generate templates based on simple questions. I will call it a smart page builder where layout was organized based on the content and you can adjusts it through a drag and drop slider.
The platform offer huge selection of illustrations, images and videos that help customers to build their websites faster than before. Umso gives you the possibility to publish your website for free with their subdomain so you can try it before purchase the services.
The best features that I see are Email Capture built-in with the platform, Zapier Integration, Stripe Integration. Also they are hosted with AWS and the static asset are served through CDN. This makes your website extremely fast.
| | | | |
| --- | --- | --- | --- |
| Free | Startup | Growth | Business |
| $0 / month | $29 / month | $49 / month | $99 / month |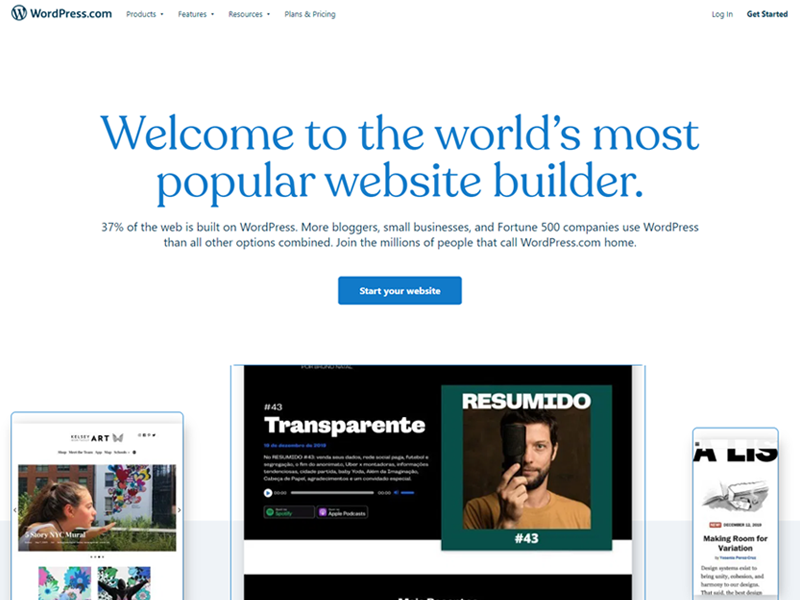 It's the world famous control management system. There are thousands of bloggers who are waiting to write. The platform provides over a hundred templates for free with thousands of plugins along with an interface to indicate the creativity.
It is SEO friendly and is easy to upgrade, edit and install. The themes can be previewed without being purchased or activated. The account does not provide you to master the operating and editing of the posting before presentations. It also does not provide you hosting on free. A hosting company will be contacted if you want to purchase a domain name for you.
Pros
of WordPress.com
Easy installation and usage
Several security plugins
Tons of plugins, more than 2000 themes
Affordable.
Cons of WordPress.com
No drag and drop tool
Some work on design and editing is always needed.
Limited scalability
WordPress.com Price plan
It is free for unlimited time period. A pricing plan is issued for premium customers
| | |
| --- | --- |
| Business | $24.92 |
| Premium | $8 |
| Personal | $4 |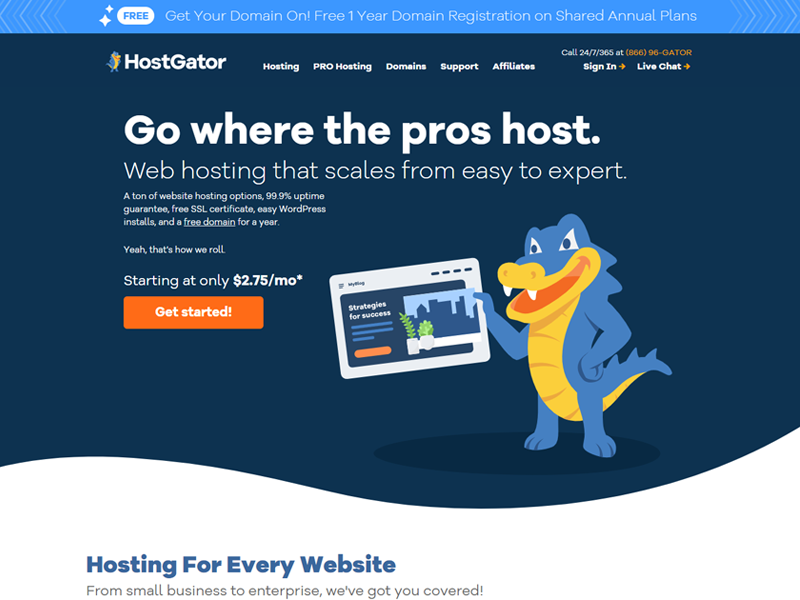 HostGator is a website building company where you can choose from hundreds of templates and the elements for your website. It will provide advance access Ecommerce. Hosting with cloud hosting is provided as compared to other platforms which is dedicated, VPS, and windows web hosting. There is a wide range of hosting options. It offers a customizable pre-built website.
HostGator is compatible with hundred and drag and drop? All these themes are mobile friendly. The system is mobile and SEO friendly.
Pros of Hostgator
Hundreds of templates
Several options of hosting
Cons of Hostgator
There are several awkward templates
The pricing structure is confusing.
Hostgator Price plan
| | | |
| --- | --- | --- |
| Hatching | Baby | Business |
| 1 domain | Unlimited domains | Unlimited domains. With positive SSL and free dedicated IP |
| $2.75 | $3.95 | $5.95 |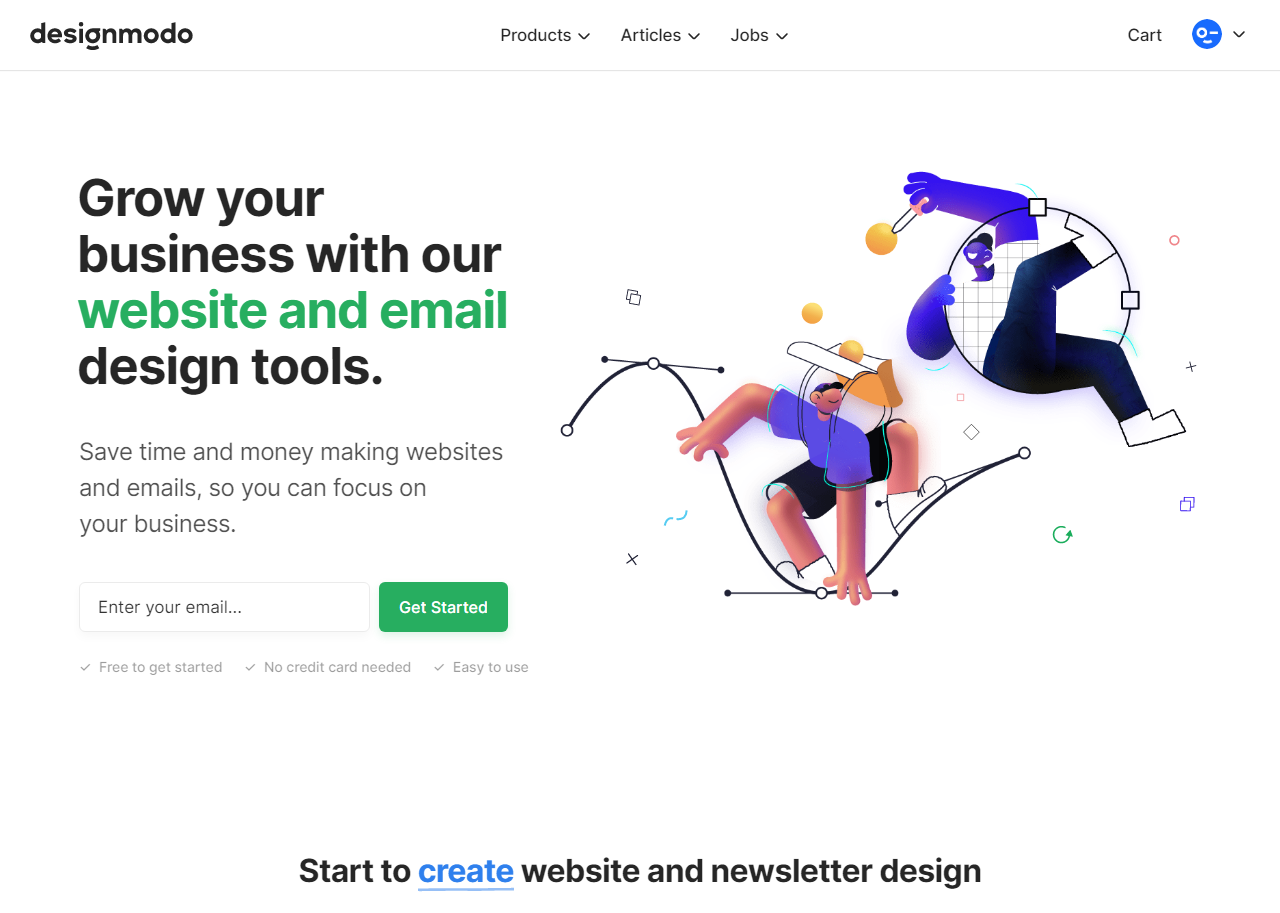 Designmodo is a great resource for startups to create websites and emails newsletters within few clicks. I love their intuitive builder that let you finish your websites in a blink of an eye.
There are 3 main apps : Email template builder, website builder and drag and drop bootstrap templates builder.
Pros
Great user experience
Make your websites look cool
Fast websites
Cons
Customization and Flexibility
Static Websites
| | | | |
| --- | --- | --- | --- |
| Product | Free | Business | Agency |
| Postcards | 0/month | $18/month | $29/month |
| Slides | $0/month | $21/month | $29/month |
| Startup | $0/month | $21/month | $29/month |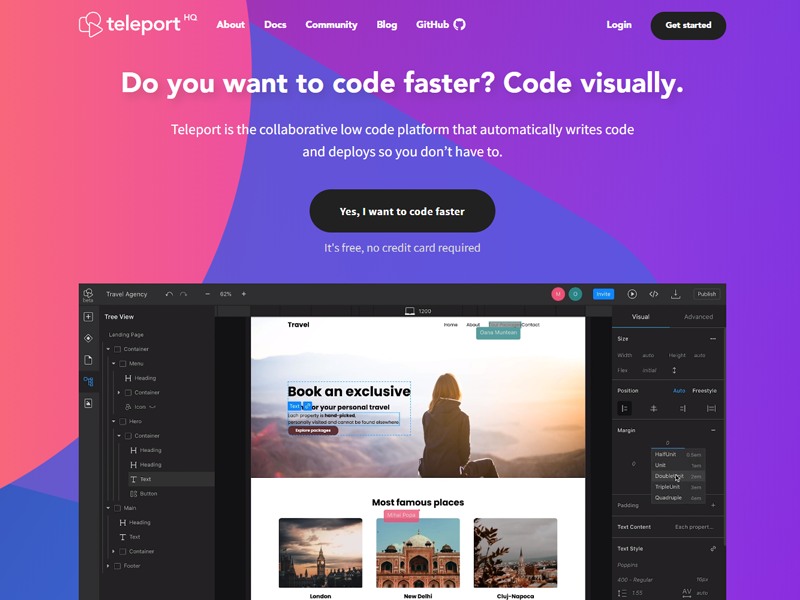 TeleportHQ is a completely free drag & drop low code website builder that supports real time collaboration. The platform is aimed at both experienced developers and is also easy to use for just content creators.
Their drag & drop editor can export code in React, Vue, NextJS, Angular and many others. Users can generate responsive CSS layouts automatically and export clean HTML. Compared to other solutions, there is no vendor lock-in, so users have full freedom in their deployment options.
Pros:
Completely free
Includes professional themes
Generates code for the popular Javascript frameworks
Supports reusable components
Figma import is coming soon
Cons
No support for custom code yet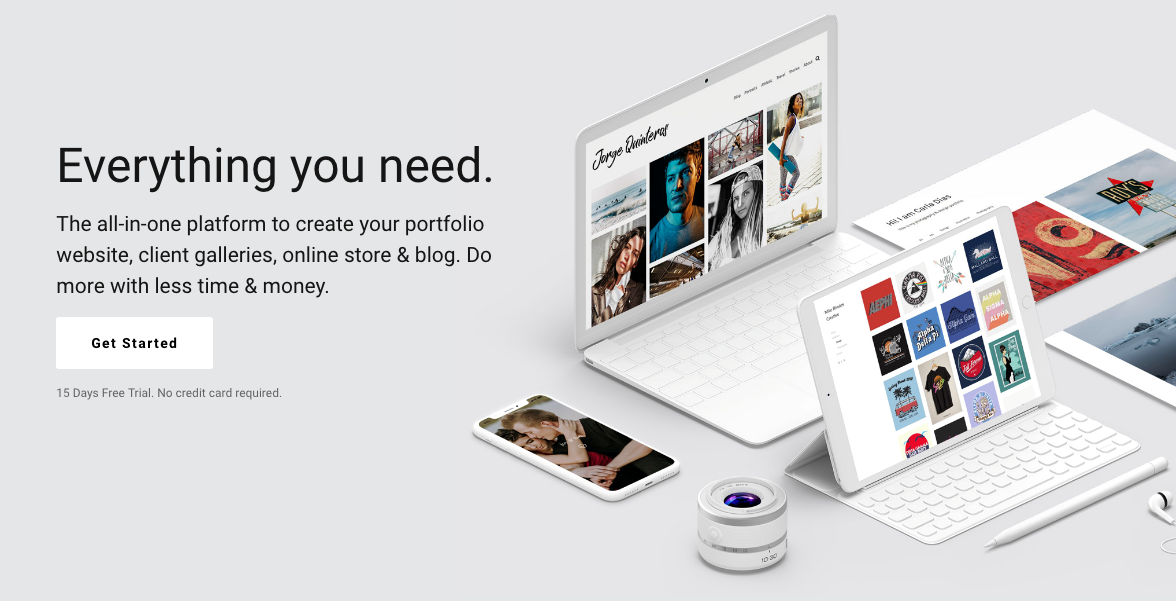 Pixpa is the only platform out there that offers a complete blend of features for photographers and creatives. With Pixpa, you get yourself a portfolio website with integrated eCommerce galleries, client galleries and a blog. The process of selling your images as prints and downloads is seamless and part of your website.
Compared to Wix or Squarespace, Pixpa has a much more exhaustive list of features for photographers:
– Many more layouts for galleries
– IPTC import on image uploads
– Watermarking of images
– Ecommerce galleries to sell images as prints and downloads
– Fully-featured Client Galleries platform to share, proof, sell and deliver images to clients. The flexibility and features of the Client Galleries platform kales it an ideal tool in a photographer's arsenal.
– Mobile Gallery Apps for a quick, stand-alone showcase of your work or for clients after/before a project.
– Website plans are less than half the price of Squarespace.
Beyond these big ones, there are scores of features that you would discover when you use Pixpa more intensively.
Pixpa's focus, attention to detail, and workflows that they have focussed on photographers and creators differentiate Pixpa from not just Squarespace, but from any platform out there.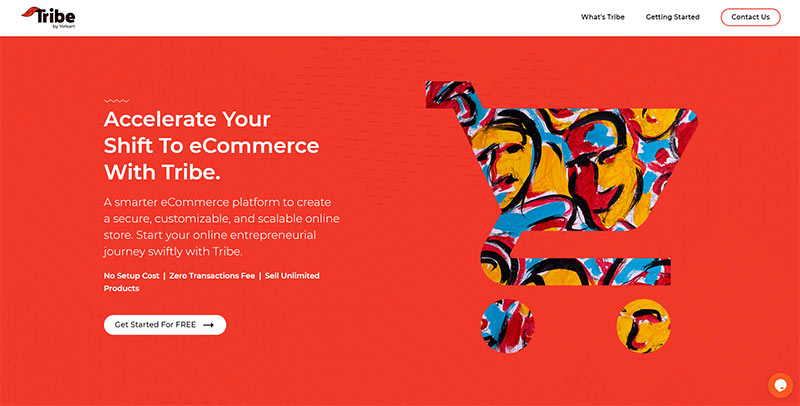 Tribe is a standalone free e-commerce website software. It is another alternative open-source e-commerce platform to build online stores at ZERO cost.
The platform enables you to create an e-commerce website with the right set of features. The software comes with a drag & drop front-end CMS builder that allows you to design your e-commerce shop effortlessly.
Tribe is developed by an agile and highly experienced software developers team who built Yo!Kart marketplace software.
Pros of Tribe
No Setup cost
Zero Transaction Fee & recurring charges
Compelling user-interface
Packed with standard e-commerce features
Sell Unlimited Products
Cons of Tribe
Mobile apps are missing
Themes are limited
Tribe Price Plan
| | |
| --- | --- |
| Services | Price |
| Support Service | $12/hr |
| Design Services | $15 USD for non-exclusive rights and $20 USD for Exclusive rights. |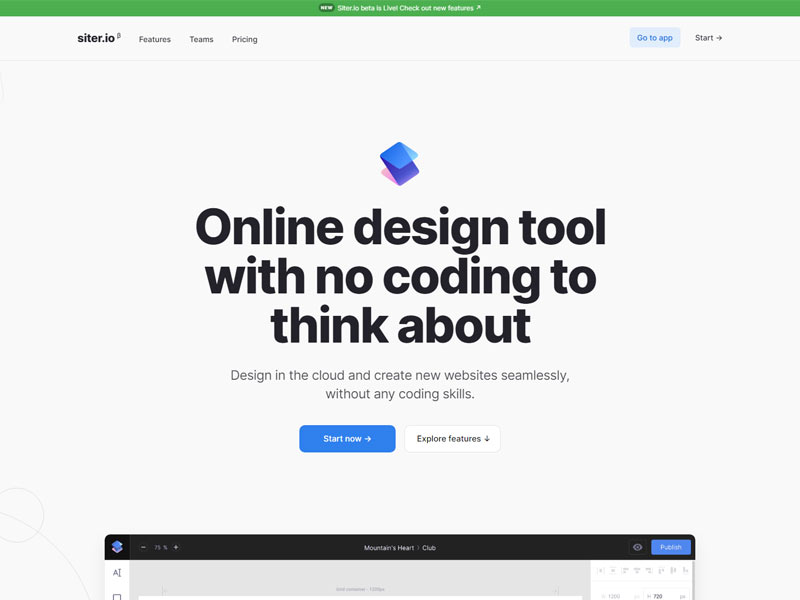 This is an amazing website builder especially if you are going to work with your team members to create a website. It is coding free and very intuitive.
Another interesting feature is the fact you can import directly from Sketch or Figma your projects.
Features:
Hosting Included
Domain Included
Unlimited team members
Unlimited Pages and Projects