Let's explore together the best cheap email hosting services for your business or personal email addresses. When it comes to hosting your own email business, there are many things to be considered to make it the best in every possible manner.
Here is the list of the cheapest email hosting services:
Looking for more info on email hosting? Check below:
Email is the most important, and it is the most essential because if you are running a small store, a large business, or any other online store.
Consequently, email always serves as a core part, and it opens the way of communication between buyers and suppliers.
Many of us don't know how to choose email hosting. Different providers have a lot to offer us in their multiple packages. Offering unlimited email storage, Anti-spam protection services, and on-the-top auto responder services.
Table Comparison: Email Hosting Services
If you are looking for some best yet cheap email hosting services for your business, here is a complete guide.
The Top 11 Best Cheap Email Hosting Services
Inexpensive Email Hosting Services Provider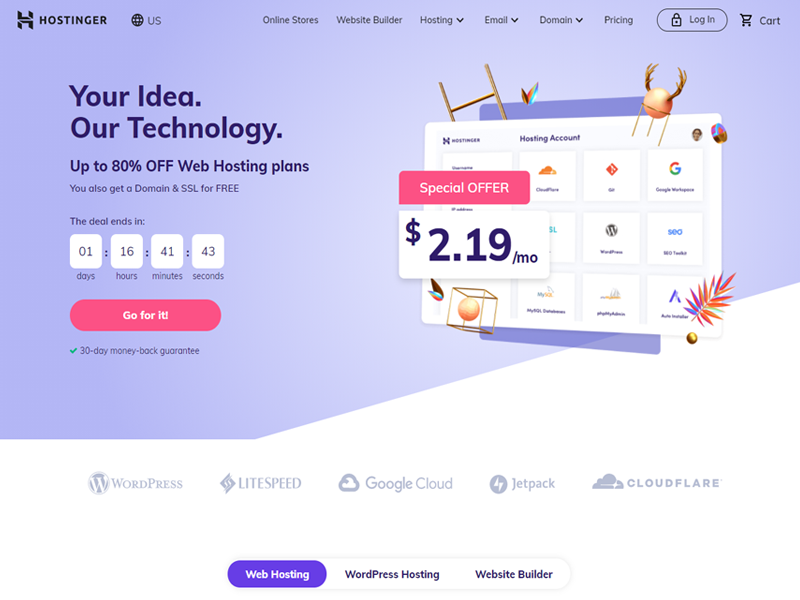 Hostinger is the cheapest email service for a dedicated email account. Every cheap service is not going to pay well, but I can vouch for Hostinger. It is the most affordable email hosting service. It allows you an edge to build your work community risk-free.
Hostinger is offering professional Email hosting where Uptime service is guaranteed and ensures Zero Data Loss. Talking about storage, you can avail of up to 10GB of email storage, including Unlimited Mail Filters and up to 50 Emails.
Native Titan app is being used here for Android as well as IOS. Existing emails and contacts are easily imported with just one click, so why feel afraid to subscribe to Hostinger?
Hostinger covered all your concerns and planned accordingly; we know that business is all about the hustle. We are not supposed to glue with our laptop's updates. That is why Hostinger is offering multi-device support, and now you can use it on either your PC or laptop. Built-in calendar and contacts are designed well so you can keep better up with your professionalism.
Hostinger gives its users 30 days money-back guarantee deal given the customer care services, which makes it all scam-free. Let me mention here that it offers free anti-virus scans regularly to maintain a safe and secure site for its users.
It refrains from spam emails, malware, and phishing attacks because there is no compromise on security. Hostinger is offering up to 55% off on Email Hosting Plans which is a significant deal-breaker.
Features:
Show support for both Android and ISO systems
Multi-device connectivity
Anti-spam protection
Supports zero data loss and 99.9% uptime
Import of emails and contacts is just a click away
30 days money-back guarantee
10 GB storage for emails and files
Price
Business Email: – $ 0.99/mo
Enterprise Email: – $ 2.49/ mo
Rating
It shows a rating of 4.8 stars which shows it is quite a game-changer for many people.
Well-known for Email Hosting Services along with Website Builder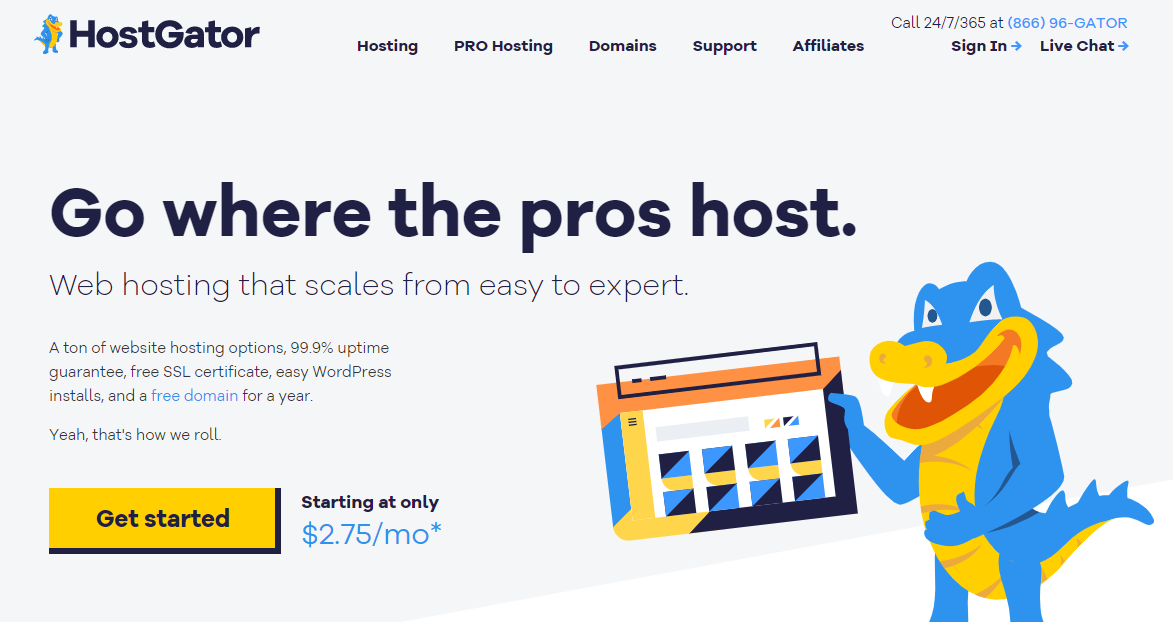 HostGator is listed amongst the best email hosting service providers in the marketplace for unlimited email accounts that you can get with 1 year of shared hosting. Availing HostGator as your email host will take all your worries away. It would be unfair to mention that it also provides a Website Builder if you take the Email Hosting Services plan for a month.
HostGator allows having 5GB of email storage that is constantly backed up. You can also purchase more storage depending upon your work needs. HostGator provides advanced email storage, and it guarantees Zero Data loss too. You can also enjoy 99.99% network uptime if you use HostGator as your email hosting service provider.
Calendar and Contacts will be a part of it so you can keep up updated all the time. HostGator also offers multi-device support. Now view your emails on your tablets and smartphones, too, with upgraded features and services.
Designing and again upgrading the components of HostGator email services, it is kept in deep concern to provide you with the best security services possible. That is why HostGator has built-in Anti-virus systems that prevent virus attacks and secure your email data to its best. HostGator gives you 45 days of the money-back guarantee, which is pretty great.
Features:
Unlimited storage for emails and accounts
SSL certified
Spam protection and weekly backups
45 days money-back guarantee
Zero data loss and 99.9% uptime guarantee
1 year of free domain registration
Unmetered traffic on the site
Price
Hatchling Plan: – $2.75/mo
Baby Plan: – $3.50/mo
Business Plan: – $5.25/mo
Rating
Its overall rating is 4.4 stars which makes it an affordable option for its users.
Best Web Hosting Services with Email Hosting Services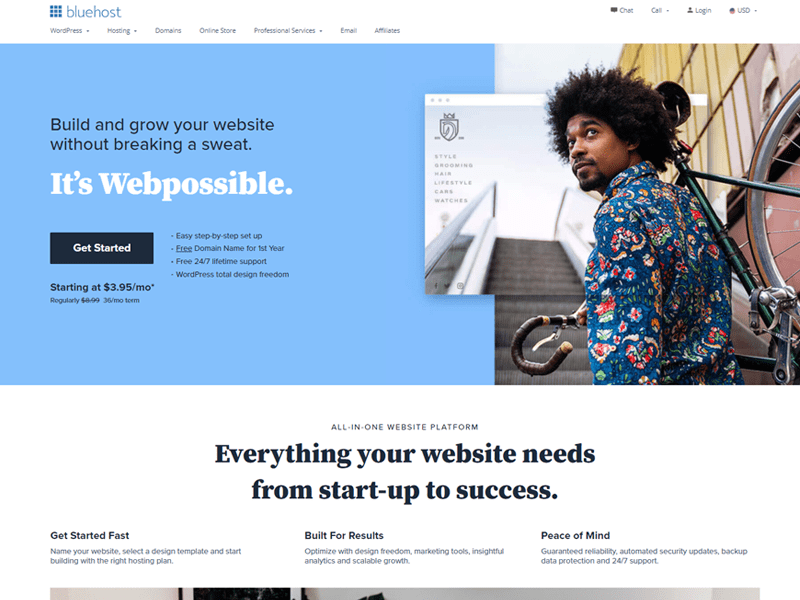 Bluehost offers a free 5 email account with 100GB each if you purchase a shared hosting plan for $2.95/monthly.
Bluehost is one of those companies known to have preserved its place in the market for more than a decade. Bluehost has been serving its consumers since 2003, and it is well known for providing affordable email hosting services.
If you are a newbie and want to be backed up by a reliable company, then here is your drill. Bluehost is going to provide you with unlimited storage so, remain carefree while using it.
One of the most important features of Bluehost is cPanel. Let me tell you about it. CPanel will enable its users to keep all enhanced tools under one cover. You can directly manage your websites, domain, emails, and all required tools just from the dashboard of Bluehost. You can also explore other cPanel website hostings in our post here: Best cPanel Hosting Providers
Bluehost gives you leverage as a user in the form of a money-back guarantee. You can end your subscription anytime you want quickly, but you will receive all your money back if you wish to finish it before 30 days.
There is the slightest drawback to using Bluehost as an email service. It sometimes fails to protect your data and lets the virus conquer it. Besides this fact, it is best at providing quality services. Bluehost is also the most popular WordPress hosting provider
Features:
Highly supports Cpanel
Unlimited storage available
30 days money-back guarantee
Provides free mircosoft365 for 30 days
Customized themes for the site
Able to boost the speed
Anti-spam protection
Price
Shared hosting: – $2.95/mo
Online stores: – $12.95/mo
Managed Word Press: – $9.95/mo
Ratings
As compared to many other services-providing companies, it comes with a rating of 4 stars.
Best for email hosting small business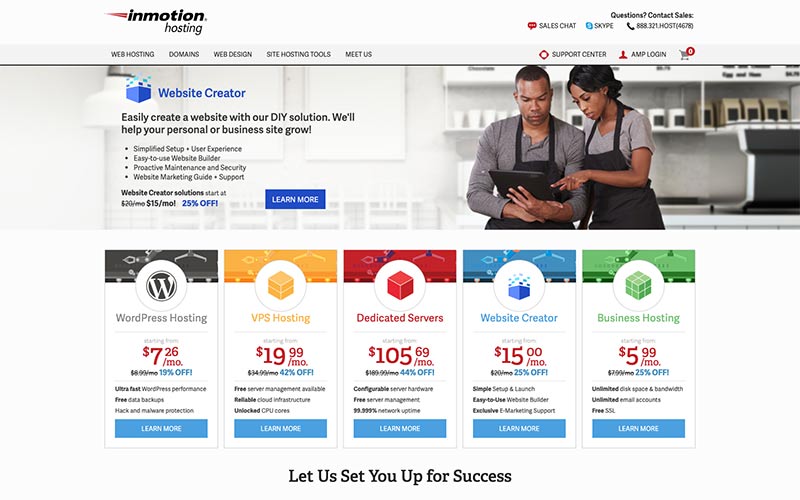 InMotion Hosting is listed among the Cheapest Email Hosting Services providers. It is also well known for its services as WordPress hosting—best for small businesses and personal use.
Users at InMotion Hosting will be welcomed to enjoy unlimited storage to flourish their work at the best. It will take only one click to transfer data. InMotion Hosting supports a zero data loss scheme, and it has 99.9% uptime.
InMotion Hosting offers Business-class email services along with free marketing tools. Users can make their email addresses here without fearing extra charges because it has all the advanced technologies available.
SSL certified and secure your business with regular spam scans and prevent any kind of virus attacks. It is always ready to give a kick start to your eCommerce business. You can say at ease that InMotion Hosting provides you with all its premium features at a minimal rate.
InMotion Hosting has something exciting for its users and the best tech features.
Professional assistance 24/7/365 and cPanel is available to keep all things under one shade. InMotion Hosting is undoubtedly my favorite as it provides 20 times faster speed via SSDs. It allows you to have 90 days money-back guarantee, which this company only offers.
Features:
Best for small business
Unlimited storage for users
cPanel for tools
24/7/365 expert assistance
90 days money-back guarantee
Anti-spam protection scans
All premium features with little rates
Price
Core: – $2.29/mo
Launch: – $ 4.99/mo
Power: – $4.99/mo
Pro: – $12.99/mo
Rating
It has an overall rating of 4.7 stars which makes it the best deal to avail.
Email Hosting Services along with Web Hosting Services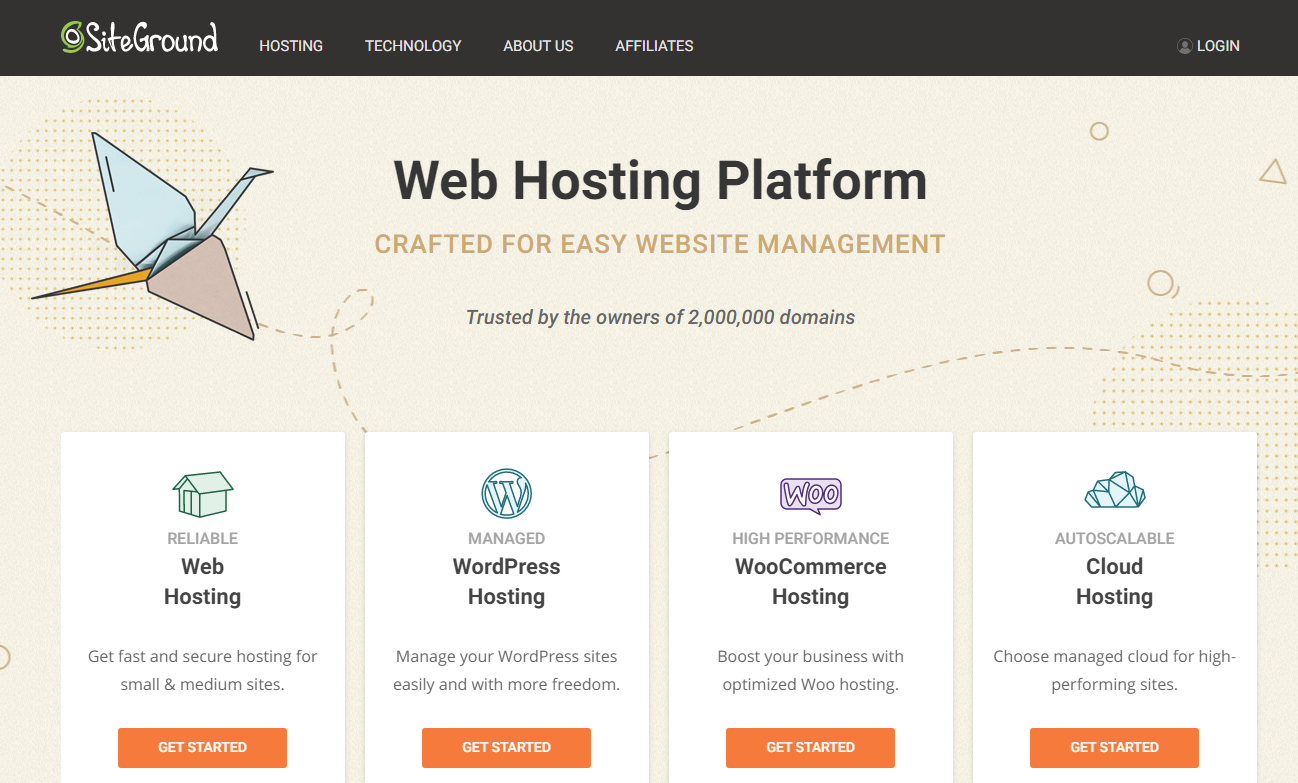 SiteGround has an excellent reputation for providing the best services to its clients. That is why there are about 200 million users of SiteGround today. It facilitates its users with swift speed and reliable customer care service.
Talking about the storage offered by SiteGround, you will have different options of storage ranging from 10GB to 40GB, depending upon the type of package you purchase. It comes with an SSL certificate, and you will have access to unmetered traffic at your Email.
Content Delivery Network is provided to improve the amount of traffic on your page and make it spam-free.
There is no compromise on the security of the users. All emails are to be encrypted and backed up from time to time to avoid any kind of inconvenience. You can also have 30 copies of your data daily. Anti-virus features regulate the process clearly and ensure that Email Hosting services are protected from any attack or ransom.
By using SiteGround, you can have access to 10,000 million visits to 400,000 monthly visits. There is no risk of data loss, and it indeed confirms 99.9% uptime. All users who use SiteGround will have access to Unique Super Cacher technology for a better experience. SiteGround comes with a 30 days money-back guarantee.
Features:
10GB storage for emails
Swift speed and reliable customer care services
Zero data loss and 99.9% uptime
SSL certified and unmetered traffic
Anti-spam protection
30 days money-back guarantee
Daily back-ups
Price
Startup: – $3.99/mo
GrowBig:- $6.69/mo
GoGreek:- $10.69/mo
Rating
Its overall rating is 4.6 stars among all the Email Hosting Services providers.
Best for providing Hosting Services especially Web Hosting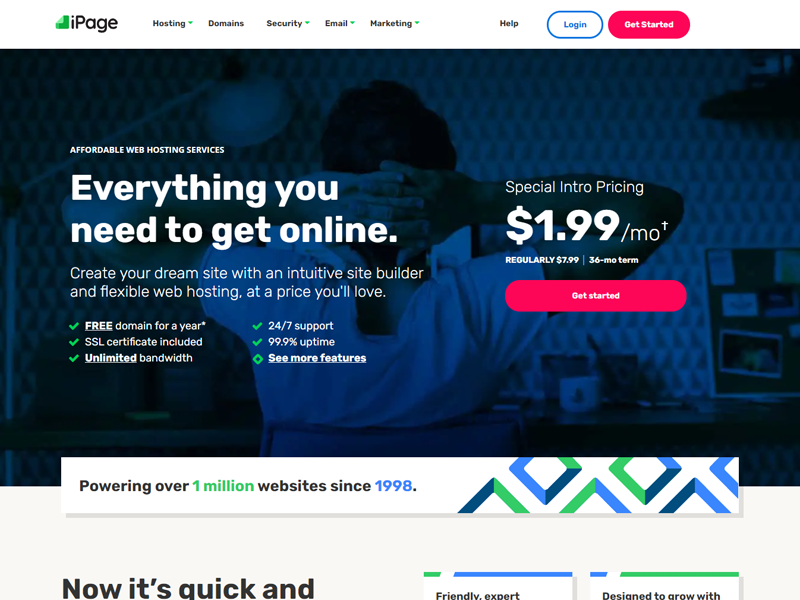 iPage is here to rescue small businesses. Imagine you are about to launch your business and are looking for an email service provider. In that case, considering iPage will give a kick start to your business.
iPage offers unlimited disc space so its users can enjoy as much space as possible. IPage will take care of all your responses with its feature of autoresponders. You can enjoy business-class email services, and it does come with a calendar so you can keep all things under control.
This provides 24/7 security, and its anti-virus scan system keeps your system virus-free and minimizes junk and scam emails. Everything is encrypted here so you can interact with your clients without the fear of losing your identity.
IPage includes an SSL certificate and keeps market demands in view and it has 99.9% uptime. IPage also comes with 30 days money-back guarantee. If you are satisfied with the services, you can unsubscribe to iPage and get back all your money.
Features:
Unlimited domains and storage for files and emails
24/7 monitoring by professionals
Anti-virus scans
Encrypted Emails
Auto-responders
30 days money-back guarantee
SSL certified
Price
WP starter: – $3.75/mo
WP Essentials: – $6.95/mo
Rating
Its overall rating is 4.8 stars which makes it a great choice to make.
Best for Swift Email Hosting Services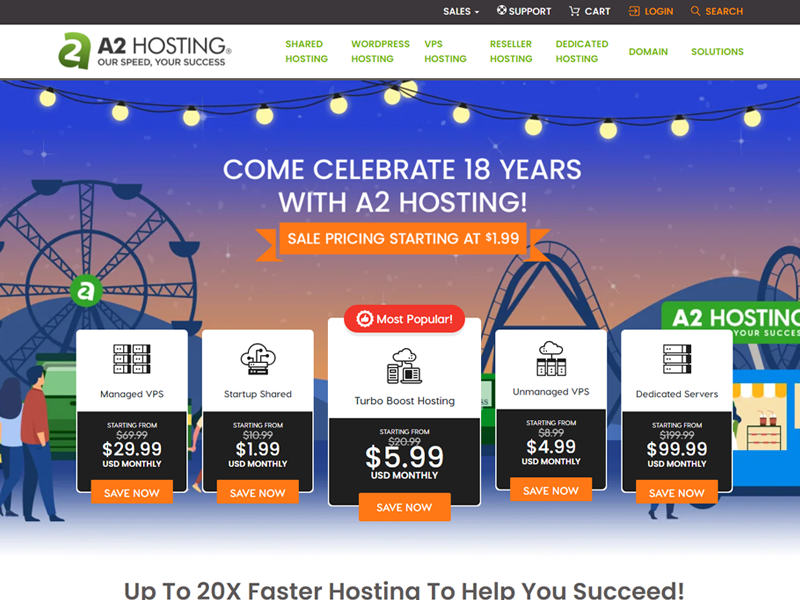 A2 Hosting holds a remarkable place in the market. A2 Hosting provides email hosting services for everyone. Still, most importantly, it is best for personal use and small businesses. It offers its users unlimited storage so they can work confidently without worrying about storage problems.
A2 Hosting is committed to providing you with 99.9% uptime. Its email spam protection feature is something worth the deal. This feature first scans every Email you receive and then transfers it to your inbox safely without any virus and avoids phishing. Auto-response facilitates its users too.
You can enjoy unlimited Email addresses. Webmail Software is always to your rescue, and A2 Hosting has also provided the facility of cPanel. You can have Email hosting accounts, Webmail, Email delivery route, and spam emails all in one place.
Like many other companies, A2 Hosting is also providing a multi-device support system. You can connect A2 Hosting to your tablet, smartphone, and PC simultaneously and use it whenever or wherever you want.
If you use A2 Hosting, there is no risk of data loss because all the data is kept on a backup. A2 Hosting also comes with a money-back guarantee of 30 days. A2 Hosting uses compatible technologies to serve its best. It uses high speed and is reliable to use for its users.
Features:
Unlimited storage encourages personal as well as business use
CPanel to keep all things under one roof
Multi-device support
30 days money-back guarantee
Advanced technologies
Many management tools
Importing files with one click
Price
Shared hosting: – $2.99
Managed WordPress: -$12.99
Managed VPS: -$39.99
Dedicated Server: -$129.99
Rating
Its overall rating is 4.9 stars out of 5 stars which makes it a pretty great deal.
Best Hosting and VPS service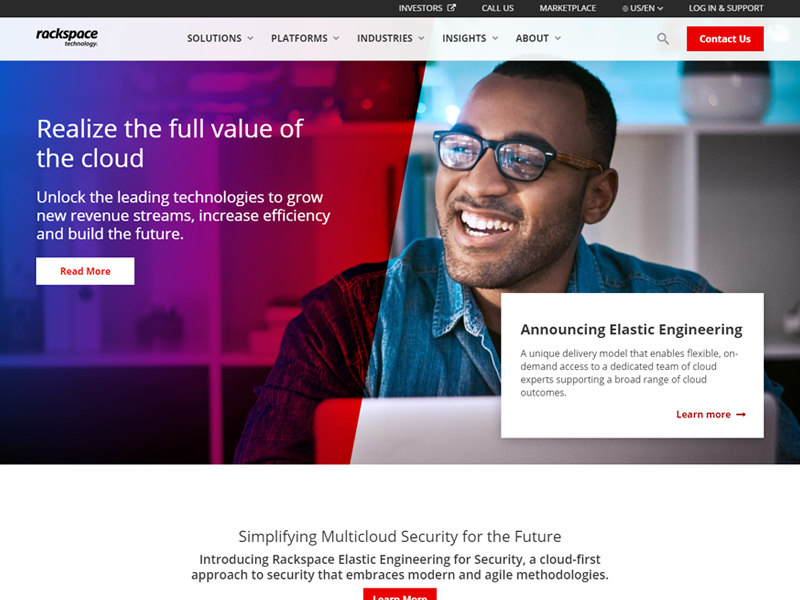 Rackspace has been offering VPS hosting services for more than 20+ years and is considered the most reliable and secure Email Hosting Services provider in the market. Rackspace is something you must have hands-on if you plan to start your own business and look for a back to lean on.
It gives you storage ranges from 25GB to 35GB, and you can also avail yourself of more storage by paying for it. Rackspace will provide you with a 100% uptime guarantee which any other Email Hosting Services provider rarely offers. A team of experts will be there 24*7*365 to guide you in every possible manner.
Your data will be migrated quickly and swiftly through Rackspace without any loss of data. Rackspace is keeping in view all the desires of its users and making sure to grant all of them, so Premium Spam and protection is one of them.
All your data will be safe with Rackspace as it scans every email you receive. If there is any risk of spam, it automatically eliminates it.
Rackspace provides multi-device support so you can have access anytime and anywhere you want. Here is a real deal of Rackspace, which fascinates me the most. It doesn't offer large contracts to its users, but it provides 14 days trial period. You can test it in your way and change the package anytime.
Features:
25GB storage for the users
100% uptime guarantee
14 days free trial
Premium Spam protection
Team of experts available 24/7/365
Additional storage available
Data migration through a click
Price
Rackspace Email: – $2.99
Rackspace Email Plus: – $3.99
Rackspace Email Plus w/ Archiving: – $6.99
Ratings
Its overall rating is 4.5 stars which makes it a fantastic deal to make.
Advanced Web Features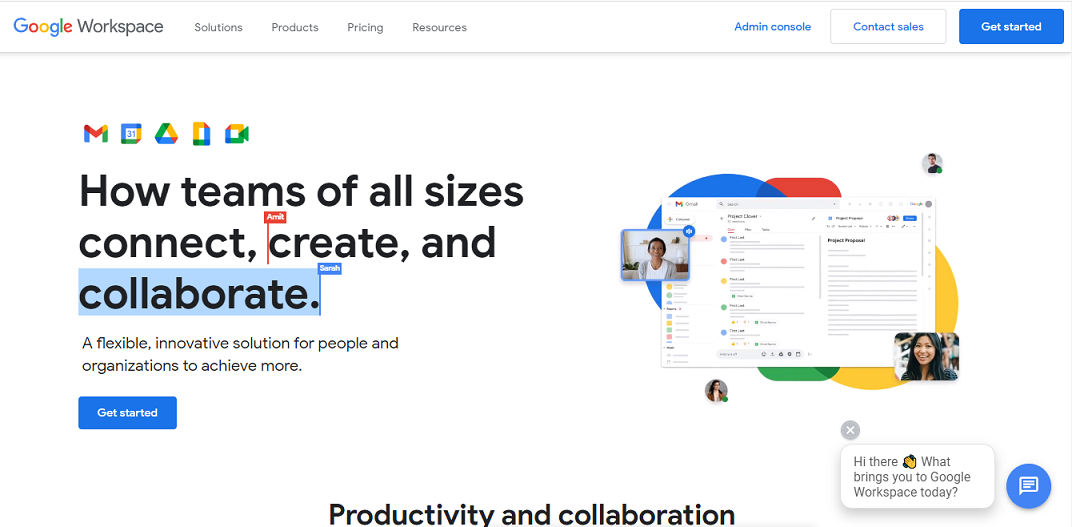 A real tech giant is here. Google Workspace is formerly known as G Suite. When it comes to providing the best facilities related to email services, we forget to mention Google Workspace.
You can get all the deals here like Business starter, Business Standard, Business plus, or Enterprise. You just have to name it. Google Workspace encourages productivity and creativity; that is why it consists of all the collaboration plans.
Google Workspace believes in Cloud-based tools, and it provides a minimum of 30GB space to 5TB depending upon the package you have got. You can upgrade it anytime by purchasing it.
Contacts and calendars are a must part of keeping you updated and informed all the time. As a lot of people are using the facilities provided by Google Workspace, here are a few things which will be part of a package which you will enjoy like
Email
File storage and sharing
Contacts
Calendar
File editing and collaboration
Voice and video conferencing
Instant messing
Team messaging
Internal social network
Intranet
Task
Google workspace takes complete control over your security, and all of your data is fully encrypted and safe with it. Google Workspace holds a great place in the market as it has to offer many things to its users.
It has attained 28% of the global client market, and it has cut end technology that will blend sufficiently to flourish more. It is a bit expensive compared to other Email Hosting services, but it has more to offer than the rest.
Features:
30GB of cloud space for 1 user
Storage can be increased up to 1TB
Offers multiple tools
Best protection services and encrypted emails
Calendar and Contacts
Conference groups
Supports creativity through collaboration plans
Price
Business Starter: – $6/mo
Business Standard: – $12/mo
Business Plus: – $18/mo
Rating
Its overall rating is 4.8 stars.
Free Domains and Best for Email Hosting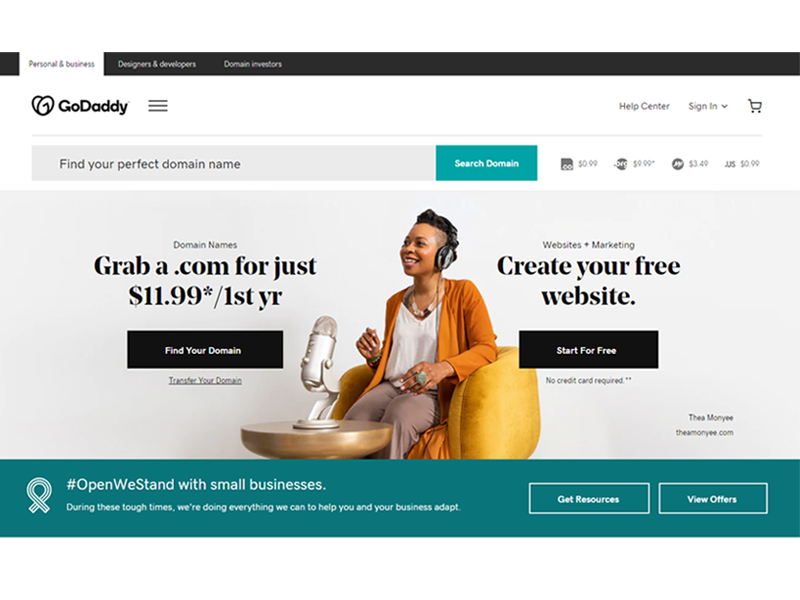 When we say the best email provider, GoDaddy is the one that came to our attention. It gives its users multiple ways to connect with their messages and work in the market by increasing domain services' game.
GoDaddy provides a minimum of 10GB storage to unlimited storage according to the plan you will purchase. Its premium services will enable you to use Microsoft 365 and add the perks of Excel, Word, PowerPoint, and OneDrive. GoDaddy believes in providing free 24/7 assistance and comes with 99.9% uptime.
GoDaddy will cover all your worries by syncing all your devices so you can use them whenever, wherever you want. Cpanel will enable you not to skip anything at all. GoDaddy is a little lacking behind the others in the way of providing free security to its users.
You have to pay for the deposit, but it gives high-tech security services along with email backup and makes your system virus-free. GoDaddy is an award-winning security expert, which is why all your emails will be encrypted and secure.
GoDaddy comes with a 30 days money-back guarantee. You can enjoy the edge of testing their facilities to the best. There is a little thing to keep in mind that GoDaddy charges a little more when you renew your subscription. It is best for newbies and for those who enjoy having a small business.
Features:
Storage for emails 30GB
Premium access to Microsoft365
Expert assistants 24/7
30 days money-back guarantee
CPanel to keep all tools together and vivible
Award-winning security services
99.9% uptime
Price
Economy: – $2.75/mo
Deluxe: – $4.69/mo
Ultimate: – $7.63/mo
Rating
Its overall rating is 4.6 stars which makes it pretty popular amongst its users.
Best Professional email exchange software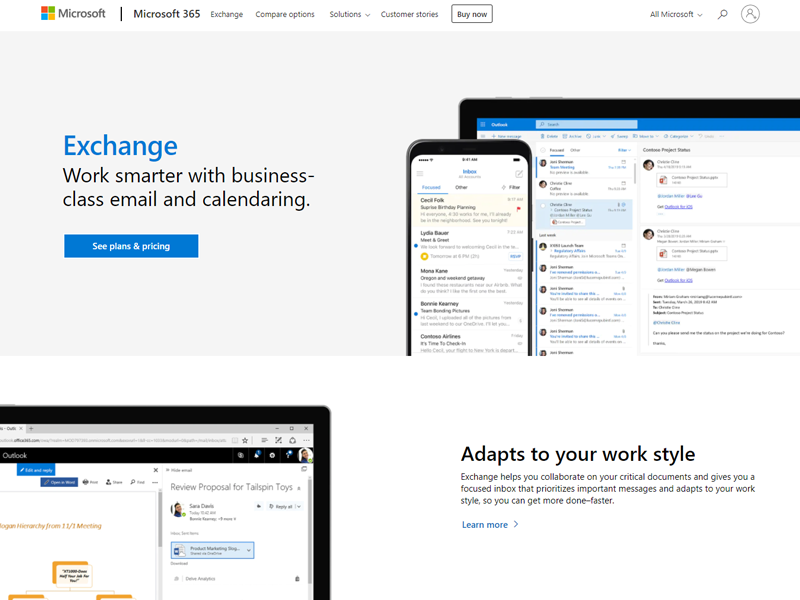 I am glad to make Microsoft Exchange mentioned here. Microsoft Exchange is one of the largest and leading companies when it comes to software or technologies. It is ideal for large companies and provides a top-notch experience of business-class email services.
I am not saying that it is not reliable for small businesses; it is very reliable and performs big tasks with great speed. Each user of Microsoft Exchange will enjoy the 100GB cloud space.
To deal with your web-based clients, you can simply link your accounts to a supported version of Outlook to enjoy its services too. You are allowed to send up to 150MB emails.
Create your conference rooms on Microsoft Exchange to keep all things in one place. There is no risk of data loss, and it is 99.9% uptime. Shared calendars and group lists will be available for you. Our data security protection services are of premium quality.
To use Microsoft Exchange first, you have to make a yearly commitment, and after that, you have to pay for your monthly subscriptions. Microsoft Exchange has also featured Cloud storage, Office Applications, and Video Conferencing. Still, you have to pay some extra bucks to enjoy it.
Features:
Top-notch business-class email services
100GB cloud storage can be upgraded
No risk of data loss along with 99.9% uptime
Shared calendars and contacts
Extra bucks to pay to enjoy video conferencing and Office Applications
Anti-spam protection
Provide supports to link accounts with Outlook
Price
Exchange Plan (Plan 1): – $4/mo
Exchange Plan (Plan 2): – $8/mo
Microsoft 365 Business Standard: – $12.50/mo
Ratings
Its overall rating is 4.6 stars.
What is the Cheapest Email Hosting Service?
Because there are numerous email hosting services providers on the market, and each offers its own best and unique services to its clients. It is not an easy question to answer.
Here are a few of the cheapest email services providers.
These all plans would become way cheaper if you got yourself an excellent promotional package. All these packages may differ in price from time to time. But nowadays, Hostinger is the most affordable option among them.
Do I need to pay for email hosting?
Yes, you do have to pay for the email hosting services. But it is not always a way to pay for a large amount of money to avail of email hosting services. Many services providers offer a lot of features with a very minimum amount of money.
Saving up a tiny amount of money is always a safe option because you have to pay for other things like domain registration etc., to start your successful business.
Another way to save up some extra bucks is to avail of promotional deals for email services. There are a lot of opportunities in the market these days from which you can pick one easily.
Is NameCheap email safe?
Yes, Namecheap is a safe option to consider while going to establish your professional business online. NameCheap will provide you with 5GB to 75GB storage for emails according to the plan you choose for your work.
Additionally, 2GB to 30GB extra storage for files is something to avail for your business. When it comes to security, NameCheap takes its users' privacy seriously, which is why it provides Anti-Spam Protection services that block spam emails.
NameCheap offers a few plans:
Starter: – $1.24/mo.
Pro: -$3.24/mo.
Ultimate: -$5.74/mo.
If you are looking for a safe and cheap option for your business, then NameCheap is good.
How can I create a business email without a domain?
Creating a business email without having a good domain is like having a glass of water but not drinking it. Business emails are a great way to promote your business professionally, and your customers will trust you.
Domains earn you a proper professional environment to have your business. It is an authentic label that your business is not just a scam or anything. Most importantly, it prevents you from getting scammed. And for all these purposes, you need a proper domain to flourish your business.
First, you need to have a proper domain to create your business email. There are many domain services providers available in the market who are ready 24/7/365 to take your worries away. If you are a newbie or any professional business holder, they will assist you in all possible manners.
Conclusion
Having your own business in 2023 is the ultimate goal of everybody nowadays. Setting up a proper domain may be easy. Still, email hosting is something you need to ensure before starting your own business.
There are a lot of Email Hosting Services providers, from Hostinger to HostGator to Rackspace and InMotion Hosting. You just have to decide your points on which you are going to form your business.
Don't forget to research appropriately before any hosting services and be alert about the promotional deals. We wish you a piece of excellent luck with your business.

As one of the co-founders of Codeless, I bring to the table expertise in developing WordPress and web applications, as well as a track record of effectively managing hosting and servers. My passion for acquiring knowledge and my enthusiasm for constructing and testing novel technologies drive me to constantly innovate and improve.
Expertise:
Web Development,
Web Design,
Linux System Administration,
SEO
Experience:
15 years of experience in Web Development by developing and designing some of the most popular WordPress Themes like Specular, Tower, and Folie.
Education:
I have a degree in Engineering Physics and MSC in Material Science and Opto Electronics.