Cloud hosting has drifted the hosting industry for the resilience and reliability of the client for a better experience. Signing up for a simple package of web hosting usually lets you get a bundle of resources on a single server. This web space offers you bandwidth, webspace and domain name registration. To help you choose a better experience, we have created a list of the best cloud hosting providers compared.
Cloud hosting works fine for numerous websites but for larger projects, fixed resources may be a problem. Also, there is no way to allocate extra bandwidth or RAM if there is increased traffic or the need for an upgraded plan for your website to work offline.
Plans in Cloud Hosting are mostly virtual private server (VPS) type web hosting. Here, you initially pay for bandwidth, CPU time, RAM and webspace. These resources are, however, spread through several devices rather than just one. Later on, you can change your plan. Such as, adding a new RAM gig maybe a piece of cake but with an extra topping of being launched in minutes.
Moreover, there are options such as green web hosting for small businesses. In addition, cloud hosting can offer a good alternative for a dedicated server as it is scalable. Also, it gives you the facility of managed web hosting services and colocation providers.
The best Cloud hosting providers compared in this list can be used for almost everything from replacing the business server to your emails. Yet, the hands-on experience requires virtual servers to be on Linux instead of Windows.
However, not everyone can have cloud hosting. Especially the simple and small websites are better off with regular packages. Yet, Technology provides everyone with something with more ambitious and larger projects. Also, many hosts tend to run free trials that make it easy to understand the gist of the idea.
Interested in WordPress Cloud Hosting please read our article here:Best Cloud Hosting for WordPress: Tested & Ranked for SMBs
Best Cloud Hosting Services and Providers
Most Scalable and Customizable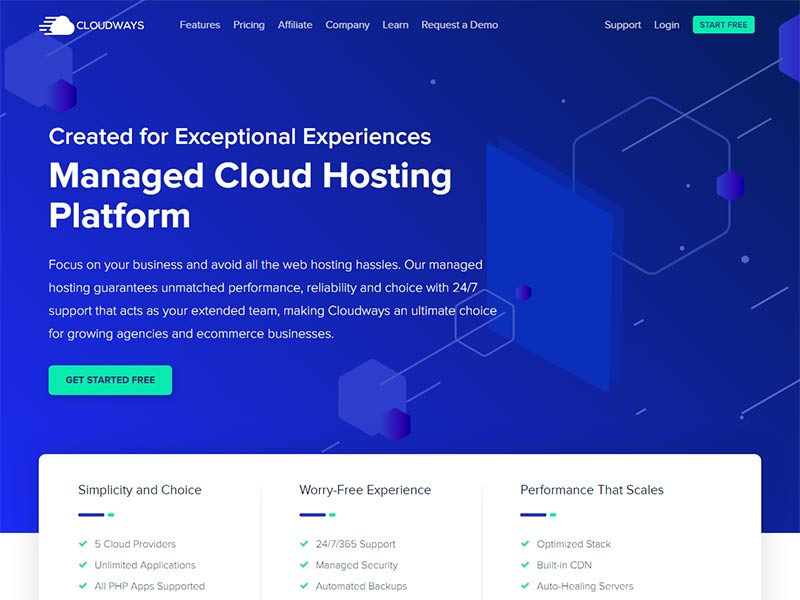 The cloud hosting products in Cloudways seems to be divided into two categories; user-friendly or simpler products like hosts and an enterprise-level technology group that includes IBM, Microsoft and Amazon.
It offers managed cloud hosting that runs as you prefer with Vultr, Linode, DigitalOcean, Google and Amazon. In addition, it offers features such as a simple web console that is very easy to use.
Cloudways offers impressive packages such as Cloudways' ThungerStack provides all the core needs to improve performance. For example, Redis, PHP-FM, PHP 7, Varnish Cache, Maria DB/MySQL, Memcached, Apache, and Nginx. Team collaboration tools, integrated Git, restore and back and one-click cloning is provided with over 60 data centers located strategically all around the world.
The entire system is supremely configurable. Moreover, a referral system also provides free hosting credits for the referee and the referral.
CloudWays it is also a great hosting for Magento 2.
Plans & Pricing:
The products of Cloudways are easily operated but provide high-end functionality. The prices however are started at the beginner level. For the most basic plan, you are charged $10 per month for 1 TB bandwidth, 25GB storage, 1GB RAM, and one core.
It also offers a free trial so you check out the product with no credit card details.
Cheapest Cloud Hosting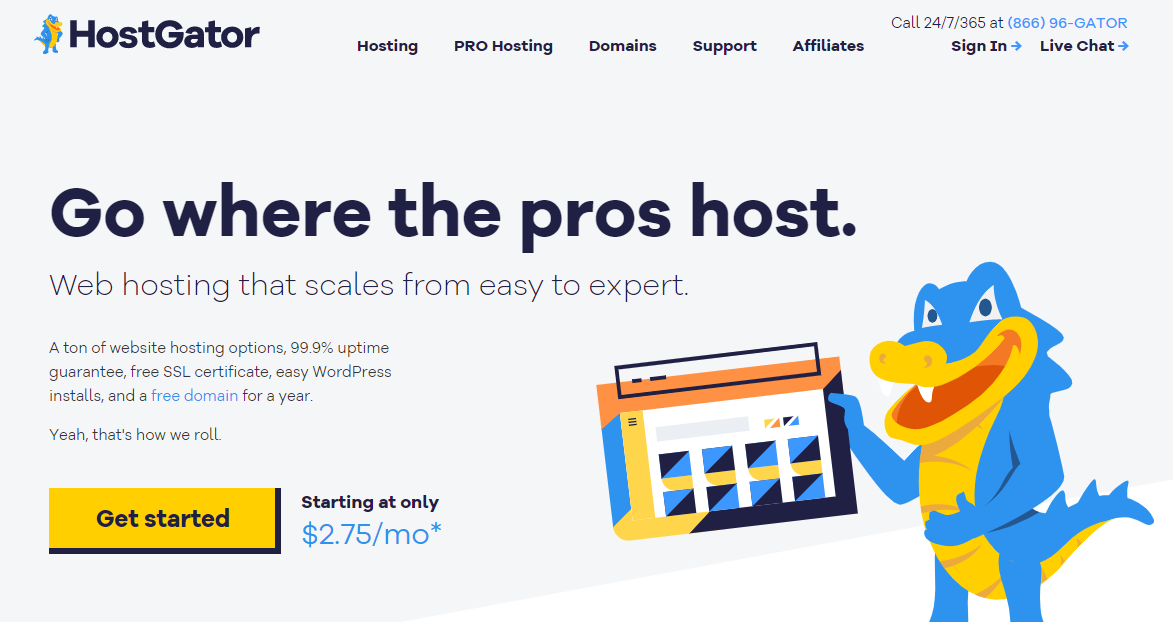 HostGator's cloud platform is best if you want to only host a website instead of doing additional business data. The cloud hosting platform from HostGator spreads the load of your website across the virtual servers. As a result, you get more scalable and reliable hosting. It is very easy just like standard shared hosting.
The benefits of using cloud hosting plans are the doubled load time with more statistics and switching your website in case of hardware failure. Scalability is another benefit of using cloud hosting. You can scale up every time you feel like the traffic is getting uncontrollable. It allows you to scale up to 8GB RAM and eight cores with a single click.
You don't need anyone to process your needs. Your website will not face any downtime during the reallocation of space. Also, you will get extra resources right away. These prices remain competitive after the prices are increased.
Hostgator is also listed as one of the best anonymous hosting platforms
Plans & Pricing:
The basic Hatchling Cloud plan provides you with the support for unmetered storage and bandwidth, one domain, distributed varnish caching, 2GB RAM, and two core sharing. It costs you as little as $3.13 per month for three years program. On renewal, the price leaps to $8.95 per month.
For a more powerful experience, the high range Business Cloud plan provides you with a dedicated IP, a private SSL, 6 GB RAM, up to six cores, and unlimited domains. It costs you only $6.28 per month for a three-year program. After renewal, it charges you $17..95 per month.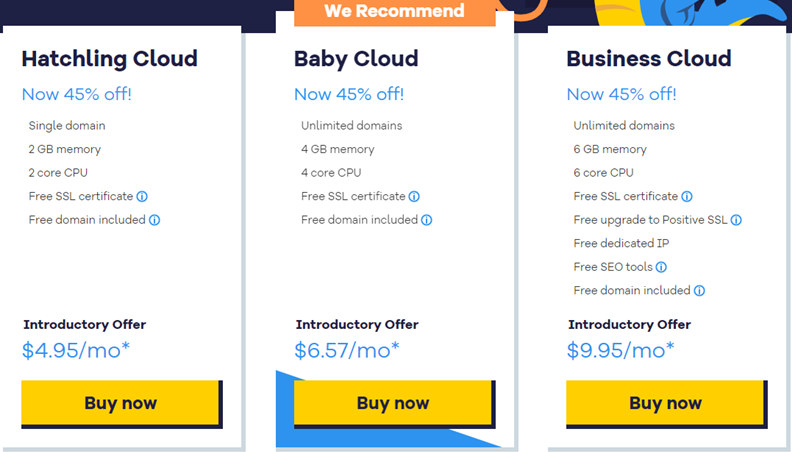 Affordable Cloud Hosting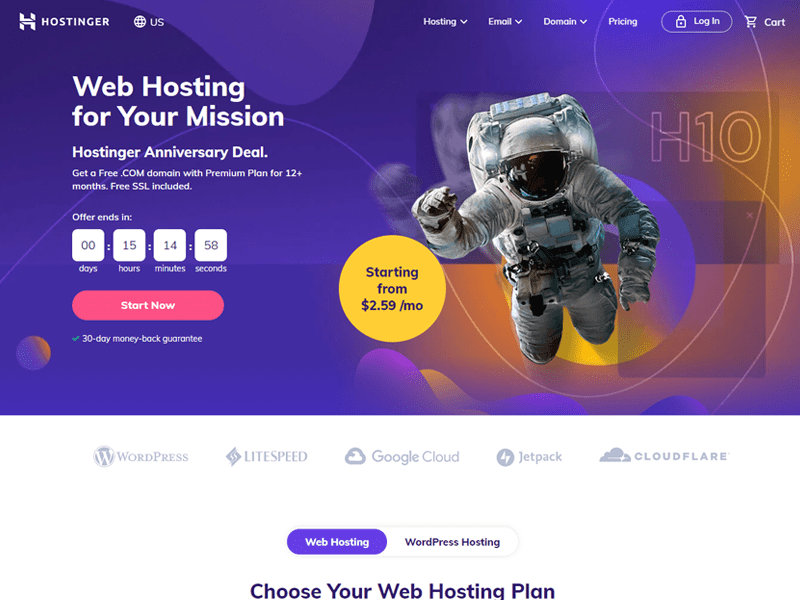 Hostinger is one of the most powerful providers of web hosting powered by the 000webhosting brand. It has more than 30 million users. Besides, the prices it offers are the lowest along with the overheads. It uses its technology such as customized cPanel in place of ubiquitous cPanel. In this way, it can control all its features and performance.
It offers three plans; Cloud Global, Cloud Professional and Cloud Startup. All of these three plans offer unlimited bandwidth and websites for your account.
Hostinger is also listed as one of our cheapest WordPress hosting providers on our review.
Plans & Pricing:
The startup plan offers 2 CPU cores, 3GB of RAM and 200 GB SSD storage. The professional plan increases these to 4 CPU cores, 6 GB RAM, and 250GB storage. The Cloud Global plan enhances all the features for 8CPU cores, 16 GB RAM and 300 GB storage. All these plans include domain names registration and SSL certificates.
Pricing varies with the time of subscription. The startup plan costs $29.00per month. The monthly cost falls to $12.99 if you subscribe for a year. The price drops further if you plan a subscription of two years and the four-year subscription contract costs you even lesser i.e. $9.99 per month.

No-code Builder with Premium Hosting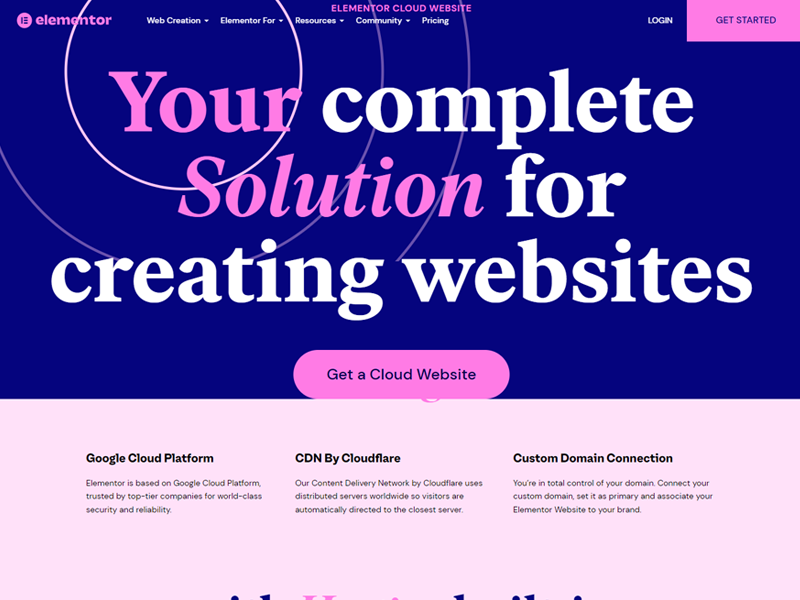 Elementor Cloud Website is a complete package of necessary no-code website building and designing tools. It is highly trusted for incredible services and the association with the Google Cloud Platform. It does not matter if you are not equipped with too much technical knowledge.
The streamlined, automated workflows perform the desired actions for you in a few clicks. The pre-built WordPress hosted platform at Elementor has made the website building task tenfold easier.
Features
Let's briefly explore some of Elementor's exclusive features:
Google Cloud Platform association guarantees top-notch security for your website.
Cloud Flare powered Content Delivery Network operates efficiently to direct visitors toward the server closest to their location.
Custom Domain Connectivity allows the association of any pre-existing domain to be incorporated into the Elementor Cloud Website.
My Elementor Dashboard has an intuitive and straightforward interface making it easy to manage several options in a single place.
Extraordinary Storage, including 100 GB bandwidth, 20 GB storage, and an ability to handle around 100K site visitors per month.
Automated Backups are performed every other day to ensure extreme data safety measures.
WordPress Plugins like WooCommerce, Yoast, Wordfence, Smush, etc., are highly compatible with Elementor to increase the site's functional value.
Drag and Drop Editor for accessible theme building with customized fonts, color, animations, etc.
Pros
Inbuilt professional templates
Optimized customer support
Dynamic content
Beginner-friendly
Affordable rates
Cons
Slow performance
Incompatible with competitor plugins
Inoperative for websites with more than 100K visitors per month
Pricing
There is only one plan for Elementor Cloud Website development for a single site with no hidden charges and a 30-day money-back guarantee. The plan costs $99 per year and is feature-packed with all-important editing, designing, hosting, CMS, and customer support tools.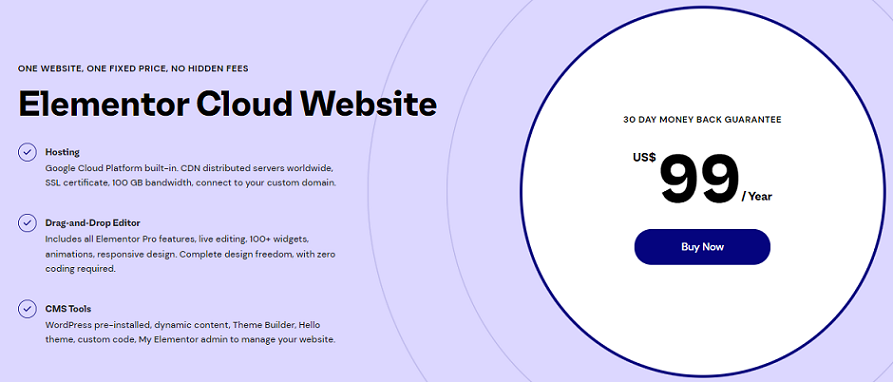 Most Secure Cloud Hosting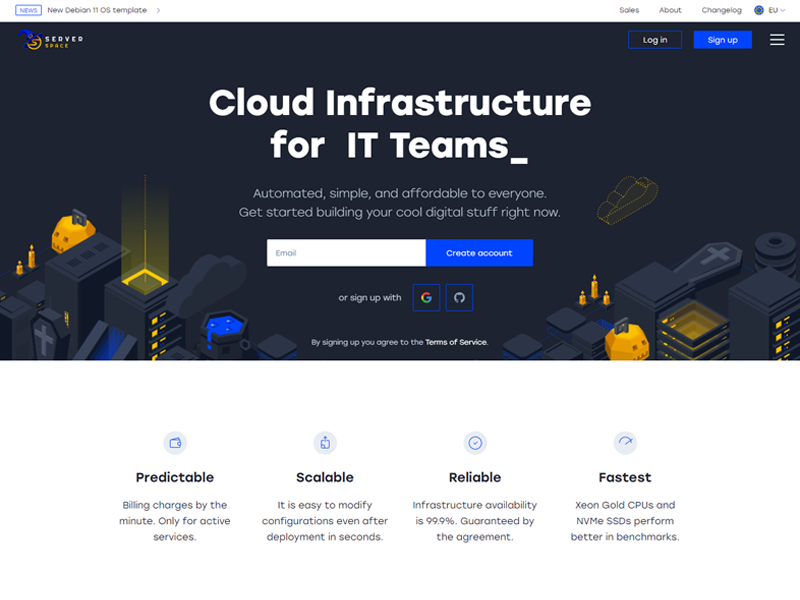 Serverspace is a cloud hosting platform that is not only suitable for virtual storage space but also for hosting that needs offshore locations. Their interface is also straightforward to use and understand. If you use Google Cloud or AWS for hosting sites, then you will find it even easier.
Serverspace is a highly trusted, secure, and efficiently developed hosting platform. However, you should have complete knowledge of how it works before spending on it. It provides extraordinarily enhanced and advanced security with no threat of data or safety theft. If the user has any problems, he can always contact round-the-clock support.
Their cloud servers are very high-performed and users are allowed to create their server configuration for their requests. A distinctive feature of Serverspace is the ability to deploy Windows-based servers.
This provider charges services every 10 minutes and users pay only for the time when the virtual machine is actually used. It saves you a lot of money for cloud computing. Overall, the costs are significantly reduced when we compare Google Cloud or AWS.
It is incredible in terms of its features to make the whole thing outstanding. You will find Serverspace the most legit cloud computing service if you own an IT business to host your software applications.

Plans & Pricing:
The company offers fixed and flexible plans. The final price depends on the selected virtual server template, data center, and server configuration, which the user can configure himself.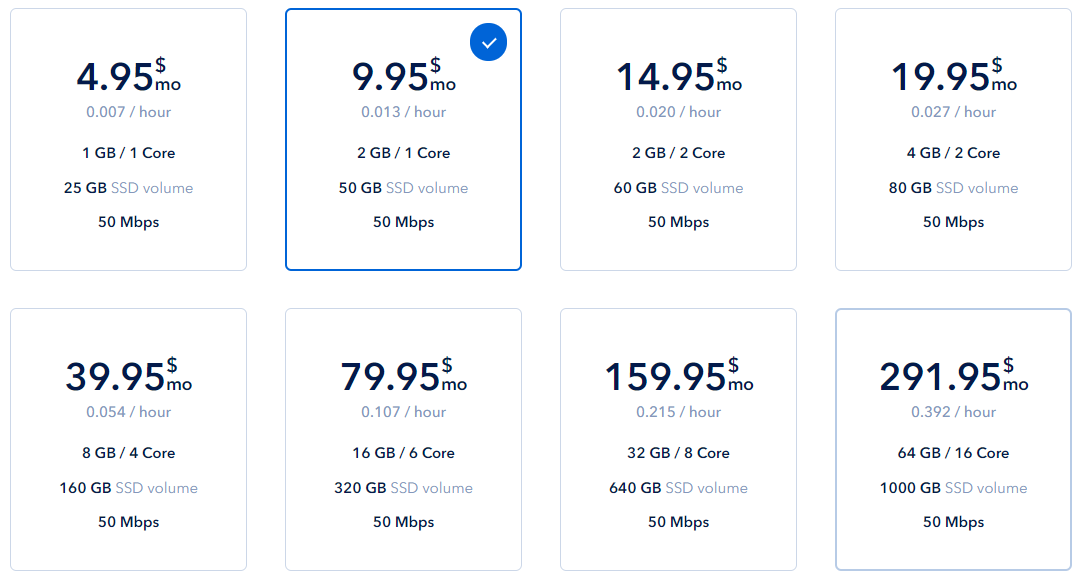 The minimum plan for 1 GB RAM, 1 CPU, 25 GB SSD storage costs $4.95 per month. Prices for services grow as capacity increases. If you want to experience the full power of cloud servers, you can pay $291.95 per month for 64 GB RAM, 16 CPU, 1000 GB SSD.
Best cloud hosting for eCommerce websites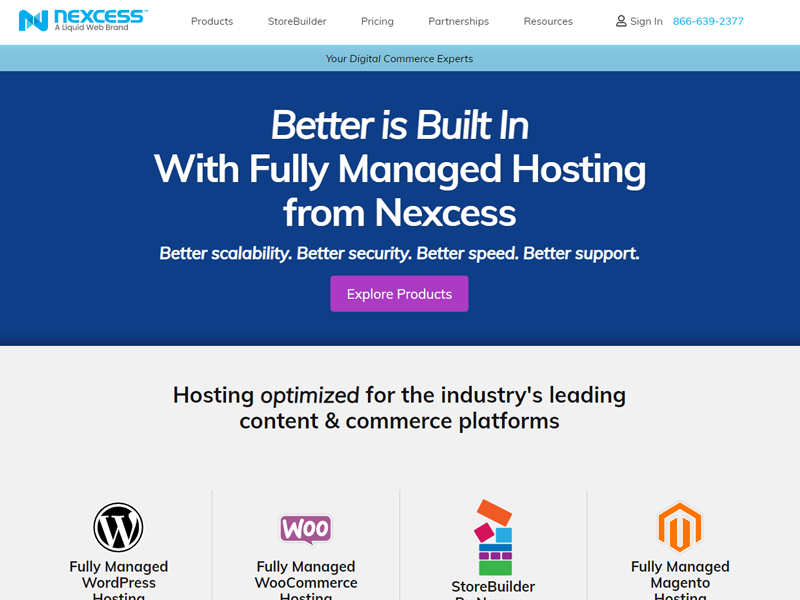 Nexcess is ranked best for growth and scaling. It is a hosting solution from the Liquid web. This host proves itself best when you find its wide menu of managed eCommerce hosting. They are offering their managed eCommerce hosting services, particularly of high quality for Orocrm, ExpressionEngine, Drupal, WooCommerce and BigCommerce etc.
Several other features of Nexcess also make it distinguishable from the other companies on the list. Such as the Cloud Accelerator. It is a feature that affects the cloud to enhance the speed of the loading time for your website. It may be a great benefit as everything depends on speed as it comes to the customers' requirements about the browsing and website working.
Nexcess offers numerous suites of using plans for all types of web hosting. The image below shows a glimpse of what they offer to their valued customers.
Plans & Pricing:
The XS plan offers 1TB bandwidth and 10 domains at $49 per month and the XXL offers 10TB bandwidth and over 50 domains at the rate of $849 per month.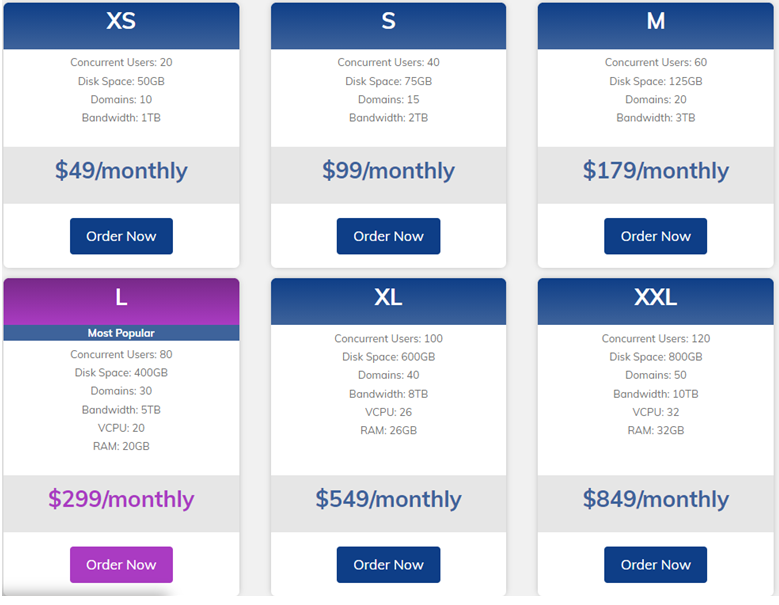 Best with a Free Domain for Life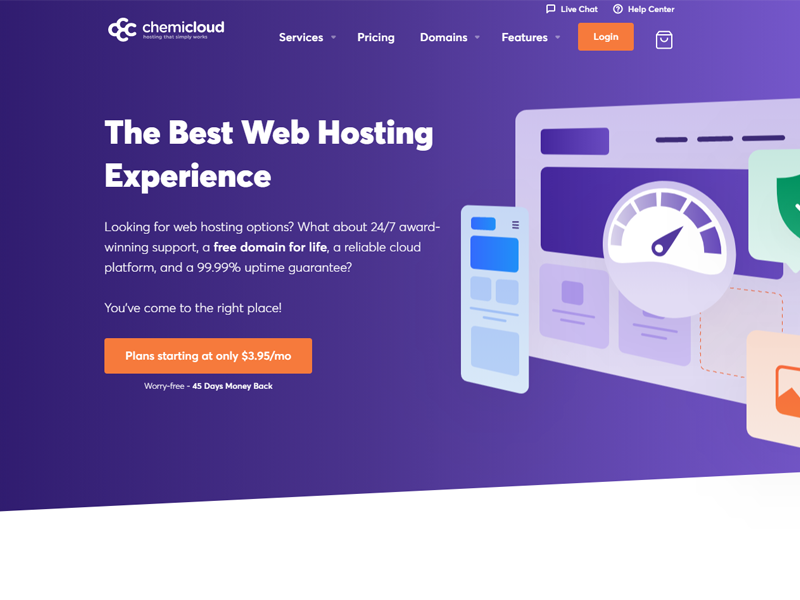 ChemiCloud provides three optimized plans for WordPress shared plans. Moreover, there are four cloud VPS and four reseller hosting plans. In these plans, you get free website migration, unlimited email accounts, unlimited bandwidth, 15 to 35 GB SSD storage, and many more features.
Their server locations are at seven different places throughout the world. Moreover, it also refers to free daily backups and encrypts SSL certificates in these plans. You can easily set up your website with a Softaculous installer or an extra-cost Weebly website builder.
The performance of ChemiCloud is based on HTTP/2, SSD storage, free CDN and LiteSpeed coaching.
Plans and pricing:
The shared hosting plans of ChemiCloud are expensive. You also get some freebies in these packages such as a free domain, a CDN, SiteLock, Softaculous and SSL for a lifetime. However, it requires you to pay extra for other things such as Weebly website builder and email security.
It provides 24/7 support via live chat, email, support ticket or telephone.

Fastest Cloud Hosting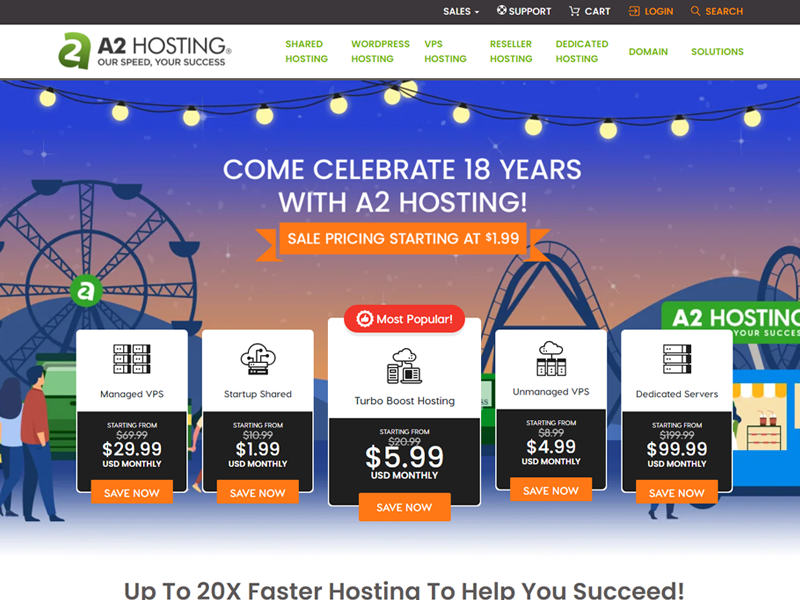 A2 Hosting is a cloud hosting service. It is included in our list because of the features it offers. Especially for its money-back guarantee. None other host offers this service. Also, it is not very expensive as compared to other cloud hosting plans.
Although the price is quite reasonable, the uptime is compromising. It is not best at 99.95%. However, it offers a generous number of features at this cost. The salient features it offers include 32 GB of RAM, 12 CPU cores, and 250 GB of storage. Above all, it lets you host an unlimited number of websites. This is also something missing with other hosts.
It is although annoying to pay for an SSL certificate which most of the other providers give for free. Also, you do not get a free domain. But for beginners, a starting point of $4.99 is not a bad deal.
A2 hosting services offer decent and knowledgeable support through professional agents. You can contact them all the time by email, phone call, or live chat. They also provide tutorials that are dedicated to Magento hosting such as managing the CMS and caching mechanism in CMS extensions. You can also experience high performance with the SwiftServer platform with fast SSDs and optional blazing featuring pages that load over 300% faster than any other standard driver.
The Turbo Savers feature the page loads over 20X faster in comparison to other cloud hosting providers. Best practices and processes provide perpetual security to keep the account safe and secure.
Plans & Pricing:
Cloud hosting plans from A2 hosting' Runaway 1 plan costs you $4.99 per month. With this plan, you get 1 GB RAM, 1 CPU core and Hassle-Free money-back guarantee.
For best performance and as the business grows you can update your plan to Supersonic 8 which costs $34.99 per month. It offers 8 GB RAM, 2 CPU cores and 2 TB transfer memory.
The Runaway 2 and Runaway 3 plans offer 3 and 4 GB RAM, 250 and 450 GB SSD storage and 2 and 4 CPU cores, respectively.

Best Cloud Hosting for Small Business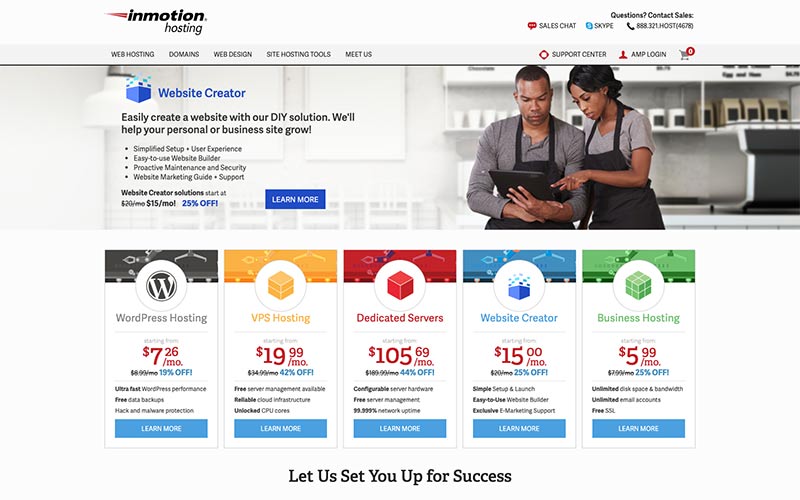 InMotion is known for its VPS and shared hosting but it does offer a lot related to cloud hosting. A small issue that comes with InMotion is its offerings which are not very straightforward. They offer plans for applications, enterprises, small businesses and agencies. It offers the cheapest plan for applications that are used for handling hosting.
Above all, the best customer support it offers is available 24/7 on phone calls and live chat with a comprehensive knowledge center.
The features it offers are up to the mark too. Free backups and domains, unlimited websites and email accounts, unmetered CPU cores, and root access are a few features that lie on top.
InMotion is more helpful for those who run Magento, WooCommerce or WordPress. Because for these platforms, InMotion is cost-effective but offers very few freebies. InMotion is unbeatable if you prefer price reasonability over performance and settle for less support.
Microsoft crowd or less tech-savvy can enjoy it but after a steep learning curve.
Plans & Pricing:
InMotion offers a long money-back guarantee. It is for 90-days. Yes, you read it right. So go ahead, and try this risk-free opportunity to get the experience of a new cloud host.
The cheapest plan costs you $5 per month and offers 1 GB RAM, 1 CPU, 25GB SSD storage and 1 TB transfer. But as the plan upgrades, the price increases slightly too. The highest plan offers you 32 GB RAM with 8 CPUs and 640 GB storage at the cost of $160 per month.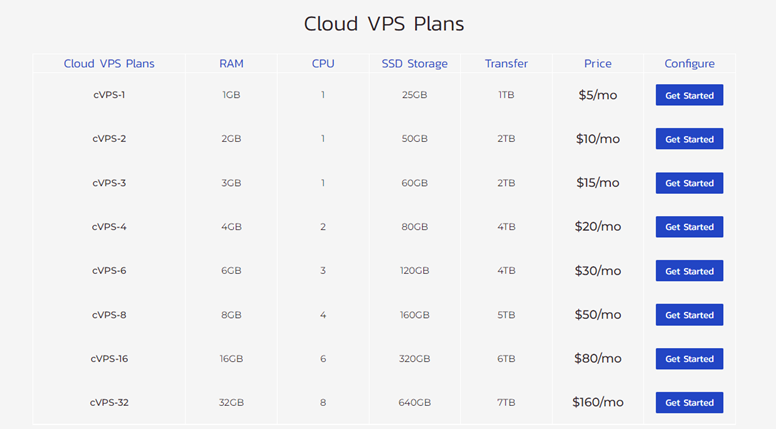 Best for Support and Help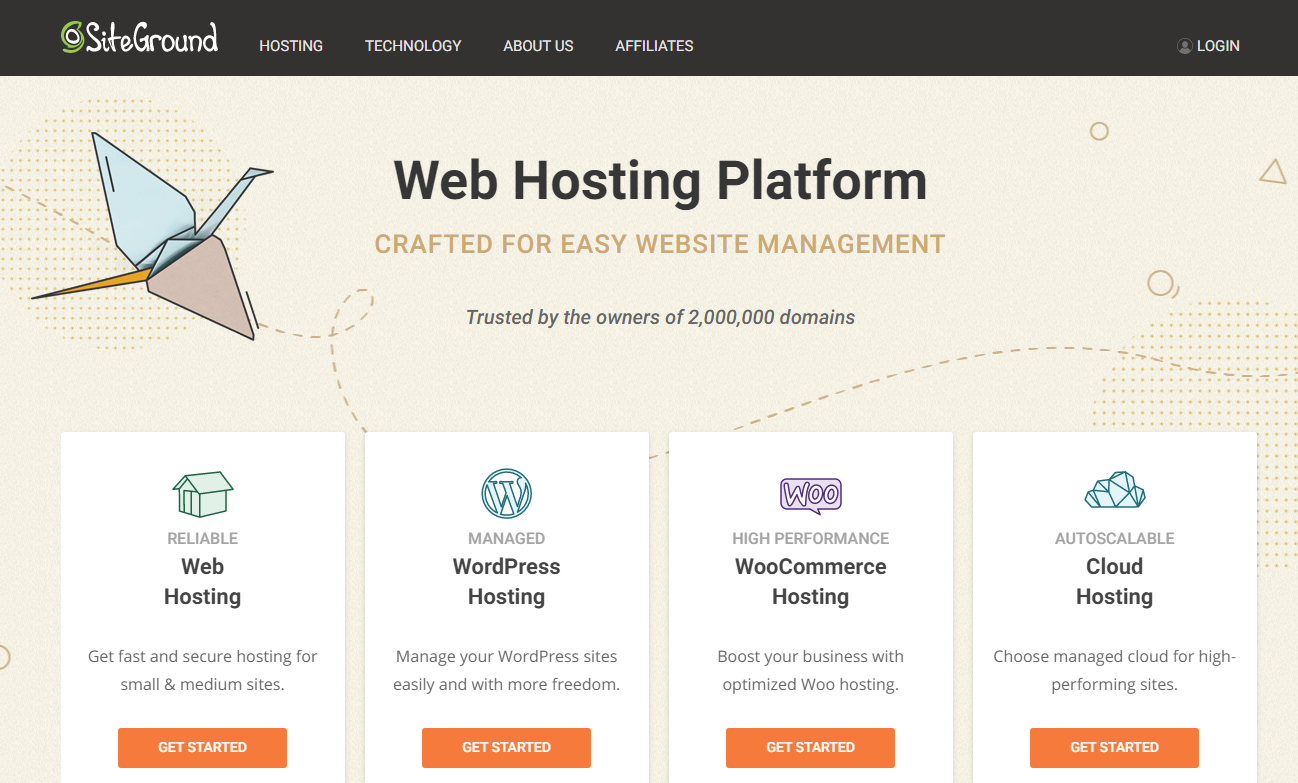 SiteGround offers the best features with best-advanced support. Excellent support and help are provided 24/7/365 via email, live chat or phone. Not only this, the uptime is very strong too i.e. 99.98%. The great features are other perks that make your decision of SiteGround right.
SiteGround is a highly reliable provider with an overall rating score to be 3.7 out of 5. But at some points, it loses points. Such as the lack of free domain name provision with the pricing plans. Getting a free domain name seems like a lucky bonus with the hosting provider. Many other providers offer a free domain name with cloud hosting.
The starting price of $80 is much more than any other provider. It can prove to be a great step up if you are upgrading from a shared plan.
SiteGround scores good across the board and is a combination of 5TB bandwidth, great support and great uptime make it outstanding for the provided features. SiteGround is hosting over 2,000,000 domains while making your website more productive and less stressed.
It gives you access to SFTP for file management and transfer. The cloud account also provides you peace and independence to have your dedicated IP. The free Cloudflare CDN service makes your site faster as gets more visitors from around the world.
Plans & Pricing:
The cost is high 5TB data transfer, 8 GB memory and 4 CPU which is $100 per month for a jump start plan. The business and business plans are recommended for large businesses to experience optimal features and performance of cloud hosting.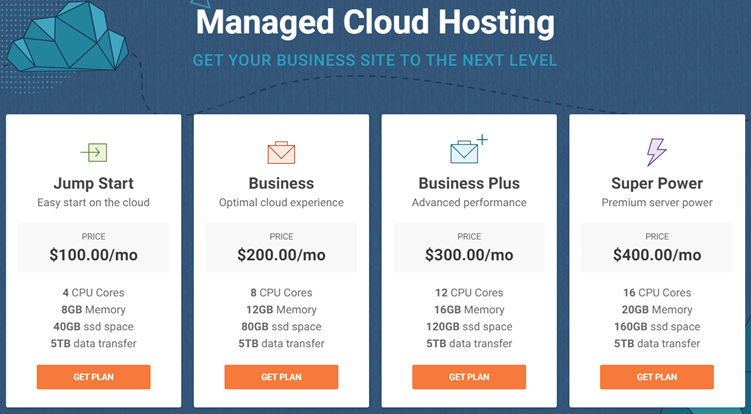 100% Uptime Guaranteed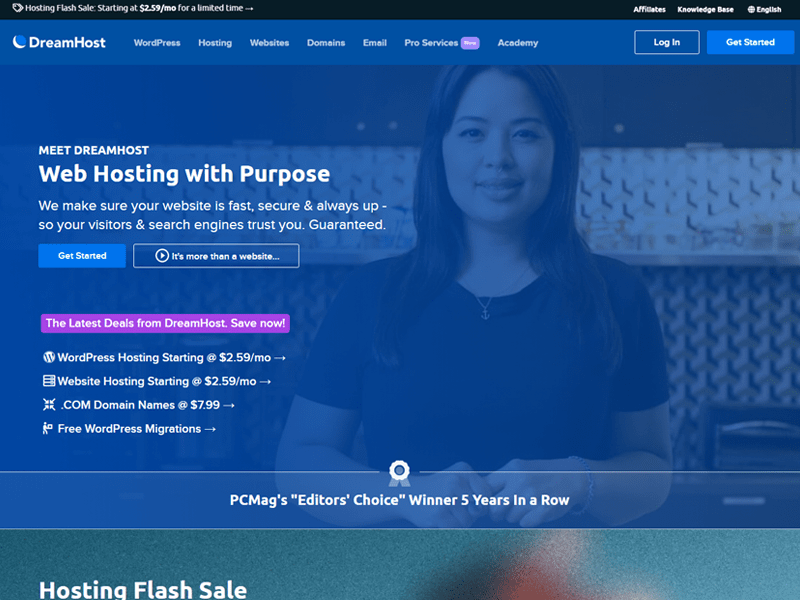 Dreamhost offers to host a cloud server for a step-up experience from other offered plans. Nevertheless, the unmanaged cloud servers fulfill the expectations of users to comfortably use commands for managing cloud services.
The cloud hosting services from DreamHost offer two services in categories; cloud object storage and cloud computing.
Dream Object secures a cloud storage hosting service that is used for web development. It involves the replacement or augmentation of AWS E3 services. This feature is also used for backup storage.
Cloud computing is a cloud computing service that is an easy way to grow and develop cloud services of your own. These can be run on Windows, BSD and Linux in SSD storage which is a server-less environment and next-generation processors.
Cloud storage and services look overwhelming for beginners. Dreamhost offers an ideal place to explore, experiment and grow cloud services at a reasonable cost.
Plans & Pricing:
The monthly plan starts at $4.95 per month. It guarantees 100% uptime and offers the same features on annual plans as well.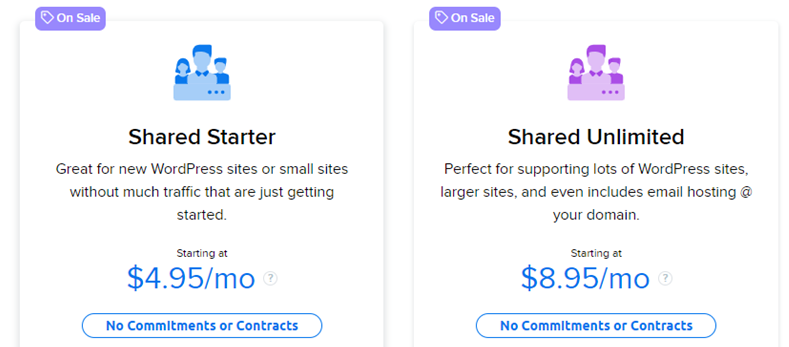 Friendly Management Console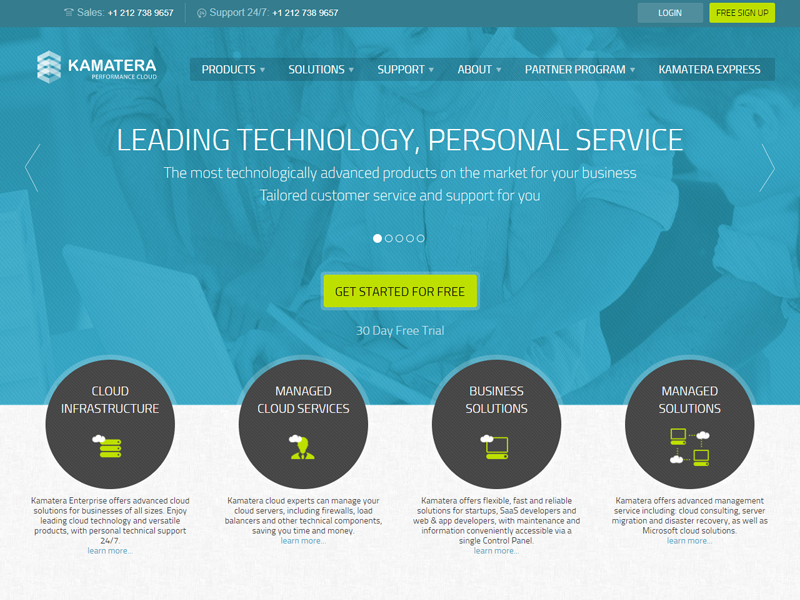 Kamatera is the most customizable cloud hosting provider. It is the only hosting solution that gives complete control over cloud hosting. It provides regardless of the tasks that give root access to the IP allocation or servers.
It also offers extreme flexibility for scaling up or down the resources. You can also decrease or increase the server capacity in minutes. Also, components such as firewalls, storage space, RAM and CPU can be taken or added with a single click only.
In short, we would say that Kamatera is the best provider if you are looking for a fully personalized hosting plan.
Kamatera does not, however, offer great uptime. If you are looking for a great uptime and not customization, beware! Kamatera may not be the best option for you. But, it is still the better option with extreme customization by giving 99.95% uptime. It means only 4.5 hours of downtime annually. As compared to the other competitors in this list such as Cloudways and Hostgator, the uptime of Kamatera falls a little short.
It is quick in customization that you can create your personalized server in less than a minute.
In addition, it quickly scales up and scales down the private networks. It is highly reliable for high-end data centers and purpose building. Despite the low uptime, there are zero points of failure with Kamatera.
Kamatera was also one of the best forex VPS on the market with low latency and high speed.
Plans & Pricing:
It offers a 30-days free trial.
Cloud servers start at $4 per month or you can also get it on an hourly basis which will cost you $0.005 per hour. Cloud block storage costs $0.05 per month per GB. However, the private cloud network is free. Managed cloud, cloud load balancer, and cloud firewall cost you extra money per month.
Best Redundant Cloud Hosting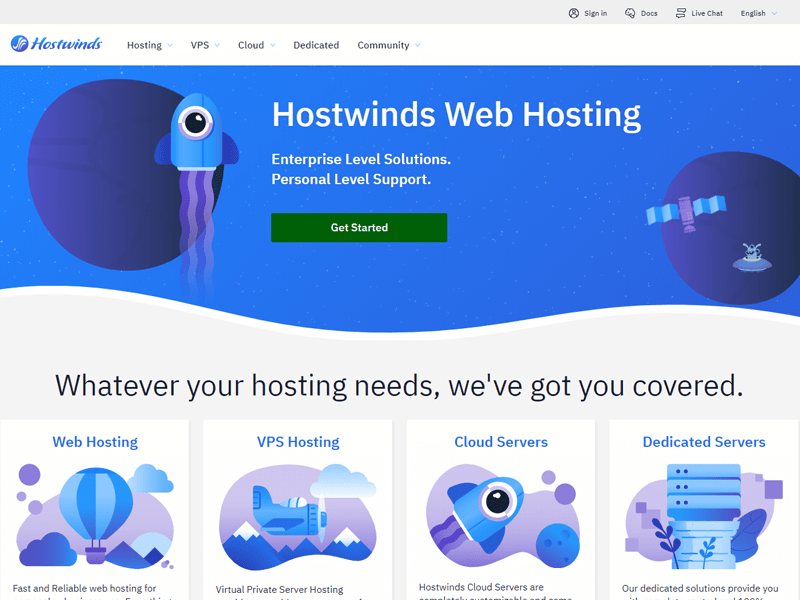 Hostwinds offer a good amount of RAM, Bandwidth and storage on its cloud plans and options to install most of the applications. The best about Hostwinds is the pricing breakdown. It is cheap and you will get a decent amount of features for your money. However, the depth and details of the features in Hostwinds are shallow. It does not offer server customization, free domains, and free backups in the package.
Plans & Pricing:
The most basic hosting plan for the cloud costs $0.006931 per hour. However, the most advanced hosting plan costs only $0.456931 per hour. It makes up $4.99 and $328.99 per month, respectively. Every other plan is cheap as compared to the competitors. This offers a 60-days money-back guarantee for a longer time.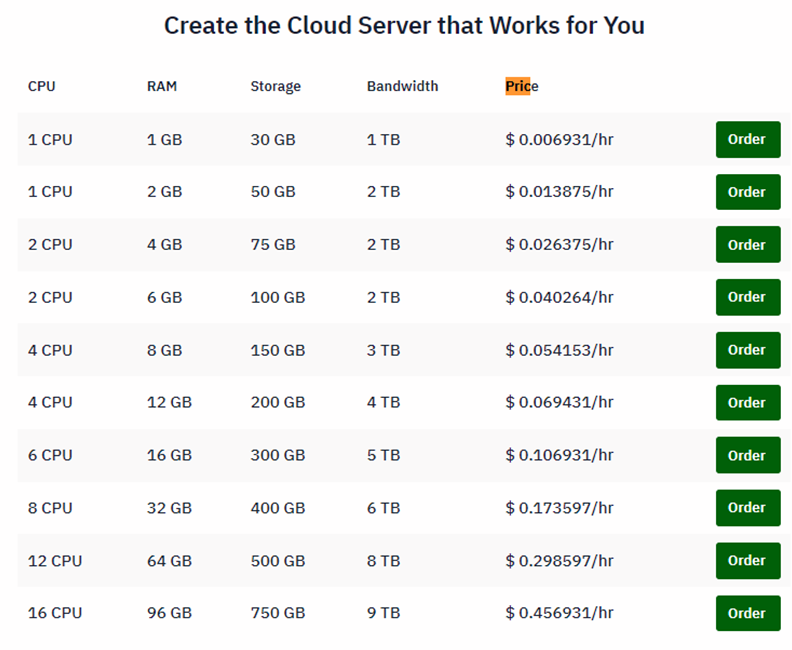 Best for Sites Experiencing Frequent Traffic Changes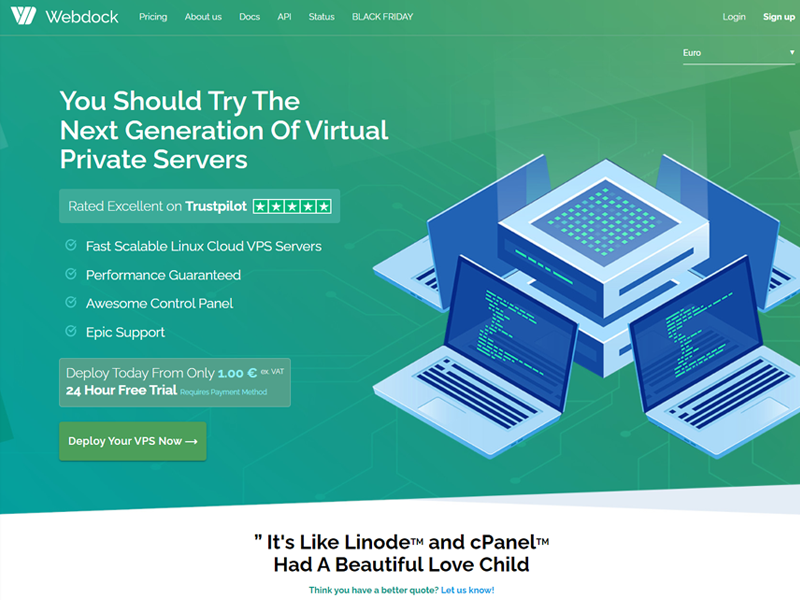 Cloud hosting has the capability of addressing applications and websites by using cloud resources. It works on the opposite principle of traditional hosting services. It intends to offer users flexible and traceable access to e-commerce sites by forming a connected physical and virtual cloud server.
Cloud hosting is best preferred when a website is growing at faster speeds. It enables a better allocation of resources with customizable addition and removal of storage, bandwidth, RAM, etc., from the network of servers.
Is setting up a cloud hosting server no longer complex, with outstanding services provided by reliable WebDock? WebDock did not fail to impress us with their best hosting services, either a VPS or those servers linked with Cloud storage.
WebDock offers a list of satisfactory customer features ranging from high-level performance to ensuring secure connections. Additional features include:
Plan & Pricing:
The basic WebDock plan provides you with 3Gb SSD, 512 MiB RAM, 1 thread CPU and 100M-bit/s-port for as little as $1 per month.
If you want a package with higher specifications, WebDock's highest quality plan which costs $40 per month, will help you. It comes with a 200 GB SSD, 20 GB RAM, 30 threads CPU and 1G-bit/s-port, providing the best speedy result.
What is Cloud Hosting?
Cloud Hosting makes websites and applications accessible through cloud resources. In cloud hosting, the solutions are not positioned on a single server which is not the case in traditional hosting. As an alternative, a network of physical and virtual cloud servers ensure great scalability and flexibility.
It is a service that co-exists on multiple servers. You get your site hosted in the cloud rather than on one shared server. It utilizes the computing power of several servers which means that you can enjoy more potential as compared to traditional hosting.
Also, you get access to machined offers. Cloud hosting is a more complex system. However, with this system, you get a cloud cluster. Unlike traditional web hosting which gives you limited space in a single server, you get a huge one with cloud hosting.
The shared hosts usually use the centralised approach in which multiple sites rely on one server. But all the accounts go down with the breakdown of the server. Cloud hosting also obeys the distributed approach that resolves the problem due to the centralized approach. All the websites in this system are distributed across different servers. Thus there will be no downtime in the case of the cluster.
Why Choose Cloud Hosting
We have some reasons cloud hosting is a superior alternative to run a website locally. Here are some benefits you get from cloud hosting.
Promotes business continuity
You can never guarantee that your in-house servers will never break down. Also, you cannot guarantee to get them back when they unexpectedly break down. You cannot create a disaster-proof system but a cloud server reduces the negative impacts related to the service loss.
Such as, the data centers of cloud computing employ aspects such as backup power generation that make sure to continue information transfer after the failure. It also incorporates advanced mechanisms to restart the system automatically, notify technicians and collect diagnostic information about the ongoing issue. It increases the ease of recovery and lessens the time in accessing information.
Simple dashboard
The cloud servers were a little difficult in past. It was not easy to manage the servers and it needed technical support to scale and manage the servers. Cloud hosting lets you easily track and scale the hosting on-demand using an intuitive dashboard. Also, you don't need to have coding knowledge to do so.
Good for scalable traffic websites
If the traffic on your website keeps on inconsistent then it is difficult to locate a host that gives you the best. Cloud hosting gives you chances to easily scale the resources according to the needs of your website. Such scalability is not possible with any other hosting style.
Faster performance and speed
Most hosting offer lightning-fast speeds. Cloud hosting does not only provides a balance between multiple environments of servers but also increase the capacity of your website. It, in turn, helps in putting very less strain on a single server.
The hardware found in the server will affect the speed. That's why you need to pick a cloud host with low-density servers, multiple caching layers and premium server hardware.
Security of hardware
Cloud hosting offers you an isolated website from physical server issues such as system overload, hardware failure and hacking. If a physical server experiences an issue, physical resources from another server help resolving the issue without causing any downtime.
High availability and uptime
In traditional hosting, the uptime of your website depends on the physical server environment. In case of its downtime, your website experiences the same. Your site will never go offline because of the scalability of server resources even in an unexpected surge hour on the website.
A redundant environment of the server
Your site relies on a single server for most hosting resources. Your site will go offline if something happens to the server and you cannot get online until it is fixed. In case of redundant hosting, your site will start backing up a second later. Yet, the redundancy is not equal. Cloud hosting makes it concurrent for your website to load your host immediately.
Easily scalable server resources
Scaling server resources is not easier with cloud hosting. Most of the cloud servers can reach intuitive site management so you can determine the site's performance. Thus, it allows you to control server resources on spot.
Flexible pricing
With most hosting services, you pay on monthly basis irrespective of your usage of server resources. Cloud hosting demands you to pay for what you use. For example, you don't have to upgrade your entire package if your website is getting unusually large traffic.
Simply scaling the resources would be helpful at the time of traffic surge. Later, when the traffic returns to normal you can upgrade it accordingly. Rather than paying for high free hosting your pricing would be manageable for server resources. So, it is a pay-as-you-go model which is different from the flat rates of traditional hosting.
Conclusion
Several key factors are compared in the above post to help you determine the best cloud hosting provider. We have tried to compared maximum factors here. You can choose the best provider according to the needs of your business. This post is right here to direct you towards what is best for you. However, we still emphasize for you to prioritize a few aspects while choosing a cloud host provider.
The foremost is the budget, then customer support so you can get through the set-up process smoothly and later work without any obstacle in the system. Thirdly, they should offer a money-back guarantee or at least a free trial for a certain period. Uptime is another most important feature so your website is not bothersome for your users.
Cloud hosting is a reliable and modern hosting that brings in different yet interesting elements for your website.
To recap, let us have a brief overview of the cloud hosting providers discussed in the above post. We ranked Hostgator as the top provider because of the unmetered storage at a minimal cost. A2 Hosting is best for overall hosting features. Cloudways is one of the cheapest providers, Kamatera is best for customization and SiteGround also offers the best of all the features as compared to others in the list.
Hostwinds is budget-friendly and InMotion is best in terms of support and management. DreamHost is the cheapest and Hostinger provides the most user-friendly control panel. you can select the best from this list according to your requirement.