Dedicated server hosting is important when your website starts receiving high traffic that the server resources of a shared hosting plan are not enough to handle.
This type of web hosting empowers the user with a remote dedicated server to a single customer accompanied by several customizations. Since the server is not shared, the speed and performance outcome is 100% with enhanced digital data security.
Here is a summary of the best dedicated server web hosting services:
There are tons of dedicated server providers in the market that promise high uptime numbers and excellent conduct. To ease up your work, we have listed the top 10 best dedicated server hosting providers for 2023 and their positive and negative aspects with pricing details so you have all the right information to make an ideal choice.
Are you looking for cheap options? Check out our research for the cheapest dedicated servers.
Let's first look at a comparison of major aspects between all the providers before getting started with the detailed review.
Table of Comparison
| Provider | Price | Renewal | RAM | Disk | CPU | Bandwidth | IP | Panel | Ratings |
| --- | --- | --- | --- | --- | --- | --- | --- | --- | --- |
| Verpex | $31.60/mo | $79 | 4GB | 80GB | 2 | Unlimited | 1 | cPanel | 5.0 |
| HostGator | $89.98/mo | $189/mo | 8GB | 1TB | 4 | Unmetered* | 1 | cPanel/Plex | 4.8 |
| InMotion Hosting | $139.99/mo | $189/mo | 16GB | 1TB | 4 | 1 Gbps | 5 | cPanel | 4.3 |
| BlueHost | $79.99/mo | $149/mo | 4GB | 1 TB | 4 | 5 TB | 3 | cPanel | 4.0 |
| A2Hosting | $105.99/mo | $199 /mo | 16GB | 1 TB | 4 | 6TB | 1 | cPanel | 4.0 |
| LiquidWeb | $169/mo | $199/mo | 16GB | 512GB | 4 | 5TB | 1 | cPanel/Plesk | 4.7 |
| DreamHost | $149/mo | $169/mo | 4GB | 1TB | 4 | Unlimited* | 1 | Custom | 4.0 |
| Hostwinds | $122/mo | $122/mo | 8GB | 1TB | 4 | 10TB | 5 | cPanel** | 4.3 |
| iPage | $119.99/mo | $149/mo | 4GB | 500GB | 2 | 5TB | 3 | cPanel | 3.5 |
| IONOS | $65 /mo | $70/mo* | 16GB | 1TB | 4 | Unlimited | 1 | Plesk** | 4.0 |
| GoDaddy | $129.99/mo | $169/mo | 32GB | 8TB | 4 | Unmetered* | 3 | Cpanel/Plesk** | 4.0 |
*Bandwidth is unmetered or unlimited but under some policies and you can't exceed their max quota
**cPanel or Plesk is available with an extra cost
Best Dedicated Server Hosting Providers
Best for Managed Cloud Dedicated Servers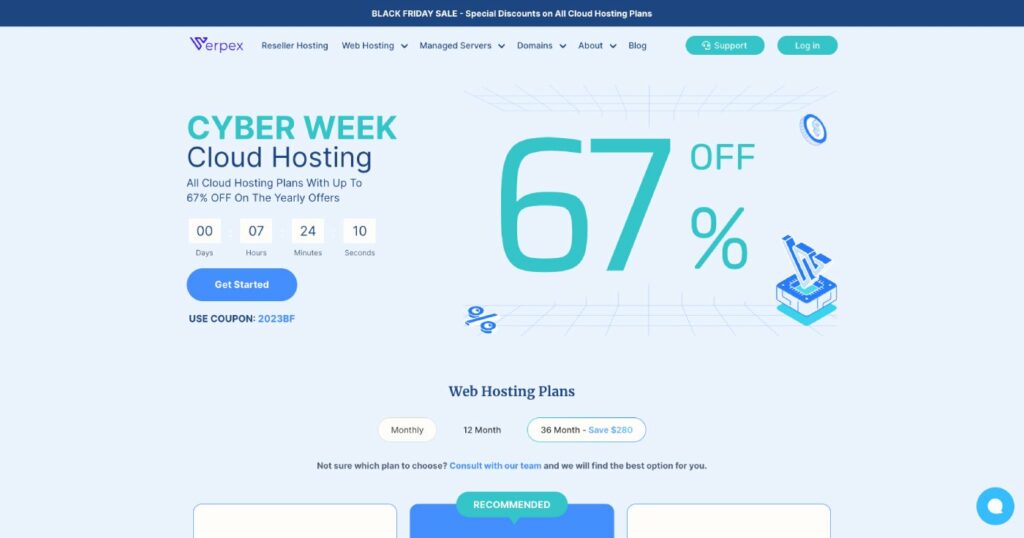 Verpex offers fully managed dedicated servers, providing a balance of performance and ease of management. Their services are designed for those who need dedicated resources but prefer not to handle the technical complexities of server management.
Their managed cloud servers come with a suite of tools for efficient website and email management, backed by the reliability of cPanel and WHM.
With a focus on security and performance, Verpex ensures that each server is optimized for the best possible user experience, offering features like offsite backups, SSL certificates, and a choice between Apache or LiteSpeed servers.
Additional benefits include unlimited traffic, the ability to host unlimited websites, and 24/7 support, ensuring that help is always available when needed.
PROS
Flexible and scalable server options
Comprehensive management and support
Optimized for performance and security
Free migrations and unlimited data transfer
CONS
Higher cost compared to shared hosting
Complexity for beginners without technical support
Overall, Verpex stands out as a strong choice for those seeking a managed cloud server solution, offering a blend of performance, security, and user-friendly features.
Price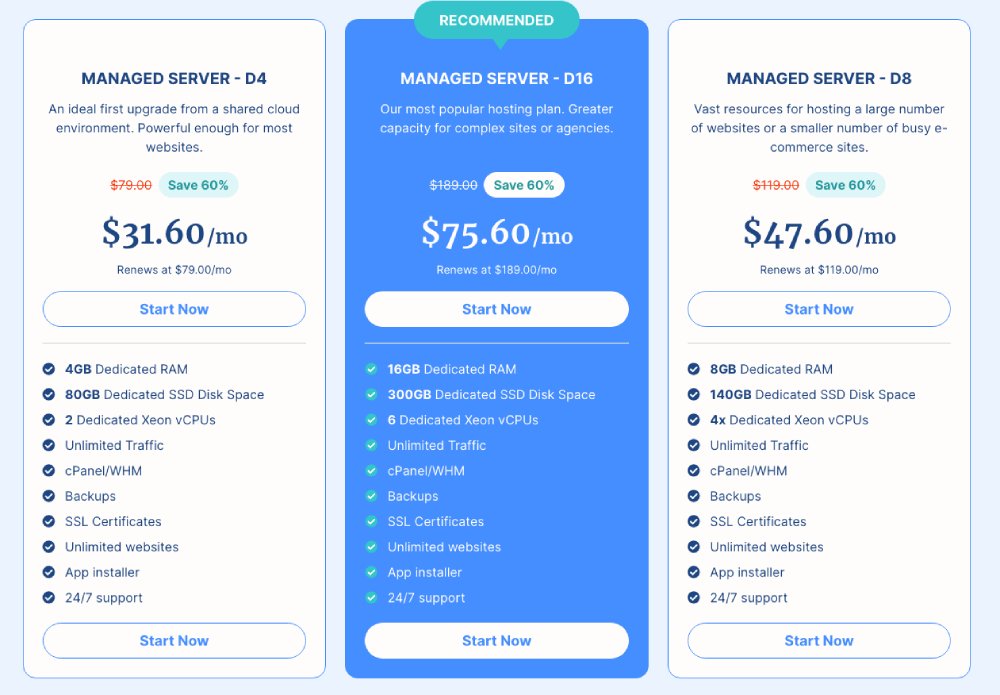 Managed Server D4 – $31.60 per month
Managed Server D16 – $75.60 per month
Managed Server D8 – $47.6 per month
Best cPanel Dedicated Hosting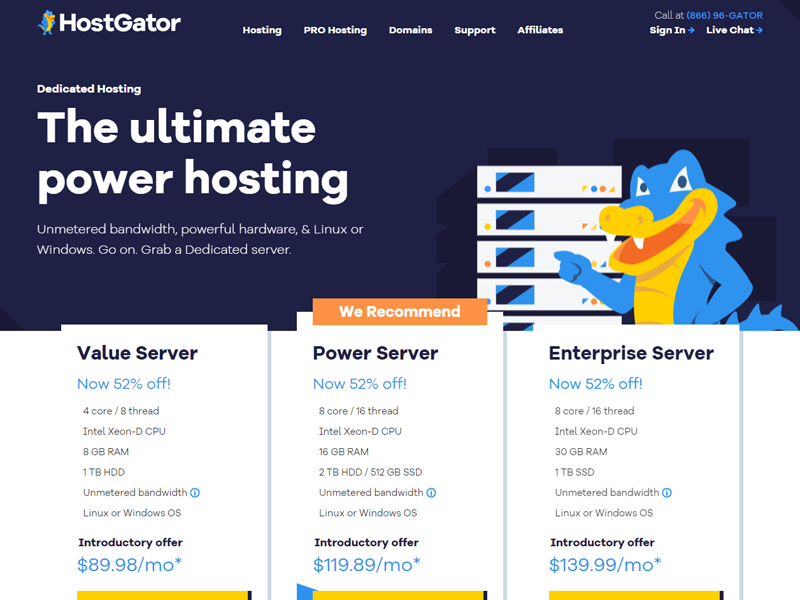 HostGator is undoubtedly the top dedicated hosting provider with feature-packed and flexible pricing plans that work for your website in the finest ways. It does not limit the amount of data transferred over the server as an unmetered bandwidth source.
Additionally, the robust hardware combined with first-class operational support for Linux and Windows defines the versatility of HostGator's services. Besides having absolute control over a whole server at your disposal, you also get to make the personalized choice of speed and space-based drive with HostGator.
Furthermore, the safety of your digital privacy is no more concern if you are using HostGator's dedicated server, as it provides highly advanced DDoS protection. The firewall based on IP address not only functions to provide additional safety but also ensures the optimum performance of websites being operated on the server. The two-in-one support for Linux and Windows is essential as you can flexibly operate either cPanel and WHM or Plesk and Webmatrix.
There is a huge list of attributes that facilitate the excellent conduct of this server provider; hence if you want power-packed resources at economical rates, HostGator is your ultimate problem solver.
Eldo's Note: I have used Hostgator, and it was a good experience except sometimes when their support is slower and can't resolve the issue immediately. Their dedicated server hosting is easily scalable and pretty fast.
Pros
Cost-effective web hosting provider
User-friendly interface
Several how-to tutorials for beginners' guide
Simple insertion or removal of sub-sites
Multiple tools to support effective website building
Inbuilt email complementary to domain
Cons
Outdated interface
Customer Support Slower
Longer downtime than expected limit
Price
There are three dedicated hosting-specific plans available at HostGator. Let's have a brief look:
Value plan – starts at $89.98 per month
Power plan – starts at $119.89 per month
Enterprise plan – starts at $139.99 per month
Read More: Cheap Dedicated Server Hosting
Best for Costless IP addresses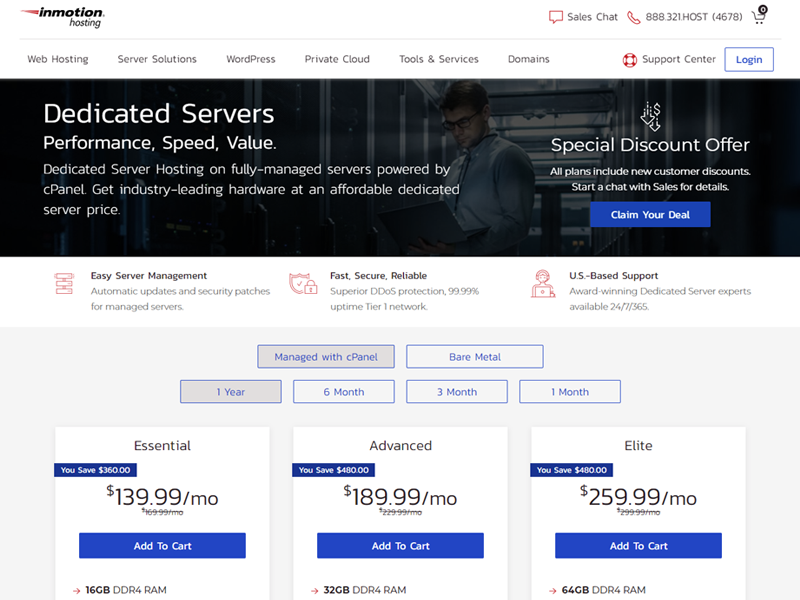 The Inmotion hosting provider has every significant feature required to establish a premium website with a dedicated server. It allows costless migration of websites irrespective of the former server with the licensed Launch Assist. Furthermore, the Inmotion services for dedicated hosting are highly scalable and trustworthy with security-centered features like multi-layered defense, free SSL certificate, and a custom firewall.
You can control the server remotely through KVM, which ensures excellent performance and allows the implementation of automated workflows for your ease. You can also opt for managed hosting for the dedicated server where the provider's technical experts handle all important updates and upgrades. Furthermore, the Inmotion resources guarantee a hundred percent reliable networking outcome with predictable downtime for a short period in extreme cases.
The server has remarkable integration of Softaculous software that facilitate single-click installation of important tools from web applications like WordPress etc. One of the major positive aspects of Inmotion hosting is its ability to inculcate custom software and hardware to produce optimal speed and performance results.
You can also contact their highly responsive customer service for further information on which item best fits your business type. Overall, all services at Inmotion, ranging from server's pre-setup to post-setup, are highly reliable, and satisfactory results are conveyed to your end. The presence of several US data centers of Inmotion hosting allows you to choose the closest one and enjoy unlimited speed benefits.
The highly economical plans come with a reliable 30-day money-back guarantee to ensure that you are entirely satisfied with their services before investing your money.
Pros
Remarkable speedy performance
Swiftly operated features
Uptime guarantee of 99.9%
Integrated premium site builder of BoldGrid
Free of cost domains
Free of cost, secured socket layers, web migration, and automated backups
Patchman's hack and DDoS protection
24/7 customer support services
90 days money-back guarantee
Exclusive discounts
Cons
Complex checkout process
Data service centers restricted to America
Lacks Nginx support
Price
Let's look at three essential pricing plans offered at the Inmotion hosting provider for dedicated servers.
Essential plan – $139.99 per month
Advanced plan – $189.99 per month
Elite plan – $259.99 per month
Best for Money Value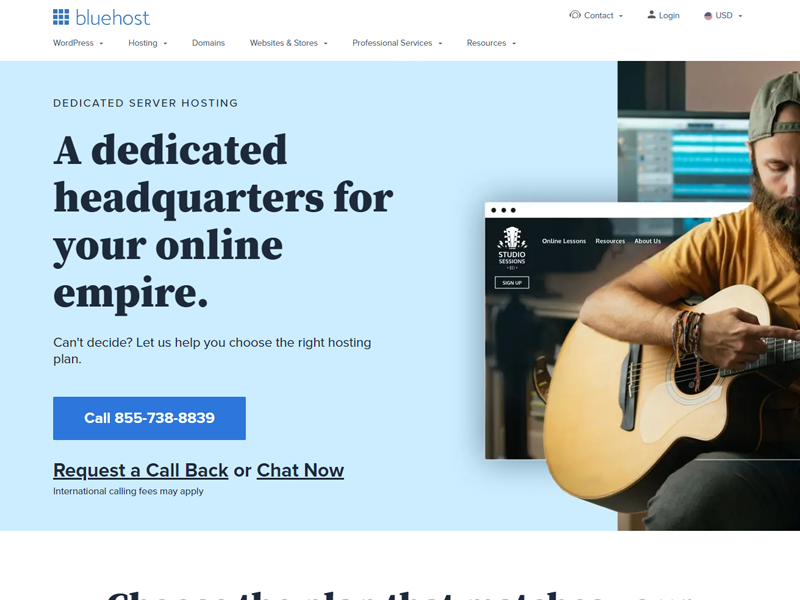 BlueHost, one of the top WordPress recommended hosting providers, has also been picked as PC Magazine Editor's Choice of best Web Hosting 2021. It provides flexible plans of scalable resources that you can opt for according to your business requirements.
The most appreciable aspect of BlueHost is their 24/7 active support of phone calls and live chat. Let's briefly look at the limitless optimization and customization capabilities of BlueHost's dedicated servers. It offers a highly efficient multi-server operating system where you can combine the server further with virtual private networks, shared or even dedicated servers.
Furthermore, you also get absolute control over every detail of the server from OS to Apache with a straightforward interface to save time and effort. The enhanced control panel functionality is another favorable aspect that maintains websites, domains, emails, and other vital resources on a single page for easy access.
With a hundred percent speed guarantee of servers built with the latest open source technology, you can upgrade the server's storage without assisting any administrator. This scaling of resources proves useful in maintaining the excellent performance of the site.
BlueHost provides a charge-less SSL certificate and RAID1 optimized storage to address security concerns. The dynamic team of experts installs a server in mere 24-72 hours of purchase and is also available to offer dedicated support. If you are an advanced user, root access will come in handy to install custom software and hardware with utmost feasibility. Finally, you get free domains for the first year of purchase, and each plan has 30 days refund policy.
Pros
Simple to operate
Astoundingly fast speed
High maintenance server
Ultimate security aspects
Unlimited websites, SSD storage, domains, sub-domains, and bandwidth
Several freebies
Cons
Only one data center
Unskilled workers
No prior guarantee for uptime
Unprincipled checkout prices
Price
The dedicated servers of BlueHost are available in the following three pricing plans:

Standard plan – $79.99 per month
Enhanced plan – $99.99 per month
Premium plan – $119.99 per month
Best for reliable uptime
A2Hosting's dedicated servers have two in one approach where you can access both managed and unmanaged servers. With unmanaged servers, you get complete command over the self-configuration of a custom server. The attributes of unmanaged A2Hosting servers include command line management, ultra-active hardware and network, custom operating system, complete root access, and single-click resource installer of Webuzo.
The managed hosting services for novice users are also remarkable at A2Hosting with ultimate HostGuard server management. It further involves an elementary control panel, 365 days of active customer support, enabling security, and limited root access.
The high-tier pricing plans come with complimentary turbo hosting options that are a major source of enhanced performance and speedy outcomes. BMD servers further facilitate this conduct. Further support of NVMe optimized storage is three times faster than usual methods. The dedicated servers are backed with a reliable 99.9% uptime guarantee.
A2Hosting is one of the few vital web hosting providers that give the user freedom of the central processor's choice. To sum up, A2Hosting is one excellent dedicated server provider with extensive features that provide good aspects of speed, performance, scalability, configuration, and security for your web-based product.
Pros
The quick loading speed of 288ms
Well-grounded uptime of 99.98%
24/7 active monitoring of the dedicated server
Real-time malware scanning
Up to 25 sites migration for free
CMS tools
User-friendly interface
Anytime money-back guarantee
Green web hosting plan for environmental benefits
Rapidly responsive customer support
Cons
Paid domains
Inflated renewal rates with the minimal deadline
No turbo hosting on cheaper plans
Price
A2Hosting offers two pricing plans with extensive premium features depending on your price. Let's have a brief look at these dedicated hosting plans:
Hyper 1 – $105.99 per month
Hyper 2 AMD – $135.99 per month
Hyper 2 Turbo AMD – $165.99 per month
Hyper Intel – $135.99 per month
Hyper 2 Turbo Intel – $165.99 per month
Hyper 3 AMD – $425.99 per month
Hyper 3 Turbo AMD – $455.99 per month
Best for multiple operating systems support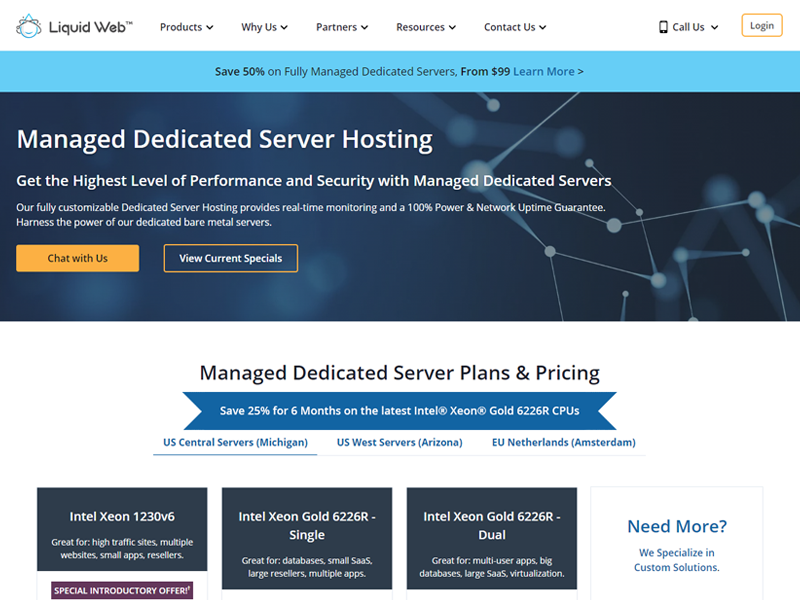 LiquidWeb is one of the top-notch, highly qualified web hosting providers available in the market that allows personalized server customization. Alongside, 100% uptime is also promised for both the power and network of the operating server.
It also facilitates real-time inspection of the host server without costing extra bucks and compromising the caliber of performance. Besides a wide range of processor-based pricing plans, you can also create a custom program at LiquidWeb.
It may include enhanced hosting availability and performance, private and public cloud hosting or VPS hosting, hybrid hosting support, pre-resolved ideas for potential disasters, and build-to-order hosting solutions. Besides appreciation-worthy software, the hardware of this server is also robustly made of Proactive Sonar Monitoring and ServerSecure.
This two-in-one Linux and Windows supported dedicated server at LiquidWeb has outstanding managed-to-host attributes with excellent customer support. It offers varied processor and hosting capabilities for absolute customer satisfaction, including a single or dual processing unit and self, core, or fully managed host, depending on your business demands.
The team of experts is always available at your end to deal with every major to the minor issue of server security, management, scalability, configuration, etc. The relevant services also have extensive support from Cloudflare that helps your visitors connect with closely located servers for optimum speed.
Look at other vitals that you can only get with dedicated hosting servers on LiquidWeb, which many other competitors lack.
100% uptime service level agreement
Different OS
Phone, chat, and email support
Default off-server backups
Root access
Multi-layered DDoS protection
16GB RAM
Speedy SSD storage
Pros
Strong online presence
Outstanding support services
Easy admin panel user interface
Variety of web hosting servers
Live chat support
Highly responsive phone support
iThemes compatibility
Beginner-friendly management tools
Huge popularity amongst reputed brands
Reliable uptime
Cons
Comparatively pricey
Costly integrations of WordPress hosting and other WooCommerce products
Lacks video tutorials
No shared hosting
Price
Let's look at the pricing scheme of dedicated servers of LiquidWeb.
Intel Xeon 1230v6 – $169 per month
Intel Xeon Gold 6226R (single) – $224.25 per month
Intel Xeon Gold 6226R (dual) – $374.25 per month

Best for unlimited data transfers each month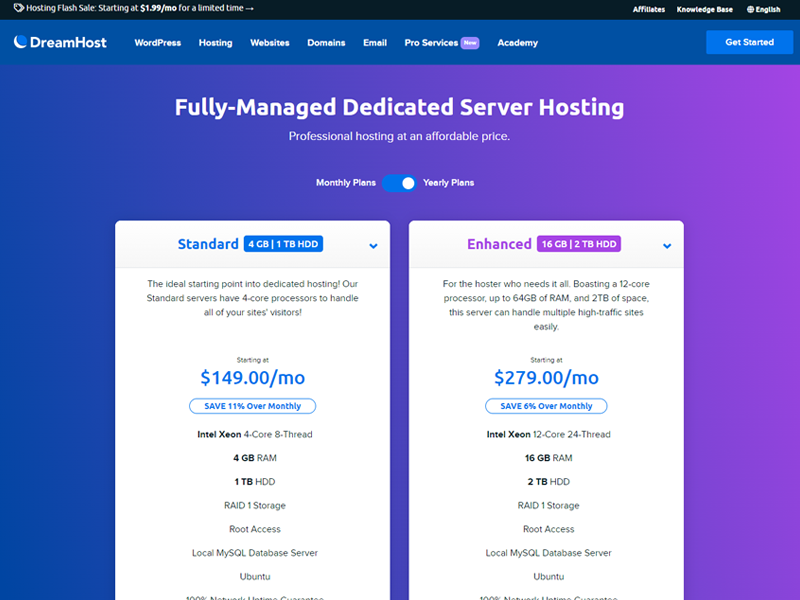 DreamHost eyes for the ultimate success of your digital product through its feature-filled approach of dedicated hosting servers. Firstly, they have an impressive technical support setup for beginners who would not mind a bit of technical advice in the area of trouble from the team of experts. You can conveniently contact them through the in-web live chat widget or send them an email mentioning your query.
Furthermore, the guaranteed cutting-edge overall performance of the managed servers at DreamHost results from perfect software and hardware usage. The servers use robust hard drives, HDD or SSD, for super-quick loading of the website.
The server is your property, and you can customize it with whatever applications your small business requires to function at optimum speed. Moreover, your safety concerns are also put out of the way with highly functional tools for safety from DDoS and power redundancy.
DreamHost has data centers in several areas with a highly qualified setup of cooling, monitoring, etc., guaranteeing 100% uptime. The provider also values ease for users that, reflects in its smart control panel. This panel is properly arranged to manage every essential item like websites, domains, subdomains, emails, etc., on a single page.
The control grip of the user is further enhanced with root level and shell access; you can also reboot upgrades on your server independently without having to contact the hosting company. Last but not least, DreamHost offers unmetered bandwidth with no limit on incoming traffic, which is extremely significant for a high conversation rate.
Dreamhost is also one of the best WordPress hosting providers on the market that offer good service with a cheap price.
Pros
Highly speed optimized
100% uptime guarantee
WordPress recommended
Integration of a straightforward web builder
Highly responsive support services
Ultra-modern security management attributes
97 days money-back guarantee
Availability of monthly plans
Unlimited website hosting, domains, subdomains, SSD storage, databases, etc.
Cons
US restricted data centers
Time-limited customer support team
The steep learning curve of cPanel
Costly addons
Price
The DreamHost dedicated servers are charged as following plans:
Standard plan – $149 per month
Enhanced plan – $279 per month
Best for large RAM availability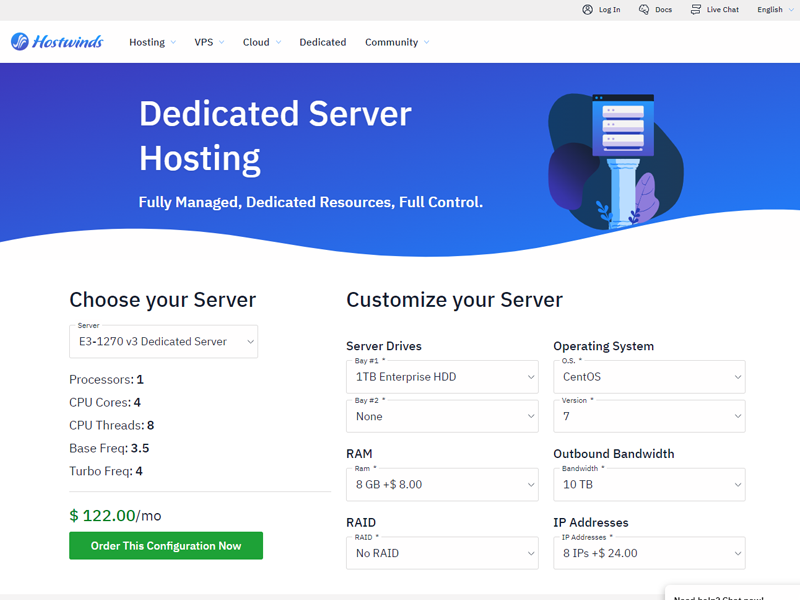 Hostwinds come with a variety of dedicated servers that are completely customizable and stuffed with vital attributes that contribute to their ultimate functionality. It supports RAID-based data storage strategy where you can personalize each server configuration with the deployed amount of hard disks – it can range from 1 to 60. The server operates at a 1 Gbps network and can be instilled with RAM and processors of your choice.
The server personalization options are vast at Hostwinds, as you are also allowed to choose the number of disks and their sizes; it has optimal support for RAID configuration. The provider guarantees delivery of the same server you customized with an impressive guarantee of 100% uptime. The server is 24/7 monitored through built-in AI, and the team of experts is immediately alerted about any potential issue beforehand.
This automated error identification and rectification saves a great deal of your time and effort. Furthermore, heavy data security measures are available, including automatic backup every night to prevent data loss in any unfavorable situation. In any such situation, the expert technicians are also available at your end 24/7 to provide guidance on every minor issue and resolve it as soon as possible.
Despite 2 data centers, Hostwinds has an advanced setup of redundant communication pathways, and their carriers at all locations ensure a robust and reliable networking uptime.
Pros
Free of cost website transfer
Impressive customer support services of live chat, email, and phone
Free secured socket layers
Costless unlimited email accounts
Satisfactory uptime guarantee of 99.98%
User-friendly dashboard and cPanel interface
Robust speed of 745 ms
Payment methods include Skrill and Bitcoin
Supports both Linux and Windows-based hosting
Cons
Only two server centers are restricted to the United States
Paid domain names
Prorated money-back guarantee
Paid SSL certificates
Price
You can choose the server from the below-given list and directly customize it while purchasing.
E3-1270 v3 Dedicated Server – $130 per month
2 x L5640 Dedicated Server – $171 per month
E3-1270 v2 Dedicated Server – $122 per month
E3-1271 v3 Dedicated Server – 137 per month
E5-1620 v2 Dedicated Server – $208 per month
E5-2620 v3 Dedicated Server – $212 per month
E5-2620 v2 Dedicated Server – $207 per month
E3-1270 v6 Dedicated Server – $207 per month

Best for Unlimited Monthly Data Transfers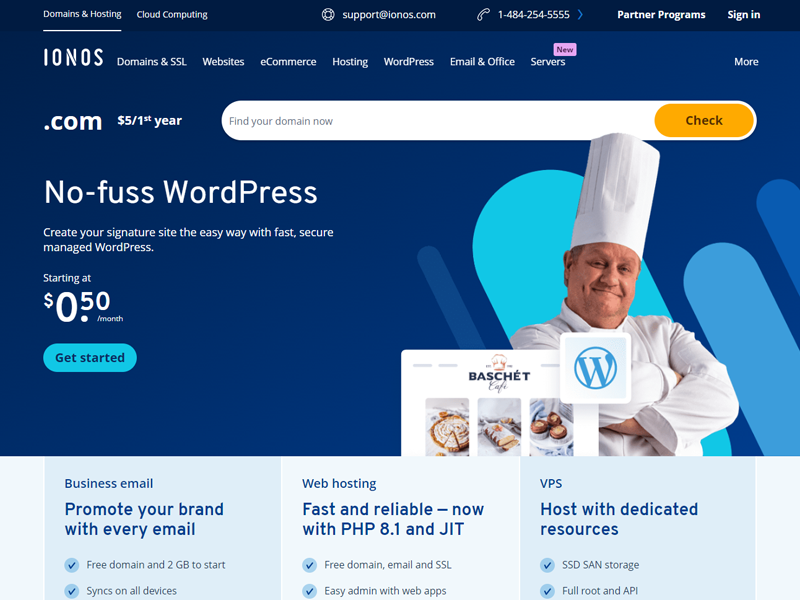 IONOS is popular for providing a potent dedicated server with equally robust hardware and software. A few of its significant attributes include four different cores of Intel XEON E3, RAID-based storage, unlimited bandwidth, railgun content delivery network, and unlimited bandwidth connectivity. It is a user-friendly platform that guarantees the optimized performance of the server irrespective of the workload; it displays an elementary control panel where all vital aspects are managed on a single page most intuitively. The networking capabilities are also highly advanced, where you get connectivity of around 1 GBit/seconds.
The IONOS servers are packed with DDoS protection for the online security of your web data; this feature works automatically to detect potential incoming threats. It also integrates SiteLock and Wildcard SSD, which provides extreme protection against viruses, malware, and other online fraudulent activities. This provider's impressive aspect of web hosting is its more than 60 data centers worldwide that swiftly distribute data. It also ensures that high workloads have no negative impact on the website's performance, maintaining the super smooth speed.
With IONOS, your data is completely safe as its backup manager stores files for up to 6 days which you can restore with a single click. Another interesting aspect that many web hosting services providers lack is the mobile application which empowers you to operate the control panel from your pocket device. Moving towards the networking capacity of IONOS dedicated servers, it has an HTTP\2 protocol directed towards a remarkable boost in the loading speed of web pages.
Pros
Flexible uptime
Basic and premium plans
Free Domain
Site Scan
Two in one server based on Linux or Windows
Price
There is the availability of 4 pricing plans for robust dedicated servers at IONOS. They are:
A8i SSD – $45 per month for the first six months, then $65 per month
L-16 SSD – $70 per month for the first three months, then $90 per month with setup fees inclusive of $50
XL – 32 SSD – $110 per month for the first three months, then $130 per month with setup fees inclusive of $50
XL – 64 SSD – $140 per month for the first three months and then $169 per month with setup fees inclusive of $50
Best for affordable pricing plans
GoDaddy is popular for a wide variety of hosting services, out of which a self-managed dedicated server is one. It is highly efficient with a guarantee of super-quick performance, and several robust features are ensured. These attributes include a server uptime of 99.9%, intuitive cPanel, root-level access, SSD or HDD disks, and a bare metal server.
There is huge support for three different operating systems, including Ubuntu, CentOS, and Windows Server with cutting-edge hardware of Intel Xeon or AMD EYPC processors. You can also find a variety of plans for both HDD and SSD NVMe types of storage, where the latter is guaranteed to run up to a speed of 25x faster.
Each plan you pay for at GoDaddy comes with complimentary expert support that ranges from completely managed support to task-based services. For further ease of users, it has a user-friendly control panel which you can transform into WHM or Plesk as per your choice.
The security of provided servers is also top-notch achieved with the help of exceptional DDoS protection, and a free SSL certificate, with the certificate being available free for the first year. There is also a guarantee of 99.9% uptime offered by the provider, and it has been very rare that they break their promise. Overall, GoDaddy can be a good choice for a dedicated server, specifically if you are looking out for an economical purchase.
Pros
Inexpensive
Highly reputed platform
Single click WordPress installation
Multiple payment options
One year free SSL certificate
99.9% uptime
Optional cPanel Hosting
Cons
Slow response
Restoration fee
No live chat
No support for unlimited websites
Price
You can purchase the GoDaddy dedicated servers in the following pricing plans:
DS 32 $129.99 per month
DS 64 $169.99 per month
DS 128 $299.99 per month
DS 256 $399.99 per month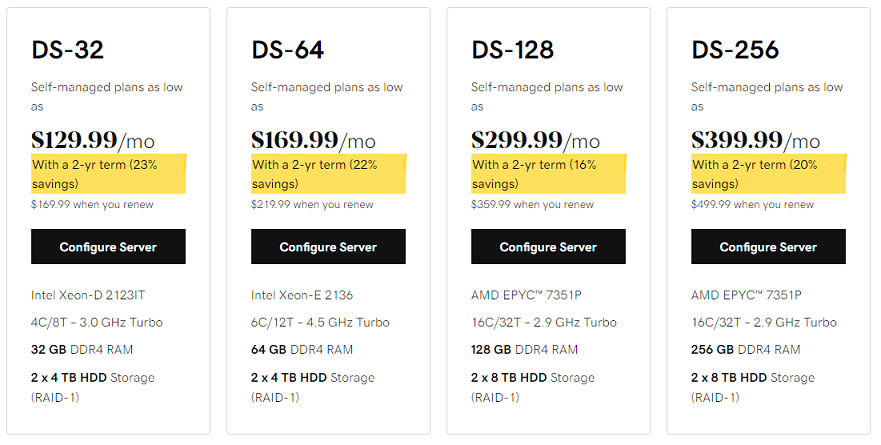 FAQs
What is a dedicated hosting plan?
A dedicated hosting service is a kind of web hosting where the user attains an entire server for his digital business like eCommerce without sharing it with any other client, as is the case with shared hosting. It has proven far better than other types of hosting in terms of reliability and stability. Your server is entirely isolated for your use which ensures data safety as no malware or third-party resources can enter the server territory.
Is dedicated hosting worth it?
Dedicated hosting is preferred when your business generates huge organic traffic, and a separate server becomes necessary to handle it. The catch with this type of hosting is its high cost of three figures per month, but the good news is that websites with such traffic that need it make it worth it.
Who should use dedicated hosting?
Below mentioned businesses require the necessary use of dedicated servers.
Companies and enterprises with more than 500 workers and huge databases
Websites that have more than 10000 users monthly
Agencies or companies that work as resellers to host many clients' websites
Conclusion
If your website has reached the skies of success and the huge traffic demands an isolated server – dedicated hosting is your business solution. Out of several service providers, we discussed the top 10 in the article.
Now we hope that you will be able to narrow the list down to a single dedicated server provider for your business that will best suit its needs and serve important aspects of reliability, performance, speed, configuration, stability, scalability, etc., in the most functional manner.
The hosting provider plays an important role in determining the accomplishment rate of your online business hence must be chosen wisely after investigating every minor detail.
More dedicated server hosting articles:

As one of the co-founders of Codeless, I bring to the table expertise in developing WordPress and web applications, as well as a track record of effectively managing hosting and servers. My passion for acquiring knowledge and my enthusiasm for constructing and testing novel technologies drive me to constantly innovate and improve.
Expertise:
Web Development,
Web Design,
Linux System Administration,
SEO
Experience:
15 years of experience in Web Development by developing and designing some of the most popular WordPress Themes like Specular, Tower, and Folie.
Education:
I have a degree in Engineering Physics and MSC in Material Science and Opto Electronics.