Are you looking for the best email marketing services for your small business? Choosing the right email marketing software can impact the success of your campaign.
Email marketing is a simple proof of streamlining and enhancing communication to identify qualified leads, and then mature and nurture deals with those leads. It is the most cost-effective strategy for online businesses.
The tools used for email marketing not only provide support but also store and organize contact information.
Here is a short list of the best email marketing services:
Managing these tools is easy which gives you control over your customers while establishing direct contact with them.
Nowadays, marketing is a critical strategy for all types of businesses and industries. We have listed our top picks of the best email marketing tools.
The Top 17 Best Email Marketing Services
Let's check absolutely the best small business email marketing platforms: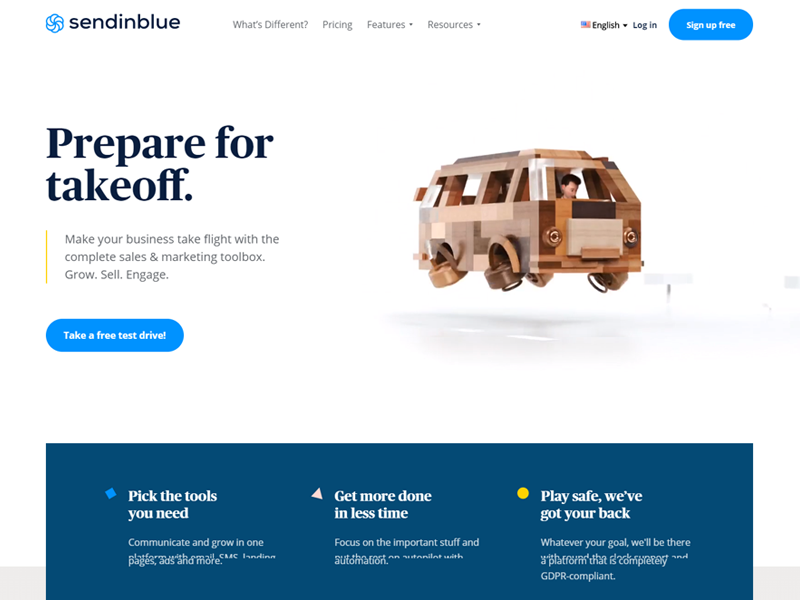 SendInBlue is a popular automated email marketing software with a low budget as there is also a free plan with it, however limited. They actually send out emails that are transaction-based. Also, they are now using a combination of SMS and email.
The free plan is very generous as the plan is not based on the number of contacts but the number of emails. Furthermore, it manages the optimization of email layout, campaign reporting and list management. SendInBlue has an exclusive model of pricing on the basis of email volume.
The plans are quite flexible but without a money-back guarantee. However, you can choose a forever-free plan to move along with SendInBlue. The pre-paid credits allow you to purchase some emails without a monthly commitment.
Package
Main Features
Price
Free
– Unlimited Contacts
– 9000 email/month
– 3000 email/day
Free
Little
– Unlimited Contacts
– Unlimited daily emails
– 40.000 emails/monthly
$25
Essential
– Unlimited Contact
– No email with logo
– Unlimited daily emails
– More than 60.000 emails/monthly
$39
Premium
– Unlimited Contacts
– Advanced Automation Services
– Unlimited daily emails
– More than 120.000 emails/month
$66
---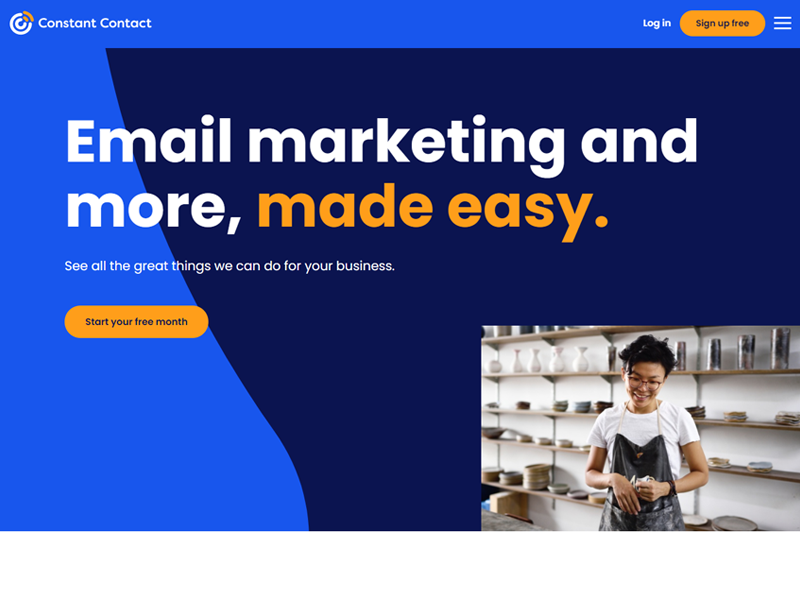 Constant Contact is the fastest and largest email marketing software. Also, it is incredibly user-friendly and easy to use.
It helps you manage all your marketing calendars, templates, contacts, and email lists. You get to use a free media library, sharing tools for social media, reporting, tracking, and unlimited emails. In addition, you can get the full benefit of integrating Facebook ads and eCommerce.
The layout pack in the Plus package includes online donations, coupons, polls and surveys, drip campaigns, and email automation so that you can maximize your open rate.
They provide support through your helpful resources such as community support, email, calls, and live chat.
Not only the online training that you receive but can you also offer live seminars throughout the country. Thus, small enterprises can get extra benefits with essential email marketing.
Also, you can read a full comparison between Constant Contact vs. Mailchimp or find and compare all Constant Contact alternatives.
| | | |
| --- | --- | --- |
| Packages | Features | Price |
| Email | Up to 3 users Unlimited monthly emails Sign up forms Customizable templates Tracking and reporting Ecommerce marketing | $20/month |
| Plus | Up to 10 users Unlimited monthly emails Sign up forms Customizable templates Tracking and reporting Ecommerce marketing Ecommerce segmentation RSVP Coupons, online donations New customer consultation | $45 per month |
---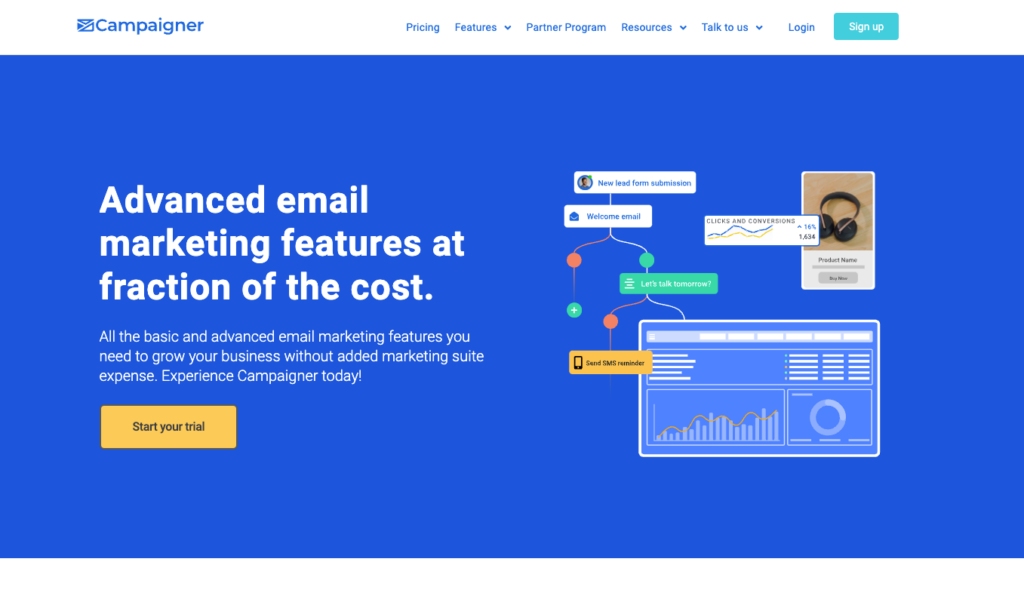 Campaigner is an advanced email marketing all-in-one software that lets you create workflows for your visitors by converting them into customers.
The software offers a great visual builder for building your emails and your customer journey. Engage any lead with personalization features based on user history, geo-location, and customer data.
Like the other providers, Campaigner also offers email segmentation, SMS marketing, conversion tracking etc..
What has kept my eye is the Reputation Defender feature that helps you to maintain a clean email list by checking every email and giving them a rating.
Pricing:
Packages
Features
Price
Starter
Up to 5k contacts
Experiments
Autoresponders
$59/month
Essential
Up to 25k contacts
Experiments
Dynamic content
$179/month
Advanced

Up to 100k contacts
Purchase behavior
Automation workflows
$649/month
eCommerce
Shopify Integration
Magento Integration
Unlimited contacts
$79.95/month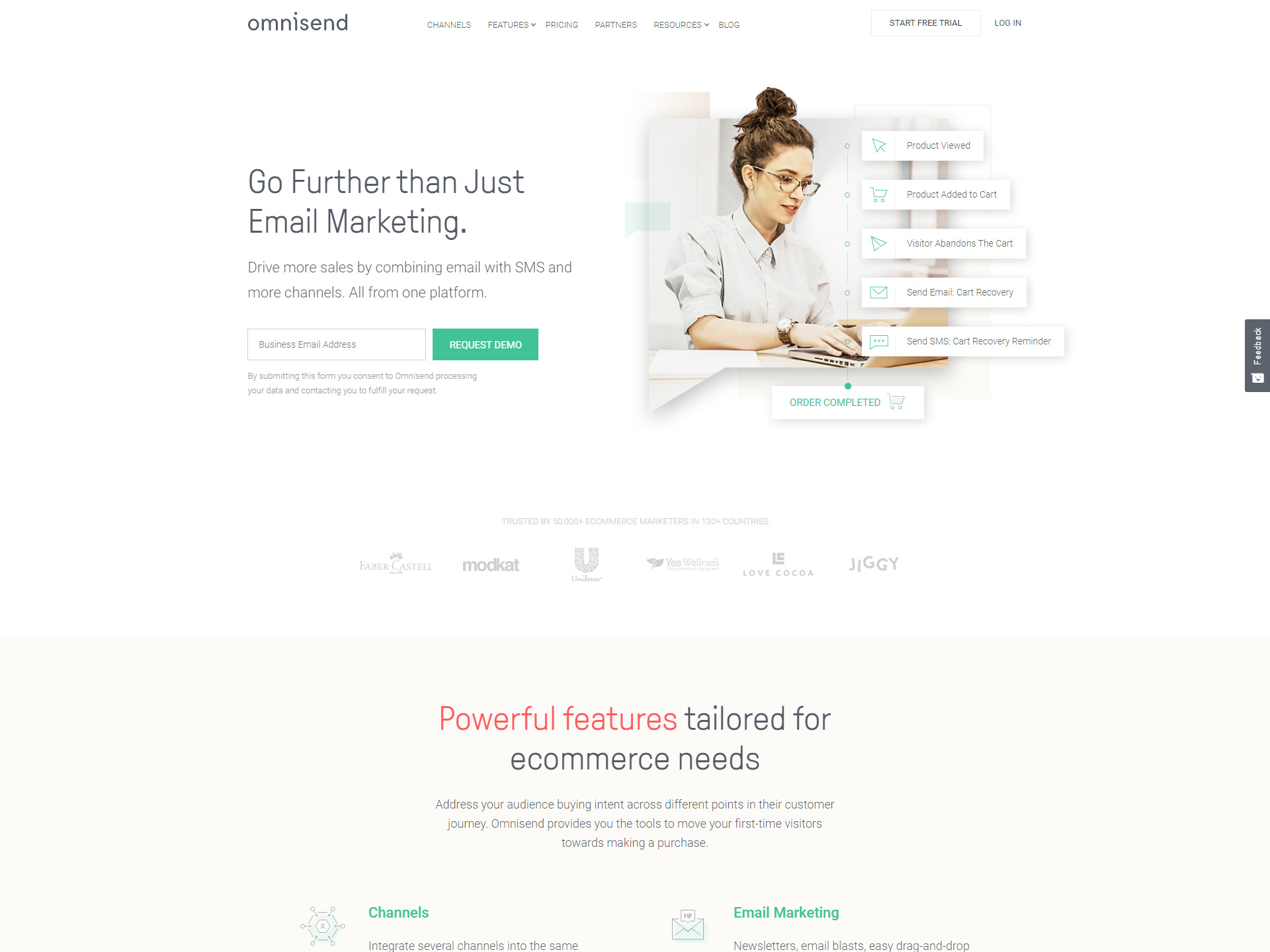 Omnisend is an omnichannel email marketing automation platform built with eCommerce in mind. It has thousands of 5-star reviews in the Shopify App store, G2Crowd, and Capterra review sites. A lot of customers love their platform because it is easy to use and helps to achieve great results.
Email marketing is the core channel at Omnisend. It comes with a drag-and-drop visual builder that allows you to create your messages in just a few clicks. On top of that, Omnisend also offers advanced automation solutions, subscriber capture features, including forms, popups, landing pages, and more, all created with that same WYSIWYG builder.

Other channels like SMS, Push Notifications, Facebook Messenger, integration with Facebook Custom Audiences, Google helps to create seamless communication with your customers.
Packages
Features
Price
Free
– Email marketing campaigns
– Sign up forms
– Popups
– Up to 15,000 emails per month
Free
Standard Plan
– Email marketing campaigns and automation
– SMS
– Segmentation
– 24/7 email & chat support
From $16/monthly
Pro Plan
– Email campaigns and automation
– SMS, Push notifications, integration with
Facebook Custom Audiences, Google
Customer Match
– Segmentation
– Advanced reporting
– Priority support
From $99/monthly
Enterprise Plan
– Everything in other plans plus:
– Facebook Messenger
– email account migration, deliverability
support
– custom IP address, and much more
From $2000/monthly
---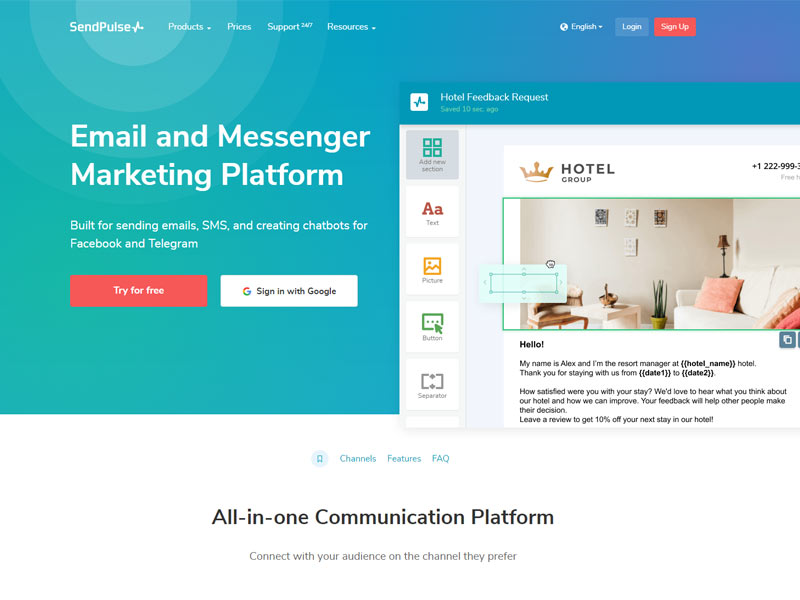 Sendpulse is great email marketing software. They provide a great Drag & Drop Editor to make your life easier during the newsletter creation with 130+ Free templates included.
What makes them different is their chatbots that let you deliver personal and promotional campaigns with Facebook, Telegram, and Viber. Another exclusive features are the Web Push Notification that we can't find in any other service provider of this kind.
Exclusive features:
Automate Complex Flows
Reliable SMTP server
Chatbots with auto-reply flows
Web Push Notification
Resend Unopened Emails
| | |
| --- | --- |
| Subscribers | Price per month |
| 1-500 | Free |
| 1-501 | $6.4 |
| 501-1000 | $9.6 |
| 1001-1500 | $12.8 |
| 1501-2000 | $16 |
| 2001-2500 | $20 |
| 2501-3000 | $23.2 |
| 6001-7000 | $35.2 |
| 10.001- 12000 | $48.8 |
---
Hubspot is a CRM provider which offers a free bundle with paid plans of premium bundles. Currently, more than 70,000 users are availing of its reliable service. Hubspot offers an incorporated email marketing tool.
HubSpot CRM connects with different versions of Outlook, G Suit and Gmail. The simple drag-and-drop tool is available for the customization of emails. You can easily add your content, images, CTAs and layouts. Your personalized content can also be added to pursue the target customers.
You can be benefited from the free version which has several advanced features such as extensive analytics, email tracking, ready-to-use templates, list segmentation, and automation tools. It is excelled for medium and small-sized enterprises.
It is perfect for large companies
Both paid and free plans include a wide range of CRM features:
Packages
Features
Price
Free forever
– 2000 emails/months
– CRM and email marketing tools for free
Free
Starter Plan
– 1000 contacts
– 1000 more contacts pay $50 per month as an additional amount
– Contact tier limit 5X
$50
Professional Plan
– $50 per month as an additional amount
– 1000 contacts
– Contact tier limit is 10X
$800
---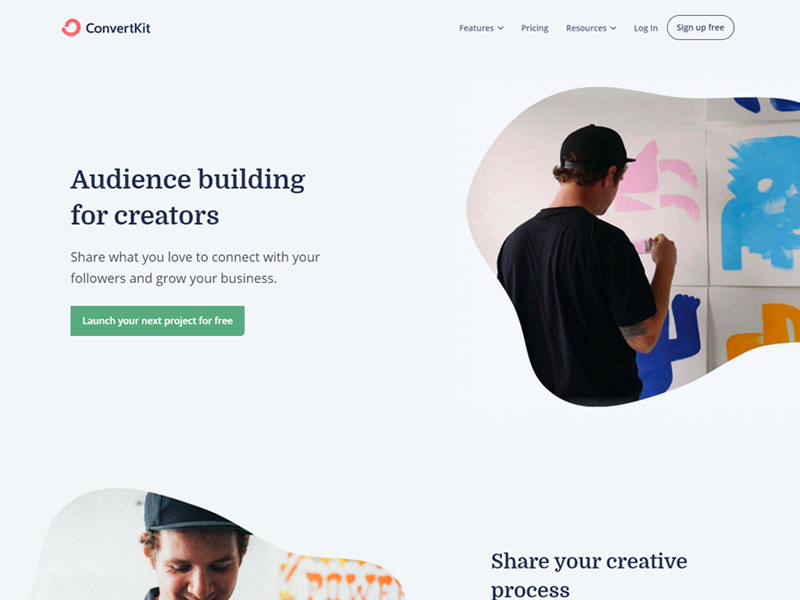 ConvertKit has the creators as their target market so course creators, Instagram stars, authors, bloggers and vloggers can use it. The major advantage is that it allows creating automation workflows on email through the visual builder.
The service provides a built-in page editor where you can directly start email marketing without creating your website. The features such as advanced segmentation, tagging and subscriber management are available.
ConvertKit is suitable for those who look for plain text emails and are willing to pay a bit more on marketing. The source of traffic is generated by social media or YouTube channels.
A 30 days refund policy is available in case you are unsatisfied with the service. The features are the same for all the plans with a trial period of 14 days which will include all the features.
Free packages
There is no free package
| | | |
| --- | --- | --- |
| Packages | Package Features | Price |
| Basic | 0-1000 Subscribers per month | $29 |
| Premium | 1000 – 3000 Subscribers per month | $49 |
| Premium Plus | 3000 – 5000 Subscribers per month | $79 |
| Gold | 5000 + Subscribers per month | Custom Pricing |
---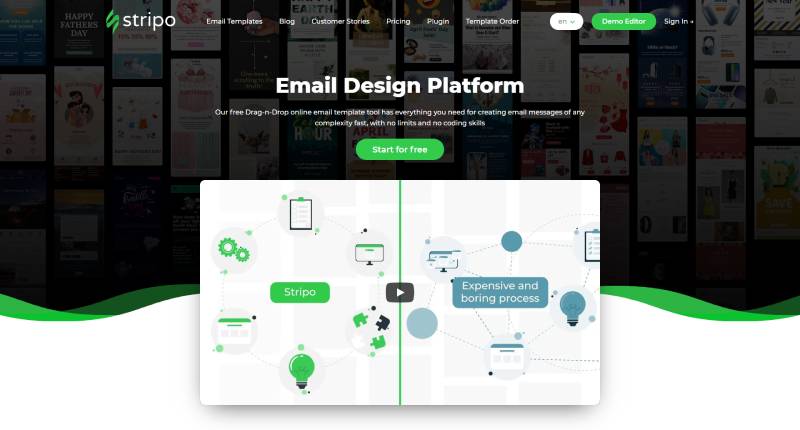 Stripo is an all-in-one email design platform. They enable their clients to build emails of any complexity really fast. 700 ready-to-use templates, ability to save and reuse email modules across multiple campaigns.
Integrated with 60+ ESPs/CRMs which lets you push your emails to your marketing automation system with just 1 click.
A number of embedded micro-tools gives you everything you need for email production, from photo editors to banner generators, from timers to interactivity.
We are one of the first builders who implemented the AMP4Email technology. Multiple studies show that AMP increases conversion by 5 times. With Stripo, you can build real-time content with little to no coding skills.
| | | |
| --- | --- | --- |
| Packages | Price | Templates |
| Free | 0 | 2 |
| Business | $125/year | 15 |
| Agency | $400/year | unlimited |
---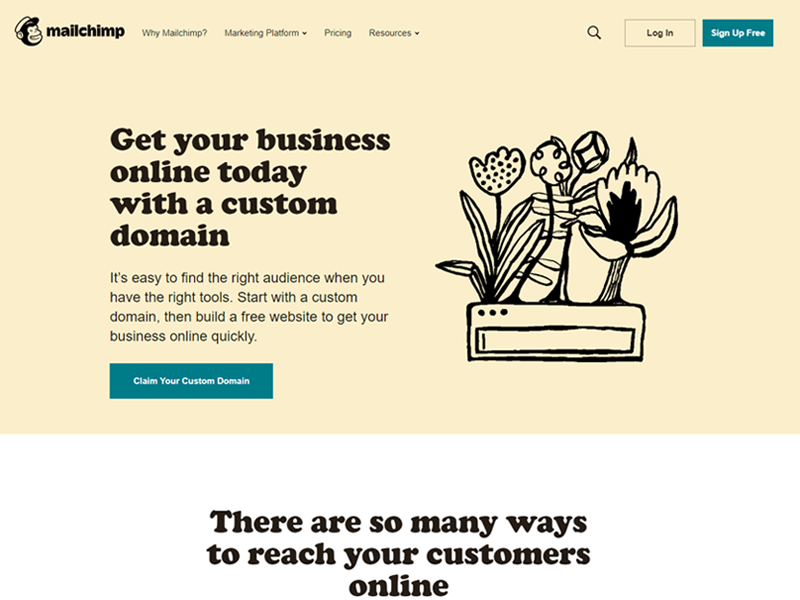 Small websites and bloggers can be benefitted from MailChimp as it is simple and offers a free email marketing service. MailChimp is the leading marketing having more than 1 billion emails in a day.
The new features are being updated all the time. Social media integration is also intact. The templates are easily available and are easy to customize.
The advanced features of email marketing are also available like app and service integration, autoresponders, contact segmenting, A/B testing and sending according to time zone.
MailChimp is high in demand because of its free offer. Bloggers and small businesses are high in using MailChimp who need an easy tool with advanced features, yet free of cost. As the free packages are so extensive, there is no money-back guarantee or refund except for the technical issue from the service provider. We also built a detailed comparison between Mailchimp vs. ActiveCampaign and Sender vs. Mailchimp.
Packages
Features
Price
Forever Free
– 30 days email support
– 2000 subscribers
– Over 10.000 emails in a month
Free
Essential Plan
– Up to 5000 subscribers $49/monthly
– Up to 10,000 subscribers $74.99/monthly
– Up to 25,000 subsribers $189/monthly
– Up to 50,000 subscribers $259/monthly
$9.99/monthly
Standard Plan
– Up to 5,000 subscribers: $74.99/monthly
– Up to 10,000 subscribers: $99 / monthly
$14.99/monthly
Premium Plan
– Up to 20,000 subscribers: $399/monthly
– Up to 50,000 subscribers: $599/monthly
$299/monthly
---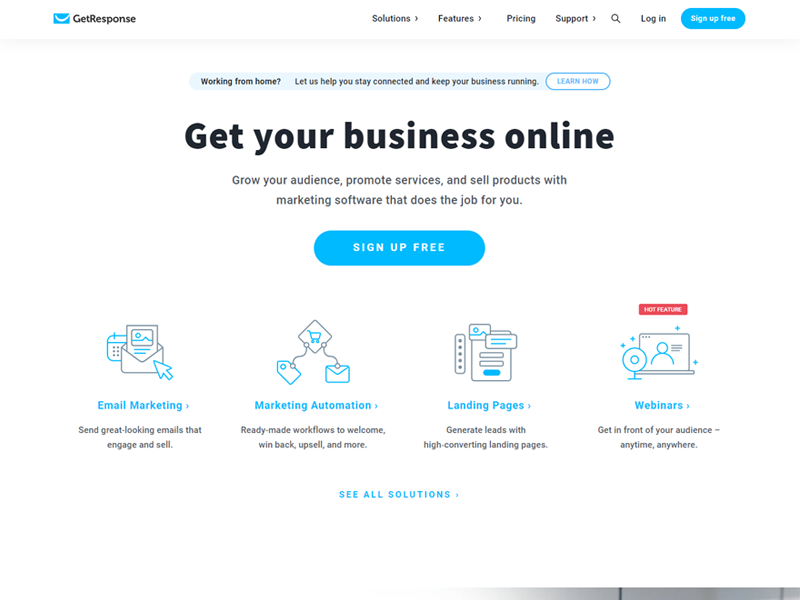 GetResponse is an online marketing platform that comes with a webinar solution and a landing page. It is an all-in-one marketing platform. There are unique features like creating webinars or landing pages. These features make GetResponse a funnel builder platform with all necessary features.
It is less efficient as compared to other email marketing services but it can dramatically grow your list of contacts. A drag and drop feature is used for email creation.
Moreover, all the advanced features are available such as software integration, autoresponders, A/B testing, and list segmentation. In order to find the increased open rates, you will be able to find a perfect time of day to send emails. It is called perfect timing.
A 30 day trial period is available where all the features are accessible. No money-back guarantee or refund option is available.
Packages
Prices
Basic Plan
– Up to 1,000 subscribers: $15 per month
– Up to 2,500 subscribers: $25 per month
– Up to 5,000 subscribers: $45 per month
– Up to 10,000 subscribers: $65 per month
Plus Plan
– Up to 1,000 subscribers: $49 per month
– Up to 10,000 subscribers: $75 per month
Professional Plan
– Up to 10,000 subscribers: $165 per month
– Up to 25,000 subscribers: $255 per month
Enterprise Plan
– Up to 100,000 subscribers: $1,199 per month
---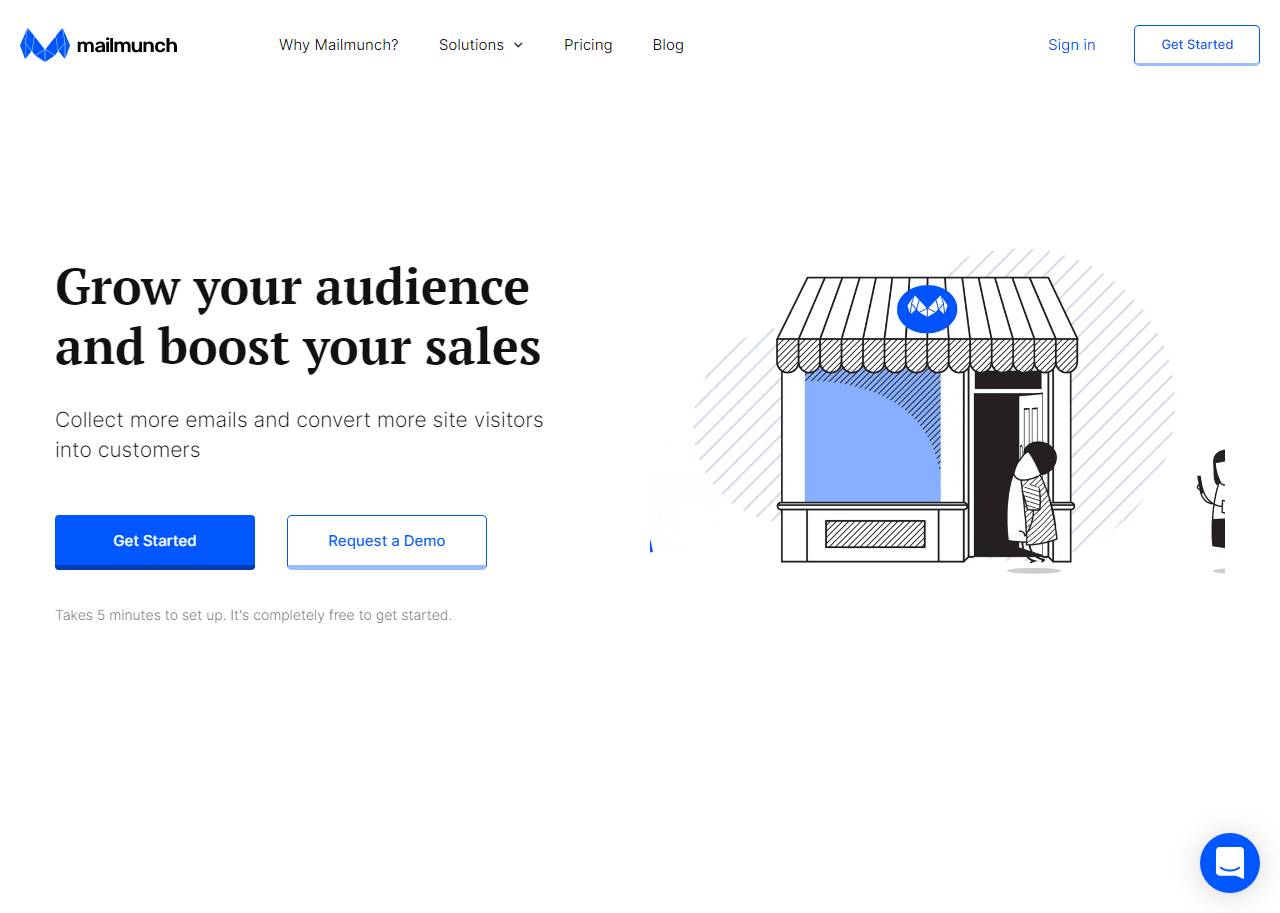 Mailmunch is a comprehensive lead generation and email marketing suite designed especially to help businesses execute their digital marketing campaigns putting in minimal effort while maximizing their output.
It helps convert website visitors into paying customers. Through fully responsive and optimized ready-to-use email templates for every business need, you can create stunning landing pages, pop-ups, forms, and emails.
Once you collect subscribers with these pages and forms, you can create custom and automated campaigns for these leads to give them sales updates, announce new products, or any other news you may have to share.
The software is intuitive and easy to use. The drag and drop builder comes pre-loaded with hundreds of email templates to allow you to easily and quickly build forms and landing pages.
The free version of Mailmunch lets you collect unlimited subscribers and gives you access to many forms and popups.
---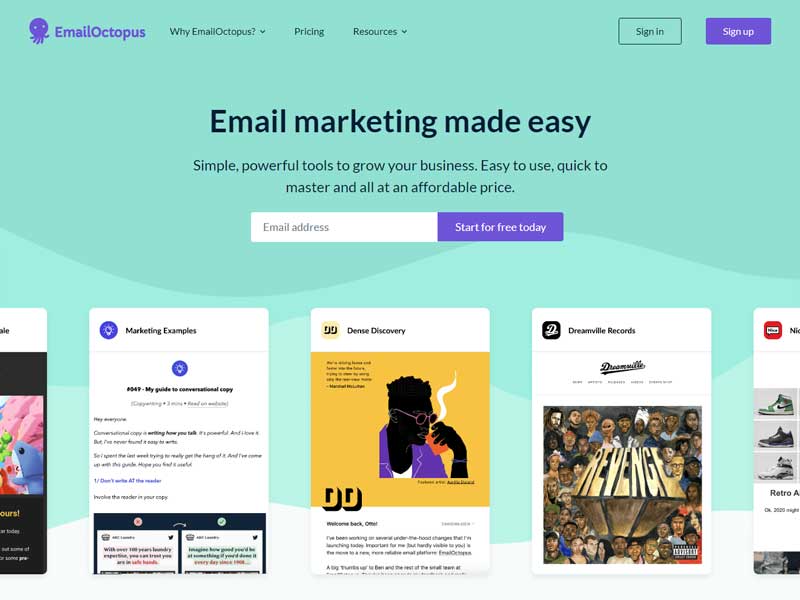 The feature of EmailOctopus that makes it different is the possibility to create subscribers' forms directly from their platform for your website. Also you can build landing pages to increase your leads conversion.
EmailOctopus can build beautiful emails with pre-designed templates that can be edited with drag and drop builders. Their tracking system looks very detailed which helps to increase your open and click-through rate.
I have to say that EmailOctopus is one of the cheapest software for email marketing. You can send about 10.000 emails to 2500 subscribers for free, if you move to the basic package with $30/month you can send 100.000 emails to 10.000 subscribers.
---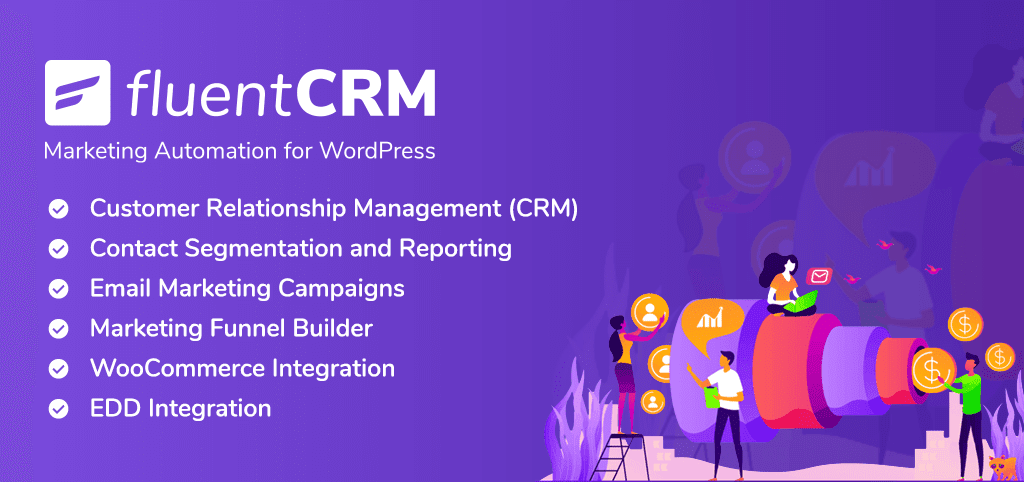 FluentCRM has taken over the marketing automation world by storm. Unlike most of the above tools for email marketing, FluentCRM is a WordPress-based plugin. With an ability to integrate with WordPress, WooCommerce, LMS, and membership plugins, FluentCRM offers solid marketing automation features at a flat, yearly price.
The plugin has a nice, intuitive dashboard that gives you an overview of your subscribers, open rate, click stats, and more. For contact segmentation, you can manually add contacts to lists and tags. Or, if you want, you can automate the process with dynamic segmentation and marketing automation. It also allows sending targeted campaigns and helps you set up sequences so you can send your emails at the right time for improving conversion rates.
The marketing automation feature includes a visual funnel, aka automation builder. You can simply select your desired trigger, and design the funnel with actions, benchmarks, and conditional logic.
Currently, FluentCRM is powering over 8,000+ businesses that run on WordPress. One of the major reasons many businesses adopted FluentCRM is that it doesn't charge users based on the number of contacts or the number of emails they send out. The users can self host the contacts and use any email sending service like Amazon SES, MailGun, SendGrid, or its atlernatives etc.
Besides, the developers are rapidly improving FluentCRM and it's expected to become a full-fledged customer relationship management system soon.
| | | |
| --- | --- | --- |
| Packages | Features | Price |
| Free | Email Marketing Automation – Campaign Management – Contact Segmentation – Unlimited Contacts | Free |
| 1-Site License | Everything in Free + Sequencing Integrations & 1-Site Licence | $129/Year |
| 5-Site License | Everything in Free + Sequencing Integrations & 5-Site License | $249/Year |
| 50-Site License | Everything in Free + Sequencing Integrations & 50-Site License | $499/Year |
---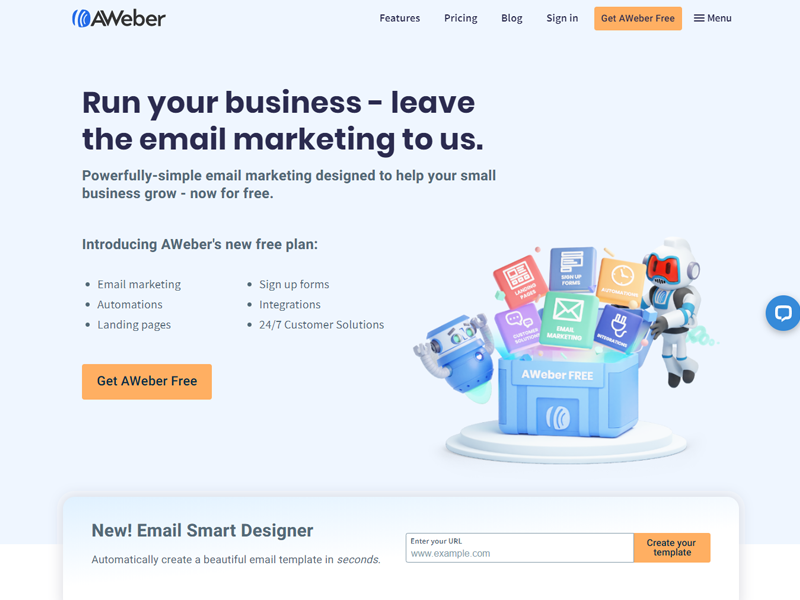 Aweber is one of the most popular tools for over 18 years and has autoresponder emails of its own. The features are simple as you expect from a good quality service of email marketing. A drag and drop email builder along with integrated plugins and pre-designed email templates are the tools it offers.
Triggers-based automated email sequences can be created with email follow-up. It also has the ability of A/B testing, deliverability rates, and open rate data to the market. Email sign-up forms can be quickly and easily generated with the website.
It is best for streamlining the marketing structures of small teams. A 30-day free trial offers all the features and no refund policy.
| | | |
| --- | --- | --- |
| Packages | Subscribers No | Price |
| Package Number #1 | 0-500 subscribers | $19/monthly |
| Package Number #2 | 501-2,500 subscribers | $29/monthly |
| Package Number #3 | 2,501-5,000 subscribers | $49/monthly |
| Package Number #4 | 5,001-10,000 subscribers | $69/monthly |
| Package Number #5 | 10,001-25,000 subscribers | $149/monthly |
| Package Number #6 | 25,001+ subscribers | Get Custom Quote |
---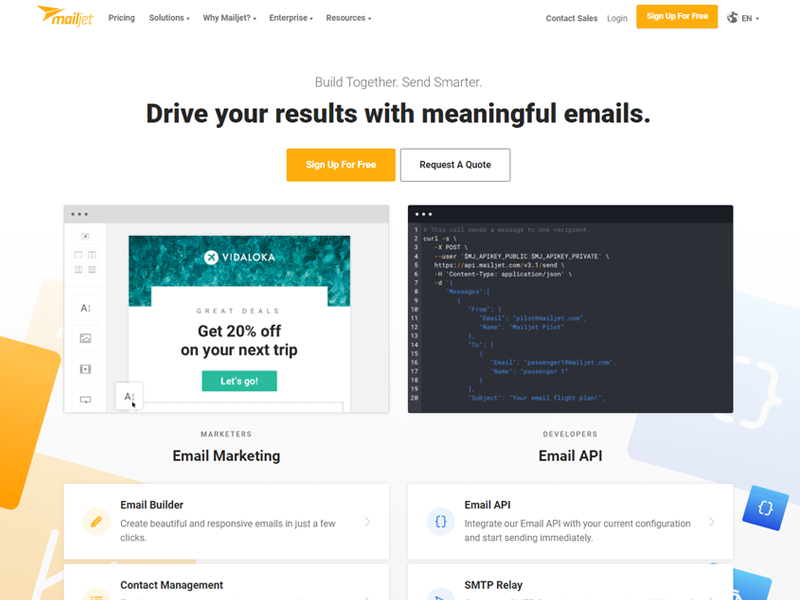 MailJet offers a transactional emails service. Some advanced features are also available such as team collaboration, sub-accounts, and automation. The plans are quite affordable with a substantial free offer. The drag and drop tool is effective too.
A/B testing, segmentation and automation are not accessible in free packages rather you will need to upgrade to one of the paid packages to avail these options. MailJet is well suited for beginners as it is affordable and simple, yet a great tool to begin with.
Packages
Features
Price
Forever Free
– 6000 emails per month
– 200 emails daily
Free
Basic
– Unlimited per day emails
– 3000 emails per month
– All features available
$9.65/monthly
Premium
– Advanced features available
– 30,000 emails per month
– Unlimited daily emails
$20.95/monthly
Enterprise
– Dedicated account management services
Customized offer
---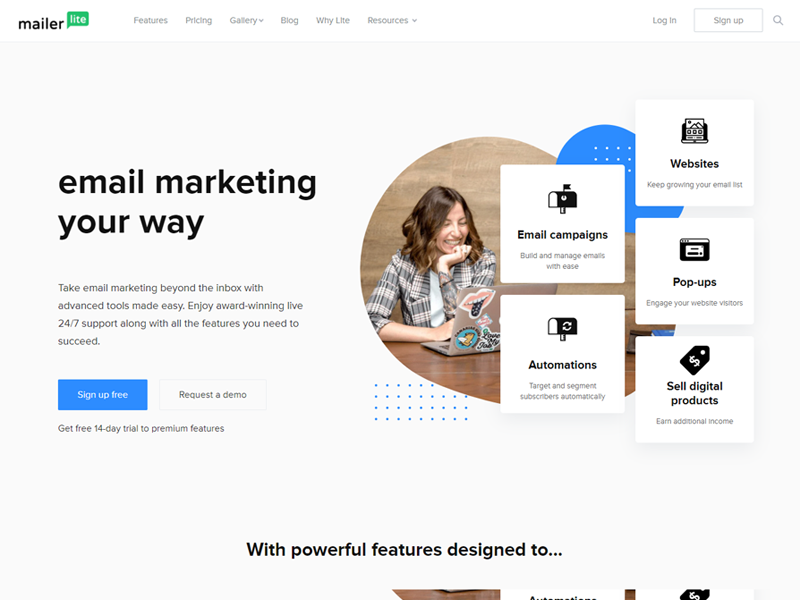 MailerLite is the most straightforward service for email marketing. The most powerful features it offers include A/B testing and everything you want in the basic plan starting at $0. The more features will cost you at least $10.
However, it is a good choice for those who look for straightforward marketing service. If you are a creator, then you might not want to spend time on marketing. So MailerLite gives you simple tools for sending emails and newsletters.
There are many tools for automation, surveys, popups, and landing pages. All these aspects are dealt with in different user interfaces. All of these UIs are straightforward and Spartan enough.
The drag and drop editor makes it easier for all users to design a message in good quality. MailerLite offers a 30-day trial period for premium features.
| | | |
| --- | --- | --- |
| Packages | Features | Prices |
| Free | 12,000 emails/month Video tutorials Email support File manager Drag and drop editor Mobile friendly Subscriber management Embedded signup Landing pages A/B testing RSS campaigns Surveys and campaigns Analytics | Free for 1000 subscribers |
| Premium | Unlimited emails/month Email support File manager Live chat and Mailer Pro Drag and drop editor Mobile friendly Custom HTML and Newsletter templates Subscriber management Embedded signup Landing pages Promotion popups dedicated IP A/B testing RSS campaigns Surveys and campaigns Click maps and Opens by location A/B split testing Unlimited domains Analytics | $10 for above 1000 subscribers Increases x2 for doubled the number of subscribers |
---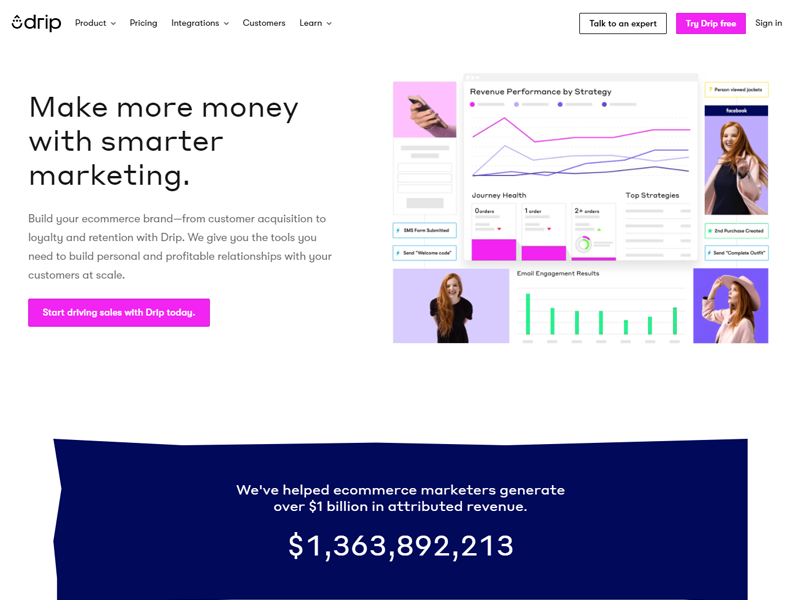 Drip is an excellent email marketing tool for digital marketers, bloggers, and eCommerce. The Drip offers many tools that help you in easy personalization, sales funnels, and market automation.
You will experience a seamless integration for all the website builders, including WooCommerce and WordPress. It lets you have easy signup and popups for your website. As a result, you get more leads.
Drip offers a more visual automation workflow, list groups, split testing, segmenting, and more innovative marketing automation tools than its competitors. With these features, you can get several targeted customers to enhance your sales.
You get easy and quick support with Drip, as you can send emails in bulk while engaging and connecting with the clients directly. Moreover, the amount of revenue generated using the marketing campaign also gives an idea of eCommerce revenue.
All the plans give a free trial of 14 days.
| | | |
| --- | --- | --- |
| Package | Features | Price |
| 14-day trial | 1-500 emails Unlimited user accounts Support emails Pretty templates Expiry links Top-selling products Abandoned/recommended products A/B split testing Forms and built-in SMS Visual workflow builder Workflow dashboard | Free |
| Premium | Unlimited emails Unlimited user accounts Support emails Pretty templates Expiry links Top-selling products Abandoned/recommended products A/B split testing Forms and built-in SMS Visual workflow builder Workflow dashboard SMS and MMS | $19/month |
---
Moosend is a powerful email marketing platform that offers state-of-the-art marketing automation and world-class features. Moreover, it provides an award-winning user interface.
It is used to manage mailing lists and multiple campaigns in addition to sending responsive and striking newsletters. These newsletters are created with a campaign editor. With this automation marketing tool, you can build intelligent campaigns.
You get a meaningful campaign report, subscription forms, landing pages, personalization tags and email automation.
Over 500 companies around the globe including Fortune and Fledging startups use Moosend. Moosend engages subscribers to help you grow your business.
The pricing starts at $10 per feature per month. However, there is a free version to get you a free trial. Pricing depends on unique users throughout the lists. For 3 months, you get a 5K plan for free. After the trial period ends, you are charged $10 per month. They offer special discounts if you subscribe to annual 6-month plans.
Features:
Event-triggered actions
AB testing
Auto-responders
CAN-SPAM compliance
Dynamic content
List management
Reporting/analytics
Segmentation
Lead qualification
Drip campaigns
| | | |
| --- | --- | --- |
| Packages | Features | Price |
| Free | No credit card needed Unlimited emails Sign-up and subscription forms Reporting and analytics | $0 |
| Pro | Landing pages Transactional emails Phone support SMTP server 5 team members | $8 per month |
| Enterprise | Custom reporting Account manager SSO and SAML On-boarding and migration 10 team members Service-level agreements | Custom plan |
What is Email Marketing?
To market your items and business products, the use of emails is thriving. It is known as Email Marketing. For marketing, efforts are made to make them aware of the new product by sending emails to their mailbox. Moreover, the businesses promote their products and services by offering discount codes and sales through email marketing.
Email marketing is a digital marketing type that uses emails to convince a lead to take an action. It is a plan of action that uses an online email system to engage the audience. SEO, blogging, search engine marketing, social media, and many others also fall into email marketing. It is considered the best way of increasing your audience and spreading your words to the public.
How to Find The Best Email Marketing Service?
Choosing the right emailing service significantly affects the success of your business based on the marketing campaign. The success of email marketing highly depends on the software as they ensure your email delivery.
You should consider the following to pick the best email marketing software:
Support of live chat, support, phone support and knowledge base are provided
The deliverability should be ensured and the emails should pass by the spam filters.
All other key applications should also be linked to the software such as an analytical tool, CRM, online store and blog.
Your own newsletter should allow you to capture subscribers that are linked to a landing page or your site.
Your automation requirements should be fulfilled either in case of targeted campaigns or simple autoresponders.
The service should allow you to create autoresponders, tests, and regular newsletters.
The visual editor should be easy to use so that you can customize the templates for emails without coding.
Now have a look at the seven top services, out of which you may choose to pick for your business. Here are the notable features with pricing details to make your choice better.
Benefits Of Email Marketing Platforms
The online business owners cite email marketing popularly to get more traffic, generate interest of audiences towards the site, and eventually turn the visitors into consumers. It is a successful way of promoting a business in the online world through a person's inbox.
Email Marketing of your product offers a handful of benefits. It is often considered a preferred way of increasing your product reach.
Low Cost: First things first, it will not cost you an arm and a leg like other common marketing strategies; in fact, you can do the task in the most reasonable amount.
Targets Specific Audience: This marketing method targets a specific audience with even 1% interest in your product. Now is the time to turn them into regular customers through e-marketing.
Increased Revenue: Additionally, reports have proven that email marketing genuinely results in increased revenue because of its effective way of attracting customers through impulsive buying options.
Easy Tracking: Email marketing platforms make it easier to keep track of promotional activities like sales and seasonal offers. It helps in keeping everything well-organized.
Promotes Customer Loyalty: Email marketing can attract customers most beautifully. It turns visitors into customers quickly because of its impulsive strategies and ensures their loyalty to the brand.
How does Email Marketing Providers work?
Utilizing the best e-marketing software is critical to the success of email marketing in business promotions, and it provides multi-purpose benefits for a successful email campaign. Understanding what features email marketing software offers and how it works to promote the business effectively is essential.
Stunning Templates: Email marketing software provides users with a collection of several beautiful templates. Using a single template, you can create newsletters, promotional offers, and important brand announcements. Templates are highly customizable to align with your product.
Drag And Drop Editor: The software has an easy user interface to cause no complications for beginners. Users can edit by dragging and dropping.Consequently, advertising online becomes very convenient for users.
Mobile-Friendly: Besides, it is mobile friendly as most of the target audience accesses it through their phones.
Ultimate Satisfactory Experience: The software ensures customer satisfaction by previewing templates and messages on desktop and mobile devices.
Anti Spam: Anti-spam functionality ensures that your campaigns will not go to waste.
Since email marketing software is an integral part of advertising, emails are the primary business promotion in virtual marketing.
Conclusion
Email marketing tools are there to help your businesses increase in terms of their market and customers.
The first step is to find an email marketing service that offers an effective marketing plan. The emailing service providers are less expensive way as compared to direct mail marketing.
These services offer all the required tools for small businesses to create professional and personalized emails. Also, it should provide a user-friendly interface with different pricing packages that fit your budget. That is why the best services offer a free trial to get to try their features beforehand.
Despite the low cost, email marketing services should offer specific tools that make it easy for you to create emails. Such as drag and drop editor or pre-made email templates to create quality messages.
A small business may look for a free email marketing program that offers the necessary features to start its marketing campaigns. There are services that provide over 10,000 emails monthly in a free plan.
Moreover, it should send bulk emails that are all targeted and personalized according to your business. It is called automated marketing. Also, these tools, make it easy to manage the contact list. It further ensures that the email campaigns should not directly go to the spam folders of the receivers.
Email Marketing Services Comparisons

As one of the co-founders of Codeless, I bring to the table expertise in developing WordPress and web applications, as well as a track record of effectively managing hosting and servers. My passion for acquiring knowledge and my enthusiasm for constructing and testing novel technologies drive me to constantly innovate and improve.