Are you looking for the best email marketing services for your small business? Choosing the right email marketing software can impact the success of your campaign.
Email marketing is a simple proof of streamlining and enhancing communication to identify qualified leads, and then mature and nurture deals with those leads. It is the most cost-effective strategy for online businesses.
The tools used for email marketing not only provide support but also store and organize contact information.
Managing these tools is easy which gives you control over your customers while establishing direct contact with them.
Nowadays, marketing is a critical strategy for all types of businesses and industries. We have listed our top picks of the best email marketing tools.
We have compared and rated these services based on several important decision-making factors like below:
Pricing
Ease of Use
Deliverability
Automation
Integrations
Customer Support
Comparison: Top 10 Email Marketing Providers
Below is a detailed comparison between our top 10 picks:
Are you looking for more specific email marketing providers? Check below:
A Closer Look at the Best Email Marketing Services
Sendinblue is the best email marketing service provider for businesses of all sizes. Offering solutions like email marketing, SMS marketing, WhatsApp campaigns, marketing automation, and much more, Sendinblue stands out from its competitors.
The platform enables users to craft stunning email campaigns, automate marketing processes, and manage customer interactions effortlessly. Furthermore, Sendinblue's eCommerce marketing features, such as abandoned cart recovery and personalized campaigns, prove beneficial for businesses looking to boost their online presence.
While some users have reported occasional downtime and integration issues, the majority of Sendinblue customers are satisfied with the platform's user-friendliness, affordability, and exceptional customer support.
Many users have praised Sendinblue's all-in-one email marketing features, complete automation, and beautifully designed landing pages.
Ease of Use (4.5/5): Sendinblue's user-friendly interface and drag-and-drop email editor make it a breeze for beginners to create and launch engaging emails. In addition, the platform offers over 40 responsive templates, making it convenient for users to design professional emails without requiring any prior experience in email marketing.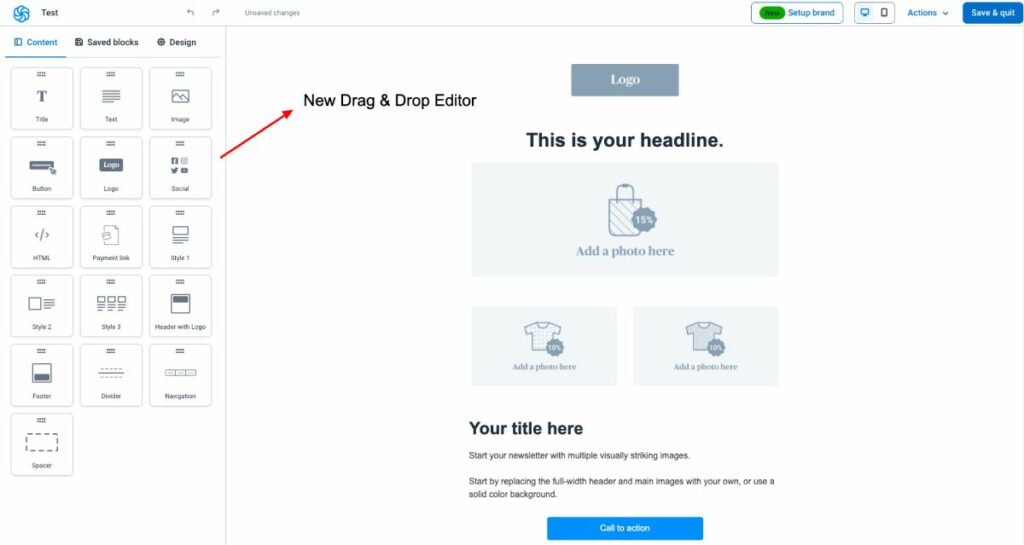 Deliverability (4.5/5): By using Sendinblue's powerful features like audience segmentation, personalized content, A/B testing, and send time optimization, users can expect high deliverability rates for their email campaigns.
Automation (4/5): the platform's marketing automation tools, such as autoresponders, lead scoring, and automated contact management, help businesses scale their email marketing efforts with ease.
Integrations (5/5): Sendinblue connects with over 150 integrations, allowing businesses to customize their store backend as per their requirements. These integrations with eCommerce platforms like Shopify and WooCommerce make it an excellent choice for businesses looking to streamline their marketing efforts.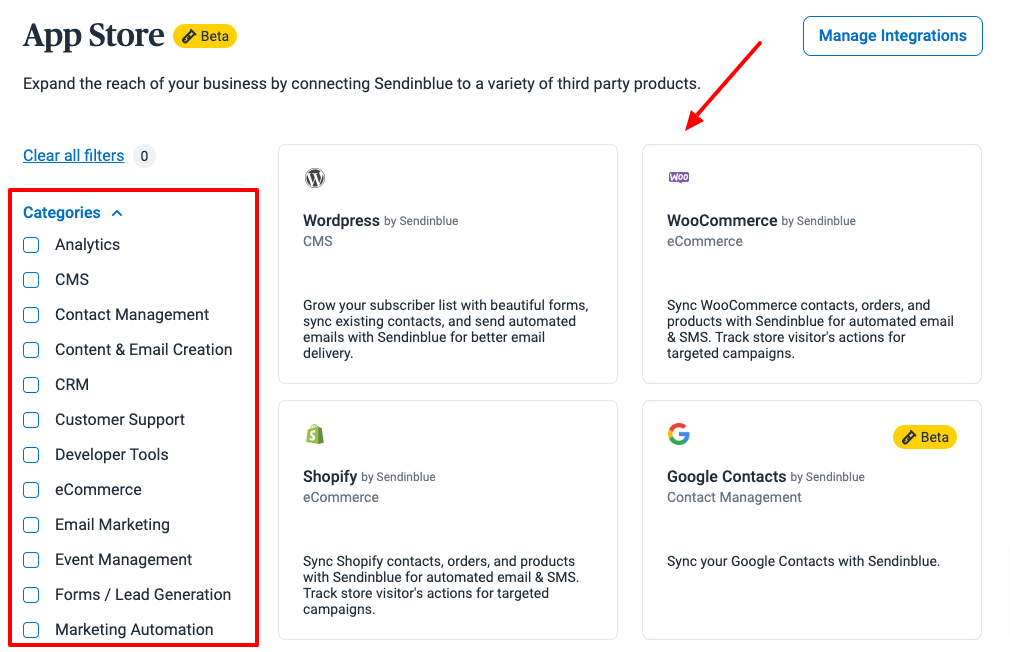 Pricing (4.5/5): Sendinblue offers a free plan that includes 300 emails per day, unlimited contacts, and access to core features. Paid plans start at $25 per month for 20,000 emails, and all plans include unlimited contact storage. As businesses grow, they can opt for higher-tier plans to avail of additional features and better email volumes.
Free Plan: Up to 9000 emails/mo
Cheapest Plan: $25/mo for 20,000 emails
For 20,000 contacts: $25/mo if you send only 1 email/mo or $65 for more.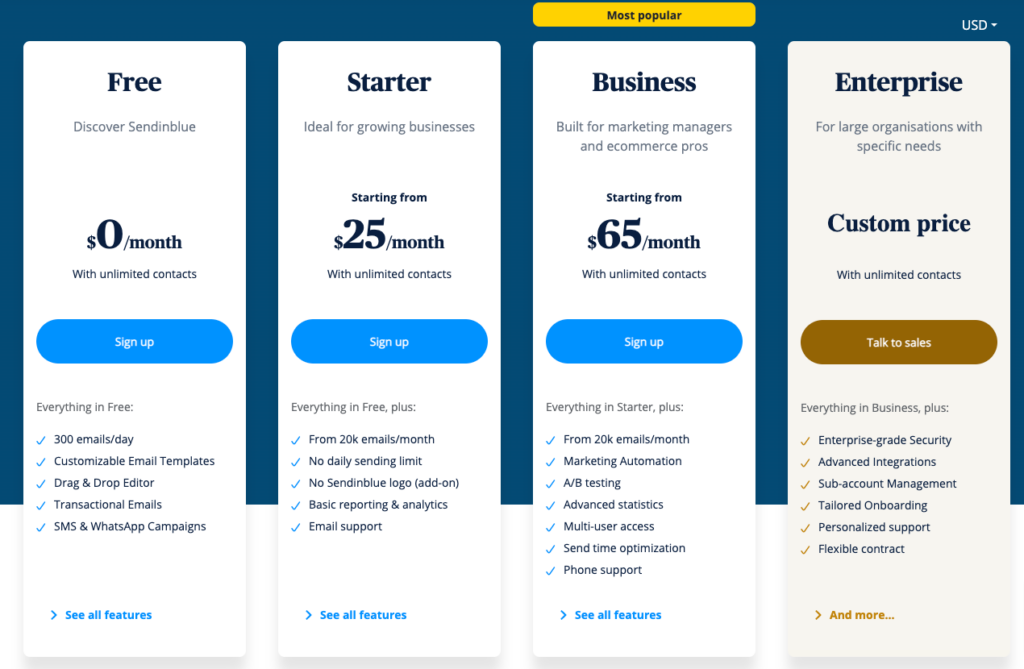 Overall, Sendinblue is a popular choice for businesses of all sizes, thanks to its powerful features and competitive pricing. So, if you're in search of a reliable and cost-effective email marketing service, Sendinblue is undoubtedly worth considering.
ActiveCampaign is the best email marketing platform for automation and has been gaining attention in the market for its advanced capabilities. Catering to businesses of varying sizes, this platform offers a multitude of features that streamline and enhance email marketing efforts.
One of the key aspects that sets ActiveCampaign apart from other email marketing services is its extensive selection of premade automation workflows. With a range of triggers, including website activity tracking, creating custom automations from scratch has never been easier.
Additionally, users can split test up to five different email versions, ensuring optimal content performance.
ActiveCampaign's customer service has received mixed reviews, with some users expressing dissatisfaction with long wait times and unhelpful responses.
However, the platform offers live chat and email support for all plans, and the company has been known to respond to negative reviews, showcasing its commitment to addressing user concerns.
Ease of Use (3.5/5): Despite the vast array of features, ActiveCampaign's usability has been criticized by some users for being clunky, not intuitive, and difficult to navigate. This platform may require a learning curve for those unfamiliar with automation email marketing tools. However, its 14-day free trial allows users to test the platform with a limited number of contacts and email sends, ensuring a proper assessment of its capabilities.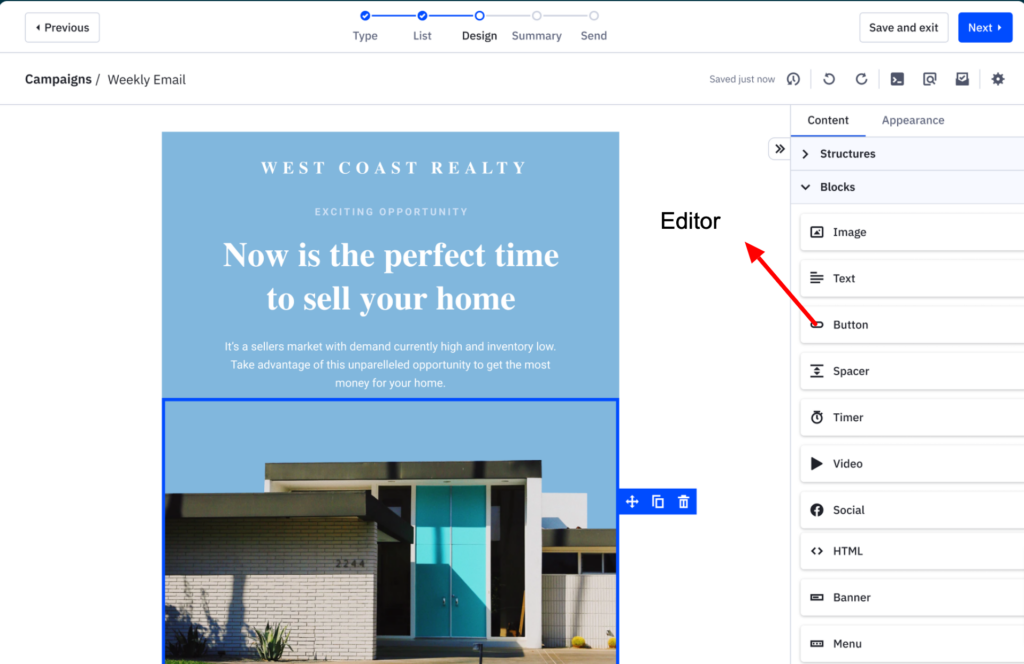 Deliverability (5/5): The platform's built-in spam tester is a noteworthy feature, checking if emails are likely to end up in the junk folder, thus improving overall deliverability.
Automation and Integrations (5/5) : Upgrading from the Lite to Plus plan unlocks more advanced automation features, such as contact scoring based on engagement and visual overviews of linked automations. Plus package users also gain access to additional marketing channels, including SMS and landing pages, making it a well-rounded marketing service for ecommerce.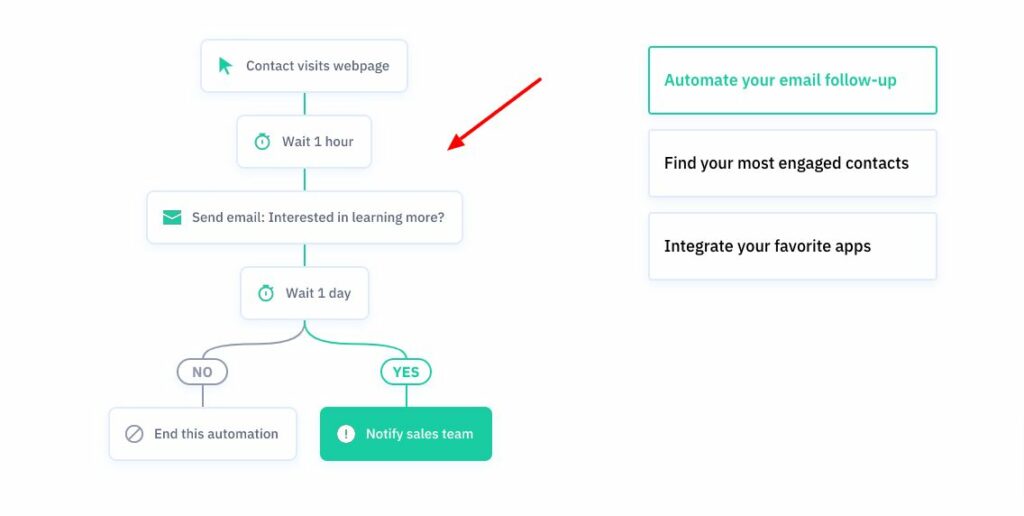 Pricing (3.5/5): ActiveCampaign's pricing is considered favorable for small businesses and startups, starting at $15 per month for up to 1,000 emails/mo. You can get also the Lite package that has marketing automation features included and a limit of 1000 contacts.
Free plan: 14-day free trial
Cheapest plan: $15 for transactional emails only up to 10,000 emails/mo, or, Lite package $29/mo with up to 1,000 subscribers
For 20,000 contacts: Lite plan with more than 20,000 contacts (up to 25,000) costs $229/mo
In conclusion, ActiveCampaign stands out as an email marketing service for ecommerce businesses, primarily due to its automation features and extensive integration capabilities. While its usability and customer support may leave room for improvement, the platform's functionality and automation make it a strong contender for businesses.
MailerLite stands out among the best email marketing service providers with its comprehensive features that cater to businesses of all sizes and the generous free plan. As an email marketing service for ecommerce, it offers everything from website building to email automation, helping businesses not only grow their audience but also foster stronger relationships and increase sales.
The platform provides a reporting dashboard, surveys, quizzes, and A/B testing, allowing you to monitor campaign performance and gather comprehensive analytics.
MailerLite is GDPR compliant and offers secure data storage, ensuring that your data and subscriber information remain safe.
Ease of Use (4/5): MailerLite is incredibly user-friendly, thanks to its drag-and-drop editor, rich-text editor, and custom HTML editor options. These tools make creating stunning and responsive email campaigns a breeze. The platform also integrates seamlessly with ecommerce platforms like Shopify and WooCommerce, allowing for custom product blocks and targeted email campaigns based on customer buying behavior.
Deliverability (4/5): MailerLite's email verifier optimizes your email list for improved deliverability, ensuring your messages reach your target audience.
Automation & Integrations (4/5): The platform's intuitive automation builder simplifies the process of constructing advanced marketing workflows. With segmentation, tagging, and personalization features, MailerLite ensures that your content is both relevant and engaging to your audience based on their interests, location, and behavior.
Pricing (5/5): MailerLite offers a free plan, allowing users to test out its features, including enhanced automation and website builders. Following the free plan, paid plans start at $9 per month for up to 1,000 contacts. This is an affordable option for small businesses, while providing scalability for growing companies.
MailerLite's free plan allows sending 12,000 emails per month to 1,000 subscribers, making it one of the most generous offerings among free email marketing services. This plan includes unlimited audience segmentation, 1 website, 10 landing pages, and single-step automations, making it an ideal solution for startups and small to mid-sized businesses.
Free plan: Up to 1,000 subscribers and 12,000 monthly emails
Cheapest plan: $9/mo up to 1,000 subscribers and unlimited monthly emails
For 20,000 contacts: $105/mo with unlimited emails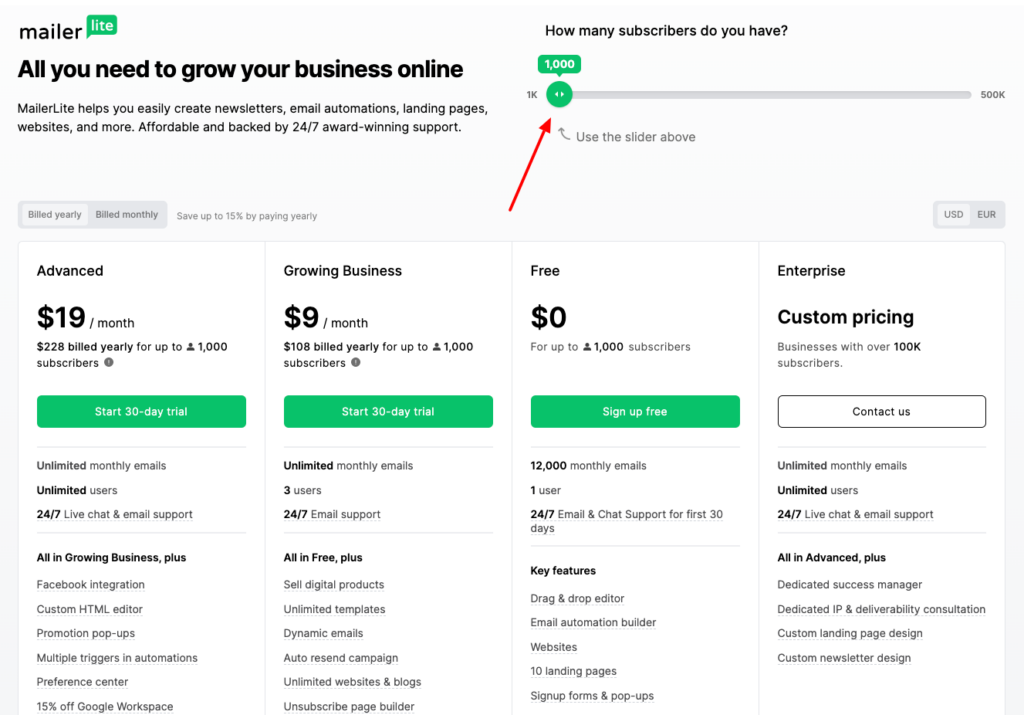 In conclusion, MailerLite is an all-inclusive, user-friendly email marketing service that offers an array of features, excellent deliverability, and affordability. With a free plan and affordable pricing plans, MailerLite is worth considering for anyone looking to take their email marketing efforts to the next level.
Mailchimp is a versatile platform that caters to diverse business requirements, offering a wide array of tools to help organizations effectively engage their audience and bolster their brand. Mailchimp stands out with its extensive feature set, user-friendly interface, and seamless integration with numerous digital tools.
Mailchimp's offerings extend beyond just email marketing, allowing users to design attractive landing pages, run digital ads, and even build websites.
The platform's marketing CRM, segmentation, and behavioral targeting capabilities provide effective audience management, while its Content Studio and Creative Assistant ensure personalized content creation.
While Mailchimp has garnered a substantial user base, its reviews are mixed. Many users have reported issues with customer service, software performance, and high prices.
Moreover, Mailchimp's recent decision to reduce the number of free contacts from 10,000 to 500 has sparked significant dissatisfaction among customers. As a result, some users have transitioned to Mailchimp alternative email marketing services.
Ease of Use (5/5): Mailchimp offers an intuitive user interface, making it simple for beginners to navigate the platform's features. The drag-and-drop email builder and templates let you create aesthetically pleasing marketing campaigns with ease.
Deliverability (4/5): Mailchimp boasts solid deliverability rates, ensuring your emails reach your target audience. However, the platform's recent changes may affect its performance, so monitoring deliverability is essential.
Automation (4/5): Pre-built workflows and custom customer journeys are available for email automation. This feature helps streamline your email marketing efforts, saving time and resources.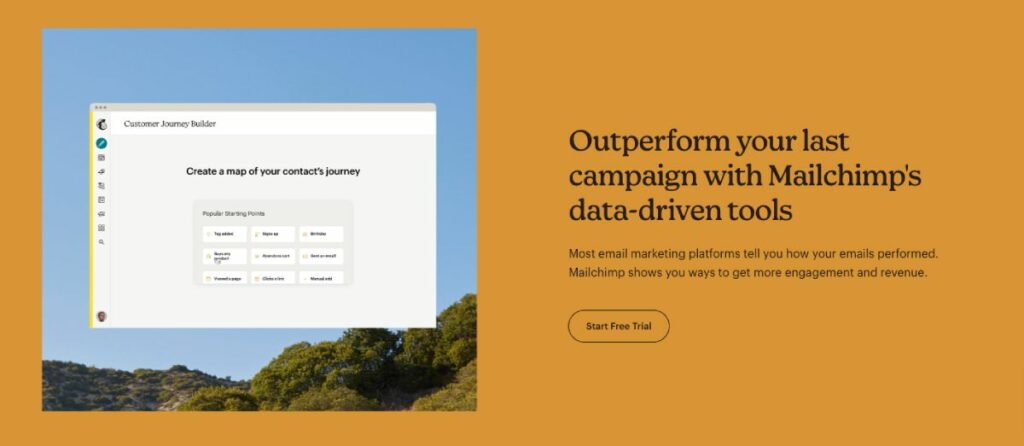 Integrations (5/5): With over 250 integrations, Mailchimp can easily connect with preferred tools like Shopify, Eventbrite, and Salesforce.
Pricing (3.5/5): Mailchimp offers four different pricing plans: Free, Essentials, Standard, and Premium. Each plan is designed to cater to different user needs, with the free plan allowing up to 1,000 emails per month and 500 contacts. For those requiring more advanced features, paid plans start at $13 per month for up to 500 contacts.
Free plan: Up to 1,000 emails and 500 contacts
Cheapest plan: Up to 5,000 emails and 500 contacts
For 20,000 contacts: $220/mo, up to 200,000 emails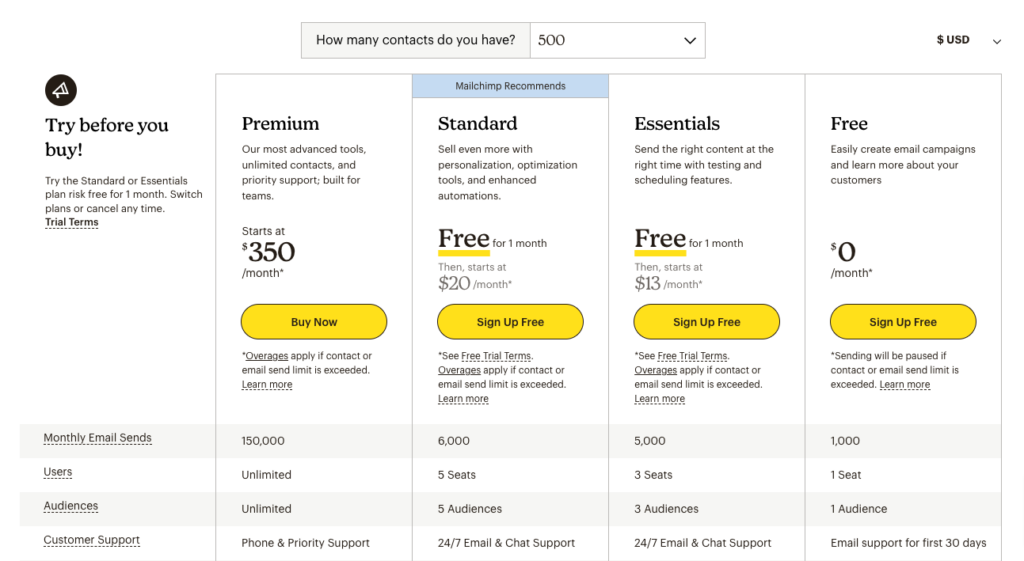 In conclusion, Mailchimp may be the ideal choice for beginners looking for an all-in-one marketing solution, but those seeking a more cost-effective option should explore alternatives.
MailJet is a reliable email marketing service that offers an array of features tailored to help businesses grow their online presence. With a strong emphasis on deliverability and ease of use, MailJet has quickly gained popularity among small businesses and startups looking for a powerful email marketing tool.
However, customer experiences have been mixed, with some praising the responsive customer support while others express frustration over technical issues and slow response times.
MailJet boasts a variety of essential features for a successful email marketing campaign. The service provides clean templates, generous monthly email send limits, and unlimited subscriber limits. Moreover, MailJet offers webhooks, APIs, and SMTP relays for easy integration and customization.
The drag-and-drop email editor is user-friendly, allowing non-coders to create visually appealing emails from preset building modules.
Ease of Use (4.5/5): One of the main reasons users prefer MailJet is its simplicity. The intuitive email editor requires no coding knowledge, and the platform's numerous templates make it easy for users to create professional-looking emails. The service is also GDPR compliant, ensuring that your campaigns adhere to crucial privacy regulations.
Deliverability (4.5/5): MailJet is known for its high deliverability rates, ensuring that your emails reach your subscribers' inboxes instead of their spam folders. By offering advanced configurations through webhooks, APIs, and SMTP relays, MailJet helps improve your campaigns' performance and open rates.

Automation and Integrations (3.5/5): MailJet's email marketing automation capabilities streamline your communication with subscribers, saving you valuable time and effort. Additionally, MailJet supports integrations with popular ecommerce platforms like WooCommerce, Shopify, and PrestaShop, as well as numerous business tools such as Click Funnels, Dropbox, Evernote, Facebook, Google Drive, Salesforce, Jira, and more.
Pricing (4.5/5): MailJet offers a free plan that allows an unlimited number of subscribers and 6,000 email sends per month, with a daily limit of 200 sends. The Essential plan, starting at $15 per month, removes the daily sending limit and increases the monthly limit to 15,000 emails. This plan also lets users remove the MailJet logo, segment lists, and add sub-accounts.
Free plan: 6,000 emails/mo, unlimited contacts, up to 200/day
Cheapest plan: $15/mo, 15,000 emails/mo, unlimited contacts
For 20,000 contacts: No contact limits but if you send 1 email/mo/contact you should pay $35/mo – very affordable!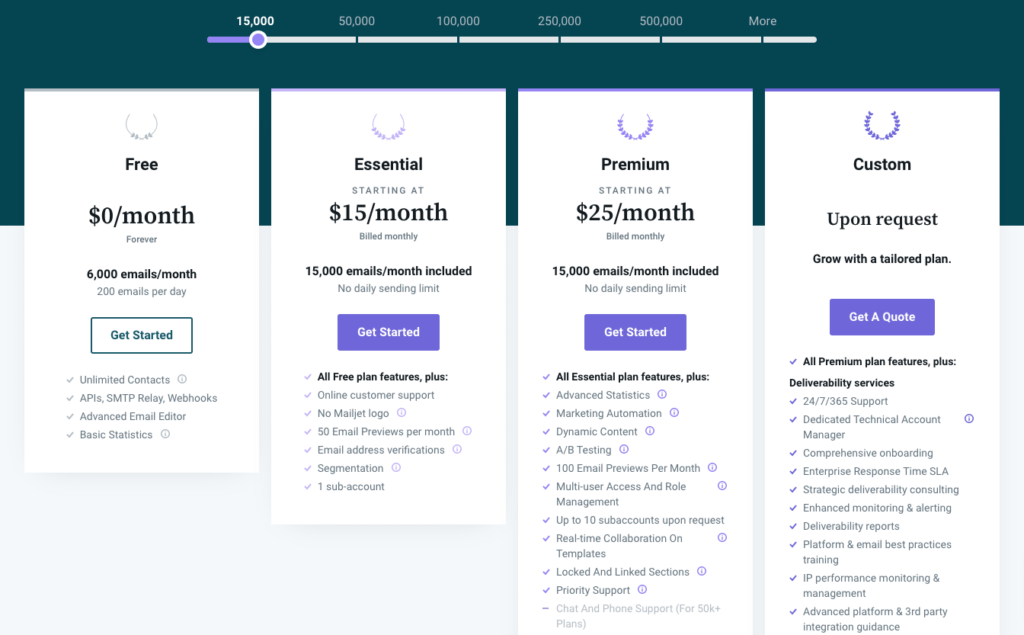 MailJet is an ideal choice for businesses that require a low daily sending limit but a decent monthly limit. It's perfect for drip campaigns, transactional emails, and smaller newsletter lists. The extensive list of integrations and API access makes MailJet a suitable solution for businesses seeking seamless integration with their existing tools and platforms.
Constant Contact, a highly-regarded email marketing service provider, has been assisting businesses in creating and sending personalized emails, managing contact lists, and tracking campaigns' success. With an impressive offering of features and tools, the platform has established itself as a go-to choice for small businesses and larger organizations alike.
Ease of Use (5/5): Constant Contact's user-friendly interface allows beginners to quickly grasp the platform's functionality. With its drag-and-drop editor, users can easily design eye-catching emails using a wide selection of free email templates.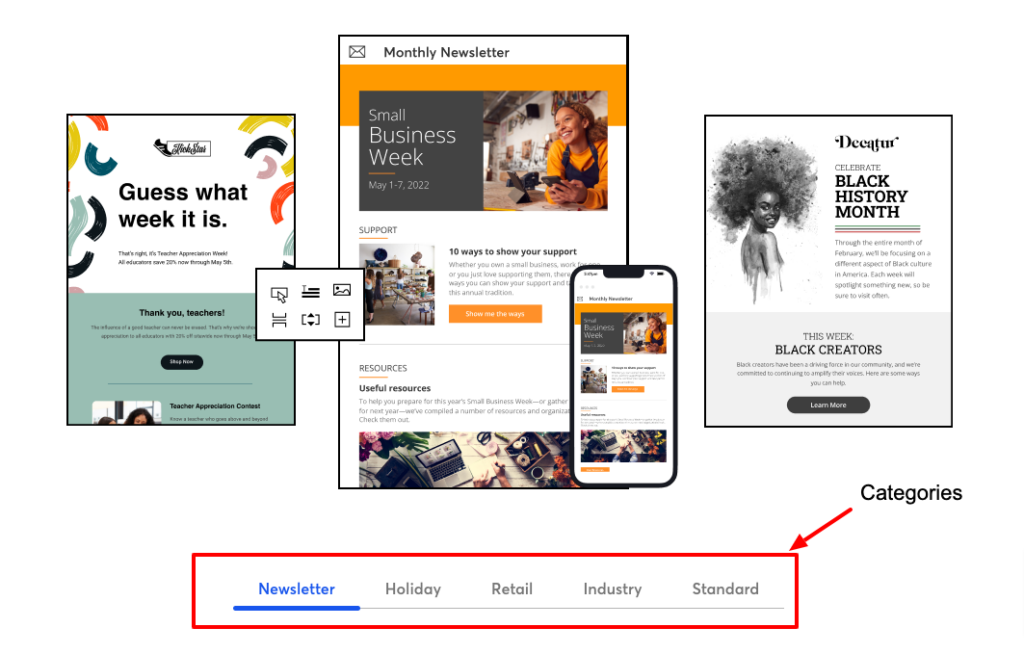 The platform also offers A/B testing for subject lines and automated resends for subscribers who don't open a campaign. Despite some customers reporting technical issues and difficulties with segmentation, the overall simplicity and intuitive nature of the platform make it an attractive option for those new to email marketing.

Deliverability (4.5/5): Boasting a high email delivery rate of 97%, Constant Contact ensures that your emails reach their intended recipients. The platform's multi-factor authentication and encrypted data further enhance the security of your email campaigns.
Automation (4/5): Marketing automation is a key strength of Constant Contact, allowing users to trigger welcome messages for new subscribers and set up drip campaigns based on their actions. This automation not only saves time but also enhances the effectiveness of your marketing efforts. But, it is not the best when compared with other platforms like ActiveCampaign.
Integrations (4/5): Constant Contact seamlessly integrates with popular technologies and services such as Shopify, WooCommerce, and social media platforms, expanding its capabilities to cater to a wider range of marketing needs.
Pricing (3.5/5): The platform offers several pricing plans, starting at $12/month for email and digital marketing, and going up to $449/month for lead generation and CRM. While the pricing is relatively affordable, it is essential to note that some customers have reported hidden fees and difficulties in canceling subscriptions.
Free plan: 14-day free trial
Cheapest plan: $9.99/mo for up to 500 contacts
For 20,000 contacts: $130/month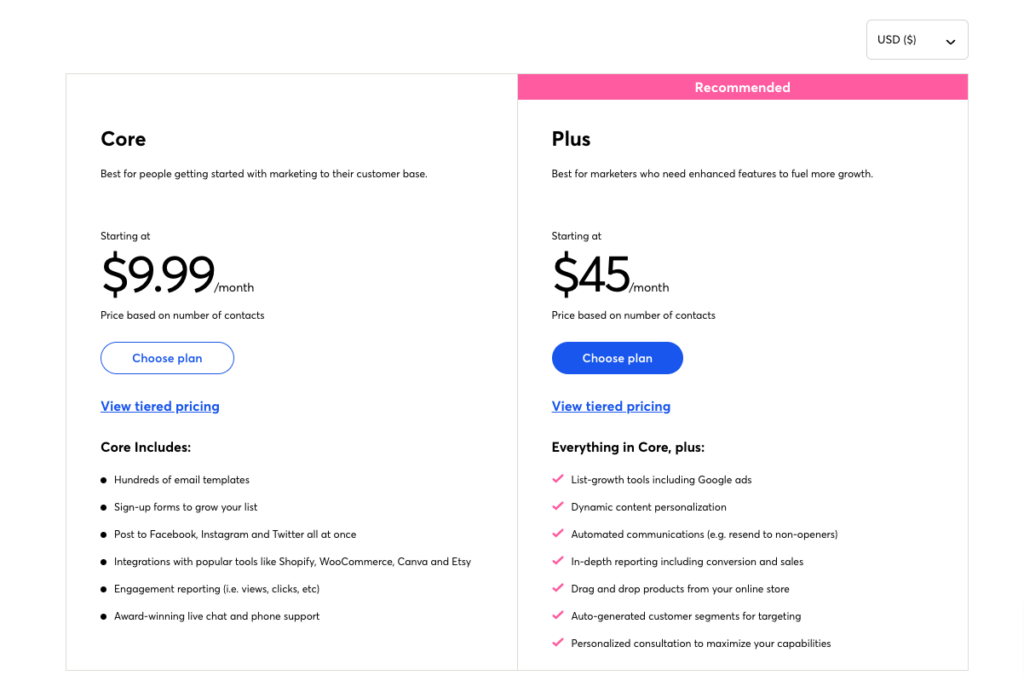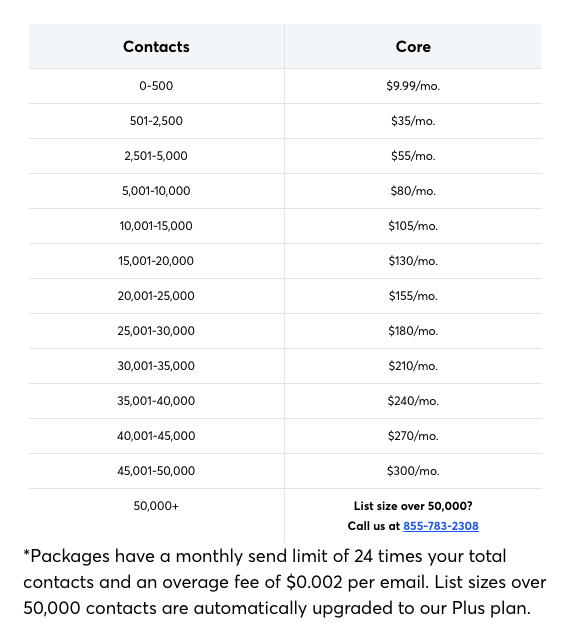 Constant Contact stands out from its competitors due to its comprehensive suite of tools and features, catering to various business needs, and maintaining a strong focus on delivering targeted messages at the right time. With its impressive deliverability rate, ease of use, and robust automation capabilities, it has cemented its position as one of the best email marketing services available.
However, potential customers should carefully consider their specific requirements and weigh the pros and cons mentioned in this review. The mixed reviews from users indicate that, while Constant Contact has many strengths, it may not be the perfect fit for every business.
GetResponse positions itself as an all-in-one email marketing platform, catering to businesses of all sizes. With its extensive range of features, GetResponse allows users to create and send professional email campaigns, design landing pages, and build custom workflows.
Ease of Use (4/5): GetResponse is known for its user-friendly interface, which offers a seamless experience for both beginners and experienced marketers. The AI email generator creates industry-optimized emails and subject lines, allowing users to craft compelling email campaigns quickly. With its free library of professionally-designed email templates and images, GetResponse ensures that users can create visually appealing emails without any design expertise.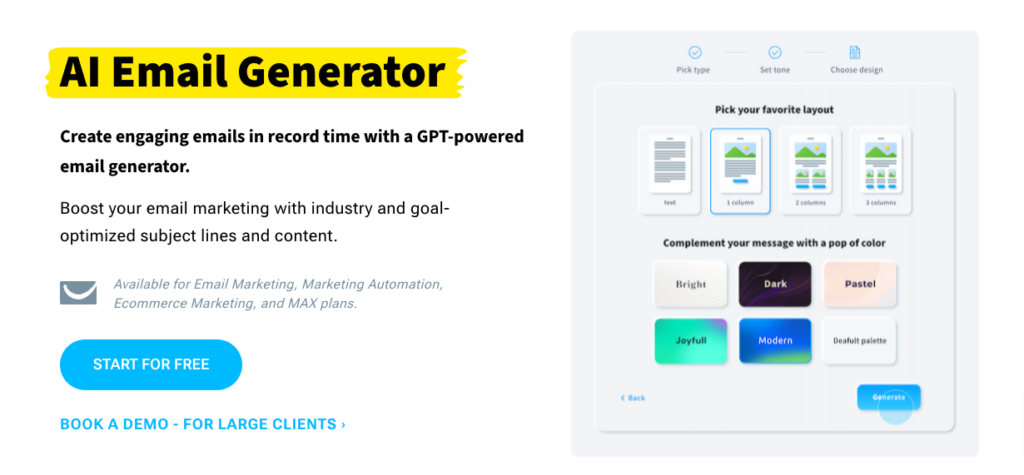 Automation (4/5): GetResponse stands out with features like advanced segmentation tools, enabling users to target specific groups of subscribers with personalized content. The A/B testing feature helps optimize email content for better engagement rates, ensuring that your campaigns yield maximum results.
Deliverability & Integrations (4.5/5): GetResponse boasts of a high deliverability rate, ensuring that your emails reach your subscribers' inboxes. The platform also integrates with other marketing tools and platforms, allowing users to run multichannel campaigns seamlessly. Real-time email analytics and reporting help track campaign performance and make data-driven decisions.
Pricing (4/5): GetResponse offers a free plan for beginners, allowing them to access essential email marketing and website building capabilities. The paid plans, starting at $15.58 per month, offer additional functionality such as marketing automation, webinars, live chats, and ecommerce features. For businesses looking for a robust email marketing solution, GetResponse offers excellent value for money.
Free plan: Up to 500 contacts and 2,500 emails/mo
Cheapest plan: $15.58/mo for up to 1,000 contacts and unlimited emails
For 20,000 contacts: $125/mo if billed yearly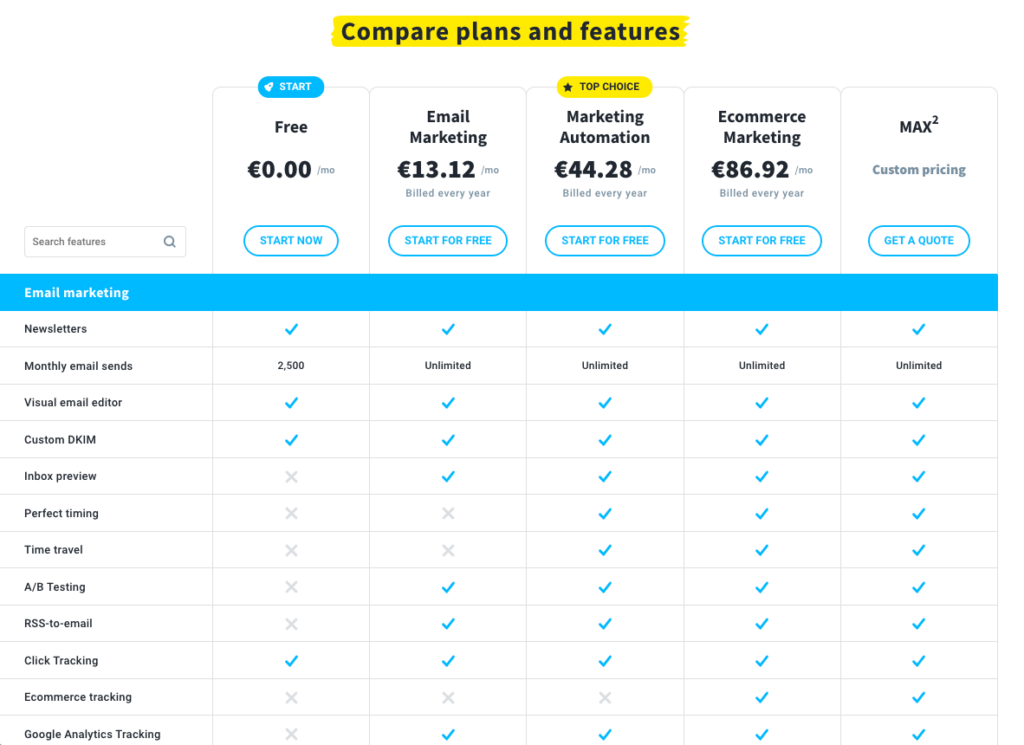 GetResponse has a dedicated team of experts to answer any questions and provide customer support. While some users have reported mixed experiences with customer service, the majority praise the platform's ease-of-use and affordability. GetResponse also offers a range of resources, including guides, webinars, and customer success stories, to help users make the most of their email marketing campaigns.
Moosend is a powerful email marketing service that offers a multitude of features to help businesses engage, nurture, and expand their audience. With tools like a newsletter editor, audience management, segmentation, CRM integration, and advanced personalization options, Moosend enables businesses to send highly relevant emails tailored to each recipient's behavior.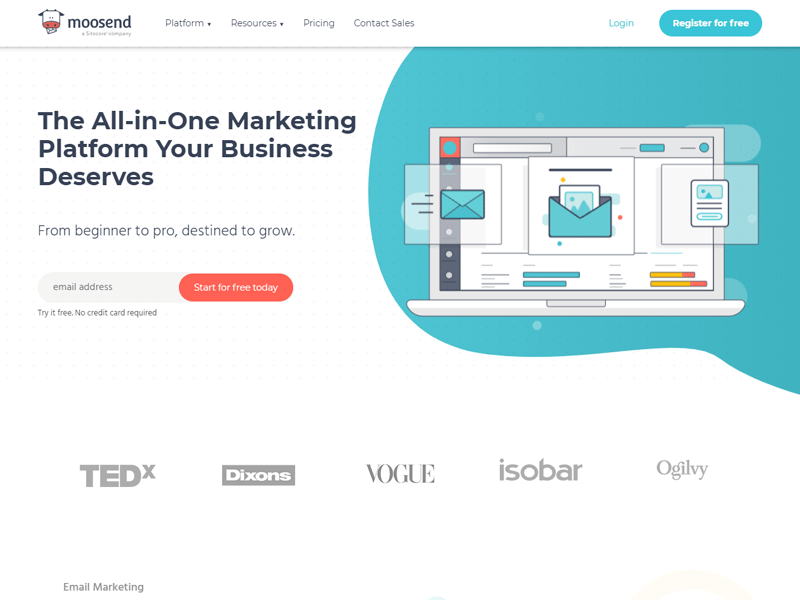 But how does it fare in terms of pricing, ease of use, deliverability, automation, and integrations? Let's dive in and explore the ins and outs of Moosend.
Ease of Use (4/5): Moosend's user-friendly dashboard makes it a breeze to create and manage email campaigns. With over 40 free responsive templates to choose from, businesses can easily customize their emails to match their brand's look and feel.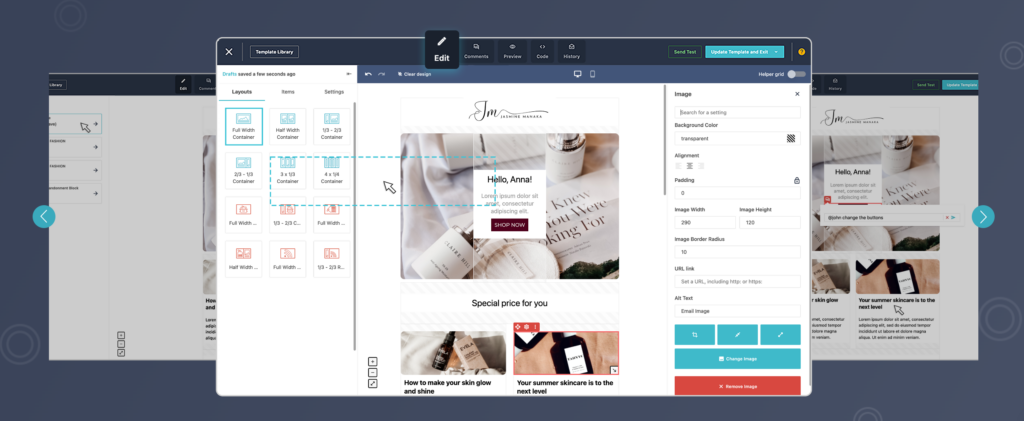 Deliverability (4.5/5): User reviews suggest that Moosend has a solid track record when it comes to email deliverability. One long-time user praised Moosend as one of the best email marketing services when it comes to deliverability, mentioning no issues with spam filters or email deliverability throughout their eight-year experience. However, Moosend's deliverability could vary depending on factors such as email content, sender reputation, and recipient engagement.
Automation (4.5/5): Moosend's marketing automation features are a standout aspect of the platform. The automation workflow designer allows businesses to create personalized subscriber journeys, leading to more relevant and engaging email campaigns. Additionally, Moosend's AI-powered eCommerce product recommendation feature leverages machine learning to target customers with products they might be interested in based on the shopping habits of similar customers.
Integrations (4/5): Although some users have noted limited features in certain areas, Moosend still offers a range of integrations with popular platforms such as Shopify, WooCommerce, and Zapier. These integrations enable businesses to seamlessly connect their email marketing efforts with other aspects of their online presence, ensuring a cohesive customer experience.
Pricing (4/5): Moosend offers a 30-day free trial with unlimited emails, allowing businesses to test the platform before committing to a paid plan. After the trial period, pricing for Moosend's Pro plan starts at $9 per month for up to 500 contacts. This plan includes a landing page builder, transactional emails for eCommerce websites, team management, and more. For businesses requiring advanced features and custom pricing, Moosend offers an Enterprise plan as well.
Free plan: Trial (30 days)
Cheapest plan: $9/mo with up to 500 subscribers and unlimited emails – you can get it for $7/mo if paid yearly
For 20,000 contacts: $128/mo with unlimited emails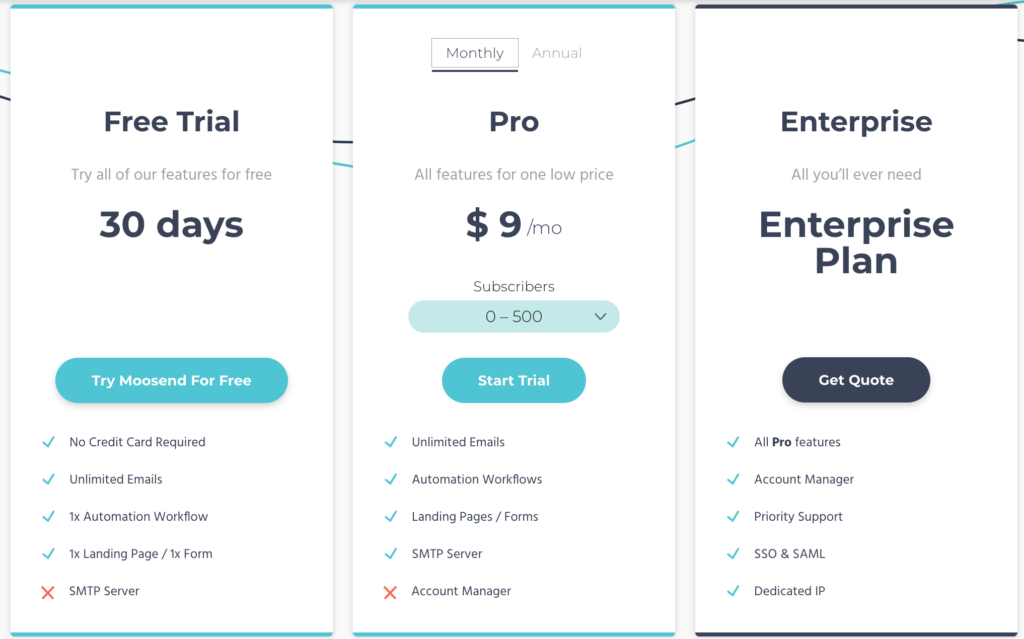 Moosend's comprehensive range of tools and features, coupled with its competitive pricing and user-friendly interface, make it a strong contender for businesses seeking an email marketing service.
Drip has made a name for itself in the realm of email marketing services, particularly for ecommerce businesses. Boasting easy-to-use features, exceptional deliverability, and powerful automation capabilities, Drip excels in providing an efficient platform for your email marketing needs. This review will dive into the specifics of Drip, highlighting the aspects that make it the best email marketing service for ecommerce.
Ease of Use (4/5): Drip offers seamless integration with popular website builders such as WordPress and WooCommerce. This enables you to effortlessly add opt-in forms and pop-ups to your website, capturing more leads. The platform also sports a visual drag-and-drop automation workflow builder, making it incredibly simple to create targeted campaigns for various customer segments.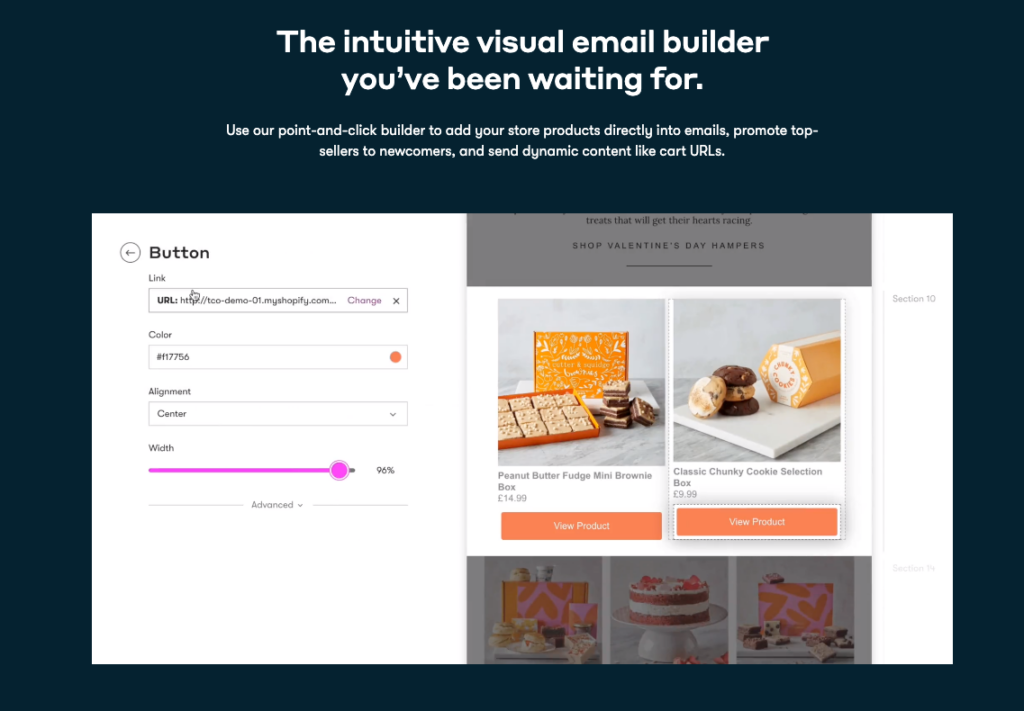 Deliverability (4.5/5): Boasting a deliverability team wholly committed to account optimization, you can confidently schedule your stunning email campaigns, assured they will reach their intended recipients. With Drip's unwavering focus on deliverability, your email marketing efforts will benefit from increased inbox placement and overall success.
Automation (4.5/5): What sets Drip apart is its intelligent marketing automation tools, smarter email segmenting, and split testing options. These features empower you to deliver personalized campaigns to your customers, driving more sales. Drip's pre-built series for ecommerce behaviors and Facebook Custom Audiences integration further enhance the platform's effectiveness in reaching your target audience.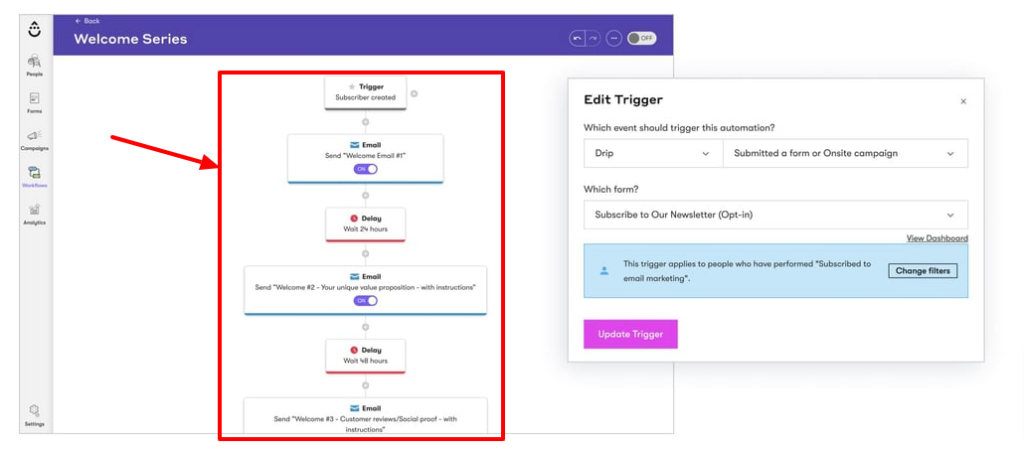 Integrations (4/5): Drip's compatibility with a wide range of website builders enables you to take advantage of various ecommerce platforms, blog hosting services, and other digital marketing tools. This flexibility makes it an ideal solution for businesses seeking a comprehensive email marketing strategy.
Pricing (3.5/5): Although Drip leans on the pricier side, the advanced features it offers are well worth the investment. Plans begin at $39 per month for up to 500 contacts, with prices scaling based on your subscriber count. As your business grows, you'll appreciate the all-inclusive nature of Drip's pricing model, which includes all features across all plans.
Free plan: 14-day free trial
Cheapest plan: $39/mo up to 2,500 contacts and unlimited emails
For 20,000 contacts: $289/mo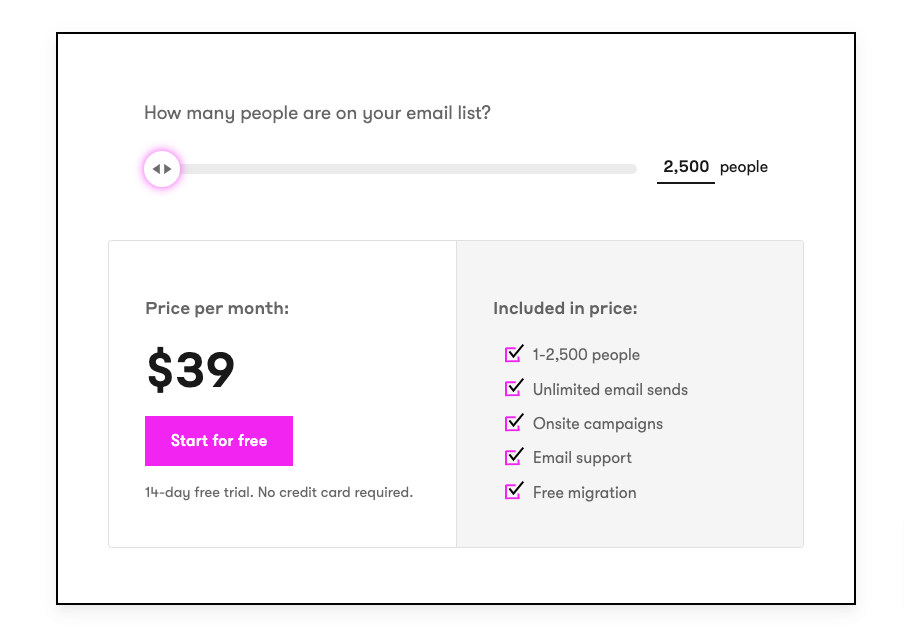 Drip has continuously evolved to address the needs of ecommerce businesses. The recent addition of SMS notifications to all plans allows you to engage with customers via both email and SMS marketing channels, making it a truly all-in-one solution. With 24/7 live chat and email support, webinars, automation training, and detailed courses, Drip ensures you have the resources needed to make the most of their platform.
In conclusion, Drip emerges as the top email marketing service for ecommerce, owing to its powerful automation tools, ease of use, and comprehensive feature set. While it may be on the higher end of the pricing spectrum, the investment is justified by the platform's potential to significantly boost your sales and revenue.
Omnisend stands out as one of the top email marketing services designed specifically for e-commerce businesses. With its user-friendly platform, you can easily create stunning email campaigns without any coding or tedious editing.
Omnisend boasts seamless integration with platforms like Shopify, WooCommerce, Wix, and BigCommerce, enabling you to sync your products effortlessly with your emails, including pricing and descriptions. Its unique combination of email, SMS, and web push notifications ensures maximum engagement with your audience.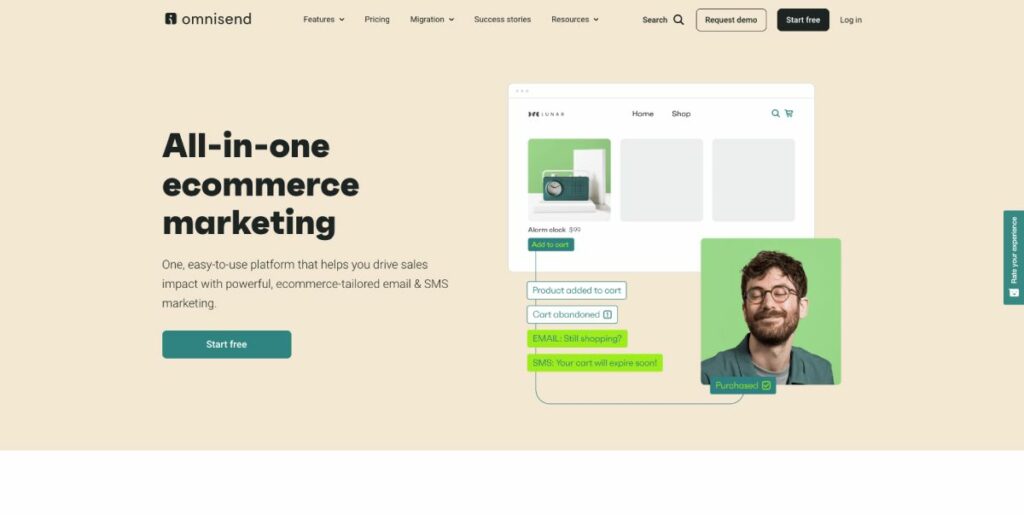 Omnisend's features cater to various aspects of email marketing for e-commerce businesses. Its platform includes campaign targeting, optimization, and reporting to ensure an effective email marketing strategy. Additionally, it supports omnichannel campaigns across email, SMS, and push notifications for maximum reach and engagement.
Ease of Use (4.5/5): Omnisend's Email Builder feature offers a variety of professional templates that you can customize using the drag-and-drop editor, making it incredibly easy to create campaigns with dynamic content blocks.
Deliverability (3.5/5) : Omnisend's deliverability has some areas that could be enhanced. Omnisend incorporates deliverability reports, allowing you to monitor crucial elements affecting your email deliverability, such as list cleanliness and sender domain reputation. By following their recommendations, you can make adjustments and optimize your email campaigns for better inbox placement and overall success.
Automation (4.5/5): Omnisend provides pre-built automations based on customer actions, helping you efficiently target your customers with pertinent information and offers.
Integrations (4.5/5): Omnisend integrates easily with various platforms, making it simple to migrate from other email marketing services like Klaviyo and Mailchimp. The platform is also committed to data protection and provides a data processing agreement, terms of use, privacy policy, and anti-spam policy.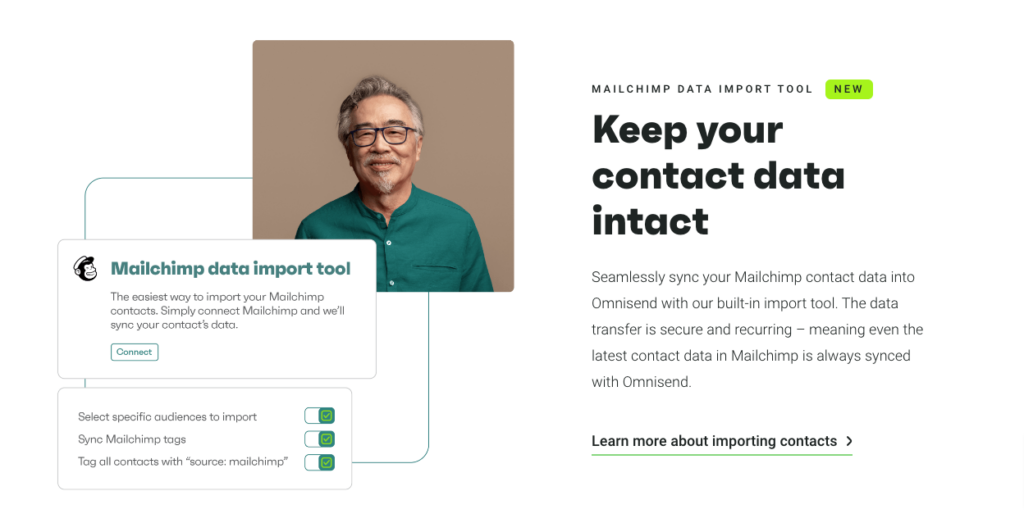 Pricing (3.5/5): Omnisend offers a free plan, which is perfect for beginners who want to test the waters. This plan allows unlimited subscribers, 500 email sends per month, up to 60 SMS messages, and up to 500 web push notifications. However, it does limit the number of contacts you can reach monthly. As your business grows, consider upgrading to one of their paid plans, starting at $16 per month for 500 subscribers and 6,000 email sends.
Free plan: Up to 500 emails/month
Cheapest plan: $16/mo, up to 6,000 emails and 500 contacts
For 20,000 contacts: $230/mo, up to 240,000 emails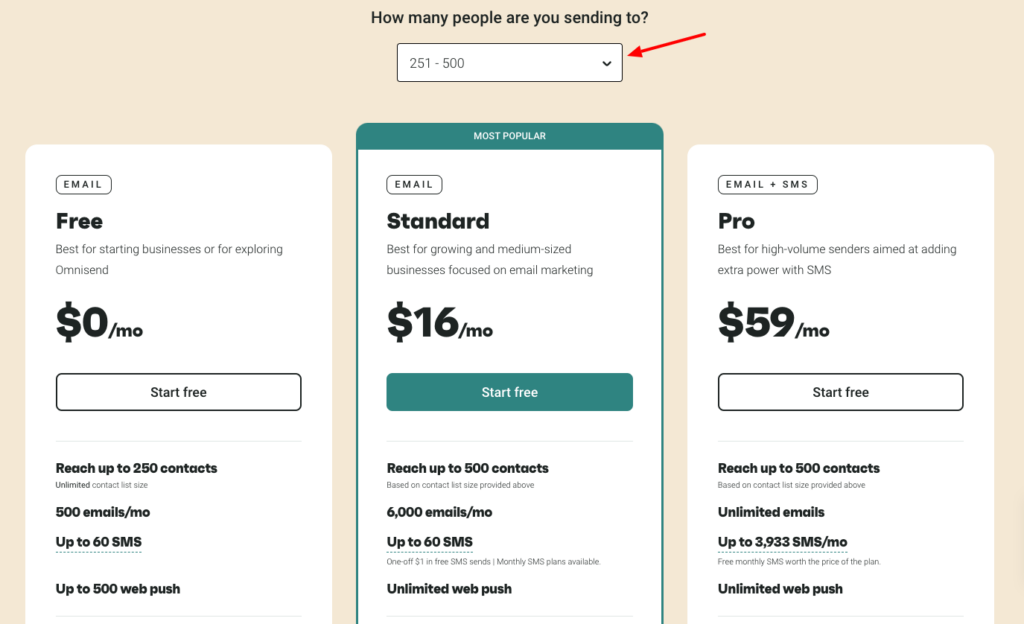 Omnisend is an excellent choice for e-commerce businesses looking for an email marketing service that offers a comprehensive set of features and seamless integrations. So if you are running an e-commerce store and seek a powerful email marketing platform, give Omnisend a try and take your marketing efforts to the next level.
What is Email Marketing?
To market your items and business products, the use of emails is thriving. It is known as Email Marketing. For marketing, efforts are made to make them aware of the new product by sending emails to their mailbox. Moreover, the businesses promote their products and services by offering discount codes and sales through email marketing.
Email marketing is a digital marketing type that uses emails to convince a lead to take an action. It is a plan of action that uses an online email system to engage the audience. SEO, blogging, search engine marketing, social media, and many others also fall into email marketing. It is considered the best way of increasing your audience and spreading your words to the public.
How to Find The Best Email Marketing Service?
Choosing the right emailing service significantly affects the success of your business based on the marketing campaign. The success of email marketing highly depends on the software as they ensure your email delivery.
You should consider the following to pick the best email marketing software:
Now have a look at the seven top services, out of which you may choose to pick for your business. Here are the notable features with pricing details to make your choice better.
Benefits Of Email Marketing Platforms
The online business owners cite email marketing popularly to get more traffic, generate interest of audiences towards the site, and eventually turn the visitors into consumers. It is a successful way of promoting a business in the online world through a person's inbox.
Email Marketing of your product offers a handful of benefits. It is often considered a preferred way of increasing your product reach.
Low Cost: First things first, it will not cost you an arm and a leg like other common marketing strategies; in fact, you can do the task in the most reasonable amount.
Targets Specific Audience: This marketing method targets a specific audience with even 1% interest in your product. Now is the time to turn them into regular customers through e-marketing.
Increased Revenue: Additionally, reports have proven that email marketing genuinely results in increased revenue because of its effective way of attracting customers through impulsive buying options.
Easy Tracking: Email marketing platforms make it easier to keep track of promotional activities like sales and seasonal offers. It helps in keeping everything well-organized.
Promotes Customer Loyalty: Email marketing can attract customers most beautifully. It turns visitors into customers quickly because of its impulsive strategies and ensures their loyalty to the brand.
How does Email Marketing Providers work?
Utilizing the best e-marketing software is critical to the success of email marketing in business promotions, and it provides multi-purpose benefits for a successful email campaign. Understanding what features email marketing software offers and how it works to promote the business effectively is essential.
Stunning Templates: Email marketing software provides users with a collection of several beautiful templates. Using a single template, you can create newsletters, promotional offers, and important brand announcements. Templates are highly customizable to align with your product.
Drag And Drop Editor: The software has an easy user interface to cause no complications for beginners. Users can edit by dragging and dropping.Consequently, advertising online becomes very convenient for users.
Mobile-Friendly: Besides, it is mobile friendly as most of the target audience accesses it through their phones.
Ultimate Satisfactory Experience: The software ensures customer satisfaction by previewing templates and messages on desktop and mobile devices.
Anti Spam: Anti-spam functionality ensures that your campaigns will not go to waste.
Since email marketing software is an integral part of advertising, emails are the primary business promotion in virtual marketing.
Conclusion
Email marketing tools are there to help your businesses increase in terms of their market and customers.
The first step is to find an email marketing service that offers an effective marketing plan. The emailing service providers are less expensive way as compared to direct mail marketing.
These services offer all the required tools for small businesses to create professional and personalized emails. Also, it should provide a user-friendly interface with different pricing packages that fit your budget. That is why the best services offer a free trial to get to try their features beforehand.
Here are our final recommendations for the best email marketing services:
SendInBlue – Best overall
ActiveCampaign – Best for automation
MailerLite – Best for free plan
Mailchimp – Best for ease of use
Mailjet – Most affordable for starters
Constant Contact – Easiest email builder
GetResponse – Best all-in-one provider
Moosend – Great for deliverability
Drip – Best for ecommerce automation
Omnisend – Affordable for online retailers
Despite the low cost, email marketing services should offer specific tools that make it easy for you to create emails. Such as drag and drop editor or pre-made email templates to create quality messages.
A small business may look for a free email marketing program that offers the necessary features to start its marketing campaigns. There are services that provide over 10,000 emails monthly in a free plan.
Moreover, it should send bulk emails that are all targeted and personalized according to your business. It is called automated marketing. Also, these tools, make it easy to manage the contact list. It further ensures that the email campaigns should not directly go to the spam folders of the receivers.