Either you believe it or not but knowing how to create a WordPress website is a type of skill that enables you to create your website from scratch.
Here's why you should consider mastering your website development skills.
You can save a lot of money that you would pay to designers or developers.
You can easily follow market trends and can update your website without a programmer's help.
You can compete as your competitors may have slowed projects because of the developers, and consultants. You will have reasons to build everything on your own.
The most important puzzle to solve here is to learn how to use WordPress and how it works. The approach presented here is quite budget-friendly for as low as ~$35 per year.
In this post, we give you a guide to start your website step-wise. Don't have much time to read the guide? Here are the key shortcuts to building a website in a limited time.
How to Create a Website Using WordPress
So, here is a mini-plan to describe the later steps in this post. The most important is to note that all of these steps are easily adoptable and the costs are also customized for you.
In a cliché, you will have a beautiful and functional website at the end of this post. It will also lessen the chances of you being indebted. Here is a plan of our post.
Well, the last step depends on you and would not focus on the element of profit. Yet we can suggest alternative resources to help you make money out of your blog and website.
Read More: 7 Best Free WordPress Courses & Certifications (2022)
Step 1: Why WordPress?
Let me tell you the truth about the website platforms out there which you can use to build new sites. Usually they are called as Content Management Systems (CMS).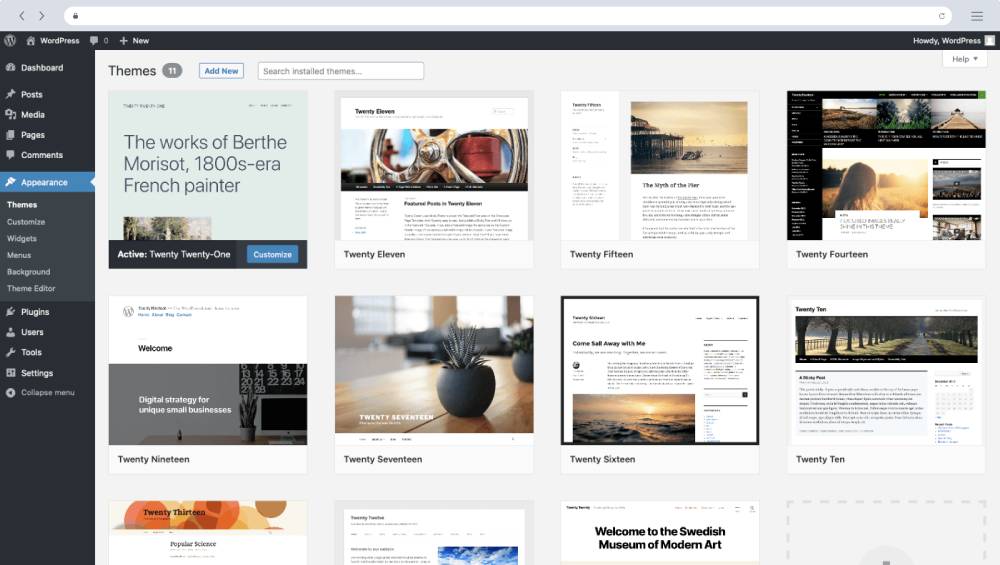 CMS is there to provide you with an easy tool to enable you edit the content of your website without having the knowledge of coding. In terms of users' overview, CMS looks more familiar as interface at Google docs or Facebook. Basically, you create new documents and pages and then publish them directly to internet.
However, the technicalities are many and so are the CMS as listed by Wikipedia.
Luckily, it is not very complicated to select the right one. WordPress is the king in the market and at the top of the list. Data shows that over 40% of the websites use WordPress. It means that most of the websites are using WordPress.
WordPress is a beginner's friendly web development platform. It consists of several built-in alternatives for the website title as well as the tagline.
There are also a couple of Dashboard options and devices, in addition to offline checks. In this post you will learn how to create a WordPress website from scratch using Codeless Themes.
Details about WordPress are:
It makes promotion easy and is SEO friendly
Its secure, optimised and fast
It supports all types of websites and is extra versatile.
Website building finds the best solution in WordPress.
It's absolutely free at least for the beginners,
It's an open source.
The most important distinction of WordPress from other website platforms is that it is a software. You can easily install it from WordPress.org.
Also, it is a commercial service, which is a spice of the WordPress features. This feature is available on WordPress.com. Here, we can give you an overview of the difference between the two different WordPress domains.
At this point, just keep in mind that it's the "WordPress.org" that you need as it is cheaper and more versatile version. Why? You will find it later in this post.
This step does not ask you to do anything to build your website as yet. It was meant to familiarise you with the basics of what WordPress is.
Step 2: Starting with the WordPress
If you are a theme/plugin developer or keep a looking for different themes and plugins, then installing WordPress on localhost might be an extremely efficient solution for you.
During the training, it is obvious to add numerous intricate posts as well as pages into a blank websites. This is because merely duplicating or pasting tons of text from Loren Ipsom will not suffice all kinds of examining purposes.
XAMPP is one of the most common localhost application. It is commonly used by the developers. You can easily develop the pages and also post manually by visiting the "Add New" menu option in the WordPress admin.
If you are new to the art of developing and creating WordPress websites then you need to prevent putting the FTP process at first. Instead, you should stick to one-click installation tools provided by your internet hosting company.
Installing WordPress on web host?
During the last few years, most significant web hosting companies have dumped this process down. In turn, they offer a one-click installation.
You will certainly get devoted hosting plans from many generalist web hosts offering common as well as VPS hosting.
Installing dummy material using the WordPress Importer is the quickest way to import pages, posts, document attachments, and menu items for a brand-new website.
Install WordPress on localhost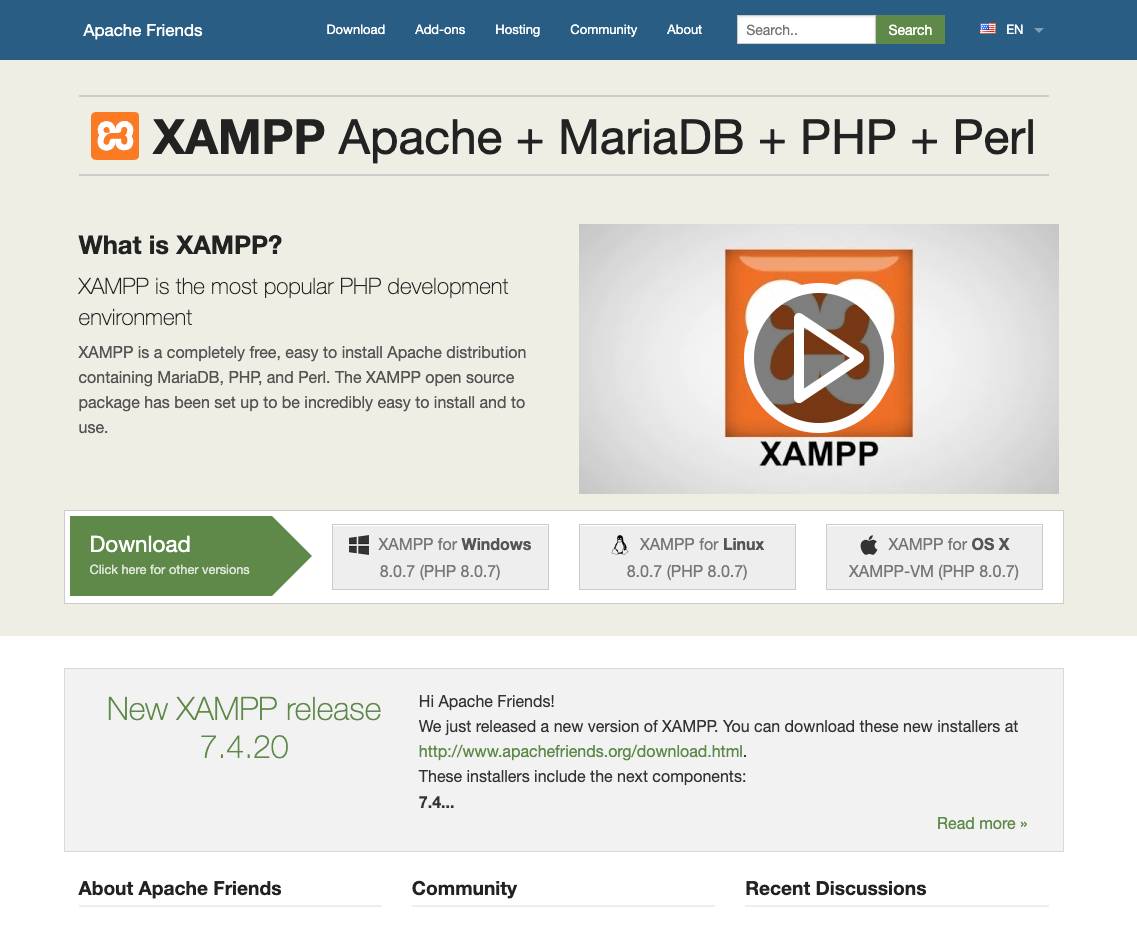 The XAMPP & WordPress mix is considerably adopted for website development.
You can begin taking care of that site afterwards. In this way you can publish new posts and pages while handling existing ones, and managing existing themes and plugins while installing new ones.
Moreover, managing as well as adding individuals, wherever needed is also possible. Do you want to reveal various navigating menu items for different pages in WordPress? Or do you want to show several menus for the logged in individuals and hiding the menu item from others on specific pages?
Generally, it would certainly require you to add code snippets or use CSS to hide menu items. But wouldn't it be fantastic if you could do that inside your WordPress admin location? In this write-up, we will show you exactly how to add conditional logic to menus in WordPress.
In another home window, you will find an option of installing Bitnami for XAMPP. XAMPP actually supplies corresponding tools to install Joomla, Drupal and WordPress in addition to XAMPP.
After complete installation, you will be automatically directed to a new page or a post of WordPress installation.
Themeforest offers you theme purchase where you can purchase theme on a reasonable price. After the purchase, you will be redirected to the WordPress dashboard where you will find "Appearance">Themes>Upload a New Theme.
Step 3: Pick a website name, buy hosting and domain
Picking the right name before starting a website is certainly the most fun part of all.
You have a complete hold of this step. Literally, you can pick any name of your choice for your website.
But, you need to understand some elements at this point which will define your success at the end.
There are more than 2 billion online websites currently, which means it's more challenging to stay original.
We say, your domain name is good if:
It includes keywords related to your niche such as if you are writing about vehicles in your website, there should be "vehicles" somewhere in the site's name.
It is difficult to mix up and easy to type. Its spelling should be as simple as possible to help people remember it easily.
It is short and easily memorisable.
It sounds unique and new to the market. It means it has to be brand-able.
Here is a tool which can help you finding the domain name of your choice. You can also search a suitable domain name using "Bluehost Free Domain". Simply, put in the seed keyword to define your website.
After selecting your domain name, register it. Now, buy a hosting package.
Buy a hosting and domain name
Although purchasing sound intimidating at this point, but we present to you the process which makes it easy for you to start with.
There are hundreds of different companies that offer you to register your domain name. Likewise, several companies online offer your different hosting packages.
Let's keep it simple and easy for ourselves and instead of buying everything from a separate company, its better to get to one point.
We suggest you to use Bluehost. Find out Why.
The domain name is free
It's beginner friendly and easy to use
It's cheap as low as $2.95 per month (from our link).
Official WordPress.org also recommends Bluehost.
It is a reputable web host which is specifically optimised for WordPress and ensures that your website will operate without any obstacles.
Next,
We will pick a hosting plan from Bluehost for our website.
Register the domain name for our website with Bluehost.
Ask Bluehost to configure and install a clean version of WordPress on the hosting setup.
We will get a 100% operational website with WordPress.
Here is how you start to create your website:
Go to Bluehost and then click "Choose Plan" on the page.
In case of a new website, choose the cheapest plan, also called the basic plan. It is enough at this stage. It costs $2.95/month.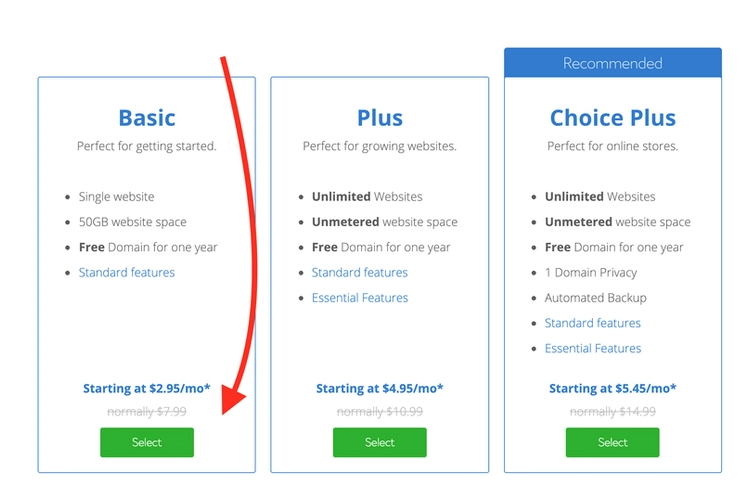 Next, enter your chosen domain name for your site.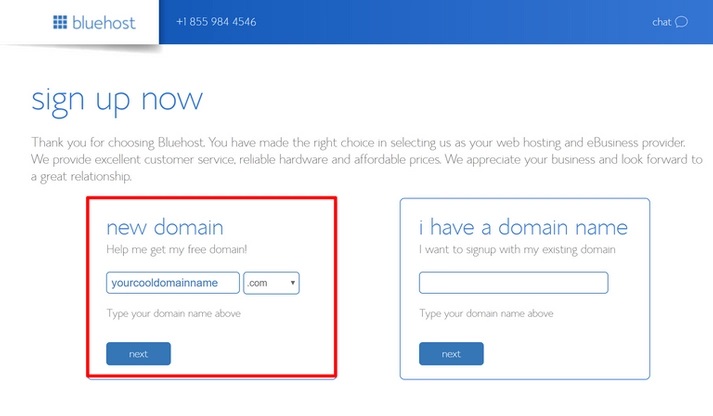 Now, enter your personal information;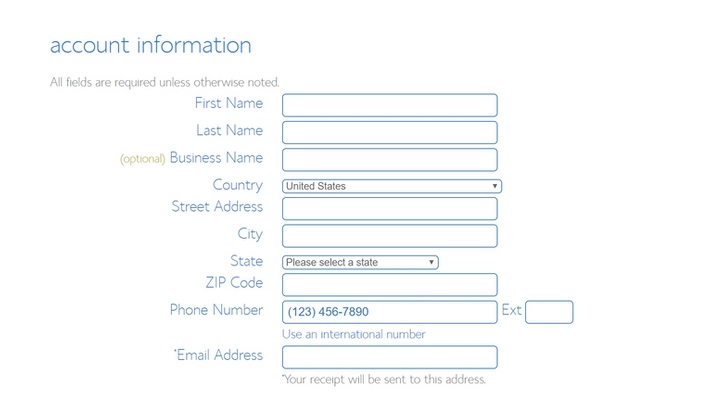 Before moving to the next step, check and confirm all the parameters in the bluehost setup which you have selected. These parameters are available on the "Package Information" section.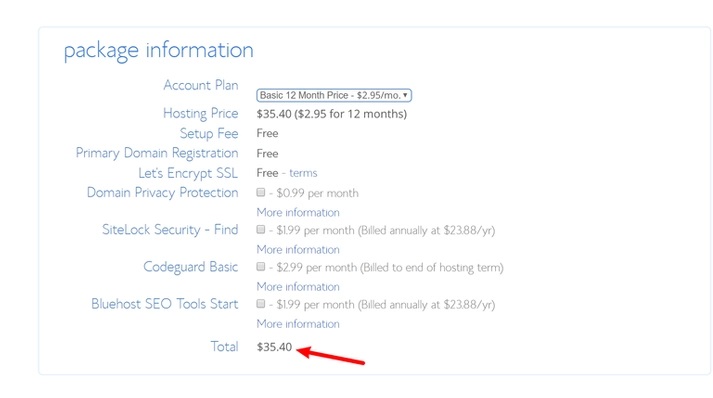 Also note that you will find the lowest package if you select the hosting package for 12 months.
Finally, click on "Submit" which means you have finalised your purchase.
Installing WordPress via Bluehost
As you have a Bluehost hosting account and have an active hosting setup, you now need WordPress.
Although you can manually install WordPress, but Bluehost offers you free installation of WordPress on getting a domain and hosting registration from bluehost.
After you complete your signing-up process with bluehost, you receive an email containing details of logging in to the customer profile and start working.
Log in to your account. Bluehost will show a wizard to install WordPress on the hosting setup. Instead, you may also go to "My Sites" section to install WordPress. Click on Create Site option from there.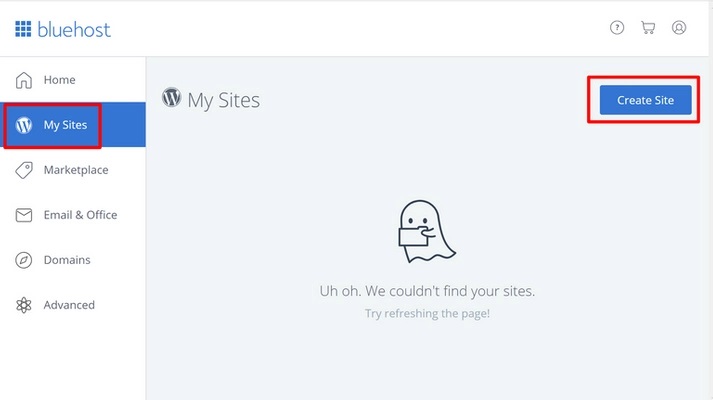 All you need to enter into the Bluehost setup to install WordPress is the name of your website along with the username and passwords you created with the WordPress. After this wizard, the installation of your site is done.
Step 4: Understanding your WordPress UI
Login to the WordPress user panel. You will find a screen like this: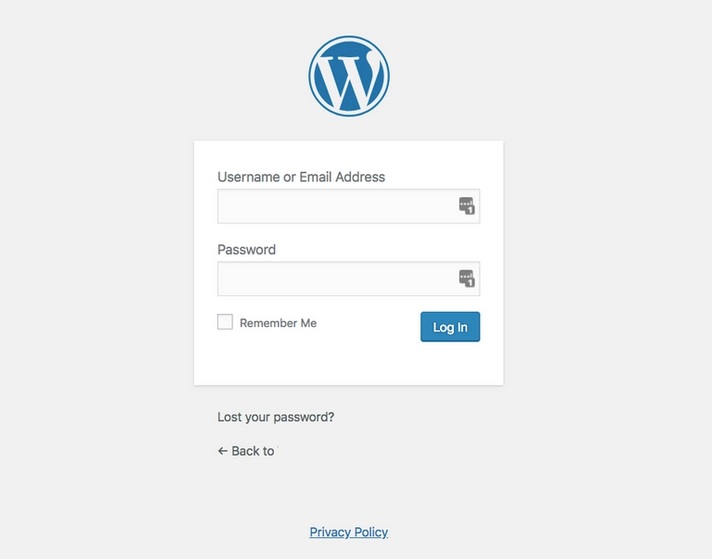 Enter the credentials that you set at Bluehost panel. Log in and you will be directed to the main interface of WordPress.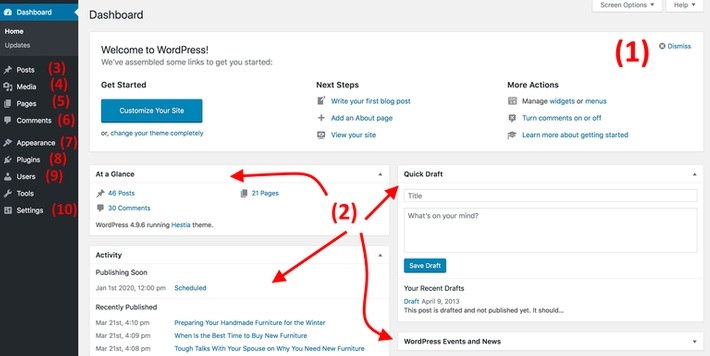 Welcome message—the elements of admin panel are listed as shortcut links, these are the shortcuts for you to create your website.
The status of the website and the update about its progress.
Posts—you can create blog posts here
Media—mange or upload media and other images here.
Pages—create subpages here.
Comments—helps you moderate comments
Appearances—modify the design or customise the things in the current design.
Plugins—install new plugins in this tab
Users—Manage accounts of your users who have access to admin panel.
Settings—these are the basic settings.
You need to take care of the basics in the WordPress settings which actually improve your overall experience.
Set permalinks
Your user panel in WordPress requires you to structure your URLs for the website. The most suitable way is to use page title in the URL. For this, you need to correctly set the Permalink so that the visitor can easily access the require information on your webpage.
You can easily set your Permalink from the navigating menu of WordPress dashboard and then Settings>Permalinks.
Select these settings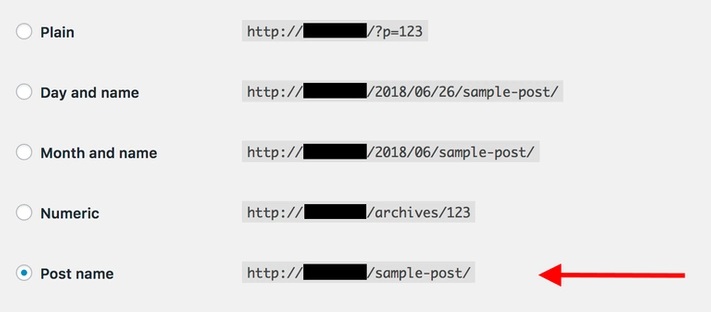 Publicise your site
If you want Google to index and find your website, make sure that you enable it to do so. For this, go to settings>Reading and then uncheck the box "discourage search engines…"

Set your website tagline and title
For this you need to go to Settings>General and then set the tagline and title of your choice.
Your tagline and title will be visible at various places in your website. Sometimes, the WordPress theme displays these in the SEO description and homepage. This is then used by Google to list your website.
If you do not have a tagline, it's okay. It is always optional.
Disable or allow comments
It's your choice to accept or disable the comments. Letting readers leave their thoughts and comments at the end of your article is a great way to build your personal community and attract traffic to your articles. Yet, you will have to take more time out ensuring the zero trolling and dealing with spam.
Either disabling or enabling comments can be set by Settings>Discussion

Disable trackbacks and pingbacks
This is kind of useless setting in WordPress. Simply, deactivate them in your website from Setting>Discussion.

Set the time zone
Setting a correct time zone will help publishing the posts and pages in a more predictable way. Normally, setting a time zone of the place where you actually are or of your target audience makes sense.
You can do this from Settings>General.
Step 5: Pick a theme for your website
The best thing about WordPress is that it offers you interchangeable designs. It means that you can easily switch the looks of your websites. Only a few clicks… and you can use powerful themes to make your site look attractive and more relevant to your niche.
Choosing the right theme for your website is an important task for creating a WordPress Website. We offer you many useful posts to guide you to select the right theme. Take a look at the Best WordPress Themes to find the best theme collections. Or you can also access our top two Themes, The Best Multi-Purpose Themes which include:
You can use services like Envato Elements to download premium WordPress themes with a yearly subscription.
Installing Theme & Dummy Data:
Here is how you do it:
Pick a theme of your choice
WordPress themes are defined packages which decide the way your website should look like. They are easy to install and can be changed in future. The most important detail here not to miss the content and neglect the niche. It only alters the presentation.
There are hundreds of theme offered by WordPress. You can find them all in the Official directory at WordPress.org.
There is another world full of paid themes which are offered by independent stores online. The best thing about the free themes is the impressive features that bring about the change in the appearance of your website.
The question is how to choose the right theme? We give you pro tips for this. Usually, you do not have to spend a lot of time on this in the start and choose a simple route. This is because the theme that you choose in the start may not be your final theme.
Instead, you always change that later and let me tell you it is just a matter of few minutes. Thus, we will choose the simplest yet most popular one from the market, Hestia.
Theme installation
If the theme of your choice is already present in the WordPress theme directory than you only need the name of the theme and nothing else. Yes! It's that simple.
You can choose it from Appearance>Themes from the WordPress dashboard and them move to "Add New" option.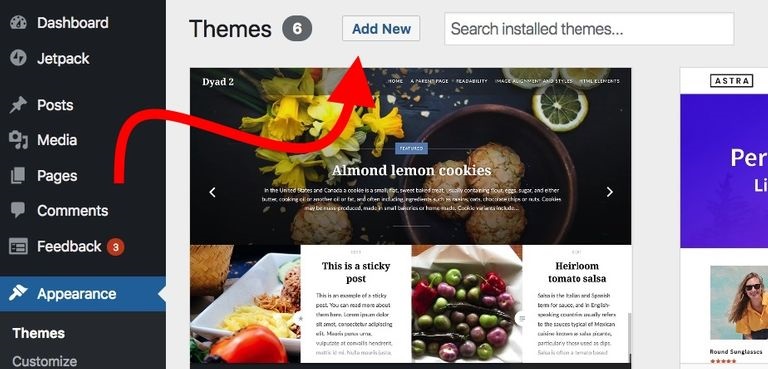 Here, add the name of the theme you want to install:

It will appear in the form of a list. Click on the "install" at your desired theme: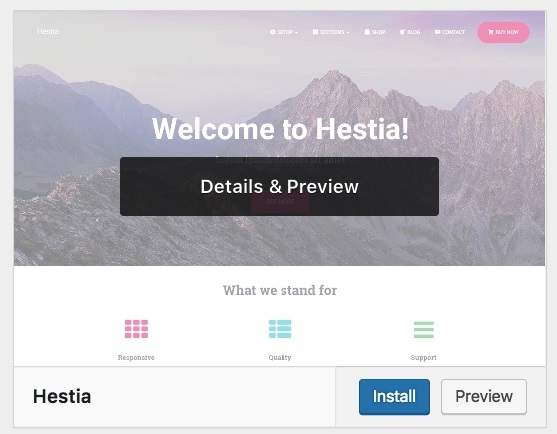 The theme will be installed in a minute. In order to enable it on the site, click "Activate" and an "Install" button will appear. To find out more themes from the store, click the button at welcome prompt.

A main panel will appear where you can learn about the extension of features of theme with all the ad-ons. Start now:
First, select "Recommended Actions" tab to find out the number of options you have

Select "Orbit Fox Companion" from the proposed options. Click the "install and activate" button.

Orbit Fox Companion is a WordPress plugin which is a recent addition in Hestia. It offers several cool features for your website's appearance. Such as a template directory where you can create several new sub-pages or custom menus.
Now that your new theme is activated on your website, you can simply go to "yourdomain.com" to see how it's working. Let's talk about design adaptation, and menus along with some other elements to find out how the site exactly looks like.
Theme customization
The out-the-box look may be pretty nice but you still want some major customizations to make it a perfect fit for your needs. Start with Appearance>Customise. You will be directed to the main WordPress Customizer Interface.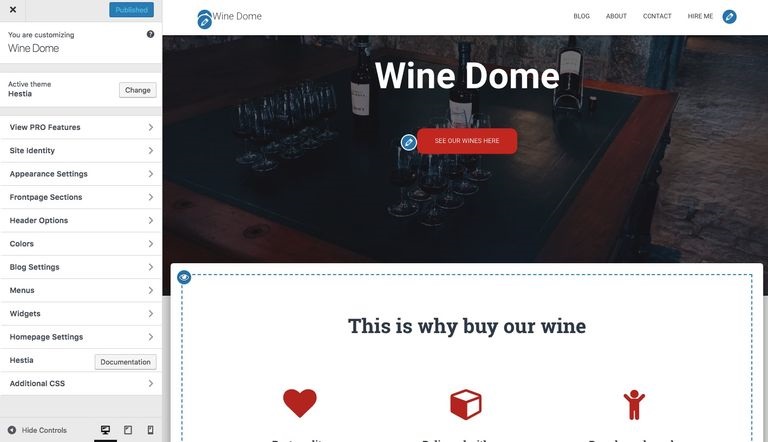 You can improve many things from this option. Starting with the homepage, you need to follow the following:
Setting up your homepage:
Go to "homepage settings" from the sidebar.
Select "a static page" option from the homepage display.
Select "add new" to add more pages as your homepage.
Add the name "HOME" and then click "add".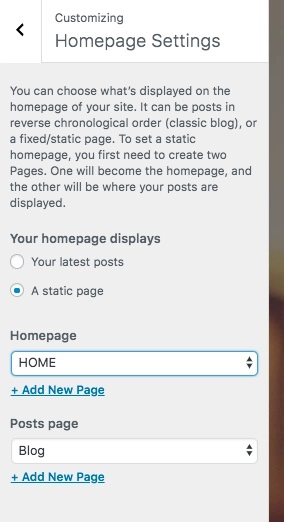 It creates a listing on default for the site to display the most recent articles on a custom homepage. There will also be some cool elements on the homepage. Change the main headline form the page. You can either add the name of your business or anything else that defines your entire site.
Click the pencil icon to make changes.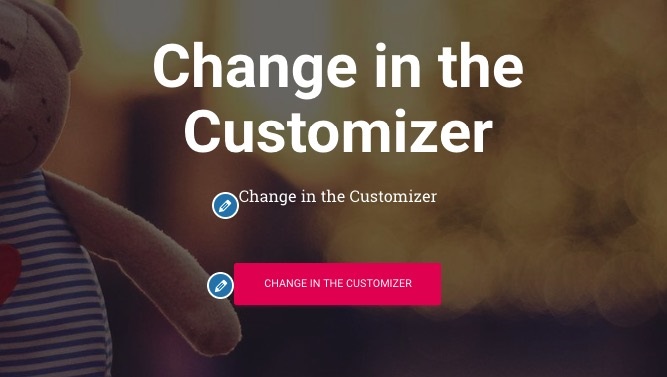 A customization panel appears after this. It will be slightly towards the left.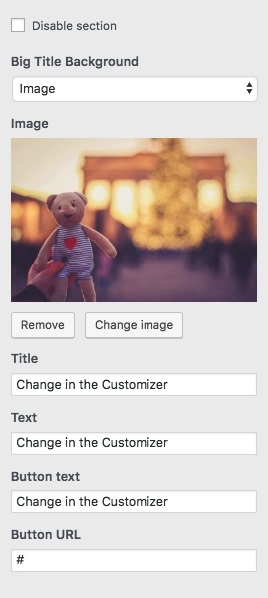 Now you can:
Customise the button texts—lead the user to the product or important pages
Customise text below the title—it is completely removable.
Customise title
Customise background image—it should be something related to the business.
After that, you may set other blocks on the homepage. You get these options by default.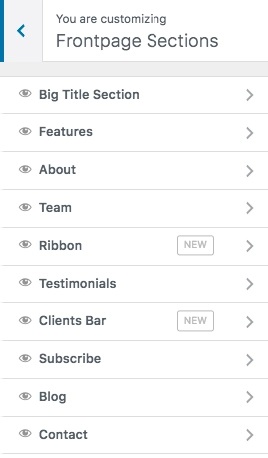 You can explain the offerings of your business under the "features" section. You can also illustrate the purpose of your website. This should be the no. 1 thing to help you make a website.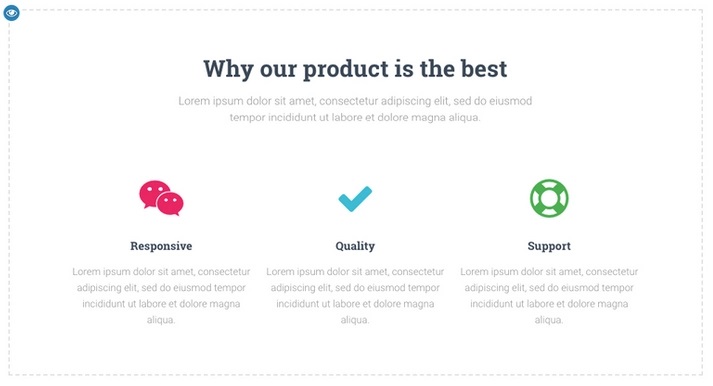 You can detail your story in "about" section.
You can choose and highlight the number of people in your business under the "team" section.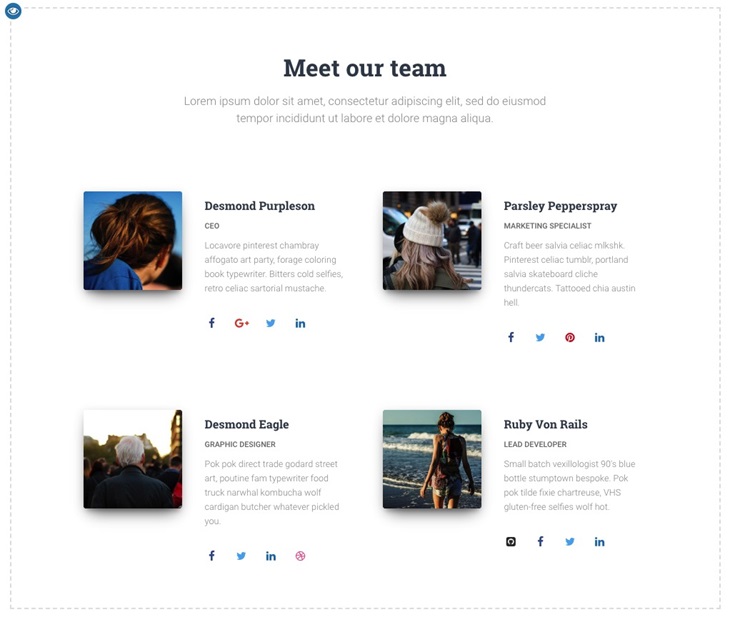 Enter the primary call to action in the "Ribbon."
If you want to show your customers' views about your business, you can use "Testimonials" section.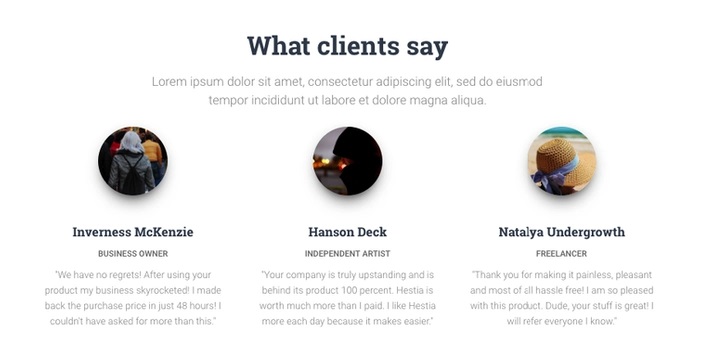 Display the information through which people can contact you under the "Contact" section.
There are other sections present. You need to browse and then pick the best one that fits to your business. After creating the homepage, click Publish button at the top of the menu.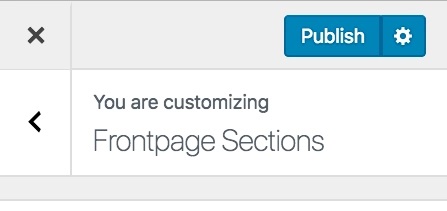 Setting the Typography
Next, you need to pay heed upon the typography of your page. It defines the fonts used throughout the page. Go to Appearance Settings>Typography in the customizer bar of your WordPress dashboard. Pick a font from there and you can immediately see that font on your website.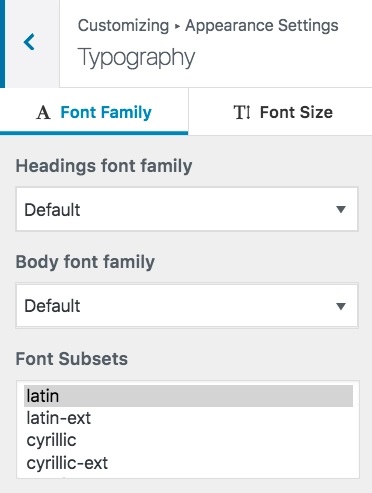 Colors
Your Out-the-box theme will help you select primary colours which define the default colour scheme of your website. You can, however, change this through WordPress Customizer later on. Simply click on the "Colours" in the sidebar.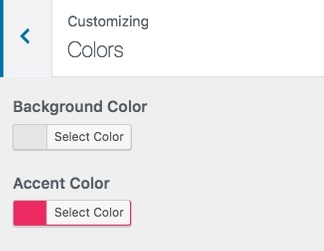 You use Accent colour for the links, buttons and everything else which is needed to make the site more attractive.
Now you will see that your website is of your choice and is actually yours. Meanwhile, you can experiment more settings from the WordPress Customizer:
Style of the blog listing
Select the default layout in the website, it decides where the sidebar can be; nowhere, left or right.
If the background image is needed at all for the entire site.
The style of the buttons
Step 6: Install plugins
Plugins enhance the standard functionality of the overall website. They add up more features.,
Consider the following essential plugins:
WPForms – adds the interactive contact forms. These forms help the users to reach you. It is better than displaying personal contact number.
Optimole – customises your image
UpdratPlus – automatically backs up the web content.
Wordfence Security – improve the site's security.
Google analytics for WordPress – integrates the website to the popular traffic analysis.
Yoast SEO – helps in SEO tweaks. It makes the site more accessible.
Slider Revolution – One of the best plugins to create sliders. Read guide on how to use Slider Revolution.
Installation of these plugins is simple. If you are dealing with a free plugin then you only need a plugin's name. And that's it!
From the WordPress dashboard, go to Plugins>Add New. You can input the plugin's name and then click "install" and then "Activate."
Step 7: Develop basic pages
Regardless of the goal or purpose, some of the website pages should. If you choose WordPress as a Content Management body, you may find Posts and Pages in the WordPress dashboard.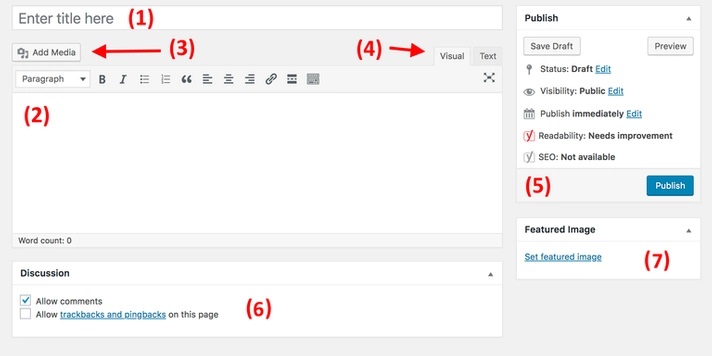 It provides the following features
A space for headline
The main content of the page is at "body section" its interface is very similar to MS Word. Here you will find all the formatting features such as colours, boldness, and alignment.
Click this button and add images.
Switch between "visual" and "text" editors.
You publish the work with "publish" button.
Discussion—here you control the disabling and enabling comments, with the trackbacks and pingbacks.
Features images: most websites work with a featured image and set it somewhere at a permanent and a prominent spot.
After this is done, visit WordPress dashboard and then add a new page for, Pages>Add New.
Contact: here you display you contact information through which people reach you out.
Privacy policy: it is a page with great importance.
Portfolio: show your past work here
Store: this isfor you to display anything that you want to sell through your website. For this, you also need a Woo-Commerce plugin.
Front pages
The theme can fit a huge image on the homepage of your website. It appears as a first thing that your visitors will see as soon as they get to you website. Setting up a Front Page is very easy and important. Simply go to Settings>Reading>Select your Homepage.
In this post, you will clearly know about installation of WordPress both on Localhost and Webhost, URL settings, site title, making menu, developing posts, adding pages and important plugins. You can also set the number of released blog posts and their display on your website. To do this, go to WordPress navigating menu and then click on Settings>Reading …
Post Page
Once you have actually produced the pages, choose the page called 'Home' for Front Page and the page called 'Posts' for Posts Page.
Presently, as visitors come to your website, they will see blog posts shown either on your front page or blog page. But the number of posts will be up to the maximum numbers that you have actually specified…
Your site could only have static pages or "Pages", OR you could decide to configure your WordPress site as a blog. You can also choose to have your home page show your blog posts (this is the default arrangement). Moreover, it allows you to disable trackbacks by default on your site for all new posts and pages you create. All web hosting providers evaluated below provide full and detailed assistance to run WordPress internet sites and blogs.
Upon activation, you can visit Limitation Posts page in Settings and then click on "add new limitation button" to start adding post restrictions. The Dashboard likewise notes your recent posts and pages and allows you to add new ones to any type of site in your network.
If you haven't developed a menu yet, click the "create new menu" link at the top of the page.
Now find out in these videos "how to set-up a full WordPress Website with Codeless":
About Page
About page is the most important one as this is the page where you introduce yourself to your visitors. You also talk about the purpose of your page that grabs your readers' attention. This page is created in the WordPress Dashboard by selecting Pages>Add new.
Here you can add headline, body section and then an attractive image.
Other valuable pages that are a must haves for any successful website are Contact, Privacy Policy, Portfolio and Store. The procedure of adding new page is the same for all.
Step 7: Consider Posting a Blog
You can effectively promote your website or content by your website. But blogging proves to be the most effective way of promoting your website. You can also add products or services to sell through your website. WordPress provides built-in blogging tools. You can create your new blog on your WordPress website by going in to Posts>Add new in the dashboard. The process of creating a new page and a blog is the same. The only main difference is that you can assign the tags and categories to the posts.
Running a blog is a concept which is straightforward. Here, you publish articles of your choice. Yet, you have to do it regularly.
For an easy access by the visitor, you can add a new page with the titled "Blog" on your website. After writing a blog, click "publish".
You can make the posts easily accessible by
Go to Pages>Add new and then leave a blank page. Name it "Blog"
Next go to settings>reading and post the blog page with "post page" option.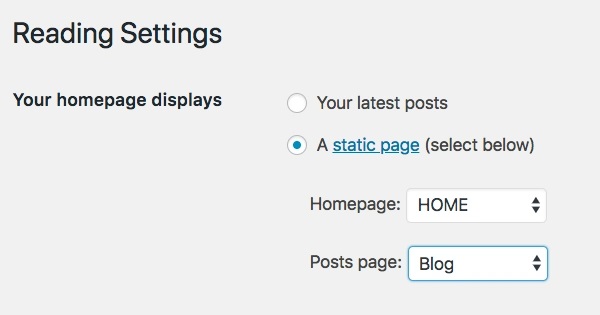 With all the pages set online, adjust your site's navigation which makes it easier for the users too.
Public access
You must want google to index and find your website. To ensure this, change the settings from Settings>Reading and then uncheck the "Discourage search engine."
Similarly, you can disable or enable comments on the basis of your choice of accepting or rejecting a comment on your website. Open discussions in comments section allows you to gather more audience on your post or article. Yet, it is very complicated to deal all the spam and trolling. You can customise the settings from Settings>Discussion.
Creating menus
Menus make it easy for the visitors to navigate your website. Therefore, you need to sensibly choose the menus while designing your website. You can choose from different options on the basis of the theme you have selected. To add menu, you can go to Appearance>Menus from the dashboard.
A default panel will show all the pages that you can select for a menu. The settings and structure of the menu is there on the right side.
You can simply start by adding some key pages to the menu, such as Contact, About, Portfolio etc. A drag and drop tool helps you to create the whole panel and reorder the items within the menu.
You can also select the menu location. If you choose "Primary Menu," your menu will be automatically set at the top of your website. Finally, click "Save Menu" in the settings.
WordPress Dashboard also allows you to create multiple menus. Simply select "create a new menu" option. A same panel for menu creation will appear. But all the menus should have different locations.
Adding Widgets
Widget shows a small block of content which is displayed variably throughout the website. Usually we add these blocks in the footer or the sidebar in the website.
To set the widget, you can simply go to Appearance>Widgets in the WordPress Dashboard.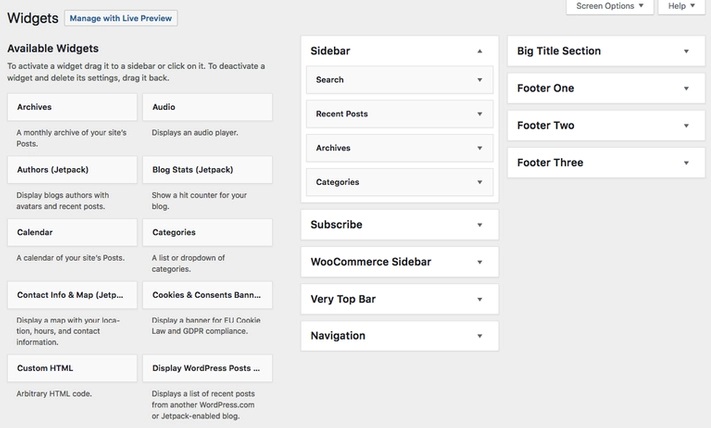 You can place the widgets in the footer or in the sidebar. A simple drag and drop tool helps you to grab your widget from the left side and place in the sidebar at the right.
After you have done all these steps, your website is ready for the audience to see. Start publishing and blog and post content/articles and you will gather a big number of audience soon.
Take Away!
You learnt How to create a WordPress website with Codeless. The process presented here is the simplest of all and you can easily do it all on your own. You don't have to hire a coder or a developer. We recommend that creating a WordPress website is the most reasonable platform that offers the most pocket-friendly solutions.
Find out in this Specular Playlist all these steps:
Want to Learn More?
Do you want to learn more regarding website building? Check the guides below: