The cost of maintaining and setting up a website adds up fast. Therefore, picking the best free Website hosting cuts a huge part of your overall cost. Be noticed that it may also cost you at least half in some cases and are not completely free all the time.
Short in time? Here is a summary of the best free web hosting options available:
We ask you to be cautious about the security of your websites hosted by free hosting providers. The free web hosting services do not ensure full security and they are not much faithful about their ability to deliver their services as paid-for providers. Free web hosting is a well-explanatory fact of the old saying, "you get what you pay for".
Most good website hosting are paid but some alternatives are free and serve your purpose well. But guess what, we all love free things but be mindful as not all free things give you the best. Also, we want everything to be free, easy and quick.
There are dozens of free website hosting providers in the online world. But the companies offering website hosting services also have to earn somehow.
This monetization is either based on ads displayed on their website or upselling services, causing downtime or limiting the traffic on your website. Some of these ads may also display your competitors' services.
So, if you are a low-budget business and looking for a free hosting service, we compare the best free website hosting providers along with their pros and cons.
The Top 11 Best Free Website Hosting Services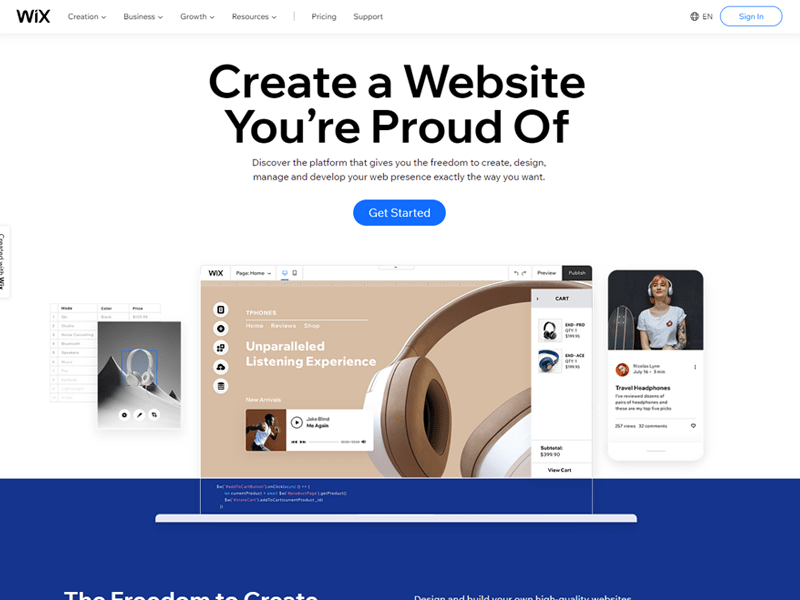 Wix is a browser-based and strong website host. It is a supreme website host if you are looking for a drag and drop and a simple interface for your basic website. It is well suited if you want to build a small or portfolio website.
It is not for those who want to practice their coding skills and upload various video files. However, it eases the way if you want robust features and easy setup. Be mindful that eCommerce features, domain and advanced email are available in Wix in its non-free plans ONLY. Besides, their support is not great all the time but it does not matter either because Wix offers features that are ideal for the websites built by beginners.
In the free version by Wix, you get an email, several apps and templates with drag and drop editor, 500 MB bandwidth, 500 MB storage and Wix.com subdomain.
The free Wix plan is not very generous in terms of bandwidth and storage. However, it is enough for beginner-friendly website building. Following are the features you will get for free:
Free apps such as social media integrations, PayPal, Google Maps, forms, calendars and booking apps
1000s of templates to categorise events, designs, music, portfolio and stores etc
1-year free domain with most plans
Drag and drop tool
Free sign up with Facebook or email
Basic marketing tools such as SEO and mailing list platforms integration
Built-in security such as SSL certificate and firewalls
Limitations:
The biggest limitation of the free plan is the ads display on your web pages. Also, it does not enable you to use custom domain names.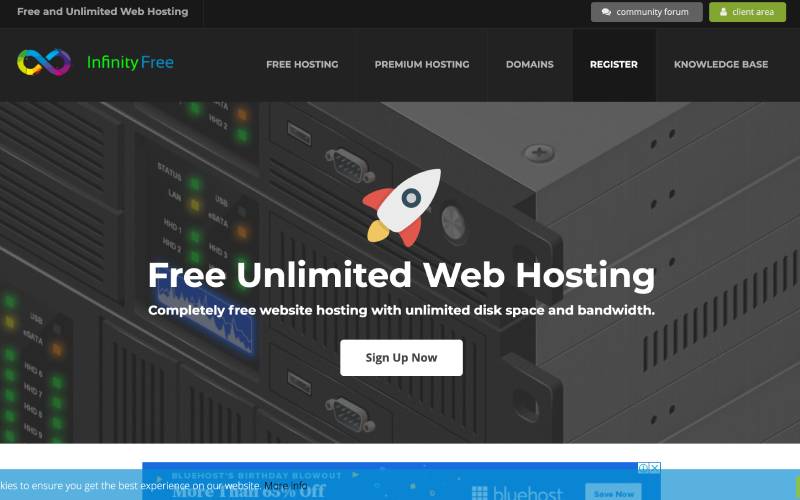 InfinityFree stands out for its ultimate free features and hosting services with unlimited bandwidth. It offers a well-designed website hosting which marks positive impacts for your website. In a free version, you get unlimited domains but only get one FTP to upload your content and 10 email accounts.
Besides, you are not charged additional fees. Above all, despite the free services you get 99.9% guaranteed uptime. It integrated the popular Softaculous Script with over 400 applications.
It also includes 400MySQL databases, free Cloudflare CDN, free SSL, and free DNS service. It also sells a cheap hosting plan that provides everything "unlimited" for over $6.90 per month. The significance of this plan is that it cuts down the load time.
It provides unlimited bandwidth and disk space without any forced ads. It will also let you consider your domain name with a free subdomain name from more than 25 domain extensions.
With the free version you will get to experience the following features:
1 FTP account
10 email accounts
Unlimited hosted domains
Unlimited bandwidth
Unlimited disk space
Limitations:
It imposes severe restrictions on the file and content type to upload the unlimited band on your website. Also, the support service is not the highest standard. Despite several plus features, it comes with serious restrictions in storage space and unlimited bandwidth.
3. Bluehost – Almost Free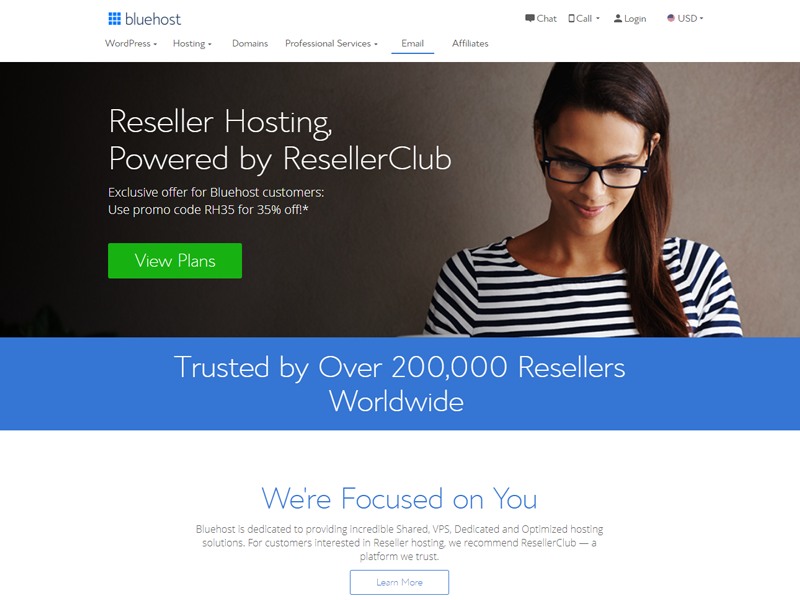 BlueHost offers all the dedicated servers, virtual private servers and shared hosting. Moreover, they also offer free reseller hosting and shared hosting accounts. It is an almost free web hosting provider that offers plans starting from $2.95 per month. Their hosting plans provide a one-click WordPress installer, free SSL certificate, unlimited disk space and free email addresses.
Moreover, you get to enable additional add-ons with the control panel such as SEO tools, Cloudflare CDN, site builder and other powerful features for website building.
Bluehost offers features such as:
Unlimited storage and free domain
Free Cloudflare CDN and Weebly site builder
Endorsed by WordPress.org team
High performance at a reasonable cost
PHP support and MySQL databases
Free tech support
File manager and FTP account
Limitations:
No support for OS windows
No premium tech support offered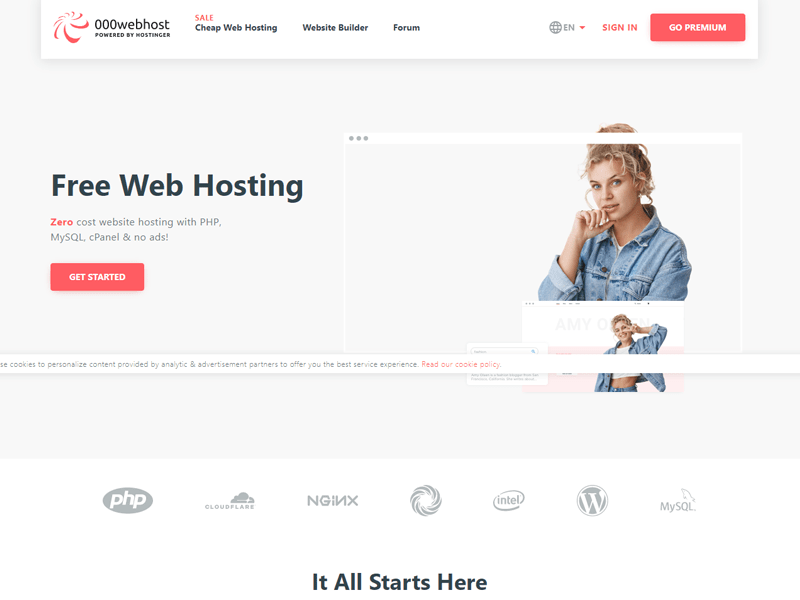 The next pick in this list is 000Webhost which is a free hosting provider for websites operated by Hostinger. It has been in the industry for 10 years. It is therefore the most potential target of hackers as it is in use by millions of users.
000Webhost provides you with a cPanel, a WordPress auto-installer and a website builder. It gives an additional benefit of using 000Webhost is that there are no ads. Yet, the disk space, as well as the bandwidth, are on the low side with only 300MB of disk space and 3GB bandwidth.
Unexpectedly, it does not provide SSL certificates, email accounts or subdomains. In addition, you will also not get any support through tickets. You always need to go through the forums if you need support.
000Webhost allows you to install two websites. Additionally, the email of account creation was flagged as a suspicious email by google. Also, there appeared a popup warning of malware.
000Webhost include Zyro website builder in the package that makes the design less intimidating. The visitors would not have to see ads as in other free hosting providers but the ads will be displayed in your WordPress dashboard.
It does not even need to add your credit card. If you surpass your free plan, you further have options to upgrade to a bit cheap plans of Hostinger.
Other important features you will get when you pick 000Webhost are:
No live support or community forum
One MySQL database
3 GB of bandwidth
300MB disk space
No subdomains
One website
Limitations:
No subdomains or email accounts
No single click install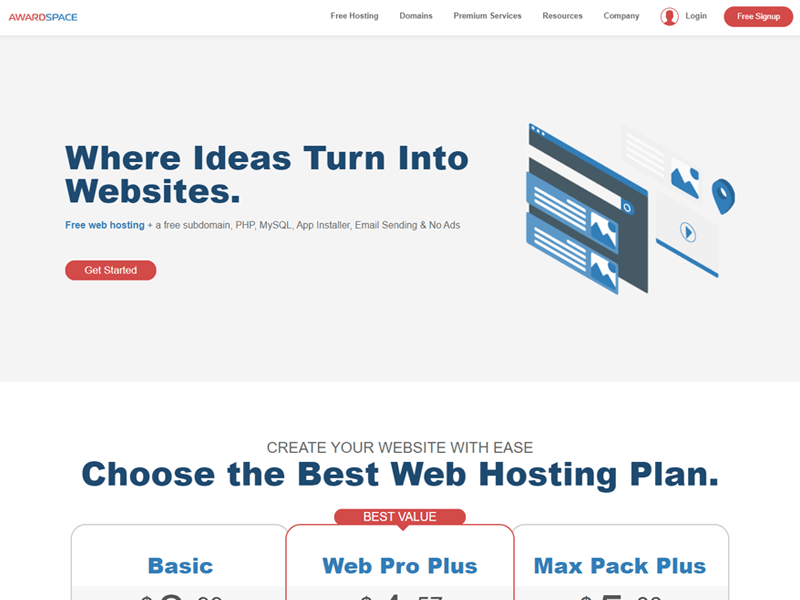 AwardSpace is considered a pioneer in free web hosting. It believes in a customer base to enhance its free hosting. Their web hosting free plan does not include ads and lets the newcomers realize if they should invest in getting more services from them.
With the free plan in AwardSpace, you will not get any eCommerce service or a website builder. But it provides WordPress and Joomla installers. Also, you get 1GB storage, 5 GB bandwidth, 1 domain and 3 subdomains hosting and 1 email account.
Furthermore, it provides email sending power, one-click application installer, MySQL and PHP for the users to experience free web hosting. The computing and storage resources are not outstanding but solid enough to be appreciated.
The Basic Plan of AwardSpace premium plan costs comparatively less than other providers, i.e. $5 per month. Moreover, it offers cost-effective upgrades for free web hosting. Here, you get further enhanced features such as 24/7 support, a free SSL certificate, and unlimited traffic and disk space.
AwardSpace gives you great options if you plan to host more than one website. With AwardSpace you can host four websites and three of which can use subdomains. Further, it allows you to host websites for clients, family and friends.
It also provides automatic firewall protection to keep the website secure from all kinds of malicious attacks. Although, it seems like AwardSpace takes security as its priority you need to upgrade to a paid plan to get an SSL certificate. It restricts you to only three CMS options.
The important features that AwardSpace offers you are:
Zacky App installer
Free domain name
More than one website
Unlimited traffic
Unlimited disk space
More email accounts
Better speeds
Limitations:
AwardsSpace has certain legal jargon in their ToS which allows them to access and sell your information to third-party vendors. Additionally, it limits the free users to 5GB of bandwidth and 1GB of disk space.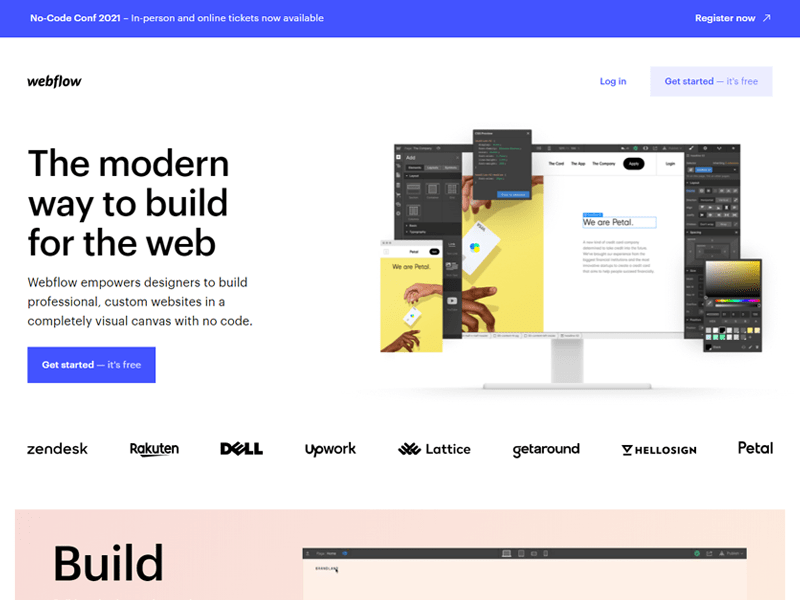 Webflow is a responsive website host which is very attractive. It is somewhat between the modern and traditional with power and level of customization is with the host. This is the reason why most web designers use it. It offers thousands of beautiful templates that are suitable for dynamic content and eCommerce. Moreover, there is much room for design customization without codes.
It is a powerful host yet gives a steep learning curve. If you intend to create your theme from scratch then Webflow is your best choice. It gives you full flexibility to design your theme from scratch without front-end coding.
It also includes CMS in the free plan. This cm lets you create custom Collections for content types. Such as, you can keep all your articles in Collection that automatically generate new articles on new pages.
Webflow allows you easy sign up without a credit card. At a low or no cost, the number of features it offers are massive with customizable options. Support documents are also available in the form of forums, articles and videos. Also, the free sites are barely noticeable. Instead, in a free plan, you can publish two website projects.
In a free plan you get to experience the following features:
One-click installation
Built-in SEO tools
Easy content updates
Flexible integrations
99.9% uptime
Scalability on the same network as Adobe, Slack, Airbnb, Pinterest and Netflix
Limitations
No customer support through phone or chat
Price plans are comparatively expensive with the price range between $12 to $122/month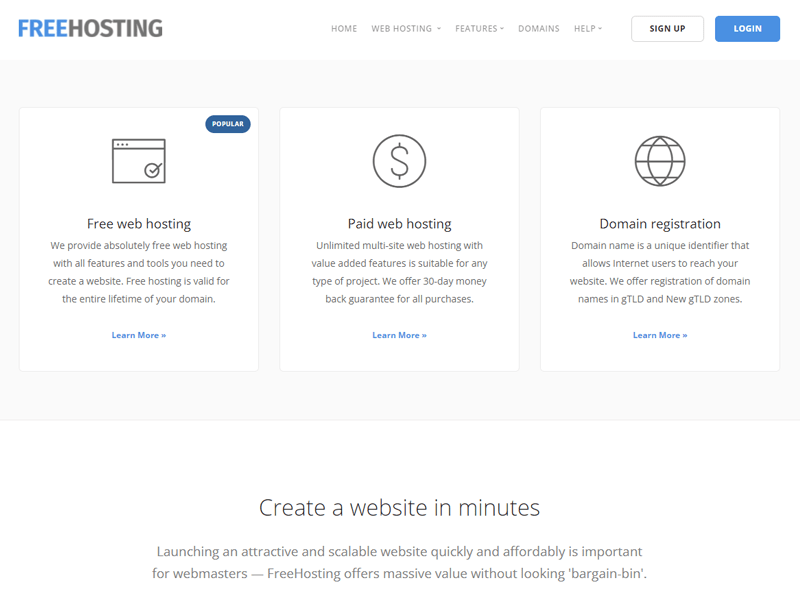 FreeHosting is known because of the number of features it includes. It provides Joomla and WordPress like websites available with one click. In addition, there are more technical features such as PHP7/Apache management like premium features at no cost.
FreeHosting does not provide a free domain like other hosting providers. In such a way, your website will have a professional appearance but domain name always costs you some money.
It provides PHP process concurrency, multi-site hosting and faster servers for free. It is also a host with the most packed features of all. The free plan provides you Fair User Privacy in standard to offer unmetered bandwidth but with few restrictions. Further, you get a generous amount of disk space such as 10GB of storage. The Softaculous Auto installer enables you to access over 480 web applications that are installed instantaneously on your website.
It provides you with one email address with an option with which you can purchase more email addresses. Guaranteed delivery and spam control are also included in the free email address.
Following are the features you get with free hosting:
One email account
Softaculous auto-installer
10GB of storage
Unmetered bandwidth
Limitations:
The most important limitation is that you cannot start without a domain name that is not included in the free package. However, if you already have a domain name and another host, then you will have to pay to get started. Yet, domain names offered by FreeHosting are not expensive. Instead, it offers extra features. Other limitations are the slowest speeds and bad uptimes as compared to other website hosting providers on our list.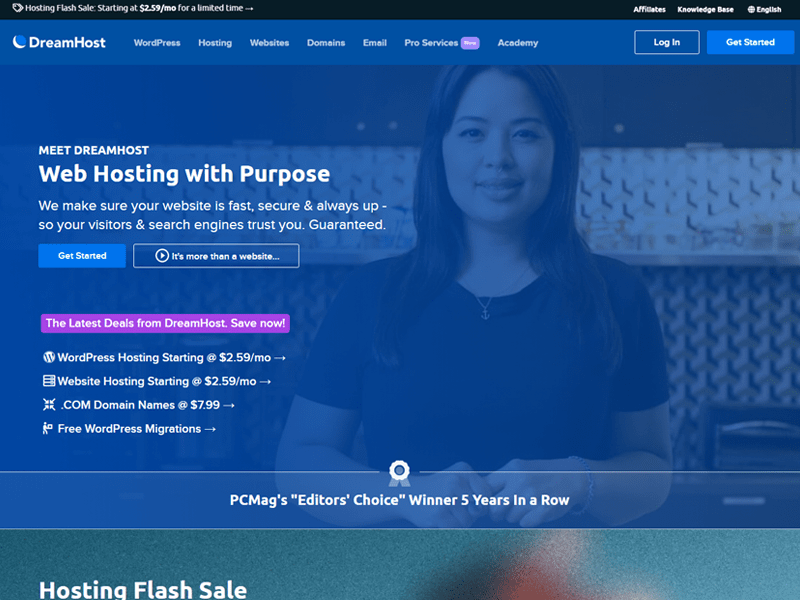 Dreamhost offers web hosting that ensures secure and fast hosting. They guarantee the users of high-quality search and visiting experience. Promotional domains and hosting offers are also present for new customers and account registrations.
This registrar, DreamHost is super easy to use with all the available features of web hosting. The reliable and fast tool suite lets you retain your ranking in the search engine, conversion and customers. The hosting for WordPress offers optimized preconfigured and performance maintenance. It offers free domain names along with email hosting and SSD storage for a webpage. VPS hosting offered by DreamHost is integrated with Virtual Private Servers which provide Node.js, Nginx, IPv6, Ubuntu, and HTTP/2 flexibility.
WordPress or simple website hosting starts at $2.59 per month. The cost of the .com domain is $6.99. The major plus of DreamHost is its free migration offers for all WordPress websites.
Dreamhost works best for large websites however, even the cheapest plan holds 50GB of storage. This is enough to start a simple website for a small business. Even if you have a great amount of content, this is a good storage limit for start-ups.
When you install WordPress, it already has pre-installed Dreamhost so you can have free updates and domain privacy as well as Shell access in the form of advanced features. All these features are provided at the cost of $2.59 each month.
Like many other web hosts, Dreamhost also provides several types of hosting such as dedicated, cloud, WordPress, VPS and shared hosting. It offers several very impressive features for WordPress including one-click installation and automated migrations for WordPress. It dost not charge you any additional costs.
The regular plans for shared hosting include Free SSL, daily backups, unlimited bandwidth and unlimited storage. The flexible hosting provided by Dreamhost offers 99.95% uptime that goes for 4.5 hours downtime annually.
It provides the following features:
99.66% uptime
One-click installation through a simple interface
Highly user friendly
Free SSL
Unlimited email
Free domain privacy
Free domain name
Limitations:
The cloud and dedicated features are less strong as compared to other hosting types offered by Dreamhost.
The major drawback of Dreamhost is its poor support on direct phone calls. Also, the time of contact is time-bound.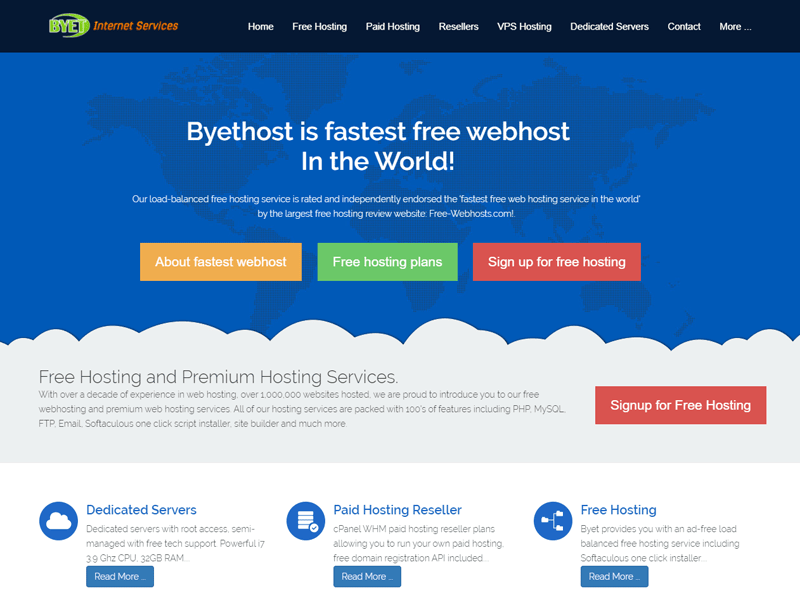 ByetHost offers easy and quick hosting options for free. It is a part of Byet internet which is a US-based hosting provider for reseller services, domain name and hosting. It already hosts over a million websites, yet Byethost claims its free services are powerful and are solely dedicated to free hosting throughout the industry.
With ByetHost, you get PHP/MySQL compatibility, 50GBmonthly bandwidth and 1 GB of server space. They also provide 24/7 support with access to the knowledgebase community of Byethost's customer service department. You can enjoy solid support in a free plan too. Also, it lets you access a self-service video tutorial. Above all, you can also use the ticketing system.
It also regularly provides you with the usage statistics such as daily hits, bandwidth usage and disk space. This data is easily available on VistaPanel which is one free hosting sample for demo. It can also be used to resource your budget.
The free plan offered by ByetHost provide you with the following features:
24/7 support
One MySQL database
Unlimited bandwidth
5GB disk space
Subdomain
Limitations:
Limited server space
Limited databases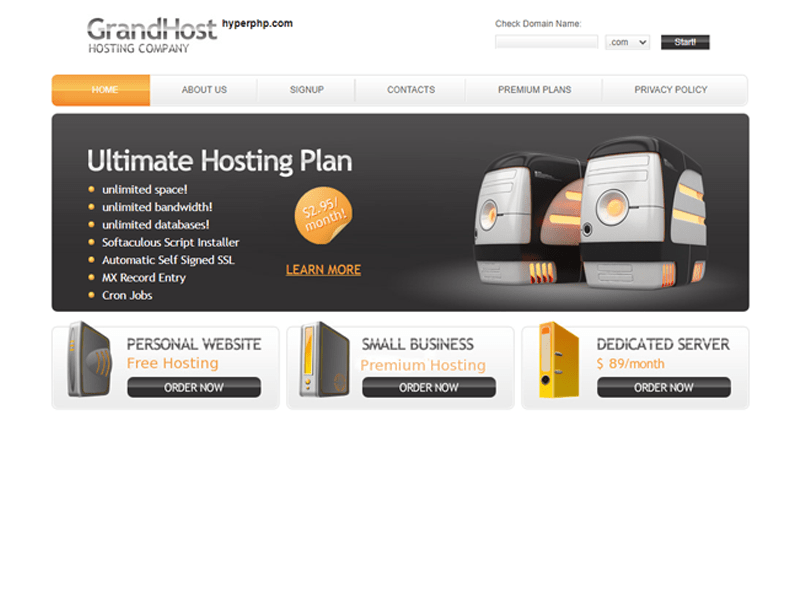 HyperPHP is another free web host that provides iFastNet. In this plan, you get free community forums and tech support, MySQL database and free subdomain. Also, you get 1 GB of disk space.
HyperPHP also offers several ways in making the launch of your new website easily. It also allows you free domain transfer. In addition, they also offer free technical support during the transfer of your hosting. Moreover, you also get an automatic script installer that is accessible with VistaPanel.
HyperPHP is likely to be reliable and legit.
You get the following features in the free hosting service:
Automatic self-signed SSL
Softaculous script installer
Unlimited databases
Unlimited bandwidth
Unlimited space
Limitations:
The website is not optimised for search engines
The identity of the website is hidden on WHOIS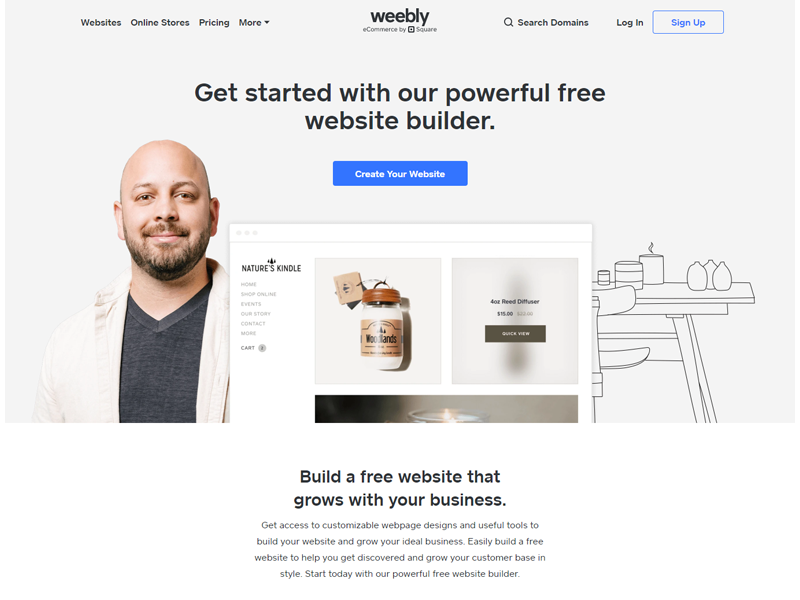 Weebly is another remarkable hosting and web design service that helps customers go online easily and quickly. Whether you are a beginner or a hi-tech savvy developer, Weebly helps you make a wonderful website to ease your wallet and brand.
With the growth of your website, Weebly offers several premium hosting plans as well. The integration of these plans with the company's website is made even easier using the drag and drop building tool.
Weebly is one of the most popular creators in the world. It owns more than 25 million websites throughout the internet. It provides a great tool for small businesses and individuals either they are new or advanced users. The platform has certain unique features which makes it suitable for developers. Weebly offers dozens of free themes in different categories such as Blogs, Events, Personal, Portfolio and Business. It is the easiest tool of its kind as the elements are categorized as groups of commerce, media, structure, basic and more.
Weebly is characterized as the cheapest website hosting platform. It offers a range of affordable designs that are not only sleek but flexible too. There are several restrictions in designing with Weebly, but if you are not fussed with the design of your website, then this restriction won't hinder your work.
It offers amazing features that can easily be added through the app centre. So it is easy to add only those features that you want to add to your website. The designs offered by Weebly are ideal, simpler and more basic. Technically, they do not stand out. More visual and creative designs can, however, be looked at under the Personal and Portfolio categories.
The templates offered by Weebly are simple but easy to use. Therefore, they save a lot of time if you want to quickly build a photography website. Moreover, it can continue uploading photographs in the background. Therefore, you don't have to wait for the uploads to complete.
You get the following features with the free Weebly web hosting service:
1000s of free templates
Free SSL
500MB storage
Free domain with branding
Easy online store, personal site and blog building
Start upgrading and designing whenever you feel like
Drag and drop builder
All-in-one hosting provider
Limitations:
The editing of images is pale as compared to other site builders
No undoing is possible for changes done on the website.
No-built in the option of undoing changes would need to rebuild a website
What are the limitations of free website hosting?
If you are choosing a free Web hosting, be ready that you will get to face severe issues in your way of website development. Even if you choose a comparatively better host, it will be fairly unstable that may lead to significant downtime.
Moreover, there are severe restrictions from the providers over bandwidth and storage that limits the traffic capacity and website growth.
Besides, it also reduces the performance of your website. You will get to need free hosting. It may be something that you need for web designing as well as developmental skills. It is also good for you to try new ideas. It may also be an area that gives you a space to play with the themes and plugins. For such needs, the limitations of free hosting do not pose any barrier.
If it is for a staging site, a local development tool may be used. In such a case, you would not need to be worried about hosting at all. Nevertheless, there are several affordable alternatives that you may consider. The poor site availability may be one of the greatest drawbacks of free website hosting providers. To avoid this problem, a cheap host can be a great help to keep the budget low.
Why do web hosting companies offer free hosting?
Free web hosting is a marketing tool where the terms and conditions are frequently changed. Also, the users are more likely to face frequent downtime because of no financial transactions. It is also because service legal agreement does not exist.
Free web hosting poses several limitations as well. Such as backup provision, uptime guarantees, traffic, site speed, and server space. All these features are curtailed yet we cannot state that a good cheap hosting service is not available.
Remember that free Webhosting is easily available in the online market. It lets the companies upsell the web hosting services even more expensive to those who may need them at later stages of their business.
Conclusion
We have listed highly-reputed cheap website hosting providers for small businesses. Some of these providers are officially recommended by WordPress as well. This is because of their high level of service and quality.
Although free web hosting is not a perfect option, it can still be a viable option in certain situations. Nevertheless, getting a quality provider that helps to deliver the promises is not an easy thing to process.
If you wonder, free web hosting is safe to use. However, it is important to choose a trusted and legit web hosting to avoid any issues in the future. It is better to compare some trusted and good free web hosting providers that suit best for your business.
The main difference between paid and free hosting is the server resources and prices. Free hosting costs you nothing and provides only a small CPU power, less security and small storage. On the contrary, in a paid hosting you get more storage space, security and better performance.
For choosing a better cheap or free web hosting provider you need to check for the plugins and tools support, website builder it offers, automatic backup options, provision of SSL, email account, bandwidth, quality of support, speed and uptime and disk space.
Want to Learn More?

Ludjon, who co-founded Codeless, possesses a deep passion for technology and the web. With over a decade of experience in constructing websites and developing widely-used WordPress themes, Ludjon has established himself as an accomplished expert in the field.