Looking for the best cheap domain name registrar? Every website needs a memorable domain name. Domain registrars are defined as companies that offer management and registration of domain names for worldwide websites.
Expert advice: If you want to jump straight to the answer, we can tell you that Namecheap is the best domain registrar and Bluehost is the cheapest choice if you want to build a new website because you'll instantly get a free domain name.
Selection of the right domain is of utmost importance as it can trick a user in several ways. It also allows you to register and purchase a domain name. All these registrars have the accreditation of ICANN which is accountable for domain name management. It works as a non-profit organization.
These domain names facilitate internet use for all users. Also, if there is no domain name, one will have to look for the exact IP address out of an extremely long list of numbers.
Thus, this problem is easily solved by domain names which allow the websites to consider addresses that comprise words such as google.com or codeless.co.
Choosing an appropriate and affordable domain name registrar is vital as so many of the so-called registrars are sitting in the market to trick you.
Shortlist of the top domain name registrars:
In this article, we will show the best cheap domain registrars with their pros and cons.
Top 13 Cheapest Domain Registrars to Buy a Domain Name
Look at our top picks and comparison of the best domain name registrar with the cheapest price.
*Bluehost Price is a monthly payment with a hosting package included
We have listed below the cheapest places to buy a domain by different extensions:
Let's review now each of them one by one.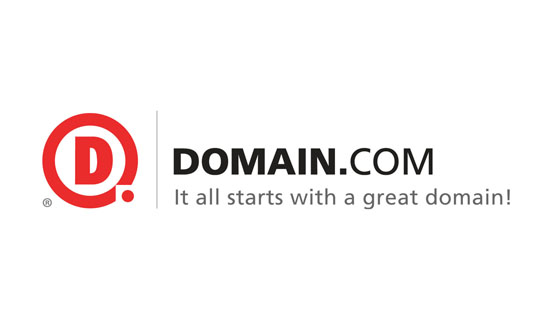 Domain.com was started in 2000 and became very popular for registering domain names at affordable prices. They allow both country code and top-level domain name extensions. Almost all domain management tools are available including email account, easy DNS management, easy transfer, bulk registration, free whois, whois privacy protection, and private registration. A domain with .com can be purchased from domain.com at $9.99 per year.
When buying a domain, on checkout, you get the option of purchasing the domain for five years. If you actually plan to stay with this domain name registrar, you can simply check it and forget it. The Whois information is protected by domain.com at the cost of $8.99 per year.
The additional upsells will hit you as you move toward the checkout. These add-ons include SiteLock, SSL certificates, web hosting, and G Suite. SSL certificate and SiteLock should be provided already by the web host. There is an option of skipping these add-ons. The option of a domain transfer is also available.
Main Features:
Free Email

Domain Expiration Notification
419 TLDs
Pricing:
| TLD | Registration | Renewal | Transfer Price | Privacy |
| --- | --- | --- | --- | --- |
| .com | $9.99/ first year | $19.99 | $9.99 | $8.99 |
| .net | $12.99 / first year | $19.99 | $9.99 | $8.99 |
| .org | $8.99/ first year | $19.99 | $14.99 | $8.99 |
| .info | $3.99 / first year | $21.99 | $14.99 | $8.99 |
| .io | $47.99 / first year | $47.99 | $14.99 | $8.99 |
| .co | $3.99 / first year | $19.99 | $14.99 | $8.99 |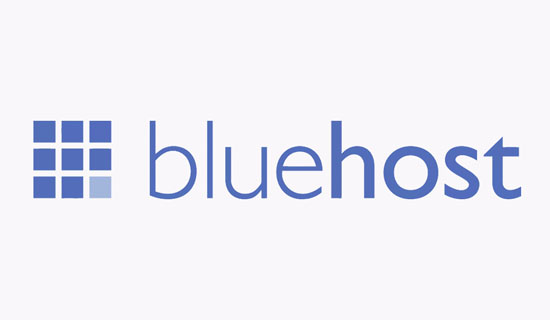 Bluehost offers free domain name with all the hosting plans it offers. The hosting plan costs $2.95/month. It is the best registrar if you plan to bundle both a web host and domain for your website. All the hosting plans offer a free domain so if you plan to buy only one domain then this is a great money saver.
This is probably one of the best deals if you look for a quality domain and quality hosting at the same time. It is easy with Bluehost domain manager to update, transfer, and track and buy domain names.
A free SSL certificate is also available which is mostly offered in add-ons by other providers. The option of auto-renewal is also available. The domain privacy is added at $0.99 per month and $1.99 can be paid additionally for preventing any unauthorized transfers.
Main Features:
Free Domain with Hosting Purchase
Free Email
Free SSL
Pricing:
| TLD | Registration | Renewal | Privacy |
| --- | --- | --- | --- |
| .com | $12.99 | $19.99 | $15.00 |
| .net | $14.99 | $19.99 | $15.00 |
| .biz | $9.99 | $21.99 | $15.00 |
| .info | $11.99 | $21.99 | $15.00 |
| .org | $9.99 | $19.99 | $15.00 |
| .io | $50.99 | $50.99 | $11.88 |
| .co | $27.99 | $27.99 | $11.88 |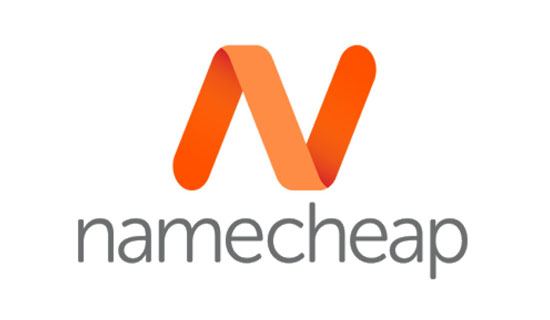 Namecheap is a powerful search tool that helps to find the correct domain and suggestions which are not included in the preferred domain. The cost of a subscription is $9.58/year which is cheap compared to other domain registrars. Forwarding emails from Namecheap is always free in business terms.
Namecheap provides free WhoisGuard service. It is a privacy protection service that prevents the information of personal contacts from being publicly displayed. As you checkout, more upsells come across such as G Suite, SSL certificate and premium DNS which you are offered as an add-on at low costs on some conditions.
You can simply get the renewal at $14.58 per year. The payment methods are easy and varied including American Express, Bitcoin, Mastercard, Paypal, credit card and Discover.
Their service is also cheap for .co.uk domains and gives the possibility to transfer it for $0
Main Features:
Bulk Purchasing
Free Privacy Service
Possibility to Pay with Crypto
Pricing:
| TLD | Register | Renew | Transfer |
| --- | --- | --- | --- |
| .com | $9.58 | $14.58 | $9.78 |
| .net | $10.98 | $14.98 | $10.98 |
| .org | $7.48 | $14.98 | $10.98 |
| .io | $36.98 | $40.98 | $36.98 |
| .co | $7.98 | $28.98 | $24.48 |
| .ai | $69.98 | $79.98 | $189.98 |
| .co.uk | $6.98 | $9.48 | $0.00 |
| .ca | $11.98 | $13.98 | $10.98 |
| .dev | $12.98 | $16.98 | $14.98 |
| .me | $4.98 | $18.98 | $15.98 |
| .info | $3.98 | $17.98 | $15.98 |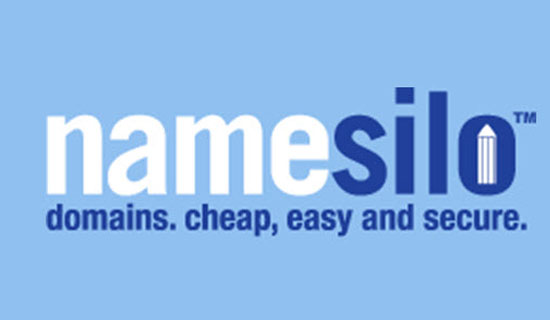 Namesilo is a cheap domain registration site, even cheaper than Namecheap. Namesilo provides free privacy protection with bulk discounts on a domain. It is the second among the fastest-growing registrars throughout the world. Virtually there are no add-ons and the third-party services can be availed at the checkout.
Although Whois privacy is free you still have to opt it into your cart at the checkout. The registration charges at the start are $7.99 per year and 8.99 for the renewal of domain registration per year. The transfer charges are also comparably lower than other renowned domain registrars which is $7.39. As you checkout, the upsells appear that you can check if you want to avail.
These include DNS, email forwarding, and Whois Privacy. The payment methods are easy and include simple Bitcoin, credit card, Google Wallet, Paypal, and Skrill.
Main features:
Free Whois Privacy
Cheapest .info registration
Cheap Price for High-Volume Domain Purchasing
Pricing:
| TLD | Register | Renewal | Transfer |
| --- | --- | --- | --- |
| .com | $10.95 | $10.95 | $9.95 |
| .net | $11.79 | $11.79 | $11.79 |
| .org | $10.79 | $10.79 | $10.79 |
| .info | $3.79 | $17.49 | $16.99 |
| .io | $35.99 | $47.99 | $35.49 |
| .co | $9.99 | $24.99 | $11.79 |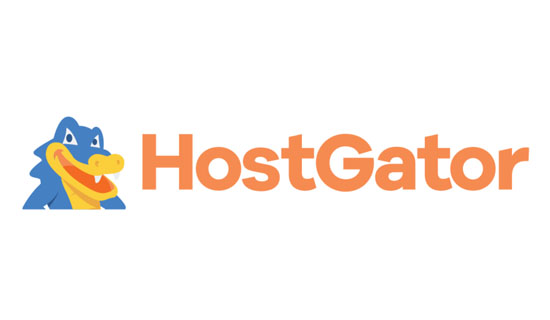 Hostgator is another popular domain registrar which offers a one-stop shop for shared website hosting and domain names. There is a combination of domain privacy, DNS management and extension selection tools.
The management area is well documented and beginner-friendly as well which helps in transferring. In addition to the hosting and domain name, the recently added feature of drag and drop to the website builder, called Gator, is also helpful. With this feature, they offer free hosting and domain with all their plans of website builder.
The first-time registration costs $3.95 per month which offers you all the essential features you need for your website and the renewal $9.95 per month. All the plans for all the users include free migration service who want to transfer to any domain through Hostgator. The Whois Privacy cost is high. The backups for up to 1GB are provided free with automatic updates and free domain names are all included in this package.
Main features:
Free Domain with a hosting plan
Free Domain Transfer
Beginner-Friendly Domain Management
DNS Management
Pricing:
| TLD | Register | Renewal | Privacy Protection |
| --- | --- | --- | --- |
| .com | $12.95 | $18.99 | $14.95 |
| .org | $12.95 | $18.99 | $14.95 |
| .net | $12.95 | $18.99 | $14.95 |
| .info | $12.95 | $12.95 | $14.95 |
| .website | $0.95 | $15 | $14.95 |
| .site | $0.95 | $15 | $14.95 |
| .io | $50.99 | $50.99 | $14.95 |
| .co | $27.99 | $27.99 | $14.95 |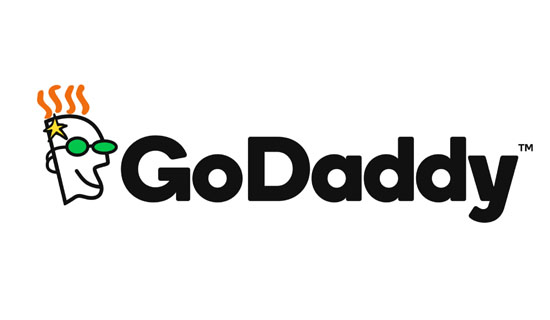 GoDaddy offers a combination of domain registration and hosting services and is the biggest provider in the market. They also offer a variety of 498 different domain extensions. What makes their service exceptional is the high security and domain protection.
Goddady has the best customer support out there with a professional staff that is ready to resolve any issue in no time.
The first-time registration COM with GoDaddy is $12.17 per year and the renewal costs $20.17 per year. The transfer costs $10.17 outside GoDaddy's server. DNS is an add-on service that is not free and you can simply check or uncheck according to your requirement.
The only thing that I dislike about Godaddy is the high renewal prices. Also, there are some great offers for transferring .co.uk domains that are completely free and transferring dot COM domain will give a 1-year free extension.
Main Features:
Free Domain Privacy Protection
Award-Winning Support
Free 1-year extension on many domain transfers
Pricing:
| TLD | Registration | Renewal | Transfer |
| --- | --- | --- | --- |
| .com | $12.17 | $20.17 | $10.17 |
| .org | $10.17 | $21.17 | $10.17 |
| .net | $10.17 | $22.17 | $10.17 |
| .info | $2.17 | $29.17 | $10.17 |
| .io | $44.99 | $62.99 | $10.17 |
| .co | $11.99 | $37.99 | $10.17 |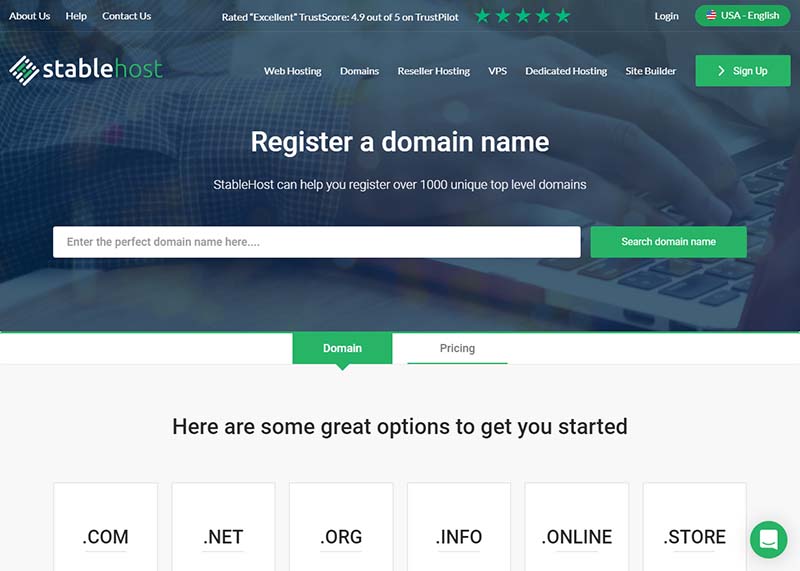 Stablehost lets you register more than 1000 unique TLD domain names. You can register all the most common domain names and not only. There are domains like .xyz, .nyc, .bio that are very difficult to find on other sites.
Nowadays privacy is very important so their service offers free Whois protection that makes your identity as owner private. Support is important so they offer a 24/7 service to help you in registering and managing your domains.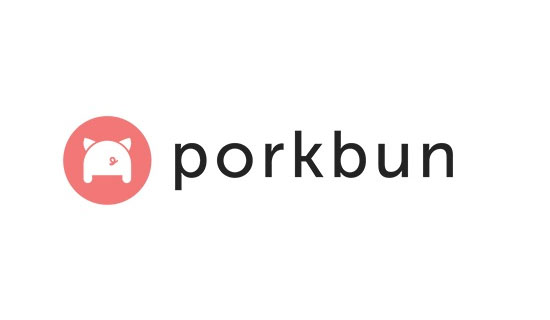 It offers an all-in-one approach in a bundle of hosting, website builder, domain and email at one platform free of cost. The first-time registration costs $4.15 per month with the renewal charges $8.56 per month. The same is the transfer charges outside the Porkbun domain.
The upsells are not annoying on the customer's interface and include DNS, Email Forwarding, SSL Certificate, and WHOIS privacy. Easy payment methods are available with Bitcoin, Credit Card, and Paypal. The major pro of Porkbun is its easy management after registering the domain. Several top-level domain options are available for a specific category.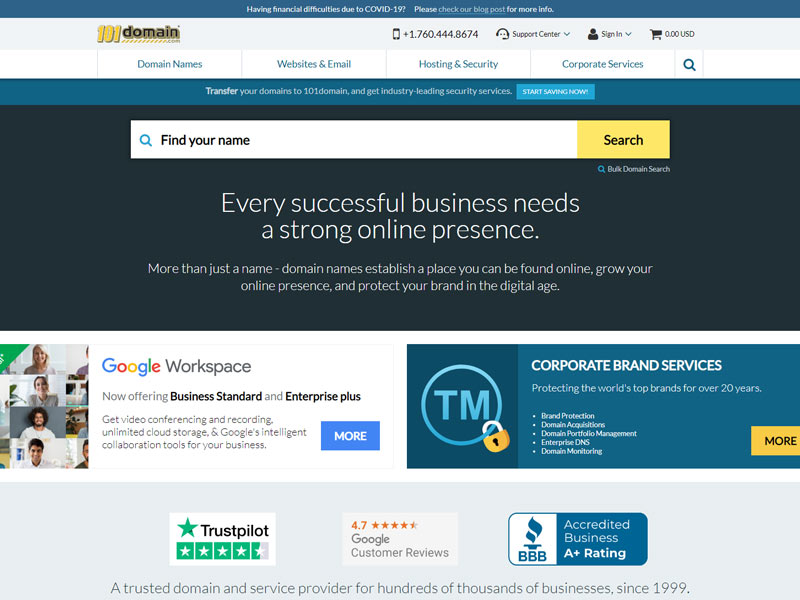 101Domain offers 14 different types of top-level domains like .com, .net, .org, .biz, info, .contact, etc .. at affordable prices. What differs from other registrars is their largest selection of domains, DNS, DNSSEC, and DDOS protection.
After you will check their ranking on Trustpilot definitely you will be amazed by their great rating. Customers rate their services with 78% with an "Excellent Rating".
101Domain offers good pricing for .com domains at 10.99 USD a year and with a renewal price of 14.99 USD. Transfer of the .com domain cost 8.99 USD.
You can purchase by using Visa, MasterCard, American Express and Discover Cards, Paypal, Bank Transfer and eCheck.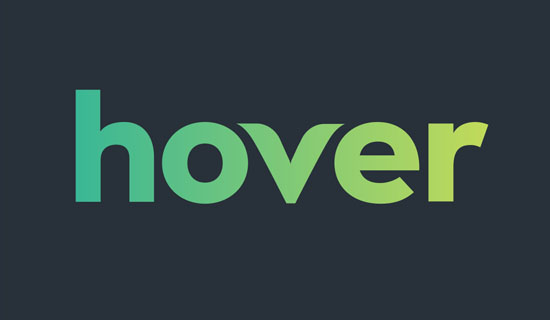 Hover offers multiple features which make it a striking option for users who select it as their domain registrar. Hover offers a quick checkout and superfast search domain that does not upsell unnecessary stuff. The control panel in Hover manages all the services and domains that control your online business.
In addition, Hover also provides pro-level tools that manage email and powerful domains. These tools are easy and intuitive either for a starter or a pro. It integrates the WHOIS privacy plugin where security and domain features are supported. Thus, the domain is kept safe with two-factor authentication.
Site hosting and the building is further carried out by Hover Connect. It helps in the start-up of a domain name in a matter of minutes.
The price of registering Hover for the first time with .com domain costs $12.99 per year.
Hover also integrates Flicker portfolio, Adobe and Format to let you display pretty images linked to the domain. It provides you with all the tools to sell your products.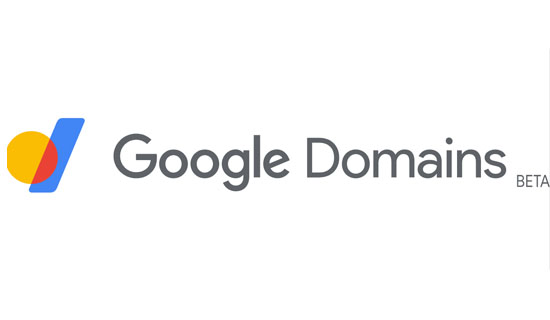 It is a domain registrar that is powered by Google. Google Domains assists the user to register a domain, especially for a WordPress website. Google Domains, however, does not support hosting like other domain registrars. Therefore, a user choosing Google Domains as a domain registrar will have to buy hosting individually.
You can also connect your website with the usual Google services if you have Google Domains. Also, if you have a Google account then it is easy to use Google Domains along with other Google services such as Search Console and G-Suite.
Google Domains offers several dominant features such as email forwarding, Google-powered DNS, free privacy security, transfer from other registrars, registration of new domains. Moreover, Google Domains works as any other Google service.
The major plus of using Google Domains is that you do not need to have a separate account to process Domains if you already have a Gmail account. Additionally, the user interface is simple and familiar. Therefore, it will feel like using any other Google tool such as Google Analytics.
However, it may not be the most affordable option as compared to other available registrars. The new domain name and the cost of renewal are the same for Google Domains. It starts at $9 per year with all the extra services included such as 2-step verification, one-click DNSSEC, privacy protection and email forwarding.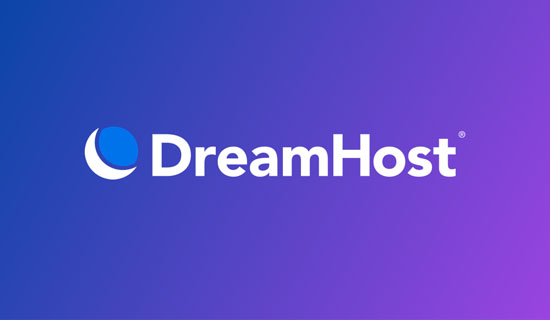 Dreamhost offers web hosting that ensures secure and fast hosting. They guarantee the users of high-quality search and visiting experience. Promotional domains and hosting offers are also present for new customers and account registrations.
This registrar, DreamHost is super easy to use with all the available features of web hosting. The reliable and fast tool suite lets you retain your ranking in the search engines, conversion and customers. The hosting for WordPress offers optimized preconfigured and performance maintenance. It offers free domain name URL along with email hosting and SSD storage for a webpage. VPS hosting offered by DreamHost is integrated with Virtual Private Servers which provide Node.js, Nginx, IPv6, Ubuntu, and HTTP/2 flexibility.
WordPress or simple website hosting starts at $2.59 per month. The cost of .com domain is $6.99. The major plus of Dreamhost is its free migration offers for all WordPress websites.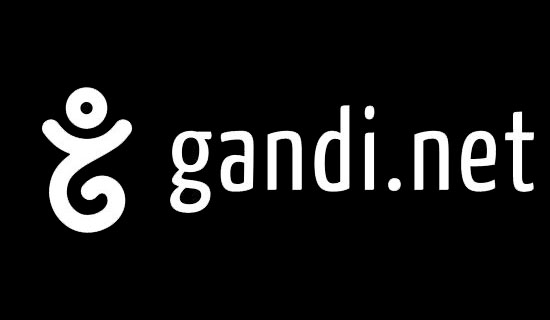 Gandi.net offers reliable and ultra-fast web hosting with a domain name. It provides hosting solutions which is secure, scalable and simple. Thus, you don't have to compromise on quality anymore after selecting a flexible and transparent solution for your website.
It provides WordPress hosting as well with all automatic, fast and simple installation procedures. Moreover, they offer to host all your applications for professional use with public API and GandiCloud VPS to control and build the structure of your website with your desired tools.
Gandi Corporate Services help in the assistance, protection, defense, monitoring and security of your online presence. The Gandi offers domain names along with the real services of 2 free mailboxes, a free SSL certificate for domain security, and 3GB storage in the mailbox.
The price of a new .com domain is €12.54 and the renewal cost is €13.004. For website hosting, Gandi offers different plans; starter, basic, pro and business range from € 6 per month to €32 per month with 50% off on all the plans for the first year of registration. These plans offer expandable storage of over 2TB and automatic linkage of domains and free SSL and TLS certification.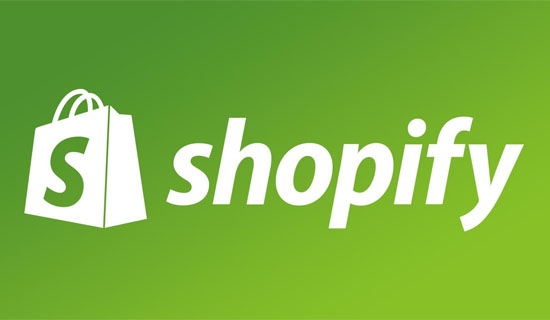 Shopify offers beautiful themes with full customization options and responsiveness. It does not want you to have designing skills yet you can have full control over your website from colors and content to layouts.
It supports all your WooCommerce-based websites where it provides its services from handling marketing to disbursements and secure shipping to checkouts. With Shopify, you can start your business in a few steps all that you need is ambition.
In addition to finding your desired domain, Shopify also helps you with the amplification of your brand with stock images. Thus, you can enhance your online presence with Shopify with a custom web address and free stock photos. Also, there is no need of an inventory and Oberlo helps you ship your products to your customers. Moreover, the themes offered by Shopify are also varied.
It guides you with the plugins of compass, podcasts, blogs and guides. These tools help in finding and building profitable businesses. Podcasts help in providing business tips and actionable advice. Blogs have a collection of ideas to guide you through business. There is also a help center and award-winning support that guides a start-up step by step.
Shopify offers a 14-day trial period and you do not need a credit card for its payment. There are three plans; basic Shopify, Shopify, and advanced Shopify which range from $29 per month to $299 per month.
What is a domain registrar?
A domain registrar is a company who manages and registers the domain names of websites around the globe. Registering a domain name is not a complicated task, but before that, you need to consider a lot of things.
The registrar company allows you to register and purchase domain names. These domain names are registered and attributed by the non-profit organization, ICANN, responsible for organizing domain names.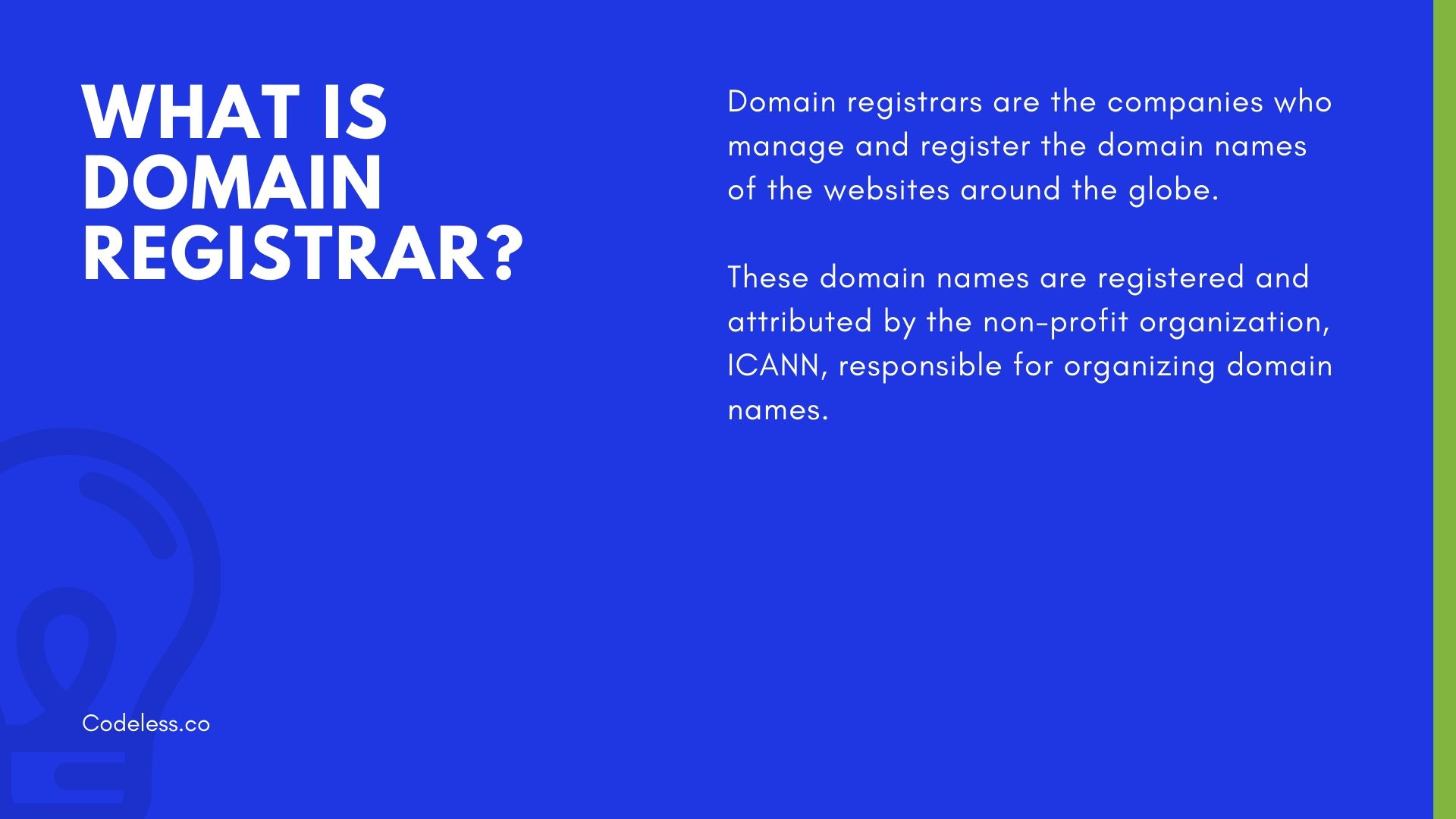 It is easy for everyone to use the internet with domain names. Without which you will have to recall all the long numbers of IP addresses to search the specific websites.
This problem is solved by domain names that allow the websites to select their addresses with words that are easily memorized such as google.com, wpbeginner.com, or codeless.co.
How to choose the best domain registrar?
The domain name registrars have an authorized license, but not all of them sell their domain extensions. Such as some domain registration companies are only authorized to sell the extensions with their country names such as (.uk, .or, .io). The domain registrars offer multiple services with the registration of domain names.
Moreover, some registrars also present cheap domains for promotional purposes or may also offer add-ons free of cost so more customers can be attracted.
The following points should be kept in mind:
First of all, check for the prices of the domain names. Some registrars may show you lower prices at the time of registration but increase the prices significantly in the coming years or for renewal. If you plan to buy a web address, then registering for a year is what we recommend as then, the automatic renewal will be turned on. Do not forget to check the additional fees for renewal and transfers.
Some domain name registrars pre-check the add-ons when you pay for a domain name. The bill significantly increases if you do not uncheck those options.
Domain names are transferable among registrars. Normally, it is not required but sometimes if you are unhappy, you may want to transfer. Double-check if that option is easily available with the registrar you are dealing with.
There are a few things that you need to consider before choosing the best domain registrar for your web space:
1. Pricing
Pricing is one of the most important factors that need to be considered when choosing a domain registrar. All the available domain extensions such as .org, .ca or .com cost differently. A registrar may offer different prices for domains with .co extensions and may offer great prices for a domain extension of .org. Moreover, some registrars even charge for privacy and security features. If you decide to buy your domain and hosting from the same registrar, it is also recommended to consider their hosting fees.
2. Renewal prices
The registration of the initial domain is mostly less than the renewals. Therefore, always double-check the difference between first-time costs and renewal costs before selecting your registrar. More often the promo price is far different from what your registrar wants you to pay after the completion of the initial period of registration.
3. Domain Transfer
Mostly, this option is the least used one. However, if you are dissatisfied with the services offered by your domain registrar, you can transfer to any other domain that fulfills your requirements. Thus, a safe domain transfer is also important. Domain registrars who charge extra fees for this service should be avoided. Before investing with any domain registrar, DO NOT forget to read the domain transfer policy.
4. Expiration policy
There is an expiration to all domain purchases. If you do not renew it before expiry, someone else will be able to purchase it and thus locks out your business. Thus, you will have to pay extra to get your domain back or there are chances that you will permanently lose your domain. Sometimes, the domains are set on auto-renewal, so you don't have to worry about the renewal but keep an eye if it expires.
The best domain registrars are those who offer a grace period. So, after expiration and before locking out your business you will have some days for renewal of your registration. It saves you from facing the horrible situation of losing your business or processing the renewal of your domain from scratch.
5. User-Friendly Interface
Nobody wants to work with an interface that itself needs time to be explored. Therefore, a user-friendly registrar offers an interface that is easily accustomed. Thus, it is ready to use and gives a quick response. The steep learning of domain registrars and creel business objectives and deliverables because of the lead times. And thus affect the overall productivity of the online business.
We found that HostGator is one of the most user-friendly registrars for a domain that offers a simple user interface. It provides extensive and well-set documentation to show the making and user of the domain easily. Thus, it gives a smooth startup for a beginner and managing a domain is easy for them.
In the urge to make a domain easy to use, domain registrars strive to make a user-friendly interface. The best way to find a domain registrar according to this parameter is by searching online reviews of a particular domain.
6. Support
You always need customer support whether you are a beginner or a pro. Not every user is tech-savvy and therefore, holistic support is always needed. Therefore, it is the most essential consideration to help you select a domain registrar. A good domain registrar will offer 24/7 support with live chats, emails and telephones. You may not need support at all, but if by chance any critical issue arises, or maybe there's a problem in the renewal of your domain name, you surely need good and timely customer support. And therefore, your domain registrar should be a hand away to assist you.
Domain Registrars FAQs
Want to Learn More?
If you want to learn more about domains and how they work, check the guides listed below:

Ludjon, who co-founded Codeless, possesses a deep passion for technology and the web. With over a decade of experience in constructing websites and developing widely-used WordPress themes, Ludjon has established himself as an accomplished expert in the field.