Good, yet cheap VPS hosting is very much possible to find. Did you know that? Let me tell you Cheap VPS does not only exist but is also good and reliable. Many websites strive to grow on shared servers because they require more computing power that can be solved with VPS.
Virtual Private Servers forecasts show that the market will reach $8.39 billion by 2026. Managed VPS would exhibit the highest increase of 16.5% during 2019-2026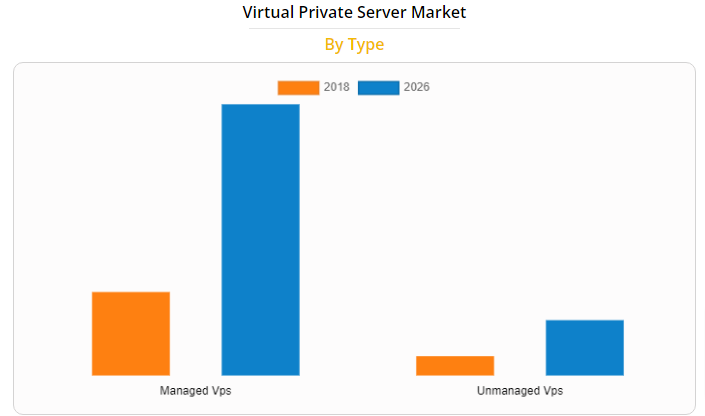 VPS hosting may also sound scary, especially when folks say that it can never be cheap but most of them are wrong.
Cheap VPS does exist but sometimes it comes with low-quality services unmanaged user interface. However, in this post, I have included some providers that not only offer affordable prices but also providers with control panels that let you easily manage your VPS.
In this post, we find the best VPS hosting options that you may get at cheap rates and we confidently recommend them.
The Top 11 Best Cheap VPS Hosting
| Service provider | Monthly Price* | Renewal | CPU | RAM | BandWidth | Disk | Dedicated IP | Panel | OS |
| --- | --- | --- | --- | --- | --- | --- | --- | --- | --- |
| Hostinger | $2.99 for first 2 years | $7.99 | 1 | 1GB | 1TB | 20GB | 1 | cPanel** | CentOS/Ubutntu/Fedora |
| Hostgator | $23.95 first year | $59.95 | 2 | 2GB | Unmetered | 120GB | 2 | Custom | Linux |
| DreamHost | $10.00 for first 3 years | $15.00 | 1 | 1GB | Unmetered | 30GB | 1** | Custom | Linux |
| Ultahost | $5.5 for first year | $5.5 | 1 | 1GB | Unmetered | 30GB | 1 | Custom | Linux/Win |
| Namecheap | $9.88 for first year | $11 | 2 | 2GB | 1TB | 40GB | 1 | cPanel** | Linux |
| InMotion | $17.99 for first 6 months | $69.99 | 2 | 2GB | Unmetered | 45GB | 3 | cPanel | CentOs/Ubuntu |
| BlueHost | $18.99 for first 3 years | $29.99 | 2 | 2GB | 1TB | 30GB | 1 | cPanel | CentOS |
| HostPapa | $19.99 for first month | $29.99 | 4 | 2GB | 1TB | 60GB | 2 | cPanel** | CentOS/Ubuntu |
| GoDaddy | $4.99 for first 3 years | $7.99 | 1 | 1GB | n/a | 20GB | 1 | cPanel/Whm | CentOS/Ubuntu/Win |
| A2 Hosting | $4.99 for first 3 years | $8.99 | 1 | 1GB | 2TB | 150GB | 1 | cPanel** | CentOS/Debian |
| AccuWebHosting | $5.00 for first year | $5 | 1 | 1GB | 150GB | 20GB | 1 | cPanel/Plesk | CentOS/Ubuntu/Debian |
| Webdock.io | $1.25 for a year | $1.25 | 0.5 | 0.5GB | 500GB | 3GB | 0 | Custom | Ubuntu/CentOs |
*The price is discounted if you make a total payment for the respective period. **Additional fee
Best Cheapest VPS Hosting Provider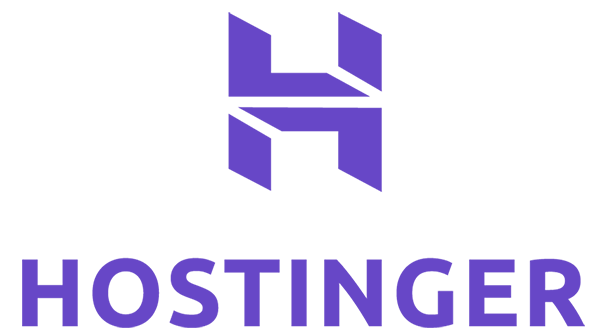 20GB NVMe SSD Disk
1GB RAM
1Core Procesor Intel Xeon
Bandwidth 1TB
First 2 Years – $2.99
Renewal Price – $7.99
Hostinger is the first on our list as it is the cheapest VPS service that offers generous features. It costs only $2.29 per month. In this package, you also get features like OS installer and WordPress installation management. It is perfectly suitable if you are looking for semi-managed hosting.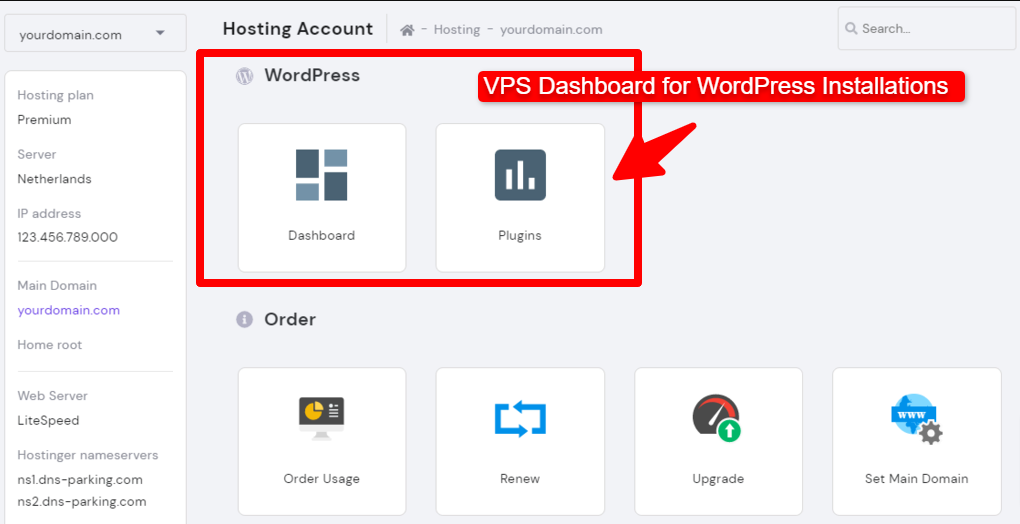 Hostinger has the cheapest plans that cost you as low as $2.99 per month. This price is indeed unbeatable as it is very cheap for any VPS hosting plan.
The plan offers a wide range of Linux-based OS systems that include Debian, Ubuntu and CentOS. However, this is just an introductory price because if you want to have more power you have to increase the payment.
Also in case, you want to use cPanel you can but this comes with an extra fee.
In terms of performance, Hostinger has the most reliable uptime results. Also, the average response time is 70ms which isn't the best you can find but the price they offer is incredible. In the table below you can see a benchmark test that will give an idea of the performance.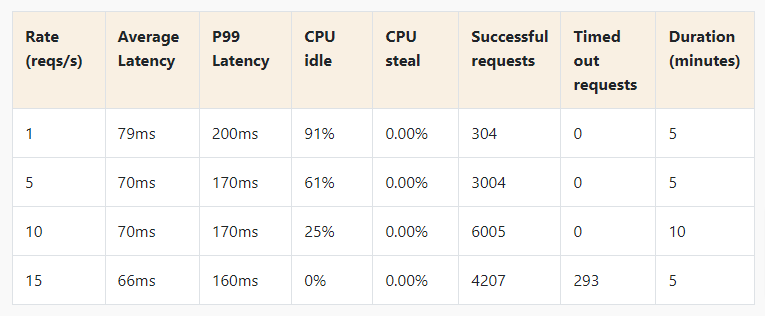 Pricing:
VPS1 $2.99/month- 1GB RAM, 20GB SSD, 1TB Bandwidth
VPS2 $4.99/month -2GB RAM, 40GB SSD, 2TB Bandwidth
VPS3 $7.99/month – 3GB RAM, 60GB SSD, 3TB Badwidth
VPS4 $15.95/month- 4GB RAM, 80GB SSD, 4TB Bandwidth
VPS5 $23.95/month – 6GB RAM, 120GB SSD, 6TB Bandwidth
VPS6 38.99/month – 8GB RAM, 160Gb SSD, 8TB Bandwidth
VPS7 $57.99/month – 12GB RAM, 200GB SSD, 10TB Bandwidth
VPS8 $77.99/month – 16GB RAM, 250GB SSD, 12TB Bandwidth

Features:
Free Dedicated IP
SSD NVMe
NFS Support
100% uptime
Linux and Windows OS
cPanel and Plesk with an extra cost
Intel Xeon Processor

Weekly Backups
Easy Upgrade
cPanel/Plesk
Linux/Win
Start at $5.00/month
Renew $5.00/month
AccuWebHosting is an old veteran hosting service with 18 years of experience in VPS and Cloud hosting. It is a privately owned web hosting company with over 20,000 customers satisfied with its services.
AccuWebHosting is well known for its convenient online support. It also allows raising a support ticket which is addressed by level-3 hosting technicians within 30 minutes.
The ultra-modern data centers are well-equipped with high-speed internet connectivity, backup power generators, passcards, continuous video surveillance, fire suppression systems, and monitoring.
We have tested a website hosted on AccuWebHosting and the results look amazing with A Grade performance.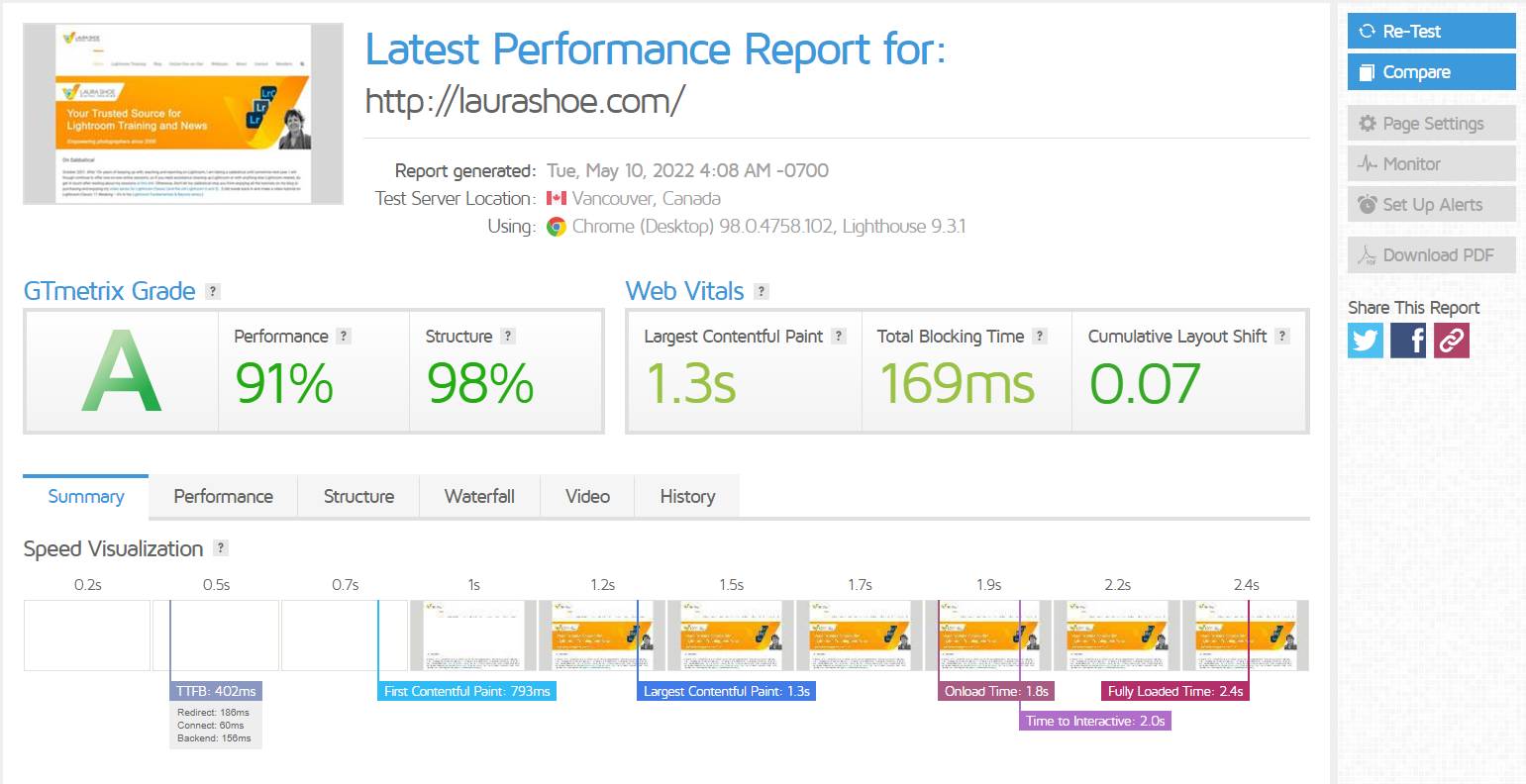 Also, server response time is 155ms pretty good.

The servers are also powered with 64-512 GB of RAM, Dual Xeon E5 series processors, and high-speed drives with RAID10 setup. Besides, the web hosting packages also provide a full money-back guarantee and 99.99% standard uptime.
Pricing
VPS Mercury $4.99/mo – 1 CPU Cores, 1GB RAM, 20GB SSD, 150GB Bandwidth
VPS Earth $10.00/mo – 1 CPU Cores, 2GB RAM, 30GB SSD, 250GB Bandwidth
VPS Earth $20.00/mo – 2 CPU Cores, 4GB RAM, 50GB SSD, 450GB Bandwidth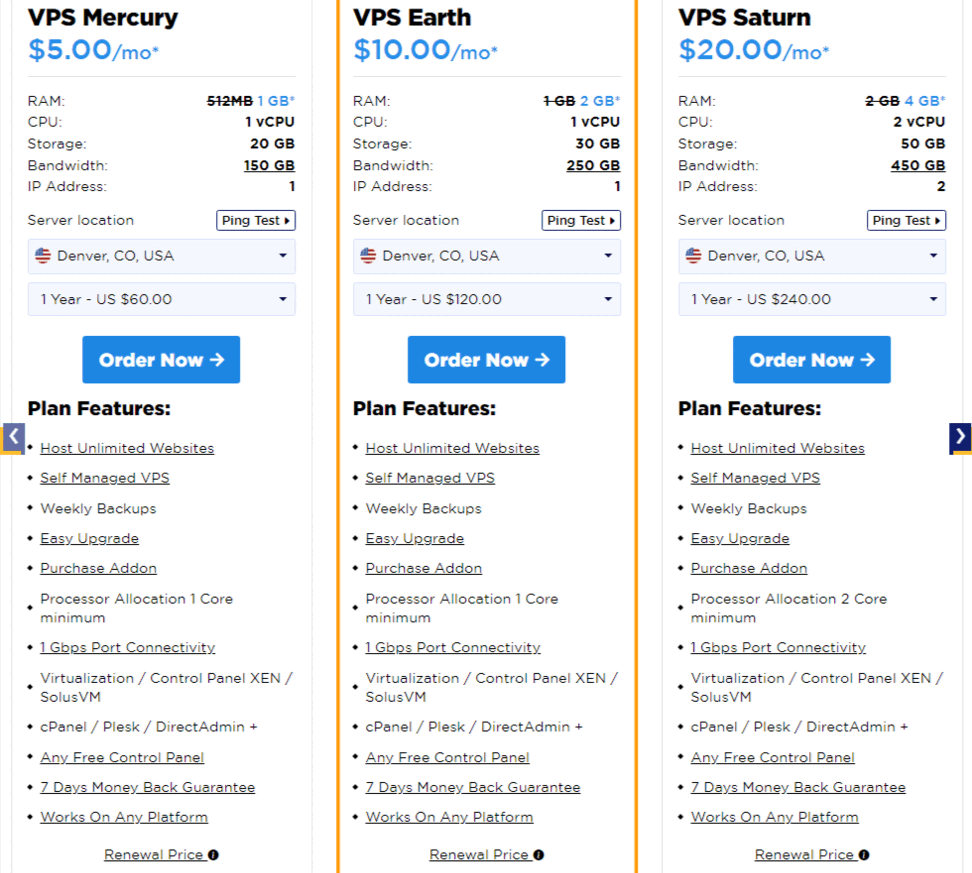 Features:
Unlimited storage
Money-back guarantee
Multiple location servers
SSD server
Unlimited bandwidth
Free site migration
3. GoDaddy – $4.99/month

cPanel/WHM/Plesk
Automated Weekly Backups
Snapshots
NVM SSD
Start at $4.99/month
Renew: $7.99/month
GoDaddy is another most used provider in the VPS industry. It lands in the row of cheap Linux VPS providers. The provider is most popular among webmasters, freelancers and developers as it provides root access and makes customization easy for beginners.
The cheapest plan costs only $4.99 per month and the renewal price is $7.99 per month. In this plan, it provides 1 GB Standard RAM, 1CPU, 20GB SSD, and Unmetered Bandwidth.
The cheapest plan of GoDaddy does provide a cPanel/WHM/Plesk. Also, Godaddy VPS performance is good. I have tested a website that is hosted on a Godaddy VPS and the results are ok. Server response time is 80ms.

The cheapest plan allows you full control with SSH keys. Therefore, it is efficient in terms of flexibility and control configuration, particularly for seasoned users and developers.
Pricing

1vCpu $4.99/mo – 1 CPU Cores, 1GB RAM, 20GB SSD, Unmetered
2vCpu $19.99/mo – 2 CPU Cores, 4GB RAM, 100GB SSD, Unmetered
4vCpu $39.99/mo – 4 CPU Cores, 8GB RAM, 200GB SSD, Unmetered
8vCpu $69.99/mo – 8 CPU Cores, 16GB RAM, 400GB SSD, Unmetered
Features
Easy snapshots
Full root access
Unmanaged hosting
Unlimited bandwidth and processing power
Semi-managed servers
Windows or Linux supported traffic

Free Domain Registration
Unmetered Bandwith
Weekly Backups
2 Dedicated IP
Introductory Price $23.95/mo
Renewal: $59.95/mo
Overall, HostGator is one of the most affordable hostings on the market but as a VPS hosting it might not be the best choice. It is not quite cheap but offers a very good price-quality ratio.
The cheapest plan you get with HostGator costs $23.95 per month and the highest plan costs you $54.95 per month with 120GB of storage, unmetered and free backups.
But the main problem arises when you go for the renewal price of $59.95. However, the promotional deal is beneficial if you subscribe for one entire year. Anyone having a small or medium-sized business website should not be worried after purchasing it for the first time in one year.
Above all, you get 99.99 % uptime with HostGator and the support is friendly. They offer free DDoS Protection, weekly offsite backups, and server monitoring.
We have tested a real site that is hosted on Hostgator VPS to check their server response time. After the test, we have seen that the Initial server response time is 165ms. It doesn't look bad.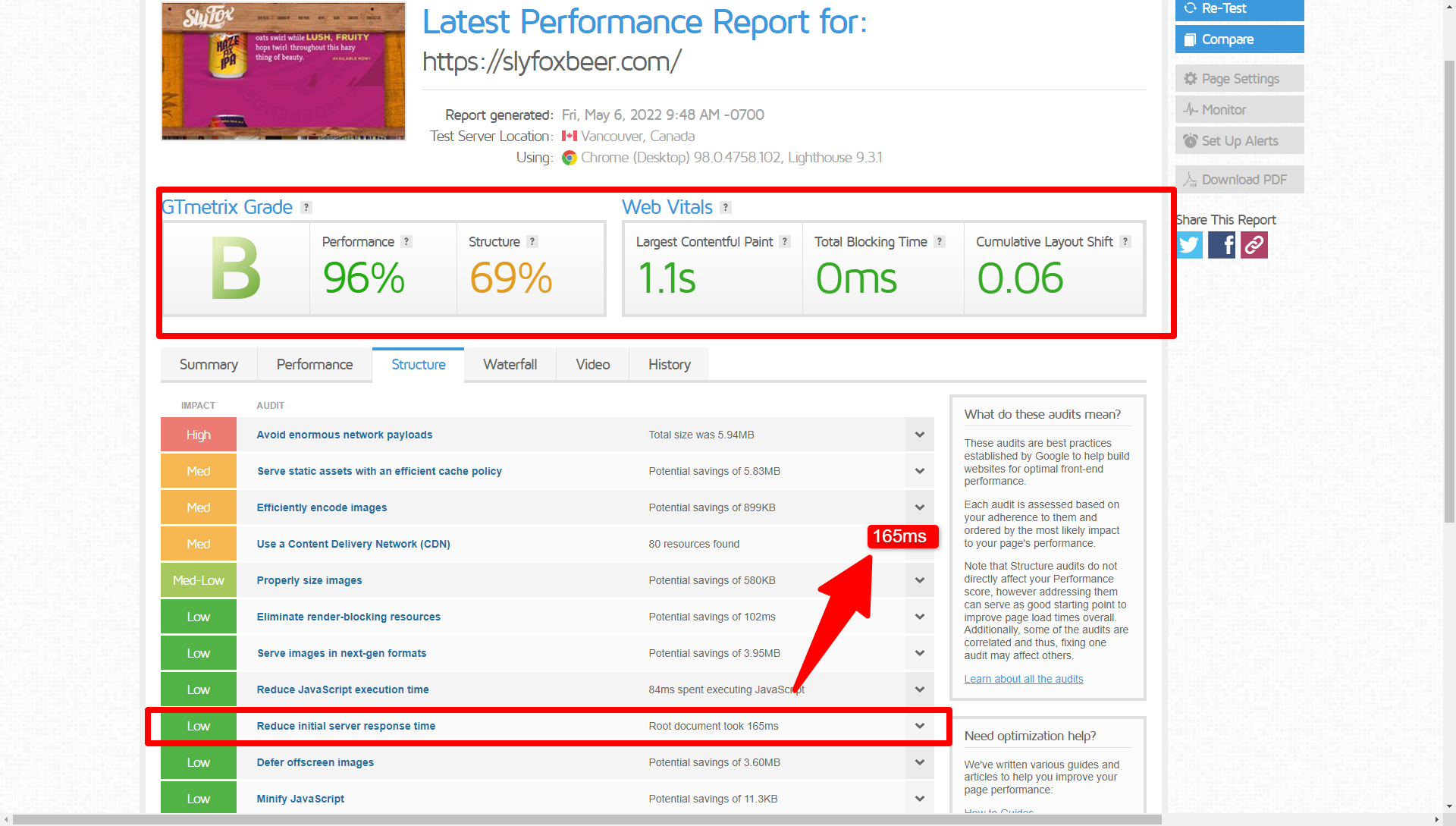 Keep in mind that they offer only Linux machines based on CentOS that can be managed with cPanel/WHM for an extra fee.
Pricing:
Snappy 2000 – 2GB RAM, 2core CPU, 120GB SSD, Unmetered bandwidth*
Snappy 4000 – 4GB RAM, 2 core CPU, 165GB SSD, Unmetered bandwidth
Snappy 8000 – 8GB RAM, 4 core CPU, 240GB SSD, Unmetered bandwidth
*Unmetered bandwidth does not mean totally unlimited.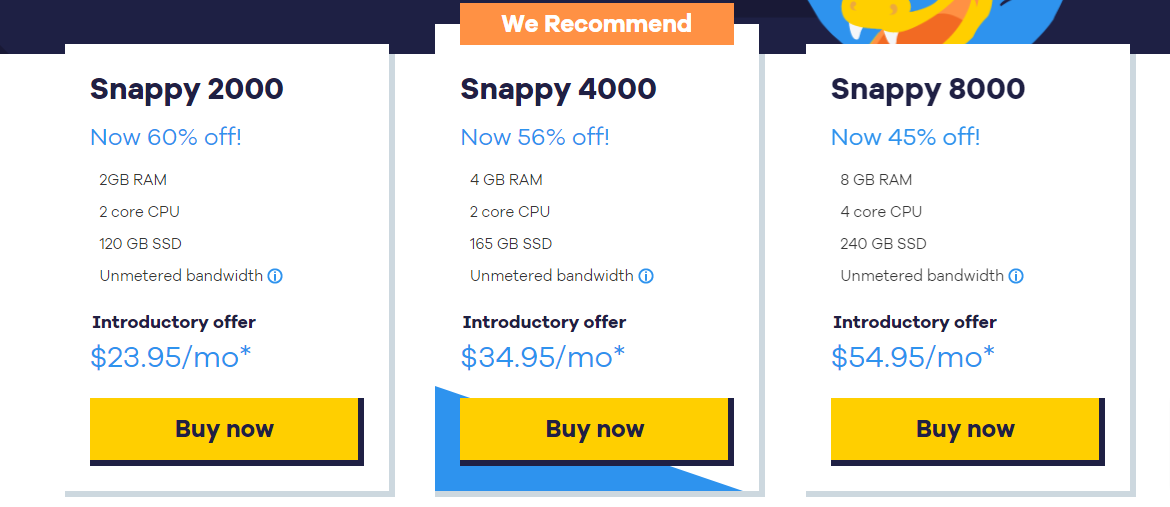 Features:
Unlimited databases, MySQL, and domains
Free Domain Registration
Unlimited email accounts
Free content transfers
Softaculous App
Linux CentOS
Offsite Backup
Read More: Best Cheap WordPress Hosting

One-Click Application Installer
Reseller and Sub Account Features
Managed VPS
USA Datacenter
Start at $10.00/month
Renewal Price: $15.00/month
DreamHost is a fully managed and cheap VPS provider. It is known for its managed VPS plans with easy-to-use features. DreamHost is best suited for beginners because its prices are very low i.e. $10 per month.
In short, it is a perfect option for medium, and small online businesses, and blogs. DreamHost provides fully-managed services with a custom control panel for server management but you do not get full access. Therefore, we say that it is good for the starters.
Dreamhost offer fully automated OS updates, and security patches and also is very optimized for WordPress this is also the reason it was featured in our best WordPress Hosting Sites article.
The company comes with a built-in control panel that is called DreamCompute.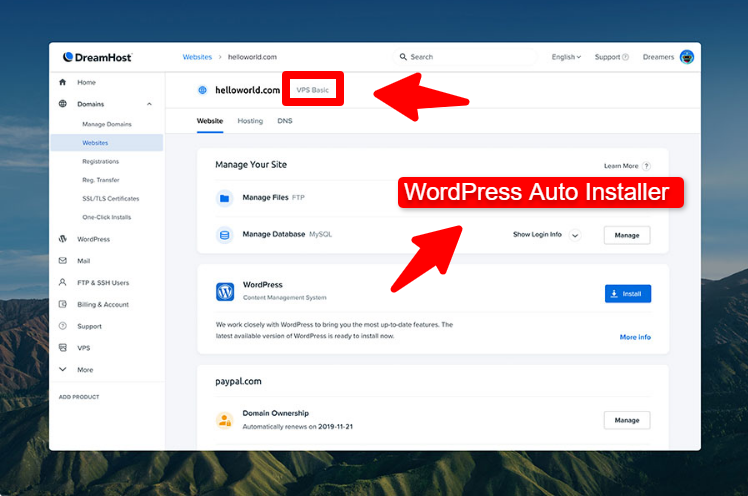 A test made by VPSbenchmark shows the average medium server response of DreamHost is about 70.1ms. In the table below you can also find other data about this provider tested on higher traffic stress. As I can see Dreamhost has similar data to Hostinger.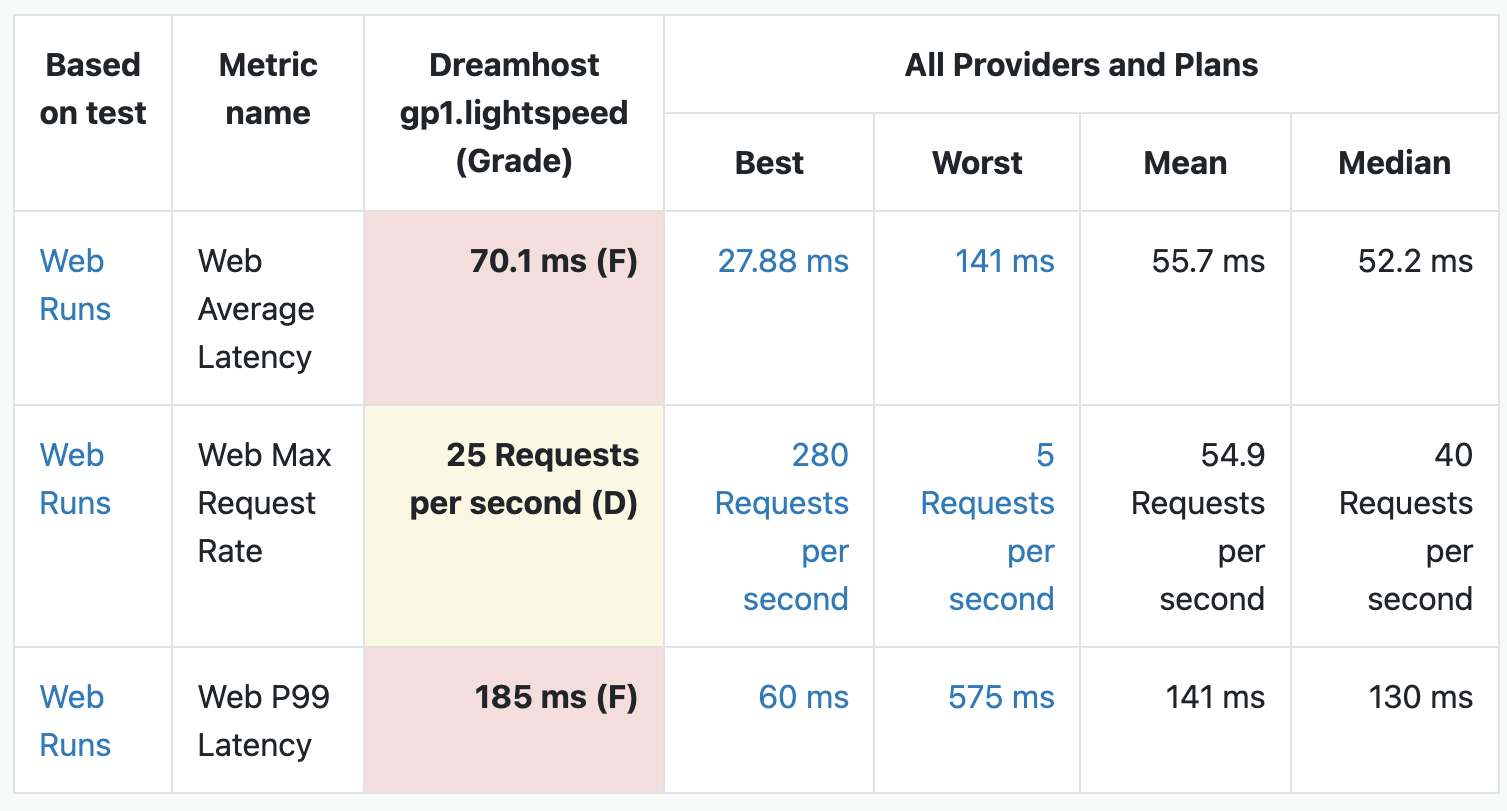 Pricing:
It offers 4 plans where the highest plan costs $80 per month. However, we are dealing with the cheapest plan, we will discuss what you get for $10 per month. The basic package provides you unlimited bandwidth, 30GB SSD storage, and 1GB RAM. Below you can check all the other packages.
VPS Basic $10.00/mo – 1GB RAM, 30GB SSD, Unlimited Traffic
VPS Business $20/mo -2GB RAM, 60GB SSD, Unlimited Traffic
VPS Professional $40.00/mo – 4GB RAM, 120GB, Unlimited Traffic
VPS Enterprise $80.00/mo – 8GB RAM, 240GB, Unlimited Traffic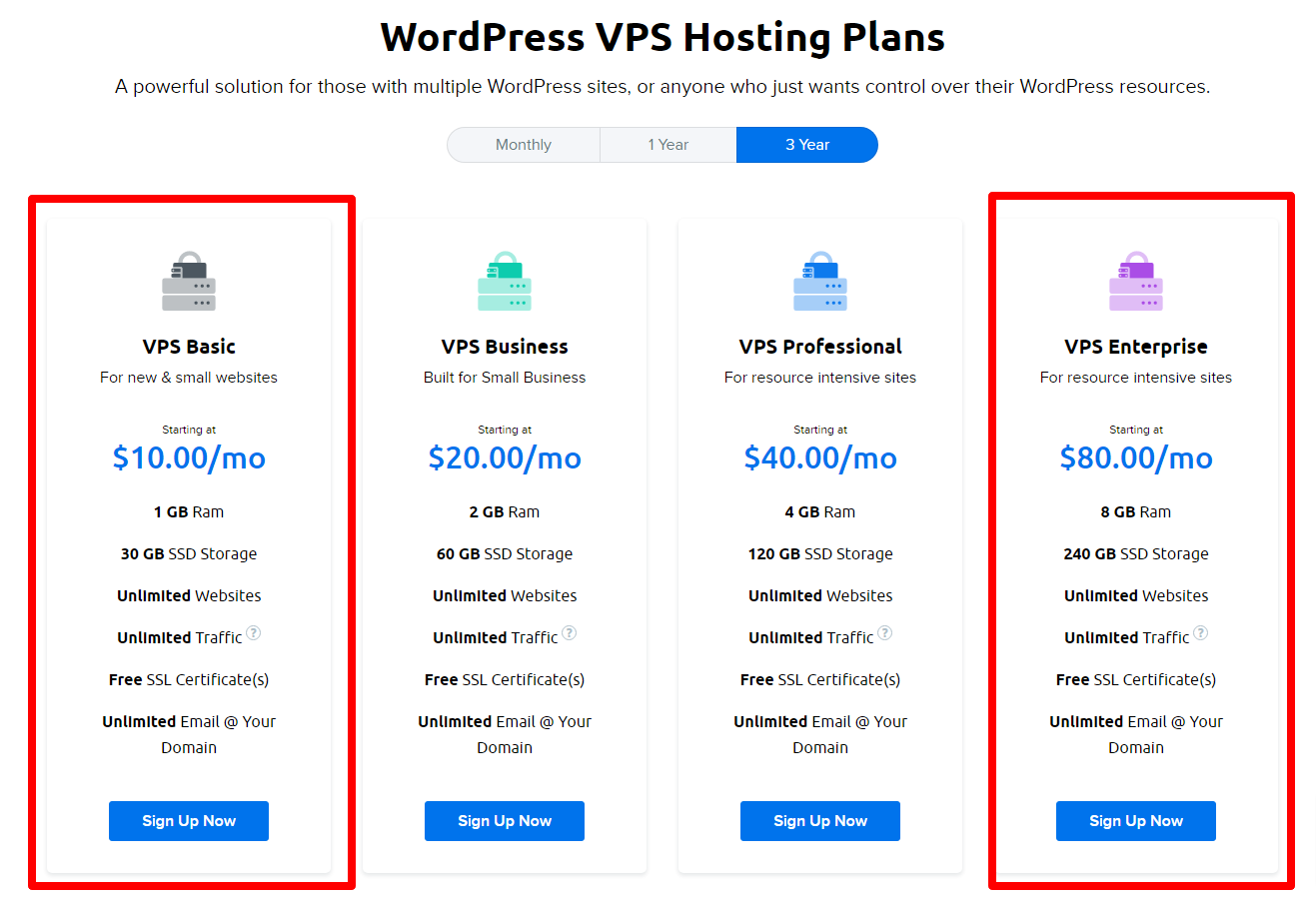 Features:
Automatic software updates
24/7 technical support
OS updates
Scalable Server updates
Automatic Security patches
Reseller Panel

BitNinja Security
Staging Environment
Free Migration
Managed
Start at $5.5/month
Renew $5.5/month
Ultahost is another very affordable virtual private server provider based in Turkey that offers different hosting plans for any need.
The VPS packages come with a dedicated IP address, 30 Gb SSD, and unlimited data transfer which is quite important when you are thinking to host a website that will grow over time.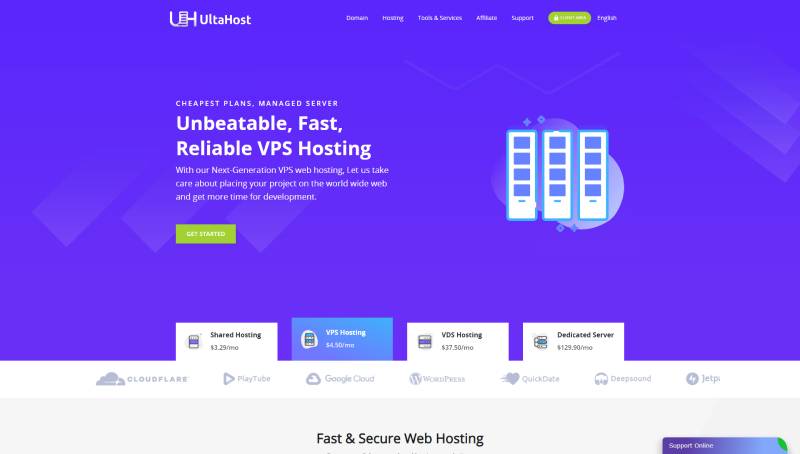 They offer instant chat support which is pretty rare and is offered only by a limited number of providers.
What makes an affordable solution are the prices that don't change on renewals.
Pricing:
VPS Basic $5.5/mo – 1 CPU Core, 1GB RAM, 30GB SSD, Unmetered Bandwidth
VPS Basic $9.5/mo – 2 CPU Core, 2GB RAM, 50GB SSD, Unmetered Bandwidth
VPS Professional $16.5/mo – 3 CPU, 4GB RAM, 75GB SSD, Unmetered Bandwidth
VPS Enterprise $21.5/mo – 4 CPU Core, 6Gb, 100Gb SSD, Unmetered Bandwidth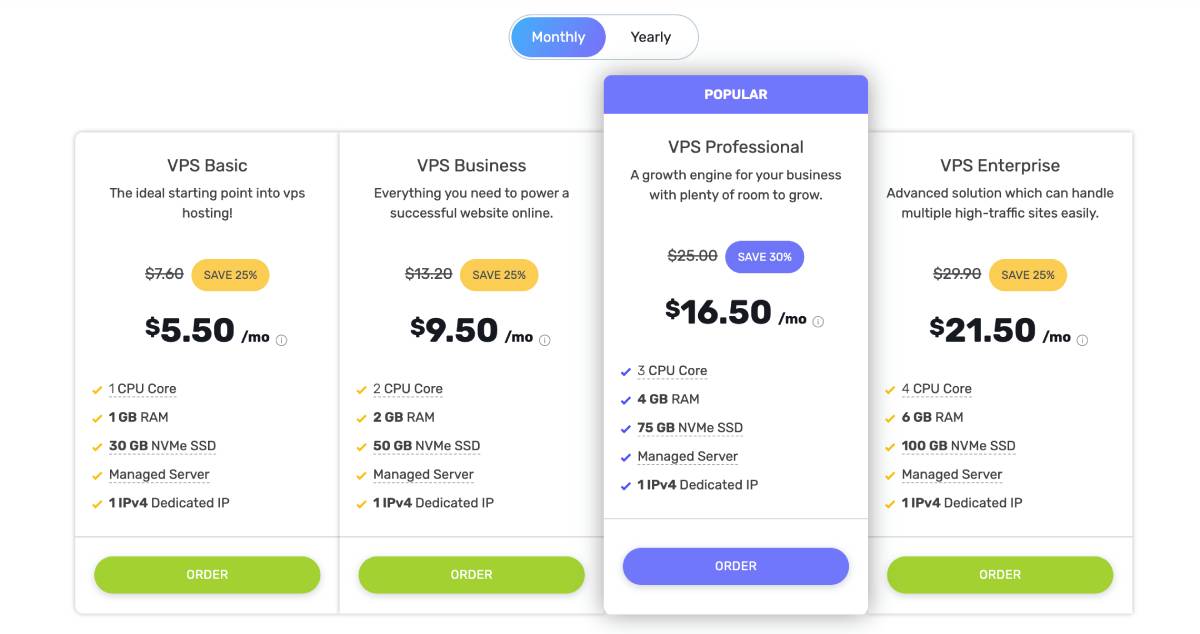 Features:
Cloudflare CDN Addon
Free Daily Backups
Bitninja Security
NVMe SSD Hosting
Managed Server

cPanel Availability with extra costs
Managed Server
Free Website Transfer
Start at $9.88/month
Renew $11/month
Namecheap offers a high-end service for the price it offers. It provides a more generous allocation of resources along with affordable add-ons and freebies. Despite, a few flaws in its services, it is a good choice for the powerful virtual server.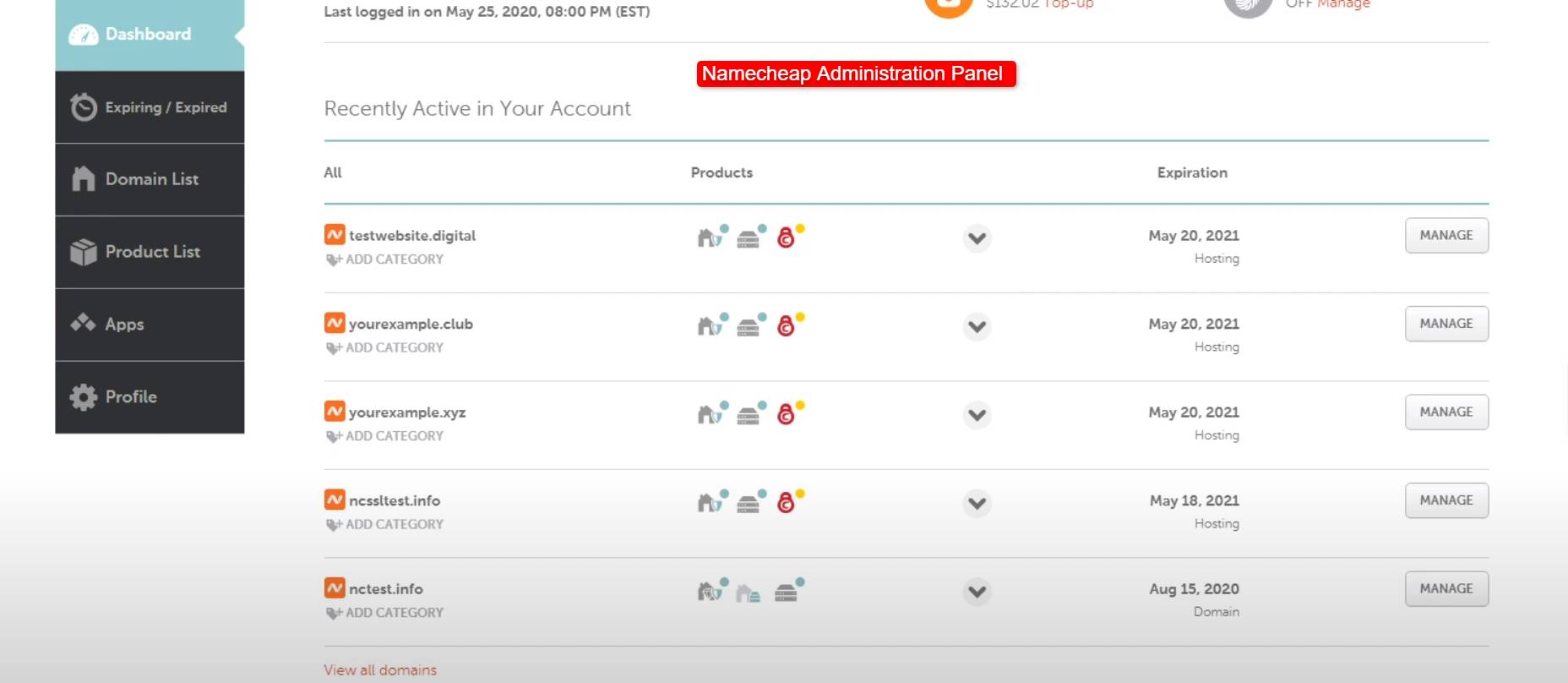 A big part of Namecheap is related to domain hosting. Yet, its hosting plans are affordable too. Its unmanaged VPS plan hosts at $9.88. In the starter plan, you are entitled to 1TB bandwidth, 40GB SSD storage, 2 GB RAM and 2 CPU cores.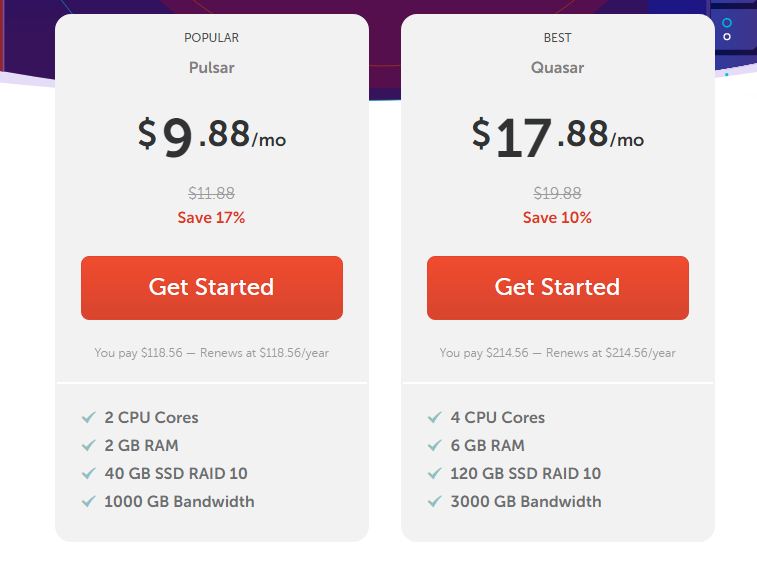 The processing and RAM are generous but the bandwidth is capped a bit. This might be the only and the first limit that you get after your website becomes a hit.
However, the extra add-ons and resources may help you get over the issue. But the updates are always expensive. Such as only 100GB of bandwidth costs you $10.
Features:
Cheap dedicated IP
Solid features
CentOS 7
Auto installation of LAMP
cPanel setup
8. InMotion – $17.99/month

2-3 Dedicated IP Address
5 Cpanel Licenses
Free WMM
Managed
Start at $17.99/month
Renew $69.99/month
InMotion is another popular VPS provider that comes with not so cheap solutions but with high-quality servers.
The introductory price is as low as $17.99 per month. In this package, you get 4GB RAM, 2TB data transfer and 90GB NVMe SSD storage. InMotion is perfect for those who want multiple dedicated IP addresses and cPanel/WHM panels.
The basic package comes with 2 IP addresses and 5 cPanel licenses plus free WHM so you can use it for reselling web hosting services.
The renewal price is a bit higher but it is still fair as it provides premium solutions at this price.
Moreover, it lets you install everything automatically such as Debian, Ubuntu and CentOS. Their systems are based on in-house custom-built infrastructure called Ultrastack that can handle high traffic websites and scale servers easily
Pricing: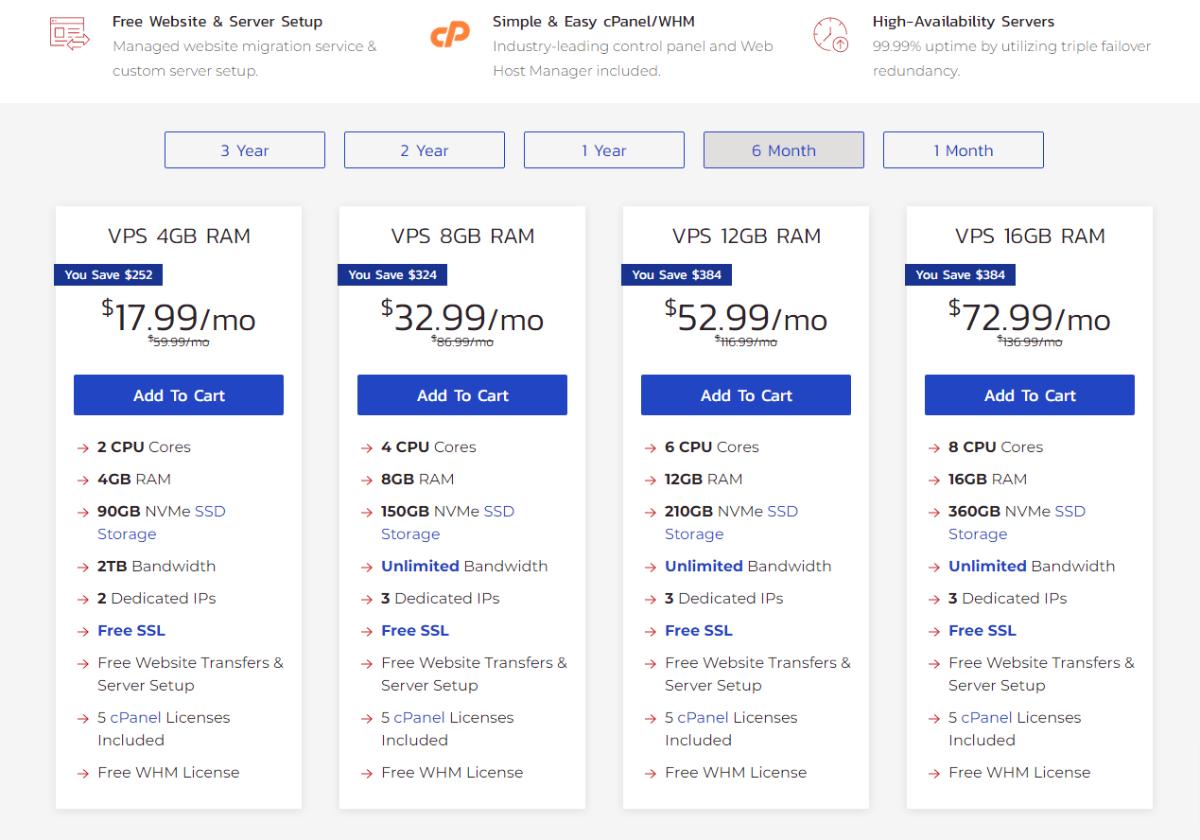 VPS 4GB RAM $17.99 – 2 CPU Cores, 4GB RAM, 90GB SSD, 2 TB Bandwidth
VPS 8GB RAM $32.99 – 4 CPU Cores, 8GB RAM, 150GB SSD, Unlimited Bandwidth
VPS 12GB RAM $52.99 – 6 CPU Cores, 12GB RAM, 210GB SSD, Unlimited Bandwidth
VPS 16GB RAM $72.99 – 8 CPU Cores, 16GB RAM, 360GB SSD, Unlimited Bandwidth
Features:
Server Snapshots
DDoS protection and SSH key management
Three IP addresses and a higher-tier plan
SSL certificate
Read More: Best Cheap eCommerce Hosting
9. Bluehost – $18.99/month

cPanel/WHM
Multi-Server Management
Simple Dashboard
Start at $18.99
Renew $29.99
BlueHost is another highly praised and popular VPS hosting provider. It is a better hosting provider as compared to others on our list. The price is a bit steeper for beginners but it is worth it.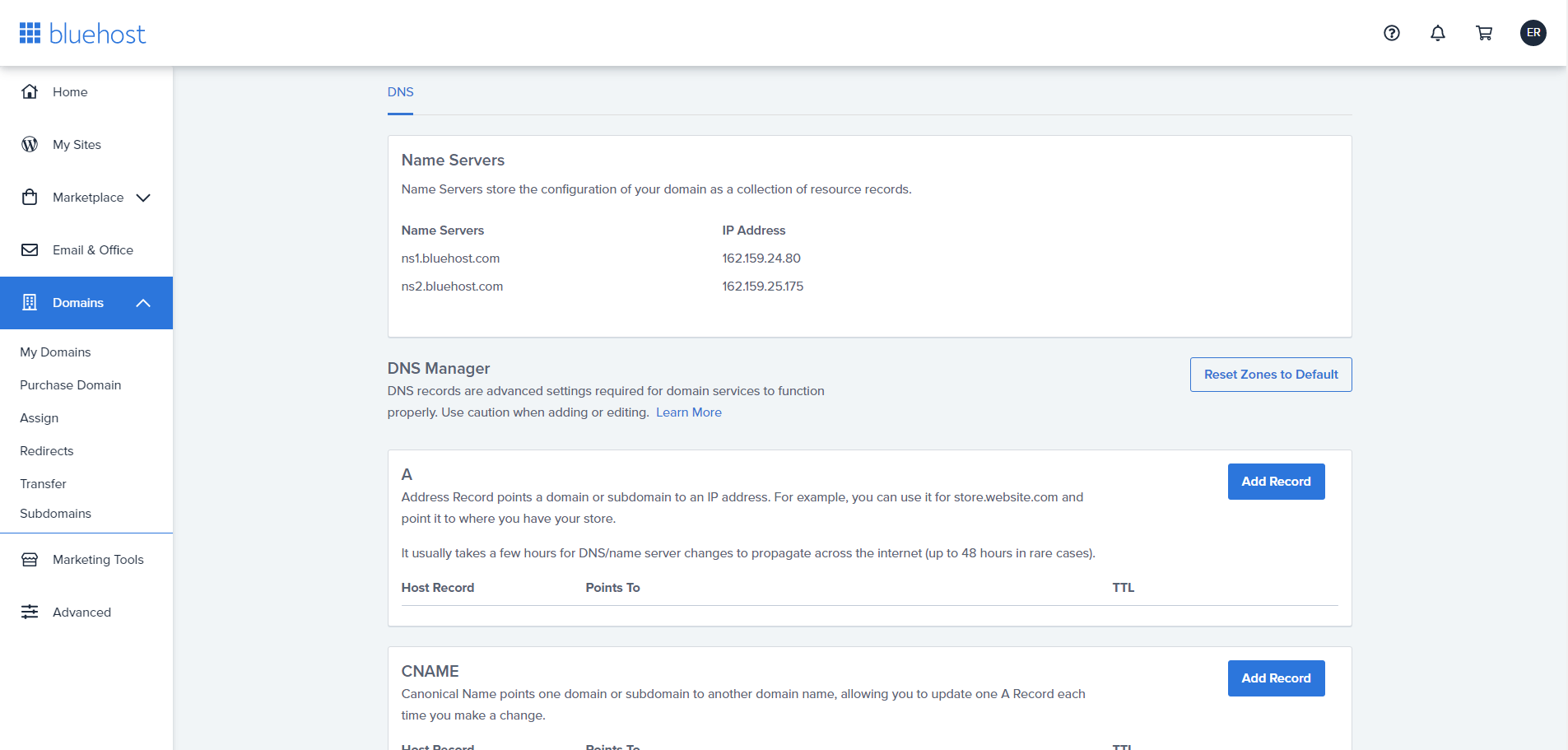 A $19.99 per month plan provides you 1TB bandwidth, 30GB SSD storage, 2 GB RAM and 2 CPU cores. However, to get the full benefit of the price, you need to subscribe for three years. Thus, the downside is that you need to have a great initial investment.
The renewal is also expensive. Yet, if you stick to the starter plan for three years it is more economical. The higher-tier plans are expensive too and offer limited features.
The plans are overall fine if you run a medium-sized enterprise. But, it is comparable to the other providers.
It is a fully managed service. It further lets you access your server minutes right after you register.
Besides, you get a secure working environment with all the plans as they provide free SSL. In addition, you get a free IP address, domain privacy, and a free domain name. Bluehost is commonly used for small business web hosting
Pricing: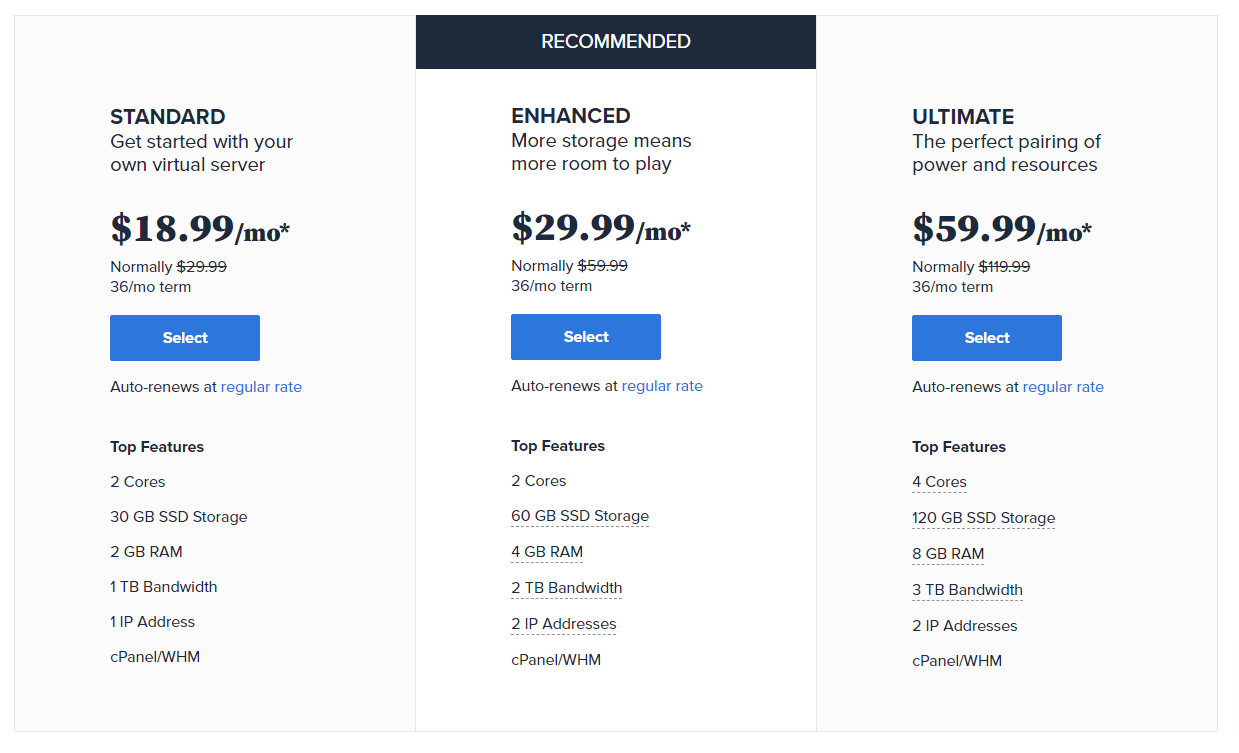 Features:
SSL certificate
CodeGuard and SiteLock features
Customized cPanel
Fully managed web hosting
DDOS Protection
10. HostPapa – $19.99/month

User-Friendly Interface Panel
Free Domain Reseller Account
Brute Force Detection
Start at $19.9/month
Renew at $29.9/month
HostPapa is a Canadian hosting company that offers VPS services that starts at $19.99 per month. This starter plan offers 60 GB SSD storage, 2GB RAM and 4CPU cores. You are also free to install any technology among root access, Ubuntu for the OS, Debian, or CentOS.
It strongly attracts small businesses on the cost of great features at this cost. It offers many features that help in the expansion and growth of a small business. It is efficient in retaining the scalability of exponential growth.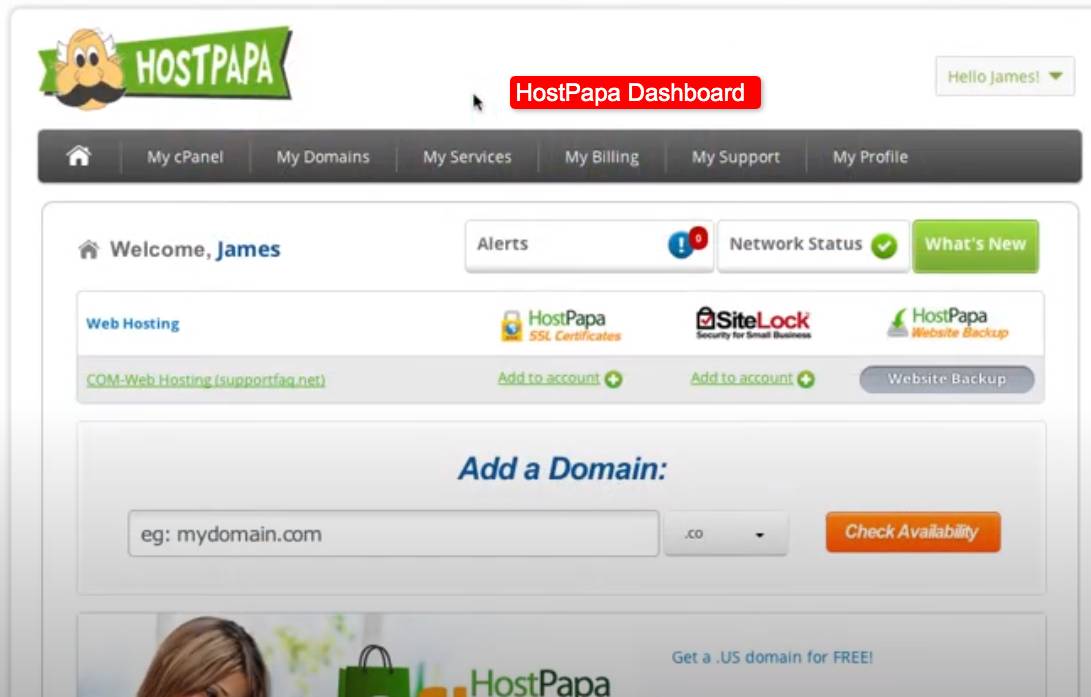 The plan is a high-end yet smallest unmanaged plan. You get a managed plan at this cost. The attraction is that you have to pay for a three-year subscription to get the full benefit of this cost. It means that HostPapa can be problematic for some.
However, HostPapa is promising in long term. After you renew, the price does not increase anymore and will remain affordable for you.
Pricing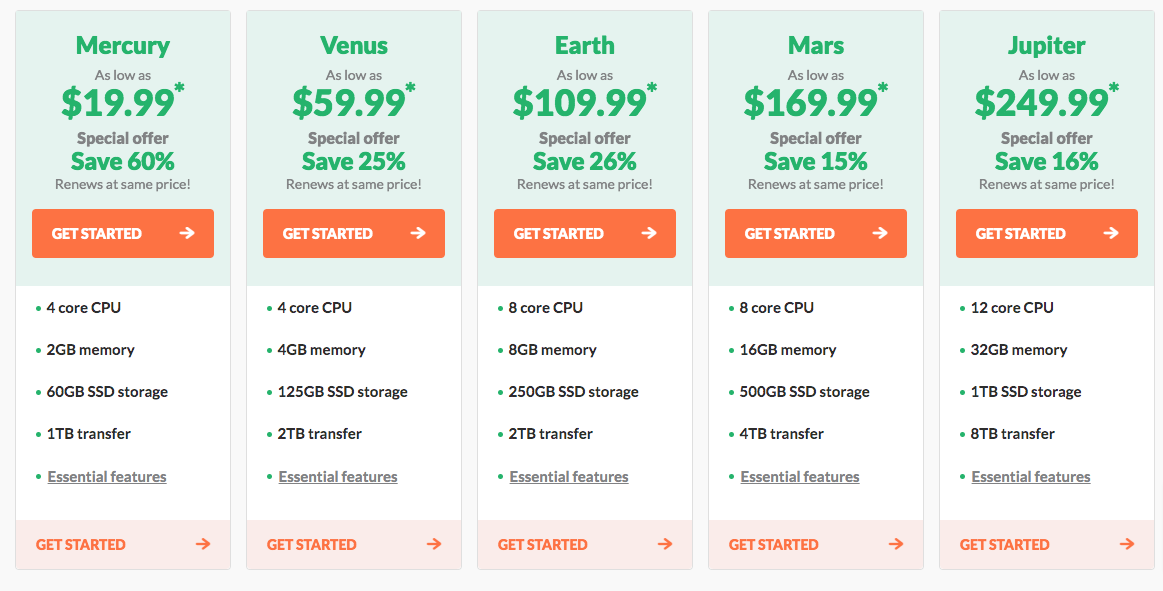 Mercury $19.99/mo – 4 CPU Cores, 2GB RAM, 60GB SSD, 1TB Bandwidth
Venus $59.99/mo – 4 CPU Cores, 4GB RAM, 125GB SSD, 2TB Bandwidth
Earth $109.99/mo – 8 CPU Cores, 8GB RAM, 250GB SSD, 2TB Bandwidth
Mars 169.99/mo – 8 CPU Cores, 16GB RAM, 500GB SSD, 4TB Bandwidth
Jupiter $249/mo – 12 CPU Cores, 32GB RAM, 1TB SSD, 8TB Bandwidth
Features
Ubuntu, Debian, and CentOS for the default operating system
DDoS attack mitigation
Black-list free IP addresses
Decent support
Read More: Best Node.js Hosting Providers

20x Faster Turbo Option
Choose OS
Webuzo 1-click Software
Start at $4.99/month
Renew $8.99/month
The oldest in the VPS industry is the A2 hosting which is a popular option for getting cheap Linux VPS hosting. In addition, it provides generous resources at inexpensive prices. Its flexibility is another plus of A2 hosting.
It allows a fully controlled server that suits well those who are expert developers. The highest plan costs $34.99 per month. The cheapest one costs $4.99 and you get 2TB bandwidth, 150 GB SSD storage, 1 GB RAM, and 1 CPU.
What makes it special is the great performance you can get with their VPS, during the tests made from VPSBenchmarks A2Hosting is one of the fastest (41.9ms) options on the market.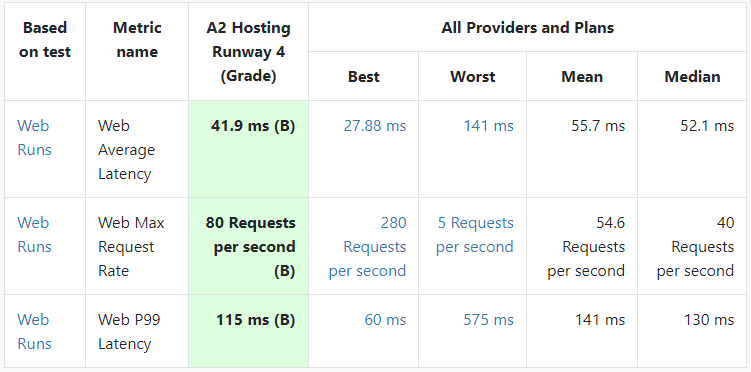 You can include Webuzo for free in any plan you select. This feature provides a 1-click software installation to quickly set up your website.
Another important aspect is its flexibility which let you customize your server location.
Above all, you get full root access. So, you get administrative level control to set up the server to configure.
A2 Hosting offer also managed VPS hosting that comes with cPanel included and also you will get free automatic server updates, backups, and management.
Pricing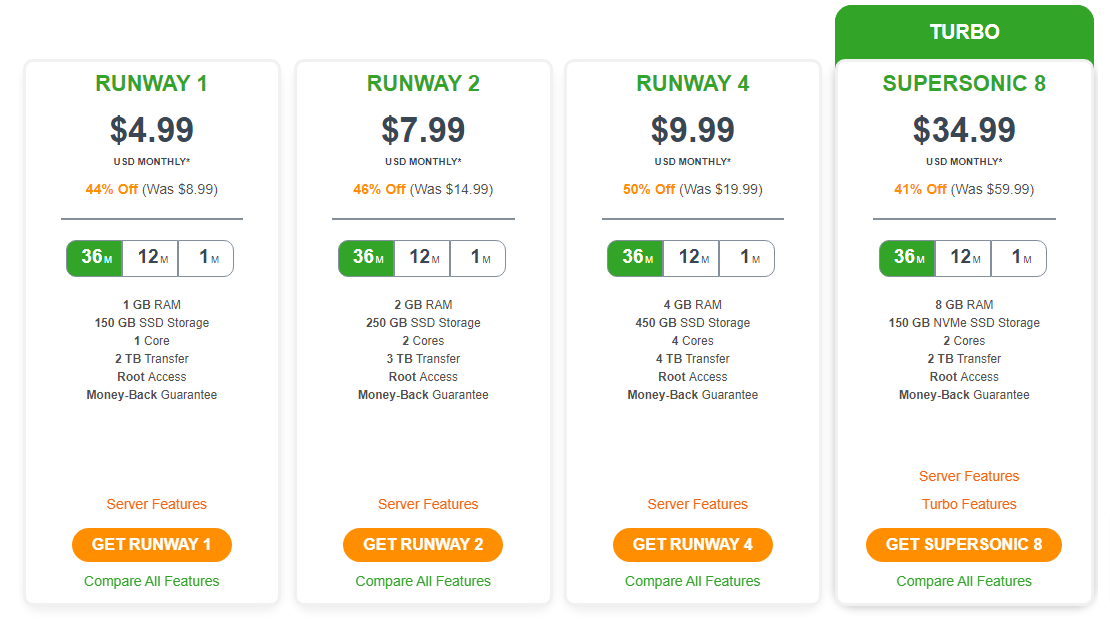 RUNWAY 1 $4.99/mo – 1 CPU Cores, 1GB RAM, 150GB SSD, 2TB Bandwidth
RUNWAY 2 $7.99/mo – 2 CPU Cores, 2GB RAM, 250GB SSD, 3TB Bandwidth
RUNWAY 4 $9.99/mo – 4 CPU Cores, 4GB RAM, 450GB SSD, 4TB Bandwidth
SUPERSONIC 8 $34.99/mo – 2 CPU Cores, 8GB RAM, 150GB NVMe SSD, 2TB Bandwidth
Features:
cPanel and Softaculous upgrades
Optional Cloudflare firewall for security and speed
Root access servers
Quick start cloud
Ultra-fast SwiftServer with free SSDs
12. WebDock – $1.25/month

Easy to Scale
Daily Backups and Snapshots
Fast SSD
VPS, a virtual private server, is a hosting service that holds the capability of being used as a gaming server or even for hosting media files, documents, and website applications. VPS is a stable choice for the small-scale user with an affordable approach if compared to dedicated servers. It maintains privacy, independence as well as proper isolation.
WebDock is a one-stop shop that offers VPS hosting services and Cloud storage avenues in very economical pricing plans. It promises long-lasting compelling performances of the services provided and matches all the requirements to run a secure and fast working VPS. WebDock also allows you to make additional products like add-on storage for your VPS.
WebDock has been hosting websites since 2012 and has marked its waves of success by providing quality content to developers and web professionals. They continuously improve their business and introduce more convenient ways to make website building and hosting easier for web enthusiasts.
Pricing
Webdock comes with incredible pricing options and they don't compromise the quality. Their secret is the high-quality refurbished hardware that helps them to cut costs.
SSD Nano $1.25/mo – 0. 5 CPU Cores, 512GB RAM, 20GB SSD, 150GB Bandwidth
SSD Nano 4 $2.99/mo – 1 CPU Cores, 1GB RAM, 10 GB SSD, 1TB Bandwidth
SSD Bit $5.99/mo – 2.5 CPU Cores, 2.5GB RAM, 25 GB SSD, Unlimited Bandwidth
SSD Bit More $11.99/mo – 5 CPU Cores, 5GB, 50GB SSD, Unlimited Bandwidth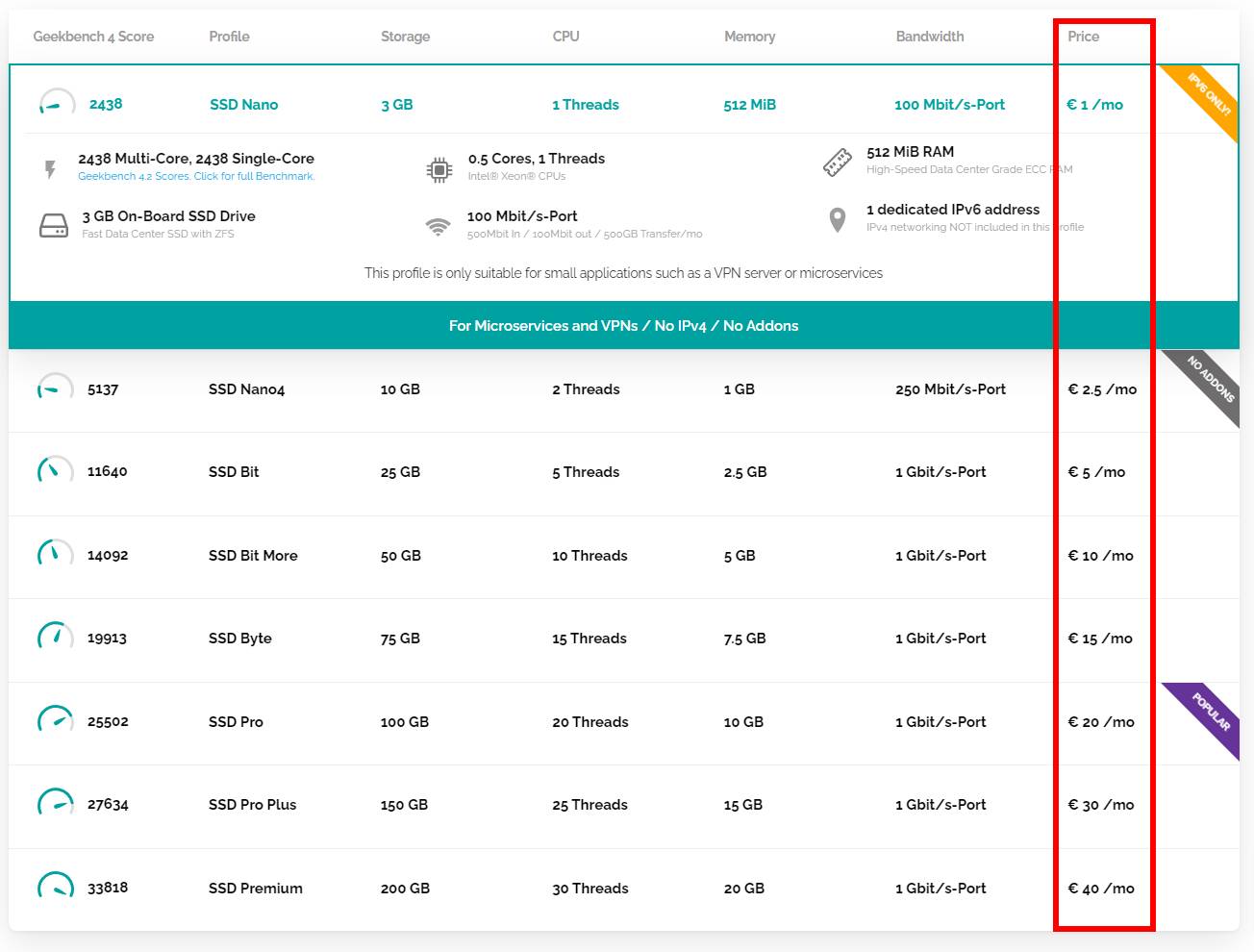 Features
Specs of the best cloud servers
No additional charges for extra traffic
Choose from Ubuntu, AlmaLinux, CentOS, etc.
Well managed control panel
Economical yearly plans
SSL certificates and email forwarding for free
High baseline security
IPv4 and IPv6 compatibility
Instant reboots
Dedicated developers at your service
Guaranteed high performance
Numerous backups
What is VPS Hosting Used for?
VPS hosting is used for the following purposes:
Scaling up the website
If there are no large RAMs on your website, you can easily use shared hosting. However, for those who need to consume a great amount of RAM, VPS helps to upgrade your system.
Growth in traffic
You can significantly boost your web traffic with shared hosting. However, if your site is growing at a higher pace than you planned, VPS hosting is the greatest support. It helps you speed up the uploading on your websites while preventing crashes.
Transaction Processing
VPS hosting is also helpful in businesses where you want to make online payments. The security features offered in VPS plans are outstanding to give you're a head start in your transaction.
How do I choose a VPS?
By cheap, you may presume something of low quality or fewer features. That's in many cases. But it may sometimes bring in the best value according to the needs of your business. If you are looking for great quality and cost-effective service, you need to take account of the following points:
Need of a website
If you are looking for a business website, some features are obvious to be included in your hosting plan. Your VPS should offer free email accounts without hassle. In case you are searching for WordPress Hosting this article can help you: Best WordPress Hosting Sites.
Storage Space
For a website that deals with a dozen of pages with large multimedia files, your hosting plan should have enough storage space. Most of the cheap VPS providers do not offer enough storage.
Bandwidth
Bandwidth is imperative if you want huge traffic every week. If multiple people browse your website at a time, it may reduce the loading speed of your website. Therefore, it has to be considered.
Promising Uptime
Some services do not provide the uptime that they claim. Your provider can be cheap but if your website is down most of the time, you are paying to the unworthy.
Is VPS cheaper than Cloud?
The cheapest plans of VPS start from $5 per month and the highest goes up from there. The actual service cost depends more on the level of resources it offers. Generally, VPS costs somewhat less than cloud hosting. But cloud hosting offers more dynamic scalability.
Both cloud and VPS fall between shared and dedicated hosting. In this manner, Shared hosting is the cheapest option and dedicated hosting is the best option for metrics and costs a lot.
Conclusion
If your application is too demanding for shared hosting, you can go for VPS. But you always need to upgrade as your demand increases.
Yet, if you are a beginner, you can go for VPS to get more flexibility. Particularly, if there is no shared provider to help you with all the required features, then a custom configuration goes straight up to VPS.
If you do not have an idea of how to choose the best yet cheap hosting provider with VPS, our list may prove a little help for you. VPS hosting is cheap for beginners because almost all the plans offer promotions. The "new customer" option lets you subscribe for three years at a promotional cost. So if you want to get benefited from the cheap hosting features, you should get it for three years.