Your web host affects your site's speed, capabilities, and security. Various providers offer premium plans, but a cheap WordPress hosting plan is perfectly suitable for most websites.
Here is a summary of the 10 best cheap WordPress hosting and their respective prices in 2023 recommended by our hosting expert:
If you have a tight budget and are looking for a host that provides all the necessary features for a low price, then you can find the one on our list.
Several hosts work fine for small businesses and personal websites with low budgets. The key is to find a host that is affordable and yet supports high speed and reliability.
We have handpicked 10 cheap WordPress hosting providers that are reliable. This list will provide you with the most affordable plans for small and large businesses that will not compromise on features, support, or performance.
| Hosting | Price | Renewal Price | Free Domain | Disk Space / Bandwidth | Avg. Response Time |
| --- | --- | --- | --- | --- | --- |
| Hostinger | $2.99 | $6.99 | Yes | 30GB / 100GB | 430 ms |
| Bluehost | $2.95 | $10.99 | Yes | 50GB / Unmetered | 595 ms |
| HostGator | $2.75 | $7.99 | Yes | Unlimited / Unmetered | 597 ms |
| DreamHost | $2.95 | $5.99 | Yes | 50Gb /Unmetered | 1899 ms |
| NameCheap | $1.98 | $4.48 | Yes | 20Gb / Unmetered | 348 ms |
| A2 Hosting | $2.99 | $11.99 | No | 100GB/ Unmetered | 286 ms |
| Siteground | $3.99 | $12.99 | No | 10Gb / 10.000 visits | 384 ms |
| InMotion | $2.29 | $8.99 | No | 10 Gb / Unmetered | 375 ms |
| Godaddy | $5.99 | $5.99 | Yes | 100GB / Unmetered | 300 ms |
Speed was tested on real websites hosted on these platforms.
The Top 10 Best Cheap WordPress Hosting Services
Let's now get into the article to find the cheapest hosting services for WordPress websites. Some of these providers are best in terms of their staging environments, and others are good for their speed-focused tools.

LiteSpeed Web Server
Unlimited Bandwidth
Unlimited Email Accounts
Free Domain
Starting from $2.99/month
See Pros & Cons
Pros
100% uptime
Excellent features
Highly reliable for speed and uptime
Dependable and efficient customer service
Affordable and low pricing
Cons
Does not provide automatic updates
No free domain for the users of Single WordPress Hosting
High prices after the first term
| | |
| --- | --- |
| Price/month (when paid yearly) | start from $2.99 + 2 months for free |
| Price/month (when paid monthly) | start from $10.99 |
| Renewal price | $6.99 |
| Number of websites | 100 |
| Free Domain | Yes |
Hostinger is the cheapest WordPress hosting plan because of the extremely low initial cost and low renewal prices.
It is the perfect web host for site owners on a very tight budget. Web hosting can't get more affordable than $2.99 per month with unlimited resources and you will get also 2 months for free if you purchase it for a year.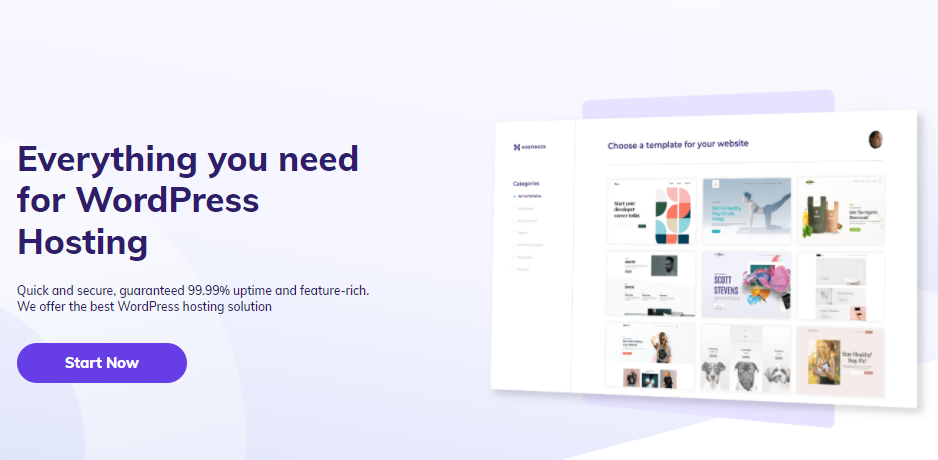 All sites hosted by Hostinger are protected by an all-in-one protection plan—BitNinja, which offers security against all cyber and automated attacks.
Before now, site owners spent a ton of time and learned many technical things to set up their WordPress accounts. With Hostinger, you must fill out a form and install WordPress with a single click. It takes only a few minutes to launch your website.
Hostinger provides a breakneck loading speed because it is integrated with pre-installed caching WP plugins, NGINX, PHP7.4, and HTTP/2. It also offers weekly and daily backups, unlimited FTP accounts, SSL certificates, bandwidth, Cronjobs, and free domains.
WordPress support with Hostinger is provided to respond to queries and emergencies. Hostinger's customer service is available 24/7 to support you with their expert services and help you keep your peace of mind while managing your site.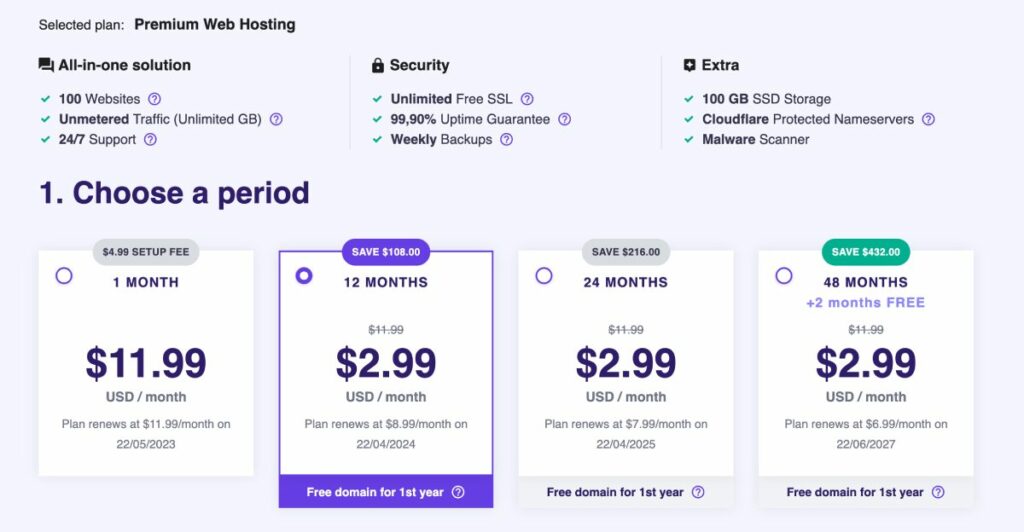 The cheapest Hostinger WordPress plan costs as low as $2.99 per month and renews at $5.99 per month. The Business plan starts at $7.99, and the renewal costs $11.99.
You can get an extra discount of 7% if you will use our exclusive coupon code: CODELESS so your new price will be $2.78/month + 2 months for free.
So your hosting for 1 year in total will cost about $27.8 and you will get a free domain.
Speed & Uptime
The average response time with Hostinger is 430 ms and it is very good for shared hosting. As you can see the Uptime is 100%
Read More: Full Hostinger Review
2. Bluehost – $2.95/month

Most Affordable
Free Domain
WordPress Optimized
Starting from $2.95/month
Codeless Exclusive Offer
See Pros & Cons
Pros
WordPress staging
Free SSL certificate
Free domain
Easy and functional control panel
99.99 % uptime
Cons
Shared hosting is not focused on performance
WordPress optimized only
| | |
| --- | --- |
| Price/month (when paid yearly) | start from $2.95 |
| Price/month (when paid monthly) | start from $2.95 |
| Renewal price | $10.99 |
| Number of websites | 1 |
| Free Domain | Yes |
Bluehost is one of the most popular web hosts in the world. Even though it offers several hosting solutions, Bluehost focuses majorly on WordPress. It is one of the three recommended providers by WordPress.
The WordPress hosting plans by Bluehost start from $2.95 per month – a special promotional price for our readers. Even this cheap plan has all the necessary features for a WordPress website.
When you log in to your Bluehost account, it automatically installs WordPress. From there, you pick a theme, set up Cloudflare CDN, and update global plugins and settings.
Bluehost plugin provides WordPress installation options and integrates global update management, caching settings, and staging tools.
We consider Bluehost user-friendly because it has a powerful user interface and tools for website creation.
Bluehost plans and pricing start from $2.95 per month. This Basic plan allows you to:
set up just one website
get 50GB of SSD storage
Five business email accounts
a free SSL certificate
free domain registration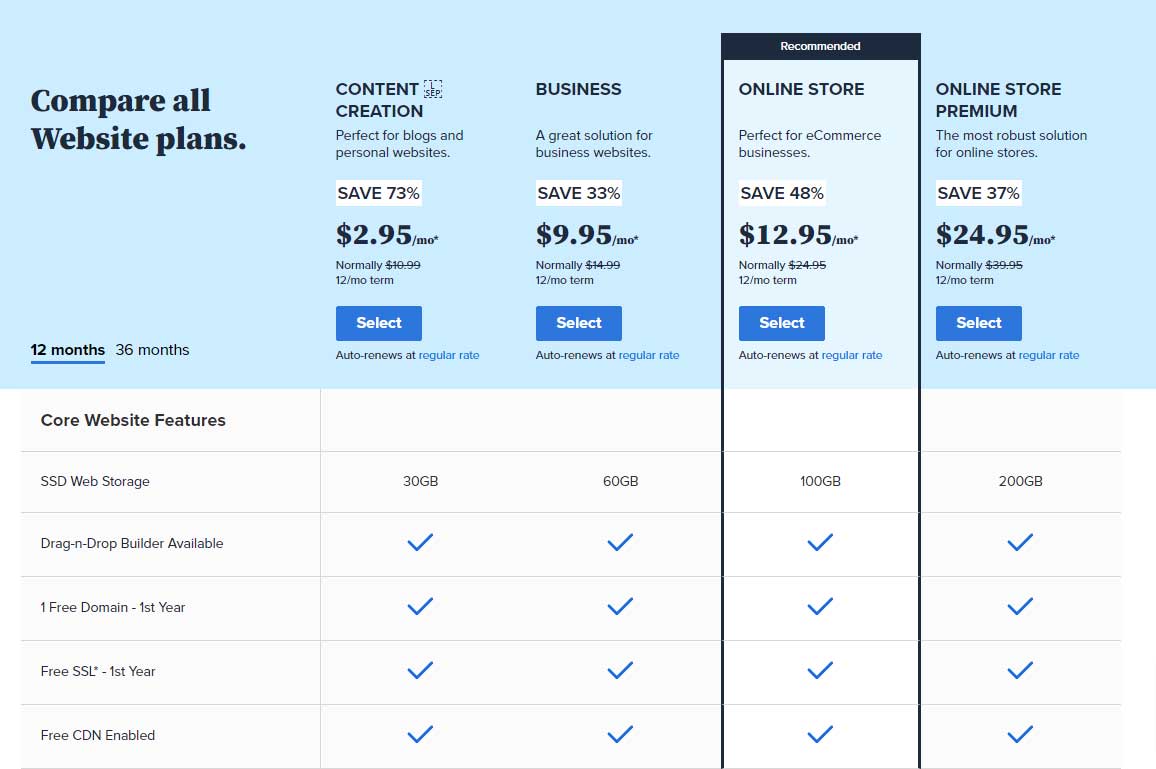 For the best value offering, choose the basic plan for 12, 24, or 36-month advance billing. Even though the monthly rate is the same for all contracts, longer commitments reduce renewal prices.
Speed & Uptime
Bluehost does not focus on speed and performance. Site loading speeds are not very fast. It takes 1.97 seconds on average to fully load a website on Bluehost. The average response time of Bluehost is 594 ms, lower this value faster is than the hosting. Compared to others the providers is good for the price they offer.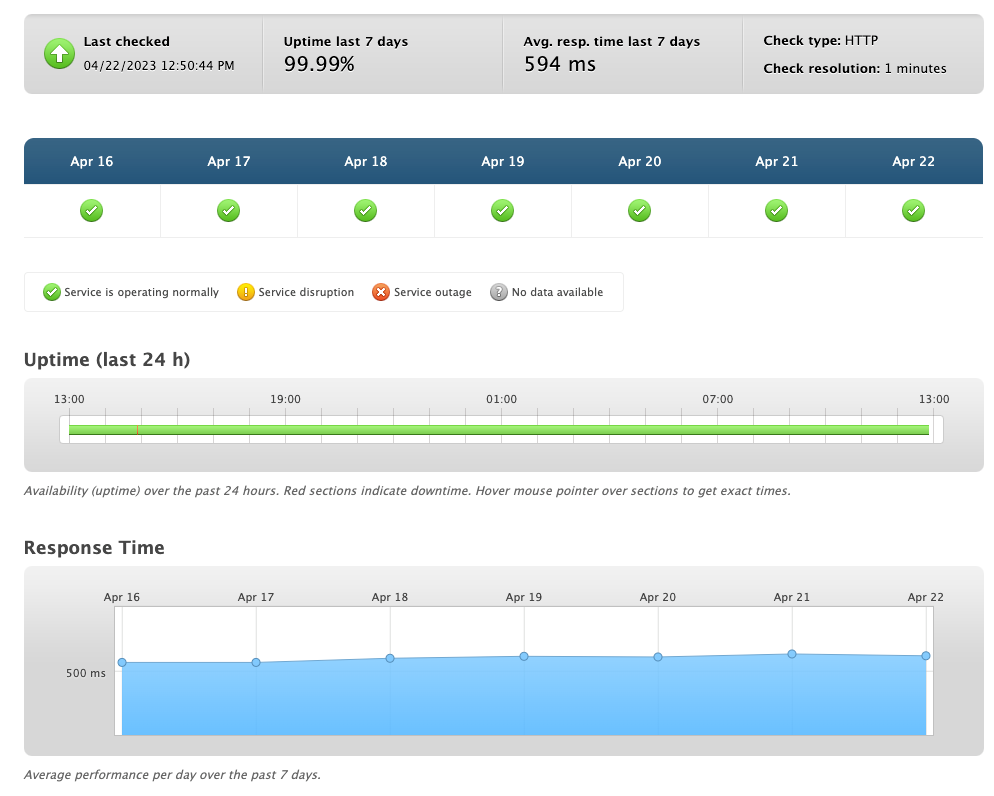 So, Bluehost is only average in speed and performance, but it is highly reliable. The host achieves competitive scores and high results for reliability. You get guaranteed uptime of 99.99%.
Bluehost is excellent in functionality and user experience. The simple interface is attractive to beginners. WordPress recommends Bluehost hosting solutions for small business websites, portfolios, and personal blogs.

eCommerce Ready
Drag n Drop Website Templates
1-Click WordPress Installation
See Pros & Cons
Pros
Easy setup for WordPress website
cPanel for hosting management
free SSL and domain included
Cons
Unclear limits of resources
| | |
| --- | --- |
| Price/month (when paid yearly) | start from $2.75 |
| Price/month (when paid monthly) | start from $11.95 |
| Renewal price | $9.99 |
| Number of websites | 1 |
| Free Domain | Yes |
HostGator is on this list because it is easy to use and affordable. The shared hosting plans start from $2.75 per month (for Codeless readers if you get it for 48 months).
HostGator does not offer a special WordPress plan. The main attraction is the easy control panel.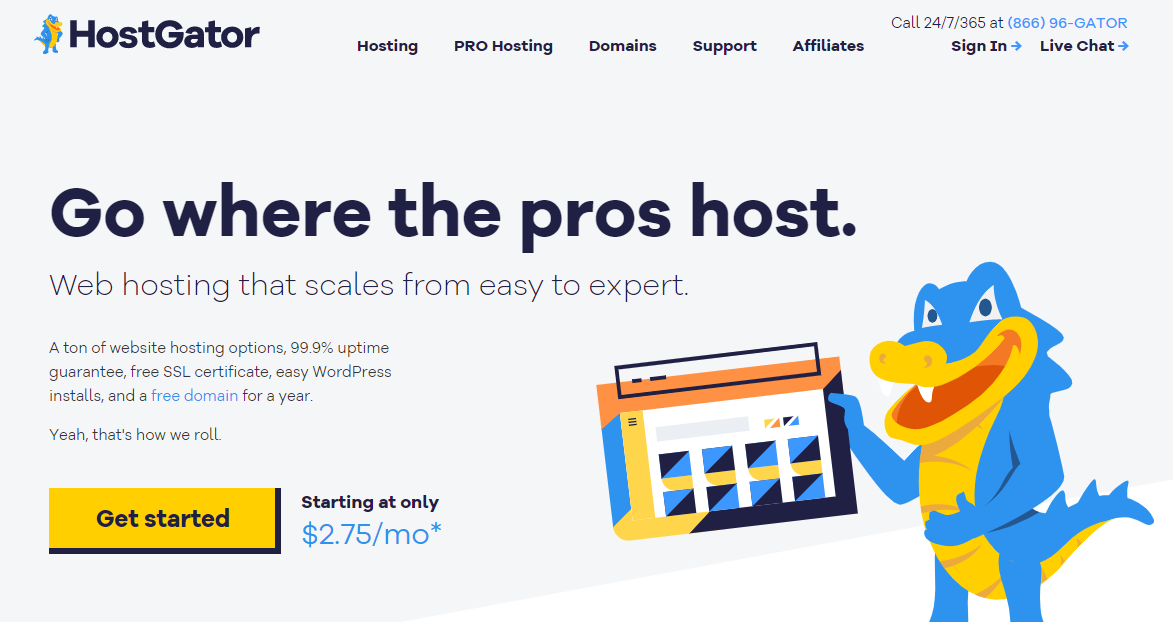 The dashboard provides you with shortcuts to all essential features of your website. You can easily install WordPress, access file manager, reach databases and set up professional email accounts. It takes only a couple of minutes to set up your entire website.
Hostgator's cPanel provides a classic and standard way to manage advanced and basic configurations. HostGator is a no-fuss hosting option at a low cost.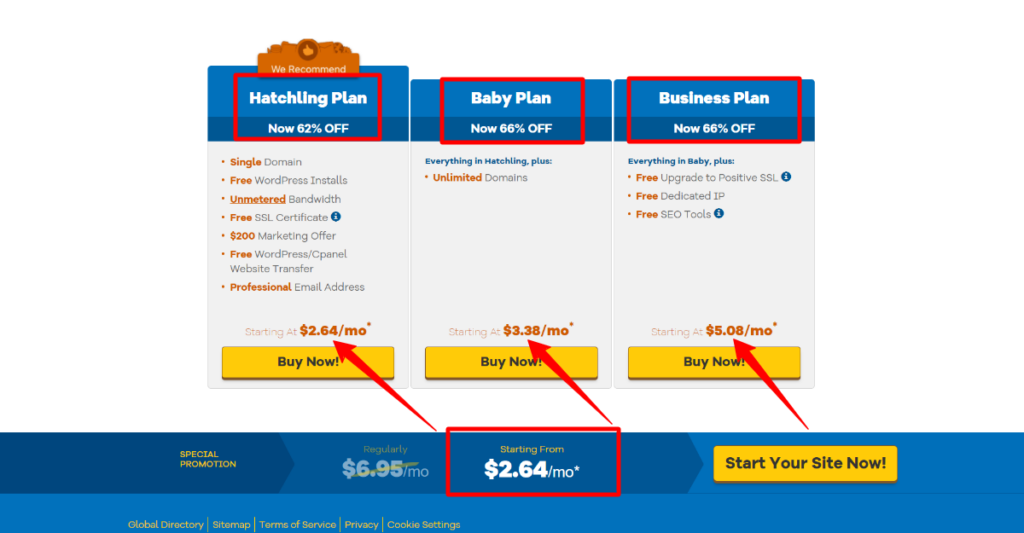 The three plans offered by HostGator range from $2.64 to $5.95 per month. All these plans provide unlimited bandwidth and storage, a free SSL certificate, and free domain registration.
The hatchling plan comes with one site limit. The Baby Plan offers unlimited sites for $0.75 extra. The Business plan provides SEO tools, PositiveSSL, and dedicated IP. All these features are not essential for your website development, but they are there if you ever need them.
Speed & Uptime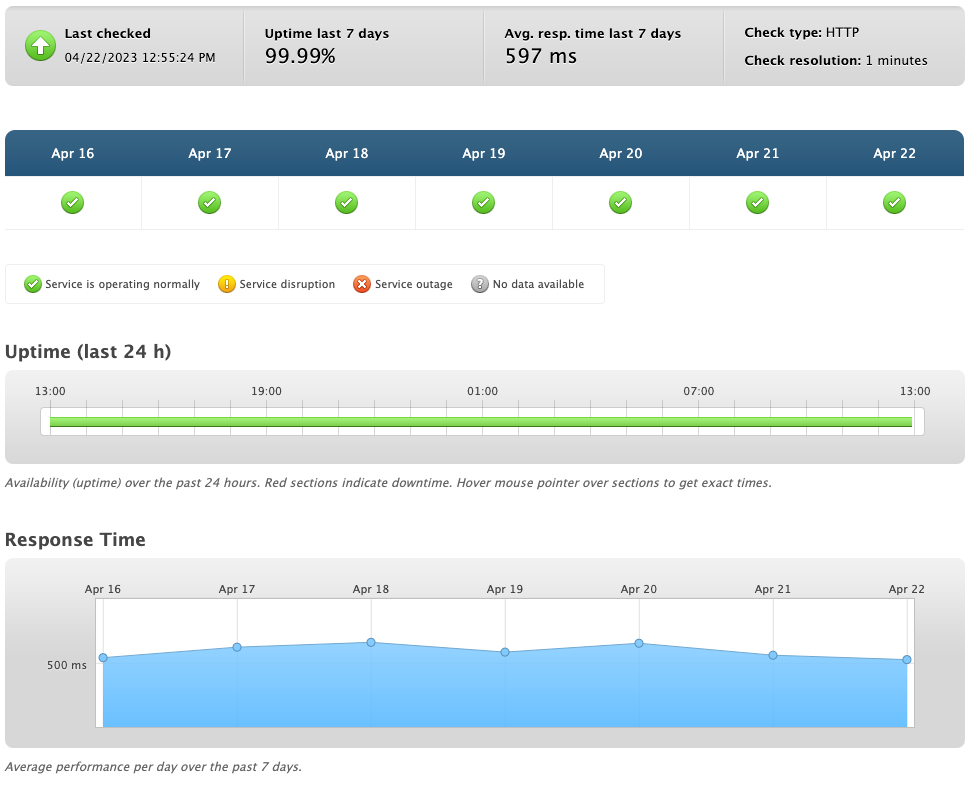 At this low price, HostGator delivers decent results. It facilitates a fast-loading and reliable WordPress website, plus an uptime guarantee of 99.99%
The response time is at an average of 597 ms, which is a bit higher than other Bluehost and Hostinger. The loading time of the page is also 1.2 seconds. These results are surprisingly good at such a low cost.
Overall, Hostgator is a reliable and no-fuss option. It is a powerful, easy-to-use, and cheap hosting service.

Custom Control Panel
Fast Hosting
US-based experts
Starting from $2.95/month
See Pros & Cons
Pros
free backups
intuitive control panel
automatic website migration
cheapest hosting
free domain
Cons
Limited servers confined to the US
| | |
| --- | --- |
| Price/month (when paid yearly) | start from $2.95 |
| Price/month (when paid monthly) | start from $4.95 |
| Renewal price | $6.99 |
| Number of websites | 1 |
| Free Domain | Yes |
DreamHost offers several hosting services, including fast and affordable WordPress hosting, managed hosting, VPS, and dedicated servers. These features include a control panel, easy WordPress website setup, and high security. The pricing plans start from $2.95 per month if you purchase it for 1 year.
The best thing about DreamHost is that it offers a "real" one-click installation. Just "one-click," and you are ready to launch a WordPress website.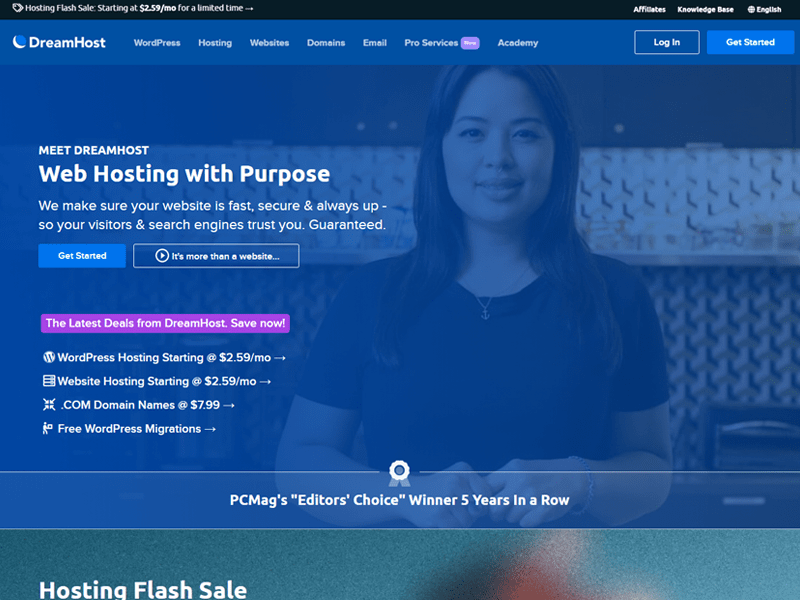 If another provider already hosts your site, Dreamhost offers you a free and automated migration plugin that migrates your location within 30 minutes.
Speed & Uptime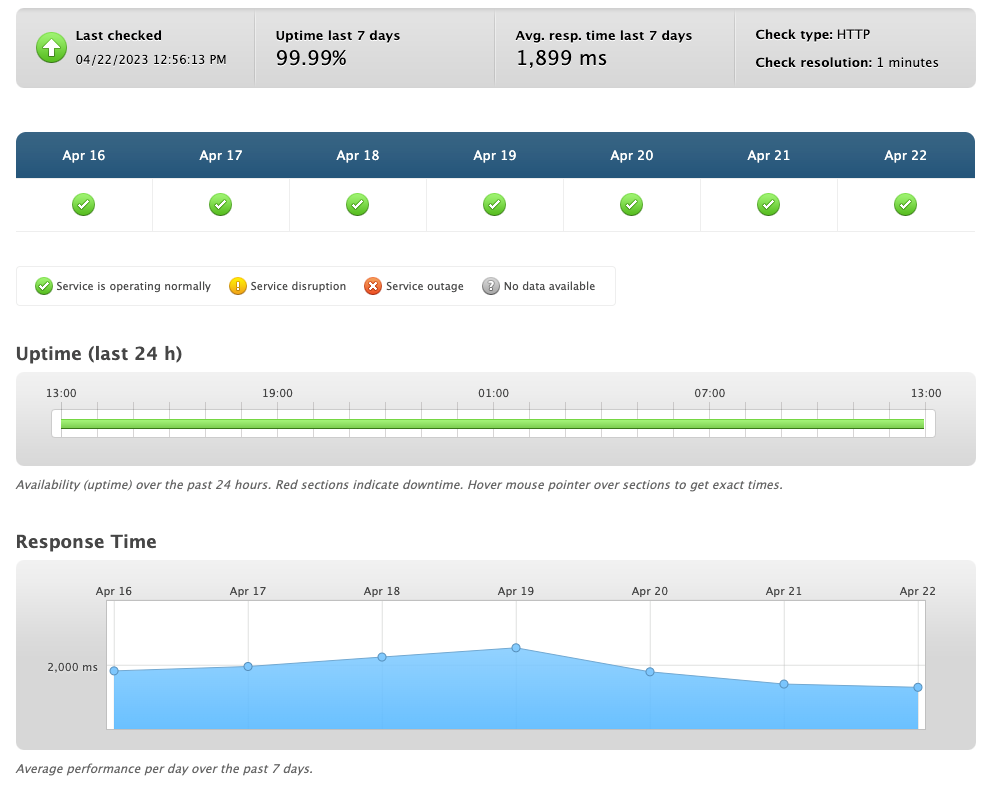 DreamHost's servers are fast and reliable. The average uptime is above 99.99%, and the average response time is 1899 ms. A DreamHost website fully loads in 1.39 seconds. In the last months, they haven't had great results on our testing.
Overall, DreamHost is a reliable option for small businesses on a budget yet wanting a great website hosting experience.
DreamHost websites are powered with the BoldGrid website builder plugin and a drag-and-drop editor. You also get to choose them from over 200+ templates available. DreamHost is the provider that offers the most value for the lowest price.
The shared plans are divided into two:
Shared Basic — $2.59/month for a 3-year plan
Shared Unlimited — $2.95/month for a 1-year plan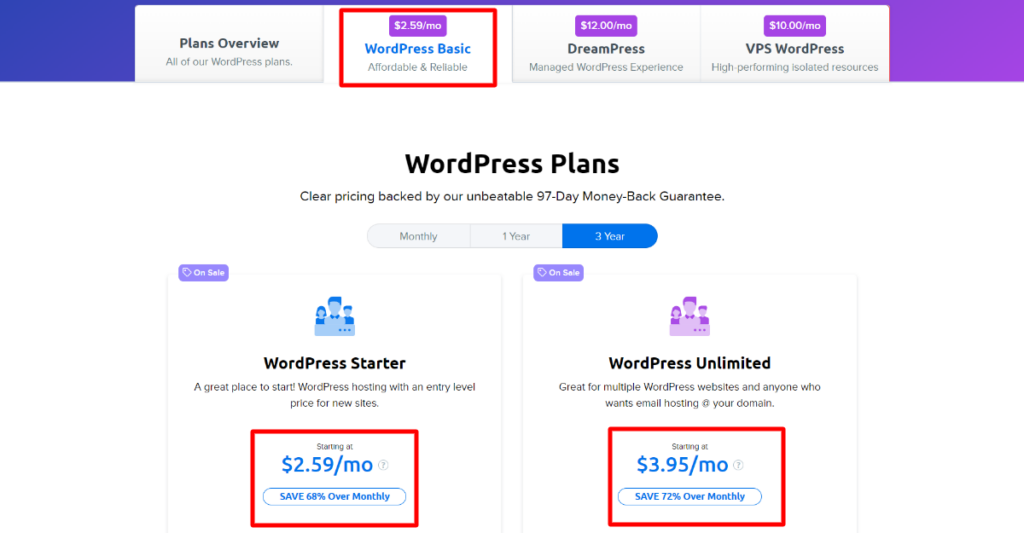 Basic supports only one website and allows for 50GB storage. Shared Unlimited allows for business emails, an unlimited number of sites, and unlimited storage. Both plans offer domain privacy, daily backups, unlimited bandwidth, free SSL, and domain. We recommend you go with Shared Unlimited for the most value.

Free Site Migration
Money-Back Guarantee
Fast WordPress Hosting
Starting from $2.99/month
See Pros & Cons
Pros
Optimized for security and speed to boost
Full money-back guarantee
Easy Scalable
Cons
Poor support and help
Key features are missing such as updates
Low uptime guarantee
| | |
| --- | --- |
| Price/month (when paid yearly) | start from $2.99 |
| Price/month (when paid monthly) | start from $11.99 |
| Renewal price | $10.99 |
| Number of websites | 1 |
| Free Domain | No |
If you are looking for a cheap provider with good hosting performance, check out A2 Hosting. The guaranteed uptime is 100%.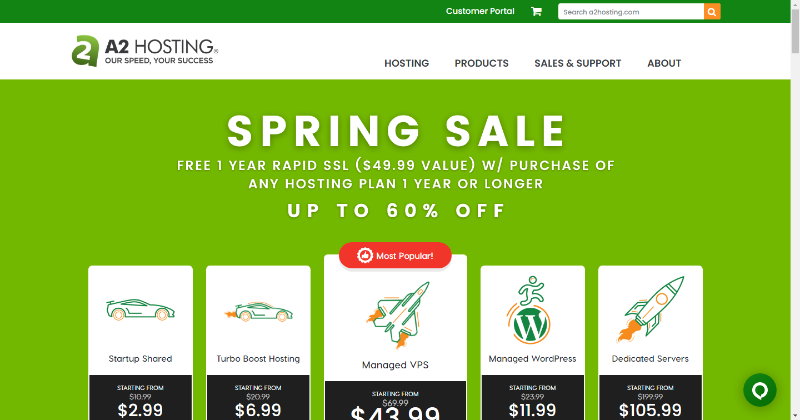 A2 Hosting provides basic features for WordPress sites, such as free SSL certificates, free migration, automatic WordPress installation, and an automatic plugin for software updates.
However, the provider also lacks features like free domain name registrations. Also, you have to activate the software update plugin manually.
Even though A2 Hosting is suitable for hosting a WordPress site, it offers many technical features that beginners may not understand.
A2 Hosting support is limited. It only offers email customer services. If you are looking for a host with phone support and live chat, A2 Hosting may not be for you. However, A2 Hosting's email support is superb. Customers get fast responses that are enthusiastic and informative.
A2 Hosting offers shared VPS, cloud, and dedicated hosting plans. The entry-level program starts from $2.99 per month.
It offers free site migration, SSL certificates, 25 email accounts, 5 MySQL databases, and free Cloudflare CDN. It also has free and automatic WordPress installation and updates, unlimited bandwidth, and unlimited storage. However, it is limited to only one website.
Speed & Uptime
During our latest test A2 Hosting has shown a great average response time of 286 ms which makes it one of the fastest shared hosting on the list. Also, their uptime during the last months is 100%.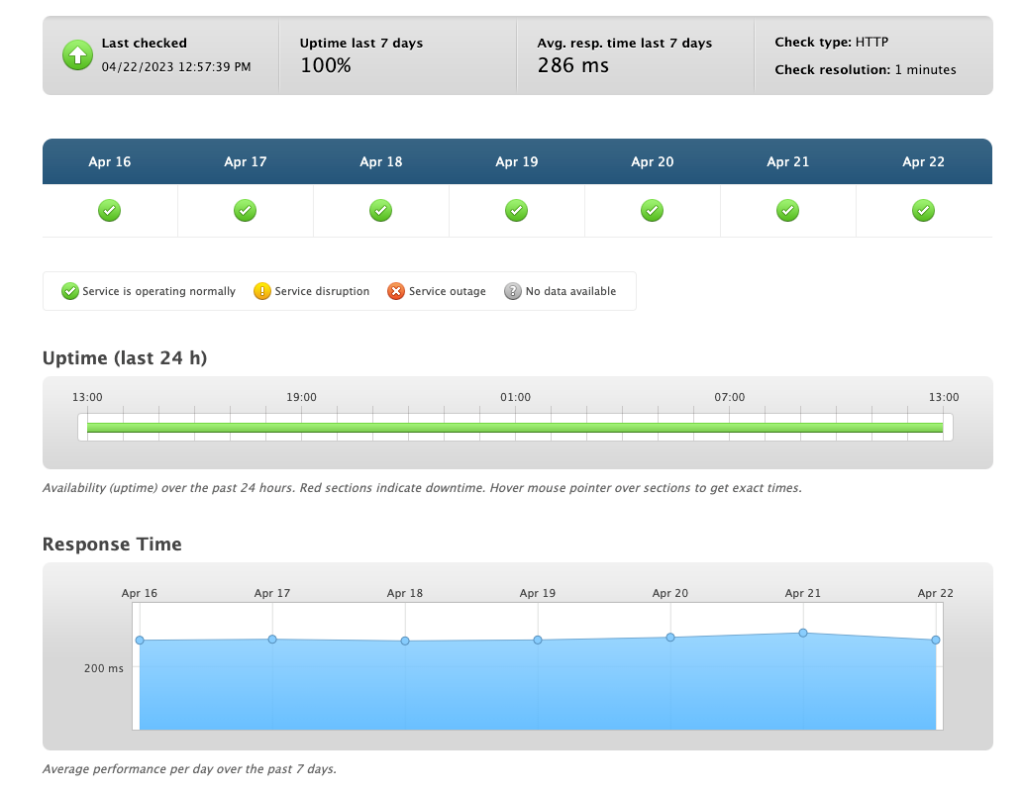 General features:
100% guaranteed uptime
24/7 email support
Free SSL certificates
Free WordPress migration, installation, and updates
Pre-installed WordPress

Live Chat Support
Free Domain
Powered LiteSpeed
Starting from $3.48/month
See Pros & Cons
Pros
Unmetered bandwidth
A free domain name, SSL and site migration
Powerful managed VPS and shared hosting plans
Cons
Limited storage space in shared plans
Does not provide Malware protection
Significant increase in prices on renewal
| | |
| --- | --- |
| Price/month (when paid yearly) | start from $3.48 |
| Price/month (when paid monthly) | start from $9.95 |
| Renewal price | $9.95 |
| Number of websites | 1 |
| Free Domain | Yes |
ChemiCloud is a WordPress hosting provider that offers three-tier plans. The cheapest plan goes for $4.48 per month. All the plans have powerful and comprehensive features and support stable performance.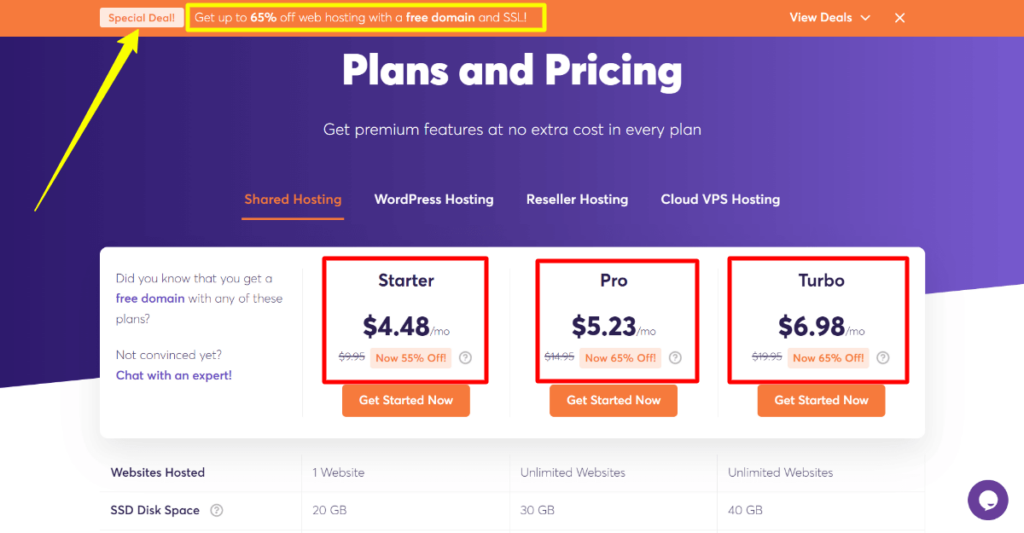 The dashboards and cPanels are tremendous and user-friendly. Chemicloud gives you stable uptime, unlimited bandwidth, and complete SSD hosting.
All Chemicloud plans are supported on HTTP/2 support. Their prices are a bit high if they do not offer discounted prices for beginners or new sign-ups. The discount reduces the costs to a more reasonable and manageable level.
However, be well aware of the steep increase in the overall prices after the completion of the honeymoon period.
Even at discounted prices, Chemicloud still offers robust features like free SSL, free domain name registration, and free site migration from old providers.
Speed & Uptime
Chemicloud shows a great uptime with 99.64% but the response time of 568 ms can be better.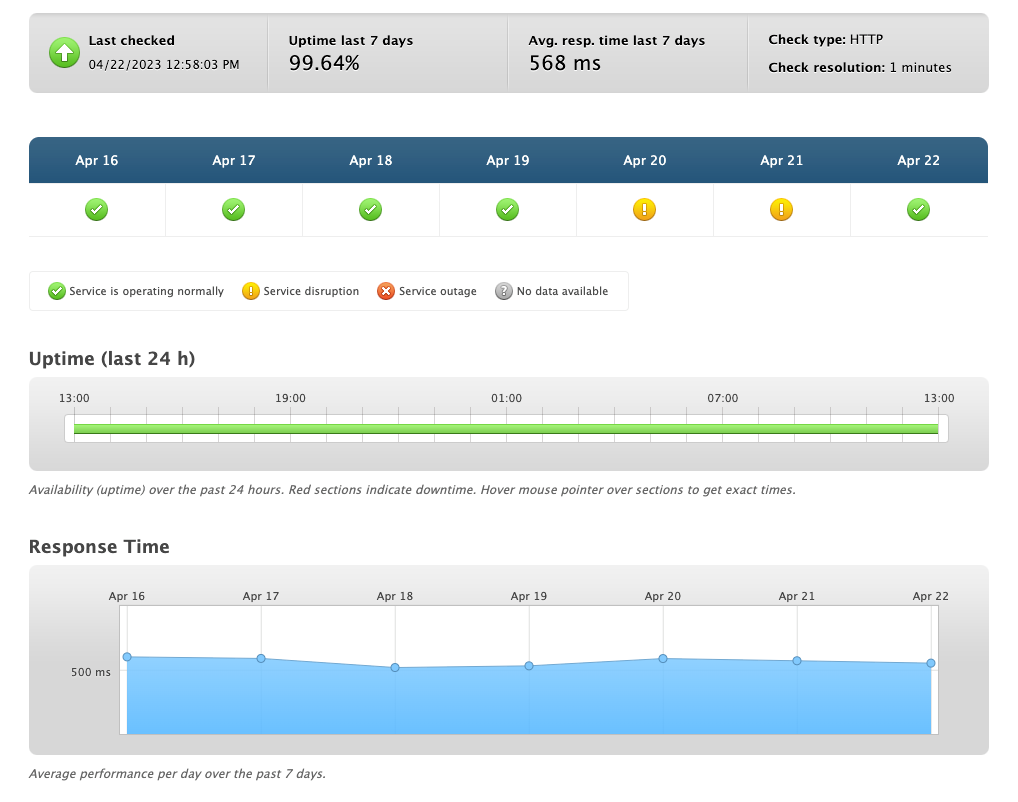 Recommended by WordPress.org
Ultrafast Server Setup
24/7 Support
Starting from $3.99/month
See Pros & Cons
Pros
Advanced WordPress features
Decent speeds
Low prices
Daily backups
Free site transfer
Managed updates and security
Cons
No free domain
Low storage space
| | |
| --- | --- |
| Price/month (when paid yearly) | start from $3.99 |
| Price/month (when paid monthly) | start from $12.99 |
| Renewal price | $12.99 |
| Number of websites | 1 |
| Free Domain | No |
Siteground is popular in the hosting industry. It provides access to almost everything essential to website security and creation.
Siteground's cheapest plan at $3.99 per month. Even though it is slightly more expensive compared to other affordable hosting options included in this list, the plan still offers many features, including Cloudflare CDN, cPanel and Softacoulous one-click installer, unlimited email accounts and MySQL databases, and automatic updates. Siteground plans also include the SuperCacher tool to improve speeds.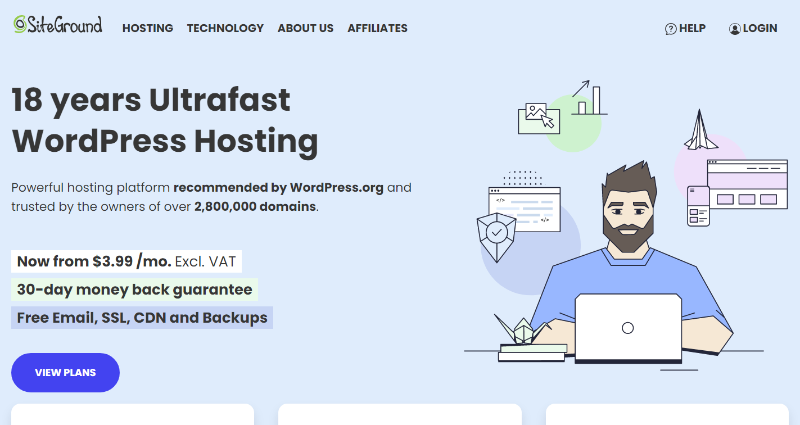 Nevertheless, they provide access to almost everything essential to your website security and creation. Such as free website transfer or basic caching. The startup plan at $3.99 includes Cloudflare CDN, cPanel and Softaclulous one-click installer, unlimited email accounts and MySQL databases, and automatic updates.
As your audience grows and you need more websites, SiteGround only charges you $2 a month so that you can upgrade to a new plan. It provides good scalability and easy plan upgrades as you start getting more visitors.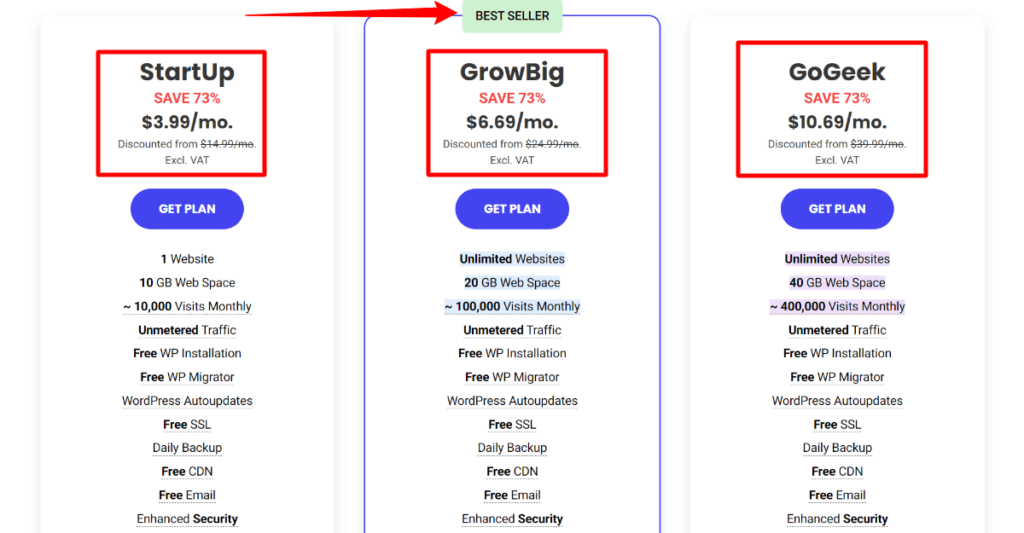 Siteground is featured as one of the top WooCommerce hosting providers by our experts.
Speed & Uptime
The average response time of Siteground is about 384 ms and the uptime of 99.99%. This means that Siteground is a very fast hosting and stable at the same time.
8. InMotion – $2.29/month

Secure Hosting
NVMe SSDs
Flexible Billing
See Pros & Cons
Pros
Free backups
Free domains
BoldGrid included
Unmetered CPU cores
Cons
Slower speeds
Restricted databases, email accounts
| | |
| --- | --- |
| Price/month (when paid yearly) | start from $2.29 |
| Price/month (when paid monthly) | start from $8.99 |
| Renewal price | $8.99 |
| Number of websites | 2 |
| Free Domain | No |
InMotion is one of the cheapest hosting providers for WordPress websites, with prices starting from $2.29 per month.
Granted, when people hear the word "cheap," they think about restricted resources. While that is generally true, InMotion is generous with its features, even at the cheapest tier.
Regardless of your payment plan, InMotion allows you 25 cPanel accounts, WHM and WHMCS. The starting pricing plan provides for two websites instead of one, like many hosts on this list do.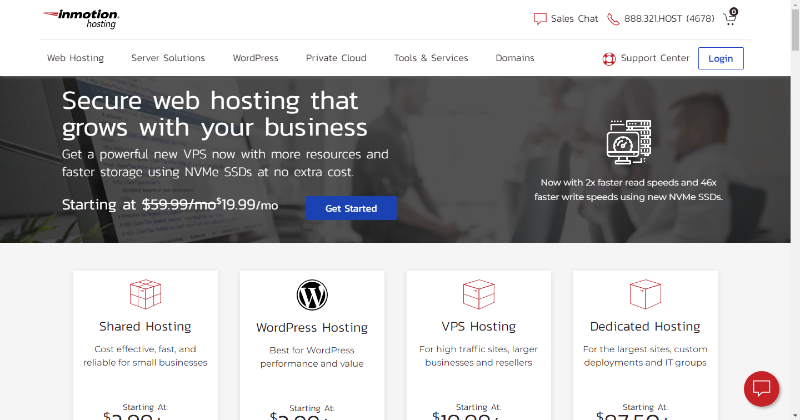 From the next tier, you get features like free backups and domain registrations, unlimited websites and email accounts, unmetered CPU cores, and root server access.
From beginners to advanced developers, all site owners can find a suitable offering from InMotion. The host provides shared hosting, perfect for beginners and less tech-savvy people.
Experienced developers and enterprises can try out their VPS hosting, cloud hosting, and dedicated hosting. The hosting provider has plans for applications, enterprises, small businesses, and agencies.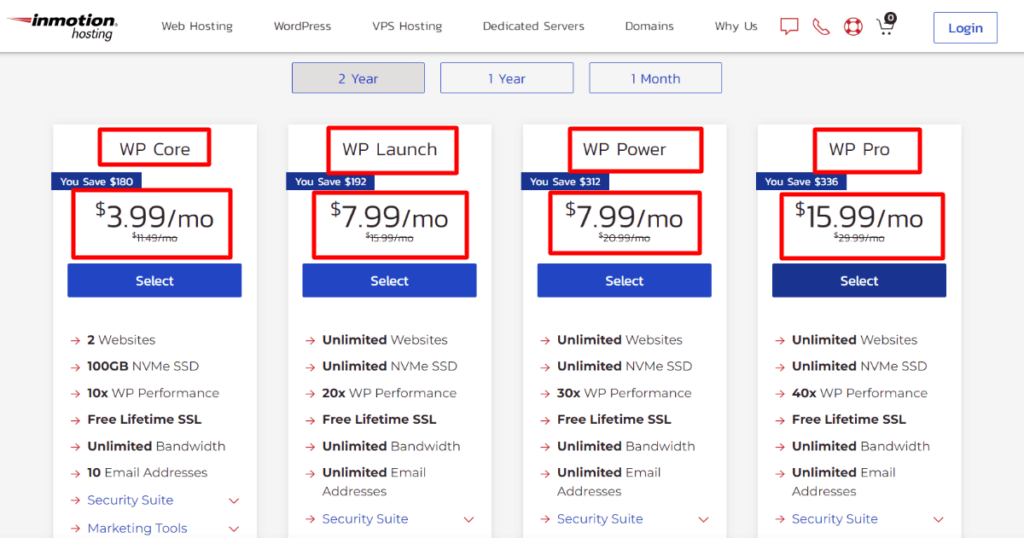 Above all, InMotion provides 24/7 customer support via email, phone calls, and live chat. It also has a detailed and comprehensive knowledge center.
When compared to other providers on this list, the RAM offered by InMotion is pretty cheap and is restricted to 8GB. Bandwidth is also limited for the most affordable pricing tier.
InMotion is more helpful for those who run Magento, WooCommerce, or WordPress.
The host offers a 90-day money-back guarantee. That's three whole months to try out their services. So, take this risk-free opportunity to experience InMotion's hosting abilities.
Speed & Uptime
Great response time with only 375 ms and uptime of 99.98%.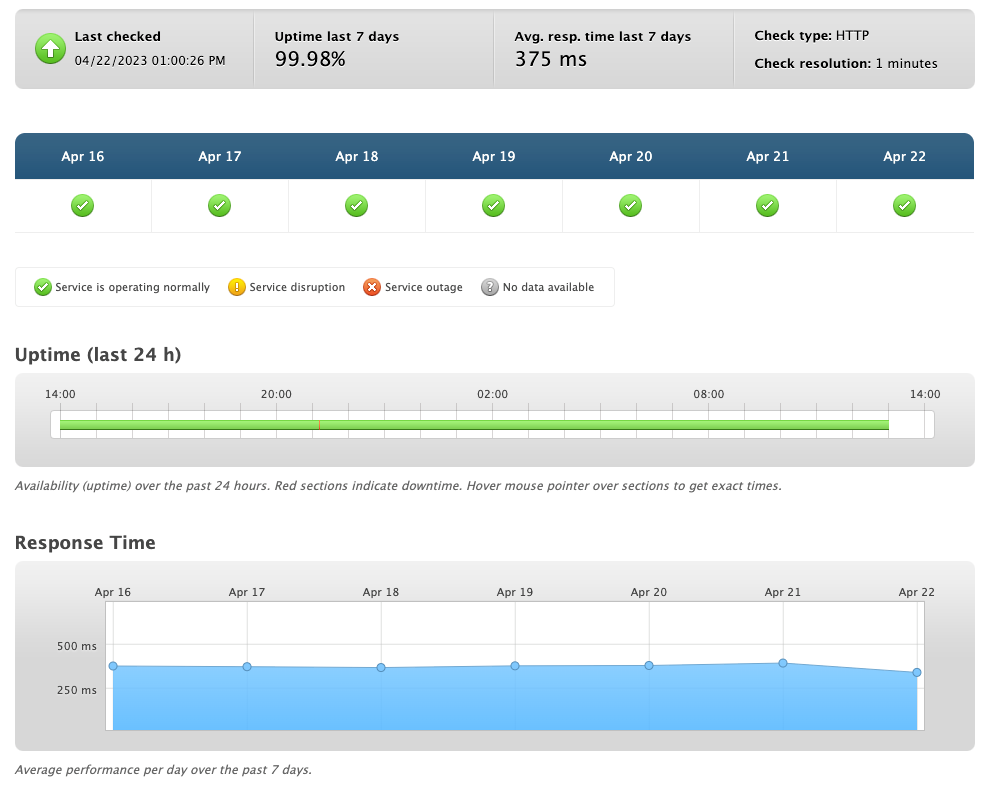 Free Supersonic CDN
Free Website Builder
Unmetered Bandwidth
Starting from $1.98/month
See Pros & Cons
Pros
Friendly design and user interface
Offers reliable hosting services
Efficient and professional representatives at support
Cons
SSL certificate is not free
Does not offer support on the phone
Live support depends on your subscription
| | |
| --- | --- |
| Price/month (when paid yearly) | start from $1.98 |
| Price/month (when paid monthly) | start from $4.48 |
| Renewal price | $4.48 |
| Number of websites | 3 |
| Free Domain | Yes, for some TLDs |
Namecheap is a powerful domain registrar that offers the most affordable monthly WordPress hosting plan. A subscription costs $1.98 per month, which is relatively cheap compared to other WordPress hosts.
NameCheap primarily offers cheap domain name registration services. But it also provides WordPress hosting. Other services include WHMCS, WHM, and cPanel.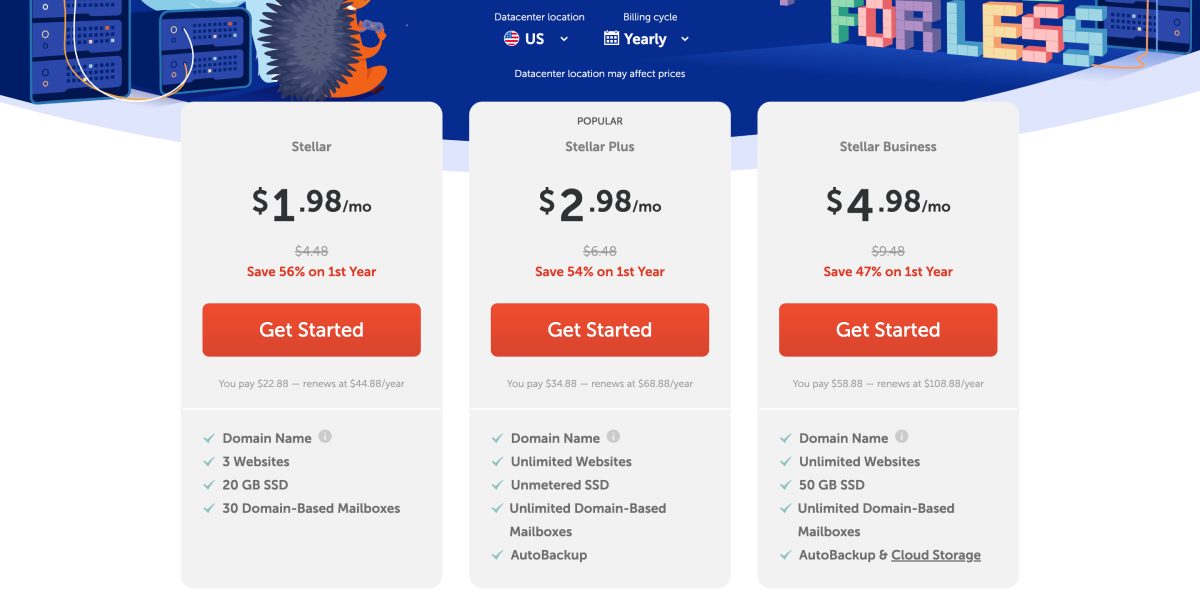 Forwarding emails from Namecheap is always accessible in business terms. Namecheap provides a free WhoisGuard, a privacy protection service that protects your personal information.
As you checkout, more upsells come across, such as G Suite, SSL certificate, and premium DNS, which you are offered as an add-on at low costs on some conditions. The payment methods are easy and varied, including American Express, Bitcoin, Mastercard, Paypal, credit card, and Discover.
NameCheap does not automatically offer free SSL certificates, but you can get free SSLs from third-party providers and add them to your NameCheap account.
Softaculous script installer helps you quickly set up content management systems such as Magento, Joomla, and WordPress.
NameCheap's account management tools help you determine whether you want to customize your brand cPanel or the client invoice.
Speed & Uptime
Speed is good with a response time of 348 ms compared with Bluehost and Hostinger is better. The average uptime is 100%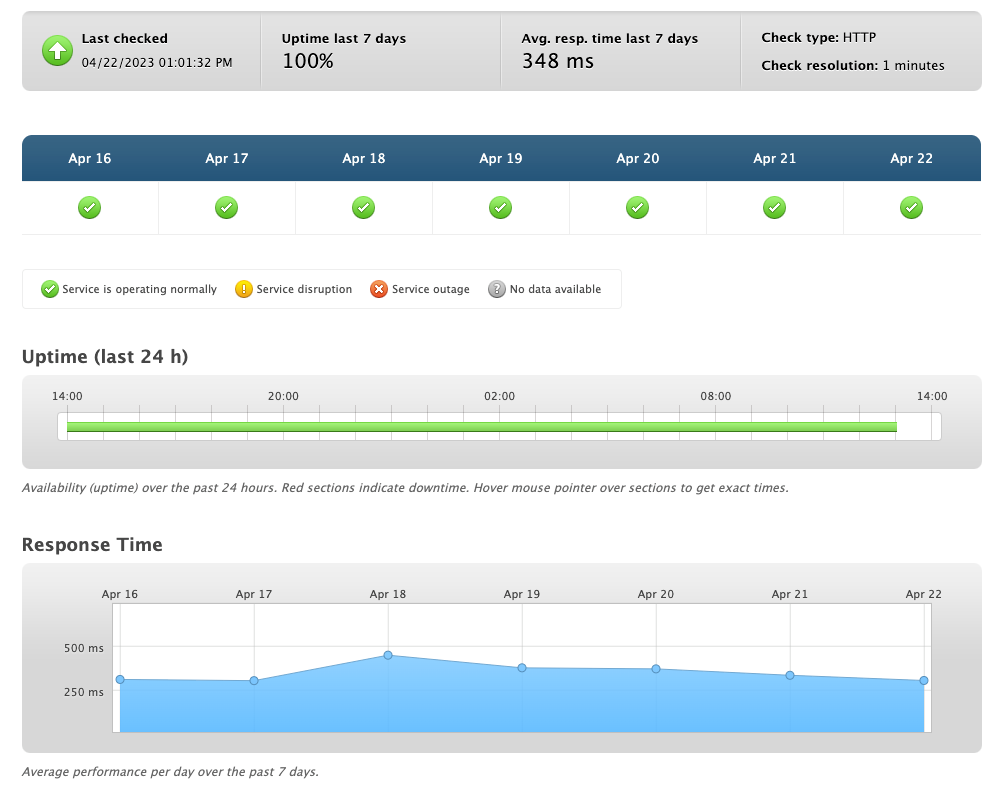 10. Godaddy – $5.99/month

Easy-to-use Control Panel
1-click Install
Scalability
Starting from $5.99/month
See Pros & Cons
Pros
Offer Windows-based hosting
Solid performance for speed as well as for uptime.
It is easy to use as the interface is intuitive.
Cons
No Cheap Deals
Hidden Fees
No option for advanced features
| | |
| --- | --- |
| Price/month (when paid yearly) | start from $5.99 |
| Price/month (when paid monthly) | start from $5.99 |
| Renewal price | $5.99 |
| Number of websites | 1 |
| Free Domain | Yes |
Godaddy offers online marketing, web security, hosting, WordPress, websites, partner programs, phone numbers, and partner numbers. It is the largest domain registrar in the world.
This provider offers optimized WordPress hosting and is suitable for small to medium-sized businesses.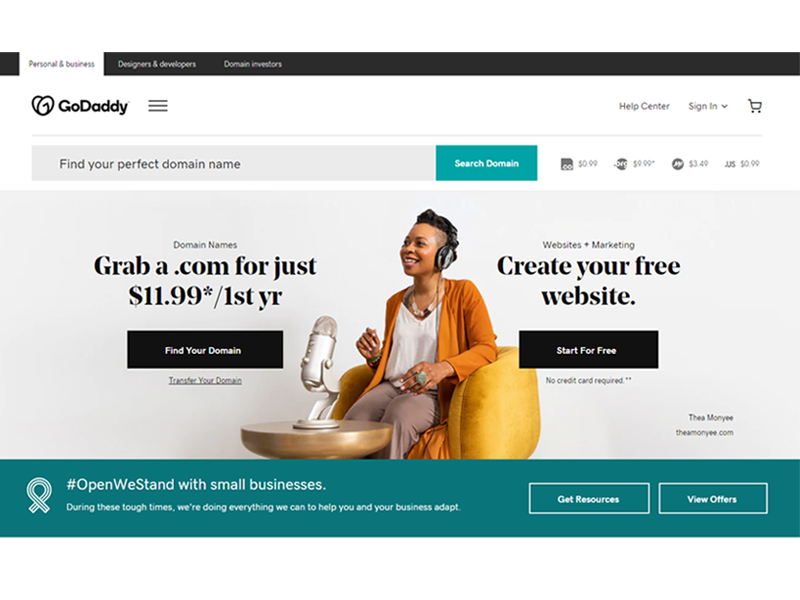 GoDaddy provides great hosting with excellent customer service. The website loading speeds are fast, and you get a 99.9% uptime guarantee. Users have access to WHMCS and cPanel admin console.
It is straightforward to set up a storefront, margin setup, and company name with GoDaddy. The host offers automatic payment processing and makes it easy for you to track sales and get commissions.
Depending on your hosting tier, you can use the white labeling feature to customize your site, including payment processing, completely. This makes GoDaddy perfect for WooCommerce sites.
This host also integrates with other apps, including Microsoft Office 365.
Other features offered by GoDaddy include automated voicing, reminders for non-payment, payment in different currencies, and custom hosting.
Speed & Uptime
Godaddy shows a response time of 300 ms and great uptime 100%.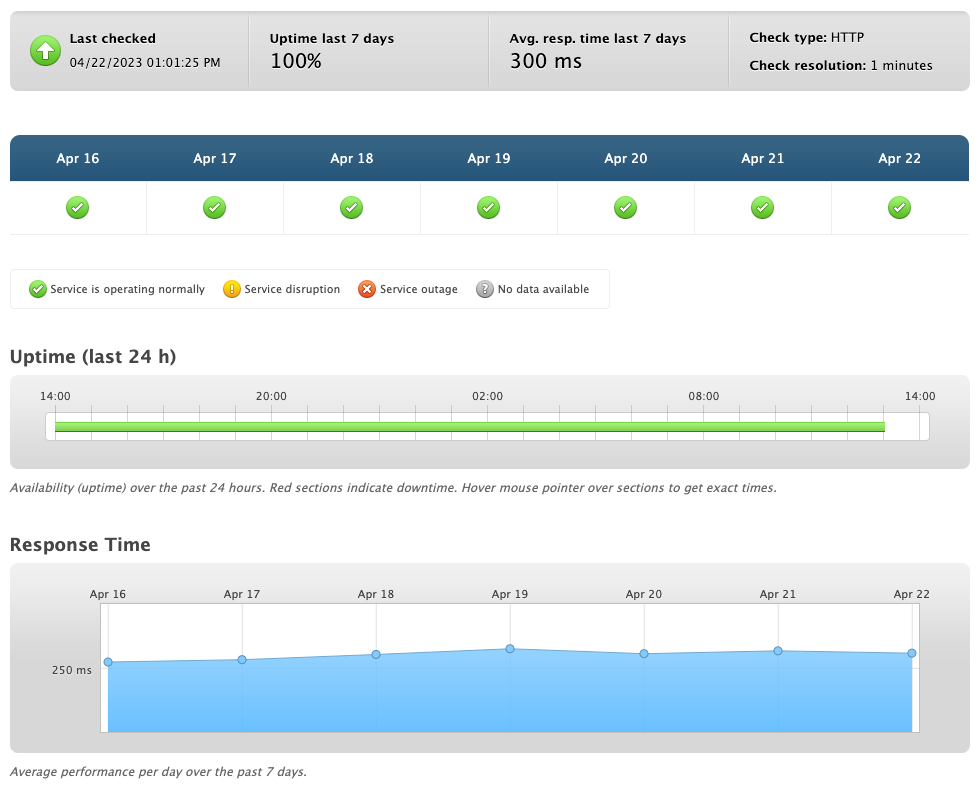 How to Choose a Low-Cost Web Host for WordPress
As evident, this post gives you the direction to find the cheapest possible best WordPress host for your business. Here are fundamental things that the host you select must have:
High Performance
Each web host provides certain unique technological features within their plans. To make sure your decision is correct, you must also consider the performance. Think about the site loading times and uptime.
Fortunately, most plans offer a 30-day money-back guarantee; therefore, if you are unsatisfied with the provided features, it is pretty easy to transfer without losing money.
Website limits
Some web hosts claim to offer unlimited bandwidth, emails, and storage space. Always look closely at their terms and conditions.
Also, remember to pay close attention to the limitations and features to ensure they suit your needs.
Promotions and billing
Consider a host's regular pricing plan. Most hosts on this list only offer low prices for new users. Sometimes, you can only get super-cheap pricing plans if you pay for a year, two years, or even three years.
So, consider the regular billing prices and decide if you can pay them at renewal.
PHP Versions and the latest technology
WordPress.org recommends that sites should use a PHP version of 7.3. Even though WordPress works fine with older versions, upgrading to newer PHP versions increases functionality, security, and performance.
Your host should not limit you to older PHP or software versions. Therefore, ensure that the host you select allows for regular updates.
Conclusion: Which one to choose?
Bluehost is at the top of our list because it offers the best pricing for the most features and professional customer support. We also like Hostgator for its cheap long-term plans. If you want to launch an eCommerce site, we recommend Hostinger.
If you want to pay monthly but also at a low price, Namecheap is the best option. It differs from other hosts offering cheap pricing when you pay long-term. A2 Hosting, SiteGround, and DreamHost are all solid options to consider in terms of their value for money.
All in all, the WordPress hosts on our list have unique strengths, making them solid contenders in the WordPress hosting industry. We hope you make the right choice.
Cheap WordPress Hosting FAQs
Can I get WordPress hosting for Free?
Yes. Some providers offer free WordPress hosting if you remain within limits. For instance, 000webhost, powered by Hostinger, allows you to host 1 WordPress site for free.

However, we do not recommend free WordPress hosting for the following reasons:
– Security is typically low
– There are very low storage bandwidths
– Downtimes are frequent

If you're on a tight budget, get cheap shared hosting, then install WordPress. WordPress installation is free of charge.

How much does it cost to make a WordPress website?
It depends on your selected hosting service and the domain name registration cost. Several hosts will offer free domain name registration if you buy a hosting service for a year. Shared hosting is cheap and can cost as low as $2.99 for an annual subscription.
How can I get cheap WordPress hosting with a free domain?
The easiest way to get cheap WordPress hosting with a free domain is to prepay for an annual subscription. Hosting providers, including Bluehost and Hostinger, will offer you a free custom domain for one year if you prepay for a one-year hosting plan.
Why are WordPress hosting plans more expensive?
WordPress hosting plans are more expensive because they come with preinstalled WordPress software. Also, the hosting service offers you managed WordPress, which means the provider takes care of updates and site security. 

You also get priority customer service if something goes wrong with your site. A WordPress hosting account has features tailored to WordPress sites.
Which is the best cheap hosting for a high-traffic WordPress site?
Bluehost is among the best cheap hosting providers for a high-traffic WordPress site. 

The host offers web hosting for as low as $2.95. Even when your site is on a shared server, Bluehost scales your server resources to manage high emergency traffic. Bluehost is best if you are looking for the most excellent value for the lowest price.
Want to Learn More?

As one of the co-founders of Codeless, I bring to the table expertise in developing WordPress and web applications, as well as a track record of effectively managing hosting and servers. My passion for acquiring knowledge and my enthusiasm for constructing and testing novel technologies drive me to constantly innovate and improve.
Expertise:
Web Development,
Web Design,
Linux System Administration,
SEO
Experience:
15 years of experience in Web Development by developing and designing some of the most popular WordPress Themes like Specular, Tower, and Folie.
Education:
I have a degree in Engineering Physics and MSC in Material Science and Opto Electronics.