The infrastructure of your web host affects the speed, capabilities and security of your website. Various providers offer nice premium plans but a cheap WordPress hosting plan works simply perfect for most websites.
If you have a tight budget and look for a host that provides the necessary features within your budget line then you can find the one for you on our list. Several hosts work fine for a small business as well as a personal website within a low budget. But, it does not mean that you have to ignore the reliability and speed of your web host.
Yet, despite a lot of claims that host providers make while selling their services, you also find a lot of issues. Such as slow loading speed, bugs or security breaches. However, if you know what you are looking for for your website from your host, then you can have a look at their offered features.
Nowadays, it is not so easy to find a cheap WordPress host. We have created this guide for you after ultimate research to get the cheapest yet safest hosts for your websites. While you look for the best cheap WordPress host, look for the paid amount at the checkout along with the offered discounts.
If you still feel like you are short of time, then skip through the post to the end and find the comparison table of prices of the hosts we listed in this post.
To make it easier for you to find a perfect cheap WordPress hosting in your budget, we have handpicked 10 cheap WordPress hosting providers. This list will provide you with the cheapest plans for small as well as large businesses that will not compromise on features, support or performance.
The Top 10 Best Cheap WordPress Hosting Services 2022
Let's now get into the article to find the best cheap WordPress hosting service for your business website. Some of these providers are best in terms of their staging environments and others are good for their speed-focused tools.
1. Bluehost – $2.95/month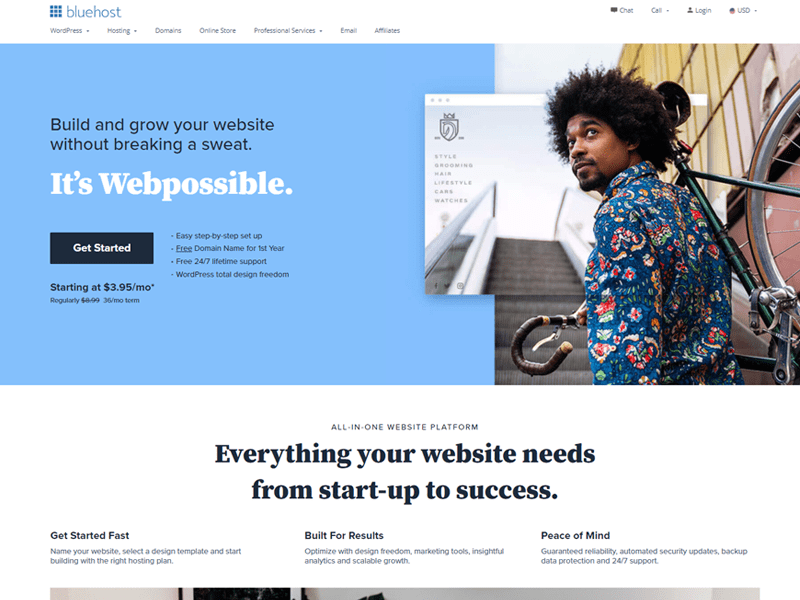 Bluehost holds a popular position in the hosting industry. It offers several hosting solutions. Yet, it majorly focuses on WordPress. Bluehost is among the three recommended providers by WordPress. The WordPress hosting plans by BlueHost start from $2.95 per month (promotional price for our readers). It provides all the necessary features exclusively required for a WordPress website.
As you log in to your Bluehost account, it automatically installs WordPress. You also pick a theme for your WordPress website. It also supports the built-in management area. Also, it facilitates you in setting up the Cloudflare CDN in a few clicks. So you can update settings and manage global plugins.
BlueHost plugin also provides WordPress installation options. It integrates the global update management, caching settings and staging tool.
These are just a few features based on which we regard Bluehost as a user-friendly host. It provides a very powerful user interface and tools that are helpful in your website creation.
For the price, one of the four plans is the cheapest. It's the Basic plan that costs $2.95 per month. This plan provides you 1-site limit. It is best if this offering is enough for you. In addition to this, you get generous storage of 50GB, 5 email accounts, an SSL certificate and a free domain.
For the best value offering, you can choose the basic plan for a period of 12, 24 or 36-month advance billing. However, the monthly rate is the same for all commitments. Yet, longer commitments reduce the renewal prices.
Bluehost does not specifically focus on speed and performance. It provides competitive scores and high results for reliability options. You get very high uptime, i.e. 99.99%. The response time is also average and speedy which is 361ms.
The website loading speed is not very fast. It takes 1.8 seconds to fully load a website on Bluehost. So, we state the Bluehost is quite average in performance but it is highly reliable with an average speed. It is more about functionality and user experience. Its simple interface is attractive for beginners. It is highly recommended for small business websites, portfolios, and personal blogs.
General features:
WordPress staging
Free SSL certificate
Free domain
Easy and functional control panel
99.99 % uptime
Pros
free SSL and domain
includes WordPress staging
the most user-focused and functional dashboard
Cons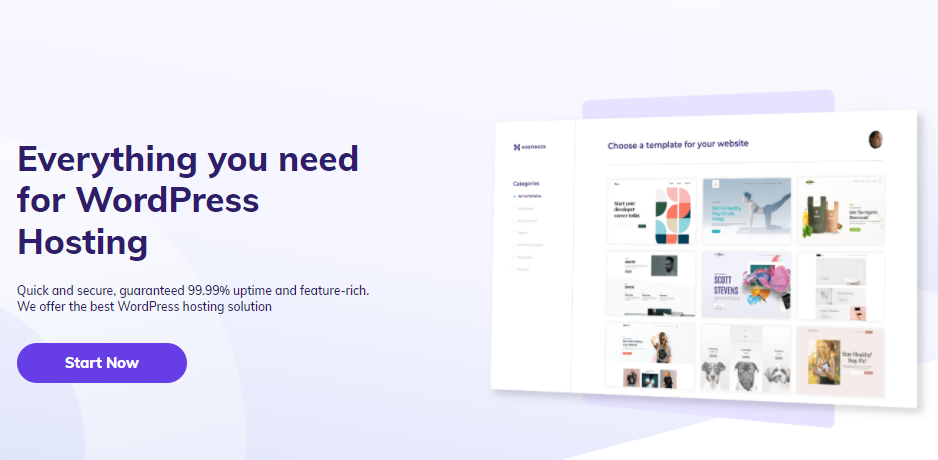 Hostinger is considered the cheapest because of the subsequent pricing as well as the lowest initial cost. In addition to its low technical needs, Hostinger is the best choice on a low budget. It can't be more affordable at such a low cost of $0.99 per month.
The websites hosted by Hostinger are all protected by an all-in-one protection plan, BitNinja that offers security against all the cyber and automated attacks.
Previously, setting up a WordPress website was time-consuming and complicated. With Hostinger, you just need to fill out a form that requires your general details and then install WordPress with a single click. It takes only a few minutes to launch your website.
Hostinger provides the best loading speed because it is integrated with pre-installed caching WP plugins, NGINX, PHP7.4 and HTTP/2. It also provides weekly and daily backups, unlimited FTP accounts, SSL certificates, bandwidth, Cronjobs and free domains.
The WordPress support with Hostinger is provided to fulfill all your concerns and queries. Support is available 24/7 instantly with the peace of mind to guarantee their expert services.
The single WordPress plan goes for $0.99 per month which renews at the cost of $3.99 per month. The Starter costs you $2.99 per month and $7.99 per month as you renew. The business plan starts with $7.99 and the subsequent plan costs you $11.99.
Read More: Full Hostinger Review
General features:
LiteSpeed Webserver
SSD storage
Automatic backups
Free SSL certificate
100% uptime
Pros
100% uptime
Excellent features
Highly reliable for speed and uptime
Dependable and efficient customer service
Affordable and low pricing
Cons
Does not provide automatic updates
No free domain for the users of Single WordPress Hosting
High prices after the first term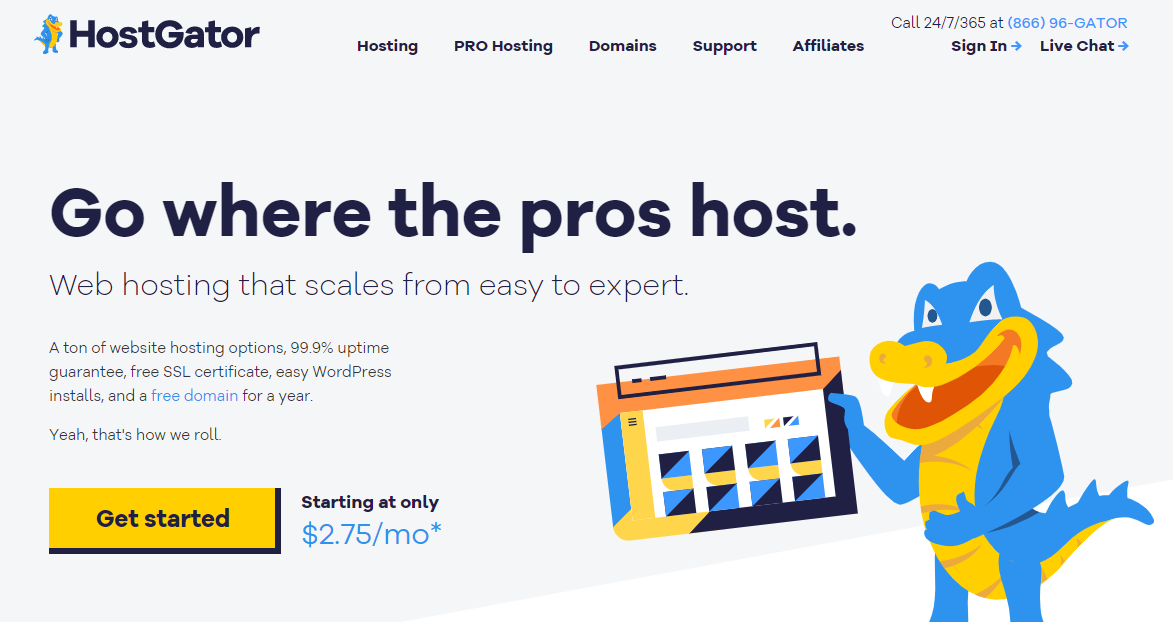 HostGator is included in this list both because of its ease of use and affordable prices. The shared hosting plans start from $2.75 per month (for Codeless readers) to provide unlimited server resources. T is one of the providers that use its control panel to make the use straightforward and for hosting management.
HostGator does not offer anything specifically for WordPress. The main attraction is the easy control panel. The main dashboard provides you with shortcuts to all the essential features of your website. You can easily install WordPress, access file manager, reach databases and set up professional email accounts altogether. It takes only a couple of minutes to set up your entire website.
The cPanel provides a classic and standard way to manage both advanced and basic configurations. Therefore, we regard HostGator as a no-fuss hosting option at a low cost.
The 3 plans offered by HostGator range from $2.75 to $5.95 per month. All these plans provide unlimited bandwidth and storage. Also, you get a free SSL certificate and domain.
Hatchling plan comes with 1 site limit. This is perfect if you only need one website. Besides, the Baby Plan lifts this limit by just $0.75 extra amount. In the meantime, the Business plan provides SEO tools, PositiveSSL and dedicated IP. All these features are not essentially requ9ired for your website development but they are there if you ever need them.
At this low price, the HostGator hosting delivers decent results. It provides a fast loading and reliable WordPress website. Also, it offers an uptime of more than 99.99%. The response time is at an average of 525 ms which is a bit better than other options in this list. The loading time of the page is also 1.2 seconds. These results are surprisingly lower at such a low cost. Overall, it is a reliable and no-fuss option. It is a powerful, easy to use and cheap hosting service.
General features:
cPanel
Free SSL certificate
Free domain
Pros
Easy setup for WordPress website
cPanel for hosting management
free SSL and domain included
Cons
unclear limits of resources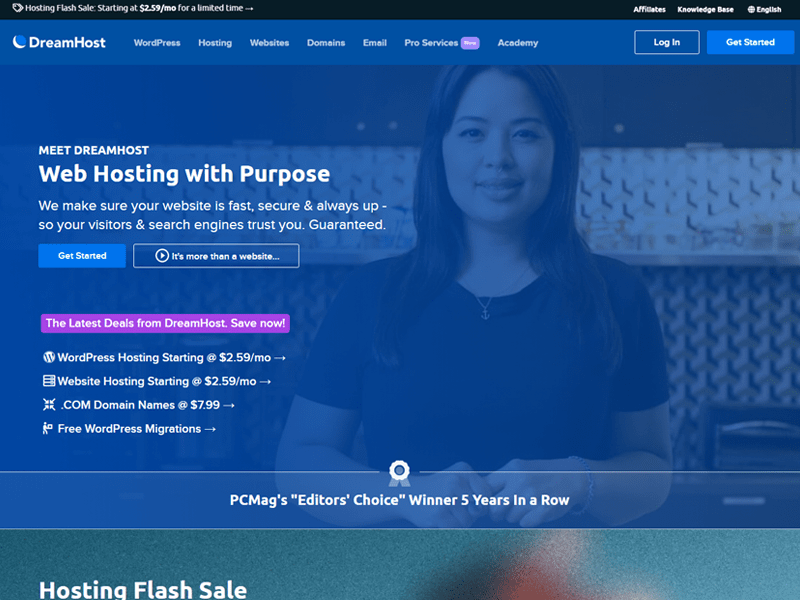 DreamHost specializes in several hosting services such as affordable WordPress hosting, managed hosting, VPS and dedicated servers. It also actively contributes to the platform's development that entirely depends on it. These options come forward as a control panel, an easy setup of WordPress website and absolute security features. All these features are available for $2.59 per month.
The best thing about DreamHost is that it is the only provider in this list that offers a "real" one-click installation. Just "one-click" and you are ready to launch your WordPress website.
If your website is already hosted by another provider, you can get the benefit of an automated migration plugin in DreamHost. It is a matter of just 30-minutes and it will be shifted to your DreamHost website.
DreamHost websites are powered with the BoldGrid website builder plugin. Rather than using Gutenberg or any other classic editor, a drag and drop editor is used. Also, you can choose the best one from over 200+ templates in WordPress. It is indeed the most useful tool for beginners.
Above all, it is the cheapest WordPress hosting provider for the value of money.
It offers 2 plans; the shared unlimited plan that costs you $2.95 for a 1-year subscription and Shared Basic that costs you $2.59 per month in the 3-year subscription plan. Both these plans provide you with domain privacy, daily backups, unlimited bandwidth, free SSL and domain.
The Basic gives 50GB storage and 1 website limit which is enough for a small to medium business website. Meanwhile, it does not include any email. The Unlimited plan provides unlimited storage and websites. Also, it adds email into the package. The unlimited plan is better with a 1-year commitment. This is the cheapest for a while term plan.
DreamHost is also strong in terms of its performance. Its servers are speedy and highly reliable. The website loading is also fast. The uptime is above 99.99%. The response time, in addition to this, is also speedy i.e. 231ms on average.
The loading time of a website with DreamHost is 1.6 s. DreamHost performance will never cause you an issue because it is fast and reliable. Overall, it is an affordable WordPress hosting provider that delivers a service focused on CMS. It is a great option for a small business website. It is fast yet cheap.
General features:
BlodGrid builder
Free SSL
Free domain
Automatic WordPress install
Pros
free backups
intuitive control panel
automatic website migration
cheapest hosting
free domain
Cons
Limited servers confined to the US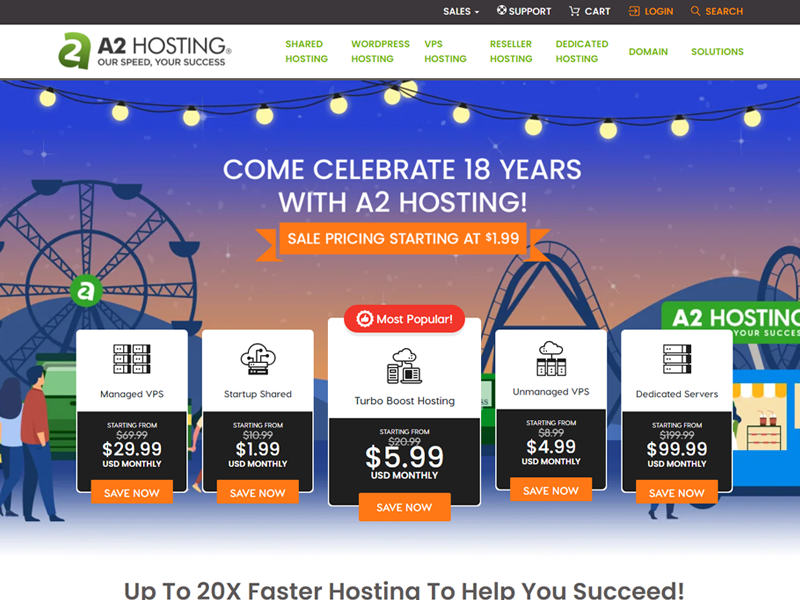 A2 Hosting offers four plans for shared WordPress hosting. It, however, lacks the main features through the plans such as plugin updates and register domain names. Besides, it gives guaranteed low uptime of 99.95%.
A2 Hosting provides most of the basics for WordPress websites. It comes with a pre-installed and automatic running software update. Yet, there is a hitch in that it does not let the plugin's update run automatically. It means that you need to put extra effort into keeping your website up to date.
As said, A2 Hosting pre-installs WordPress for your website. It also offers a free migration service. So, it is not your problem to deal with the setup. It also provides a lot of technical features that you may not need as a beginner. Thus, it is overwhelming for beginners.
Support is not a key aspect of the A2 Hosting service. Yet, it gives better email support where they provide enthusiastic and informative responses. However, if you are not comfortable with email support, you need to look for other options for hosting your WordPress website. The shared plans also provide email tickets.
The entry-level Lite plan gives site transfer and free SSL certificate options. With the lowest price plan, A2 Hosting provides five MySQL databases, 25 email accounts, Cloudflare CDN, automatic updates and WordPress installation, unlimited bandwidth and storage, free SSL certificate and one website. They are also specialized in providing cloud hosting, dedicated server and high-end VPS packages for your growing website with entry-level plans.
Its value lies in the strong focus on email support and speed. So if you are looking for a cheap host that offers good speed, then A2 Hosting is your stop.
General features:
24/7 support
Free SSL certificate
Free WordPress migration
Automatic WordPress updates
Pre-installed WordPress
Pros
Servers are optimized for security and speed to boost your website in the online world
Full money-back guarantee any time through the subscription
Several upgrade options within the affordable range to help you grow your website
Cons
Poor support and help
Key features are missing such as updates
Low uptime guarantee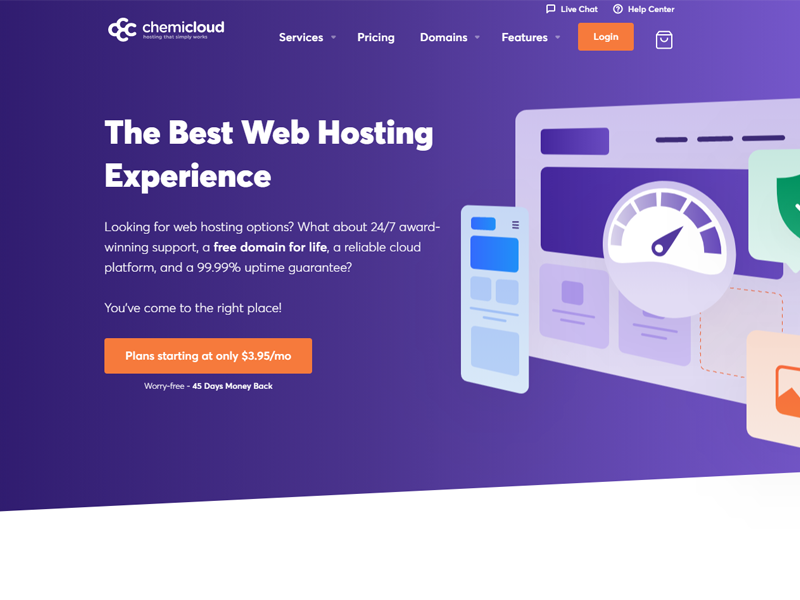 ChemiCloud is a WordPress hosting provider that offers three-tier plans. The cheapest plan costs only $3.95 per month. All the plans are powerful and comprehensive that offer pretty stable performance.
Even the dashboards and cPanels are great and user-friendly. They promise to get you a stable uptime and full SSD hosting solutions. Moreover, you get unlimited bandwidth at such a low price.
All plans are supported on HTTP/2 support. Their prices seem to be a bit higher if they do not offer discounted prices for beginners or new sign-ups. The discount reduces the prices to a more reasonable and manageable level.
However, the customers should be well aware of the steep increase in the overall prices after the completion of the honeymoon period.
Above all, at discounted prices as well, they provide robust features. In addition to the free SSL and domain name, they also support free migration from other hosting providers.
General features:
cPanel control panel
free website migration
free SL certificate
15 GB to 35 GB storage
Softaculous installer
Pros:
Unmetered bandwidth
A free domain name, SSL and site migration
Powerful managed VPS and shared hosting plans
High 99.99% uptime
Cons:
Limited storage space in shared plans
The lowest hosting plan on shared hosting does not provide Malware protection
Significant increase in prices on renewal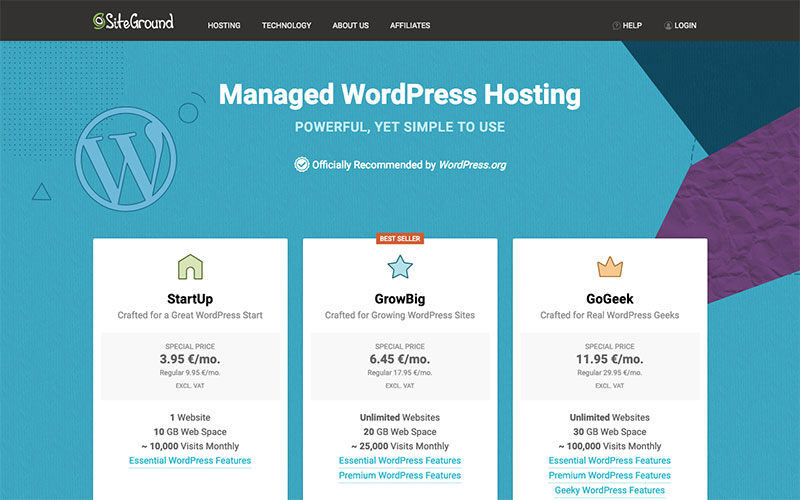 Siteground holds a very strong position in the hosting industry. They offer their cheapest plan at $4.95 per month. It is slightly more expensive as compared to other cheap hosting options included in this list.
Nevertheless, they provide access to almost everything essential to your website security and creation. Such as free website transfer or basic caching. The startup plan at $4.95 includes Cloudflare CDN, cPanel and Softaclulous one-click installer, unlimited email accounts and MySQL databases, and automatic updates.
As the popularity of your website increases and you need more websites, SiteGround only charges you $2 a month so that you can upgrade to a new plan. Here, you get a full range of services so that you do not have to worry about transferring your website ever. It provides good scalability as well as easy plan up-gradation as you start getting more visitors.
The plans also include the SuperCacher tool to improve speeds.
General features:
99.98 % uptime
Efficient 24/7 support via phone and live chat
Staging environment,
Pros
Advanced WordPress features
Decent speeds
Low prices
Daily backups
Free site transfer
Managed updates and security
Cons
No free domain
Low storage space
8. InMotion – $2.49/month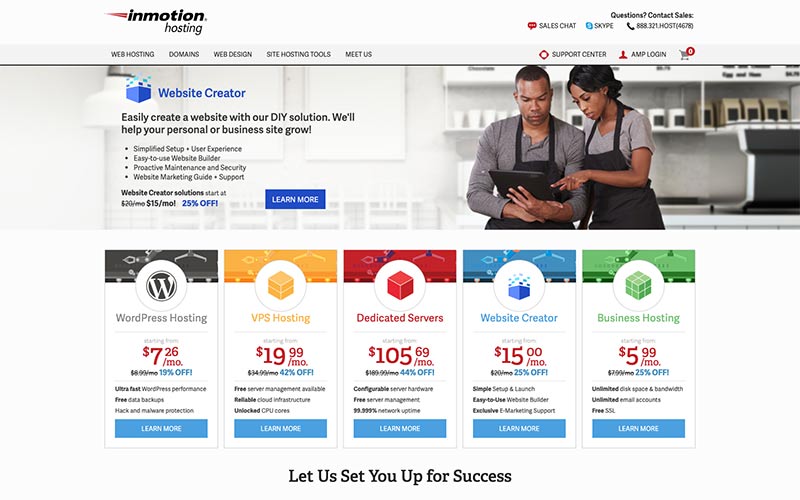 InMotion provides the cheapest hosting plans for WordPress websites. It offers great prices with the most reasonable hosting packages to fulfill all the requirements of your website. You do not spend any extra cost on your client. The best thing about InMotion is that even if you choose the cheapest plan from their offerings, you will get 25 cPanel accounts, WHM and WHMCS.
The first thought in mind with the cheap pricing is that it may offer limited or stingy resources. But for InMotion, this is not true.
The starting plan costs only $2.49 per month with two websites and modest setups. This is a great offer in comparison to other providers giving the same at this price.
InMotion provides shared hosting, it, therefore, takes care of all the backend maintenance and essential security services. All you need to take care of is the clients' responsibility. The platform of managing InMotion is easy for less tech-savvy people. On the same hand, experienced developers appreciate the way this platform streamlines everything.
There is a pre-configured hosting package that you can use that lets you start selling immediately.
InMotion is known for its VPS and shared hosting but it does offer a lot related to cloud hosting. A small issue that comes with InMotion is its offerings that are not very straightforward. They offer plans for applications, enterprises, small businesses and agencies. It offers the cheapest plan for applications that are used for handling hosting.
Above all, the best customer support it offers is available 24/7 on phone calls and live chat with a comprehensive knowledge center.
The features it offers are up to the mark too. Free backups and domains, unlimited websites and email accounts, unmetered CPU cores, and root access are a few features that lie on top.
As compared to other providers in our list, the RAM offered by InMotion is pretty cheap and is restricted to 8GB. Bandwidth is also restricted which may fall short for your site in case of a sudden traffic surge.
InMotion is more helpful for those who run Magento, WooCommerce or WordPress. Because for these platforms, InMotion is cost-effective but offers very few freebies. InMotion is unbeatable if you prefer price reasonability over performance and settle for less support.
Microsoft crowd or less tech-savvy can enjoy it but after a steep learning curve.
InMotion offers a long money-back guarantee. It is for 90-days. Yes, you read it right. So go ahead, and try this risk-free opportunity to get the experience of a new cloud host.
General features:
Custom name servers
Free domain reseller account
24/7 support
Free white labelling
Hack and malware protection
Free SSL certificate
Unlimited email
Pros
Free backups
Free domains
BoldGrid included
unmetered CPU cores
Cons
slower speeds
restricted databases, email accounts and storage in different plans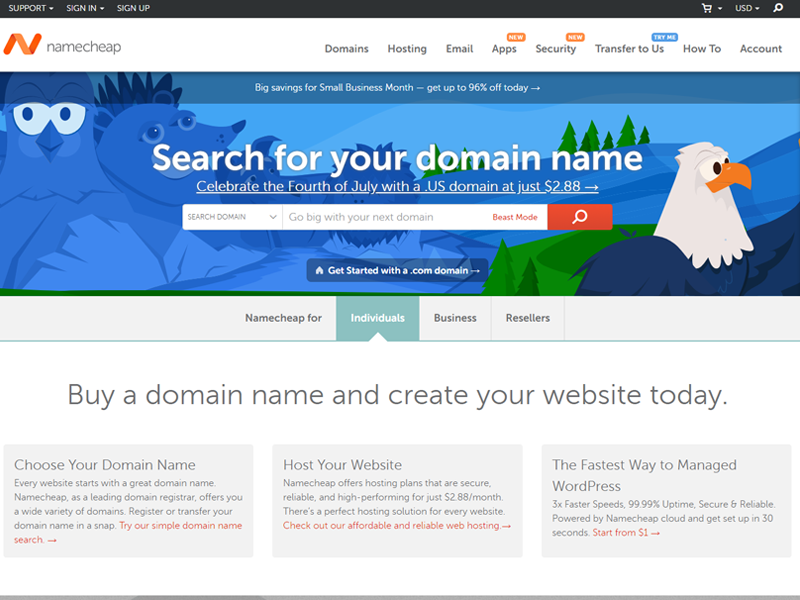 It is a powerful search tool that helps to find the correct domain and suggestions which are not included in the preferred domain. The cost of a subscription is $1.44 per month which is quite cheap as compared to other WordPress hosts. Forwarding emails from Namecheap is always free in business terms. Namecheap provides free WhoisGuard service.
It is a privacy protection service that prevents the information of personal contacts from being publicly displayed. As you checkout, more upsells come across such as G Suite, SSL certificate and premium DNS which you are offered as an add-on at low costs on some conditions. You can simply get the renewal at a lower cost. The payment methods are easy and varied including American Express, Bitcoin, Mastercard, Paypal, credit card and Discover.
NameCheap primarily offers its services as a domain name registrar. But it also provides services of WordPress hosting. These services include WHMCS, WHM and cPanel. The billing software will cost you more if you go with a cheap plan.
Company branding is further usable across different tools and nameservers. This plan does not offer a free SSL certificate. But some options let you join SSL reseller programs.
Moreover, other plans offer all the essentials with which you can manage everything on a single dashboard. Softaculous script installer helps you quickly set up content management systems such as Magento, Joomla, and WordPress.
The account management tools help you determine whether you want to customize your brand cPanel or the client invoice. The full suite tool helps in making your business.
General features:
US-based data centres and Pure SSD
Security scans
Unlimited domains
Unmetered bandwidth
Pros
Friendly design and user interface
Offers reliable hosting services
Efficient and professional representatives at support
Cons
SSL certificate is not free
Does not offer support on the phone
Live support depends on your subscription
10. Godaddy – $6.99/month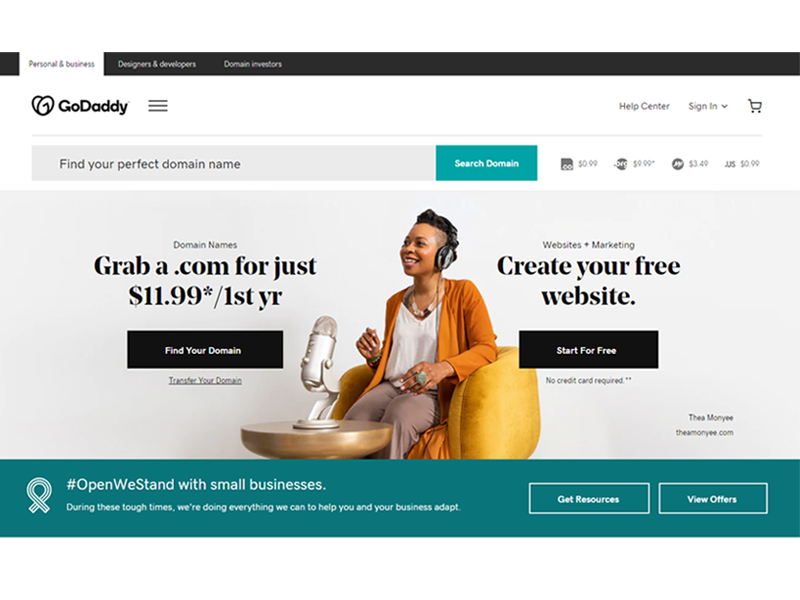 Godaddy offers several products such as online marketing, web security, hosting, WordPress, websites, partner programs, phone numbers and partner's numbers. It is the largest registered domain. It further offers shared hosting plans. It is suitable for medium and small projects. Out of other website builders, Godaddy provides an optimized WordPress hosting service.
GoDaddy provides the best hosting with excellent hosting service. It is an internet giant that offers the best of features among all its competitors. GoDaddy offers reliable servers such that you experience super fast speed and excellent uptime for your customers.
You also get WHMCS and cPanel in your services. It is very easy to set up a storefront with the GoDaddy, margin setup and company name for extra profit. It provides over the top services by giving extras. For example integration of Microsoft Office 365.
There is a true white label that your client sees as your brand front from purchase to technical support. It also avoids any process payments for you to make it easy to get commissions and track sales.
In addition to these, GoDaddy also offers you automated voicing, place services and reminders for non-payment. Moreover, you can accept payments on all processors in different currencies. Not only this, you can customize fully configurable resources for your customers by getting custom hosting.
The basic plan supports a single website that facilitates 25,000 per month.
General features:
24/7 reseller support
Unmetered bandwidth
Unlimited database and websites
Up to 250 accounts and all-white labelled
Free SSL certificate
Pros
It offers windows based hosting
It offers solid performance for speed as well as for uptime.
It is easy to use as the interface is intuitive.
Cons
There is no cheap deal rather the addition of add-ons has increased its price.
Unless the add-ons are purchased, the backup system is not secured.
No option for advanced features such as repositories that are handy for developers.
Cheapest WordPress Hosting Table Comparison
| Hosting | Price | Free Domain | Disk Space / Bandwidth | Load Time |
| --- | --- | --- | --- | --- |
| Bluehost | $2.95 | Yes | 50GB / Unmetered | 1.97s |
| HostGator | $2.75 | Yes | Unlimited / Unmetered | 1.07s |
| Hostinger | $1.39 | No | 30GB / 100GB | 1.43s |
| DreamHost | $2.59 | Yes | 50Gb /Unmetered | 1.39s |
| NameCheap | $1.44 | Yes | 20Gb / Unmetered | 1.77s |
| A2 Hosting | $2.99 | No | 100GB/ Unmetered | 1.03s |
| Siteground | $3.99 | No | 10Gb / 10.000 visits | 1.35s |
| InMotion | $2.49 | No | 10 Gb / Unmetered | 3.0s |
| Godaddy | $6.99 | Yes | 100GB / Unmetered | 1.45s |
How to Choose a Low-Cost Web Host for WordPress
As obvious, this post gives you the direction to find the best, yet cheapest WordPress host. You may also want to learn the ways to choose the best one for your business. Yet, focusing on mere pricing to choose a host may be hurtful in the future. Thus, there are certain fundamental things that your host MUST have. Such as;
Promotions and billing
The offers posted by the hosts and in this list, often apply discounts to your billing cycle. It means that if you choose a cheap plan at a discounted price, you will have to pay full price at renewal. Moreover, it would be better to pay for one, two or three years in advance using these discounted offers. Nevertheless, it may also be risky if you are not sure about your choice and you don't want to stick to a particular host for a longer time.
Performance
Each web host provides certain unique technological features within their plans. To make sure that your decision is right you need to consider the performance too. Fortunately, most plans offer a 30-day money-back guarantee, therefore, if you are unsatisfied with the provided features, it is quite easy to transfer without losing money.
Website limits
Some of the web hosts claim to offer unlimited bandwidth, emails, and space you should always look for the terms and conditions for using their resources. Also, remember that you need to pay close attention to the limitations and the features to make sure that they all suit your needs.
PHP Versions and latest technology
On the requirement page of WordPress.org, it is recommended that the sites should have a PHP version of 7.3. WordPress can work fine with the older versions too but it is good to upgrade regularly. Upgrading newer PHP versions is highly essential to increase functionality, security and performance.
Your host should not limit you to older PHP or software versions. Thus, the host should ensure that your website will keep running or stay up and faster to keep you in competition.
What to expect from cheap WordPress hosting
Before deciding on what hosting plan to choose, you have to consider a few things. Security, speed and then reliability. These are the top three factors that you need to look for in a hosting service.
Also, you need to check for customer support, storage space, features, and prices according to your requirements.
Let's have a look at the expected features that you should look for in your cheapest WordPress hosting provider.
Hosting requirements
Your host must meet the criteria to fir with WordPress. It should be compatible with HTTPS support, MySQL version 5.6 and MariaDB version 10.1m and PHP version 7.4 or above. You can accept any server that supports MySQL and PHP. Must inquire about these factors from your WordPress hosting provider.
Pricing
The prices of all the hosts vary. Some of them also offer discounted or promotional prices for beginners. Most of these plans also mention the prices which are valid for long-term subscriptions only. It is mostly the best way to get cheap hosting as it reduces the costs for the coming years.
Yet, you should expect to face difficulty if you plan to pay annually or monthly due to the rise in prices from the second or third year of subscription.
Features
Some of the key features are common to all hosting providers such as email accounts, domain names, free SSL certificate, cPanel and Hosting Dashboard, and 99.99% uptime. Your cheap host should also provide automatic backup options on a regular basis whereas, some provide support on live chat or phones.
Some other hosts that are comparatively expensive charge extra for extra features. Mostly, hosting services ask for separate charges for extra storage. They may also sell other add-ons, site security, site backup and privacy at an additional cost.
Storage space
Based on the subscription plan or prices, you may expect the host to give you about 10GB to 100GB of disk space. Others may give you unlimited SSD disk storage.
Customer support
Support is indeed the biggest concern for WordPress users and it should be kept at priority. Good WordPress hosts provide responsive and efficient customer support. Your web hosts should provide support through multiple channels.
Conclusion: Which one to choose?
WordPress is without a doubt the best content management system. It is used effectively for all types of websites such as institutional websites, personal websites and business websites.
Bluehost is the winner. It is because of its best pricing and the most professional and knowledgeable customer support. It is equally favored by Hostgator for its long-term plans. Also, Hostinger is the best platform for eCommerce site generation. On the other hand, Namecheap offers the most affordable and best domain name services.
It is the cheapest point as its performance is very good and that is the only thing you need with your website. Some hosts may want to offer per-month deals but you need to go for multiple years to get the best price.
The quality to price ratio also works for A2 Hosting, SiteGround and DreamHost. In short, all the cheap WordPress hosting providers have their unique strengths because of which they are solid contenders.
You can check also:
Best cPanel Hosting Compared and Ranked
Best Dedicated Hosting Providers
Minecraft Server Hosting Providers