If you're planning to build your very own WordPress website or blog, it's essential to conduct thorough research on the best WordPress hosting options out there.
The vast array of hosting platforms can lead to significant differences in quality, making it crucial to identify the top hosting providers in the market for WordPress CMS.
In a hurry? Here is a short list of the top choices:
In fact, there are several reasons why WordPress is the preferred choice for nearly 43.2% of all websites on the internet, amounting to 455 million sites! Some of the key features that make WordPress stand out include:
Over 31,000 site themes to choose from
More than 55,000 plugin software to enhance site functionality
User-friendly website management
Versatility for various types of websites
Completely free installation and usage
These advantages are why the majority of web hosting providers offer WordPress hosting at different levels. However, not all hosting providers are created equal.
Take a look at the table below for a quick overview of how specific hosting companies compare to one another, and make sure to read the individual reviews for more detailed information.
| Host | Performance | Installation | Support | Pricing |
| --- | --- | --- | --- | --- |
| Bluehost | ~1.82s-99.99% | Standard cPanel | Tickets and chats | $2.95 |
| Hostinger | ~3.57s-99% | One-click | Chats, email, tickets & phones | $1.99 |
| WP Engine | ~3.54s – 100%~ | Auto | Help desk chat | $20 |
| Kinsta | ~4.79s- 100% | Auto | Chat and ticket | $25 |
| SiteGround | ~3.8s- 100% | A few clicks | Chat, phone ticket & social | $4.99 |
| HostGator | ~3.23-100% | Built-in cPanel | Chat | $2.75 |
| A2 Hosting | ~1.09s –99.99% | Pre-installed | Live chat, email, phones | $1.99 |
| DreamHost | ~3.17- 99% | One-click | Emails and chat | $2.59 |
| Flywheel | ~0.55s-100% | Migration | Tickets | $13 |
| GoDaddy | ~0.36s -96% | One-click | Long waiting time | $2.99 |
| Nexcess | ~1.1s-98.99% | One-click-auto | Calls, tickets, emails | $19 |
The Best WordPress Hosting Providers Compared
Ready to dive in and discover the ultimate WordPress hosting solution for your needs? Let's get started!

Free Domain
Free SSL
cPanel
Start from $2.95/month
Codeless Exclusive Offer
See Pros & Cons
Pros
Cheap Hosting
Easy to Setup
Optimized for WordPress
Cons
Renewal is expensive
Shared Hosting
Not Scalable
Bluehost is widely recognized as the best hosting provider for WordPress websites. As a service recommended by WordPress itself, it offers an ideal solution for beginners looking to create and launch new websites seamlessly.
The advantage of Bluehost is that it provides you with a free domain name and a one-click WordPress installation procedure.
Performance (Uptime & Page Speed)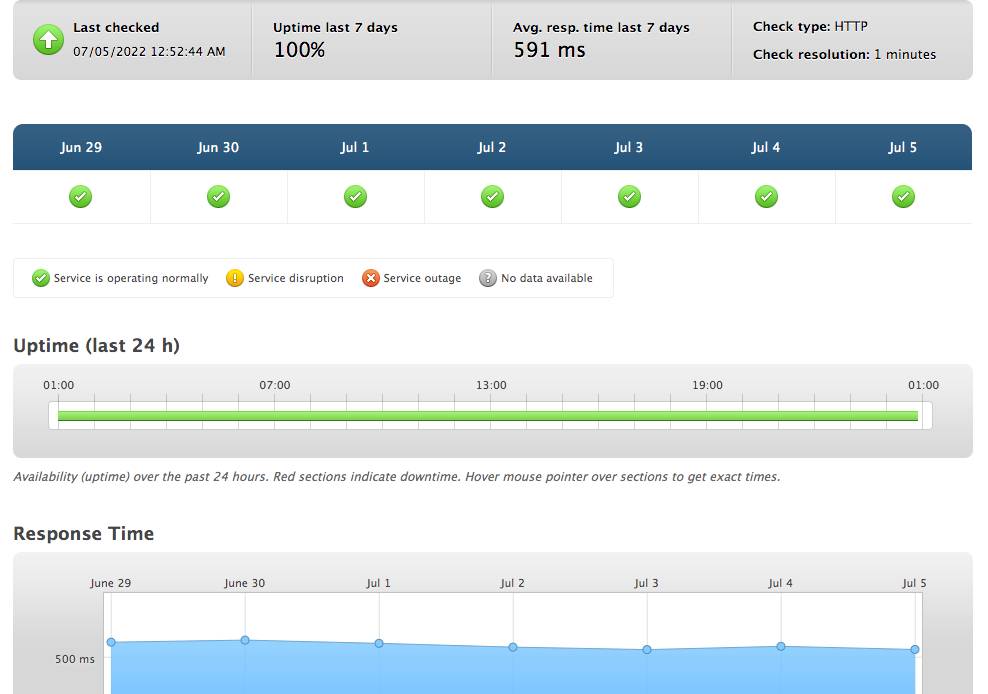 Bluehost provides excellent uptime with super-fast speeds. Its uptime availability is typically 100%; however, it occasionally drops to 99.98%.
Moreover, Bluehost also maintains very fast loading times in different parts of the world, as much as 1.82s to 2.55s.
To put this feat into perspective, an ideal site has a 7-day average response time of 591ms!
WordPress Installation
Bluehost offers a standard cPanel option that facilitates WordPress installation with a single click. These installations are powered by the MOJO Marketplace service.
The MOJO Marketplace installation interface provides you with enough features for a comprehensive WordPress installation. However, using MOJO doesn't come without challenges.
For instance, parts of its installation process can be confusing and appear inconsistence, especially for newbie users. This can result in users making accidental installations in multiple instances.
However, on the flip side, MOJO Marketplace provides instant customer support in case of any issues during the installation process.
Customer Support
Speaking of customer support, according to online reviews, users rate its chat support and service as friendly, effective, and fast. Therefore, customer support helps to clear up installation problems while assisting users to overcome the friction encountered during the initial steps.
In addition, during the website-building and installation process, a temporary URL is generated to provide users with a visual demo of the website.
Pricing and Plans
Furthermore, Bluehost is the most cost-effective WordPress hosting, costing only $2.95 per month for Codeless readers. The basic package provides you with enough features to fulfill a small business's basic needs. However, it does not offer a monthly package.
Instead, it requires a commitment of twelve months at least. Nevertheless, this is protected with a full money-back guarantee policy.
If you choose to pay monthly, it will cost you $8.99 per month for 1 website and 1 domain. This package also provides unmetered bandwidth and 50GB of space.
Online Reputation
Bluehost is rated 7.92/10 overall on the internet. It is the most popular web host used in Canada, the UK, and the US. In fact, 23.7% of all beginners prefer to use Bluehost as their WordPress host.
---

Affordable

7 Data Centers

Weekly Backups
Starting from $1.99/month
See Pros & Cons
Pros
Easy to Setup WordPress
Offshore Hosting
Decent Fast Hosting
Cheap plans
Cons
No Daily Backups
Uptime 99.90%
Hostinger is gaining popularity in the WordPress industry, primarily due to its cheap WordPress hosting plans. These plans include an intuitive dashboard for easy management and monitoring of your website's hosting activity.
Hostinger offers one-click WordPress installation, free site migration, WordPress speed acceleration, free CDN, enhanced security, and managed automatic updates.
One of the most important features of Hostinger is its geolocation-specific hosting. Their data centers are strategically placed in 7 different locations around the world. These locations include South America, Asia, Europe, and the USA. So, you can also consider it as an offshore hosting platform.
Hostinger provides superfast results on cheap plans. These two aspects are at the core of the attraction that they have for the users. It offers both Linux and Windows hosting as well.
Hostinger offers varied hosting types that are all ranked high with 5 stars. It supports WordPress, cloud, VPS, and shared hosting. Hostinger gives users thousands of features at the cheapest rate.
For instance, its shared plan is one of the lowest prices you can get, yet it includes 100GB bandwidth, 10GB storage, and an SSL certificate.
However, Hostinger does not provide daily backups, and this may not work for everyone. But weekly backups are enough if you do not have a dynamic website that needs updating all the time.
Performance (Uptime & Page Speed)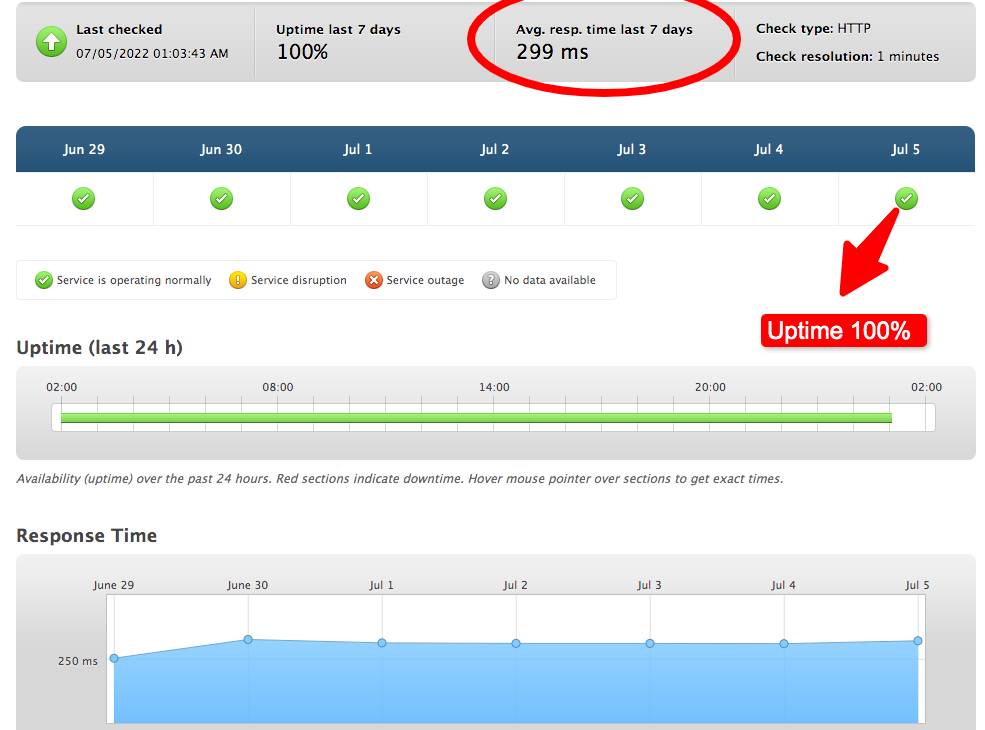 Furthermore, while Hostinger offers a lot of features, its most important drawback is that it offers low uptime of 99.90%.
The loading time varies for different parts of the world, ranging from 1.12s to 3.67s. To put this in perspective, an ideal site has a 7-day average response time of 299ms.
WordPress Installation
Hostinger offers a one-click WordPress installation, and that pretty much describes its installation process.
However, you still need to select the desired or nearest data center for your websites. These data centers are in Lithuania, Netherlands, Brazil, Singapore, India, Indonesia, the UK, and the US.
After logging into the user panel, you get the site setup wizard. Hostinger provides you with a set of its pre-approved WordPress themes and you can select the one that is the best fit for your website.
Customer Support
Hostinger provides 24/7 support. You can quickly contact their support team, which comprises knowledgeable professionals to answer your general inquiries. Although the response may take a few minutes, it is nonetheless worth it because, most often than not, you'll get your issue resolved.
Pricing and Plans

Hostinger stands at the top of the list of best hosts that provide discounted prices. In addition to affordable prices, Hostinger also provides a wide range of options that makes it come out on top. These discount prices start from only $0.99 each month.
Its ultimate plan is the richest in terms of features and includes extraordinary options such as over 100 email accounts, free backup packages, unlimited bandwidth, and over 100GB of storage.
For a starter business, Hostinger offers special features; however, it does not provide dedicated hosting.
Hostinger's ultra-competitive introductory pricing plans work well for business sites. Hostinger's renewal rate is always high thanks to its favorable introductory prices.
Therefore, if you are looking for a low-cost yet good hosting plan optimized for WordPress, Hostinger is a good option. Moreover, you also get a 30-day free trial.
Online Reputation
Online customer reviews show that it is rated 7.90 out of 10.
---

Managed WP Hosting
Fastest CPU
Performance Monitoring
See Pros & Cons
Pros
Easy to use
Professional Support
Free CDN
Cons
Expensive
Limited WordPress Installations
No Multisite Support
Kinsta provides managed WordPress hosting with a fully customized control panel and software infrastructure designed specifically for WordPress. Their focus is on enhancing performance and delivering a streamlined experience for WordPress users.
This is reflected in the 25 data centers that Kinsta maintains throughout the world. This focus has therefore enabled Kinsta to become one of the best and most reliable hosting companies in the market.
Although their premium packages are expensive, the quality of service provided is worth the cost.
Performance (Uptime & Page Speed)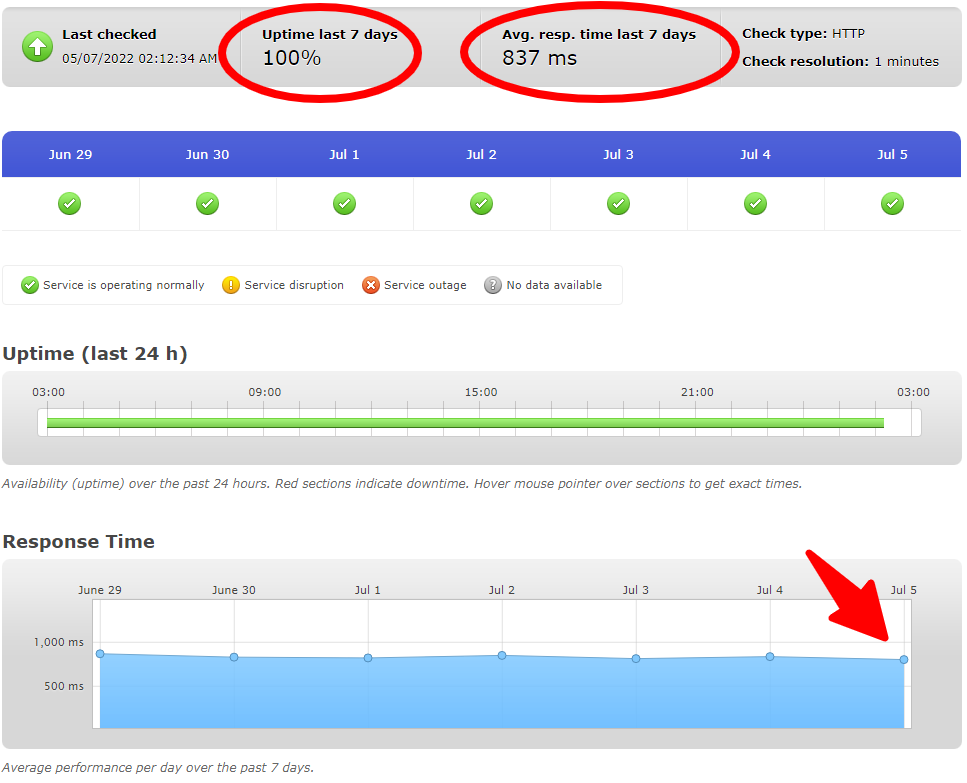 Kinsta is the best performer among all managed hosting providers. Its performance is superb, providing 100% uptime while its downtime is very negligible, amounting to only a few seconds.
However, Kinsta's loading time is not super fast when compared to other hosting providers listed in this article. Its loading time ranges from 1.35s to 4.79s. For comparison, an ideal site has a 7-day average response time of 837ms.
WordPress Installation
Since Kinsta is a managed WordPress host, it readily installs WordPress on your hosting account. You just need to check the relevant box to inform Kinsta to perform the installation on your behalf.
Customer Support
Kinsta is good at customer support. It provides both ticket and 24/7 chat support. Their support team is professional and knowledgeable, assisting you to resolve any issues you are struggling with.
Furthermore, it does not require you to use cPanel. This might seem limiting but it's also favorable because it means you will have fewer chances to mess things up, get yourself into trouble, and have to contact customer support.
Pricing and Plans

Kinsta's month-to-month cost (without a long-term commitment plan) is $30 and it provides users with 25,000 visits of bandwidth, 10 GB storage space, 1 website, free domains and unlimited free migrations and CDN services.
The Pro plan costs $60 per month with 2 WordPress installations, 50,000 visits, with 20 GB disk space plus Free SSL and CDN.
Its business plan costs $100 per month. With this package, you get 100,000 visits, 5 WordPress installs, 30 GB disk space, in addition to a free CDN and SSL certificate.
All the plans offer a 30-day, full money-back guarantee.
Online Reputation
It is
Though Kinsta is expensive, it offers you full value for money. Online customers rate it 4.3 out of 5 for this characteristic. In terms of optimization, Kinsta is rated 4.8 by the online reviewers.
Learn more about Kinsta features, performance and more by reading our Kinsta review.
---

Great Customer Support
Super Fast Hosting
Unmetered Trafic
Starting from $3.99/month
See Pros & Cons
Pros
Hosted on Google Cloud
Great Uptime
Low Response Time
Cons
Expensive Renewal Plans
Limited Disk Space
SiteGround stands out as the best web hosting provider for customer support, particularly for WordPress websites. With their exceptional security solutions and focus on WordPress speed, they ensure your site remains secure and operates at peak performance.
SiteGround is also a WordPress recommended hosting provider. Its most prominent features include GIT version control, one-click staging, free SSL, free CDN, daily backup, WP caching, and automatic software upgrades.
Performance (Uptime & Page Speed)
SiteGround provides you with 100% uptime. Its loading speed also varies between 1.14s to 3.8s in different parts of the world. A comparative site tested for 7 days had an average response time of 355ms. So, SiteGround's high-speed hosting is top-notch.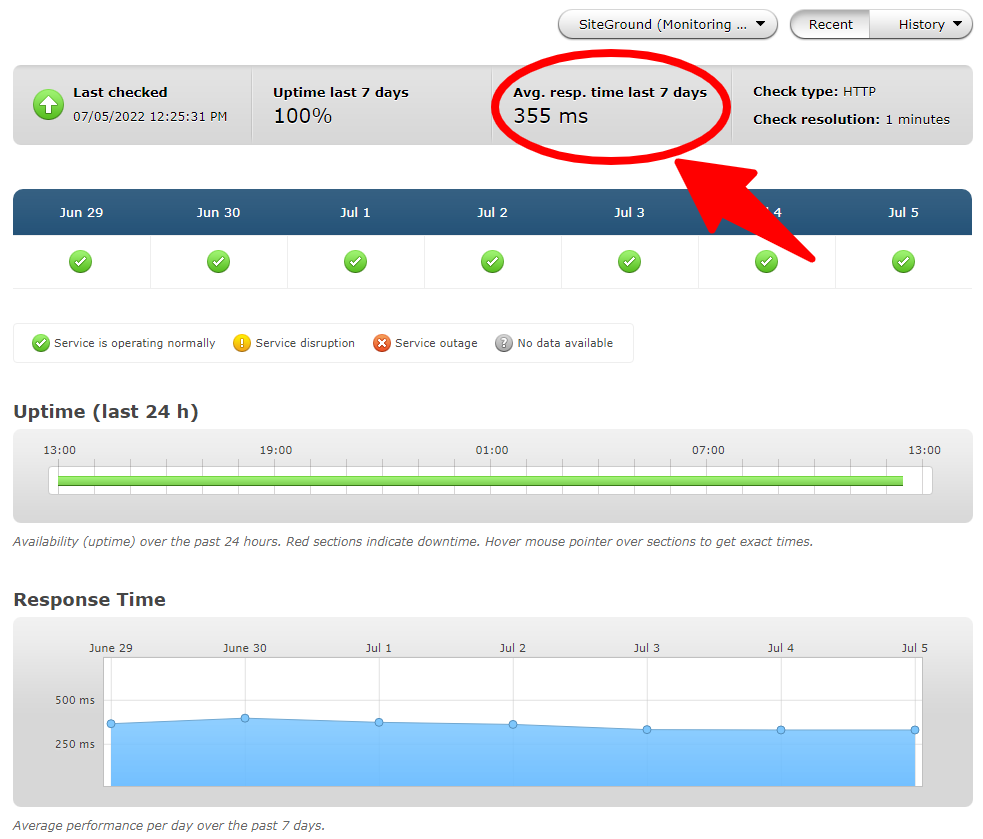 WordPress Installation
With SiteGround, WordPress installation is a simple process. Installing WordPress and running all the built-in installers take only a few clicks.
Make sure to choose the server location before the setup process starts. This is because SiteGround operates five data centres around the globe. These major data centres are in Europe, Asia and the USA.
Customer Support
SiteGround offers outstanding support through social media, tickets, phone and chat. They are quick in responding to customers and resolving all types of queries. They can also directly access your account to resolve the issue along.
SiteGround's support agents are highly knowledgeable about WordPress hosting and its installation wizards. Therefore, they can help you with all types of issues, even those that are not related to hosting.
The staff is always ready to give detailed advice on anything to ensure your hosting account runs smoothly.
Pricing and Plans

The monthly cost for a 12-month commitment is $3.99. When you make a 36-month commitment, it'll costs you $9.09 per month.
However, without making a commitment, you'll be charged a high month-to-month cost of $19.99. This plan will provide you with one website, 10 GB space and 10,000 visits for bandwidth. It also includes free domain name registration, WP installations, auto-updates, migrations, CDN and SSL. For good measure, you also get a free email account and daily backups as well.
Online Reputation
More than 90% of the users who commented online expressed a desire to renew their SiteGround subscriptions. SiteGround is the most popular hosting provider in Spain and second in the UK. Its overall online rating is 8.38 out of 10.
---

Easy to Scale
Free Domain
Unmetered Bandwidth
Starting from $2.75/month
See Pros & Cons
Pros
Free SSL
Easy for WordPress Users
Cheap Plans
Cons
Not so fast
99.95 Uptime
Hidden Fees
Hostgator, a popular hosting service with over 8 million websites, offers unlimited bandwidth for WordPress and Joomla hosting. Its customizable features cater to the needs of eCommerce websites, ensuring optimal performance and functionality.
Hostgator offers hosting with an automatic installer, making it is easy to install in a few clicks.
Moreover, Hostgator offers you dedicated, VPS, cloud and shared hosting. This makes the service is ideal for all sorts of niches and capable of handling all levels of traffic to shopping carts. In addition, it also gives you a free private SSL certificate and IP address.
Hostgator offers unrestricted storage space and bandwidth to accommodate websites with huge traffic.Its cPanel is also flexible with a user-friendly interface. There are unlimited email accounts and sub-domains in Hostgator hosting.
Performance (Uptime & Page Speed)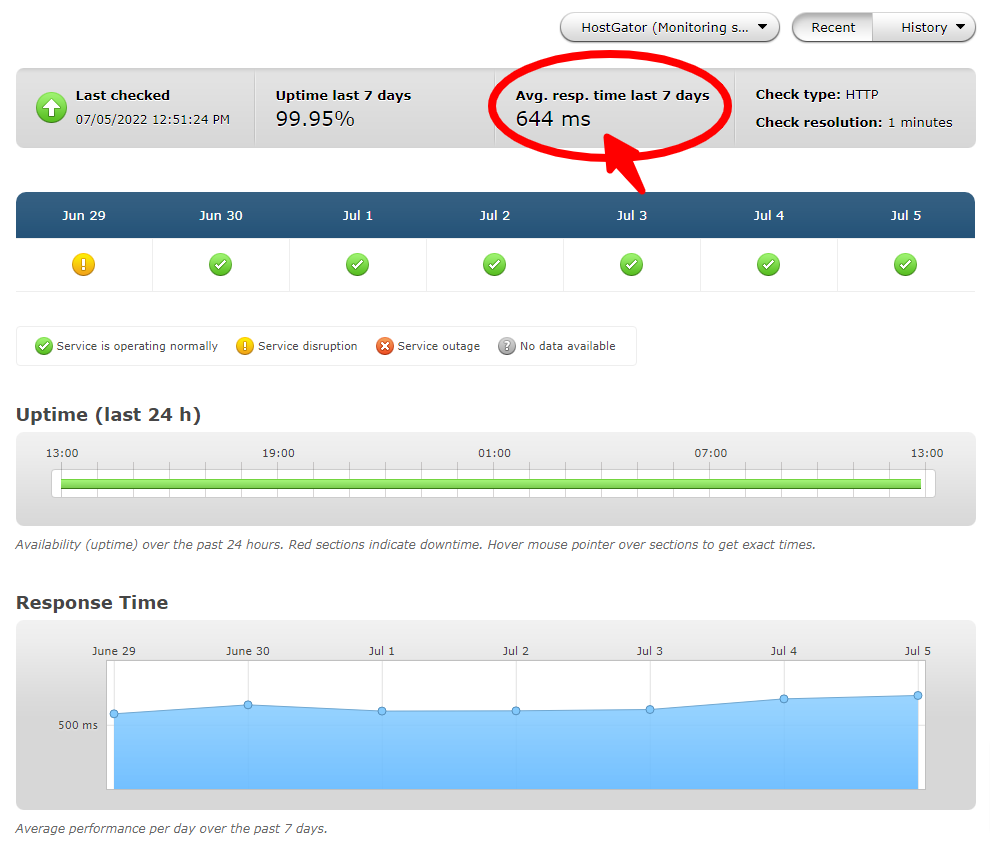 Hostgator also has a uptime 99.9 percent. Its online reviews prove that the uptime provided by the service is the same as promised. The loading time is 1.12s to 3.23s in different parts of the world.
WordPress Installation
Installing WordPress with HostGator is a painless process. There is a built-in cPanel for a WordPress installation, which takes only a few clicks to complete. It also provides a theme updating option after installation.
Customer Support
There is a toll-free number that provides support 24/7. However, reviewers complain about a long waiting time on its online chat, although its responses eventually leads them in the right direction.
Pricing and Plans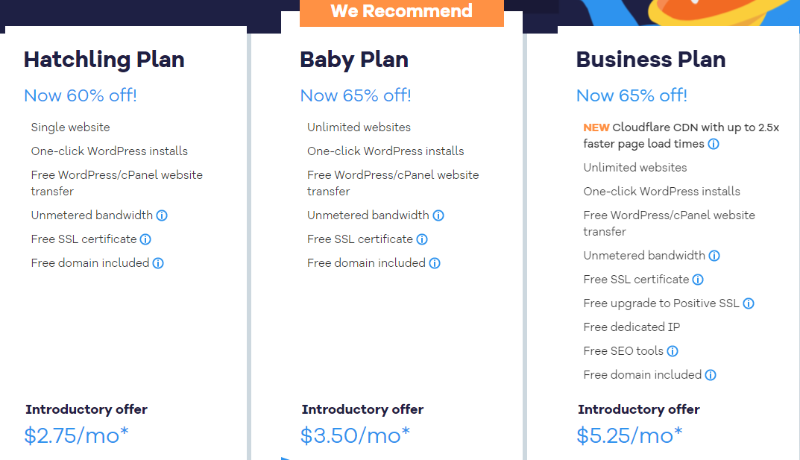 HostGator's 12 months plan costs $3.95 per month. With a 24 month commitment, HostGator will cost you $3.45 per month. On the other hand, a 36 months commitment costs only $2.75.
However, a month to month payment plan is highly priced at $10.95. This is a basic plan that provides 1 website, unmetered space and 100,000 visits bandwidth, plus 1 free domain.
Wait wait wait …. Codeless have a special price for you: $2.64/month: Get it now
The business plan offers 3 sites, 500k visits, 3 GB backups, a free SSL certificate and a domain at an introductory price of $9.95 per month.
All HostGator's WordPress hosting plans offer a 45-day money-back guarantee.
Online Reputation
Over 70% of the reviewers/users plan to renew their HostGator subscriptions. It is the most popular host in Brazil although it isn't very common in the UK and the USA.
Overall, the online rating of HostGator is 7.5 out of 10.
---

Managed WordPress Host
High Performance
Staging Site
See Pros & Cons
Pros
Fast WordPress Hosting
Security
Amazing Support
Cons
Expensive
No Unmanaged Hosting
Limited No.Websites per package
WPEngine provides the fastest managed WordPress hosting provider, offering expert support and a unique set of tools specifically designed to elevate your WordPress experience. Their focus on speed and performance sets them apart in the industry.
WPEngine is the best hosting option for those who run multiple sites and online stores on WordPress. This is because it provides you with high-performance sites without worrying about WordPress maintenance service or having to hire a developer.
Performance (Uptime & Page Speed)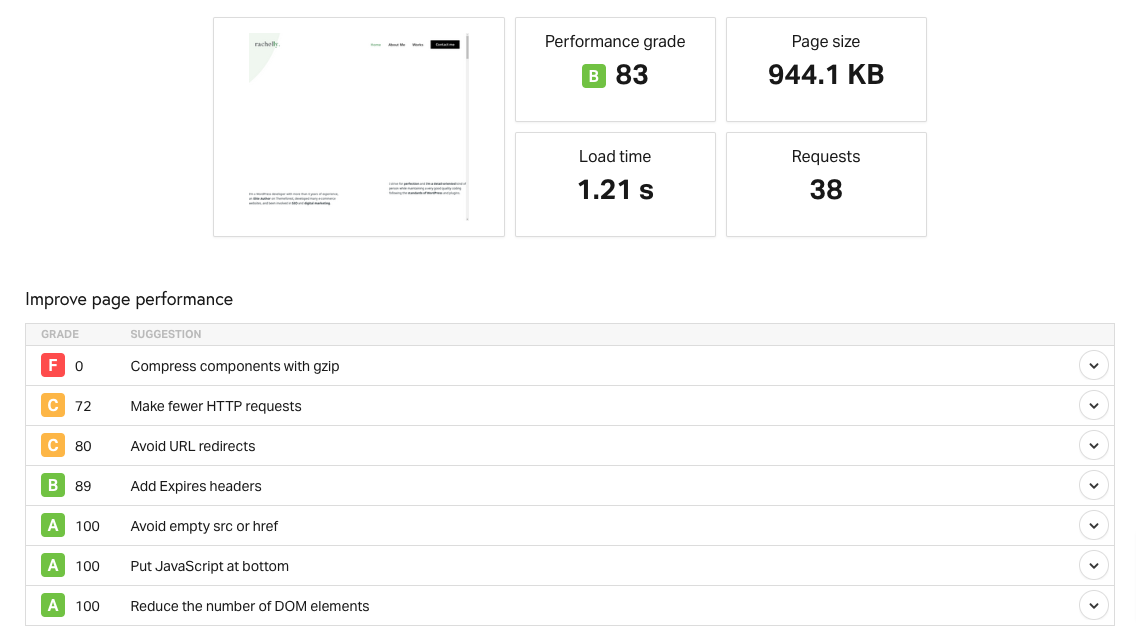 WP Engine offers a consistent 100% uptime. Thus, its superfast speed plays a great role in its high performance. The loading time ranges between 1.33s to 3.54s in different parts of the world.
WordPress Installation
WP provides a very straightforward signup process. It is the most integral step at the start of the process. However, you do not have to do any installation on your own. Instead, WP Engine handles it for your convenience.
After installation and signing up, you get an email that states all the important data and credentials needed to access the website.
Customer Support
WP Engine offers great customer support during and after the installation process. In addition, it also offers great support through its helpdesk and online chats.
Online reviews also overwhelmingly confirm that WP Engine support is good quality.
Pricing and Plans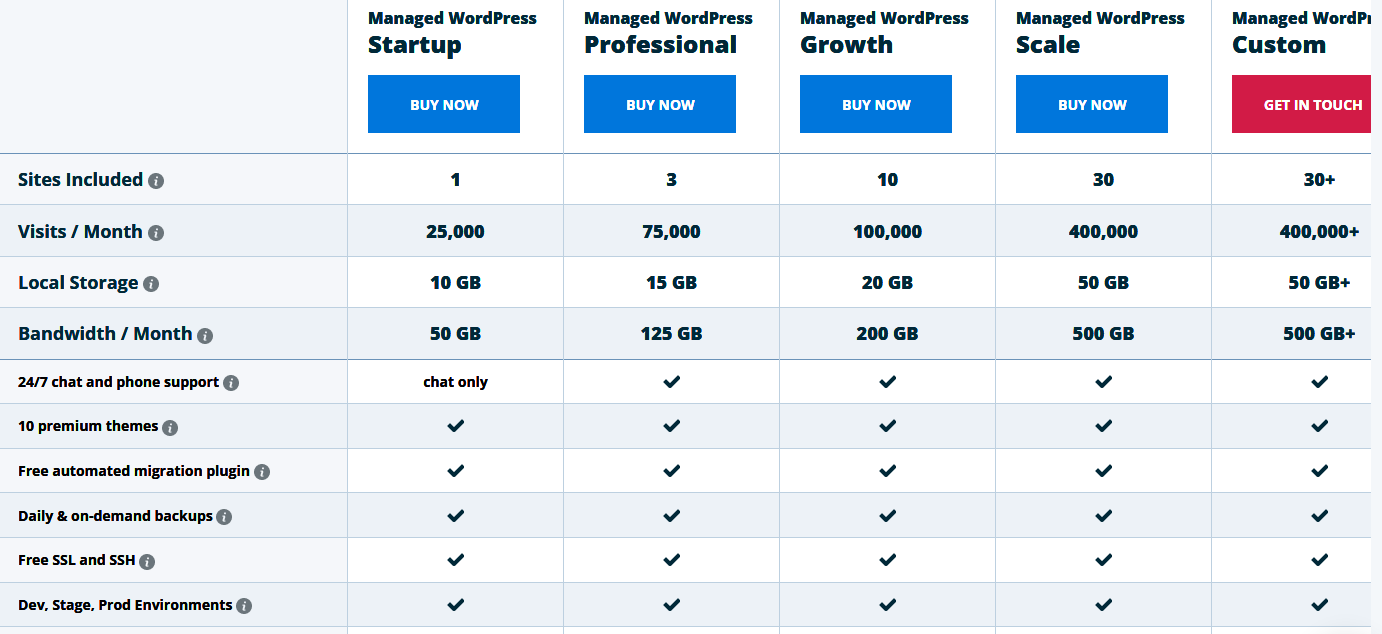 WP Engine offers managed hosting at $20 per month for 12 months. The personal plan is best for entry-level users and web projects. It provides 1 WordPress installation and can handle over 25,000 visits per month.
However, without a long-term commitment, WP Engine charges a monthly payment of $27. This plan comes with 10GB storage space, and 25,000 bandwidth per 50GB.
Above all, the domains provided for all your websites on WP Engine are free.
Online Reputation
WP Engine's reliability rank is rated 4.5. Another impressive fact is that most WP Engine users renew their subscriptions. In terms of performance optimization, WPEngine ranks at 9.10 ratings.
---

SSD Drives
Great Performance
Cloudflare CDN
Starting from $2.99/month
See Pros & Cons
Pros
Fast Loading Speed
High Uptime
Free Site Migration
Cons
Limited on cheap plans
No Free Domain
Renewals are expensive
A2 Hosting, an independently owned company, stands out for its exceptional speed and lowest response time. They offer both managed and shared hosting optimized for your WordPress needs and include free account migration services in both cases, ensuring a seamless transition.
A2 is a good option if you want to switch to a more resource and feature-rich platform with managed hosting. A2 is also best for providing free migrations. It allows you to use plugins to automate most of your processes. As a result, it provides both a problem and stress free transfer.
A2 offers top-rated support at extraordinarily low pricing. It includes remarkable features for its WordPress hosting plans. Some of these features are eCommerce integrations, Cloudflare free CDN compatibility, hack defense, and virus scanning, to mention but a few.
Performance (Uptime & Page Speed)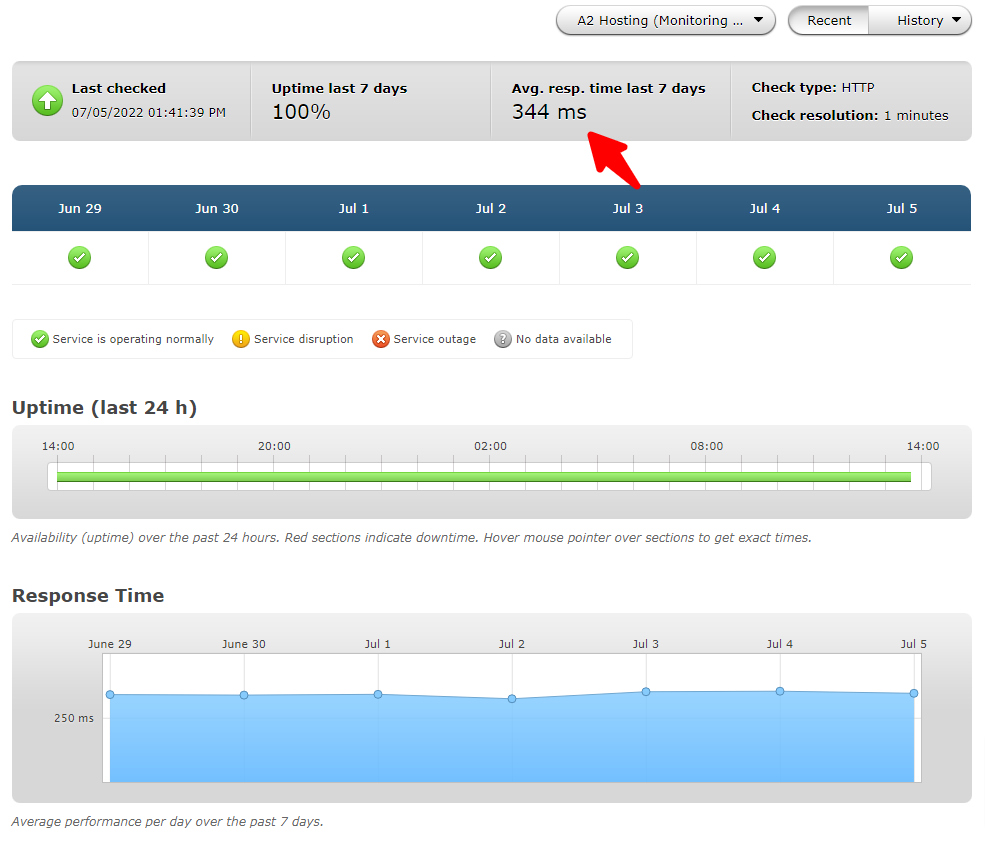 A2 provides an excellent uptime with 100% performance.
A2's loading time varied between 1.09s and 5.09 s in different servers around the world. Comparatively, tests conducted on an ideal website over a 7-day period revealed an average response speed of 344ms.
WordPress Installation
A2 Hosting has all types of WordPress accounts pre-installed for convenience. However, you can also install new updated WordPress accounts with Softaculous. A2 Hosting has a Softaculous one-click installer which makes it easier for you to install your WordPress accounts.
Customer Support
The Guru Crew Support of A2 Hosting is available 24/7/365. They claim to provide a highly knowledgeable team of support agents.
You can get support via phone, email and live chat. If you have problems concerning basic knowledge of the WordPress account or installation process, its technicians won't disappoint you. They are also able to recommend quick solutions when your query isn't exclusively about hosting issues.
Pricing and Plans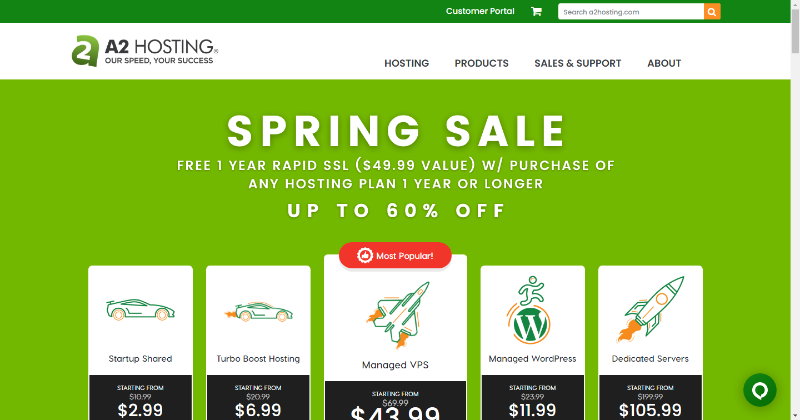 A2 hosting offers very attractive plans. The basic plan is suitable for a single site. Furthermore, you can easily upgrade to other, equally cost-effective with all A2 plans to get more resources and additional sites.
There are Turbo Max and Turbo Boost plans that are ideal for increased performance. These plans enable you to manage over nine times more traffic with A2 turbo servers while increasing your site speed to over 20 times!
The managed hosting plan starts from $2.99 per month with a three-year commitment. The three bigger plans offer unlimited websites except for the startup plan that offers only 1 website. The Drive plan includes unlimited SSD storage while Turbo Max and Turbo Drive provide free NVMe Storage.Above all, each of the four A2 WordPress hosting plans provide you with a money-back guarantee.
Online Reputation
The overall ratings of A2 Hosting in online reviews are 7.7 out of 10.
---

Free Automated Migration
WP Web Builder
Unmetered Bandwidth
See Pros & Cons
Pros
Free domain
The panel is easy to use
Customer Service
Cons
Emails aren't free with cheap plans
Only US datacenters
For years, DreamHost has been known as an easy web hosting solution. It provides you with a free SSD, unlimited bandwidth, unlimited space, and automatic updates for WordPress. Equally importantly, a 1-click installation of WordPress plus a custom dashboard.
DreamHost is also an officially recommended WordPress hosting provider. However, unlike BlueHost and SiteGround, DreamHost offers month-to-month rates that are highly competitive.
DreamHost also includes a free domain name in the first year, which allows you to immediately save more money. It also ensures domain privacy in the same package.
In addition, Dreamhost offers web hosting that is secure and fast. They guarantee users a high-quality search and visiting experience. Promotional domains and hosting offers are also present for new customers and account registrations.
DreamHost is super easy to use, offering all the available features of web hosting. Its a reliable and fast tool, with a suite of features that lets you retain your ranking in search engines, execute conversion, and recruit new customers.
Its WordPress hosting offers optimized, preconfigured, and enhanced performance maintenance. DreamHost also offers free domain names along with email hosting and SSD storage for a webpage. DreamHost for WordPress hosting is integrated with Virtual Private Servers which provide Node.js, Nginx, IPv6, Ubuntu, and HTTP/2 flexibility.
Performance (Uptime & Page Speed)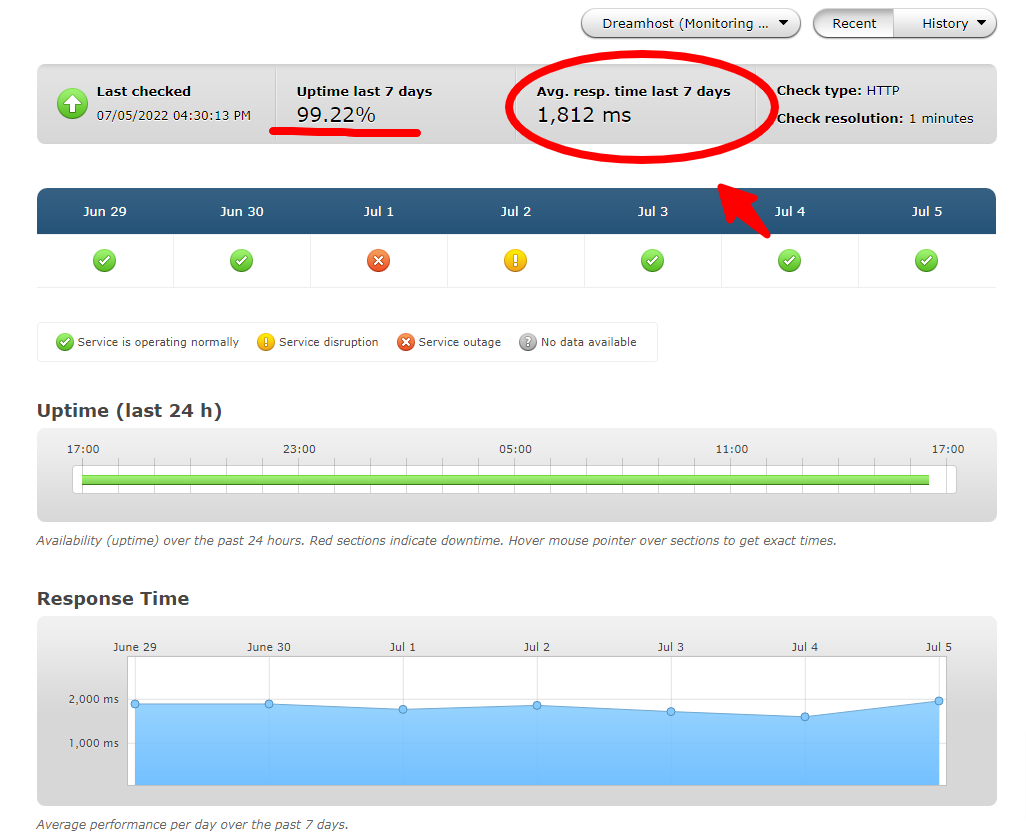 However, DreamHost provides quite a lower uptime by comparison, at 99.66. Conversely, its average uptime is 99.99%. The loading time of DreamHost's web hosting server ranges from 1.8s to 3.17s in different parts of the world.
WordPress Installation
DreamHost's installation process is straightforward. For instance, it provides options for one-click installation in the backend. Furthermore, its interface also makes it simple to navigate across the required account types.
Customer Support
Customer support is possible via chat as well phone. Also, customer support representatives are quick to respond and resolve your issues.
Pricing and Plans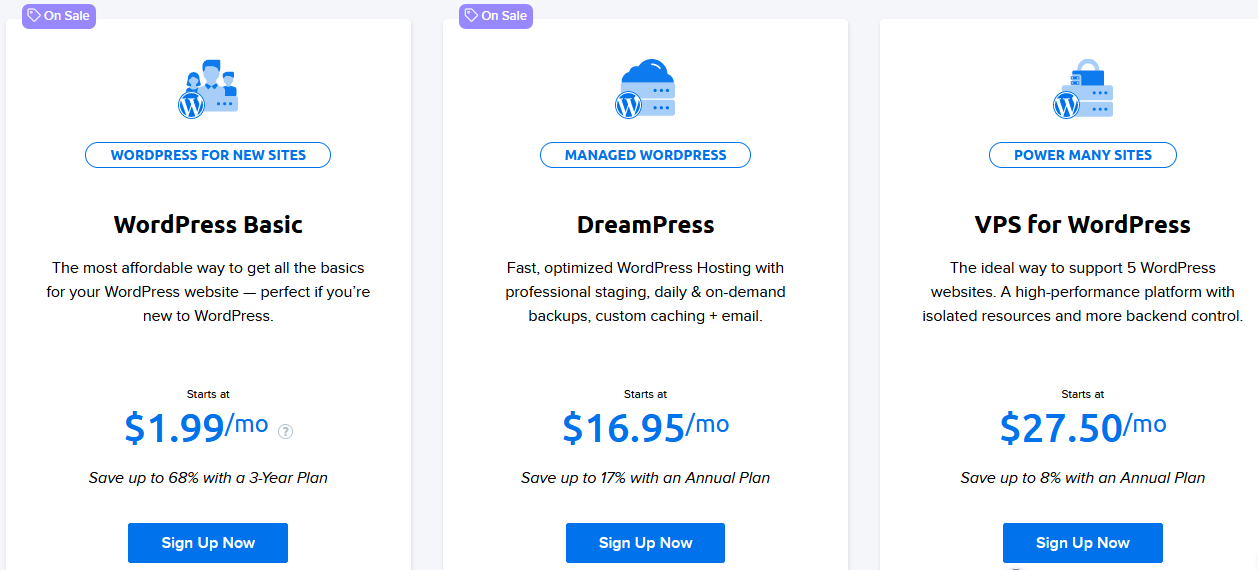 WordPress or simple website hosting starts at $2.59 per month. The cost of the .com domain is $6.99. The major advantage that DreamHost provides is its free migration offer for all WordPress websites. Above all, DreamHost gives a 97-day money-back guarantee, which is not offered by any other host.
DreamHost offers long contracts, on top of discounts on these contracts. The starter plan for a month costs $4.99. However, there is no long-term contract or commitment. In the first year, you get a free domain name. Moreover, the space and bandwidth you get at this price are unmetered.
The higher plans also offer custom caching, on-demand backups, optimized hosting, and professional staging etc.
Online Reputation
DreamHost is touted as being highly user-friendly. It is rated 4.4 out of 5 in the online reviews for the value of money it provides with regard to the features it offers.
---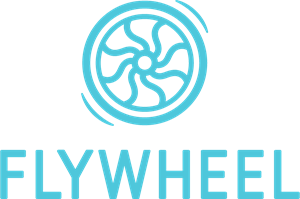 Cache and CDN
10 StudioPress Themes
Staging Sites
See Pros & Cons
Pros
Easy to manage WP
Workflow Tools
Different pricing plans
Cons
No Multisite Support
No Phone Support
1 site per account on cheap plans
Flywheel is a client-focused, managed WordPress hosting site. It is a tool thoughtfully created to help manage your websites while freeing you focus on the growth of your business.
It offers users, especially the less tech-savvy and more business-oriented, an effortless hosting experience. So you don't have to worry about the technical issues with your websites. Flywheel's intuitive dashboard allows customers to easily manages their sites, and cooperates with you to grow your business.
The most important features that Flywheel offers include easy management of websites —they are typically judged number #1 in this regard— collaboration with clients, bills transfer, the ability to restore and run nightly backups, update DNS services, and add free SSL.
With Flywheel, you get an all-in-one solution for freelancers and agencies. Its Growth Suite provides you with the features that allow you to predictably and quickly grow. In this regard, it offers features such as agency-branded client experience, Google Analytics integration for client reports, one-time and recurring invoicing, and growth dashboard and client management tools.
With a single login, Flywheel allows you to access all your sites. Also, SFTP is highly simplified in Flywheel, which keeps your data extra safe and secure.
As a platform, Flywheel is highly focused on WordPress. Everything it does is extremely professional and it has a knowledgeable support team.
Performance (Uptime & Page Speed)

Flywheel provides you with very impressive load times. This feature is backed by the Google Cloud Platform. So, you don't need any further configuration with any external or third-party plugin. Its built-in tool further assists in boosting the speed for teams as well as solo creators.
Flywheel's loading time varies from 0.12s to 0.15s in different parts of the world. However, with an average uptime of 99.99, no downtime has been reported.
WordPress Installation
With Flywheel, WordPress installation is a literally as easy as a piece of cake! Several options exist to make it even easier to install WordPress. Site migration from your previous host, which is typically a primary step for most users, is free with Flywheel.
Freewheel also lets you create a new site from the dashboard with only a couple of clicks.
Also, the Local by Flywheel tool makes website creation easy on all types of devices. After building your website, you can easily export it to your Flywheel setup.
Customer Support
Flywheel makes customer support available 24/7 through Live Chat. You can also submit tickets at any time. Since Flywheel only offers WordPress services, this focus enables them to be highly knowledgeable about WordPress.
This extensive knowledge base allows them to make things even easier for users. Moreover, Flywheel has extensive documentation with helpful articles to help you excel on its WordPress hosting platform.
Pricing and Plans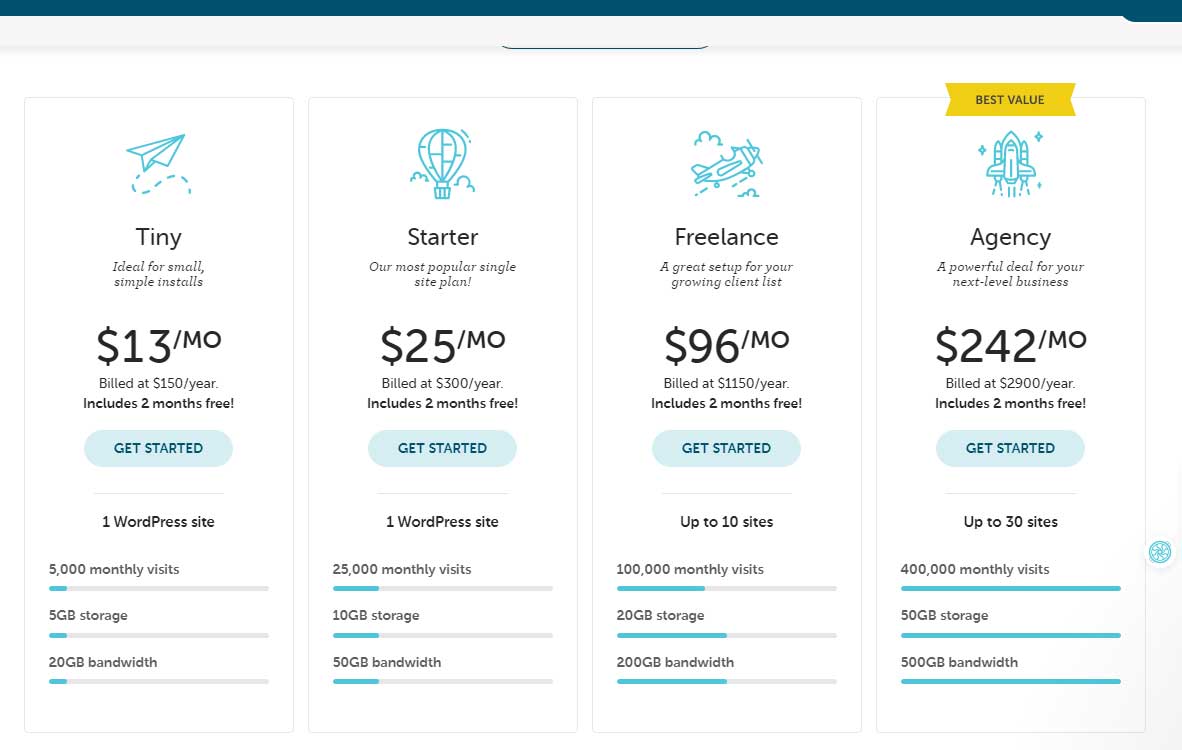 The four pricing tier plans are available, starting from $13 per month. A one-year subscription with its Tiny plan will cost you $135. This plan gives you 20GB bandwidth, 2 GB disk and 5000 monthly visits.
Flywheel's Starter plan costs $23 per month, with a total costs of $270 for a year's worth subscription. This upgraded plan provides more bandwidth, more disk space, as well as an increase in monthly visits.
All Flywheel's plans offer a 3 month trial period. They also provide custom-built plans that offer all kinds of WordPress requirements and tailored-made sites. This is especially helpful for those building mission-critical projects with unique requirements or juggling a huge workload of 100+ websites.
Online Reputation
Online review shows that in terms of pricing, Flywheel is rated 4.7. With regard to other features such as ease of use, users rated it 4.5. The overall rating for Flywheel is 4.4 out of 5.
---

NVMe SSD
Fast DB queries
PHP OPCache
Starting from $3.99/month
GoDaddy is one of the most popular domain registrar and hosting companies that offers large scale WordPress services for businesses. It features a proprietorial control panel and VPS which makes it easy to use.
Moreover, GoDaddy offers regular malware scans and backups. All your files are stored in a cloud at the cost of a little fee. Even beginners feel it is easy to work with GoDaddy because of the inclusion of a drag and drop tool for page building.
As a result of these and more, GoDaddy provides you with all the requirements, including hosting features to build a professional-looking website.
GoDaddy offers a combination of related hosting services. It also combines the best hosting with excellent hosting service and support. It is an internet giant that offers the best of features among all its competitors.
For instance, GoDaddy offers reliable servers so you experience super fast speed, consequently enables you to provide excellent uptime for your customers.
You also get WHMCS and cPanel in your services. GoDaddy makes it very easy to set up a storefront, providing you with resell domains and hosting, margin setup, and company domain name at extra cost. It provides over-the-top services by giving you valuable extras; for example, integration with Microsoft Office 365.
There is a true white label that your client sees as your brand, from purchase to technical support. GoDaddy also avoids charging you for processing payments, making it easy for you to get your commissions, accurately track sales, and boost your revenue.
In addition to these, GoDaddy also offers automated voicing, place services, and reminders for non-payment. Moreover, you can accept payments on all processors in different currencies. Not only this, you can also fully customize configurable resources for your customers by using GoDaddy's custom hosting.
Performance (Uptime & Page Speed)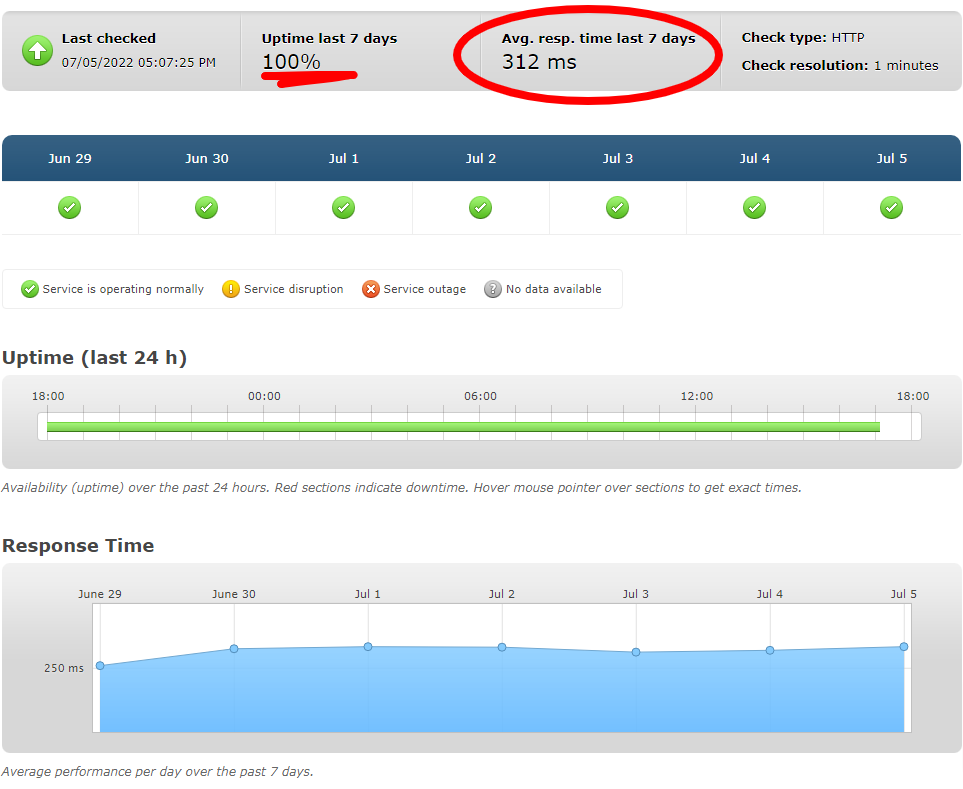 However, GoDaddy's uptime is bad, averaging about 96.86% uptime.
The loading time of the website is 0.312s to 2.2s for the websites operated in different parts of the world.
WordPress Installation
WordPress installation is very easy with GoDaddy because GoDaddy offers a built-in installer.
Customer Support
A comprehensive help centre is available for both chat and phone support. However, they do not offer support for temporary URLs.
On the other hand, the wait time for a GoDaddy's customer support response is excruciating, taking at least 40 minutes. But the support is good, professional and extremely friendly. The professionals are knowledgeable and assist you in making any kind of change to your account or subdomains.
Pricing and Plans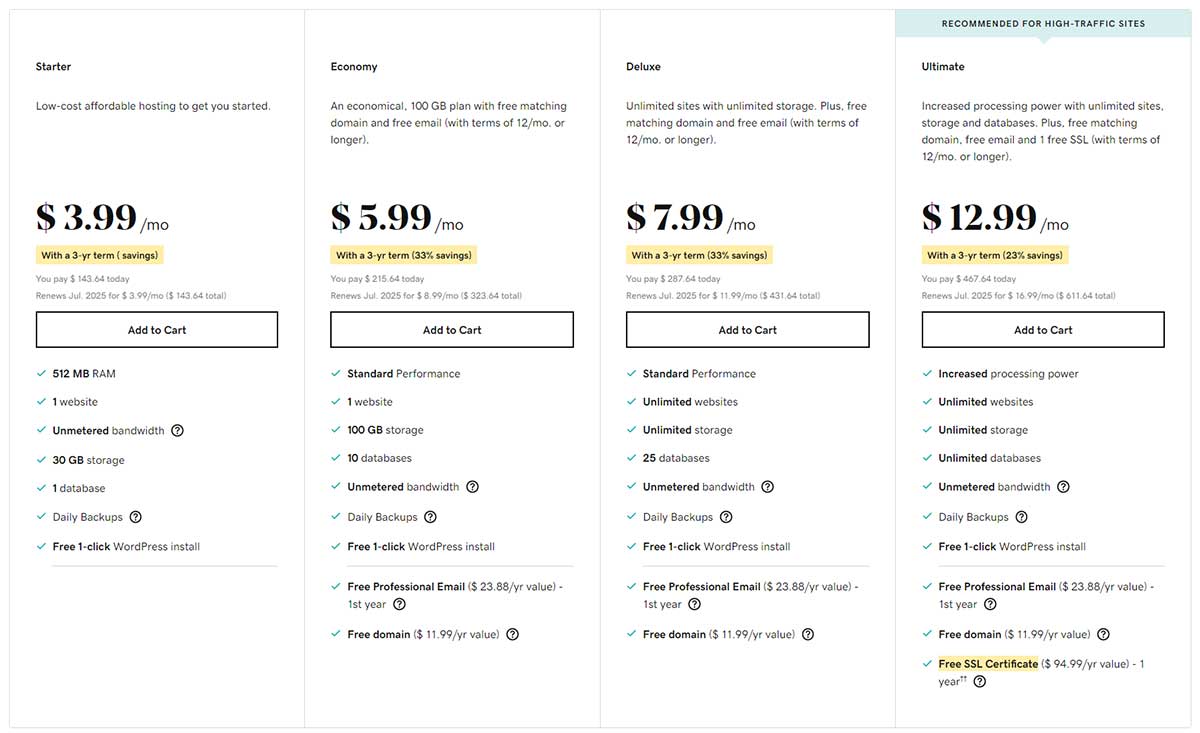 GoDaddy offers four different plans, from starter plans to big ones. Its launch plan lets you have 2 GB RAM and 50GB storage with unlimited databases and websites. It also provides an SSL certificate with each plan. The Expand plan is the highest and is suited for resource-hungry and photo-heavy sites, offering 8GB RAM and 150GB storage.
The initial plan package includes free emails and free domains for over 1000 addresses and unlimited storage. It is a fantastic plan with special features, including domain options and hosting plans.
First-time registration with GoDaddy is $3.99 per month while the renewal costs $18.17 per month. Transfer costs outside GoDaddy's server is $18.17. DNS is an add-on service although it isn't free —however, you can simply check or uncheck to include it according to your requirements.
Online Reputation
GoDaddy is one of the most popular web hosting providers in India, the second most popular in Pakistan, South Africa, Australia and Canada while it is the third most popular in the UK. Its overall online rating is 7.36 out of 10.
---

Automatic WordPress Updates
One-Click Staging Site
Image Lazy Loading
Starting from $13.3/month
See Pros & Cons
Pros
No Overage fee for traffic
24/7 Support
Migrations are free
Cons
No File Manager on Dashboard
Slow support response time
Nexcess is an excellent choice for WooCommerce hosting, particularly when it comes to growth and scaling. As a hosting solution under the Liquid Web umbrella, they offer a diverse range of WooCommerce hosting services to suit various needs and requirements.
Nexcess offers eCommerce services that are of particularly high quality for Orocrm, ExpressionEngine, Drupal, WooCommerce and BigCommerce and other eCommerce Platforms. It is also great for hosting Magento.
Several Nexcess features also separate and distinguish it from the other companies on this list, such as the Cloud Accelerator. This is a feature that affects the cloud to enhance the speed of the loading time for your website.
The Cloud Accelerator is a great benefit since everything these days depends on online speed, especially for customer browsing and positive user experience on websites.
Performance (Uptime & Page Speed)

It offers an uptime of 98.99 %. And the loading time is 1.1 seconds or less according to data centers.
WordPress Installation
Nexcess provides auto-installation for WordPress. All you need to do is provide installation details that typically include the name of your business. In addition, you can always transfer files using SFTP.
Customer Support
Nexcess' supporting team is highly dedicated to addressing your concerns regarding technical issues with hosting.
Most importantly, they don't cut corners when it comes to customer support. As a result, you can expect free white-glove site migrations, proactive monitoring, and 24/7 expert support.
Pricing and Plans
Nexcess offers numerous plans for all types of web hosting. The image below shows a glimpse of what they offer for their valued customers.

These plans have made Nexcess one of the best hosting companies for small businesses. The plans are different for different stages of your business growth.
If you are just starting your business, or already own an online eCommerce store, Nexcess should definitely be on your list of considerations. Last but not the least, Nexcess prices depend on the CMS platform you choose. However, its plans for WordPress websites cost $15.84 per month.
Online Reputation
Nexcess is rated 3.6 out of 5 in online reviews from the users.
---
6 Tips to Choose the Best WordPress Hosting
Follow these tips to find the best WordPress hosting service for your needs.
Page Speed and Server Uptime: Choose a host with high response rates and at least 99.9% uptime guarantees to ensure a positive user experience and reduce abandoned site visits.
WordPress Installation Process: Consider the ease of WordPress installation. Opt for hosts with pre-installed WordPress or easy-to-use installers like Softaculous in cPanel.
Features and Resources: Look for hosts offering essential features and resources like ample storage, free SSL, and CDN to match your website needs and performance levels.
Security: Choose a host that prioritizes security with free backups, protection against harmful IP addresses, and brute force attack prevention.
Pricing: Select a host within your budget, such as Hostinger for small businesses or Kinsta for premium managed WordPress hosting.
Customer Support: Ensure a host offers reliable customer support, including email and knowledge base, with live chat and phone support as additional benefits.
WordPress Hosting FAQs
Why should I choose WordPress hosting?
You should choose WordPress hosting because of the straightforward steps to installing and designing a functional website. Once you have it installed, all you have to do is throw in a theme and a few plugins, and you're ready to go. Secondly, WordPress performs automatic backups. Moreover, you can easily change design elements later on after launching your site.
Why are WordPress hosting plans more expensive?
WordPress hosting plans are more expensive than shared hosting because WordPress hosting accounts come preinstalled with features tailor-made for WordPress sites. Some hosts even offer managed WordPress hosting where you don't worry about updates and security.
Why should I avoid free WordPress hosting?
Avoid free WordPress hosting plans because companies that offer those don't invest in providing their users with a great customer experience. Free WordPress sites usually suffer from slow load speeds, high downtimes, and terrible security.
Who wins the battle?
All these providers offer a wide range of advanced hosting option features for those who need above-entry-level packages.
Essentially, there are two routes or standards to follow in evaluating your best hosting choice:
Choose high-profile providers that possess the most advanced options.
Use a general or overall reference point for comparing all the hosting services.
In essence, the ranking of these hosts will depend upon your peculiar business requirements or need. Therefore, we urge you to have a look at our recap of the above-mentioned hosting providers to determine what suits you best.
Now, what do you choose for your WordPress hosting?
Our latest recommendation is Bluehost—The Best for New WordPress Sites.
More articles about WordPress hosting:
More articles about WordPress websites:

Ludjon, who co-founded Codeless, possesses a deep passion for technology and the web. With over a decade of experience in constructing websites and developing widely-used WordPress themes, Ludjon has established himself as an accomplished expert in the field.