When talking about classified WordPress themes, it may seem a little bit hard to find something simple, innovative and flexible. One of the biggest place you can stop and see is Craigslist, but viewing it you may think that is 'old fashioned'.
Although a classified theme should be like mentioned before, but diversity is always a good think if you are planning to stand out above any other random site.
That's why we put together a list of the best themes, so that you will have something in mind when choosing a classified theme. Enjoy!
1. Handel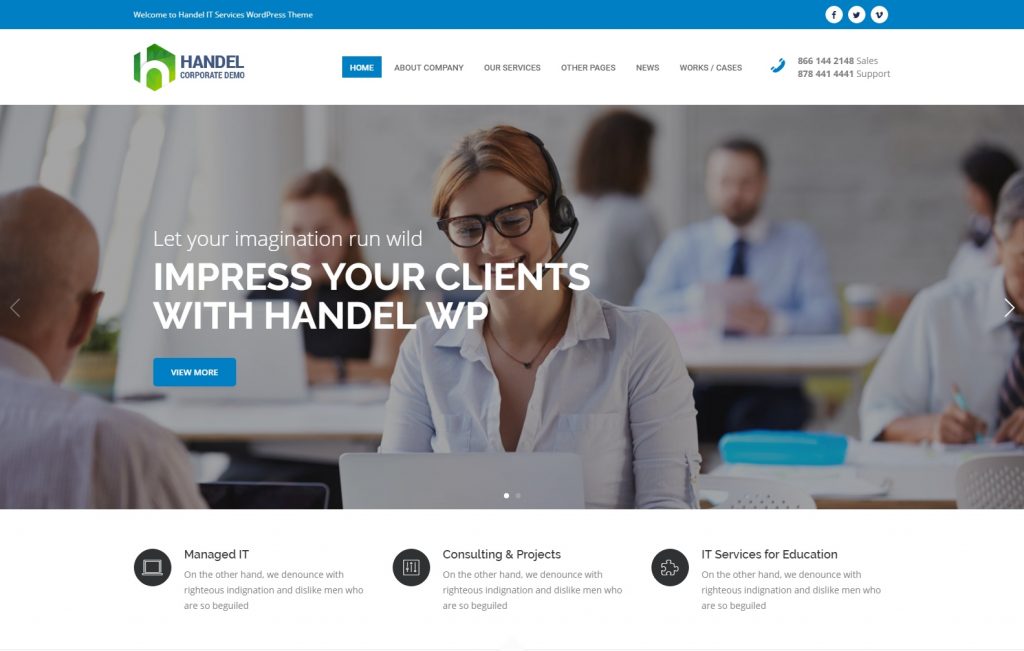 Handel WordPress Theme is build with Codeless Builder and Codeless Framework. It offers some unique features such as Inline Text Edition, Edit Portfolio items in real-time, live changes, only click and edit in real-time. Handel is created for Consulting (Consultants) websites, from small to large corporates, construction renovation or other engineering companies, transport, logistic, lawyer or law firm, finance and accounting companies or single accountants. Handel is another theme created with the New Codeless Builder, that will leave you the impression of creating a website as easy as using photoshop!
Some Features/Plugins : draggable elements and spaces, inline text edit, live changes, page to page communication, predefined elements and content blocks, team collaboration builder, live header builder, live layout changes, gravity forms, tablepress, woocommerce, mailchimp, WP charts and Graphs Lite, shortcut accessibility, team collaboration, boosted performance, CSS3 animations, unsplash integrated, side area style.
New Features : Apple Live Photo, gradients overlay backgrounds, justify galleries, photo filters inspired by instagram, background new blending options, blog post images news.
2. Classiera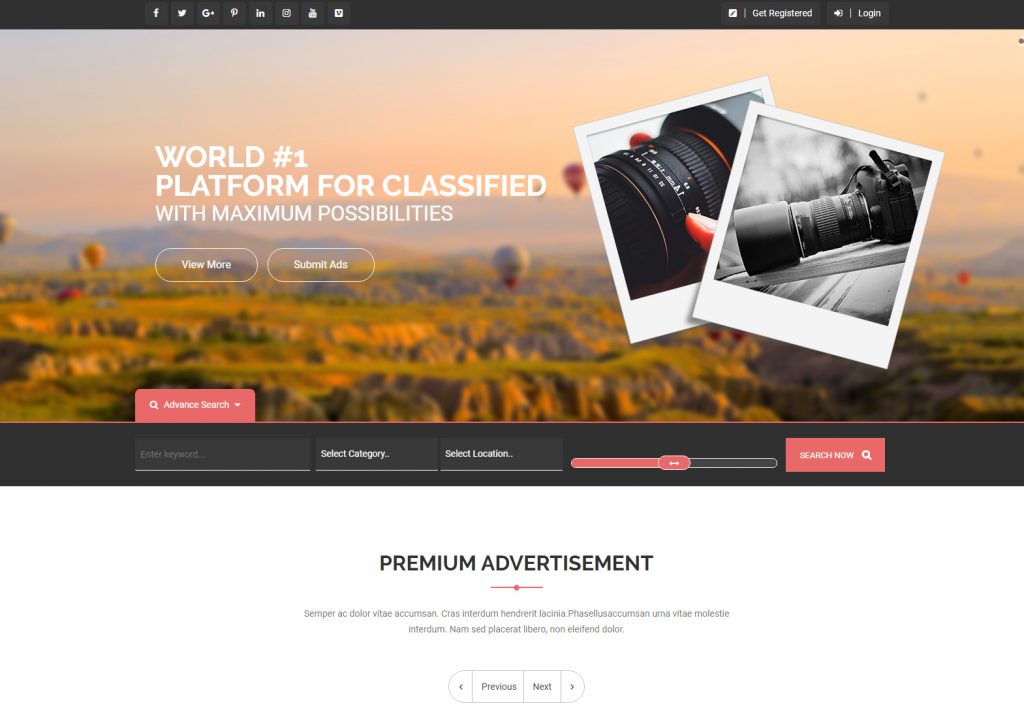 Classiera is the perfect classified directory, work board, everyday offers, genuine estate as well as other personalized theme. It has a visual composer that permits you to develop unlimited pages. Take advantage of its white room, typography and also icongraphy to create a reliable on the internet visibility for business. It is completely incorporated with Google Maps and uses Geo Location assistance to assist individual instantly locate the address of a business provided on the classified ads.
Some Features/Plugins : blog tempates, google maps, layer slider, category custom field, search bar, ads, free ads posting limit, paypal, SEO, WPML, cross browser support.
3. Classifieds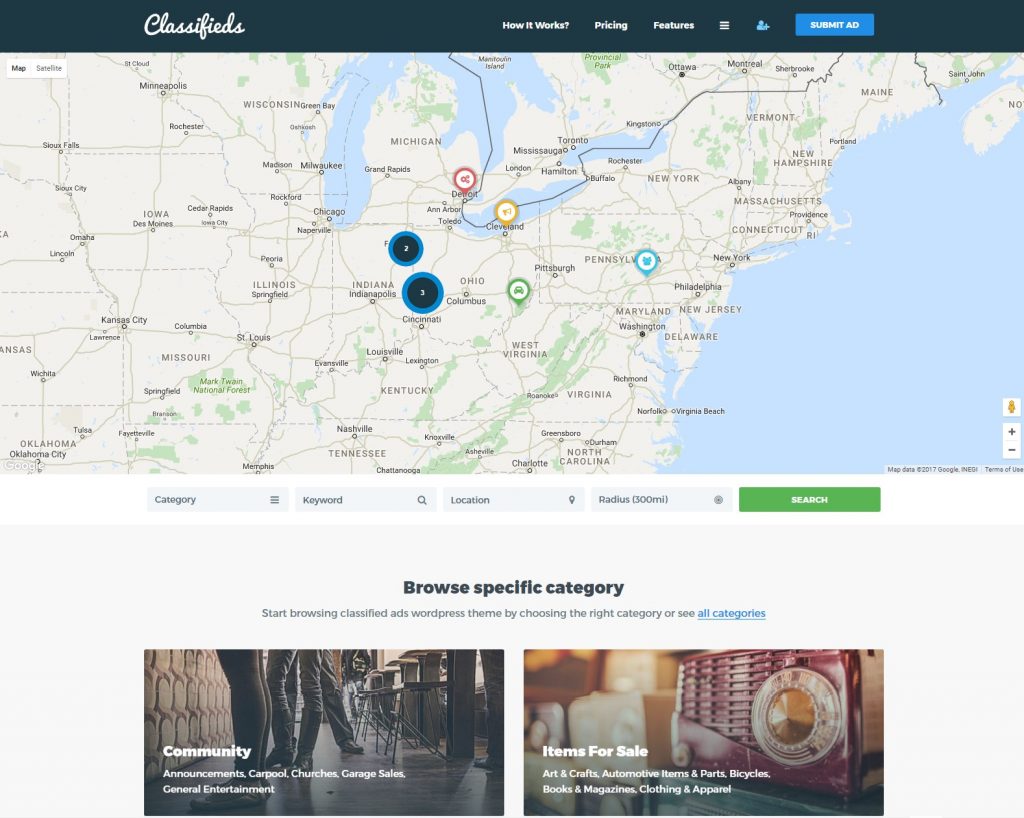 This is an excellent WordPress theme that offers a structured, timeless, and also simplistic design. It has a simple to utilize Front End Providing Entry as well as allows you to develop Membership Strategies in your classified ads internet site. This is also a business design template that is aid full for on-line presence for Corporate Service and also Financial Firms.
Some Features/Plugins : paypal, show related listings, listing ratings, google maps, SEO, translation ready, unlimited colors.
4. Classify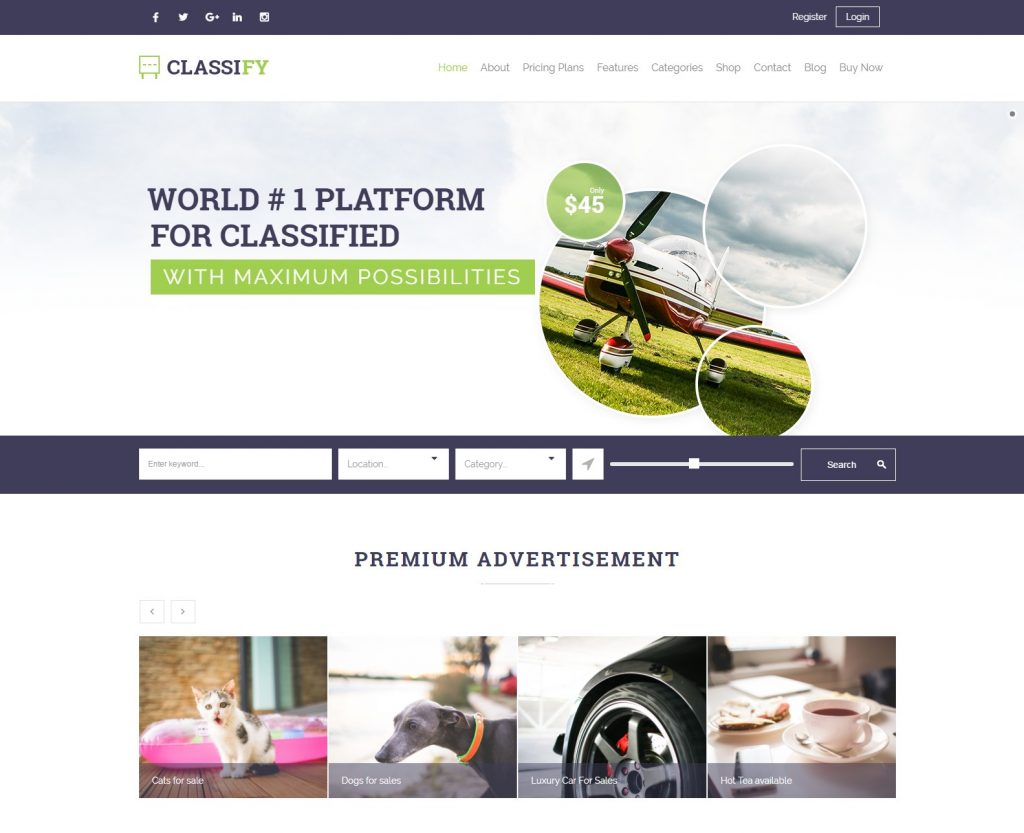 Though this theme is largely developed for ads classify, you can likewise use this theme for producing a web site listing for multipurpose businesses. The listing entry process, making it easier for your customers to include their classified adverts to the site. Classify also provides you the adaptability to produce imaginative screen in each page, portfolio or blog. Its personalized complete screen history image at the homepage assistance local business owner creates a good impression to their visitors. It has a very easy to make use of Front End Listing Submission as well as permits you to develop Membership Plans in your classified ads site.
Some Features/Plugins : bbPress, custom fields, layer slider, google maps, SEO, typoghraphy focused, woocommerce, paypal, video ads, front end submission, WPML.
5. WordPress Classified Ads Theme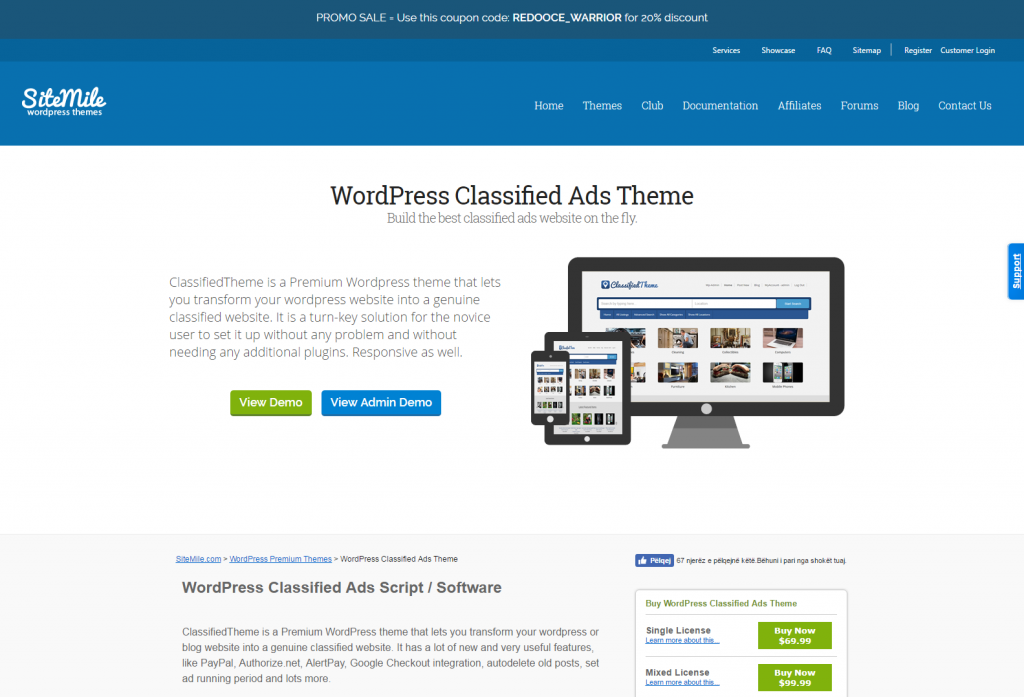 With Classified Ads, many thanks to the Google Maps integration, you can even sort your listings by place, with pens on a map being used to share to site visitors where each provided thing is located. With this terrific theme you can create a tastefully created Classified Ads Theme. This theme is a complete and also extensively developed specialist quality website building toolkit, an impressively flexible collection of powerful as well as polished design templates, plugins, shortcodes, features and also demo sites made specifically to enable organisation as well as company web designers from any kind of history, to easily built a perfect website.
Some Features/Plugins : easily monetized, ads posting, browsing ads, payments gateways, translation support, SEO, engine settings, extensions.
6. ClassifiedEngine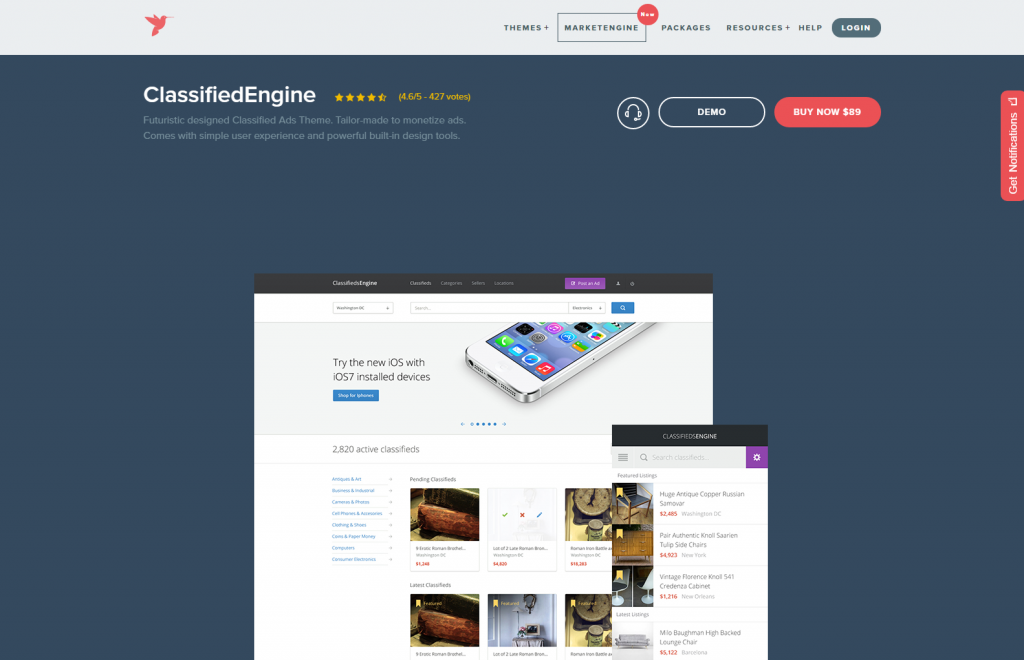 ClassifiedEngine enables vendors to control the listings, handle their profile as well as choose the call information to display openly. Custom fields obtain half map filters, search widget or search shortcode. This theme uses full administration of settlements using paypal. It is fit to creative sites like designers as well as photo studios and organisations as well as freelancers to showcase their job. It is totally integrated with Google Maps as well as supplies Geo Location support to assist user quickly find the address of a business listed on the classified ads.
Some Features/Plugins : classified ad post, responsive design, google support, paypal email notifications, custom fields, payment gateways, twitter integration, user in total control.
7. Search & Go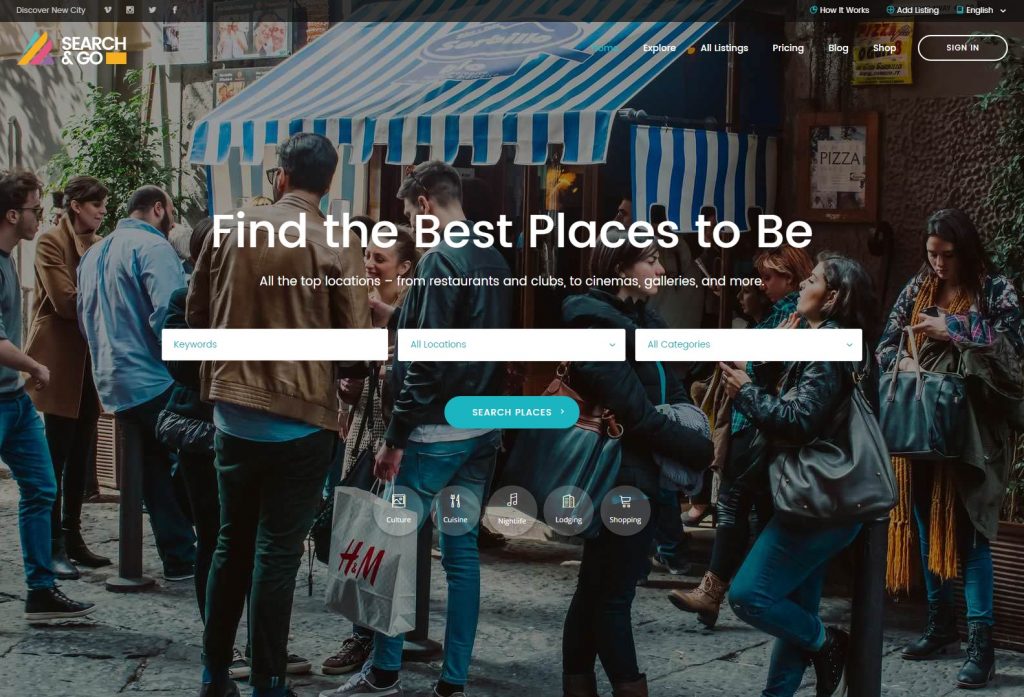 Search & Go is an extremely attractive modern and expert directory theme. The abundant snippet support incorporated in this theme not only enhances your directory website's Search Engine Optimization rankings yet it also allows it acquire greater click through rates. Be it tablets or smartphones, your web pages will always excite visitors. It packs all the essential attributes to end up being also the next large point in Real Estate industry.
Some Features/Plugins : advanced search, google maps, user dashboard, wishlist, claim listings, add specifications, pricing packages, listing search shortcode, reservations, paypal, show related listings, listing ratings, booking, parallax, uncovering footer effect, SEO, child theme.
8. Point Finder
It's time to set up the setups of the site to ensure your directory works in the manner in which you desire. Point Finder theme's flat design and also parallax layout attributes is extremely pleasing to the eyes of anyone that sees your real estate/directory website. With this theme you can develop online directory website for companies, stores, internet sites, auto dealership, tasks or anything else. Eastend includes great features any kind of agent or buyer will certainly love including Google maps combination, limitless profiles & galleries, advanced real estate search and much more.
Some Features/Plugins : paypal and stripe, pay per post system, membership system, review system, multiple payment gateways, listing system, customizable points, ajax features, paypal recurring and direct payments, order tracking system, reCaptcha, child theme, RTL.
9. Lisfinity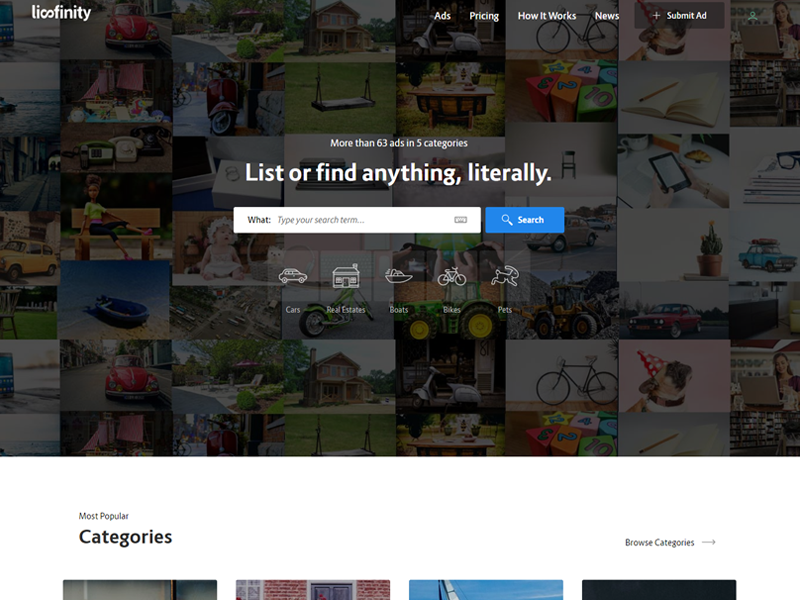 Lisfinity is a theme that goes perfectly with classified ads type of business. More than we illustrate, go and check the customer reviews. It is a fantastic theme that satisfies its customers. Lisfinity goes viral with its full-proof features, e.g., spectacular designs, the built-in home page, and other web pages, compatibility towards WooCommerce, and much more. With its drag and drop function, you can customize your website within minutes. Create a hustle-free and remarkable business website which is 100% customizable and quick using this theme. Go furious with Lisfinity and create your premium profiles today.
10. Classiads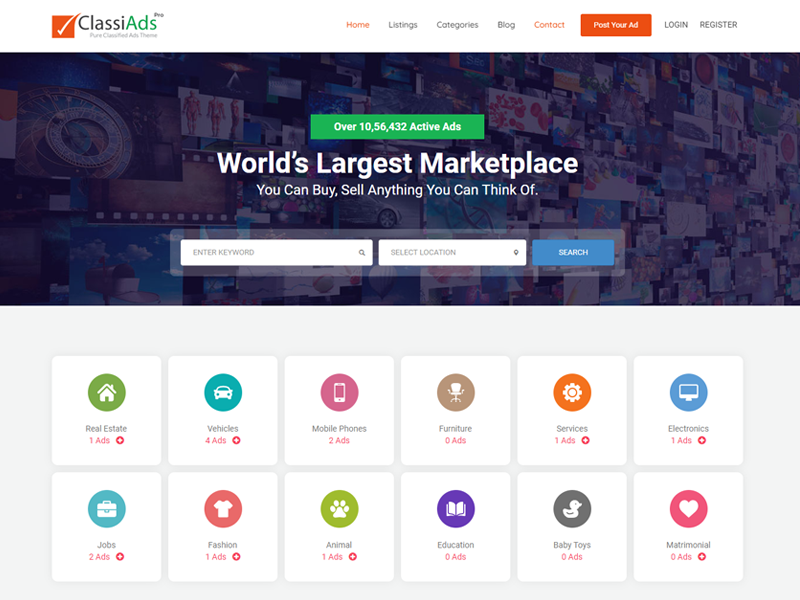 For a business that runs fundamentally on classified ads, this theme is a perfect choice. With a responsive design, and 100% secure payment methods, you can go no further than Classiads WordPress theme. It has a built-in page builder for your custom options, a drag, and drops functionality-rich with remarkable designs. It is a highly modern, clean, and contemporary theme designed to rule. Predominate your website while using its fully customizable header and footer options. Make your site look amazing with its integrated WooCommerce toolkit, seamless colors, and designs, visual composition, and seven navigation menus.
11. DirectoryS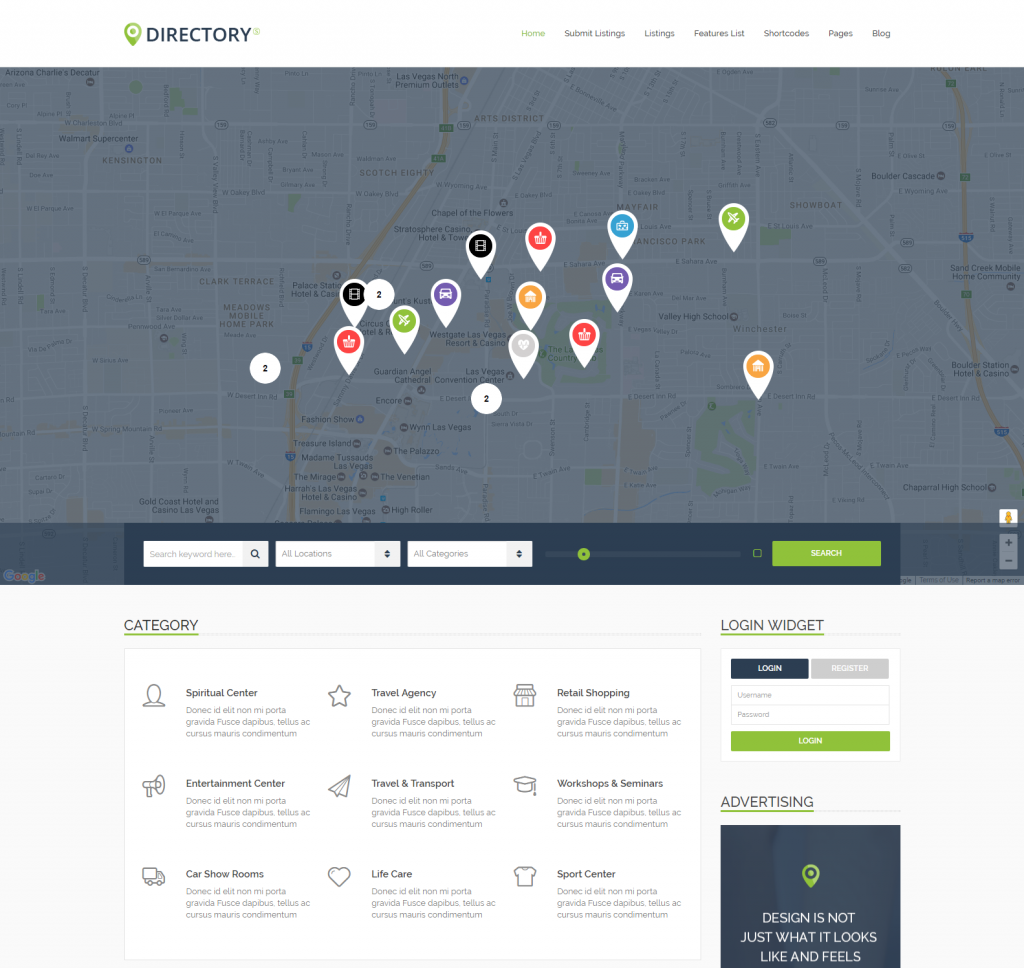 In order to allow you to build an useful work listings web site utilizing WordPress DirectoryS is the theme you want powering your business. You could utilize the public discussion directory to locate the kind of presentations you are wanting to produce yourself, and after that utilize them as either inspiration or demo templates that you could after that expand with your very own suggestions.
Some Features/Plugins : video tutorials, advanced google maps and filterings, paypal, ratings, geolocations, SEO, ads,reviews, WPML, PSD.
12. WorkScout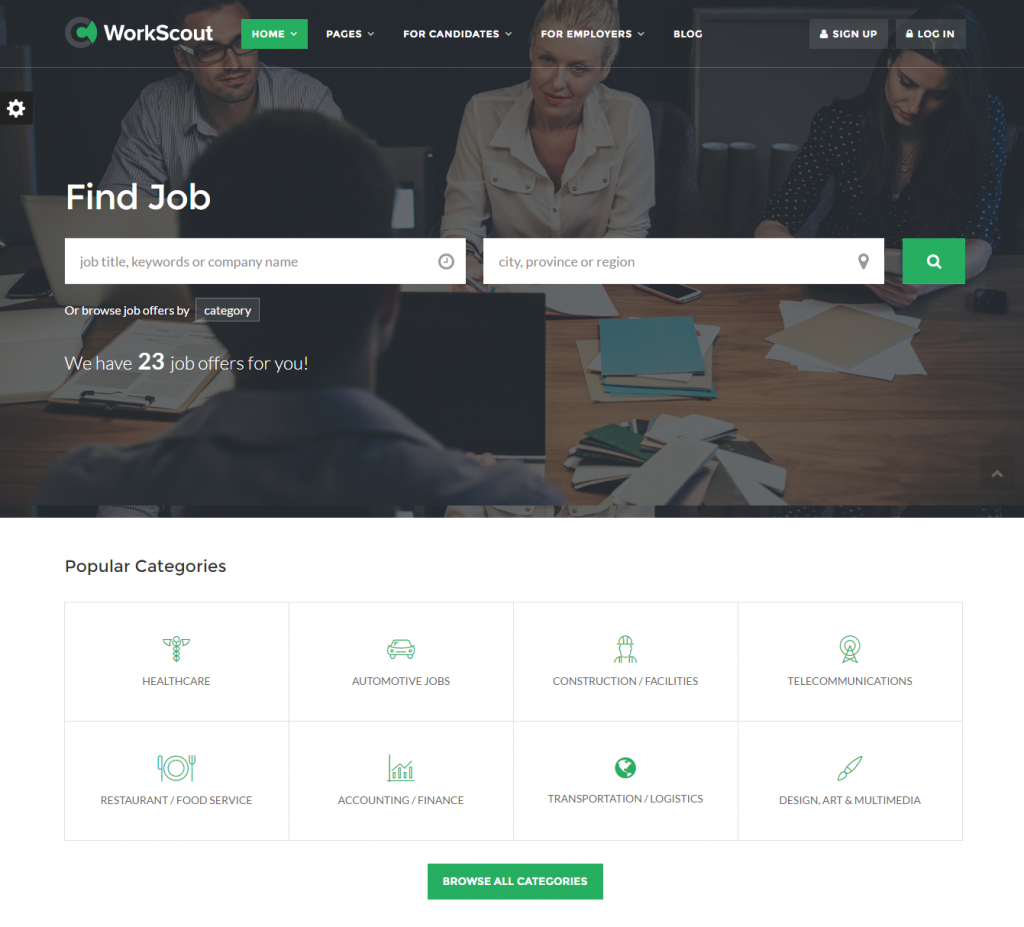 WorkScout is one of the best rated job board themes. With this theme you could quickly produce, handle and gain from your very own tasks site. It has every little thing you anticipate in a totally functional job board like front-end entries, automated repayments, various web page and also email design templates, Google Maps integration and loads of various other valuable functions. It features completely practical and also extremely adjustable job portal. The framework and organisation of your directory site, in addition to the components of the specific listings are all very customisable, thanks to the use of the powerful admin panel.
Some Features/Plugins : includes resume manager, job alert, bookmarks, woocommerce paid listings plugins, advanced filters for job listings, application deadline, application management, google maps, SEO.
13. Jobify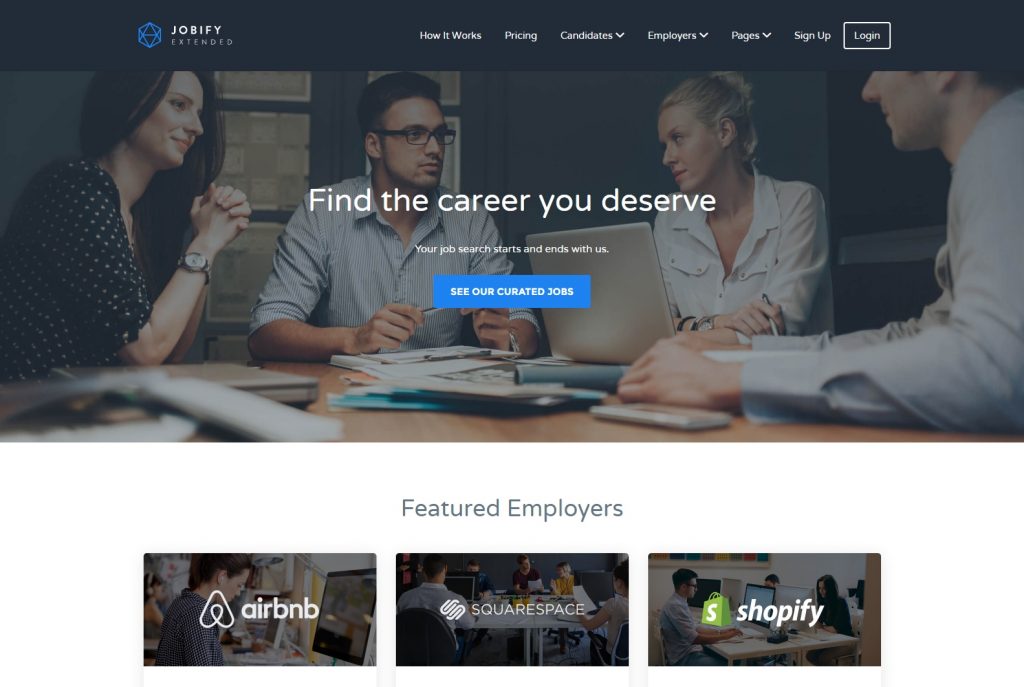 Jobify is one of the most selling and popular job, listing, corporate worpress themes on the market. It is powered by dependable HTML5 components as well as CSS3 scripting provided, making it inherently responsive and cross suitable across the board. Jobify includes residential properties, a functioning contact form as well as other theme features that permit agents to manage their listing. You can also establish your job board to approve manual payments. You could use numerous plugins and also themes and also setup your job listing effortlessly as well as always maintain it without any premium plugin installed and the site will always look awesome and functional.
Some Features/Plugins : ninja form three, woocommerce social login, location filtering, drag and drop, performance, includes WP job manager, gravity forms, apply with xing, indeed integration plugins, live search, charge fee for job listings and monitor submissions.
14. JobInn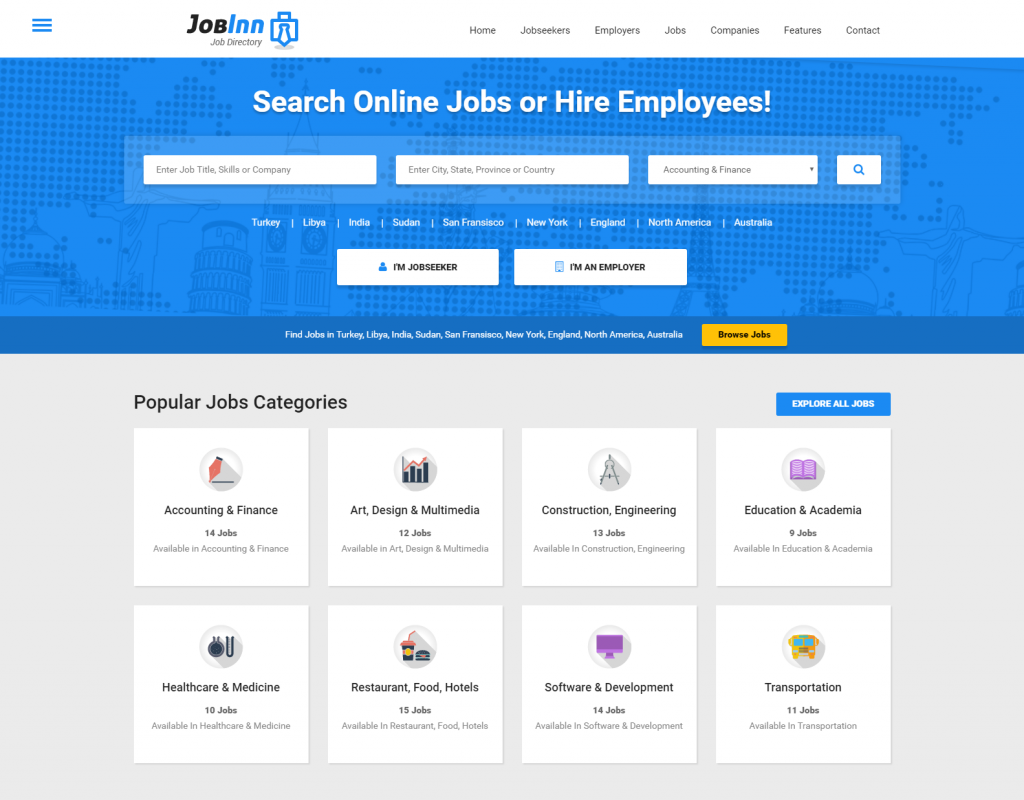 JobInn it is the ultimate, simple, clean theme for this type of websites. It enables every person to run a reliable job board in WordPress and it's one of the best job directory themes on the market, although is new. It is a content-driven job agenda theme. It allows you to administer categories and job listings from the accustomed WordPress UI. JobInn provides avant-garde search, front-end forms for job and resume submission. It comes with the complete affiliation of 'WP Job Manager' to administer its job agenda functionality.
Some Features/Plugins : Resume management, multiple elements styles, jobs according to region, companies job vacancy, multiple blog, resume price table , mail poet newsletter, live jobs filtering with types, multiple testimonials, cross browser compatibility.
15. Listify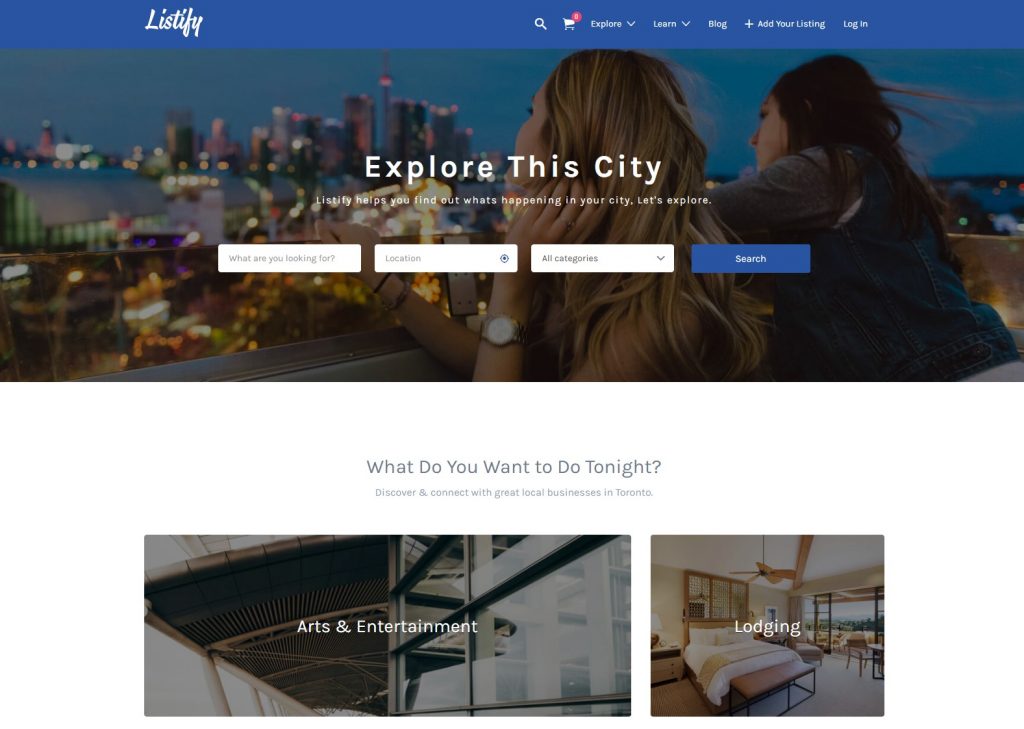 Along with its remarkable collection of directory details attributes, the Listify theme from has likewise been constructed to incorporate effortlessly with the WooCommerce store builder plugin. Advanced Visual Composer, it allow you to produce web page easily by drag and drop module. This theme fully supports the Yoast plugin for SEO as well as likewise integrates with Google Maps. It permits individuals to develop an excellent online marketplace that focuses on the internet listing portals, but it can be used even for multipurpose websites.
Some Features/Plugins : customize result cards, style kits, drag and drop, locate me feature, speed optimized, possibility to earn by claiming a listing and subscriptions, ads, paid site access, appointment booking, view listing, make reservations, facetWp, woocommerce : product vendors, booking extensions, payment gateway; gravity forms, ninja forms plugins, wp job manager plugins.

Ludjon, who co-founded Codeless, possesses a deep passion for technology and the web. With over a decade of experience in constructing websites and developing widely-used WordPress themes, Ludjon has established himself as an accomplished expert in the field.