Do you wish to build an outstanding web project for your organisation? Here are some of the best hassle free extranet and intranet WordPress theme designs for the promotion and collaboration of your company's project.
A more engaging website is only possible with a constant interaction with the customers from the start of the business. After analysing hundreds of WordPress themes, it is assessed that most of the themes are specifically designed for the web designing standards and trends.
However, that may create a doubt about the success of your company. Simply, pick a theme, and enjoy its real impact to target your potential customers with a WordPress theme.
For this, we have created a list of 15 best intranet WordPress themes that you can explore to benefit your company now!
1. Micro Office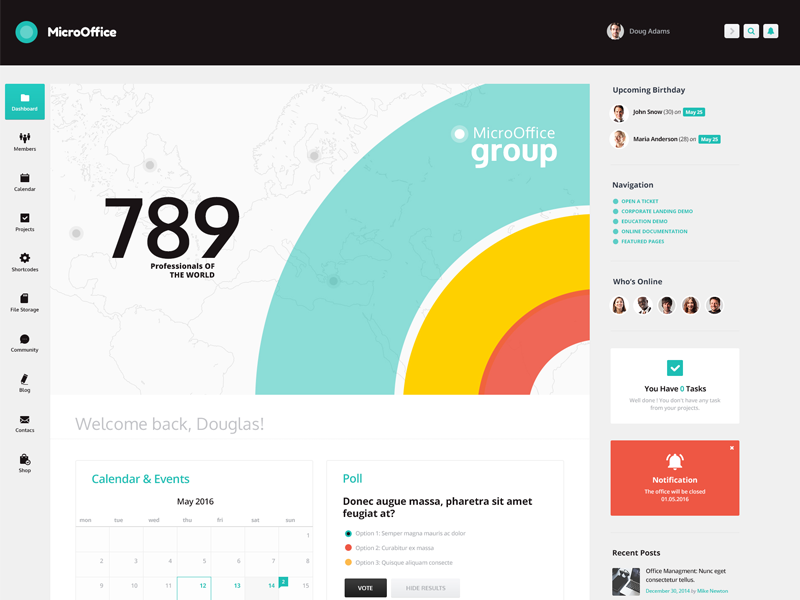 Micro Office is both an extranet and intranet WordPress theme that helps increasing the usability and performance. The theme is specifically built to enhance the communication within the organisation, agency or firm. In addition, it also provides a user-friendly and easy access to the entire corporate data.
It offers an outstanding dashboard feature where you can post business notification, widgets, news, corporate graphs and etc. easily. The theme is integrated with the BuddyPress Plugin that allows all your workers to develop a functional community, communicate with fun and ease and organise all your departments and groups.
Furthermore, the theme is highly equipped with featured tools that organise online courses for your employs. With the help of "polls" feature you can organise internal researches and polls to see results within groups.
Features:
Professional design
Customizable
One click demo import
Slider options
Gutenberg plugin compatibility
2. Thrive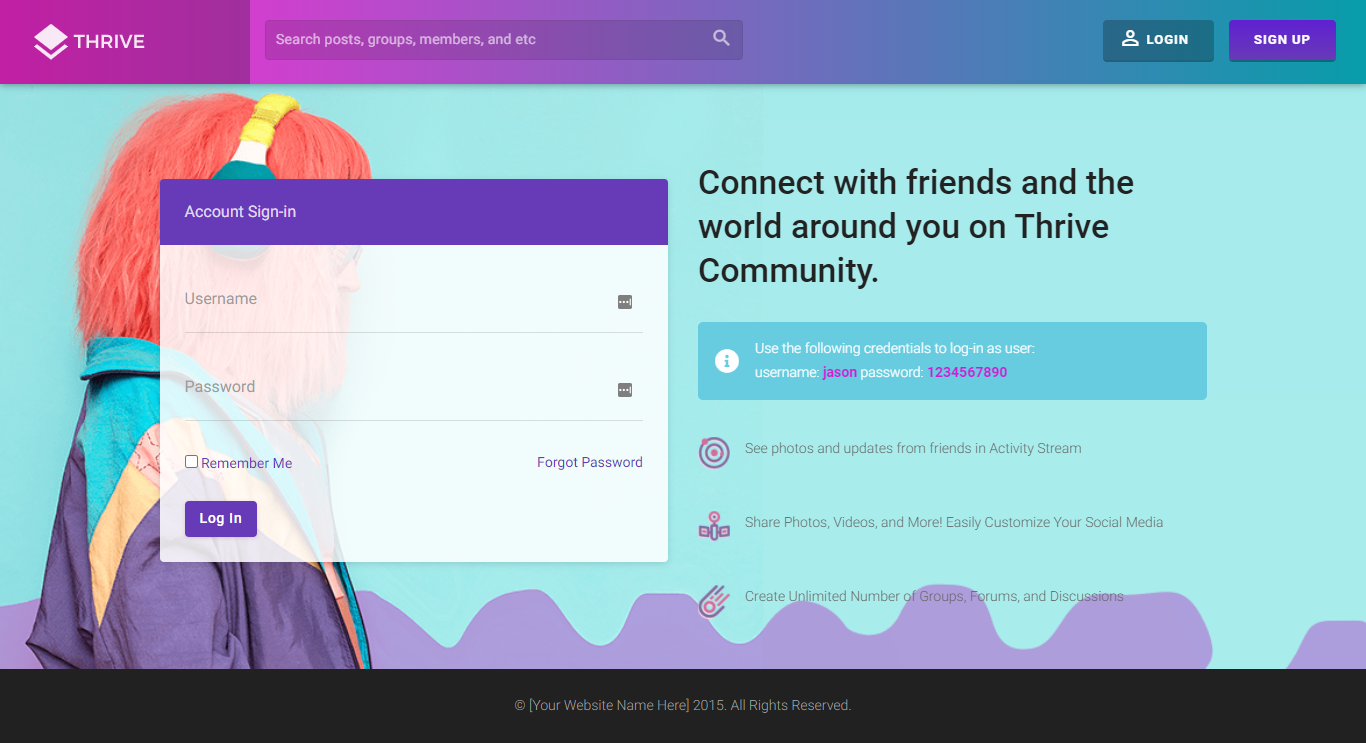 Thrive is among the leading community and Intranet WordPress theme throughout the world. This is assessed by 3,500 users and over 100+ 5 star reviews.
The theme is specifically designed as a base of collaborative community online that brings about events, task, project, forums and social networking managements through e-learning, e-commerce, and file sharing.
This theme is highly innovative and can be customized according to your requirements. Such that all the users can easily communicate, share files, events and messages and collaborate and edit in projects. In addition, Thrive offers a secure login and a private site option. It is complaint with GDPR to ensure a collaborative site.
Features:
BuddyPress integration for Staff Directory
Forms-HR
Polls for Surveying employees
Visual composer-drag and drop page builder
3. Woffice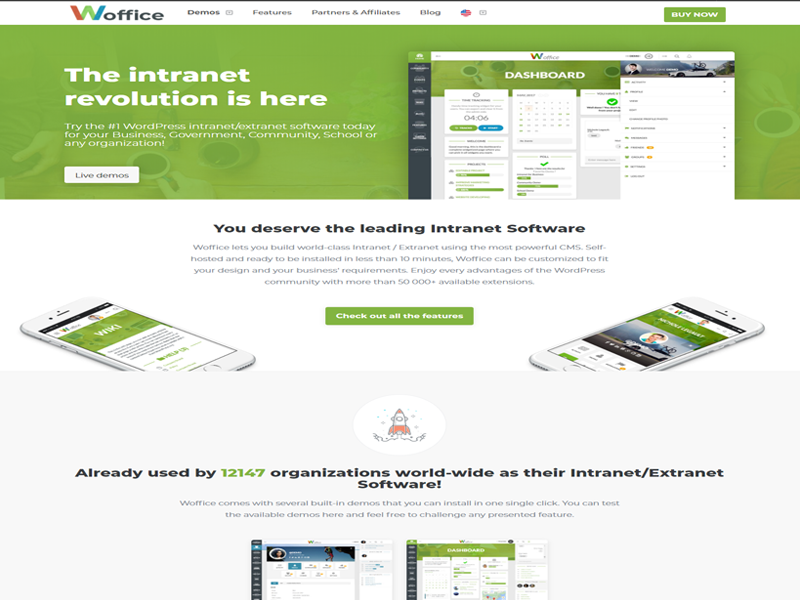 Woffice provides a constant flow of improvements and new features for your website. It helps developing the best solutions. It is a powerful, feature rich and multipurpose community and intranet WordPress theme. The theme is highly and easily customizable with a beautiful design. It is inspired by Google Material Design which gives it an easy to navigate and modern user interface.
In addition, Woffice is 100% adaptable to certain applications such as Community Network, School Networks, Government and Business Extranets/Intranets and Charities/Associations. Above all, the theme is translation ready and is translated in more than 15 languages. Further, it offers free online services. For example, articles, documentation, changelog and updater.
Features:
BuddyPress compatible
Highly customizalble
Poll, directory, cover image and user map extensions
Built in extension for Breadcrumb, maintenance and backup
Fully responsive
4. Cera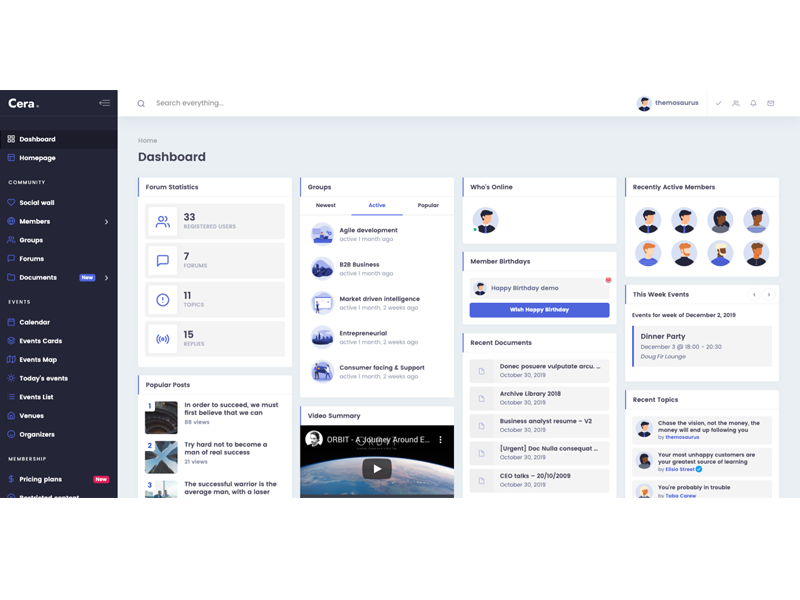 Cera is an intranet community WordPress theme that provides customization options for almost each and every feature of your website including blocks, buttons, spacing, fonts and colors. It also provides parallax sections, menus, galleries and video hero background. The website is highly SEO friendly and is easily built in a few clicks only.
The theme is translation ready and WPML compatible. Moreover, the theme is integrated with BuddyPress and includes customized widgets particularly added with direct implementation. All your users can easily upload media to their groups or profiles. Further, they can also create blog posts with admin moderation. The BBPress forums are redesigned in a beautiful way which help maintaining the post counts.
Features:
BBPress compatible
Easy to monetize
7 layouts for masonry grid, map, calendar and list view
Easy to monetize with WooCommerce compatibility
5. Alliance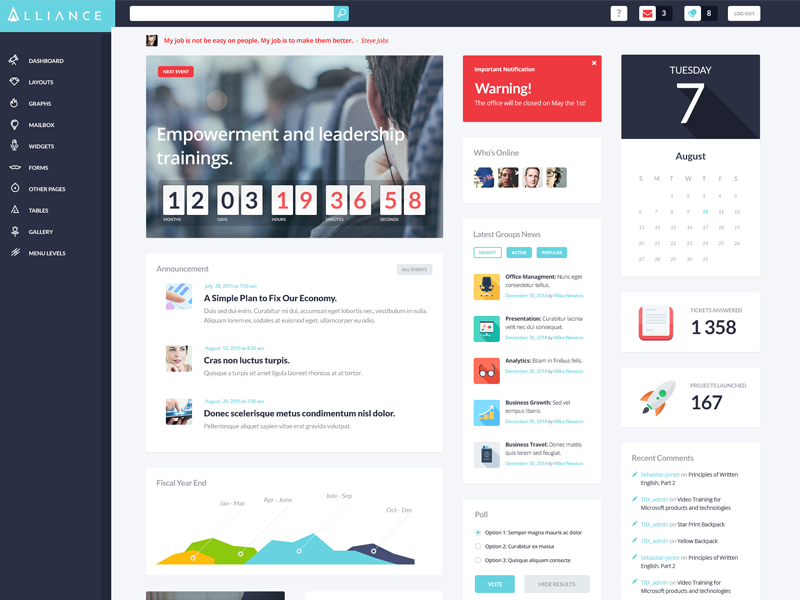 Alliance is a clean, fresh and modern extranet/intranet WordPress theme. It gives a boost to the usability and performance of your website. It is particularly built to increase communication within an agency, firm or a company. Moreover, it gives a more user-friendly, stylish and easy access to all the corporate information of your company.
It is GDPR ready which makes it more reliable in terms of data protection. The theme is integrated with BuddyPress plugin which helps connect your employs into a fully functional and organized community and departments. They can therefore communicate easily. Further, it makes the file, document, reports and other information sharing easier through BuddyDrive plugin.
Features:
User directory
Polls
GDPR compliance
Contact form
Stylish and user friendly
6. Beehive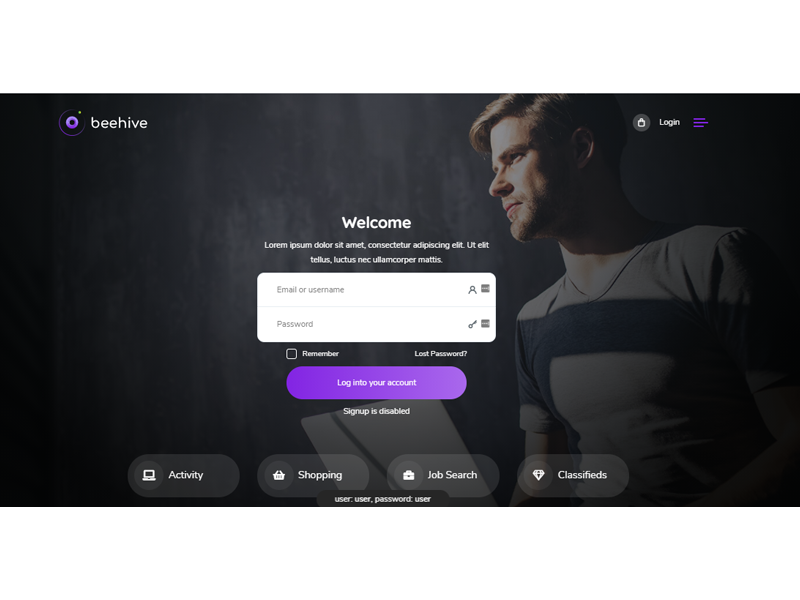 Beehive is an advanced budypress theme for social networking. However, it is widely and instantly used for intranet websites building because of its advanced features. It deploys social network to interact within a company. The theme is highly beginner friendly as it provides one click demo import and installation of plugins and themes.
Yet other features such as clean code is includes which has no error. There are multiple options for you to choose among the colours of your choice. All your workers can log into the website without redirecting to the WordPress login page using Ajax login form.
Features:
Ajax search and login form
Elementor page builder
Unlimited sidebars
One click demo import
WooCommerce ready
7. OneCommunity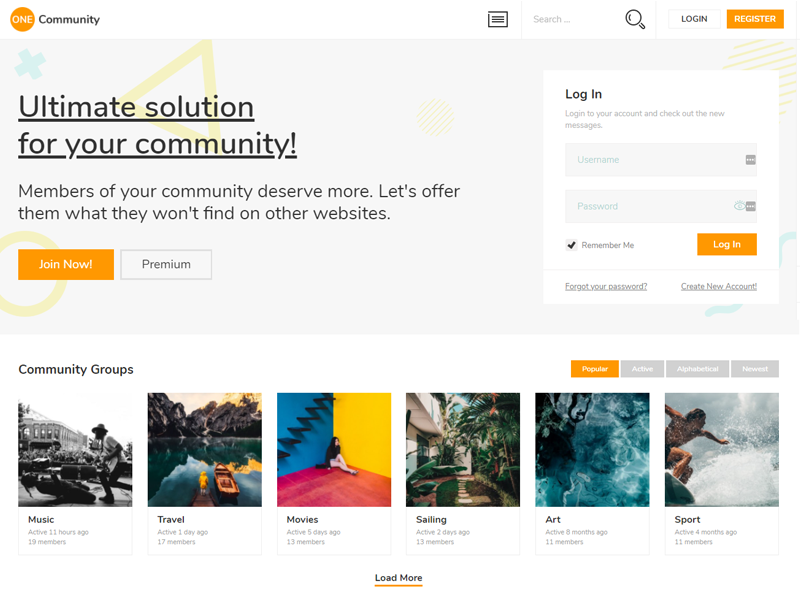 OneCommunity is a buddypress membership, intranet WordPress theme which provides solution to all kinds of communities. You employees can create their profiles, interact, communicate, and send private messages in groups.
This is why OneCommunity is widely used as intranet website theme. Moreover, it include intranet groups where it displays different content blocks for the guests (extranet) and members within the same community. There are pre-built front-pages that you can use with any other builder or without any page builder.
In addition, it provides easy and quick full content installation with the All-in-One WP migration. Above all it is fully integrated with bbPress and compatible with BuddyPress Forum Editor.
Features:
Compatible with BuddyPress Forum Editor
Night mode/ dark mode
40+ styled social pages
Integrated with bbPress
LearnPress integration
8. Cinematix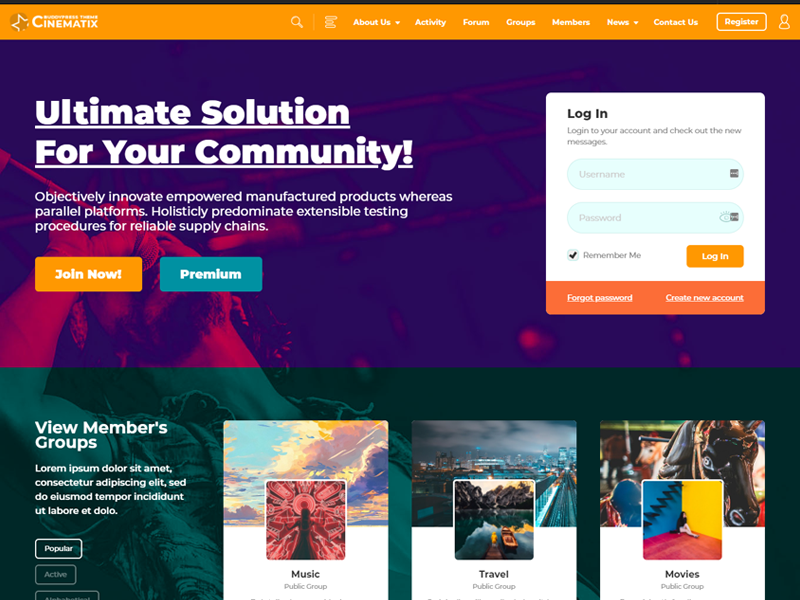 Cinematix is a BuddyPress Nouveau Membership Theme that is instantly used for as an intranet WordPress theme for companies. This is because it's prominent and advanced features of customization and notifications.
It provides live notifications which help the users to communicate effectively. There are like buttons, badges and achievements options. The theme works great with the Pro Plugin of Paid Membership. Moreover, it is integrated with Event Manager which help create functional communities among your employees.
In addition, the theme is highly compatible with WooCommerce where you can easily sell physical and digital products. Above all, it has a responsive layout and is thus adoptable to all kinds of screens.
Features:
bbPress integration
3-column layout
Built-in fragment cache
Intranet groups
100+ BuddyPress extensions
Integrated with Theme Customization API
9. BuddyApp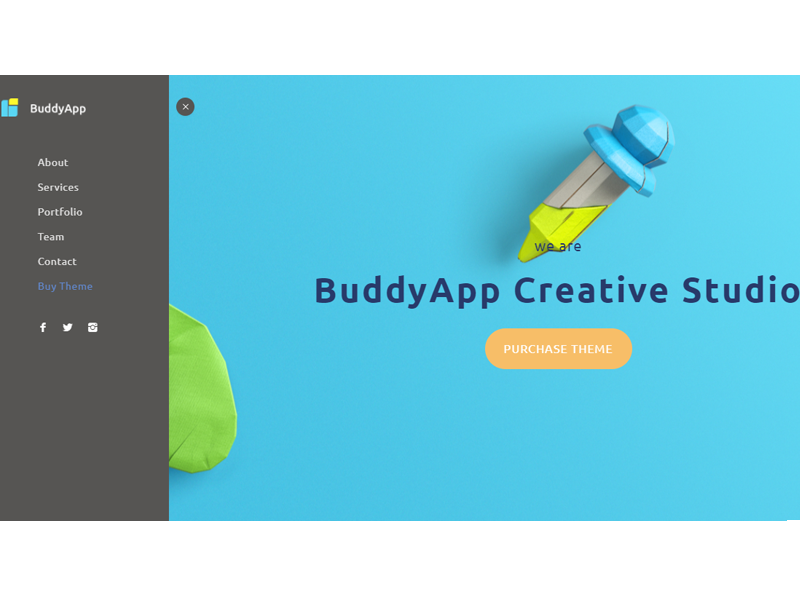 BuddyApp is a mobile first community WordPress theme. It is considered best for any kind of Extranet, Intranet, and public or private community website. It has a creative design. Moreover, it is built with Mobile first approach. BuddyApp is a theme which allows you create a website that stands out of the crowd.
It offers live site customizer through which you can easily customise and design you website according to your needs. It also shows previews of the customised options. The theme is fully mobile ready which gives great experience with mobile designs. Furthermore, you can choose from the unlimited colours to style your individual content body, sidemenu and header.
Features:
Retina ready
WooCommerce integrated
1-click demo import
Drag and drop page builder
10. Aardvark
Aardvark is a BuddyPress, Membership and community theme. It is an entirely a community focussed WordPress theme. This is why it is widely used as an intranet website for companies.
The theme is there to build a community, and provide online courses. It is a multipurpose theme. However, it is specifically used for creating communities and sell online products and courses. You can easily post updates, search profiles, upload media, and create groups using BuddyPress plugin. The theme is WooCommerce ready.
Therefore, you can sell anything you want by building an online store. You can also create a paid membership site using different yet popular payment method. Moreover, you can restrict the content using PMPro plugin.
Features:
BuddyPress and bbPress compatible
WooCommerce integration
Event Manager compatible
Elementor Plugin compatible
Sensei compatible
Ajax pagination and sorting of content
11. WildCommunity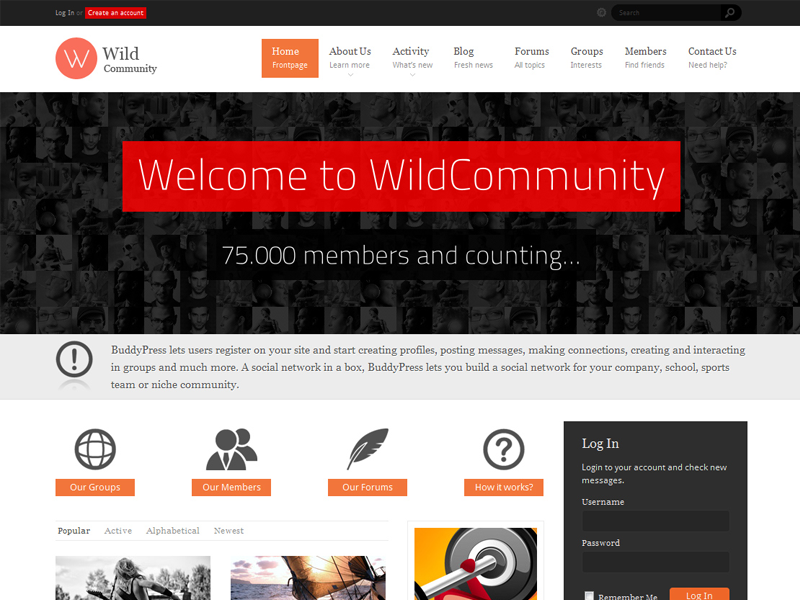 WildCommunity is a buddypress integrated theme that allows you to register your users. Then, you can easily create profiles, interact with the groups, make connections, and post messages. This is why it is also used as an intranet website theme.
In addition, with the help of BuddyPress, you can easily create social network for your sports team, school, company or niche. Moreover, the theme provides you multiple inner pages. For example, user panels, groups and forums.
It displays different content blocks for users as in intranet groups. Above all, it is highly suitable for beginners as it provides an easy and quick demo content installation with extensive documentation.
Features:
Fully integrated with bbPress
Integrated with Theme Customization API
Compatible with rtMedia
Compatible with Events Manager
Responsive layout
12. CommunityJunction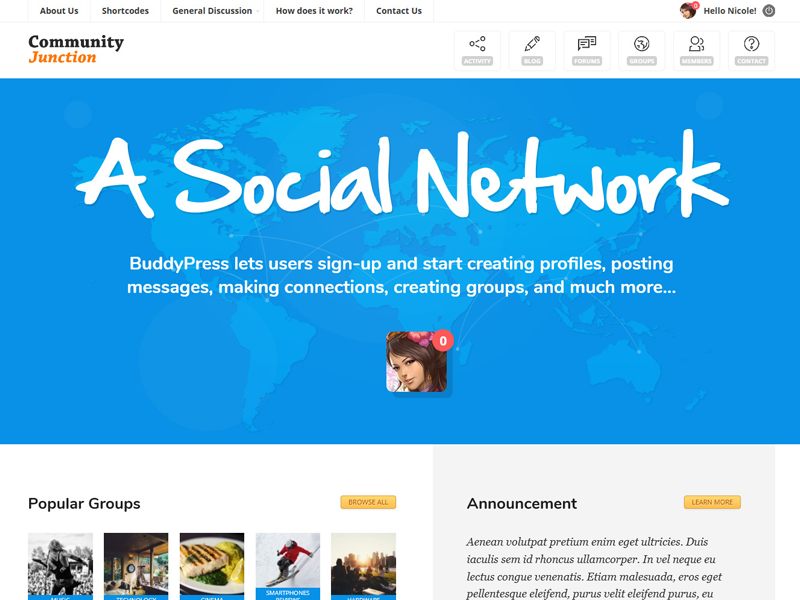 CommunityJunction is another BuddyPress membership theme for online community. It is an outstanding and creative theme. Using this theme for your company will give a dramatic boost to the most important features such as brand confidence, brand attention and recognisability.
Moreover, it comprises all the details and pages in a more consistent way with excellent and polished colours, usability and clear typography. Furthermore, it extracts the features from BuddyPress and provides a better form to you company.
We can say, it is a social network provided in a box. CommunityJunction has a flexible modular layout. It allows you use the shortcodes/design blocks with other WordPress themes.
Features:
Full integration with bbPress
Powerful page builder
Intranet website with widgets and guests
Compatible with rtMedia
Compatible with BuddyPress Forum Editor
jQuery Masonry integration
13. UnitedCommunity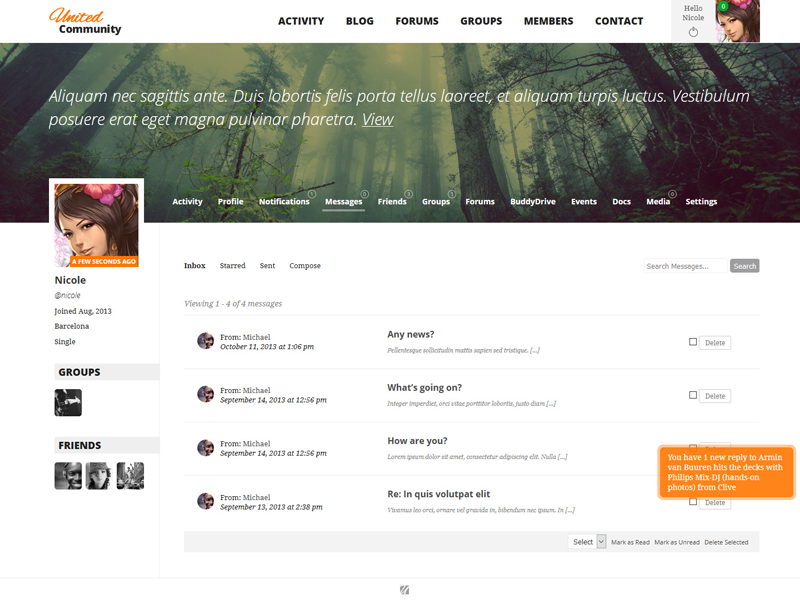 UnitedCommunity is a BuddyPress membership theme. It is fully compatible with a powerful page builder. In addition, it provides an easy and quick demo content installation with a one-click demo import.
It is widely used for intranet website themes where you can easily make access to registered members. Furthermore, it provides you option of several inner pages such as user panels, groups and forums. Moreover, you can use this theme with several BuddyPress extensions.
For example, user galleries, events calendars, music managers and chats. Further, the private messaging system helps the employees within a company maintain communication and exchange files.
Features:
Integrated with BuddyPress Global Search
Compatible with rtMedia
Compatible with Event Manager
Compatible with BuddyPress Forum
Integrated with theme Customization API
3-level drop down menu
14. Segments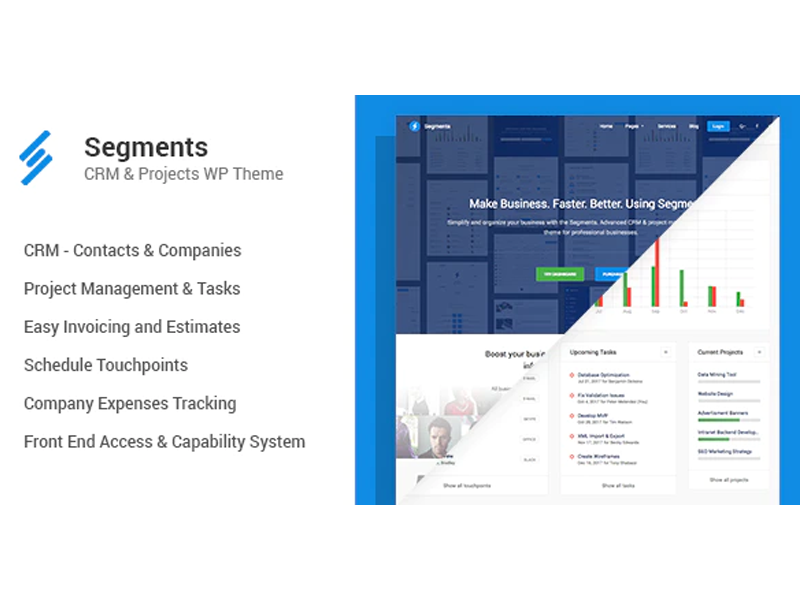 Segments is an advanced CRM WordPress Theme designed for WordPress. The main purpose of the theme is to assist the companies in businesses and processes related to their internal affairs.
Using Segments theme you can assemble your headquarters only a few clicks away. It is a standalone project management theme that provides robust solutions at a low price. This is a simple theme that can modify visual and functionality of your website after you install it.
Moreover, it helps you in data management at the front end. Therefore, your customers and users do not have to access the WordPress admin area for the management of content. Further, it enables you use the third party plugin easily.
Features:
Fully responsive
One click installation
CRM on front end
Corporate website
15. InfiNxt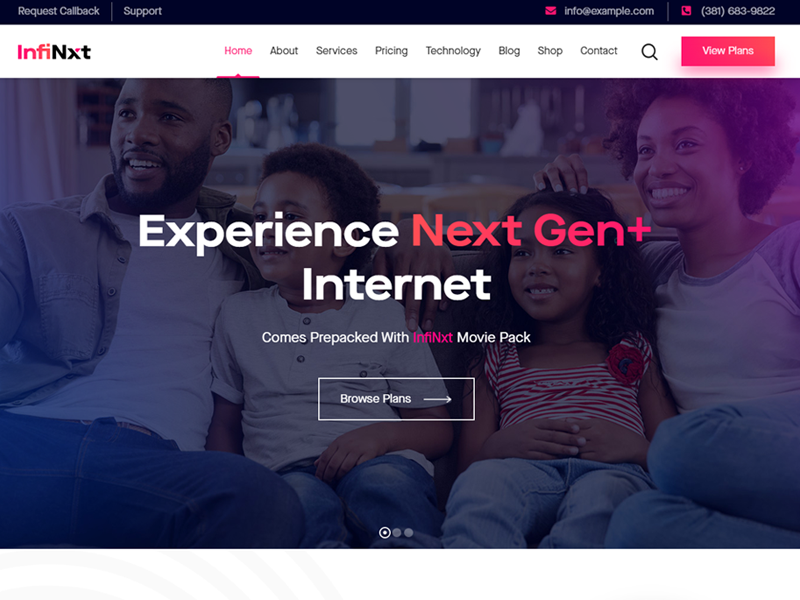 InfiNxt is a responsive and best looking WordPress theme. It is specifically designed for Cable television, online TV, broadband, Satellite TV and internet services.
However, its easy and fast customization service template makes it useful as intranet website theme. Therefore, it suits well for advertising and internet agency, internet services, internet marketing, connection provider, internet centres, Webiner and Internet networking solution. Within a company, it can be used for WiFi routers, Modems, connectors and digital gadget provider website.
Moreover, it is constructed with the most powerful Elementor drag and Drop page builder. Thus, you can easily create the website as you like.
Features:
Slider revolution
Elementor page builder
Drag and drop support
Unyson demo content
Contact form 7
Want to Learn More?
Check the collections below:

Ludjon, who co-founded Codeless, possesses a deep passion for technology and the web. With over a decade of experience in constructing websites and developing widely-used WordPress themes, Ludjon has established himself as an accomplished expert in the field.