It seems you're searching for an MSP WordPress theme to create your website for a managed service provider.
Due to the recent surge in demand, I've decided to list the best WordPress themes suitable for Managed Service Providers.
The Top 10 Best MSP WordPress Themes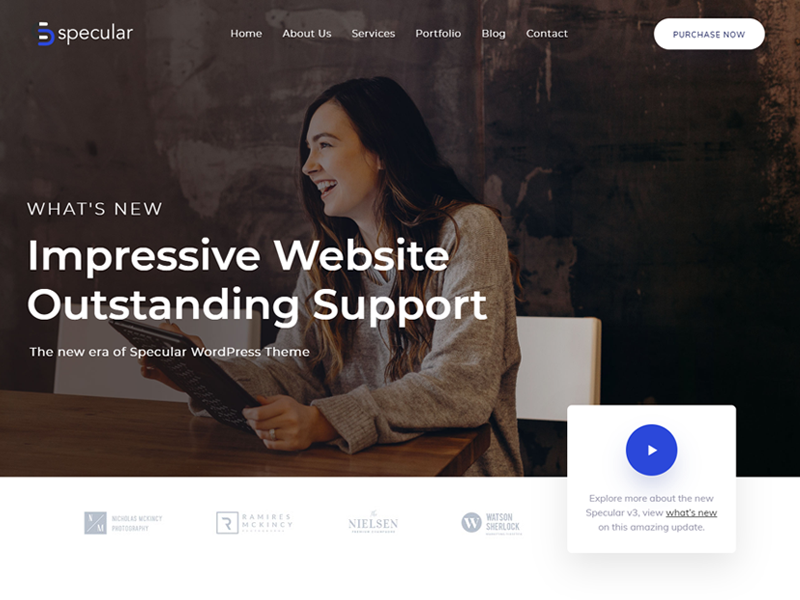 Specular is the best MSP WordPress Theme out there with a lot of demos ready for this type of website. Offering a blend of turnkey and customizable features, it serves as a comprehensive tool for online branding.
Its dynamic array offers over 30 ready-to-deploy sites, each tailored for diverse service needs. Beyond its pre-designed offerings, Specular stands out with its blend of customization options and robust, lifelong support from the dedicated Codeless team.
With features like the online customizer, effortless setup, and backup capabilities, it promises a seamless digital experience for service providers.
Features:
Elementor Page Builder
WpBakery Page Builder
Revolution Slider
30 Demos
Advanced Theme Options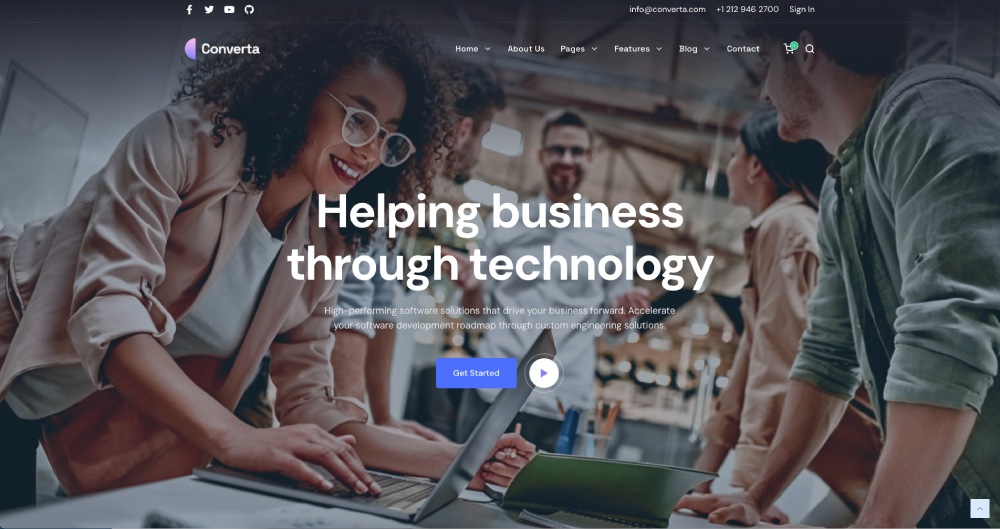 Converta, tailored for Managed Service Providers (MSPs), is a contemporary WordPress theme that perfectly blends functionality with modern design. Integrating powerful blogging tools and WooCommerce capabilities, it serves as an ideal platform for MSPs keen on showcasing their services and products. With a range of compatible plugins and built-in social media tools, Converta ensures that MSPs can easily expand their reach and functionalities.
Crafted by the esteemed "Power Elite Author" – Codeless Themes, Converta promises both elegance and efficiency, making it a top pick for MSPs.
Features:
Elementor Flexbox Containers
Custom Elementor Widgets
Slider Revolution
Bundled Premium Plugins
WooCommerce Integration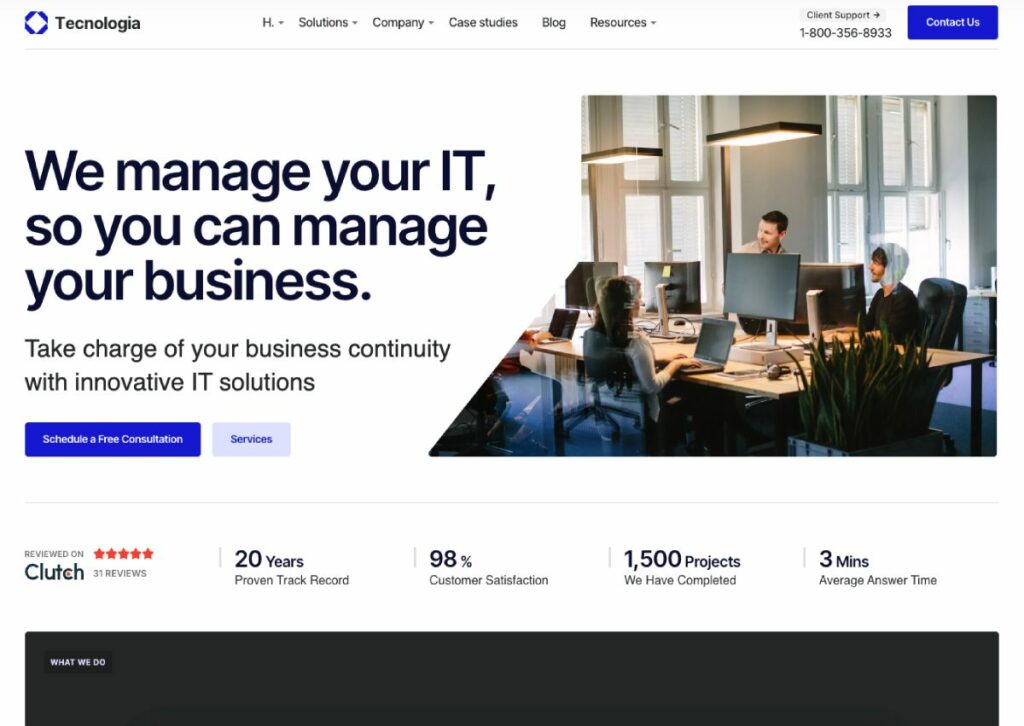 Welcome to Tecnologia, a modern IT Services and App Development Theme. This lovely niche theme is built and suitable for any business operating in the IT and Software industry.
The theme features carefully designed layouts ideal for every contemporary IT company, app landing page, IT services agency, tech startup, as well as for tech support, and every modern software company showcase. It is suitable for users with zero programming skills and advanced developers.
Full Elementor + Elementor Pro compatibility
Elementor Pro is required for the demo content importer and the theme setup, and it is not bundled with the theme. You need a licence for it.
Features
$345 worth of Premium Getty Images Stock included in the package for FREE
All images shown on the Demo Website come with the Demo Content and can be used for your next project without the need to buy additional licenses
Theme code only extends the Elementor and Elementor Pro widgets and adds cool styles and animations. This adds a layer of long-term stability and security.
Options to remove the Theme Code on a widget-by-widget basis
Extensive setup guide
Timely Support – 8 hours average response time
23 HD WordPress Video Tutorials for Beginners
No More Plugin Clutter
The best theme for beginners – No need for you or your clients to learn the new Theme Options Panel. Widgets or plugins. You only need WordPress + Elementor + Elementor Pro
Elementor Pro Global Styles Panel used as a Theme Panel
Elementor Pro provide full control of the Mobile and Tablet version + Customized Breakpoints
RTL Support
Header + Footer – built with Elementor Pro
Dynamic Content Layouts – built with Elementor Pro – Products, Blog posts, Blog and Product Archives, 404 pages, Maintenance mode page. Coming Soon Mode page and Search Results.
Mega Menus – built with Elementor Pro
Forms – built with Elementor Pro
Pop-ups – built with Elementor Pro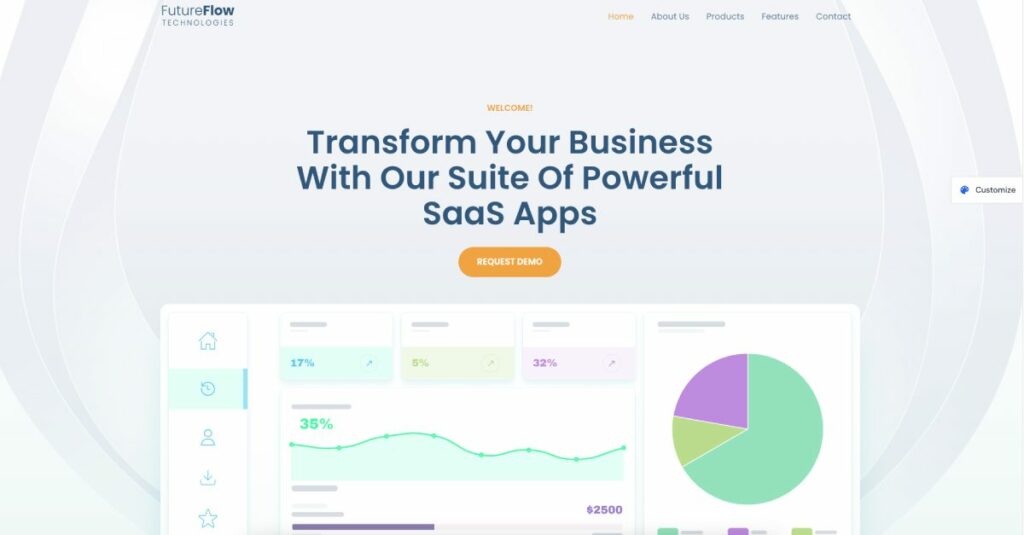 Astra, another top-notch choice for Managed Service Providers (MSPs), has garnered attention for its lightweight design and super-fast loading times. A theme that prioritizes performance without compromising on aesthetics, Astra offers MSPs the flexibility and customization they require to represent their brand accurately. With seamless integrations to popular plugins and tools, Astra ensures that MSPs can have a website that's not only beautiful but also robust in its functionality.
Developed with a keen eye for detail, Astra provides businesses with the tools to create high-performing, SEO-friendly, and responsive websites that cater to a diverse client base.
Features:
Speed Optimized
Custom Layouts
Plugin Friendly
SEO Ready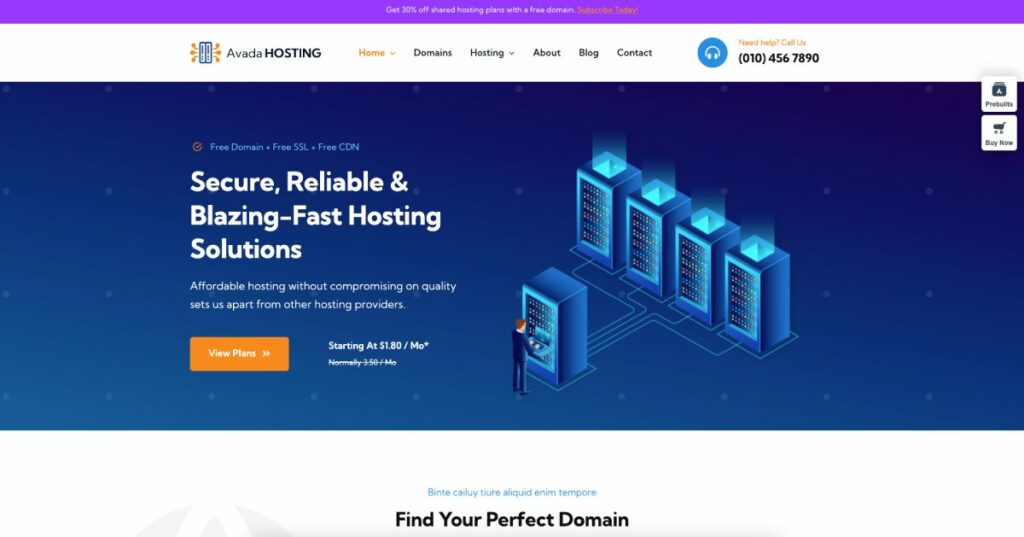 Avada stands out in the saturated WordPress theme market, renowned for its dynamism, customization, and user-centric design. As one of the top-selling themes ever, Avada goes beyond traditional themes, offering a holistic design tool that eliminates the need for coding.
With a vast range of options, tools, and demos, it ensures service providers can craft an online identity that mirrors their expertise and professionalism.
Features:
Fusion Builder: A drag-and-drop page builder loaded with elements for unique page designs.
Pre-made Demos: Dive into a variety of professionally curated demos for a quick start.
Responsive Framework: Guarantees optimal viewing across all device types.
Advanced Options Network: Tailor every aspect of your website, from layout to styling, effortlessly.
Plugin Compatibility: Seamlessly integrates with popular plugins, amplifying its utility.
Multilingual Support: Ready for a global audience with compatibility for WPML, Polylang, and more.
Optimized Performance: Fast-loading features that enhance both user experience and SEO rankings.
eCommerce Integration: With WooCommerce support, online transactions become a breeze.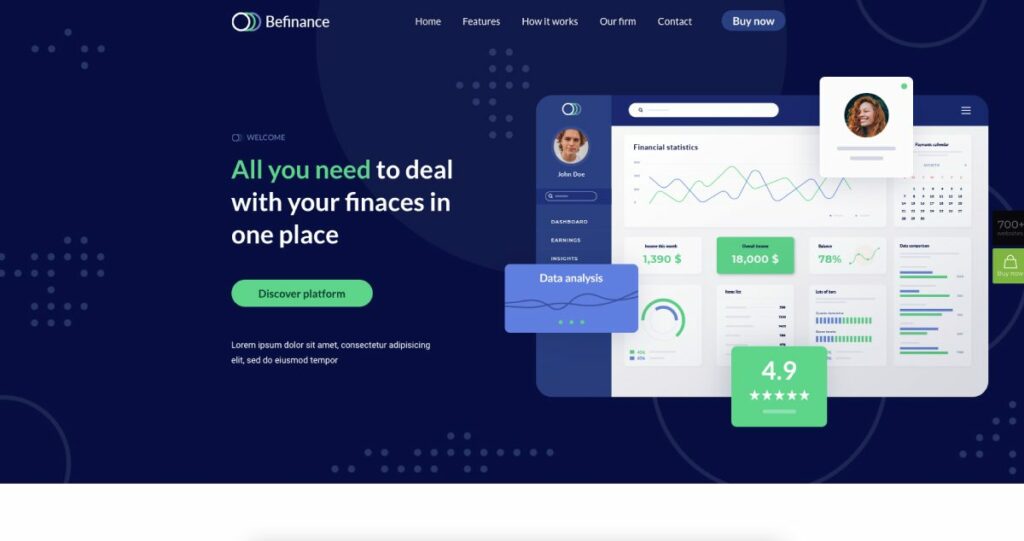 Be Theme stands as a testament to flexibility and extensive personalization in the realm of WordPress themes. Tailored for service providers who yearn for diversity and precision, Be offers an expansive range of pre-built websites, making the setup process swift and hassle-free. Beyond its captivating aesthetics, Be is engineered for functionality, ensuring that professionals can build a digital presence that aligns with their brand and services.
Features:
Muffin Builder: A proprietary page builder that's intuitive and packed with customization options for crafting distinct pages.
400+ Pre-built Websites: A wide array of professionally designed demos suitable for varied niches, ensuring a quick website setup.
Responsive and Retina Ready: Guarantees a pristine viewing experience across devices, be it mobile or desktop.
Advanced Header Options: Extensive customization tools to craft headers that capture attention and facilitate navigation.
Plugin Integration: Effortless compatibility with a suite of popular plugins, enhancing its capabilities and utility.
Multilingual & RTL Support: Equipped to cater to a global clientele, supporting multiple languages and right-to-left scripts.
Powerful Admin Panel: A user-friendly backend interface that provides vast control over the theme's features and settings.
WooCommerce Ready: Seamless integration with the WooCommerce platform, streamlining online commerce activities.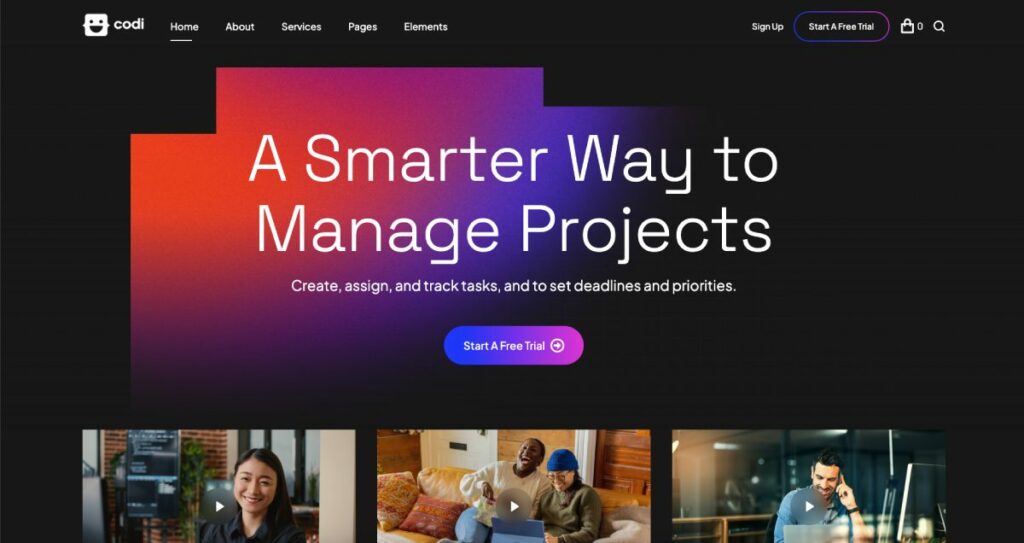 Codi stands out as an impeccable WordPress theme, sculpted specifically for IT Services and managed services. Whether your focus is cybersecurity, software development, SaaS, or IT consulting, Codi's sleek and modern design offers a digital persona that resonates with professionalism, building trust among your clientele. With 9 distinct homepage designs and meticulously crafted inner pages, Codi promises a rich, dynamic experience for your website visitors.
Features:
Versatile Design: Codi boasts nine unique homepages, ensuring varied design options tailored for the IT sector.
Cutting-edge Builder: Leveraging the integrated Bold Builder, Codi lets you design both on the back-end and front-end. This drag-and-drop page builder, updated for 2022, presents an array of front-end editing options, allowing users to craft with precision.
Seamless Customization: Personalize with ease, substituting demo content with your unique material. Codi's intuitive interface and powerful theme options panel let you tweak everything from fonts and colors to layout and functionality.
Inclusions: Reap benefits from the bundled 5* Cost Calculator plugin (valued at $29) and Bold Timeline Lite. These tools enhance the theme's functionality and offer added value.
Device Compatibility: Trust in Codi's mobile responsiveness and retina-ready design to deliver a flawless user experience on all devices.
One-Click Setup: With the one-click demo content importer, setting up your site becomes hassle-free. Once imported, simply overlay the demo content with your unique offerings.
Comprehensive Customizer Options: Thanks to continuous updates to Bold Builder, users benefit from extensive customizer options, ensuring granular control over the site's appearance.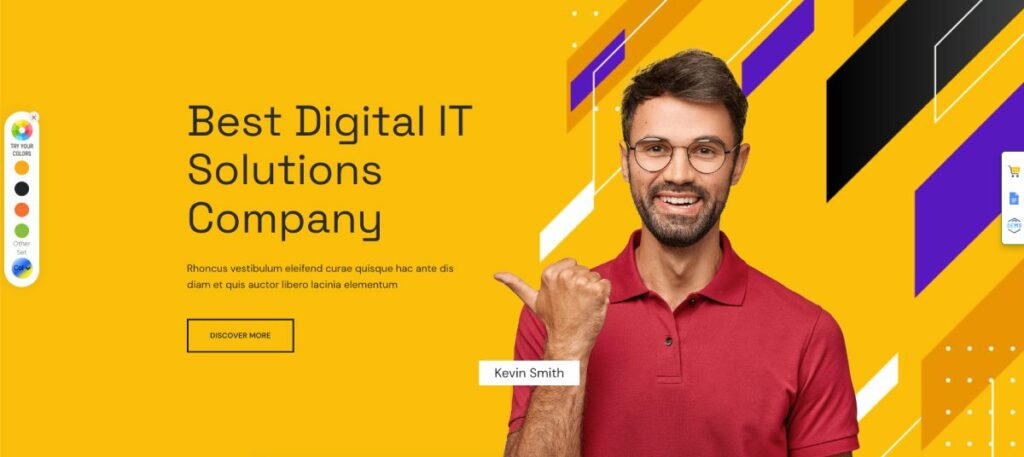 Oitech is a meticulously designed WordPress Theme tailored for the bustling domain of Technology & IT Solutions. Crafted with precision, Oitech encapsulates a blend of predefined web elements, making the website-building process intuitive and swift.
Oitech stands apart with its ease of customization. Boasting a robust admin panel, it offers clients a comprehensive suite of tools to craft a compelling website. With an emphasis on professional aesthetics, Oitech ensures websites not only function optimally but also exude an air of sophistication and expertise.
Features:
Adaptive Design: Oitech is crafted for versatility. Its responsive design ensures optimal viewing across devices – from sprawling desktop screens to compact mobile devices like iPhones and tablets.
Tailored for Tech: Whether you're an IT agency, startup, or offering SaaS solutions, Oitech aligns perfectly with a myriad of tech niches. It's the go-to for businesses like digital agencies, network solutions, and even broader tech companies.
Elementor Integration: Leveraging the power of Elementor, Oitech promises ease of design and adaptability, catering to both seasoned developers and novices.
Powerful Admin Panel: An intuitive and robust admin panel ensures you have all the tools at your fingertips, allowing for seamless website tweaks and overhauls.
Predefined Web Elements: Jumpstart your website creation process with a range of predefined elements, ensuring a quicker go-live.
Read More: Free Elementor Themes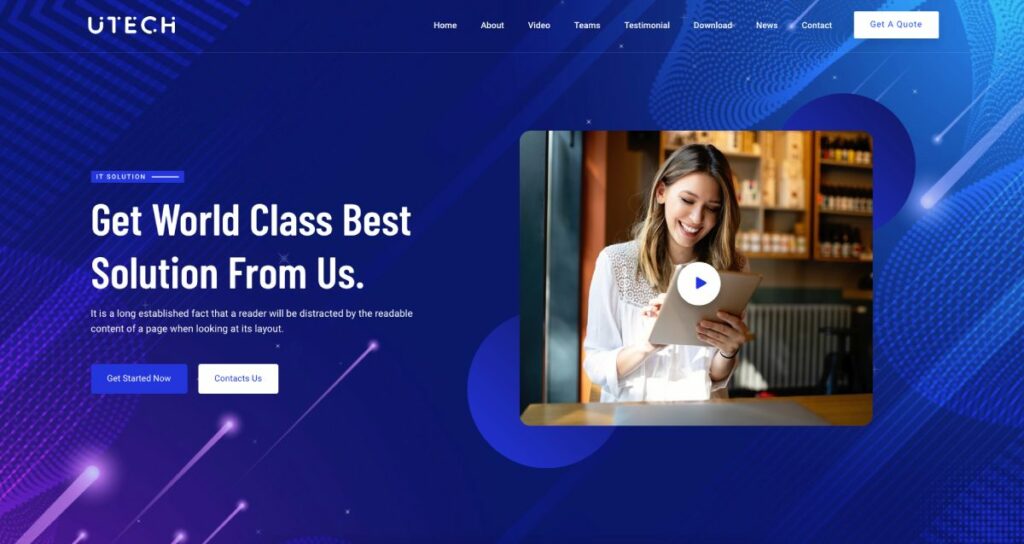 In the rapidly evolving landscape of Managed Service Providers (MSPs), uTech emerges as a beacon of design sophistication and functionality. Crafted with the unique needs of MSPs in mind, uTech is more than just a theme; it's a comprehensive digital toolkit. Whether you're providing IT services, SaaS solutions, or digital marketing strategies, uTech promises an online presence that not only mirrors your professionalism but also amplifies it.
Using the latest WordPress framework and integrated with the intuitive Elementor Drag & Drop Page Builder, uTech ensures every MSP can customize its look and functionality to align perfectly with their brand ethos and service offerings.
Features:
Tailored for MSPs: uTech's design and features resonate with the specific needs of Managed Service Providers, ensuring a cohesive digital narrative.
Elementor Integration: Harness the power of Elementor for crafting both primary content and nuanced details like topbars and footers. Customize without the coding hassle.
WooCommerce Integration: Extend your MSP offerings with seamless e-commerce capabilities, courtesy of full WooCommerce features in uTech.
Pre-Designed Blocks: Get a head start with over 80+ ready-to-use blocks, ensuring rapid deployment without compromising on design quality.
Diverse Home Demos: With 5+ unique home demos, MSPs have a variety of starting points to mold their digital identity.
Detailed Inner Pages: Beyond the main page, uTech provides 20+ meticulously crafted inner pages, ensuring every aspect of an MSP's services is highlighted.
Extended Elementor Widgets: Dive into vast customization possibilities with 70+ Elementor widgets, each designed with an MSP's needs in mind.
Dynamic Header Options: Choose between two innovative header designs to ensure your MSP's first online impression is a lasting one.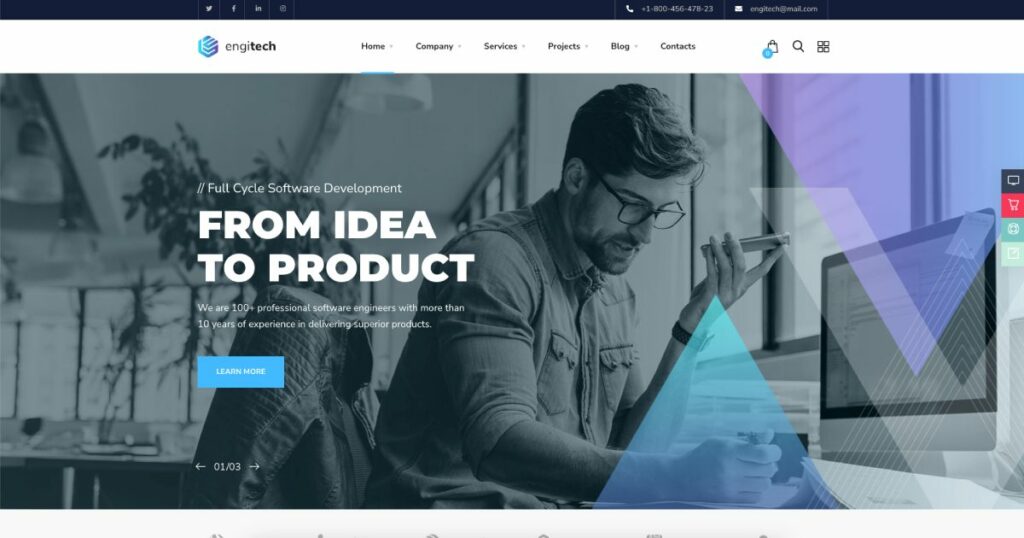 Engitech stands out as a distinguished WordPress theme meticulously crafted for startups, apps, and IT services. Recognizing the diverse needs of today's tech-driven businesses, Engitech delivers a combination of design elegance and robust functionality. Its integration with the drag-and-drop page builder, Elementor, ensures that even those without coding prowess can design their website with precision and flair.
Leveraging the latest in web technologies, including the Bootstrap framework, Sass, and icon fonts, Engitech promises a website experience that's seamless across all browsers and devices. The theme's emphasis on coding quality ensures longevity and adaptability.
Features:
Diverse Homepage Layouts: Engitech offers an impressive array of 22+ homepage layouts, giving businesses a vast playground to find their perfect digital front.
Dynamic Header & Footer Builder: Tailor your website's headers and footers with 16 demo layouts for headers and 14 for footers, ensuring your site's top and bottom are just as compelling as its content.
Mega Menu with Elementor: Craft detailed and intuitive menus with the combined power of Elementor and Engitech's Mega Menu feature.
Inclusive PSD Files: Dive deep into customization with included PSD files, offering design freedom beyond the typical.
Elementor Page Builder: With multiple custom widgets, designing becomes an intuitive process, ensuring your website mirrors your vision.
WooCommerce Compatibility: Engitech seamlessly integrates with WooCommerce, opening doors for e-commerce possibilities.
Revolution Slider: Create dynamic and captivating sliders with ease, ensuring your website's visuals are always engaging.
Advanced Live Customizer: Tweak and tailor in real-time with the WordPress Live Customizer, making sure what you see is what gets published.
One-Click Demo Import: Get started swiftly with one-click demo content import, ensuring your website setup is hassle-free.
Conclusion
Given the plethora of options available, it's essential to pick a theme tailored to an MSP's needs. This article has provided a comprehensive list of the best themes available, aiming to simplify this choice and ensure your website stands out and effectively serves your clientele.

Ludjon, who co-founded Codeless, possesses a deep passion for technology and the web. With over a decade of experience in constructing websites and developing widely-used WordPress themes, Ludjon has established himself as an accomplished expert in the field.