Looking for a free eCommerce WordPress theme? If you are interested in making your online e-commerce store like a wow, then WordPress offers you plenty of themes for that. We are listing the best free eCommerce WordPress themes.
Well, most of the online e-commerce stores are handy for the developers but not for the end-user. So, you always need to pick the theme that offers a well-organized design and sophisticated-looking layout.
When you have arranged your products creatively, you get enough likes and traffic. Letting those awful themes to disrupt the image of your store is a mess.
The Top 14 Best Free Ecommerce WordPress Themes of 2022
Let me show you some of WordPress's free eCommerce themes and fantastic e-commerce website templates that can work on engaging your audience well.
Astra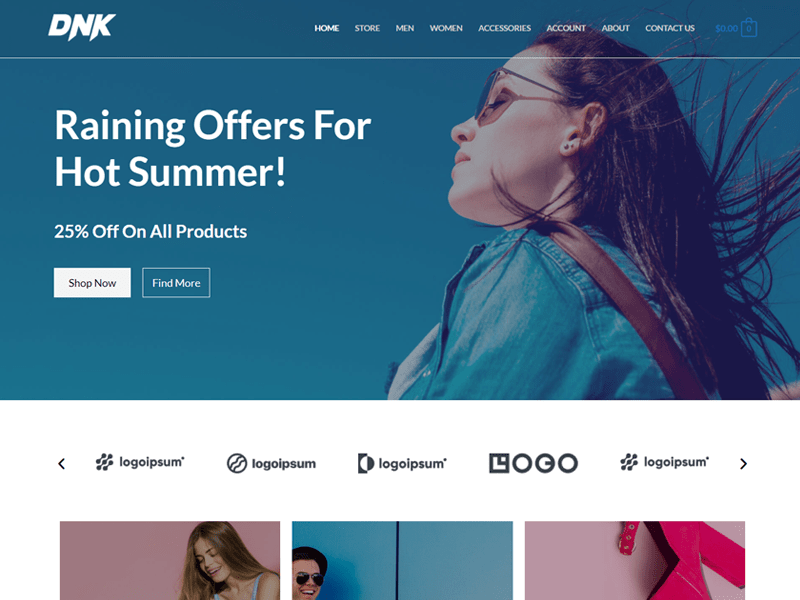 Astra is a lightweight, completely customizable, and superfast WordPress theme. It is well suited for all WooCommerce websites and is designed to boost your sales.
Astra allows you to customize every detail of your product on your website. Also, you can edit everything without coding. You can edit and customize product pages, landing pages and play with the colors of your choice to customize the homepage.
All the product categories are displayed in an easy way for users to look for the required product on your website.
The options in the grid also help you responsively display all the products. There are also several layouts of sidebars, footer, and header and typography options. Moreover, there are multiple options for customizing sidebars and widgets for an individual page and the entire website.
Features:
Translation ready
Mobile friendly
SEO-friendliness
Plugin compatibility
Dedicated support
Well documented
Qi Theme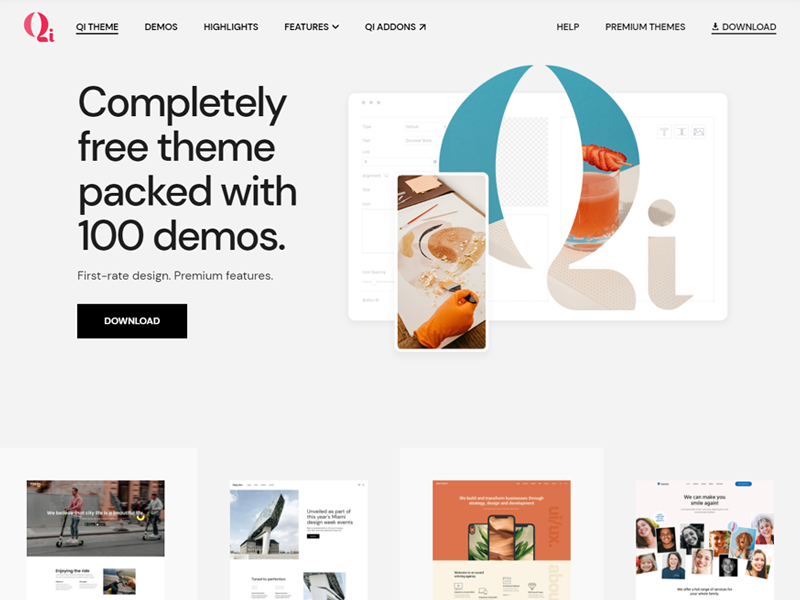 Do you have a unique e-commerce idea? Can you build your website on a platform that you choose? Qi, the Qode Theme, will put a full stop to all your queries. With this multifunctional theme, you can create a virtual website for your business on a single platform.
In addition to its user-friendly interface, Qi makes even a beginner feel welcomed into the world of website creation. Your online business can experience heights of success with a decent and functional e-commerce website built by Qi.
The best theme for a website includes outstanding portfolio layouts, flexible headers, and footers. The only other factor that contributes to the success of an online store's website is its loading speeds, coding standards, and file size.
Features:
Adaptable swift themes
Small file size
User-friendly editable coding measures
Customizable headers and footers
Diversified portfolio layouts
A simple user guide
Modern templates
Add social media accounts and embed posts
Indicating availability or a sale price on items
Include customer testimonials
Templates for each type of product
WooCommerce compatible
Neve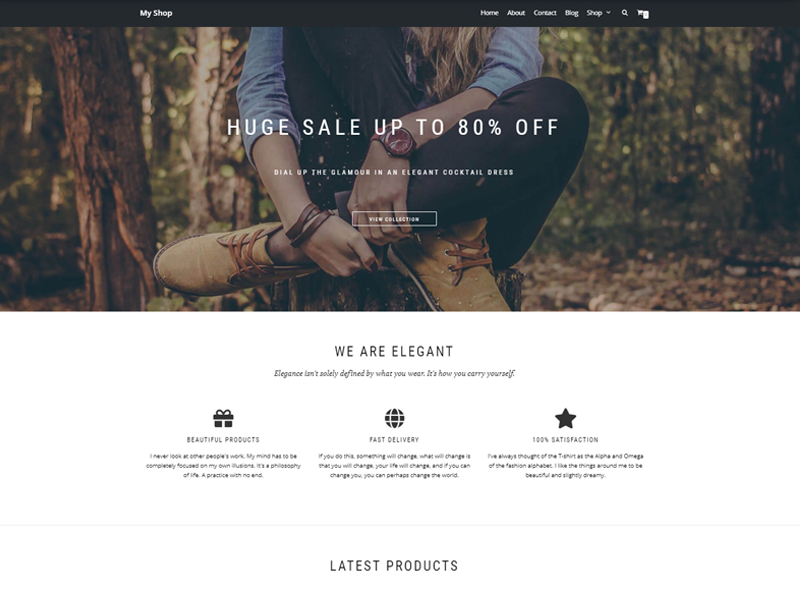 One of WordPress's clean, professional, and stylish free ecommerce WordPress theme is Neve. You can create a fabulous e-commerce site here. It is WooCommerce ready, has an attractive user interface, and is feasible with modern features. With its useful features, you can always create a long-lasting and admiring presence on the internet.
Your users will never go empty-handed because of their flexible shopping experience. Let me tell you its amazing features, which are the reason for more user engagement. It has an easy to use interface and a right admin panel. With its compatibility with many popular page builders on WordPress, your website has a modern touch of feasibility.
Hestia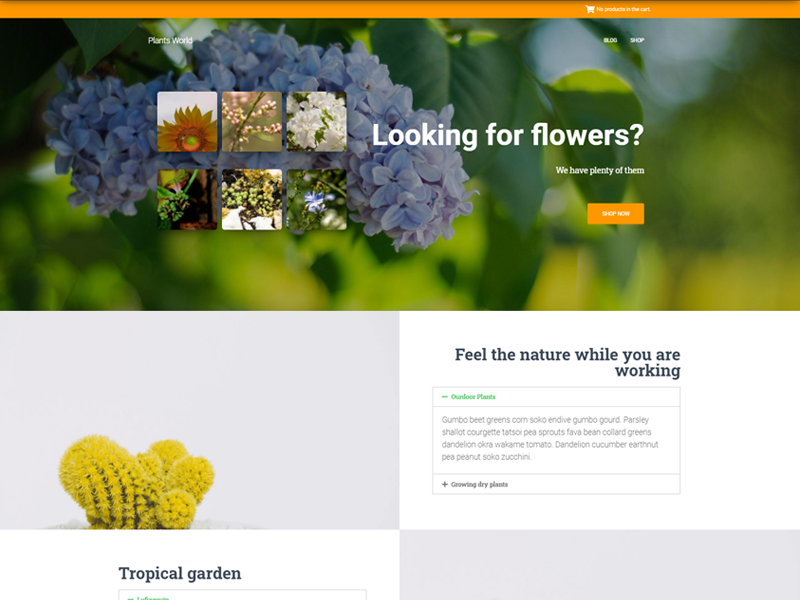 If you want your website to stay classy and modern and accessible to the audience, you must count on Hestia WooCommerce. It is a fashionable, sophisticated, and perfect theme for small businesses and especially e-Commerce stores. Its exciting features will make you go handy and comfortable with your Store's presence.
It's a responsive, mobile-friendly, and compatible with a few popular page builders. It is easily accessible to the users and gives an entirely professional presentation on the web. Alongside this, you can use the best and free solution on WordPress, Site Origin Page Builder to create a fantastic shopping experience for your buyers.
Zigcy Lite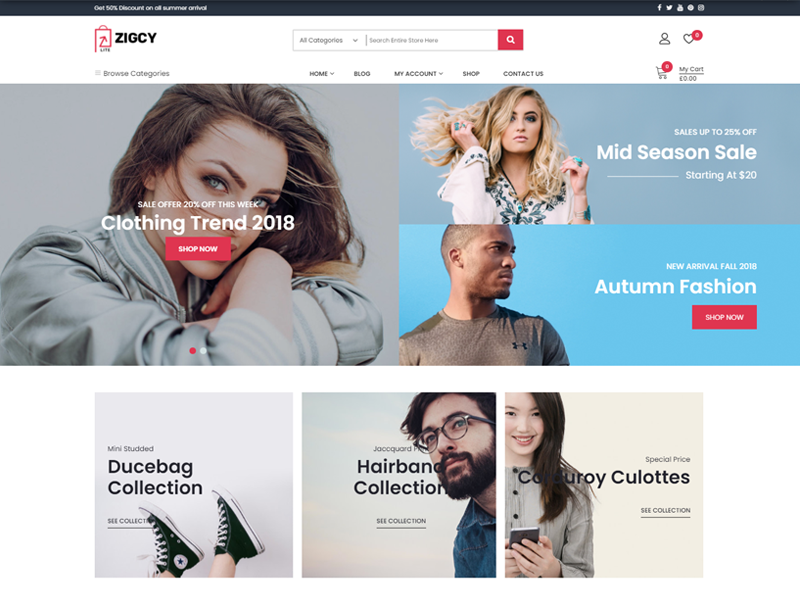 Zigcy lite is one of the most used creative WordPress themes, which mainly suits e-commerce stores. Based on customization options, brilliant 4-page layout, and many other amazing features, you can always stand out. The list of its exciting features goes on and on.
But you can continually adapt to the ones that are relevant to your website. Apart from this, the theme is responsive, fits on all screen sizes, and is SEO-optimized. If you count on Zigcy Lite, you are just a few minutes away from your dream website. It comes with two WooCommerce layouts and can work on all browsers with such ease.
Deep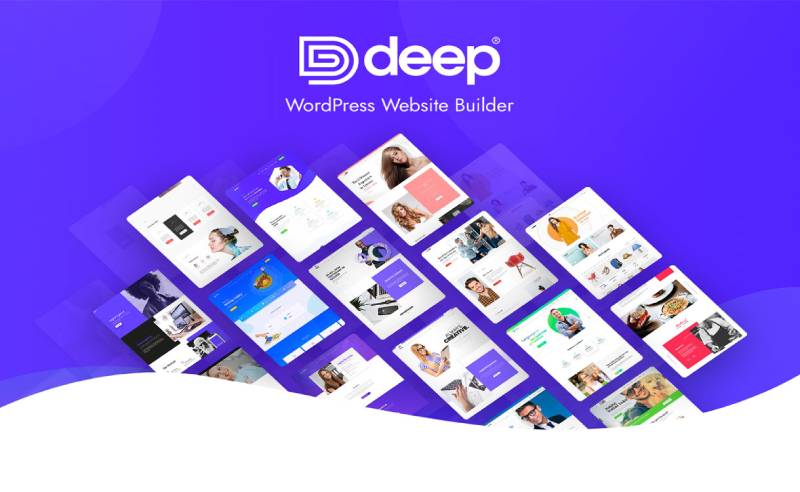 If you own an online shop and looking for a clean, stylish WordPress theme with professional features, Deep is definitely what you need. Developed by Webnus, Deep is a lightweight theme that lets you customize whatever you see. Compatible with Elementor, in addition to being super fast, Deep allows you to edit and customize your product pages and landing page. Compatible with WooCommerce, Deep is the perfect option for an online shop. Lots of demos, e-commerce-friendly, and compatible with Elementor, WPBakery Page Builder, and King Composer are the most important elements that enable you to take the maximum advantage of a potential theme.
With more than a hundred demos, Deep lets you create any kind of website you are looking for; from industries and architecture to stores and online shops. As we are specifically concerned with online stores in this article, let's stick to the relevant demos. Deep includes a number of demos that are specifically designed for online shops, such as shop, barber, carwash, gym, boutique, petshop and lots of other demos.
In addition to the above-mentioned, Deep is fully responsive, SEO-friendly, and translation-ready. Be sure that Deep's elegant design will catch everyone's attention. Above all said, the most awesome thing about Deep is the built-in demos allow you to design any kind of website. And by 'any', we mean ANY. That is the main difference between this theme and all the other popular ones.
Also, Deep has twenty-nine plugins included in the pro version. White labeling is another important feature of Deep. Using the white label plugin, your users will have a unique experience and can easily re-brand their projects.
Features
Translation ready
Mobile friendly
Plugin compatibility
SEO-friendly
Fast support
Leto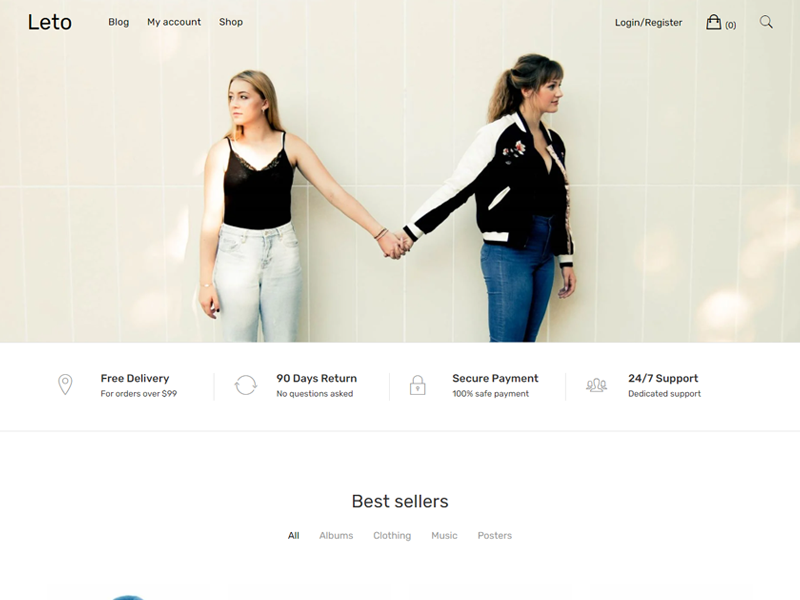 Leto is a great WordPress theme that is compatible with WooCommerce. The package involves widgets that are all built-in to create homepage for an online shop. You can include a big image in the header to impress the visitors on your website.
Google fonts are effectively integrated and are easily customizable. Moreover, there are theme options which help in changing colors and fonts. The Theme Customizer holds all the theme options. In addition, the theme is ready to use and reliable. The layouts are well structured that look nice for all types of niches.
Leto is translation ready and is fully customizable.
Features:
Live customizer
Fast support
Cross browser support
Translation ready
Up to dated versions
Responsive
Both free and premium themes
Neve – Apparel Template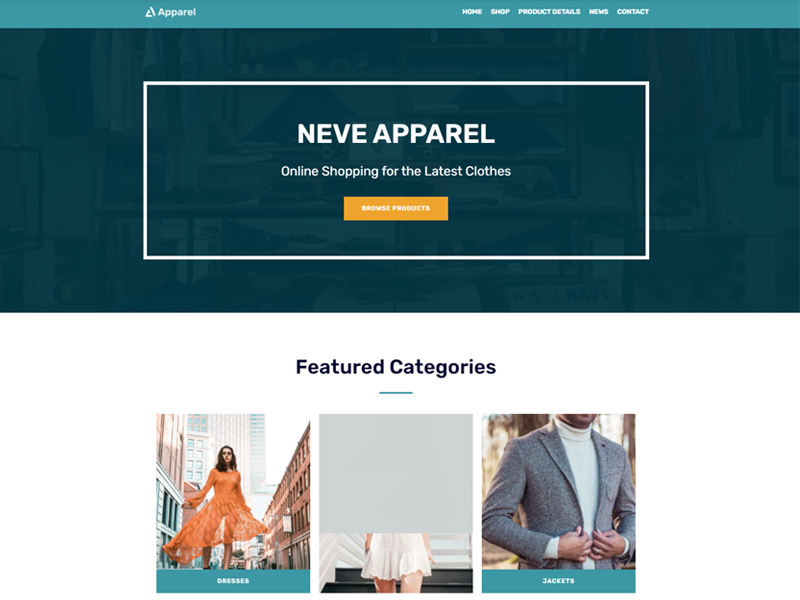 Neve apparel goes perfectly with a store that wants to sell clothing items. At the same time, such stores can have an astonishing, sober online presence with this theme among their customers. It's professional yet easy to access the user interface, attracting more and more customers to your Store.
It has a stylish, fashionable, and elegant layout that grabs the user's attention. Neve Apparel is compatible with WooCommerce, Gutenberg, translation ready, AMP ready, and SEO-friendly. It has pre-built sections and pages that make products, services, and customer experience easy to display. So please don't wait and download it today with its full-fledged features.
Shopper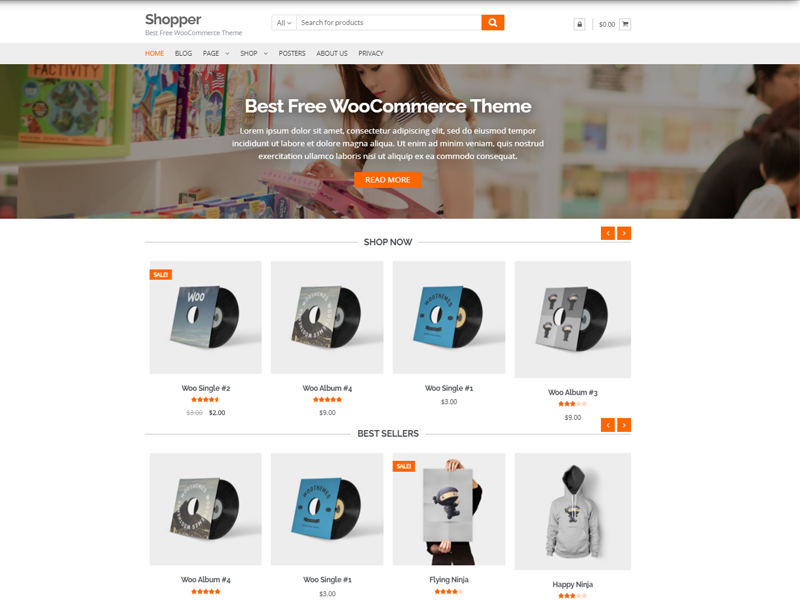 It is a free e-commerce and business WordPress theme, which best suits to digital stores, men and women apparel, handbags, jewelry, kids store, luxurious home appliances store, and many other multipurpose stores. It is fast enough to combat your user's demands, has an easy to use interface, and provides a quick, clean, and modern shopping experience.
You can smartly work with this theme by integrating structured data along with WooCommerce with it. Apart from all these hacks, you might think of the popular WordPress page builders and plugins. It is a theme that brings you more customers, better revenue with its high-class features.
Easy Store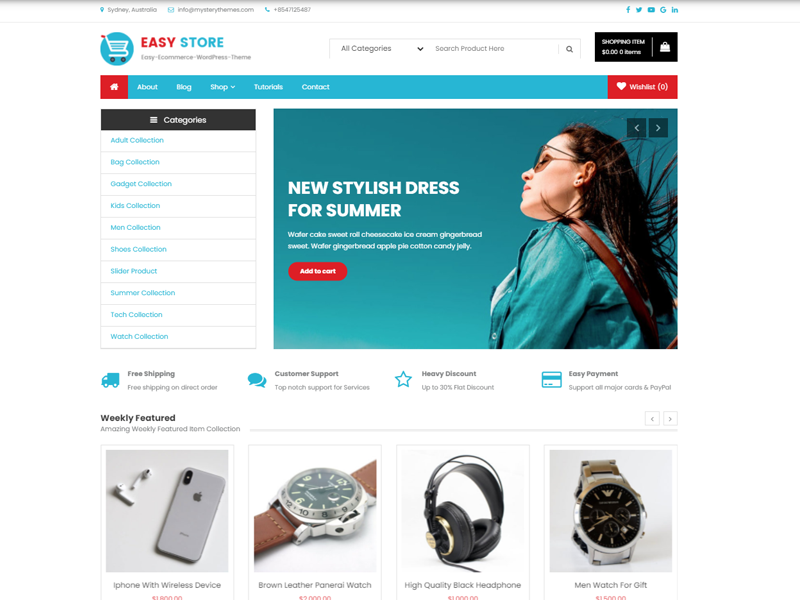 Some of WordPress's popular plugins are associated with this theme. It is a modern design theme, especially in e-commerce stores. You can get enough traffic to your website with its awe-inspiring user interface. Bring out the best of your products to the front line, and showcase your skills with its easy to use theme.
The Easy Store is super-friendly with the users as well as all sorts of devices. WooCommerce Wishlist, YITH WooCommerce, and many other popular plugins are associated with it. You can go super-handy with this theme as it is translation-ready, SEO-optimized, responsive, elegant design, and plugged with many popular plugins.
Phlox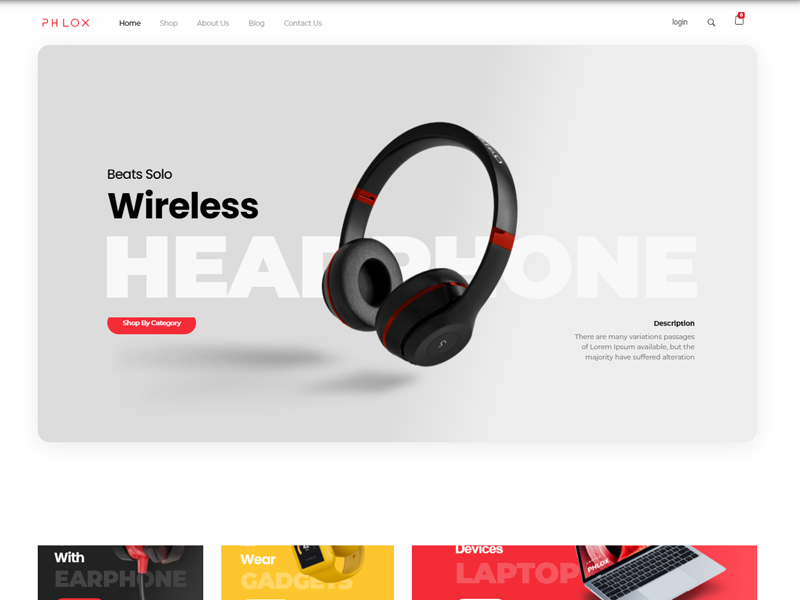 If you want to enhance your digital shop with class and modern designs, then a phlox digital shop is the best for you. It is compatible with WooCommerce, so you never let your customers down on their needs and demands. Alongside this, it has a new 4-page demo, which includes home, about us, blogs, and contact us page.
You can count on its fast speed with a one-click demo installation. Phlox digital comes with a responsive, flat, and minimal design to stand out in the market. Keep your basics secure with its elementor page builder and have a modern image of your Store.
Shopping Cart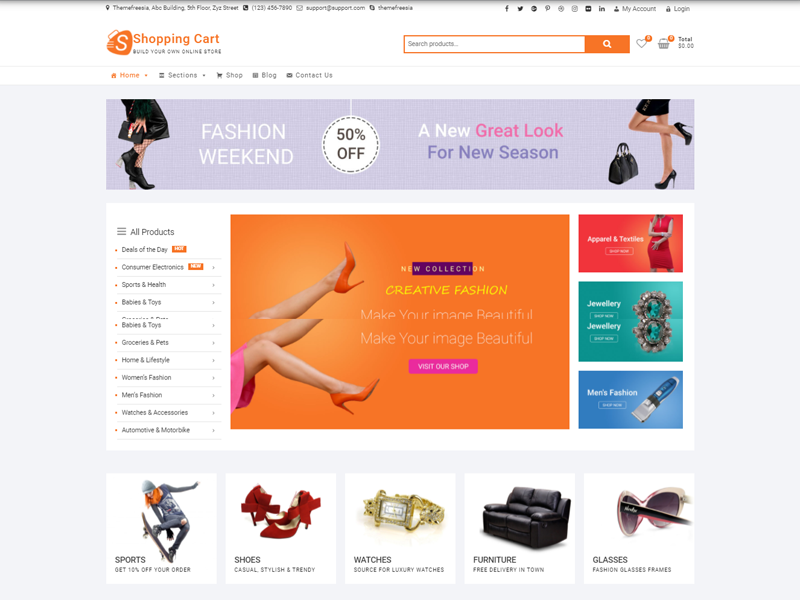 Competition is high in the market for giving your customer excellent online shopping experience. In such cases, the shopping cart can do wonders. It is a theme beautifully designed for your customer needs and demands. Bringing about a change in your website is never easy.
It is compatible with WooCommerce for an impressive shopping experience and also fits all screen sizes. With a one-click demo installation, it also has compatibility with many popular plugins, e.g., Breadcrumb NavXT, contact form 7, WP-PageNavi, Jetpack, WooCommerce, etc. etc. And with such a beautiful theme, you can create multiple layouts as well. Grab it ASAP.
EStore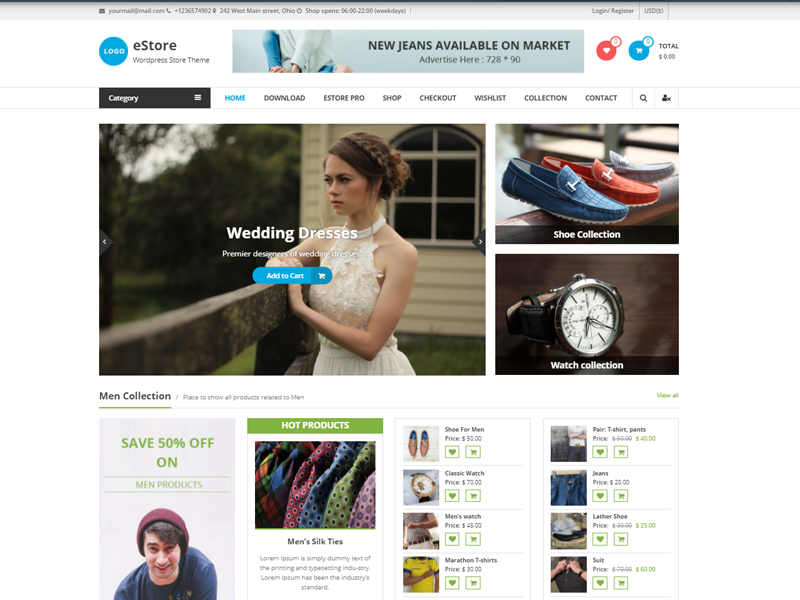 When shopping for the first time, you always look for things that go easy with your budget, right? The same goes for online shopping; customers not only look for affordable items but also a fantastic shopping experience. Estore gives you a clean, modern, and minimal look for your audience to be better understood.
It is 100% customizable and includes many custom widgets for letting you work handy. On a well-organized and sophisticated site, it is always a pleasure to shop. Estore gives your site full authority to attract more customers and revenue. In contrast, it has compatibility with WooCommerce, YITH e-commerce, and many other plugins.
Shophistic Lite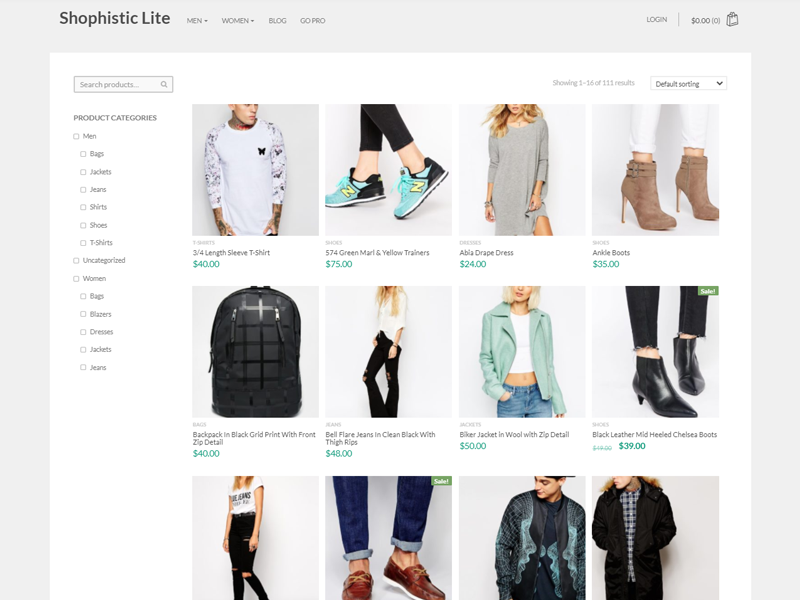 Sophisticated lite comes with an elegantly beautiful design to combat your customer needs. It has various product filters that can make your site look well-organized. With its easy to use framework, products are fully visible to every coming visitor. It encapsulates your website with 100% customization, SEO-optimization, CSS animations, multipurpose layouts, translation, and retina-ready, etc.
With such an enticing list of features, you can always count on sophisticated lite for your first impression. Accordingly, it has a grid homepage view which makes products easily viewed by all the customers. Sophisticated lite can take your business miles away online with its flat, clean, and professional layout that enchants a user's attention.
Proteo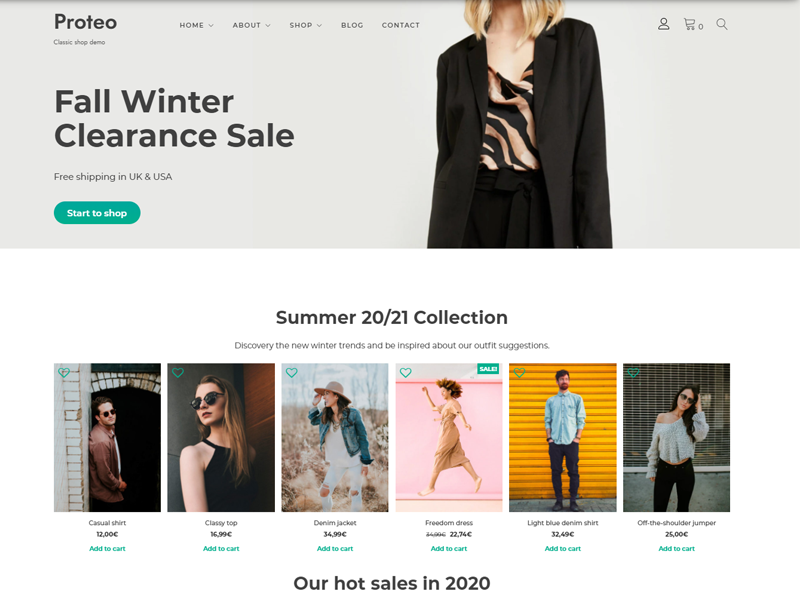 Many themes on WordPress serve you with authentic features making your efforts super handy. With YITH proteo, you can have all such features in a ray and ultimately productive. Your e-commerce store is not much away from having an astonishing online presence.
It is a free WordPress theme with a sleek and modern design specially designed for an e-commerce store. You can have various font and color options here. At the same time, Gutenberg is ready, and you can install it with just a click. In contrast, its compatibility with WooCommerce creates an engaging shopping experience for the customers. Get your perfectly styled site today with YITH proteo.
Incart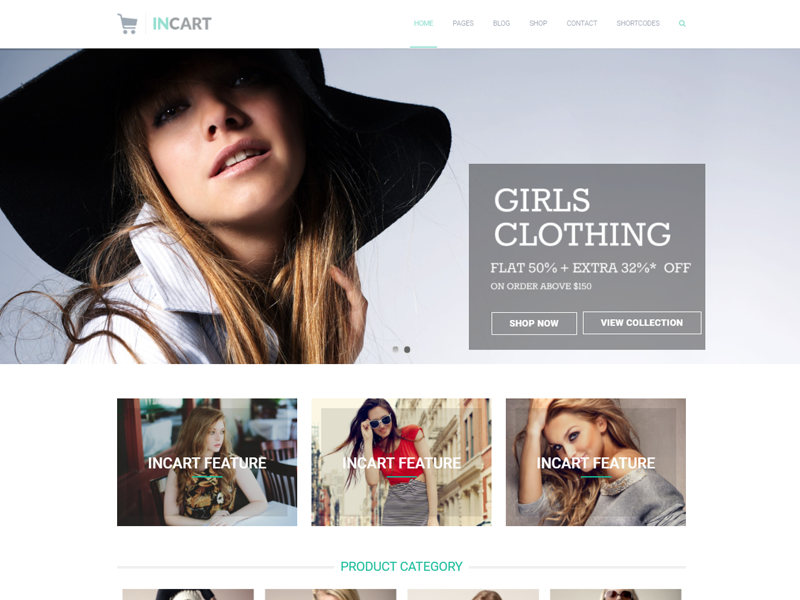 Give your site a modern touch of persistent engagement with incart. E-commerce store comes in front with a bang when using incart. It is a free, responsive, and high-class WordPress theme for attracting your target audience. With its responsive bootstrap framework, you can easily dominate your essential services and products.
Fluently, when you go viral, you got to create an excellent experience for your customers. Incart being translation ready and having compatibility with WooCommerce plugin, with featured boxes, constant headers, and threaded comments, enchant your customers. Create a flawless, clean, and modernized image of your site by using incart WordPress theme.
Virtue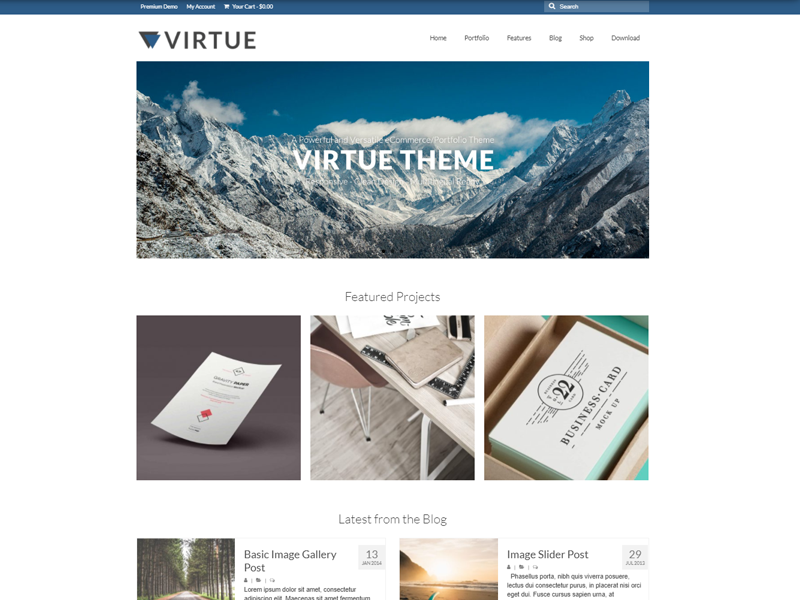 With a plethora of options and sleek design, virtue serves the best. This fully customizable WordPress theme is responsive to almost all devices. You can create a nice-looking layout for an e-commerce store with virtue easily. The idea is retina ready, 100% responsive for tablets and mobiles, and holds bold graphics, fonts, and color options.
It is a multipurpose theme that adapts various modern colors and designs for an alluring effect. You can also use powerful sliders to create a robust image of your products. It is a versatile e-commerce theme with multilingual and multipurpose features. Grab one for you ASAP.
Storefront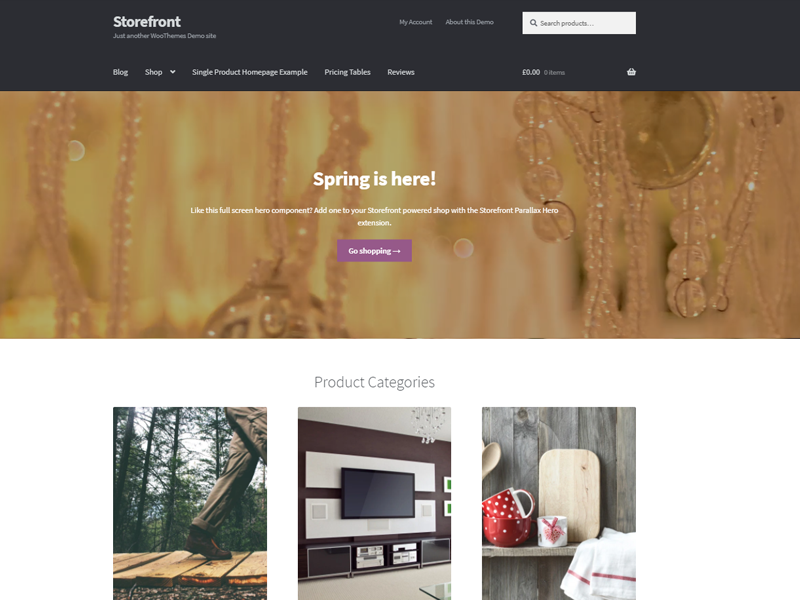 One of the most praised ecommerce themes on WordPress is Storefront. It goes entirely to any device and holds 100% customization options. With such a handy flare of options, you can sum up into an admiring site. The storefront has a minimal, clean, and sophisticated design that looks elegant online. Customers love how it works and supports its end-users.
With a flawless modern design, it also has custom homepage templates into it. The theme is translation-ready, 100% free, GPL license, SEO-optimized, responsive layouts, and clean and elegant. Bring it to the best with a storefront to get the maximum audience to your site.