Looking for a WordPress gaming theme? It's always a challenging task to create a gaming websites, especially with WordPress. WordPress offers hundreds of exciting gaming themes, which may be overwhelming for a developer to choose the best theme for the target audience.
We have handpicked some of the best gaming WordPress themes to create the best gaming websites. Most of the themes from similar niche have similar features such as many premium tools, customization options, and built-in templates.
However, they do not cost you extra. Yet, the most important element to consider while selecting a gaming theme is the design which should be gaming-focused.
You will find the list below the best themes for games.
Below are the best gaming WordPress themes that will help you get started with your own gaming product
1. CrystalSkull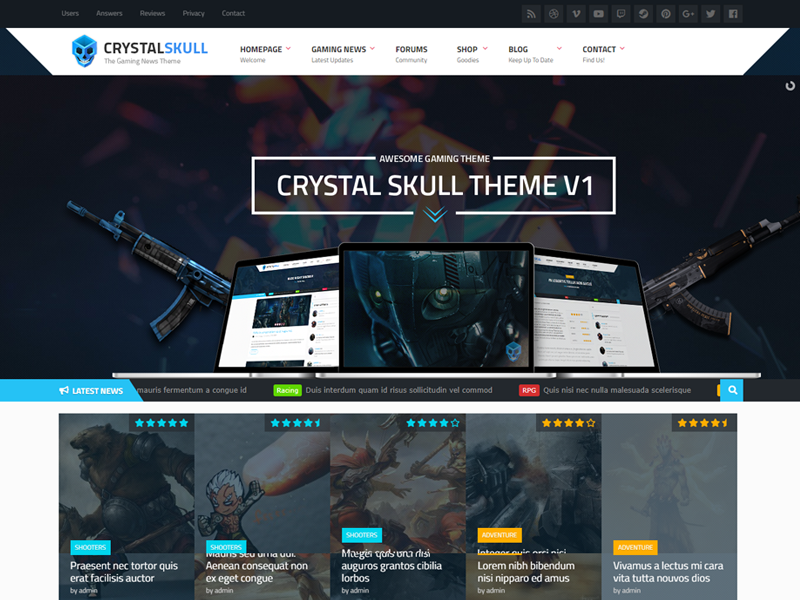 CrystalSkull offers you to create an online gamers' community, review site, or games news blog. It has almost everything that you may need to get started with a gaming website.
Furthermore, it has an integrated system of review which means that your games' review will find rival in the leading games websites. You will find CrystalSkull the most capable in case of creating an online community.
Likewise, addition of discussion forum on the website is made easier with the most leading community builder bbPress. Moreover, if you are looking to sell products like digital downloads or even physical products like gaming accessories, then CrystalSkull has full compatibility with eCommerce. This is an amazing esports wordpress theme. This of the best WordPress gaming themes.
2. Kappa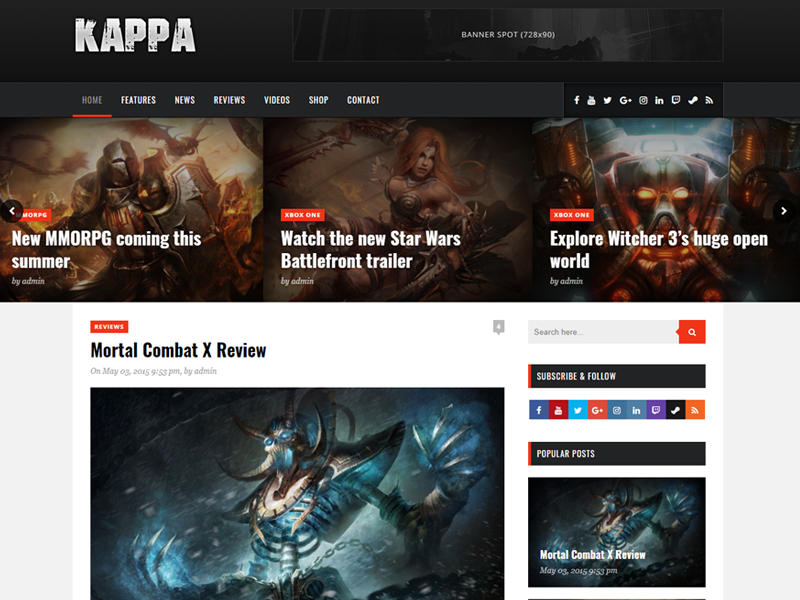 Kappa is a premium WordPress gaming theme. It is specifically designed to help express, inspire, and empower the things that you love about gaming. You can easily market your product, or showcase your favorite part of the game with the help of Kappa.
Moreover, it offers full features to highlight the gaming news as well as posting game reviews. In such away, you can build your own gaming community through Kappa. Its style and design will keep your website stand out among the common gaming resources on the internet.
The theme is fully compatible with WooCommerce. This is why, you can easily sell your services and products through your gaming website. The integrated publishing review and rate system further allow you to publish the reviews in a different style. Its distinct features will make your gaming website look more appealing. Kappa is tailored like a WordPress arcade theme.
3. Plaxer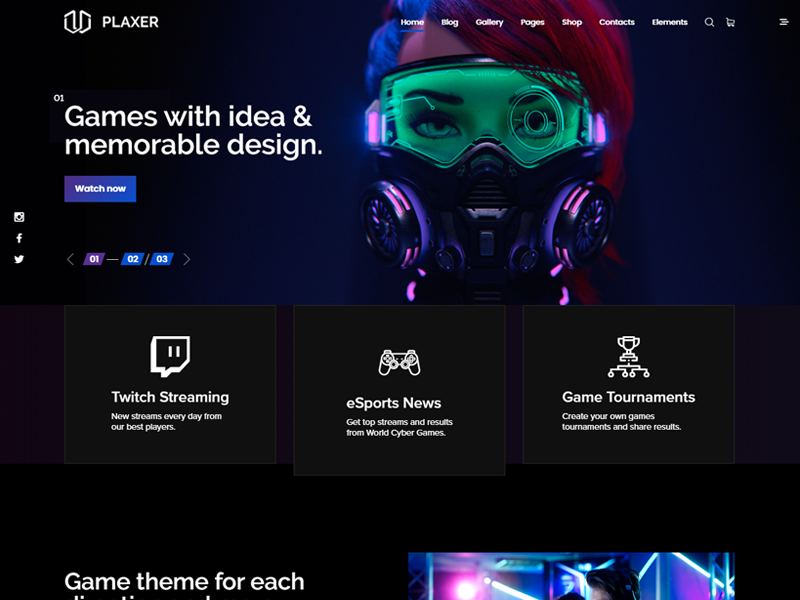 Plaxer is a gaming theme for WordPress which is high-powered for streaming, eSports, and Gaming. It demos also give an eye-catching view for the gaming sites in a characteristic manner.
Plaxer is best if you want to create a website that instantly engages your visitors in your subject of eSports or gaming. It templates have significant options that offer you develop game, eSports and streaming websites along with general options of a gaming site.
Moreover, the homepage includes a large slider for sharing videos or large size images. Plaxer enables you to integrate your website with eCommerce through WooCommerce compatibility.
4. Overworld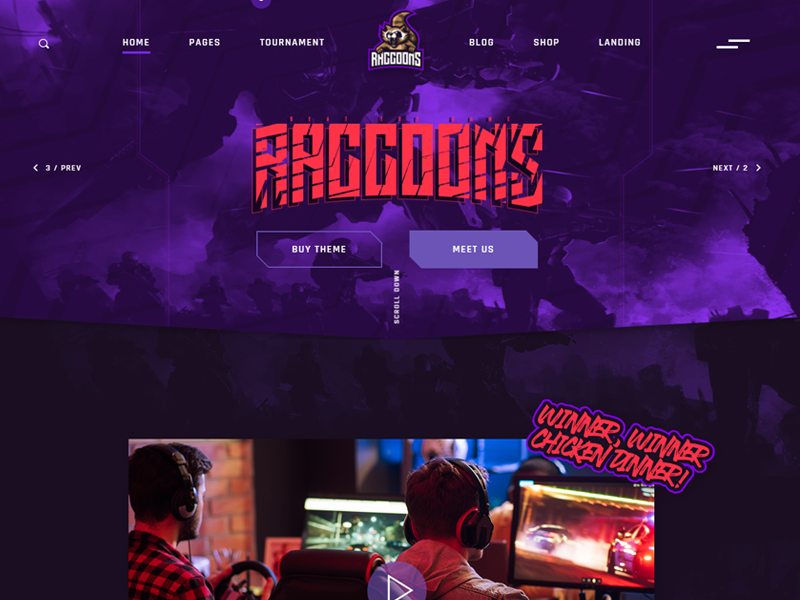 Looking for the game goliath or a true esports wordpress theme? OverWorld is here for you. From gaming tournament to presenting your team and gaming magazine, OverWorld offers you full support. Moreover, it also offers you esports sites and customized gaming elements including tournament, match and player lists.
It is made more interesting by using interesting animations so that the gaming site looks more appealing. In addition, the developers have imparted their best solutions to make the site most engaging by adding distinct features to the theme.
Such as, scrolling effect, animations in page load and custom mouse cursor. Overworld offers very stylish templates to help you compete in the online market.
5. PlayerX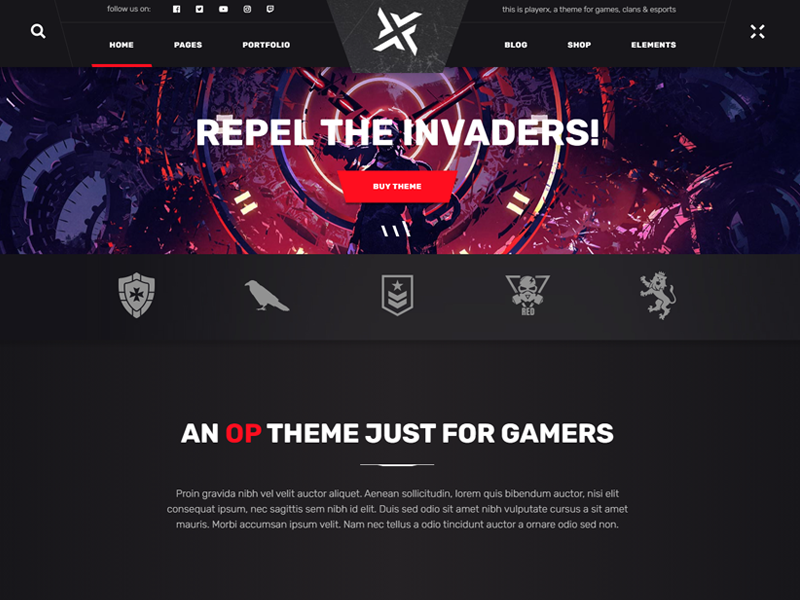 PlayerX is a high-powered gaming eSports and gaming theme. It offers heart-pounding template specific for the gaming studio, esports and gaming. Thus, here's how you beat the game. It holds all the features that are needed in a gaming and eSports studio and modern gaming.
Above all, you are able to display the match lists or announcethe streams in a gaming clan. It provides detailed documentation and one-click demo import. So, do not look further is you were looking for a powerful eSports and gaming website. The demo website also shows that PlayerX is highly suitable for the portfolio, live feeds, and publishing news.
Also, you can easily sell you gaming-related services and products through its eCommerce layouts. The features below make this theme one of the best WordPress gaming themes on the market.
6. Eldritch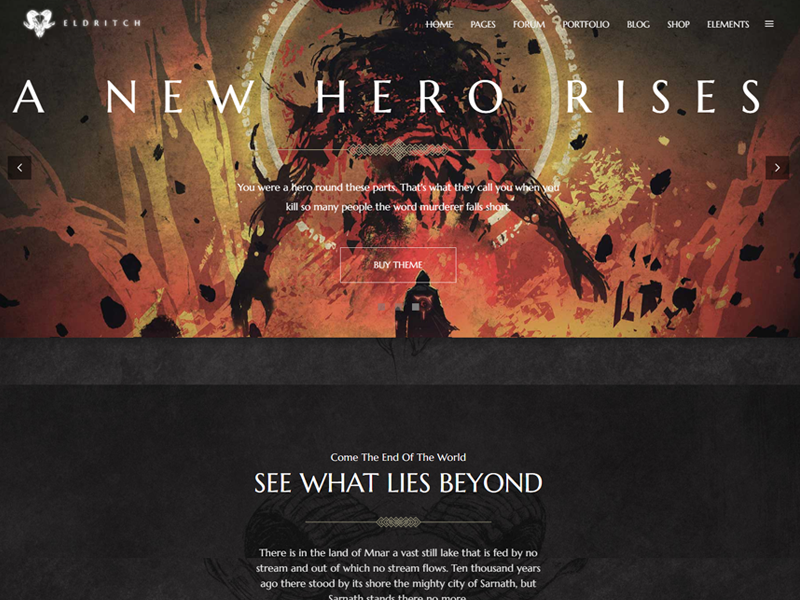 Eldritch is an epic eSports and gaming theme. It offers a mesmerizing gaming and eSports options for businesses, gamers and anyone related to video gaming. The package includes easily customizable and enthralling gaming layouts for online store, concept art presentation, gaming blog, game showcase, and eSports matches.
Moreover, the theme is fully compatible with bbPress plugin and offers a forum template. Eldritch also offers a unique style and design to help you with eSports and gaming. You can easily create an inspiring and awesome eSports and gaming website with Eldritch. It also has an eCommerce support because of its full compatibility with WooCommerce plugin.
7. GodLike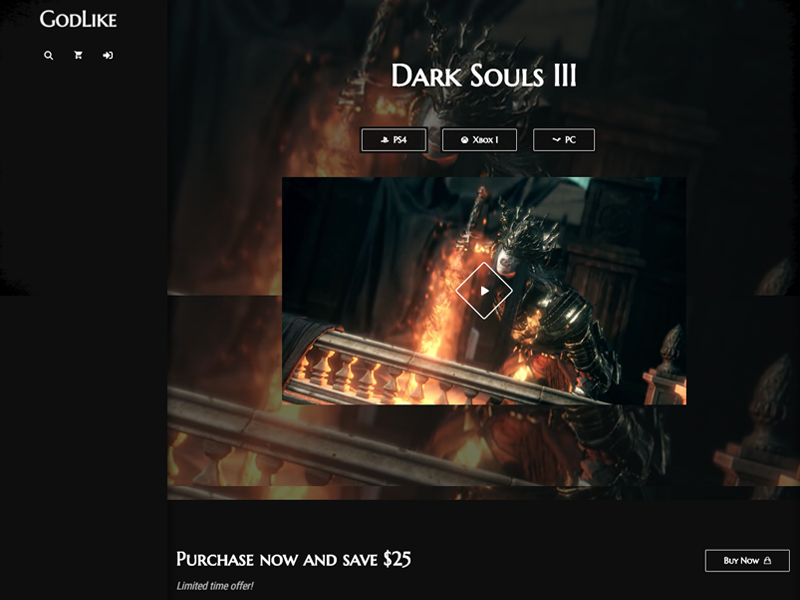 GodLike is considered as an atmospheric WordPress gaming theme. GodLike will help you with opening your webstore through WooCommerce plugin, develop your gaming community, creating social network or promote your own game.
It also enable you license your game keys, movies, Android and iOs apps or selling your games. Although, the theme has outstanding features perfect for your gaming website, yet it is not limited to gaming niche. Rather, it is a multi-purpose theme that will help you through page builder and different pages.
You can share news or write a personal blog with this theme. Moreover, it allows you to use multiple shortcodes and unlimited layout variations. Thus, you can enjoy a modern and stunning website design.
8. Blackfyre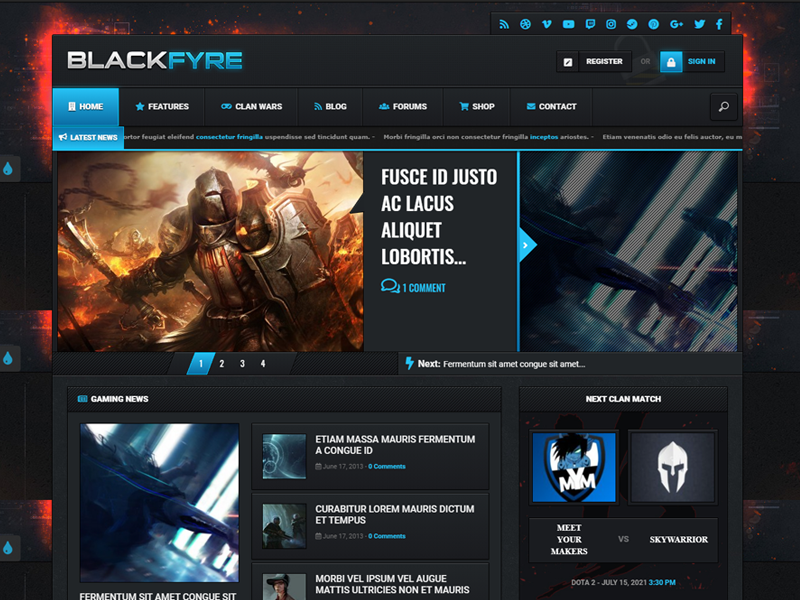 Are you going to create a personal gaming community? Blackfyre will help you the best in this. From customized pages to clan wars to form at the front-end, Blackfyreproves to be the best gaming theme ever. This gaming theme will help you build a huge gaming theme without getting worried about the control, privacy or anything else.
It also offers full control over admin interface for all the members. You don't need to learn coding to work with Blackfyre, instead all you need to do is determine the type of game you want to create. It also provides predefined page layouts for easy creation for clans.
9. Orizon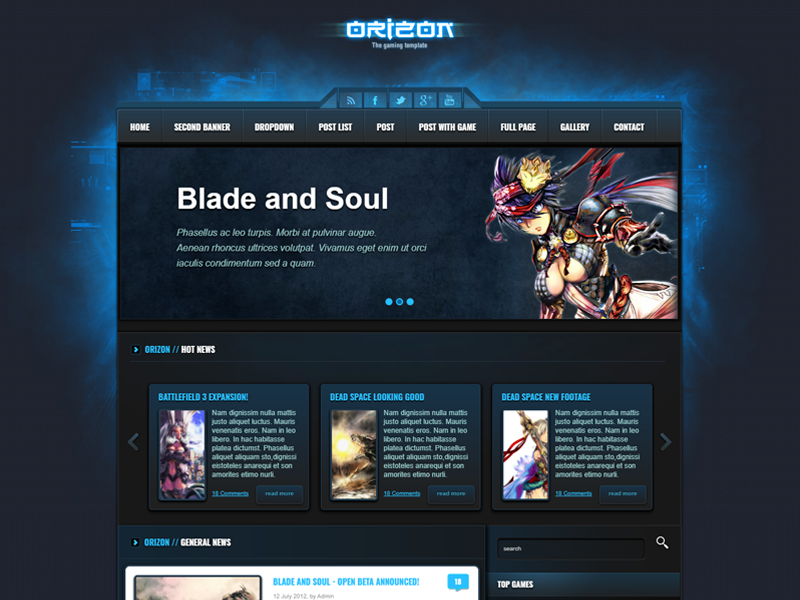 Orizon is a theme from The Gaming WP template for all kind of entertainment, news and gaming content. It is creates with the latest CSS3. Further, there is a possibility of creating an eye-catching and sleek online gaming, personal project, blog or magazine site using Orizon.
The theme is fully responsive. It has 2 main sliders; tab selector and parallax. Further, there is a widget ready footer and sidebar. Moreover, the theme offers contact form 7 option as well. You can create your personal gaming community using this theme. An integrated review system helps you post game reviews and build a huge gaming community.
10. Game Addict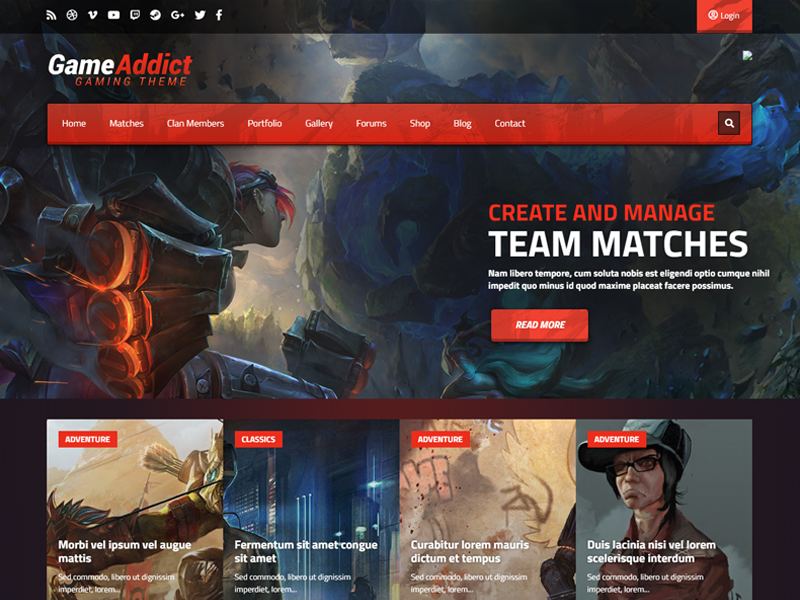 It is a specific Clan War gaming theme. So, if you like clan war games and want to own one, this theme is the best option for you. You can manage and create clan wars with different games, teams and maps with this. Visual composer helps you with page building.
It is a trustworthy theme that offers playing mode without compromising in your planning. The customer support and design quality is unmatchable. Above all, it will satisfy you with all the right decisions that it offers. This gaming theme can do wonders with your clan game idea and you will literally see your thoughts changing into reality.
11. Oblivion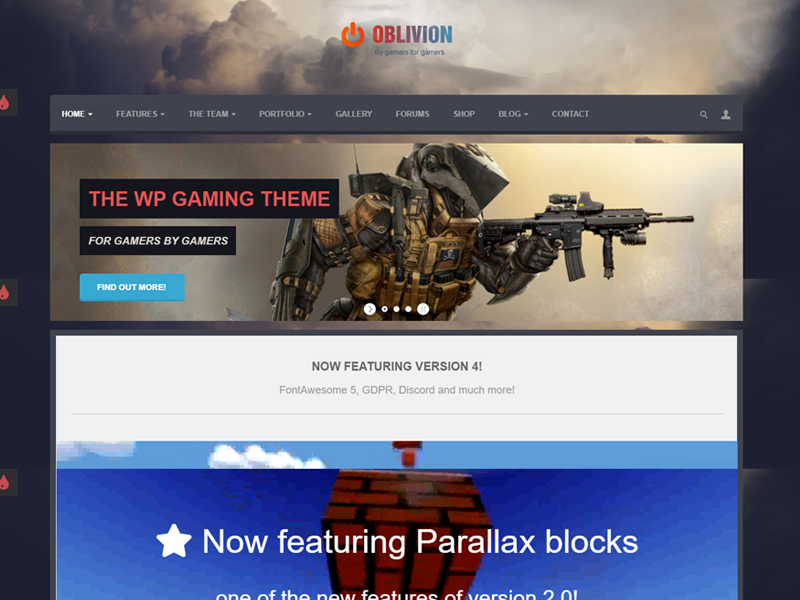 It is an ultimate multipurpose gaming theme. The themeis specifically designed using CSS3 and HTML5techniques. Moreover, it offers you create outstanding portfolios and review sites for the games. Several new features are recently added among which animated icons and images are the most exciting ones.
These features grab the attention of the visitor at once and increase engagement. A widget for rating and review system is also integrated. Further, you can build your own community using bbPress plugin in WordPress. It is an awesome page builder having multiple blocks and drag and drop page building tools.
12. GamerPro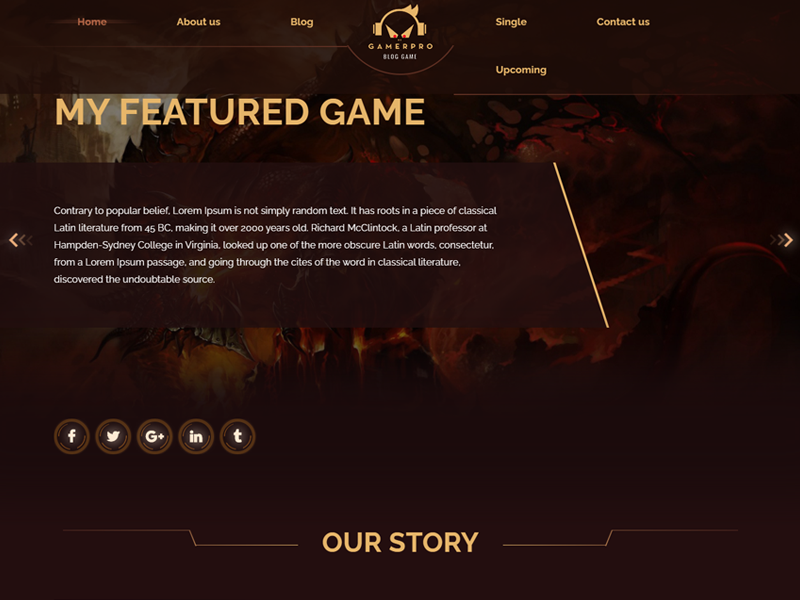 It is not specifically a theme for creating a gaming website. But, it is a blog WordPress theme specific for game sites. It is one of most minimal, extraordinary and unique design for game blogging in the internet market. GamerPro helps you create a review, publishing, entertainment content, online magazine, eye-catching news and sleek site.
Moreover, the theme offers almost every feature needed to create gaming communities, game blogs, game forums, game news or game reviews. Furthermore, you can create your game discussion, comments or blog post easily with this theme. A few changes and customizations can help you use this theme for several other purposes too e.g. movies.
13. PixieHuge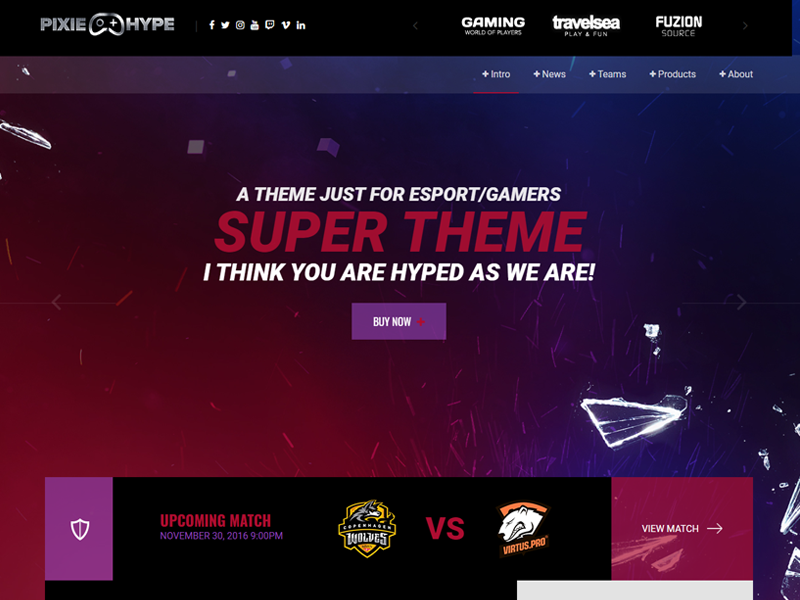 PixieHuge is an eSports Gaming theme for organizations and clans. The theme is generally in darker scheme which is preferred by gamers. The theme is highly responsive, thus same quality is managed in all types of devices. It further offers a solution for everything involved in the organizations and eSports needs.
Moreover, you can add unlimited live streams, sponsors, teams, and players with this theme. Also, you can keep all the users updated with multiple games, players, teams and news articles. The theme is highly customizable with only a few clicks. Above all, you do not need any coding knowledge to use this theme. The admin panel allows you evaluate the features included in the package.
14. Respawn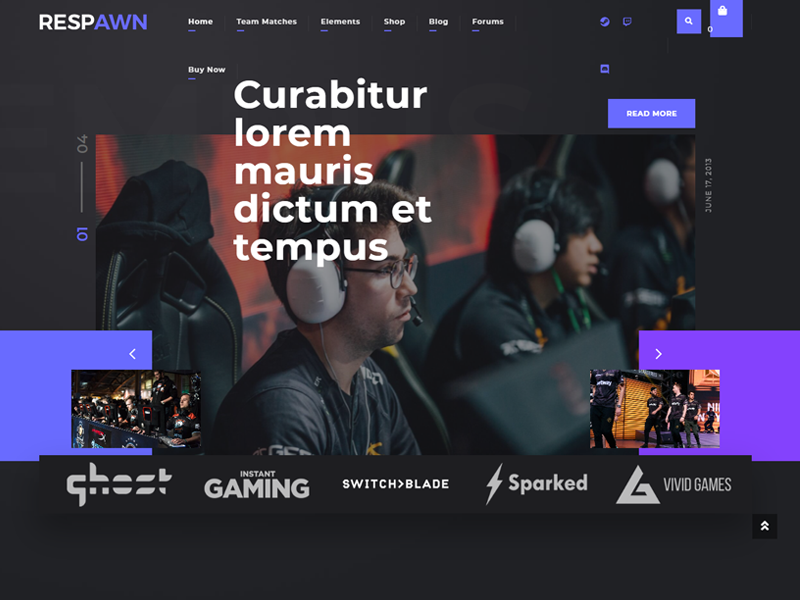 Respawn is a gaming and eSports modern WordPress theme that includes multiple demos. Respawn proposes a pre-built demo that matches you required gaming goals.
Although, it is a gaming website, yet you will find demos for streamers and players, an option for eSports event promotion and a gaming magazine site. Moreover, you can create a fully customized eStoreto sell your gaming-related services and products.
There is a pre-built demo for this too. You can find a large slider to display links, videos and photos related to the site content or news feed that depict the details of any upcoming event.
15. Youplay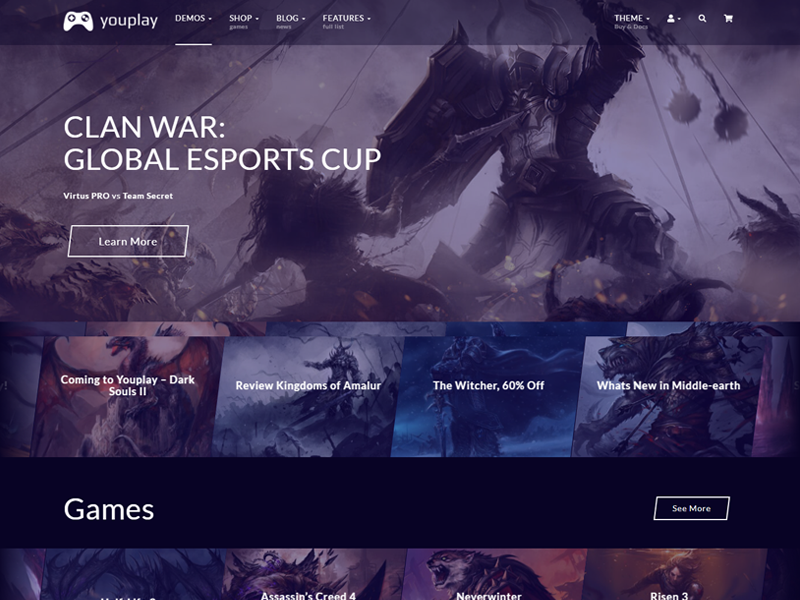 Youplay is a simple yet creative WordPress gaming theme. It is specifically built for gaming store, news, clans and communities. The theme is flexible and clean. Moreover, it is created with an awesome WPBakery page builder and a powerful admin interface.
Youplay is highly responsive. In addition, it offers you complete support of bbPress forum and BuddyPress social network. Furthermore, it support WooCommerce store. It further allows you to create WordPress blog and gaming clan wars. Last but not the least, the package includes unlimited colour schemes for your gaming and eSports website.

Ludjon, who co-founded Codeless, possesses a deep passion for technology and the web. With over a decade of experience in constructing websites and developing widely-used WordPress themes, Ludjon has established himself as an accomplished expert in the field.