Instagram has over 1.21 billion active monthly users – based on their 2021 numbers. This figure makes up for 28 percent of the total number of Internet users globally, according to Statista. Many features attract new users to the platform, which is why it is frustrating to get a sign up error when trying to create an account on Instagram.
There are several reasons why you might get the "Sorry, something went wrong creating your account" when signing up on Instagram. This article covers some solutions to help you fix this error and successfully create an account on the social media platform. 
Reasons Why Instagram Say Something Went Wrong
Several factors may cause the 'sorry' message. One of them is that the app is down, making it impossible for you to complete the action. This is why the message will proceed to ask you to try again later. Additional reasons why you may get this message include:
Problems with internet connection
Bugs within the Instagram app
Device incompatibility
Server outages
Action blocks on Instagram
Various technical glitches
For users who already have an account, you may get the message when you try to change something on your profile that is not authorized or approved by Instagram. Like many social media platforms, Instagram has its own policies and rules which must be followed by all users. 
Now that you know some of the reasons why you get the massage, let's dive into the solutions.
How to Fix "Sorry, Something Went Wrong Creating Your Account" on Instagram
The following solutions can help you fix whatever issues prevent you from signing up with Instagram. Some of the solutions can also be used to solve other errors or issues when using the platform. Like any other platform, you can always contact the support team if none of the solutions below fix the problem.
1. Signup with the Official Website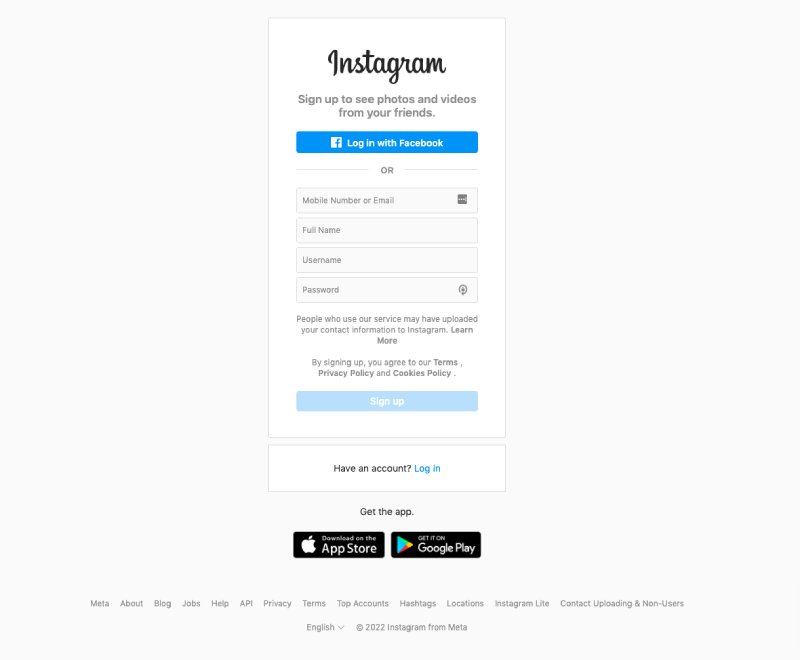 The first solution you can try to resolve the issue is to use their web application, instagram.com. This means that instead of signing up on the Instagram mobile app, you should try creating an account with the website version of the platform. 
Using the web platform will work if it's the mobile app that has issues for new users trying to sign up. Instagram allows new users to sign up with their phone number, email address, or Facebook account. If the website version gives you the same "Sorry something went wrong creating your account" message, then something is wrong with Instagram as a platform, and you need to seek other solutions. 
2. Use Incognito Mode
While still trying to sign up with the official Instagram website, you might try using incognito mode if the normal mode does not work. Open a new incognito window and try to sign up with it.
3. Try to Use Different Credentials
You now already know that you can sign up on Instagram using your Facebook account, email address, or phone number. If there is already an account with the same credentials you're using to get a new account, your sign up process will not be successful.
To fix the error, you need to use different credentials to register an account. This means signing up with a different phone number, different email address, or different Facebook account. If this doesn't work, then it's time to try other solutions below.
4. Check the Date and Time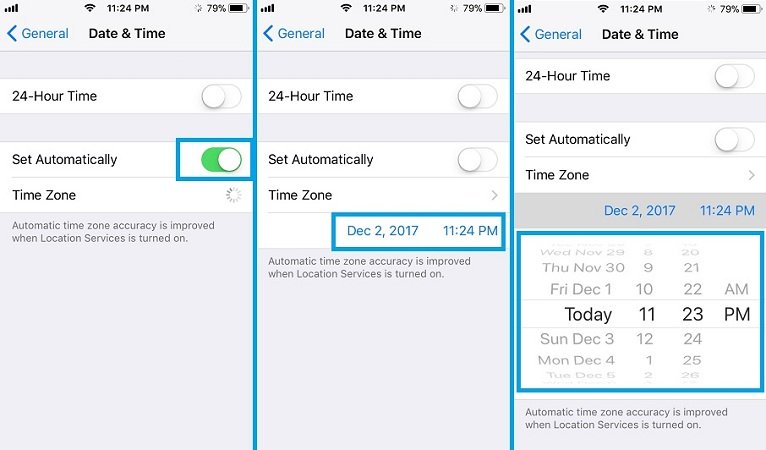 Your device's date and time impact how certain sites and applications can be accessed on your device. If you have the wrong date, it could be the reason why you're unable to complete some actions. Set the right time and date on your Android or iPhone before trying again.
5. Use a different Device
Your device might be the reason you're unable to create an Instagram account successfully. You can try changing the phone you're using to sign up. The alternative is to use a desktop or laptop to sign up with the website version of Instagram. If the issue was with your phone, then you'll succeed in creating a new account with a different device. 
6. Try to Create the Account Later
You can also follow the message prompt and try to sign up later. Sometimes the servers or systems are down, or the app is undergoing maintenance. It is impossible to create a new account on such occasions. The best thing to do is to wait and try to sign up later. 
When there is a massive downtime on major social media platforms, users will post about the downtimes on other social media platforms. For example, when Instagram is down, you may see trends on Twitter about the crash. This is one way of verifying if the system is indeed down and if you should wait and try to sign up later. You can also, check if Instagram is down using online services like DownDetector.
7. Close then Reopen the App to Get Rid of Bugs
Bugs on mobile apps can easily be fixed by closing and reopening the applications. Restarting the app can remove any bugs that were preventing you from creating a new account. 
Once you reopen the app, you can try to sign up with Instagram again. If you still get the "Sorry, something went wrong creating your account" message, then you'll have to try other solutions.
8. Multiple Accounts on the Same Device
Instagram allows you to create multiple accounts. However, it will be impossible to create a new account while already signed in to the older account or accounts. In order to sign up for a new account, you must sign out of all other accounts on the device you're using.
9. Turn Your Device Off/On to Remove Bugs
Rebooting your devices is one of the most common fixes for various issues when using your computer or phone. Turning your device off then on may resolve whatever issues that cause the error message, enabling you to successfully create a new Instagram account. 
10. Fix Network Issues
A weak or unstable internet connection may also prevent you from successfully creating a new Instagram account. If this is the case, you should ensure that you have a stable internet connection before trying to sign up again. Some actions you can take to solve network issues include:
Turning your router off and then on
Disable and then enable network connection on your device
Set the right date and time on your device
Change DNS settings
Check if the internet cable is properly connected
Reset your router
Switch to another cable port on your router or device
Try using another network
11. Clear Instagram Cache to Get Rid of Error
The solutions now are getting a bit technical. This fix requires you to clear cache files in the Instagram directory. These are temporary files stored on the app's directory to help faster loading of the application. 
Deleting these cached files gives the app a new start on the device. This means if the files were the reason you could not create an account, it's possible to create one after clearing the cache.
Learn more on how to clear the Instagram cache folder.
12. Wait for Instagram to Go Back Up
A mobile application can go down for various reasons, including security issues. The servers might also have issues causing downtimes for the app. You will have to wait until the app is up again and try to create the account. The waiting time can range from a few minutes to a few hours. 
13. Update Instagram
Do you have the latest version of the app? If there was a new upgrade, you need to update the application to the new version. 
Sometimes owners or developers of these applications update the platforms to get rid of bugs. This means that users on older versions will encounter various obstacles because of the bugs, including the inability to create a new account. Updating to the new version will eliminate the bugs and clear the way for you to get a new account. If you still get the error message, there are a few more solutions you can try. 
14. Delete and Reinstall Instagram
You can uninstall and reinstall the Instagram app. This action can resolve many issues, including getting rid of bugs in older versions – if you did not update the app in step 13 above.
Uninstalling and reinstalling the app clears the cache, removes deep bugs, and deletes all information held in older accounts on the device. The data removed may have been the reason why you could not create a new account. 
15. Use a VPN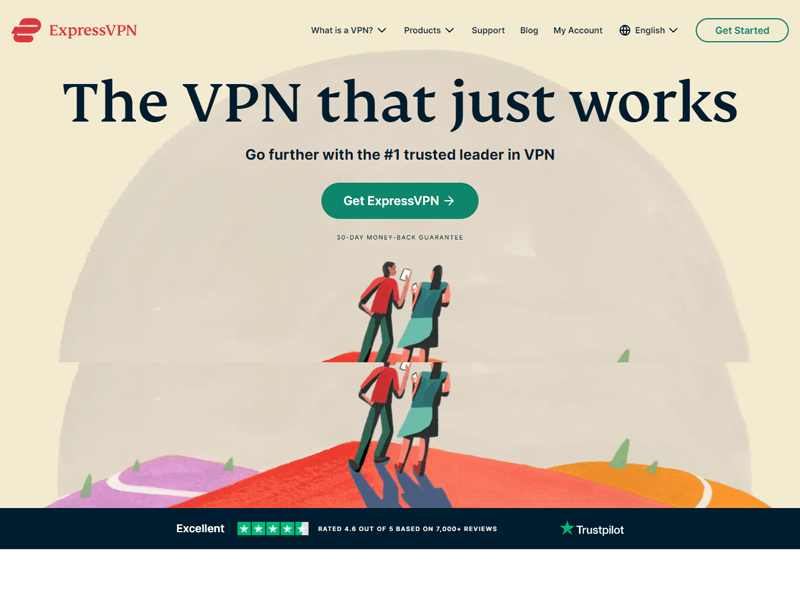 Some countries have banned the use of social media platforms. You may also be unable to access social media platforms if you are connected to a network that restricts access to social media, despite being in a country that allows access to social media. In such scenarios, you can use a VPN to hide your IP and successfully create a new Instagram account. In addition to hiding your IP, the VPN protects your privacy online. 
16. Contact Instagram Support
The last resort for any issues with an app or website is to contact the owner or developer, including Instagram. For a popular app like Instagram, there is a dedicated customer support team that you can reach for help. 
It is easy to get contacts from Instagram's support team. Follow the instructions they will provide for you to create a new account successfully. In order to help them give you the right solutions, you should tell them all the actions you have tried to take to resolve the problem. This ensures you are not told to do the same things that you've already done. 
Other Errors on Instagram
In addition to the "Sorry, something went wrong creating your account" message on instagram, you may also encounter other errors as a user. For example, you may get the error message, "Sorry, something went wrong on Instagram". You may get this type of message when the internet you're using is down, or when the app itself is down. 
Users with Instagram accounts might also encounter errors or issues while using the platform. For example, you may get the "something went wrong" message when you try to post something. The issue could be because of poor internet connection,  or something went wrong during the upload process. 
Conclusion
Social media platforms play an important role in modern social life, especially among the youth and teens. These sites and apps are also used as advertising platforms for businesses. Creating your account is the first step toward enjoying these benefits. Getting the "Sorry, something went wrong creating your account" message on Instagram should not discourage you from creating an account.
You can try the solutions we have provided above, and if nothing works, then you should contact their support team. If you follow all the instructions, you should be able to successfully create a new account on Instagram. Feel free to write a comment if you need further help.

Ludjon, who co-founded Codeless, possesses a deep passion for technology and the web. With over a decade of experience in constructing websites and developing widely-used WordPress themes, Ludjon has established himself as an accomplished expert in the field.