Looking for the most feature-rich best Elementor addons? Elementor itself is the one that finds you everything that you need to build a website.
However, needing to find more potential designs, the third-party add-ons are extended. You can find new widgets to use with your design which adds new options and functionality to your design. If you are looking for an Elementor theme check the best free Elementor WordPress themes
Satisfying one's requirements at a time is never possible. Thus, Elementor offers 80+ extraordinary elements where you may find yourself starving for more unique and advanced options. This is the core reason why the third part developers expanded the functionalities of Elementor with free & premium addons for Elementor.
Currently, there are 131 free Elementor addons in the marketplace. So, you always have a ton of options to choose from to strengthen your designs with extraordinary layouts and features. Likewise, Elementor extensions create special vibes for you on your website.
Top 24 Best Elementor Addons with a Free Version
We have compiled the 24 best Elementor plugins which include both premium and free.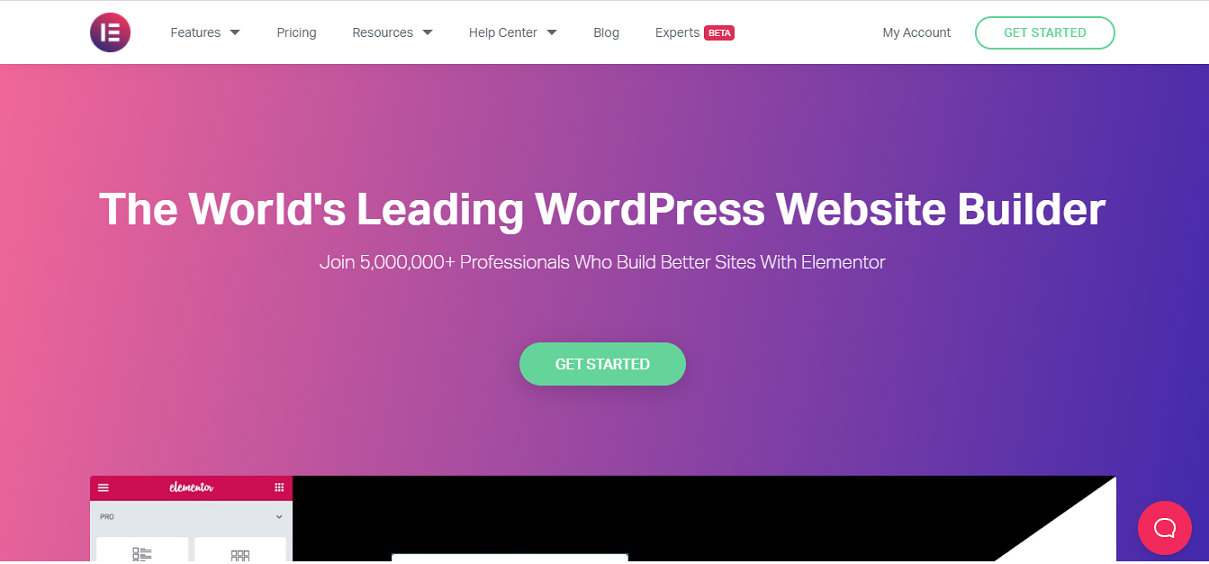 Elementor Pro provides the ability in theme building to assist you to design the theme in the meantime. These features help you customize blogs, WooCommerce, footer and header. A landing page is an instant design where a great collection of templates are present. These templates are not so far.
However, you can personalize the information with ease. In case, you need to add custom coding you can add custom CSS already present in the Elementor dashboard. Elementor Pro has a Global widget feature.
The drag and drop page builder allows you further to generate future pages with drag and drop capability. Check a detailed comparison of Elementor vs Divi.
Features:
Custom CSS
Read made templates
WooCommerce
Dynamic pages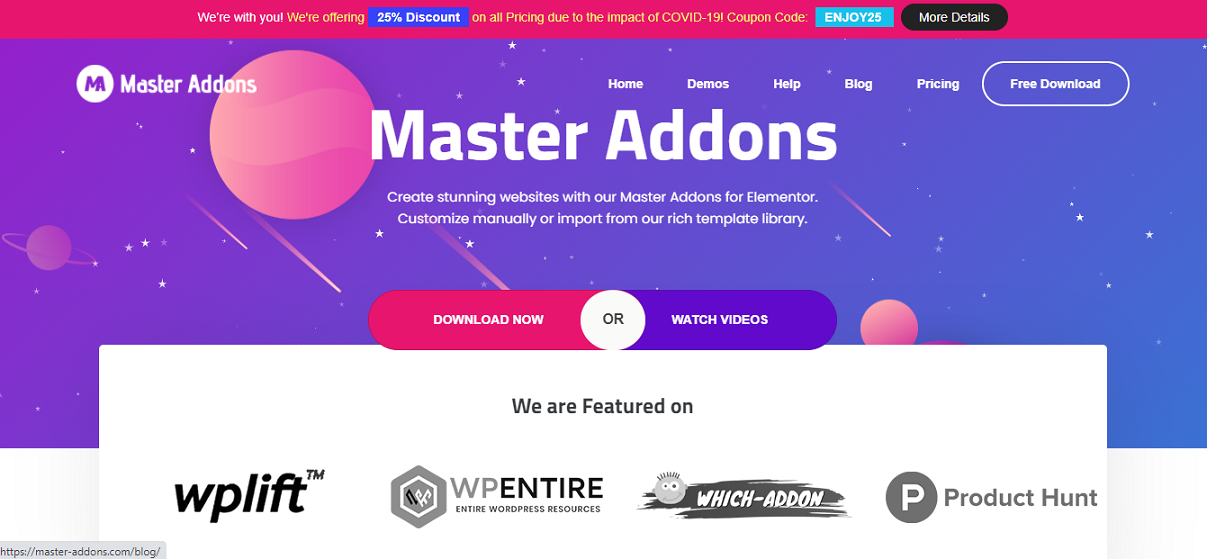 You can develop exactly the same Master Add-ons. In addition, to create headlines, blog, images. With the image galleries and news ticker, you can include magazine-style site. All types of team member modules, timeline and progress bars display the staff accomplishments and abilities.
The consistent development with new features. These include comment form builder, footer and header. Custom breakpoints help in defining the exact pixels that makes your website responsive for multiple devices. JS modules and custom CSS are further offerings of Master Add-ons that quickly add code to any page or post in a customized way.
Features:
Contact form 7
Custom header, footer and comment section
Responsive
Floating effect
Ninja forms, caldera forms
weForms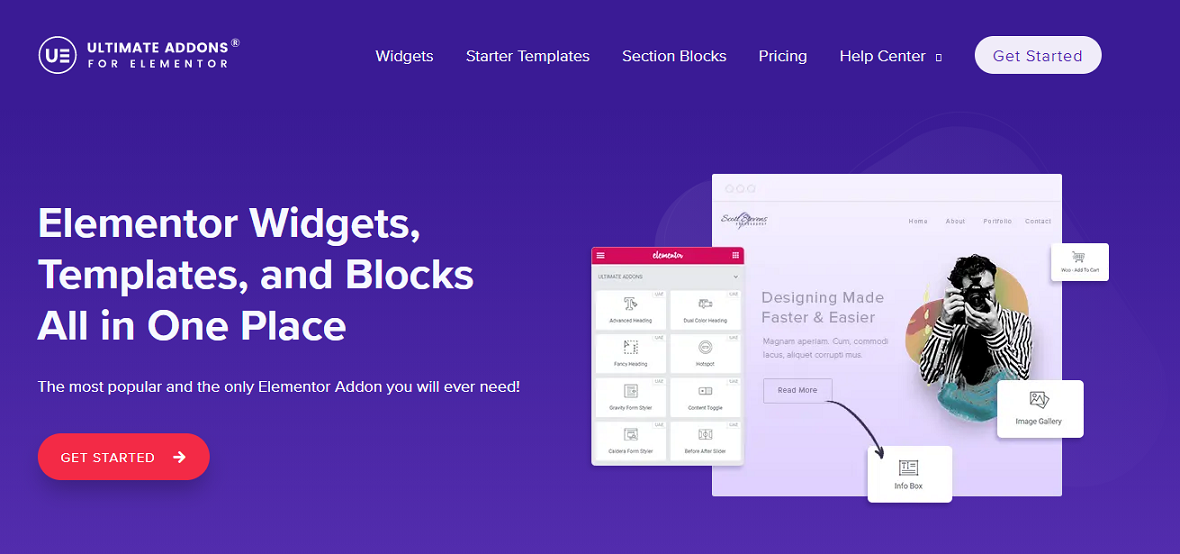 Ultimate Addons is a widget-pack & the most popular Elementor addons. It offers 200+ new Elementor widgets. This add-on comes from Brainstorm who also created the Astra theme. New widgets are continuously added.
It also provides form stylers both for Gravity Forms and Contact Form 7. Moreover, it has 3 widgets for WooCommerce to products, categories and add to cart.
All the widgets can be easily seen by clicking on the menu option of Elementor widgets and choosing the required widget. The best about the ultimate widgets pack is that it adds unique widgets to enhance the flexibility and functionality of the Elementor page builder.
Features:
Contact toggle
Modal popup
Timeline
Video
Info box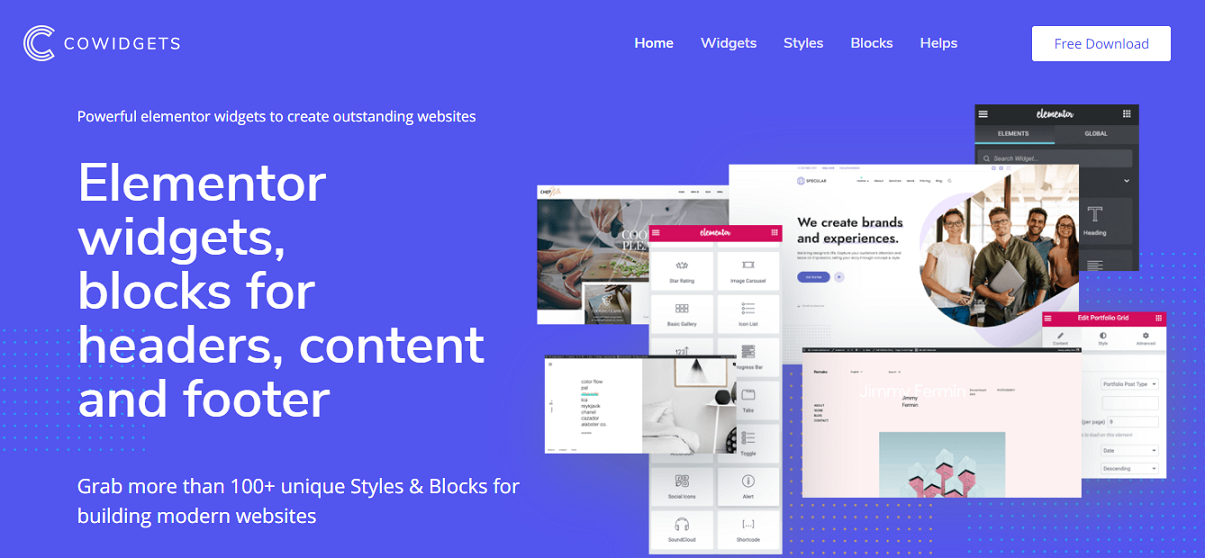 Cowidgets is a high-quality Elementor add-ons available for free to customize header and footer builder. These powerful Elementor extensions help create an amazing website. They come with a footer, content, blocks for headers, and Elementor widgets.
Moreover, you are allowed to get 100+ unique blocks and styles for creating a website in a modern way. It can further help in speeding up the website development. In addition, it offers you pre-built blocks and templates where you can build any section for the website. Blocks are easily imported with the one-click importer.
It further takes your design ability to a new level. You are also allowed to customize even the smallest of details with this add-on. These widgets are fast loading, ultimately your website will be light weight.
Features:
Video tutorials
Regular updates
20+ premium portfolio styles library
Beautiful sliders and project galleries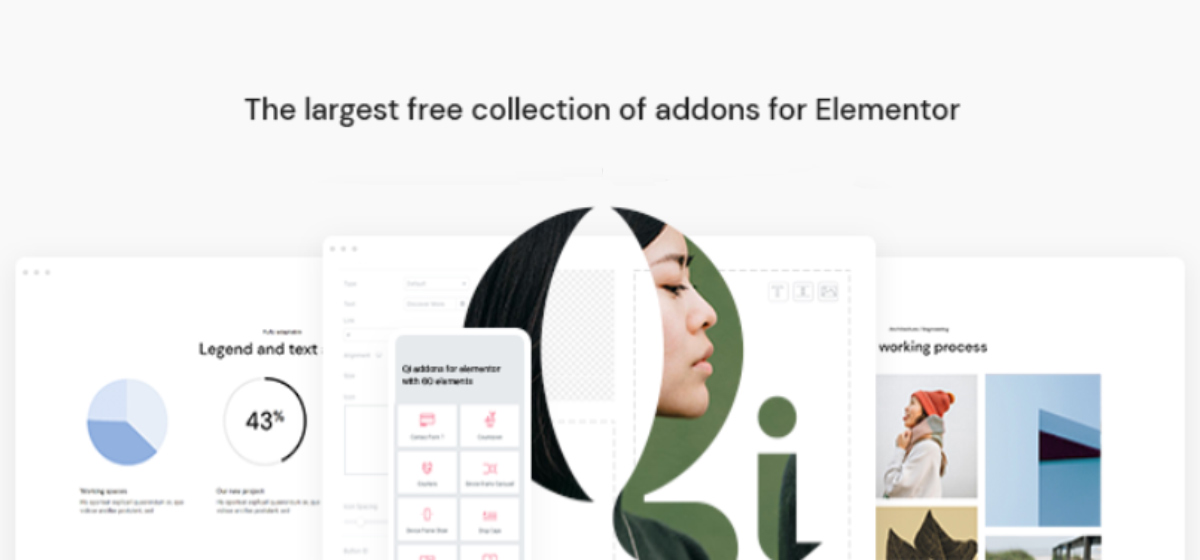 The biggest free bundle of Elementor addons you can find online, Qi Addons for Elementor contains sixty flexible and fully customizable widgets. Beautifully designed and built with the best coding practices, the addons in this plugin will impress with their modern aesthetics and smooth performance.
A plugin with this many addons is sure to find good use in a variety of situations. Qi Addons for Elementor' shines thanks to the versatility of the addons that make the plugin useful for business, creative, design, and even SEO purposes.
Whether you want a quick and easy way to display your data, showcase your portfolio, or give your entire website a makeover, Qi Addons for Elementor is a great choice.
60 custom-built addons
Free to use
Easy to set up
Versatile, flexible, and fully customizable
Full documentation and video tutorials available
Professional support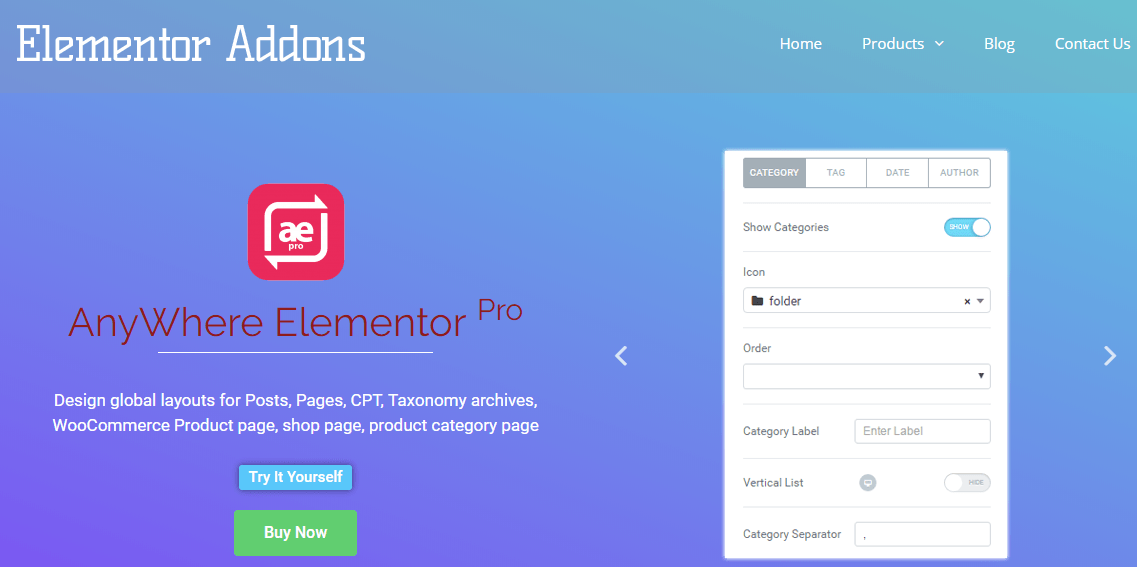 Anywhere Elementor is the most interesting one because it does multiple tasks that an Elementor Pro cannot. It is offered both in premium and free Elementor add-ons versions.
WordPress.org also lists the free version which performs two functions for your website; one is inserting the Elementor template at your site with shortcodes. The second is creating global widgets which can be used at varied places.
With Elementor Pro, you can do both of these functions altogether. But you what's cool? The Anywhere Elementor gives all these features for free. This theme is cheaper than Elementor Pro and offers some very unique and beneficial twists in the features.
Features:
404 page layout
Search page layout
Author archives
Blog post layouts
Single post layouts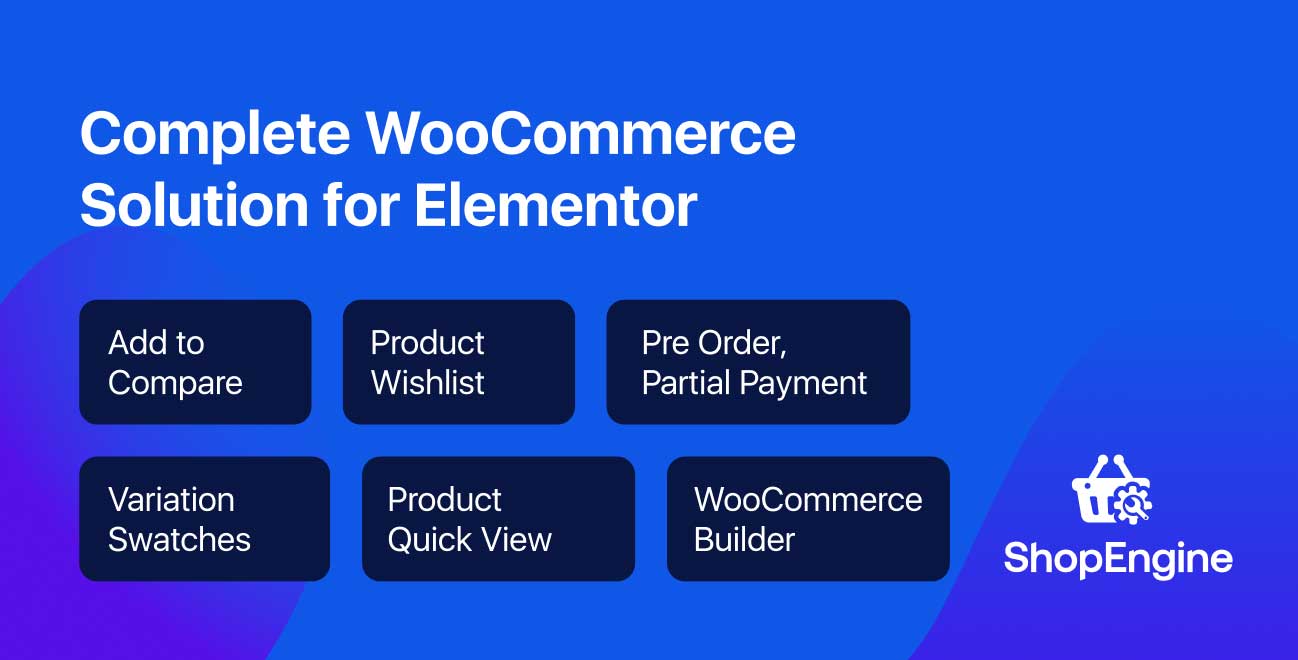 ShopEngine is the most powerful and lightweight Elementor-based WooCommerce builder for WordPress. ShopEngine has amazing features that can help you the best eCommerce site in the shortest time possible!
ShopEngine comes with 50+ drag-and-drop Elementor widgets to let you build and customize your eCommerce website to your heart's content
Features:
Override WooCommerce pages like Single, Cart, Checkout page, etc.
Enable and Disable Any Widget/Module for the Best Page Speed
Product Variation Swatches
Product Quick View
Product Comparison Table
Product Wishlist Module
Filter and Pagination based on AJAX
Product Share Feature
Multi-language Support
Unlimited Customization
Works with Elementor
Compatible with popular themes
No Coding Skills Required
Display Related Products Smartly
Top-notch and Dedicated Support Team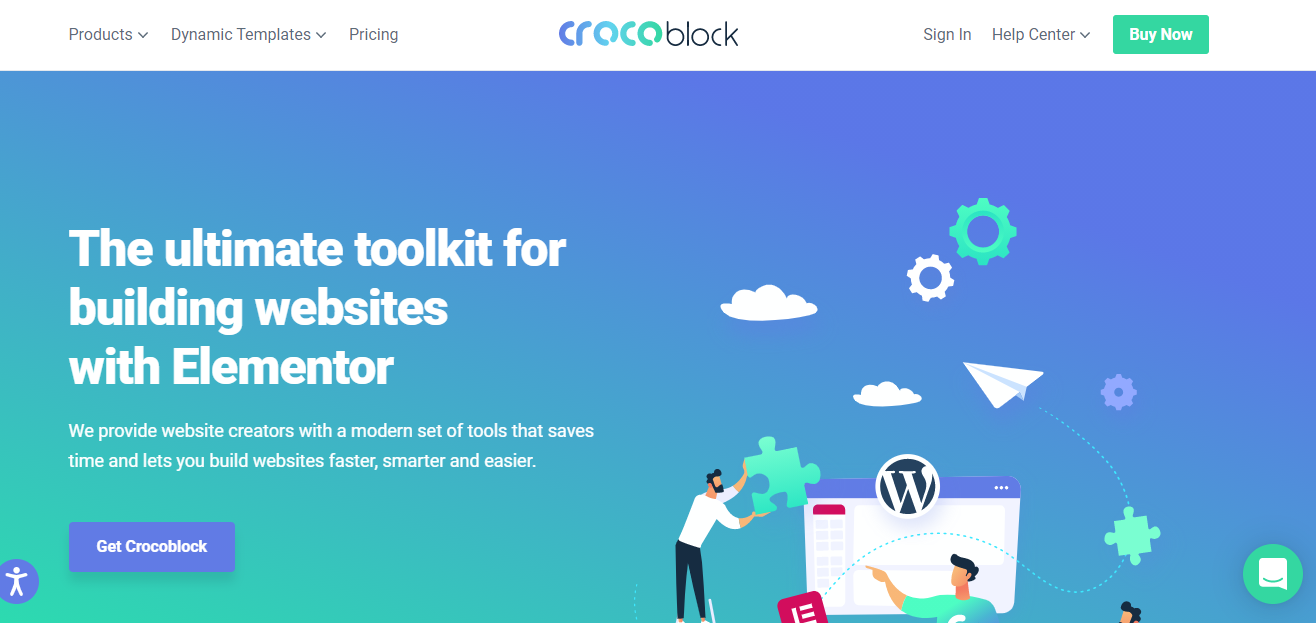 CrocoBlocks offers a different set of plugins that combine to help with Elementor page builder. The brand statement says a lot about the services it includes, "The All-in-One Service for Building WordPress Elementor Websites."
These plugins are also available individually. It includes Jet plugins and Templates. Jet plugins is a suite with 9 plugins that adds visual effects and new widgets to Elementor. Templates provide access to dozens of new templates in Elementor.
You can also get access to Kava theme. It pairs quite well with Elementor. However, the greatest value given to CrocoBlocks is because of templates and Jet Plugins.
Features:
Post layout
WooCommerce
Popup window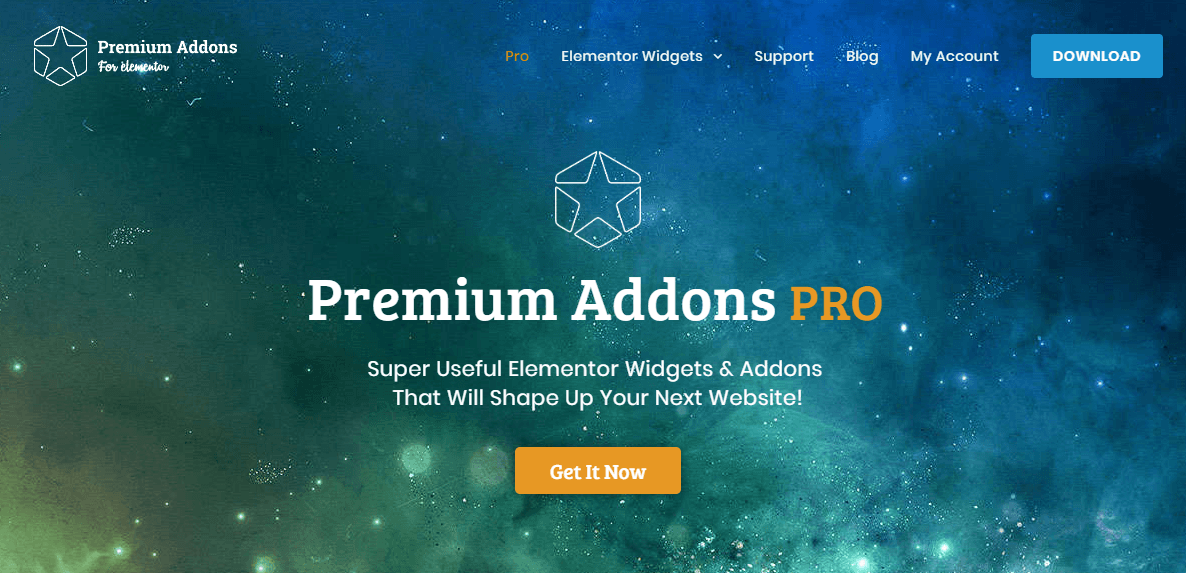 Regardless of their names, Premium Add-ons actually offer both newly launched premium and free versions.
The free one has 20+ Elementor elements which are newly added along with the significant widgets; modal box, dual header, and blog posts.
The premium, on the other hand, offers 26+ more widgets than the free version. This includes Facebook reviews, Ken Burns effects, iHover, and WhatsApp Chat or Facebook Messenger.
It has recently integrated Lottie animations. All the widgets that offer an icon or image option can now be added with Lottie animation. Moreover, the Elementor Section Template Library is offered with both the pro and free versions. Insert, preview and browse the template that you want to add to your post with a single click.
Features:
Freehand design experience
50+ Elementor widgets and Addons
Modular and lightweight
WPML ready
Cross browser ready and fully responsive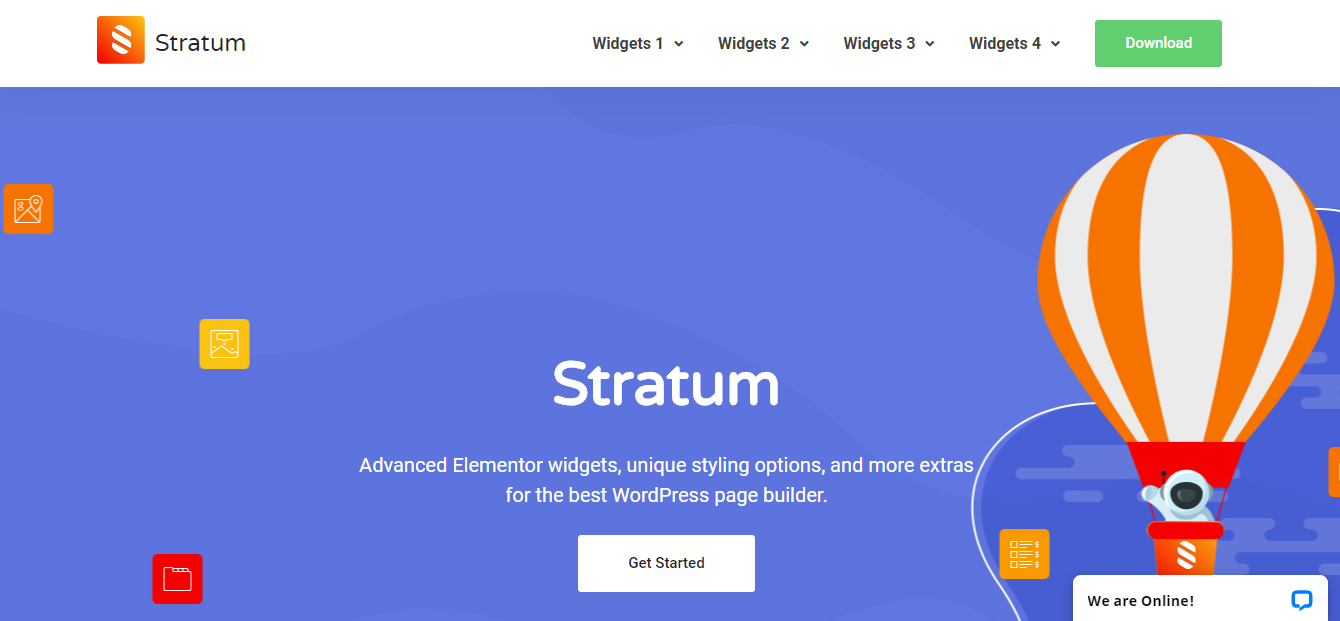 It negates the misconception that the Elementor addon comes with a large pack of 50+ elements. Stratum is not a very feature-rich product.
The best about the Stratum is its free access and affordability for advanced widgets. We can say that it is a freemium collection. This is because it allows the users to use all its 20 widgets free. However, only a few widgets are available at a premium version.
The most demanded and essential widgets are available for free such as Advanced Accordion, Advanced Posts on Instagram, Advanced Google Maps, and Advanced Slider.
The creators claim Stratum to be suitable on the basis of its affordability and quality instead of on quantity.
Features:
Highly customizable
Easy to work with
Proficient
Powerful addon
20+ widgets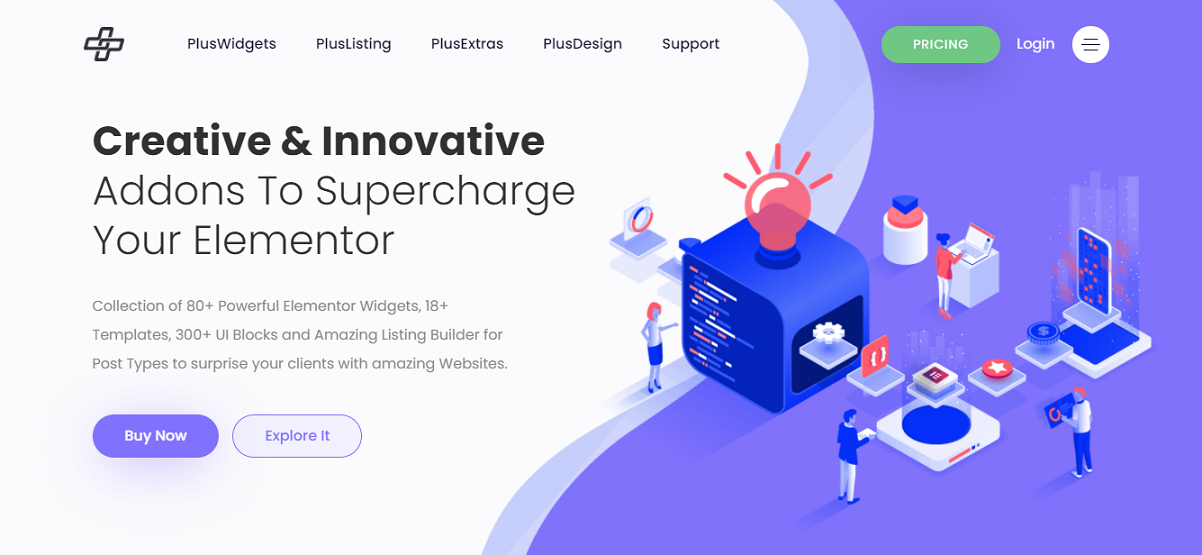 The Plus Addons has the most options when it comes to the Elementor widgets. The pack has the option of more than 800+ customizations. It comes with an all-in-one extension for Elementor.
There are also 300+ UI blocks that increase the speed of the building process. Moreover, you can quickly add forms, map sections, feature lists, hero sections, pricing tables, and icon box grids. These blocks are styled and designed to add content easily.
The built-in options further help customize icons, backgrounds and colors. There are a lot more options to it than you can think. There is top-notch support that leads a developer to buy an extended license to help use the Plus add-on on all the websites.
Features:
SEO and translation ready code
Powerful listing builder
POT to translate
Animated text
Timeline
Parallax
Google maps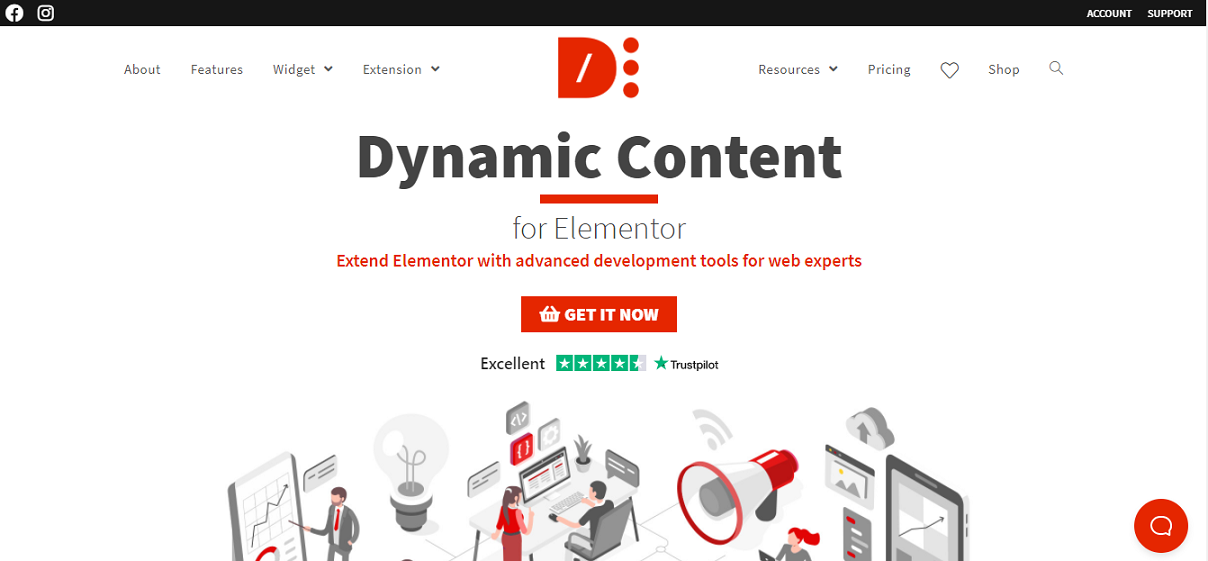 Dynamic Content helps streamline and design your page with Elementor. It includes 4-page settings, 20 extensions, and 58 widgets. These features help add form steps, an animated text which is all eye-catching, interactive cursor tracker, and sticky header.
Therefore, we regard the Dynamic content as a way to create an interactive site. But that's not all about this add-on. It offers tons of new design options such as customizable transformation, tilt and parallax, speedy template system and SVG shapes.
There are additional widgets. But some of the widgets are difficult to integrate with off-canvas, form signatures and PayPal.
Features:
ACF galleries and sliders
Repeater fields
Maps
Custom options for fields
SVG shapes
Cross-site copy & paste
Dynamic visibility
Print to pdf buttons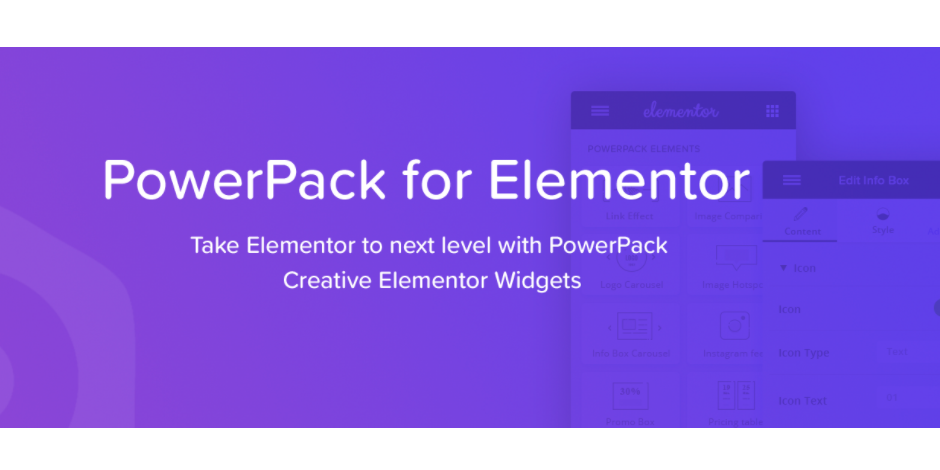 Powerpack comes with different creative elements that are designed to increase your site's visual representation.
There are 42 elements in this bundle, and they're pretty amazing compared to several others of the same kind.
Whether you're willing to add more features or widgets to your site or you just want to add more elements to it – the Powerpack Addons have got you covered with all your visual needs.
There's just one drawback of Powerpack: it is not free for users, so if you're looking for a free option, this surely isn't the one.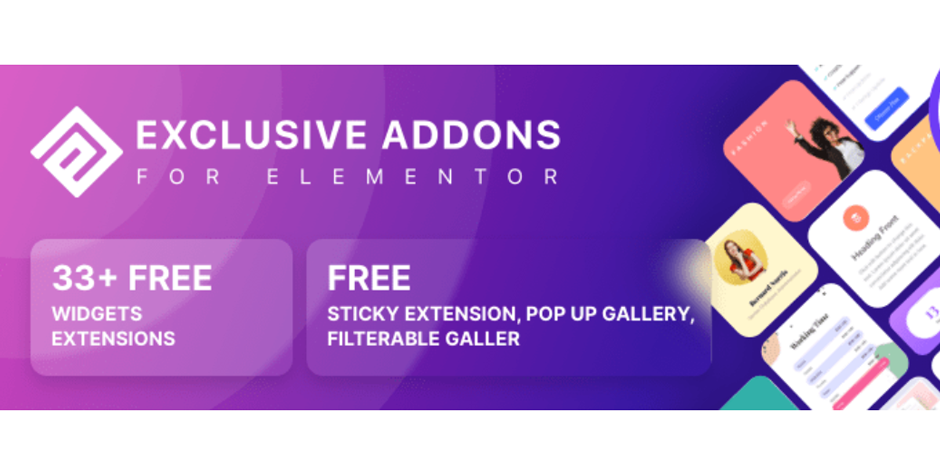 Exclusive Add-ons let you design a modernized website with complex and sophisticated features. By integrating this Addon, you get an additional 31+ page building blocks in your arsenal.
Moreover, the limitless customization feature lets you create a stunning website that perfectly aligns with your content.
And if you're thinking of getting an upgrade, you can simply upgrade Exclusive Add-ons to Exclusive Add-ons Pro. With this upgrade, the Elementor Addon will give your 70+ page elements and 600+ pre-designed blocks.
In a nutshell, every necessary widget, features such as magnifier or image comparison, and functionality such as CTAs or contact forms or pricing tables are given to you by Exclusive Add-ons.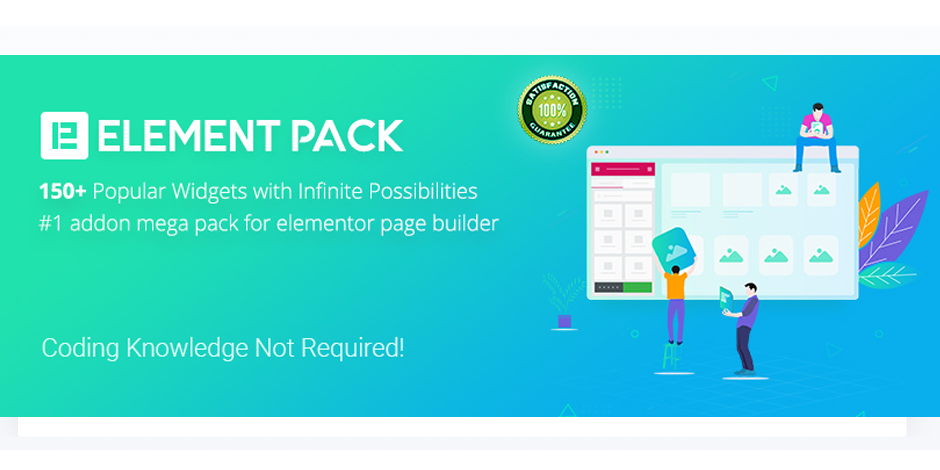 Element Pack is another powerful Add-on that can be used to get design excellence and intuitive and quality oriented elements.
With its beautiful collection of feature-packed widgets and website building tools, the Addon stands out. You can add pricing tables, content blocks and do much more with Elementor Pack.
The only challenge with this Add-on is that it is not available for free, and you have to purchase it to get things rolling.
Also, consider the fact that other Addon libraries on this list offer competitive features for free; one may skip the Elementor pack to go for a free Addon library.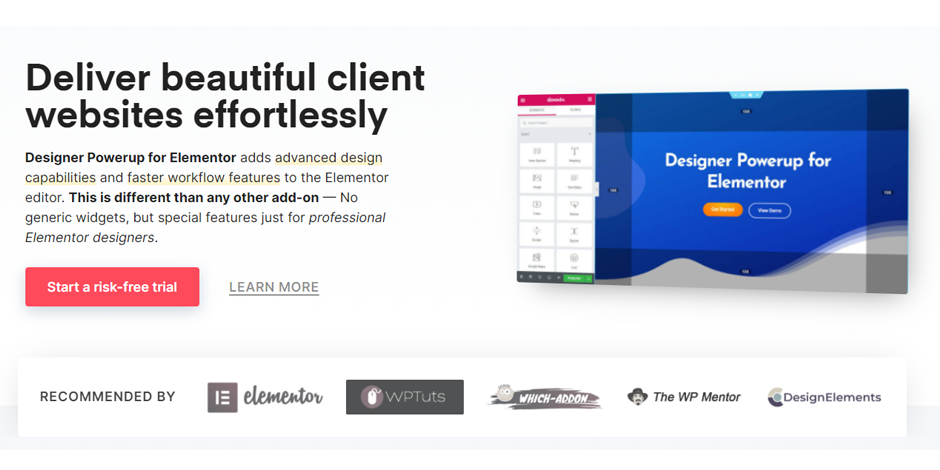 From advanced designing capabilities to seamless editing and workflow increasing features – the Designer Powerup has got it all.
This Add-on is powered by some of the most intuitive features that professional and expert developers and designers can avail to add more features and design stuff to their website.
Moreover, it has several features that can be integrated into your website seamlessly without the need for coding knowledge.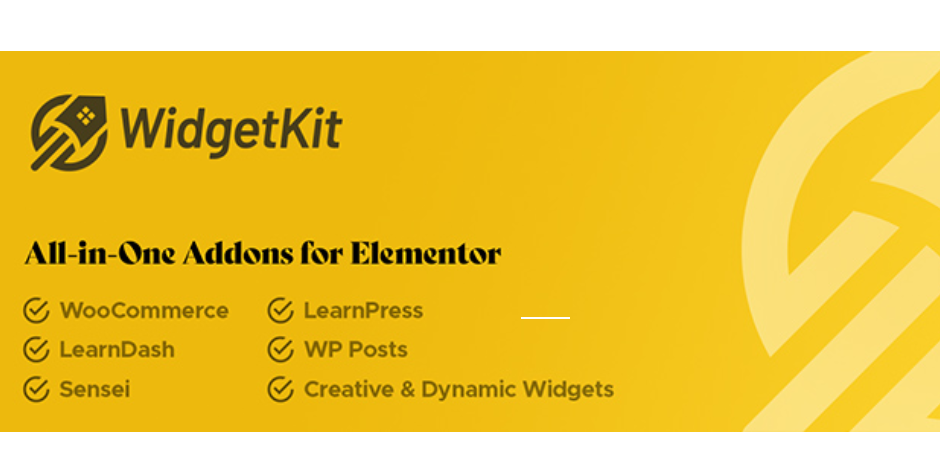 Suppose the Elementor Page Builder lacks some features. In that case, you can always count on the WidgetKit to get your site rocking its online presence by offering an addictive experience.
With more than 55+ elements, WidgetKit helps your stand out of the boundaries of an ordinary design. In short, it lets you be super-creative.
Once you merge this great Add-on with Elementor, you can experience the full power of seamless and intuitive page building.
Moreover, WidgetKit allows you to build any layout, simple or sophisticated, quickly.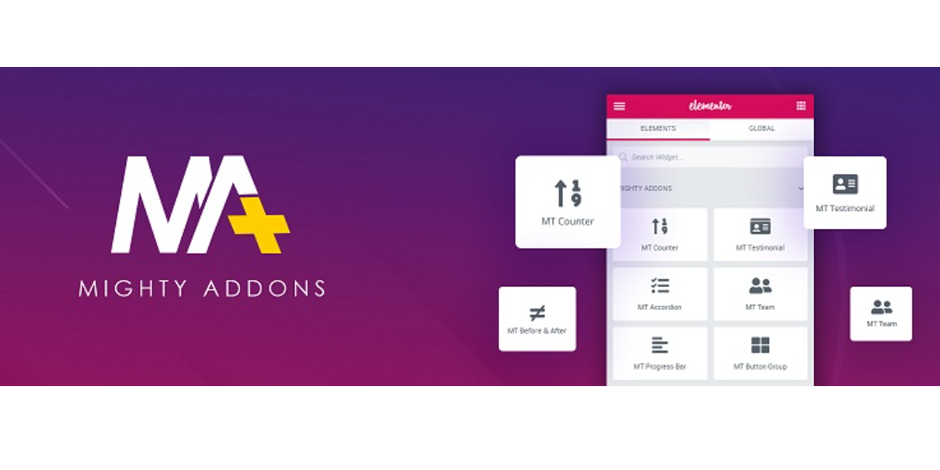 Looking to extend the features and functionalities of Elementor? Why don't you try Mighty Add-ons on for size?
This specific plugin offers pre-designed blocks, templates, sections, and much more. The Addon is designed to help you integrate anything you want into your site instantly.
Even the free version of this great Add-on comes with block, button groups, contact forms, gradient headings, and even MailChimp integration.
There are literally endless features of this Add-on. However, we've decided to include just a few of them for now.
Moreover, once you upgrade this great Add-on to the Pro version, you can leverage the 25+ outstanding Widgets, including maps, Instagram galleries, PayPal, and much more.
In short, this is one hell of a plugin that you can use to get your site feature-filled instantly.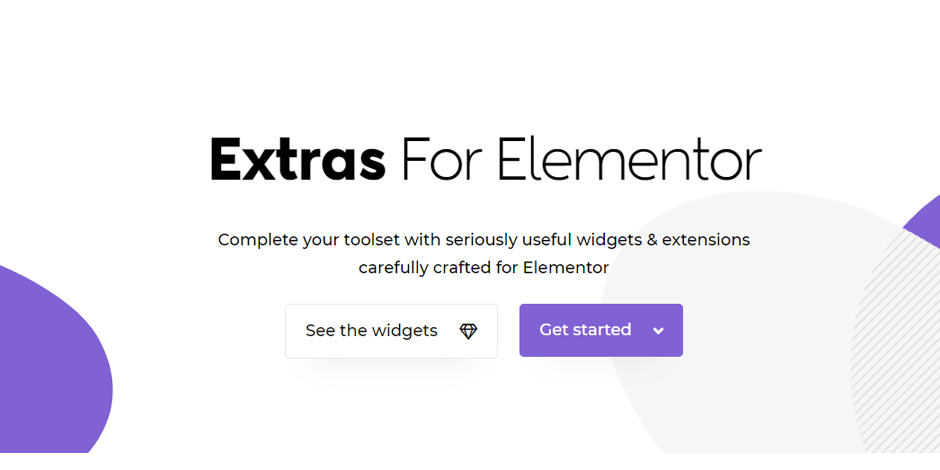 This Add-on was designed by a passionate group of designers who care a lot about your website and design needs. This is the core reason why we believe that Extra For Elementor Addon makes it easy to craft beautiful experiences.
Along with some of the powerful Add-ons, you also get extensions that are all set to revolutionize creating a website with Elementor.
The Extra For Elementor provides you with amazing widgets and extensions that seamlessly integrate into the Elementor and provide you with amazing design customization options and functionalities.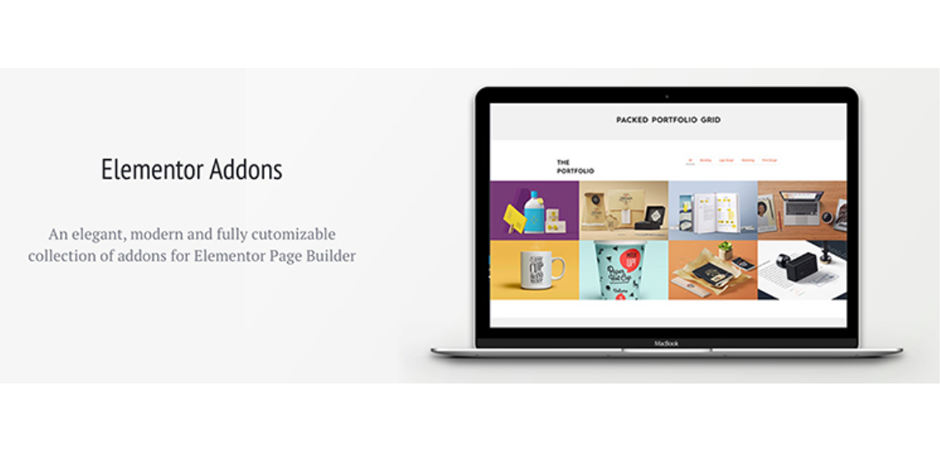 Livemesh Add-ons come with a massive collection of all the evolutionary, premium, but extremely easy and convenient use extensions that are all about functionality and experience.
The best part about this Add-on for Elementor is that all these premium plugins and features are absolutely free for all users.
Additionally, there's a widget available within the Addon for everything you need to build. From a professional website to a personal website, you can leverage Livemesh to create any website type.
Moreover, the plugin offers a client list, portfolio page, counters, pie-charts, and much more in the pro-version. However, all the free version features allow you to turn your theme into a premium theme in practically no time.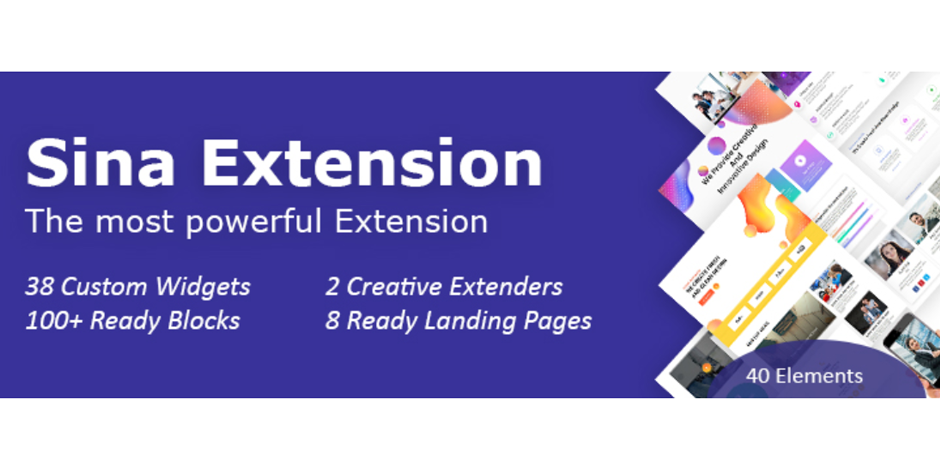 Sina is an extension for the Elementor page builder. With amazing widgets, it is hardwired to add more beauty and innovation to your theme.
This spectacular Addon comes with 38 amazing and quality-oriented widgets and 2 creative extenders. You can use these features to quickly edit or design a page for your website.
Sina also enables you to display your content so that it attracts and engages your audience. This Add-on is one amazing tool and a designing weapon in your arsenal.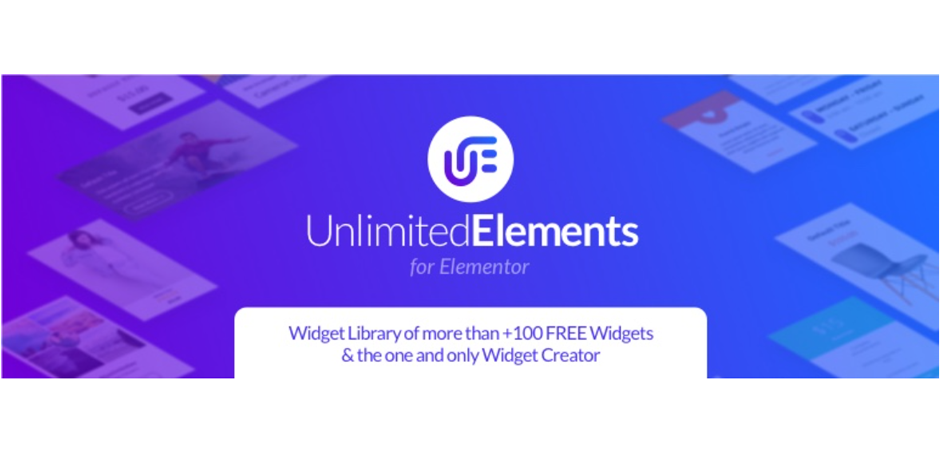 The Unlimited Elements For Elementor takes your page-building experience up a notch and makes the overall experience unforgettable.
Unlimited Elements are the last Widget pack that you'll ever need simply because they've got everything you need under one name, "Unlimited Elements.:
You get more than 100 free widgets for your Elementor based website. You can quickly add, edit, remove and build pages. The final product is unique and a marvel of leveraging the Widget Creator Framework.
Moreover, this specific Add-on is free; however, the pro-version is even more advanced and offers you total control of the theme's settings. You can enjoy a massive library of 200+ widgets once you start using this great Addon.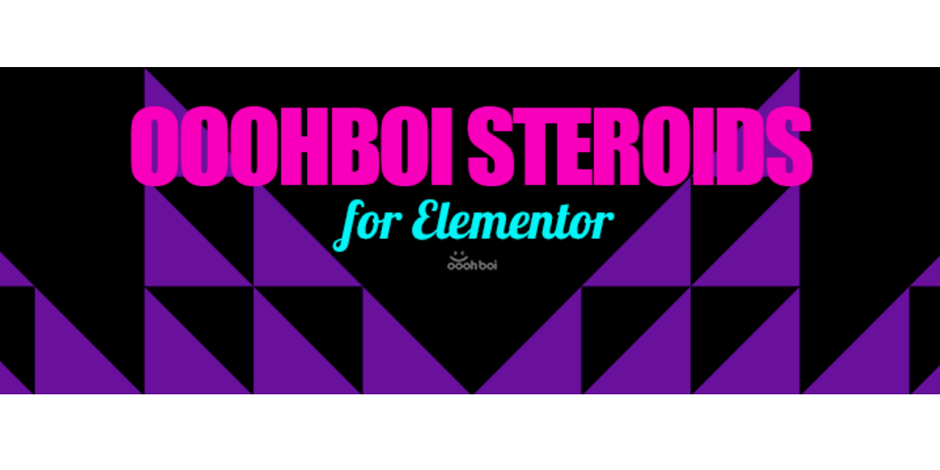 With an awesome set of features, options, settings, functionality, and tools, the Ooohboi Steroid Elementor is totally in a league of its own.
The innovative widgets of this particular Addon have been upgraded to provide maximum satisfaction and quality to the developers and designers.
Ooohboi also offers styling controls, an image carousel, and much more plus. You get the feature of changing the writing modes, i.e., CSS. You also get CSS filters and blend mode that gives your page the "Wow" factor.
In a nutshell, this Add-on minimizes your frustrations by giving you complete control over.
Nowadays, every professional developer must have heard about Envato and the Envato Elements Kits.
This amazing WordPress plugin is all set to give your capabilities of adding visual elements to your website beyond your imagination.
You can browse and import premium images and access the free page and block templates to use within Elementor. The seamless customization also plays an important role in completing your website.
This great Add-on's codeless feature and flexibility are commendable and a core reason why this is being considered one of the best options when it comes to Widgets and Add-ons.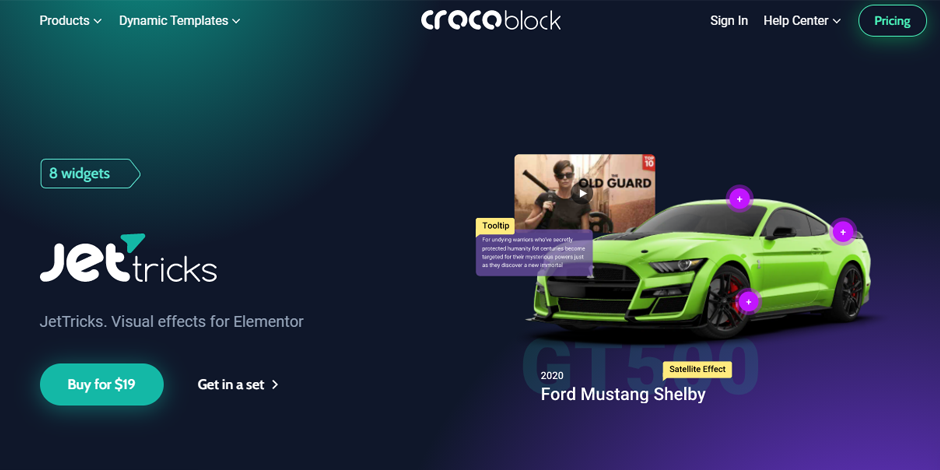 Last but not the least, JetTricks Add-ons come with all the necessary and outclass visual effects that you can leverage for your web pages.
These features and design elements can be added to your page without the necessity of learning to code or extending the functionality. Plus, you get extra widgets for the Elementor live page builder.
The plugin also gives you parallax effects for the content, sticky elements and excels in creating unfolded column effect.
This is one hell of an Add-on that you can leverage for your website in the fewest possible words.
What Are Elementor Addons?
The Elementor Addons are a massive collection of new templates, features, functionalities, design components, widgets, and much more.
The Add-ons are basically there to give your website new options and features. They're known to help improve the website's overall user experience.
Beyond this, hundreds of Add-ons out there that are available for Elementor that you can leverage to instantly add more functionality to your website. You can control pagination, lazy loading speed, filters and boost your user experience and interface by using Elementor Addons on your website.
In a nutshell, Elementor Addons are generally plugins that are developed specifically for the Elementor platform. They're developed by third-party app developers. They are used to increase the functionality of Elementor and to increase the user experience of the website.
Why You Might Use Elementor Addons Plugins?
As mentioned earlier, the Elementor Addons are used to add more features and functionality to an Elementor based WordPress website.
So, suppose you're willing to enrich your web design with some amazing features and functionalities. In that case, you should totally check out Elementor add-ons plugins.
Moreover, the Elementor Addons are not compulsory, and your site would work perfectly without them. Still, they come in handy when you're looking to get instant features and functionality for your WordPress website.
Conclusion
It all comes down to this part to select the best Elementor addons for your website. However, there are several aspects of the add-ons mentioned above that you should consider before selecting one.
Some add-ons mentioned in this article are paid, and others are free; hence, the point is going through their features and offerings will enable you to have an in-depth understanding of the type of Addon you need.
Our recommendation would be to select your next addon for Elementor after aligning your requirements. This approach will enable you to make a more informed decision.

Ludjon, who co-founded Codeless, possesses a deep passion for technology and the web. With over a decade of experience in constructing websites and developing widely-used WordPress themes, Ludjon has established himself as an accomplished expert in the field.