Lead generation tools generate reliable leads from various social platforms, including landing pages and networks. Leads are profitable as they can be transformed into clients, thus nurturing the sales procedure.
Lead generation is very important in 2022. 61% of marketers rank lead generation as their number one challenge for this year. Marketers spent at least half of their budget on lead generation.
The lead generation software collects valuable hot leads to elevate the sale rates. No doubt, such software is beneficial for online business. Site traffic is an essential factor in web-based marketing. Hence, these generation automation tools enhance the site visitors rationally.
What Is a Lead Generation Tool?
Lead Generation tool is a software that eases out collecting leads, thus avoiding manual labor. In this regard, different tools are helpful.
However, this software is proxy-type to steer clear of the concern of complicated coding procedures.
Also, you can use these tools to capture the specific leads from the cold email campaigns. The tools identify loyal customers and collect the mailing address of the relevant visitors. As a result, every click and information is converted into paying leads.
If you are looking for some lead generation tools, then you are definitely at the right place. Here we provide a detailed but comprehensive description of the best software for lead generation. Spare a minute to look through the information mentioned below.
On-Page Lead Capturing & Landing Pages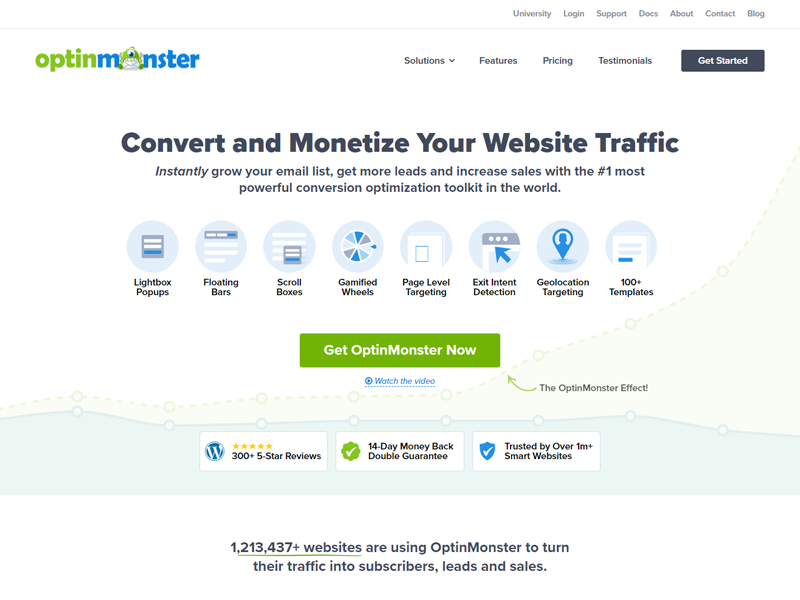 OptinMonster is a way more effective and powerful lead-generation tool. Including an email signup service, it is conducive indeed. Moreover, it also provides some on-site campaigns with appealing content. Spin wheels, thumbnails, slides, etc., are popular. Hence, personalization will make the drive show up aptly and timely. Even the targeted visitors get full-time popup displays.
Further, to add up segmented leads from the visitors each week, use OptinMonster. This tool can also raise the qualified leads sale by up to 141 percent. It is beneficial to speed up the optimization process, whether marketing agencies, trading, eCommerce sites, or online business.
OptinMonster makes you assign creative thumbnails to specific posts, tags, pages, and categories. Furthermore, WordPress, Shopify, Magento, and BigCommerce are all open to this lead-generation tool. Withholding many customization options and templates, OptinMonster is worth using the tool. Some key features are in the description. Have a look at the details below.
OptinMonster extremely helps you to optimize your landing page.
Key Features:
Fillip the Order value: OptinMonster will raise the average order value. Thus, upsell, downsell and cross-sell bids effectively increase the number of visitors.
Bid Display: The flash sales, free shipping bars, and discount codes will show up. Moreover, the campaign can also include cross-reference sources with location and user's device.
Email plugins: To increase the business circle, OptinMonster can work with several renowned mailing providers as Aweber, Mad Mimi, and MailChimp, etc. Hence, it is also another innovative step to automate your business.
Pricing:
The cost for Basic is $9 per month. Plus, OptinMonster costs $19 while the Pro one is $29 monthly. While Growth OptinMonster costs $49/month, probably used for conversion transformation.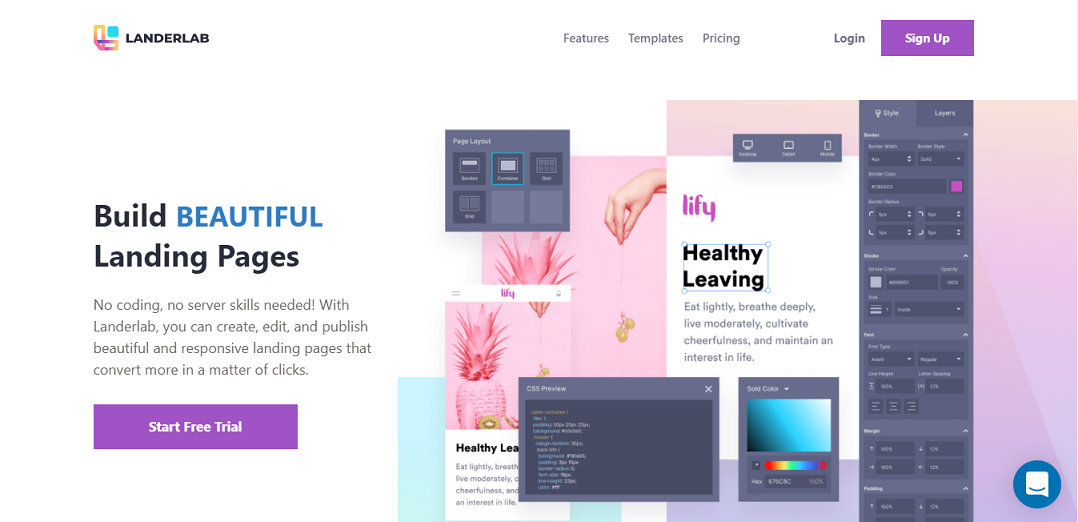 Landerlab.io is a website tool to generate landing pages precisely. Instead of going through real time-taking procedures as coding and server operations, users can build a landing page in no time via this software.
Moreover, it polishes the on-site page to be appealing and catchy thus, raising the traffic. In this way, visitors explore the elegant landing pages, increasing the site subscription. Furthermore, the conversion of pages is not a big deal if you are Landerlab.io.
It takes the bare minimum time to convert the landing pages, providing a captivating and responsive page.
Key Features:
Built-in-tracking mechanism: this feature tracks every but essential detail about visitors and clients. Hence, the user can get complete info on pages efficiency anytime. This way, one will be kept in touch with the clients by built-in-tracks for chats, clicks, and page visits.
Templates: Landerlab.io contains up to a hundred-plus landing page templates for the users. Moreover, anyone can create a page in less than a minute, similar to the provided samples. Every template here is incredible and efficient.
Domain handling: use subdomains and domains to build a page. Users don't have to log in to Cloudflare to manage the domain. Just generate, edit and publish it.
Contests and popups: Landerlab.io displays engaging popups and contests on the landing page to gain maximum leads. Hence, it changes every single page visit into a lead.
Built the subscription: it helps robust the site subscription by sharing the page over public platforms like Twitter, Facebook ads, and Chrome Analytics. Building the target audience instantly, Landerlab.io through catchy campaigns using tracking pixel and Visual Editor.
Pricing: the price of Landerlab.io starts from $49, and another one costs $69/month. Lastly, the premium Landerlab.io costs $109.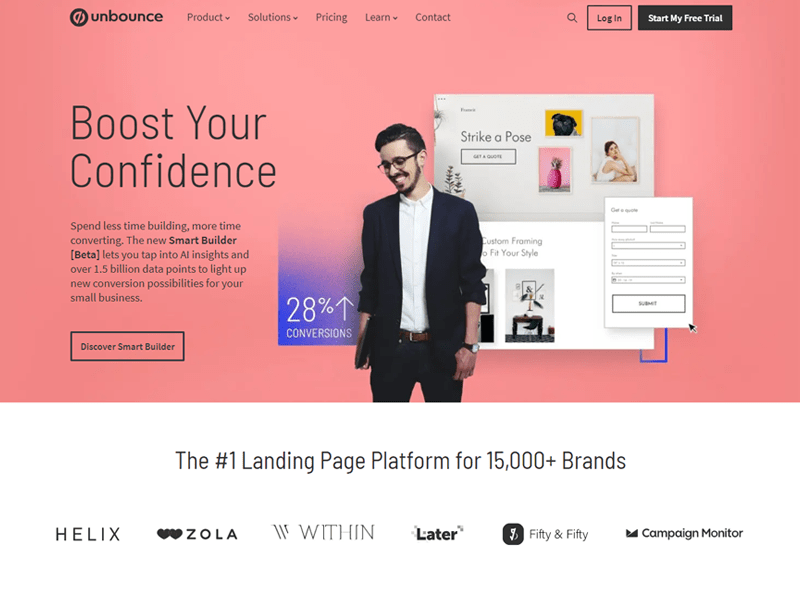 Seeking a more straightforward and responsive lead data generation tool, Unbounce ranks first. Build customizable landing pages, and it is way more beneficial than other software. With drag and drop builder options, users can create a credible on-site page.
Key Features:
A/B testing: this tool customizes the page figures and head images to create a great landing page. The A/B testing feature will evenly check out the user page's performance.
Workflow: raising the campaign conversion rates by 30%. Further, it will optimize your workflow to manage the page accurately.
Pricing: the launching Unbounce is worth USD 72 per month. Hence, the optimized one costs $108/month. Unbounce Accelerator is USD 180 per month.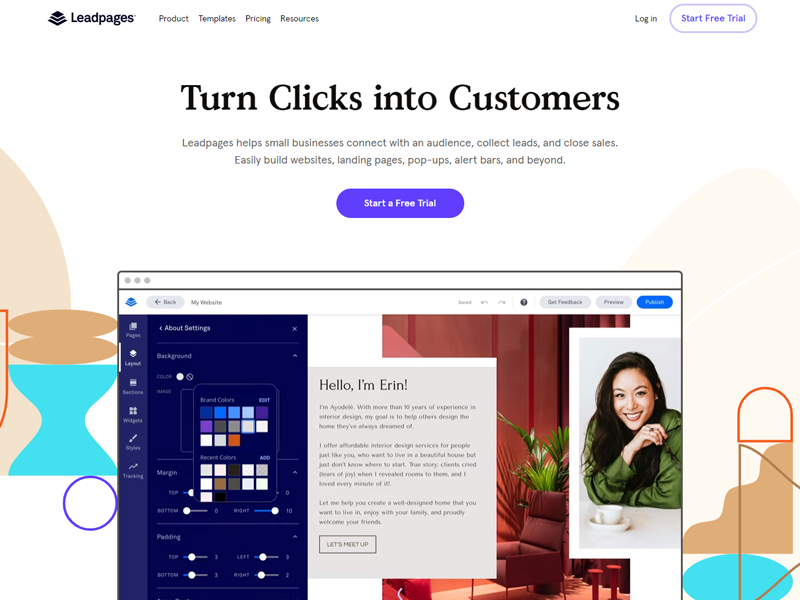 Leadpages will make robust the online business by providing a mass number of leads. However, this platform is mainly famous for creating landing pages. On the other hand, users can export the pages or use the existing ones. Another essential but beneficial factor of LeadPages is protection from scammers and frauds.
Key Features:
Build the audience: to build the audience, LeadPages software is helpful. Sharing the viral drip campaigns will raise the subscription for sure.
Quick dealings: providing an elegant set of landing templates pages also allows users to generate their professional emails in no time. Furthermore, through live chatbots, business dealings proceed timely.
Sales rate: Leadpages will enhance the sales revenue for professional business persons. Through the great landing pages, product sales are like hotcakes.
Pricing: Standard Leadpages tool costs $37/month, while Pro Leadpages is $74 per month.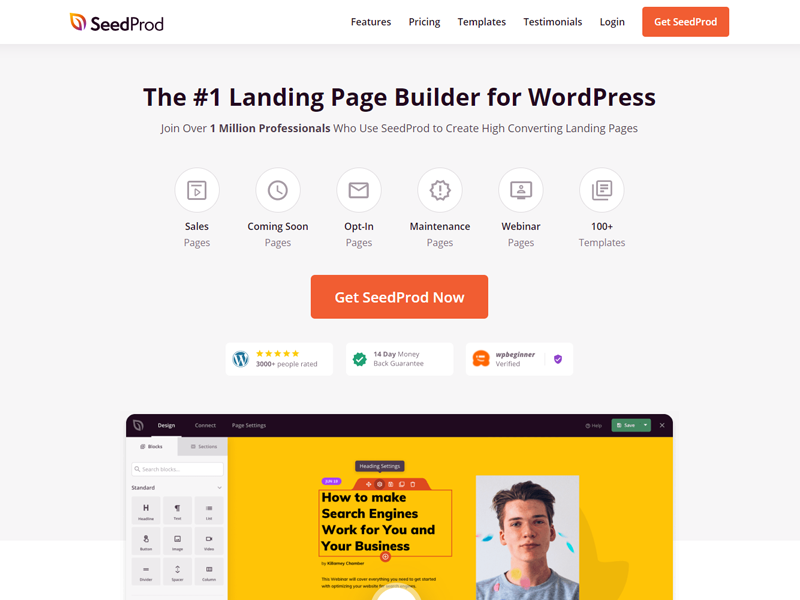 When it comes to page builders either drag or drop, the SeedProd is second to none. In no time, it will create an outstanding page without coding. This tool avoids spam and boots and protects the landing pages from imminent fraud.
Furthermore, it directly provides the email campaigns setups to the users. A first-rate landing page will easily be avoiding the need for developers. Hence, it is a website builder in WordPress. Seedprod build can even build customized pages that provide navigating tools, templates, and history revision to steer clear of any error.
Key Features:
Live Preview: A seedprod is a beneficial tool to edit the site content conveniently. Similarly, users can preview the on-page archives easily.
404 Page: to access the landing page on-site, either enable 404 Page or turn on maintenance mode. Seed prod will immediately turn the built-in into leads.
Code-free Mapping: this page builder won't cause any trouble to the site like loading and spamming. Meanwhile, it will be code-free, so the page will work faster and thus the conversions accordingly.
Pricing: basic SeedProd is $39.50 while plus ones cost $99.50 per year. Seedpod pro is only $199.50, and the elite tool costs $239.60/year.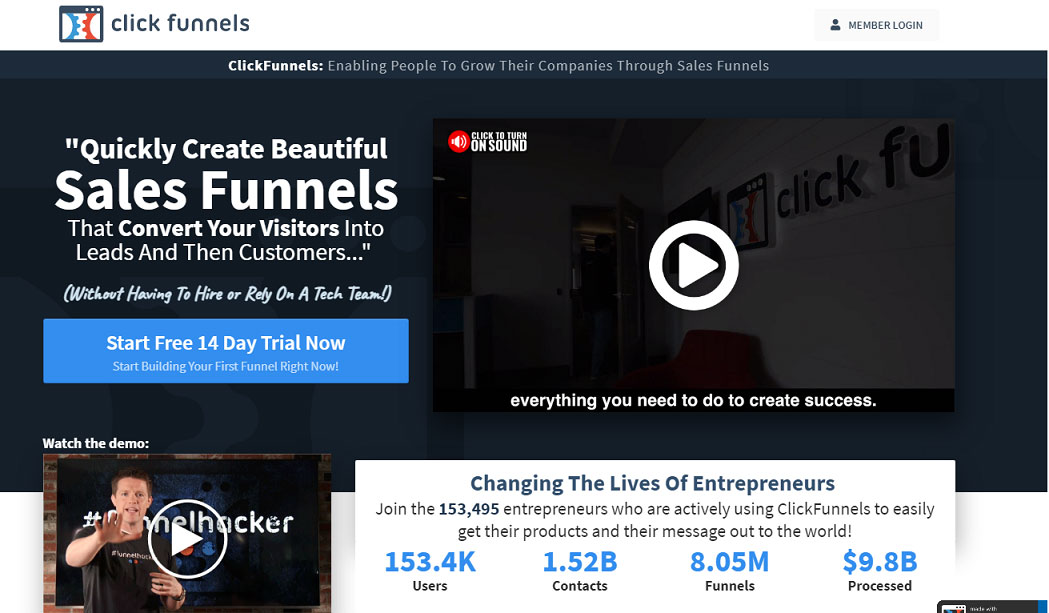 Clickfunnels is a powerful lead generation and sales funnel builder software. Hence, this software is a page builder for automating the business and funnel sales. This tool is popular among online business professionals. It not only accelerates sales but also works with WordPress.
Key Features:
Product follow-ups: it is a passive tool to grow the user's business. From selling products to exploring new clients, ClickFunnels generate the follow-up of every product.
SalesFunnels: to earn online income, this tool gives a money funnel approach to the visitors. This user-friendly software generates sales funnels by optimizing designs and pre-built templates.
Integrate with other tools: it can collaborate with other desktop tools such as Zapier and WooCommerce. Moreover, no coding is required to attach the devices.
Pricing: ClickFunnels costs $97/month, and Premium Clickfunnels is $297 per month.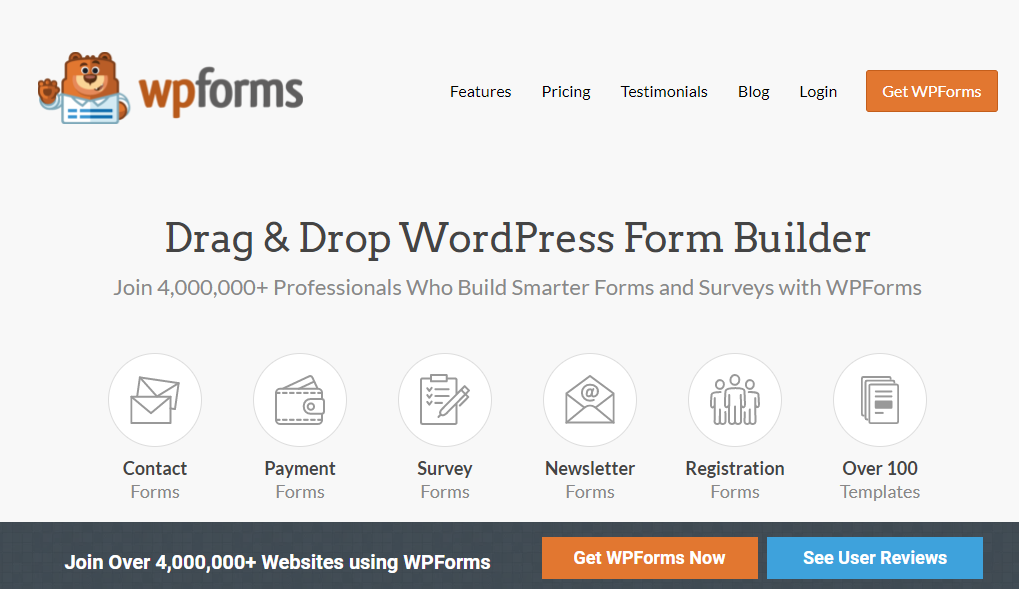 Looking for some leads to generate, WPForms is helpful in this regard. It is known as the most accessible tool to create on-site forms. WPForms provide subscription forms, contact forms, and payment forms. Choose drag pr drop links to develop any online forms in WordPress. Moreover, it also enhances the site's security by saving it from data theft and hacking.
Key Features:
Instant leads: make leads immediately from the user checking out the forms. Hence, the WPForms are available for Android devices and related too. You will get notified every time to check the lead management instantly.
Exceptional forms: WPForm will generate extraordinary documents for the page without any code and developer.
Customization: this tool gives drag and drop interface access to carry out customization in an easy-going way. It works even on mobile, tablets, and desktops; thus, it is device-friendly.
Pricing: basic WPForm costs $39.50/year, plus ones are $99.50 while Pro WPForms is $199.50 per year. Further, the elite WPForm tool costs /$299.50/year.
Email Marketing Tools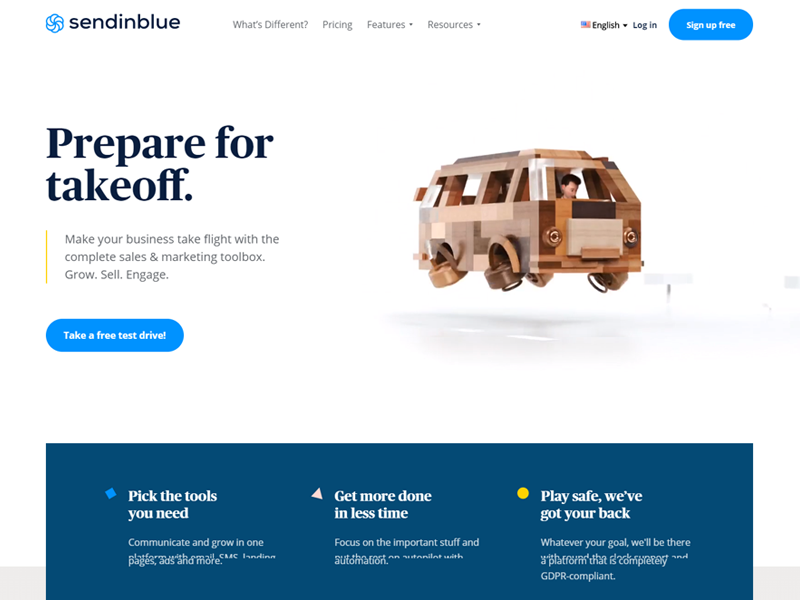 Sendinblue is an automated email marketing software that enables messaging and marketing services. Sendinblue provides email designing tools and segmentation.
Additionally, this tool will generate automatic workflows and engaging emails for visitors. Moreover, even drag and drop are available by the Sendinblue tool. It is an exceptional platform for managing online business and trading campaigns. Users can send more than 2000 emails per day.
Key Features:
Heat maps: Email maps are color-coded to highlight the frequency of clicked options. It includes a table with the total number of click percentages in your email list. Thus, it is another better campaign design.
Marketing Messages: this tool is beneficial in maintaining the SMS bulk. The contacts will generate personalized messages whenever you need them.
User record: the built-in CRM (customer relationship management) is an extraordinary feature to track every user record. Team up your subscribers list to stay on track.
Pricing: premium SendinBlue costs $65/month for the email volume. The lite one is worth $25/month. Furthermore, its users can also use it for freemium with unlimited contacts.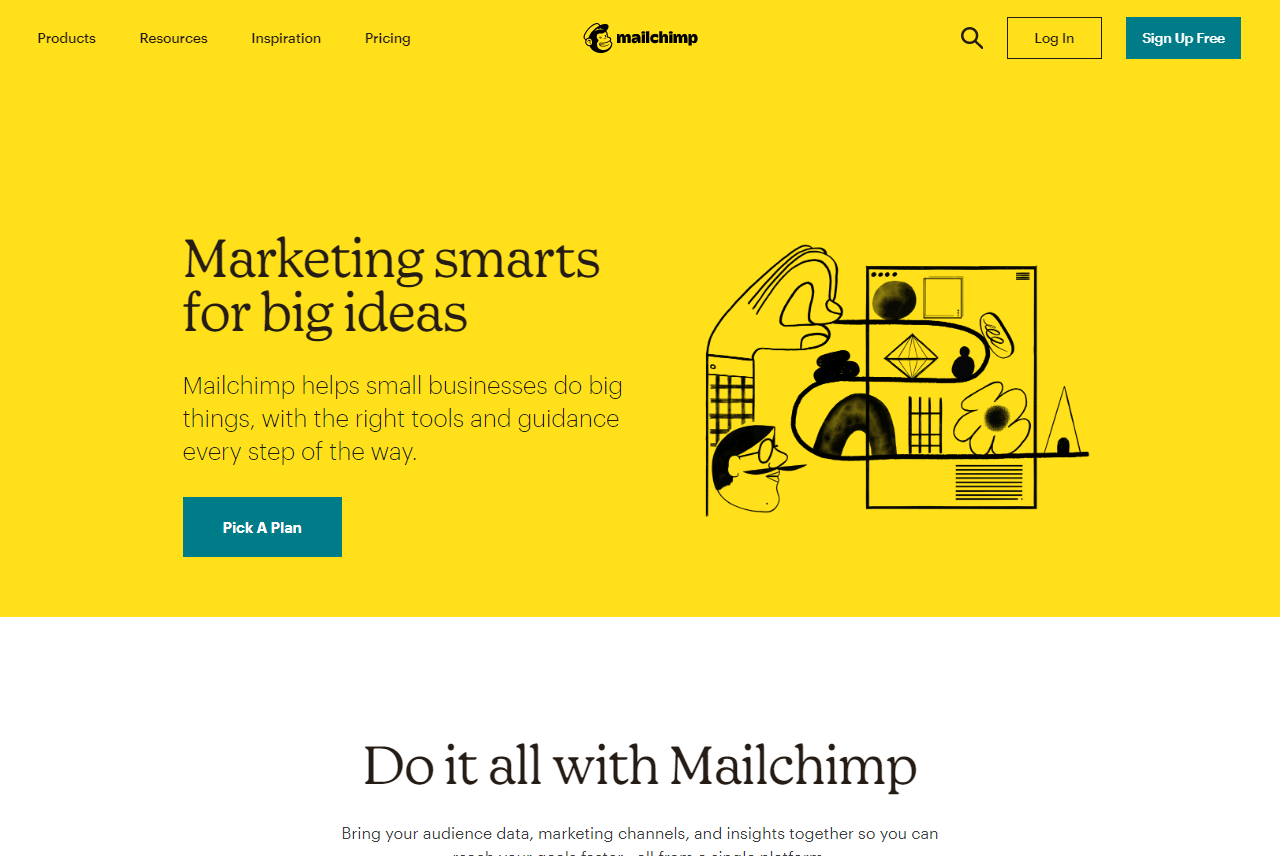 MailChimp is a better tool to rely on to boost your online business and sales rate. It is an easy-to-use platform with advanced features. This tool is all-in-one software providing data organizers, marketing channels, etc.
It creates on-site pages and is famous for building emails, postcards, social advertisements, and campaigns. It also automates sales marketing by customizing bid notifications.
Key Features:
ROI: MailChimp will provide better opportunities to enhance sales by seeking new visitors. In this way, robust revenue will benefit the user in a significant return on investment, i.e., ROI.
Updating contacts: the user can edit the contact list anytime, thus adding and updating the mailing contacts. Mailchimp facilitates the users with secure access to the contacts.
E-commerce: through the calendly incorporation, Mailchimp makes the e-commerce business dealings wider.
Pricing: A freemium is available for Mailchimp users. The essentials version is $9.99/month. The standard Mailchimp costs $14.99 per month, while the Premium one is $299/month.
We have also listed and ranked the best Mailchimp alternatives.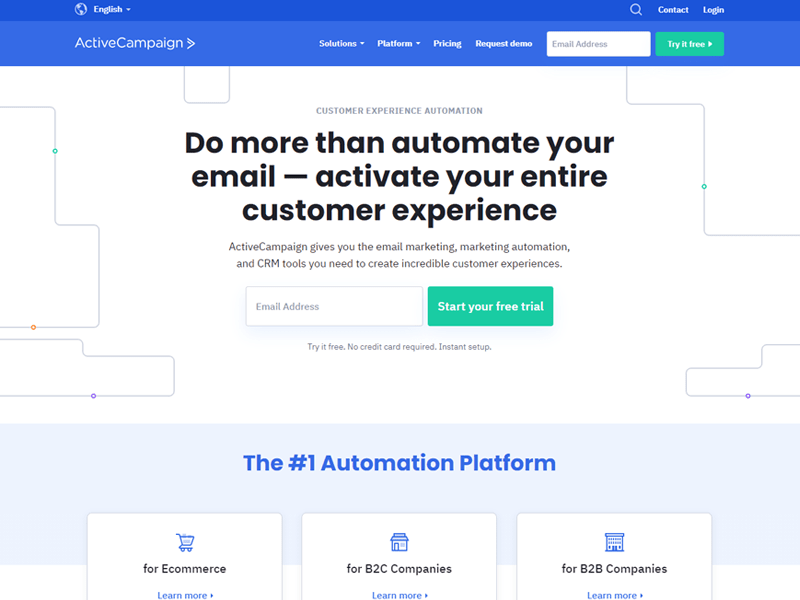 ActiveCampaign is an advanced email marketing software. It is another effective tool to automate the mailing system. Additionally, it facilitates the users by offering page templates, Meta audience, DM marketing, and contact ratings. Providing CRM software to the users to experience the unique marketing platforms.
Key Features:
Segmentation: Email segments will pace out the manual grouping issues. The exclusive segmented features will help the user create a more detailed contact list.
Automated Marketing: users can automate the mailing system to set up a broad online business. It will surely be time-saving because workflow management isn't an easy task. Sales marketing automation platform will create more significant opportunities to bolster up the income.
Pricing: the ActiveCampaign comes at different rates. The lite version costs $9/month, while the plus Active Campaign is $49 per month. Moreover, the most popular version of the Active campaign is worth 4149 USD per month. Meanwhile, the enterprise version is $258/month.
If you are not sure which one to choose, check out this comparison between Mailchimp vs. ActiveCampaign.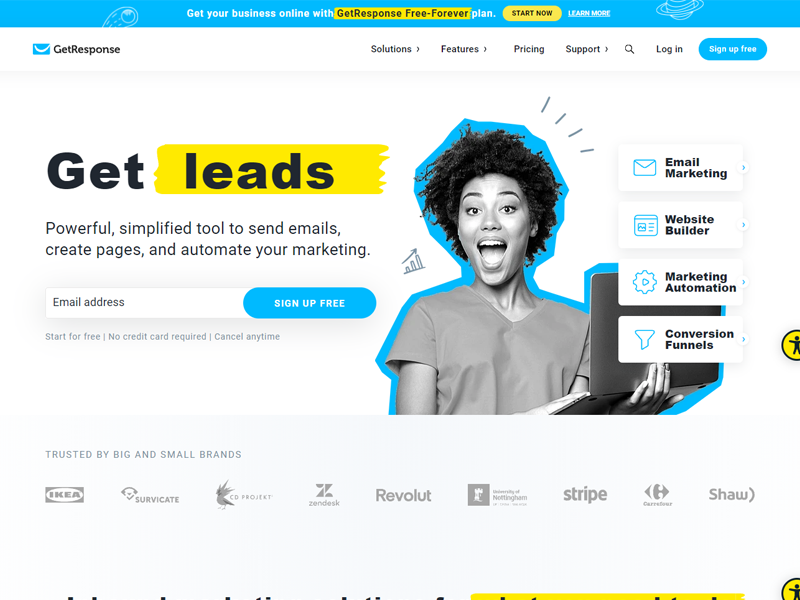 GetResponse had all-inclusive services that prestigious software can provide. From importing emails to creating landing pages, it performs all tasks effectively. This tool will automate the marketing leads and build the website quickly.
Key Features:
Enhance the traffic: with the help of in-built contests, forms, and popups, GetRespons will boost the visitor traffic and thus sales dealings too.
Sales funnels: it contains a pre-built sales funnel. Moreover, it also converts the clicks to leads, maintaining the leftover bids.
Client support: round-the-clock customer support is available for professional users. Meanwhile, a reliable live webinar also helps the users.
Pricing: A free trial of GetResponse is accessible for 500 contacts. The basic version costs $12.3. Meanwhile, the plus one is $40.18/month. Professional GetResponse costs $81.18 per month.
Email Address Finders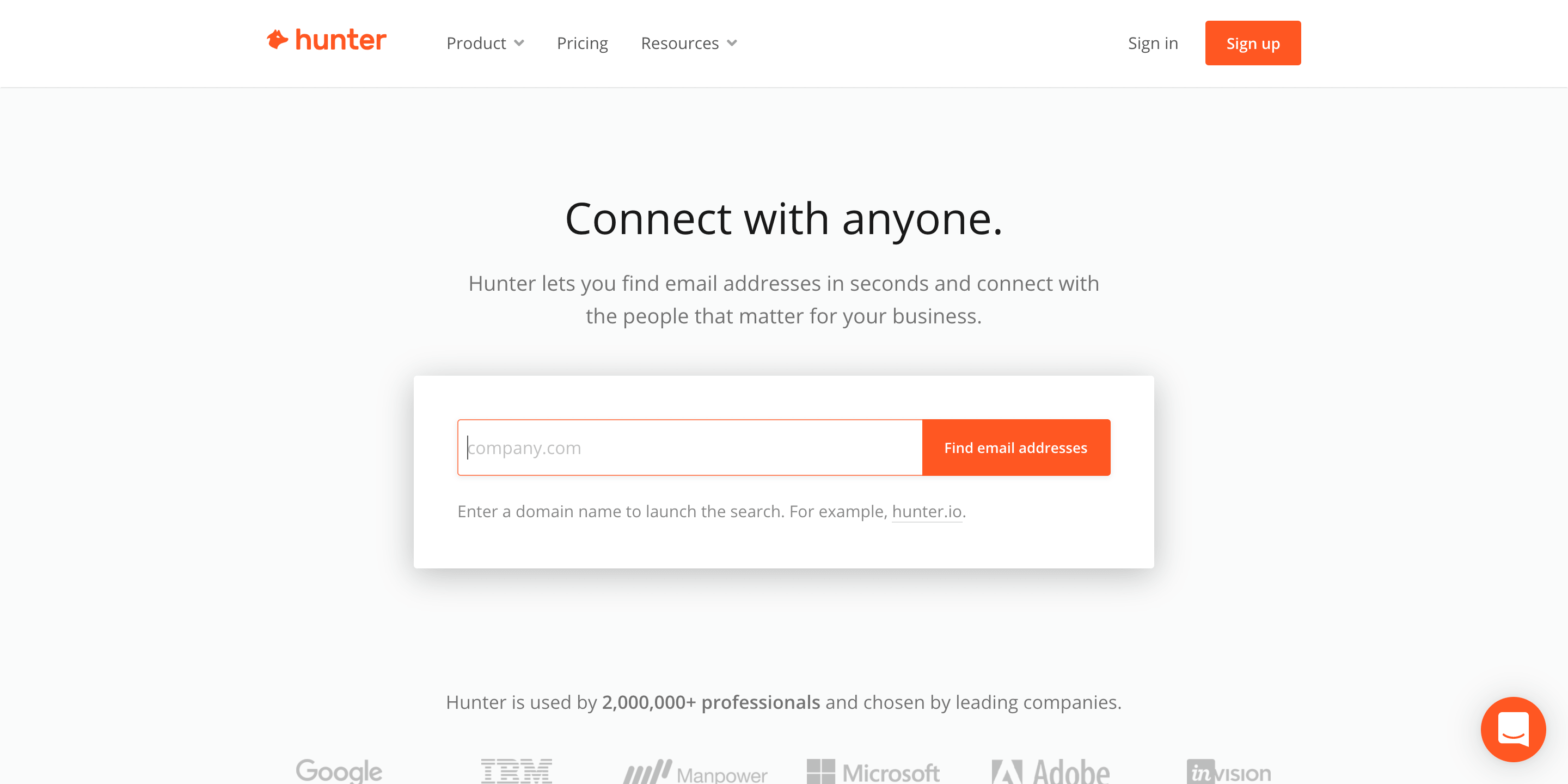 Looking for an email dress searching tool, Hunter.io is the most recommended one. Making quick email searches is worth using. Similarly, it is considered the fastest email finding tool known so far.
Not only does Hunter.io give the correct mail address, but it also confirms the dress pattern. Further, it includes a confidence review to test the accuracy of the particular domain. This tool protects the user from scammed emails by holding a full check over the fraudulent addresses.
Hunter.io processes the data and delivers it precisely. Cataloged with more than a hundred million email addresses, this tool will find the desired mailing address shortly.
You can use Hunter as a Youtube email finder too.
Key Features:
Email verification: this tool is best for verifying business emails with appropriate addresses.
Rapid mail browsing: whenever users hunt down any domain, hunter.io gives the results quickly, even for a considerable amount.
Data transparency: hunter.io makes sure to avoid online imposters by using transparent data searching and exporting modes.
Pricing: for 25 searches and up to 50 verifications, users can avail of a free trial of hunter.io. The starter version is worth $49/month, and Growth Hunter.io costs $99 per month. Meanwhile, a pro version of hunter.io is $199. Hence, the price of the Enterprise plan is $399/month.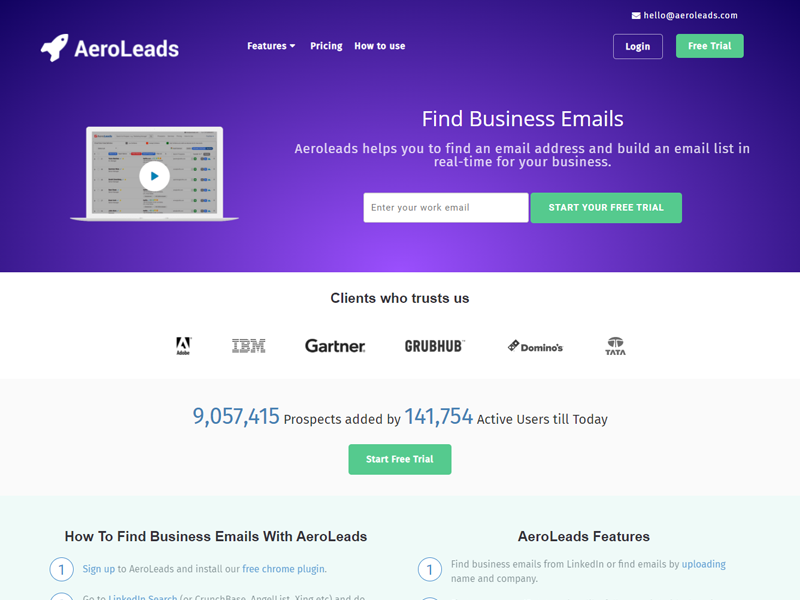 Aeroleads is one of the renowned lead-generation tools that enables you to access several search websites. It provides some chrome extensions to browse the required information. Furthermore, to buy sales leads, this software tool is quite helpful.
LinkedIn is a top-rated site regarded as the professional browsing engine most probably works through the AeroLeads tool. Hence, sign up for an account at AeroLeads, and the rest will be a piece of cake.
Just attach your personal and business info at the portal like name, company, or mailing address along with particular leads. Indeed aeroleads is a better off tool inculcating web crawler within.
Key Features:
URL: users can upload personal data as email, business URLs to get as many sales leads as possible such as generic company emails, location, and job titles.
Data transfer: AeroLeads exports the information to Hubspot, Freshsales, and Pipedrive. Moreover, DMs and chat facilities are also available by phone numbers or email.
Business emails: this will provide a helping hand to search out professional emails; thus, it is business-friendly.
Pricing: users can avail of a free trial of AeroLeads for a fixed period. The take-off Aeroleads costs $49/month. Hence, CLIMB one costs $149 per month. Last but not least, Cruise AeroLeads is $499/month.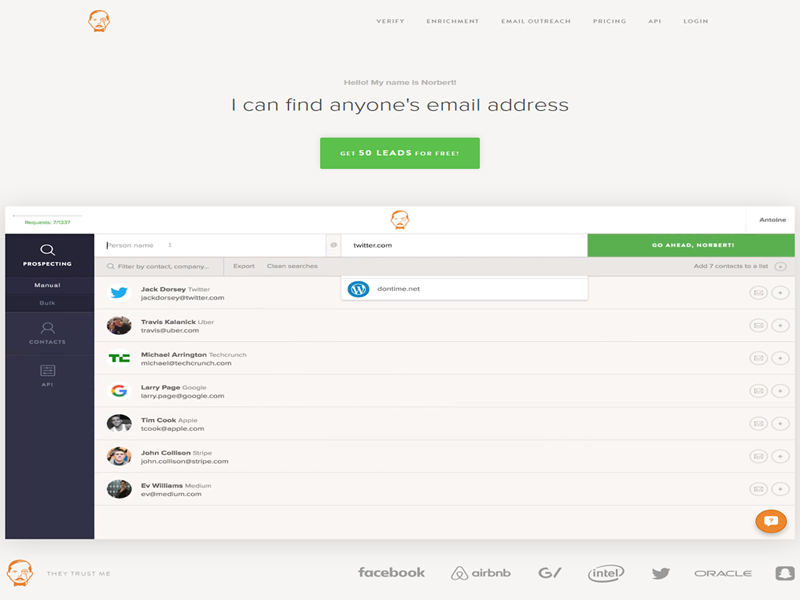 Voila Robert is a very well-known software to find emails. Not only does it shows the email address, but it also provides accurate results. Moreover, users can also use other services to grow their site like lead searching, updating contact records and email validating, etc.
Key Features:
Hassle-free tool: Voila Robert is a versatile software with easy-to-use features. It is a hassle-free setup, whether it's about business development or hunting down emails and leads.
Proxy sharing: through this tool, users can share the previews of business campaigns. Furthermore, blogs, posts, and other appealing content can be viral through sharing on different social media platforms.
Pricing: The Valet plan is worth $49/month for 1000 leads. On the other hand, the Butler version provides 5000 leads/month for 499/month. Voila, Robert Adviser program costs $249 per month while the counselor plan is about $499/month.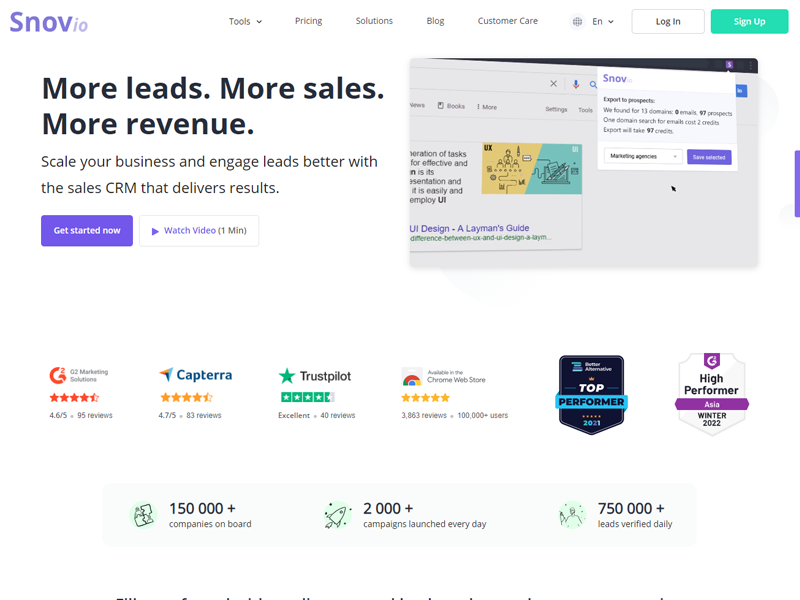 Better known for the lead searching features, Snov.io is another lead generation platform along with a CRM tool. Increasing the sales ratio through business leads scoring is indeed a profitable platform. Hence, users can fill the web pipeline with desirable leads which are convertible too. However, it will cause a deflation per unit business lead; however, the quality will be intact. Upkeeping the professional campaigns success rate, Snov.io is worth using.
Key Features:
Lead validation: to get verified business leads at the bare minimum save time, Snov.io is indeed the best choice. It automates the leads and validates the precision through the 7-tire system rationally.
Synchronization & integration: Snov.io can have 2000 plus tool integrations to connect the software across various devices. As a result, users will get an automated synchronized sales tool with the dashboard platforms.
Pricing: the startup Sonv.io costs $39/month, Marketing team plan is worth $99 per month. One of the most popular plans for Snov.io is $189/month, and another one is about $369/month. Then comes the Enterprise plan, which costs $738 monthly.
CRM Tools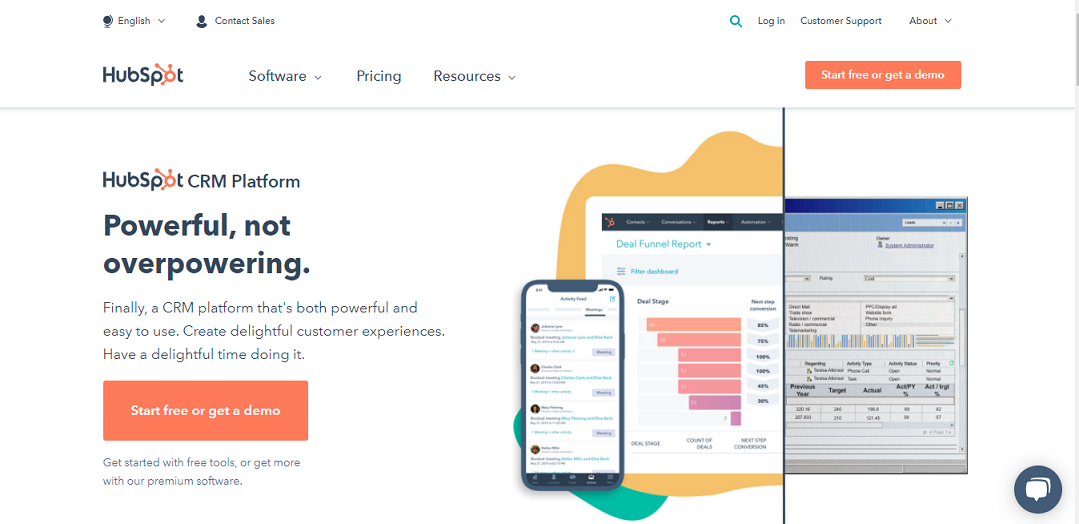 Hubspot is a US tool meant for developing and marketing. Initially, this is a CRM-based software that satisfies the clients. Managing sales, content, and customer help desks are some significant functions of Hubspot. Online business dealing won't be a big hassle with this easy-going platform. Further, Inbound business endorsement is another contributing factor of HubSpot. Furthermore, it is a hub for successful marketing in the online world.
Key Features:
SEO: with the help of SEO theme recommendations, marketers will experience an advanced CRM. Hence, this will improvise the on-site campaigns as the suggestions show up on the desktop.
Automation: to avoid the time-consuming data sync and clean-up procedures, Hubspot automatically proceeds all the activities.
Sales insight: through the built-in trackers, users can avail every single piece of information either about dealings, sales ratio, productivity, etc. in short, all the data will be in the user access anytime.
Live chatbots: this CRM-based tool enables the clients to contact the Hubspot helping desk anytime. Round-the-clock chatbots are available for the ease of potential customers.
Pricing: the starter plan for Hubspot costs $45/month. Meanwhile, the hub plan includes a Professional version worth $890 per month. Another plan named Enterprise costs $3200 per month.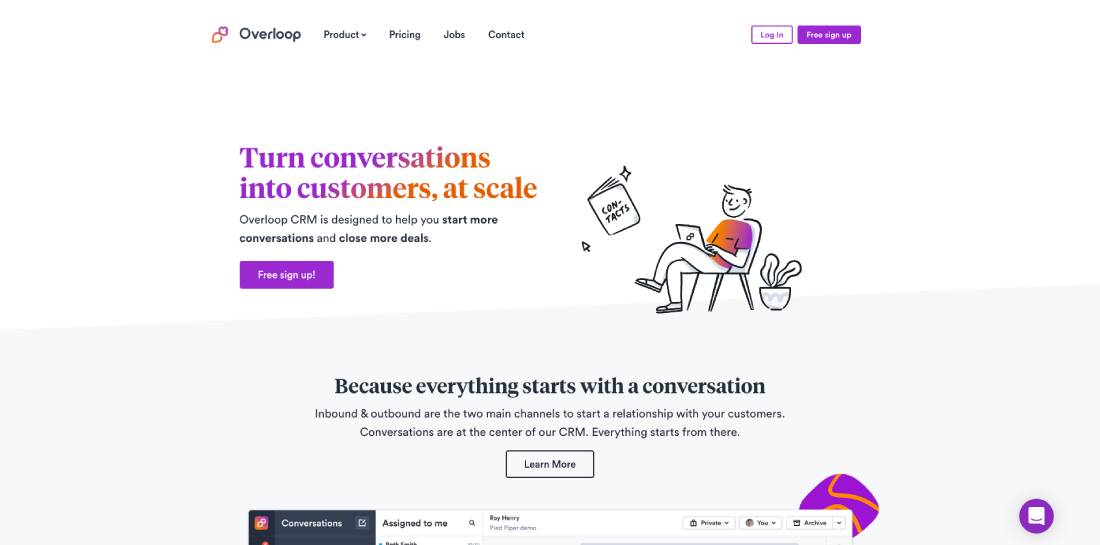 Overloop is a prevalent software to explore emails for online marketing. The product integrates with various social platforms such as LinkedIn. With inbound and outbound features, this tool creates a reasonable boost in sales. Instead of distracting tasks, the user will work on the right leads with multiple workflows.
Syncing along with several renowned platforms like MailChimp, Zapier, Slack, and lead feeder, it elegantly increases the traffic. This CRM software generates more opportunities for the users to widen their business.
Key Features:
Overloop mailing software: to get first-rate emails with valid addresses, Overloop has exclusive mailing features. Thus, enabling it to edit, modify or use the pre-designed templates.
Funnel management: sales funnel is way easy to handle with Overloop features. Users can add up the sales bids in the funnel to get dealing details instantly. Mere customization will give every insight into the sales pipeline when needed.
Pricing: The Advanced plan is worth $79 per month with a free signup service. Email finders come off at different prices. For 1000 plus credits, the price is $299/month, while Overloop with 10000 credits is $499 monthly.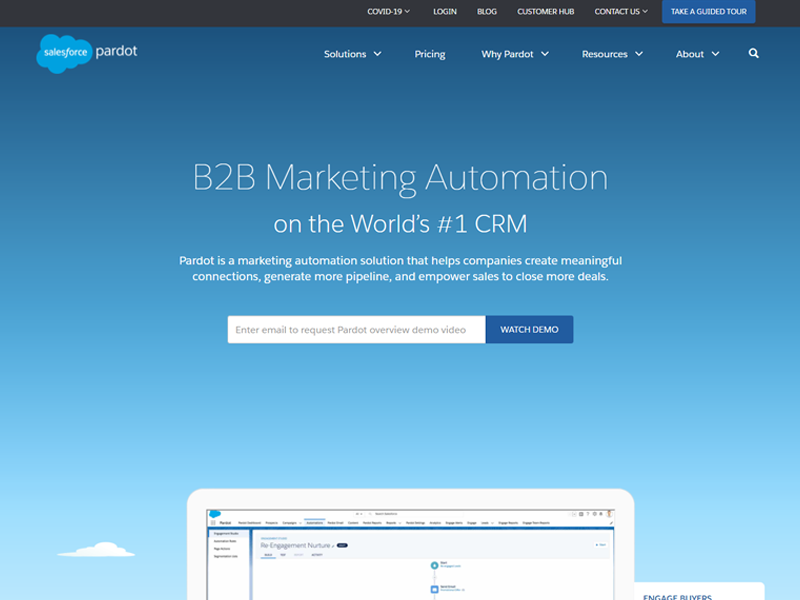 Pardot is software to get automated marketing campaigns. Including sales development, this tool is invariably the best one to create business leads. Ensuring success to the online business professionals, Pardot is a unique marketing platform.
Moreover, this tool makes professional emails instantly. Working over the sales rate and lead grading and scoring details, Pardot tracks the product follow-ups.
Key Features:
Training Sessions: pardot helps users explore online business management by delivering training sessions weekly, daily, and during office hours. Moreover, these strategy sessions are free of cost.
Lead management: It finds the latest leads and picks the profitable ones to get a high sales rate.
Appealing campaigns: this software displays unique eye-chatting content for visitors to stay connected, thus engaging them.
Pricing: Growth Pardot is $1250, and the Plus plan costs $2500. An advanced program is worth $4000, and the Premium plan costs $15000.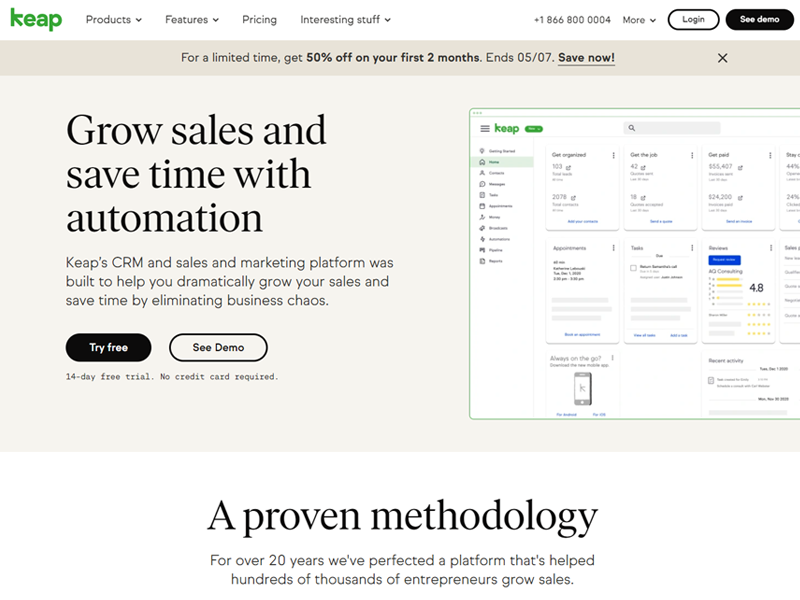 To withhold the client's information like conversations and dealing record, Keap is above all else. It is the data organizer along with exclusive automatic tools. Moreover, it is helpful in lead generation marketing. Keap is making the streamlined process easy to handle. Hence, android users can also use this tool similar to desktop users.
Key Features:
Exclusive phone line: keap provides a professional phone line for connecting customers worldwide, whether iPhone or Android.
Data transfer: to grow the leads in no time, this tool also inculcates data transfer features.
Sales Automation: automation software is another contributing factor of Keap for rapid sales growth. Ultimately, it is time-saving.
Pricing: the pricing systems fluctuate depending on the number of contacts to organize. The Lite plan for Keap is $40/month. Pro version costs $85 per month, and Max one is about $100 monthly.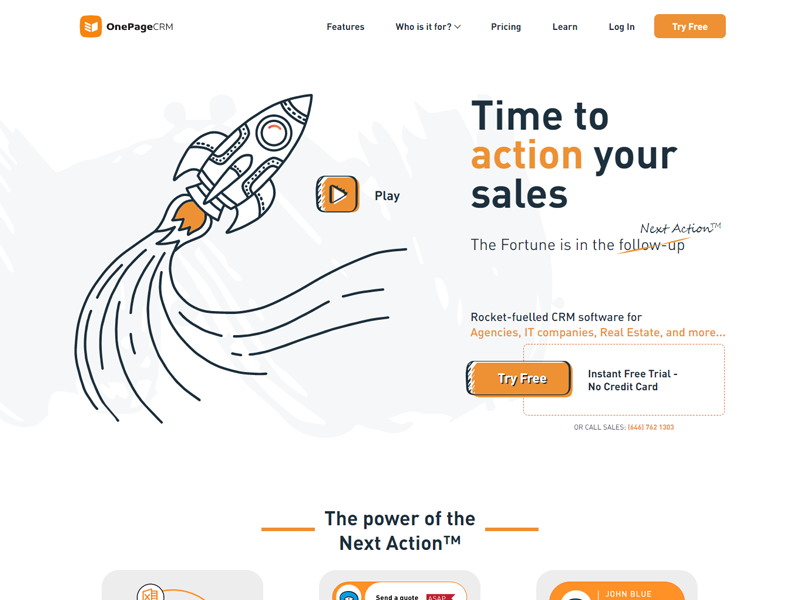 A lead generation software with CRM tools is the best choice to make ever. This software captures leads from every possible forum as Gmail, websites, and professional working sites. It can integrate the leads with any desirable platform or device. Mainly, it
works on the subsequent action sales to drive the sales.
Key Features:
Focused and responsive: OnePageCRM is a time-saving tool for the customer to work over a specific task instead of other eye-catchers. Working for targeted leads and bids is probably another intelligent CRM software.
Syncing software: not only does it synchronize with social platforms like Chrome, Dropbox, Slack, etc., but it also works efficiently.
Pricing: buyers will get a free trial for 21 days. The most popular plan of OnepageCRM is $19.95/user. On the other side, the Professional version costs $9.95/month.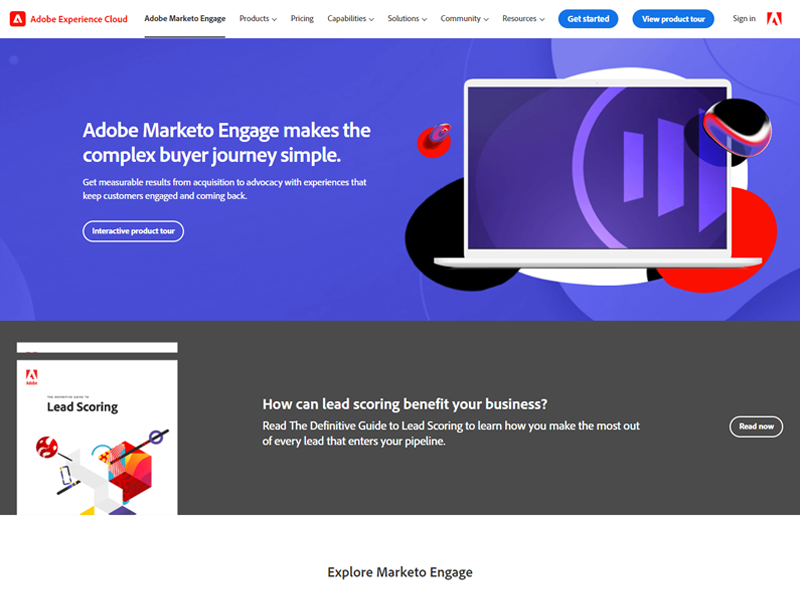 To customize the visitor experience, Marketo is second to none. It makes sure to connect to widen the site traffic, thus engaging the clients evenly. On the other hand, Marketo works both for the online and offline lead programs. Through the professional campaigns, it utilizes built-in tracking to build an audience.
Key Features:
Partnership: Marketo makes an inter-business relationship among the users in a sales partnership. As a result, the business goals will not be a big deal to achieve.
Visitor engagement: to robust the sales, Marketo creates cross-channel engagement to stay longer on the page.
Pricing: the pricing value of spark Markto is $895, and the standard one is $1795/month. Also, the select Marketo is $3195 monthly.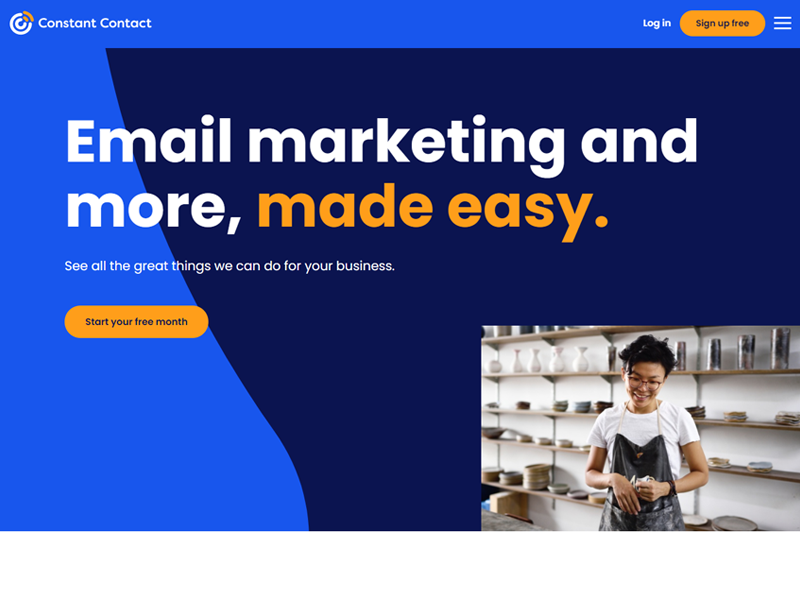 Constant Contact is a fantabulous tool to stay focused on the leads. It improves the email outlook and makes it far more professional. Furthermore, users containing a huge contact record will find it easy-going.
Constant Contact is famous for its simple sailing versions. Whether creating templates or connecting leads, it is incomparable. The pricing plans are available in an affordable range. Moreover, drag and drop editing features are here too. No doubt, Constant Contact is an incredible platform for email marketing business.
Key Features:
Contact Handling: users can edit the contact list anytime and manage the contacts accordingly.
Email export: the mailing system will export the pre-requisite emails automatically thus, designing them in advance.
Mail tracking: to increase visitor engagement, software controls email success by tracking.
Pricing: Starter Constant Contact costs $20/month, while $45 is the price for an email plus program. From 5000-10000, the Email Plus plan is worth $125/month.
If you want more information regarding this tool and how it is compared with others, we have created Constant Contact alternatives listing and a full comparison between Constant Contact vs. Mailchimp.
Prospecting and Outreach Tools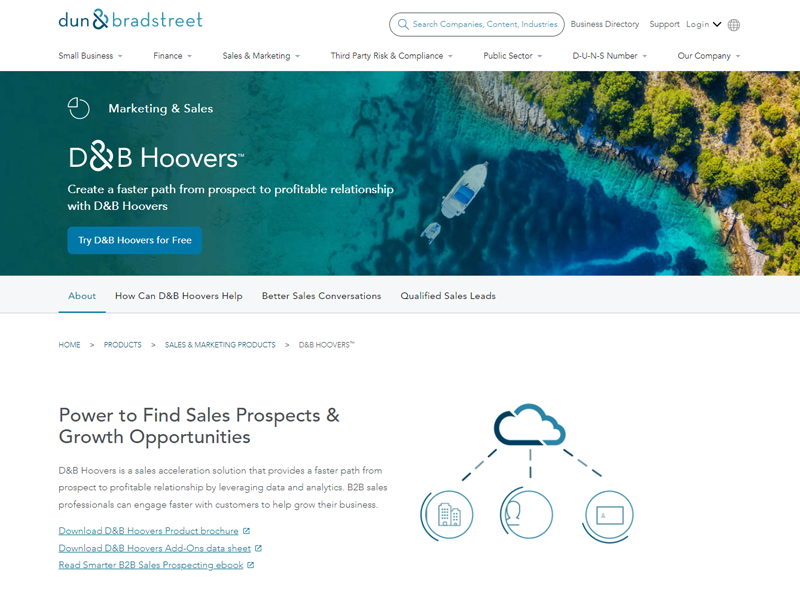 D&B Hovers is a sales accelerator with some valuable features. It provides a far faster path through the data archives and analytics to bolster the customer ratio. Moreover, it was the best ROI Mid-market in 2020.
Key Features:
Productivity: personalized desktop will update the users about bids, active buyers, and sales productivity.
Sales lead: boosting the leads as more leads tend to produce more sales and vice versa.
Pricing: Buyers can avail of the free test drive for up to 5 Credits. The Essential one costs $99/month; meanwhile, the Plus plan is worth $199 monthly. Lastly, a Plan for Professional D&B Hovers for 1000 Credits is $399 for a month.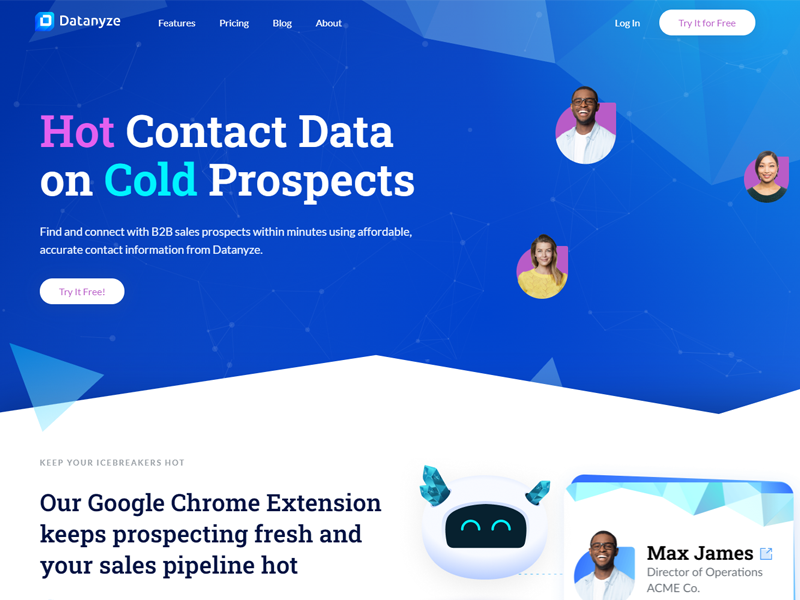 The Datanyze is a succession of Zoom Information, Inc. ensures instant data contacts and sales. The tool extensions continually preview the sales leads and the hot lead pipelines.
Key Features:
Advanced software: Datanyze is another innovative tool with incredible desktop features and highlights.
Contact information: it targets to attain the contact details for the users to seek after some considerable sales dealings.
Pricing: DataNyze Pro 2 costs $55 per month, while NyzePro 1 costs $29 for 80 credits. Furthermore, a 90-day free trial is for 10 Credits per month.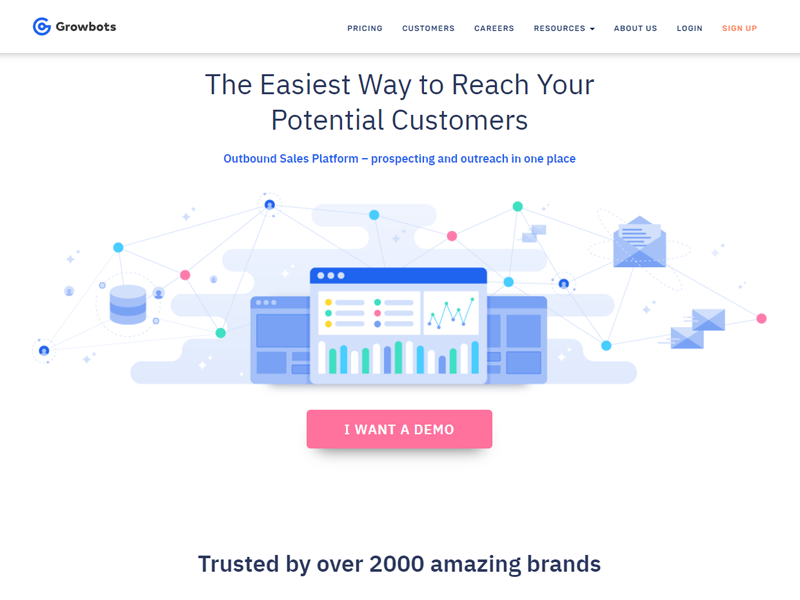 Among the plethora of software, GrowBots is the extraordinary one. This software sets up personalized, on-site campaigns to build real customers. Furthermore, continual updates about the sale leads are standard.
Key Features:
Integrations: This is an extraordinary feature of GrowBots. Hence, can synchronize with other online tools like SalesForce, Hubspot, Zaiper, leader feeder, etc.
Automation & marketing: GrowBots is competent to perform email marketing tools and automize the required tasks.
Pricing: along with a monthly subscription, the Outreach plan costs $49/month. The All-in-one V robots version is $199 per month. The most popular starter package with 3-months Bootcamp is $807USD.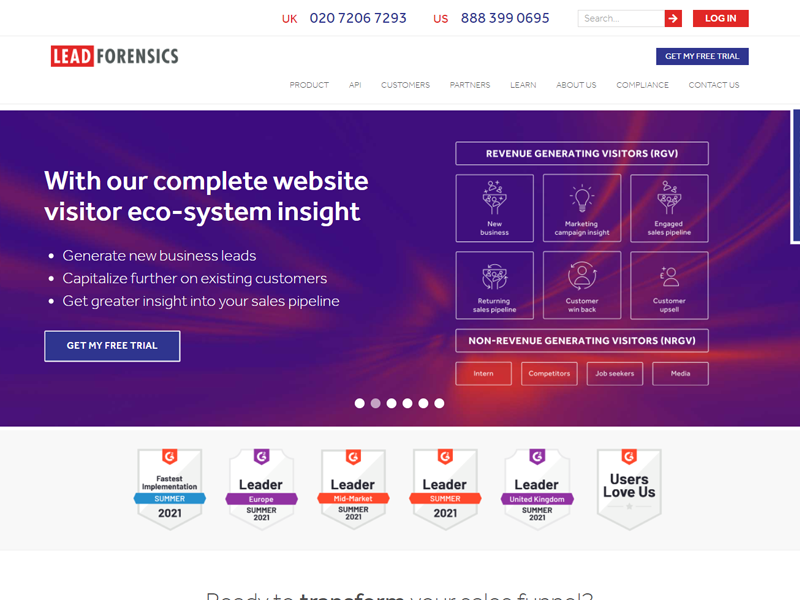 Lead Forensics finds every possible good sale lead on a hunch to skip out. Even it gets every detailed information about the anonymous visitors. Users can get data from critical contacts, thus another way to grow the lead list.
Key Features:
Anonymous clients: to enrich the sales ratio, Lead Forensics reveals the anonymous website visitors, thus turning the ones into profitable leads.
Hot leads: this tool works cautiously to get over every sales opportunity. Moreover, the users can customize the web portal and watch the hot leads.
Pricing: Lead Forensics has several pricing plans dependable on the user companies. For 300 plus companies, the cost is $63/month, while 1000 companies are worth $135 per month. Also, the price of 200 companies is $199/month.
Sales Lead Generation Tools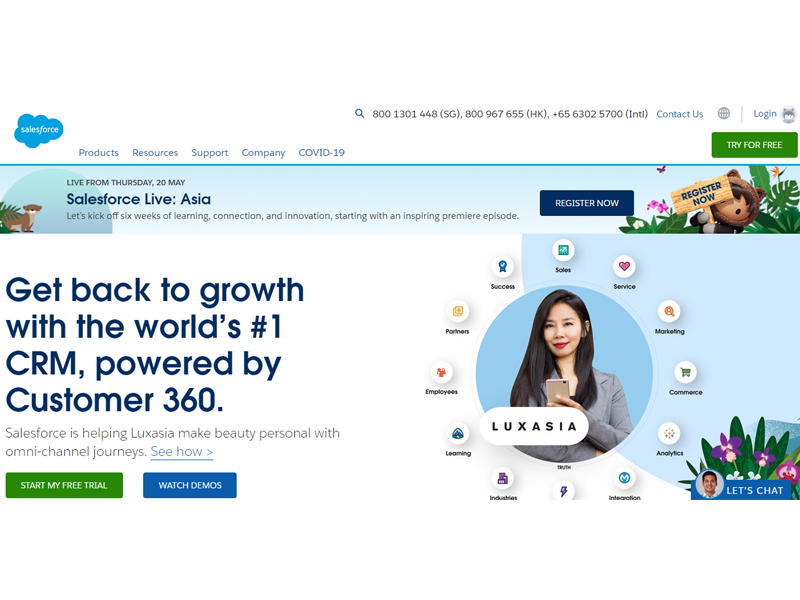 SalesForce is another distinguished lead generation software making top sales. Thus, this tool manages clients, sales teams and leads well. Providing extraordinary customer care through live chat 24/7, SalesForce leaves no stones unturned to facilitate the clients.
Moreover, SalesForce is the sales improvement tool. It is worth using the platform with automated characteristics, innovative lead captures, and targeted connections. Corporating with marketing and sales leads, supporting the user to create personalized business campaigns. Resultantly, SalesForce is a way easier to handle by the users too.
Key Features:
Support features: exclusive help desk is available round-the-clock. Furthermore, chat booths and service tracking are supportive attributes for the users.
Leads Handling: customized tools make the lead handling procedure more accessible and quicker. Users can have all the archives of the particular leads; hence the marketing campaigns will be all-inclusive at times.
Robust with CRM: sales clouds will grow the account subscription quickly. Meanwhile, CRM software is meant to robust the dealings and explore new clients.
Flexible bids: with drag and drop in-line editing, SalesForce is a way to increase revenue. Therefore, the recommendations must be elegant and catchy.
Pricing: free trials of the tool are available for the users. Moreover, the SalesForce Essentials costs $25 per month while the Professional version is about USD 75 monthly. The price of Enterprise one is USD 150, and the unlimited SalesForce costs about USD 300/month.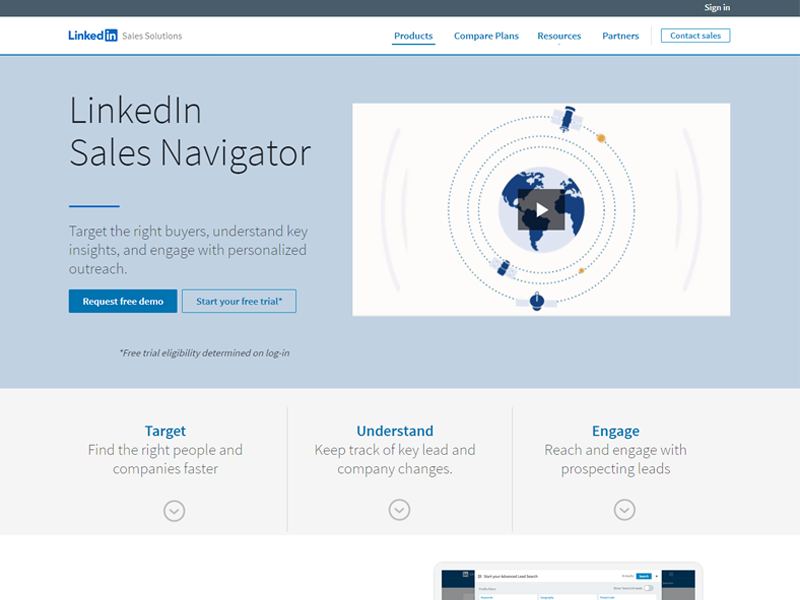 Want to get updated about the sales and leads? Then Linkedin Sales Navigator is a preferable option to go. CRM affiliations will make sure to viral the website contests within visitors. Furthermore, this software provides details about sales ratio and leads.
On the other hand, LinkedIn Sales Navigator boosts the subscription figures thus, increasing the on-site traffic. Business professionals can upkeep the contacts with marketing campaigns via sharing. LinkedIn sales are pre-popular for its incredible features, so Sales Navigator is mere an improvising version of it.
Key Features:
Mail access: This tool lets the user access the Linkedin Mails and DMs.thus, which will help communicate and socialize.
Linkedin subscription features: users can avail the of special Linkedin services as Leaning access, Linkedin Inmail Message access, and Job Seeker.
Customized algorithms: making customized algorithms to excite the website visitors with appealing campaigns and contests. Meanwhile, it checks over the user's account setup too.
Connection Requests: Linkedin account provides the user with unlimited access to the lead's searching results. Moreover, more than a hundred requests per day can communicate with fellow users.
Pricing: Linkedin Sales Navigator offers both annually and monthly services. The professional one costs $99.99/month, and the Team version is $149.99 per month. The Enterprise version is available too. Furthermore, users can have a free trial too.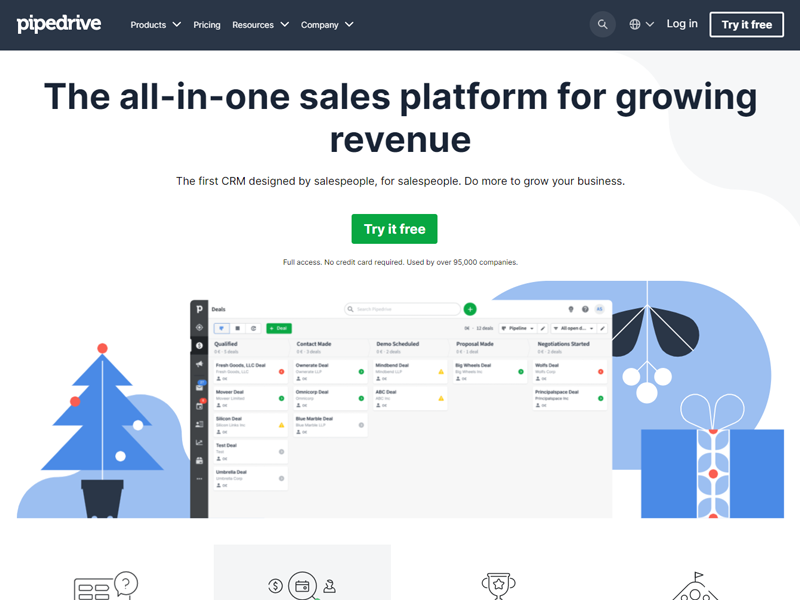 A CRM tool provides an enthusiastic approach towards sales leads. Displaying hourly-based highlights of the user's activity archives tracks every existing action. Furthermore, Pipedrive gives the email templates, thus avoiding re-writing in any case.
However, it is making everything easier to operate upon fr the visitors. Managing the users' accounts and everything within to help out the sales procedure. Meanwhile, it works as an organizer for every upcoming call and email. Keeping a detailed record of sales and customized leads, Pipedrive is second to none.
Key Features:
Deals with leads: it handles the sales deals precisely. However, Pipeline will help the visitors to avail themselves of the leads anytime through website forums and help desks.
Security: ensuring transparency and privacy to the user whenever the personal data is in use. Avoiding scammers and frauds through high-security checks is another important feature.
Data collection: It generates a single data collage to organize the user's mail and remnant tools. Hence, this tool will automatically add new contacts and deals to the dashboard.
Syncing the plans: synchronize the visitor's activities and the Chrome calendar. Placing a reminder will surely be benefitting to sought-after new leads.
Pricing: it comes up with monthly and annual billing systems. Essential Pipedrive is about $12.50/month, while Advanced one costs $24.90 per month. A professional version of Pipedrive is worth USD 49.90. Lastly, Enterprise one costs $99.00/month.
Communication & Live Chat Tools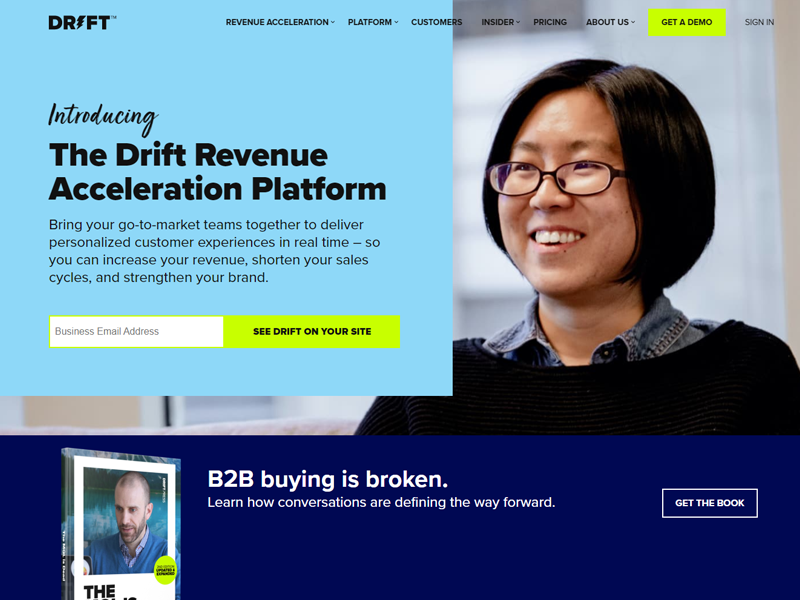 Drift is another user-friendly communication tool. It mainly works to manage live chat sales. On the other hand, it is a conversing software helping to make up professional deals.
Drift avoids the signup and fill-in form protocols, thus making live conversations possible instead. Working through the messaging service, it contains chatbots, live chats, and DMs campaigns. Advanced software like Drift with communicating features is a profitable platform indeed.
Drift also offers a chatbot builder software to create a custom bot to help you respond to your customers.
Key Features:
Calender setup: another exclusive feature of Drift is the calendar setting up chat sessions for the users to plan up every activity nonchalantly.
Targetted campaigns: segregation adaptations for professional teams enables the targetted campaigns to integrate with Marketo and Salesforce. Also, it is essential for capturing marketing leads too.
Synchronization: it makes the user's leads unify with different sales and marketing strategy leads to customize the user's business archives.
Pricing: a free trial is easily accessible for live chats. The price of Premium Drift is $600 based on the number of seats; meanwhile, the startup program costs $550.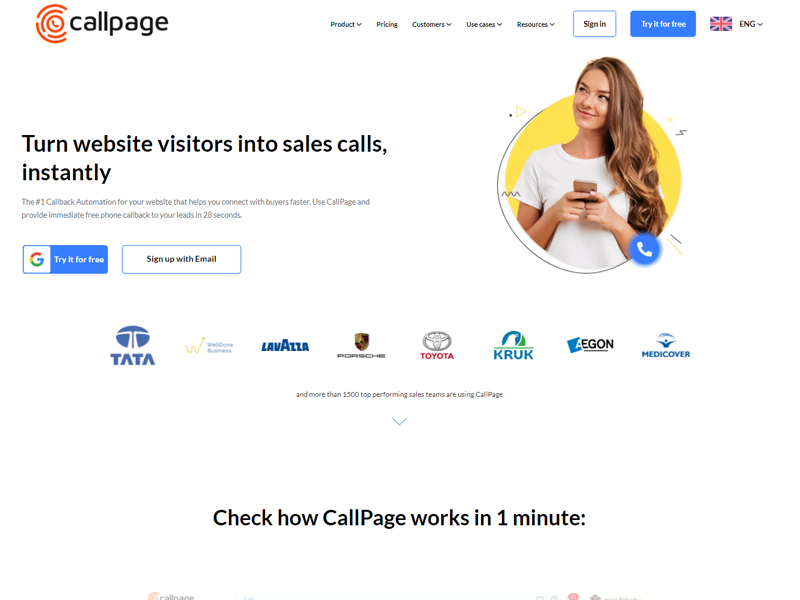 This tool transforms the visitors into sales calls immediately. CallPage takes after its name from the phone call–based sales leads. The leads will ultimately add up into the contact list just with one click. Qualified sales lead to cause the speedy communication too.
Key Features:
Callback option: this tool only shows the callback button when the sales leads are hotter.
Popups: CallPage provides personalized popups at the landing [page so visitors will visit the page more often.
Pricing: it is free for two widgets and one domain with respective leads. The Professional Call page costs $159/month, and the Premium version is $379 per month.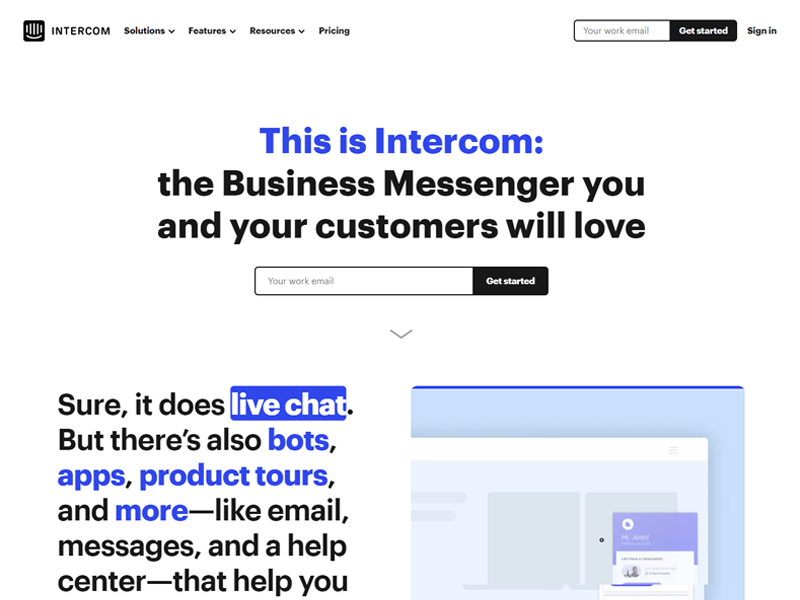 It is a messaging software making communications easier among the masses. Moreover, it engages the visitors along with the chatting service. Also, the messenger app keeps up the customer connected better. It provides benefiting leads to the users too.
Key Features:
Follow-up service: before setting up the preferences, it gathers every piece of information about the visitors, thus giving follow-up over the sales and leads.
Marketing: it converts the visiting traffic into customers thus, providing an exciting way either through DMs or bots. In this way, conversational marketing takes place by Intercom.
Pricing: the pricing of Intercom starts from $59/month while Grow version costs $119 per month. Accelerate Intercom's price is $499/month, and the Scale free plan is $999/month.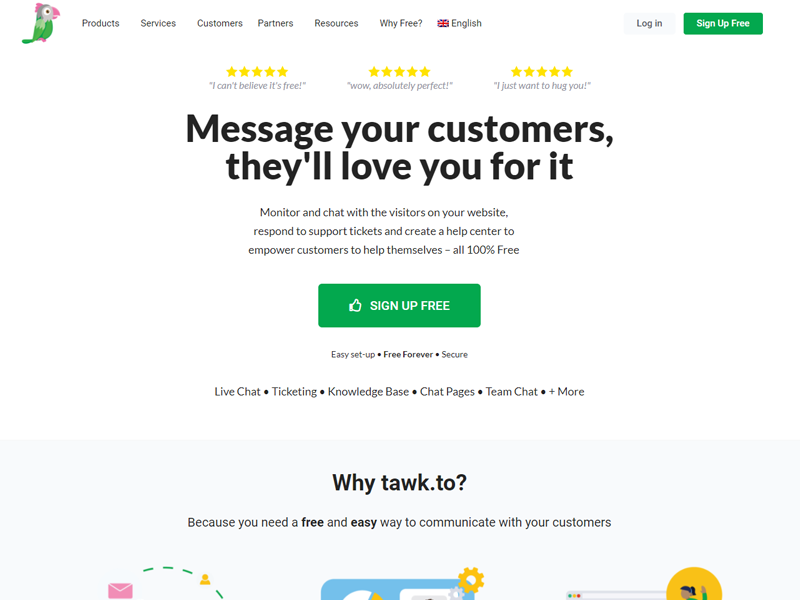 To monitor the site working and customer conversations, Tawk is indeed a perfect software tool. It communicates with the visiting clients and tracks the traffic activity. Moreover, this tool provides a knowledge base portal to help the users.
Key Features:
Visual Assistant: through this software, users can avail of a full-time Visual assistant in a very affordable range. Thus, it will create an easy way to serve the customers with reliable support.
Collaborations: allow users to collaborate with their fellow users, broadening the business team.
Pricing: Twak.to works over a 7-day free trial. A full-time program costs $2.20 per hour, and a double shift is about $1.50/hour. For the best value plan, the price of twak.to is $1 per hour.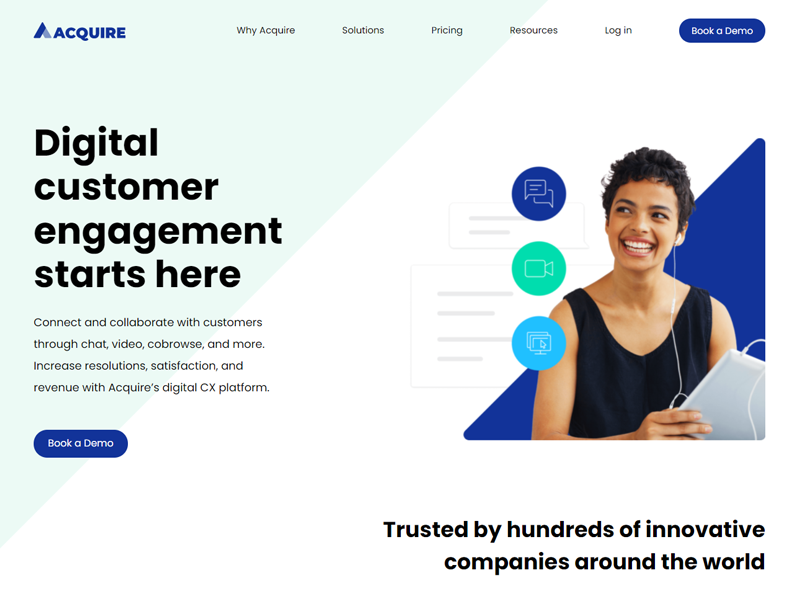 A client communication software with automated campaigns and sales leas is an incredible tool. An advanced platform to engage the visitors with chatbots, co-browsing, and advertising videos.
Key Features:
Easy sharing: users can share any documentation easily, even the sensitive ones. It decrypts the encrypted files and provides hassle-free access to any other document.
Customer support: reliable 24/7 customer service is available for the users through live chats and video calling.
Pricing: the pricing plan is estimated, start from $90 per month. Furthermore, it also includes starter, commercial, and enterprise versions.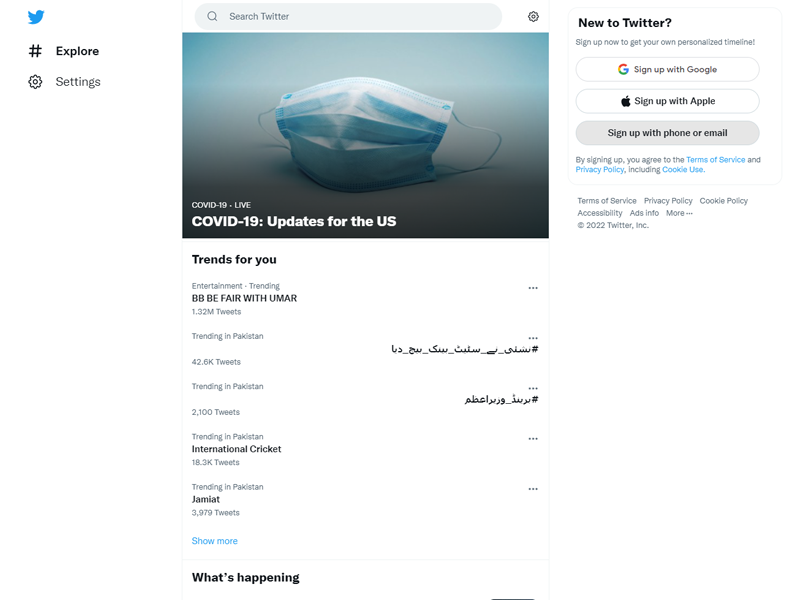 For finding the online submissions, Twitter search is above all. Using this online microblogging service, users will seek out the possible probabilities for a specific field. Moreover, the need for this particular bid in the current world. However, by retweeting the relevant proposal, users will access the opportunities. So, it is conducive to finding the employees' info in detail. An advanced version of Twitter search is also available, especially for boolean drivers like AND.
Key Features:
Pin Tweets: user can pin tweets on the page to get engagement on the handle. Furthermore, blogs, posts, and tweets promote by pinning the catchy tweet.
Notification Customization: This tool keeps a record of the notifications for business personnel, though essential. The user will receive basic notifications only by customizing the messages, saving from wayward popups.
Highlights: using Twitter highlights will undoubtedly be beneficial to keep pace with the ongoing trends. Further, to be in touch with the followers, this feature will track daily conversations and the latest topics.
Pricing: it's free.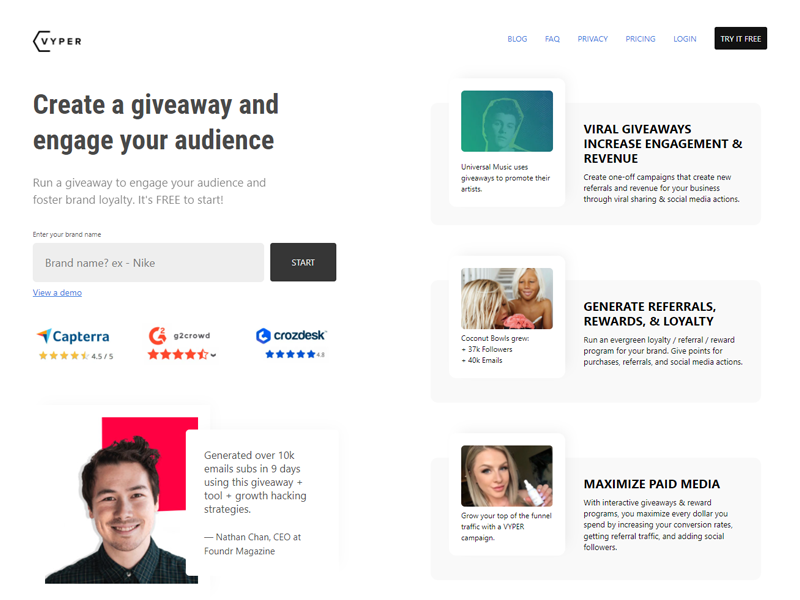 VYPER ranked among the best lead generation platforms to grow an online business. Thus, increasing the activity on the site page engages the audience with the viral content. Mainly it includes the free-spin to win and contest challenges. By signing up at the VYPER, visitors can participate in the contest just with one click. Moreover, the entries are easy to share externally and the spin wheels. Moreover, VYPER maximizes every user's penny, thus increasing the conversion leads.
Key Features:
Customer Service: 24 hours assistance is available by the help desk through live chat and phone.
API connection: users can generate their social popup to engage the traffic by offering incentives. Moreover, confirmation is possible anytime by API connection.
VYPER Analytics: Vyper is a user-friendly tool, thus very benefitting in marketing contest tracking working along with Google Analytics.
Bonus rewards: immediately provide clients with sufficient bonus points at every sale from the user store.
Pricing: VYPER pricing plan starts from $34.00/month. The pro version costs USD 49 per month, while Enterprise is about $149/month. Agencies or branding plans worth $299/month.
37. RafflePress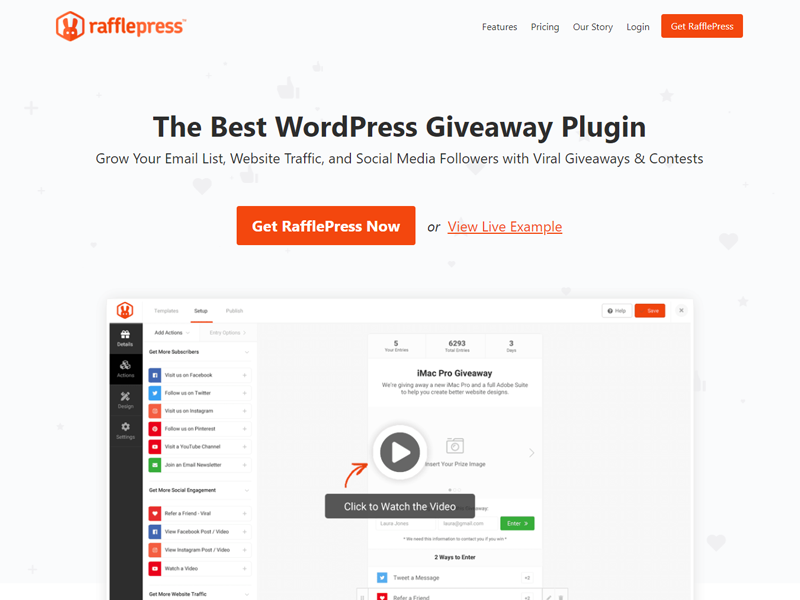 RafflePress is the best choice in this regard, looking forward to increasing site traffic. Furthermore, it is a plugin for WordPress and LinkedIn. This management tool has incredible attributes and online popups displays and contests.
Using RafflePress, users can boost the email records up to maximum. Further, it will also enhance the client engagement over the on-site page thus, raising the email subscription. Delivering a handsome sum of potential leads makes it a better lead generation tool.
Key Features:
Giveaway Facility: this tool enables users to generate drag and drop campaign giveaways to attract visitors like WordPress giveaway form builder.
Scam protection: One-click entry feature will protect the user from any fraudulent activity.
Sharing bids: through social network integrations, users can create a viral landing page; meanwhile, sharing requests is possible easily to anyone as a friend or for clients.
Pricing: The Growth plan costs $159.20/year, and the pro one costs $79.20. afterward, Plus RafflePress is USD 39.20
What Makes a Good Lead Generation Tool?
Any lead generation tool or platform that has appropriate contests to attract visitors is good. Moreover, the converting feature should be unrivaled. From collecting leads to finding mails, software must be efficient enough to satisfy the customers.
Furthermore, it ought to create a complicated buying journey to be more straightforward. Here some properties of a good lead generation software are given. Check out the description.
Constant integration with other platforms.
Zero compromises over lead quality.
Better lead scoring
Round-the-clock customer support.
High security and privacy to avoid scams
What is the Best Way to Generate Leads?
Lead generation marketing probably teaches an innovative and advanced outlook regarding lead creation. Software and tools have become the best lead generation platforms. Moreover, users can transform any lead gen into profitable sales.
The user must be well-versed enough to generate A1 leads, manage them, capture the existing ones, and convert them. Some key attributes to create first-rate leads are below. Take a sneak peek at the below-mentioned properties.
Customer relationship management is undoubtedly a contributing factor to creating leads. Socializing with fellow clients through various platforms won't be in vain. Consequently, quality generating leads are easy to generate in this way.
Guest posts and blogs are popular concepts of SEO marketing; however, it is of great use in generating leads. Moreover, writing a guest blog for the specific marketing sector will allow the user to get referral traffic.
Several online service provider forums are helpful to search out various leads and campaigns. These social forums include LinkedIn, Volar Connect, Jobcase, and ZipRecruiter. Users can find jobs, emails, and contact lists through them. Hence, such professional networks will generate leads instantly.
What is the best lead generation software for small business?
Looking for the best lead generation software for small businesses, OptinMonter is above all. Regarded as the most powerful and responsive tool, it has countless users among all the online marketing sections. From a blogger to an e-commerce businessman, this software is helpful for minor-scale online interpreters.
Creating tremendous and appealing email signup forms, popups, spin-to-win wheels, and contests, OptinMonster is indeed an outstanding CRM website software.
Conclusion
As we know, lead software will boost sales and site traffic with the help of leads. In the above-listed tools, everyone has some attributes different from the other. We have put everything in precise detail for your ease, from features to pricing.
Here are some picks of 2022, so choose any of the above-given tools confidently. These are the best B2B lead generation and B2C generation software creating productive leads.