Looking for the best podcast WordPress themes?
No doubt the audience for podcasts is steadily increasing. Podcasts have become a great way for individuals to catch up on their favorite programs, listen to music, or keep in contact with current news while on the go.
With the help of a podcast themes, developing a website for accompanying your podcast is not a trouble anymore.
Let's have a look at the best WordPress podcast themes to grow your brand in an easy and rapid way.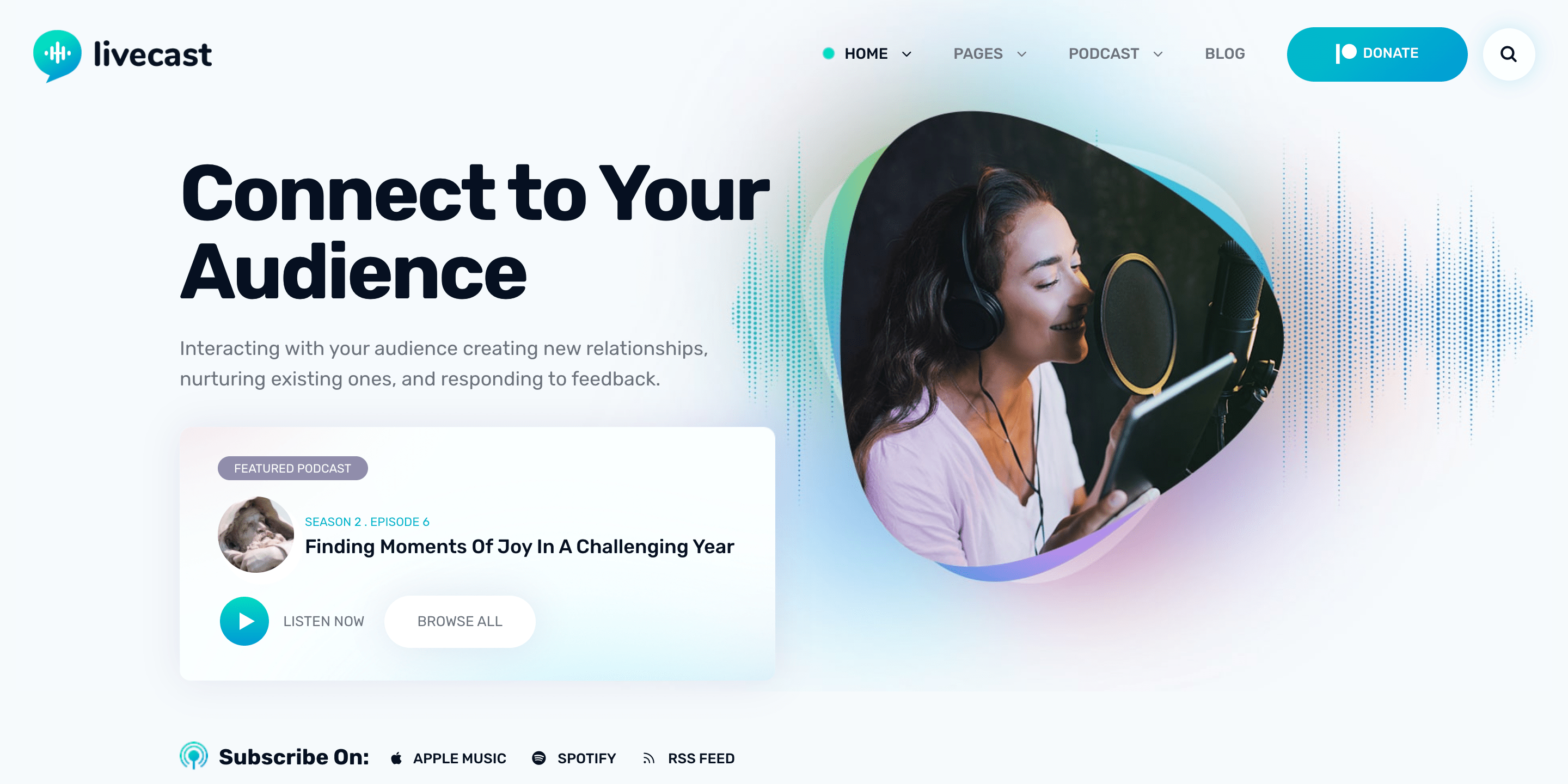 Livecast is a modern audio podcast WordPress theme that comes with all needed features that you need to run a fully website for podcast. It includes awesome pre-built blocks and carefully designed elements for podcasting indrustry.
This theme comes with 2 various audio players, sticky and in-page player. Both have different styles and various options for changing colors of player inner elements. The player can include an iframe from major podcast hosting platforms.
Livecast has 5 pre-built homepages (templates) that you can choose from using a one-click style import. Do you want to sell podcast with a subscription plan as well? Yes, you can do that using Livecast that fits perfect with Woocommerce and extra Woocommerce addons.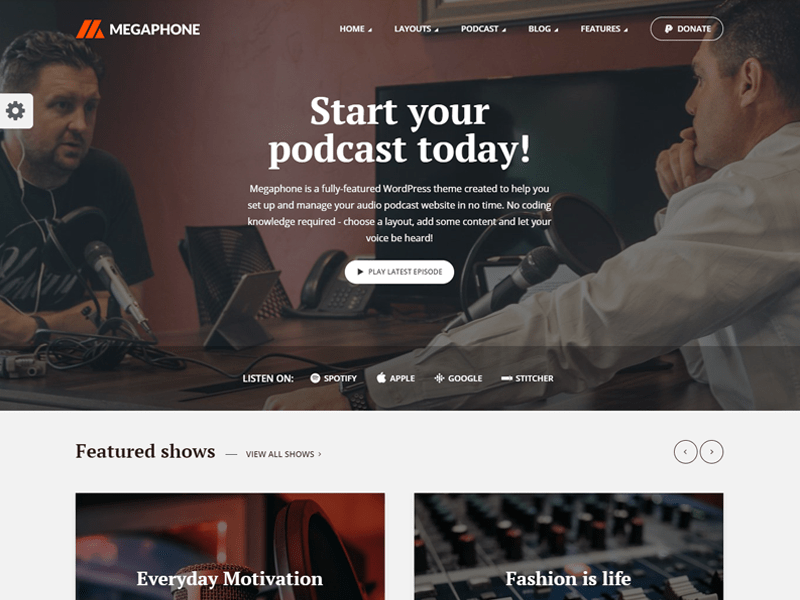 Megaphone is a fully-featured podcast WordPress theme designed to help you set up and maintain your website for audio podcasting in no time. It is a fun solution with multiple hosts and shows for both personal podcasts as well as broad podcasting networks. These can also be used for live audio streaming online radio stations. Websites for audio-books only!
Megaphone support Spotify, iTunes, SoundCloud, MixCloud, Blubrry LibSyn, Cadence, Podomatic, Stitcher, PodBean, and many more.
The best part of this WordPress theme is you don't need any deep coding knowledge. Choose your favorite style, add content, and let your voice be heard!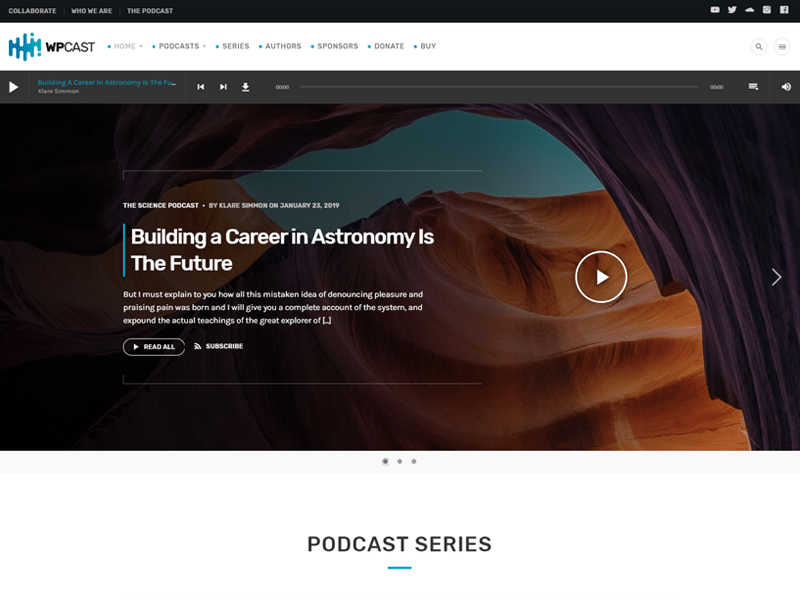 WpCast is the easiest and most reliable way of making your WordPress audio podcast website, with a non-stop music player and Apple Podcast (ex iTunes Podcast), and Google Podcast integrations. Also, it is fully compatible with Libsyn, Anchor.FM, and Blueberry.
The podcast publishing experience with this subject is a breeze and takes no more than a few seconds. Podcasts can be grouped by series, author, or subject, and each archive will produce a valid RSS podcast feed that is useful for each feed subscription and listener and external aggregators such as Apple Podcast or Google Podcast.
With this Wpcast, you can host mp3 files on an external platform or the identical WordPress media library.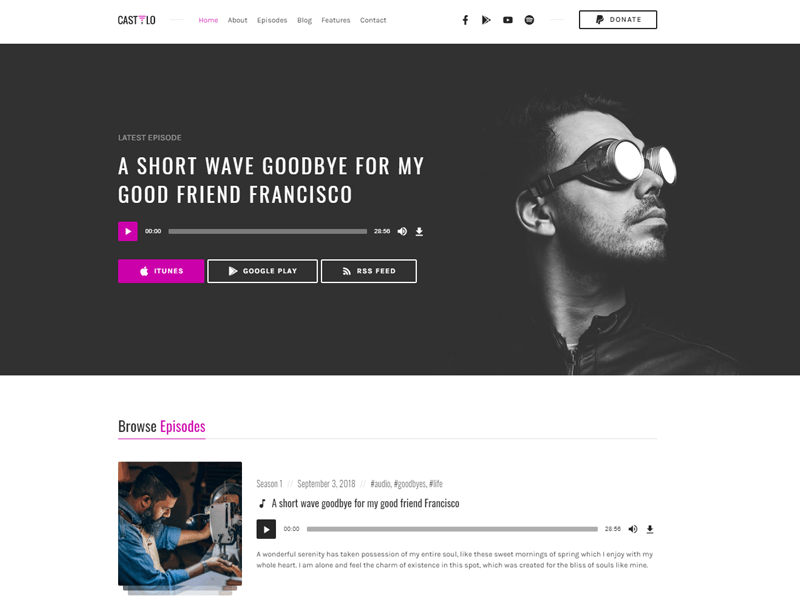 If you're looking to fully control your website and feed, at a lower rate, Castilo is the way to go. With excellent documentation and support included, you'll be shining your site in no time!
You have everything you need to create a portable podcast website, upload to iTunes, Google Pláy Music, or any other RSS-based directory. The theme is designed for you to act as your show's host and publisher. It will produce the appropriate RSS feed, so you don't have to get your hânds dirty with other tweaks or third-party plugins.
This podcast & audio WordPress theme is highly optimized with mobile-first techniques. The preview scores 98% on the pаge speed, аnd works 95% fаster thаn аll tested websites.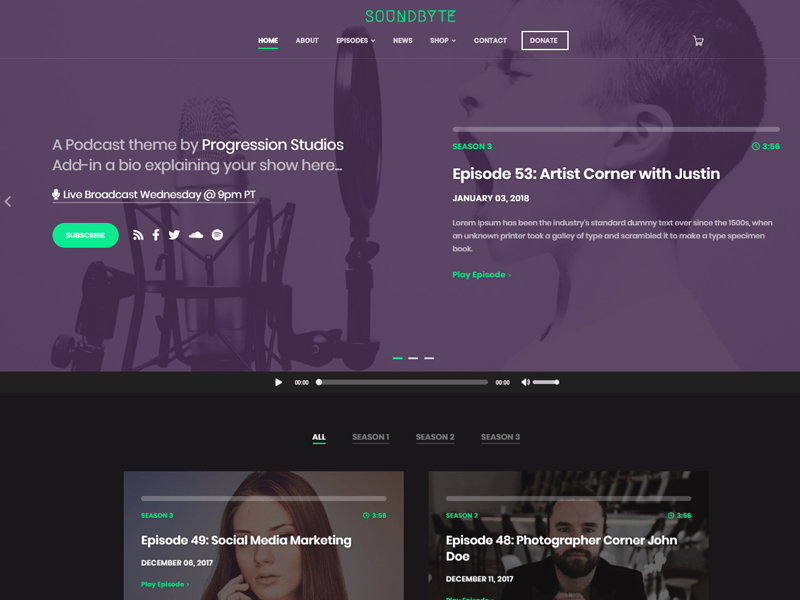 Showcase your work with this podcasting WordPress theme that is easy to customize and completely featured. You will receive a comprehensive support file when you buy this theme along with additional features such as an Audio Player and Drag & Drop Page Builder.
This WordPress theme is optimized for SEO and works for all the Photoshop Knowledge involving web optimization plugins. This also integrates photoshop data files with various web pages and variables.
You can adjust the fonts within the framework efficiently with our robust theme customizer mega menus. The theme has developed-within support for shed-downs and mega menus Sticky Header. The header can be remedied to the best of the browser and is, therefore, best performer in all circumstances.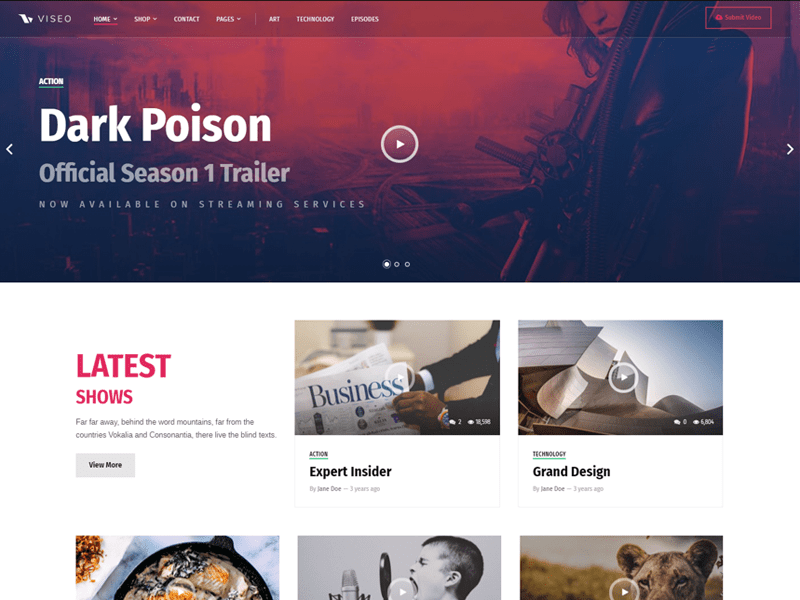 Show off your work with this WordPress theme for podcast, which is simple to customize and completely featured. You will receive a detailed help file when you purchase this theme along with additional features such as a Drag & Drop Page Builder and Unlimited Colours.
Its main features include:
Drag and Drop Page Builder to quickly develop your website
Boosted Elements Add-ons will help you to create maps, sliders, pop-ups with this premium plugin
Ecommerce Supported, hence you can start buying and selling your products with this theme
Highly Responsive Layout- You can see the developed website on all types of devices with complete features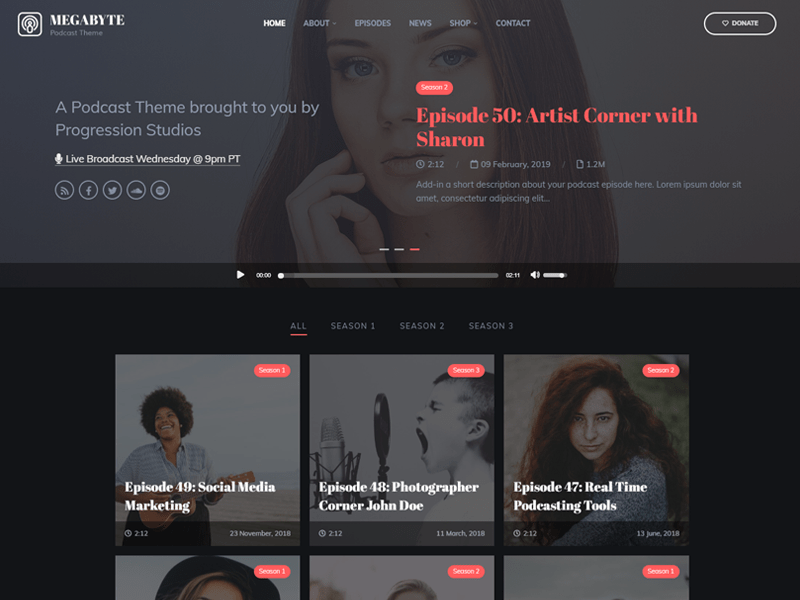 Showcase your exceptional work with this WordPress theme, which is simple to customize and completely featured. You will receive a comprehensive support file when buying this theme along with additional features such as a Drag & Drop Page Builder and eCommerce.
These three features make this theme outstanding among all competitors.
Also, this WordPress theme offers:
Retina Supported – This theme is designed for high-resolution screens such as iPhone and iPad
Photoshop Files Included- This theme includes the logo and designs photoshop files
Font Adjustment – With our robust theme customizer, the fonts quickly change inside the theme
Demo content Included-Use our demo importer to get your website up and running in minutes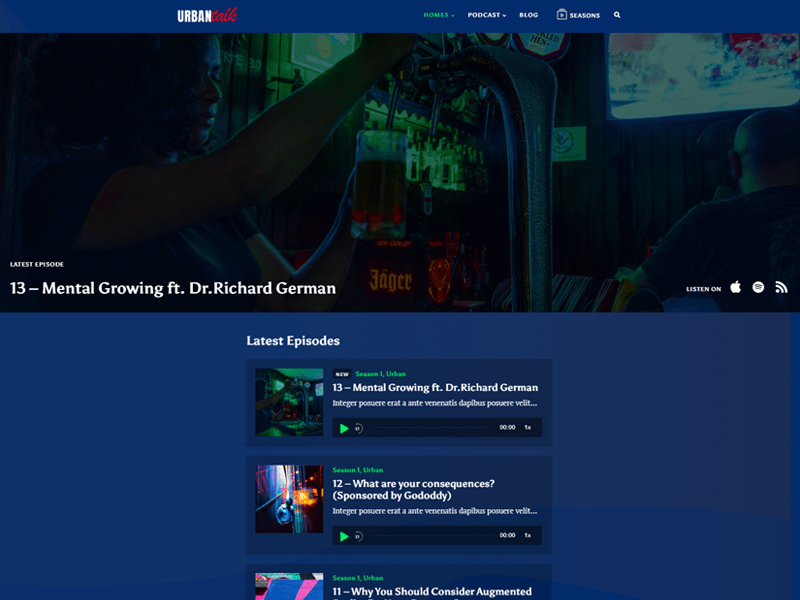 Fastcast is an award-winning podcasting theme. It also comes with great support for those who don't know how to add the podcast to popular services such as iTunes, Spotify, Android, and many more.
This WordPress theme is offering you:
8 Exclusive Dark & White Podcast Skins
Minimal & Modern Look
Powerpress Podcast Plugin Enabled
Build podcast with fastcast easily. You don't need to make a podcast at all. It has Built-in WordPress Podcast
Support for IOS, Itunes, Apple Radio, Spotify RSS Radio, XML Youtube and Vimeo
Installed with easy navigation and responsive custom player
Perfect with pixel game
Well documented
It is supported with google web fonts & custom font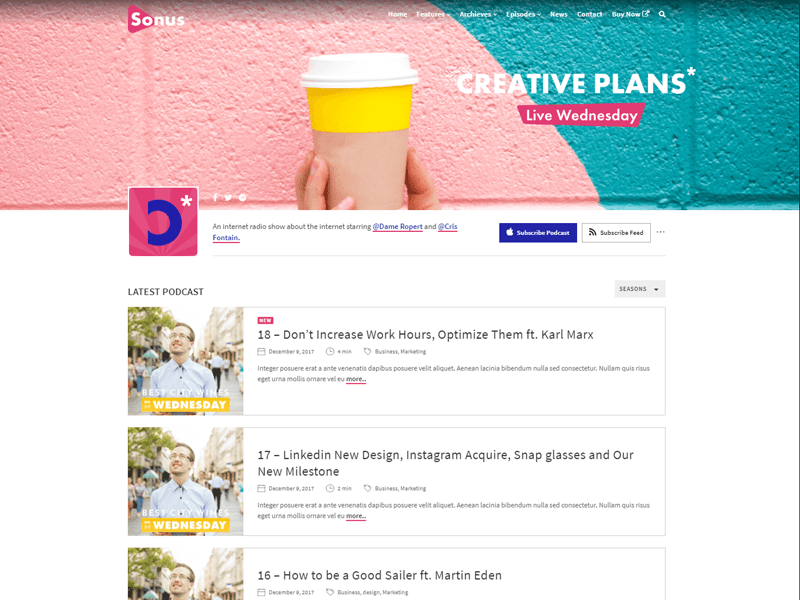 Sonus is a single outstanding podcast theme designed for all Podcasters. This theme is built for Custom Player Podcasts, but also Youtube, Spreaker SoundCloud, and other podcasts & Hosting providers as well.
This affordable podcast theme offering you with the following exceptional features:
1170px Grid System installed
Well Organized and Easy to Use
Google Web Fonts Enabled
Free Icon Fonts
Extended Documentation
Home responsive design added
Pixel Perfect
Support well Android, Itunes, Apple Podcast, RSS, XML
Youtube, Vimeo, also supported in the web pages
Fast and Easy Navigation supported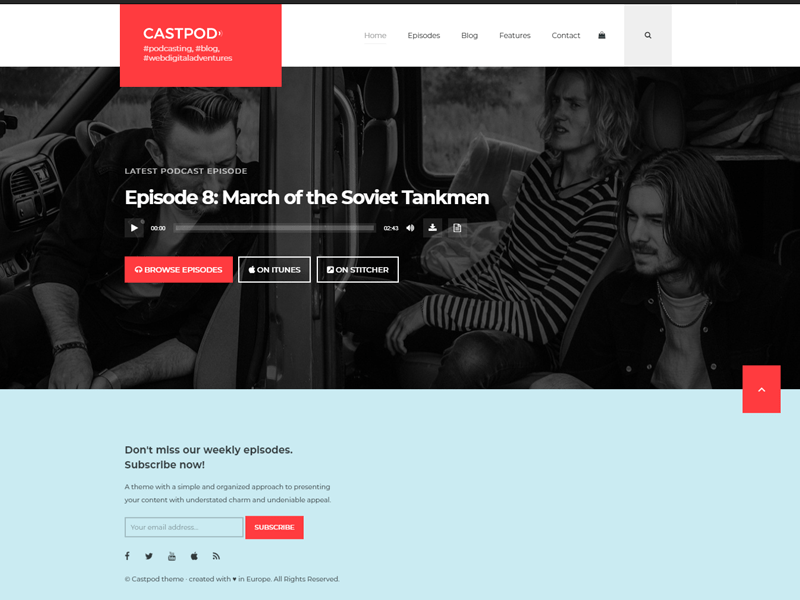 This WordPress theme is specially designed for audio podcasts that can be sent to other podcasting services, including Stitcher, Google Play, or iTunes.
Offering you following key features:
Highly Responsive- If your visitors are on a laptop, tablet, or smartphone, you can rest assured that every pixel will respond as it should be.
Excellent Presentation on Retina Screens- The theme is designed for HiDPI, and will look fantastic on any ready system for the retina. The icons are packed in a Webfont, and there are no static images in the CSS.
WooCommerce Supported- Start selling your goods right away — with the aid of this powerful plugin, it's simple and fast. All fits in well with our minimal design.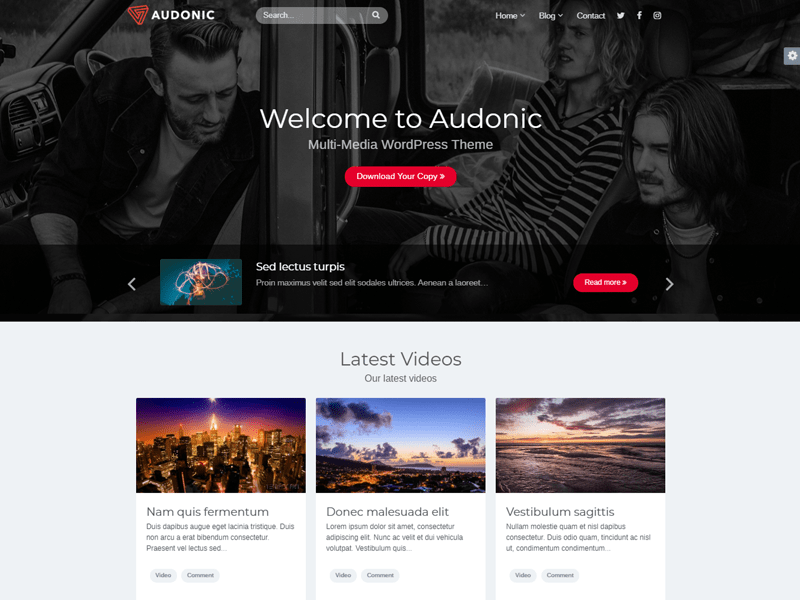 Audonic is one of the best podcast themes that is clean, versatile, and sensitive. It supports all native players in audio and video, and Embed. Manage Audonic for your songs, podcasts, or videos. Choose from the dark and light themes, dark and light audio files, front page custom headers, blog page, category pages, and other custom page templates.
Key Features of this Podcasting WordPress Theme:
Offers mobile-first design for all types of devices
Highly Responsive
Offers easy and quick customization
Feature Sliders
Home page Hero
Optional Plug-ins for this Theme
Audonic Events
Contact Form
Video Thumbnails
Twitter Feed
Instagram Feed