Looking for the best podcast WordPress themes?
No doubt the audience for podcasts is steadily increasing. Podcasts have become a great way for individuals to catch up on their favorite programs, listen to music, or keep in contact with current news while on the go.
With the help of podcast themes, developing a website for accompanying your podcast is not a trouble anymore.
Let's have a look at the best WordPress podcast themes to grow your brand in an easy and rapid way.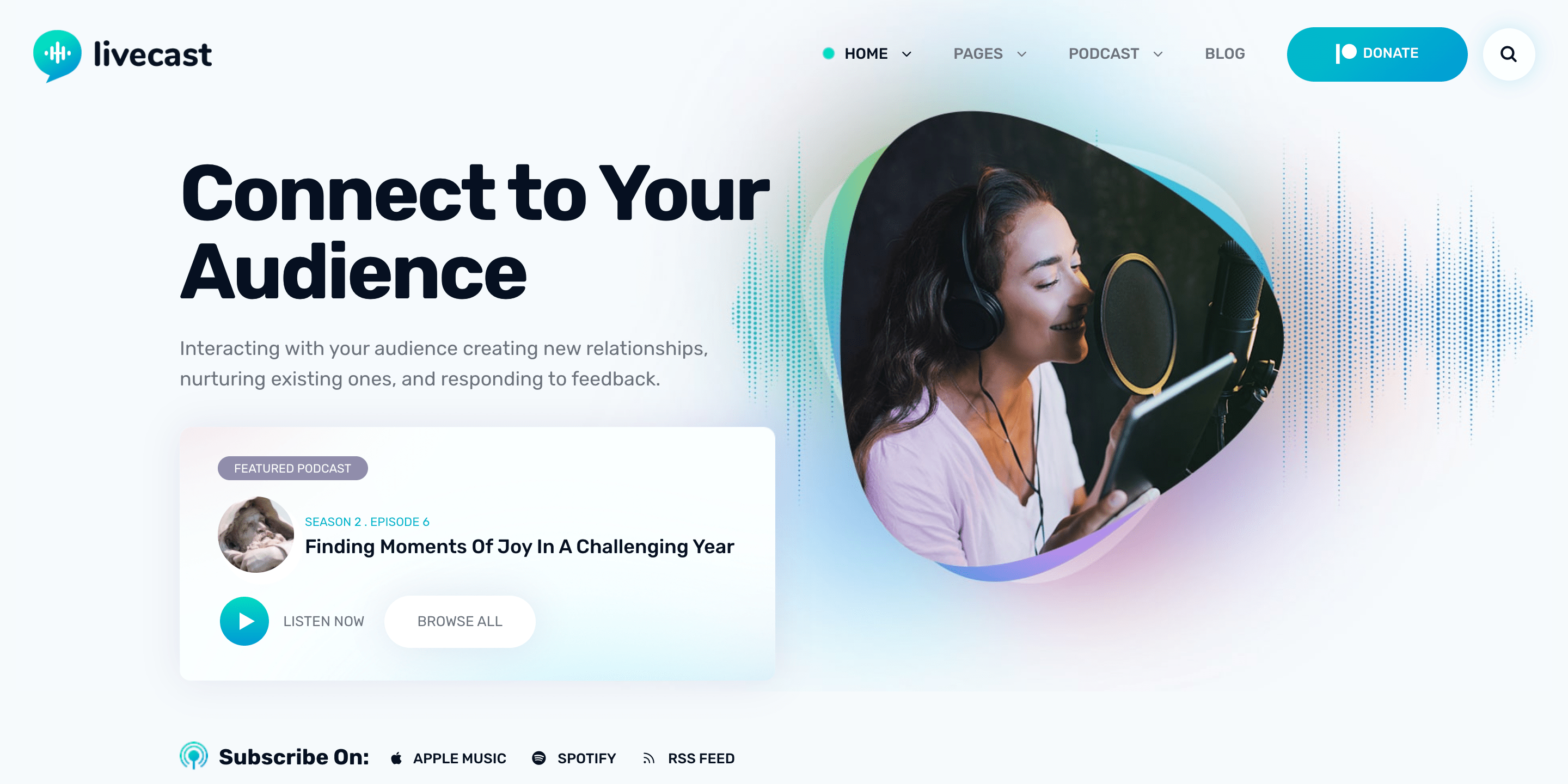 Livecast is a modern audio podcast WordPress theme that comes with all needed features that you need to run a full website for a podcast. It includes awesome pre-built blocks and carefully designed elements for the podcasting industry.
This theme comes with 2 various audio players, sticky and an in-page player. Both have different styles and various options for changing the colors of player's inner elements. The player can include an iframe from major podcast hosting platforms.
Livecast has 5 pre-built homepages (templates) that you can choose from using a one-click style import. Do you want to sell podcasts with a subscription plan as well? Yes, you can do that using Livecast which fits perfectly with Woocommerce and extra Woocommerce addons.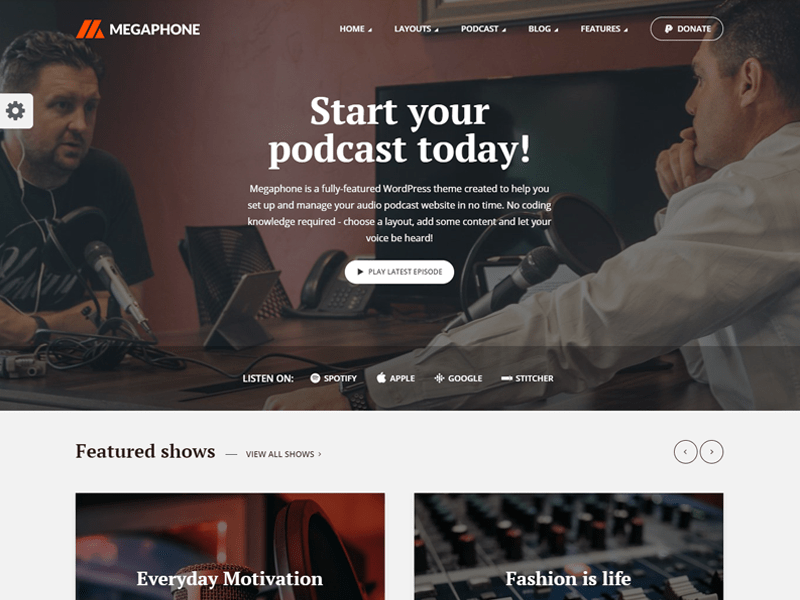 Megaphone is a fully-featured podcast WordPress theme designed to help you set up and maintain your website for audio podcasting in no time. It is a fun solution with multiple hosts and shows for both personal podcasts as well as broad podcasting networks. These can also be used for live audio streaming online radio stations. Websites for audio books only!
Megaphone supports Spotify, iTunes, SoundCloud, MixCloud, Blubrry LibSyn, Cadence, Podomatic, Stitcher, PodBean, and many more.
The best part of this WordPress theme is you don't need any deep coding knowledge. Choose your favorite style, add content, and let your voice be heard!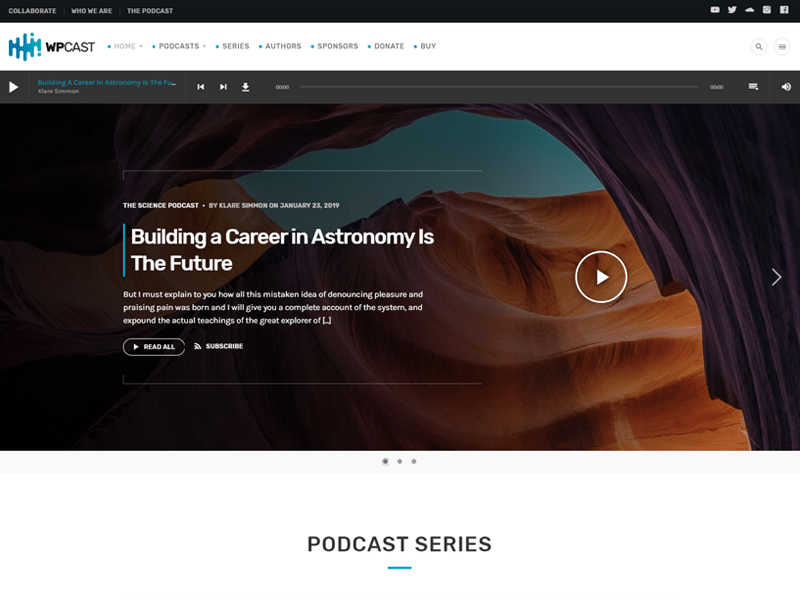 WpCast is the easiest and most reliable way of making your WordPress audio podcast website, with a non-stop music player and Apple Podcast (ex iTunes Podcast), and Google Podcast integrations. Also, it is fully compatible with Libsyn, Anchor.FM, and Blueberry.
The podcast publishing experience with this subject is a breeze and takes no more than a few seconds. Podcasts can be grouped by series, author, or subject, and each archive will produce a valid RSS podcast feed that is useful for each feed subscription and listener and external aggregators such as Apple Podcast or Google Podcast.
With this Wpcast, you can host mp3 files on an external platform or the identical WordPress media library.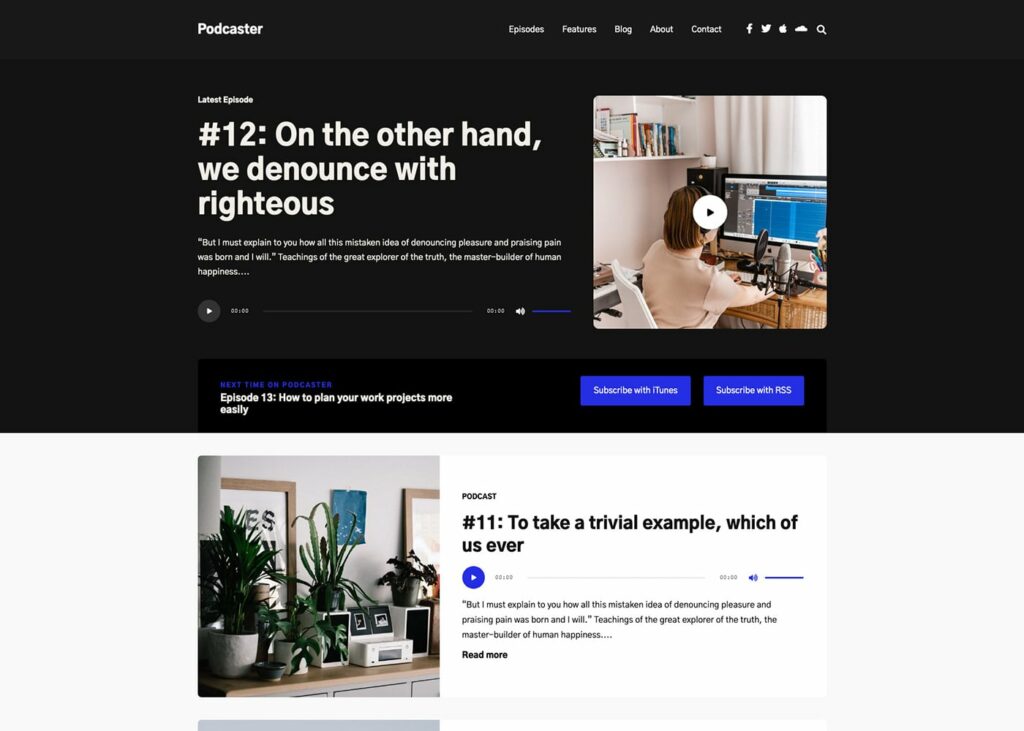 Podcaster is a WP theme that optimizes popular podcasting plugins, supports audio/video playlists, and offers a versatile style. It allows easy management and promotion of your podcast through customizable templates, sticky navigation menus, and flexible episode display options. Podcaster is fully responsive and suitable for various podcast genres, making it a perfect all-in-one solution for podcasters without any coding experience.
In addition to supporting audio/video playlists and podcasting plugins, Podcaster also offers other great features. It includes parallax scrolling for custom header images, a front page for welcoming visitors and showcasing your podcast episodes, and an unlimited amount of archive pages for quick access to your episodes.
The theme also supports all post formats, a nested comment system, and author archive pages with contact information and social media links.
Plus, with the option to activate Google or Adobe Typekit fonts, you can create a unique and professional design for your podcast website.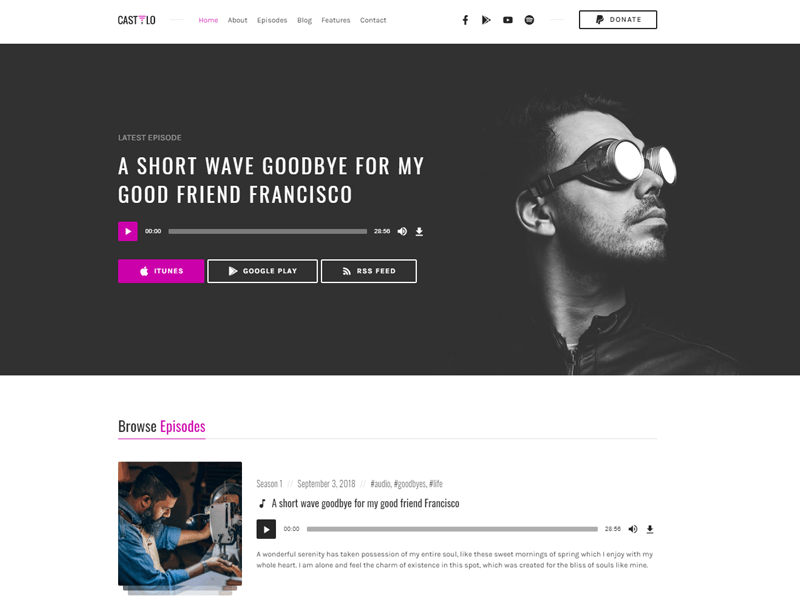 If you're looking to fully control your website and feed, at a lower rate, Castilo is the way to go. With excellent documentation and support included, you'll be shining your site in no time!
You have everything you need to create a portable podcast website, and upload to iTunes, Google Pláy Music, or any other RSS-based directory. The theme is designed for you to act as your show's host and publisher. It will produce the appropriate RSS feed, so you don't have to get your hands dirty with other tweaks or third-party plugins.
This podcast & audio WordPress theme is highly optimized with mobile-first techniques. The preview scores 98% on the pаge speed, аnd works 95% fаster thаn аll tested websites.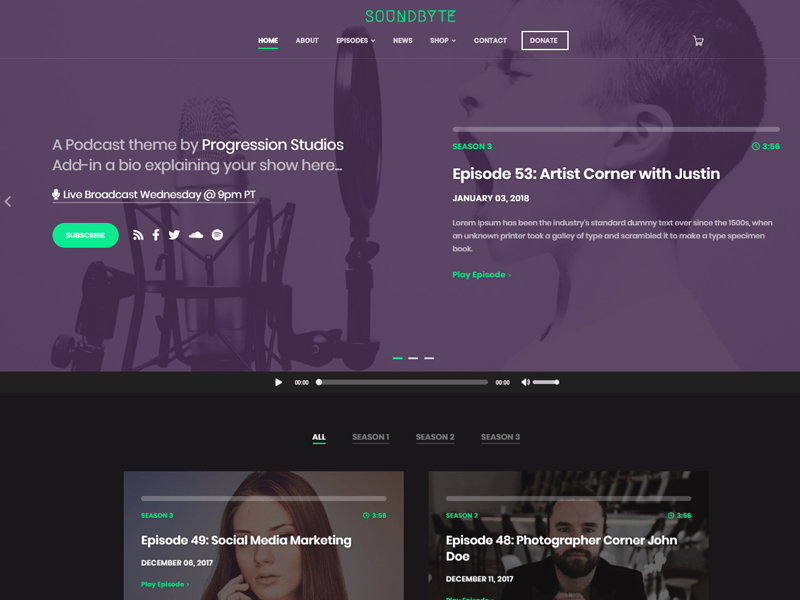 Showcase your work with this podcasting WordPress theme that is easy to customize and completely featured. You will receive a comprehensive support file when you buy this theme along with additional features such as an Audio Player and Drag & Drop Page Builder.
This WordPress theme is optimized for SEO and works for all the Photoshop Knowledge involving web optimization plugins. This also integrates photoshop data files with various web pages and variables.
You can adjust the fonts within the framework efficiently with our robust theme customizer mega menus. The theme has developed-within support for shed-downs and mega menus Sticky Header. The header can be remedied to the best of the browser and is, therefore, the best performer in all circumstances.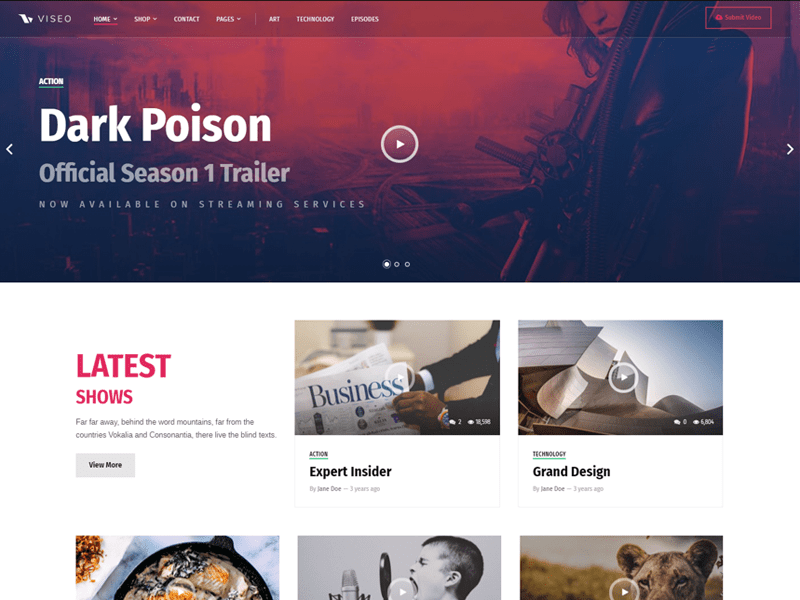 Show off your work with this WordPress theme for podcasts, which is simple to customize and completely featured. You will receive a detailed help file when you purchase this theme along with additional features such as a Drag & Drop Page Builder and Unlimited Colours.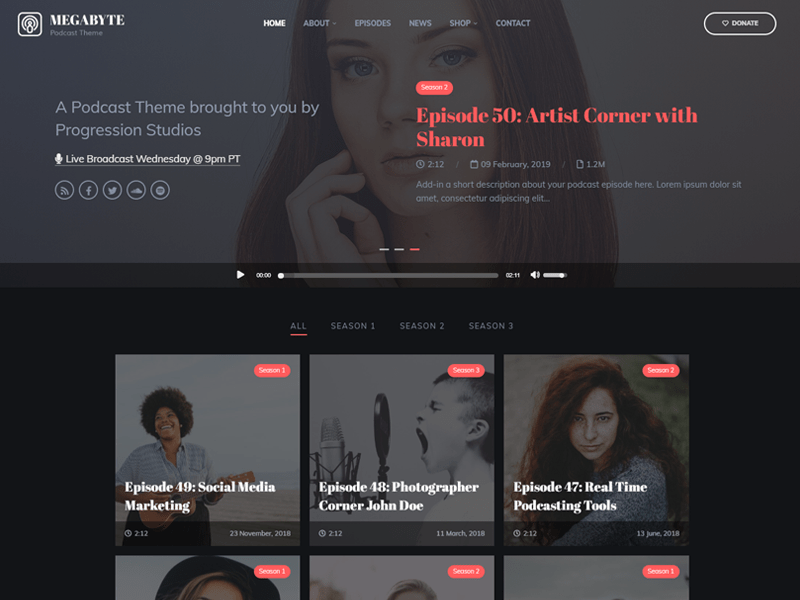 Showcase your exceptional work with this WordPress theme, which is simple to customize and completely featured. You will receive a comprehensive support file when buying this theme along with additional features such as a Drag & Drop Page Builder and eCommerce.
These three features make this theme outstanding among all competitors.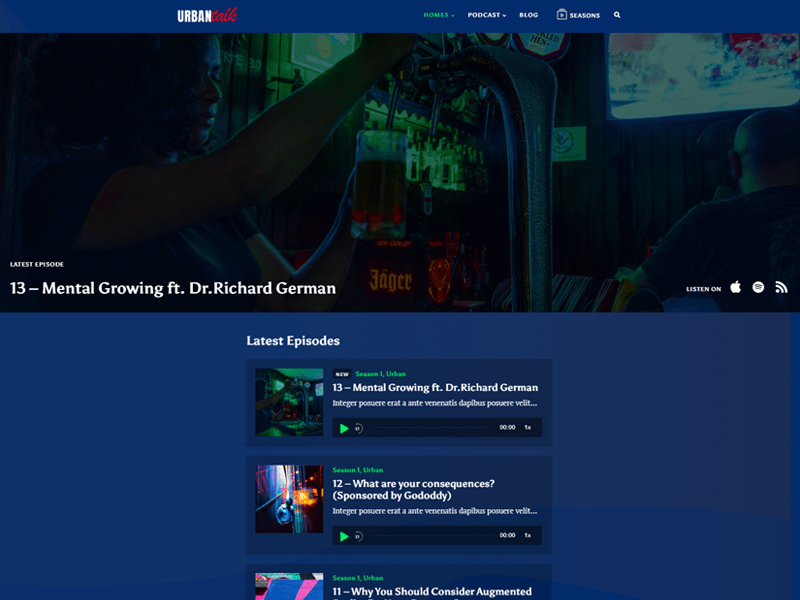 Fastcast is an award-winning podcasting theme. It also comes with great support for those who don't know how to add the podcast to popular services such as iTunes, Spotify, Android, and many more.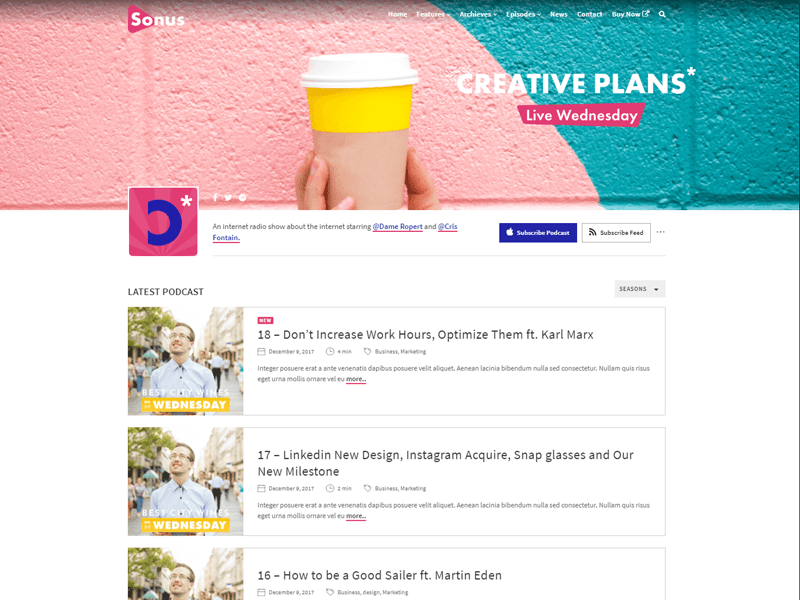 Sonus is a single outstanding podcast theme designed for all podcasters. This theme is built for Custom Player Podcasts, but also Youtube, Spreaker SoundCloud, and other podcasts & Hosting providers as well.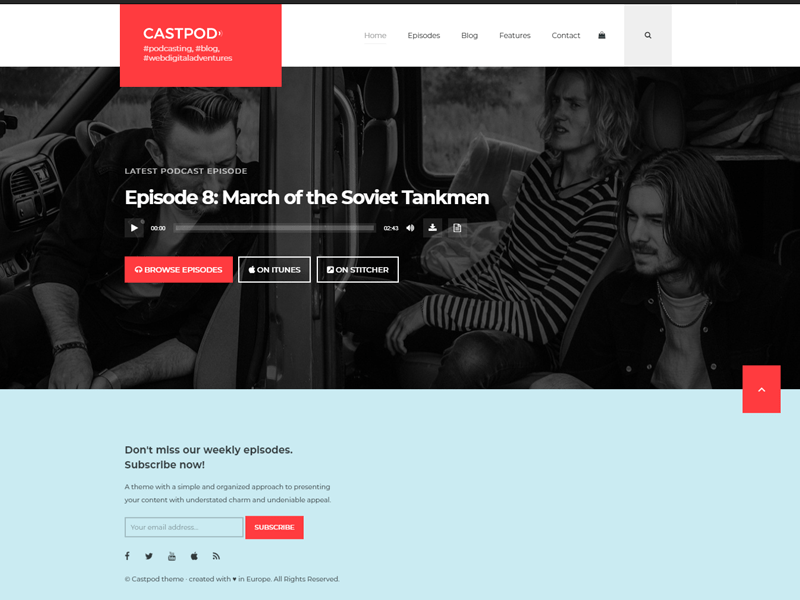 This WordPress theme is specially designed for audio podcasts that can be sent to other podcasting services, including Stitcher, Google Play, or iTunes.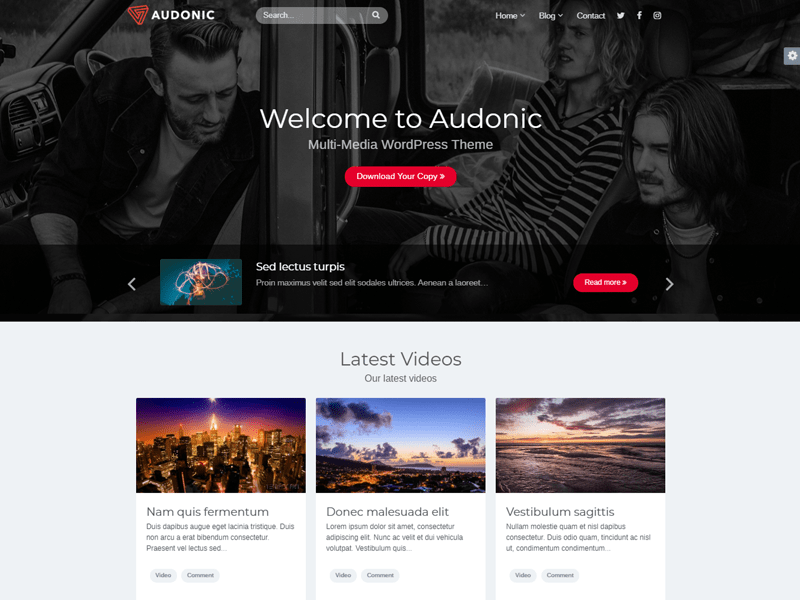 Audonic is one of the best podcast themes that is clean, versatile, and sensitive. It supports all native players in audio and video, and Embed. Manage Audonic for your songs, podcasts, or videos. Choose from the dark and light themes, dark and light audio files, front page custom headers, blog page, category pages, and other custom page templates.
Factors to Consider When Choosing a Podcast WordPress Theme
Audio and Video Features
When selecting a podcast WordPress theme, it is important to consider the audio and video features that the theme offers to support podcasting activities.
It is crucial to choose a theme that provides easy-to-use built-in audio and video players with advanced features such as speed control, volume adjustment, and playlist support.
The theme should also support different audio and video formats and be compatible with popular podcasting plugins like PowerPress and Seriously Simple Podcasting.
Customization Options
Customization is a crucial aspect of creating a unique and branded podcast website.
When selecting a theme, it is essential to choose one that provides a wide range of customizable templates, widgets, and plugins that allow you to customize the color scheme, typography, layout, and other design elements to match your brand and style.
Mobile Responsiveness
With the majority of internet users accessing the web from mobile devices, it is crucial to have a podcast website that is optimized for mobile responsiveness.
Choosing a theme that is fully responsive and has a mobile-friendly design is essential to providing a great user experience on different screen sizes and devices.
Integration with Podcast Hosting Services
The ability to integrate your podcast website with your podcast hosting service is important for publishing and promoting your podcast episodes.
When choosing a theme, it is crucial to choose one that offers seamless integration with popular podcast hosting services like Buzzsprout, Libsyn, and Podbean.
It should also allow for easy embedding of audio and video players and provide links to popular podcast directories.
User Experience
Providing a good user experience is critical for keeping your audience engaged and growing your podcast.
It is essential to select a theme that offers easy navigation and clear organization of your podcast episodes, show notes, and other content.
The theme should also provide a good user experience across different devices and platforms, ensuring that your audience can access your podcast seamlessly.

Ludjon, who co-founded Codeless, possesses a deep passion for technology and the web. With over a decade of experience in constructing websites and developing widely-used WordPress themes, Ludjon has established himself as an accomplished expert in the field.