Are you interested to start a podcast? We will facilitate your work by listing the most popular & best podcast hosting sites in 2022. Some of them offer a free limited version.
But let's start with a simple podcast hosting information:
Podcast hosting is there to provide the RSS feed and file hosting for your podcast. Hosting companies help you generate feed, show details to the hosting platform and upload the audio files.
As a user subscribe the podcasts you publish, the platform directly receive the media and audio files by the podcast host. There is a series of best podcast hosting companies that include Buzzsprout, Spreaker, Transistor, PodBean, Simplecast, Castos, etc.
The Top 8 Best Podcast Hosting Sites and Platforms
In this post, we have created a guide for you to provide top options for the best podcast hosting sites. While you, just focus on recording!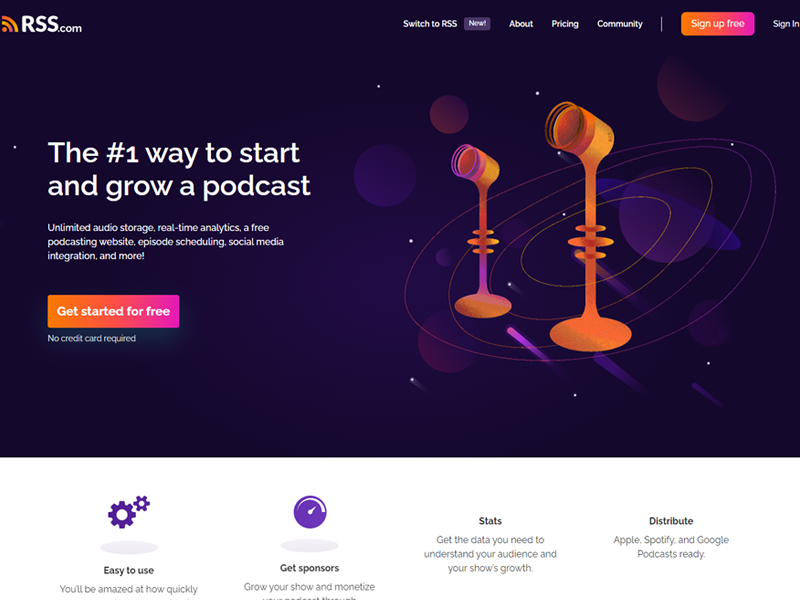 RSS offers the most convenient platform to introduce yourself to the world of podcasts and make a living out of it. The best part about it is a seamless opportunity to shift from another podcasting platform to over here, with a 6-month free trial. Its easy-to-manage approach has garnered this platform a bulk rating of 4.92 and is continuing to grow more so ever.
Get your podcast telecasted on significant platforms like Spotify, Apple, and Google podcasts, as well as Amazon music, all without causing you any hassle.
The website hosts some fantastic tools that will come in handy for you in your journey of becoming a successful podcaster. These include scheduled upload of episodes, a website that works free dynamically, real-time analytics of your uploaded podcasts, as well as an opportunity to upload your podcast episodically.
The best part of RSS.com has to be the sponsorship it offers to the users. The platform partners are waiting to sponsor your shows and pay you an appropriate amount.
Monetizing a show is now easier than before with RSS.com. Add dynamically-inserted advertisements and get money out of your performance.
As mentioned earlier, the platform allows podcasters of other platforms to shift to RSS.com through RSS switch and get six months free trial with unlimited storage. Hurry fast because this offer is limited.
The plans offered by RSS.com are pretty interesting as well. They offer unlimited audio storage with no hidden charges and update your podcast website beautifully that is exclusive to you.
RSS.com offers two major plans:
Educational – $4.99/month: 500GB/month bandwidth
RSS Podcaster – $12/month: 1TB/month bandwidth
Also, they offer introductory discounts to non-profit organizations.
Pricing: $4.99-$12 (6 months free trial for RSS switch users).

Transistor offers a professional and high quality service. Product Hunt shows 5-star review by declaring transistor as "the best podcast hosting tool."
They stand out because of their analytics tools. The stats and trends are clearly seen at dashboard. This information includes downloads overtime, subscribers and per episode downloads.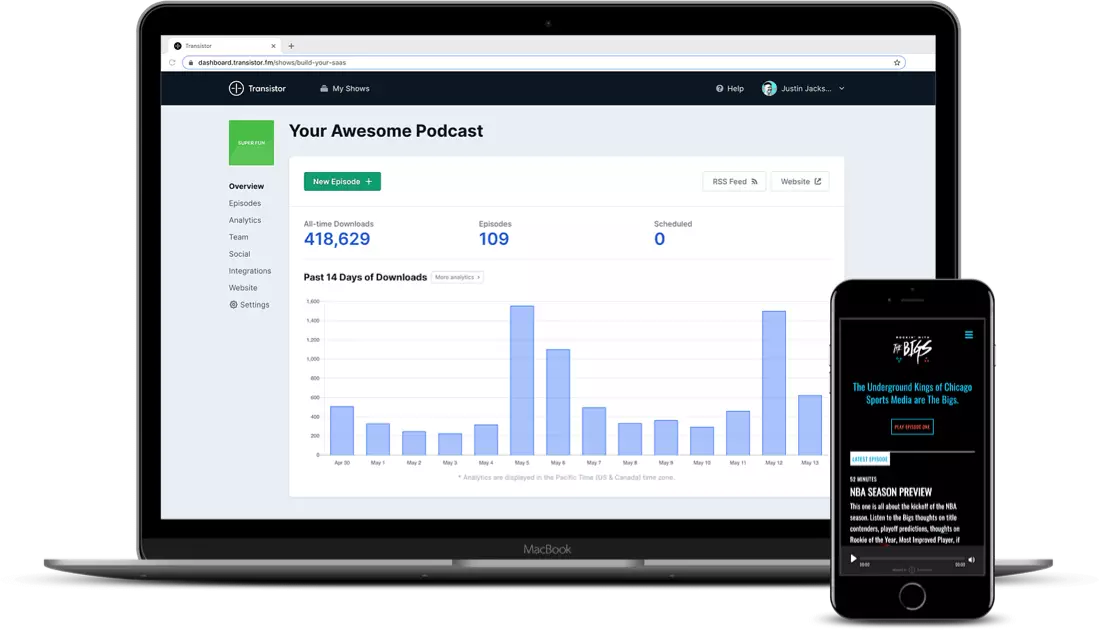 Moreover, if you want to look another podcast host for changing the platform such as Anchor or Libsyn, it is easy to import existing feed with general migration tools.
Transistor provides absolutely everything that a podcaster may need to grow an audience. The most pronounced features are personal domain name, branded websites, multiple users to manage in account, unlimited shows hosting, viewing advanced analytics and podcast distribution.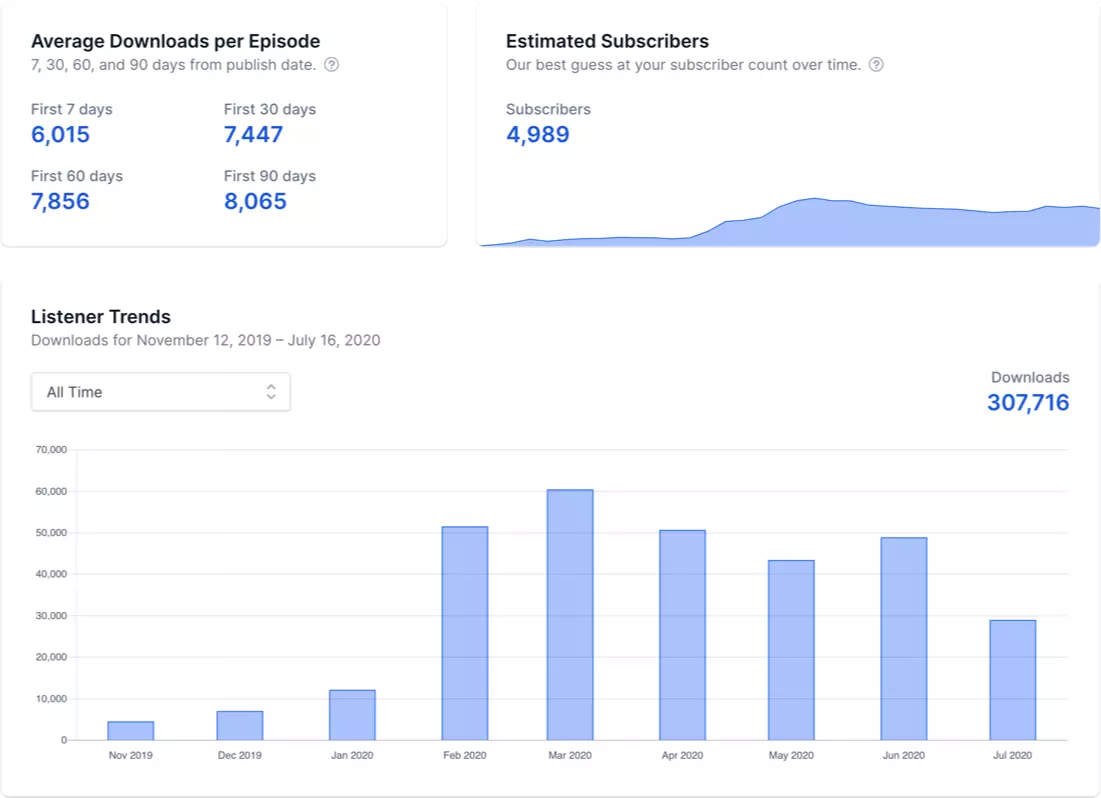 Did we mention how easy the distribution is with Transistor? Pick a name and you will find it available for distribution; either its Pocket Casts, Overcast, Google Podcasts, Spotify or Apple Podcasts.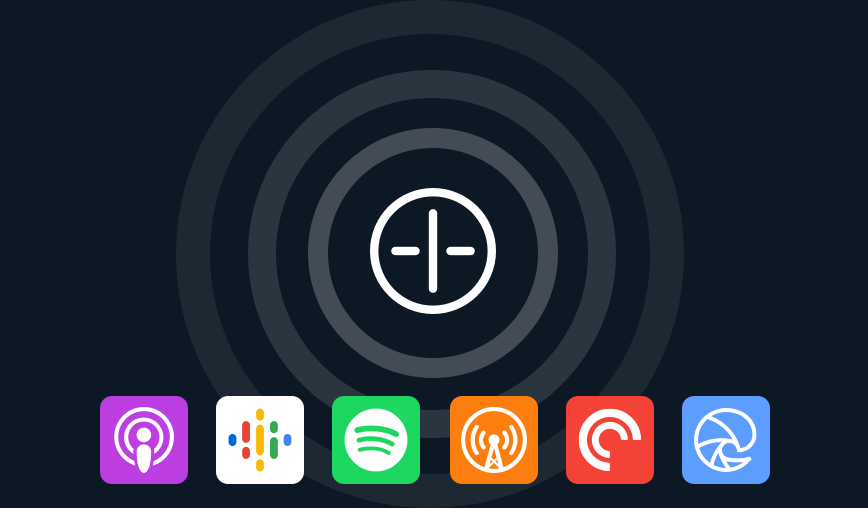 Transistor offers a 14-day trial period for free. Your choice of plan depends on downloads per month. So, begin with the starter plan then upgrade according to your requirement.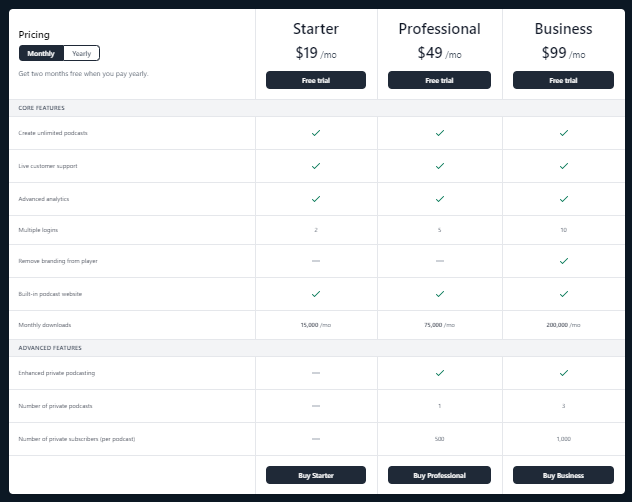 BuzzSprout is the best podcast hosting site, especially for a beginner. There are many reasons behind this statement. The foremost is that it has helped over 100,000 individuals to track, promote and host their podcasts.
More than 1000 reviews made it the favorite one with 4.9 stars on average. In addition, they are unique in offering free plans and unlimited accounts of team members.
BuzzSprout gives easy access to your audios even for the Google Podcasts, Spotify and Apple Podcasts. Thus, you can take your podcasts to almost all of the directories that rank top.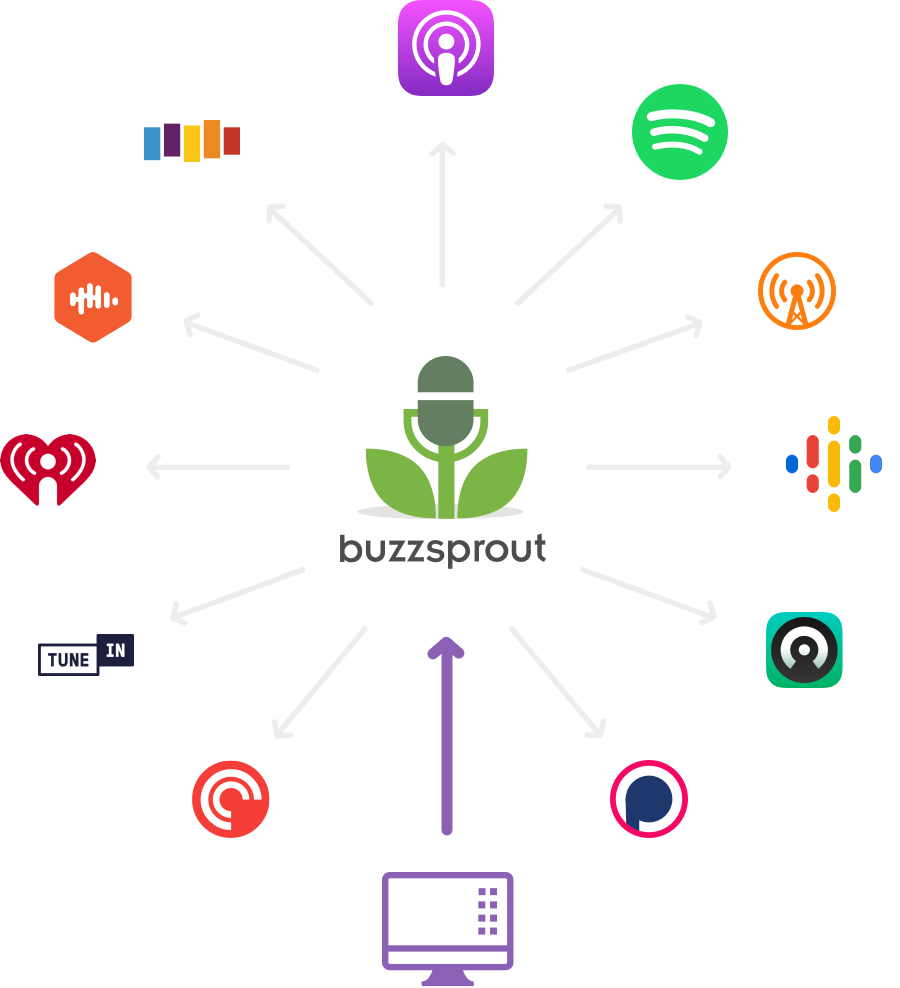 You get an easy process to schedule and upload your podcast. You simply need to publish the file and then schedule when you want to get it available for the listeners.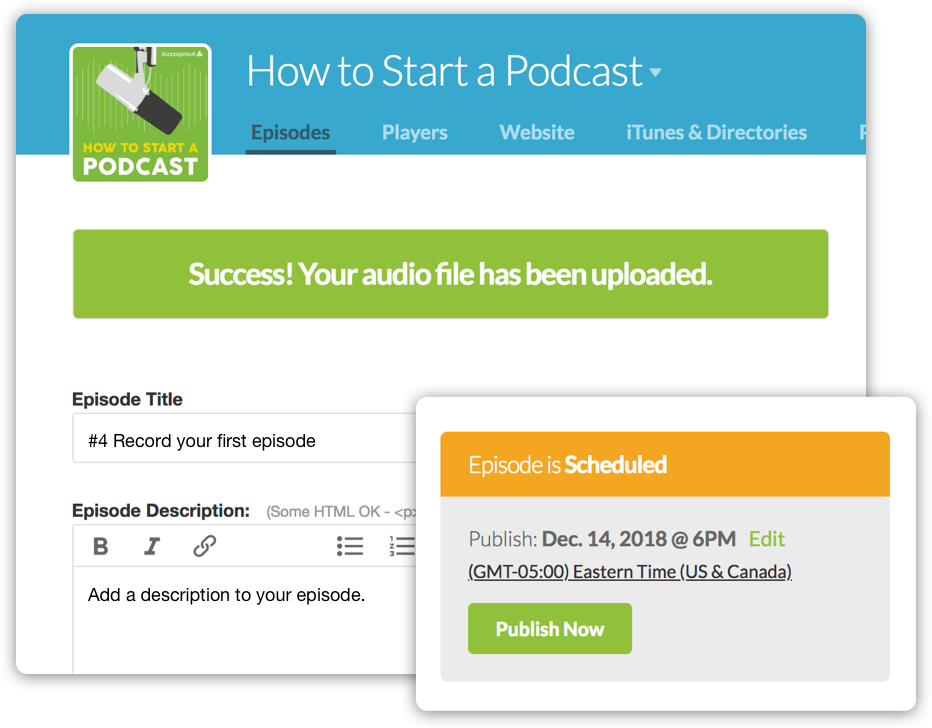 Another helpful yet unnecessary feature is adding chapters. So, you can add more episodes and let your listeners get a better understanding of all the episodes in sequence.
Some of the best features of Buzzsprout are mentioned here:
Podcast statistics give you advanced progress to track the point where you stand. It gives you a detailed account on the types of apps your listeners use or downloads.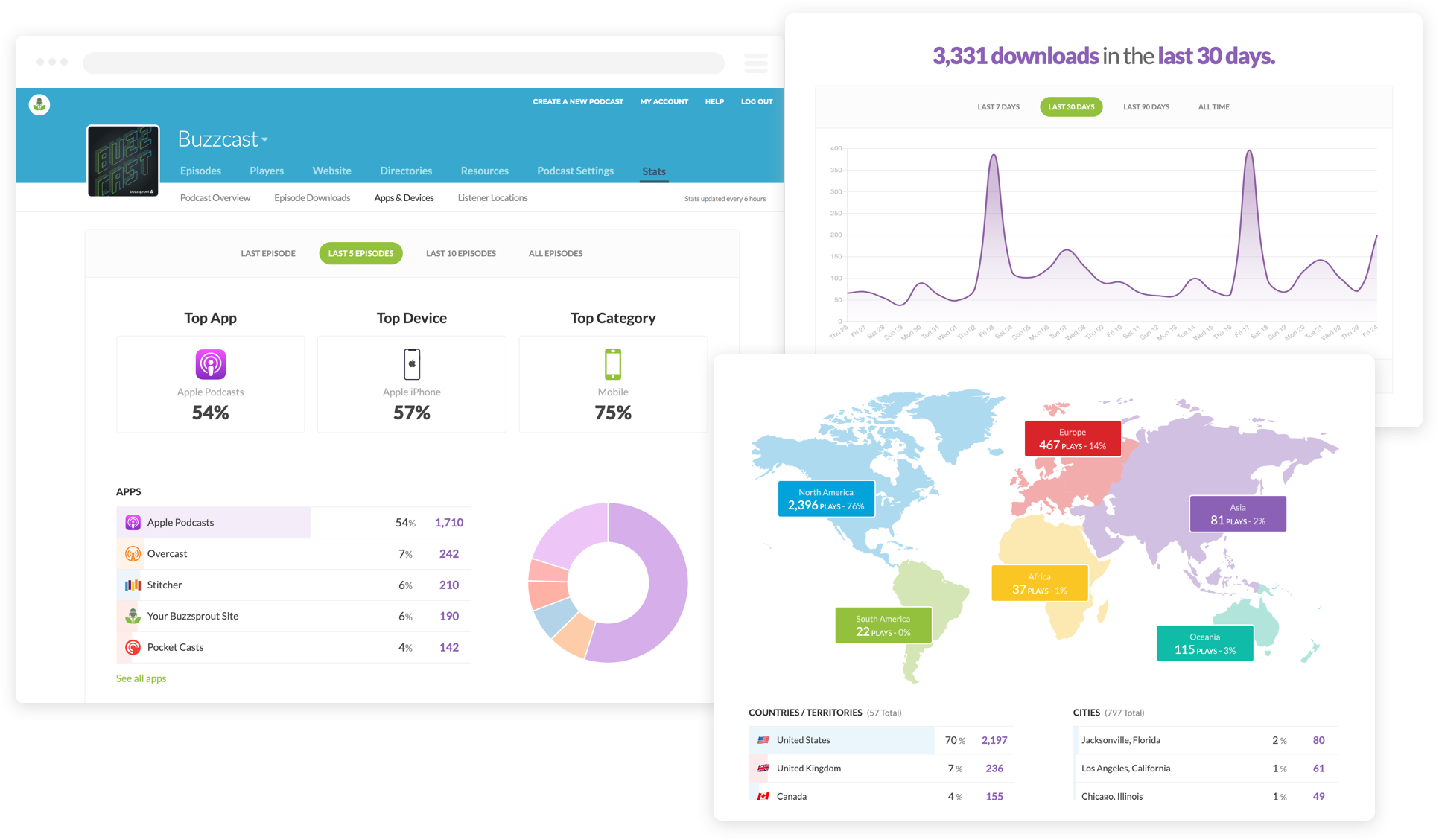 It helps you increase accessibility to your podcasts with transcriptions by ranking high in hearing impaired, speed readers, and search engines.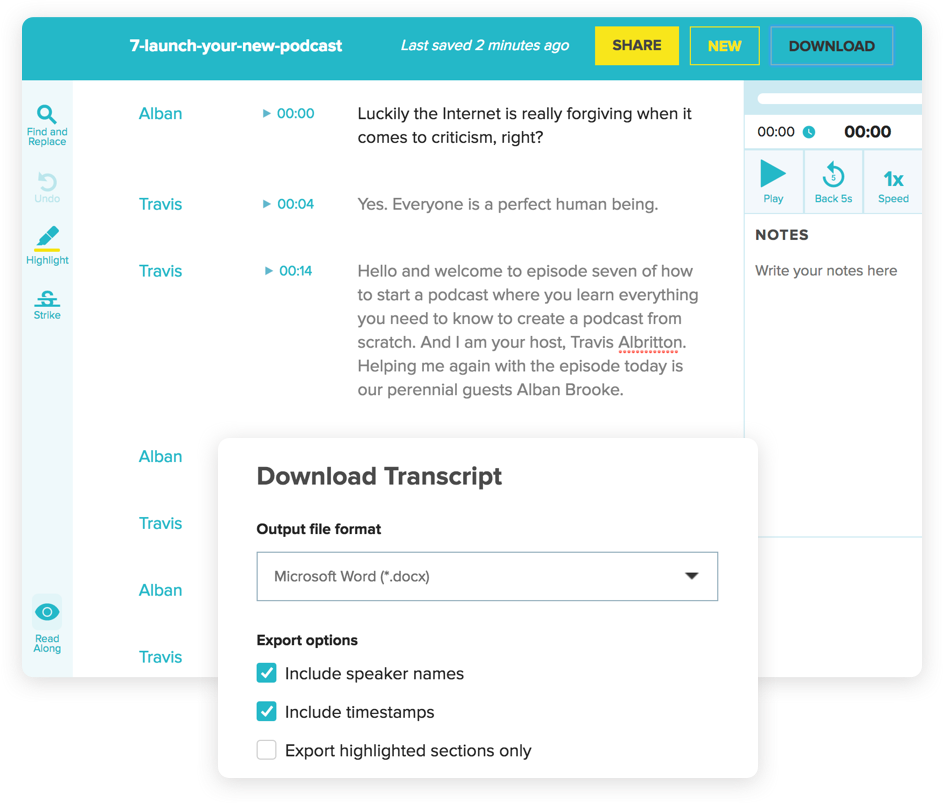 BuzzSprout offers tabs for controls that include skip forward, backward, or increasing podcast speed to 2 times.
Another tab is for sharing your podcasts on social media with your fans and friends such as through Twitter or Facebook. That's important, because, according to statistics, 94% of podcasters are very active on social media.
Third tab is the customizer tab which leads you to a podcast creating page for your niche.

You get a great audio quality with an upgraded optimization of 128k stereo. In addition, you get an add-on in the form of a podcast transcription service.
The suggestion is to start it for free and as requirement, and then upgrade the plan on the basis of number of hours you want to upload per month.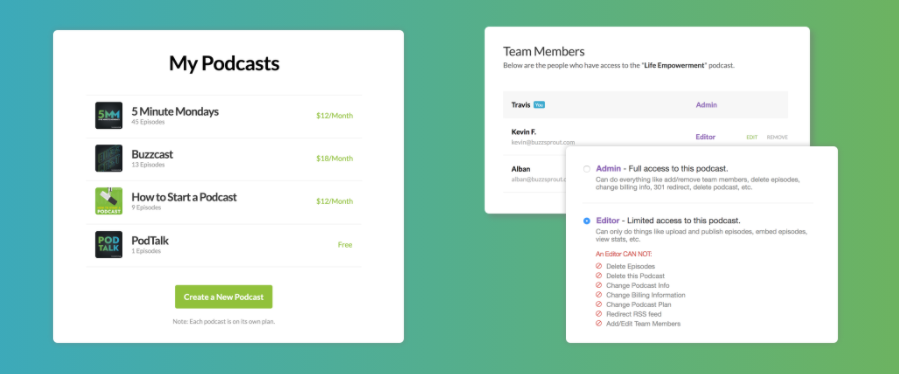 The most interesting and visible feature is the visual soundbite to promote the podcast. You can choose a visual soundbite according to the niche of your brand.
You can upload content of two hours for 90 days with their free plan.
The upgraded plan would cost you $12 to 24 per month. In this plan, BuzzSprout offers file hosting and unlimited storage with up to 250GB bandwidth every month. This capacity is sufficient for over 40,000 downloads.
Pricing: Free – $24/month.
Read the complete Buzzsprout review.
Website: buzzsprout.com
Captivate is best suited for growing audience and marketing purpose. It's a host in podcast which is highly focused on increasing your audience.
All the plans offered in Captivate provide an unlimited team members, number of podcasts, new player podcast, marketing tool or advanced analytics.
The best thing that urges you to opt for Captivate is its built-in features, simplicity and growth. Moreover, it offers multiple options which make its use extremely easy with infinitely customizable and promotable options.
The most pronounced features are built-in advanced analytics, unlimited podcasts, free show import option, automatic podcast website, thoughtful podcast marketing, call to action, and unlimited team members for podcasting.
Captivate is developed by Rebel Base Media that runs PodcastWebsites, Productivity and the Podcast Success Academy too. At the moment, Captivate is the latest and best addition to their product line. This is because, it includes everything they have learnt from the experience.
Moreover, the analytics software is also upgrading constantly. They monitor your show performance by creating a more shrewd intelligence. It is made possible with the Interactive Advertising Bureau (IAB).
So if you are a beginner or a pro in podcasting, your show will be outstanding with Captivate Sites TM.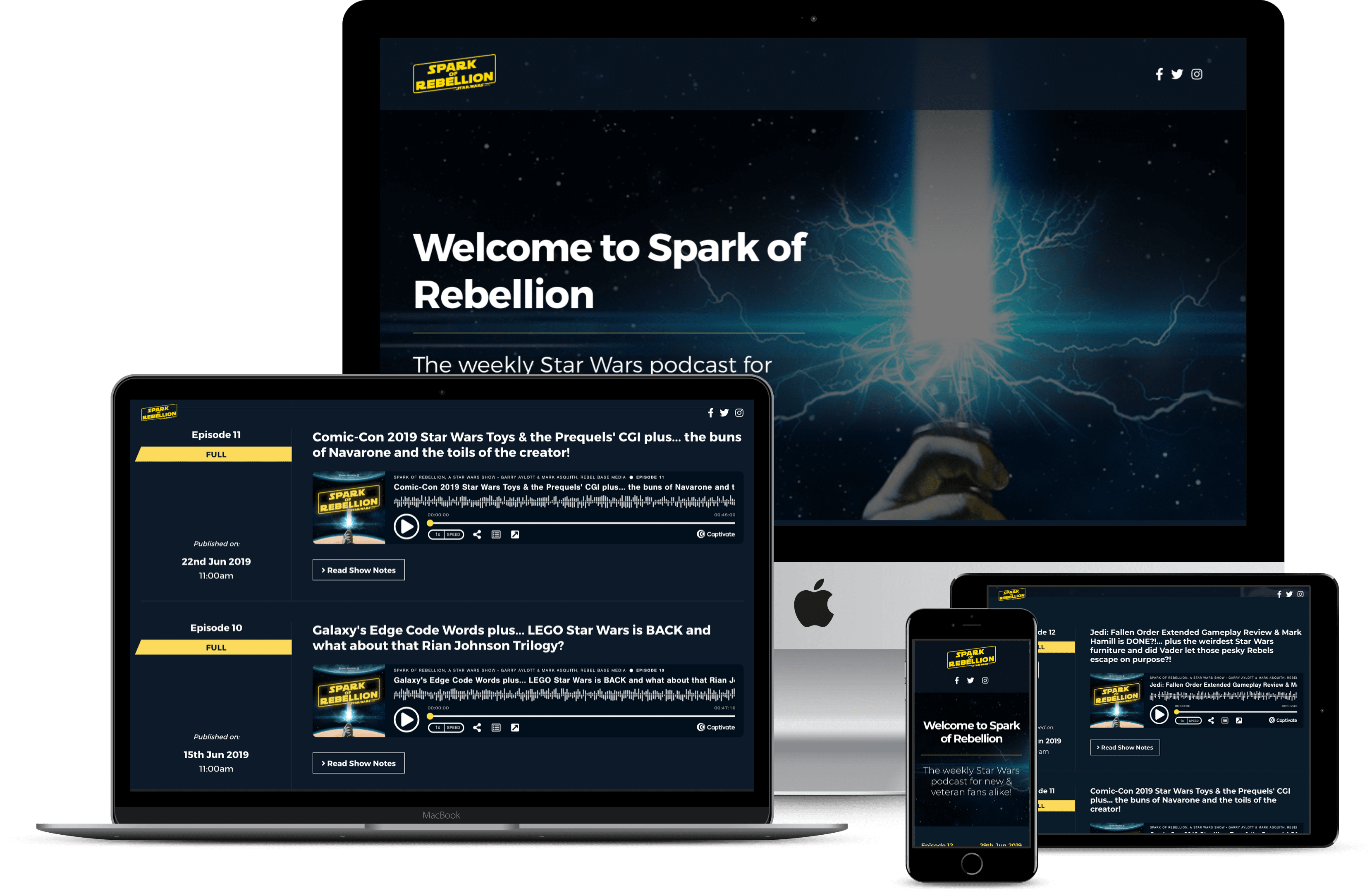 It is also easy to import the audio from one to another podcast. It only requires a simple tool for import. Moreover, the podcasting tool for marketing also allows to auto-generate the Pocket Casts and Overcast links to grow audience and subscribers. Thus, you can also import your shows to your websites.
Above all, it officially collaborates with renowned institutions that will help you spread your podcast in a wider community.

Captivate offers a free 7-day trial. There are three plans on the basis of the patterns of monthly installments and downloads. But yearly payment option is also available. You can start with the podcaster plan and can upgrade to grow the audience.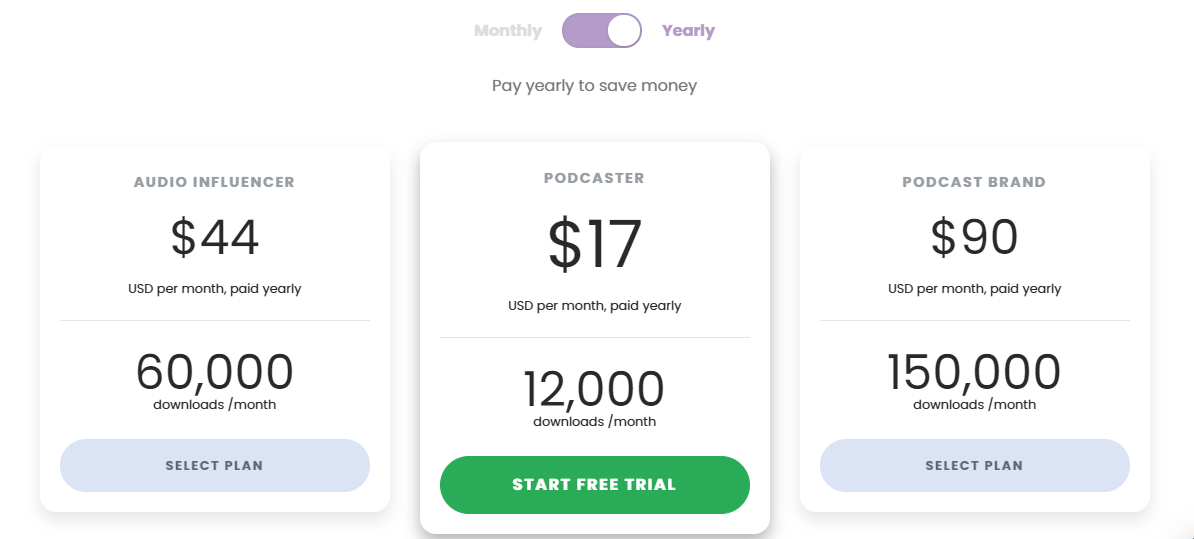 All the three plans do not restrict the upload time, number of shows, or any analytics. All of these plans include features to assist in continual growth of the podcast. The only difference lies in the per month number of downloads for each plan.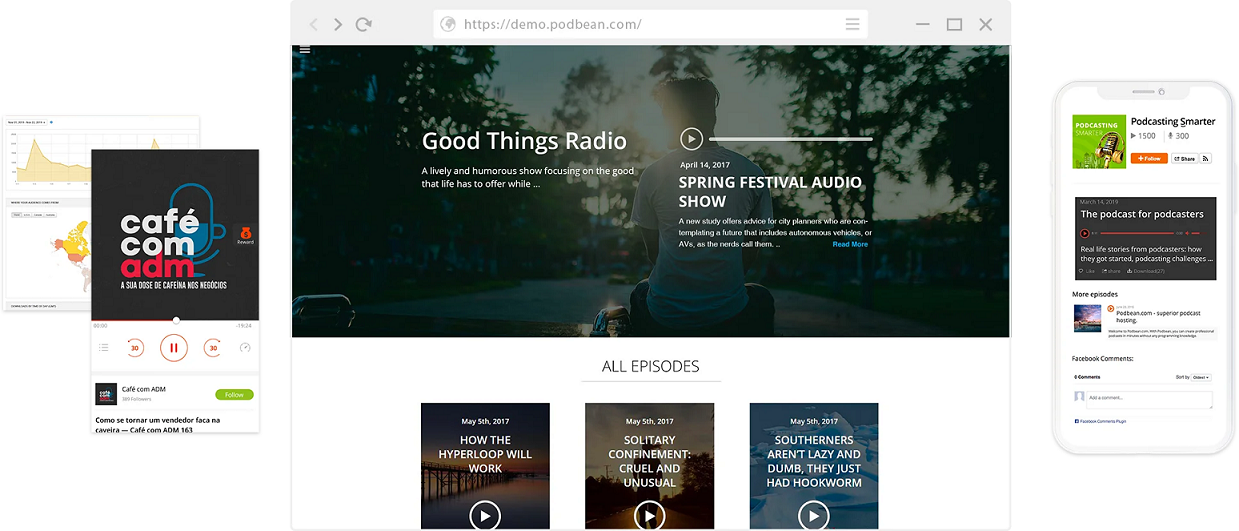 PodBean is the best in high-powering podcaster with over 225,000 throughout the world. The best about PodBean is that it gives you unlimited video storage and audio hosting. You are also allowed to add your own sponsored ad campaign to monetize with your new episodes. You can also run a patreon program that helps in listener support with recurring revenue.
PodBean also has a free version of YouTube. This version automatically uploads your content to your YouTube channel after syncing your channel after publishing.
PodBean also offers you automatic posting to social media sites including, Twitter and Facebook. In addition, you also get analytics reports and mobile apps.
PodBean is 10 years old in the field of podcasting hosting. It is considered as the easiest of all other podcast hosting websites in the list.
PodBean offers unlimited services with promotion and distribution on Amazon Alexa, Spotify, Google Pay and iTunes. In addition, all directories and apps further support them. Thus, you can distribute everywhere with PodBean.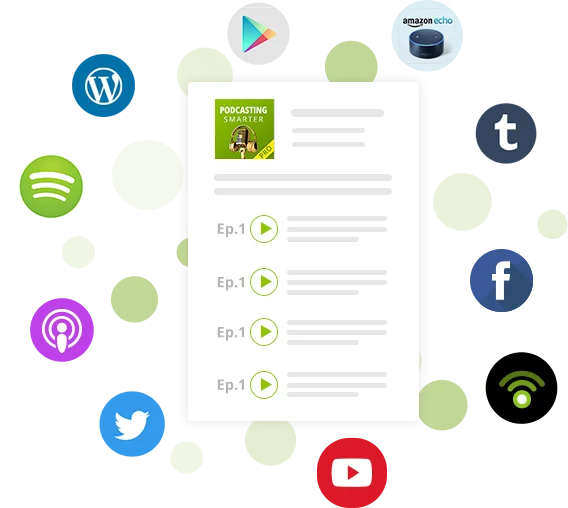 If you started with a free plan and still want to look at your progress? PodBean offers a detailed stats to let you measure your success by giving you information about retention and hourly stats, user engagement Intel and episode download comparison.
Above all, they offer you all the tools that help you monetize your podcast with premium service, patron program and dynamic advertising system.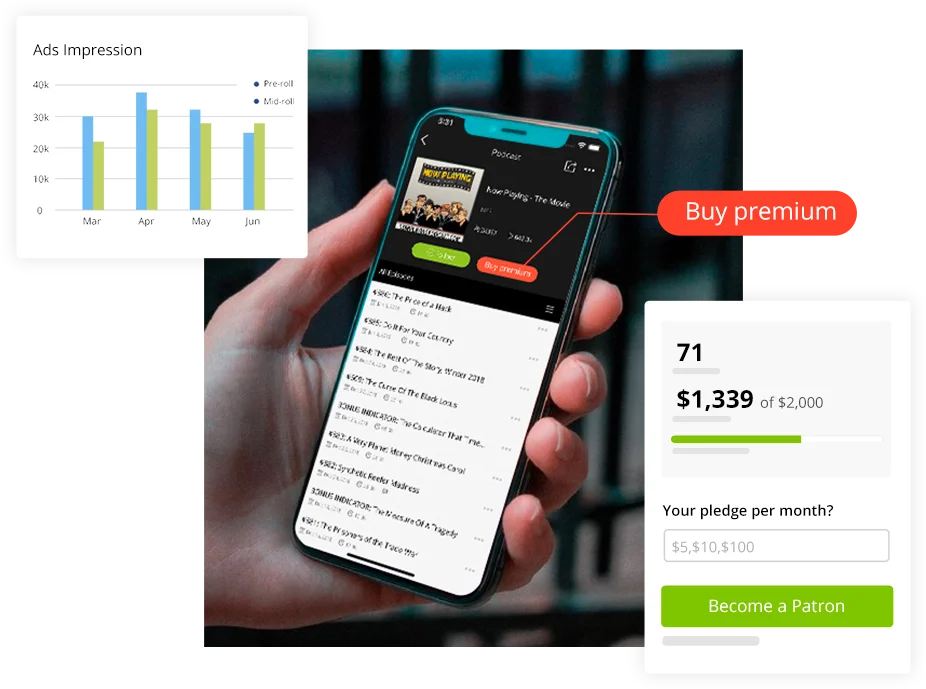 They offer a free plan for the beginners. This plan includes an upload of 5 hours content per month. However, the bandwidth is only 100GB. Some good yet basic stats is given is open-source. It needs you to upgrade to a new plan with $9/month with detailed analytics. They include a podcaster with more than 7.1 billion downloads.
The serious podcasters should go by $29/month which is the unlimited plus plan of PodBean. With this plan, you can get an access to all the features of videos and it is much better than the free option.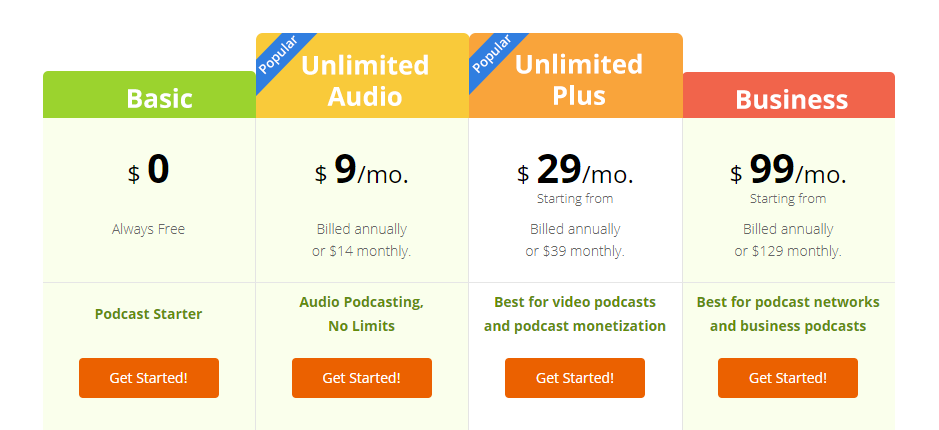 These plans offer unmetered bandwidth except with the free plan where it offers 100GB per month. Also the storage space is unlimited for the three paid plans. Check out the comparison between Buzzsprout vs Podbean.
Spreaker is the best enterprise podcast hosting for monetization and content management system with a free unlimited plan.
For podcasters, it can be regarded as a one-stop-shop. With Spreaker, your journey to podcasting is made profitable and smooth especially for the beginner who creates tons of content.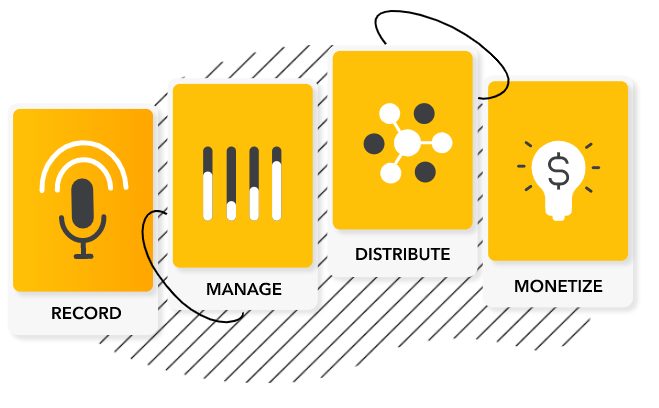 You, as a publisher can also manage team management by regulating the trafficking and collaborators with the audio ads and using the Campaign manager. It also helps streamlining the podcast distribution. Spreaker enables the podcaster to distribute the podcast to all the major platforms of listening such as Deezwer, iHeartRadio, Google Podcast, Spotify, and Apple Podcast.

Spreaker provides an unparalleled podtech solution to manage the podcasts effortlessly. It offers certain unique tools for the publishers with an authority to customize the features to fulfill the personal need.
With Spreaker you can get an entry level upgrading. Thus, you get pro features, detailed statistics, and more storage to monetize your podcast.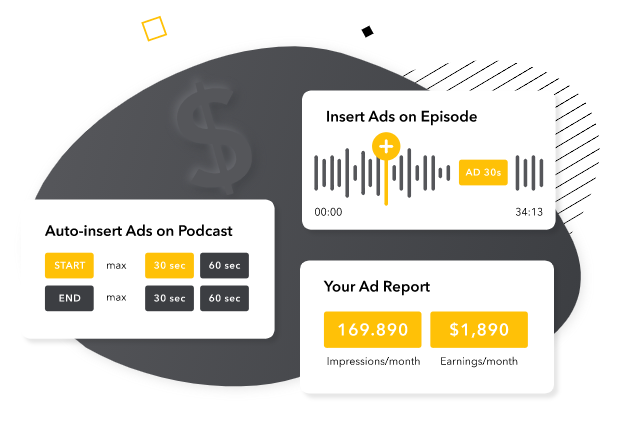 The best plan is the $18/month Broadcaster Plan which gives you an audio storage of 500 hours, with monetization feature and advanced stats. It's indeed the best way to monetize your podcast.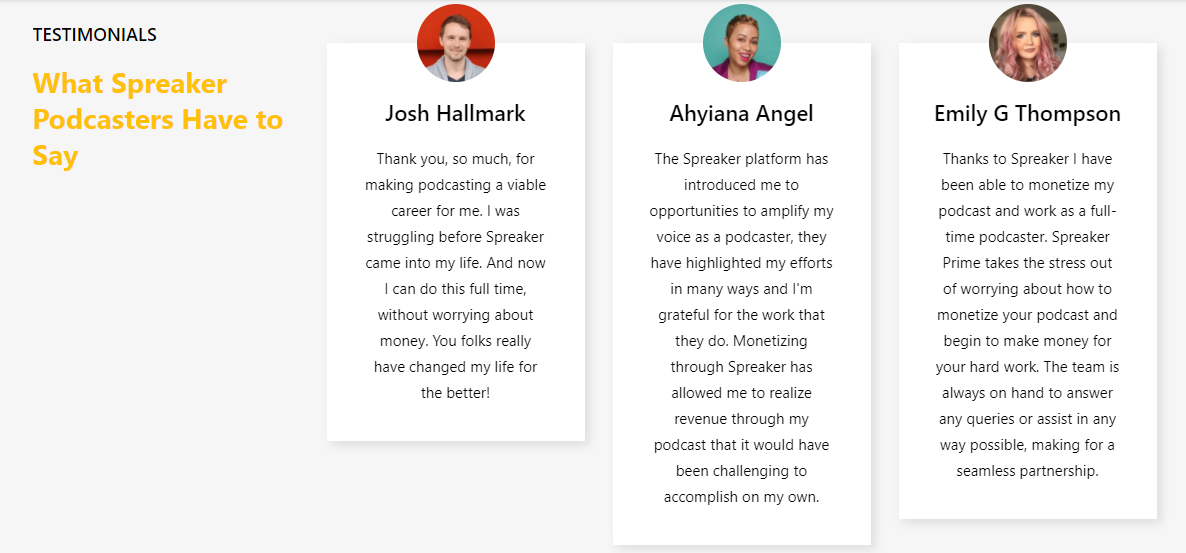 The podcast you need is determined according to the type and depth of information you need about the listeners. On the basis of this, the pricing packaging are determined.
Spreaker offers both enterprise and professional plans to lead your podcasting path to success.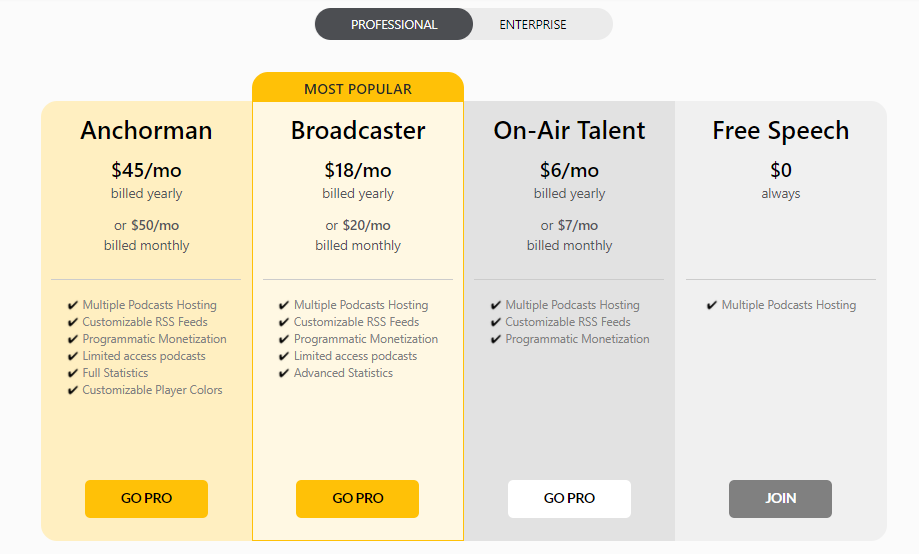 Spreaker offers the most reliable data with accurate stats of the openness towards the advertising potential and audience.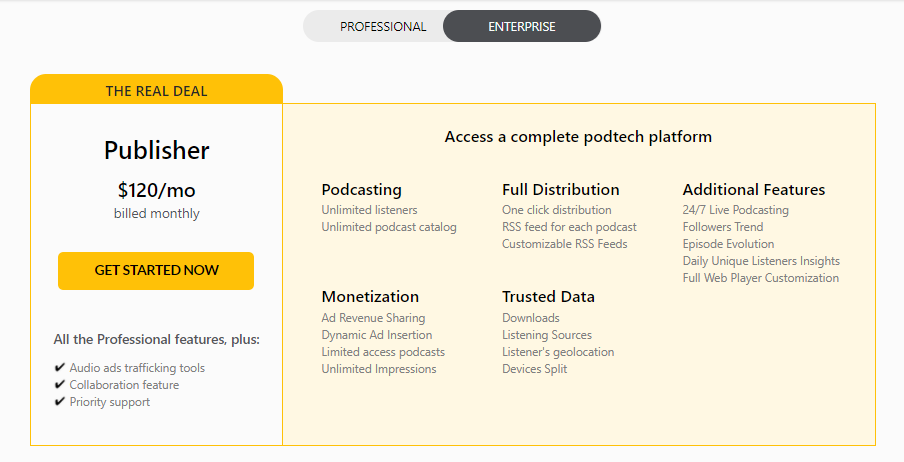 Simplecast provides features that are leading to the industry as compared to the top brands. It is best known for the features that are for industry lead at the cost as low as $15/month.
Simplecast is six years old with powers that are equal to the most powerful brands of podcasting including HBO, Facebook. Nike, or Kickstarter.

They offer powerful tools for their podcasters with a publishing option only a click away, advanced analytical tools, fully functioning website, and varied web players.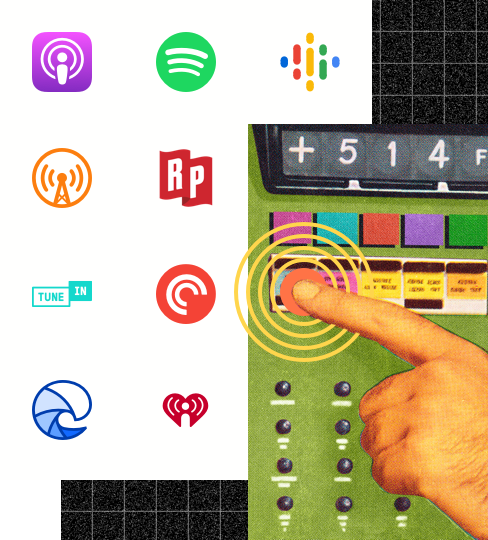 The most astounding feature is the "Recast" tool with which you can share or schedule the podcast clips on the social media.
The IAB certification makes it unique. Thus, enterprise-scale analytics are made approachable for simple podcasters as well.
Another worth mentioning feature is the collaborating ability with multiple managers in podcasting in a single account. You are offered distribution, unlimited uploads and unlimited storage at all major platforms. oEmbed-readiness makes it effortless to use your podcasts with the popular site builder such as WordPress or Squarespace. It lets you embed an entire show as well.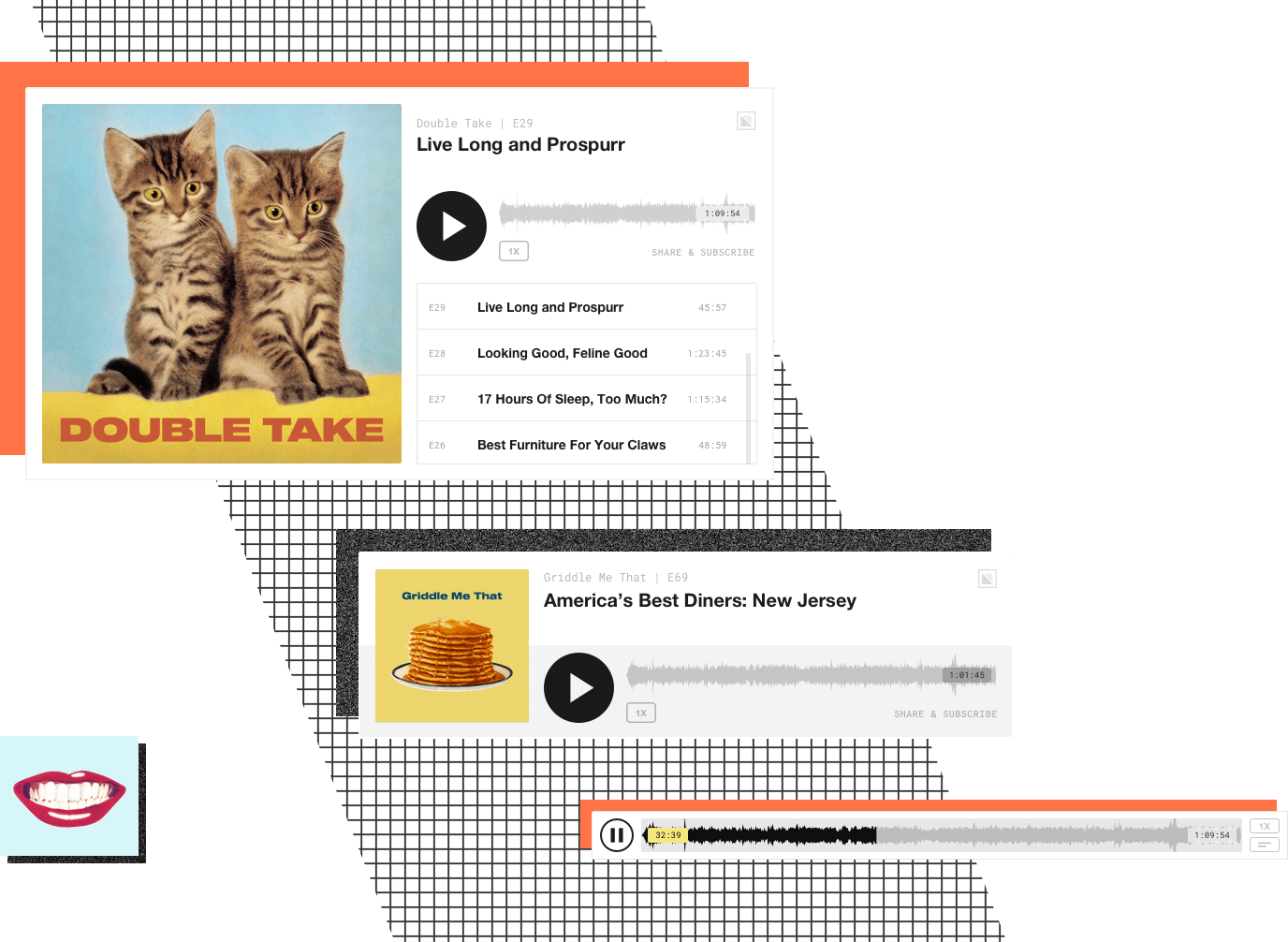 Simplecast offers three paid plans. It does not offer a free plan but you can get a 14 days trial for FREE! if you are a beginner, Basic plan would work well. You can upgrade regularly if you get more downloads and users every month.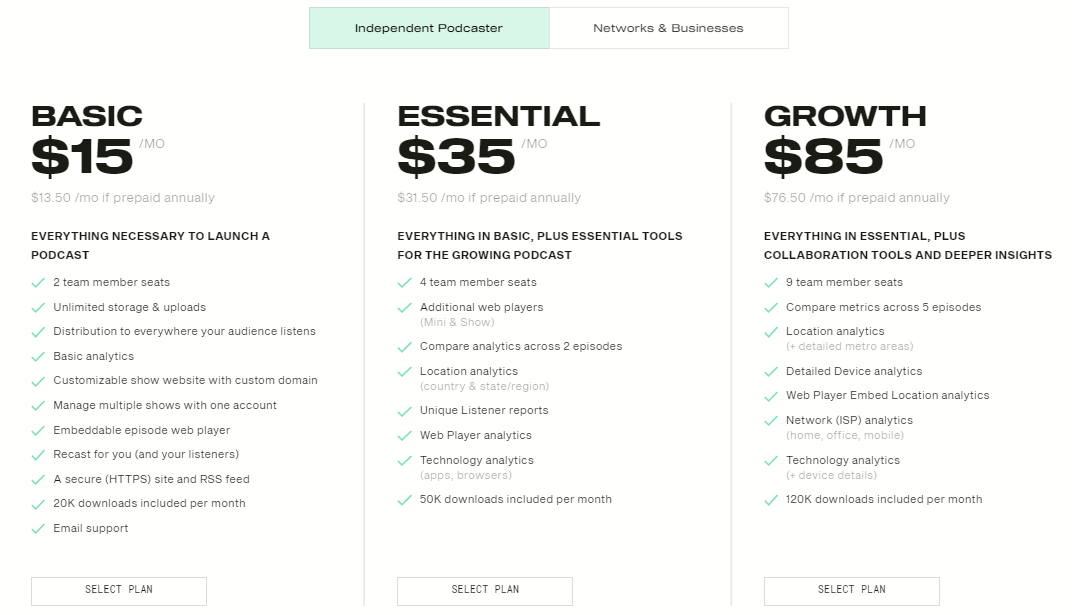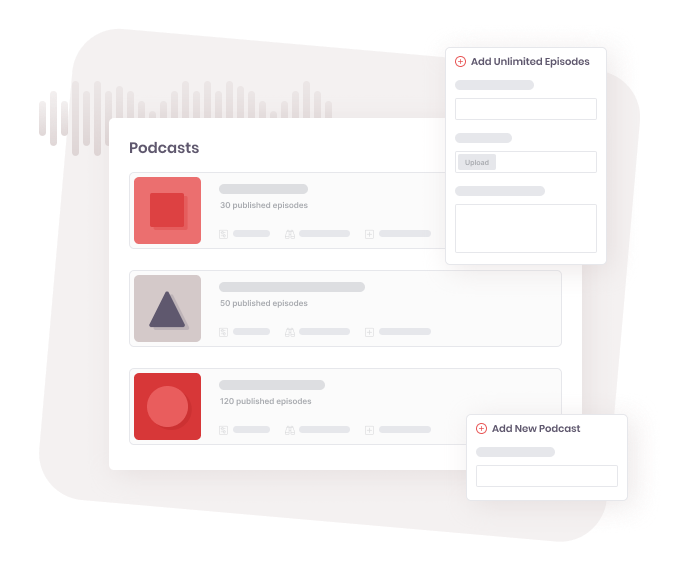 Castos is the best Podcast hosting solution for WordPress. It is a full-featured plugin for WordPress. It works differently for a new website than to already establish WordPress theme. A single plugin controls the entire trick!
A customizable media player will add some description and audio file with the live podcast and customizable player.
As soon as you are ready to publish your podcasts, all you need to take with you is URL. Automatic transcription is another feature and it works when you upload your audio and the Castos transcribes in the dashboard of Castos to YouTube.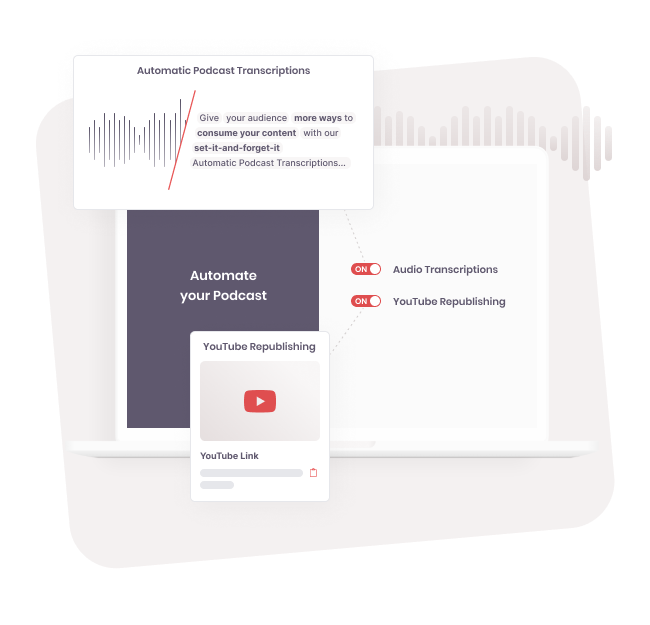 Switching has never been easy. Castos provides the best alternative for Blubrry, Simplecast, soundcloud, Podbean, Buzzsprout, and Libsyn.
For the great integration of WordPress, Castos is good choice.
It offers flexible plans with creative side and transparent pricing. All the plans provide an unlimited bandwidth and storage, no matter which plan you choose.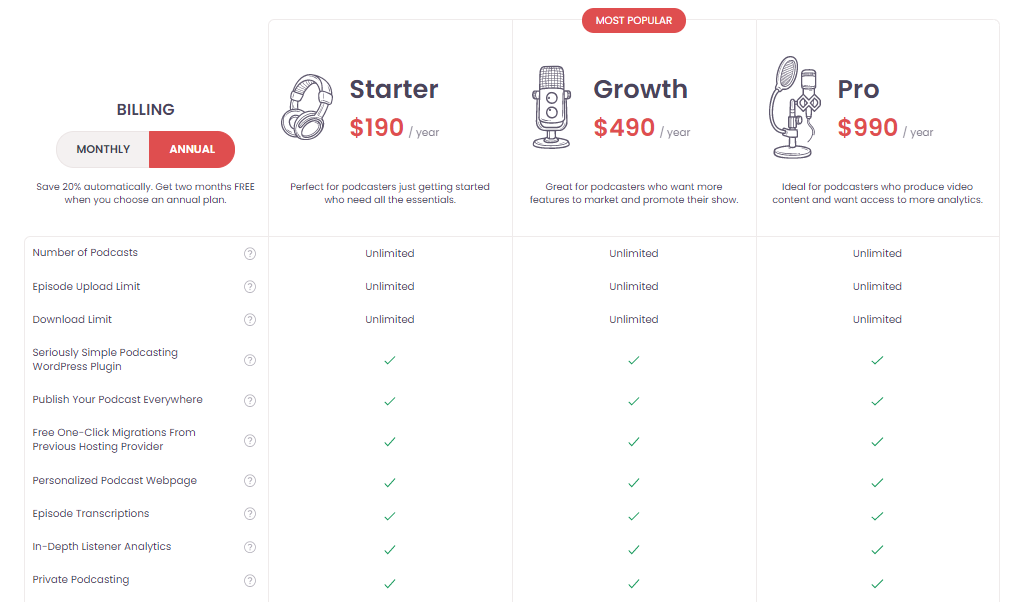 All of these plans offer unlimited download limit, episode upload limit and number of podcasts. The difference lies in the private individual subscribers allowed for the three plans. The starter plan is free for 14-day trial which you can upgrade at any stage.
What is the Best Free Podcast Hosting?
There are several free and even low cost options that you can pick according to your low budget. Most of these plans offer only a limited functionality. For a beginner, free services of hosting are a great way to check for the required features.
A free plan or trial can help you get the gist of how a podcast works. This is because you may not be able to host your own content on the podcast server.
Here is a list of some best free podcast hosts:
Podcast Hosting Sites: Comparison
| | | | | | | | |
| --- | --- | --- | --- | --- | --- | --- | --- |
| ­­­­ | BuzzSprout | Captivate | Transistor | Castos | Podbean | Simplecast | Resonate |
| Best for | Beginners | Growing and shows. | Multiple shows | WordPress | Video podcasts | Brands and beginners | Full service |
| Pricing | From $12/month | From $19/mo | From $19/mo | From $19/mo | From $19/mo (audio) From $20 /mo | From $15/mo | From $20/mo |
| Packing | Starts at 3 hours per month | Unlimited | Unlimited | Unlimited | Unlimited Unlimited | Unlimited | Unlimited |
| Bandwidth | 250GB | From 12 players | From 10k | Unlimited | Unlimited | 20K plays | unlimited |
| File types supporter | Audio | Audio | Audio | Audio/music | unlimited | Audio | Audio |
| Website included | Yes | Yes | Yes | Yes | Yes | Yes | Yes |
| Use your domain | Yes | Yes | Yes | Yes | Yes | Yes | |
Other podcast hosting companies include
What is podcast hosting?
Podcast hosting is a chain of audio files that are combined in a single file. However, they need a big bandwidth and space for storage. Naturally, the general website servers do not have such a large space to store these files.
Therefore, with a podcast hosting platform, you get space for file storage. It makes it easy for the audience to download them.
It is a simple setup with a web server that allows the .mp3 files to download audio files to be described as RSS. The best podcast hosting providers offer advanced reports on marketing tools, social sharing options, and 24/7 support.
Moreover, the best features of podcast hosting include unlimited bandwidth, file storage, and streaming compliance. Additionally, they offer a free domain and website too.
It is always exciting to start a new podcast. Here, you get a way to create an episode of podcast, share your podcast to world, record audio and buy new equipment.
Everything starts by choosing a platform. Hosting services are always needs for the podcasters. But sadly, none offers one-size-fits-all slant.
FAQ