Today we are going to make another collection of themes, also plugins, that are designed for job boards. These themes can be used for job listing website as well as some niche sites like freelancer, or even to hire people all around the world. These themes have resolved the main problem about to keep the website updated, something that is the first priority when creating these kind of sites.
It is very hard to design a site that will be the perfect 'guru' for your business to grow or for you to hire someone qualified, if you don't compliment good coding skills. That's why we are helping today. Find out some of the best themes and plugins for the best job board website ever!
1. WorkScout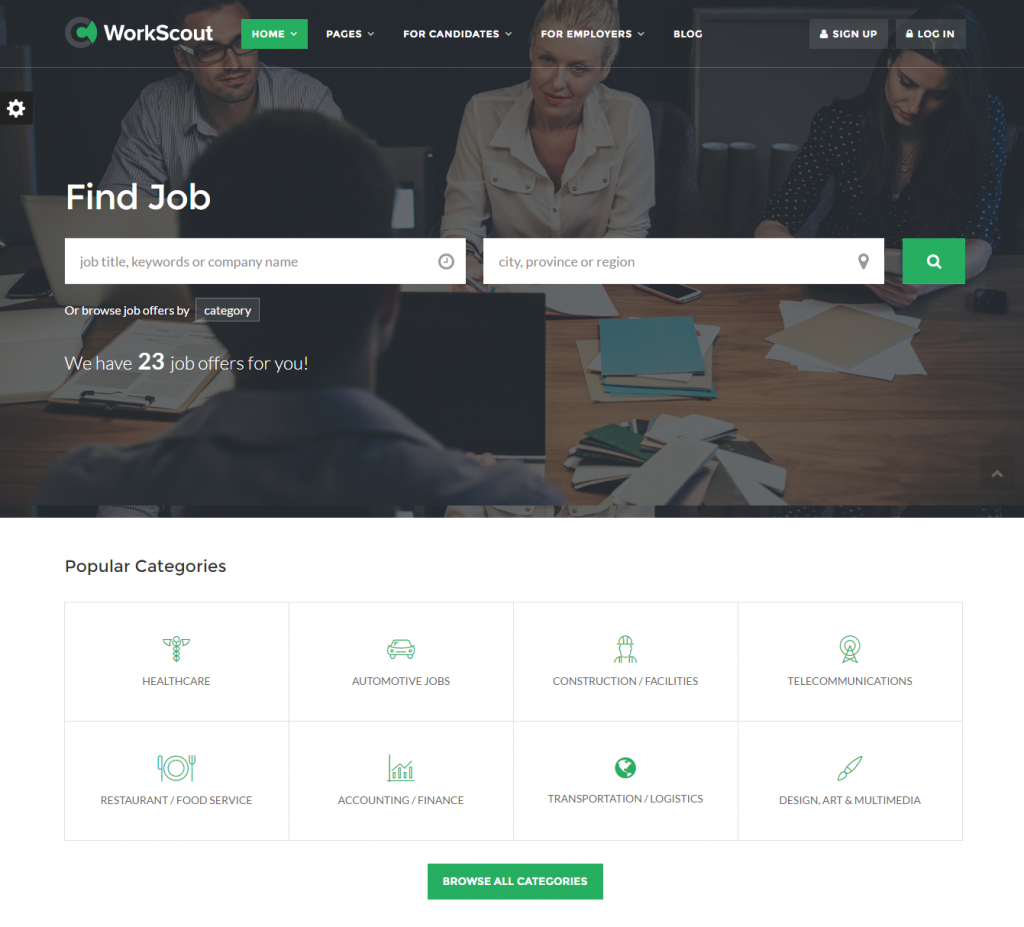 WorkScout is one of the best rated job board themes. With this theme you could quickly produce, handle and gain from your very own tasks site. It has every little thing you anticipate in a totally functional job board like front-end entries, automated repayments, various web page and also email design templates, Google Maps integration and loads of various other valuable functions. It features completely practical and also extremely adjustable job portal. The framework and organisation of your directory site, in addition to the components of the specific listings are all very customisable, thanks to the use of the powerful admin panel.
Some Features : includes resume manager, job alert, bookmarks, woocommerce paid listings plugins, advanced filters for job listings, application deadline, application management, google maps, SEO.
2. Jobseek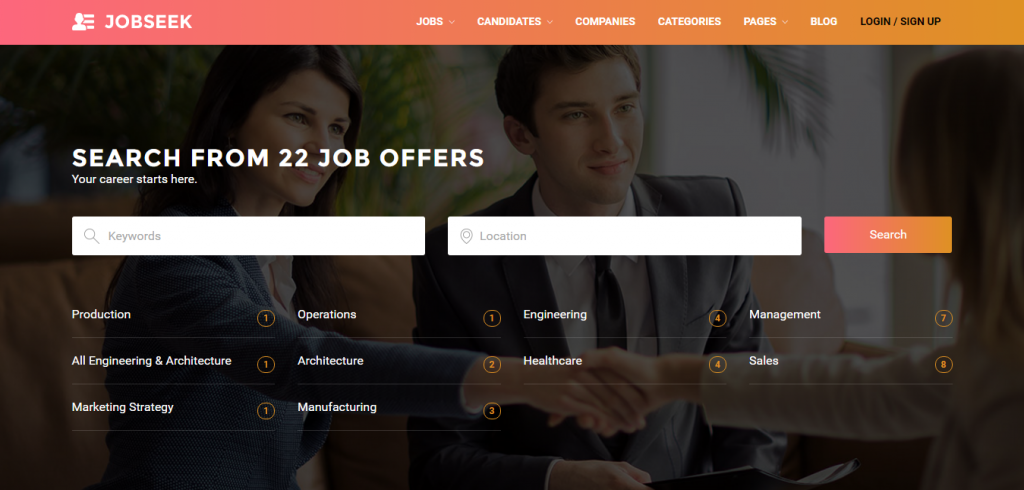 Jobseek is clean, perfectly designed and really rich in features and lugs qualities such as responsive design, SEO optimization, personalization alternatives, and so on. This theme has actually a built in payment gateway for simpler purchases and also progressed sorting formula for much easier browsing with listings for both job postings as well as freelancer profiles. Consequently, whether you're including job openings to your site, or publishing listings of freelancers who work remotely, this theme is here for you.
Some Features : applications, wp job manager, woocommerce paid listings,resume manager, bookmarks, job alerts, application deadline, simple paid listings, job tags plugins, filtrable job listings, apply with Facebook and Xing feature, SEO.
3. JobCareer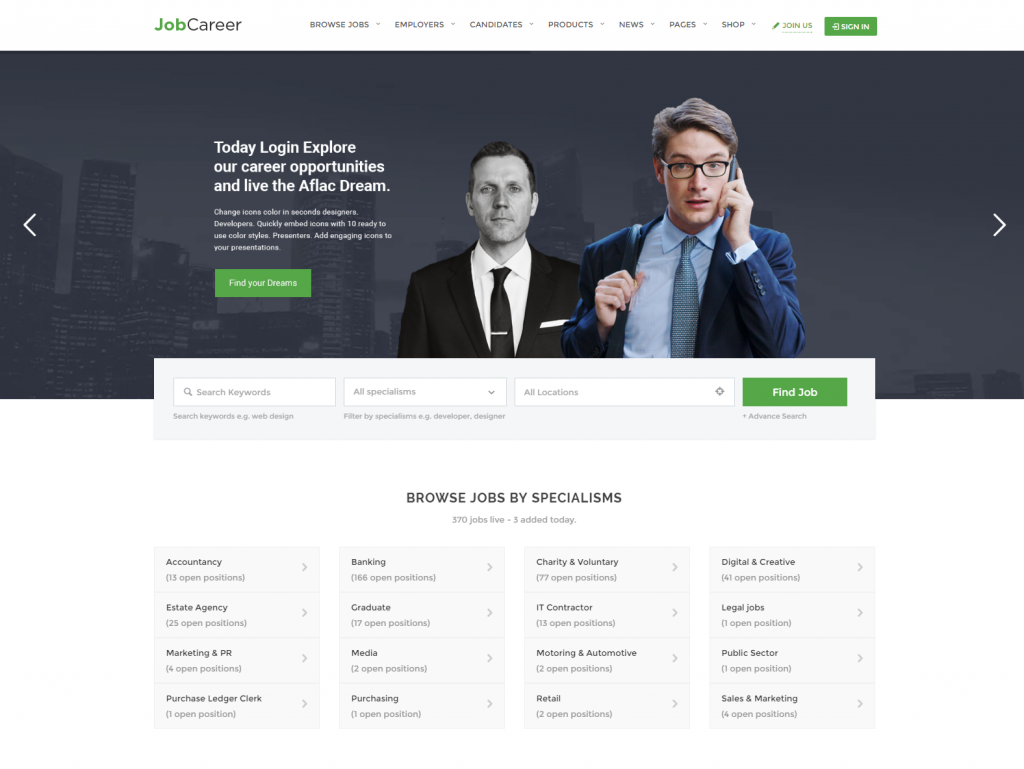 JobCareer is another popular theme, created by a power elite author. This theme plays well with other 3rd party solutions such as Stripe and Paypal. This theme is great for employment companies, job boards and also any type of tool to plus size company that normally have several open job listings. It includes fully useful and also extremely customizable job portal. It is clean and will give your website a look of professionalism. JobCareer includes many features and plugins on the package, so you can be sure that you can create a complete and fully responsive job portal, career platform to run human resource management, recruitment or job posting website.
Some Features : premium add-ons and plugins included: job alerts, geo location search, email alerts, woocommerce payment, free job submission, application deadline, resume manager, profile completion, application tracking, job and CV, apply with Xing, LindedIn, Facebook, indeed, job colors, contact listing, user locator, company profiles, SEo, paypal, mailchimp, WPML.
4. Jobplanet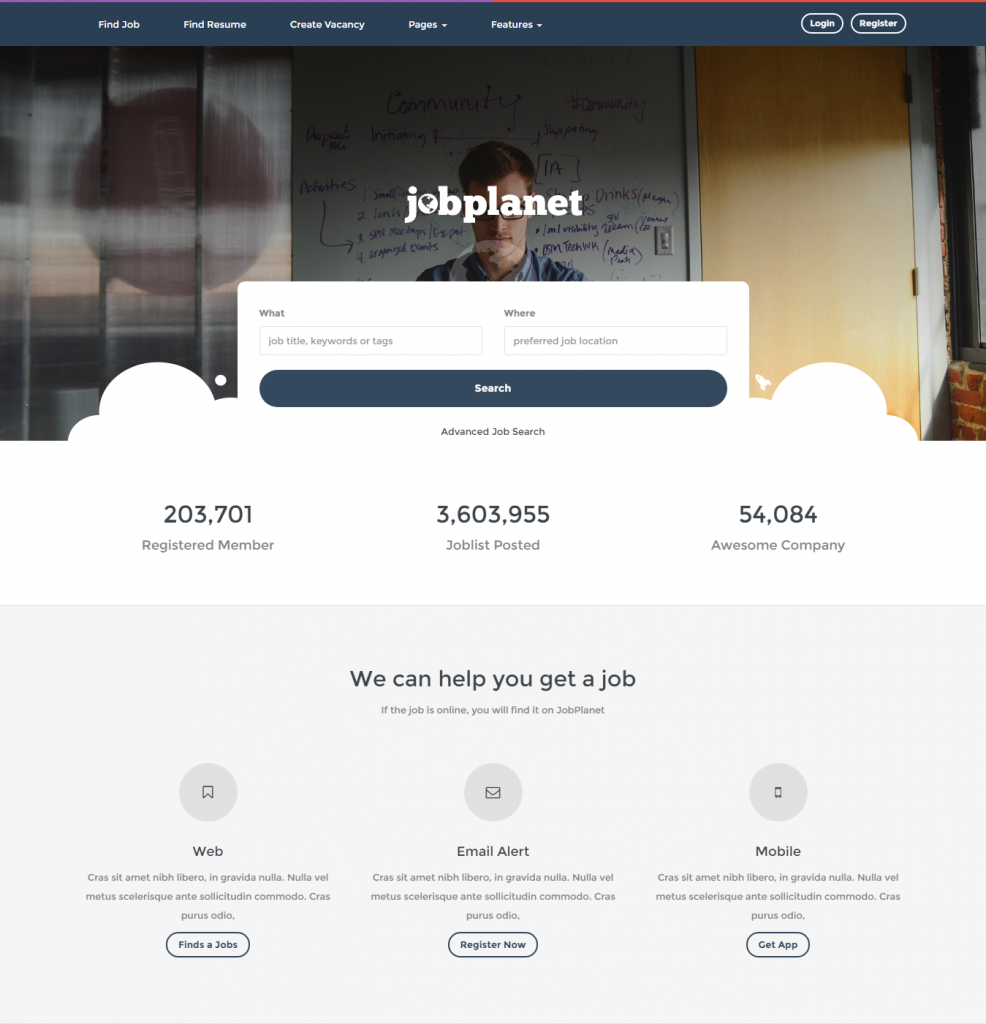 Jobplanet is another awesome job theme. This sophisticated complimentary theme looks great on desktops as well as various other mobile phones because it has a responsive and retina all set layout style. You can use numerous plugins and configuration. Your job listing will be easy as well as constantly maintained updated. Making use of Jobplanet theme, you could produce a fully responsive job portal, recruitment or job publishing site.
Some Features : no plugins required, fronted submission forms, ajax filtrable job search, pricing with woocommerce, applicant status messages, social login, ajax search and filter, apply with Linkedln, CV or resume, job alert, retina ready.
5. MeshJobs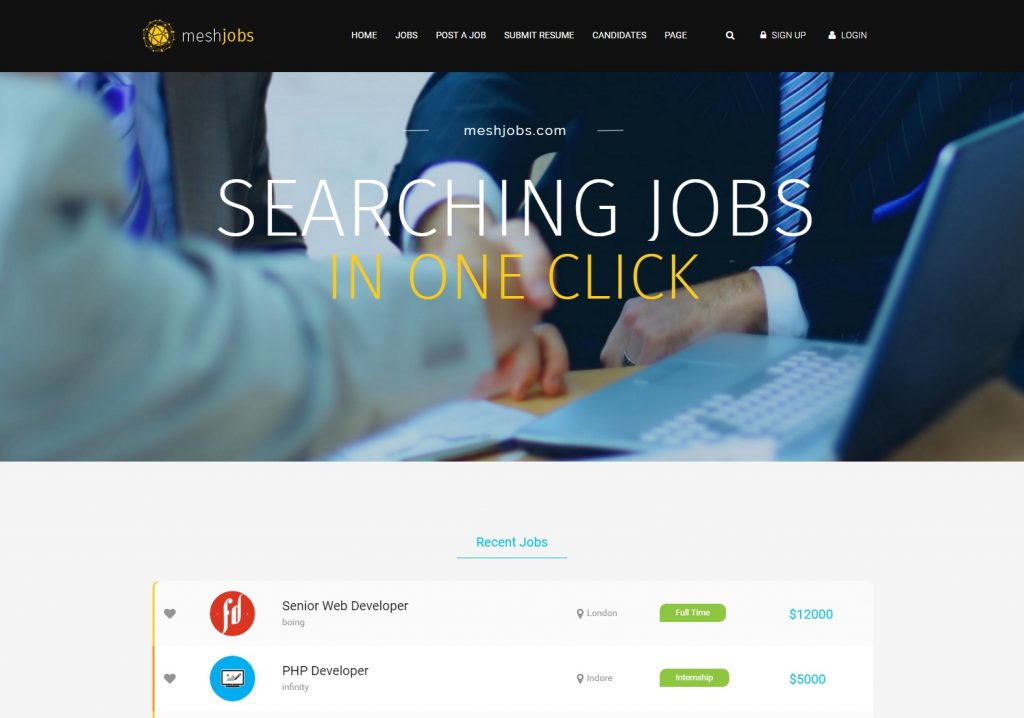 MeshJobs is a robust theme created for job board sites. Resizing errors were totally eliminated, considered that it could be accessed from mobile phones, tablet computers, desktop, as well as laptop computers. It has everything you anticipate in a completely practical job board like front-end submissions, automated payments, numerous pages, Google Maps combination and also lots of various other helpful attributes.
Some Features : includes resume posting, effective job search, online application, shortlist jobs, advance employer search job seeker tools; application deadline, company profile, paid/free listings, application tracking, resume employer tools, Redux framework, mobile ready, advanced filter, fronted job submission.

6. JobInn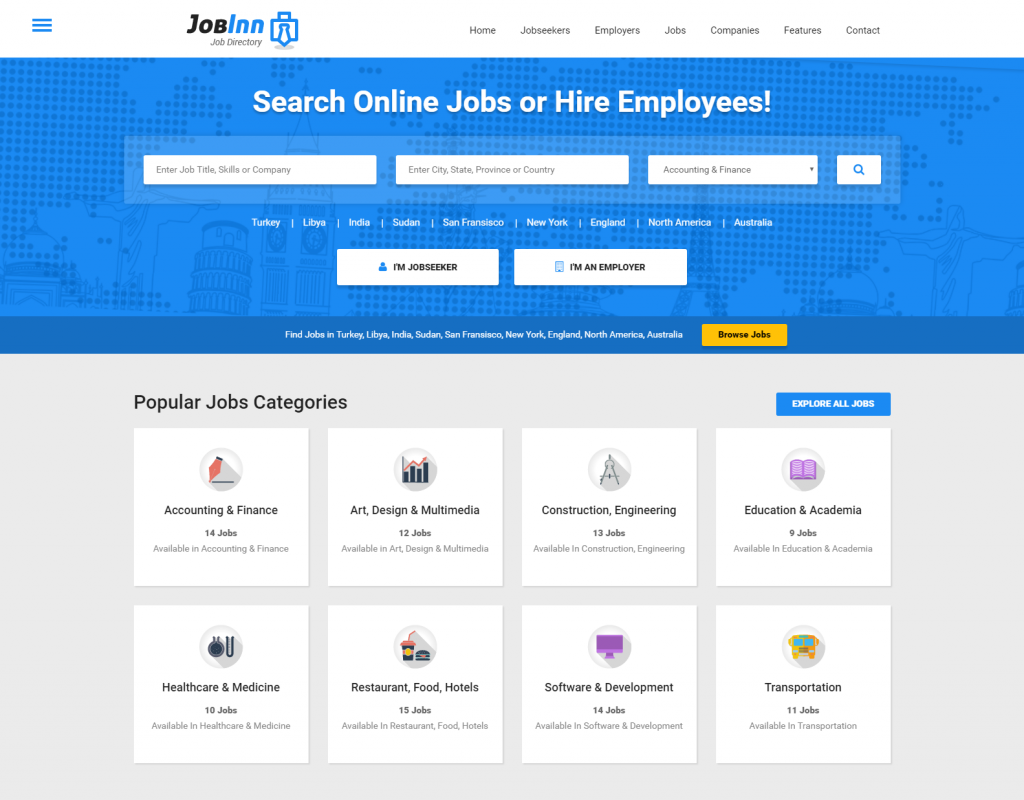 JobInn it is the ultimate, simple, clean theme for this type of websites. It enables every person to run a reliable job board in WordPress and it's one of the best job directory themes on the market, although is new. It is a content-driven job agenda theme. It allows you to administer categories and job listings from the accustomed WordPress UI. JobInn provides avant-garde search, front-end forms for job and resume submission. It comes with the complete affiliation of 'WP Job Manager' to administer its job agenda functionality.
Some Features : Resume management, multiple elements styles, jobs according to region, companies job vacancy, multiple blog, resume price table , mail poet newsletter, live jobs filtering with types, multiple testimonials, cross browser compatibility.
7. Jobify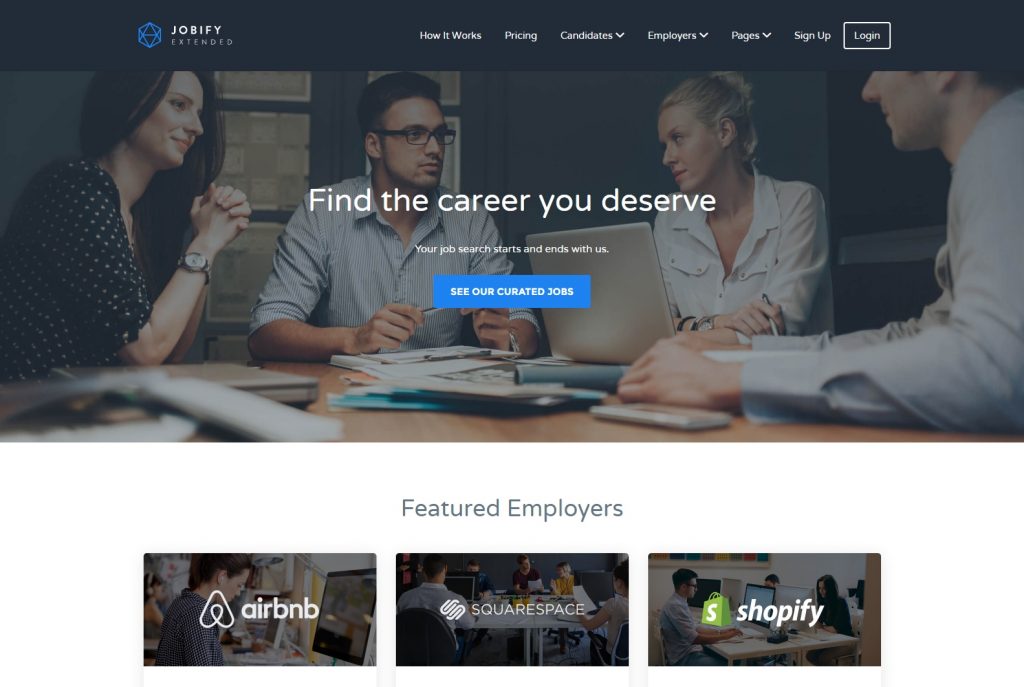 Jobify is one of the most selling and popular job, listing, corporate worpress themes on the market. It is powered by dependable HTML5 components as well as CSS3 scripting provided, making it inherently responsive and cross suitable across the board. Jobify includes residential properties, a functioning contact form as well as other theme features that permit agents to manage their listing. You can also establish your job board to approve manual payments. You could use numerous plugins and also themes and also setup your job listing effortlessly as well as always maintain it without any premium plugin installed and the site will always look awesome and functional.
Some Features : ninja form three, woocommerce social login, location filtering, drag and drop, performance, includes WP job manager, gravity forms, apply with xing, indeed integration plugins, live search, charge fee for job listings and monitor submissions.
8. Jobmonster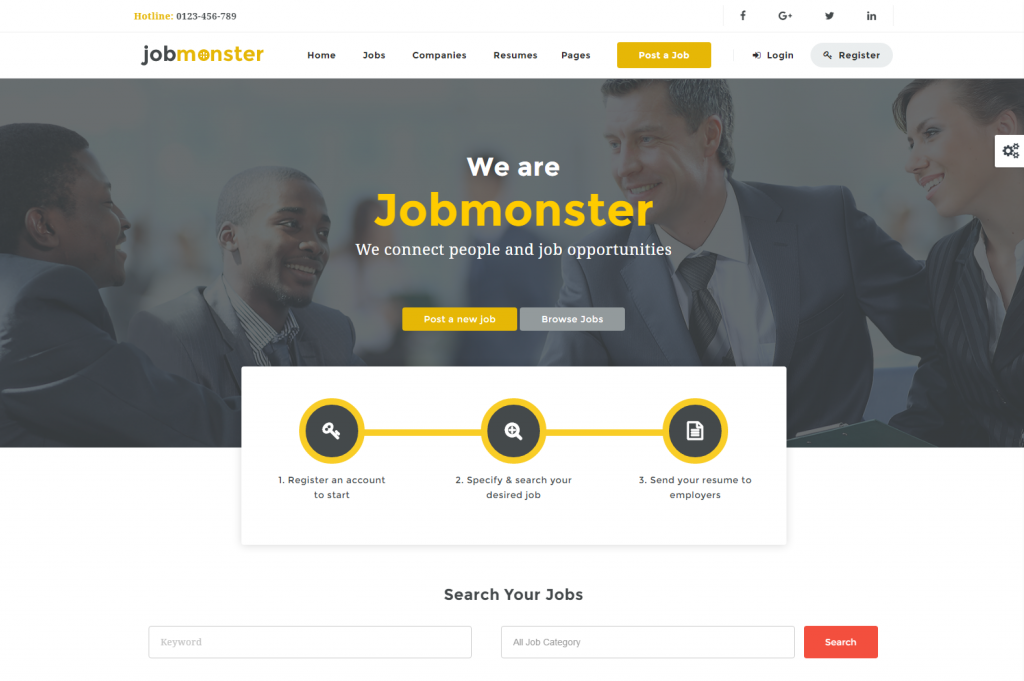 With Jobmonster you could quickly produce, manage and gain from your very own works site. This theme has unrestricted shade options available that could be tweaked using easy admin control panel. It allows you to take care of categories and also job listings from the acquainted WordPress UI. It includes fully functional and also very adjustable job portal. Past style considerations, the theme likewise takes service performance into factor to consider with innovative kinds for on-site job application, consumer study and also visitor profile.
Some Features : advanced custom fields with search, resume posting pricing plan, private message between employer and candidate, job alerts , bookmark jobs, indeed integration, ReCaptcha integration, WPML, employer management dashboard, powerful customizer, woocommerce.
9. PetSitter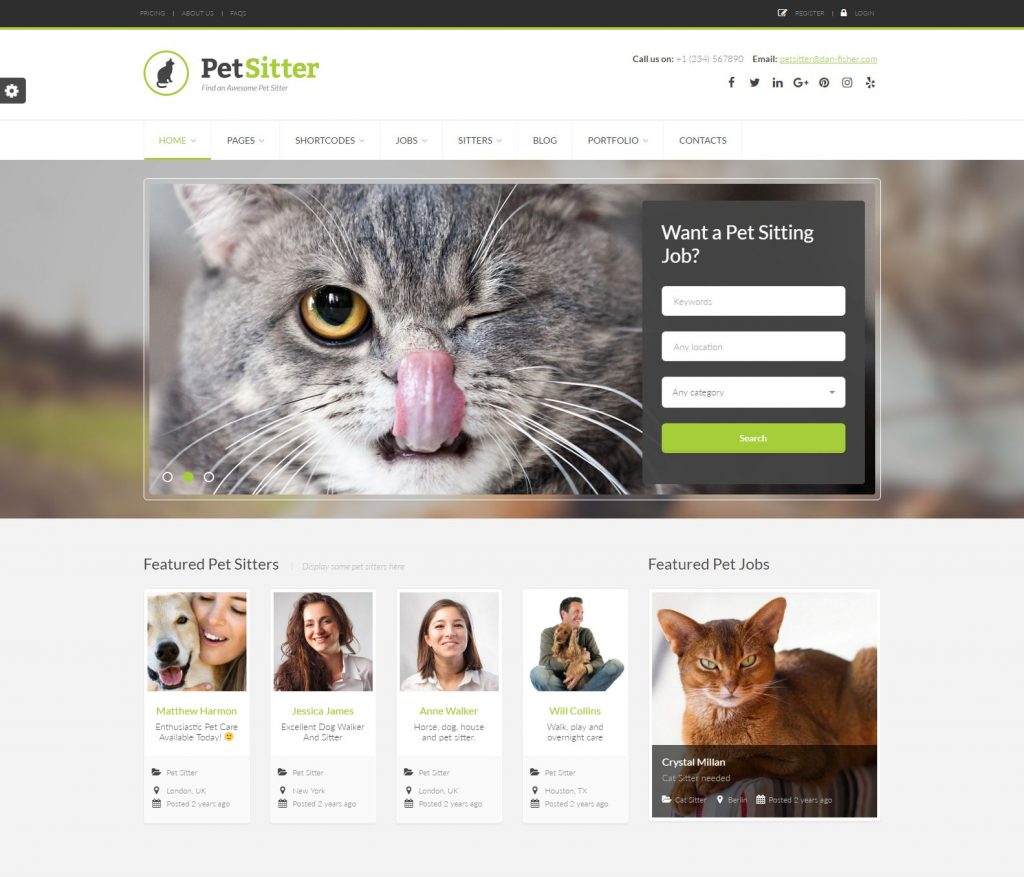 PetSitter is a job theme all about the pets and animals, but can be used even for other business purposes. It enables you to manage groups and also job listings from the familiar WordPress UI. This theme incorporates completely with WP Job Manager along with Resume manager plugin to assist you develop a contemporary job site. This theme includes the greatest Redux options panel. You can easily change any theme color and have many functionalities with the integrity of many job board oriented plugins.
Some Features : WP job manager, 40+ shortcodes, reviewer plugin, PSD, job search form in slider, WPML, includes resume manager, simple paid listing, job alerts, job colors, geolocation, application deadline, predefined regions plugins and add-ons.

10. WP Job Manager (Plugin)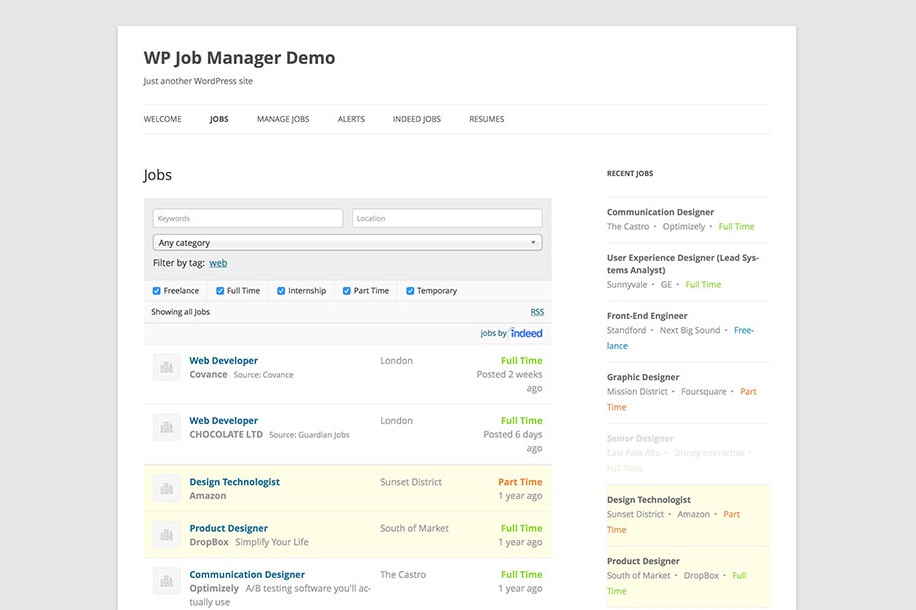 This is the most popular used plugin when it comes to job board themes. WP Job Manager is a lightweight plugin for adding job-board functionality with custom resume pages, different payment integration, paid listings, social login and much more, to your site. Being shortcode based, it can work with any theme or even just a simple setup.
11. WP Job Manager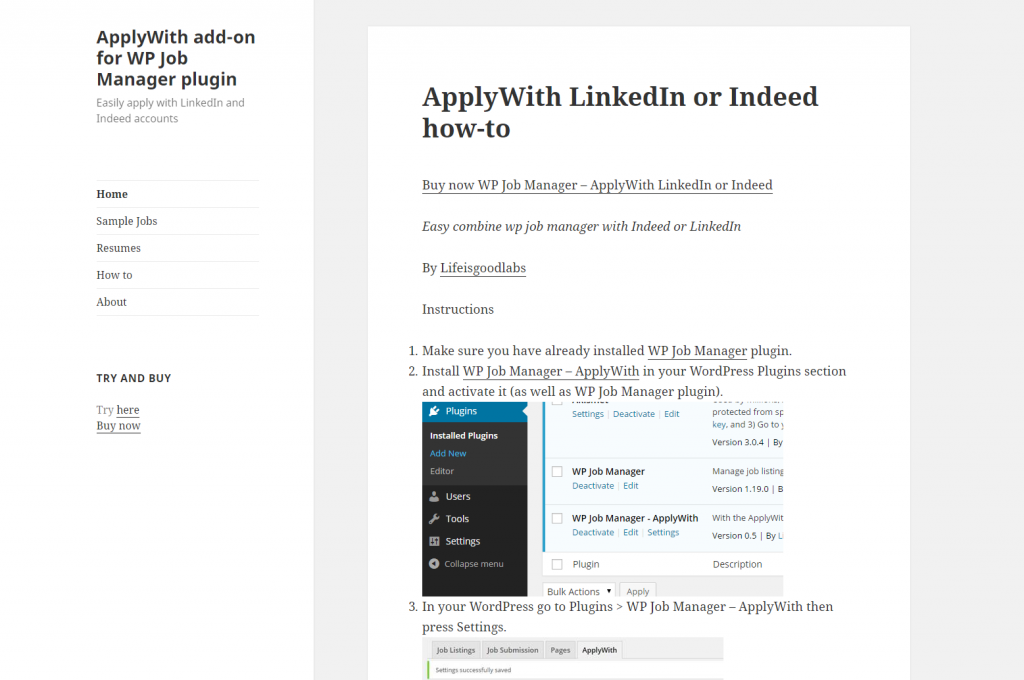 ApplyWith LinkedIn is an addon for WP Job Manager plugin for WordPress which allows to apply to jobs using both Indeed and LinkedIn accounts. Users can apply for jobs by just the clicking from font-end using their accounts. You have the list of applications in admin panel with PSD resume, ability to review application, filter by jobs. You can quickly signup making use of LinkedIn which will after that pull a great deal of your work experience data immediately, or you can signup using the default e-mail method.
13. WP Job Hunter – WordPress Jobs Affiliate Plugin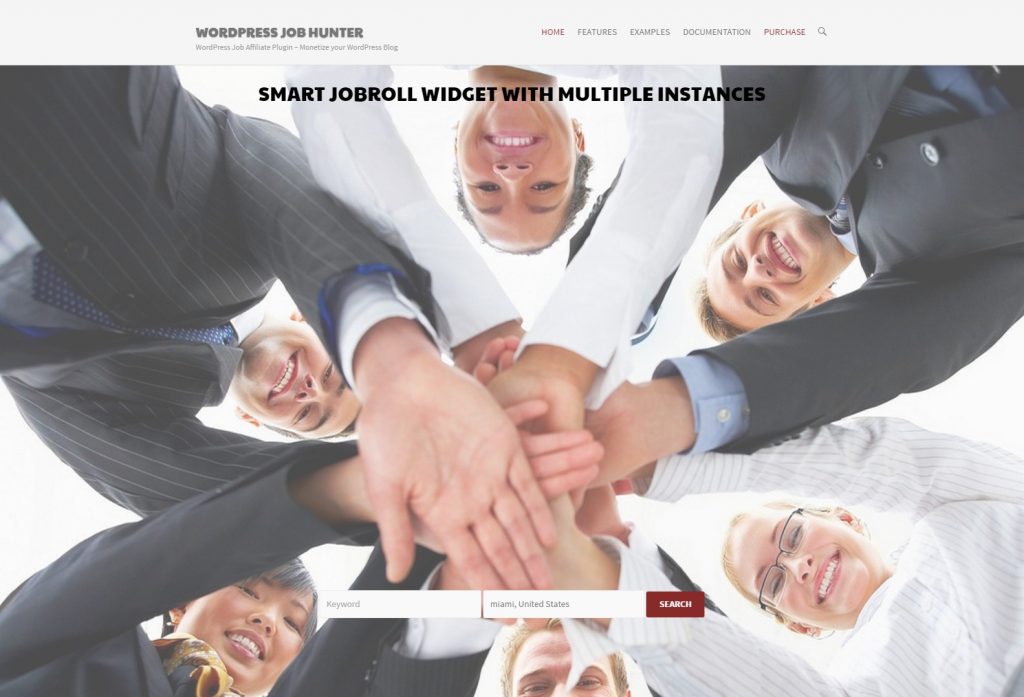 WordPress Job Hunter plugin brings you the most simple solution to earn money with job affiliates on any type of websites and monetize every site. By registering on the service provider's website, saving your affiliate id in the plugin, you are all done! This plugin will do everything for you. It has widgets, cross browser compatibility, custom search fields, paginations, templates, can generate tags from the content and has custom categories with keywords.
14. Instant Job Search Engine Aggregator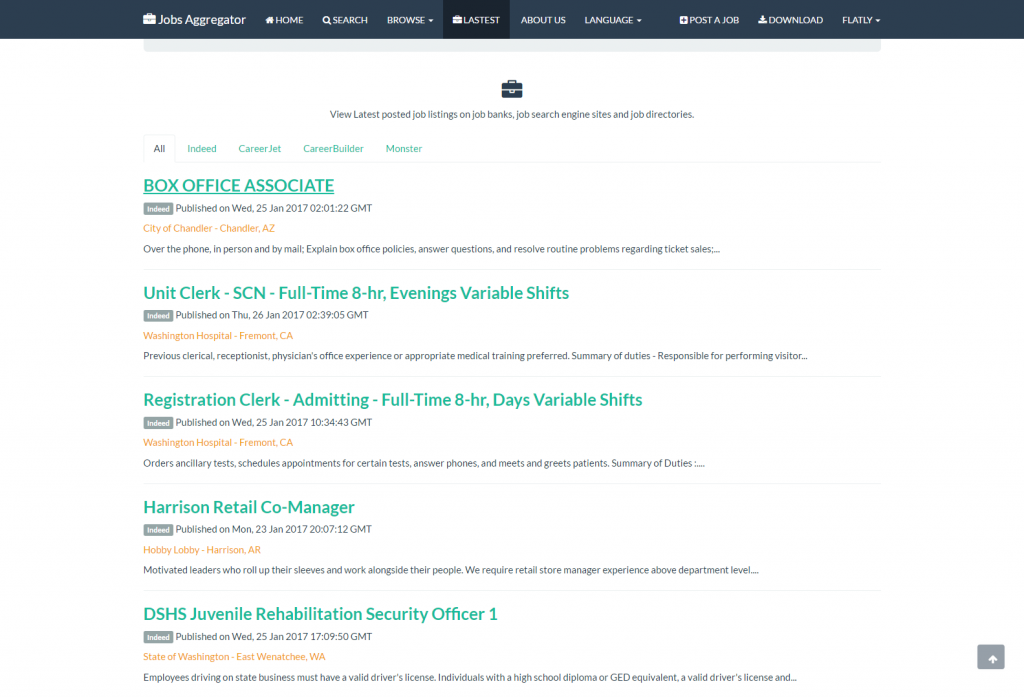 Instant Job Search Engine plugin is a advanced job aggregator. It searches jobs including : indeed API, Career Builder all at once. It simple to use because you only need to filter the job you want to search by category or location. You can also search them on real time.
It is multi linguage, user friendly and it has responsive design. It features geo location redirect, careerJet API, pagination, affiliate support, AddThis sharing, image slider, sub domain support, keyword search and it does not require a database.
15. Automated Job Search Engine Script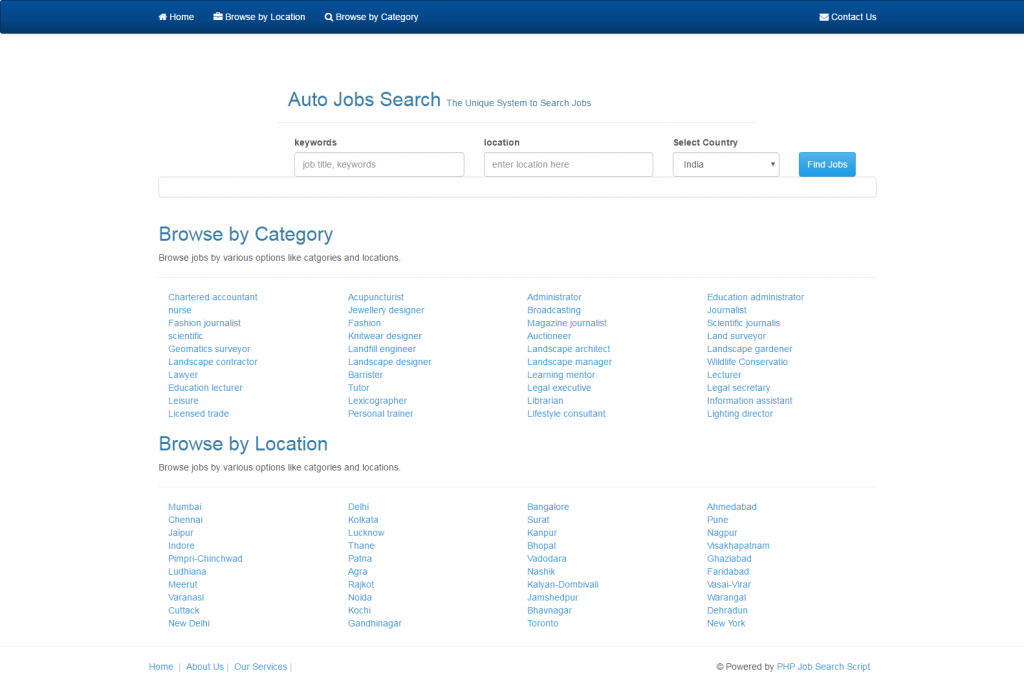 With visitor emphasis, this script consists of the search of every job niche like indeed or careerjet, built on Jobzeek API and the good thing is that it is Auto Operated. This script works only with JobZeek API and it is safeguard fro the multiple API modification.
You can earn money with CPM advertising network, with affiliate network, it features the locations management, the jobs management by categories and your ads by affiliate code.
16. Job Portal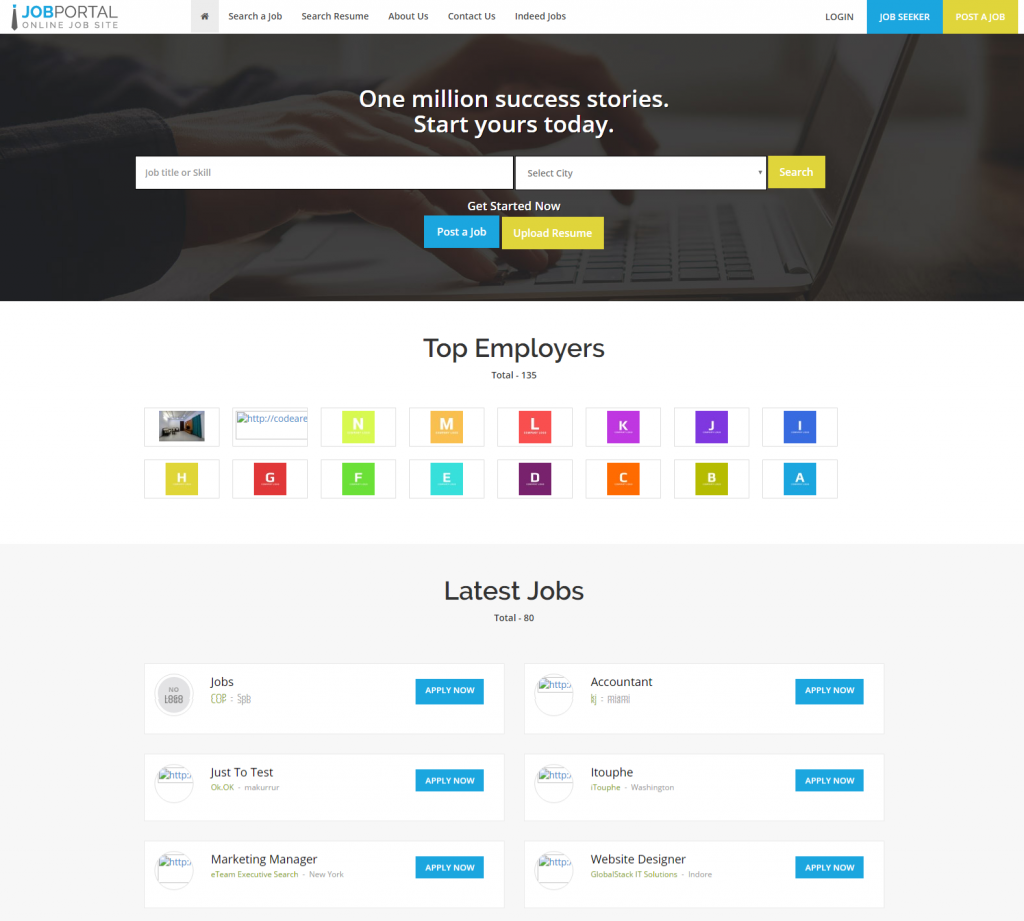 Job portal plugin in an interactive management of job vacancy for candidates. The administrator module having all opportunities regarding project, he could update, remove, and change the information about job seeker, job supplier, email content, CMS, mass emails etc. It provides customers to post their resume and search for jobs, personal job listing etc.
It features job seeker, job provider, job search and indeed job search. You can search jobs on the basis of skills, city and job title, register as a jobseeker or login to job seeker portal.
17. Expertrack Script – Find Experts or Jobs Online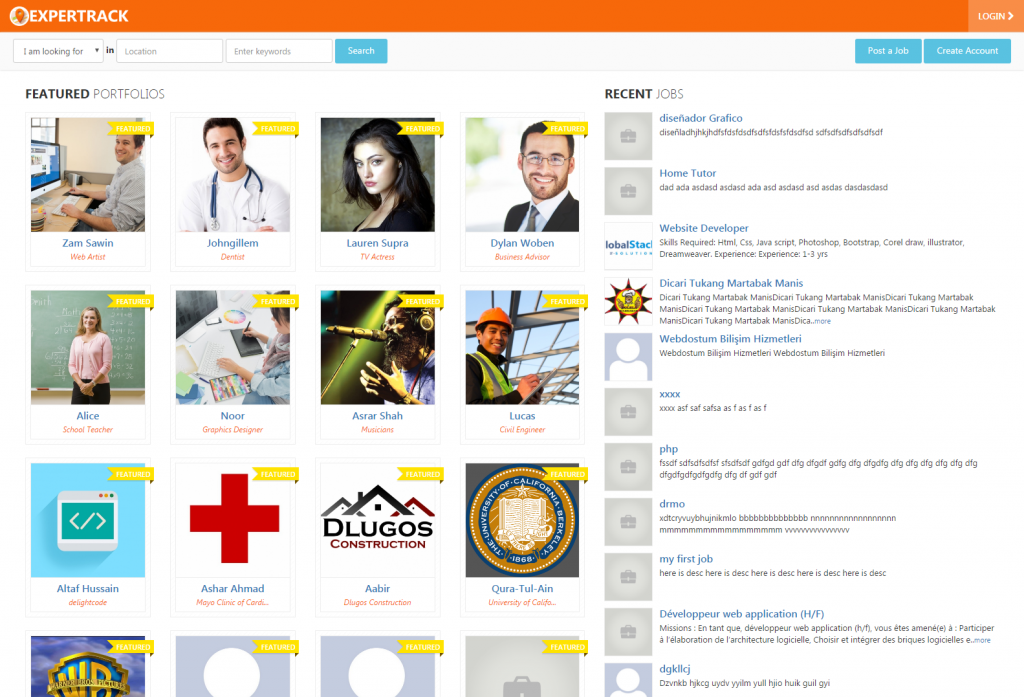 This plugin can create account as a company or an Employee, where thay can add their details, companies can post jobs, and they both can connect to each other by paying $2. It has a beautiful design, can manage emails, administrators, check daily and weekly statistics about website, manage users, jobs, theme, change language, manage paypal email and on top of them it has an easy intallation. So you better get ready to find the best experts and jobs of your dreams!
If you are looking for a Hotel/Travel Booking themes collection, you may want to take a look to these other beautiful hotel themes 🙂 :

Ludjon, who co-founded Codeless, possesses a deep passion for technology and the web. With over a decade of experience in constructing websites and developing widely-used WordPress themes, Ludjon has established himself as an accomplished expert in the field.