Today, we're going to uncover the best dentist WordPress themes in this blog. So, when exactly did it all come to this? Selecting a specific type of website that displays medical-related visuals and functionalities.
The answer is, "The evolving needs of your customers gave rise to this cause."
Today your customers want more than just a website. They're constantly searching for an innovative and attractive WordPress website, especially when it comes to the medical world.
A stunning website that reflects your brand's core values and showcases how you can help your customers truly help your business stand out.
Besides visual excellence, your website must be super-fast and responsive.
Considering the fact that the digital world has given rise to several competitive and highly advanced websites – you need to capitalize on any opportunity you get to entice and delight your audience.
Staying up to date with what's going on in the medical world and how your competition is innovating the conventional experience is one thing. But you also need to bring something new to the table.
This something must be truly yours and must have the potential to help you achieve maximum results. And this is the reason why today, I'm going to tell you about some of the best dental WordPress themes.
These themes are there to make your dental clinic or hospital look unique and specific. So, without any further ado – let's get going.
Let's check my top picks about WordPress dentist themes: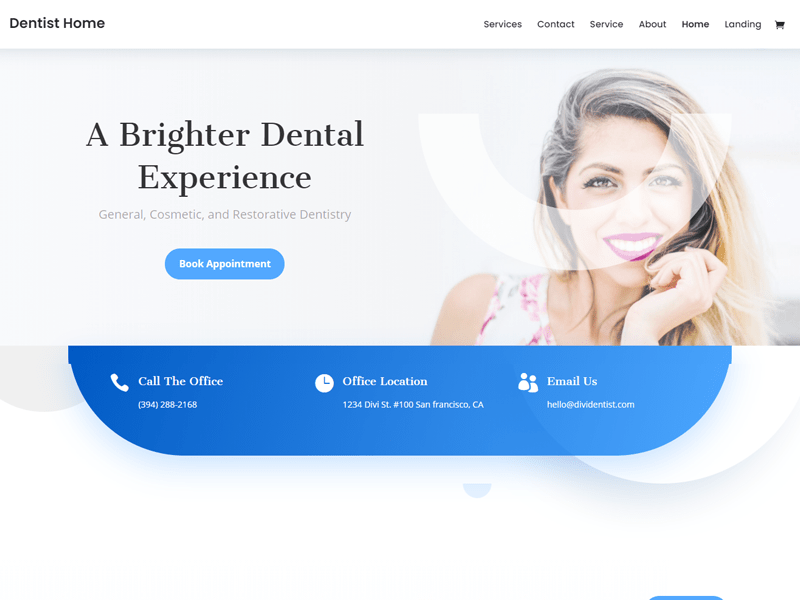 Divi as a WordPress theme takes the whole WordPress experience to a new level. With advanced visuals and amazing functionalities, you can easily impress your audience and give them something new to get familiar with.
The seamless codeless experience enables even the non-technical person to develop a site according to his requirements.
The advantage you get with Divi is that it replaces the conventional WordPress post editor with a superior visual editor.
This new editor revolutionized the way professionals used to design their website and ensured performance, responsiveness, and efficiency with ease.
You can easily add, delete, move components, customize the entire site, and have no coding feature. You don't have to worry about getting an expert and spending a lot of money on developing your website.
Some other features of Divi include:
Easy customization of elements.
No coding experience enables fast development.
Result-oriented designs and intuitive visual controls.
Divi's visual design can be combined with the developer's own custom CSS.
You can read our Divi Review for more details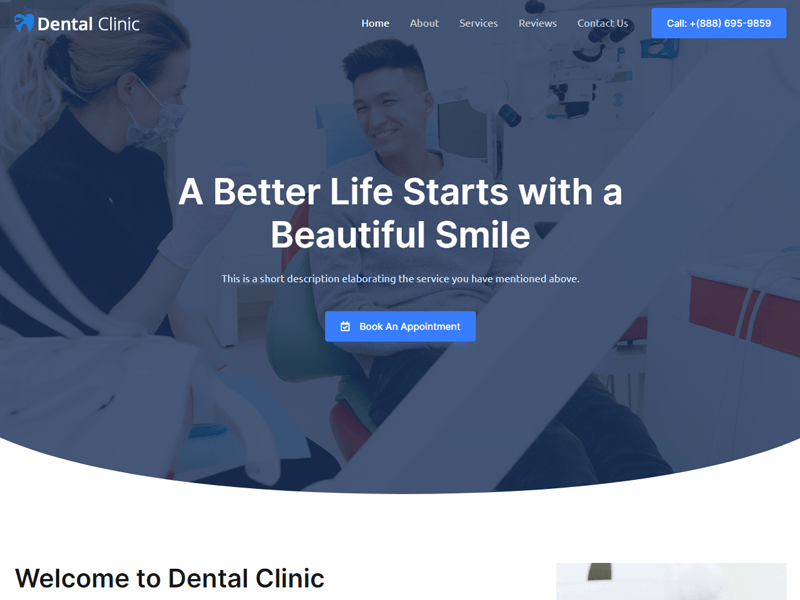 Astra is yet another simple yet limitless possibilities-oriented theme that you can use to develop your dental website.
With several headers and footer options, pro-add-ons, features, and much more, Astra pretty much redefines what a simple WordPress theme for dental clinic that can do for a big or small business.
Astra also offers several pre-built themes that the users can leverage to create their website quickly. This feature also minimizes the time spent that occurs once the user develops a site from scratch.
Moreover, Astra also does not require any coding experience. You can develop a website without complex coding. Plus, ensuring a codeless experience does not limit Astra in any way.
The theme still gives your several ways to design your site with complete freedom. Also, since speed is considered an important aspect of any website, Astra covers this part by being built for speed and responsiveness.
If you are curious which is better between Divi and Astra we written an detailed article about that: Which is better Divi Vs Astra
Easy and quick customization.
Unmatched and competitive performance.
Visual theme customizer gives the user more customizing options.
You can easily edit your blog post styles.
Pre-built templates to foster quick development.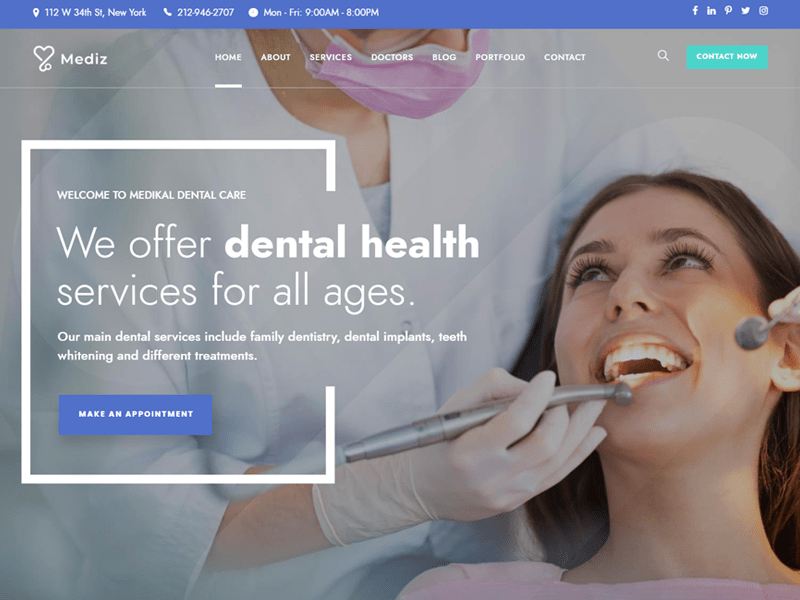 Mediz is another super-powered responsive dental WordPress theme developed by Good-Layers. These guys are considered one of the top authors in ThemeForest that are known for their creativity and innovation.
This theme takes the game up a notch with its 140,000 customers and amazing and satisfying reviews. Unlike the themes that I mentioned earlier, Mediz is specially designed for medical purposes.
This theme is one of the best fits for hospitals, clinics, dentists, physicians, and gynecologists. Moreover, when it comes to the functionality of Media, it leaves no stone unturned to ensure maximum performance.
Mediz is literally designed by keeping the medical industry's insight. The super flexibility, great features, background wrapper options, custom templates, and many other features are just so hard to resist.
If you are searching for more Medical WordPress Themes you have to consult our post: Free Medical WordPress Themes
More customization options.
Ajax page builder saving.
Pre-built pages for faster development.
Drag and drop slider creator.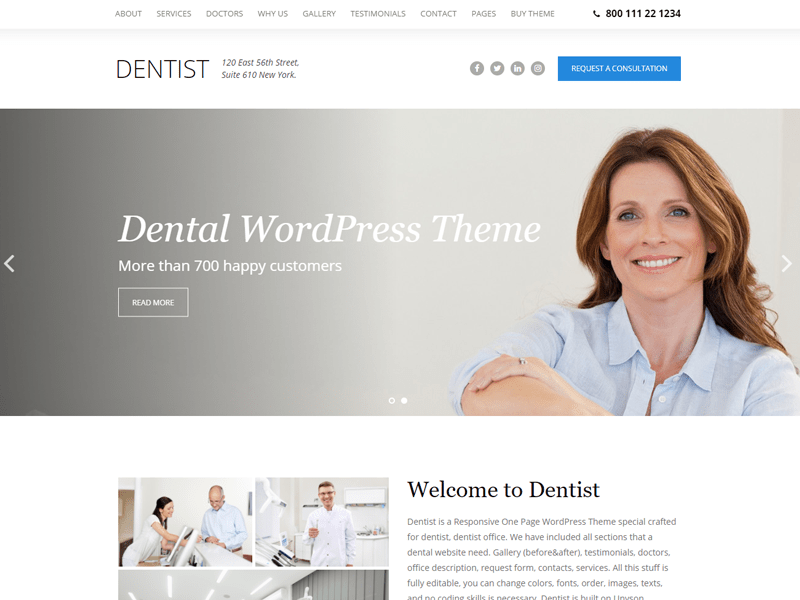 Yes, this theme actually goes by the name of Dentist. But the name is only one part of the story – the theme is packed with some of the most revolutionary features and aspects.
From the responsiveness to simple yet enticing representation to stunning visuals, Dentist covers all the key points a website should have. There are internal pages available for you that you can leverage anytime you want.
You can add images, information, description, change colors, and customize the whole website. For all of this, you don't need any coding experience. The website is totally codeless.
Moreover, Dentist is built on Unyson Framework, which ensures performance and reliability. Plus, you can instantly change the drag and drop feature if anything is looking off and replace it with something enticing.
Some other features of the theme include:
Compatible with latest WordPress versions
Beautiful Responsive Design
Before & After Gallery
Fully Retina-Ready
Page Builder Elements
One clicks demo-data installer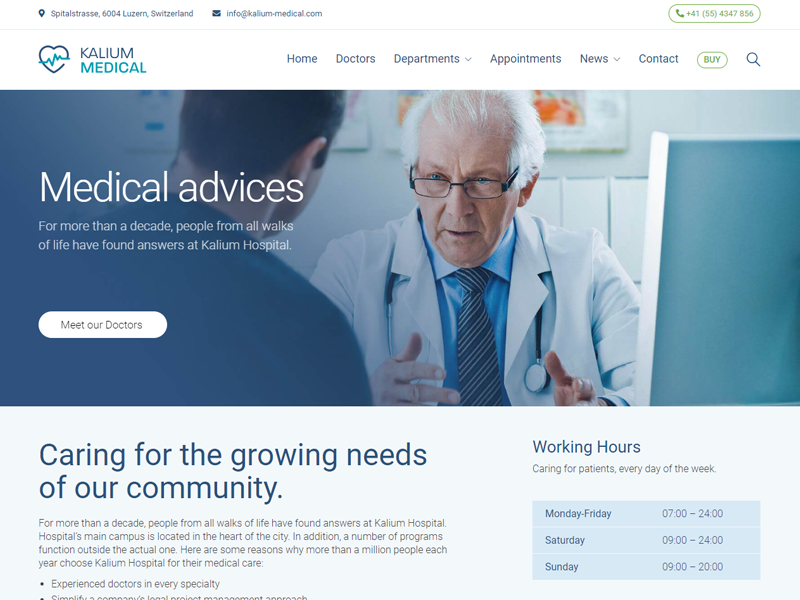 Kalium works best as a dentist theme for dentistry, dental, dentist and medical websites. You can create a professional looking website with Kalium that is used for dental filling, tooth decay, dental cosmetic, dental braces and oral health related topics.
Moreover, you can present your valuable services related to tooth health using Kalium because of the features like the schedule page.
It is a minimal, neat and elegant theme which can work for almost all medical fields specifically for dental. In addition, you can easily build your website using the drag and drop builder without coding. Therefore, a dentist who is usually less tech savvy can easily build a website to increase the patient access.
Features:
Responsive
Retina ready
One click demo import
WooCommerce
Contact form 7
Visual composer
Appointment forms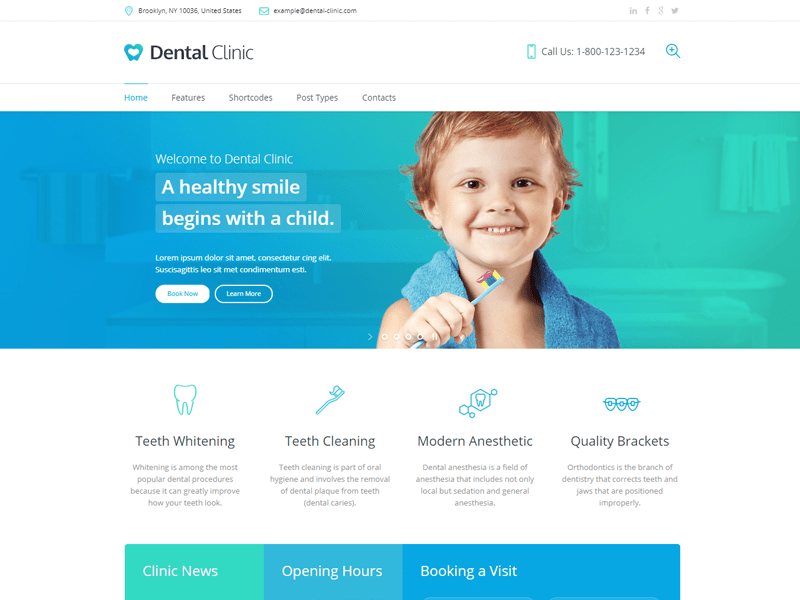 Just like the WordPress themes mentioned above, this theme is also specifically created for the medical industry. This theme attracts the focus of the audience and delivers your business's message in an outstanding way.
The theme can represent your dental clinic, cosmetic dentistry services, medical clinics, and hospitals. What makes this theme so amazing is that the theme comes with a custom CMS Masters WordPress admin.
This Custom CMS Admin includes several customization features and even a visual content composer, enabling you to edit your website according to your specific requirements.
The mega menu features, dental care displaying functionality, and medical product listing are some of the many features that this innovative theme comes with.
Fully customizable theme.
Responsive and fast.
Pre-built internal pages.
Specially designed for medical clinics and hospitals.
Variety of styles to display content to the audience.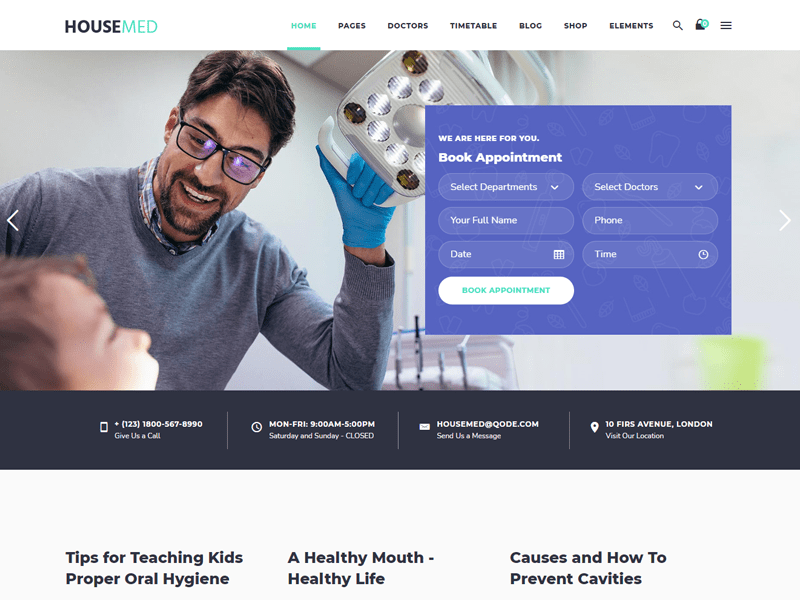 Considering that people have always been super-concerned with their health and well-being, this theme ensures such an experience that makes your audience think that you're the perfect choice for their health.
HouseMed is designed with modernization and functionality in mind. The theme offers amazing opportunities to edit and create a truly standout website that ensures your audience's seamless experience.
From customizable homepages to a large collection of layouts to remarkable opportunities for showcasing your expertise and accomplishments – HouseMed pretty much ensures that everything you require is covered.
Moreover, HouseMed also gives your customers the option of booking an appointment online, which is innovative because although several websites are offering this feature, none come close to the quickness of HouseMed.
Extensive Admin Interface
Simple One-Click Import of Demo Content
No coding knowledge required
Big custom short code collection
8 beautiful homepages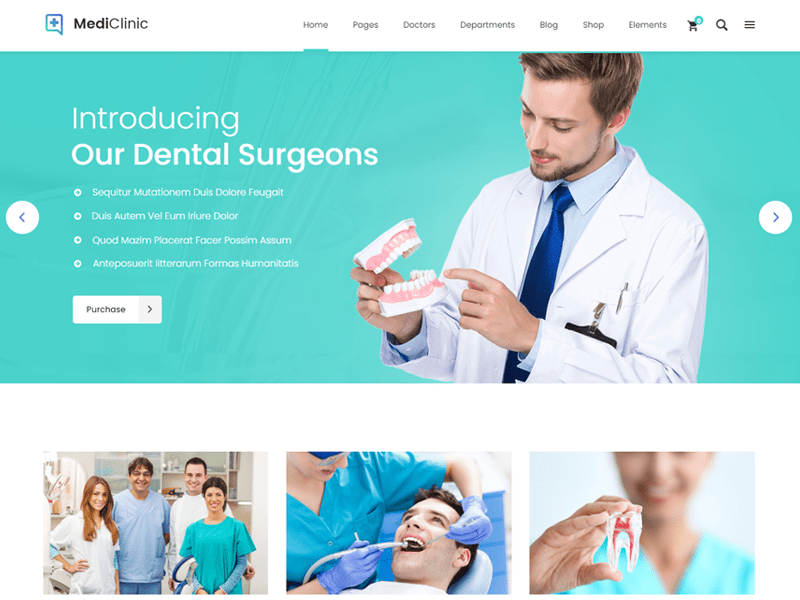 The Mediclinic is yet another intuitive and feature-packed theme built for the medical industry. This theme also offers majorly the same features and specs as several others on this list; however, it also stands out on numerous opportunities.
Your audience can easily keep their health in check with this theme because it offers 12 easy customizable homepages that you can edit according to your requirements.
The theme's ultra-modern foundation lets you adjust your layout perfectly and display the content vibrantly and effectively. Since your audience requires something interactive, this theme is all about being interactive.
You can share your doctor's timetable, laboratory details, represent your pharmacy or dentist business, and let your audience seamlessly book an appointment and find the best doctor in no time.
Discover other WordPress Themes for personal clinics and doctors: Medical and Doctors WordPress themes.
Extensive Admin Interface
Simple One-Click Import of Demo Content
No coding knowledge required
Responsive & Retina Ready
12 beautiful homepages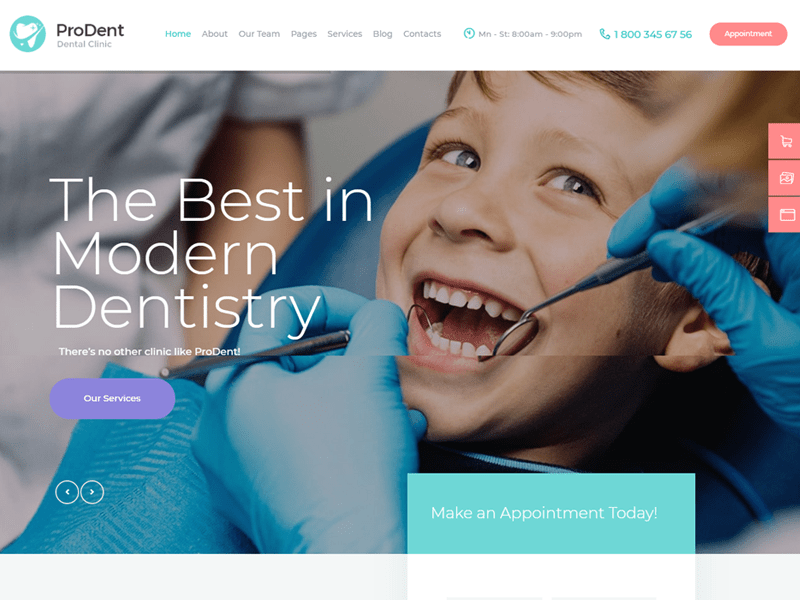 Witness the ultimate feature collection and ensured responsiveness that ProDent gives you. This is another WordPress dentist theme specially designed for the medical industry, and it promises revolutionary functionality and power.
ProDent focuses on making the users convinced that you're the most credible and trusted source of getting medical attention, so it is designed to deliver the same message through visuals and customizations.
Whether you are running a clinic, hospital, dental care, ambulance business, or even nursing care, ProDent has got you covered with its amazing features and quick orientations.
Also, ProDent requires no coding skills, which means that you can edit, customize, add content, change the layout, and fine-tune your website's appearance all by yourself.
Moreover, the theme also comes with several pre-built templates. It is super-compatible with WooCommerce, which means that you can also use it to sell your products easily.
Online Appointments booking & management.
Contact Forms.
Full WooCommerce store compatibility.
Dozens of premade pages.
No coding required.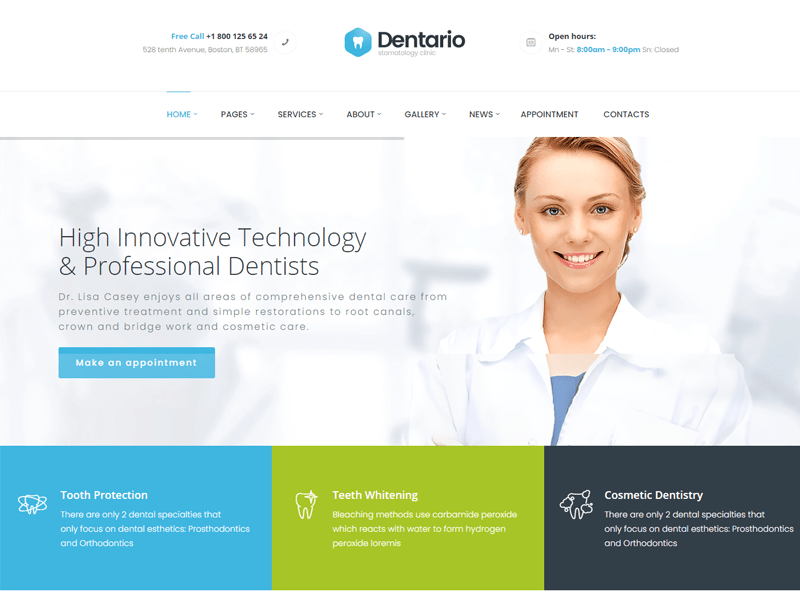 Dentario takes the medical website experience to a whole new level and offers you some powerful and stylish capabilities to customize and revolutionize your website.
Like the themes we mentioned earlier, Dentario is also specifically built for the medical industry. This theme is perfect if you have a dental clinic, pharmacy, medical hospice center, or a sanatorium.
Coming to the specification, this theme is designed to withstand the test of time by providing some of the most futuristic visual design options and customization features to you.
This WordPress theme offers various editable internal pages, pre-built templates and pricing modules, an option to display content engagingly, and the no coding experience feature.
Appointment Scheduling.
Appointments management.
Premade pricing & services modules
Dentist/doctor single page
Advanced contact forms
Awesome news & galleries layouts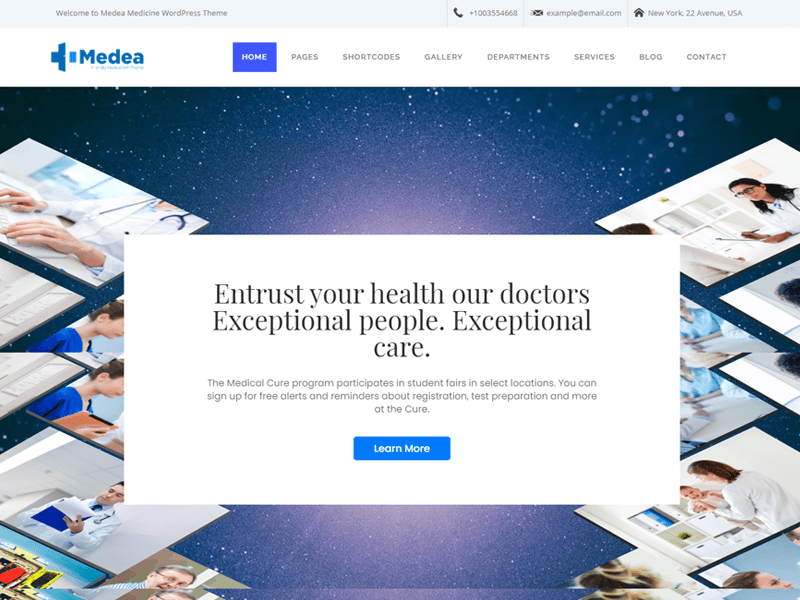 Medea is another professional medical & dental theme that even the most non-technical individuals can quickly learn to edit and customize according to their needs. This theme is built to offer users with amazing developing experience as a medical & dentist WordPress themes.
The professional website created by leveraging this theme is best for hospitals, clinics, labs, and even massive pharmaceutical companies. One can easily get started and consider this theme as an MVP for their business.
Moreover, the drag and drop tool, layout customization option, desire demos, and editable content display section are just commendable. Because you have to be innovative to stand out in the market today, this theme has got you covered with all its features and advantages.
Appointment Booking
Redux Framework
Fully Responsive
Multi-language
Main Benefits of Dentist Website WordPress Themes
Eye-catching visuals attract the focus of your audience and deliver a stunning user experience.
Lead magnet forms and CTAs to help convert your audience.
Customization options that enable you to tailor your site according to your business.
Responsiveness makes it easier for the audience to reach you on any device.
More internal pages to target the audience and keep them engaged.
Footer and header to upload and update important information.