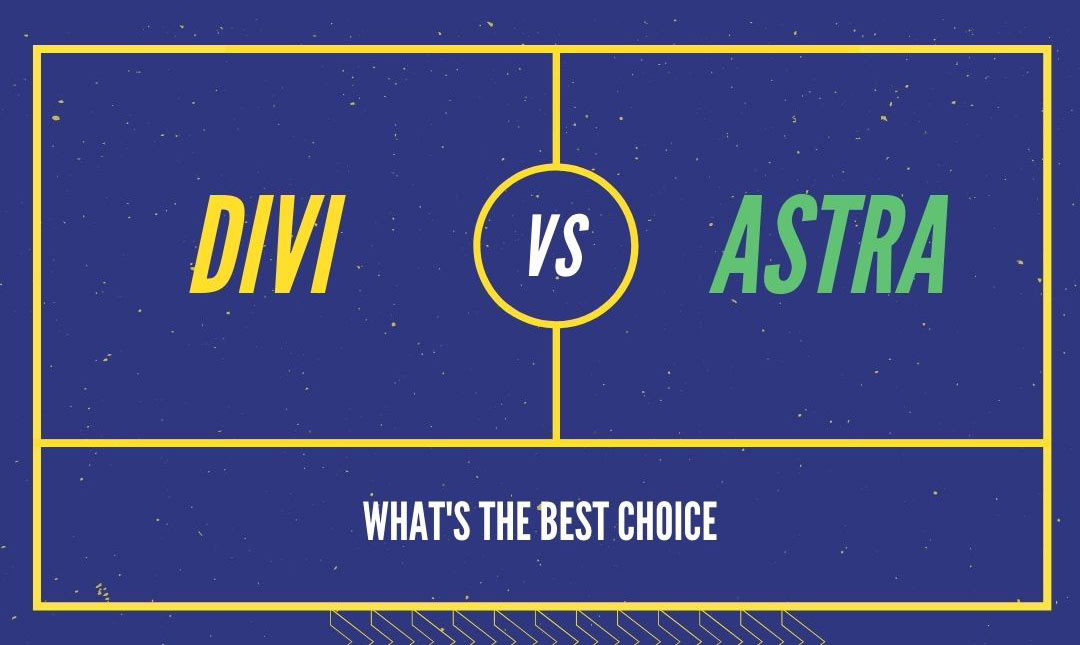 Do you think that Divi and Astra are similar WordPress Themes? Check this detailed comparison WordPress Divi vs Astra theme.
Astra or Divi? The choice is difficult but the two impressive options provide prebuilt content with multiple customization options. But with our review of Divi versus Astra it is deduced that both are up for being the best themes available for WordPress.
If a theme is made for WordPress, it does not mean all themes made for WordPress are the same. To specify this difference, we have brought a comparison; Divi versus Astra. Both Divi and Astra are highly popular and quality themes. Both give extra professional look to your websites.
Divi vs. Astra: Deep Comparison
In order to help you decide the best one for your project, this comparison explores all the features that each theme offers. At the end of this article, you will have enough knowledge to decide the perfect theme for your website between Divi or Astra.
Over 600,000 users throughout the world are using Astra. It WooCommerce integration, compatibility and lightweight are the key features that make it a good theme.
Divi is another powerful WordPress theme which is also a visual page builder. It is powered by Elegant themes. Users can create impressive designs with its options and plugins. The theme builder has made Divi an extraordinary product.
Follow the comparison table to have a quick look on the differences of similarities of the two themes.
| | |
| --- | --- |
| Astra | Divi |
| Multi-purpose | Multi-purpose |
| You choose the elements to add in your theme | Complete package offers everything built-in |
| Minimal and performance oriented. Offer integrations with Astra's add-ons and third party tools and builders | Customizable for every detail in appearance and function through the user interface in a visual way |
| Compatible with third part tools and page builders, user-friendly UI, installable extensions, and theme settings | Compatible with Divi builder only with whole starter packs and pre-made page building templates, onboarding tutorials, extra plugins, role editor, and user friendly UI |
Main Features
If you are unfamiliar with the key features of both Divi or Astra, here is a short and comprehensive overview of their feature in comparison.
Features: Divi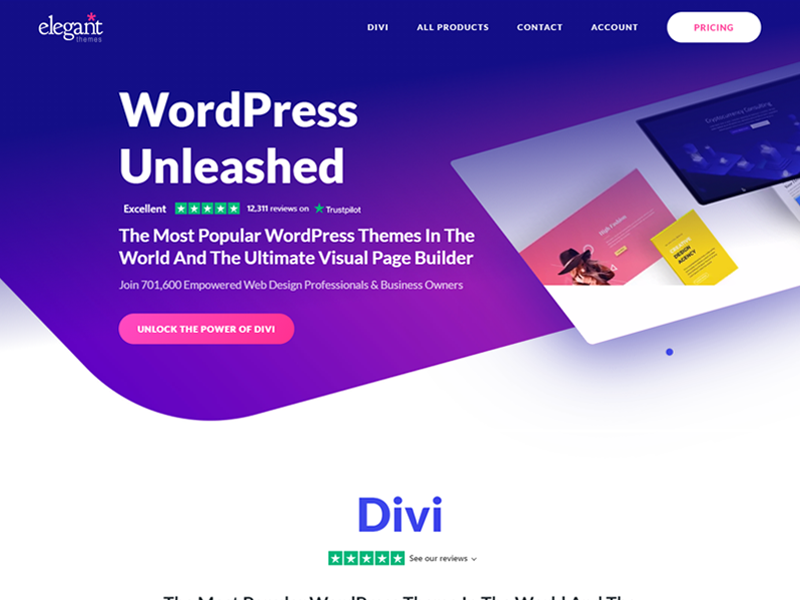 Divi is a flagship theme of WordPress powered by Elegant themes. Elegant Themes currently has more than 600,000 customers. It is a multipurpose theme that is compatible with websites of all types. It offers more features such as:
It is both a plugin and a theme
Divi Builder offers built-in A/B testing
Woocommerce compatibility
160+ layout packs
WordPress customizer
Drag and drop theme builder
Built-in visual options for templates, footers, and headers
Drag and drop and visual page builder for pages and posts
Multipurpose
However, unlike Astra, Divi does not offer free theme. It means there is no complexity in Divi theme as there is only one version of Divi. Such that, you will get access to all the features once you purchase Divi.
Features: Astra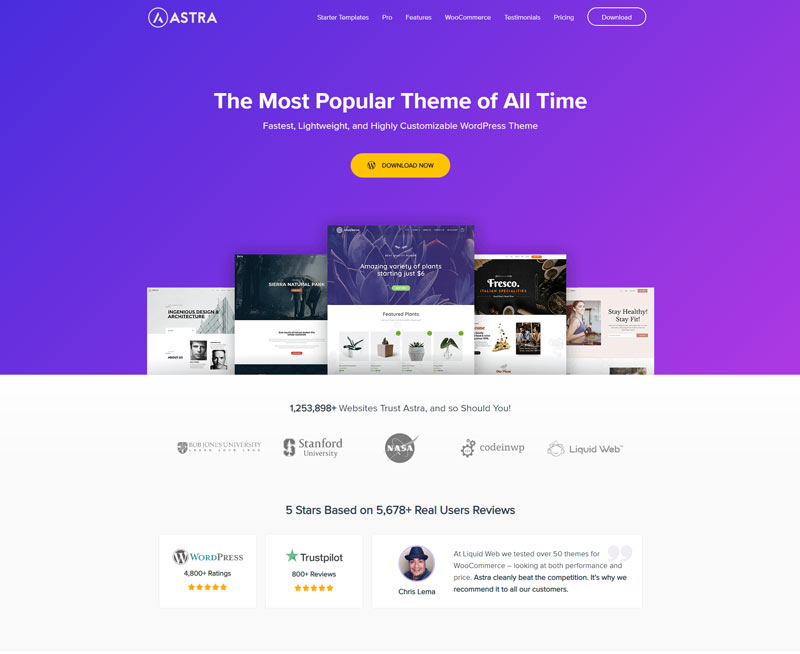 Astra is a WordPress theme which is free. Over 500,000 installations are currently active which can be taken to Astra Pro license. You can also move to premium add-on plugin with Astra.
Here are some extended features of Astra that you may look for:
Integration with LearnDash and LifterLMS for online courses
Woocommerce integration
Easy integration to page builders with page-level controls
Detailed layout and style options with WordPress customizer
250+ unique demos
Lightweight with no jQuery dependencies
WordPress.org offers free version
Multipurpose
It provides you a professional library of prebuilt content either in Astra Pro or free version of Astra. Yet, the upgraded version unlocks a lot of extra features with more content.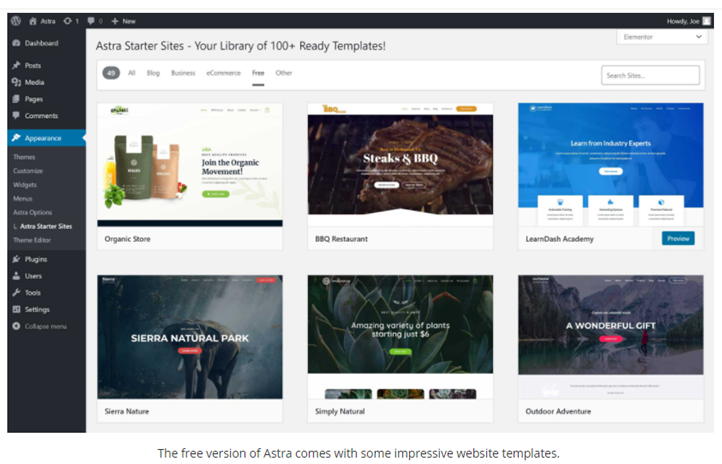 Both version, free and premium incorporate third party plugins for page building and to customize and create content for a unique website.
It offers several customizable and impressive templates available in a free WordPress theme. These options are even more enhanced for those who pay.
Pricing
While deciding for the best theme for your website, pricing plays a key role. As you decide what your pocket allows. So, before having to look at the features in-depth, let's have a look at the pricing and plans the two themes have to offer. Here's a quick look to the pricing options of both themes:
| | |
| --- | --- |
| Astra | Divi |
| Free version available | No free version |
| Free trial available | No free trial available |
| Astra Pro for a year: $59, $169, $249 One-time payment: $249, $499, $699 | A yearly plan: $89 One-time payment lifetime plan: $249 |
| Access to all the features with pro plans | Access to all the features in Divi page builder in both plans regardless of the type of package |
| Package of starter sites available | No starter sites available |
| Support and updates throughout the subscription | Lifetime updates and support |
| 14 day money back guarantee | 30 day money back guarantee |
| Unlimited websites | Unlimited websites |
Pricing: Divi
With Divi there are no optional plans and the pricing plans are straightforward with lifetime options and yearly license. Once you pay, you get an easy access to all the functionality and features of Divi.
Divi costs $89 for a year which costs $249 for a license of lifetime. Both of these options also include Monarch social sharing, Bloom email option and the Extra theme plugin.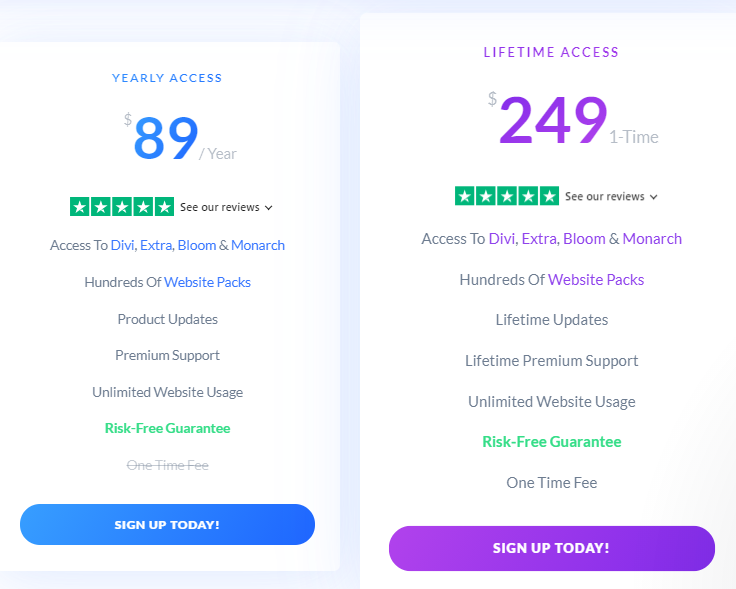 Pricing: Astra
Astra is a bit complicated than Divi. Though it offers a free version, it further offers three plans on premium. All the three plans offer different features.
Astra Pro offers three package at different prices which range from $59 to $179 for a year.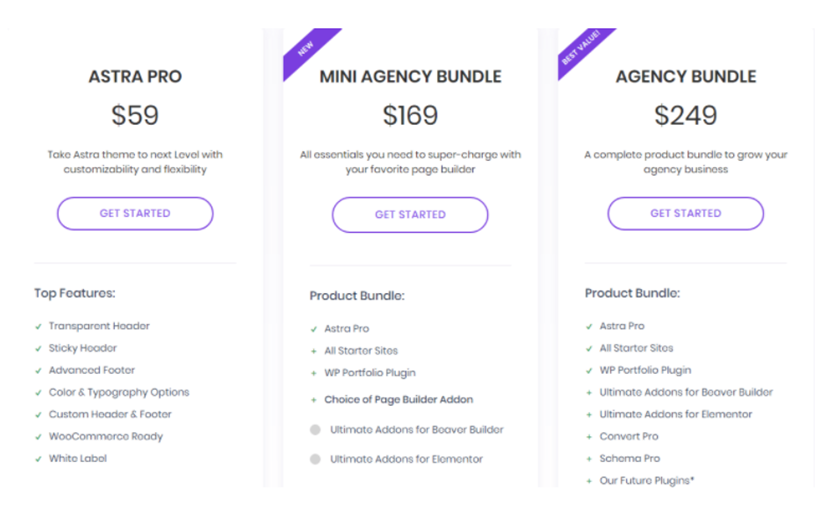 The lifetime license however costs $249 to $699.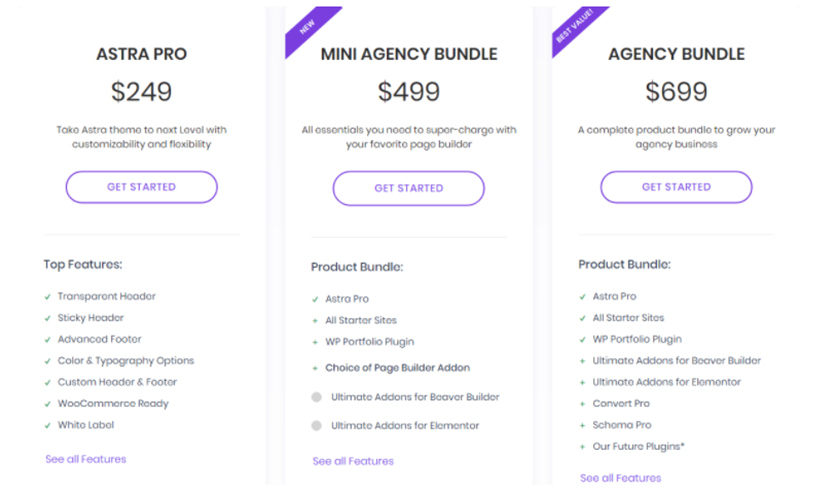 With these prices, the themes offer unlimited websites. Therefore, if you are an individual business or build websites for clients, both of these themes will prove to be pocket friendly.
Divi Theme vs Astra: Money Back options
Both the themes offer you a risk-free purchase. Which means they both offer money back guarantees. Divi offers 100% money back guarantee within 30 day period. Astra, however, offers 14-days money back guarantee.
Licenses
The yearly options of both Astra and Divi offer lifetime updates as well along with customer support and new products and features that can be added to activated licensure.
The license is also renewable after a year. In addition, alternative renewals are also an option with both of these WordPress classic themes.
User Experience
UX: Divi
With Divi, customers can get access to more than 800 pre-designed templates over full website packs with different categories. Moreover, users can also get new layouts on weekly updates along with royalty free illustrations, icons and images.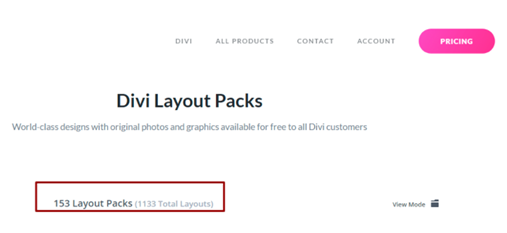 Divi Builder: With the help of pre-made templates you can create unimaginably perfect websites in a simplest way possible. A Divi Builder plugin may help you doing that. After you create a page with WordPress dashboard, you need to select Visual Builder.
Next, choose Browse Layout options. You will be directed to the "Load from Library" panel. Here, you will find the tab of Pre-made Layouts. Most of the pre-made layout packs are already listed categorically.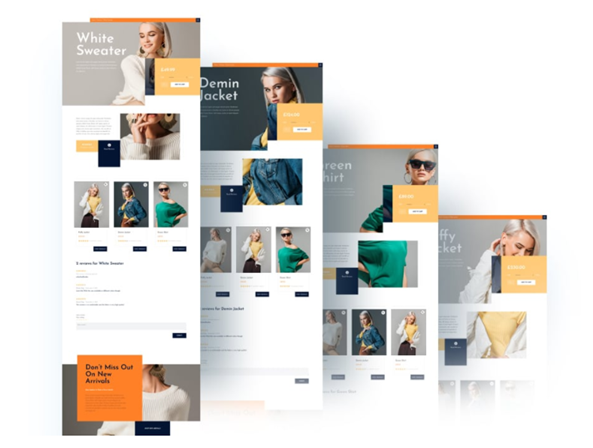 Individual pages can be seen in preview from the pack. After you select the best suited page layout for your website, to use it, simply click on "Use this Layout".
Divi Community shares personalized layouts thereby making a much better package in the offered pricing for the plan.
Customization options: the building blocks in Divi come with flexible options of customization. Yet, it offers outstanding module customizer, theme customizer and theme options, with which you can easily customize your webpage.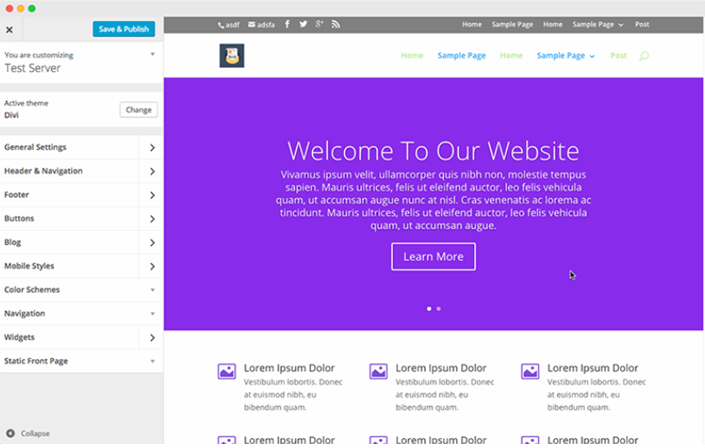 Module customizer and theme customizer are same just like the default customizer of WordPress. These panels allow you set a website logo, adverts, posts, multiple layouts, navigation, colors and favicon. All of which are easily customizable with toggling bars, selecting and clicking.
Page templates: As it is already mentioned that Divi layout offers 100 demo sites with over 1000 page templates. The demo site pack also offer some page templates yet, you have an option of installing, saving and selecting them individually.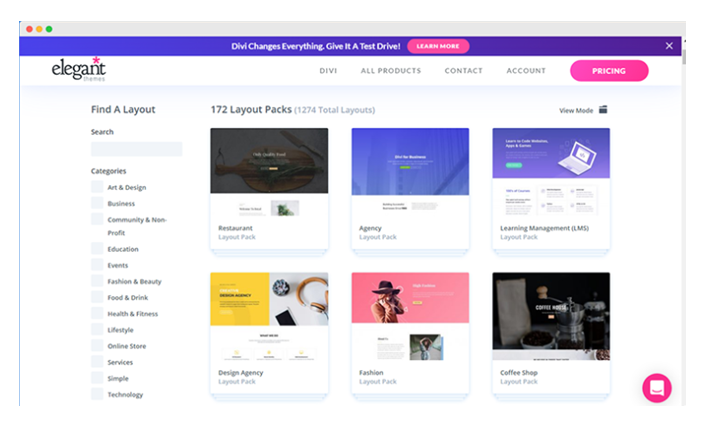 You can use search option to look for the categories of templates and use them. There are total 13 categories of templates. It will give you an option of a live demo or install on clicking any of the page templates.
UX: Astra
With Astra, users can develop the most beautiful designs without putting much time and effort.
Astra Templates: Astra offers a wide range of pre-made templates. Above all, these templates are all conversion-optimized. You need to install a Starter Template plugin to use any of this template. Activate this plugin and go to the Appearance tab.
Next, select the required and best suite page builder. On the same hand, select a pre-made template and lastly, click "Import Complete Site".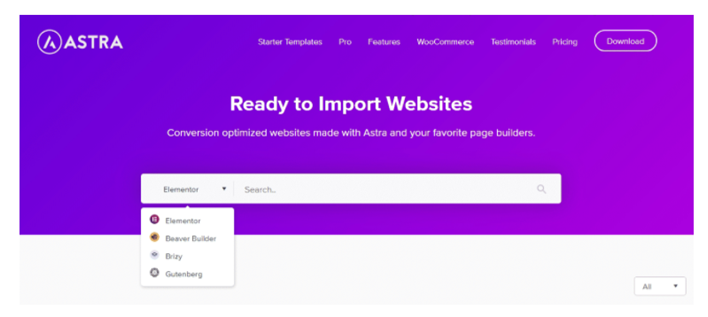 There are four page builders in the template library Gutenberg, Brizy, Beaver Builder and Elementor.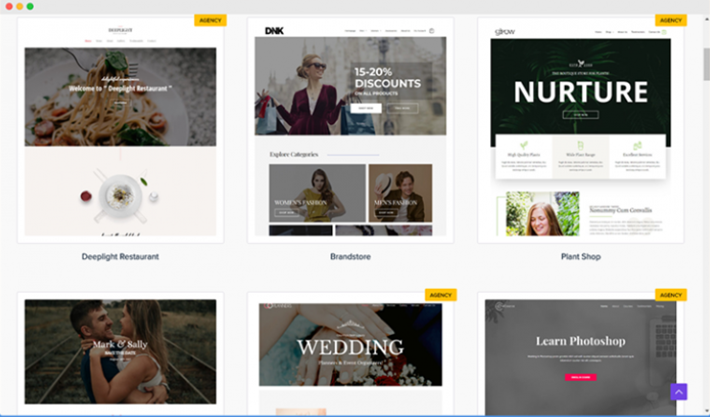 Customization options: the customization options in Astra are influences by the page builder you choose. It means that using Gutenberg will let you use Gutenberg customizations and Elementor will allow you to use Elementor customization options.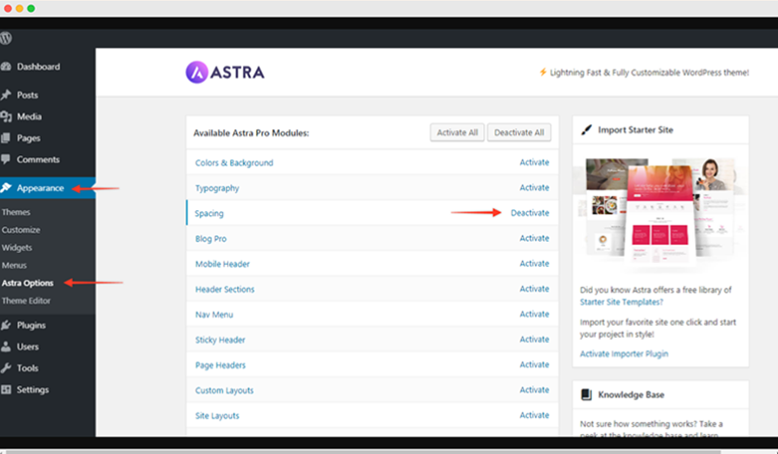 Astra appearance section allows you use basic customization options. WordPress default customizer is the best way to customize Astra. Astra theme is also customizer powered.
Divi is the winner as when it comes to beginner friendly website and layouts, Divi offers 1100+ pre-designed layouts. In addition, Divi gives you more customization options with Module customizer, Theme Customizer, theme options, and theme builder.
Page Builders
Both themes are highly customizable and have powerful drag and drop options. The page building tools offer you a chance to edit or create the pre-built content with WordPress website. the page building functionality can have different approaches with both themes.
Divi Page Builder
Divi's major feature is the page builder. As you purchase Divi, you get the page builder in the package. However, it is also available as a standalone plugin.
Divi has a WYSIWYG page builder. It has a drag and drop feature. Moreover, there are a number of column and row blocks, button, text, images, footer and header.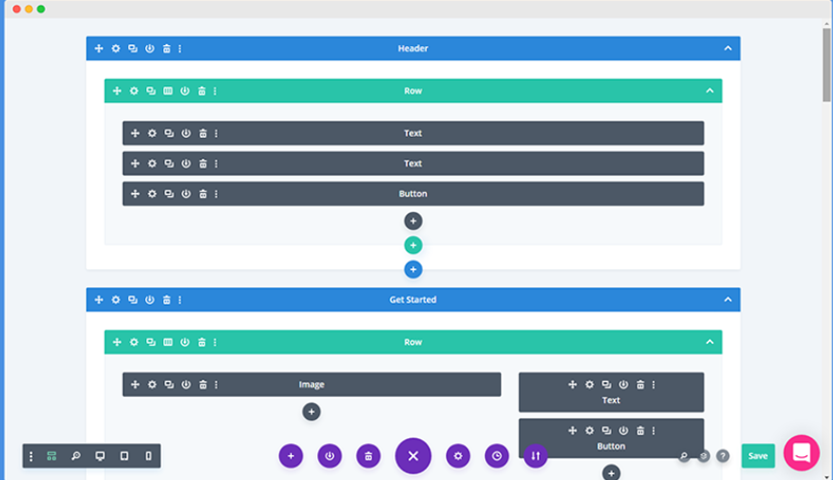 Divi offers a visual editing with which you can create a real-time design. Moreover, switching between backend and frontend displays for editing.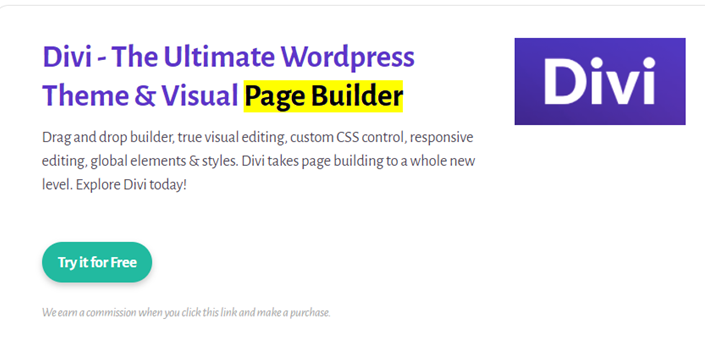 Astra Page Builder
Astra does not offer any page builder in the package. However, it has all the popular WordPress page builder options. It implies that editing Astra demo sites is easy with it along with the settings and premade templates it offers with the page builder plugins in it.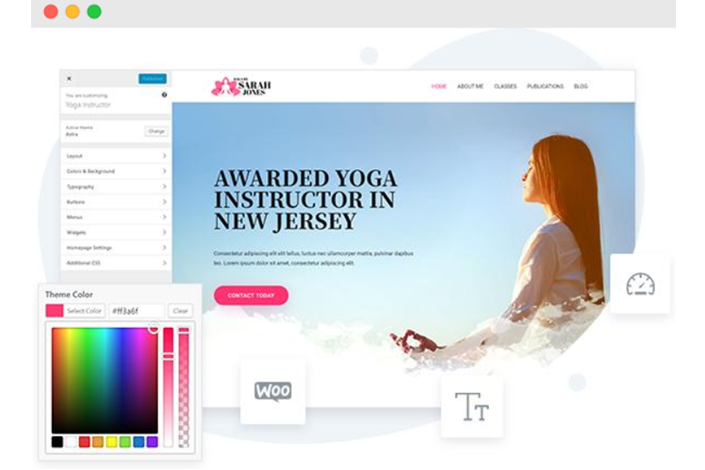 However, Astra is customizer powered. Thus, therefore, it is easy to customize it fully as well as edited with the WordPress customization options that are present under Appearance section in the dashboard.
Astra vs Divi Design
Roughly, both themes offer almost the same kind of website designs. These offer more than 100 designs and not a single page option. Above all, all the designs are easily importable with a single click. Moreover, no coding is needed.
The startup sites offered by both Astra and Divi are made to fit for the popular niches with great and modern appearance. Both can be customized well to fit for mobile displays.
Divi Design
Divi's templates and demos are highly responsive and can be customizable. It can help you customize and build mobile, tablet and desktop layouts. It is also easy to switch between the layouts according to the design of your choice.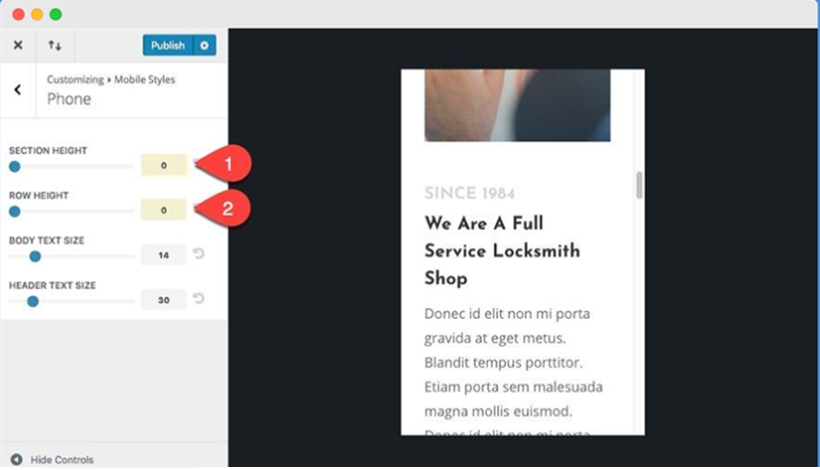 The theme customizer also lets you customize the responsive design settings. In such a way, the mobile header and body text size and measurements can be set.
Astra Design
Astra is responsive by default. The theme is highly integrated to popular page builders, therefore, settings are available for the customization.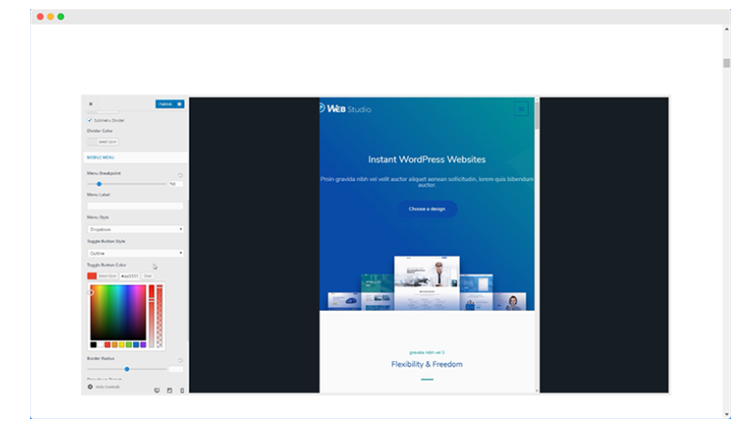 You can also set breakpoints with Astra for tablet and mobile devices. These are set by default as well for the 544px and for tablets it is set at 921px. These measurements are further adjustable with the WordPress customizer.
The designs offered by both Divi and Astra are responsive. Both are highly reliable and can be adjusted from the design settings.
Which is faster?
Speed is the most critical factor when you start to decide for a theme. Divi is quite a large size as compared to Astra which is only 50 kb. Nevertheless, the performance of the theme is not affected by its size.
Installing themes for the demo sites, we got the following results:

The test depicts that loading time of Astra is 90 ms and that of Divi is 1130 ms. Nevertheless, the cache plugins improved the loading time of Divi. It showed 756 ms from 1130 ms. Astra loaded at 500 ms after doing that.
Thus, Astra is better in terms of performance. Moreover, Astra is lightweight, therefore it is easier to create a fast-loading website with Astra.
Divi vs Astra: Conclusion
So this was the comparison we made on the basis of a few salient features of both the WordPress themes.
It is perceived that both Astra and Divi are unique and make an outstanding WordPress themes. Nevertheless, Astra is a better option.
Although, Divi offers a native builder, but Astra offers a range of top rated and most popular page builders of WordPress. It also includes Divi Builder as an option. Moreover, Astra is well-optimized, faster and lightweight.
Moreover, Astra offers more integrations than Divi. The few areas where Astra lacks, can be fulfilled using the WordPress plugins.
Astra also offers more plans with different pricing. Above all, it has a free plan too.
Both Divi and Astra offer impressive theme options. Therefore, declaring one as a final winner would be difficult. Yet, the best part is that whichever theme you will choose, it won't leave you in disappointment.

Ludjon, who co-founded Codeless, possesses a deep passion for technology and the web. With over a decade of experience in constructing websites and developing widely-used WordPress themes, Ludjon has established himself as an accomplished expert in the field.