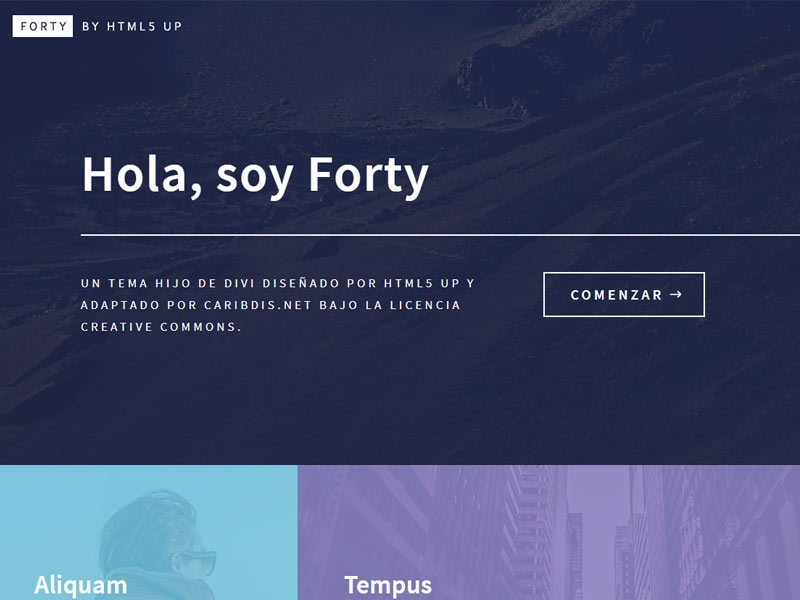 Building stunning WordPress sites has never been so easier. Today, With Divi, a standalone WordPress plugin, you can quickly select the perfect Divi child theme that well suits your website and get started with a rocking online presence.
For those who don't know, Divi is basically a premium WordPress plugin and a theme that allows marketers, developers, or non-technical folks to build websites using the drag-and-drop page builder.
Divi makes it easy for you to build a website or an MVP (minimum viable product) quickly and minimizes the need to learn and understand sophisticated HTML, CSS, or PHP coding.
Today, Divi is the biggest WordPress plugin, with over 3 million websites being built on it. There are several core aspects of web development where Divi surpasses its competitors (Divi vs Elementor or Divi vs Astra). However, one truly astounding feat of Divi is the themes it has to offer.
Let them be finance, technology, automotive, or eCommerce related. Divi has an amazing number of themes that you can leverage today to quickly and efficiently create your website. Divi has build-in themes, so technically, you never start from scratch on Divi. You can simply purchase a child theme and get started right away.
From professionally designed themes by Divi to themes available from third-party developers – you'll find tons of different ideas and creative digital representations that you can leverage for your brand.
So, since there are literally numerous Divi themes, today in this article, we'll try to cover the 17 best Divi child themes that are innovative, intuitive, engaging and above all, aesthetically designed to please your audience.
Note that these themes are not in any particular order; however, they will tell you about the marvels that Divi has pre-built for you.
The Top 12 Best Divi Child Themes of 2023
1. Luxe
Premium Divi Child Theme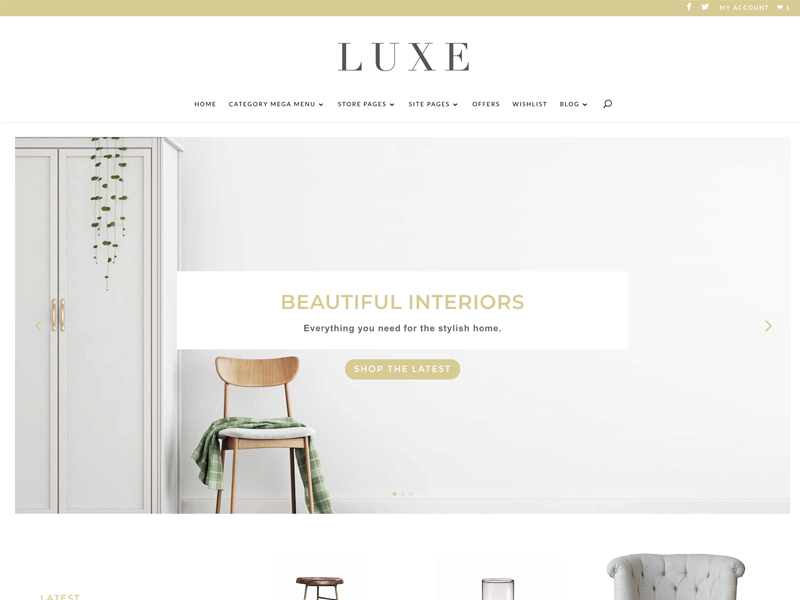 Luxe is a beautiful, elegant, simple yet powerful online store child theme from Divi. This stunning eCommerce theme comes with 20 layouts and tons of pages that you can customize according to your specific requirements.
Luxe is also an eCommerce-oriented theme. It also covers some of the most outstanding features that only an intuitive eCommerce store brings to the table. Some of these features have marketing pages, email sign-up features, a free YITH Wishlist, and thankyou pages.
The standout feature of Luxe is that it contains premium plugins such as the Divi Woo Layout Injector and the grid. Both of these premium plugins let you tailor your eCommerce store according to your brand so that it reflects the very essence of your brand.
Price: $215
2. eCommerce
Divi eCommerce Child Theme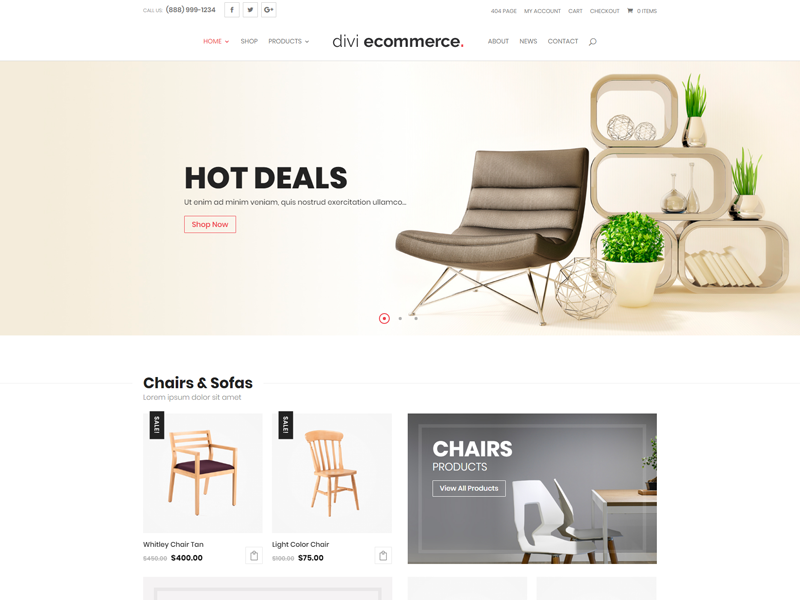 Divi eCommerce was specially designed to fit every type of business. It has the power to showcase your products in a creative way, which in turn would influence your customer's buying decision.
Being a sales-oriented platform, Divi eCommerce has several features and market trending functionalities and designs.
You get 20+ pages to customize as per your requirements. You have a countdown feature for displaying the validity of deals and offers and an email form to get you emails of your valued customers.
Moreover, Divi also has the basic features of an eCommerce store such as the sidebar, product pages (3), blog, about, contact, and other WooCommerce pages.
It includes a shop page with a custom WooCommerce sidebar, 3 product pages, breadcrumbs, vertical tabbed displays, blog, about, contact, and WooCommerce pages.
Price: $39
3. WooU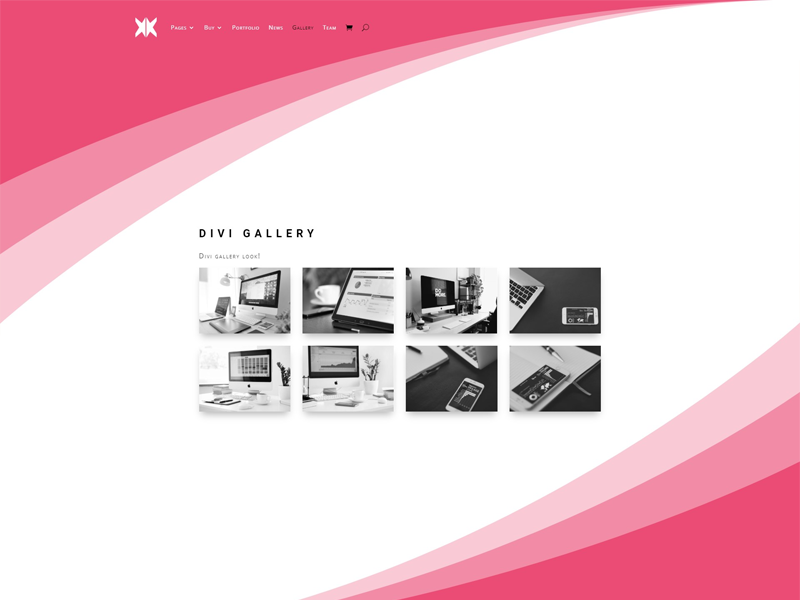 WooU is a modular theme that can be used for eCommerce or any type of business.
The unique features like layouts with elements, 20 pages that include services, the home page, product page, modals, support, tools, pricing page, and many others are some of the reasons why WooU is on this list.
Moreover, you can style these pages the way you want. The WooU also comes with several plugins such as Gdo-Modal, Gdo-Product, Flex-Gallery, Flex-Projects, and many others just to make your product and website standout.
You can also add animations to your website to make it even more engaging. Additionally, WooU also has the famous Ken Burns effect that makes your product or business images standout.
You also get several different types of files with WooU, such as Social media icons, SVG image files, PNG Logo, and others.
Price: $59
4. Fashion
Divi Fashion Child Theme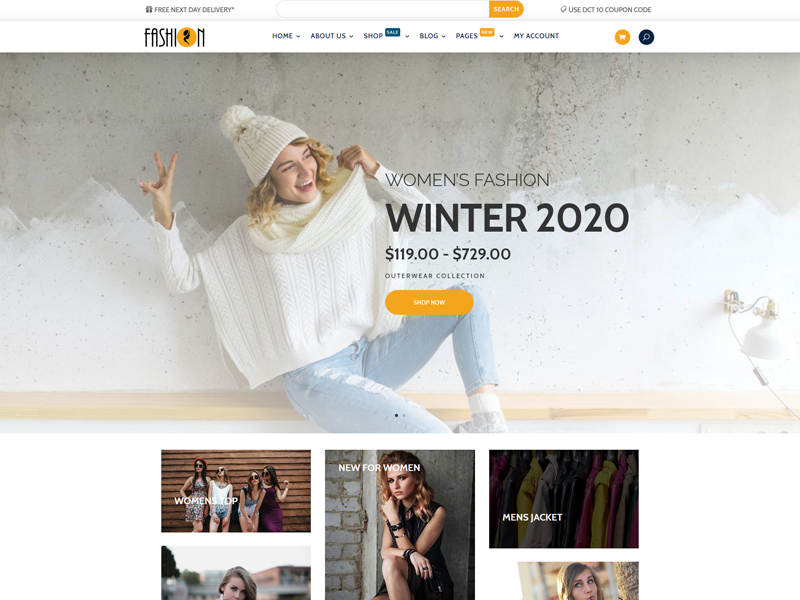 Does your business belong to the fashion industry? If it does, then the Divi Fashion shop is just what you need to get your online presence rolling with immense sales and conversions.
This theme from Divi consist of a sleek and powerful design hardwired with all the necessary features and specs to impact and excite your audience.
With 5 home pages, 3 shop pages, 3 product pages, and several other facilities – this theme from Divi becomes a perfect choice for startups and well-established brands.
Moreover, the fashion theme is also designed for multipurpose, which means it can be customized to become a landing page or a single-page website depending on your specific requirements.
Price: $59.9
5. Photography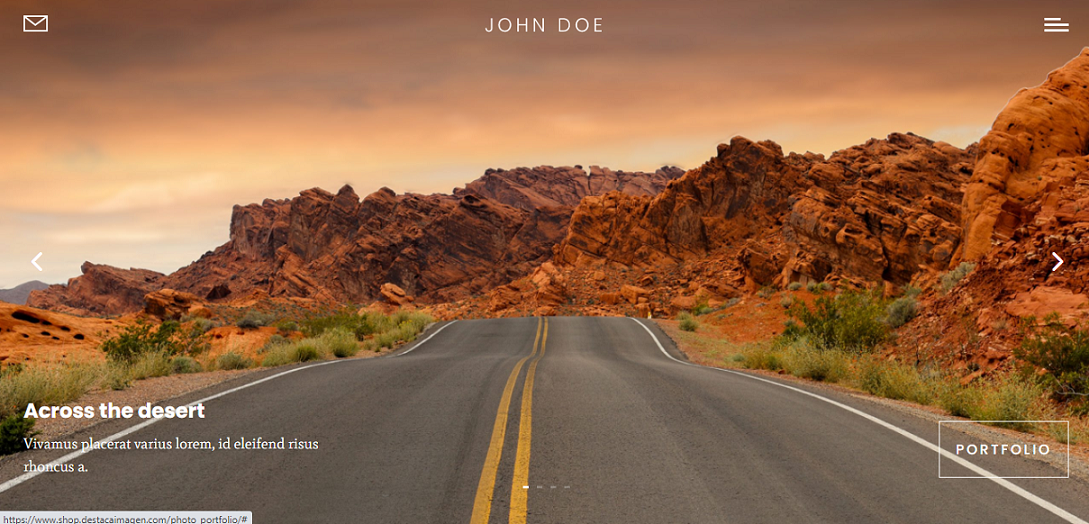 If photography is something that you're good at, then the Divi photography child theme is what you need to get your online presence rolling in no time.
From 103+ modernized customizable themes and layouts, you can quickly get your site developed.
With features like appointment booking and contact form signup, you can reflect your business's professionalism within your website.
Some other marvelous theme features include light and dark options, fully integrated cart, account, product, widget, archive and checkout, image sliders, and product carousels.
You also get a dynamic search functionality, photography blogging page style, and 300+ icons specific to the photography industry.
The standout feature of Divi Photography? It is the LifterLMS that allows you to create and sell online courses. In short, you can also sell e-learning membership packages.
Price: $39
6. Avanti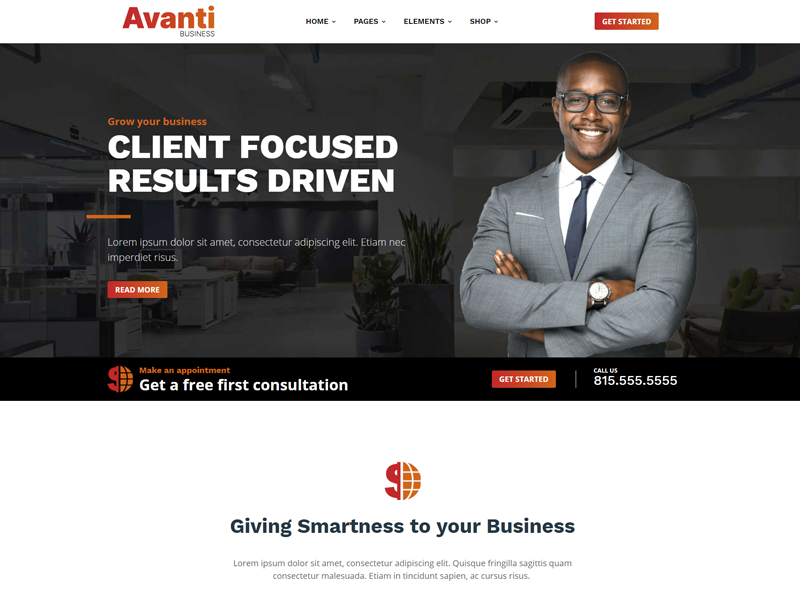 Another multipurpose Divi child theme that can be used for several purposes. Marketers love this theme because of its usage. The theme can be customized to be a marketing page, a landing page, an entire website, or an MVP (minimum viable product).
Also, this theme gets seamlessly integrated with WooCommerce, which further gives it a technical advantage in terms of features and functionalities.
Moreover, some features of this feature-rich child theme include 7 different niches, 4 headers and footers that can be customized, 8 stunning home pages, and a Kenburns effect to make the images on your website pop.
Price: $49
7. Atelier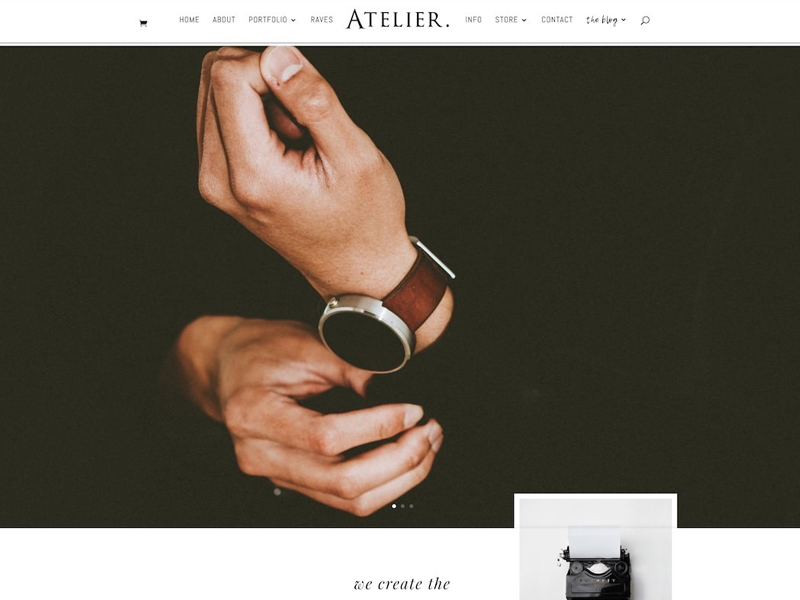 With numerous ways to showcase a product – Atelier stands out in terms of being the best child theme for photographers, marketers, and eCommerce stores.
The monochrome palette and free available Google fonts are an amazing way to get started with a rocking website for your brand.
The Atelier child theme is especially here because of its convenience and ease of use. The theme lets you create a custom-tailored website that matches your brand perfectly.
Moreover, some other website features include 16 layouts, 3 gallery styles, sliders, 2 blog pages, WooCommerce store area (optional), extensive support and installation guide, and much more.
Price: $165
8. Cart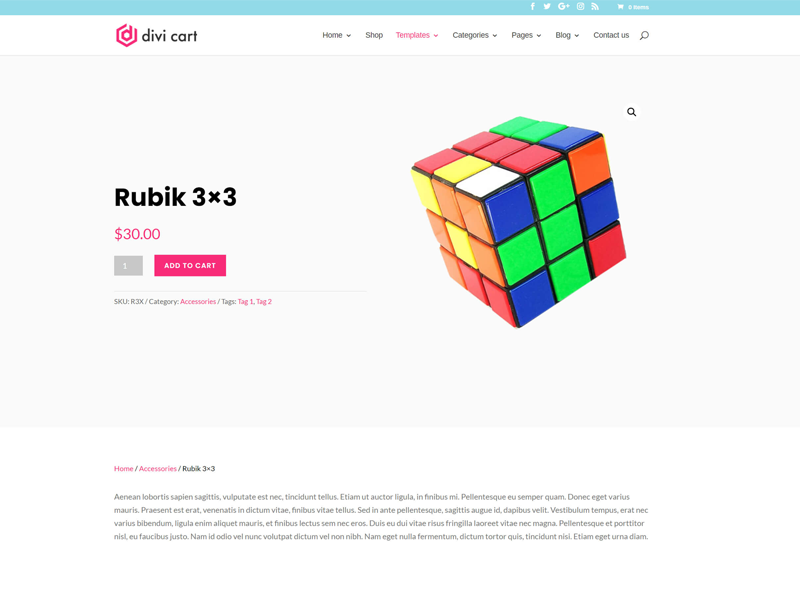 Divi Cart is a feature-packed theme bound to showcase your product in the most creative and modernized way.
The distraction-free theme has many potentials to catch your audience's attention. Also, the Divi Cart makes conversions and sales easier for your brand and marketing efforts.
Whether you're creating an online store for fashion, jewelry, or electronics – the Divi Cart has got you covered for multiple kinds of products.
Also, since there are several eCommerce stores out there, you need something different for your store so that your audience can think of you as an innovative store.
More features of the Divi Cart include demo content, 5 homepage layouts, 5 different product pages, and blog pages.
Price: $39
9. LMS for LearnDash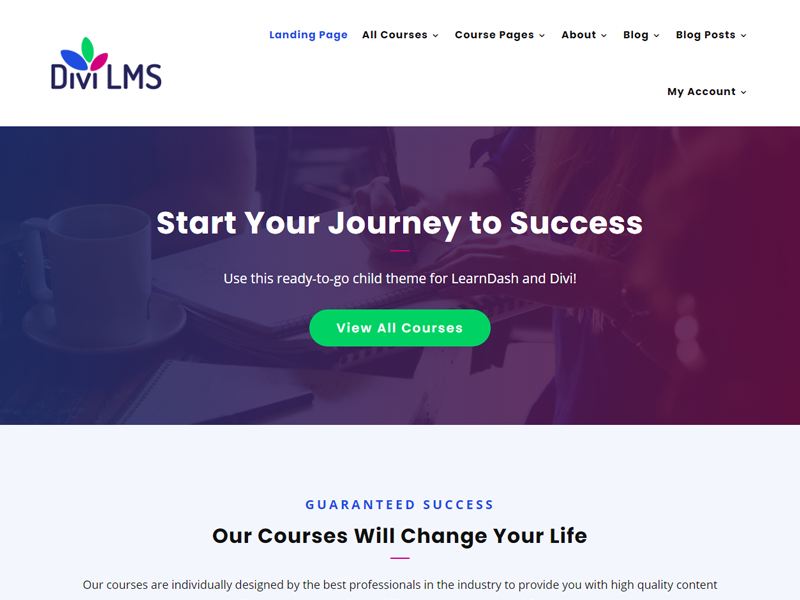 The world is moving towards eLearning. It is about time you get started on building an innovative and inspiring Learning site. So, how can you do that? Well, with the Divi LMS for LearnDash off-course.
This amazing theme for WordPress allows you to set up your learning site in minutes and get you started selling courses and making money in no time.
This theme literally covers all the aspects of a truly stunning sight, from custom styling to stylish layouts to highly customizable representations. Additionally, with a quite feasible price tag – you'll be quite amazing at the features this Divi Child theme has for you.
Moreover, you can easily import content, add colors and layouts from the demo to your WordPress site with just one click. Also, leveraging the Divi Builder will enable you to edit literally every aspect of your site.
Additionally, this theme comes with 5-course grids, 6-course pages, lesson pages, profile pages, FAQ pages, and much more, so you never have to worry about adding anything from anywhere else.
Price: $65
10. Business Pro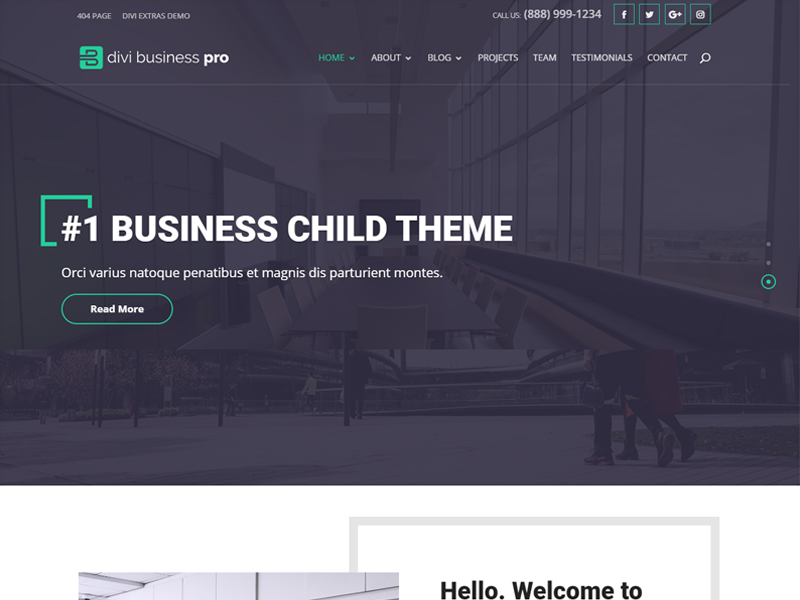 As the name suggests, this Divi Child Theme is designed to fit your business perfectly and give it a more impactful and appealing look in the digital world.
The Divi Business Pro is packed with the most intuitive features along with attractive and eye-catching visuals. The whole concept behind this theme is to make your business memorable and your customers amazed.
The conversion-oriented striking visuals and customization options like color palette, bold typography, hover styles, opacity editing, and much more make the theme appealing by all means.
There are also some premium features that you get when you buy this spectacular theme.
Some other features that come with the Divi Business Pro include a testimonial page to convey a positive message to your customers, archive pages, sidebar elements, and hover animations.
The theme also gives you a beautiful project carousel, an option to showcase your client's logos, and an impactful footer that leaves an everlasting impression on your clients.
Price: $39
11. Classic Agency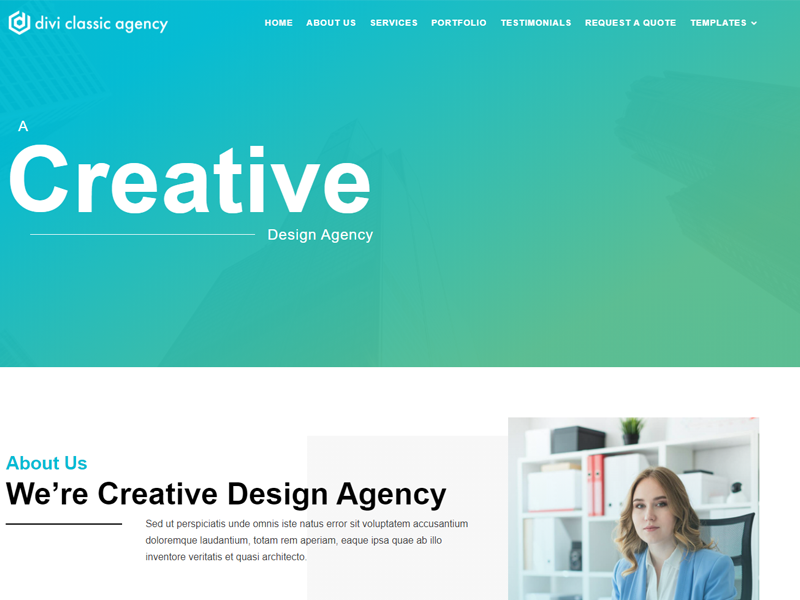 Divi Classic Agency theme represents your agency in the most credible and reliable way. Since gaining customer's trust is imperative in the digital world, this specific theme lets you do just that in a very engaging and professional way.
It has a more modernized look that takes control of your customer's attention and diverts it to your service or product. Also, this child theme is super light so, site speed and faster loading are ensured.
With multiple customization options and features, this child theme is the perfect choice for entrepreneurs who are looking to skyrocket their growth while on a budget.
Moreover, Divi Classic Agency comes with multiple footers, blog pages, archive layouts, and headers that you can select according to your business to make your online presence look bold and beautiful.
If you're not the customization type of guy? You can select the premade multiple pages within the theme to create a site for your agency.
The theme gives you a homepage with the most vital sections included, an about us page, the team page, services section, portfolio page, contact us page, and testimonials to leave a positive impression on your clients.
Price: $29
12. Digital Agency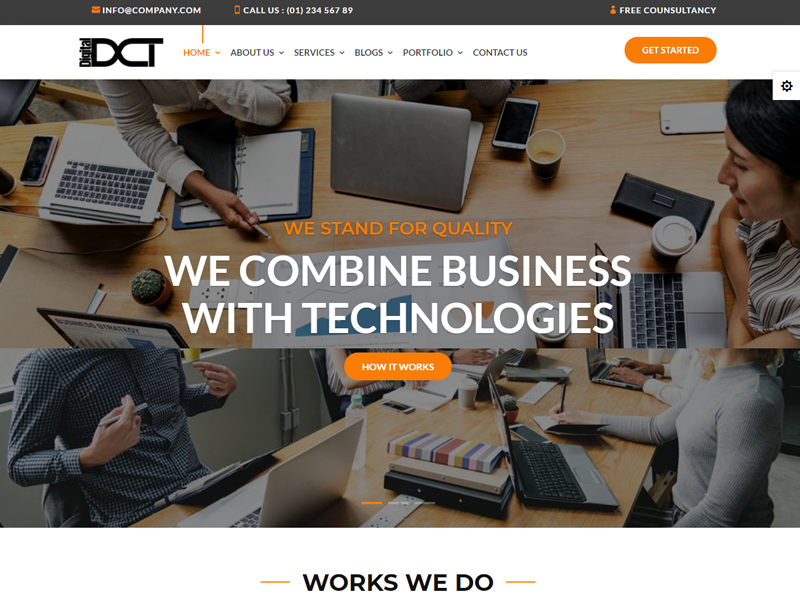 The most magical ingredients that your digital agency's site should have are modern looks, bright colors, and impactful presentation, and the Divi Digital Agency theme has got it ready for you to get started.
This spectacularly professional theme has a bring and modern look that attracts the audience into its aura of positivity. The theme is specifically designed for digital agencies, studios, and consultancy providers.
Technology can be leveraged to boost management, organization's growth, and scalability – the Divi Digital Agency child theme showcases the same benefits through its innovative design.
There are creative headers, stunning footers that are even mobile responsive, service pages, amazing banners, bold colors, and the facility to edit and customize your site makes the overall experience even more engaging.
So, if you want to ensure a goal crushing performance of your brand online – just select this theme and get going in no time with certainly no hassle-full coding.
Price: $59.99
What Are The Best Free Divi Child Themes?
1. Altitude – Free Divi Child Theme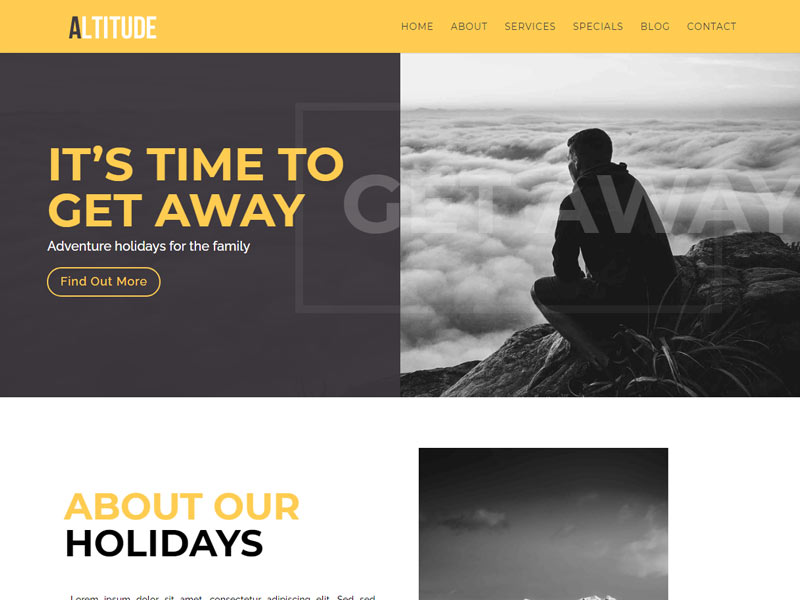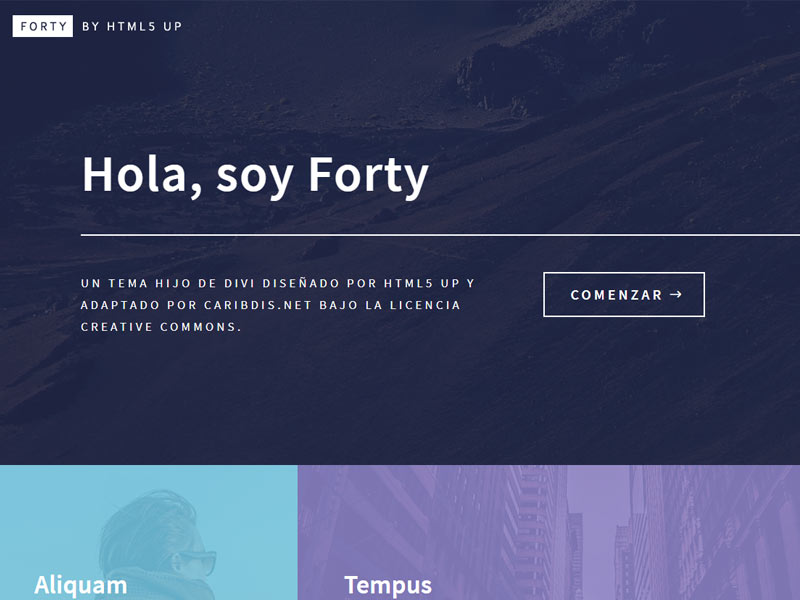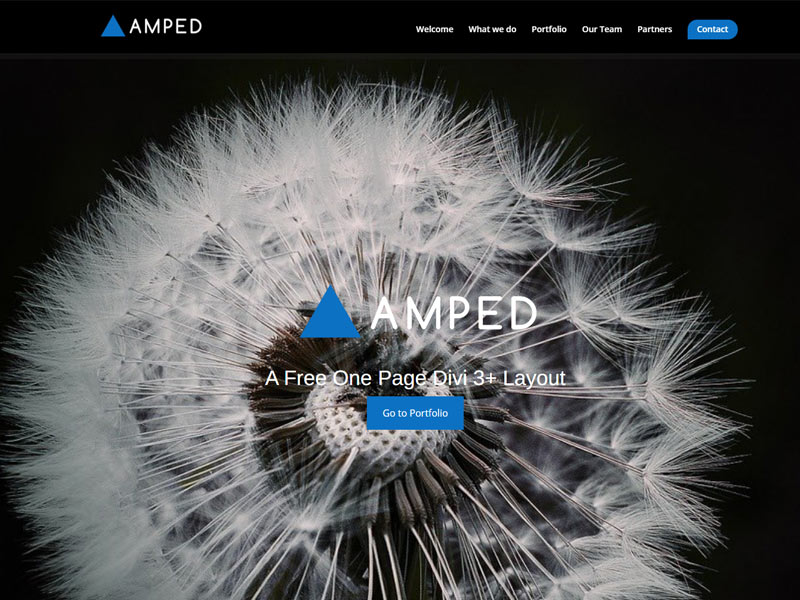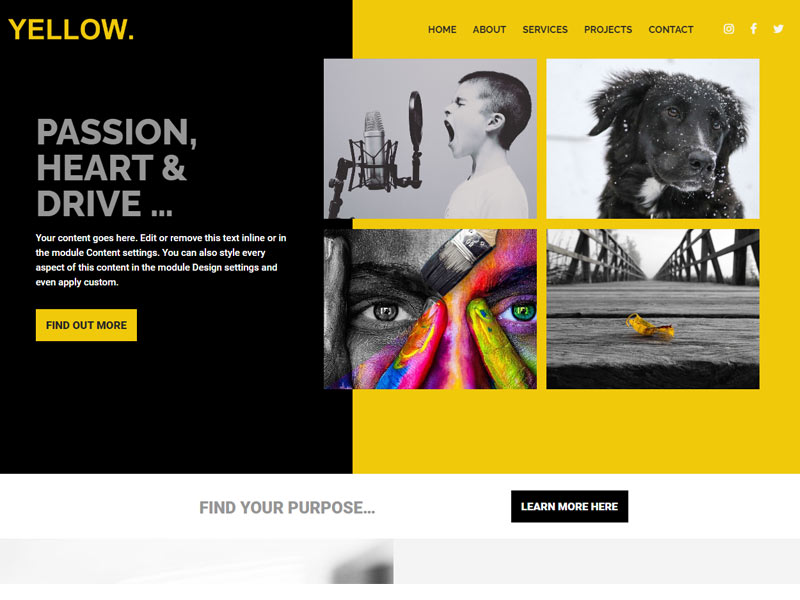 Divi Child Themes FAQs
Should I use a child theme with Divi?
No, generally a child theme is not required with Divi. Especially, if you are just making changes to settings or customizing CSS to Divi theme options or builder, Divi does not need a child theme. However, a child theme lets you update the Divi theme as soon as it is updated with Elegant Themes. Therefore, your edits remain safe even after Elegant Themes update the parent Divi theme. This child theme will let your edits be safe with the design and functionality of the site without even touching the Divi theme.
How do you upload a child theme to Divi?
It includes the creation of two files; functions.php and style.css. The former links the child theme to the parent Divi theme while the latter provides you space to keep your CSS edits. These files are stored in a folder with the child theme which is uploaded and zipped with the appearance>themes. It is similar to the process of uploading the Divi theme. Even after uploading a child theme, nothing happens to your webpage because it is still a blank child theme.
What is the difference between a WordPress theme and a child theme?
A parent theme is basically a standalone theme that is independent of any other theme. Moreover, a parent theme is entirely functional without any other outside feature from any other theme. On the other hand, a child theme does not function alone. It needs a parent theme to work. The child theme also inherits functionalities from a parent theme. However, although a child theme is inherent in a parent theme, it can enhance additional styling or functionality to the parent theme. Yet, it does not affect or change a parent theme.
Final Thoughts
That's all, folks!
Here is the comprehensive list of the best Divi child themes that you can leverage to get your marketing or landing pages started in no time.
These themes also include a lot of different options, features, specifications, and styling options for you to work on to get the most out of your website-creating efforts.
Several of the themes mentioned above also include premium features to make your website even more intuitive.
Moreover, because an MVP is always better than starting with maximum investment – these themes will prove to be much more than just fine for your business.

Ludjon, who co-founded Codeless, possesses a deep passion for technology and the web. With over a decade of experience in constructing websites and developing widely-used WordPress themes, Ludjon has established himself as an accomplished expert in the field.