Web creators are always looking for ideas to create a perfect website for their products. Elementor helps them in maintaining a nice and highly secure website. The reason that this platform is famous in the market is because of its open-source ecosystem. It also helps in securing a built-in transparent platform for your online business.
Elementor platform provides amazing features for the designing and customization of your websites. With the help of its excellent new hosting services, you can easily create a solid presence for your websites. The best thing about Elementor is that it owns almost 7.1% of the world's best websites.
With the help of Elementor, you can also amaze your target audience. Many companies are using Elementor Cloud hosting because of the cloud-based features. There are many reasons for utilizing the services of this hosting platform.
If you want to get benefits from the integration features and many other qualities of cloud-based hosting and Elementor builder, you must use Elementor Cloud.
To help our readers we are giving a detailed review of this platform to let you decide if you want to get started with Elementor Cloud hosting. Following is a detailed description and features along with its pros and cons.
What is Elementor Cloud?
Elementor Cloud is an all-in-one cloud-based solution to build WordPress websites. According to professionals, Elementor is going to be the future of WordPress hosting. They are using Google Cloud services for their cloud-based hosting services.
In other words, you can use this tool for hosting a WordPress website. For web creators, it has made things a lot easier. They can easily create designs and manage their websites from this service. There are multiple choices available for the plugins and dashboards that can be easily managed.
The best feature of this tool is that you can also do the customization of your website without worrying about anything.
This can be easily availed by selecting the plan for the Elementor Cloud that suits your budget and going for it. You can easily install the plugins and WordPress on it.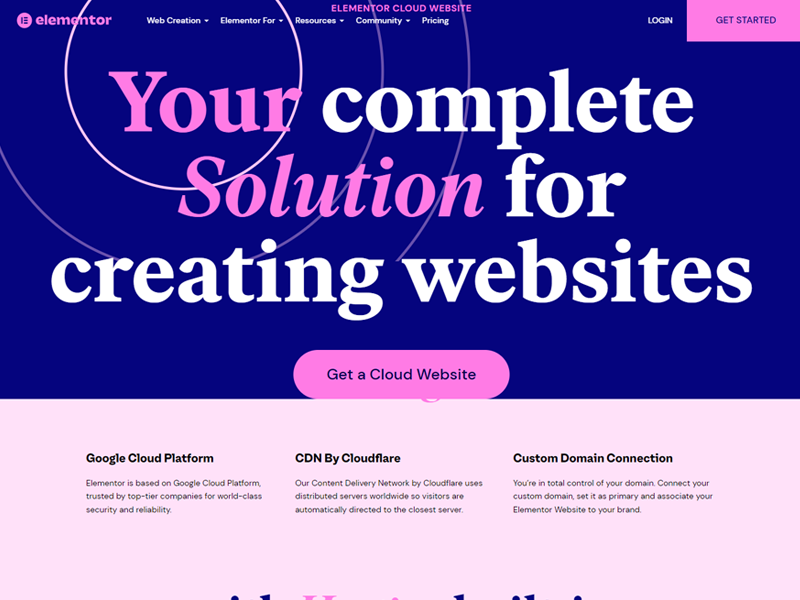 There are many things about this platform that make it distinctive and the best of others. For instance, you will have access to the already installed Elementor Pro plugin. There are also no hidden charges for some basic features and all kinds of business setups can easily rely on this tool.
You will not have to suffer from the stress of buying and registering a domain when you will have an all-in-one solution for it. If you want to know more about the features of this hosting service we are here to help you.
Following is a detailed review of Elementor Cloud's top features.
Elementor Cloud Website: Top Features Review
Following are the main features of this hosting service that are getting all the fame.
1. Elementor Pro included for free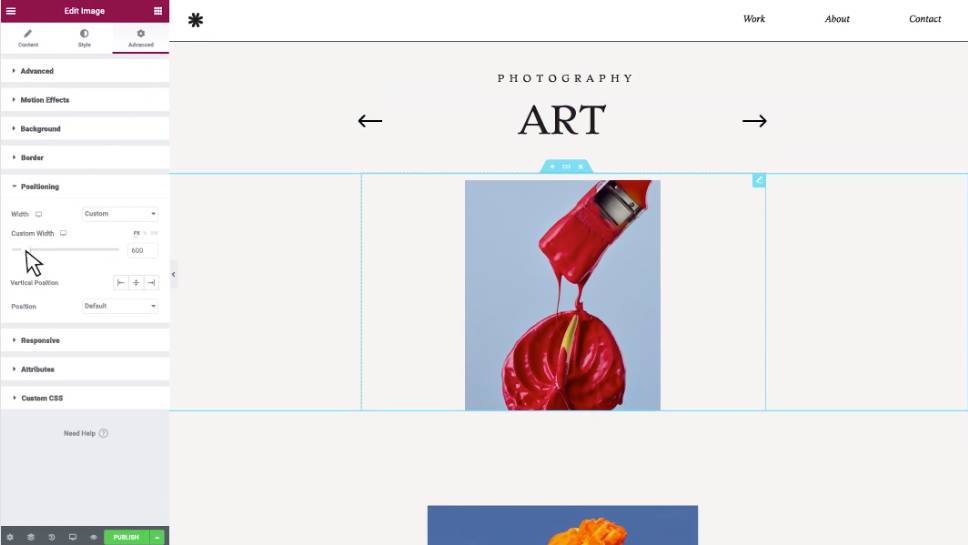 When using Elementor Cloud you will have the benefit of getting your hands on the pro plugins that are pre-installed in this hosting service. This means that you will not have to go through the stress of adding the plugins when you can easily use the already installed ones.
With the help of this plugin, you can customize your website as well. You can improve your website easily with the advanced features of Elementor Pro. Experts are in favor of using this service because you can get your hands on the plugins for free which will usually cost you $49.
2. Quick setup
The best feature of using Elementor cloud is that you will not have to wait for an eternity to set up the hosting. The presence of an instant hosting setup option will help you use this site effectively. It is a common observation that hosting services are usually slow and they can make you wait for a long time.
Once you have selected the plan you want for your website and purchased it you just need to add the necessary information and everything will be set up for you on its own. You will have access to the Elementor templates, plugins and much more.
3. Free SSL certificate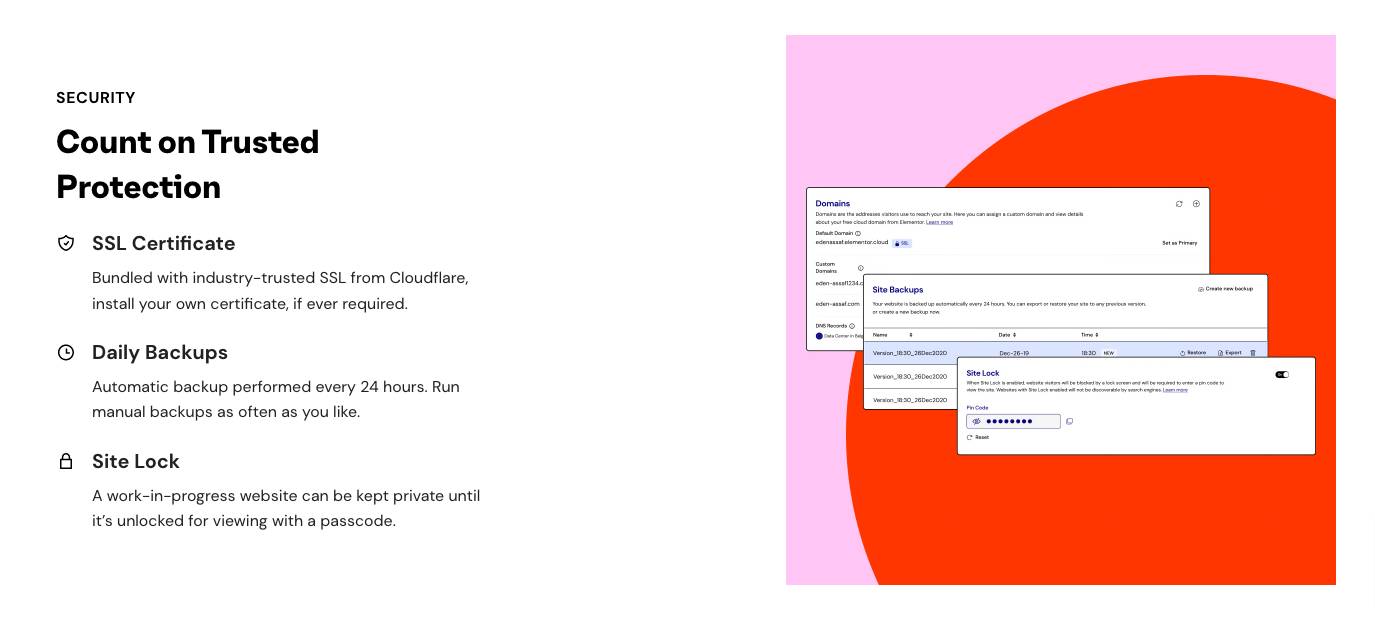 It is a common concern of web creators that their hosting services must be coming with SSL certificates. This is because websites are vulnerable to the threats of data hacking and related issues. When using Elementor Cloud you will be free from all the stress.
The reason lies in having a free SSL certificate for this hosting service. There is a pre-installed certification that is completely free of cost. You can easily add an extra layer of security to your website by using this service.
4. Free CDN
When using Elementor Cloud you will have easy access to the content delivery system. With the help of this tool, you can improve the experience of the users coming to your website. The uploading of the content and the overall experience becomes easy to improve.
Customers love visiting a website that helps them easily get access to the content. They don't like to stay on websites where the content takes forever to connect.
Elementor Cloud is also powered by Cloudflare and it is available for free.
5. Amazing storage
When it comes to the storage of the website you will be amazed to know that Elementor allows you to store 20GB of data. This amount of data is enough to improve the value of content.
You can also choose different plans to see if they suit your business and benefit from them. The safety of your data will already be secured because of the SSL certificate.
6. Bandwidth and monthly visits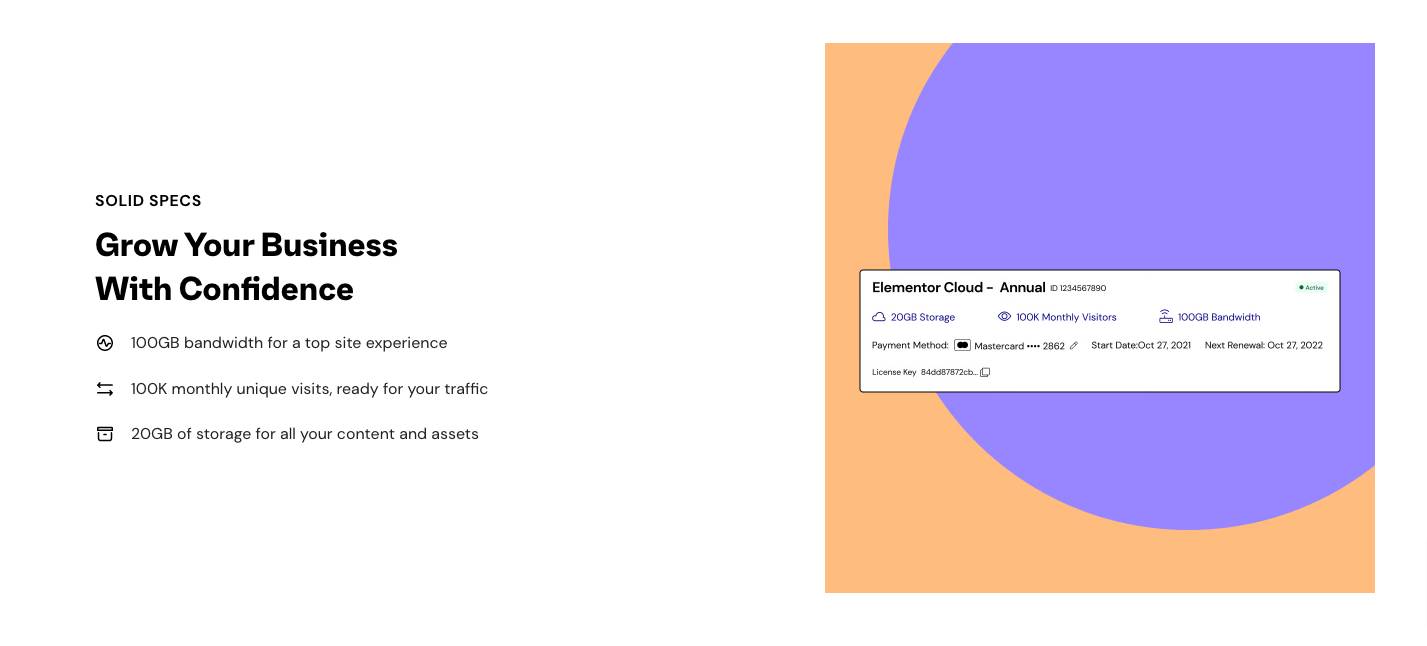 For hosting services it matters a lot what kind of bandwidth and monthly visits they are offering. It is necessary for showing the worth of your products. Usually, it is seen that the speed of the server of the website slows down because of the traffic.
The most amazing thing about Elementor Cloud is that you can easily rely on this for giving your audience a great experience. This service offers a bandwidth of 100GB. With the help of this bandwidth, you can easily focus on other things.
The speed of your server will not be slowing down anymore. Another advantage that you can get by using it is that your website can easily manage 100k visits on your website. This will also increase the business revenue of your website.
7. Free subdomains
Elementor Cloud also facilitates its customers by giving them the options for free subdomains. With the help of these sub-domains, you can register your website without needing to get a domain name, especially if you are just testing around. This is a helpful option for small businesses.
8. Options for automatic backup
Another important feature is that you will have the option of doing automatic backups. You can easily store your data and keep on having backups.
There are two types of backups available when using this platform. You can choose from the day and night backup options. The storage time of these backups is 14 days. For meeting your requirements you can also use the manual backup option.
Pros and Cons of Elementor Cloud Hosting
Following are some of the advantages and disadvantages of using this service.
Pros of Elementor Cloud Hosting:
The best advantage of using this cloud hosting service is its cost-effectivity. It doesn't matter if you are an upscale business or a small startup you can easily purchase this service. There are no hidden charges or fees for any feature.
Full access to Elementor Pro features.
To improve the efficiency of your website you will also have the pre-installed WordPress plugins. This will save you time and also facilitate your customers
You can get live chat support every time.
You will also have an instant website setup without waiting for too long.
Another advantage of using this website is that you will have a free SSL certificate. The data and important information on your website will be free from all threats.
You can also use the options for domain integration along with the customization option.
Both manual and automatic backups are available and you can plan them as well according to your needs.
The interface of this website is user-friendly and you can easily increase the number of monthly visits to generate better revenue for your business.
The presence of a free CDN will improve the content of loading speed.
Cons of Elementor Cloud Hosting:
if you are looking for a hosting service that will give you more than 100k monthly visits then this does not have enough traffic volume.
Only certain types of allowed plugins can be installed and you will have to face restrictions for many.
You will not be able to install the plugins of competitors and only a limited number of plugins are available.
Elementor Cloud Pricing
When it comes to the pricing of Elementor website hosting you will be happy to know that they offer a 30-day money-back guarantee.
If you are having trouble using this website you will get a refund easily. There is no option available for the free trial. There is an option for customizing your plan according to the service you are taking.
The most common plan that is famous among the customers is the point that consists of a 30-day money-back guarantee and you have to pay $99 per year for this plan. With the help of this plan, you can get the hosting services and the options for drag and drop editor along with the CMS tools. It will also give you access to the custom themes.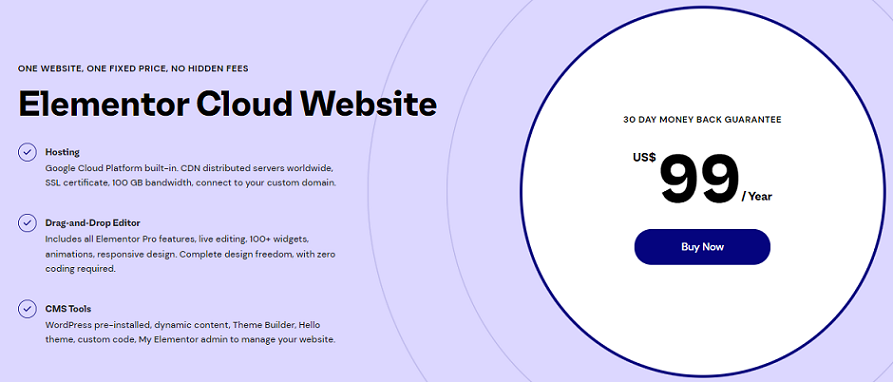 Elementor Cloud Hosting FAQs
Do we have access to Elementor pro? 
Absolutely yes when you are getting the annual subscription you will have access to the pro features of the Elementor cloud website.
Can beginners use the Elementor Cloud Website? 
It is the best choice for beginners and startups as there is an option of drag and drops editor. The interface of this hosting service is friendly and everyone can use it easily. 
Are there any hidden charges? 
There are no hidden charges on additional fees except the annual subscription fees. 
How many Elementor Cloud Websites can I buy? 
You can easily buy more than one elemental cloud website. You will just need to get the new subscription for the new website. 
Conclusion
Elementor Cloud website hosting services are famous in the market. There are many reasons customers like to buy this service. The affordable pricing of this hosting makes it easier for all kinds of businesses to purchase it. SSL certificate may show that there is no security threat to your website and data.
You can also choose the pricing plan that suits your budget. If you want to have a reliable hosting service you can use this cloud platform.

Ludjon, who co-founded Codeless, possesses a deep passion for technology and the web. With over a decade of experience in constructing websites and developing widely-used WordPress themes, Ludjon has established himself as an accomplished expert in the field.