Are you looking for free minimalist WordPress themes in 2023?
Minimalist themes are just incredibly engaging and powerful. With aesthetically pleasing visuals and a focused orientation, minimal WordPress theme keep the user's attention in control.
There are hundreds of minimalist themes out there, so selecting the best one out of these themes can be a hassle-full process, let alone developing and customizing it.
This is the top minimalist WordPress theme that is lightweight and also helps you with your WordPress website speed. All theme are compatible with all visual builder that are easy to manage.
And this is exactly why I'm writing this blog. Today, we're going to discuss some of the best free minimal WordPress themes, their specifications and features, and their cost.
In a nutshell, this blog is a round-up of some of the best minimalist themes that you can choose for your business to rock your online presence. Because 455,000,000+ websites using WordPress in this era. So, without any further ado – let's start.
The Top 10 Best Free Minimal WordPress Themes of 2023
The 10 best free minimalist WordPress themes that I've selected are purely based on their simplicity and presentation. These themes display some of the most necessary website elements, like the content, few images, and features.
These minimalist WordPress themes are all set to deliver an uncluttered and delighting experience to your customer. Note that this list is in no specific order so, let's start discussing the best minimalistic WordPress themes.
Here are my top picks for the Best Free Minimalist WordPress Themes: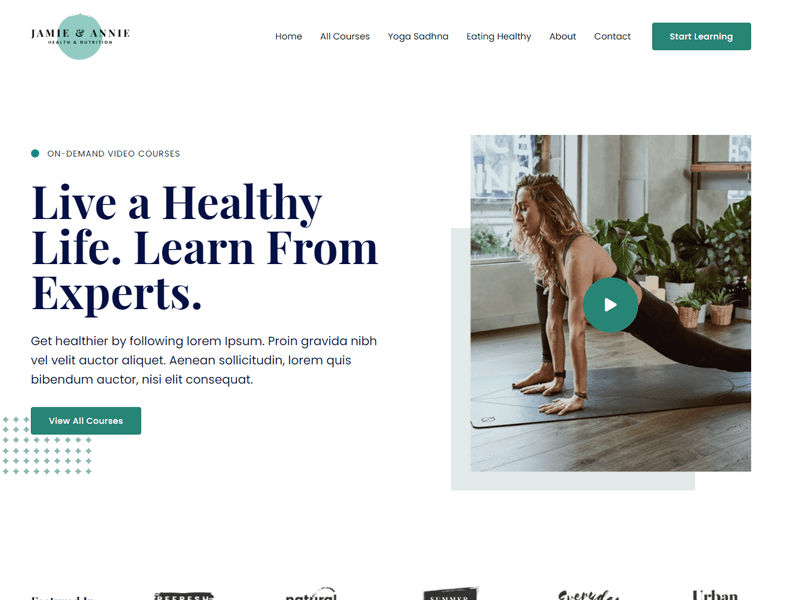 It is as convenient as they come. Astra free minimalist WordPress theme comes with a super-customizable orientation. Also, being lightweight enables Astra to be faster than other WordPress themes.
The flexibility, power, and more feasibility of the theme gives you a competitive advantage in the digital world.
By choosing Astra, you ensure high-speed for your site; plus, with the visual theme customized, you can easily customize the theme quickly as per your requirements.
Moreover, it a fully optimized for performance, and it takes less than 0.5 seconds to load. Since Astra utilizes Vanilla JavaScript, jQuery is unable to affect the performance of it.
Astra is also using default WordPress data. This feature enables Astra to follow the best coding standards to ensure that every piece of the code is optimized to perform amazingly well. Oh, and did I mention that Astra is also SEO friendly? Well, it is. Some other features of this theme are as followed:
No jQuery
Loads in just half a second!
Less than 50 kb
Optimized code
Customize without code
Pre-built websites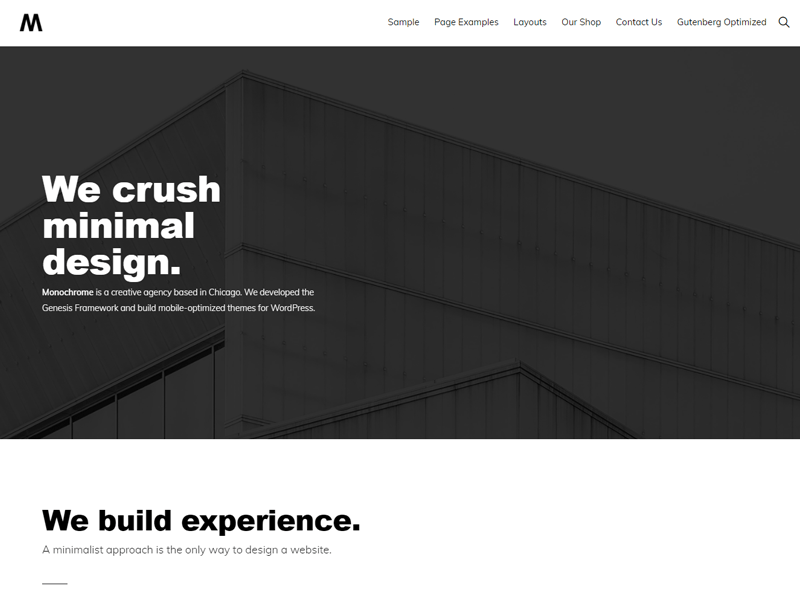 Ever heard of a minimalist WordPress theme that comes with free WordPress hosting? Well, the Monochrome minimal theme does. Monochrome offers a substantial and simple design along with a stunning representation.
However, the main difference is the sleek typography and minimal design representation that this great theme has. All of the features of this theme are bound to make your website look stunning and powerful.
Moreover, the theme show genesis-powered. There's a block editor integrated within the theme to make customization and editing look easier and seamless. You can use this theme for running an eCommerce store.
The one-click theme setting up option lets you integrate plugins, demo content, and Gutenberg blocks quickly. The theme is also optimized to perform amazingly well on mobile devices and different screen sizes.
This minimal WordPress theme is supported by an entire community of developers who are always there to solve your queries. Some other features of this theme are as followed:
Ecommerce support
Mobile responsive
One-click theme setup
Genesis framework
Gutenberg block editor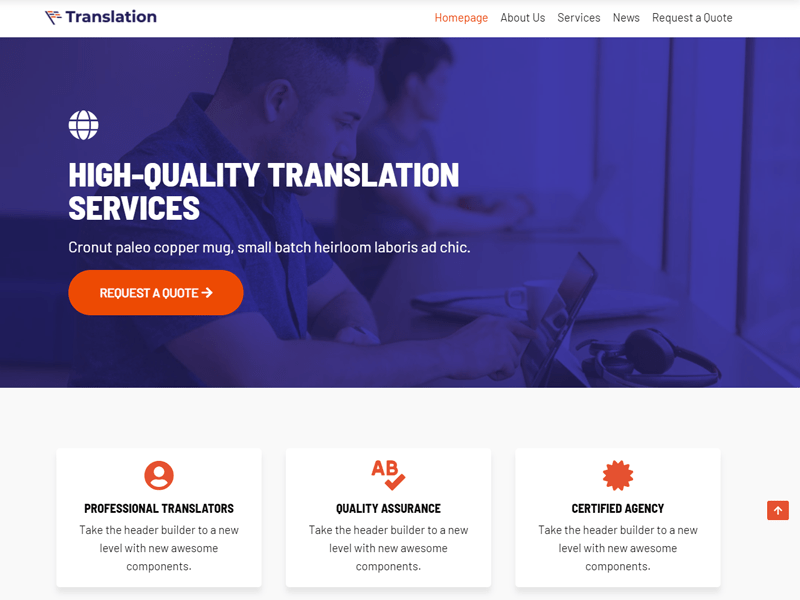 Neve's standout feature is its compatibility with perhaps the new and more modernized device that people use to access the internet nowadays, and you guessed it right "Smartphones."
The compatibility with AMP and product page builders makes this theme a kind and easily customizable, and accessible for everyone. Even non-technical folks can easily manage and create a website using this minimal theme.
I suggest this theme especially for corporate businesses that require a fast, reliable, and mighty website that is all set to perform under various conditions.
If we take SEO perspective into consideration, Google loves a fast and responsive site, and these two traits are hardwired within Neve. In a nutshell, Neve is all about performance and features.
There are several tests made on Neve, and on average, Neve took only 0.6s to load, which is super-impressive, and this quick loading doesn't sacrifice the flexibility so, here's another outstanding minimalist theme for you. Some other features of this theme are as followed:
Accessibility Ready
100 Speed Grade
Loads in Less than 1 Second
Reduced Weight
AMP compatibility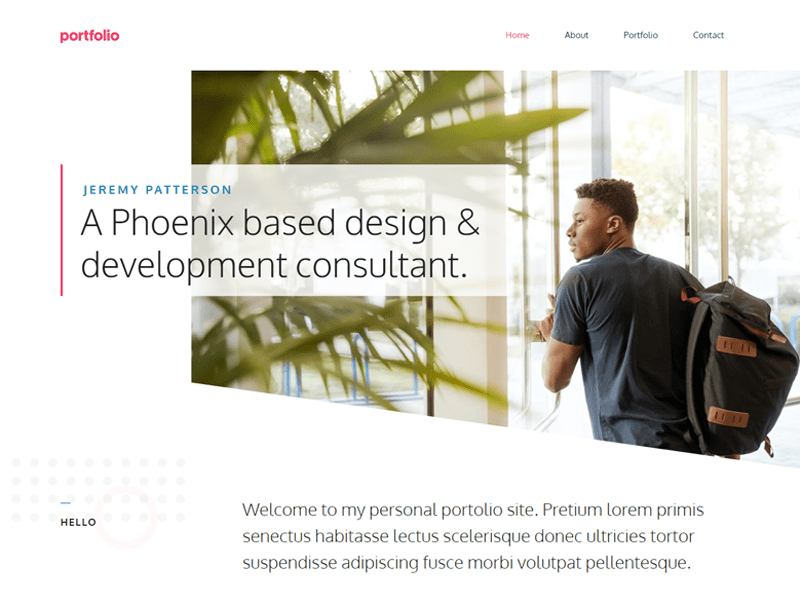 It is another perfect, lightweight, and performance-oriented theme for your business. GeneratePress becomes the most stable, reliable, and modernized feature-packed theme on par with the latest coding standards.
This stunning WordPress theme has also been reviewed by some of the best WordPress professionals and is deemed as one of the most feature-packed WordPress themes.
Let it be speed, security, accessibility, or usability, Generate Press has got it all covered for you.
Considering the fact that an MVP (Minimum viable product) is the best option to start your business with, this minimal WordPress theme is perfect, in my opinion, to get started with your business.
Moreover, since speed is considered a crucial aspect of every website, with less than 10kb installs to your page size, GeneratePress ensures super speed and reliability. It also gives you full control of your website.
You can control the theme, colors, typography through the customized plus. The premium version of the theme gives you more styling and representation options. Some other features of this theme are as followed:
Secure & stable
Top-tier speeds
No dependencies
Colors & typography
Layout control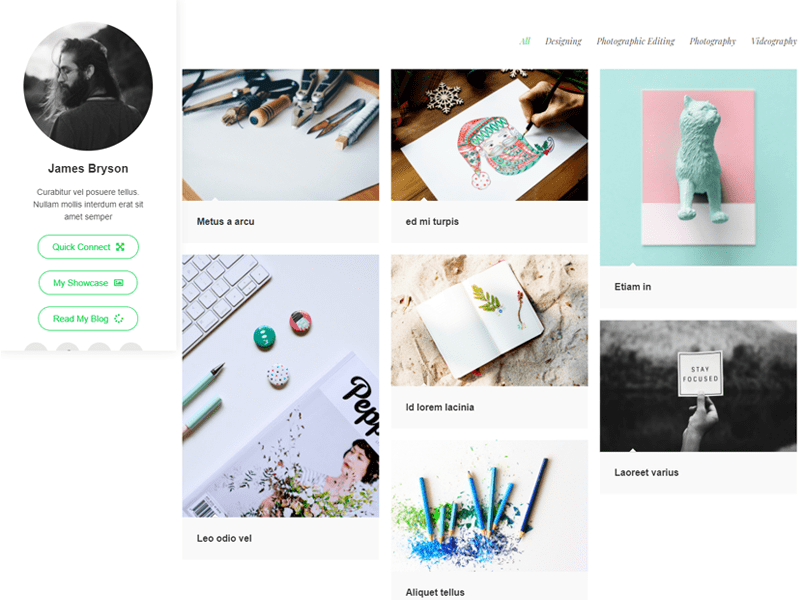 With over 3 million downloads, OceanWP stands as the fastest-growing theme of WordPress. The growth of this minimalistic theme is related to the immense features and specifications it offers.
The OceanWP theme has become a favorite among developers and business owners. The theme can develop and customized according to your business easily.
Additionally, you can seamlessly import website demo template with a single click using the Ocean Extra or Ocean Pro Demos. More premium extensions are also available for the users in case they need to add more functionality.
After leveraging this great theme, your website is destined to look visually stunning, and with built in SEO functionalities, you can pretty much optimize your site as per SEO best practices.
Moreover, OceanWP also supports RTL languages, which can be translated into your own. It also has support for eCommerce in case you're willing to start an eCommerce store. Plus, the fast support of the platform solves almost all issues instantly.
Fully Responsive
SEO Base Built-In
Fastest Page Load Time
Translation & RTL Ready
eCommerce Ready
Awesome Support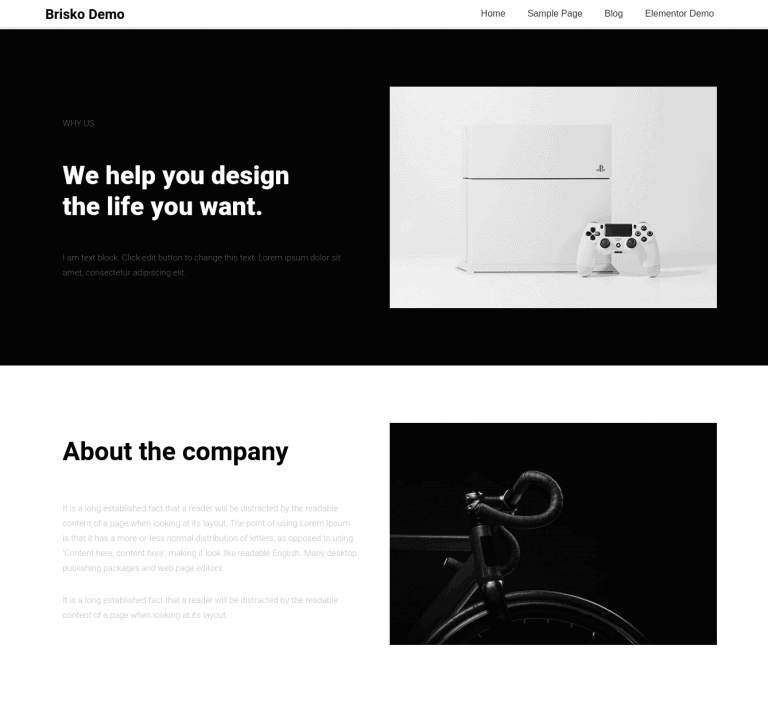 Brisko is a perfect minimal theme optimized for great performance. You can use it for personal blogs, portfolio, business and any kind of minimalist website. Theme works with Elementor and WordPress customizer that gives you the ability to customize and create with ease.
This type of themes embrace the real scope of WordPress to be simple, fast and accessible to anyone who want to share their thoughts through online blogs.
In case you are searching for a lightweight theme that is compatible with Elementor Templates Kits or WordPress Gutenberg Block patterns this is a great choice.
Color scheme and fonts can be changed directly from the live theme customizer so you don't need to be an expert to use this theme.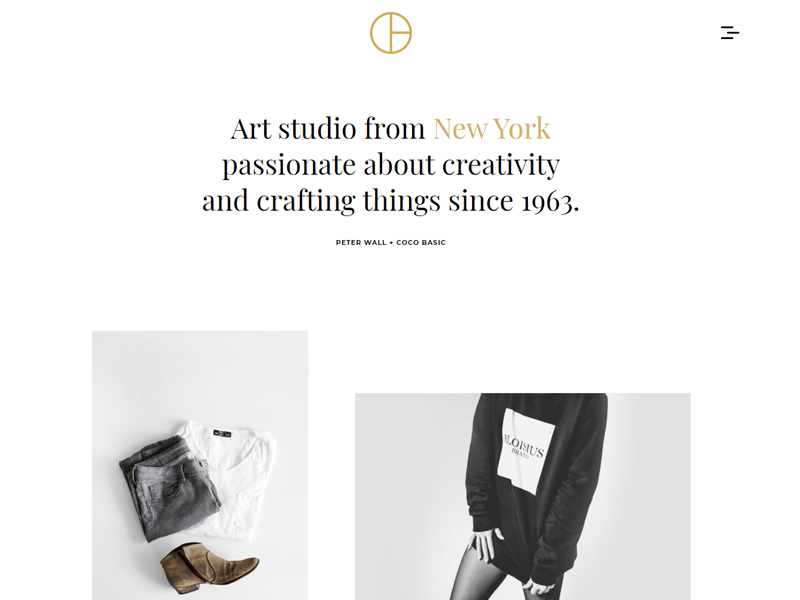 Opta is a minimalist WordPress theme that focuses on displaying portfolio images in an elegant and precise manner. The clean and clear representation of the typography is what actually makes your site look awesome.
The Opta theme stands out in its own way, from a responsive layout that fits any size to several customization features such as simple image slide, XML demo content file uploading, and Shortcode generator.
Moreover, the theme also gives you the feature of multi-language support and easy translation (loco translate compatibility). Both of these come into play when you're developing your site.
The theme also gives you several tools to add, edit and customize your site to match your brand. Some of the features of this theme don't even require expert involvement to operate.
And lastly, the compatibility of this minimalistic theme with all web browsers and mobile devices makes this theme irresistible, in my opinion. Some more feature of this great theme is mentioned below:
Loco Translate compatible
Multi-Language support (multilingual)
Compatible with Contact Form 7
XML demo content file
Portfolio Post Type
Simple Text Slider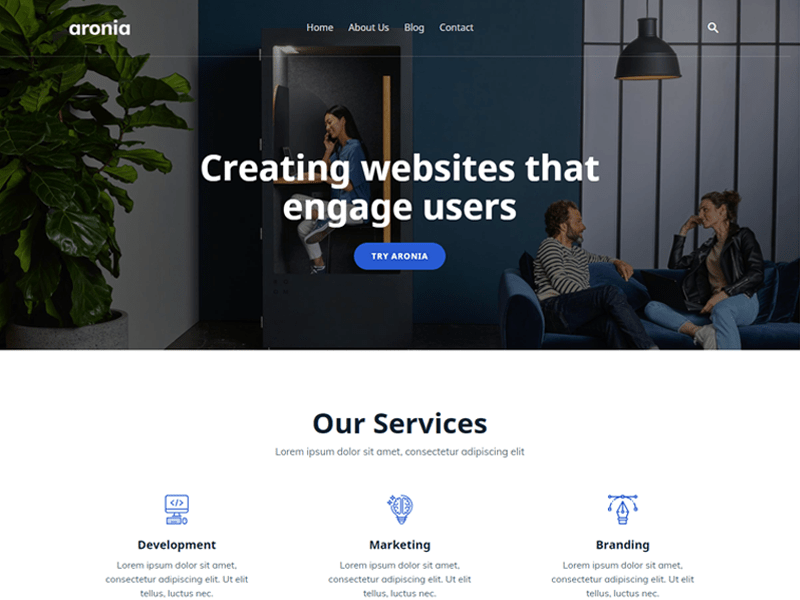 A free WordPress minimal theme developed by the Codeless team. The theme works amazingly well with Elementor and Codeless framework. However, the free version of the theme has a copyright link that should not be removed.
The simple yet powerful style of the theme, along with different premade templates, make this minimalist theme truly inspiring. You can also select the theme, customize it according to your will, and install it with just one click.
The theme also focuses on making the experience user-friendly and not overwhelming for the audience, which is why it gives a codeless experience to users and minimal content and design to display to the audience.
Moreover, you can edit the content and styling with the drag and drop functionality of the theme and trust me when I say this that there are literally infinite possibilities to build your website with Aronia.
Some other features of this outstanding theme from the Codeless team listed below:
Elementor Page Builder
Codeless Framework Advanced Options
Contact Form 7 Compatible
Advanced Page Options
Advanced Theme Options
4 Different Blog Styles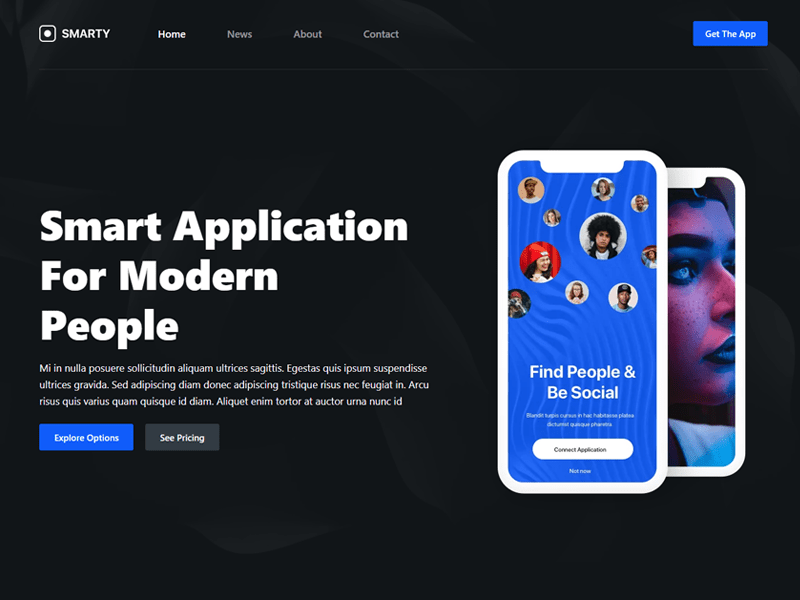 Blocksy is yet another simple but amazingly feature-packed WordPress minimalistic theme that offers speed, performance, and lightweight orientation from the start.
The blazing-fast responsiveness of the theme speaks for the latest technologies that were used to develop it. The theme is based on the Gutenberg editor and has a lot of customization and extendable features that the users can leverage.
Literally, any type of website you want can be created with Blocks. Whether it's a business, blogging, eCommerce store, restaurant, blogging, landing page, or any other business site, Blocks is ever ready to change it into something amazing.
Moreover, once you combine Blocksy with other WordPress page builders such as Elementor or Beaver, it works like a charm. Also, considering the fact that this theme is SEO friendly and responsive.
You don't need to go anywhere else or install a plugin to get your site ranked or structured as per Google's recommendation; Blocksy has already got that covered for you. Some other features of Blocksy include the following:
Lightweight.
Super-fast.
Gutenberg editor.
Highly responsive.
SEO optimized.
Visual composer.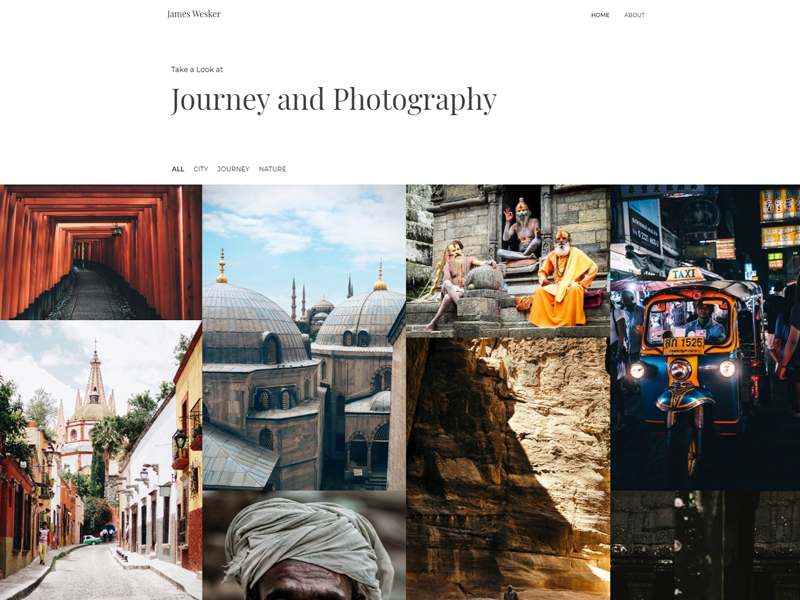 Phlox is modern, feature-packed and highly customizable, and ready to take on any form that best represents your business in a minimalistic manner. Also, Phlox can also be used as a WooCommerce store that ensures more conversions and sales.
There are literally numerous reasons why I believe that Phlox should be your next minimalist theme choice. The theme offers responsiveness, translation, RTL layout, SEO-friendliness, portfolio features, and much more.
This theme also comes with 30 exclusive widgets and elements that add more virtual excellence to your website. Also, the feasibility of one-click import of 19 demo sites is commendable.
Moreover, the theme is also constantly being updated so that it stays on par with some of the best themes out in the digital world and on this list. Also, if you're worried about getting stuck with Phlox.
Keep in mind that the team behind this amazing theme is the same team who bought you the famous "Master Slider" project so, optimum support is assured when you're working with Phlox. Here are some other features of Phlox:
WPML ready
WooCommerce ready
Reliable with regular updates
One-click import
100% GDPR compliance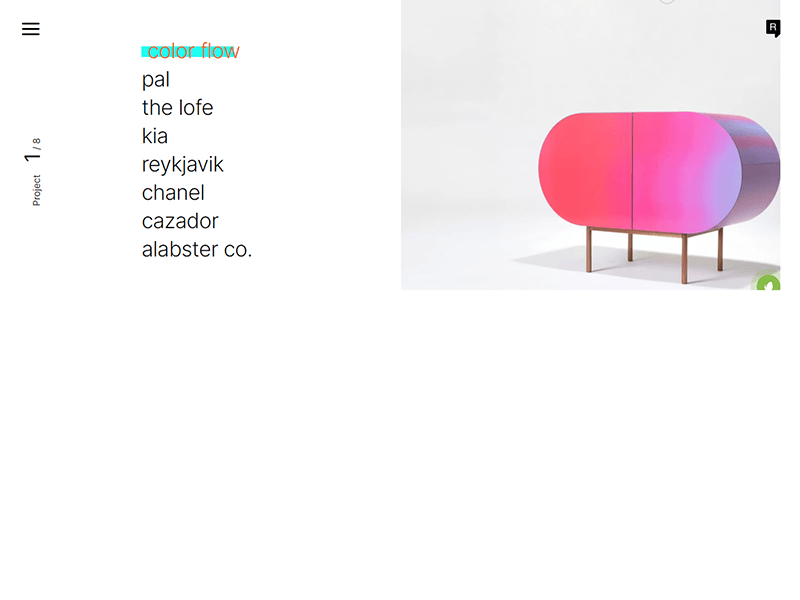 The Remake is a portfolio-based minimalist WordPress theme designed to showcase the smooth and amazing orientation of your business or personal site while ensuring the delivery of an inspiring user-experience.
The beautiful and functional design, stunning layouts, and simple and sleek representation boost your website's engagement and increase traffic. Custom-made sliders are also available through which you can customize your website.
Moreover, all of the sections of the site can be modified using the most feature-packed and popular page builder, "Elementor." There are also pre-built templates within Elementor that you can use to create something innovative and unique. You even get a parallax background with Remake.
The features of this theme are countless, like Multi-language compatibility, Dot Mouse Cursor, Revolution slider, smooth animations, drag, and drop page builder, and among many others.
In a nutshell, Remake ensures quality, reliability, speed, and performance for all types of websites. One of the best free minimalist WordPress themes. Here are some of the advantages of Remake.
WPML Compatible
One-click Demo Importer
Dot Mouse Cursor.
Revolution Slider Included
Social Media Integration
Smooth Animations
Parallax Background
Want to Learn More?
Check out some of the best minimalist themes collections below:

As one of the co-founders of Codeless, I bring to the table expertise in developing WordPress and web applications, as well as a track record of effectively managing hosting and servers. My passion for acquiring knowledge and my enthusiasm for constructing and testing novel technologies drive me to constantly innovate and improve.
Expertise:
Web Development,
Web Design,
Linux System Administration,
SEO
Experience:
15 years of experience in Web Development by developing and designing some of the most popular WordPress Themes like Specular, Tower, and Folie.
Education:
I have a degree in Engineering Physics and MSC in Material Science and Opto Electronics.