In the ever-evolving world of website design and development, Drag and Drop WordPress Page Builders have become a game-changer for both professionals and beginners alike. These powerful tools simplify the process of creating stunning websites with minimal effort and technical know-how.
As we approach 2023, it has become more important than ever to stay updated with the best and most reliable WordPress page builder plugins in the market.
In this in-depth guide, we will be reviewing the top 6 Drag & Drop WordPress Page Builders that are perfect for creating highly-responsive and visually impressive websites.
Whether you're a seasoned developer or just starting out, these plugins will save you time, effort, and frustration while giving you the freedom to create unique and engaging web pages.
Table Comparison and Ratings:
| Page Builder | Ease of Use | Compatibility | Responsive & Mobile-friendly | Customization & Templates | Performance & SEO | Support | Pricing |
| --- | --- | --- | --- | --- | --- | --- | --- |
| Gutenberg | 3.5 | 3.5 | 4.0 | 3.0 | 3.0 | 3.5 | 5.0 |
| Elementor | 4.5 | 4.5 | 4.5 | 4.5 | 4.0 | 4.5 | 4.0 |
| Beaver Builder | 4.0 | 4.0 | 4.5 | 4.0 | 4.0 | 4.0 | 3.5 |
| Divi | 4.5 | 4.5 | 4.5 | 4.5 | 4.0 | 4.5 | 4.0 |
| WPBakery | 4.0 | 4.0 | 4.0 | 4.0 | 3.5 | 3.0 | 3.5 |
| Themify Builder | 4.0 | 4.0 | 4.0 | 4.0 | 4.0 | 4.0 | 4.0 |
So, without further ado, let's dive into the world of WordPress page builders and discover the features that make these tools an essential addition to your web development toolkit.
The Top 6 Best WordPress Page Builders in 2023
1. Gutenberg (WordPress Native Editor)

Block-based Editor
Improved Content Management
Wide Range of Blocks
See Pros & Cons
Pros
Intuitive and user-friendly interface
Flexible layout options
Easy content formatting
Wide range of block types
Regular updates and new features
Cons
Learning curve for existing WordPress users
Compatibility issues with some themes and plugins
Not as feature-rich as some page builders
Gutenberg is a free WordPress native page builder that makes the web-building experience more intuitive and user-friendly. The block-based editor was released in November 2018 and has since prevailed as the default editor for WordPress installations.
Note: We started the list with Gutenberg, because it is the native WordPress page builder that will be used by default in the next years.
As a WordPress page builder, Gutenberg provides essential features such as drag and drop functionality and customizable elements that make it easier for users to create professional-looking websites.
Ease of Use: Gutenberg excels with its distinct elements like images, paragraphs, lists, and buttons that can be customized in blocks. This makes content creation more intuitive and simpler for beginners. However, some users have found the wide range of options and settings in Gutenberg to be harder to learn compared to the Classic Editor.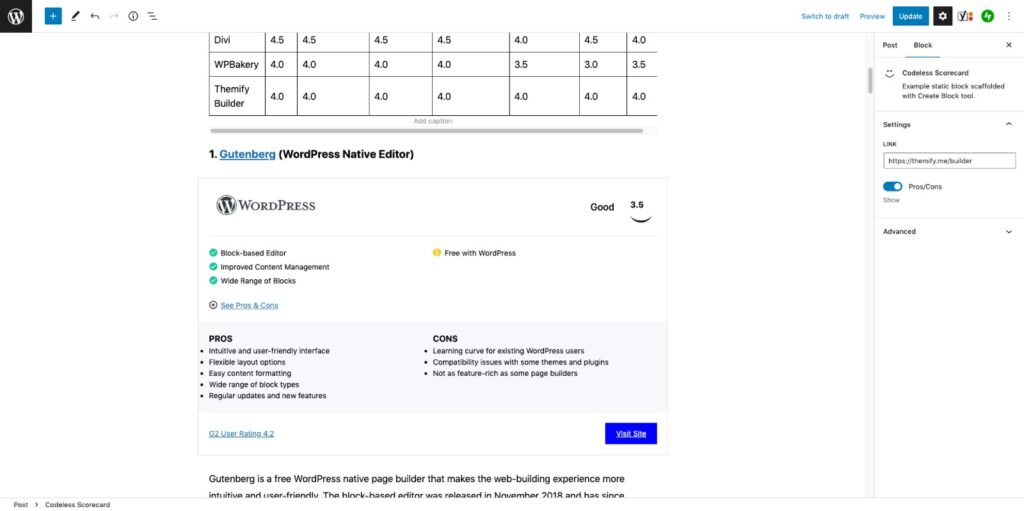 Compatibility: Gutenberg has been designed to work seamlessly with modern themes, enabling users to create and customize page templates without the need for coding. However, some user reviews have reported issues with non-English sites and inconsistency in design and usability.
Responsive & Mobile-friendly: Gutenberg shines in this regard, as it helps users create content that looks great on both desktop and mobile devices. Moreover, Gutenberg offers several customization options and templates that facilitate website building and customization, although it might lack advanced blocks unless you install add-on plugins.
Performance & SEO: Gutenberg is designed for optimal performance, ensuring fast-loading websites without compromising on content quality. Additionally, the plugin has an average rating of 2.1 out of 5 stars, with some users praising its usefulness for developers of blocks and themes, while others have encountered difficulties like site wreckage or usability issues.
Support & Pricing: Gutenberg comes with community-driven support that can be found within the WordPress forums. As for pricing, Gutenberg is a free plugin, and users can expand its functionality with additional plugins, most of which are also free.
Rating 3.5: Gutenberg is a powerful WordPress page builder that offers a range of features such as drag and drop functionality, compatibility with modern themes, and responsiveness. Despite some user reviews highlighting difficulties with the plugin, it remains a popular choice thanks to its free pricing and continuous updates.

Intuitive Drag and Drop Builder
Responsive Design Capabilities
Extensive Template Library
See Pros & Cons
Pros
Easy to use for beginners and professionals
Customizable widgets and pre-built templates
Strong third-party integrations
Regular updates and feature additions
Excellent customer support
Cons
Pro features require paid subscription
May be resource-intensive on some servers
Some advanced features have a learning curve
Elementor is a premier WordPress page builder that offers an intuitive drag-and-drop editor, making it easy to create visually stunning websites without any coding knowledge.
One of its key highlights is the compatibility with both WordPress and WooCommerce, allowing users to design responsive websites optimized for up to seven devices.
With over 100 widgets, pre-designed templates, and a kits library, Elementor stands out from other page builders in terms of customization and ease of use.
Ease of Use: Users appreciate the ease of use offered by Elementor, as it allows them to visually build every part of their website through its drag-and-drop editor. The platform also provides various design capabilities, such as assets and media, typography, responsive design, and motion and interactions. This simplifies the entire website building process, making it accessible to users of all skill levels.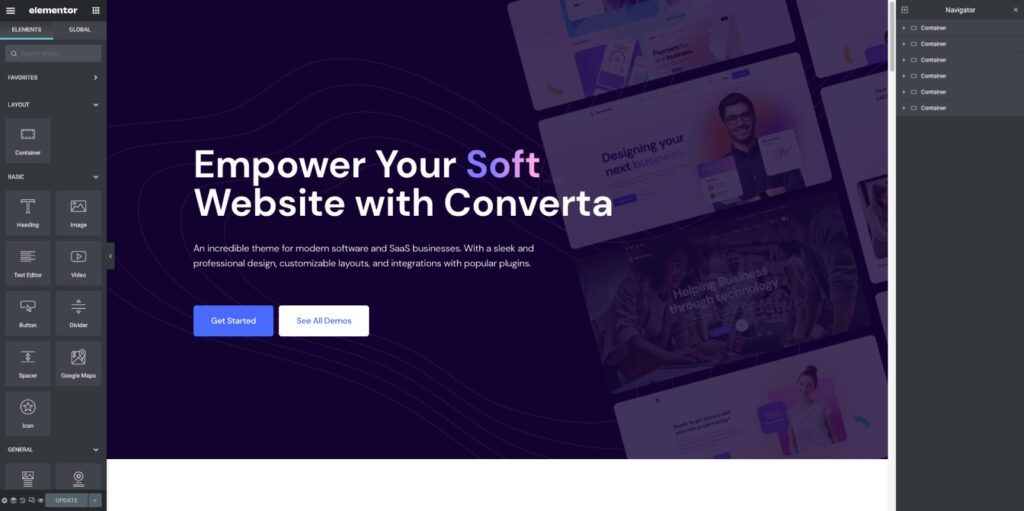 Compatibility: Elementor excels in this department. It offers seamless integrations with other platforms, including Envato kits and Adobe Fonts, ensuring a streamlined workflow and a consistent user experience.
Responsive & Mobile-friendly: Elementor's responsive and mobile-friendly approach ensures that your website looks and functions flawlessly across different devices. Coupled with its customization options, including a wide range of templates and widgets, Elementor empowers users to create unique websites tailored to their specific needs.
Performance & SEO: Elementor is designed to optimize your website's performance, ensuring faster load times and better search engine rankings. As mentioned in user reviews, Elementor's paid version is worth the investment for the additional features it offers, such as a theme builder, marketing tools, and advanced integrations.
Support: Excellent customer support is vital for any service, and Elementor does not disappoint. Users praise the responsive and helpful support provided by the Elementor team, ensuring a smooth experience throughout the website building process. Furthermore, Elementor offers various resources such as an academy, help center, and community forums for users to learn and grow.
Pricing: Elementor offers a free version with basic features, while the paid version, Elementor Pro, comes with additional functionalities. The pricing plans for Elementor Pro are as follows:
Personal: $49/year for one site
Plus: $99/year for three sites
Expert: $199/year for up to 1,000 sites
Rating 4.5: Elementor is an exceptional WordPress page builder that offers a perfect blend of ease of use, compatibility, customization, performance, and support. Whether you're a beginner or an expert, Elementor can help you create stunning websites that not only look great but also perform well in terms of SEO and user experience.
The positive aspects of Elementor, such as its extensive features and responsive design capabilities, far outweigh the negative aspects reported by some users, like occasional glitches and slow performance.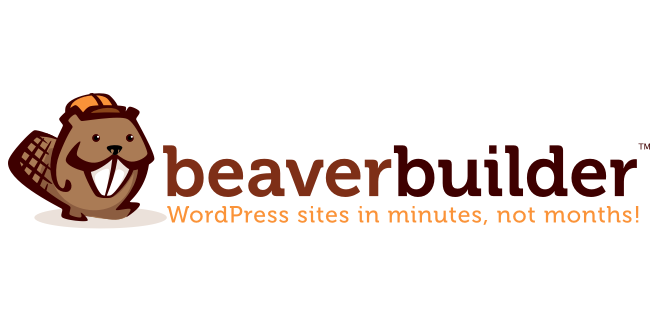 Drag and Drop Builder
Flexible and Customizable
Compatible with Most Themes
See Pros & Cons
Pros
Intuitive user interface
Great support and documentation
Wide range of pre-built templates
Regular updates and improvements
Cons
Higher price compared to some competitors
Some advanced features require add-ons
May have a slight learning curve for beginners
Beaver Builder is a premier WordPress page builder that allows users to effortlessly create professional, visually appealing pages using its drag and drop interface. It stands out from other builders due to its user-friendly frontend interface, compatibility with various WordPress themes and plugins, and its extensive collection of customizable templates.
Ease of Use: Beaver Builder simplifies the web design process by offering a wide range of modules, including text editor, photo, button, and video. Users can easily create stunning pages without any coding knowledge, making it an excellent choice for beginners.
Compatibility: Beaver Builder excels in this area. It is compatible with WordPress widgets, shortcodes, and custom post types, allowing users to add their own CSS classes and IDs. With over 200,000 active installations on WordPress websites, it has a solid reputation for reliability and seamless integration.
Responsive & Mobile-friendly: Beaver Builder ensures that all pages created using their tool are 100% mobile-friendly, providing fast loading times and an optimized performance to keep users and search engines happy.
Customization & Templates: Beaver Builder offers over 30 well-designed templates for landing pages, making it easy for users to create attractive website layouts. Users can also save their custom layouts for reuse on other pages or websites.
Performance & SEO: The builder's optimization ensures fast loading times and high scores on performance tests such as GTMetrix, Pingdom, and PageSpeed Insights. This focus on performance directly contributes to better SEO, increasing the chances of higher search engine rankings.
Support: Beaver Builder's premium versions offer access to a dedicated support team. Users can also reference the Knowledge Base or join the Beaver Builder community on Facebook or Slack for additional assistance.
Pricing: Beaver Builder offers three plans:
Standard – $99 per year for unlimited sites
Pro – $199 per year for unlimited sites, including the Beaver Builder theme
Agency – $399 per year, with white-labeling and network-wide settings
Rating 4.0: Some users have reported issues such as website crashes after updates. It is important to weigh both the positive and negative aspects when considering Beaver Builder as your WordPress page builder of choice.
In conclusion, Beaver Builder is an exceptional choice for anyone looking to create a professional and visually stunning WordPress site. With its ease of use, compatibility, responsive design, customization options, performance optimizations, dedicated support, and pricing plans, it is a top contender in the WordPress page builder market.

Drag & Drop Builder
Real-time Design
Customizable Modules
See Pros & Cons
Pros
Intuitive visual builder
Highly customizable layouts
Large variety of modules
Regular updates and improvements
Excellent support and documentation
Cons
Shortcodes may be left behind when switching themes
Can be overwhelming for beginners
Third-party plugins can cause conflicts
Divi is a powerful WordPress theme and page builder that stands out with its drag-and-drop features, helping users create professional-looking websites with ease. Boasting over 200 elements and 2,000+ pre-made layouts, this no-code design interface caters to both design professionals and beginners. The platform's key features include a theme builder, e-commerce tools, workflow management, and marketing features.
Ease of Use: Divi excels in this area with its user-friendly interface, inline text editing, and global elements and styles. Customers have praised the platform for its intuitive design, making it accessible to users with varying levels of experience in web design. Additionally, responsive editing and optimization tools help create mobile-friendly websites, meeting the demand for compatibility across devices.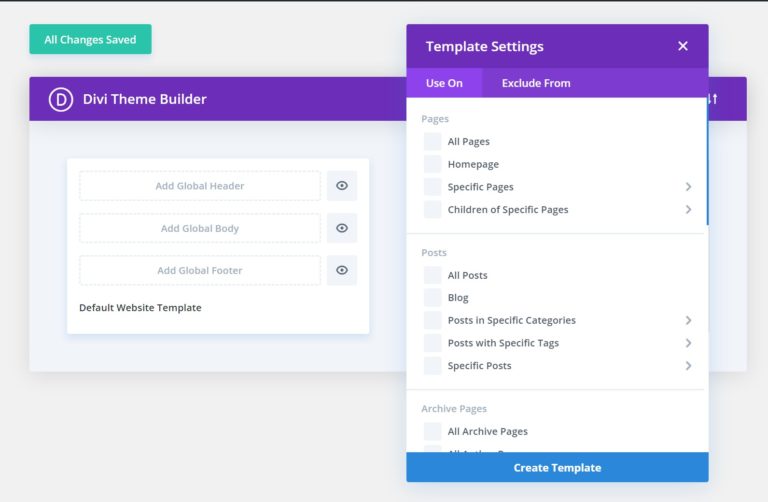 Compatibility: In terms of compatibility, Divi works well with any popular WordPress theme. Its advanced code editing, filters, effects, drop shadows, text shadows, animations, and background images, colors, gradients, and videos contribute to the high customizability of the platform. Moreover, Divi provides a range of text and font options, shape dividers, border options, and transform controls and effects, making it easy for users to create unique designs.
Responsive & Mobile-friendly: Divi's wealth of customization options and templates are further supported by its comprehensive library of content modules, allowing users to create virtually any type of website. The Divi Marketplace adds even more value by offering additional layouts, themes, and plugins to enhance the user experience.
Performance & SEO: Divi ensures that users can build websites quickly, streamlining the design process and improving team collaboration. High-quality customer reviews have mentioned the platform's reliability and effectiveness as a web design solution, emphasizing the excellent customer support provided by Elegant Themes' Divi. Many customers recommend upgrading to VIP support for faster and more efficient assistance.
Pricing: Divi offers attractive options:
Yearly Access: $89 per year
Lifetime Access: $249 one-time payment
Both plans grant access to the Divi theme, Divi page builder plugin, and all other Elegant Themes products, such as Extra and Bloom, making it a fantastic value for money.
Rating 4.5: Divi excels as a WordPress page builder thanks to its ease of use, compatibility and dedicated customer support. With numerous features, templates, and pricing options, Divi provides a robust solution for creating professional websites that cater to various needs.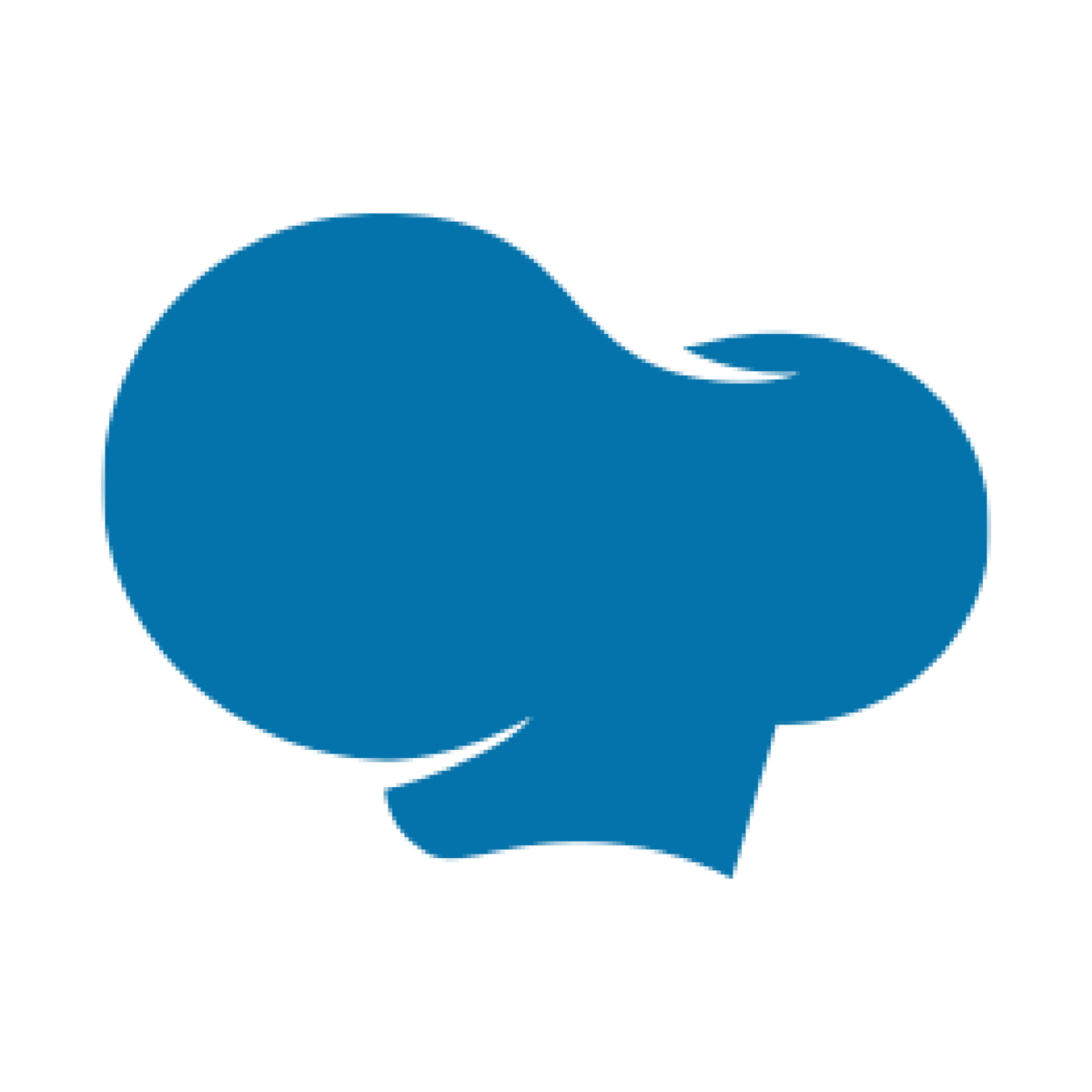 WPBakery Drag & Drop
Frontend & Backend Editor
Template Library & Add-ons
Starting from $45 (Single site)
See Pros & Cons
Pros
Intuitive drag-and-drop builder
Compatible with many themes and plugins
Responsive design
Customizable elements and styles
Regular updates and support
Cons
Shortcodes may cause issues when switching themes
May require additional CSS knowledge for advanced customization
Some users may find it overwhelming
WPBakery is a backend and frontend drag and drop WordPress page builder that helps users create complex layouts with ease. What makes it stand out is its user-friendly interface, which requires no programming knowledge. In this review, we will explore the many features of this popular page builder and how it can enhance your website's functionality and design.
Ease of Use: WPBakery Page Builder boasts an easy-to-use front-end editor, allowing users to build pages quickly without any coding skills. With over 4.3 million users, WPBakery has a solid reputation for its straightforward drag-and-drop interface.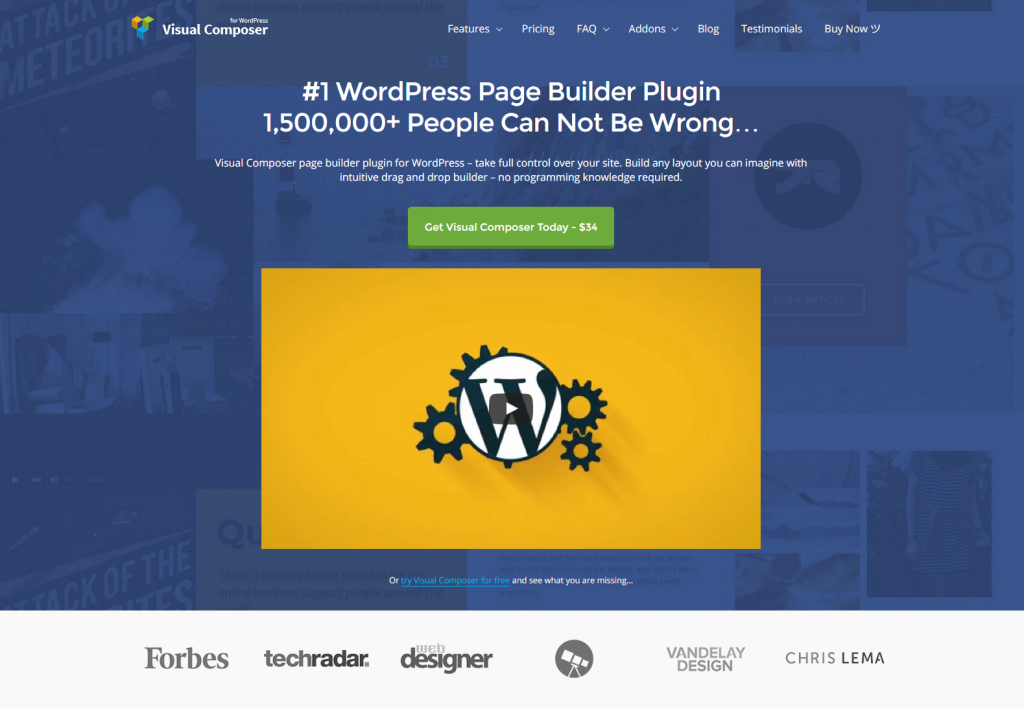 Compatibility: This WordPress page builder is compatible with any theme, making it a versatile choice for users. Furthermore, it works seamlessly with popular WordPress plugins like WooCommerce, Yoast SEO, and qTranslate.
Responsive & Mobile-friendly: WPBakery ensures that your content is accessible on both desktop and mobile devices, thanks to its fully responsive design.
Customization & Templates Available: The skin builder feature allows users to customize element styling to match their brand identity. Additionally, users can access premium class templates via the online template library and build pages in seconds.
Performance & SEO: WPBakery is known for its advanced grid builder and element presets, which contribute to faster page building and improved site performance. Moreover, its compatibility with Yoast SEO ensures optimal search engine visibility.
Support: A dedicated support team is available to assist users with any requests. However, some reviews suggest potential issues with customer support responsiveness, so it's essential to consider alternative page builders if timely support is a priority.
Pricing:
Regular License: $59 for a single website
Extended License: $299 for multiple websites
Rating 3.5: WPBakery is a powerful and user-friendly WordPress page builder that offers a vast array of features and customization options. Its compatibility with various themes and plugins makes it a popular choice among users. However, some reviews point out potential issues with customer support and performance, so it's essential to weigh the pros and cons before making a decision.

Drag-and-Drop Builder
Responsive Design
Pre-designed Layouts
See Pros & Cons
Pros
Intuitive drag-and-drop interface
Compatible with any WordPress theme
Real-time frontend editing
Wide variety of modules and elements
Strong support and documentation
Cons
Premium version required for advanced features
Can be overwhelming for beginners
Performance may be affected by high usage of modules
Themify Builder is a WordPress editor that enables users to design and create beautiful, unique layouts with ease. With its user-friendly interface and compatibility with any WordPress theme, it stands out among other page builders in the market. This powerful plugin comes with over 40 pre-designed layouts, 60+ animation effects, and is fully extendable with addon installations.
Ease of Use: Themify Builder boasts a compact backend interface, which allows users to quickly and easily drag and drop modules to create stunning layouts. With the frontend live preview feature, users can instantly see the changes they make, making the designing process a breeze.
Compatibility: One of the key highlights of Themify Builder is its compatibility with not only all Themify themes but also with other premium theme houses like StudioPress and WooThemes. Additionally, it works on single WordPress sites or multisite networks, providing users with flexibility and versatility.
Responsive & Mobile-friendly: This WordPress page builder is fully responsive and mobile-friendly, ensuring that your website looks great across all devices. With Google Fonts, Slider Background, Video Background, and Parallax Scrolling features, users have full control of their page's appearance.
Customization & Templates Available: Themify Builder offers users a plethora of customization options, with over 60 pre-designed builder layouts and the ability to add custom CSS. The premium version even includes 25 add-ons, such as WooCommerce support, pricing table elements, map integrations, and more, enhancing the plugin's functionality.
Performance & SEO: Themify Builder is 100% SEO-friendly and fully indexable by search engines. Its modular design ensures optimized performance by loading resources and files only when in use, making it an excellent choice for both beginners and advanced developers.
Support: User reviews praise the support team behind Themify Builder for their responsiveness and helpfulness. However, some users have reported encountering bugs and glitches, causing site crashes in some instances. It is essential to remain cautious and seek assistance from the support team when necessary.
Pricing:
Themify Builder Free version: Compatible with any theme, frontend live preview editing, and default drag and drop module.
Themify Builder Pro version: $69, includes 25 add-ons, over 60 pre-designed layouts, 60+ animation effects, custom CSS, and unlimited revision control.
Rating 4.0: Themify Builder is a popular choice among both beginners and experienced developers.
Conclusion
After the above comparison, it can be concluded that the best drag and drop builder should be compatible with all the popular themes of WordPress. Besides, the live editor should be extremely flexible and user-friendly.
All the page builders are highly user-friendly and easy to use. We highly recommend Divi if you need a theme along with a page builder.
Elementor is the best page builder if you want a free page builder for your WordPress website. It offers a free version that is powerful and provides multiple features.
The above article may help you find what page builder plugin is best suited for your business website and fulfill your needs.

Ludjon, who co-founded Codeless, possesses a deep passion for technology and the web. With over a decade of experience in constructing websites and developing widely-used WordPress themes, Ludjon has established himself as an accomplished expert in the field.