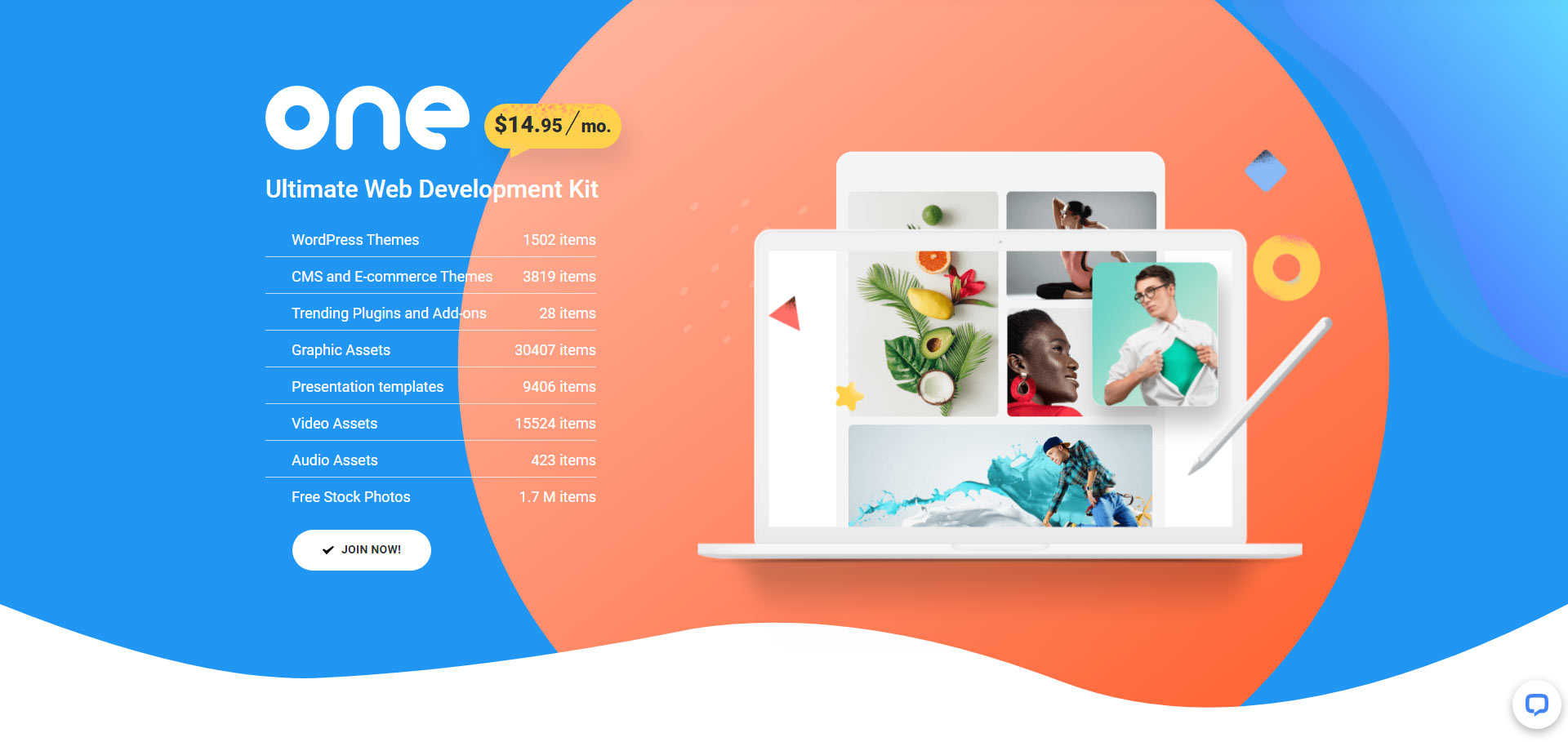 The way we access a bunch of goods has already changed radically. Do you have an interest in watching a bunch of original TV-series or movies? In this case, you need to turn your laptop on and choose the desired streaming service. Do you need to buy some personal care products and receive them in a flash? You are always free to visit the most popular online-store and purchase the necessary items. In addition to this, many people decide to turn to other access channels to save them time. Without a doubt, we are speaking about subscription-based services. When it comes to web development and design, such a concept provides a bunch of benefits. On the Internet, it is possible to find a massive set of relevant subscriptions. Each of them has their strengths, advantages, and peculiarities. For this reason, it is crucial to share some pieces of information about a widely-known subscription called ONE by TemplateMonster.
In our opinion, its impressive choice and affordable pricing are key drivers that might arouse your interest. We are here to share more details and tell you more about this web-design toolkit.
What Can You Discover in ONE by TemplateMonster?
Shortly About ONE by TemplateMonster
As you can understand, people give much prominence to subscription-based services. Let us come back to the examples we have mentioned in the beginning. When one chooses Netflix, he or she gets access to an immense number of TV-shows and movies. Subscribers can watch the desired programs from about anywhere. When one chooses to subscribe to packages from a personal care brand, he or she gets a parcel with relevant products every month.
Now, it will take you nothing to understand how ONE by TemplateMonster works. After a one-time payment, this subscription grants access to thousands of digital products. Before doing this, you need to register your account. Then, you will be ready to get familiar with several plans and choose the most suitable one. As a result, you will not have any limits connected to the number of downloads.
You might think that ONE by TemplateMonster has nothing to do with people who are not engaged in programming or coding. We are here to disprove this statement.
Thus, we gathered a list with some categories of users who will find this subscription service useful and advantageous.
Illustrators and graphic designers. These people need to complete their work using such software as Adobe Photoshop or Illustrator. To save energy and efforts, they can take advantage of different ready-made solutions. Inside ONE by TemplateMonster, they will find a multitude of instruments to improve their workflow.
Content managers and bloggers. From time to time, inspiration can disappear. People cannot take some remarkable or impressive photos. In this case, they can turn to ONE by TemplateMonster and download lots of stock photos for every taste.
Marketers and advertisers. To make it quicker to create high-quality and engaging promotional campaigns, they can subscribe to this service. As an example, it will grant them access to multiple social media templates.
Business owners. When one runs a business, forgetting about its online-presence is a huge mistake. These days, you cannot stay afloat without a powerful and beautifully-designed site. For this reason, ONE by TemplateMonster gives a chance to download many website templates and corporate identity tools.
The Collection of Web-Design Assets Offered by ONE by TemplateMonster
We have already mentioned that ONE by TemplateMonster is a depository of professional digital assets. However, it is impossible not to speak about different product types that are waiting for you. Before we start, keep in mind that all the items included in the subscription go through a rigorous selection process. In other words, you will be ready to download only incredibly evaluated items.
To start with, we want to speak about WordPress themes. It is no doubt that their assortment is considerable. These are perfect for various purposes, including a portfolio, business or corporate site, landing page, and many others. Furthermore, opting for a multipurpose WordPress theme will be clever. They come together with a bunch of skins for the most popular niches.
ONE by TemplateMonster also offers the following CMS and eCommerce templates:
HTML, Bootstrap, and admin templates;
Joomla themes;
Magento themes;
Shopify themes;
OpenCart themes;
PrestaShop themes;
WooCommerce themes;
Elementor-compatible themes;
and others.
There is a very tricky thing in terms of eCommerce templates. You can try to search for these ready-made solutions here and now. Remember these prices. When you get familiar with all the plans and their pricing, it will be obvious that ONE will cost you as one eCommerce theme.
Other products included in the inventory are PrestaShop plugins. Using them, you can improve online-stores by adding a lookbook functionality, Parallax effect, advanced filters, and other options.
Moreover, ONE by TemplateMonster enables downloading different graphics, including:
PSD templates;
logo templates;
illustrations;
resume and certificate templates;
social media templates;
product mockups;
icon sets;
infographics;
and many others.
If you require stock media (photos, video, and audio) and video effects, this subscription will be a perfect match for you. It also includes a set of presentation templates (Google Slides, Keynote, and PPT design).
More Bonuses to Find in ONE by TemplateMonster
A clear license. You have the freedom to download as many items as your soul wants unlimitedly. To put it another way, you do not need to re-purchase the most favorite assets. Then, you can publish your sites on unlimited domains.
You will also get a marvelous Draftium PRO Mockup Tool as a pleasant bonus. For a year, it is possible to prototype your websites and collaborate with a team.
ONE by TemplateMonster also gives access to free stock photos for different spheres and tasks.
Technical support is available for every item included in the subscription. It works 24/7 to provide answers to all the questions.
Do not forget about a chance to earn money by spreading the word about ONE by TemplateMonster. After joining an affiliate program and getting a unique referral link, each sale can bring you a 30% commission.
ONE by TemplateMonster Pricing
| | | |
| --- | --- | --- |
| Creative | All-in-One | All-in-One (Lifetime) |
| $82 per year | $169 per year | $599 (one-time fee) |
| Graphic and design assets | WordPress and CMS themes | WordPress and CMS themes |
| Presentation templates | eCommerce themes | eCommerce themes |
| Video and audio assets | Plugins | Plugins |
| Unlimited projects | Graphic and design assets | Graphic and design assets |
| One-year technical support | Presentation templates | Presentation templates |
| | Video and audio assets | Video and audio assets |
| | Unlimited projects | Unlimited projects |
| | One-year technical support | One-year technical support |
| | | Unlimited lifetime access |
Recently, ONE by TemplateMonster launched a brand-new plan for those who need free digital items. Now, you can download the following digital products:
PowerPoint templates;
Photoshop templates;
resume templates;
certificate templates;
logo templates;
patterns and backgrounds;
and many others.
A Few Words in Conclusion
Subscription-based services turned out to be a crucial part of the workflow for many web-designers and developers. ONE by TemplateMonster is not only a designer-centric toolkit. As we have said, it is suitable for marketing, advertising, blogging, and business purposes. As a result, you will not need to shop around on multiple sites to gather the best tools. All of them are waiting for you in this subscription. TemplateMonster digital marketplace chooses only the most beautiful and multi-functional instruments for your needs. In addition to this, you will not need to invest the whole budget into ONE. It is possible to save your costs but get access to the most high-quality digital items. Thanks for reading!

Ludjon, who co-founded Codeless, possesses a deep passion for technology and the web. With over a decade of experience in constructing websites and developing widely-used WordPress themes, Ludjon has established himself as an accomplished expert in the field.