Speed is a necessary part of successful forex trading so traders are looking constantly for the best forex VPS in the market.
Here is a summary of the best forex VPS hosting for trading:
A VPS host is preferred by retail forex traders because it is cheaper than dedicated hosting while allowing you full control over allocated server resources and speed. This leads to better latencies and uptimes.
99.87% of forex trades are executed in less than a second, causing many traders to choose VPS hosting.
In this article, we'll rank and review the top 10 best VPS for forex. Let's dive in.
Best Forex VPS Hosts – Table Comparison
Latency and Uptime
Features
| VPS Service Provider | RAM | CPU cores | Server locations | Storage (SSD) |
| --- | --- | --- | --- | --- |
| Accuweb | 1GB to 32GB | Up to 8 | 15 | 35GB to 640GB |
| FXVM | 1GB to 4GB | Up to 4 | 10 | 40GB to 120GB |
| ForexVPS.net | 2GB to 4GB | Up to 8 | 10 | 60GB to 100GB |
| JavaPipe | 1GB To 8GB | Up to 8 | 3 | 15GB to 60GB |
| Cloudzy | 1GB To 64GB | Up to 8 | 29 | 12GB to 800GB |
| v2Cloud | 2GB to 8GB | Up to 8 | 20 | 40GB to 250GB |
| ScalaHosting | 3GB to 18GB | Up to 9 | 35 | 40GB to 320GB |
| Kamatera | 1GB to 250GB | Up to 20 | 13 | 20GB to 5TB |
| VPS Server | 1GB to 192GB | Up to 32 | 17 | 20GB to 2TB |
| HostWorld | 1GB to 4GB | Up to 8 | 10 | 50GB to 250GB |
Top 10 Best Forex VPS Hosting Server Providers
Best for Low Latency and Data Center Options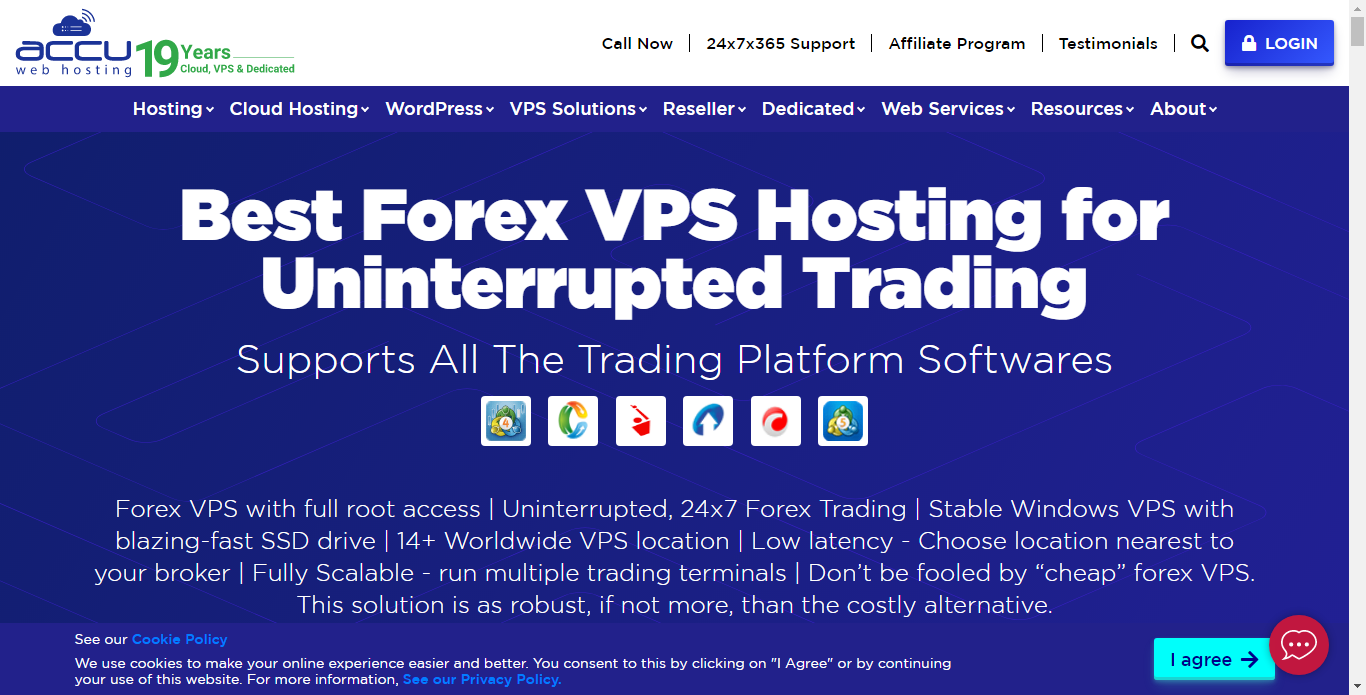 Accuweb hosting offers very high trading speeds from its multiple server locations near different forex brokers. For retail traders who cannot afford dedicated servers like forex enterprises, this VPS host provides an opportunity to compete on an equal ground-based on speed.
Accuweb VPS dedicated for forex has 15 server centers located around the world very close to the servers of many forex brokers. Some of these locations are London, South Africa, Hong Kong, and New York. You have the choice to select the one closest to your broker. For instance, if your forex broker is Markets.com, Accuweb has a server in London, the UK for fast speeds, which reduces latency to 4ms.
Due to the adequate RAM storage and closeness to broker servers, latency is minimized. So, if you have several MT4 instances installed and you run High Trade Frequency programs, Accuweb protects your peace of mind because it is lightning fast.
This host also offers a 99% server uptime which means that you can rely on it to keep you online at all times and not miss placing a trade at any time of the day.
Your data is protected because Accuweb carries out automatic weekly backups of your server. Sadly, there is no automatic daily backup for the lower price tiers. For administration, you get the popular cPanel to manage server operations. Since it is a VPS, you have the option for full root access and management of your VPS server.
Accuweb has no limits to the amount of MT4 instances you can install. However, your plan should have enough RAM to handle multiple 24/7 algorithms.
The customer service is prompt and online all the time. Accuweb Hosting averages 11-minute ticket response times and resolves many issues on the same day.
Features
Up to 32GB RAM for high speed
Up to 640GB SSD ROM to store and transfer data
99.9% uptime to keep you online 24/7
Forex trading platforms installed (on request)
Pros
Low latency leads to fast trade execution speeds
High server port speeds for fast data transfers
15 global VPS hosting servers near brokers
99% uptime
7-day money-back guarantee
Cons
No free trial
Only one IP address per account
Pricing
Accuweb pricing starts at $12 monthly for 1GB RAM and 35GB SSD. You get weekly backups and a fully managed VPS hosting account. The pricing packages go from VPS 1 to 6. Add-on CDP backups are allowed from VPS 4.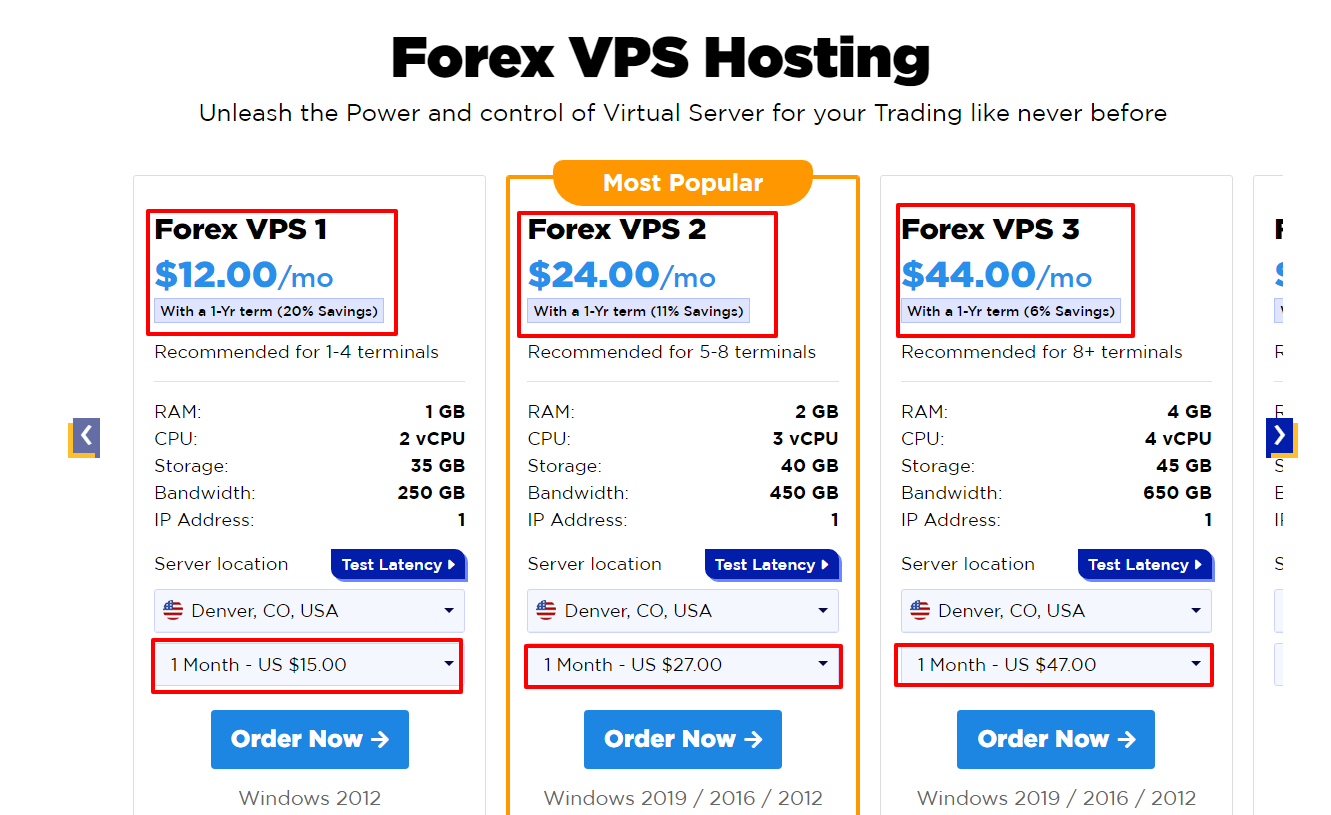 Best for Uptime Guarantee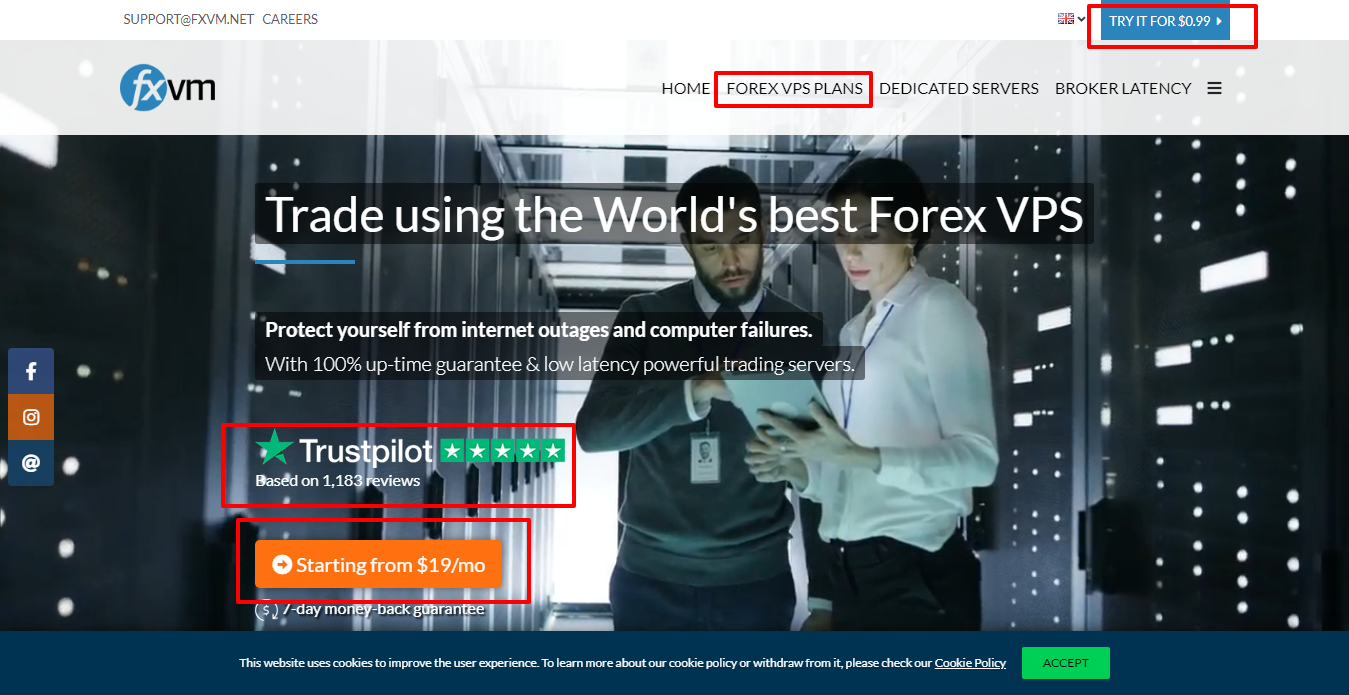 For forex traders running multiple MT4s and Expert Advisor accounts, staying online 24/7 is key to success. Traders need to be constantly plugged in with their brokers because milliseconds make all the difference between a loss and a huge success. That is what FXVM offers.
FXVM promises a 100% uptime. Their engineers work round the clock using redundancy and monitoring systems to keep servers online all the time.
On top of excellent uptime, this server is compatible with all EA and brokers. Installing foreign exchange robots and EAs is very easy and the deployment is fast. If your EA or trading platform is not readily available, FXVM offers third-party EA support.
The host is super easy to install. You just select a pricing plan, customize it, and voila! FXVM is set up on your computer. Many TrustPilot reviews have reported less than 30 minutes of setup. If you're more tech-savvy, it can take you 5 minutes.
FXVM removes the stress of installing your trading platform separately because the host is built especially for forex traders. Trading platforms like MT4, MT5, and cTrader are preinstalled for auto setup. If you run another platform, it is supported as a third party. There are no limits to the types of platforms to use or the number of trading accounts.
FXVM runs automated backups that are limited to weekends so as not to interfere with your trading hours. However, you can request daily backups from the support team. The host also has better RAM storage than Accuweb. The lowest available SSD storage is 40GB ROM and 1.5GB RAM. You can also customize the ROM without changing the price tier you're on.
However, FXVM has fewer data centers than Accuweb. They are located in major countries like the US (New York), UK, Japan, China, Germany, Hong Kong, and South Africa. The good thing is that you can pick the closest to your broker for low latency.
Any trader worth his salt must be able to access his server from anywhere at any time. FXVM helps you stay connected with its RDPU apps for Windows, Android, and iOS. That means you can keep up with trading no matter your server location.
Features
100% Uptime
Multiple server centers and reduced latency
RDPU apps
Preinstalled trading platforms
Automatic weekend backups for all pricing plans
Pros
Made just for forex traders
Multiple preinstalled trading platforms
100% uptime
Good customer service
7-day free trial for $0.99
Cons
Fewer server centers than Accuweb
Pricing
FXVM has three VPS pricing plans. The LiteFX VPS costs $19 monthly for 1.5GB RAM and 40GB ROM. You get a dedicated IP address, built-in platforms, and weekend backups.
Basic FX VPS goes for $28 monthly. You get 2GB RAM, 2 CPU cores, 60GB ROM, MetaTrader 4, EAs, backups, and multiple server centers. Advanced FX VPS costs $49 monthly for 4GB RAM, 2 CPU cores, and 70GB VPS disk space.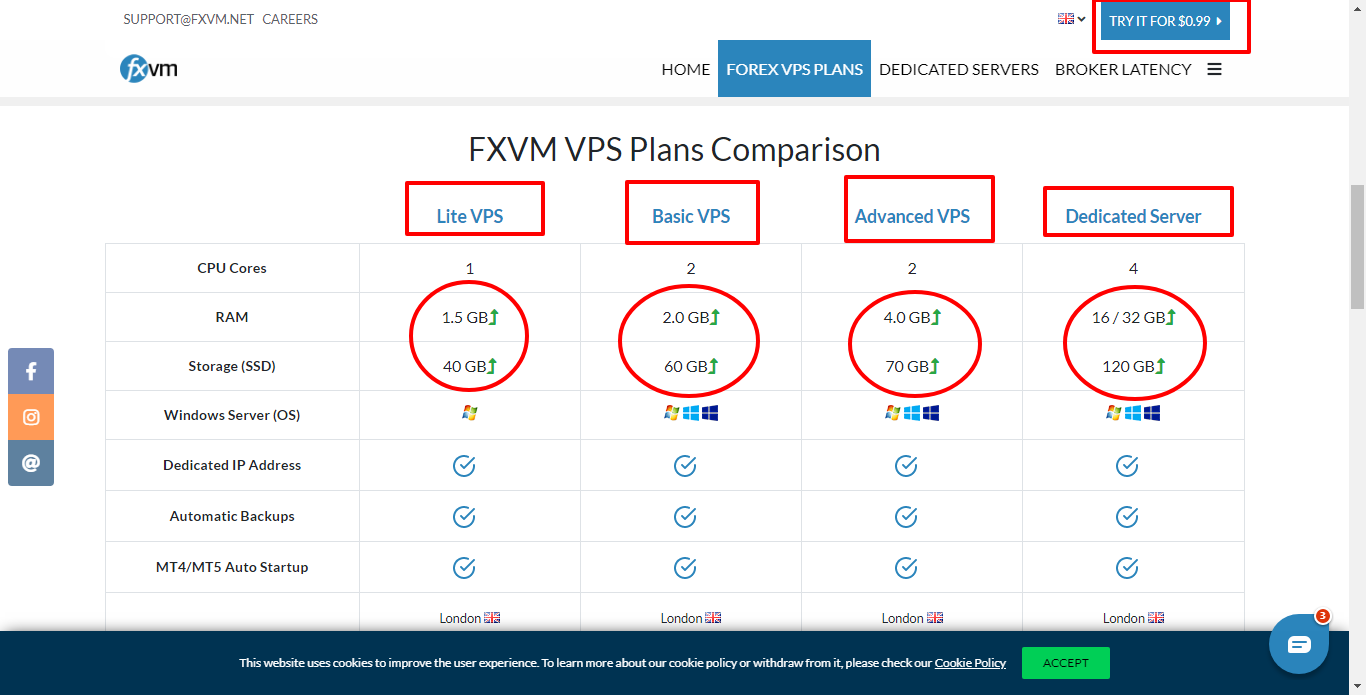 Best for Free Forex VPS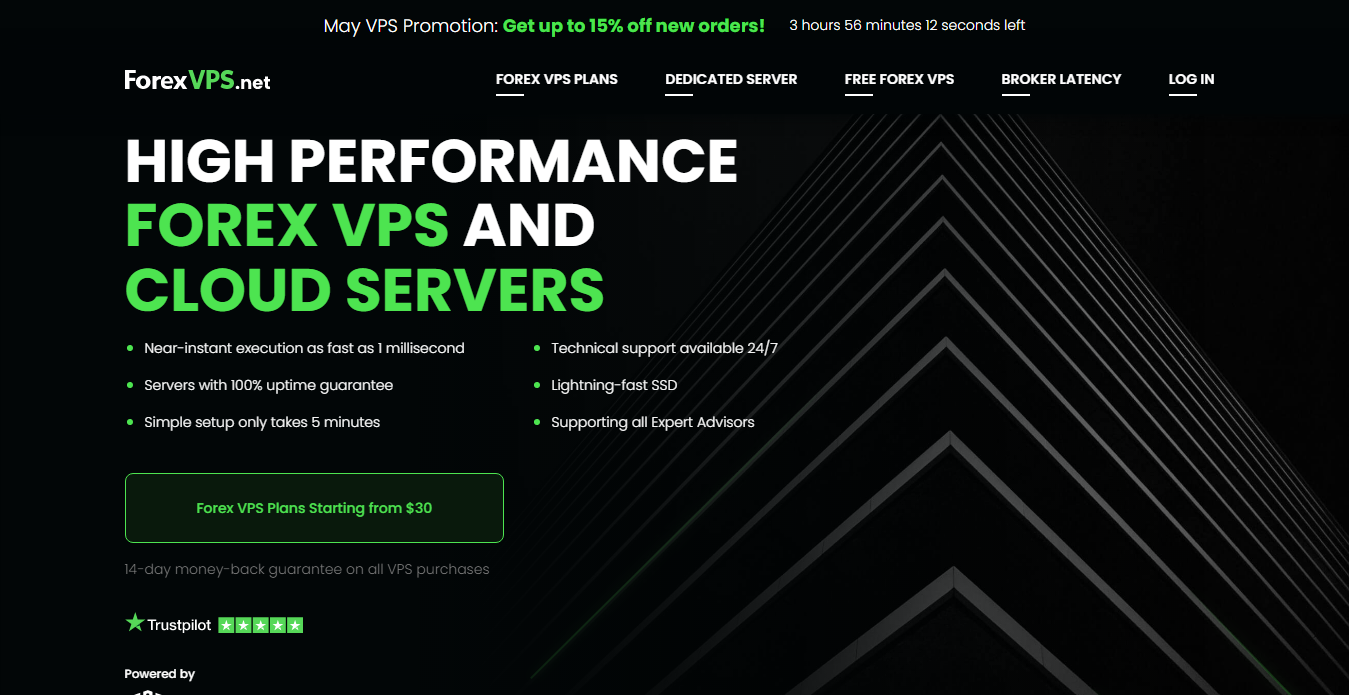 ForexVPS.net gives you the option to run a VPS forex dedicated server for free. There are a few requirements, though.
First, you have to use a ForexVPS-supported broker and deposit the minimum amount. Then, you must trade up to a minimum volume. That's it to gain access to free forex server hosting. Even if you don't trade the minimum required amount, ForexVPS will discount prices for you. Make sure to check whether your broker is among the supported ones.
When it comes to disk space, ForexVPS stands out from other VPS providers because of the options available. The lowest price tier begins with 2GB RAM. The SSD ROM starts from 60GB and goes up to 100GB
ForexVPS.net is another host that promises 100% server uptime. They run redundancy systems that keep you online even during a server power outage. The host also has multiple Equinix data centers located close to popular forex brokers.
Because of the high uptime and various server centers around the globe, ForexVPS.net has an extremely minimized latency, as low as 1ms, which enables high performance and near-instant trades.
You don't have to worry about being away from your trading station because the host has an RDP (Remote Desktop Program) app supported on Windows, Android, and iOS. You can connect with your virtual server anywhere, anytime, with any smart device.
ForexVPS offers a 14-day money-back guarantee which gives you enough time to properly test the program.
Features
High storage bandwidth
100% uptime for uninterrupted trading
Free forex plan
Low latency of 1ms
Preinstalled programs
Remote desktop program
Pros
Lowest latency for instant trade executions
14-day money-back guarantee
A free VPS hosting plan
Cons
Few brokers are partnered with ForexVPS
Customer support is not available 24/7
Pricing
ForexVPS.net Basic goes for $30 monthly. This plan allows 2GB RAM and the 60GB SSD ROM. This explains the slightly higher prices when compared to other VPS hosting providers.
Basic+ costs $34 monthly. You get 2.5GB RAM and 80GB ROM. Standard goes for $51 monthly and allows 4GB RAM, and 90GB ROM. The most expensive, High Freq, costs $59 a month. Even though the RAM reduces to 3GB, the ROM is boosted to 100GB, and the CPU speed increases to 3.4GHz.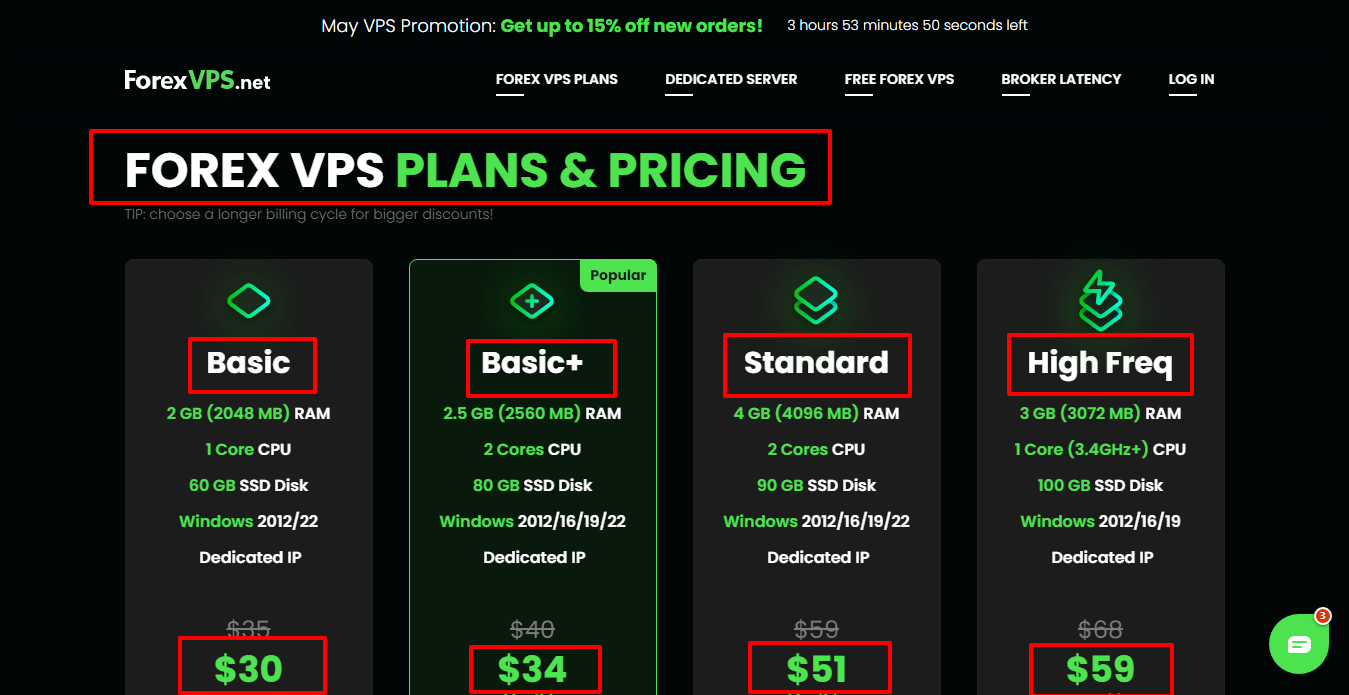 Best for DDoS Protection for Windows VPS Servers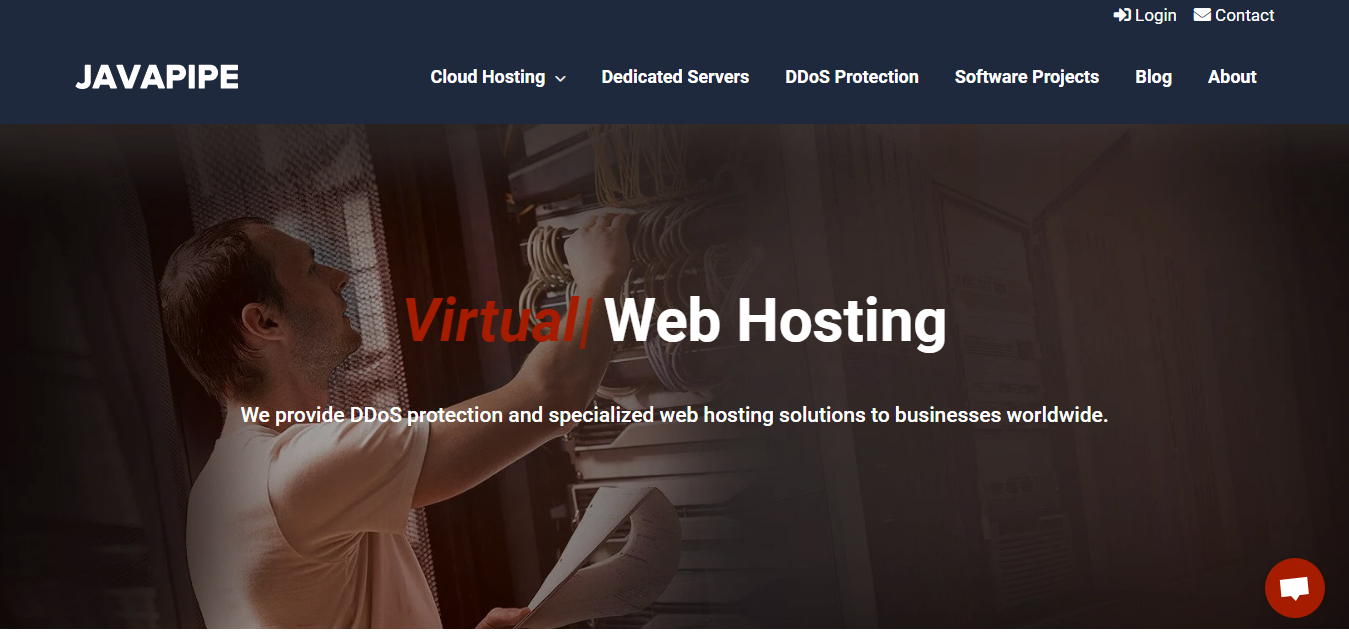 If you're interested in keeping your Windows virtual private server safe from cyber attacks, you should consider JavaPipe. This forex web host offers free and advanced security measures to its clients. They're invested in keeping your data and trades secret from hackers.
JavaPipe offers only Windows servers, However, the multiple server centers and low latency makes up for this. Even though the VPS offers data center customization, allowing you to choose the data center closest to your broker, there are only three options – Chicago, Amsterdam, and Bucharest. Because of this, you're not going to get the highest speeds or the best latencies.
RAM storage starts from 1GB and goes up to 8GB while the SSD ROM disk space goes from 15GB to 60GB ROM. For more, you'll have to get dedicated servers.
Since JavaPipe doesn't have any features tailormade for forex traders, you'll have to set everything up by yourself. You'll have to install your MT4 accounts and EAs. There are no auto setups.
Features
KVM-based VPS hosting allows you to control your server resources
Three main data centers to select from
Free DDoS Protection from cyber attack
Pros
Free advanced security and DDoS protection from cyber threats.
Multiple server centers close to brokers
Best Affordable VPS for forex
Cons
Does not have special features for forex traders
No built-in trading software
Pricing
JavaPipe's price tiers are divided into four — VPS 1 to 4. VPS 1 costs $6.12 monthly for 1GB RAM, 15GB ROM, 1 CPU core, multiple server locations, and free security protection.
VPS2 costs $12.50 for 2GB RAM and 25GB ROM, and 2 CPU cores. VPS 3 goes for $18.48 monthly. It allows up to 4 GB RAM, 40 GB SSD, and 4 CPU cores. VPS4 costs $24.66 per month. It offers 8 GB RAM and 60 GB SSD ROM. You get 8 CPU cores.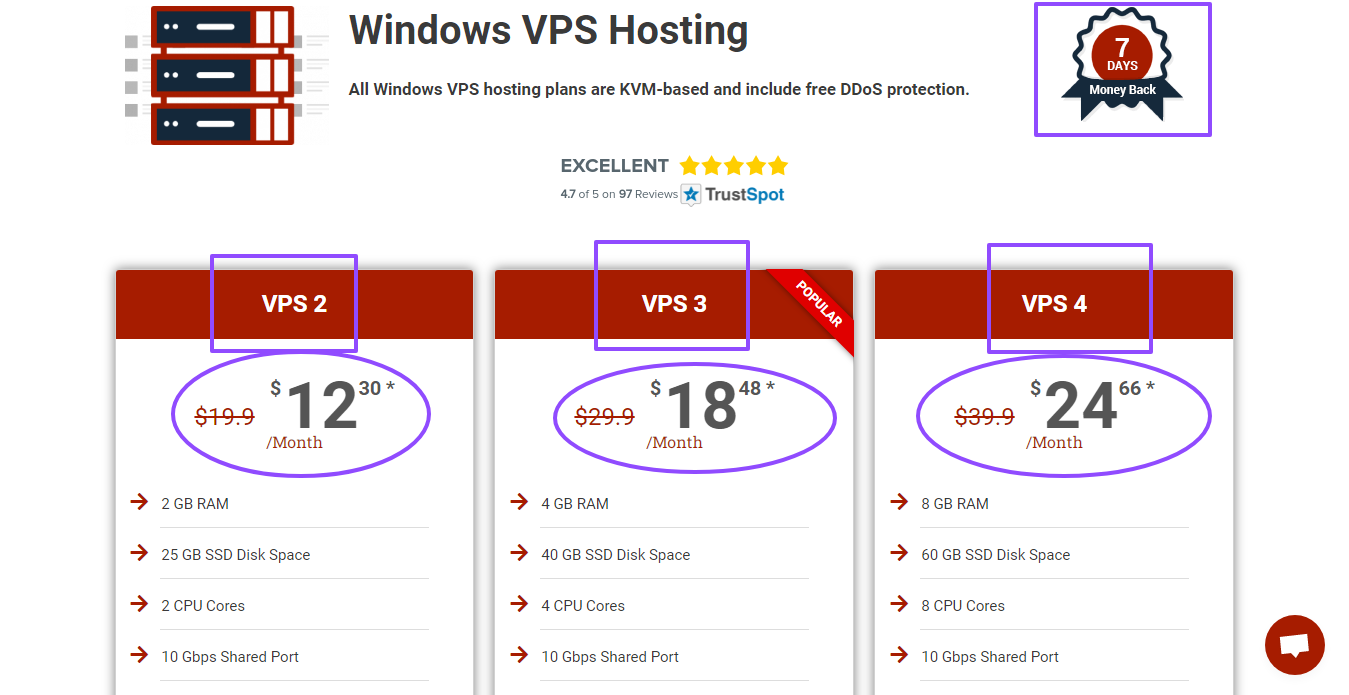 Best Value for Money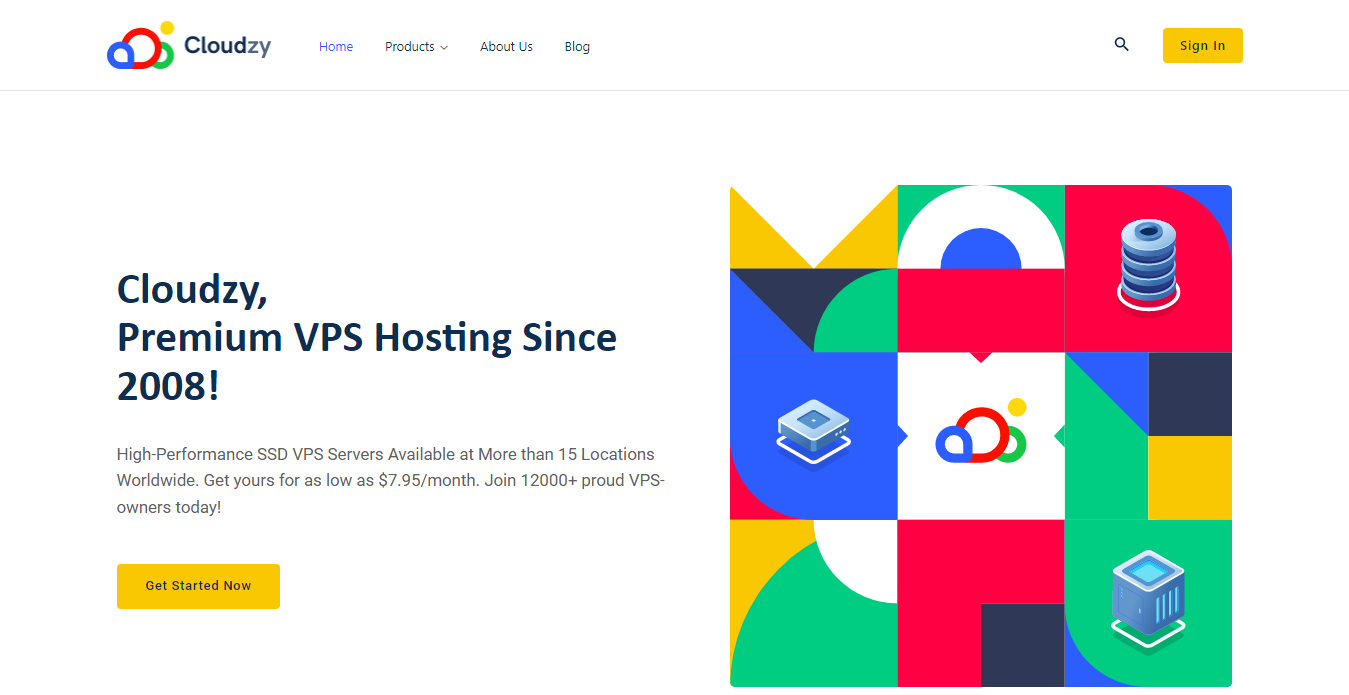 Are you looking for a cheap VPS provider that still provides you with all the important features for forex? Check out Cloudzy.
Cloudzy offers you a wide range of features for a very affordable price. For as little as $6 per month, you get access to 1GB RAM, 12GB ROM SSD, 1TB bandwidth, and a Virtualizer control panel. The highest disk space you can get goes up to 64GB, 800GB SSD ROM, and 15TB bandwidth.
Cloudzy has 29 data centers around the world making it easy to select one that is close to your forex broker. Therefore you get low latencies and almost instant trade executions. They also offer great cloud hosting services.
It promises a 99.95% uptime and supports multiple MT4 MT5 accounts and expert advisors. Cloudzy also offers both Windows servers and Linux servers. You can choose whichever one suits you the best. And it's all easily scalable.
Features
Supports MetaTrader 4, MT5, and other trade platforms
29 data centers spread across North America, Asia, and Europe
Low latencies
Both Linux and Windows server 2012 KVM-based VPS hosting
99.95% uptime
Pros
Offers high value for low cost
Supports major forex trading platforms and expert advisors
Has low latency
Supports both Linux and Windows
Has a 7-day money-back guarantee
Accepts payment via Bitcoin which is not common among VPS providers
Cons
Trading platforms are not built-in
Pricing
Cloudzy has several pricing tiers, but they are all divided into two main categories — Windows and Linux.
Linux VPS hosting starts from $5 monthly for 1GB RAM and 12GB SSD ROM, up to $300 monthly for 64GB ram and 800GB SSD ROM. The Windows VPS hosting plans begin from $10 for 2GB RAM and 30GB SSD ROM to $300 for 64GB RAM and 800GB SSD ROM.
All price plans offer you multiple server centers to choose from and the Virtualizer control panel.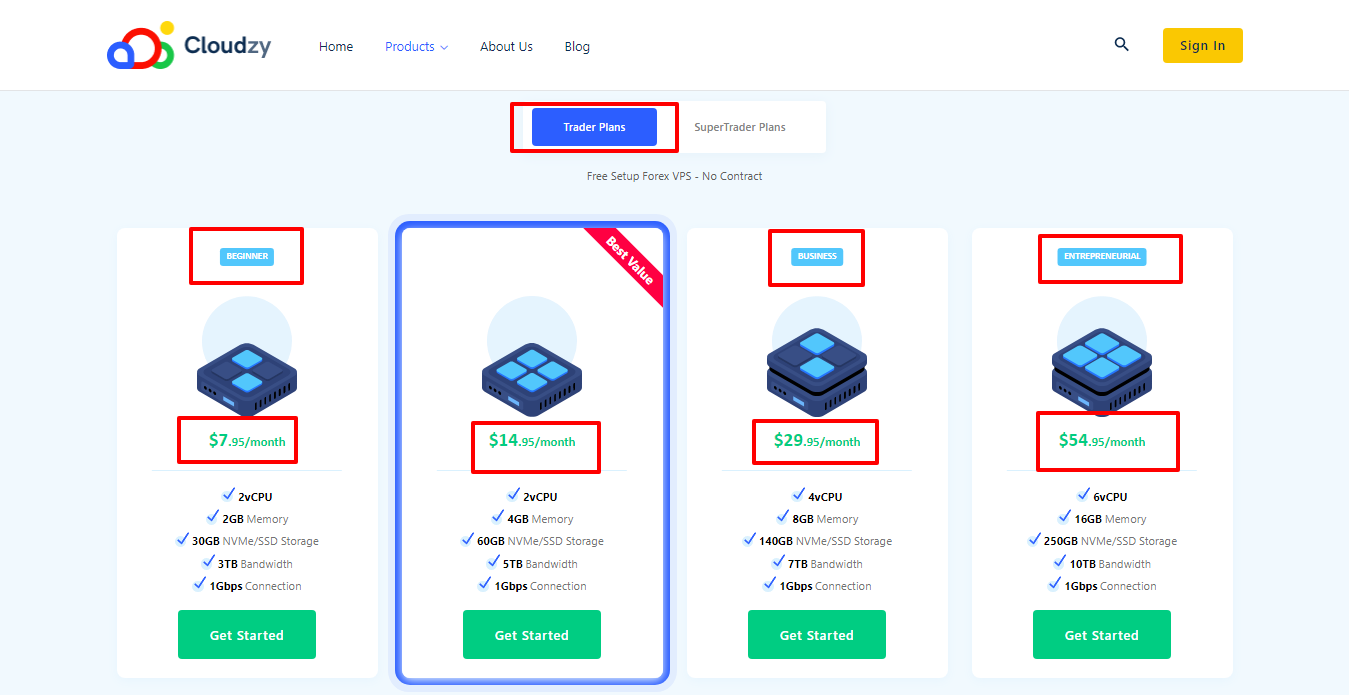 Best for Forex Trading Teams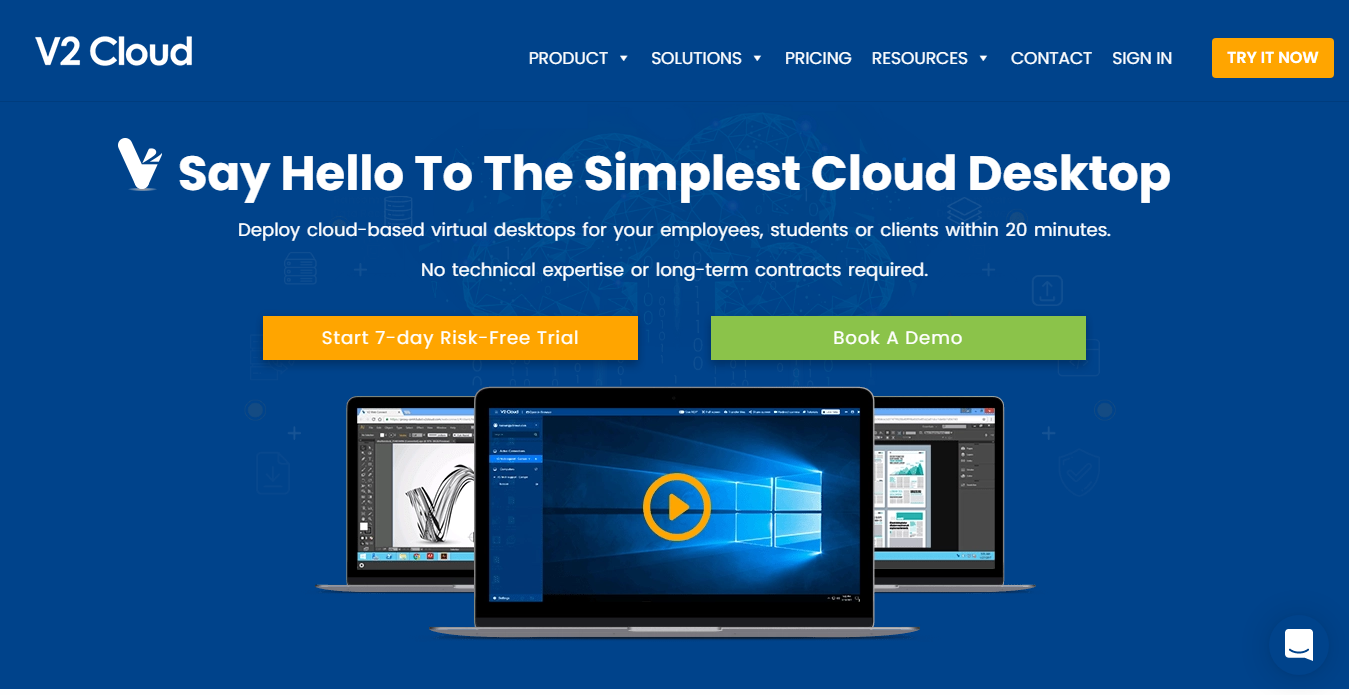 Even though a single trader can still enjoy its benefits, v2Cloud is better suited for forex trading teams. vCloud offers cloud-based virtual Windows Desktops. In a few clicks, you can deploy multiple virtual desktop server machines for forex trading.
v2Cloud offers two options – single and multi-user desktops. The multi-user desktops can hold up to 250 users. If you run a forex team, each member can access the same trading portfolios and accounts from different devices.
The built-in cloud-based features allow you and your team to access your trading station servers from any device including smartphones. V2Cloud has a custom-built Raspberry PI CPU that supports dual monitors and printers.
This forex hosting provider supports multiple MT4 and MT5 instances and forex trading robots. Traders who find it difficult to use one monitor to manage multiple accounts use v2 Cloud's cool multi-screen feature. The same user can access their account with multiple monitors, as long as their computers support it.
v2Cloud also has an awesome customer service team. They have a built-in live chat support feature allowing you to contact the support team from right inside your accounts.
You can maintain high security of your accounts by requiring several types of login security for your team members. You get daily backups if you request them.
v2 Cloud has 20 data centers in 8 countries, and you have the choice to pick any one closer to your broker.
Features
Multi-user virtual desktop support
Raspberry PI CPU
Daily automated backups
Built-in live chat support
20 server centers and reduced latency
Pros
Made for forex teams
Supports all the major trading platforms
Has multiple server centers close to brokers
Offers daily backups on request
Has built-in live chat support for easy customer service
Cons
No built-in platforms
Overwhelming for single traders
Pricing
v2Cloud has a trial period of 7 days. The VPS pricing tiers are divided into two – Basic and Business.
Basic goes for $40 per month. It has Windows server 2012, multi-user support, 50GB SSD ROM, SSO login for teams, and screen sharing between team members.
Business costs $60 per month. It offers everything in Basic plus daily backups, and API access for developers.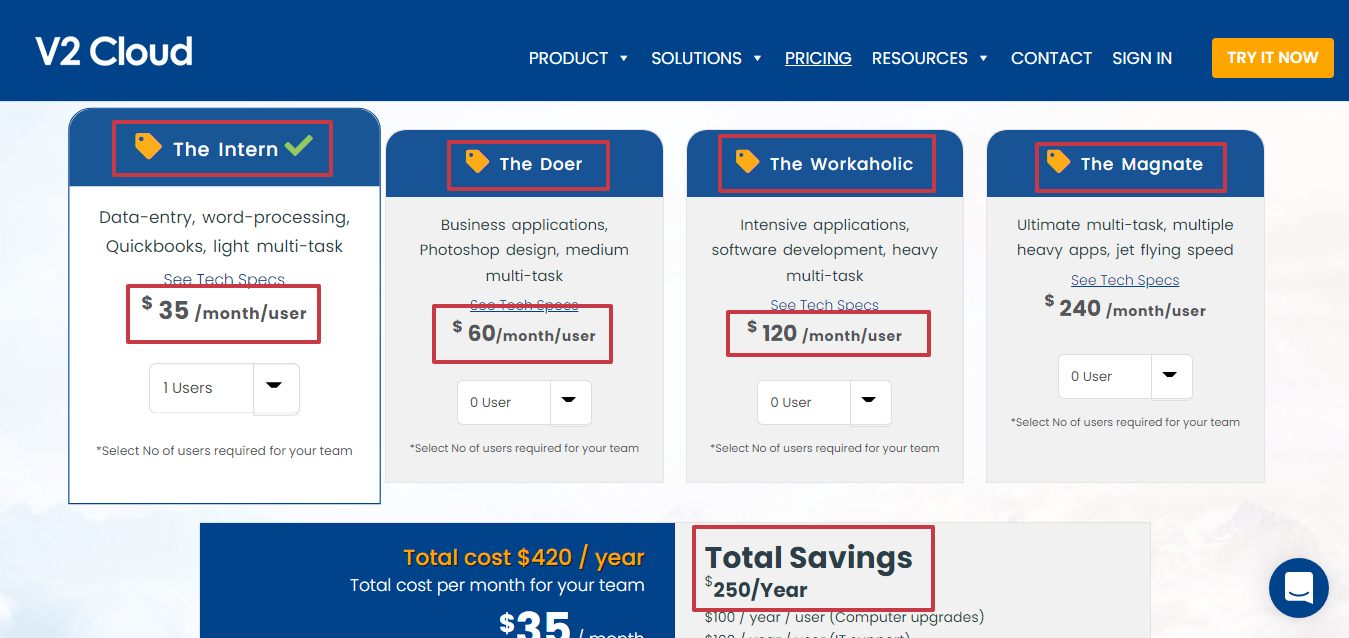 Read More: Best ASP.NET Hosting Providers
Best Money-Back Guarantee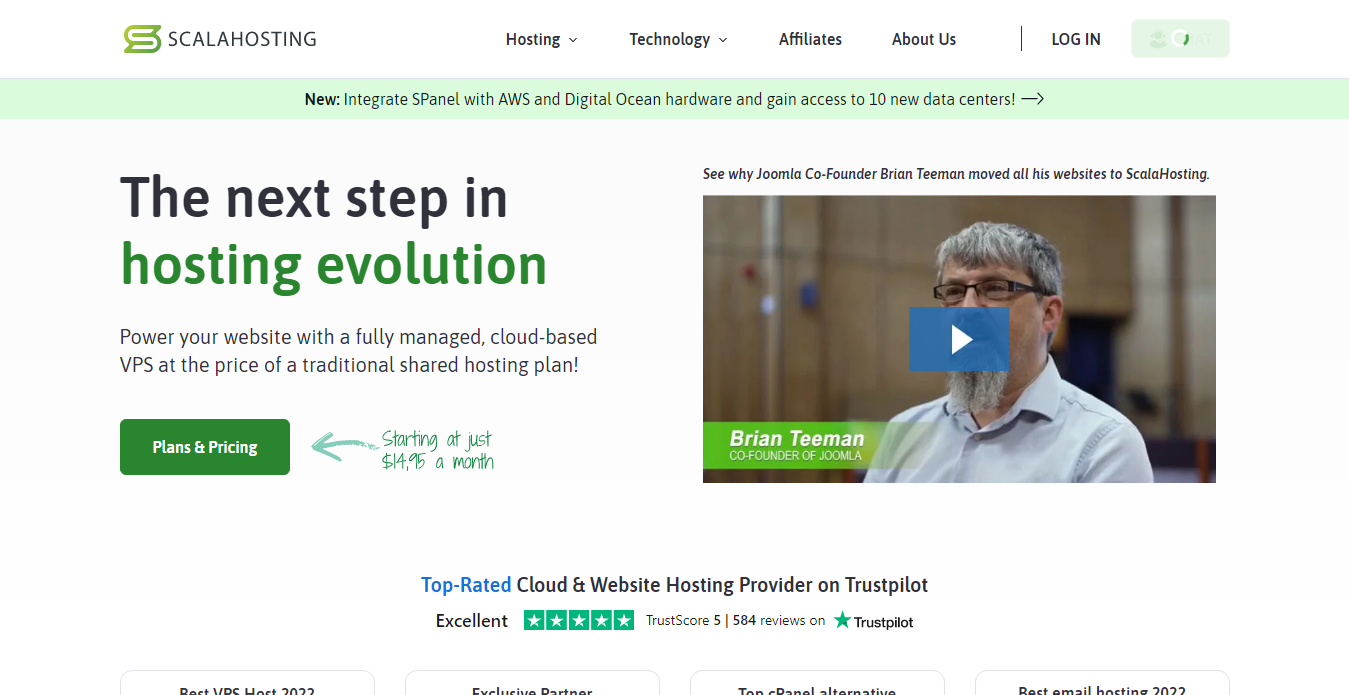 Scala Hosting offers you the lowest purchasing risk because you get 30 whole days to use the product and return if it doesn't match your needs. That's more than 4 times the forex industry standard of 7 days.
This forex web host is an adequate Virtual Private Server host suitable for both individuals and teams. For one, the host has more than 35 server centers placed strategically across the globe, close to popular forex broker servers. You can choose whichever you want at checkout.
Because of the numerous centers, 1 million+ active servers, and high speeds, your trade executions go through a very low latency. You don't have to worry about losing money due to low speed.
The storage options are also very generous. The starting options are 4GB RAM and 50GB ROM SSD.
If you're changing VPS providers, Scala offers you a 100% free migration that is done by the tech team. The hosting provider is invested in protecting your trades and portfolio data, which is why it offers free SShield security which protects against 99.998% of attacks.
The host has its management panel called SPanel. You can also use cPanel because it is fully compatible with it.
Read More: 9 Best cPanel Web Hosting Plans for 2023 (Ranked & Compared)
Their customer support is simply amazing. The average ticket response time is 15 minutes and live chat response has been reported by some users to be in seconds.
ScalaHosting stands out because it offers daily backups for all VPS plans.
Features
Free advanced security
Daily Backups for all plans
In-house SPanel
Free migration
35 server centers
Pros
35+ data centers and low trade latency
Free migration from other providers
High security to protect against hackers
Awesome customer support that responds in minutes
30-day money-back guarantee
Cons
There are no built-in forex trading platforms or advisors
Pricing
Pricing starts at $14.95 for the Start plan which offers 2 CPU cores, 4GB RAM, and 50GB ROM. The Advanced plan gives you 3 CPU cores, 6GB RAM, and 80GB SSD ROM for $33 monthly. Business plan costs $73 0wr month for 5 CPU cores, 10GB RAM, and 160GB ROM. The Enterprise plan offers 9 CPU cores, 18GB RAM, and 320GB ROM for $153 monthly.
Best for Customization Options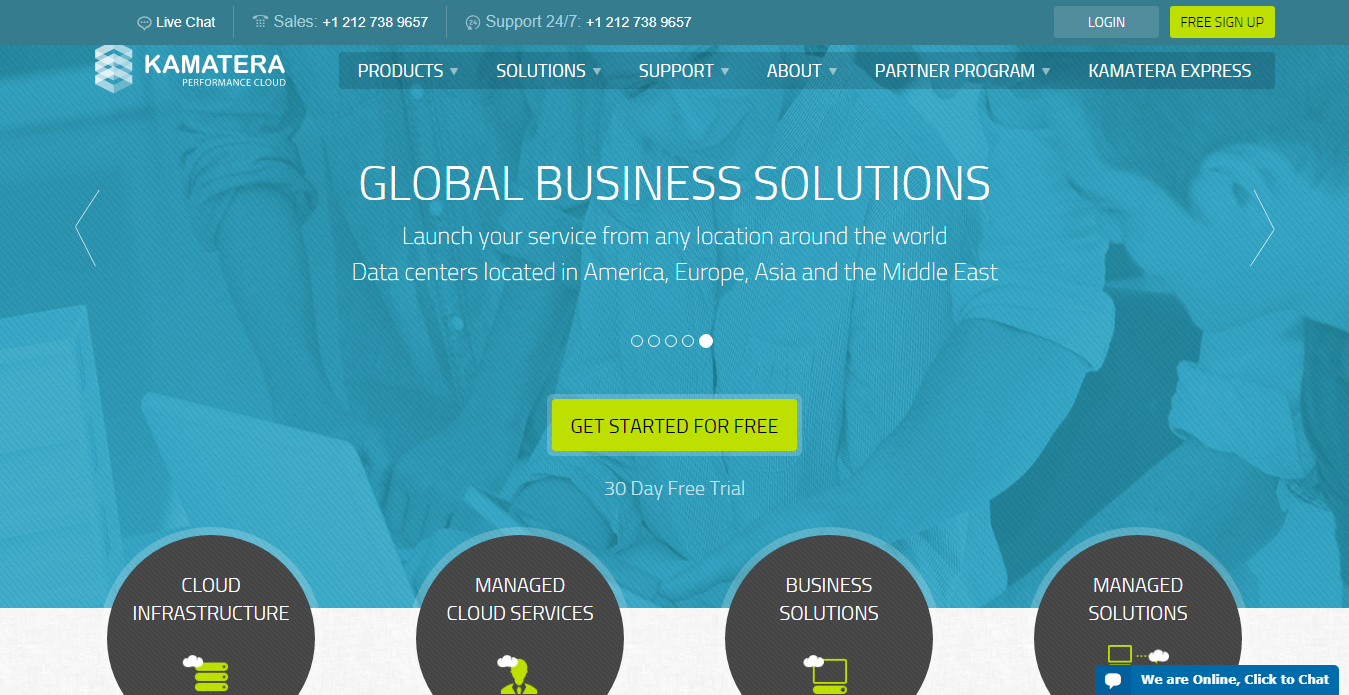 Kamatera is known for limitless customization options. You choose which features you need and how much.
First, this Virtual Private Server host has 13 data centers on three continents in Asia, North America, and Europe. You get to choose which data center to locate your forex virtual private server.
Second, the host supports three different Operating Systems including Windows, Linux, and Debian. It also allows different types of web administrators including cPanel, Plesk, and Vesta.
The host promises 99.95% uptime, has a built-in firewall for added security, and offers automated daily backups on request. It also has an RDP app for accessing your trading station remotely. Kamatera Express helps you launch a fully functional server in 60 seconds.
Kamatera supports customization from features to pricing. You can choose to begin with a single CPU core and 1GB RAM for 4 bucks a month, and then scale up to 20 cores and 256GB RAM.
Kamatera allows you to choose everything, from the operating system, web admin, and backup plan, to the payment plan – either monthly or per hour, and that's why it is the best provider for customization.
Features
Multiple Supported Operating Systems – Windows server, Linux, and Debian
13 server centers and 99.9% uptime
Kamatera Express for fast virtual private server setup
Different supported web admins – cPanel, Plesk, and Vesta
Pros
Highly customizable
Super fast deployment of forex server and high performance
13 server centers that offer reduced latency and 99.9% uptime
Supports multiple web server administrators
Cons
No live chat support
Too advanced for a beginner who is not tech-savvy
No built-in platforms
Pricing
Kamatera's pricing plans are highly customizable. You can select features for as low as $4 up to $2400 per month. You get up to 256GB RAM and 5TB SSD ROM.
There are six non-customizable plans. They cost from $4 to $80 per month and offer forex traders from 1GB to 16GB RAM and 20GB ROM to 100GB SSD ROM.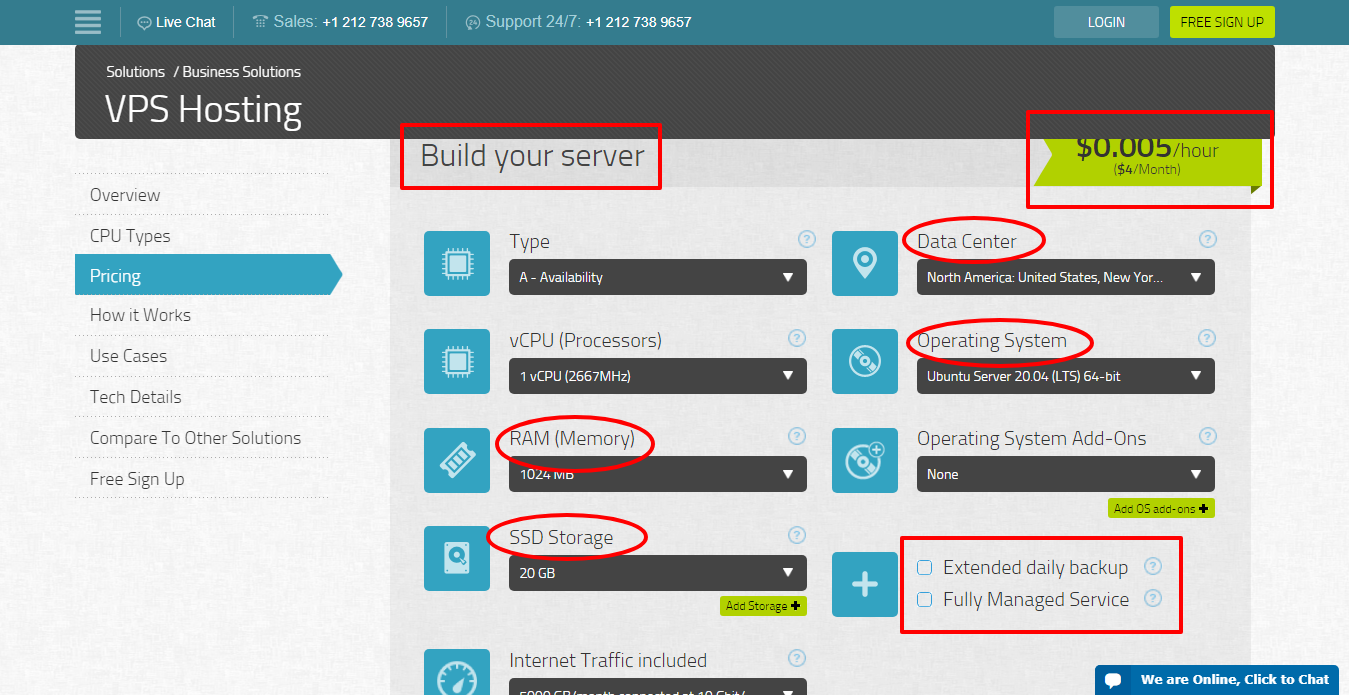 Best for Live Backups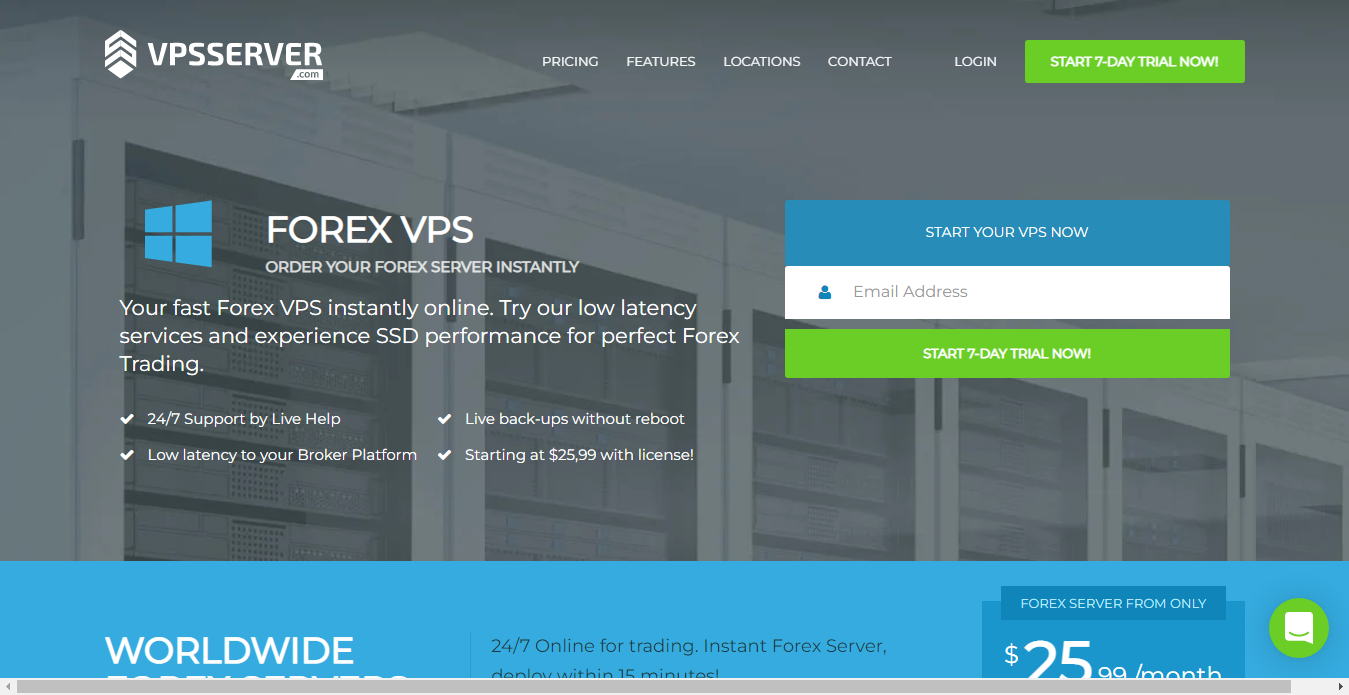 VPSServer stands out because of the live backups it offers. Many providers shut down your server for at least 15 minutes to get a backup done, which is why many do automated backups on the weekends.
VPSServer is different because it backs up your data while your server is running. This provider offers on-demand live backups of server data as often as you'd like.
Apart from the backups, this VPS has 17 data centers located near several brokers, offers up to 192GB RAM and 32 CPU cores, and guarantees you 99.9% uptime. The server locations include New York, London, South Africa, North America, and Tokyo.
The host has an RDC for remote access so that you can trade anywhere and at any time. It also has built-in DDoS server protection against malware and hackers.
The forex web host accepts payment via Bitcoin and credit cards, and offers a 7-day trial.
Features
Live backups of server data
DDoS protection against cyberthreats
17 server hosting centers and minimized latency
99.9% uptime guarantee
Pros
Allows live backups of your forex trading data without shutting down your server
Has 17 server centers and hundreds of thousands of VPS servers placed near forex brokers
Accepts payment via Bitcoin
Cons
You have to pay extra for live backups
No pre-installed platforms
Pricing
VPSServer offers a free 7-day trial. Pricing starts from $4 monthly for 1GB RAM, 20GB ROM, and 1 CPU core. It goes up to 192GB RAM, 2TB ROM, and 32 CPU cores.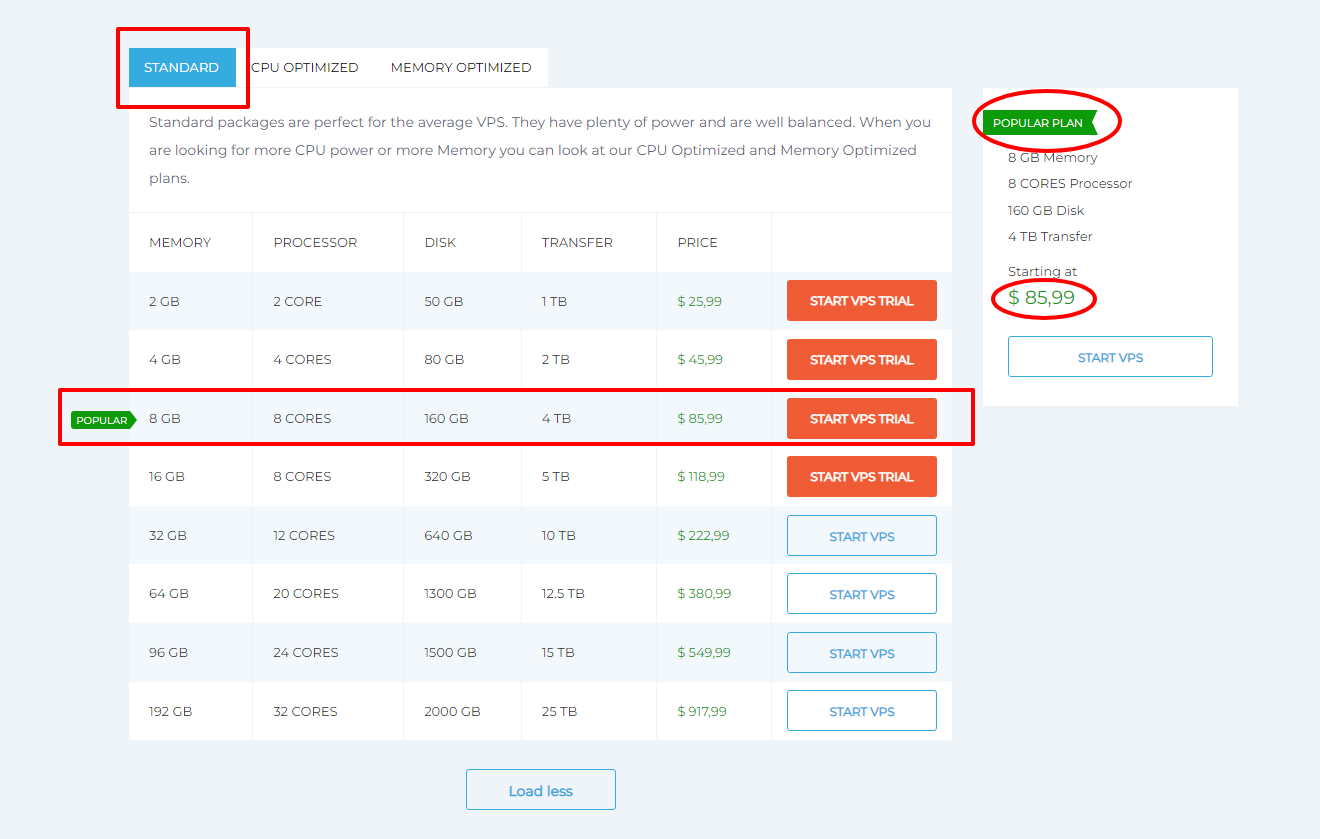 Best for Payment Options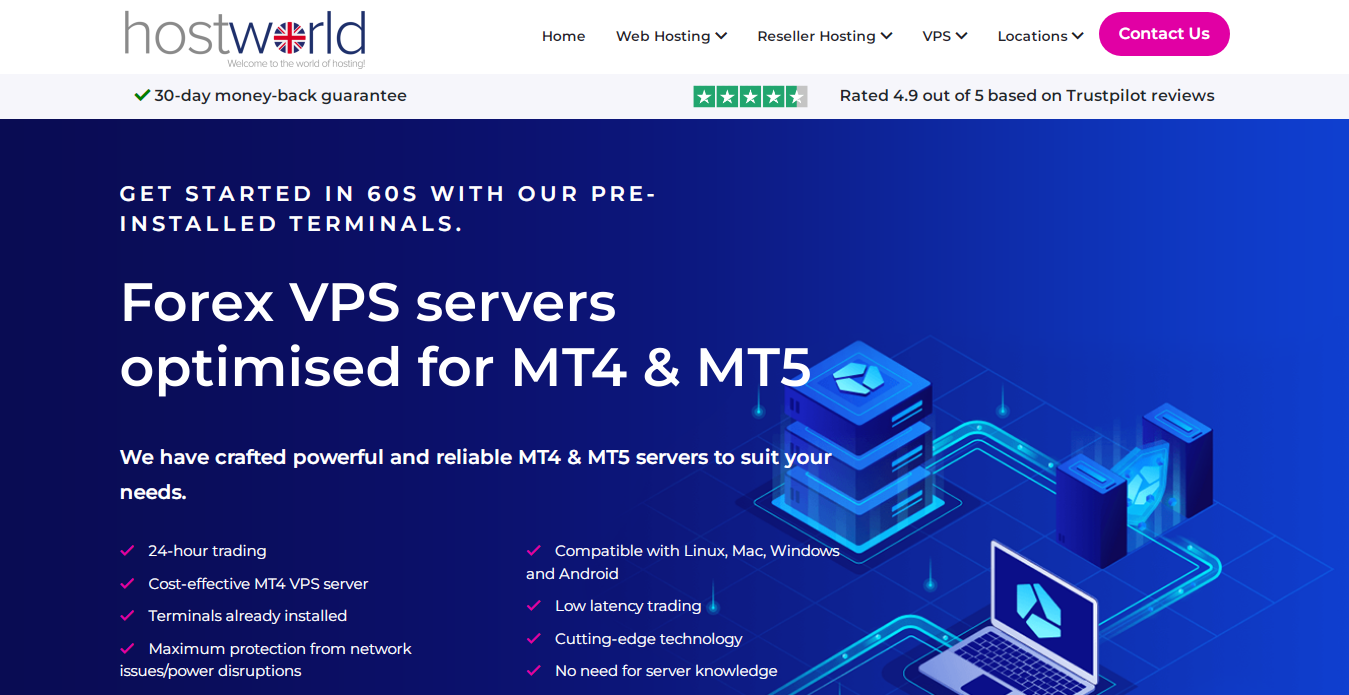 If you have trouble paying for VPS with the usual methods, you should consider HostWorld that has many accepted diverse payment methods. Apart from the typical card, PayPal Skrill methods, HostWorld accepts payment via Bitcoin, Union Pay, and AliPay.
This Virtual Provider Server host is built for forex traders. That is why it comes with MT4 and MT5 built-in with support for multiple instances on the same server. It also allows two different server administrators – cPanel and Direct Admin.
HostWorld offers a 99.9% uptime guarantee, which means you don't have to worry about power outages. The host has an RDP for placing trades remotely using any device of your choice. It supports both Linux and Windows operating systems.
Features
Windows Server and Linux operating systems
Remote Desktop Program for remote forex trading
99.9% uptime
Multiple data centers in London, New York, and Tokyo
Pros
Has built-in MetaTrader platforms which save you from installing them separately
Accepts a wide range of payment methods
Supports two system administrators – cPanel and Direct Admin
Cons
Has no in-built Expert Advisor
Pricing
HostWorld has five pricing tiers —Single, Dual, Quad, Octo, and Agency. The Single plan goes for £14.99 monthly and allows 1GB RAM, 50GB ROM, and one built-in trading terminal. Octo goes for £29.99 monthly and offers 8 built-in terminals, 4GB RAM, and 100GB ROM.
What Features a Forex VPS Should Have?
Here are the features to look out for when selecting a VPS host.
Multiple Supported Platforms with Low Latency
Latency is the time taken for an order to travel from a trading platform to a broker. The lower the latency, the faster your order gets executed before those of your competitors.
When choosing a VPS hosting plan, ensure the vendor supports multiple MT4 instances and other platforms on the same server. If your VPS restricts your access to various cases and media, you may have problems communicating with brokers.
Therefore, choose a VPS that provides you with low latency and support for many MetaTrader 4 instances.
Easy and Optimized OS
Different Virtual Private Servers support different Operating Systems. For example, some run on the Windows Server 2012 platform, while others run on Linux.
Ensure that the VPS host you select runs an operating system you are familiar with. Choose an OS that supports enough RAM capacity, reliable data transmission speed, and backup control, in addition to convenience of use. RAM affects speed while backup control prevents permanent data loss.
Stability and Maintenance
The forex market is never asleep, which is why your accounts also have to be online 24 hours. You need a VPS service provider that offers at least 99% uptime to avoid frequent downtimes that cause trade losses.
Ensure that the server you choose offers you peace of mind in stability and good maintenance. Choose one of the VPS providers that provide the finest uptime for the money, so you don't worry about servers crashing or signal instability.
Security
Cyber attackers are always trying to hack trading accounts for money and data. You should not put your money or privacy at risk when trading with the platforms. Only select protected VPS services with zero malware.
Choose a provider that offers SSL protection, data packet encryption, and DDoS protection.
Third-Party App Support
Third-party apps also called complementary programs to increase the functionality of a host and provide a better user experience.
In case you're a trader who wants to incorporate a lot of features with your VPS, you should check complementary programs supported by your host.
Customer Support
Customer Support cannot be overrated in forex trading. You need a VPS provider that has a support team ready all the time to solve emergencies.
A VPS host that provides excellent customer service reduces the damages of sudden issues and minimizes investment risks. This is especially important because you can't afford any disruptions that could jeopardize your capital investment.
Choose from providers with several customer support channels like ticketing, email support, phone support, and live chat support. Check that it has lots of help guides and documentation articles.
FAQs
What is Forex VPS Hosting?
Forex VPS is a virtual private server that helps forex traders to place high-speed orders at any time of the day usually run by bots.
Why do Traders use VPS?
Traders use VPS services because they offer lots of features for a relatively low price. VPS provider has high speed, minimized latency, data security, automated forex trading, and even in-built MT4, MT5 support.
Is a VPS Necessary for Forex?
No. A VPS is not necessary for forex trading. However, many retail traders choose to use VPS solutions because they offer private and secured forex trading with low latencies.
How Does MT4 VPS Work?
An MT4 VPS constantly transfers data between the forex trader's server and the broker's servers, without needing to be connected to the internet. A trader sets up the forex MT4 VPS to run 24/7, sometimes automatically placing trades depending on the state of the forex market. MetaTrader 4 is the most commonly used forex trading platform by foreign exchange traders today.
Conclusion
Choosing the right VPS for forex trading depends on the one that most suits your needs. If you're not very tech-savvy, you may need a VPS for the forex platform with pre-installed terminals and fast deployment. If staying ahead of your competition is more important, choose a VPS host provider with lots of centers and very reduced latency.
Make sure to keep your needs upfront as you select which host to go with. Good luck.

As one of the co-founders of Codeless, I bring to the table expertise in developing WordPress and web applications, as well as a track record of effectively managing hosting and servers. My passion for acquiring knowledge and my enthusiasm for constructing and testing novel technologies drive me to constantly innovate and improve.
Expertise:
Web Development,
Web Design,
Linux System Administration,
SEO
Experience:
15 years of experience in Web Development by developing and designing some of the most popular WordPress Themes like Specular, Tower, and Folie.
Education:
I have a degree in Engineering Physics and MSC in Material Science and Opto Electronics.