You need your website to be as essential as practicable if you create it yourself. One method is to utilize a cPanel web hosting site, enabling you to use the world's most famous control panel for almost all website management requirements.
Many web servers utilize cPanel, but a few crucial factors to consider when selecting a cPanel host are high server speeds and stability, intelligent resource allocation, customer service, and affordability.
We examined various cPanel web hosts on these criteria to develop a list of suggestions worth your time and money.
Here is a short list of the best cPanel web hosting providers with cheap plans:
Below, we go through the specifics of the top cPanel hosting.
The Top 7 Best cPanel Hosting Providers
Best for newbies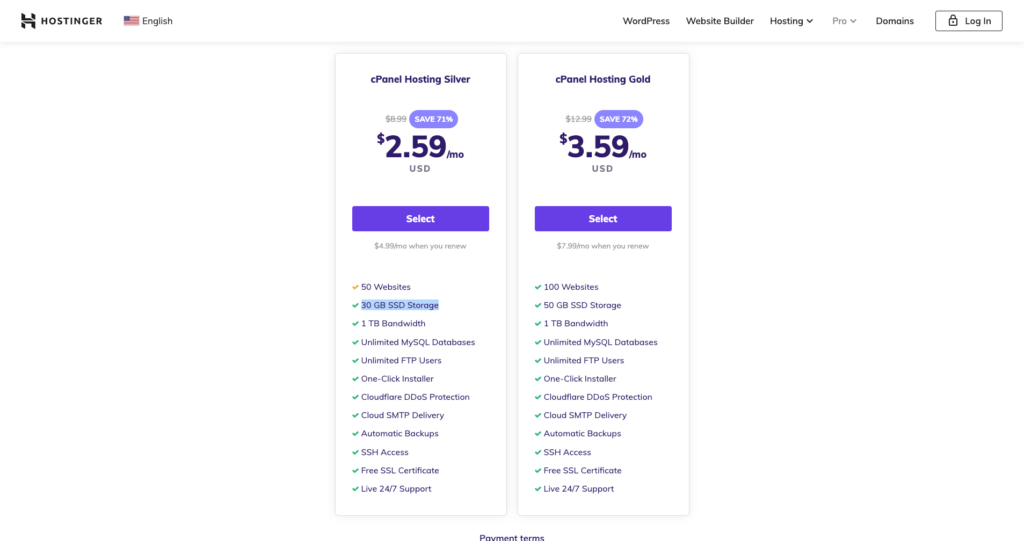 Hostinger began as a free web hosting company in 2007 and has since developed into one of the top sharing and cloud hosting companies available. They provide goods at rock-bottom pricing. If you're developing a website and require web hosting to get going, or if you do wish to upgrade from your current host, Hostinger is the best option to consider.
They have this amazing offer for cPanel web hosting with an amazing price of $2.59/month with 30GB SSD, and 1TB Bandwidth.
You can get an extra 7% off if you purchase it for this link and add our exclusive coupon code CODELESS
Hostinger receives good reviews across the board for its inexpensive rates, outstanding support, useful features, and consistently high uptime and speed performance.
It attracts many first-time site hosts because of its low cost and simple structure, ensuring that you never spend much or feel overwhelmed. Furthermore, it is well-suited to running WordPress sites, and you can even design your website straight through Hostinger for optimal simplicity.
When it concerns server resources, Hostinger is quite liberal and straightforward. Given that a tiny website often requires no more than 5Gb of free space, the Single plan is more than adequate. Meanwhile, 200GB with Business is far more than many rivals conceal behind their limitless jargon.
Unlimited email hosting accounts, by the way, are no longer available. You may create 100 users for each domain with Premium and Business. Hostinger is among the most adaptable hosting services, with alternatives no matter how large or tiny your website is.
Read More: Full Hostinger Review
Features:
Free SSL Certificate with 1-Click Setup 99.9% Uptime Assurance
Simple Website Maker
Quick setup
Backups per week
Live chat is available anytime
Money-Back Assurance for 30 Days
PHP and SQL support
Can be used also as a minecraft server hosting provider
Price:
Hostinger plans are:
cPanel Hosting Silver – $2.59/month ($4.99/mo at Renewal)
cPanel Hosting Gold – $3.59/month ($7.99/mo at Renewal)
Best cheap cPanel shared hosting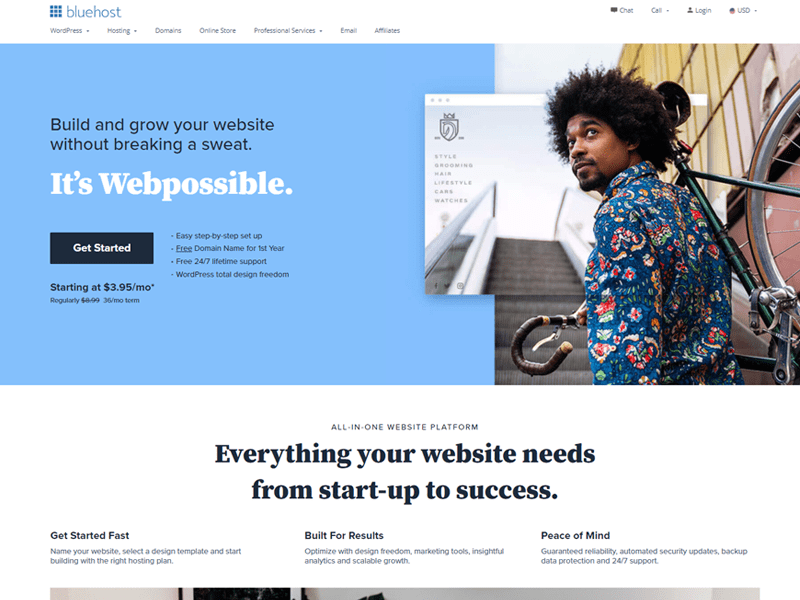 BlueHost, being among the top 20 website hosting services in the world, has also been recommended by WordPress.org as one of the best shared hosting that properly runs WordPress.
BlueHost's popularity may be gauged by the idea that they operate over 2 million domains. Probably, affordable cPanel hosting with a free domain contributed to their success and client base.
Technological help is provided 24 hours a day, seven days a week via different channels for instant support. Most bloggers, new users, and online marketers select BlueHost for their first host since numerous pros, such as Pat Flynn, recommend them. Rather than providing the typical cPanel control panel, BlueHost altered it and made it more colorful, which looks good.
Aside from that, a dedicated WordPress panel has been built, in which one can quickly purchase an SSL certificate or take recoveries. Everyone gets a free drag-and-drop page builder, $150 in advertising credits, and automatic backups. Because the organization has a versatile and adaptable architecture, growing the server capacity will not need relocation as your traffic develops.
The complete platform is constructed using cutting-edge hardware, and technological advances and is finely tuned for peak effectiveness.
If you are not happy with Bluehost you can check our article: 7 Best Bluehost Alternatives (Compared)
Features:
WordPress.org has officially recommended this plugin.
Yearly memberships provide a free domain name
99.9% maintenance reliability
WordPress-specific tools
Reasonable speed
Dashboard for cPanel created from scratch
A good option for inexperienced bloggers.
Price:
Four plans of Bluehost are:
Basic – Starts at $2.95 per month (renews at $7.99)
Plus – Starts at $5.45 per month (renews at $10.99)
Choice Plus – Starts at $5.45 per month (renews at $14.99)
Pro – Starts at $13.95 per month (renews at $23.99)
Read More: Bluehost Full Review
Best for client service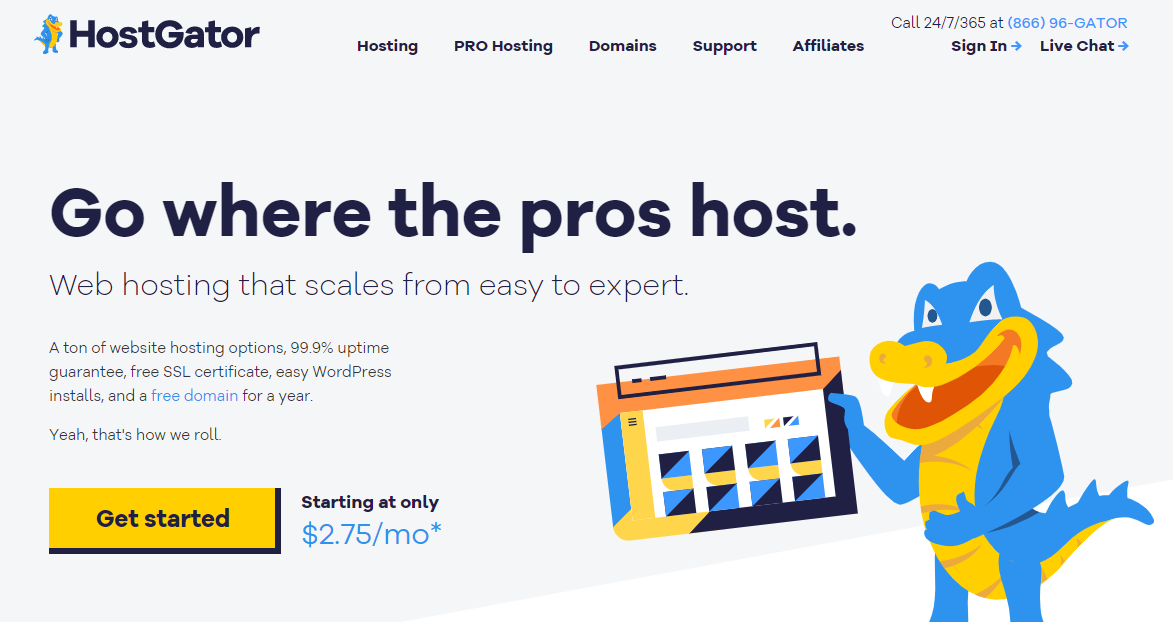 HostGator is another prominent and well-known cPanel shared hosting service that offers lower-cost options than BlueHost and HostWinds. They now host over 8,000,000 domains on their network, ranking them among the top ten largest servers.
They routinely give ridiculously inexpensive up to 80% off discounted promos, which is why novices and newcomers pick HostGator for economical web hosting. In addition, each subscription includes a free $200 credit for Bing and Google.
Even though their shared cPanel hosting services are reasonably priced, you still receive unlimited storage, bandwidth, FTP accounts, and email addresses. Learners may use the free HG website method to build a visually appealing site by selecting 100+ setups.
HostGator offers shared, VPS, dedicated, cloud, and perhaps even reseller hosting based on your needs and price. Changing to a more paid membership will give you access to additional services such as limitless sites, a free dedicated IP address, and free SEO services.
The cPanel control panel, on the contrary side, has a 1-click script launcher that allows you to install WordPress, Joomla, Magento, Drupal, and other scripts with a few clicks. They claim to have 99.9 percent uptime. However, we thought they were rather excellent at it.
It's worth mentioning that HostGator's data centers are solely located in the United States. As a result, it will work excellent if your target audience is also based in the United States.
HostGator's availability and browsing speed are satisfactory, and it is a dedicated server hosting site. Otherwise, if they do not please you, they have a 45-day refund policy in effect. AWStats, Error logs, Webalizer, shopping carts, blogs, chats, and form mail are all accessible as extras in all accounts.
The award-winning support team is available 24 hours a day, seven days a week, by live chat, telephone, and ticket software. Moreover, the firm provides a comprehensive self-help webpage with over 1100 lessons in videos and articles.
Features:
For saving webmasters, low-cost web hosting using cPanel software is available.
75 open source scripts are supported, as well as the one-click
SpamAssassin installation to avoid spams.
Space, data transmission, and email accounts are all limitless.
Features that help with design and programming
SSH connection, Cron jobs, and PHP editions are examples of additional capabilities.
Search engines receive free advertising credits for $200.
Price:
The three plans which HostGator offer are:
Hatchling Plan – $2.75/month
Baby Plan – $3.50/month
Business Plan – $5.25/month
Best cPanel for cloud hosting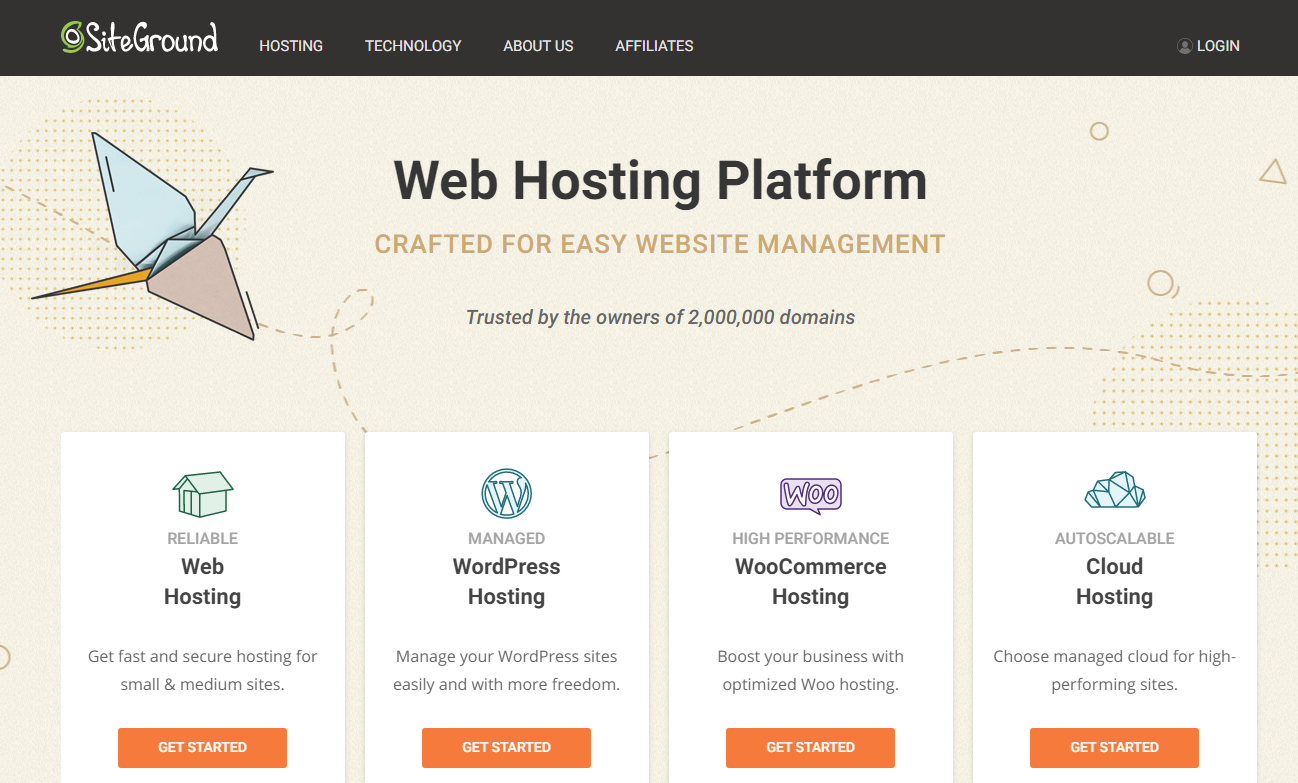 SiteGround is frequently ranked as one of the best hosting providers in the business, which is no minor achievement given how tough the sector is. In terms of assistance and efficiency, its offerings are constantly classified as high, whether as shared or dedicated hosting.
SiteGround also employs Google Cloud as a data centres supplier, contributing to its quick performance and high dependability.
Nevertheless, the plans provided by SiteGround vary from those provided by the other firms on this listing. It offers affordable and flexible hosting services and options tailored to WordPress and WooCommerce. As a distributor, you may also provide hosting services.
SiteGround employs the usual cPanel interface. However, it has a few extra capabilities. It includes staging capability for WordPress users and Git connectivity, allowing you to build repositories directly from cPanel. These features may render this server especially interesting to programmers.
Overall, its pricing is very standard for entry-level packages. On the other hand, mid-sized clients may wish to investigate VPS hosting choices with other carriers before engaging in SiteGround's flexible cloud hosting.
They also provide truly unlimited traffic with all of their plans. That implies you don't have to be concerned about the size of your community or the number of visitors to the website. You may experience a rise in traffic without seeing your assets slowed or your price increase on your next statement.
It is an excellent alternative for expanding websites since each plan provides different possibilities based on your monthly visitor load.
Features:
Google Cloud-powered fast servers
Excellent client service
WordPress has officially recommended this plugin
WordPress installation in one click
SSL, CDN, and website backups are all provided for free
Tools for Simple Staging
Website Migration for Free
Price:
Plans offered by Siteground are:
StartUp – $3.99/month
GrowBig – $6.69/month
GoGeek – $10.69/month
Best Superfast page loading speed, Reliable uptime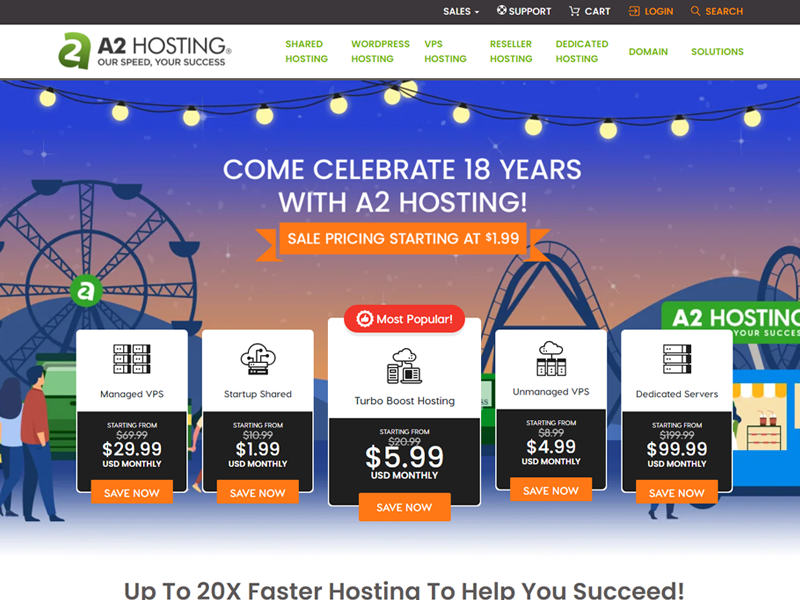 A2 Hosting, the best web hosting, was started in 2001 and today serves thousands of clients worldwide. Turbo technology, rigorous security procedures, HTTP/2, and solid-state drives that give 20x quicker performance than regular HDDs received a 5/5 average ranking from genuine users and reviewed portals with 23k third-party evaluations.
The fact that their plans perform with an amazing loading time makes it a great SEO web hosting provider.
There is no obligation for further optimization because the server-level caching technology works out of the box. You may be aware that Windows hosting is much more expensive than Linux hosting; however, A2 pricing both sensibly.
The shared cPanel host plan starts at $3.92 per month and includes a single domain, five databases, unlimited website space and bandwidth, free SSL, and the A2 Optimised function.
Windows packages begin at $4.90 per month and include hosting for one domain, ten databases, truly unlimited space, data transmission, and technological specifications. In terms of customer service, expert personnel are available 24 hours a day, seven days a week.
Unlike many other web hosting providers such as SiteGround, A2Hosting does not impose disk space or bandwidth limits on any joint account so that you may publish an infinite amount of material. Furthermore, they offer an "Anytime Return Policy," so if you find them to be worthless, you may request a return.
A2 also employs Softaculous, which is designed to allow you to download applications to your account with a single click. Softaculous, and all auto-updates are accessible from your cPanel dashboard. Note that you will receive the full refund within the first 30 days, followed by prorated credits for abandoned goods.
Features:
Free SSL certificates and SSD web hosting
It supports many PHP editions.
Storage using RAID-10 and 20x Turbo systems
eCommerce-friendly (1-click OpenCart, PrestaShop, etc.)
Real researchers have put it at a 5-star rating on average.
Simple Cloudflare connection to increase performance even further.
Refunds are accessible anytime, and full refunds are offered within 30 days.
Price:
A2 hosting offers four plans which are:
Start– $2.99/month
Drive – $4.99/month
Turbo Boost – $9.99/month
Turbo Max – $14.99/month
Best for small and large businesses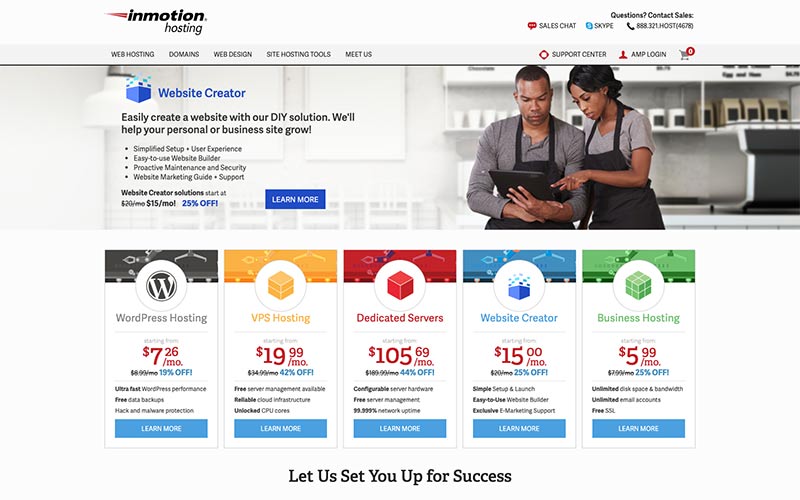 InMotion hosting is a fast WordPress host and a speedy cPanel hosting provider that provides inexpensive options for small to large organizations. Furthermore, Max, their systems are outfitted with solid-state discs, cutting-edge technology, and up-to-date security updates. Speed Zone data centres offer lightning-fast load speeds as well as minimal latencies. In a couple of moments, you can configure the necessary settings directly from the cPanel portal.
Every hosting plan provides a free domain, free SSL, SSD server, and 400+ one-click installers for installing Joomla, Drupal, WordPress, Magento, and other applications in seconds. With scores of prizes and CNET's 15-year leading rating for best hosting, InMotion hosting will never let you down in terms of dependability, availability, and performance. Regarding VPS and shared hosting solutions, InMotion is tough to emulate, given its amazing features, disc space, and client service.
Also, it is listed as one of the best Magento 2 hosting providers.
Regarding customer service, they are accessible 24 hours a day, seven days a week via chat, cellphone, mail, and Skype. As they have particular restrictions for hosting domains on each profile, you receive unlimited bandwidth and space irrespective of the package you pick. For instance, the most basic "Launch" plan includes two hosted domains and complimentary SSL certificates. New users may utilize a drag-and-drop page builder to set up a website without technical knowledge. In addition, a 90-day money-back warranty is offered.
Features:
With cPanel, you may host a website without any restrictions at an affordable price.
Even its "Launch" package allows for two domains.
Credits for free domain registering
Data centres with maximum performance zones and configurable caching
SSL certificates and SSH access are provided for free.
Several customer service channels are available.
Price:
Inmotion hosting has four plans:
Lite – $2.49/month
Launch – $4.99/month
Power – $4.99/month
Pro – $12.99/month
Best for Shared, dedicated, VPS Hosting and Third-party applications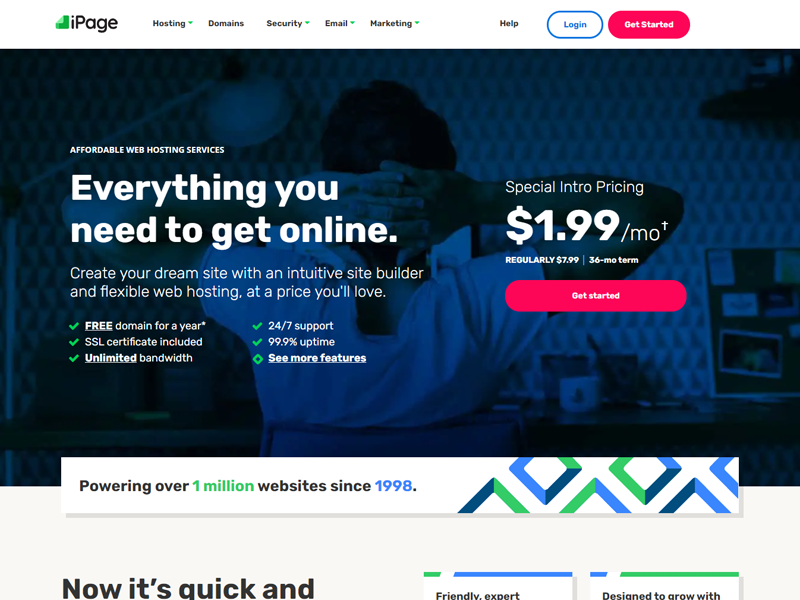 While most of its competitors provide various shared hosting options, iPage differentiates by offering only one shared hosting package. At $1.95/month, the Go Plan is undoubtedly the cheapest shared hosting plan we've seen, but it impressed us with the breadth of its services despite its low price.
Unlike many other hosting companies, which restrict your bandwidth or disk space as well as the amount of pages you can host, the single shared hosting plan allows the user to access an infinite list of sites, personal emails and have truly unmetered bandwidth and disc storage. These are things that competitors only provide in their most expensive premium packages.
The company says that the shared hosting plan can meet the expectations of 99.95% of its customers. Still, if you are the unusual case that moves past the shared hosting package, iPage will assist you in migrating to a VPS or devoted hosting plan. In addition to deviating from industry standards, iPage publicizes CentOS 7 to operate its VPS systems. The majority of other hosting businesses remain deafeningly silent about the deployment of their Linux servers.
The Basic VPS hosting plan costs $19.99 per month and includes 1TB of bandwidth and 40GB of storage capacity. Sadly, it only provides 1GB of RAM, so you must upgrade to the Business or Optimum plan if you want additional RAM, disc space, or processing capabilities.
Furthermore, none of the hosting options contain any safety or backup features. That is because iPage offers these as distinct add-ons. The Website Backing & Restore add-on, which allows for automated daily backup and single-click recovery, costs $1 per month. Likewise, the Sitelock add-on costs $1.99 a month, does daily virus scans, prevents robotic bot assaults, and immediately provides antivirus protection.
Features:
Obtain a free domain for the first year
Emails are limitless.
Storage capacity is limitless.
Wind energy provides 100 percent of the electricity.
Site-building options, including templates, are available for free.
Virus and spamming scans are performed daily.
Broadband scalability
Domains are limitless.
MySQL datasets are limitless.
Apps like b2evolution and WordPress are simple to install.
Guaranteed uptime of 99.99 percent.
Price:
iPage plan is:
How to Choose the Best cPanel Hosting
Each cPanel hosting company is distinct. With their feature offerings, hosting type, and cost, some will be best adapted for your website needs than others.
Deciding might be difficult if you don't understand what you want. As a result, you should consider what you require and the evident high uptime levels and improved performance. We've mentioned a few things you should consider before selecting a cPanel web hosting company below.
cPanel Licence for Free:
If you intend to use cPanel, you must choose a provider who provides a free cPanel license. The good news is that many web providers provide a free cPanel license. You may also locate hosts who charge a fee for a cPanel license. But then why invest in something which can be available for free?
One-Click App Installation:
People like cPanel hosting plans because of their easy-to-use interface and interoperability with third-party apps. Look for a service that provides all of the benefits mentioned earlier while also making it easy to control everything from the dashboard.
Choose a web server that promotes one-click app installation. It eliminates the need for complex downloads and installation. Furthermore, the entire procedure will be considerably faster. Whether you operate an eCommerce platform or a simple WordPress blog, third-party app deployment will make matters a lot easier for you.
One-click or auto-updates are also available from web hosts that offer one-click app downloads.
System Preconditions:
Your potential cPanel hosting package should meet all of your website's requirements. Otherwise, spending all that cash just to purchase a strategy that falls short would be a waste of money.
Examine the plan's materials to see how well it fulfils your website's requirements. RAM, bandwidth, storage, and CPUs are all included. I would also recommend selecting a service that allows you to adapt by updating in a seasonal increase or increased organic traffic.
What is cPanel hosting?
cPanel is a popular and frequently used Linux-based management control panel for managing web hosting platforms. It allows for simple control of your websites and system setups via a user-friendly graphical interface. Users can establish DNS records, sub-domains, email profiles, folder organizers, server statistics, connect third-party applications (CloudFlare), and activate SSL, among other things.
Almost all providers provide shared hosting with cPanel to assist users in achieving their goals. Though several control panels are commercially accessible, cPanel is the best since it does not include demand installations on your computer system and can be used directly from the web. However, certain hosting companies, such as BlueHost, have modified the standard cPanel to improve the simplicity and effectiveness of use. Each site hosting service comes with 10Gbit of DDoS protection, which assists our clients in reducing DDoS assaults.
cPanel may be utilized in various hosting environments, namely shared, dedicated, and customized WordPress hosting.
This control panel is a wonderful alternative for novices who want a simple control panel solution. However, cPanel, like other hosting control panels, has advantages and disadvantages.
Is cPanel good for hosting?
The finest control panel in the market is cPanel. Its interface allows users to make updates to their site like a programmer, even beginners, without the added cost of employing one. With cPanel hosting services, administering your email or FTP server is straightforward and safe.
For instance, if you want to build up corporate mail on your new domain, a web server with cPanel administration makes it very easy to do so. Furthermore, if you need to deploy content management, cPanel readily interfaces with all the best popular content management systems (CMS) and is frequently pre-installed with them.
With precise analytics on the number of viewers, linger time on every page, and complete insight into how your server bandwidth stands up when faced with increased traffic, you can easily get the website builder work done. If you have several domains, cPanel makes administering them a breeze with a single, user-friendly control panel. If your sites are based on WordPress, cPanel is an excellent choice because of its one-click site connection and installation procedure, allowing you to get up to speed quickly.
Alternatives to cPanel Hosting
Almost every eCommerce business owner, even with small businesses, has dealt with cPanel-based hosting at some point in their career. Because cPanel is among the most prominent hosting panels available, it's no wonder that it's utilized by practically every shared hosting option.
The tables have turned, and hosting companies now have the option of using a cPanel replacement that offers a comparable service level and set of features. Some alternatives that a user experience are as follows:
Plesk
Webmin
Froxlor
CentOS Web Panel
Zpanel
Ajenti
Vesta Control Panel
ISPConfig
YunoHost
BlueOnyx
Conclusion
Hostgator provides economical and versatile hosting services as well as WordPress and WooCommerce-specific choices. You may know that Windows hosting is far more costly than Linux hosting; nonetheless, A2 prices both reasonably. The shared cPanel host plan costs $3.92 per month and offers a single domain, five databases, unrestricted website space and bandwidth, free SSL, and the A2 Enhanced feature. If you're building a website and need web hosting to get started, or if you want to upgrade from your existing host, Hostinger is the ideal choice to consider.
InMotion hosting is a secure WordPress host and a quick cPanel hosting service that offers low-cost choices for small to large businesses. Scala Hosting's customer assistance is accessible anytime via live chat and a ticket system. Scala Hosting offers free unlimited email accounts with each of its shared hosting services, in addition to 1-click WordPress installation. HostPapa's web designer is quick and easy to use.
Each cPanel hosting provider is unique. This control panel is an excellent choice for beginners looking for a straightforward control panel solution. cPanel, like some other host control panels, has benefits and drawbacks. cPanel is the best control panel on the market.

As one of the co-founders of Codeless, I bring to the table expertise in developing WordPress and web applications, as well as a track record of effectively managing hosting and servers. My passion for acquiring knowledge and my enthusiasm for constructing and testing novel technologies drive me to constantly innovate and improve.
Expertise:
Web Development,
Web Design,
Linux System Administration,
SEO
Experience:
15 years of experience in Web Development by developing and designing some of the most popular WordPress Themes like Specular, Tower, and Folie.
Education:
I have a degree in Engineering Physics and MSC in Material Science and Opto Electronics.