In our pursuit of the best VPS reseller hosting providers, we've employed our expertise and hands-on experience to analyze numerous options.
Selecting a top-notch hosting provider is essential for businesses, as it directly impacts their online visibility and growth.
By focusing on crucial aspects like performance, security, scalability, and customer support, we present you with the most reliable and trustworthy choices.
As experts, we've prepared this comprehensive guide to assist you in making an educated decision when selecting the best VPS reseller hosting for your unique requirements.
If you are in a hurry this is our shortlist of the best Reseller VPS Providers
The Top 7 Best VPS Reseller Hosting Providers 2023
1. A2 Hosting
Fastest Reseller VPS

High-Speed Performance
WordPress Optimized
24/7 Support
Starting from $54.99/month
See Pros & Cons
Pros
Fast and reliable servers
Free SSL certificate
WordPress optimized environment
User-friendly control panel
Anytime money-back guarantee
Cons
Higher renewal rates
Additional fee for website migration
No free domain
A2 Hosting is the best VPS reseller hosting provider based on our research. In this review, we delve into the features, pricing, and customer feedback of A2 Hosting's VPS reseller hosting, providing you with valuable insights to make an informed decision.
Ease of Use: A2 Hosting prides itself on offering a turnkey solution for hosting clients' customers on a single account. With the WebHost Manager (WHM) control panel, creating and managing individual hosting accounts becomes a breeze. A2Hosting's VPS Reseller servers provide greater flexibility, power, and enhanced performance compared to a Reseller server.
The Lift 8 plan, priced at $54.99/mo, includes 8 GB RAM, 250 GB SSD storage, 3 TB transfer, 6 cores, and a cPanel control panel, among other features.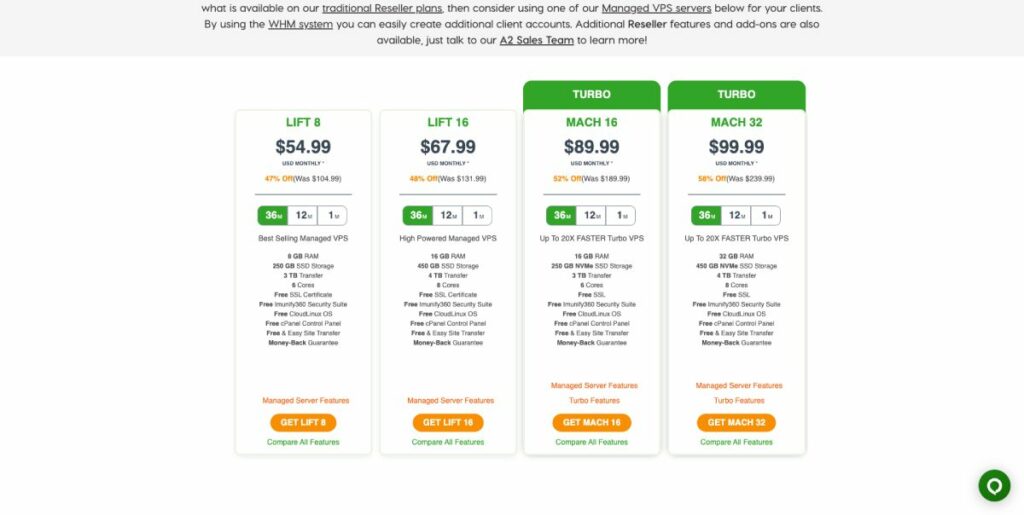 On the other hand, the TurboMach 32 plan, costing $99.99/mo, offers up to 20X faster Turbo speed, 32 GB RAM, 450 GB NVMe SSD storage, 4 TB transfer, and 8 cores. All plans come with a money-back guarantee, 24/7/365 Guru Crew support, and a 99.9% uptime commitment.
Global Infrastructure and Data Centers: A2 Hosting's global infrastructure ensures top-notch performance and stability for clients' sites. Their data centers are strategically located across various regions, ensuring optimal site speed and reliability.
Customer Support: A2 Hosting's Guru Crew support is available 24/7/365, offering assistance with any issues or inquiries. However, users' reviews show mixed feedback regarding the quality of support, with some praising A2 Hosting's commitment to customer success and professionalism, while others complain about poor customer service and technical issues.
Managed VPS Services: A2 Hosting offers managed server features, such as cPanel control panel, managed updates, daily automatic and rebootless updates, and managed installs/upgrades of core software, making it a suitable choice for clients who prefer a hands-off approach.
Read More: 7 Best Free cPanel Hosting (Really Free)
Despite its many advantages, A2 Hosting's VPS reseller services have received mixed user reviews, with some clients experiencing server migration issues, unreliable services, and technical problems. However, others have found success with A2 Hosting's managed VPS hosting, praising its skilled service agents and stable servers.
In conclusion, based on our measurement looks like A2 Hosting offers the fastest VPS for your to resell. While there are some concerns regarding server migration and support, the range of features, pricing options, and global infrastructure make A2Hosting a worthy contender in the VPS hosting market.
2. Hostgator
Best with WHMCS

Flexible Pricing
1-Click WordPress Install
45-Day Money-Back Guarantee
Starting from $19.95/month
See Pros & Cons
Pros
Easy to use control panel
Wide variety of hosting options
Free SSL certificate
Free domain for the first year
99.9% uptime
Cons
Expensive renewal rates
Upselling add-ons in the signup process
Basic plan has limited features
HostGator's VPS reseller hosting offers a wide range of features that cater to the requirements of businesses looking to scale up their web hosting services. As an expert in hosting reviews, I've taken the time to dive into HostGator's offerings, including its WHMCS hosting offer.
HostGator's VPS boasts an impressive 99.9% uptime guarantee while providing users with cutting-edge features such as a free WHMCS license, unlimited domains, and email support.
Additionally, it offers resellers access to their own WHM control panel and a variety of developer tools. HostGator stands out by allowing resellers to customize their server resources and branding of client cPanel accounts with their company logo. Furthermore, it includes a domain reseller account and free SSL certificates, unlimited databases, automatic backups, and email support.
Ease of Use: HostGator's VPS hosting is user-friendly and designed with a casual user in mind. The platform's ease of use is a valuable asset for resellers looking to manage multiple client accounts and provide top-notch services to their customers.
However, user reviews have shown that some customers experienced frequent server outages and poor customer service. For instance, some users reported that their VPS server went down frequently and HostGator could not explain the issue.
On the other hand, some users praised the platform's ability to solve problems in a crisis, even though others encountered long wait times and unhelpful support staff. It's worth noting that some customers also reported misleading advertising related to unlimited bandwidth and disk space for VPS and dedicated servers.
HostGator's VPS reseller prices start at $19.95 per month for the Aluminum plan, which includes 60 GB of disk space and 600 GB of bandwidth. For added peace of mind, the platform offers a 45-day money-back guarantee.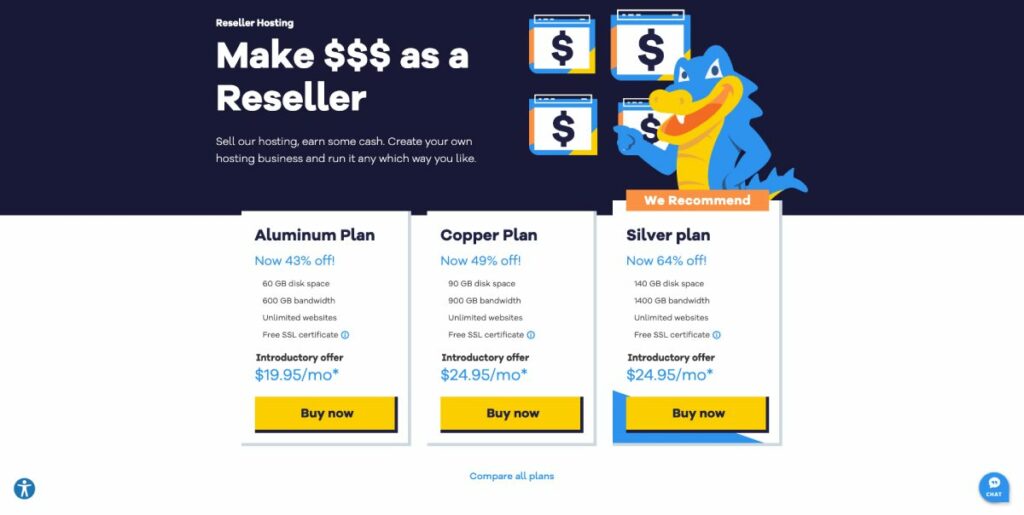 When considering HostGator's reseller hosting for VPS, it's essential to weigh the pros and cons. While the platform offers a quality feature set and an attractive pricing model, its customer support quality might be a cause for concern for some users.
3. Inmotion
Best Managed VPS reseller

Fast Performance
Free Domain
WordPress Optimized
Starting from $4.99/month
See Pros & Cons
Pros
Fast SSD storage
Free SSL certificate
Free domain
90-day money-back guarantee
24/7 customer support
Cons
Higher starting price
Setup can be slightly complex
Some plans lack Windows server options
InMotion Hosting is an industry leader when it comes to providing powerful and reliable managed VPS reseller hosting. Catering to businesses looking to grow their brand, InMotion's Reseller VPS provider plan comes with dedicated resources, redundant hardware clusters, and connections to the fastest fiber networks.
In this review, we'll delve into the essential features, highlighting both the positive and negative aspects of InMotion as VPS reseller service provider.
Ease of Use: InMotion offers a user-friendly experience with its Reseller VPS Hosting plan, which includes a WHMCS license, eNom Domain Reseller account, Softaculous, a white-labeled server, and non-branded server config nameservers.
This makes it convenient for businesses to customize their hosting plans according to their client's needs. However, some users have reported issues with slow or unstable servers and difficulties with server configuration and backup.
Key Features: InMotion takes pride in its award-winning hosting and 24/7/365 expert technical support. The Reseller VPS Hosting plan boasts several features such as cPanel/WHM, unlimited add-on domains, root access, unlimited FTP accounts, and custom cPanel branding. Nevertheless, there have been mixed reviews on the quality of customer support, with some receiving exceptional assistance, while others experienced poor service.
Global Infrastructure: InMotion's well-balanced raw performance is backed by a robust infrastructure, with careful management of backups and redundancy. Its basic plan, starting at $35.99 per month for a 3-year plan, offers 2GB RAM and free migration services. InMotion's extensive experience in offering VPS hosting makes them a reliable choice for businesses.
Pricing: While InMotion is known for its high-quality services, its pricing can be somewhat expensive. Nonetheless, the 90-day money-back guarantee ensures customer satisfaction, giving businesses confidence in their investment. The VPS reseller plans start from $46.64 per month.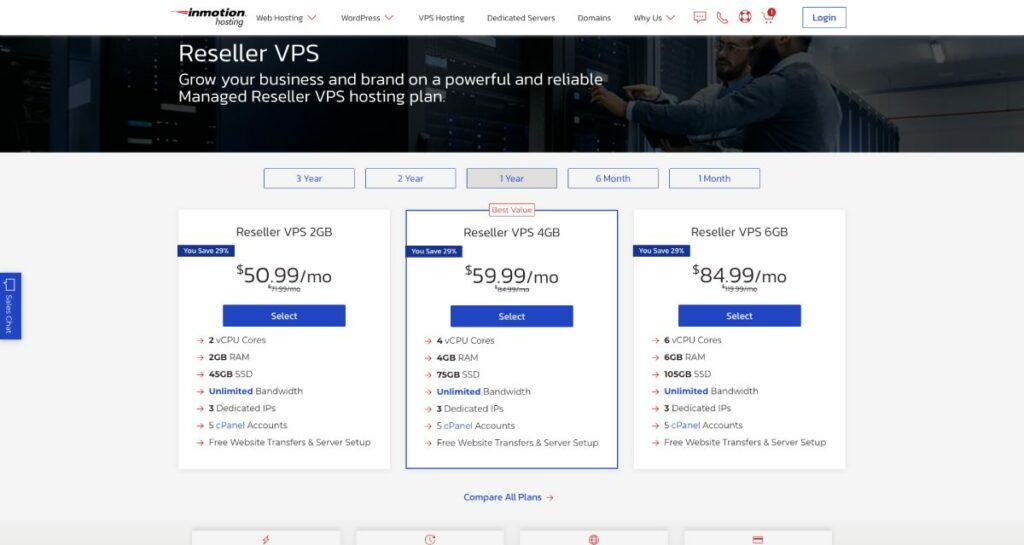 Customer Support: InMotion's customer support quality varies, with some users praising the company for its prompt and friendly service, while others experienced technical issues. The company is, however, responsive to negative feedback, reaching out to dissatisfied customers and offering assistance.
InMotion's managed VPS hosting reseller program is ideal for businesses seeking a powerful and reliable hosting solution with customizable features.
Although the pricing may be higher than some competitors, the extensive list of features and customer support make it a strong contender in the market. InMotion Hosting is best suited for businesses that value performance, reliability, and flexibility in their reseller solution.
Read More: Best Windows VPS hosting
4. OVHcloud
Best Scalable VPS Reseller

Flexible Infrastructure
High Performance
Data Security
Starting from $6.44/month
See Pros & Cons
Pros
Scalable and customizable hosting solutions
High-performance servers
Strong security measures
Global data centers
Competitive pricing
Cons
Complex interface for beginners
Limited customer support options
No integrated website builder
OVHcloud is a reputable choice for scalable VPS reseller hosting
OVHcloud, a renowned name in the website hosting market, is an excellent choice for individuals and businesses seeking scalable VPS reseller hosting. With its extensive global infrastructure and data center locations, OVHcloud provides optimal performance and reliability for its users.
Ease of Use: OVHcloud stands out for its flexibility and user-friendly features. Users can select their preferred operating system and effortlessly scale resources as needed. The external storage space for backup can be directly accessed from the OVHcloud Control Panel, simplifying the process for users.
One of the key features that set OVHcloud apart is their unlimited traffic on all VPS solutions, ensuring there are no restrictions or hidden charges for high data usage.
Additionally, their partner program makes it an ideal choice for resellers, providing competitive pricing and robust support.
When it comes to pricing, OVHcloud offers transparent and affordable plans, starting at just $6 per month. Users can enjoy an 8% discount on 12-month plans and a 15% discount on 24-month plans, making it an attractive option for long-term commitments.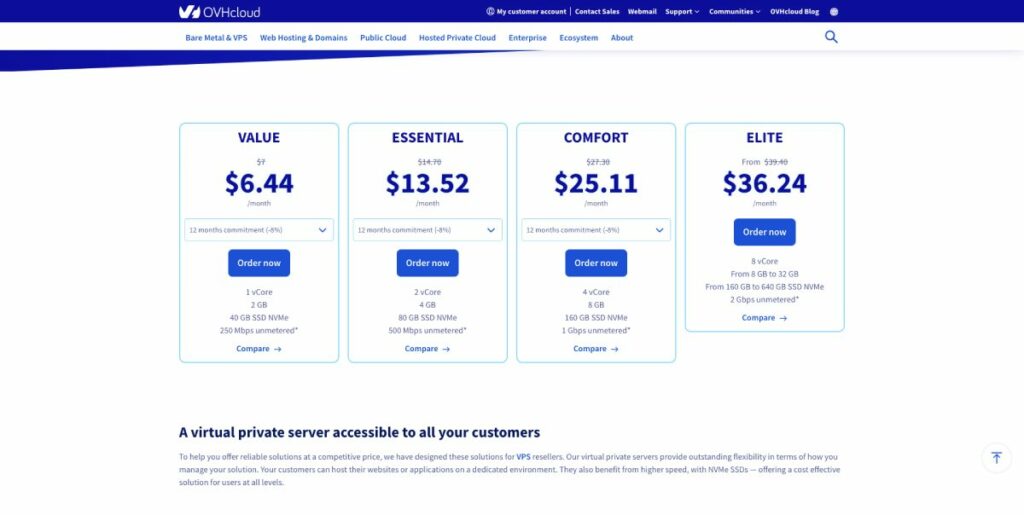 Their cPanel control panel offers a wide range of specifications, with pricing for multiple account tiers, ensuring scalability for resellers.
OVHcloud's customer support, however, has a mixed reputation. While some users are satisfied with their experiences, others have reported slow response times and issues with account suspension. Nonetheless, the overall performance and features of OVHcloud have garnered positive user reviews, specifically in areas such as fast VPS for forex trading and reliable service.
Who should use OVHcloud: Given the range of features, scalability, and competitive pricing, OVHcloud is a strong choice for resellers and businesses seeking a powerful VPS hosting solution in Europe. However, potential users should be aware of the mixed customer support experience and ensure they adhere to the terms of service to avoid account suspension.
In conclusion, OVHcloud's scalable reseller VPS hosting offers a robust and user-friendly solution for those looking to grow their online presence. With its unlimited traffic, flexible plans, and extensive infrastructure, it is a promising option for resellers and businesses alike. Just be mindful of the customer support aspect and adhere to the terms of service to maximize the benefits of this hosting solution.
5. VPSServer
Best White Label VPS Reseller

High-Performance VPS
Flexible Plans
24/7 Support
Starting from $3.99/month
See Pros & Cons
Pros
High-performance VPS hosting
Scalable plans
24/7 customer support
Wide range of OS options
99.99% uptime
Cons
Not beginner-friendly
No shared hosting options
No free domain
VPSServer is a robust hosting provider in the reseller VPS hosting market, offering an ideal solution for businesses that require a reliable and high-performance hosting platform. With its wide range of features, global infrastructure, and competitive pricing, VPSServer has a lot to offer for both experienced and novice resellers.
Ease of Use: The intuitive interface of VPSServer makes it easy for users to manage their reseller hosting accounts for VPS. Whether you're a seasoned pro or just starting out in the hosting business, VPSServer's platform is designed to simplify the process of managing and provisioning virtual servers.
Key Features and Performance: One of the many reasons VPSServer stands out as a reseller VPS hosting provider is its cutting-edge performance. With access to full control of your machine, VPSServer allows you to configure your virtual servers to deliver the best possible experience for your clients. Additionally, their quick setup times ensure that you can get up and running in no time, with minimal downtime for your customers.
Global Infrastructure and Data Center Locations: VPSServer's vast network of data centers spans across multiple continents, ensuring that your clients experience optimal performance, regardless of their 16 different locations. This global presence also provides a high level of redundancy, resulting in improved reliability and uptime for your clients' websites.
Pricing and Available Plans: VPSServer offers a variety of pricing plans to suit the needs of resellers with varying budgets and requirements. Users can choose from a range of options, balancing cost, performance, and resources to find the perfect plan for their business.
Customer Support and Resources: While some users have reported mixed experiences with VPSServer's customer support, there are numerous resources available on their website to assist users in troubleshooting and optimizing their reseller hosting experience. Active customers are also rewarded through their loyalty program, further enhancing the value of their hosting plans.
Who Should Use VPSServer: With its diverse range of plans, robust infrastructure, and a plethora of features, VPSServer is an excellent choice for resellers looking to offer high-performance VPS hosting to their clients. However, keep in mind that some users have reported inconsistent customer support experiences, so it's essential to weigh the pros and cons before committing to VPSServer as your white-label VPS reseller hosting provider.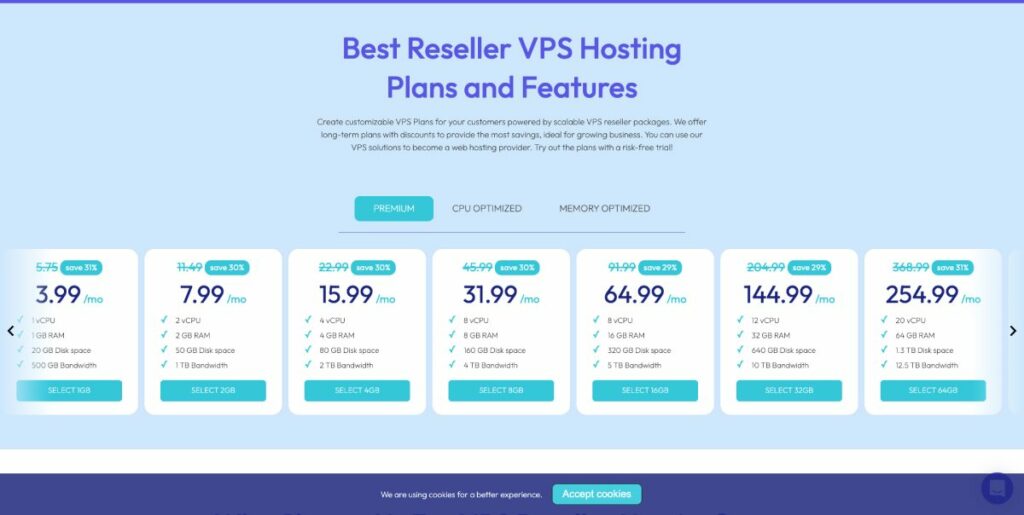 In conclusion, VPSServer offers a comprehensive reseller hosting solution that caters to a wide range of needs. Its ease of use, powerful features, and extensive global infrastructure make it a strong contender for businesses seeking a reliable and high-performing hosting platform.
6. Time4VPS
Cheapest VPS Reseller

Highly Scalable
Value for Money
Strong Security Features
Starting from $3.25/month
See Pros & Cons
Pros
Flexible VPS hosting plans
Strong security features
Fast SSD storage
Easy-to-use control panel
24/7 customer support
Cons
No shared hosting options
Limited data center locations
Additional cost for cPanel access
As an expert in the hosting industry, I've seen my fair share of reseller hosting services for VPS. In my experience, Time4VPS stands out due to its exceptional features, affordable pricing, and top-notch support.
A Lithuania-based company, Time4VPS provides impressive VPS hosting options such as Linux, Windows, Container, Storage, and VMware Cloud. Additionally, they offer VPN services, SSL certificates, spam filters, and BitNinja for security, making them a one-stop-shop for all your hosting needs.
Ease of Use: Time4VPS's Reseller program is designed to provide massive discounts based on the number of active VPS servers a reseller runs.
Key features of this program include instant upgrade/downgrade options, free DNS manager, instant service setup, reverse DNS management, weekly and daily backups, and software licenses. To further simplify the reseller experience, Time4VPS offers integration with WHMCS and Blesta modules for seamless VPS and storage server reseller environment management.
Global Infrastructure: While Time4VPS's data centers are located only in Europe, they offer excellent performance for businesses and websites within the region. Furthermore, they have invested significantly in data security, ensuring the safety of your data and files. Even in the unlikely event of data loss, their efficient backup and restoration system allows for easy recovery.
Pricing Model and Plans: Time4VPS offers a wide range of competitively priced plans starting at just €3.25 per month. But the real deal is their 50% discount on yearly plans, making them an incredibly budget-friendly option. They also provide multiple control panel licenses with pricing ranging from €16.99 to €44.99 for cPanel and €15.99 for Plesk Web Pro License.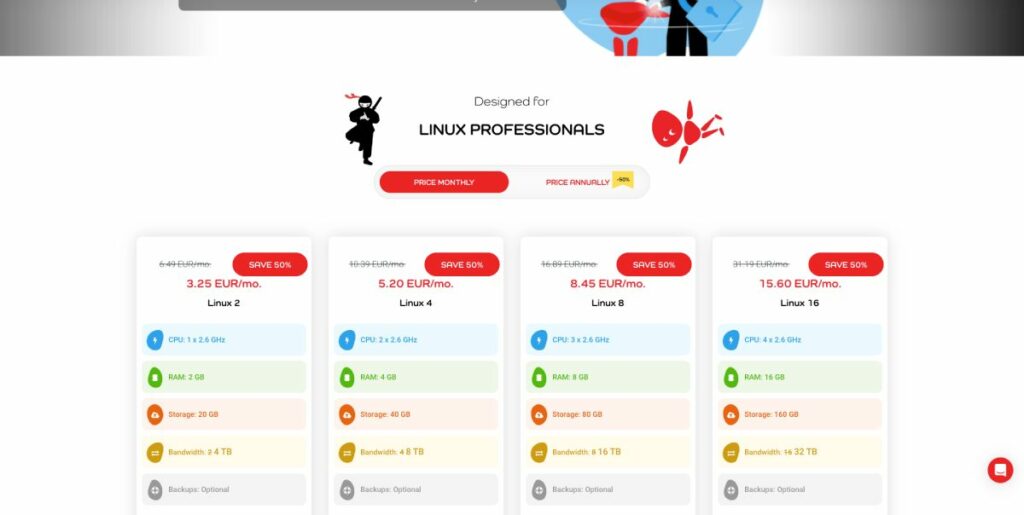 Customer Support: Time4VPS has received numerous positive user reviews for its outstanding customer service, value for money, and efficient support team. The support team, available 24/7 via chat, has been praised for their promptness, courteousness, and professionalism. Their commitment to providing exceptional service is exemplified by their excellent transparency report.
Who Should Use Time4VPS: Time4VPS is the best choice for those looking for a cheap VPS reseller hosting service with an excellent balance of features, pricing, and support. Based on my extensive experience and positive feedback from other users, I can confidently vouch for Time4VPS as the go-to choice for reseller VPS hosting, particularly for businesses and websites based in Europe. With their top-of-the-line infrastructure, user-friendly tools, and helpful support team, Time4VPS truly delivers an unmatched VPS reseller hosting experience.
In conclusion, Time4VPS's unique mix of affordability, feature-richness, and exceptional support makes them the ultimate choice for reseller hosting. Whether you're a seasoned reseller or just starting, their services will undoubtedly help you stand out in the competitive hosting market.
Read More: 9 Best Cheap Reseller Hosting Plans (with WHMCS Options)
7. Liquidweb
Best for Customer Support

Fully Managed WordPress Hosting
24/7 Expert Support
High Performance
See Pros & Cons
Pros
Fast and reliable hosting
Advanced security features
Staging environment
Automatic daily backups
Free SSL certificate
Cons
Higher price compared to competitors
No free domain included
Limited data centers
Liquidweb is a well-established hosting provider, catering to developers, resellers, and enterprises looking for powerful reselling VPS hosting solutions. Known for its exceptional customer support and robust infrastructure, Liquidweb offers a perfect blend of features that meet the diverse needs of resellers.
Ease of Use: Liquidweb's 25% discount for four months on its Private VPS Parent hosting service, using the code LW25CLOUD, sets the stage for a convenient and cost-effective reseller hosting experience. This service is designed to create a private cloud environment, allowing users to seamlessly create, move, resize, or destroy any number of virtual instances.
Liquidweb offers minute control of resources, enabling users to move instances to the public cloud or create a public network of private cloud servers. The service comes with standard and high-performance options with different configurations of single processors, CPU cores, RAM, and SSD storage. Control panels like InterWorx, Plesk Web Pro, or cPanel Pro make managing unlimited sites and root access effortless.
However, some users may find the extensive range of options overwhelming, especially if they don't have prior experience with VPS hosting. Despite this, Liquidweb's flexible offerings cater to a wide range of applications like hosting databases, SaaS, multiple sites or apps, large resellers, small apps, websites, and resellers.
Liquidweb's global infrastructure and data center locations ensure optimal performance and reliability. With 100% network and power uptime SLAs, a gigabit uplink, SSD storage, and ServerSecure advanced security, users can trust the stability and security of the service.
Pricing varies depending on the chosen configuration, but the 25% discount for four months allows users to try the service at a lower cost. It's crucial to evaluate the pricing model and available plans based on individual requirements to avoid overpaying for resources.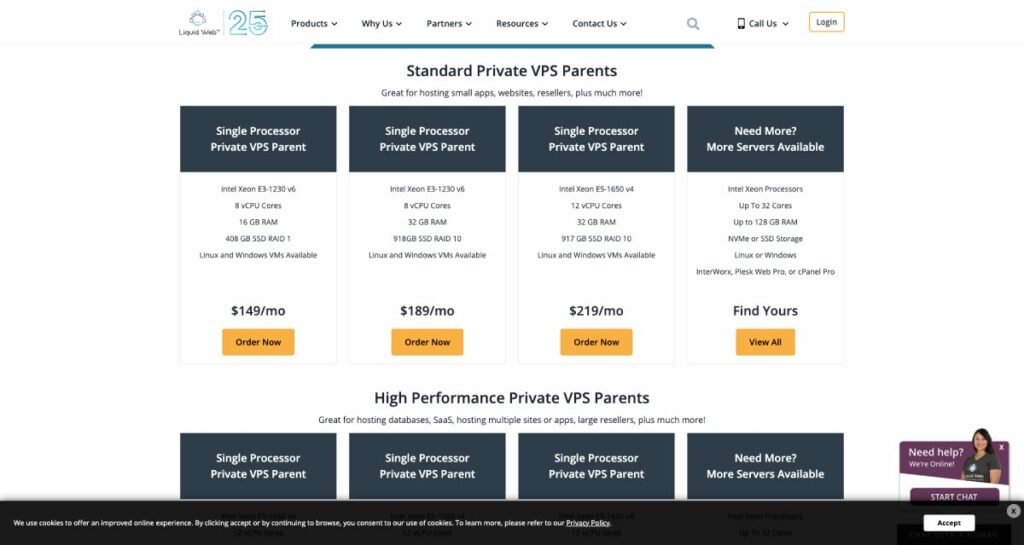 A major deciding factor for choosing Liquidweb is its exceptional customer support. With an industry-leading NPS score of 67, the majority of users praise the fast, knowledgeable, and professional support provided by Liquidweb.
This is evident in the numerous positive reviews praising the company's responsive customer support. While a few users have reported negative experiences, Liquidweb actively responds and investigates any issues to ensure customer satisfaction.
In conclusion, Liquidweb is an ideal choice for resellers, developers, and enterprises seeking complete control of their cloud infrastructure without compromising on compliance and security. Its commitment to quality customer support, a broad technology portfolio, and robust infrastructure set it apart from competitors, making it a reliable hosting company that prioritizes user satisfaction.
Frequently Asked Questions (FAQs)
What is VPS Reseller Hosting?
VPS reseller hosting is a service that enables you to purchase resources from a hosting provider and resell them to your clients. It combines the flexibility and power of a virtual private server (VPS) with the ability to create and manage multiple hosting accounts, making it ideal for web designers, developers, and agencies that manage client websites.
Why should I choose VPS Reseller Hosting over shared or dedicated hosting?
Opting for a reseller VPS hosting over shared or dedicated hosting comes with several advantages. VPS reseller hosting provides more control, scalability, and customizability compared to shared hosting. It also allows you to create separate hosting accounts for your clients, improving security and performance. Compared to dedicated hosting, VPS reseller hosting is more cost-effective and easier to manage, making it a suitable choice for businesses of all sizes.
What are the benefits of VPS Reseller Hosting for my business?
Some benefits for your business include:
Additional revenue stream through reselling hosting services
Enhanced control and customization over server resources
Improved performance and reliability for your clients' websites
Easy scalability to accommodate growth
Cost-effective solution compared to dedicated hosting
Ability to offer tailored hosting plans to clients
How do I choose the best VPS Reseller Hosting provider?
When selecting the best provider, consider the following factors:
Performance and reliability
Scalability and flexibility of plans
Quality of customer support
Price and value for money
Reputation and reviews
Additional features, such as white-label branding and billing integration
Can I upgrade or downgrade my VPS Reseller Hosting plan?
Yes, most VPS reseller hosting providers offer the option to upgrade or downgrade your plan as your business needs change. This flexibility allows you to scale resources accordingly, ensuring you only pay for what you need.
What kind of support should I expect from a VPS Reseller Hosting provider?
Providers should offer robust customer support, including:
24/7 technical assistance via phone, live chat, or email
Comprehensive knowledge base and tutorials
Responsive and knowledgeable support staff
Proactive server monitoring and maintenance
Is it possible to host multiple websites on a VPS Reseller Hosting plan?
Yes, VPS reseller hosting plans are designed to host multiple websites. As a reseller, you can create separate hosting accounts for each of your clients, providing them with dedicated resources and control over their websites.
How does billing work for VPS Reseller Hosting plans?
Billing for VPS reseller hosting plans typically involves a monthly or annual fee, depending on the provider and the plan you choose. As a reseller, you can set your own pricing for the hosting services you offer to your clients, allowing you to generate additional revenue. Some providers also offer integrated billing solutions, making it easier to manage client accounts and payments.
Conclusion
Choosing the best VPS reseller hosting provider is a crucial decision that can greatly impact your business and clients.
By considering the factors we've discussed, you can confidently select a provider that aligns with your requirements and offers a reliable and cost-effective solution.
Keep in mind the importance of scalability, performance, and customer support when making your decision, and don't hesitate to reach out to the providers for more information.
Ultimately, the right VPS reseller hosting provider can help you grow your business, improve client satisfaction, and generate additional revenue.

As one of the co-founders of Codeless, I bring to the table expertise in developing WordPress and web applications, as well as a track record of effectively managing hosting and servers. My passion for acquiring knowledge and my enthusiasm for constructing and testing novel technologies drive me to constantly innovate and improve.
Expertise:
Web Development,
Web Design,
Linux System Administration,
SEO
Experience:
15 years of experience in Web Development by developing and designing some of the most popular WordPress Themes like Specular, Tower, and Folie.
Education:
I have a degree in Engineering Physics and MSC in Material Science and Opto Electronics.