NFT games are turning the tables by making success one after another. Many people are now shifting to NFTs for digital investments. Believe me or not, NFT is going to be the future of assets. They are encrypted, fully secured, and reliable. Most importantly, there are no theft risks.
With the advent of NFTs, many companies are launching NFTs games. They are games related to motorsports, football leagues, vinyl toys, clashing clans, and what not?
Are you planning to invest in the NFT projects?
Then you are at the right place. In this article, we are going to mention the top 17 best NFT games. Keep on reading the article to know about them.
What are Play-to-earn Games?
Play-to-Earn games allow their users to earn income in the form of cryptocurrency. Traditional games are being launched on blockchain technology to give the gaming industry a unique turn.
In this way, users will have complete control over in-game items like lands, characters, weapons, and much more. All those in-game items are NFTs who are worth millions of dollars.
NFTs are indivisible, holding unique identities which are a fully encrypted and secure form of digital currency. That is why many people are using crypto, especially NFTs, to do trading these days. Users can have a hold over in-game items in three ways:
Breed or create new characters
Purchase in-game from the blockchain market
Earn in the form of rewards.
All in-game items in your possession are completely yours, and you can sell them anytime to earn million dollars from them.
What Are NFT Games?
NFT are getting huge attention from all across the globe, and people are making digital investments in them. But before knowing what are NFT games, first, have a look at what is NFT?
NFTs are digital collectibles based on blockchain technology; they can relate to the arts, such as paintings, photos, songs, or tweets. Each NFT holds a different identity and is completely encrypted. Many NFTs are worth a million dollars, and you can buy, sell and trade them.
Games based on NFT are popular due to the fact they are a part of income for many people. In games, NFTs are of any kind like in-game items, characters, weapons, and much more. So, you can earn a pretty great amount of money while just playing the game.
NFT based games are the future of the blockchain industry, so you must give it a shot.
The Top 17 Best NFT Games
There is a list of NFT games for your guide. Have a look below to know about them.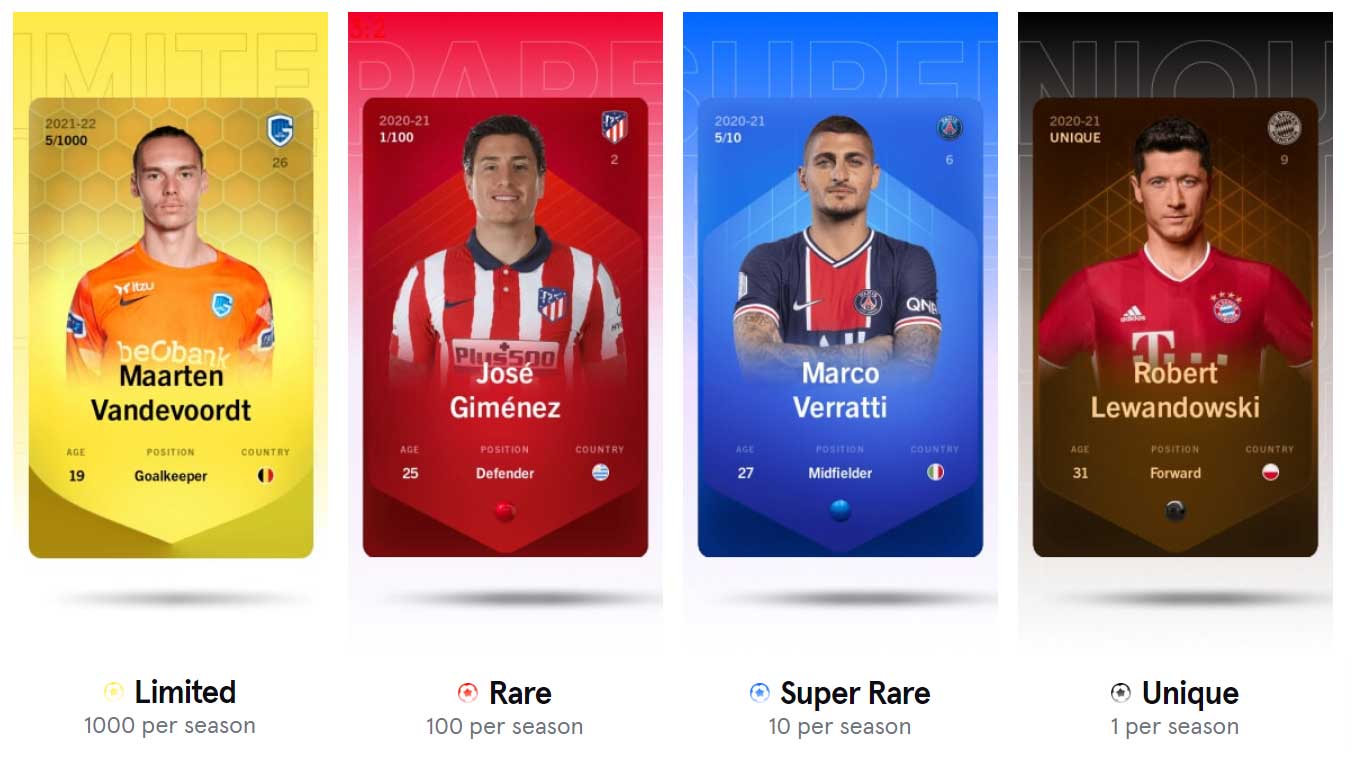 Sorare is one of the most known crypto-based football fantasy games which has more than 245 soccer clubs officially licensed. You can easily build your dream team and play with others based on real players' performances.
Each player is an NFT card that can be acquired with Ethereum and can be purchased on Binance. After that, you can go to their site and start building your team.
The floor price for an NFT card is 0.013 eth.
Blockchain:
Sorare uses the Ethereum blockchain which makes it secure and scalable at the same time. It also use SoraChainCoin with is at the same time Erc20 token
Free to play
Yes, you can play Sorare for free but To do so, you need to register on the Sorare.com website, then donate three of your favorite football clubs to receive ten player cards.
Total traded:
Sorare has a trading volume of 50.3K in Eth and has about 330.1K items which are possessed by 17.3K users.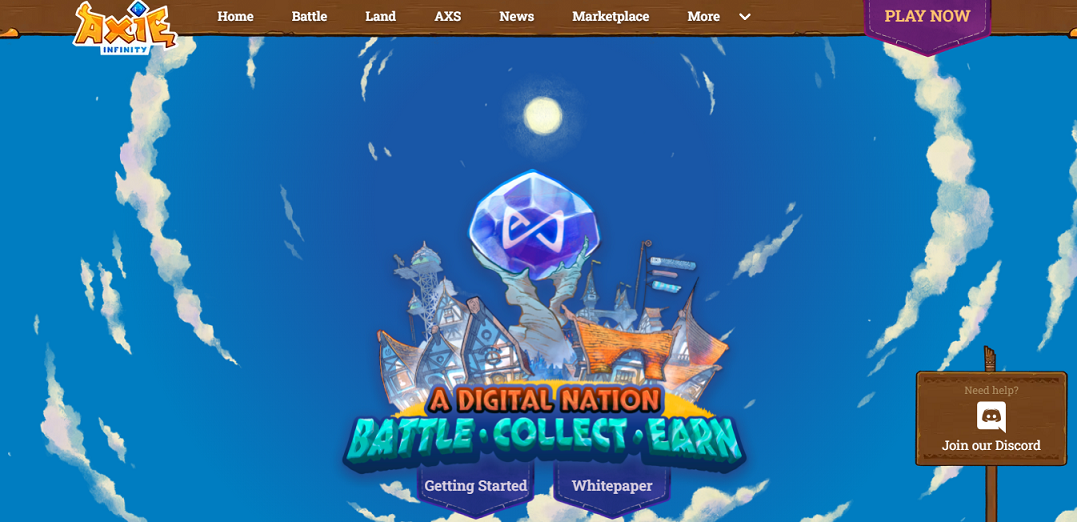 Axie Infinity is s game is similar to the Pokémon series. Still, the designers have given distinctive finishes to produce a great end product.
Axie Infinity contains many lovable fantasy creatures, which are known as Axis. As a player, you can collect many of them, raise them, and use them in battle, and the exciting thing is that you can trade them as digital pets.
They have also launched their Defi coin called Katana which is based on the DEx exchange with the same name to help players to convert the earned token in Eth.
You can start by purchasing Axie Infinity(AXS) token on Binance and start to play the game.
Blockchain:
Based on Ethereum, the core motive of Axie Infinity is to play-to-earn. This game loves to give rewards to its users for their time and efforts. You can earn rewards in SLP (Smooth Love Potion) which serves as ERC-20 on any cryptocurrency platform.
Each token has its very own unique identity, so they are safe to trade as well. You have the privilege of exchanging these tokens with other Ethereum tokens.
Free-to-play:
No, Axie Infinity is not a free-to-play game, and you at least need 3 Axis to start playing the game. All the Axis vary in price depending on the traits they have to offer.
Total Traded:
Axie Infinity is currently the most expensive NFT project so far in 2021. Marketing Cap is $834 Million in 2022 even though we are in a bear market.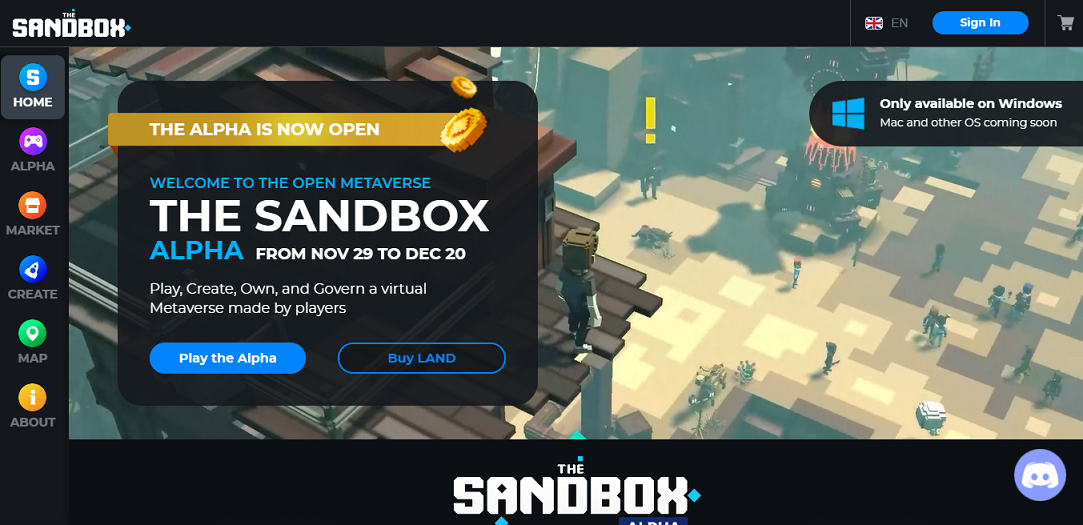 Now experience the next level of excitement with The SandBox 3D. The Sandbox 3D is a voxel-based metaverse NFT game where players can buy, own, and build their gaming assets easily and do visual trading of assets. This game allows you can create your own game to play without any restrictions.
The SandBox 3D gives its players an edge to manipulate and monetize voxel-based assets. Here you can get multiple tools to create visual animals in-game and sell them eventually at the marketplace.
There is no doubt of saying that this game is a block chained version of Minecraft.
Blockchain:
The Ethereum blockchain supports SandBox 3D. The land of these games is also NFT tokens. ERC-20, also known as SAND, can be sold and traded with others at a native marketplace in the form of ERC-20.
Free-to-Play:
The Sandbox 3D is a free-to-play game. You can also purchase in-game items from the NFT marketplace as well as sell them too.
Total Traded:
If you are looking for some digital real estate, then The Sandbox 3D is a great option as its only LAND NFT tokens sold for $8.5 million in just a month. It has a total trade of about $700 million in the metaverse gaming environment.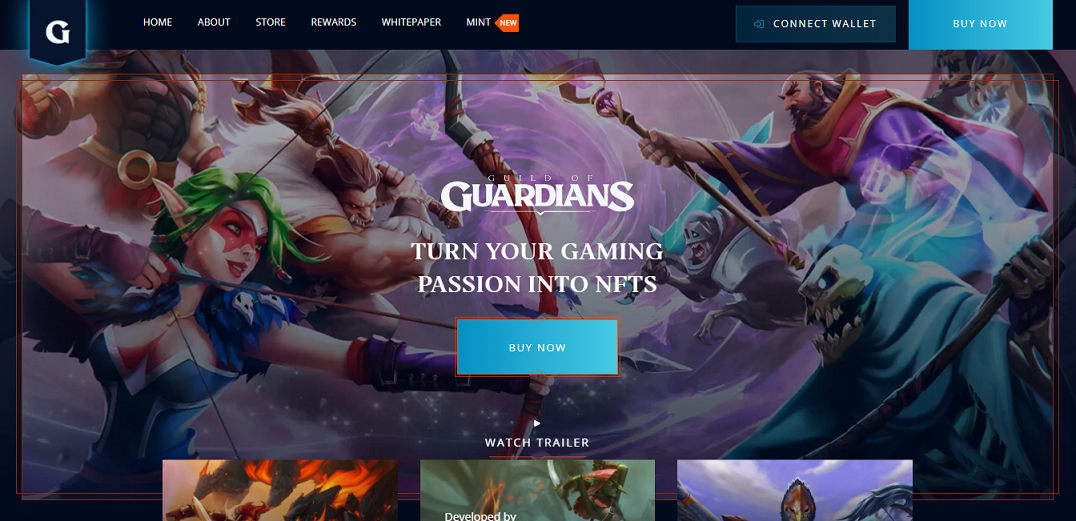 Like many other NFT games, Guild of Guardians revolves around a fantasy theme: heroes, dungeons, and resources to earn. There is no concept of PVP (Player Vs. Player) in this game. In this game, you should focus on building the guild and fighting monsters in dungeons to earn gems, eventually becoming the game's currency.
The game developers are focusing on making it a play-to-earn game, so you won't have to purchase anything in-game and focus on playing it at your leisure. An upcoming game will launch in 2022.
Blockchain:
The blockchain technology behind Guild of Guardians is Ethereum. Tokens from the games come in ERC-721 NFT, which supports ERC-20 and ERC-72. These tokens will reside on the Ethereum blockchain until you wish you sold them to others.
Free-to-Play:
Yes, the guild of guardians will be a free-to-play mobile RPG game that focuses more on the skills and strategy of the player rather than requiring them to spend money.
Total Traded:
Due to the launch's upcoming date, we can't say much about its total trading value yet.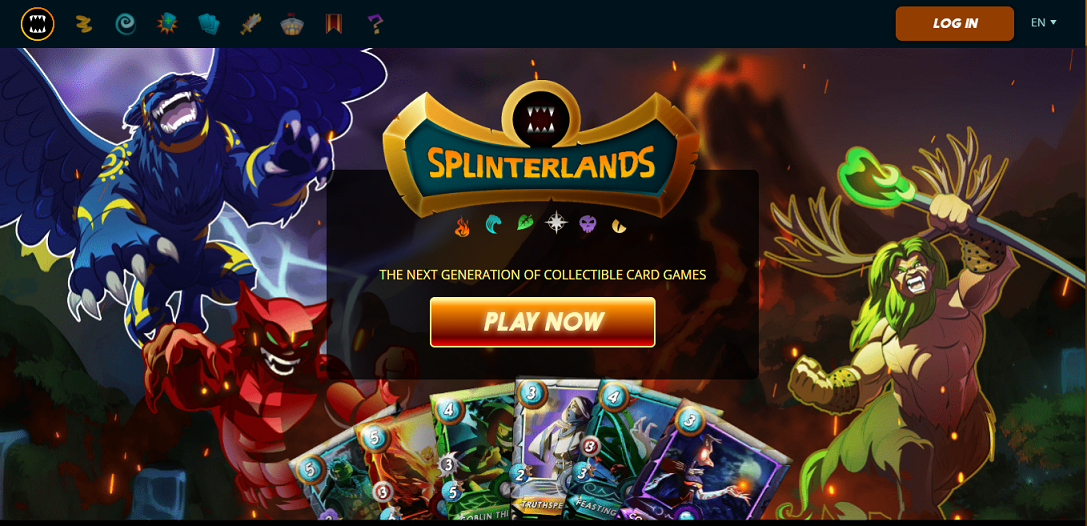 Splinterlands holds a position as the best and most popular game of Non-Fungible-token in 2022. This game is related to tradable cards, similar to God's Unchained. This play-to-earn game rewards tradable cards to its players with every win. You first need to buy a pack of cards unveiled by registering on your Steam account to play this game.
Having powerful cards from a pack of cards will help you boost your game, increasing your chances of winning the game. When you are familiar with the game rules and cards, you are good to fight in the battle. If you have more than two powerful identical cards, you can sell them on the NFT market to have a million dollars in your account.
Blockchain:
Splinterlands uses Hive Blockchain technology instead of Ethereum. Hive promotes ease of transactions and transparency as future games are just making their way in the NFT world through Hive.
Free-to-Play:
Yes, Splinterlands is a free-to-play game, and this tradable card game allows its users to earn while playing it. You have to start playing this game by buying a starter pack of cards.
Total Traded:
Splinterlands have made a total trade of around 4.5 million dollars since its launch.
Gods Unchained has incredibly changed the typical and traditional card game by infusing many NFT components into it. This game allows its users to play PVP (Player vs. Player) games. The exciting part is that the game chooses the players depending on the ranking mode feature.
Therefore, skills and strategy are very important here.
You will win the match when the energy of your opponent hits zero before your energy drains. With each win, you are going to earn rewards throughout the game. Every time you complete your experience level, you will get a pack of cards to decorate your game. These cards, as ERC-721 tokens, can be sold on the crypto marketplace.
Blockchain:
Ethereum powers God's Unchained NFT game, and each token is unique. God's Unchained game cards incorporate ERC-721 tokens, allowing users to sell them on any native or open market easily.
Free-to-Play:
Yes, God's Unchained is a free-to-play game. You can earn cards while playing the game. You can also have the facility to purchase God's Unchained cards depending on their energies and traits to offer in the game.
Total Traded:
Following its launch in 2018, Gods Unchained surpassed the $87 billion mark in 2019 in trading volume.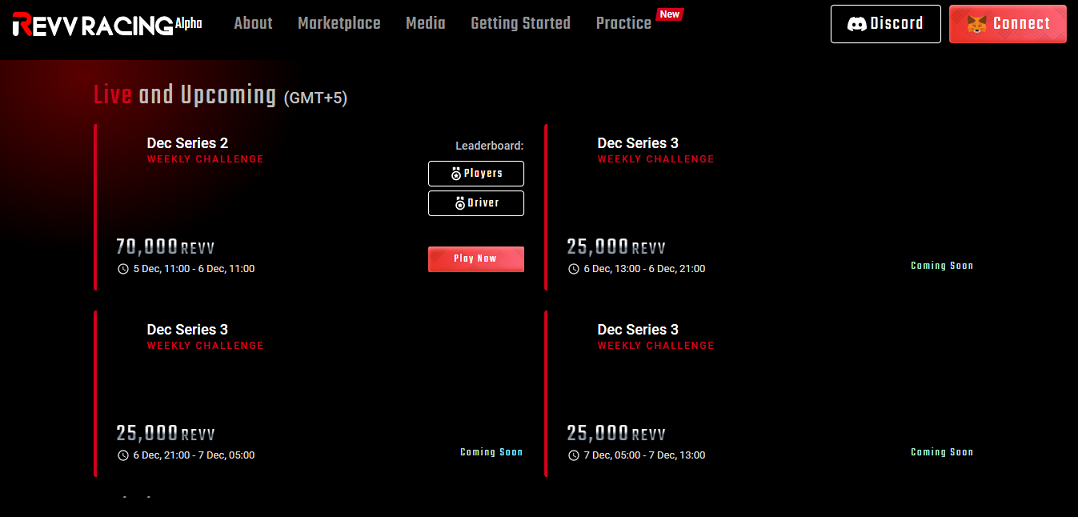 Revvracing is bringing the concept of motorsports into blockchain-based games. Revvracing is a simulation car game purely developed on blockchain technology to bring innovation in the gaming mechanism. It is the usual 3D car game you love to play on your PC, but it brings many NFT token in-game items. Winning the game will reward you with Revv and many other exciting prizes.
This game will make you feel a true sense of ownership as they have many in-game items like cars and drivers. Players can upgrade NFT tokens of the games in cars, helmets, suits, drivers, bolts, and much more.
Blockchain:
Revvracing this first 3D NFT Car game built on Polygon blockchain technology. This game has its currency, 'Revv,' which is backed up by polygons, and you will trade them in the market in the form of a polygon.
Free-to-Play:
No, you need to set up a Metamask wallet to start playing the Revvracing game.
Total Traded:
Revvracing has a market cap of around $87,414,393 so far. One Revv is about $0.316903 in 2022 so far. Trade may show fluctuations according to market trends.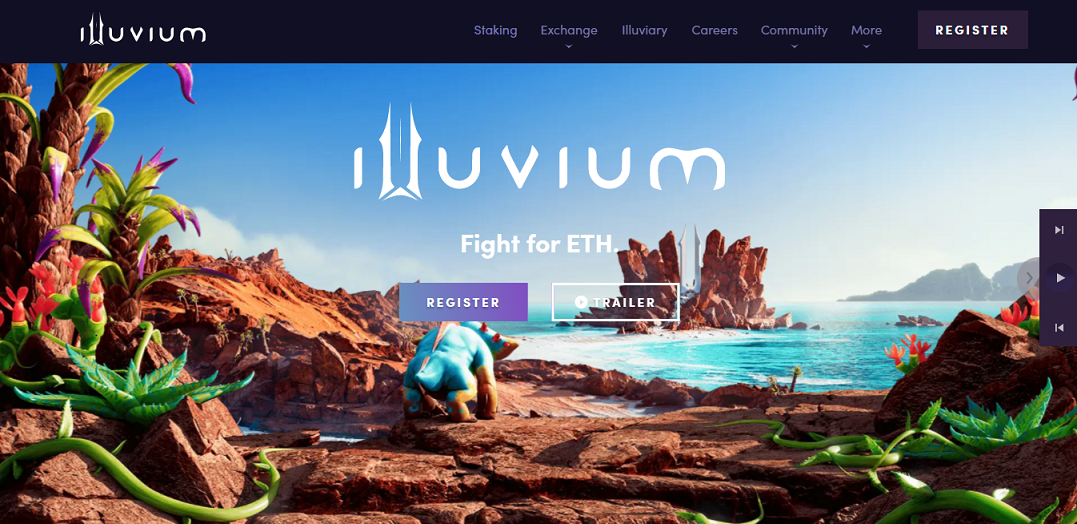 Illuvium is on the list of those games based on blockchain technology going to launch in 2022. According to the developers of this game, this game has 3D special effects and will bring exciting things for its players.
In this game, you play a transport ship facing tough situations, like extreme weather on a crystal ocean. A player will be a member of the transport ship.
As this game is play-to-earn, it will have many in-game rewards for its users in the form of ILV tokens. You can also buy and sell ILV tokens online on the NFT marketplace or at an open market.
Blockchain:
Illuvium is based entirely on Ethereum technology. This game's ILV tokens are backed up by Ethereum and sold in Ethereum at the marketplace.
Free-to-Play:
Yes, Illuvium is a free-to-play game. You will get rewards by collecting Illuvials and tracking them down.
Total Traded:
ILV tokens are available on the market with a capped market of around $838 million. Its worth will likely go higher once it launches in 2022.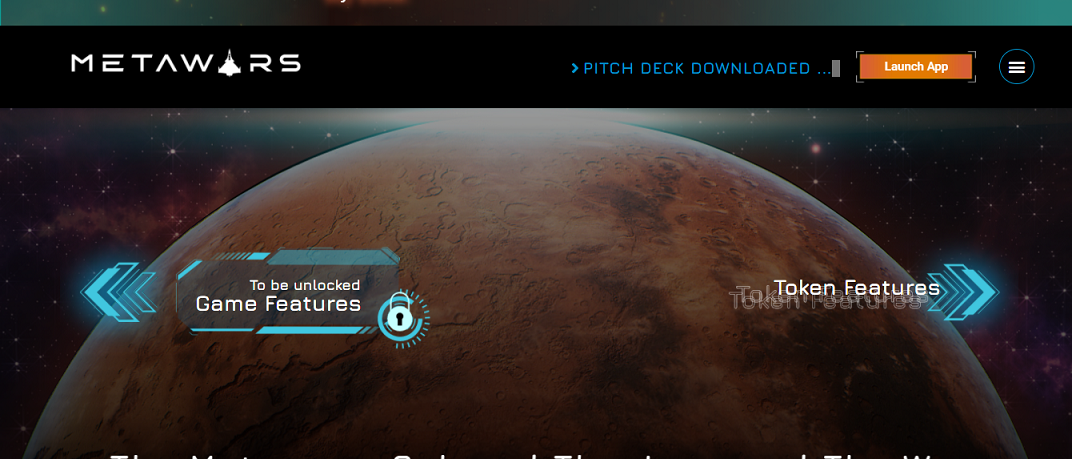 Meta was saying hello to the gaming industry's future as it took place in the 50 century. Meta was a sci-fiction game about the universe that supports the multiplayer strategy. Players are free to explore the amazing galaxies of this universe, along with facing many challenges.
This play-to-earn game allows its players to play collectively, find more universes, and complete various tasks. Completing missions will earn them a $War token and limited-time robots as NFTs. $War tokens are in-game rewards that are converted into cryptocurrency whenever you want to sell them.
Blockchain:
MetaWars does not rely on Ethereum like many other games; instead, it relies on the Binance Smart Chain (BSC) blockchain. Meta was a decentralized app so that players could access this game feature through a standard web browser.
Free-to-Play:
Yes, but you need to link the Metamask cryptocurrency account first to start playing this game.
Total Traded:
$War token has a cap of 4.4Million USD so far, though it will calculate after the launch of this game at the end of this year, 2021.
Let's talk about the future as StarAtlas has bought 2620 for us. Its trailer is promising and has such an awesome cinematic view of this game that it will bring a lot of space with great strategies. This play-to-earn game features a space theme that uses unreal five engines which are famous and are groundbreaking.
The game seems to be a great hit in the future. Its format shows that the space ships will be scattered across space, discovering and exploring many galaxies. You can have hands-on terrestrial and celestial assets and other mines, refine them, or trade them; it's all up to you.
Blockchain:
StarAtlas operates on the Solana blockchain. There are two currencies of this game that Solana backs up, and one of them is ATLAS, while the other is POLIS. You can sell in-game currencies in the crypto market in the form of Solana.
Free-to-Play:
No, you need to set up your Solana wallet to get this game started. Further information will be available once the game launches.
Total Traded:
StarAtlas is soon to be released this year, but there are no formal announcements to date. But you can buy in-game items like ships now from their official website.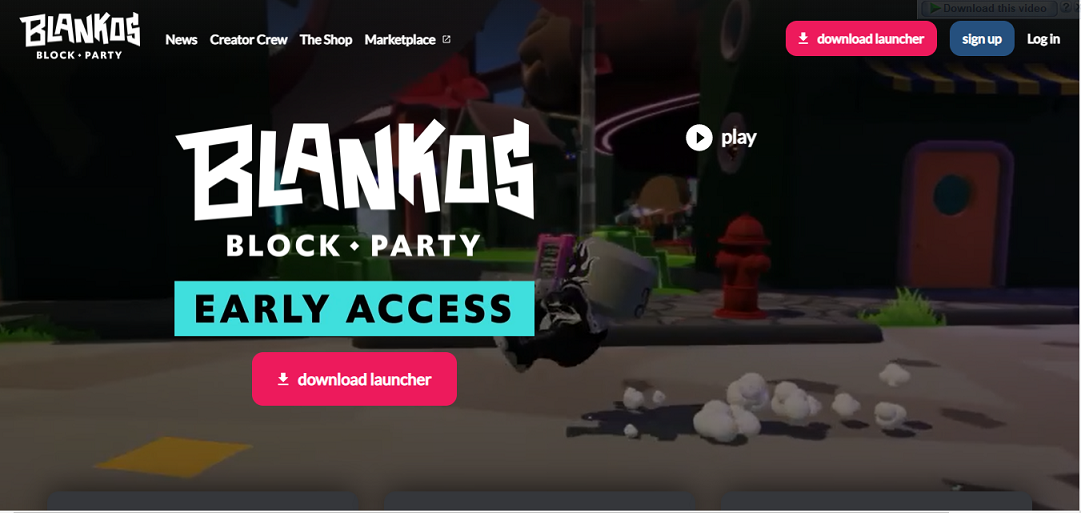 Blankos block Party is among those games for which we are waiting for their release. Blankos Block Party is like a big block party having custom art and design, exploring and world-building, and collecting unique Blankos. Blankos are the vinyl toys that you need to collect throughout the game to get rewards. This game is purely the junction of vibrant and exciting adventures.
There are many activities to perform in this game without any knowledge of coding. Shooting, racing, and collection games are a part of this game. Blankos are collectible NFTs, and you can buy them. Sell and trade Blankos according to your wish. The company has launched many accessories for these Blankos, which you can easily purchase. This game supports single-player as well as multiplayer.
Blockchain:
Blankos Block Party is built on a private EOSIO blockchain to keep it environmentally friendly. Based on the Proof of Authority model rather than on the Proof of Work model.
Free-to-Play:
Yes, it is a free-to-play game, but you can also purchase in-game items from their official site.
Total Traded:
Since it is not released yet so, we are not sure about its trade. Many in-game accessories are for sale at their shop.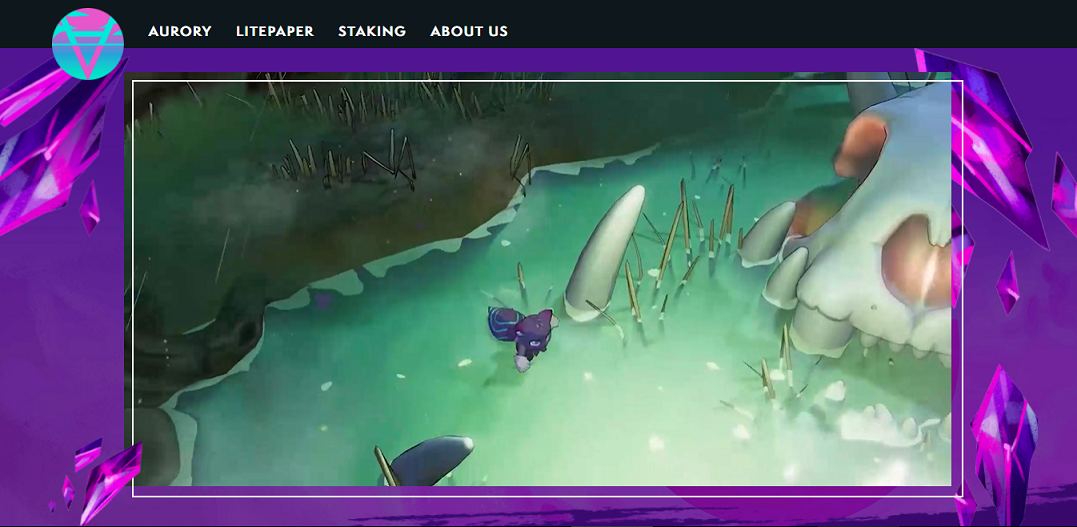 The Aurora Project is another big hit for Solana in 2021. Aurora Project is a fantasy-themed game focusing on education as its key factor. This play-to-earn game showcases the creatures in the Universe of Aurora, named Lefties. This game allows PVEs as well as PVP features. Players can team up to fight many battles and, in return gaining many rewards.
This game has its currency named AURY tokens. You can earn AURY tokens organically by simply playing the game in the PvE (Player Vs. Environment) mode and overcoming many adventures. The company is putting special efforts into bringing a smartphone version of this game for its users.
Blockchain:
The Aurora Project uses the Solana blockchain, and Solana backs up all the AURY tokens to ensure their unique identity. You are free to sell, buy and trade AURY tokens in the native marketplace under Solana.
Free-to-Play:
Yes, Aurora Project is free-to-play, and you can also purchase in-game items to bring more power to your gaming attacks.
Total Traded:
Aurora Project has made a total trade of about $108 Million with an AURY worth about 1.55B.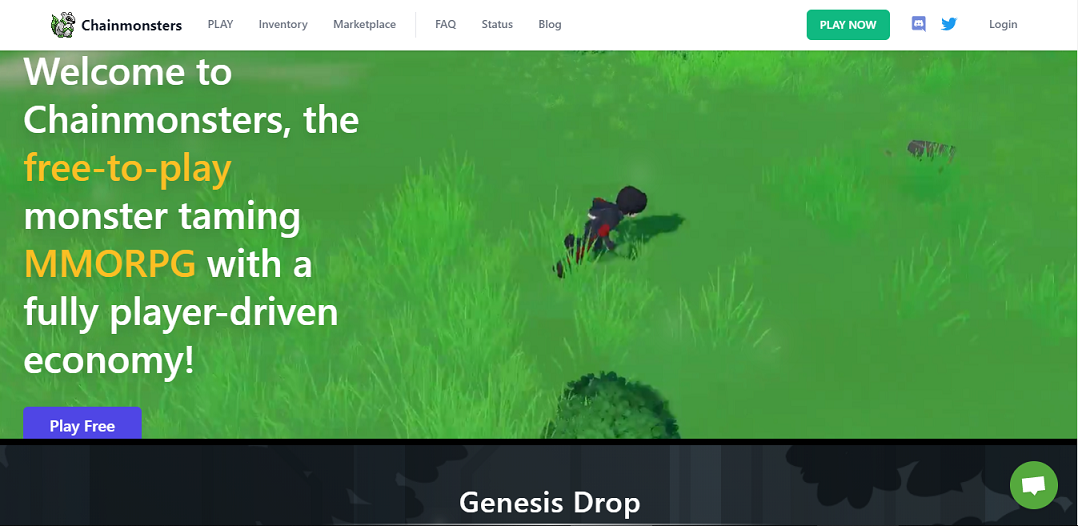 ChainMonster is an incredible example of a metaverse game. Let me tell you about this game first. As a player, you have to find and catch monsters who are about 161 different creatures, each having different yet unique characteristics known as 'Chainmons.'
ChainMonster is an earn-to-play game, but not all Chainmons are NFTs. My friendly advice is that if you want to invest in ChainMonster, do invest in the 'Season Pass,' which will include mint tokens, and those mint tokens will help you get NFT Chainmons.
There is another way to convert Chaimons into NFT, and that is to upgrade Chainmons. You can upgrade Chainmons with various resources like flowers, gemstones, and Chip dollars. When you win at the game, you will receive rare and common gems, which help you achieve the following status of the game, leading you to have NFT as a reward.
Blockchain:
It is based on Flow blockchain technology to save the environment as it has no gas fee. You can sell, buy and trade Chainmons NFTs as they are all backed up by Flow.
Free-to-Play:
Yes, ChainMonster is a free-to-play game, and it doesn't require its users to purchase any item to start this game.
Total Traded:
Since it is not been completely launched yet, according to DappRadar Report, it has made a trade of about $1080000.
Crypto Raiders is a fantasy war game that has a battlefield theme. World of Warcraft purely inspires this game. So, the trick is that while playing this game, you send your character to the battlefield to loot dungeons, defeat bosses, and earn rewards in the form of tokens.
You are allowed to select one raider from a total of 7500 raiders. You have to be careful here because death is permanent in this game. Once your character is dead on the battlefield, you are no longer a part of this game.
This play-to-earn game has its in-game currency known as AURUM and RAIDER. Players use AURUM for several in-game activities like PVP, entering dungeons, item crafting, and much more.
AURUM is worth around 1 billion USD. A more difficult task, the more will be the worth of NFT tokens. Whenever a player uses an NFT character, the player will get some bonus percentage on it.
Keep that thing in mind that you will receive no NFT rewards in this game. You will only receive game items that might help you get NFTs in the future.
Blockchain:
Crypto Raider relies solely on Polygon Blockchain technology to reduce the adverse impact on the environment. You can buy, sell and trade AURUM tokens to earn some real cash.
Free-to-Play:
No, you are required to link your crypto wallet to the game first and then play it.
Total Traded:
Crypto raider has a total trade of about $700,461, with the RAIDER worth $2.35.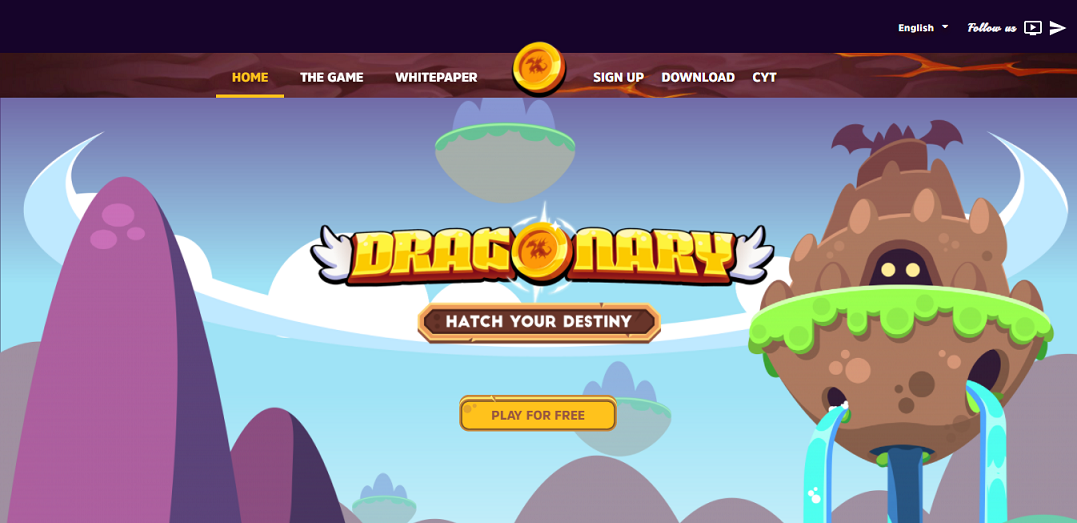 Welcome to the world of dragons. Dragon is a fantasy-themed game where you will enjoy training, leveling up, evolving dragons into high-quality traits. Dragons are the game's main theme, and you will see many dragons with various yet unique characteristics. Dragons with high traits and qualities are NFT tokens in this game. You raise the dragons to legendary levels and then send them to the battlefield.
This play-to-earn game is offering its users money according to the time they spend on this gaming platform. PVP mode of this game allows players to have a battle between their dragons. With every win, you will earn some reward in the form of valuables and in-game items. In-game items, valuables, and dragons with high traits are tradable. If you get bored with the dragons in the future, you can simply sell them at the NFT marketplace to have money in your account.
Blockchain:
Players are the basis for the economy in this game. Dragon has CYT tokens based on the blockchain, which are you can sell at the NFT marketplace easily as CYT uses BEP-20 technology.
Free-to-Play:
Yes, Dragonary is a completely free-to-play game. It doesn't require any crypto wallet account or third party for its installation. Simply download this game to enjoy it to its fullest.
Total Traded:
As we all know, Dragonary uses CYT tokens, and one token is around 0.02811 USD.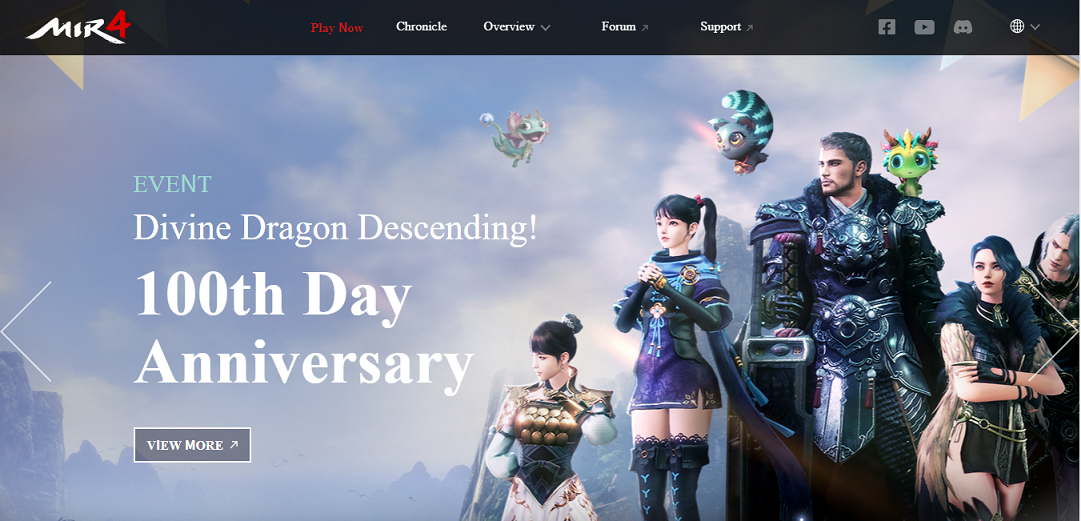 MIR4Global is such a thriller and has acquired the attention of many people with its remarkable success. MIR4 Global is currently available in more than 170 countries and is available in 12 different languages. This play-to-earn has a war theme and supports the multiplayer feature. You can choose from four different classes and participate in battles with monsters and other players from other countries as a player.
In this war game, you collect utility tokens known as DRACOs. You can exchange DRACO for 'Darksteel' resources, an in-game item. After winning the battle, players will receive Darksteel. When the limit of Darksteel reaches a certain level, players can exchange it for DARCO.
Blockchain:
In MIR4 Global, players earn Darksteel in the game, and then they exchange it for DARCO. 1 DARCO is worth around $1.76.
Free-to-Play:
Yes, it is a free-to-play game. But it also allows you to link a crypto wallet with the account and buy, sell or trade your in-game items.
Total Traded:
MIR4 Global, with its launch, has a total trade of about 1 billion USD so far.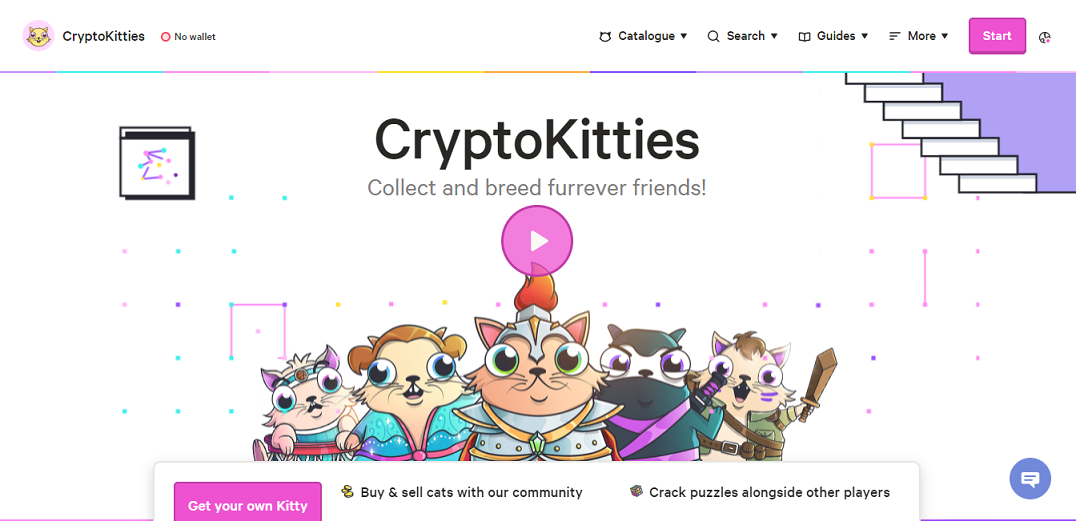 CryptoKitties is an easy and simple game to play, and it allows its players to play the game by collecting and raising the cats. You can also get unique traits by breeding cats with great characteristics and eventually earning rewards.
It is such a captivating activity to raise cats in the game. These games give rewards when you have a collection of cats with unique features. You are also welcome to play puzzles and catfights with cats in this game.
Blockchain:
CryptoKitties holds a record of being the first game to establish on the Ethereum blockchain. Traits of cats are the real game-changer NFTs in NFT will sell ERC-721 for millions of dollars.
Free-to-Play:
No, CryptoKitties is not a free-to-play Non-Fungible-Token game. You have to buy a cat to start the game, and every cat has a different worth depending on its traits. You also have to pay some bucks as a 'gas fee' to keep it ongoing. You will need an Ethereum Wallet to start play
Total Traded:
The price of 1 token of Crypto Kitties is around 8.68 USD, and it is compatible to make USD 220.73 in 24 hours only.
Conclusion
Now you have reached the end of this article. You should now better understand NFT games and how blockchain technology plays a major role in changing traditional games into learn-to-play games.
There I have put a lot of effort into making the list of best NFT games. Just go through the games and find yourself a good option for digital investment.
In my opinion, Axie Infinity and Sorare is great option to invest your money into the digital NFT marketplace. Mir$ Global also seems to be a great option because of the DARCO and its great features. We wish you all the best while investing in the digital world, which is way secure.