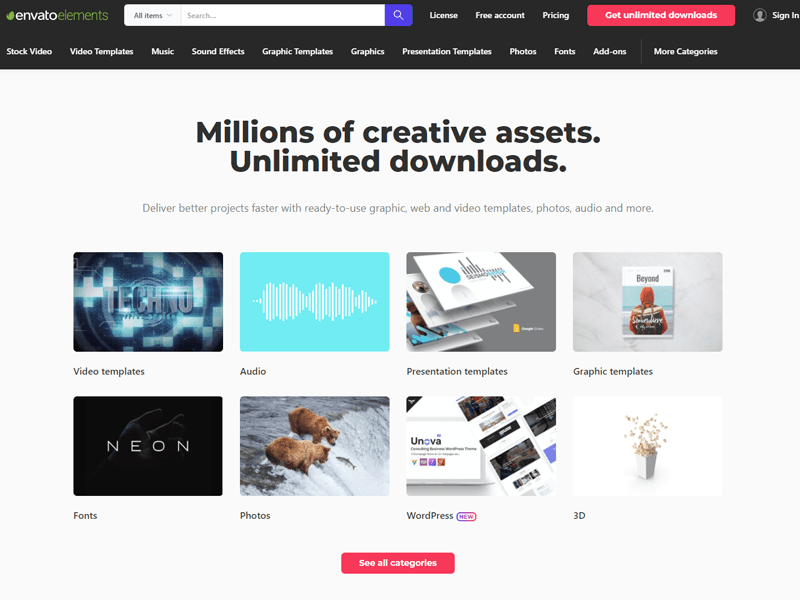 Today we are reviewing Envato Elements a subscription platform for any kind of digital assets such as templates, video, plugins and video. Detailed review that can help you to learn more about its features, costs and more.
Envato Elements Review
Envato is considered the biggest digital assets providers. They are operating in Australia and Melbourne. There are seven other asset directories associated with Envato.
If you are working online for quite a time you must be aware of online purchases too. These purchases must be from Envato to fulfill the needs of your website.
Envato is considered the biggest digital assets provider. They are operating in Australia and Melbourne. There are seven other asset directories associated with Envato.
The general operations of Envato have expanded over the past few years. It has recently launched a marketplace for freelancers, online course services and tutorials, website builders, and freelancing.
What is Envato Elements?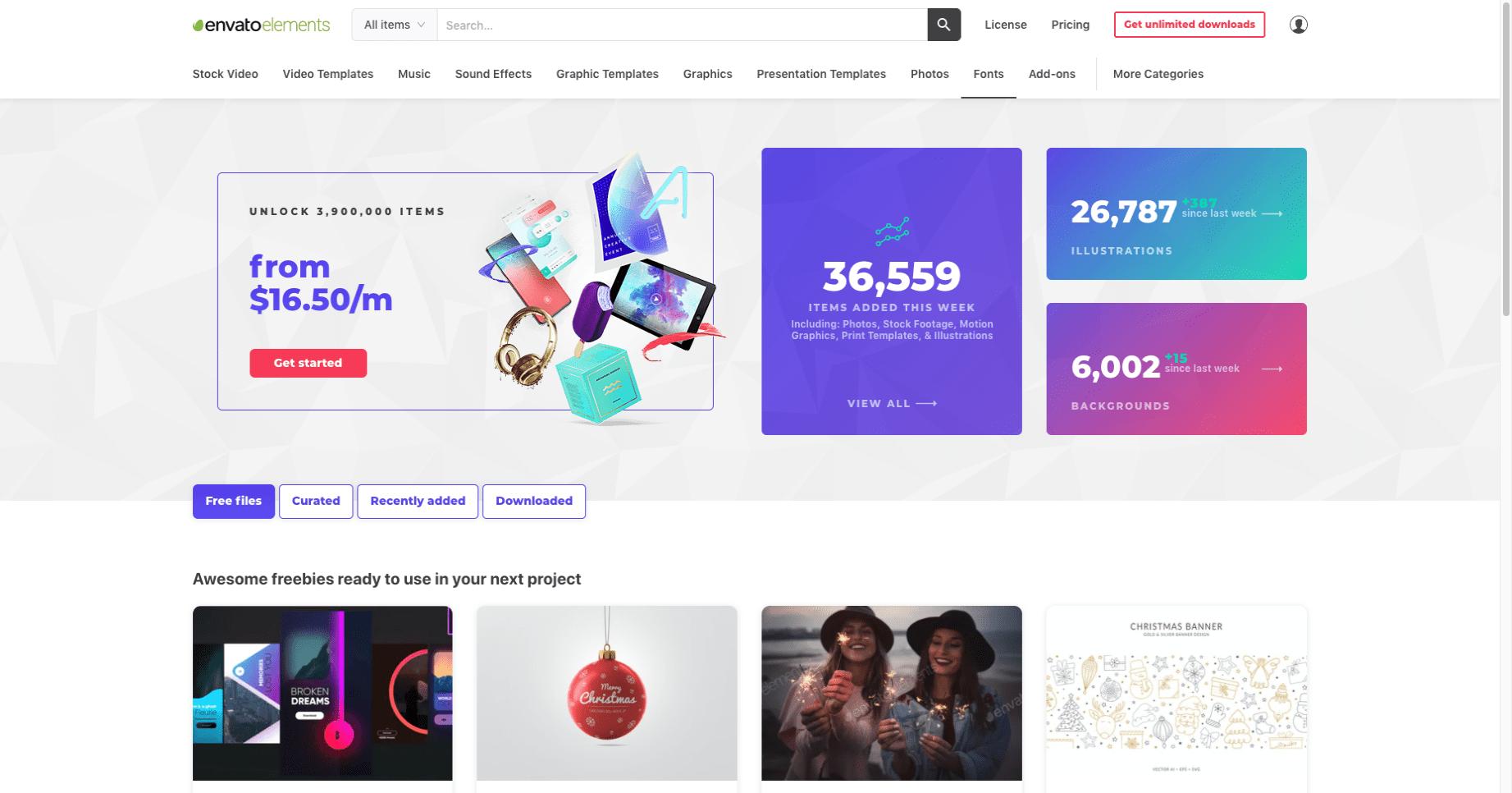 Envato Elements is a paid membership that will give you access to several digital products. These products can be used and downloaded unlimited times. It includes: graphics, procreate brushes, videos, templates, WordPress themes and more.
Elements have marked the greatest impression in terms of its services, which have been previously marketed by Envato as "Ultimate Creative Asset subscription".
Here, in this post, I will give an in-depth review of the service. I also describe the reasons why content creators and developers sign up.
Is Envato Elements Worth It?
The resource directories of digital assets of Envato continue to offer different products individually. The asset author is actually the one who sets the prices, yet Envato charges the allowing fee for the author to help sell on their platform.
Thus, the price of an item for purchase on Envato is highly different, such as, you may end up paying $60 for a theme offered on ThemeForest or $25 for a plugin from WordPress on CodeCanyon. GraphicRiver offers the same for $35 and for $5 on PhotoDune for the same photograph.
If you are a regular buyer of digital assets, you can find racking up your expenses very fast.
So, rather than paying for all the items one by one, Elements provides you with a chance to get a huge archive of digital assets at the expense of only $16.50 per month. Yes, it is worth it!
This archive comprises multiple stock photos, music, fonts, graphics, plugins and themes. The best thing is that the members can download these items several times without any restriction.
The very affordable prices made their service grow very fast in terms of popularity.  
What do you get from Envato Elements?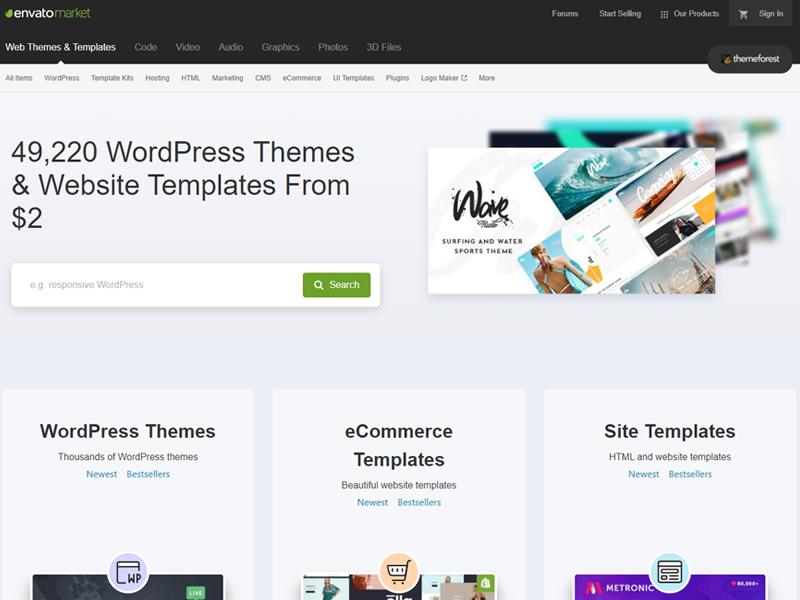 Visitors (non-members) can freely look and browse around the website of Envato Elements to find out the best offer. Nevertheless, we recommend to you a sing up as Envato publishes a catalog of free digital files which are updated daily. These files are easily accessible from the homepage.  
Sign in with your Envato account if you ever bought anything from the Envato marketplace, such as ThemeForest.
However, it's just a matter of a few minutes if start the signup process.
At the moment, there are about 1.6 million digital assets available at the Envato marketplace for downloading. But the archive is continuously growing. Every week, over 22,000 new items are added.
The homepage also guides you for new items that are added to the archive along with the free files. Also, a curated list of top-quality assets is also displayed.
You can have an access to more than 460,000 motion graphics, 46,000 logos, 22000 icons, 1,800 presets and actions, 880,000 photos, 110,000 audio files, 15,000 video templates, 22,000 vectors, and 5,900 fonts.
Infographics, image backgrounds, and email templates are also available for the members. And the plus option for the members is that they can access courses and tutorials on TutsPlus.
Now if you have a WordPress website, we strongly recommend you install Envato Elements plugin for WordPress. In this way, you will be able to search for the archive while using your WordPress admin area and add media to the pages and posts directly.
More than 1,400 page templates and 80 template kits are also visible within WordPress plugin in their library. It is easy for you to use these templates for your website with Beaver Builder or Elementor. Both these page builders use the drag and drop tool and are free for downloading.
You can have easy access to stock images for your blog so you can insert these images to your content.
Video templates are a huge attraction for YouTubers, motion graphics and audio files are available for Website designs and can use millions of logos, icons, vectors, fonts and etc. Obviously, the quality of items matters a lot, and if the quality of 1.6 million elements is poor then they are of no use. However, it is not the case with Envato Elements. It has followed a strict rule to include quality items in the library. We could not find any item that is included to merely boost the catalog in terms of number for marketing.
Also, note that many items offered by Envato at the marketplaces like Themeforest or Codecanyon are not free even under the Elements subscription. It means that a subscription does not allow you to download a file from the classic marketplace.
How to find an item from Envato Marketplaces to Envato Elements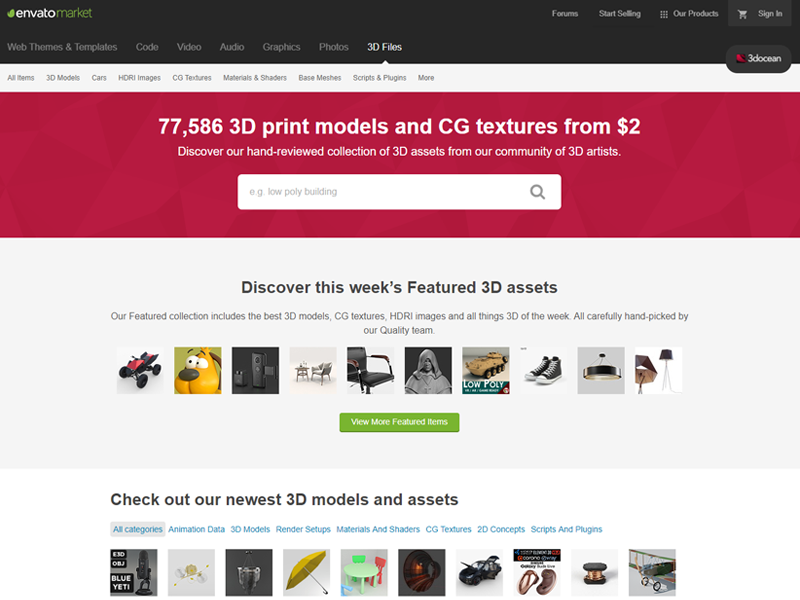 Finding the right digital asset from such a huge library is difficult. You will have to sort out the items and search specifically for the required item if you want to find the right items of your interest.
Envato made it easy since it allows to search the categories with filters. This is to make sure that the results of your search would be more specific and relevant.
If you are aware of what you actually need, you will definitely use the search bar which is present at the top of every page. Therefore, restricting the search to a specific category will help you get better and the most relevant results.
Click the "browse" option at the page top will lead you to search for the item on the "all items" tab.
Here, you will find a list of categories displayed at the top. Under this list is a selection pane for the items for all the categories. It will give a great experience to the customers to shop.
This menu is useful as then your customers can access Envato Elements from any page.  
The filter is another important and effective way of getting a desired digital asset.
As you select a category, you will find a list of filters displayed on the left side of the page. This list allows you to improve your search by displaying restricted items of the selected and specific sub-categories with the most relevant tags.  
Such as the items can be restricted if you select Adobe Photoshop.
Functionality to good search is also important for a digital library which comprises thousands of items.
If the right keywords are used, the search bar may help find the most relevant items in a matter of few seconds. Nevertheless, you can further refine your search by frequently selecting the categories and narrowing down the keywords with filters.
The main description area always follows the items which are related to the items displayed under the related items.
How To Get Envato Elements Subscription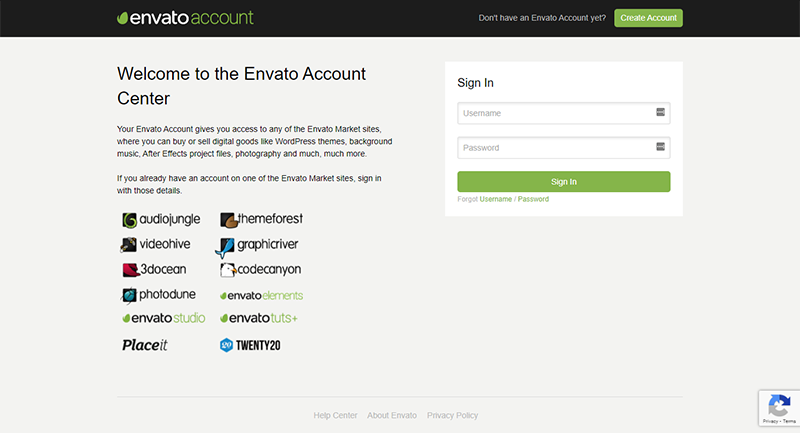 If you want to merely sign in and browse Envato Elements, it's free. Free browsing is available for visitors. Even the entire digital archive is available for browsing just like a regular member. The difference in this is that the item page displays an option of downloading for members rather than a sign of encouragement to sign up.
You can find a full explanation on the item page about the element and its purpose. It also displays the files to be included along with the applications, and file types that are usable with these elements and their dimensions. Such dimensions include colour selection and further relevant information.
If you are there to merely browse and explore the site to work on your project, it notes down your viewed items.
You can do this by placing and bookmarking your items in a collection. You can later review all these items as you decide to get started with Elements to complete your project.
All the files that you want should be added if you intend to download them.
Licensing
It also provides a license to do so. For this, you need to simply add the title of your project and then assign a file for the already added project. You are now allowed to download the file.
If you wish to download a file without a license, you can.
The video files are shown as previews so that you can watch the videos prior to downloading them.
Envato provides detailed information about the looping, frame rate, file size, and resolution of all the videos.
The best thing about the whole process is its simplicity. There is no need to switch from one page to another in order to download the assets of your desire. You directly click on the item of your choice, add a project to it, and download it.
All video files and stock images are of high definition and quality. The items are reviewed and checked to have a width resolution equal to 5,000 pixels. Similarly, 4k or 1080p is the biggest file resolution.
How Much Does Envato Elements Cost?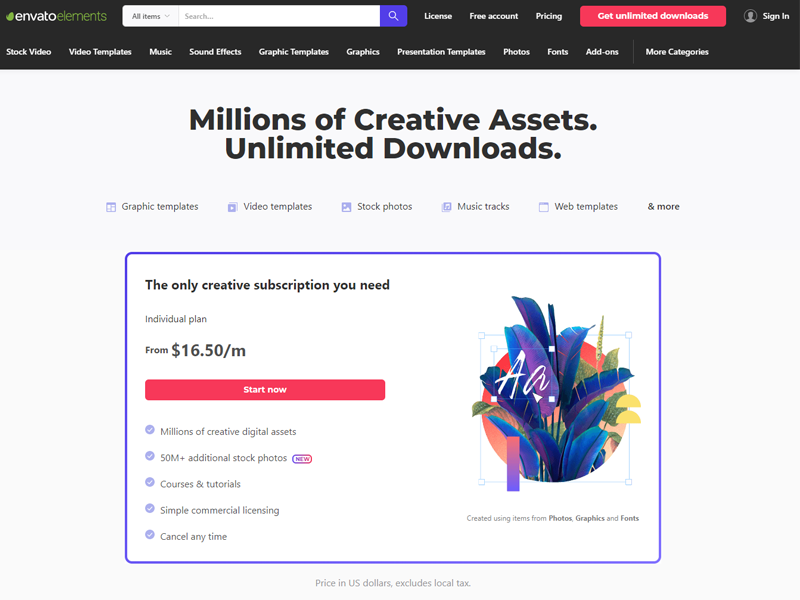 The membership of provides you an access of more than 1,600,000 digital items and more than 50,000,000 stock photos on Envato Elements and Twenty20, respectively. EBooks and Courses from TutsPlus can also be obtained with this membership.
You can own this all at $16.50 per month excluding tax.
The students' discount is 30% which students can avail of by adding their student E-mail ID at the time of signing up. You don't have to sign up for a long-term contract instead the membership is valid for a month and you are free to withdraw your membership at any time of the month.
Although you can download digital products without restrictions and at an unlimited number, that does not mean you own the entire asset. Such as, you cannot download an element and then sell it again to someone else or start using print graphics to commercially sell the items.   
Reading license terms and conditions will guide you to understand what it allows and what it doesn't.
Other Envato Sites
3DOcean– 3D print models and CG textures.
PhotoDune– Stock images-free royalty stock images
Graphic River– Graphical templates, icons, logos and fonts
AudioJungle– Royalty free audio and music
VideoHive– Royalty free templates and videos
CodeCanyon– Code snippets, plugins, scripts
ThemeForest– Templates and themes for websites
Take away!
We believe that Envato Elements is a service that benefits a lot of people out there. As you come to know about the huge number of items available at the marketplace of Envato, the monthly cost would feel like incredibly low. Likewise, the offer of canceling membership at any time of the month makes sure that you are not bound to fulfill a long-term and restricted contract.
The quality of items is another important and pleasing aspect. If you deeply explore the website for stock images, you may find a lot of graphics, videos and images in low quality. Envato has lower number of items to keep a quality check ensured for each single item to make it worth using and downloading.
Although I appreciate the service and its offers, but the service is not there for everyone. This is because you need to use the service regularly so that the subscription remains worthwhile. If you do not download the audio, videos, and images regularly, then you should purchase the digital items every now and then.
Moreover, Envato Elements may lack the items of your choice. Elements membership does not include all the items available at the Envato marketplace. It means that you will have to restrict yourself to the available files only or purchase the items separately.
Before you sign up, note that Envato Elements offers its monthly membership at the cost of $16.50 per month.
Envato Elements can prove to be an "All-in-One" type solution for most customers which provides them with everything of their choice. However, others may feel that Elements is just a low-cost complementary purchase for them.

Ludjon, who co-founded Codeless, possesses a deep passion for technology and the web. With over a decade of experience in constructing websites and developing widely-used WordPress themes, Ludjon has established himself as an accomplished expert in the field.