Rust is one of the most popular video games and still continues to gain more players. You need a reliable hosting provider to enjoy playing this game with other players.
Although public servers provide a convenient opportunity for beginners, these public servers have limited security, speed, bandwidth, and overall gaming performance. Compared to these public servers, the best Rust server hosting providers have all the server resources to give you an enjoyable gaming experience.
This article covers some of the best server hosting companies for Rust. These are hosting providers that guarantee you great speeds, high levels of security, and much more.
You might be interested in reading more about Cheap Dedicated Servers
What is Rust Game?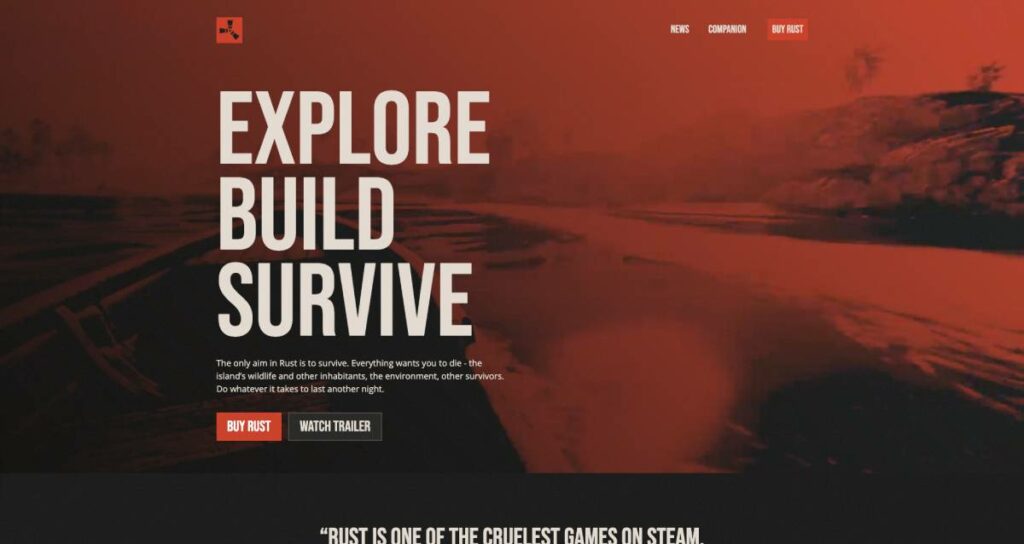 Rust is a multiplayer-only survival video game that was developed by Facepunch Studios in 2013. The game is available for Windows, Linux, and macOS.
Although there are many similarities between multiplayer survival games, what sets Rust apart from other games is that players fight with players only.
Have you ever played Rust on public servers? If yes, you can relate with the various limitations of public servers, which is why you should consider renting private server hosting. Some of the benefits of Rust server hosting with these companies include high performance, reliable security, low lags, and great uptime.
In case you are searching for a Valheim Server Hosting you can read our article here: Best Valheim Server Hosting Providers
The Best 9 Rust Server Hosting

One-click server setup
Custom control panel 
Full FTP access
See Pros & Cons
Pros
Unlimited player slots in all plans
Fully customizable Rust launcher
Users can set up multiple servers from a single account
Instant setup
DDoS protection
No lags 
Free domain 
Cons
No servers in some parts of the world like Asia
Scalacube gives free and cheap Rust dedicated hosting with an easy-to-use control panel that makes it easy for you to manage your server. You can modify the settings, configure the server, start, restart, shut down, administer the server, update the application, change options, and more.
This Rust server host comes with DDoS protection, unlimited player slots in all the plans, free domain, Oxide support, advanced SSD drives, and fully customizable Rust launcher. The company's servers are located in the United Kingdom, Europe, and North America.
ScalaCube is also well-known in the gaming community for its very high uptime, low latency, and no lags. This is the kind of performance that many Rust gamers are looking for in a hosting provider.
Pricing
Rust Free – free plan
Rust 150 slots – $24 per month
Rust 200 slots – $32 per month
Rust 250 slots – $40 per month


Custom control panel
Instant server setup
Automated server notifications 
Oxide support 
See Pros & Cons
Pros
Great mod support
Multiple hosting locations 
Automated/custom server restarts  
Easy game switching 
Regular hardware upgrades 
Options for multiple Rust branches 
No RAM limitations 
Latest versions of supported mods
DDoS protection 
Access to third-party tools
Cons
No refund guarantee
No automatic backups 
Survival Servers is a well-known hosting provider among Minecraft, ARK, and Rust gamers. The provider comes with many alluring features that include DDoS protection, regular hardware upgrades, no RAM limitations, easy game switching, multiple Rust branches, and much more. This is also the hosting provider for you if you prefer a platform that is easy to set up.
This host also gives you advanced protection and server pass-locking. You get access to an in-house control panel that lets you configure and customize your game server. Through the control panel, you can install supported mods and maps, change settings, switch locations, and more.
One of the main strengths of this server hosting provider is their multiple server locations spread across the world. Survival Servers has 5 servers in North America – Los Angeles, New York, Dallas, Seattle, and North America. This is in addition to the servers in Germany and France.
The hosting provider not only offers great server performance, but also gives you lots of freedom. For example, you can change server locations and monitor your server status. Their support staff is also very knowledgeable and super responsive.
Pricing
Pricing is customized based on the number of slots, number of servers, and billing cycle.
The monthly price range for different numbers of slots on 1 server is as follows:
50 slots – $20 per month
75 slots – $25 per month
100 slots – $31.25 per month
150 slots – $37.50 per month
200 slots – $43.75 per month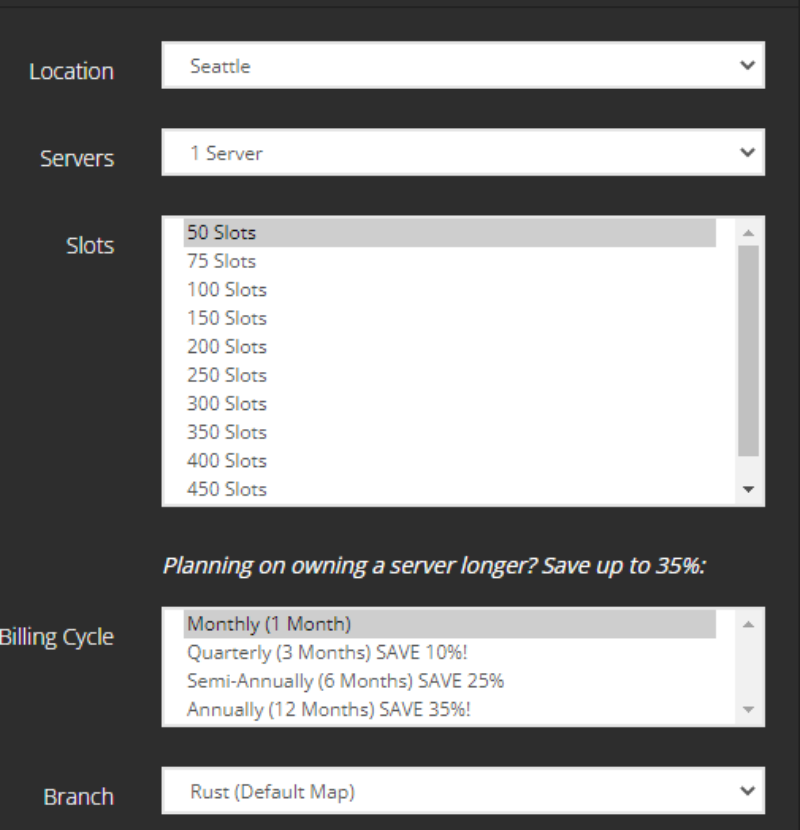 Modern control panel
Hosting network built on Ryzen
2-step authentication
See Pros & Cons
Pros
99.99% uptime
Free DDoS protection
Automated backups 
Instant server activation 
24/7 technical support
FTP access 
Free Migration 
72-hour risk-free money-back guarantee 
10 global locations 
Command line manager 
Cons
Takes a long to fix issues
No free trial 
HostHavoc has a sturdy infrastructure that guarantees you reliable server performance, ensuring you enjoy your Rust gaming experience with other players. Their industry-leading data centers guarantee you uptime of up to 99.9%. The company has 11 data centers spread across the globe.
The company provides dedicated Rust hosting for 30 to 400 slots on 4.5 GHZ E-series Xeon processors. Each server at HostHavoc starts with a minimum of 8 GB RAM. Your storage needs are handled by the SSDs. 90 percent of these SSDs are NVME.
This server hosting comes with free DDoS protection, 24/7 technical support, 72-hour risk free money back guarantee, FTP access, automated backups, and instant server activation. Your security on the platform is enhanced with their DDoS protection and 2-step authentication.
HostHavoc's great uptime and performance makes it one of the most preferred hosting providers for video gamers, including Rust gamers. Unlimited bandwidth is also a great attraction for many gamers. The 24/7 customer support team is super responsive, with an average response time of 10 minutes according to some users.
Pricing
Pricing is customized based on the number of slots and billing cycle.
The monthly price range for a different number of slots is as follows:
30 slots – $16 per month
50 slots – $17.50 per month
70 slots – $18.50 per month
80 slots – $19.0 per month
90 slots – $19.50 per month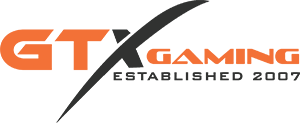 FTP access
TCAdmin control panel
Yearly hardware upgrade 
Oxide support
See Pros & Cons
Pros
Free DDoS protection
RCON support
Automated server backups
Great performance
Worldwide coverage 
24/7 support
Enterprise-grade hardware 
Plugin support 
24 hour refund
Game switching 
Cons
Knowledgebase could be better
GTXGaming has been providing reliable gaming server hosting services since 2013. Rust gamers find it a reliable provider because of its great performance and security features.
Some of the main features of attraction on the platform include automated server backups, RCON support, worldwide coverage, plugin support, enterprise-grade hardware, and game switching. Users can install Oxide or Umod from the mod manager. You can also install any plugin through FTP or file manager.
This server hosting provider supports live maps by Rust IP and MySQL databases which you can install with on-click on the mod manager. You can also access the online backup manager, schedule RCOM commands, schedule a broadcast and restart message, and steam updates.
The high performance is guaranteed through the enterprise-level hardware with SSD and i7 processors. Furthemore, the company has 15 data centers across 4 continents. These locations ensure that the company's network is wide enough to accommodate Rust gamers regardless of their location.
Customer care support at GTXGaming is available 24/7. The platform is also easy for beginners to use.
Pricing
Pricing is customized based on the number of slots and billing cycle.
The monthly price range for different number of slots is as follows:
50 slots – £10 per month
138 slots – £27.60 per month
225 slots – £45.0 per month
313 slots – £62.60 per month
400 slots – £80.0 per month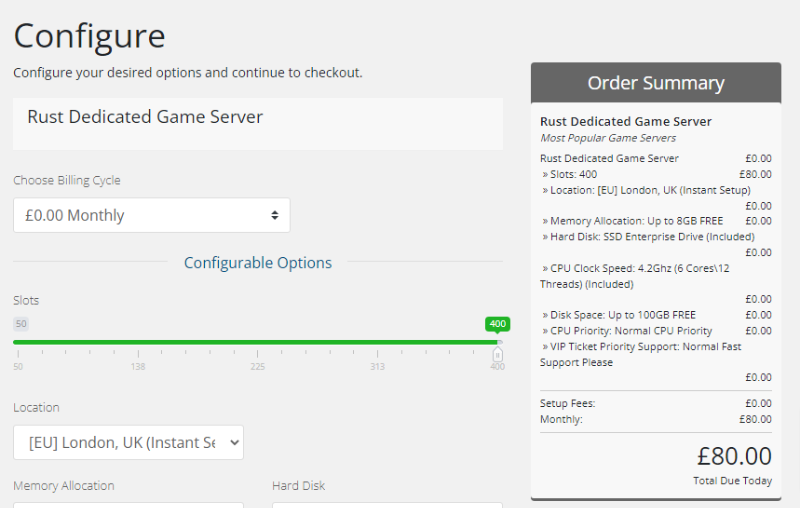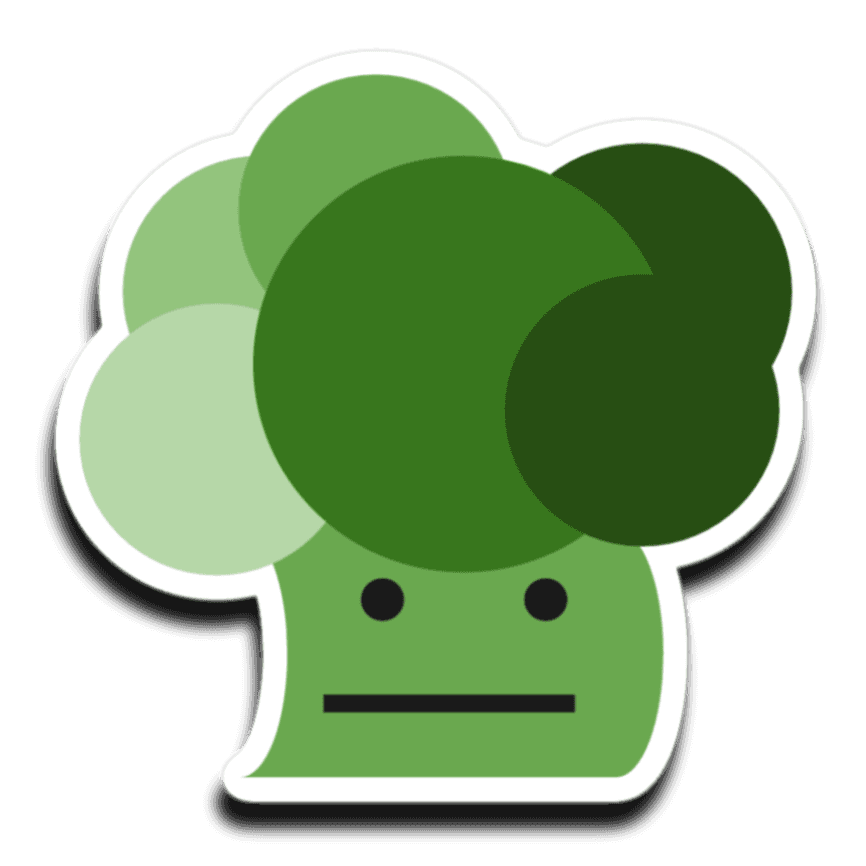 Super low latency
Easy setup
2-day free tria
See Pros & Cons
Pros
One-click installation
No lag
99%+ uptime
Cons
Servers are only in USA and Europe
Indifferent Broccoli comes with amazing offerings that are bound to make your Rust gaming experience fun. For example, the hosting provider has high-quality hardware that guarantees great performance.
The company commits to provide users with a lag-free and crash-free experience. These are among the two critical factors that gamers consider when looking for a reliable gamer server host.
Indifferent Broccoli has a reliable customer support team that is available 24/7. The support team is available through Discord and email. Discord and email make it possible for the team to quickly respond to your queries or issues.
YouTubers and Twitch users can also enjoy the company's dedicated server hosting. This dedicated service is offered through their content creator partner program.
Although still new in the game, the great server performance and top notch customer service make Indifferent Broccoli a major competitor of veteran hosting providers in the industry. You can sample their services through their 2-day free trial. You do not need a credit card for the trial.
Pricing
Pricing starts from $12 per month


Custom control panel
Over 25 global server locations 
FTP access
Starting from $10.20/month
See Pros & Cons
Pros
1-click installs
Auto-updater 
24/7 uptime
Free migration service 
Mod support
DDoS protection
No lag 
Multiple SSDs for handling large maps 
Dedicated 24/7 support
Cons
Costly
No automatic backups 
Limited server locations
Gameserver Kings is one of the best hosting providers for gaming, making it a good choice for gamers. With a control panel that is easy to use, you can customize and configure the servers to your liking. The control panel is easy enough to enable beginners to comfortably use the platform.
Great features available on this platform include DDoS protection, one-click installs, auto-updater, 24/7 uptime, 24-hour money back guarantee, free migration, 24/7 support, and much more.
Every server at gameserver Kings uses 64 GB memory, making it possible for you to run your favorite plugins or mods – even when the slots are full.
The company has a great customer support team that is available 24/7. In addition, you have access to a helpful knowledgebase of articles with clear instructions and images that demonstrate how to perform various tasks.
The data centers are only in the United States and Canada. This is a limitation that the company needs to work on to increase their coverage across the world.
Pricing
Pricing is customized based on the number of slots and billing cycle.
The monthly price range for different number of slots is as follows:
60 slots – $10.20 per month
80 slots – $13.60 per month
100 slots – $17.00 per month
120 slots – $20.40 per month
140 slots – $23.80 per month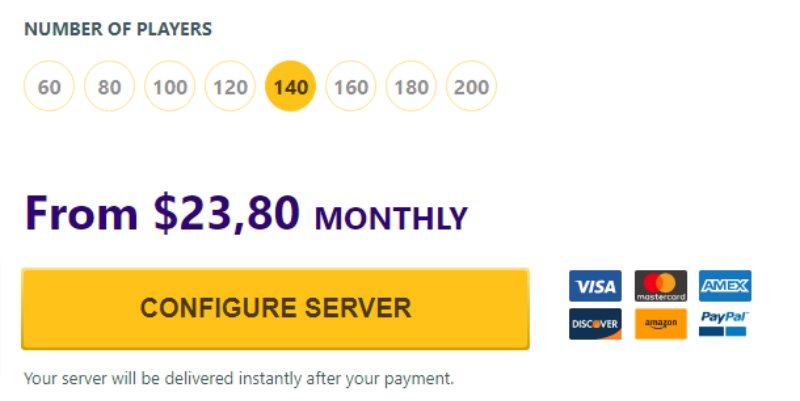 Supports unlimited plugins, mods, and extensions
Subuser access
One-on-one support
SFTP access 
See Pros & Cons
Pros
24/7 online support
Free DDoS protection on all plans
Unlimited player slots
Free MySQL databases 
48-hour money back guarantee 
Resource usage statistics 
Free dedicated IP
Cons
Hardware selection can be confusing for beginners 
Sparked Host is a reliable Rust server hosting provider that comes with intuitive server control panels, fast speeds, unlimited player slots, free MySQL databases, free DDoS protection, free dedicated IP, and much more. All these features come at affordable prices. For example, at $10 per month, you get 40 player slots on the Enterprise Rust hosting package.
Sparked Host also gives you a 48-hour money back guarantee. This tells you the levels of confidence they have on their services. On your part, you are guaranteed of getting your money back if you are not satisfied with the services.
The company gives you the freedom of choosing the kind of hardware your maps will run on. However, selection of hardware and server location can be confusing for beginners. This is why each tier at Sparked Host comes with a guideline on the type of population and map size that goes best with it.
The company offers 24/7 customer support services. Feel free to contact the support team anytime you have issues with your server hosting.
Pricing
Enterprise Rust Hosting:
Cloth at $10.00 per month
Leather at $13.00 per month
Fuel at $20.00 per month
Crude at $30.00 per month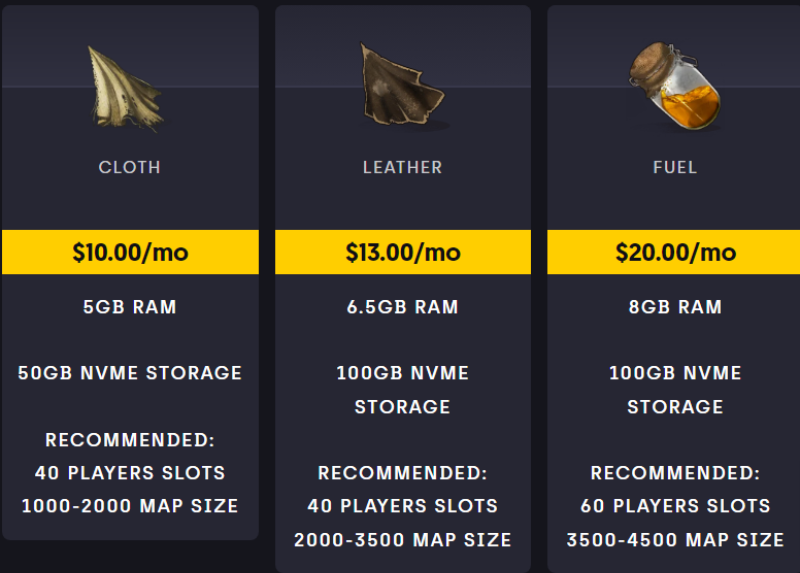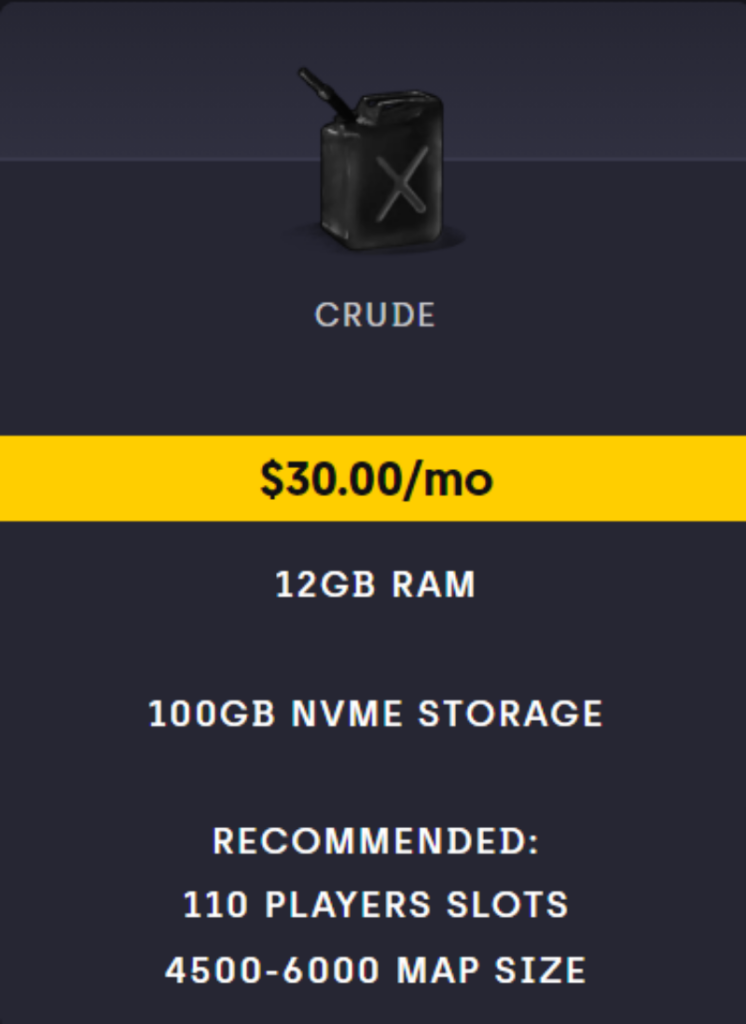 Extreme Rust Hosting:
Stone at $20.00 per month
Metal at $30.00 per month
Scrap at $48.00 per month
Diesel at $64.00 per month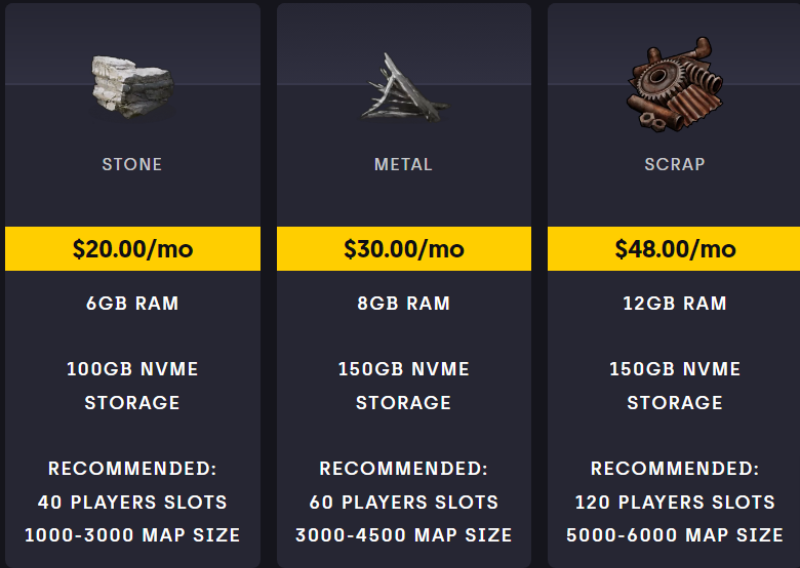 100% uptime guarantee
Free custom IP address with your server name 
Unlimited SSD storage
Server console 
Starting from $9.99/month
See Pros & Cons
Pros
Automatic updates
Free sub-domain
Automatic backups
Automated mod installations 
Plugin customisation 
Guaranteed DDoS protection 
24/7 support
Full FTP access 
Instant setup
Low latency 
Global locations 
Cons
Servers backups must be done by the user
Additional costs for hosting in certain locations 
Shockbyte is popularly known for its powerful hardware. This means that if you use this server hosting provider, you are guaranteed of great performance. The company started operations in 2013 and has already hosted over 100 thousand game servers.
Some key features on the platform include full FTP access, low latency, free subdomain, automatic backups, plugin customization, DDoS protection, and more. The company also offers great customer support that is available 24/7.
Shockbyte guarantees 100% uptime. You will never get worried about game availability. In case of any problem, you can go for Oxide support. In addition, you can upgrade or downgrade your plan without the fear of losing data.
Pricing
Wood at $9.99 per month
Fuel at $14.99 per month
Metal at $24.99 per month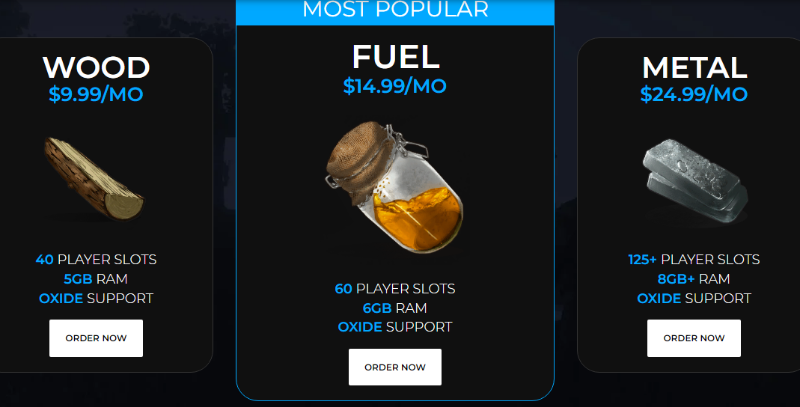 Customized control panel
Hundreds of modpacks available
Instant setup
Starting from $6.49/month
See Pros & Cons
Pros
One-click installs
Full DDoS protection 
No limits 
Cloud backups 
Blazing fast hardware 
Free subdomain and dedicated IP
Cons
No data centers in some continents 
Nodecraft is another great addition to this list of the best hosting providers for games. It is easy to set the server instantly and start enjoying your games with other players. Each server manages an average of 12 players at a given time. This ensures that the servers are not overburdened and you can access more RAM, CPU cores, and disk IOs. The distribution also ensures you are guaranteed of a great performance and gaming experience by minimizing crashes and lags.
Notable features on this hosting provider include enterprise level SSDs, DoS protection, 1 Gbps uplink network, 3.3+ GHz processor, and 32 GB ECC RAM. You also get to enjoy cloud backups, free subdomain, dedicated IP, one click installs, and more.
The company's data centers are located across 5 continents.
These locations include Chicago, Dallas, and Phoenix in the United States. Other locations are:
Europe – Belgrade, Amsterdam, London, and Moscow
Asia Pacific – Singapore, Brisbane, Auckland, and Adelaide
There are no data centers in South America
Pricing
Nano at $6.49 for the first month, then $9.98 per month
Keelo at $12.99 for the first month, then $19.98 per month
Megs at $19.49 for the first month, then $29.98 per month
Omega at $25.99 for the first month, then $39.98 per month

What to Look for in a Rust Server Hosting Provider
There are several crucial factors that should be at the top of your priority when looking for a reliable Rust server hosting provider. They include the following:
Great uptime: Game unavailability and frequent lags means you cannot make the most out of the game. Go for companies that guarantee 99%+ uptime.
High performance: Performance in the context of Rust hosting includes getting reliable speeds and bandwidth. Companies with multiple global data centers are likely to have servers near you and you're guaranteed of great performance.
Security: Your gaming data and bandwidth can be stolen online. Rust hosting providers that offer DDoS protection can minimize risks of such attacks and safeguard your data.
Price per slot: The best Rust hosting providers are not necessarily expensive. However, a provider with extremely low prices could be an indicator of low quality. The average cost per slot should be about $0.20 – $0.35, and should get cheaper with more slots purchased.
Customer service: Choose server hosting providers that are known to have reliable and helpful customer care staff. In addition, these support services should be available 24/7.
A good Rust hosting provider should have a balance of all these essential factors – great uptime, good security, high performance, great customer support, and reasonable prices.
FAQs
How much does it cost to host a rust server?
The average cost for a Rust server is in the range of $10 to $25, depending on the host. The cost depends on various factors, such as the number of slots you want. Hosting prices can go as high as $100 and more depending on the number of slots, servers and resources allocated. 
What is the best free rust server hosting?
The best free Rust server is ScalaCube which gives you free hosting services without compromising on quality and performance. 
What are the RUST Dedicated Server Requirements?
A Rust dedicated server requires enough bandwidth, plenty of storage, a powerful PC, and security features. You should create your server based on what you'll consider when shopping for private server hosting.

These factors include the uptime guarantee, security measures, and quality of the hardware. You should ensure your dedicated server has the resources to achieve all these requirements. It is also crucial that the server matches your game's technical requirements. 
Conclusion
The best server hosting providers have all the resources to ensure you have an enjoyable gaming experience with other players. These companies offer great speeds, great security, and 99.9%+ uptime. There are additional perks to be enjoyed on these platforms, such as responsive 24/7 customer support.
Choosing the ideal Rust server hosting service for your game sessions depends on various factors. For example, different gamers may need different numbers of player slots, which will come at different prices on the same hosting provider.

As one of the co-founders of Codeless, I bring to the table expertise in developing WordPress and web applications, as well as a track record of effectively managing hosting and servers. My passion for acquiring knowledge and my enthusiasm for constructing and testing novel technologies drive me to constantly innovate and improve.
Expertise:
Web Development,
Web Design,
Linux System Administration,
SEO
Experience:
15 years of experience in Web Development by developing and designing some of the most popular WordPress Themes like Specular, Tower, and Folie.
Education:
I have a degree in Engineering Physics and MSC in Material Science and Opto Electronics.