Gamers can only enjoy video games if they do not crash, slag, or have slow loading speeds. The best server ensures that you can enjoy playing Valheim with friends without any of these glitches.
As gaming becomes more popular (36.17 thousand peak players), many hosting providers have entered the lucrative market. You may therefore be spoilt for choice when shopping for a good Valheim server.
We have reviewed hosting companies and now bring you a list of the top services you should give priority.
We have analyzed these server hosting companies based on various merits, and they all meet the qualifications to be considered in the list.
Too busy for the full read? The best Valheim Server Hosting based on our research and review is ShockByte server hosting.
What is Valheim?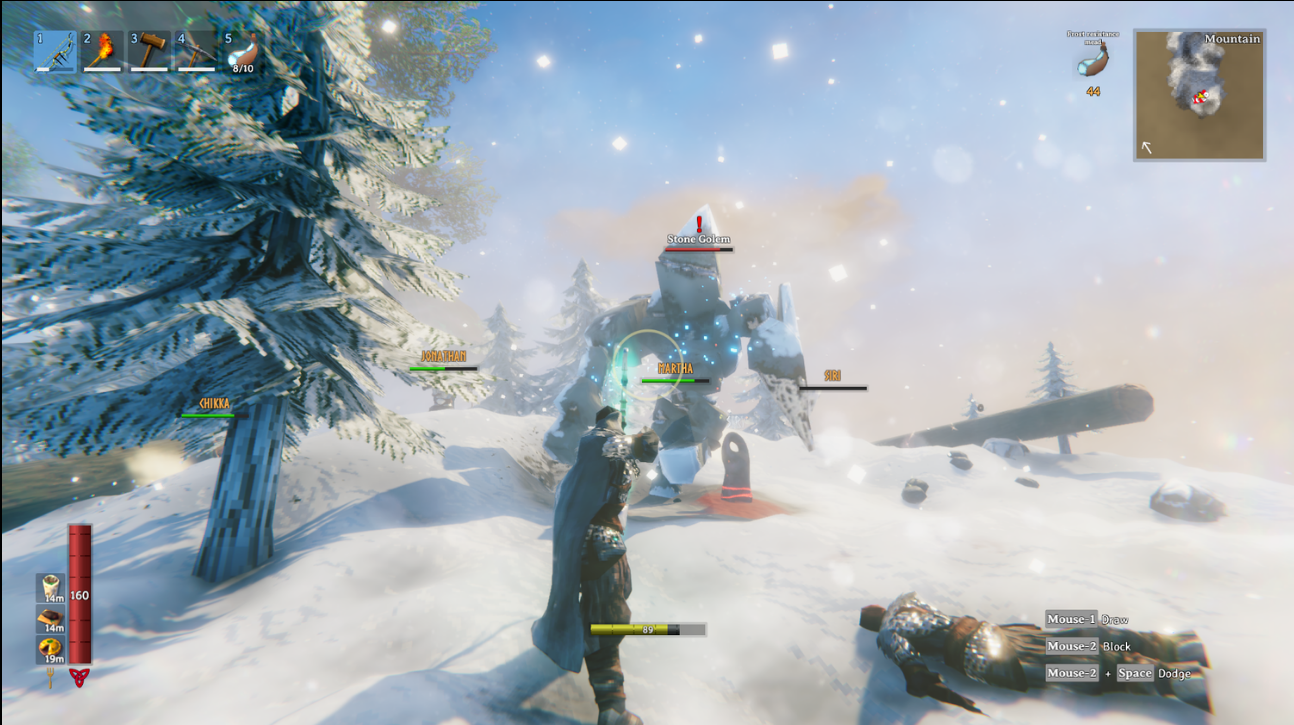 Steam, a video game digital distribution service, defines Valheim as a brutal exploration and survival game – quite the perfect video game for adrenaline junkies. The video game was first released in February 2021 for Windows and Linux on Steam.
Valheim has achieved immense success, selling millions of copies across the world. It is one of the most played video games globally, taking the PC gaming world by storm. The video game is built for 1-10 players.
Valheim takes place in a virtual world of slain Vikings who have to prove themselves fit for the halls of Valhalla. Players are given nothing, and must defeat the evils in Valheim to reach the Norse afterlife.
To enjoy this video game, you'll need reliable Valheim hosting that can guarantee you a seamless and uninterrupted gaming experience. Let's have a look at some of the best providers for Valheim in the market.
Top 10 Best Valheim Dedicated Server Hosting

Automatic modding
Low latency
DDoS protection
ShockByte is one of the popular players in the game hosting industry. The company has all the resources to hold the title of the best game server and Valheim enthusiasts would find it a reliable service provider.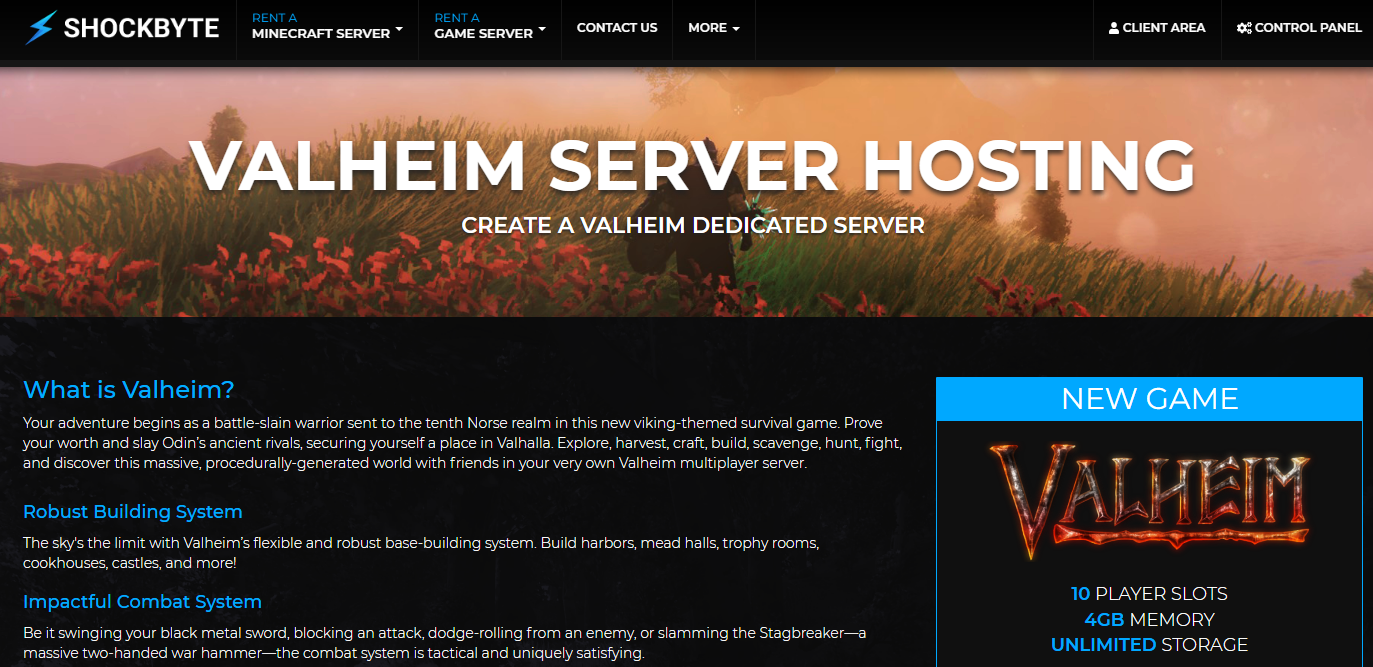 The powerful data center locations give you a guarantee that you have a game server hosting service that you can rely on. These multiple server locations ensure you have 100% uptime regardless of your location.
Players can pick up to five worker areas, which include Europe, North America, Singapore, and Asia Pacific. Every worker will have 50 GB NVMe SSDs and 4 GB of RAM. In addition, you are allowed to add 10 players to your server.
Features:
100% uptime
Automatic backups
Automatic modding
Automatic updates
Global locations
Full FTP access
DDoS protection
Instant setup
Free subdomain
Server console
Low latency
Pricing
Pricing for hosting Valheim on this game server host starts at $14.99 per month. At this price, they are one of the cheapest Valheim server hostings. The $14.99 per month fee gives you access to unlimited storage, 4GB memory, and 10 player slots.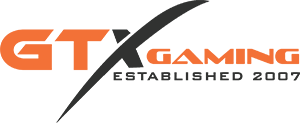 Color Server Names
Game switching
Nexus mods and Bepinex
GTXGaming is a UK-based dedicated game hosting service provider. In addition to Valheim, it is known to be a reliable gamer server for hundreds of video games.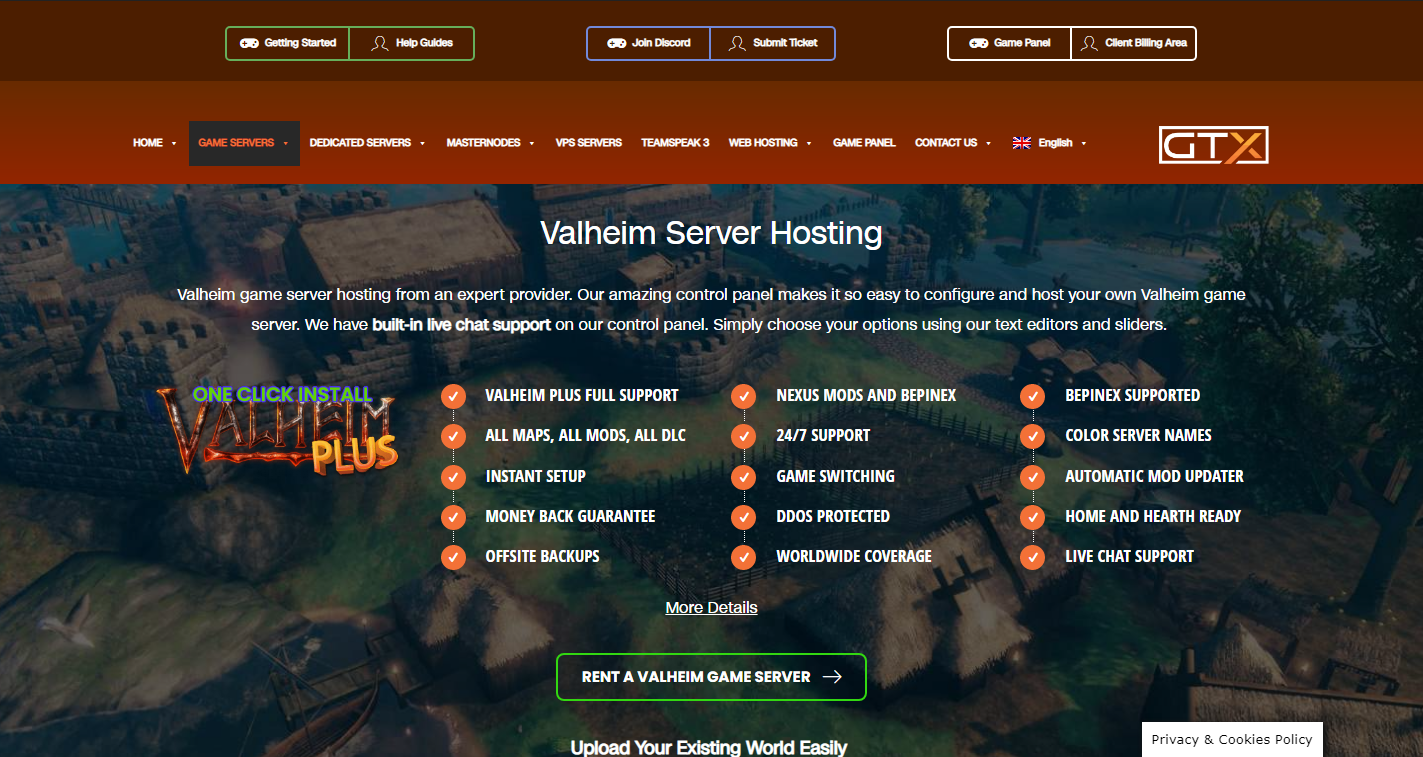 GTXGaming has an amazing control panel and built-in file manager. It is therefore easy to download and upload server files.
Their servers currently use i9 processors and offer Clan pay. Clan pay is a feature that lets your base of players contribute funds towards the hosting bill.
GTXGaming is packed with additional amazing features that make it one of the preferred game servers for Valheim video games.
Features
Over 19 data centers
Instant set up
Offsite backups
Money-back guarantee
Worldwide coverage
Live chat support
Color server names
Home and hearth ready
Bepinex supported
Automatic mod updater
Nexus mods and Bepinex
24/7 support
DDOS protection
Game switching
All maps, all mods, all DLC
The game switching features allow you to switch to the over 100 games that GTXGaming can host – you'll never get bored. It is also possible to rent dedicated servers, TeamSpeak, and VPS.
Pricing
The base package goes for $12.21 per month. The package includes standard CPU specifications, customer support, 5 GB of SSD, and 10 slots.
The pricing gets cheaper if you commit to long-term durations. You get a 5% percent discount if you take the 3-months billing option, 10% discount if you go for the 6-month package, and 15% for a 12 months commitment.

No lag
Mods Support
Free Domain
This is one of the few game server hosting providers that have an option to play Valheim for free. The company offers you two game server pricing options – $14 per month or the free plan. The free plan, however, is a single-player platform.

Features
DDoS protection
Easy to modify settings
Mods support
Full FTP access
Instant setup
Free domain
SSD drives
ScalaCube has made It is easy for you to create Valheim game server
Place your order with ScalaCube by first picking a location. The options include the UK, Asia, Europe, and America.
You can then choose between a modded Valheim plus and a standard server. The next step is to choose your preferred pricing plan.
The last step is to choose your server address type, choose add ons, and make your payment.
Pricing
ScalaCube comes with two pricing plans:
The $14 per month plan gives you access to 30 GB SSD storage, 10 player slots, 8×3.4 GHz CPU, and 12 GB RAM. The free plan has basic servers, 30 GB SSD storage, 12 GB RAM, and 8×3.4 GHz CPU.

Server pass locking
Instant server set up
Valheim+ (Plus) Full Modding Support
As the name suggests, Survival Servers is a hosting company that focuses on survival adventure video games. This makes it the perfect fit for Valheim game hosting. Other popular games in this genre include Minecraft, Ark, and 7d2d.

Survival Servers provide customized game server management panels. It is easy to configure and customize your game server. In addition, it is easy to switch locations, install supported mods, change settings, and more.
You can choose from the many survey locations for better performance based on your location. These locations include Seattle, Los Angeles, Germany, Singapore, and France. It is also easy to switch to other video games.
Although you can order as many servers as you want, there is a minimum of 10 slots per server. It is possible to order 30-slot and 20-slot packages, but the packages need Valheim+mod.
Features
Instant server set up
DDoS protection
Automated server notifications
Server pass locking
Easy-to-use control panel
Easy to install mods and plugins
Switch locations anytime
Automated server restarts
Full FTP access
Highest single thread benchmark Intel/AMD CPUs
Ultra-fast NVMe/SSD drives
Access to third-party tools
Custom launch parameters
Access to Admin commands
Pricing
Pricing for a Valheim server at Survival Servers is $14 per month. You can save with long-term plans – 10% with a 3-months package, 25% for 6 months, and 35% for 12 months.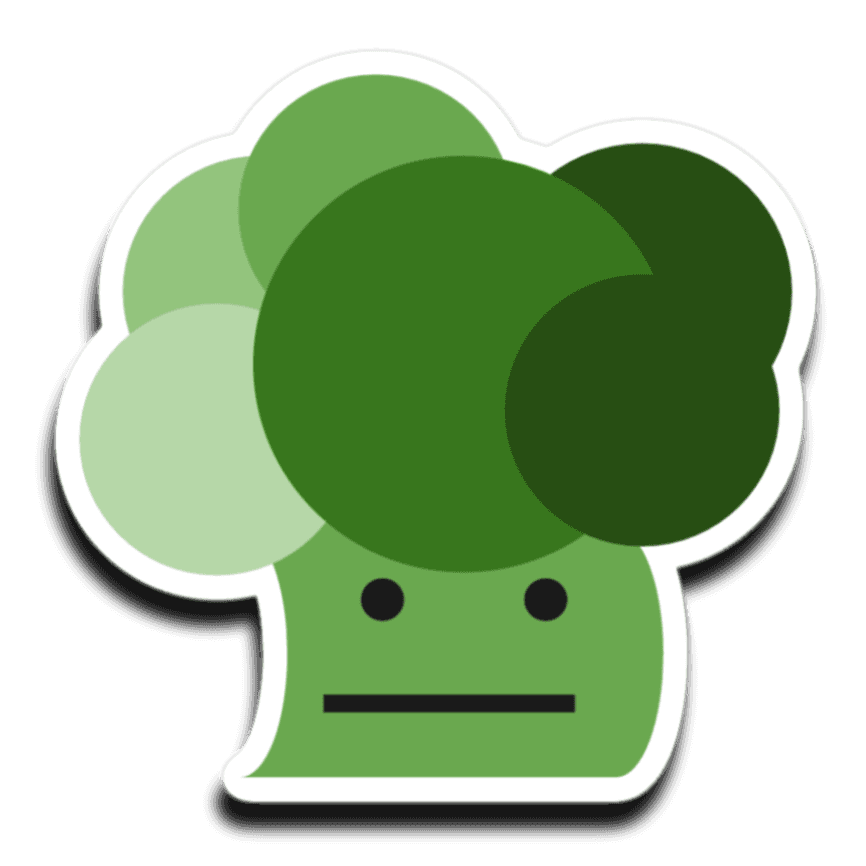 Top-notch customer service
7-day refund
Change Game Settings
Indifferent Broccoli has all the features you'll need for a smooth gaming experience. They have quality hardware that guarantees you and your friends an enjoyable gaming experience.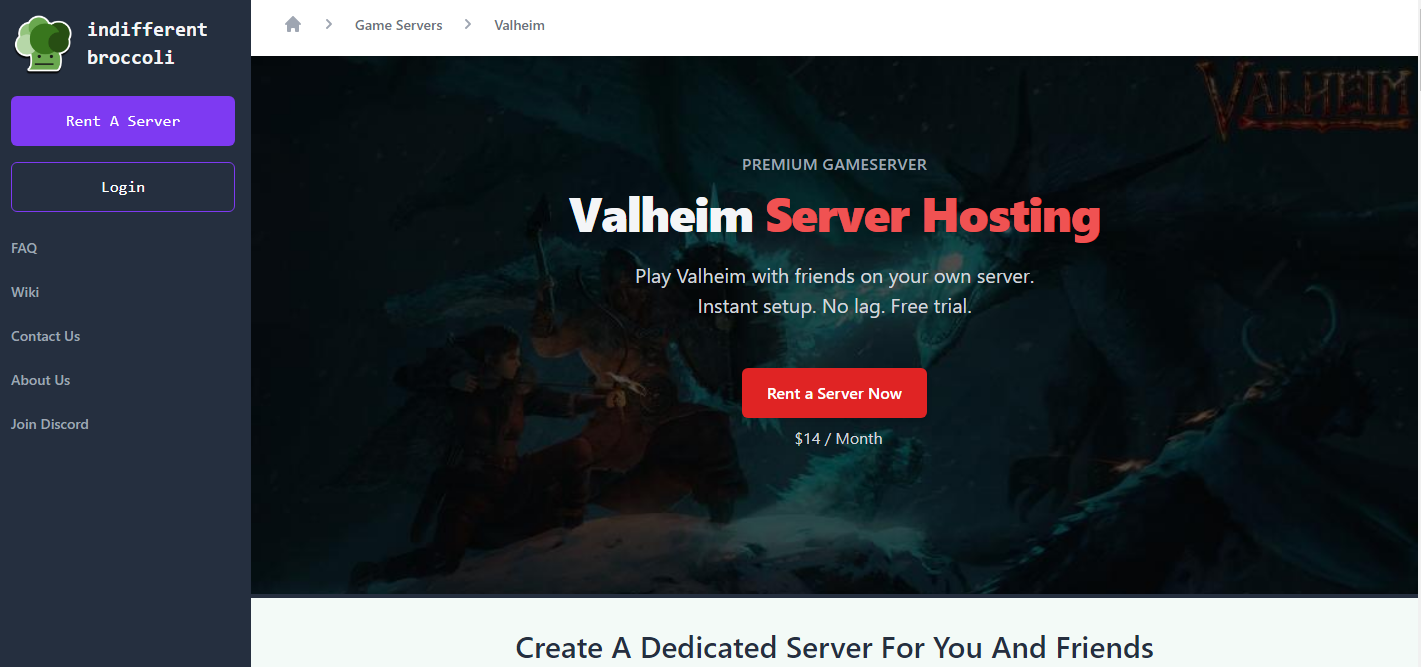 Indifferent Broccoli has a simple design that makes everything on the platform easy to use. For example, setting up a server is a one-click process.
Features
Custom-built control panel
Top-notch customer service
2-day free trial
Low lags
7-day refund
Automatic and quick server deployment
Easy configuration
Full FTP access
Although Indifferent Broccoli is a new entrant in the game server hosting market, their quality services prove that they are worth trying out. In addition to Valheim, the company also offers Conan, 7d2d, Minecraft, and ARK server hosting.
This company currently has only two locations, limiting their reach to gamers spread across the globe.
Pricing
Pricing is $14 per month for a 10-player Valheim server.
Indifferent Broccoli offers a 2-day free trial. Take advantage of this trial and start using the server without payment to test the features and overall service. No credit card information is needed for the free trial.

Simple configuration system
10 player slots
18+ locations
Apex Hosting is another contender to help you run a high-performant Valheim server. The company lets you configure your machine with desired memory size, starting from 2 GB of RAM to start hosting your server game. The memory size can go up to 15 GB.
Features
10 player slots
18+ locations
Linux
FTP access
Automatic updates and backups
Advanced DDoS protection
Simple configuration system
Linux hosting is available
Instantly online
ValheimPlus with Mod support
Premium hardware
Always online game servers
Low latency
24/7 live chat and ticket support
Free subdomain
Popularly known for its Minecraft server hosting, Apex hosting is also proving to be a good Valheim server hosting service. And with over 18 different locations worldwide, finding a location that suits your needs should not be a problem.
Pricing
Pricing at Apex hosting is based on the memory requirements of the video games. You will therefore pay according to the type of server you want to buy.
2 GB RAM at $7.49 per month
3 GB RAM at $11.24 per month
4 GB RAM at $14.99 per month
5 GB RAM at $18.74 per month
6 GB RAM at $22.49 per month
8 GB RAM at $29.99 per month
10 GB RAM at $37.49 per month

10 global data servers
2-step authentication 
NVME SSD Storage
Host Havoc was started in 2013 and has become one of the dominant players in the game hosting industry.
Host Havoc services currently support up to 10 players. The company is working to increase this number in the future.
Features
72 hours money back guarantee
24/7 technical support
10 global data servers
FTP and file manager access
99.99% uptime
Powerful control panel
Easy to use
2-step authentication
Free DDoS protection
The game hosting servers at host Havoc are powered by a customized version of TCAdmin v2 control panel tool. This is a robust and dependable suite that contributes to the great service offered by the hosting company. Furthermore, Host havoc has 10 data centers for superior performance and reliability.
With their 72 hours money back guarantee, Host Havoc will give you a full refund within 72 hours if you are not satisfied with their services.
Pricing
You can enjoy your Valheim server from just $15 per month.

Instant updates
7 Days of Backups
ValheimPlus and Mod Support
Up your Valheim gameplay experience by signing up with Bisect Hosting, one of the best game hosting companies. They are not only affordable but also offer unlimited player slots and dependable hosting services.
Features
Instant updates
DDoS protection
ValheimPlus and Mod protection
Fully customizable
Easy to set up
Multiple locations
7 days of backups
10 data centers
With Valheim dedicated server at Bisect Hosting, you get 50GB NVMe SSD, along with the features listed above.
Once you complete your payment, Bisect Hosting makes it easy for you to quickly set up the platform and start playing. In addition, the company gives you full access to your dedicated server, making it possible for you to install server mods like ValheimPlus.
The team at Bisect performs daily backups. These backups are kept secure for 7 days. In addition, they keep your server updated and resolve any issues to ensure you have an uninterrupted gameplay experience.
The company has multiple Valheim server host locations across the world. These locations include:
Buffalo, NY
Vint Hill, VA
Miami, FL
Los Angeles, CA
Dallas, TX
Montreal, Canada
France
Singapore
Poland
Germany
New Jersey
Amsterdam
Hillsboro, OR
Pricing
You can enjoy Valheim video games with your friends at just $12.99 per month.

Low latency
Steam workshop integration
Once click plugin
Low MS is a reliable server hosting provider for video games. They prefer working with game developers to develop the best server resources for gamers. You should therefore consider this company when looking for a reliable gaming server service.
The top-performing hardware at Low MS allows you to create your preferred server. The server runs on i9 9990K CPU thread, 10 GB RAM, SSD storage, and 1 Gbps bandwidth.
Valheim server locations include the UK, Germany, Australia, Singapore, USA, and Finland. These servers are hosted in the latest hardware – latest NVMe SSDs and Intel and AMD CPUs.
Features
Low latency
Full FTP access
Third-party mod integration
Full and free cloud backups
24/7 uptime
Switch locations anytime
DDoS protection
World-wide locations
Once click plugin and mod installer
Instant set up
Scheduled tasks
Steam workshop integration
Switch games anytime
Pricing
Low MS gives you access to 10 player slots at just $13.14 per month.
You can save more by committing to the 3 months package at $11.53 per month, 6 months at $16.14 per month, and 12 months at $13.01 per month.

Game switching
Enterprise Hardware
FREE Debranding
PingPerfect provides hosting services for various video games, including Valheim. Their server hosting is designed to provide you with an enjoyable gaming experience.
PingPerfect provides users with the best dedicated servers for fast performance. The hosting service also comes with 1 GB of web space, which you can use to advertise your game server.
In terms of configuration, you can choose your type of hard drive, location, slots, CPU priority, and support level.
Features
Instant server set up
Full backup system
Global locations
Free debranding
Enterprise hardware
FTP/File browser
Free web hosting
Money Back guarantee
Your game panel
Customer support
DDoS protection
Game switching
Pricing
PingPerfect lets you enjoy Valheim video games by giving you server hosting at just $14.19 per month.
You can save by committing to longer durations – 3 months, 6 months, and 12 months. They also offer a 48-hour trial, which you can use to test the servers.
Why You Should Rent a Server for Valheim
Wonder why you should rent a server for Valheim instead of self-hosting? There are several benefits that come with using the game hosting services we have listed above, in addition to the obvious benefits of relieving you of the hassles that come with self-hosting.
Better Gameplay Experience
One of the disadvantages of hosting your server on your local PC is that most home computers do not have the capabilities to handle the added CPU/Memory/IO load of running a server. As a result, gamers will experience numerous episodes of slow loading and lags.
Many gamers strive to enjoy the game with minimum interruptions, and would therefore do anything to have access to the best Valheim gaming servers.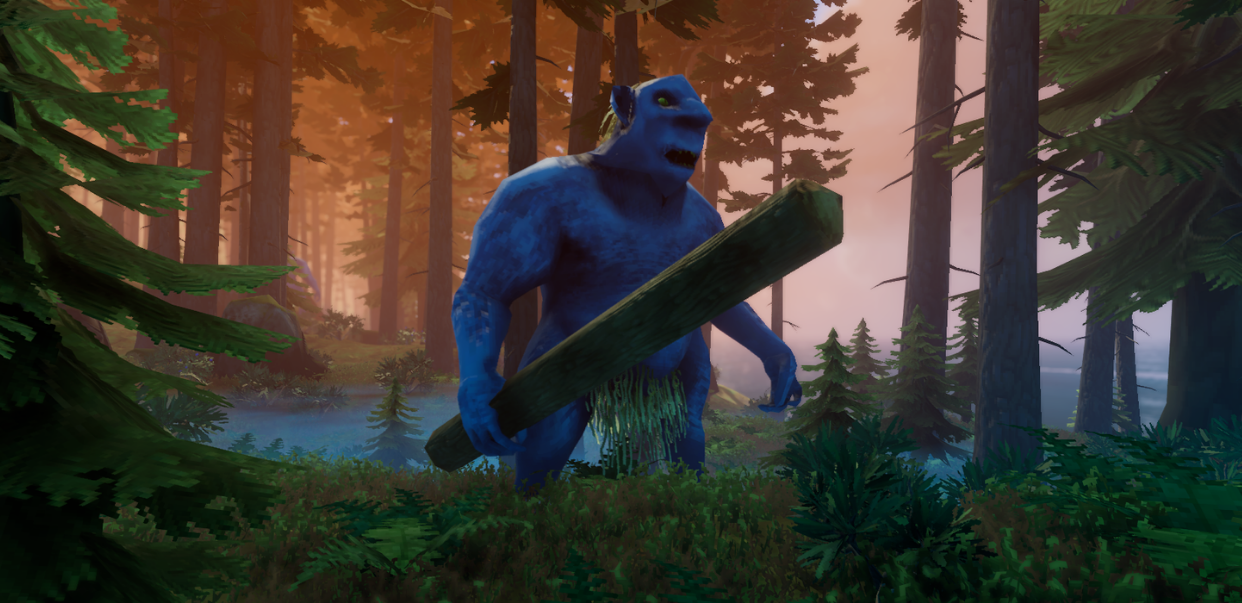 Better Control
As you let the server hosting companies do the hosting, you have the time and mind to have better control of your gaming with friends and family. You do not have to worry about possible lags or the game crashing in the middle of the game.
Play Anytime, Anywhere
Using dedicated Valheim game servers gives you the freedom to play the video game anytime, anywhere. This is because dedicated servers have 24/7 access.
Photo credit: (Stocksy)
You do not have to wait for the hosting player to come online. In addition, the 24/7 access makes these server hosts the ideal hosting companies for multiplayer groups located in different timezones.
Security
Self-hosting means that you also have to take care of your own security. Your servers can get hacked anytime. Take your Valheim hosting needs to a reputable provider and they'll take care of the security.
What to Look for in a Valheim Server Hosting Provider
You want to enjoy gaming with no interruptions, and that comes at a small cost. You therefore want to ensure that the host you choose meets all your needs.
Player Slots – You can choose a host depending on the number of gamers you want to play with. Most of the companies we have mentioned offer 10 player slots. If you want more, you may have to pay more to access 20 or 30 player slots.
Pricing – You do not have to break the bank to enjoy Vlaheim video games. With as little as $12 per month, you can get the best server services. It can even get cheaper if you pay per quarter, semi-annually, or annually.
Security – Look for a game server host that provides DDoS protection to prevent attacks. In addition, they should have secure payment options.
Easy-to-Use Control Panels – Control panels make it possible for you to manage your dedicated servers without having to know details about the system. A modern and easy to use panel will make everything even easier when setting up and customizing your servers.
Server Locations – The more server locations they have, the more likely you'll find a data center near you. These data centers ensure that you enjoy the best performance from the servers.
Customer Support – Among the many Valheim hosting providers that give you all that you're looking for, one with excellent customer support will always win. Go for companies with fast response time when queries raised. In addition, ensure that they have a 24/7 customer support team.
Backups – Regular backups can prevent loss of the data. In case anything happens that causes loss of data, these backups ensure that you can get back to playing as soon as possible.
Conclusion
Video games have become some of the favorite pastime activities among millennials and younger generations. With an internet connection, you can play with anyone in the world. And with the good Valheim server hosting, you are guaranteed of an enjoyable video game experience with other gamers.
All the Valheim servers we have listed have been proved to be reliable hosts of the popular video game. They offer over 99.99% uptime, DDoS protection, FTP access, backups, multiple player slots, and multiple server locations, among other perks you would look for in a good host for your Valheim servers. These companies guarantee you excellent performance at affordable prices.
Want to Learn More?
Check out some of the most popular gaming server hosting solutions below:

As one of the co-founders of Codeless, I bring to the table expertise in developing WordPress and web applications, as well as a track record of effectively managing hosting and servers. My passion for acquiring knowledge and my enthusiasm for constructing and testing novel technologies drive me to constantly innovate and improve.
Expertise:
Web Development,
Web Design,
Linux System Administration,
SEO
Experience:
15 years of experience in Web Development by developing and designing some of the most popular WordPress Themes like Specular, Tower, and Folie.
Education:
I have a degree in Engineering Physics and MSC in Material Science and Opto Electronics.