Umbraco is an ASP.Net-based CMS, so finding Umbraco Hosting isn't as straightforward as finding a hosting provider for WordPress.
After conducting research based on the hosting requirements for Umbraco, I've listed providers that, based on my experience and the tests I've conducted, are the most suitable and reasonably priced.
The Top 5 Best Umbraco Hosting
Provider
Server Type
Storage/Bandwidth
Price
Special Features
Hostgator
Shared
Unlimited
$4.76/mo
Including ASP, ASP.NET 2.0 (3.5, 4.0, & 4.7), PHP, SSICurl, GD Library, MVC 5.0, & AJAX, Plesk.
Accuweb
Shared/VPS
500Gb – 1.5TB
$3.49/mo
Windows Server 2016
Liquid Web
VPS
10TB
$65/mo
Windows Server 2019
Plesk Obsidian
Interserver
Shared
Unlimited/Unlim.
$8/mo
Intershield, 30 Days Money Back, Free Website Migration
Hostwinds
Managed VPS
30GB/1TB
$12.74/mo
1 Gbps Ports, 99.9999% Uptime

Windows Hosting tailored for ASP.NET sites
Plesk control panel
Unlimited subdomains
Personal Plan starting at $4.76/month
Enterprise Plan starting at $14.36/month
See Pros & Cons
Pros
Feature-rich hosting for ASP.NET developers
Unmetered bandwidth and disk space
Powerful programming features
24/7/365 top-notch support
Cons
Limited domains for the personal plan
HostGator's Windows hosting is meticulously crafted for ASP.NET developers, offering a seamless blend of power, flexibility, and numerous built-in perks. Employing the renowned Plesk Panel, IIS, and Microsoft SQL Server 2016, it's a haven for developers looking to harness Windows-specific features.
With HostGator, you get robust tools and templates and enjoy complementary advantages such as effortless site transfers, built-in scripts, an SSL certificate, and much more. It's a comprehensive package that seeks to meet and exceed your expectations.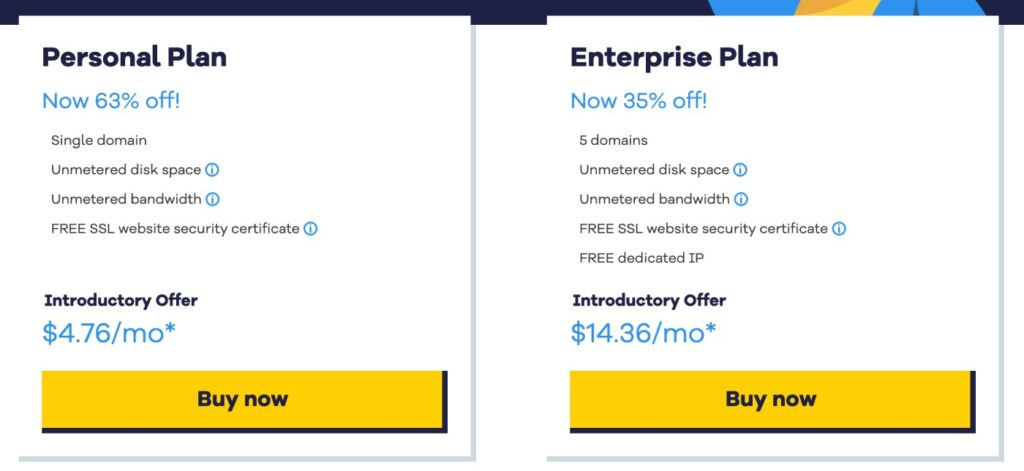 But what truly sets HostGator apart is its unwavering commitment to quality service. With an impressive 99.9% uptime, your site is almost always up and running. Plus, should you encounter any hitches, their 24/7/365 support team is ready to assist. And with a generous 30-day guarantee, there's absolutely no risk in trying their services.
When you combine all these features and advantages, it becomes evident that HostGator's Windows hosting provides unbeatable value, ensuring ASP.NET developers have everything they need to succeed.

Specialized in Umbraco Hosting
Microsoft's Trusted Environment
High-Performance Storage with Scaling
Free Windows Website Migration
See Pros & Cons
Pros
Competitive Pricing
Optimized for .NET Websites
Wide Range of ASP.NET Versions Supported
Guaranteed Resources – No Overselling
Cons
Limited Plan for Extreme High Traffic
Some advanced features limited to higher-tier plans
AccuWeb Hosting, renowned for its specialized Windows hosting, shines particularly bright when it comes to Umbraco Hosting. Their commitment to leveraging Microsoft's Trusted Environment ensures your Umbraco site is both secure and performs optimally.
With their promise of high-performance storage, AccuWeb Hosting makes it easy for businesses to scale their operations up or down as per their needs, without the hassle of migrating to a different hosting plan or provider.
They've made it easier than ever for businesses to transition, offering free asp.net website migrations. With plans starting as low as $3.49/month, AccuWeb provides a compelling package for businesses of all sizes.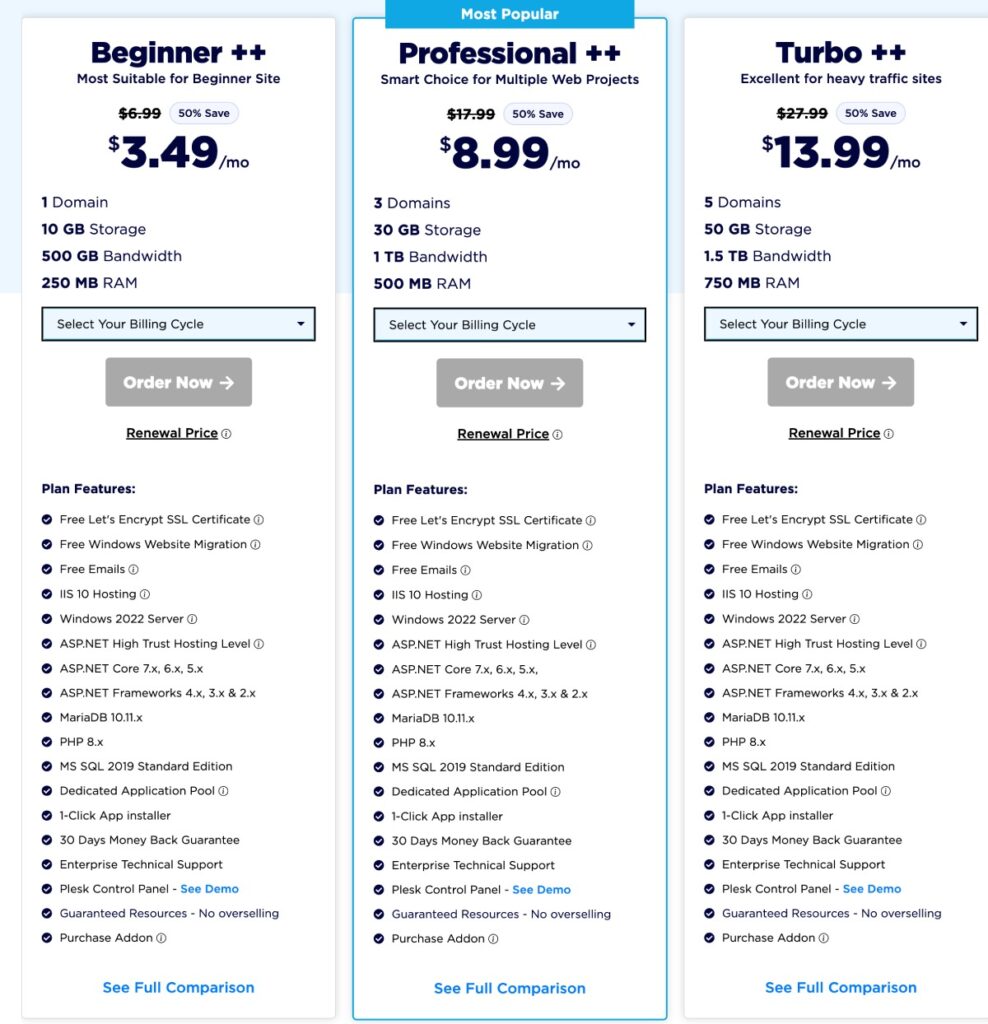 The emphasis on supporting a wide range of ASP.NET versions further showcases their dedication to being the go-to solution for .NET websites. And with no overselling, you're assured to get exactly what you've signed up for.
If you're after reliable, high-quality Umbraco Hosting with flexibility and competitive pricing, AccuWeb Hosting is definitely worth considering.

Fully Managed Windows VPS Hosting
Optimized for ASP.NET, .NET, Visual Basic
Integrated with tools like Exchange and SharePoint
Range of plans from 4 GB to 16 GB RAM
Starting at $65/month for the 4 GB RAM plan
See Pros & Cons
Pros
Customizable and scalable VPS hosting
High-performance SSD Storage
Inclusive of Plesk Obsidian
Advanced features like Threat Stack Oversight Detection
Cons
Higher initial cost for biennial plans
Some advanced features only available in bundles
LiquidWeb has positioned itself as a formidable choice for businesses that rely heavily on Microsoft tools and languages. Their Windows VPS hosting is fine-tuned for platforms developed using ASP.NET, .NET, and Visual Basic, ensuring maximum compatibility and performance.
With their plans, businesses also benefit from the use of tools like Exchange and SharePoint, seamlessly integrating within the hosting environment. LiquidWeb's offerings begin with the 4 GB RAM plan priced at $65 per month, providing 100 GB SSD storage, 10 TB bandwidth, and Windows Server 2019.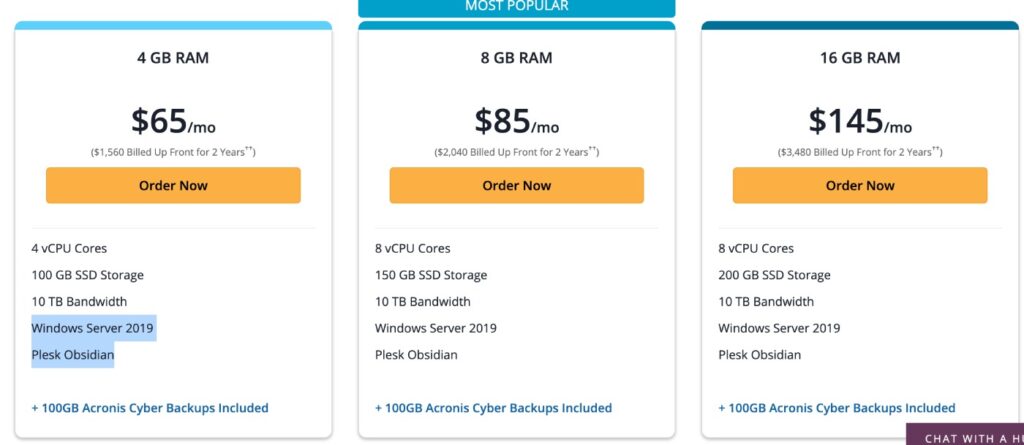 Notably, their hosting includes the renowned Plesk Obsidian, facilitating efficient server management. LiquidWeb also offers bundles that encompass advanced features such as the Threat Stack Oversight Detection System, Cloudflare Pro, and premium business email services, providing businesses with a holistic hosting solution.
Given the comprehensive range of features, the potential for scalability, and the attention to detail, LiquidWeb stands as a compelling choice for businesses seeking robust Windows VPS hosting.

Windows ASP.NET Web Hosting
Support for multiple scripting languages
Intershield Protection & 99.8% Uptime
One-click installer with a plethora of apps
See Pros & Cons
Pros
Robust security features, including free Let's Encrypt SSL
Weekly backups and speed optimization tools
Comprehensive support for different programming languages
Guaranteed email delivery and anti-spam measures
Cons
Some users might prefer more than 25 websites on a plan
Specific details on the "30 Day Gurantee" [sic] is unclear
Interserver offers a Windows-based hosting solution that's specifically optimized for ASP.NET projects. Their hosting environment seems especially catered to users familiar with Windows systems, making the onboarding process smoother.
The pricing is appealing, starting at just $8 per month. What stands out is the inclusion of a free Let's Encrypt SSL certificate, ensuring enhanced website security and improved SEO. Users also benefit from unlimited storage, email accounts, and data transfers, which make the hosting package quite comprehensive.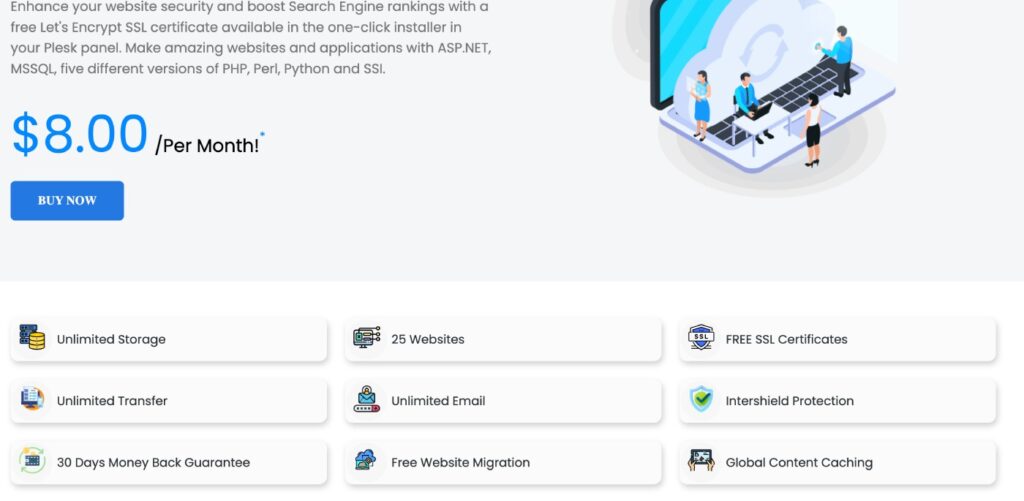 With the Plesk control panel, users can effortlessly install popular web applications such as WordPress, Joomla, and Drupal. This is in addition to comprehensive programming support, which ranges from PHP to .NET core and even Classic ASP. Such versatility can be invaluable for developers seeking flexibility.
The hosting also boasts features like the Intershield Protection, weekly backups, and speed optimization tools that assure users of performance and safety. Interserver's guaranteed email delivery ensures that your important emails aren't flagged as spam, adding to the platform's reliability.
All in all, Interserver presents a robust, cost-effective, and feature-rich Windows hosting option, especially for those invested in ASP.NET development.

Fully Managed Windows VPS
Redundant Network & Nightly Backups
99.9999% Uptime & Instant Scalability
Enterprise Intel Hardware & Custom ISO's
See Pros & Cons
Pros
Variety of server configurations to fit different needs
Enterprise-level hardware for optimal performance
Real-time server monitoring & Full Management support
Nightly backup service with Windows shadow copy
Cons
Some users might prefer Linux-based solutions
Hostwinds takes center stage with its Fully Managed Windows VPS, aiming to deliver a seamless experience to businesses and individual developers alike. When it comes to server performance and reliability, Hostwinds appears to be at the forefront, providing a staggering 99.9999% uptime guarantee.
The provider offers a range of server configurations, enabling users to choose one that precisely fits their needs and budget. Starting at just $12.74 per month, customers can get a robust virtual server complete with a redundant network, ensuring no single point of failure and thus a reliable remote desktop experience. Additionally, the nightly backup service ensures that all your data remains safe and can be accessed whenever needed.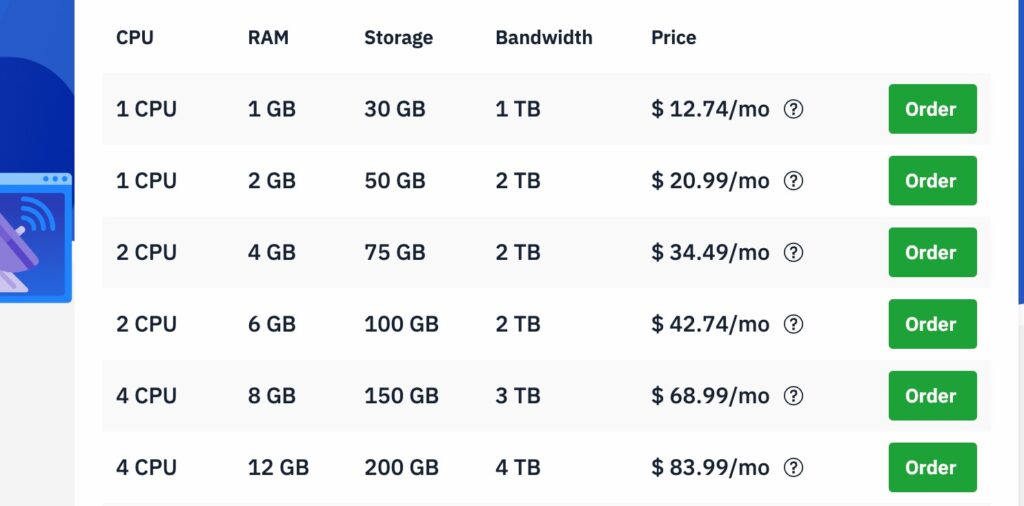 One of the standout features is Hostwinds' instant scalability. As your requirements grow, you can effortlessly upgrade your server resources, avoiding the hassles of server migrations or prolonged downtimes. The enterprise-level hardware, primarily featuring Intel CPUs, promises smooth performance, ensuring that your applications run without a hitch.
Furthermore, Hostwinds prioritizes support with its full management system. Should you encounter any issues or require assistance, their team of Windows specialists is ever-ready to assist. With a friendliness guarantee, Hostwinds ensures that users have a hassle-free hosting experience.
In summary, if you're on the lookout for a reliable, high-performance, and fully managed Windows VPS solution, Hostwinds deserves serious consideration.
FAQs
What is Umbraco CMS?
Umbraco is an open-source content management system (CMS) based on Microsoft's ASP.NET framework. It offers a user-friendly interface, flexibility, and extensibility for developers.
Is Umbraco free to use?
Yes, the core version of Umbraco is free to use. There's also a commercial version, Umbraco Cloud, which offers additional features and support.
Who typically uses Umbraco CMS?
Umbraco is used by both small businesses and large enterprises. It's suitable for those who want a scalable, customizable, and robust CMS based on the ASP.NET platform.
Do I need specialized hosting for Umbraco?
While Umbraco can run on standard ASP.NET hosting environments, optimized Umbraco hosting can provide better performance, security, and support for the CMS.
Can I host Umbraco on a shared hosting plan?
It's possible to host Umbraco on shared hosting that supports ASP.NET like Hostgator. However, for larger sites or those requiring better performance, a VPS or dedicated hosting might be more suitable.
What should I look for in an Umbraco hosting provider?
Ensure the provider supports ASP.NET, offers good performance, security measures tailored to Umbraco, regular backups, and preferably, has experience or expertise in hosting Umbraco websites.
Conclusion
In the list above, I have outlined some of the best providers for ASP.net and Umbraco simultaneously. Some are Shared Hosting like Hostgator, while others are VPS like Liquid Web, and managed VPS with Plesk like Hostwinds.
You can choose based on the load your website will have and the need for scalability.

As one of the co-founders of Codeless, I bring to the table expertise in developing WordPress and web applications, as well as a track record of effectively managing hosting and servers. My passion for acquiring knowledge and my enthusiasm for constructing and testing novel technologies drive me to constantly innovate and improve.
Expertise:
Web Development,
Web Design,
Linux System Administration,
SEO
Experience:
15 years of experience in Web Development by developing and designing some of the most popular WordPress Themes like Specular, Tower, and Folie.
Education:
I have a degree in Engineering Physics and MSC in Material Science and Opto Electronics.