Navigating the maze of web hosting can be complex, but finding the Best Plesk VPS Hosting doesn't have to be. What if you had a guide that steered you towards the ideal solution for managing your websites?
Plesk has risen as a key player in the game, known for its robust web-based interface. It's designed to simplify tasks, saving you time and energy. In a world of diverse hosting options, Plesk VPS Hosting stands out for its efficiency and ease of use.
Whether you're a seasoned server administrator or just dipping your toes into the digital waters, this article offers a compass to direct your path.
Join us as we explore the top VPS hosting providers with Plesk that bring you closer to a hassle-free digital world.
Read More: Best cPanel VPS Hosting
The Top 5 Best Plesk VPS Hosting Providers

KVM VPS plans with full root access

Various Plesk licenses available
24/7 Support and dedicated IP
Starting from: $5.99/mo
7% Discount Coupon Code: CODELESS
See Pros & Cons
Pros
Flexible Plesk VPS options
Customizable configurations
Robust security features
Affordable pricing
Cons
Limited storage on basic plans
Higher renewal prices
Hostinger provides a range of Plesk VPS Servers tailored for different needs. Whether you're a small business or a larger enterprise, Hostinger's offerings cater to various requirements.
Their KVM VPS plans range from $5.99 to $21.99 per month, with cores ranging from 1 to 8, memory from 4 GB to 32 GB, NVMe storage from 50 GB to 400 GB, and bandwidth from 1 TB to 8 TB. All plans include weekly backups, full root access, dedicated IP, 100 Mb/s network, IPV4 & IPV6 support, and 24/7 support.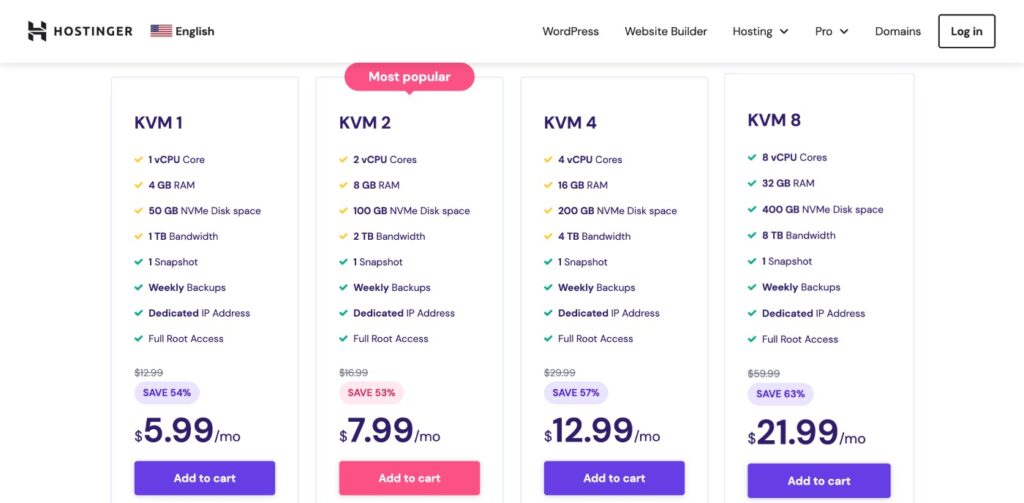 In addition, Hostinger offers Plesk licenses designed to simplify the management of websites. Plesk licenses range from the Plesk Web Admin for single accounts with 10 domains at $13.99/mo to the Plesk Web Host for unlimited accounts and domains at $35.99/mo.
KVM 2: $7.99/mo
KVM 4: $12.99/mo
KVM 8: $21.99/mo
Plus Extra Plesk Licenses:
Plesk Web Admin: $13.99/mo
Plesk Web PRO: $20.99/mo
Plesk Web Host: $35.99/mo
With a wide array of plans and features, Hostinger is a strong choice for those looking for scalable and customizable VPS Server options. Hostinger is also preferred because it offers different Linux OS from CentOS, Ubuntu and Debian which makes it very customizable.

Next-Gen VPS Hosting
Plans for both Linux and Windows
10 Gbps Network
White Glove Migration support
Essential: $25/mo (2 vCPU, 2 GB RAM, 40 GB SSD)
See Pros & Cons
Pros
Flexible plans with various memory and CPU combinations
50 GB Acronis Cyber Backups
DDoS Protection
100% uptime guarantee
Cons
Pricing can be higher for monthly billing
Windows hosting sold separately
LiquidWeb offers a range of VPS Hosting with Plesk solutions designed to handle data-intensive workloads with a focus on reliability. Their Next-Gen VPS Hosting is tailored for various business needs, allowing flexibility in memory and CPU combinations.
Available with both AlmaLinux and CentOS 7, LiquidWeb's plans come with InterWorx Control Panel and offer the option to add Plesk and cPanel. Each plan also includes 10 TB of bandwidth on a 10 Gbps network, DDoS protection, and 50 GB Acronis Cyber Backups. Windows VPS hosting is available as well.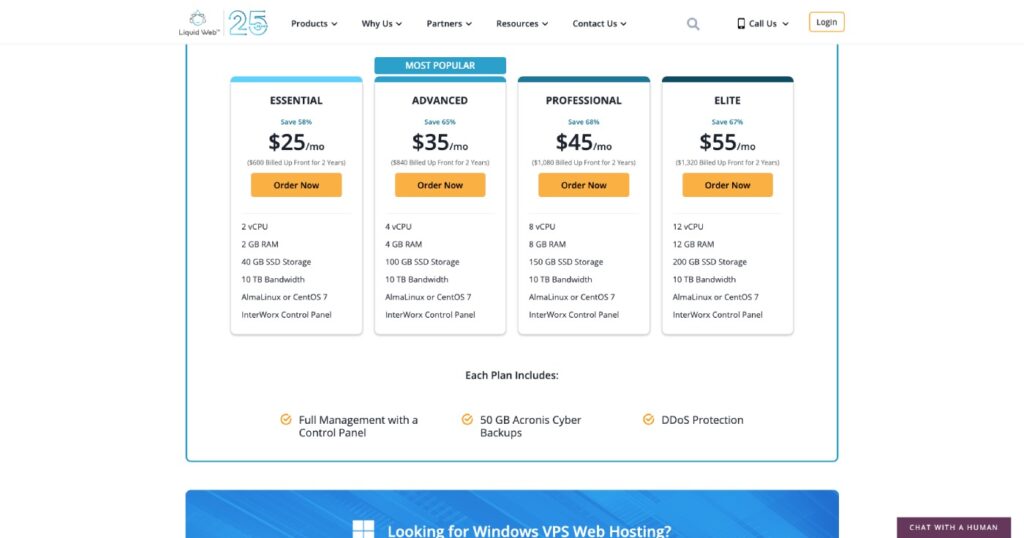 From the Essential plan starting at $25/mo to the Elite plan at $55/mo, LiquidWeb's offerings come with substantial discounts for upfront biennial billing. The company emphasizes worry-free experience, with 30-day money-back guarantee, white-glove migration, and a 100% uptime guarantee.
With robust features and a strong focus on reliability and flexibility, LiquidWeb stands out as a top choice for businesses looking for Plesk-based VPS.

Flexible CPU Options

Plesk Installation through DigitalOcean Marketplace
Efficient CPU Usage
See Pros & Cons
Pros
Low-Cost Options
Customizable CPU choices
Free Plesk installation
Suitable for Bursty Applications
Cons
May not suit CPU-Intensive Workloads
DigitalOcean's Basic Droplets offer efficient CPU usage at a budget-friendly cost, making them ideal for applications that have bursty CPU demands. They are available with three different CPU options: Regular, Premium Intel, and Premium AMD, providing flexibility for different use cases.
The plans range from 512 MiB of memory, 1 vCPU, and 10 GiB of SSD at $4.00 per month to 16 GiB of memory, 8 vCPUs, and 320 GiB of SSD at $96.00 per month. Transfers are also scaled with the plans, starting at 500 GiB and going up to 6,000 GiB.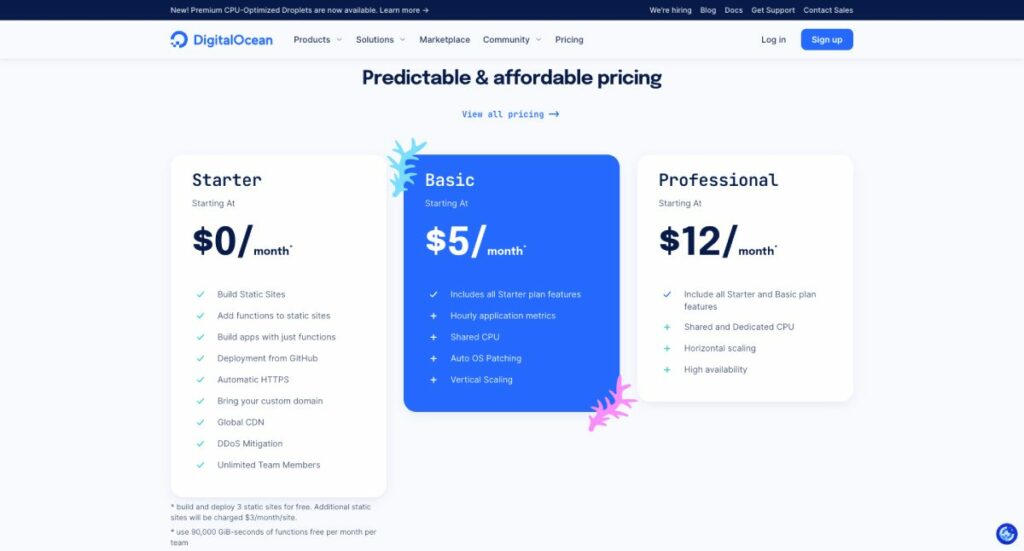 One of the highlights of DigitalOcean is the ability to install Plesk through the DigitalOcean Marketplace for free. This facilitates seamless management of websites and enhances the functionality of the Basic Droplets.
Overall, DigitalOcean's Droplets are a strong option for those looking to run applications that can handle variable levels of CPU, offering cost-effectiveness and easy integration with Plesk.

Dedicated Plans
One-Click Plesk Deployment
Scalable Options
See Pros & Cons
Pros
Wide Range of Plans
High Network Speeds
Easy Plesk Integration
Cons
Pricing May Be High for Some Users
Linode offers a range of dedicated plans that provide users with high-performing and scalable options. The plans are designed to cater to various needs, starting with the Dedicated 4 GB plan at $36 per month and going up to the robust Dedicated 128 GB plan at $1,152 per month.
Here's an overview of the key details for each plan:
| Plan | Price/Mo | RAM | CPUs | Storage | Transfer | Network In/Out |
| --- | --- | --- | --- | --- | --- | --- |
| Dedicated 4 GB | $36 | 4 GB | 2 | 80 GB | 4 TB | 40/4 Gbps |
| Dedicated 8 GB | $72 | 8 GB | 4 | 160 GB | 5 TB | 40/5 Gbps |
| Dedicated 16 GB | $144 | 16 GB | 8 | 320 GB | 6 TB | 40/6 Gbps |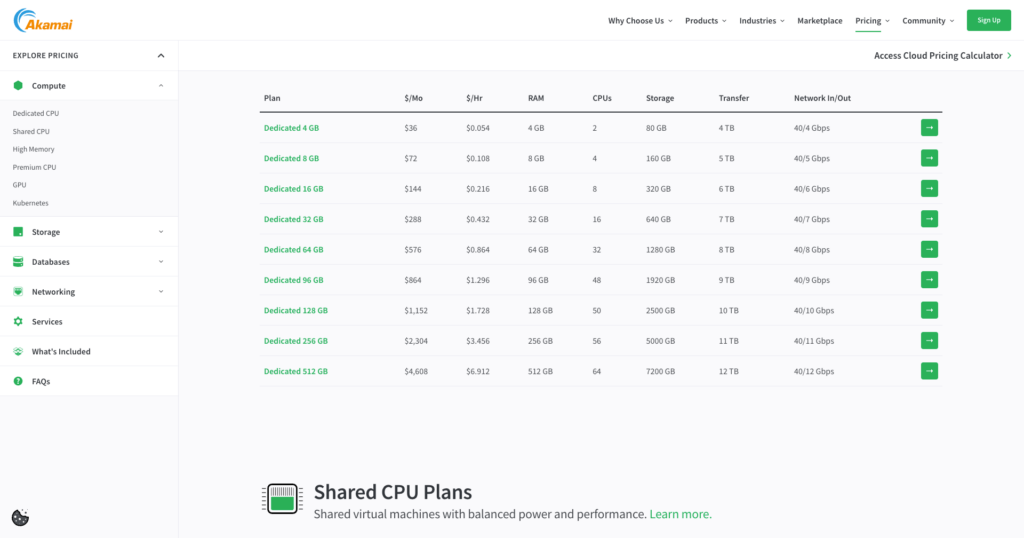 One standout feature of Linode's dedicated plans is the ability to deploy Plesk with just one click. This simplifies the management of websites and allows users to automate various tasks on a single server, enhancing the functionality of Linode's offerings.
With high network speeds and a versatile array of options, Linode's dedicated plans offer strong solutions for those seeking a powerful hosting experience, seamlessly integrated with Plesk.

Flexible Plans
Customizable Configurations
Competitive Pricing
See Pros & Cons
Pros
Pay Only for What You Need
Hourly Billing Option
Plesk Integration
Cons
Limited Plans Shown (Customization Required)
Kamatera stands out with its commitment to flexible and affordable server configurations. The provider allows you to choose the exact specifications you need, ensuring that you don't pay for unnecessary resources.
Kamatera is one of the best cloud VPS hosting on the market right now it offers unlimited server configurations.
The Simple and Customized types with various configurations are ideal for businesses looking for tailored solutions.
Here's a breakdown of two examples:
A – Availability: SIMPLE
RAM (Memory): 1024 MB
Internet Traffic: 5000 GB/month at 10 Gbit/sec
vCPU (Processors): 1 vCPU (2667MHz)
SSD Storage: 20 GB
Operating System: Ubuntu Server 22.04 (LTS) 64-bit
Add-Ons: Plesk Web Admin – 10 Domains + Add OS add-ons $21/month
Data Center: North America: United States, Illinois, Chicago
Price: $30/month

A – Availability: CUSTOMIZED
RAM (Memory): 2048 MB
Internet Traffic: 5000 GB/month at 10 Gbit/sec
vCPU (Processors): 1 vCPU (2667MHz)
SSD Storage: 40 GB
Operating System: Ubuntu Server 22.04 (LTS) 64-bit
Add-Ons: Plesk Web Pro – 30 Domains
Data Center: North America: United States, Illinois, Chicago
Additional Options: Extended daily backup, Fully managed service
Price: Customized pricing based on selected options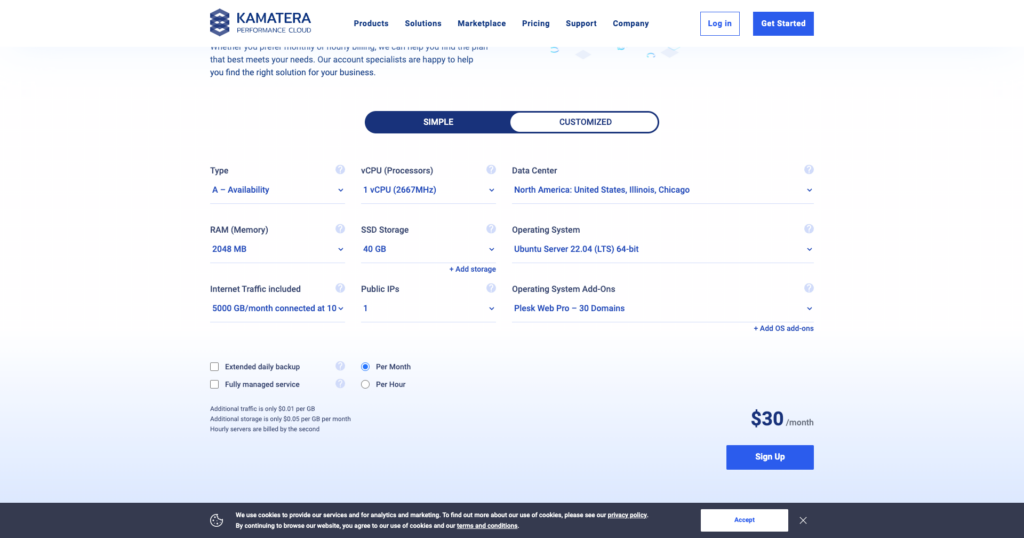 Kamatera offers the flexibility of monthly or hourly billing and additional options for traffic and storage at low costs. Plesk integration is readily available, providing users with the ability to manage multiple domains conveniently.
Whether you need a simple or fully customized server configuration, Kamatera offers the tools and flexibility to create the perfect solution for your needs.
FAQs
What is Plesk VPS?
Plesk VPS Hosting refers to a Virtual Private Server hosting environment that utilizes Plesk as its management platform. Plesk makes it easier to manage websites, domains, emails, and other hosting-related tasks through a web-based interface.
Why Choose Plesk for VPS Hosting?
Plesk is known for its user-friendly interface, making it accessible for beginners while still offering powerful features for advanced users. It's a popular choice for managing multiple websites and provides tools for automation, security, and integration with other services.
How Much Does Plesk-Based VPS Cost?
The cost of VPS Hosting with Plesk can vary widely based on the provider, server specifications, and the type of Plesk license you choose. Many hosting providers offer different plans to suit various needs and budgets from $23 – $500 per month.
Can I Install Plesk on My Existing VPS?
Yes, Plesk can be installed on existing VPS setups, assuming that the server meets the necessary requirements for Plesk. Many hosting providers also offer one-click Plesk deployment.
Is Plesk Secure for VPS Hosting?
Plesk offers robust security features including firewall management, threat defense, and regular updates. It's vital, however, to follow best practices in server security to ensure that your VPS remains secure.
What Are the Differences Between Plesk Web Admin, Web Pro, and Web Host?
These are different Plesk licenses that offer varying features. Web Admin is designed for managing single accounts, Web Pro allows unlimited accounts and more domains, and Web Host offers unlimited domains and is meant for hosting businesses.
Does Plesk Support Both Windows and Linux VPS?
Yes, Plesk is versatile and supports both Windows and Linux operating systems, allowing you to choose the platform that best suits your needs.
How Does Plesk Hosting Impact Performance?
Plesk is designed to streamline and automate server management tasks, which can lead to more efficient use of resources. Your VPS performance will also depend on other factors such as hardware, configuration, and the nature of the hosted content.
Can I Migrate My Existing Websites to Plesk VPS Hosting?
Many providers and Plesk itself offer migration tools and services to assist you in moving your websites, databases, and other content to a new Plesk Hosting environment.
Where Can I Get Support for Plesk Hosting?
Support for Plesk Hosting can typically be obtained through your hosting provider. Plesk also has an extensive online community, documentation, and support services for users at different levels.
Conclusion
With the options we've explored, from the budget-friendly to the power-packed, there's a Plesk solution tailored to your needs. The convenience of Plesk's intuitive interface coupled with the diverse offerings from these top providers makes managing your digital space smoother than ever.
As technology advances, so should your hosting solutions, and Plesk VPS Hosting is an investment in efficiency and reliability. May your virtual journey be guided by the insights shared here, leading to a more streamlined and satisfying online experience.

As one of the co-founders of Codeless, I bring to the table expertise in developing WordPress and web applications, as well as a track record of effectively managing hosting and servers. My passion for acquiring knowledge and my enthusiasm for constructing and testing novel technologies drive me to constantly innovate and improve.
Expertise:
Web Development,
Web Design,
Linux System Administration,
SEO
Experience:
15 years of experience in Web Development by developing and designing some of the most popular WordPress Themes like Specular, Tower, and Folie.
Education:
I have a degree in Engineering Physics and MSC in Material Science and Opto Electronics.