As the wedding bells ring, constructing a website may not be the priority. Yet, the process of catering, setting, and finding venues and planning and inviting guests can be made a lot easier with a website. Also, designing a wedding website is very easy if you find the best WordPress wedding theme.
If you don't have familiarity with WordPress you can check also our article with the best website builders for weddings.
We have packed a list of the best wedding WordPress themes for you so that even beginners can create their own beautiful websites. Therefore, even with zero experience in developing websites or coding skills, wedding WordPress theme can help you in the best possible way to create your WordPress wedding website.
1. Divi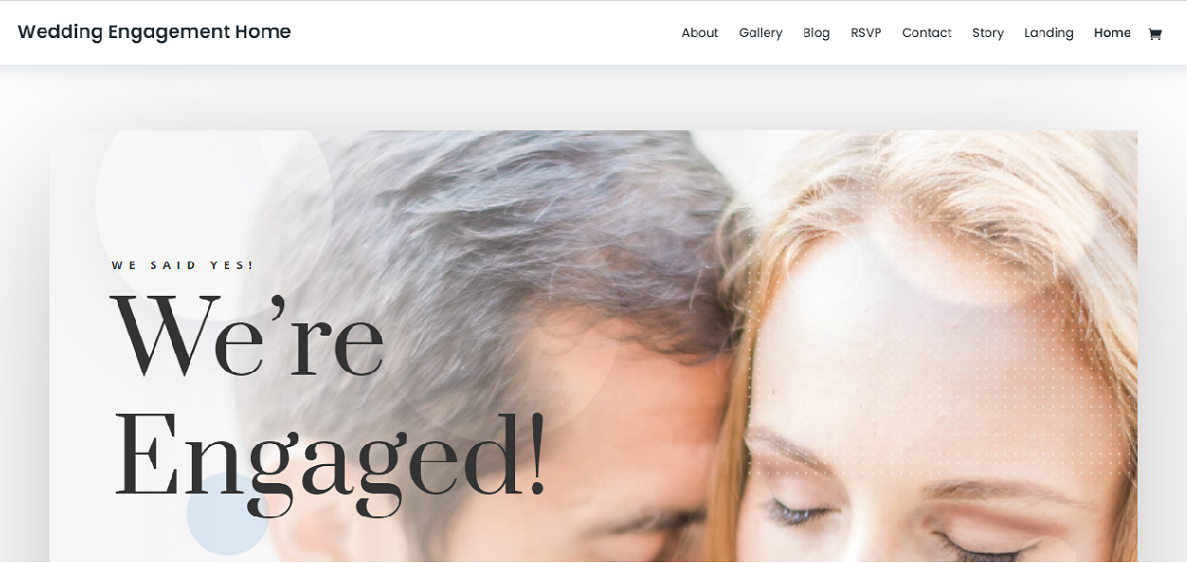 Divi offers post layouts and custom page with custom styles and functions, homepage, free logo and menu files. The blog layout it offers is perfect for showcasing couple's stories. It offers multiple colour variations with links, parallax and full-screen images on the homepage. Therefore, it is a good choice for wedding blogging, floral stylists, food and event planners and wedding invitation.
It offers multiple pages that can work great for wedding invitation. With the two-sectioned columns and parallax with alternating images and texts you can display the directions, RSVP forms and venue at your invitation website.
The image portfolio further help with the Google Map, guest page, profile page and contact form with various free plugins. There is an about section on the homepage where the groom and bride's details are displayed with unique hover effects and person module.
2. Specular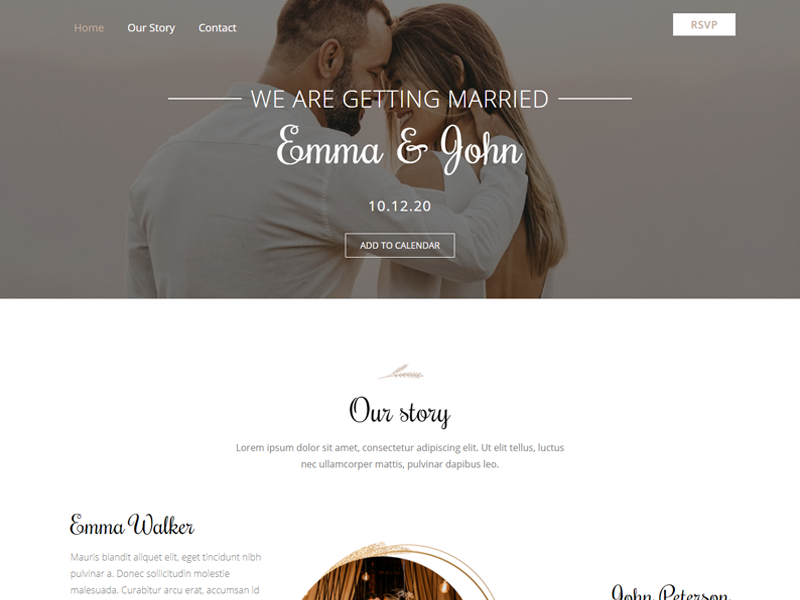 Specular is a responsive multi-purpose WordPress theme. It is a simple theme with an easy to use customizable admin interface. The unique design can easily be customized from the colour picker and CSS file admin panel.
You can easily create your wedding blog and wedding website with this theme. The theme is fully responsive which means it is mobile-friendly. However, the design is highly purpose-oriented with the ease of use for the non-programmers. Therefore, you do not need to have coding knowledge to work with Specular.
The theme has a huge collection of predesigned layouts which are suitable for all aspects of a wedding event. For example, RSVP pages, guestbook, wedding invitations, gallery pages and photography, countdown, and announcements.
3. Kalium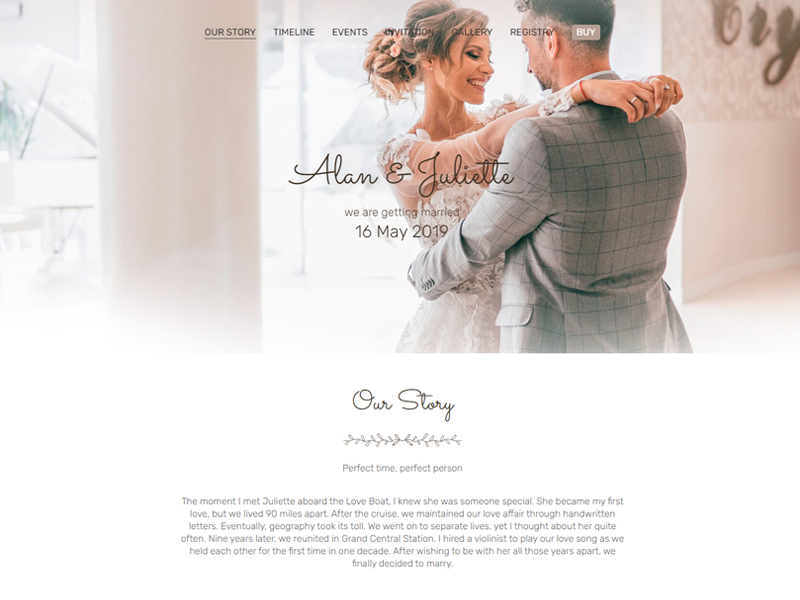 Kalium is a beautiful theme that is well suited for events and Weddings. The warm, sensual, stylish and elegant features of this theme make is suitable for you to present your wedding ideas in style. This theme fits well for all seasons and styles of wedding.
The WordPress theme adopts all the features in the homepage layout that are related to wedding venues, wedding photographers, designers, and planners. Also, it features over 21 demos related to agency, fashion, photography, architecture, hotel, travel etc..
It is a highly responsive theme that suits well for all types of smart devices. Moreover, the inclusion of google fonts and typography options give it a cherry on top feature for extra styling.
4. Jack and Rose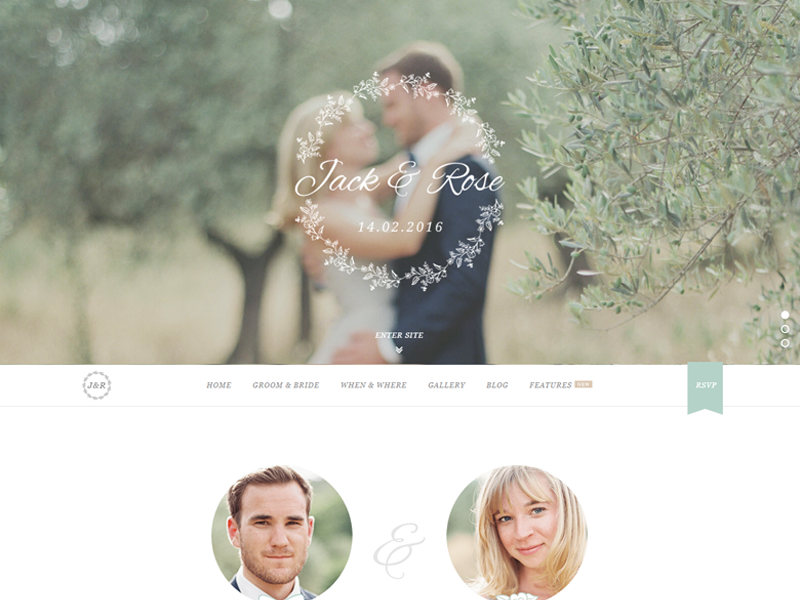 Jack and Rose is a whimsical wedding WordPress theme. It can be very helpful for your wedding day as it helps in adding info about the wedding and connecting with the guests. You can also use your website to share your moments. It takes no time in building a website with Jack and Rose.
All you have to do is purchase the theme and then install and setup the website. Jack and Rose is specifically designed to provide you with a more whimsical theme for your wedding than you could ever imagine. Moreover, the theme is mobile-friendly, fast, and smooth with hundreds of fancy options.
5. Moments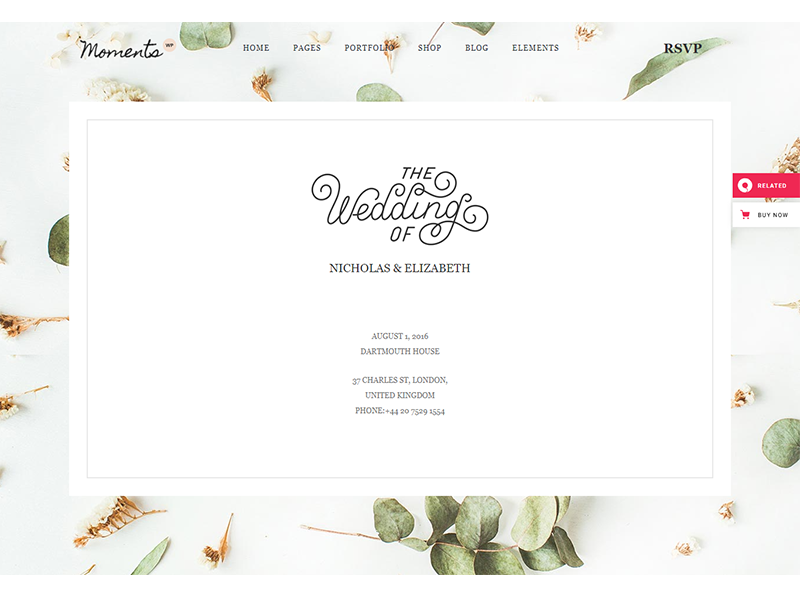 Moments is a WordPress wedding theme that is specifically designed to make your wedding a special day. The theme is designed elegantly. It is a stylish theme for event planners and wedding planners. Moreover, it has a beautiful set of templates highly suitable for weddings along with everything that could make your wedding an unforgettable celebration.
In addition, the theme, Moments ensures that all your visitors find everything about your wedding. It also provides an option of sharing a wedding invitation with your guests. Above all, Moments provides a perfect shop feature where you can sell or offer to sell all types of wedding items.
6. Marriage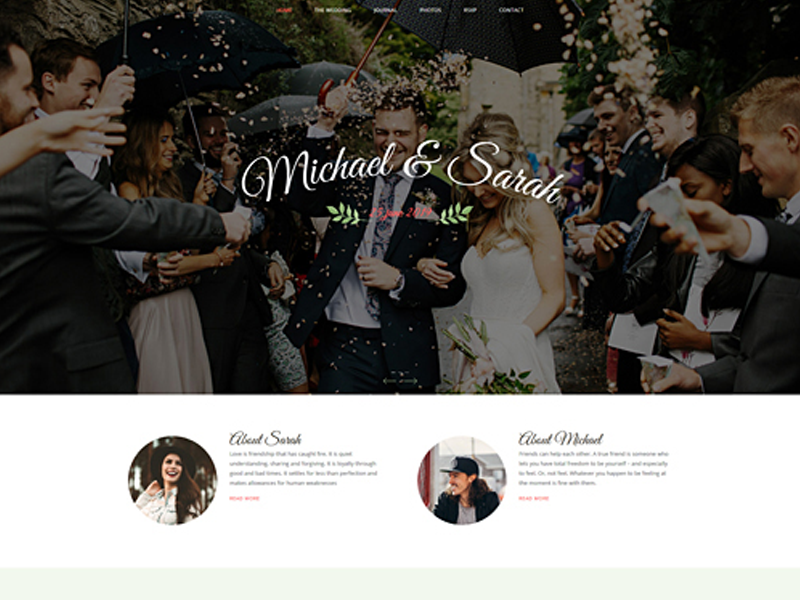 Marriage is another wedding theme. It is among the bestselling WordPress wedding themes. Recently the statistics show that it is chosen by over 2000 couples to make their wedding website. This is because of the unique features and designs it offers.
Moreover, it is easy and simple to use a wedding website theme that offers a custom admin panel. Its unique design is easily customized from the CSS file and from the admin panel. Here, you can easily pick and customize colors. You can also create a wedding blog with this theme. Marriage is mobile ready and is equipped with multiple custom widgets.
7. Wedding Industry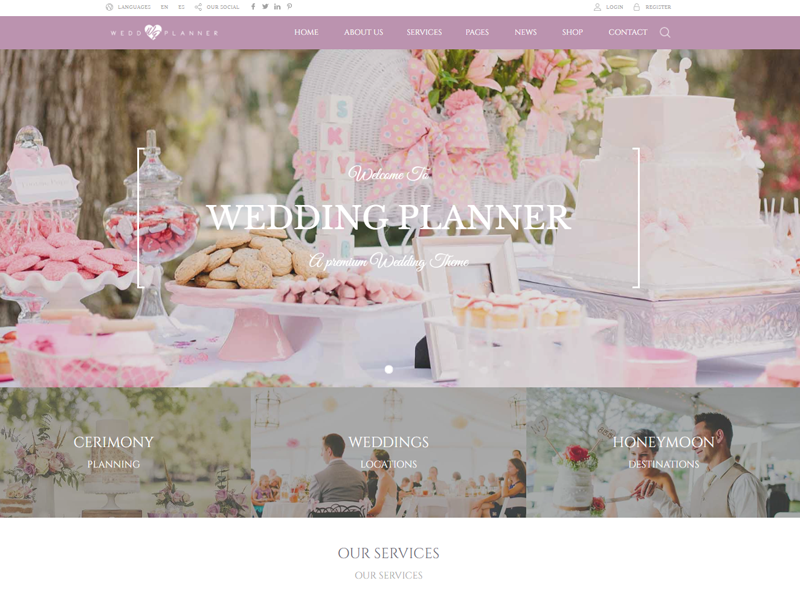 Wedding Industry is a WordPress theme that you can use for wedding-related business. You can use it further for setting up a site for a wedding atelier, wedding flowers, and wedding location and save the day purposes.
It includes multiple demos for invitations, ateliers, favors, flowers, and locations. Moreover, other demos for the couple, planners, and engagements are also included. It's up to you to choose the best design that fits your needs perfectly on the basis of the wedding business. It helps you display all the locations in a simple way for your guests. Further, there is an option to add multiple locations.
8. Wedding Day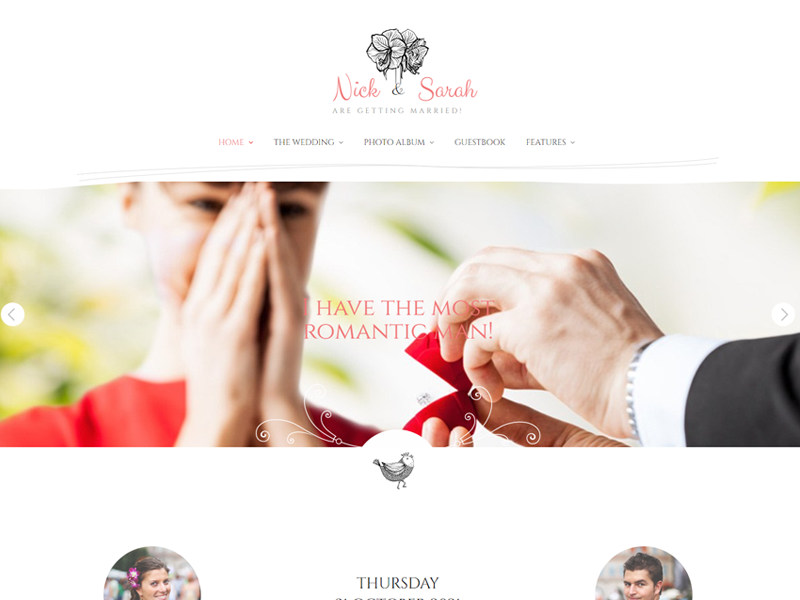 Wedding Day is a wedding planner WordPress theme that is suitable for wedding businesses. It offer you a purpose oriented design. The theme is highly suitable for the users having zero skills of programming. Moreover, it is equally suitable for advanced developers. Further, the theme includes a large collection predesigned pages which are used for multiple purposes.
For example, RSVP pages, guestbook, invitations, gallery and photography, countdown, or wedding announcements. Likewise, you can also set a location for wedding venue on the map. Above all, you can also set up a gift registry with this theme.
9. GeekLove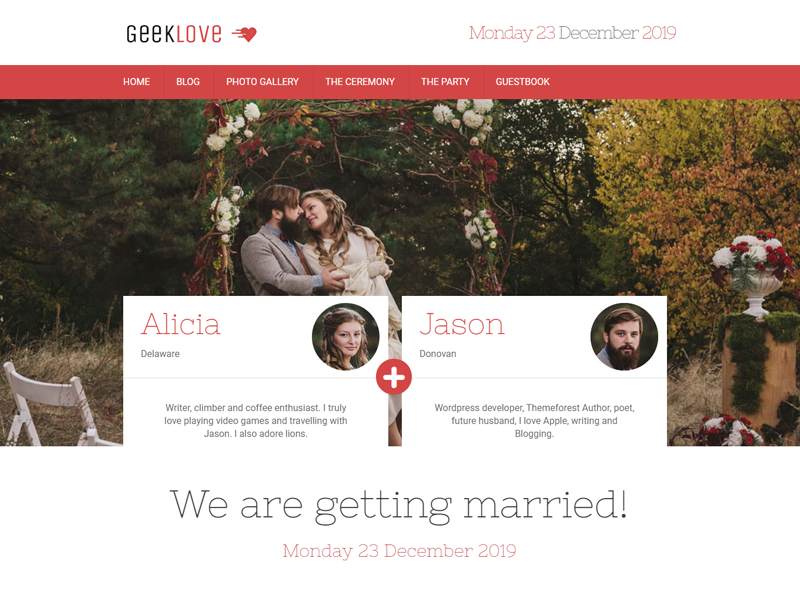 GeekLove is a responsive, minimal, clean WordPress theme for wedding websites. It is Retina Ready and gives much amazing view on retina displays. GeekLove has rich features and elegant design that allows you create a website for your wedding event in a matter of minutes.
The website created with GeekLove helps you generate an RSVP form and a guestbook. You can create your wedding events easily where you can direct your visitors about all the aspects of your website. The guestbook also allows your visitors to write their wishes for your wedding. Moreover, the theme is retina ready. it is highly responsive and allows custom cover for each page individually.
10. Qaween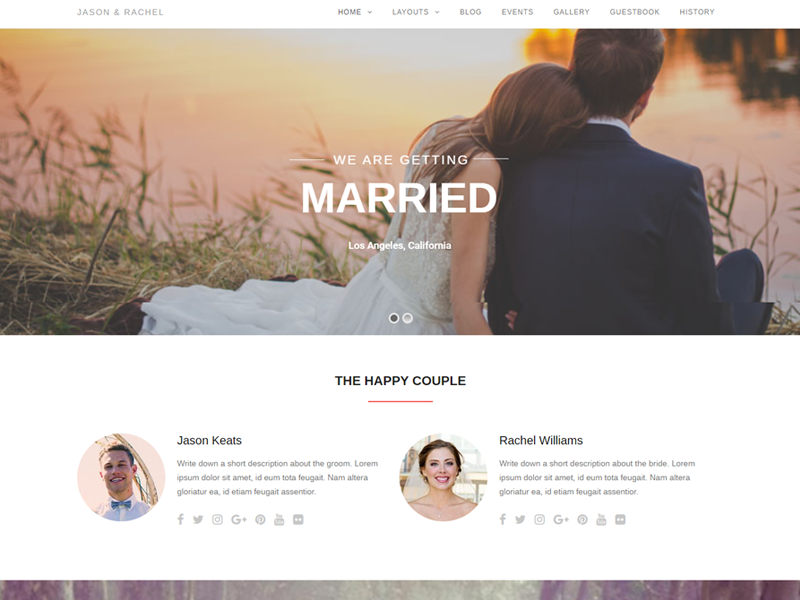 Qaween is an Indonesian word meaning getting married or married. It is a WordPress theme which is feature-packed. It means that it can help you build the best website for your couple. It is highly customizable where you can customize almost every element on your website. It provides you with 500+ Google Fonts.
Above all, Qaween theme is powered by Redux Framework which offers a top notch options for themes. Through this framework, you have an access to over hundreds of options to customise your theme. There is a built-in Ajax feature along with slideshow and RSVP form. You can also include all the accommodations, countdown timer, events and photo gallery in your website.
11. OneLove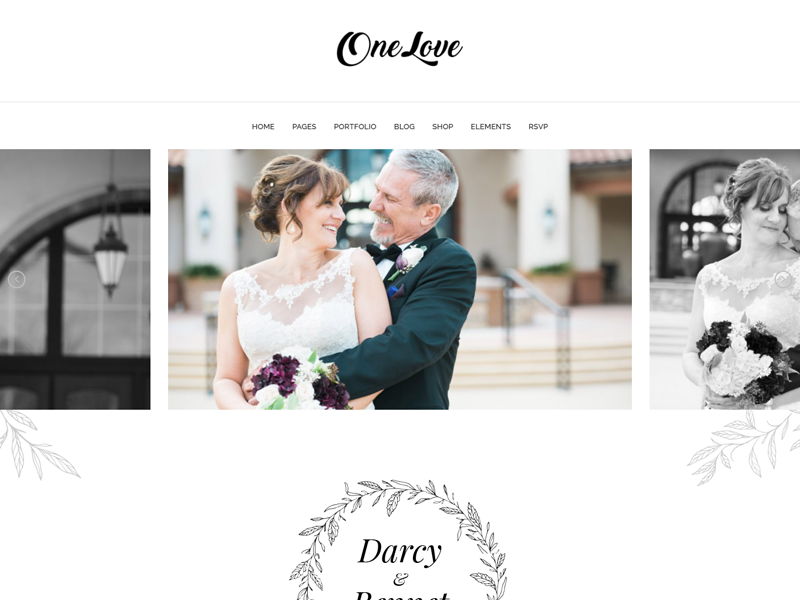 OneLove is a clean and elegant WordPress theme. It is multipurpose and offers multi-ideas for your website. Furthermore, it offers over 22 homepage ideas for wedding planners, wedding planning, wedding blog, wedding shop, anniversary and personal wedding.
In addition to this, you can aslo get connected to your guests through this by adding a little more info about the event. Moreover, you can also share happy moments and RSVP form, photo gallery, video slider, countdown and much more. With OneLove, you can easily change colours of almost all the elements by choosing from 500+ Google Web Fonts.
12. Honeymoon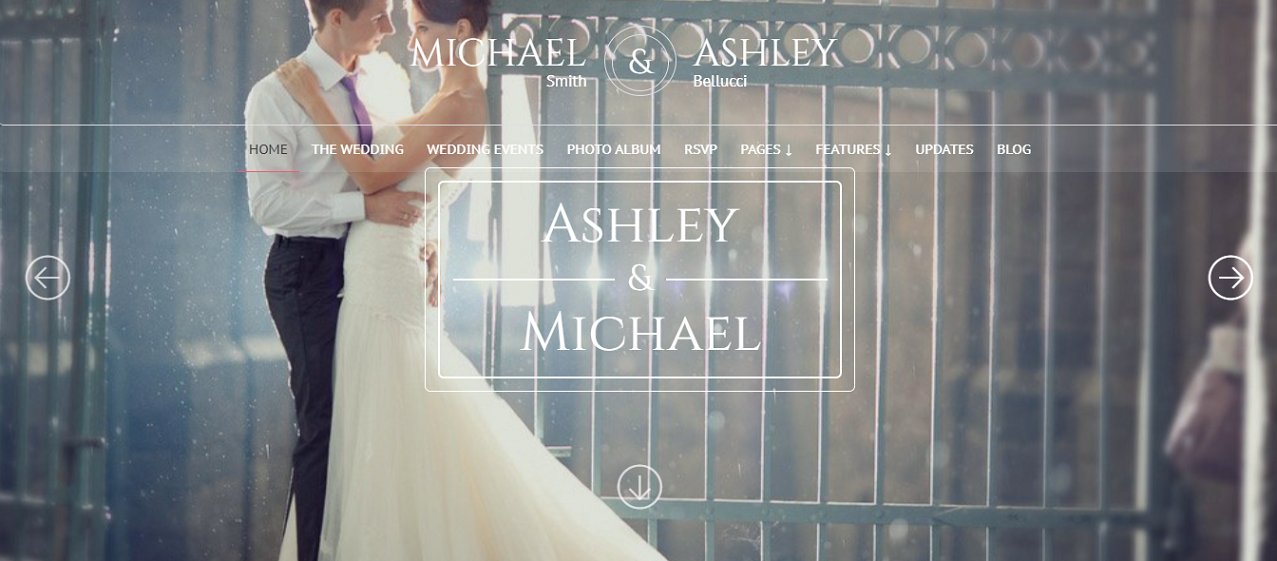 Honeymoon is a theme of a lovely niche, wedding. It is highly suitable for Wedding Planner businesses. The theme is highly helpful for those with zero programming knowledge. Moreover, it offers a purpose oriented design which makes it equally suitable for advanced developers too.
You can find a large collection of predesigned pages which are suitable for almost all purposes. Therefore, we can regard this theme as a multipurpose theme as well. You can use the theme for RSVP pages, guestbook, wedding invitation, photo galleries and countdowns. The wedding venue can also be added using the customised Google map integration features.
13. The Aisle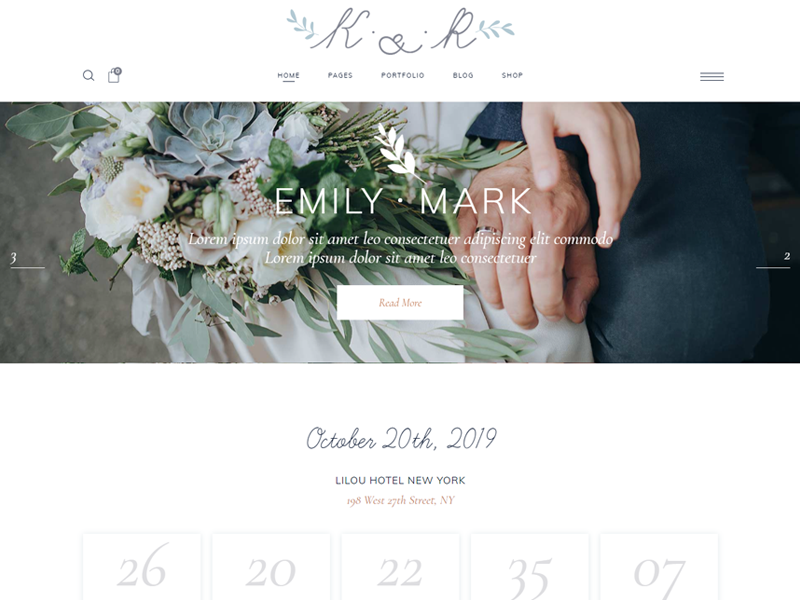 The Aisle is a wedding planner's dream theme. This is because it has everything that you may need to plan for your wedding website. There are predesigned inner and home pages for multipurpose. For example, RSVP pages, wedding invitations, gallery and photography pages and wedding announcements.
In addition, you can also add venue locations and wedding gift registries. Further, adding celebration info and pricing plans increase the possibilities with The Aisle. The theme package provides with powerful shortcodes which let you develop an amazing and hassle-free website. You do not need to have any coding experience of knowledge to work with The Aisle. The theme can be also perfect for a wedding photography WordPress theme
Walk down The Aisle, for a happy ever after!
14. Fleur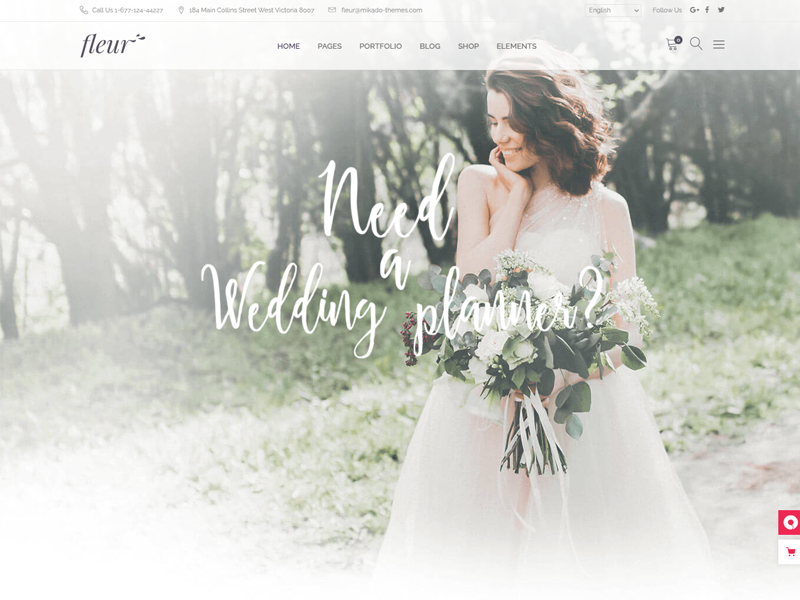 Fluer is a wedding theme that makes sure that all your wedding processes run smoothly. The theme Fluer is equally helpful for you if you are a wedding planner or a couple. Moreover, if you are a part of the wedding industry in anyway, Fluer will partner you to be successful in your business. It can prove to be your optimal choice to develop a sublime website that attracts visitors and also guide them.
Fluer helps you to show all the aspects of your upcoming wedding as well as features your wedding business. In addition, it offers practical features, powerful elements, and multiple inner and home pages that help you develop your beautiful website.
15. Wedding Planner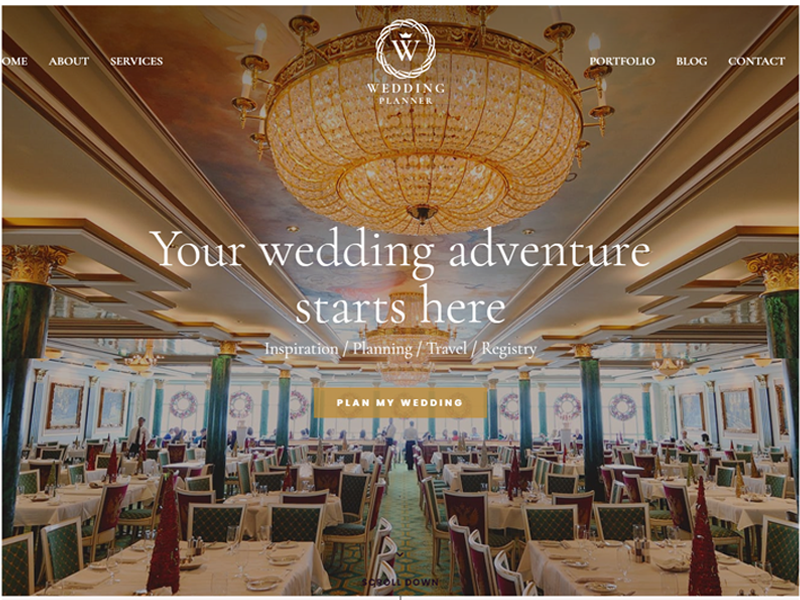 Wedding Planner is a WordPress theme for Wedding Planning businesses. It is highly responsive. In addition, it is a very creative, elegant, and modern theme for engagement and wedding event management and offers. The theme offers you with gorgeous design to display not only important info regarding an event but also includes a separate page for photo gallery. Couples with zero programming skills can use it easily to create a website for their wedding event.
The Wedding Planner offers an aesthetically pleasing and neat WordPress theme. The visitors are always updated with Newsletter. Google integration helps you add the location of the wedding venue so that your guests can easily reach the venue. Above all, the Visual Composer Page builder offers customized modules to create powerful and smooth functionality.
16. Perfect Couple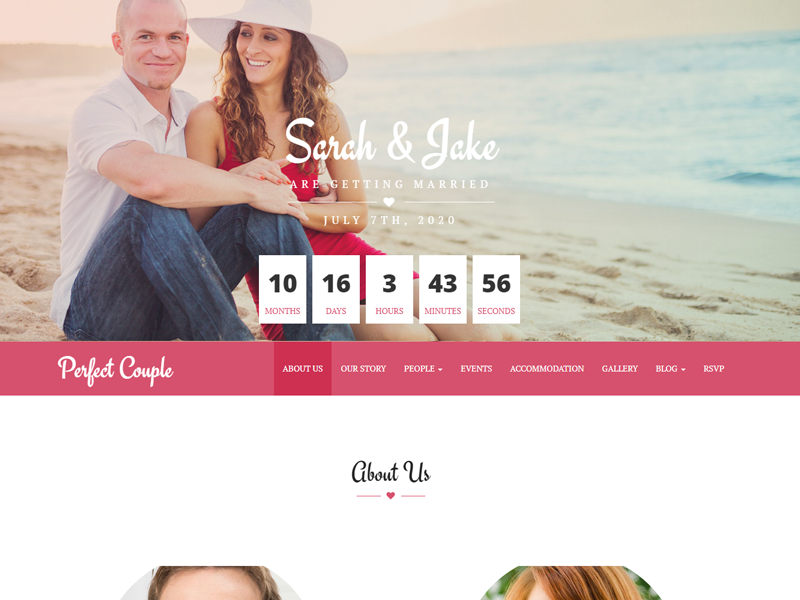 Perfect Couple is a WordPress wedding theme that offers you to capture all the special moments and share them with friends and family. The theme offers an easy-to-use, responsive, beautiful, and visually stunning website feature.
The blogging feature helps you cover the main event as well as keeps your visitors aware of the RSVP, special event, time, and of course RSVP. The theme is coded with the latest specification as it is a modern and clean design of WordPress. Animated feature to add Fun Facts weighs down all the backend processes. Like other themes, Perfect Couple not only offers a registry but also keeps a budget range for your family.
17. Eternity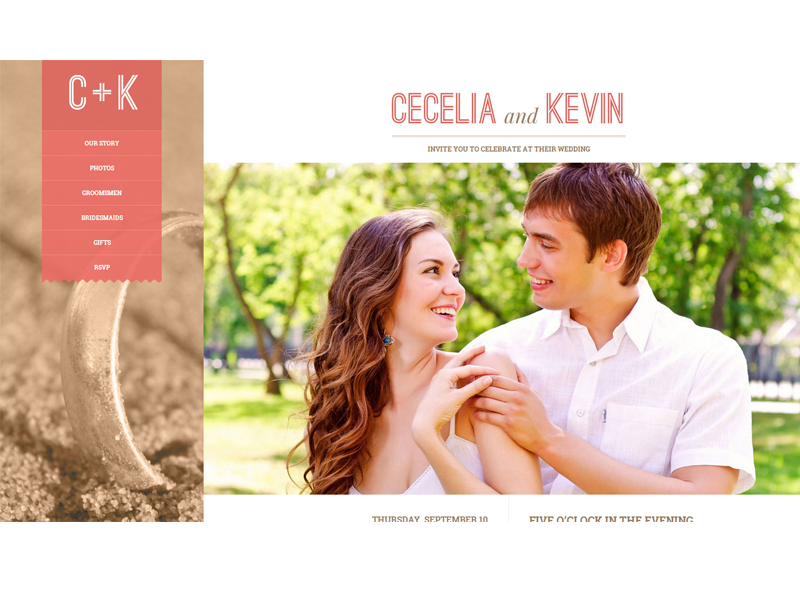 Eternity is a beautifully and elegantly hand-crafted WordPress wedding theme. It is a highly responsive theme. The theme Eternity is powered by the Foundation Framework which makes it possible to customize any kind of layout that you want.
It provides simple features to add Google Map integration, retina-ready images, a lightbox photo gallery, smooth scrolling an RSVP form etc. The theme is also customized for iPhone and iPad which gives it a responsive design. There are unlimited colors and custom header integration. Post types are also custom i.e. gallery and slides. You can also share the location of the wedding venue through this theme which means it is integrated with Google analytics.
18. Lovey Dovey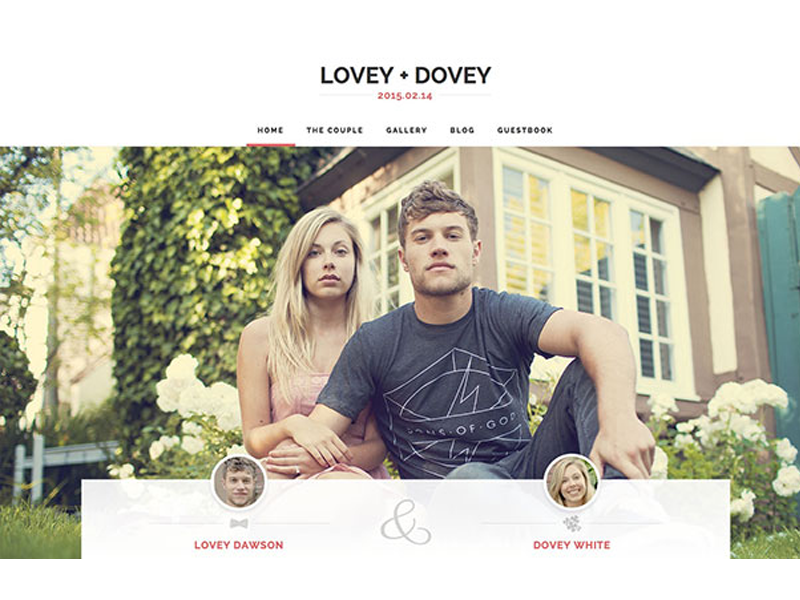 Lovey Dovey is a responsive Wedding theme. It is elegant, simple and easy-to-use. Moreover, it is beautifully and perfectly handcrafted with everything that you could need for your dream wedding website. It includes a simple Drag and Drop Homepage. The theme is retina ready too.
Lovey Dovey theme is extraordinary and does not require any prior coding knowledge. Therefore, it is best suited either for an advanced developer or a beginner. You can easily set up and build the homepage. Furthermore, the theme is mobile friendly as the layout is able to adjust with all types of screens and devices.
Want to Learn More?
If you are looking for a WordPress theme mostly for photographers, check out our top collections below: